Online Design with Modsy
Disclosure: I've partnered with Modsy on this post, but all opinions are my own. Use my coupon code, CHARLOTTE20 for 20% off!
One of the things I enjoy most about design and decorating is planning the space. I love sitting down with a blank canvas and dreaming about how the space might look with a little TLC. But sometimes it's really REALLY hard to see a space with fresh eyes and we fail to see certain layouts or perhaps fail to consider different design angles. Which is why I was THRILLED to partner with online design source, Modsy. I was given the chance to work with them from start to finish and the whole process couldn't have been easier or more interesting!
One of the questions I've had is how the girl's shared room would look without the bunk beds, and rather with two twin beds. It's a large room and something about two twin beds side by side is so classic that the possibility has been on my mind. I figured Modsy might be the perfect chance to "see" this without having to move around furniture, etc.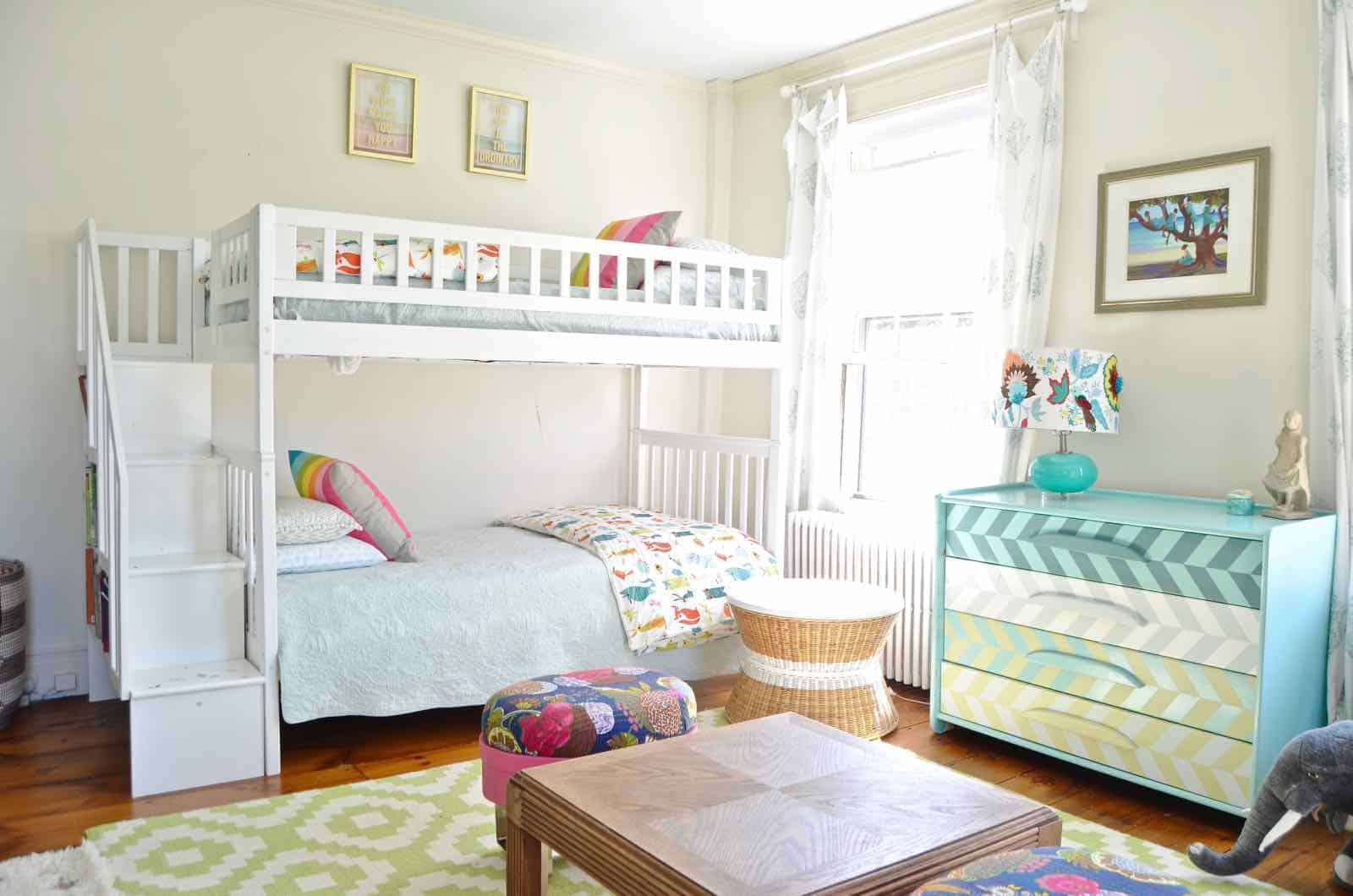 The first step is to upload 8+ photos of your space. Mine looked like they were one step away from an episode of Hoarders, Buried Alive so I was worried my poor designer would just reply with something like "Room denied. Go clean, lady." Thankfully she did not… Exhibit A:
The next few steps are REALLY fun and super easy. Modsy takes you through a series of online questions that mostly involve selecting from a list of images and telling them which you love and which you hate. No surprise, I had an eclectic assortment and again was waiting for the designer to respond, "Excuse me, ma'am… we're going to ask that only ONE person fill out this survey."
The other thing that Modsy does which is really helpful, is they ask whether there are any pieces of furniture that you want to KEEP in the space and they ask what your budget is. Nothing more frustrating than falling in love with a space only to learn that the throw pillow on the couch is $325.
Once you've filled everything out, you wait! Binge watch something on Netflix. Learn Pig Latin. Do your thing. A week or two later, you get an email and you get to go into your account and view a few different options for the space. Again, it was SUPER helpful for me to see different suggestions for the room because sometimes NOT liking something is way more informative than liking something. For example, one of the designs for the girls room had the beds on different walls and I simply didn't like that. Great to know.
I was amazed at how informative and realistic these design mock-ups looked. The architecture of the room was spot on and seeing it from a handful of different angles also helped to envision how it would appear in real life.
But wait… you're not done. I had some feedback and requests for a few changes. I loved the layout of the first room, but the dresser from the second room. I mentioned to my designer that hanging anything in the space was really challenging because of the old plaster walls so things like floating shelves and a pendant light probably weren't going to happen. I wanted more color. I was able to convey all this via email but they have a way to 'live chat' with your designer too if that's easier.
Enter iteration #3. Much better, but still not quite right. I didn't love the rug. I didn't love the scale of the mirror over the beds… small changes. And get this… Modsy is also an online shop, so I was able to go in and actually choose which items I wanted to see in the space. Like literally select a new rug, and see it pop up in the room. My designer helped with some of this as well, and voila… we landed at the final version that you see below.
Full disclosure, I'm not in a position to completely refurnish and redesign the girls room so this was more fun "what if" for me, but I DID want to see how it would look with a different layout. That said, if I WERE in a position to refurnish their room, I could purchase everything included on the design board via modsy in one fell swoop (rather than going to all the different retailers included in my space) and… THEY WILL HANDLE ANY RETURNS, etc. I mean that alone is kind of mind blowing.
Without lifting more than a few typing fingers, I now have an amazing sense of what this room would feel like with a different layout. I'll show the girls and see what they think. For now, I think the bunk beds actually make a lot of sense, but there's no question the new layout is ADORABLE so perhaps one day we can try it. I make vision boards all the time for the blog, but this process was like my vision boards on steroids.
Having someone figure out the scale of the room right down to things like the height of the window sills was super valuable and worth the cost, in my opinion, because it eliminates that 'worry' factor of furnishing a room only to realize in person that the scale of this or the height of that just doesn't work. Don't forget to head over to Modsy to get 20% off your design package with CHARLOTTE20. There are two options: Modsy or Modsy Plus. (I had the plus which gave me that great one on one time with the designer.)
I can only imagine how helpful this would be when moving into a new home or apartment as it would eliminate the initial confusion of what furniture will fit in each room! Heck… I'm completely in love with the girls *new* room and we're not even going to implement it for a while! What do you think? How would you use Modsy?