Multipurpose Guest Room Reveal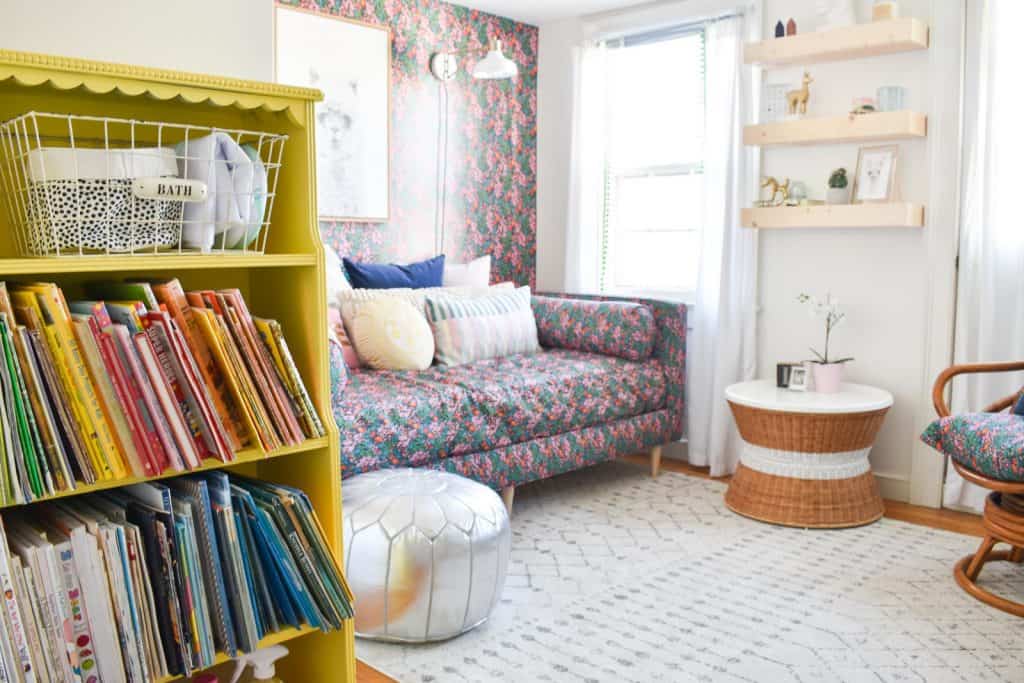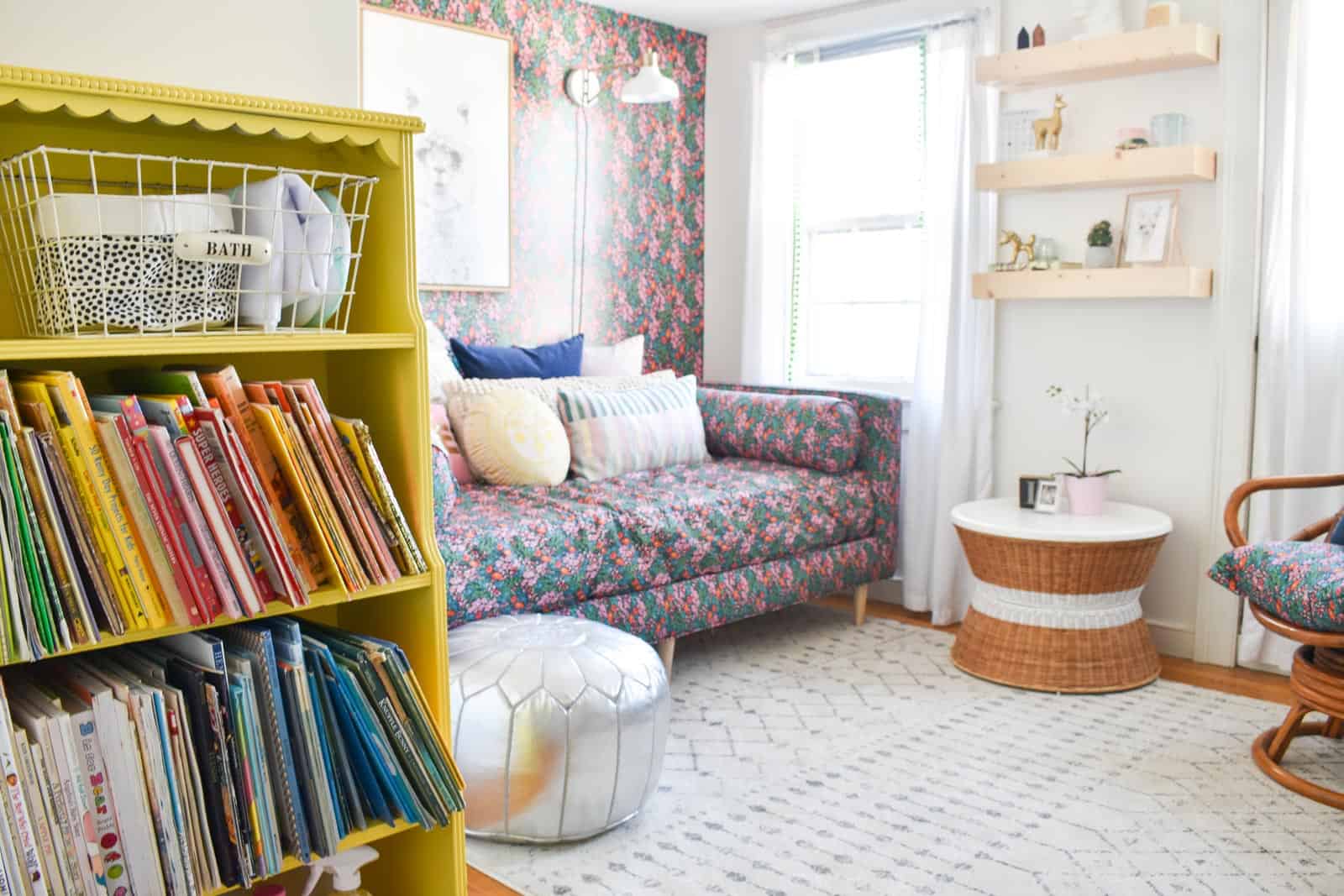 Slowly but surely, this little guest room of hours has transformed from a cheerful girl's nursery to a colorful multipurpose space filled with pattern and more pattern. You've been following along at the edge of your seats I'm sure so I'm thrilled to be sharing the whole space with you finally! My friend Sarah from Ugly Duckling House was the spark for this Guest Room Gauntlet as both of us have been hustling to "compete" in her Dueling DIY series.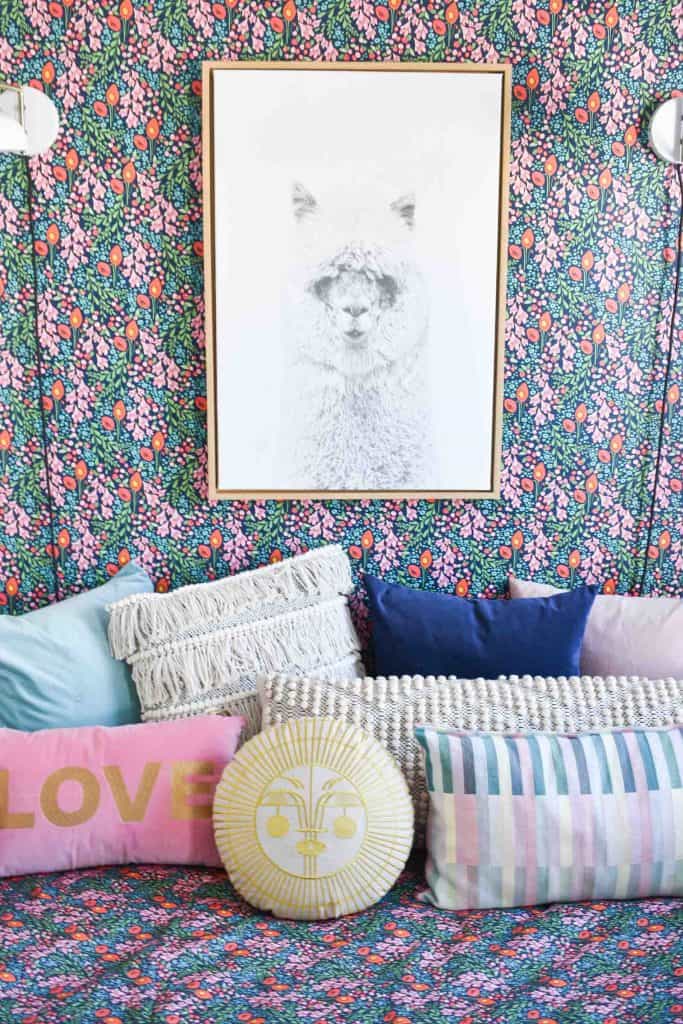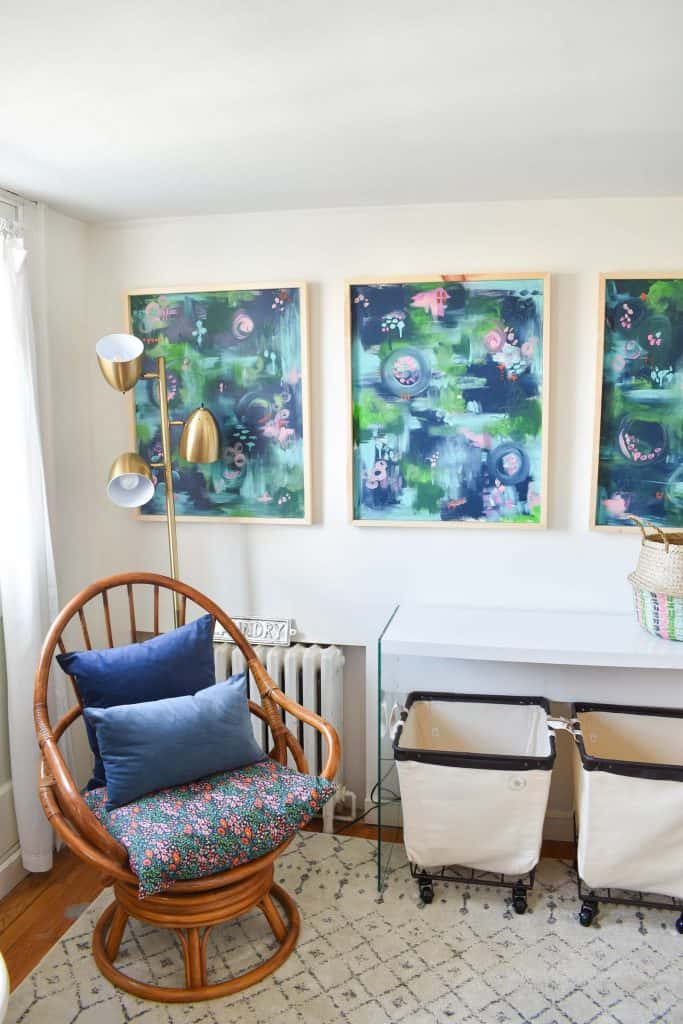 Reminder that the room is tiny so there's some irony to the grandiosity of a 'reveal' here. That said, I was able to pack in quite a few projects to make this space come together! The focal point of the space is clearly that lovely wall of pattern on pattern… I was inspired by an image I saw on Spoonflower and partnered with them and Roostery to make it happen.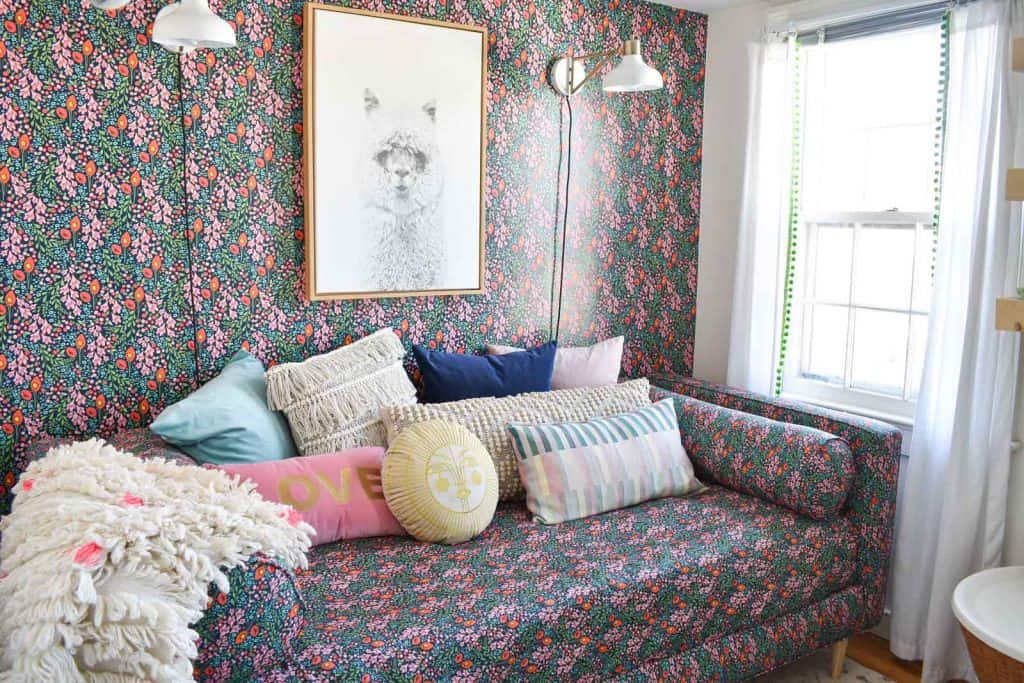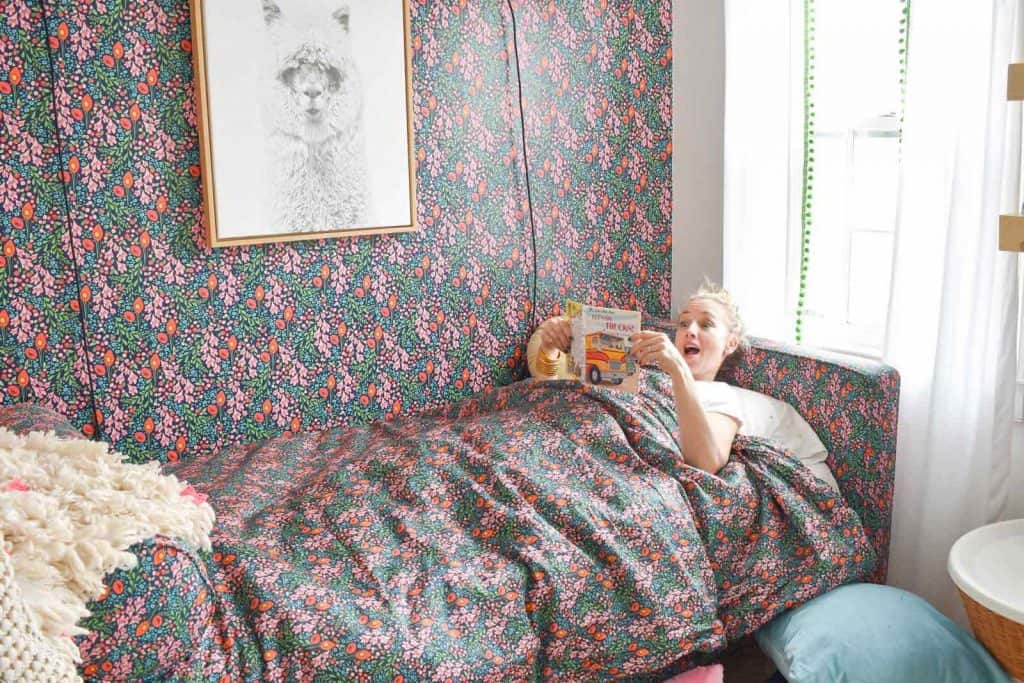 I built the frame for a daybed and then sent it out for professional upholstery. Not cheap but best decision I made because the lines and the quality are perfect… sleek and clean. I wanted a contemporary shape so that the vibrant fabric could shine through.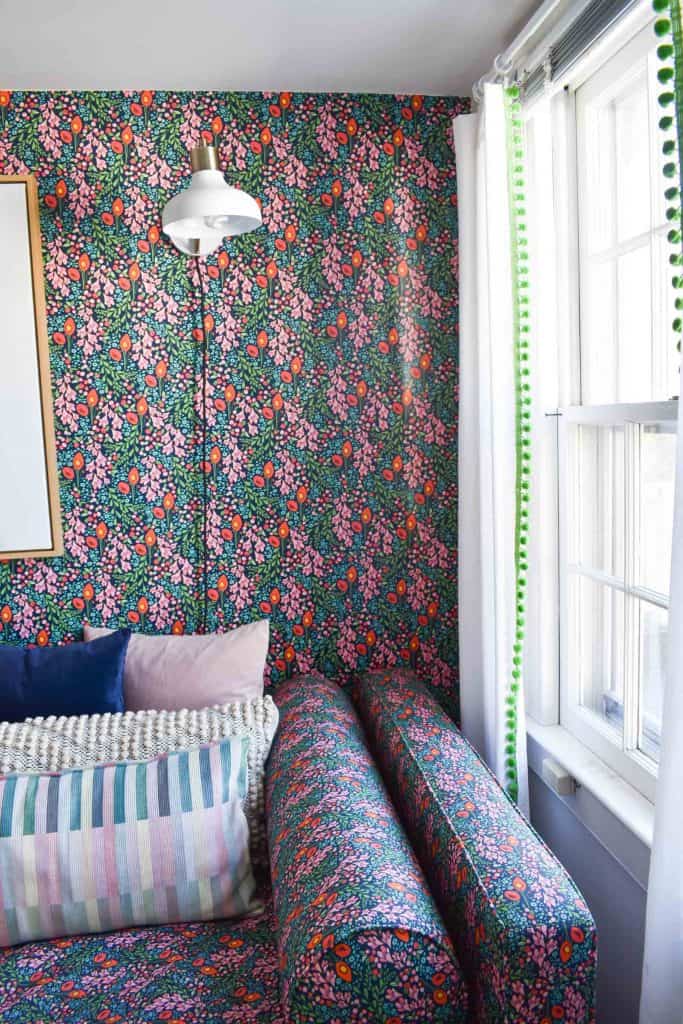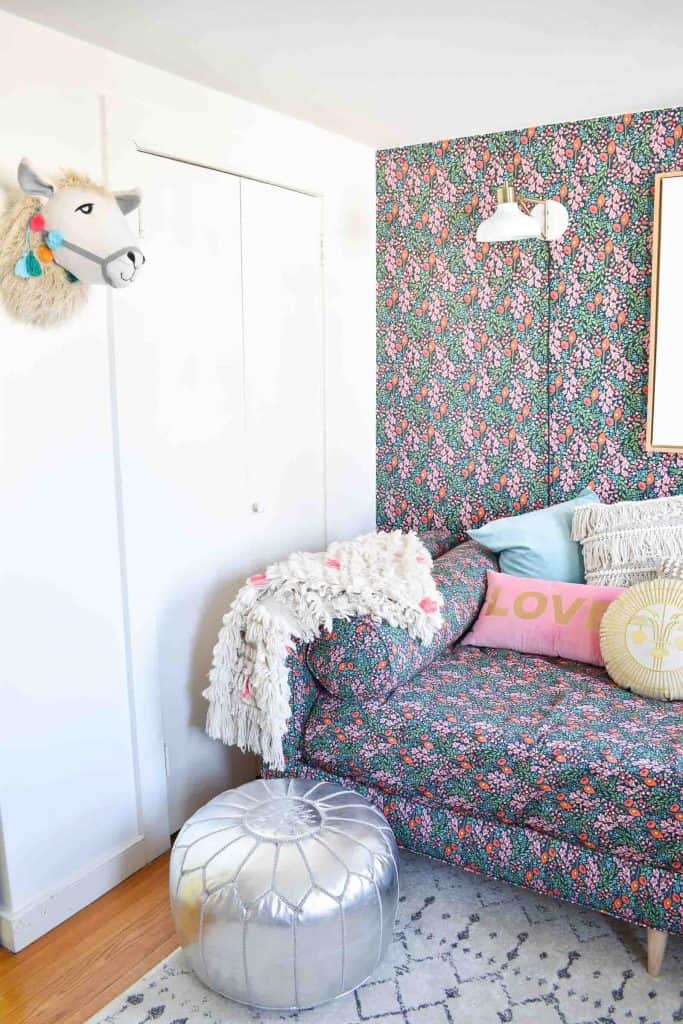 Above the bed are two sconces (linked in this post) and that fun Homegoods photograph. The sconces are plugged in below, but my friend Brooke has coined the phrase "magic light trick" for a hack she does to avoid cords or hard wiring wall sconces just like this… if you don't want visible cords, go check it out.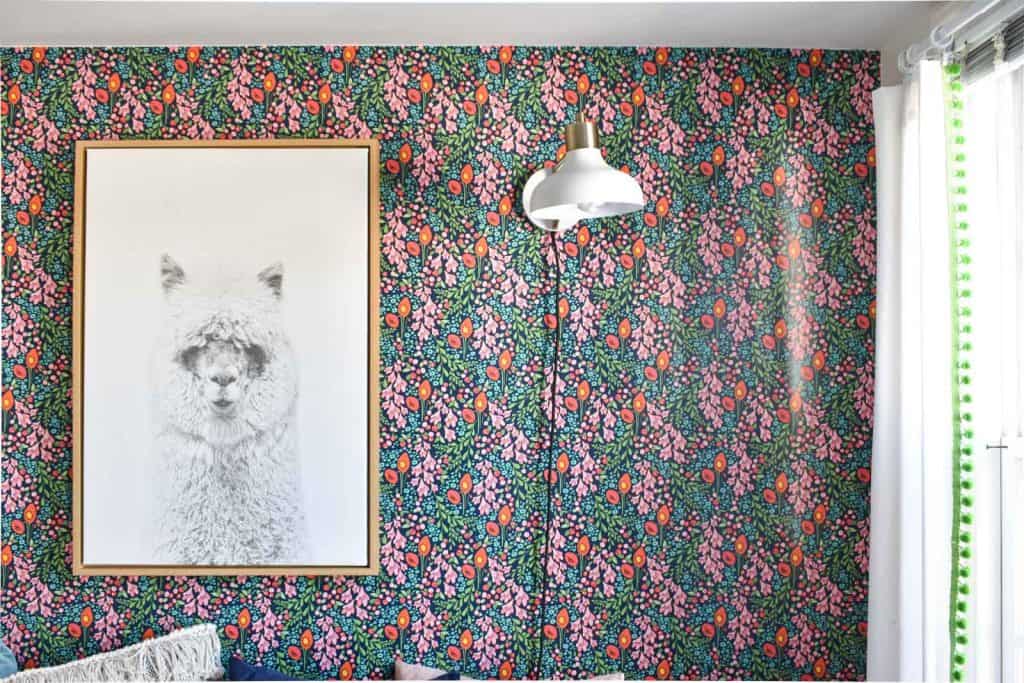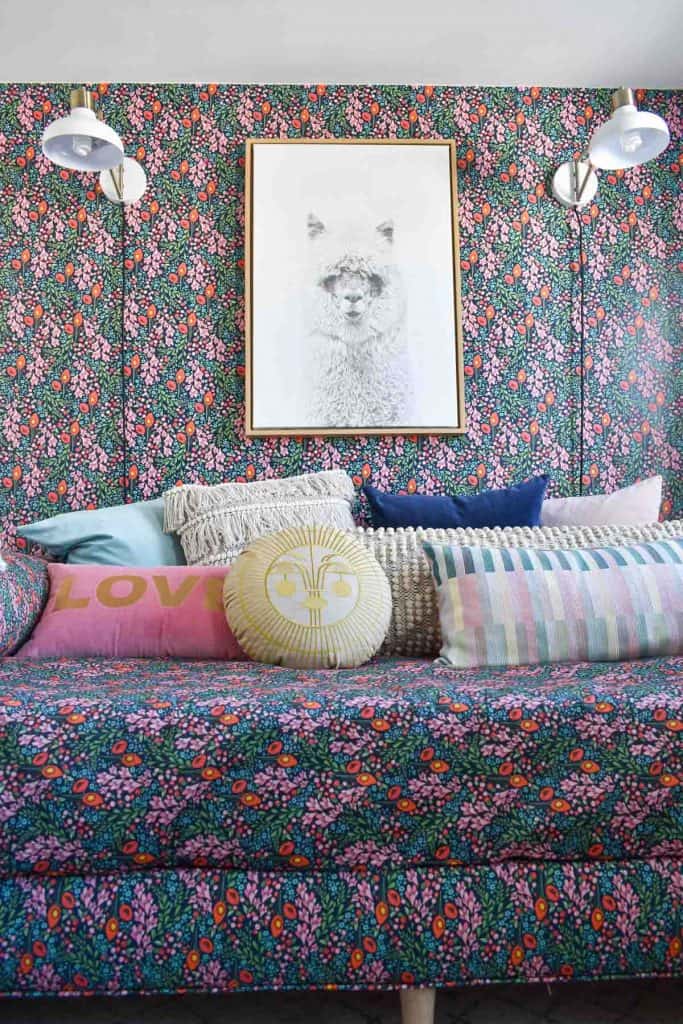 I talked a big game about bringing in new window treatments but truthfully, these existing white ones were perfect so… I didn't do a think. The windows need something neutral to balance the wallpaper/ daybed wall and these simple white panels fit the bill. The green ball fringe I added to the edges is a nice pop of color that happened to match the wallpaper to a tee, so… one less thing to do!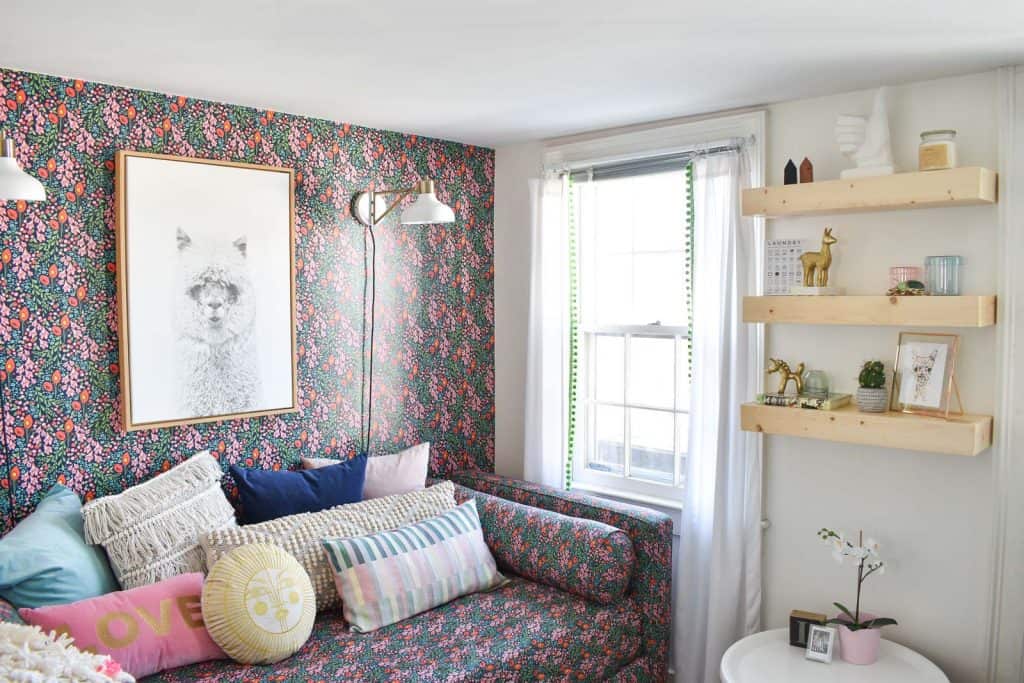 Between the windows, are those floating shelves. These were the first floating shelves I built and it was easier than expected. I left the wood raw and gave them a simple coat of clear polycrylic. More clean lines for this diminutive space, but also an area to bring in some accessories and styling.  Below is an Ikea table (no longer available) that guests can use to rest a book or bottle of water.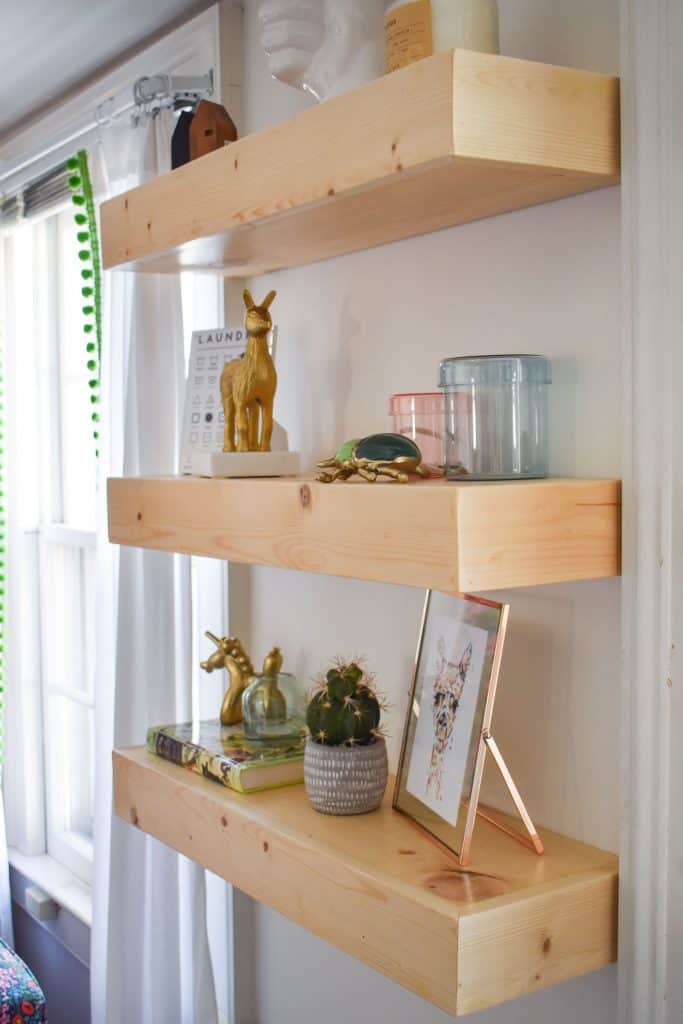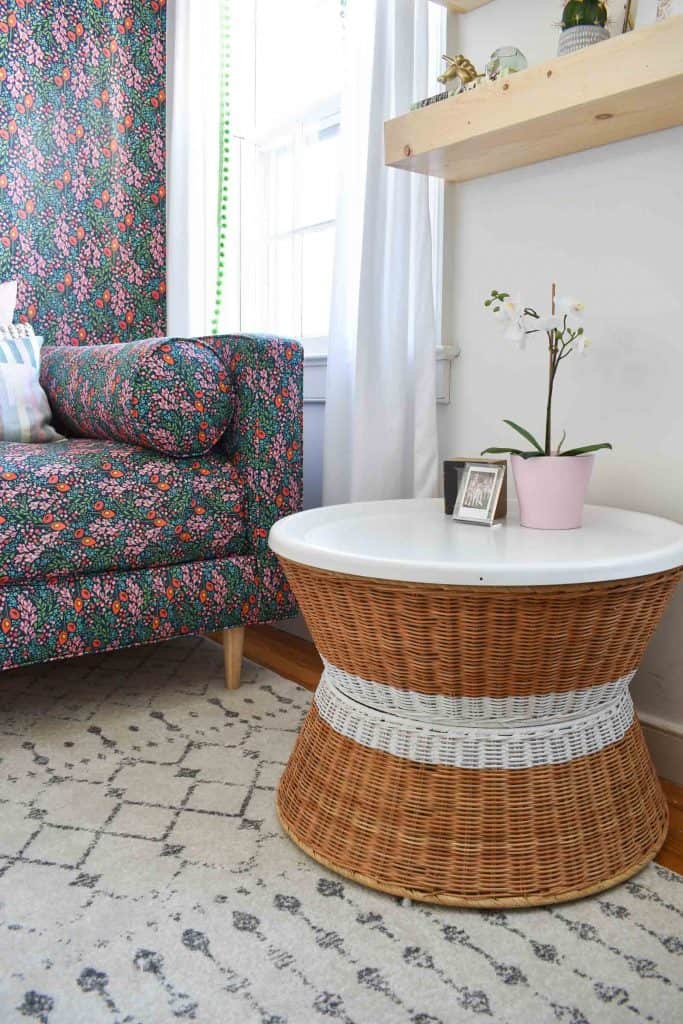 In the corner is a rattan chair plucked from the Restore a while ago for $8. I figured this chair wouldn't get much use as a seat, but rather as a place to toss clothes, and I liked that this one wasn't quite as bulky as the upholstered one that was there previously. I sewed a simple pillow case out of the leftover fabric to tie the pattern into this side of the room. That floor lamp behind it is this one from Amazon and it plugs into an outlet controlled by the wall switch which I love.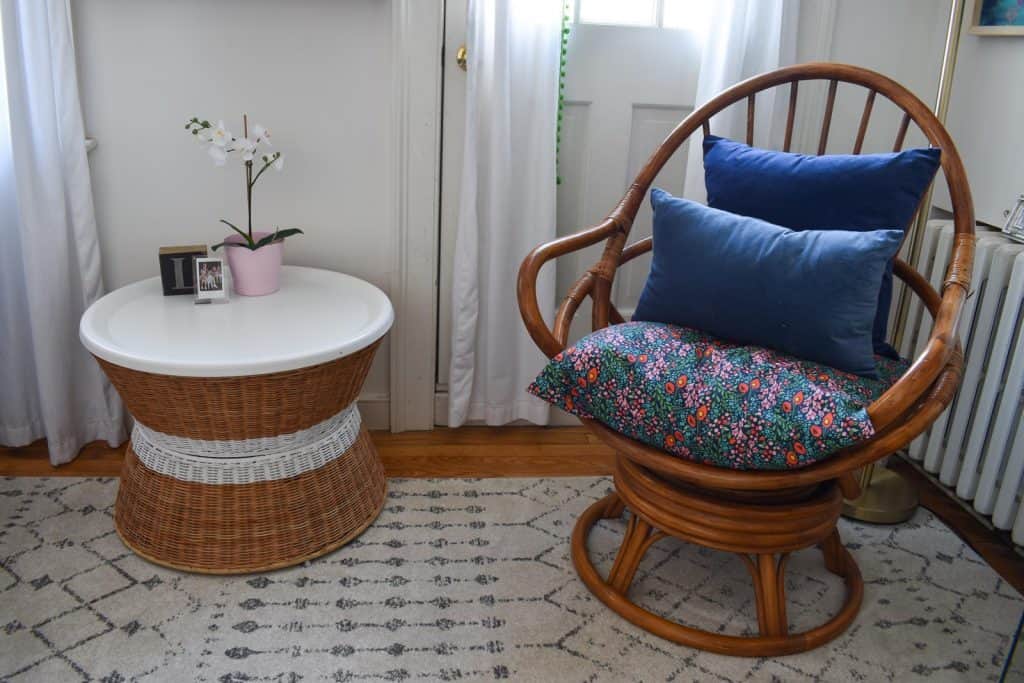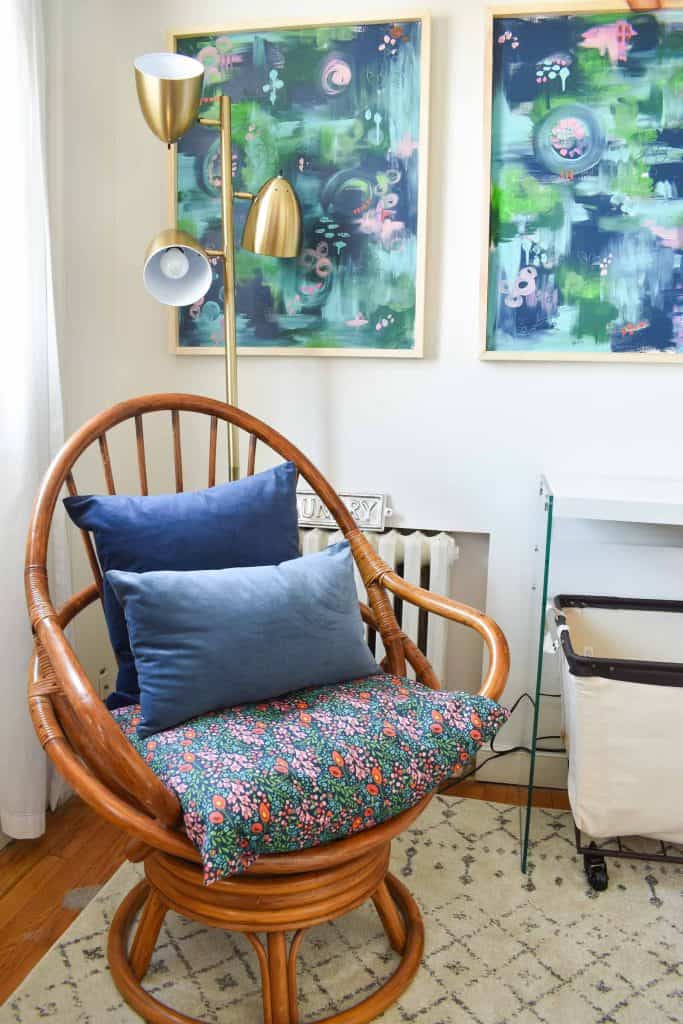 The wall opposite the day bed was a challenge for me because I wanted it to 'match' the vibrancy of the pattern across from it, but not compete. I was worried that an intricate gallery wall would feel too crowded and a singular large scale piece of art would be impossible to find. So I made my own! I hit Michaels on a doorbuster day and got three large canvases for the price of one. Head over to my tutorial to see how I made them. The size and colors of the DIY ones are just the right balance to that daybed wall.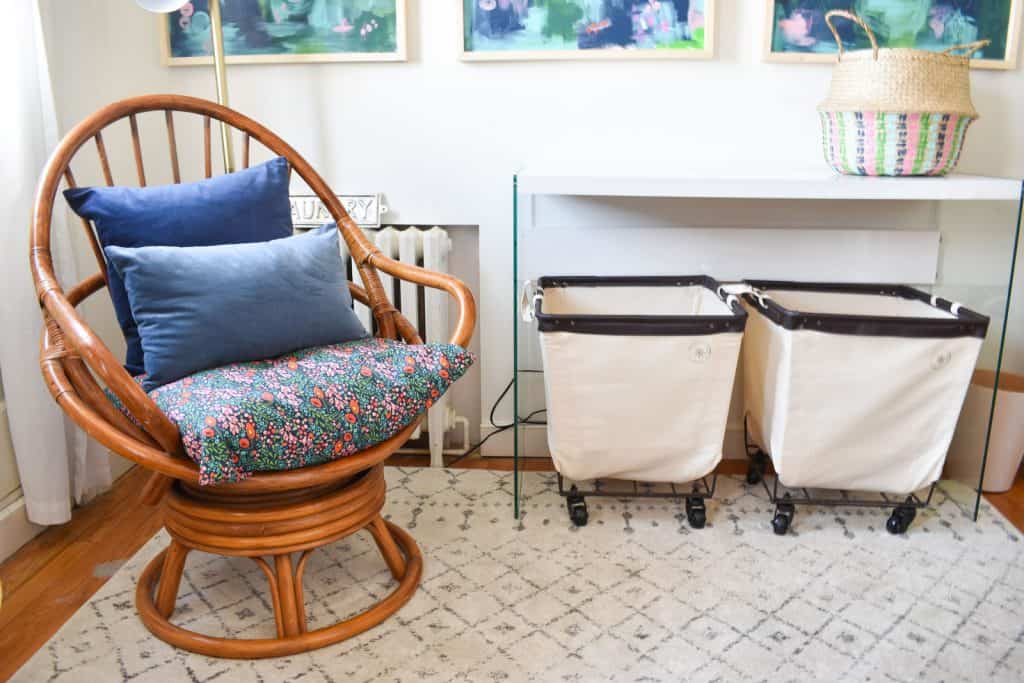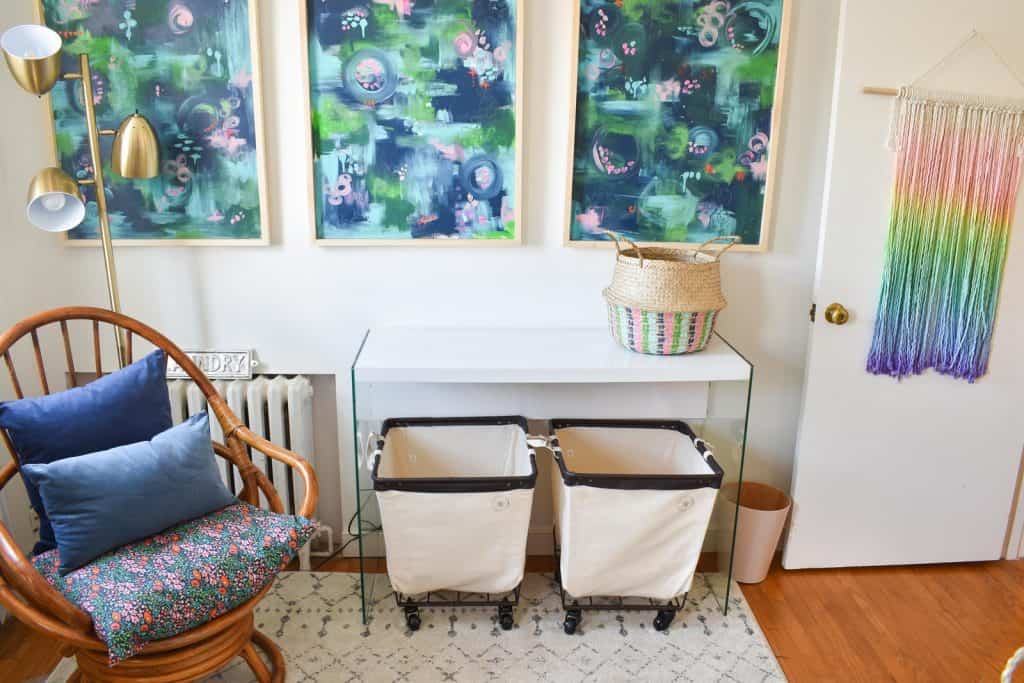 The wall hanging on the door was an early DIY as was that colorful basket. This table used to be in the playroom and it's a nice shallow surface for the 'laundry' side of the room. Underneath I have those rolling laundry bins to help with the many MANY loads of laundry that build up on the daily around here.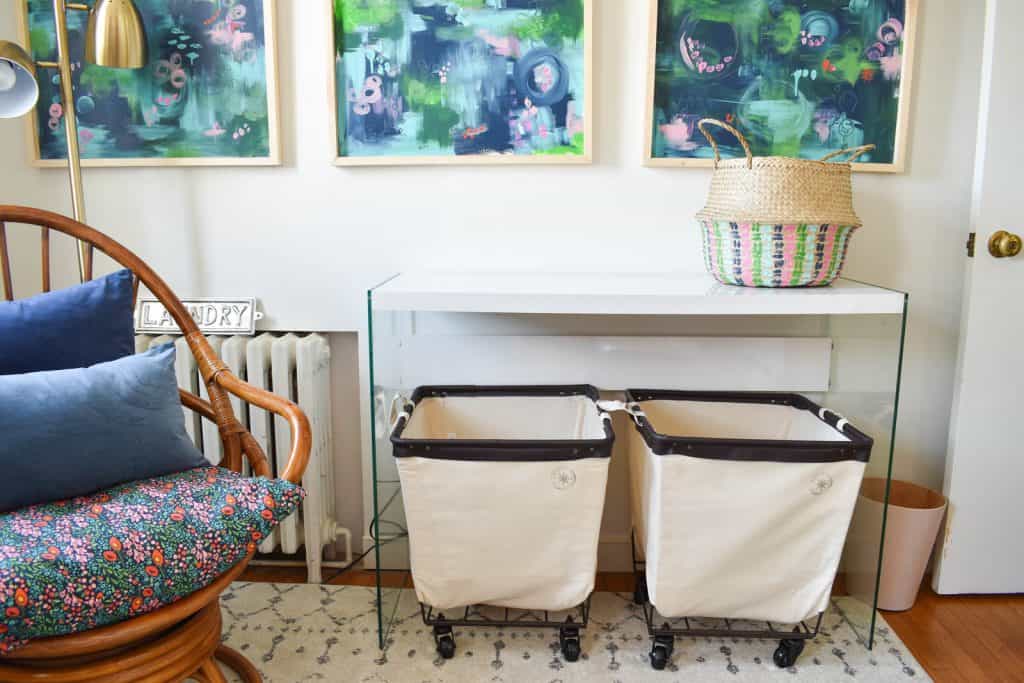 Last but not least, I hung this sweet capiz pendant light to illuminate that DIY rattan mirror inside the door.  Oh… don't forget that stuffed llama head... I never said I didn't love a theme!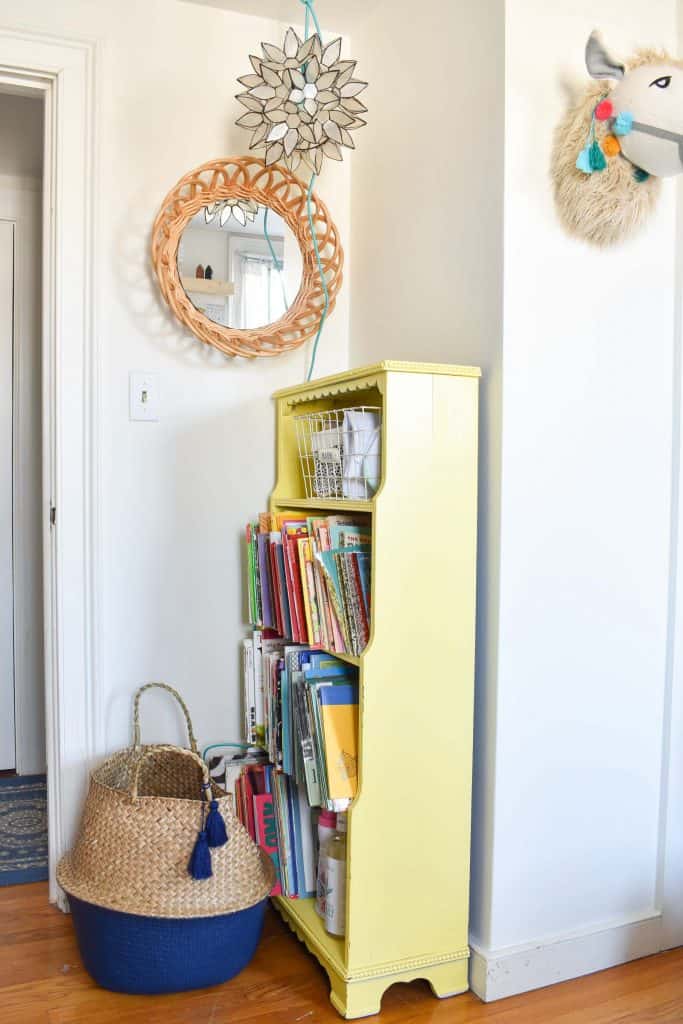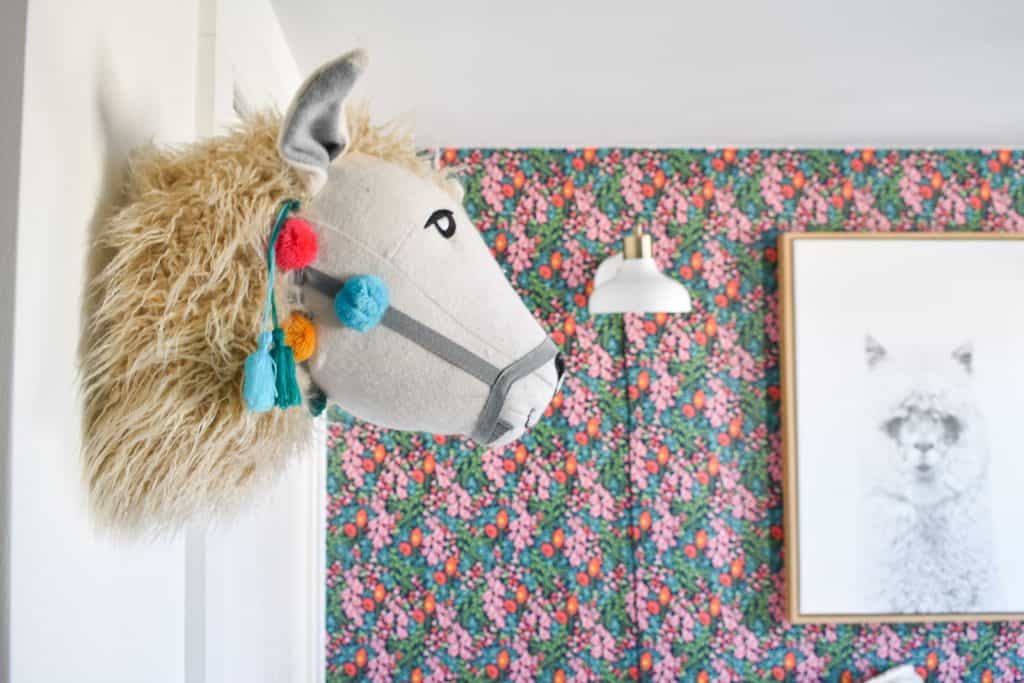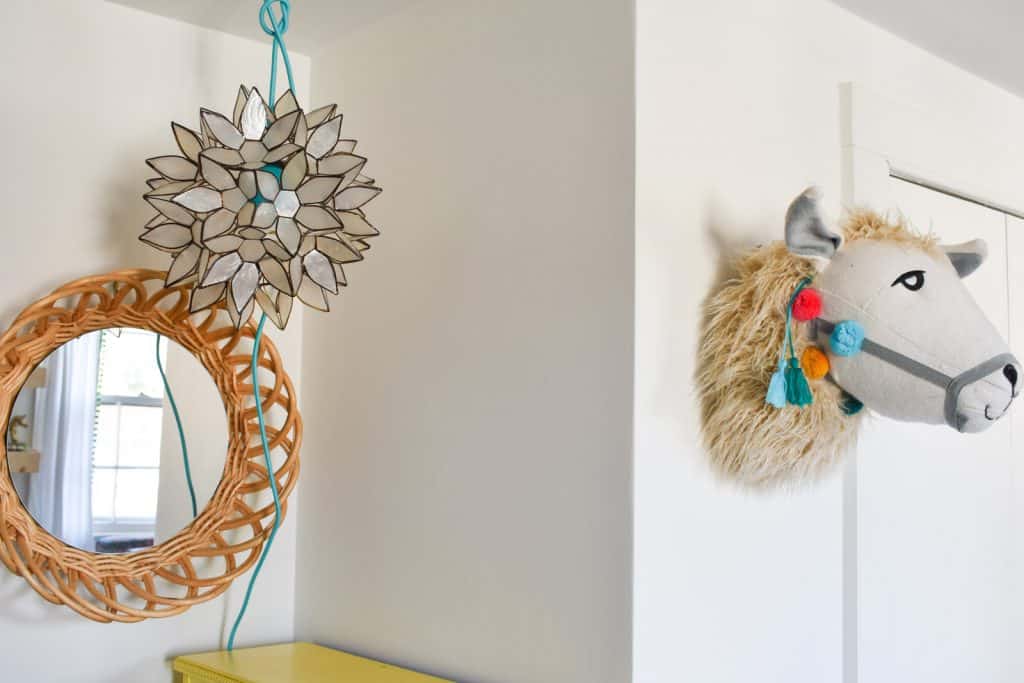 I've tried to link to most of the products throughout the post so check those out for sources. Thanks SO much to Sarah for bringing the thunder on this one and inviting me to compete, er… join her. I think I was meant to talk more smack than I did, but honestly she made some bad-a$$ projects over in her space so head over to see how her guest room came together!
Check back for the final video installation for this Guest Room Gauntlet as well. I'll link it below! Tell me this isn't the cutest before/ after: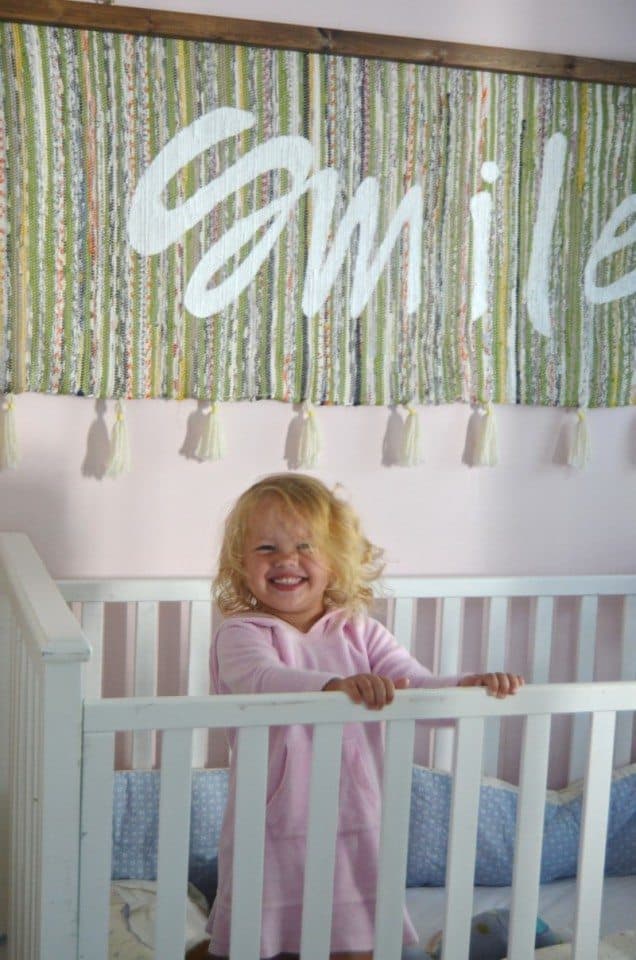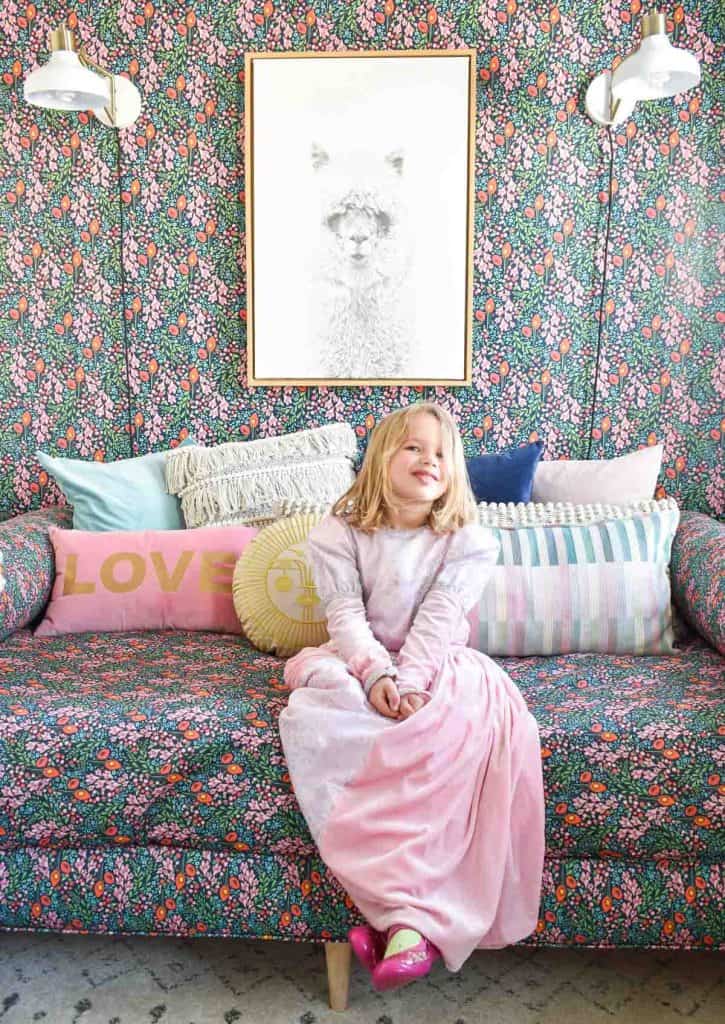 I