Organizing Family Paperwork
Psssst… this post *might* contain affiliate links: see my disclosure here.
How to Keep Family Papers Organized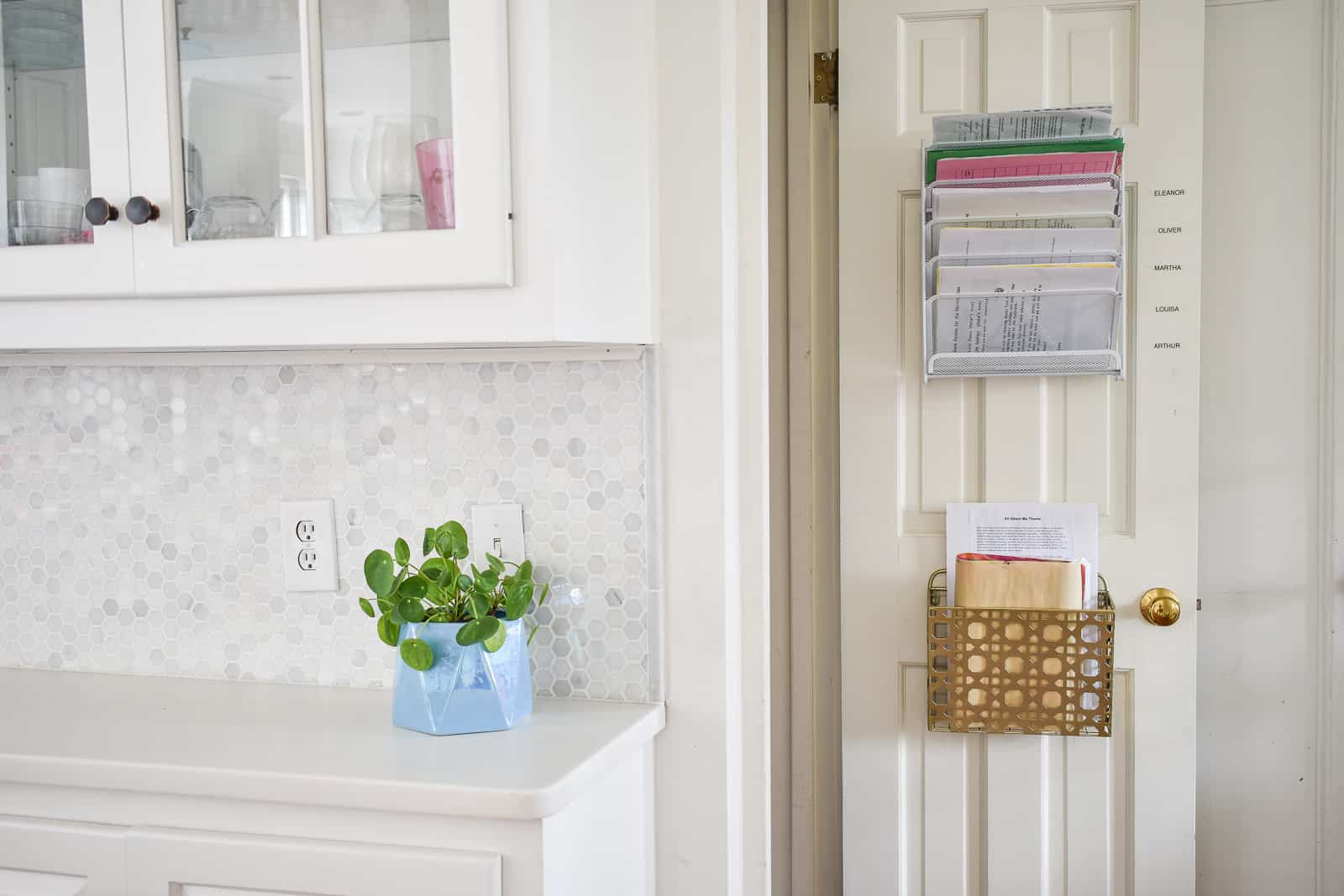 With five kids in school, the volume of papers coming home is intense. MANY of those papers aren't important but that means lots of them ARE! I needed a better system than piles of paper on the counter. Thankfully, it didn't take much brain power to make sense of our family papers, so I thought I'd share what worked for us here!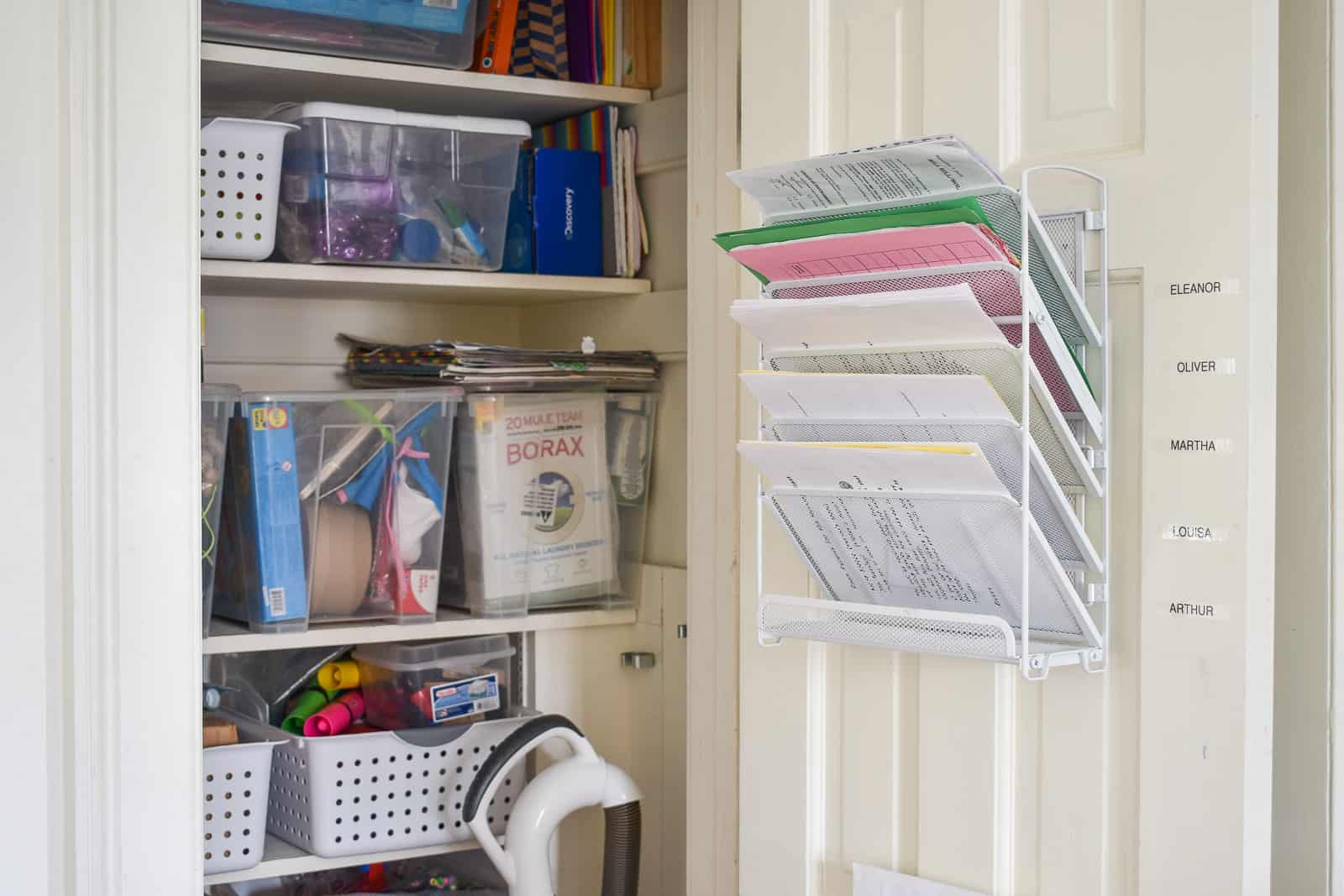 Step 1.  Purge the Papers aka Trash
There's no way to sugar coat this. Lots and lots of these papers can go straight into the trash. Completed homework? Gone. Sketches and notes? Trash. What about those pamphlets that come home filled with helpful information about 'ways to help your child with their reading' or 'things you can do to benefit fine motor skills'? I typically throw those away because if I ever need to find answers to those questions… I'll google it. BUT, sometimes I'll scan it with my phone (I use an app called Genius Scan that is SO helpful) so I can access it whenever I need without keeping a pile of paper.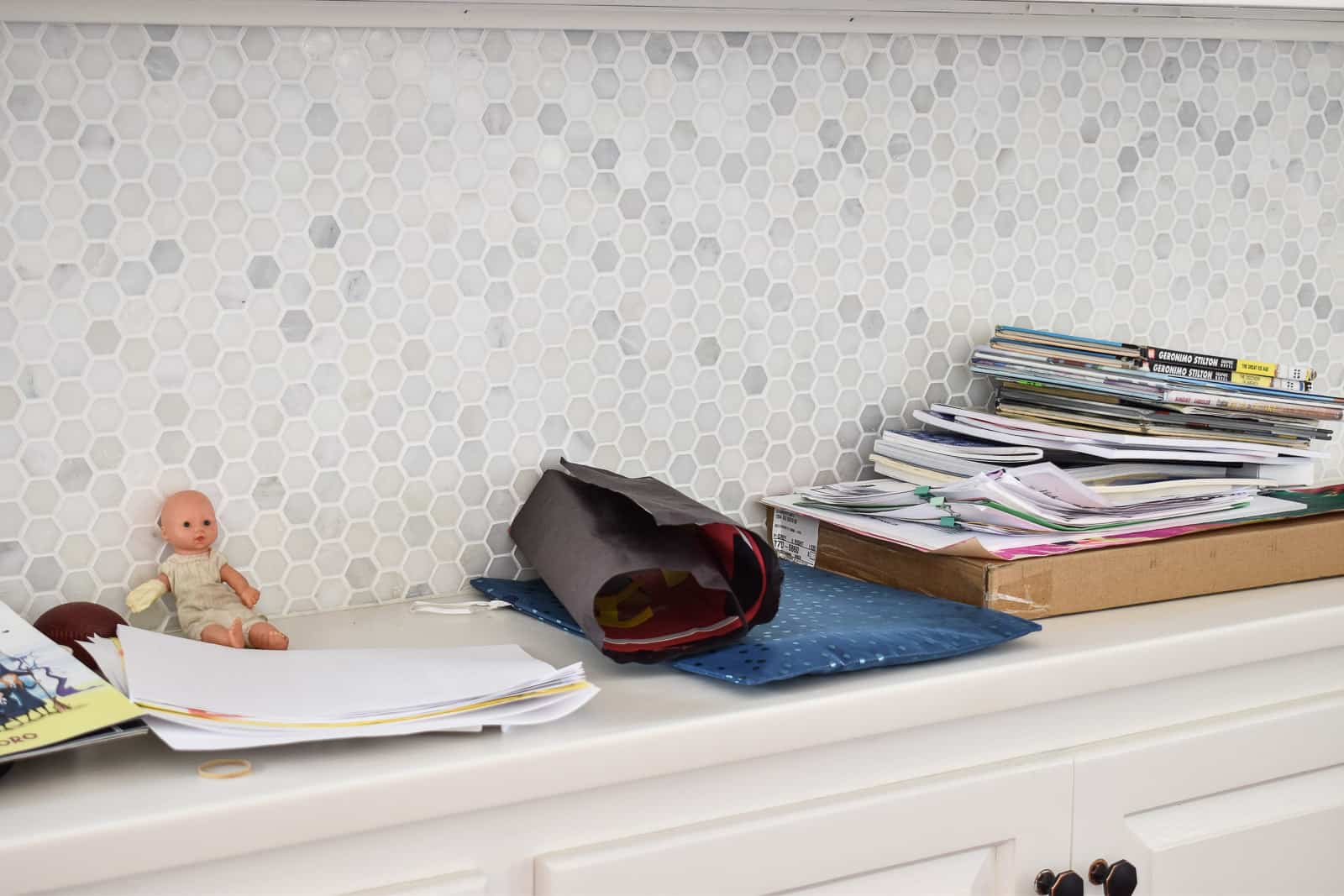 Step 2. Sort
There are usually three types of papers in my piles:
Those that require a response or some sort of action (i.e. signature for a field trip, reminder to send in money for a party, etc.)
Artwork or items I want to save for framing or a scrapbook. Again… I encourage you to think about how much you'll want to look back on this item in 10 years. A piece of homework with a star on top will likely NOT be all that poignant in a decade. But maybe that sweet note with the kindergarten spelling will be so memorable down the line.
Papers that need to be filed away in a safe spot: doctors annual forms, IEP information, etc.
The first category is the one that I lose track of the most. SO… I went online to find a compact storage solution that would help me with all 5 kids.  I found this perfect file system on Amazon (affiliate).  We have one closet in the kitchen that's used for craft supplies and the inside of the door used to have an ironing board hanging there. Want to know how often I use that ironing board? Quarterly. That's valuable real estate. Down came the ironing board, up went the file cabinet.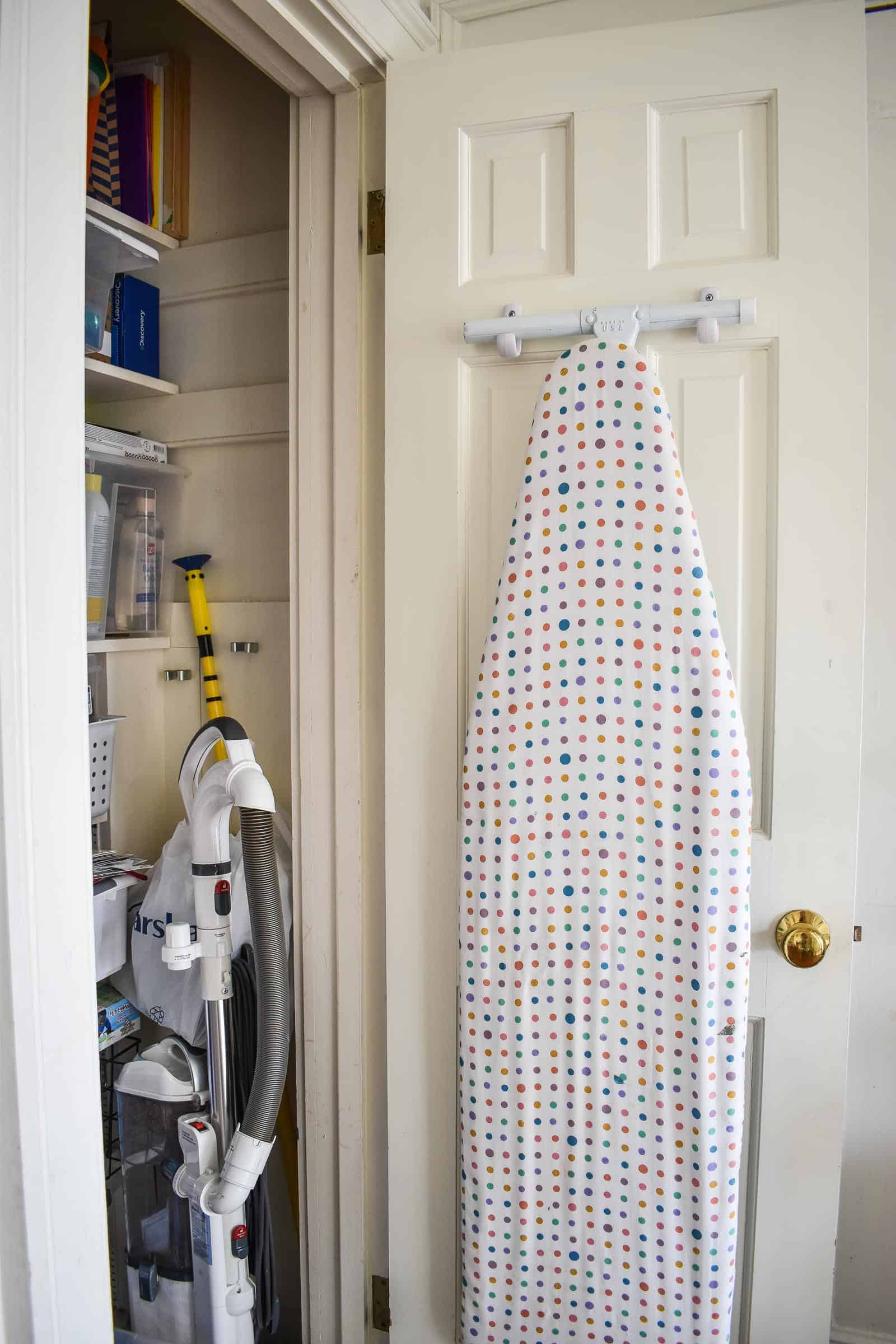 You'll notice that the item pictured is black. Black seemed like it would stand out way too much on the back of the door, so I spray painted it white. Primer first, then high gloss white. Naturally, I saw THIS WHITE ONE as soon as I published this post so…. face palm. (I just noticed this 5-pocket one in gold if you want something a little more flashy, and mine comes in silver too!)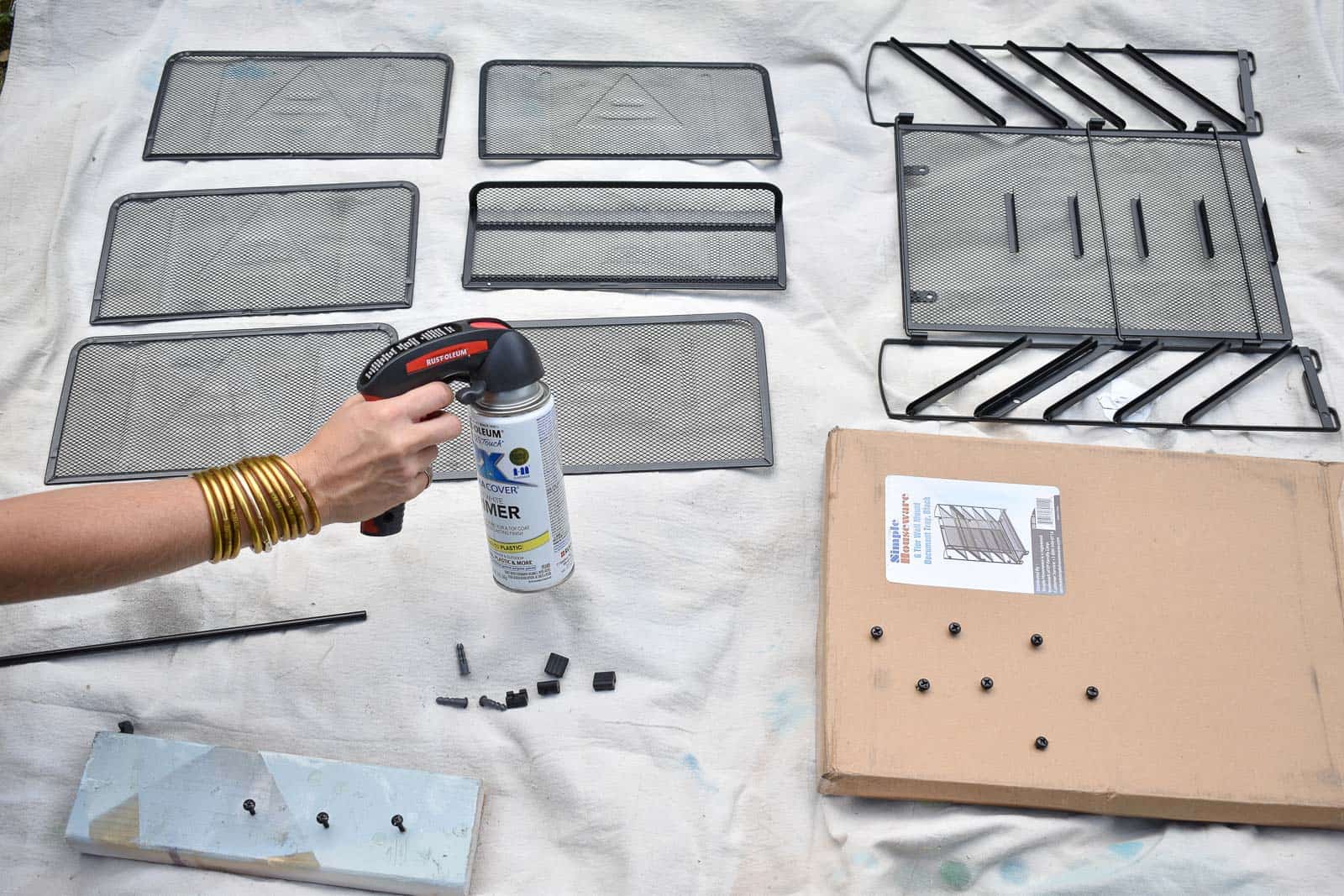 I simply screwed the file rack right onto the back of that closet door. When it's shut, you don't notice it obviously, but it's still super easy to access.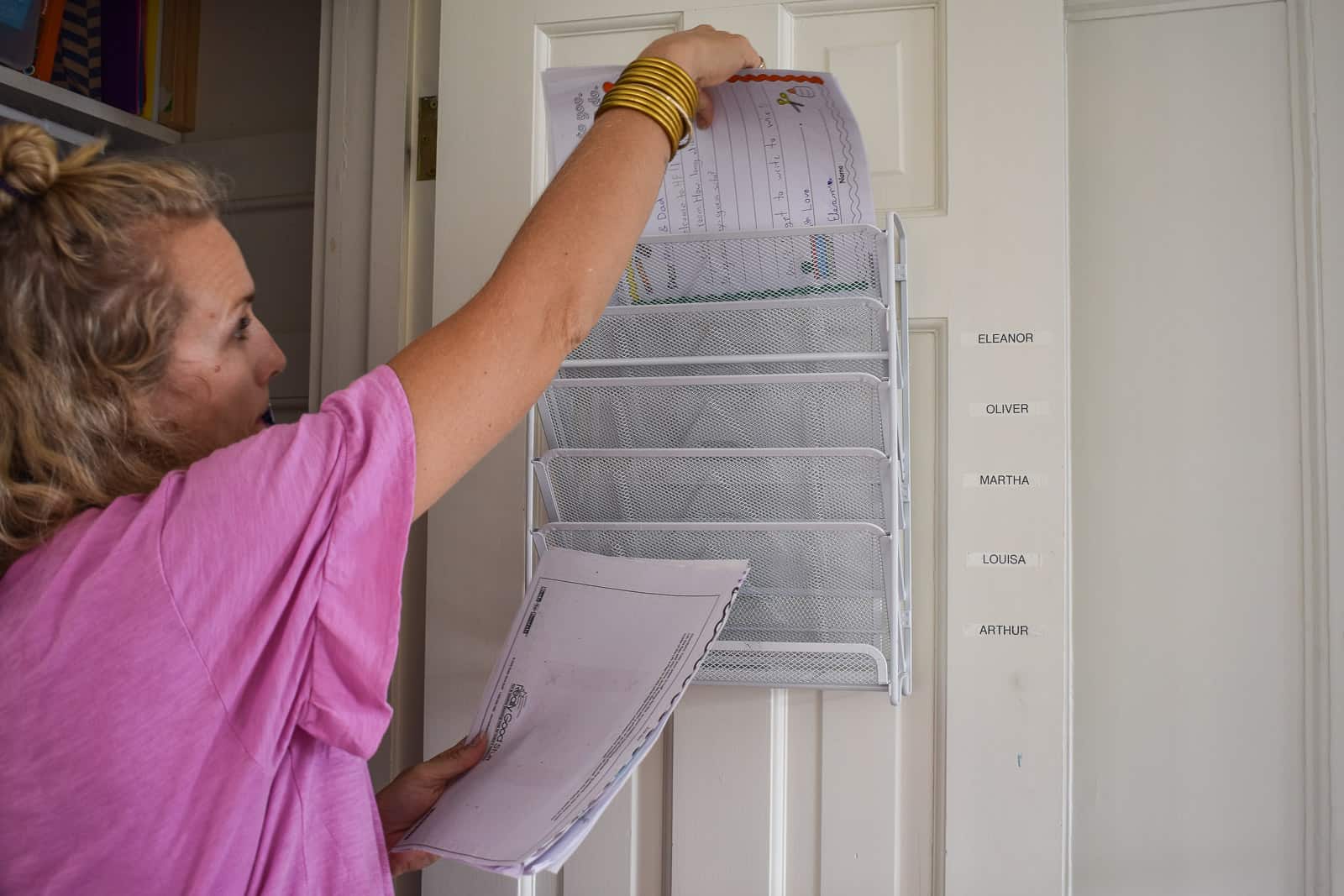 I made sure to label each file with the kids' names so that other people could access and keep track of papers also. Because the files are a metal mesh, I stuck their names (made with my favorite label maker) right next to each file compartment.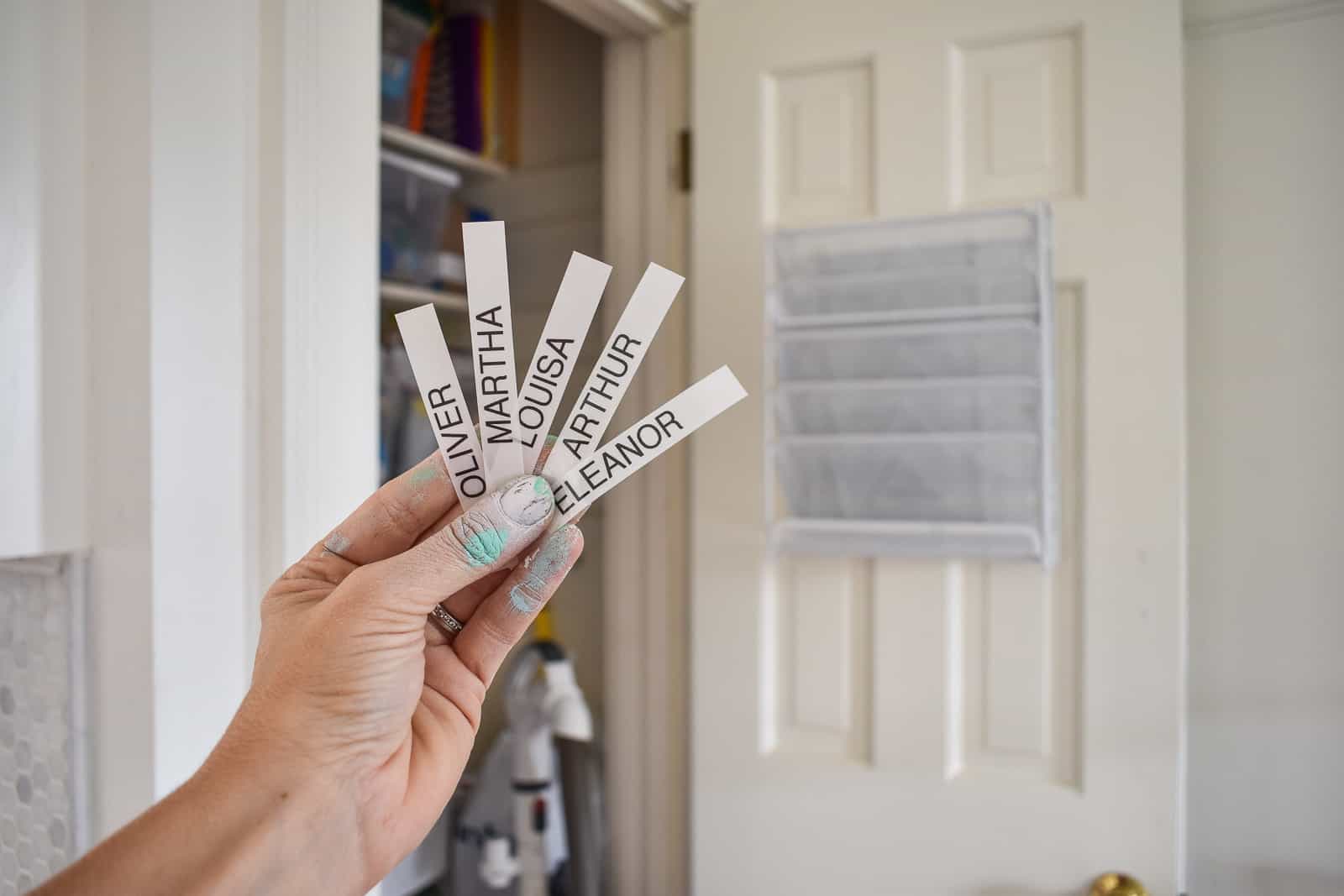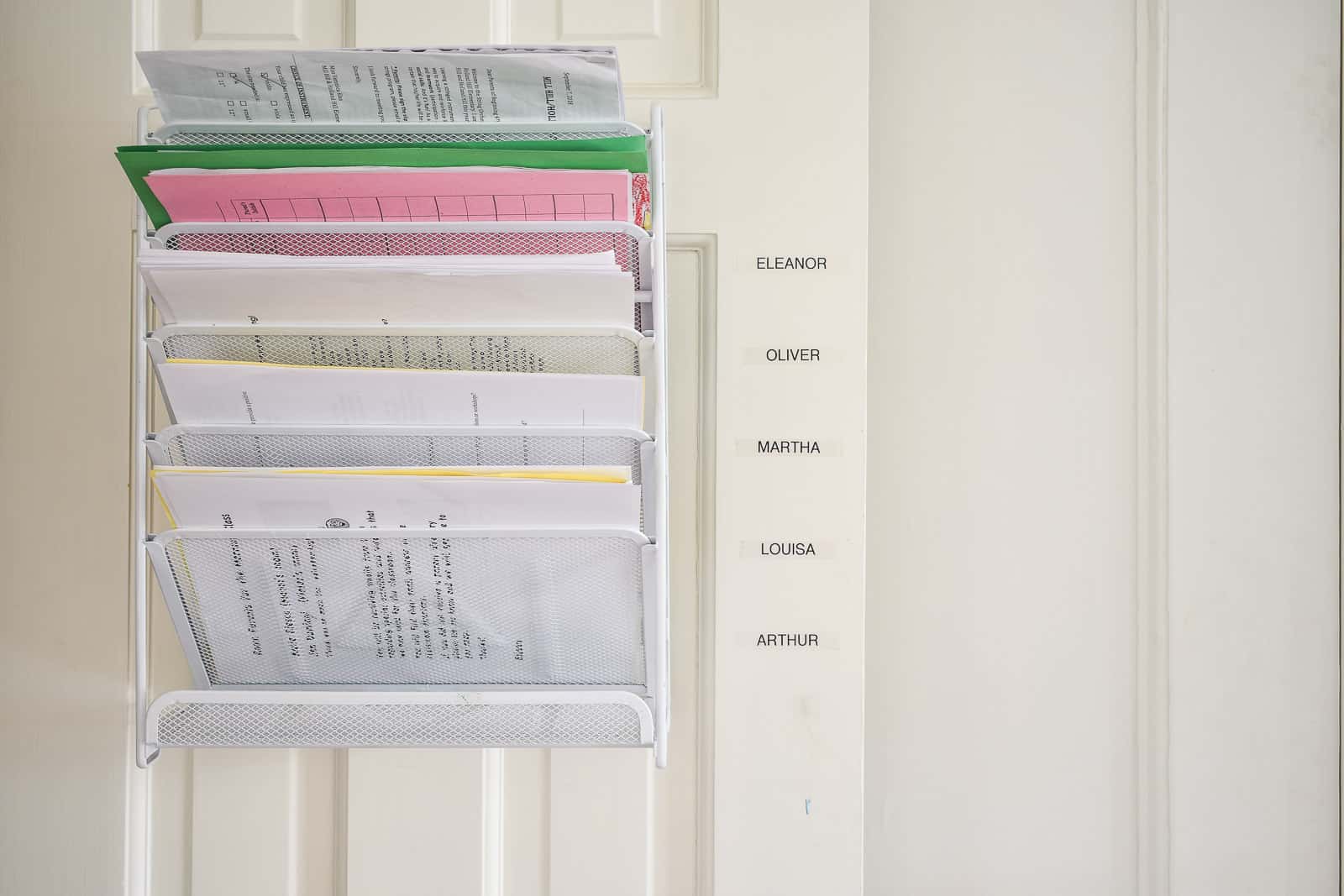 A while ago, I bought that gold file pocket for a news segment and forgot to return it. (I found this gold one that's similar!) I hung that below the larger paper sorter as a holding area for artwork and scrap book items. Ultimately, those items will go upstairs to a bin I have in my third floor office of scrapbook items.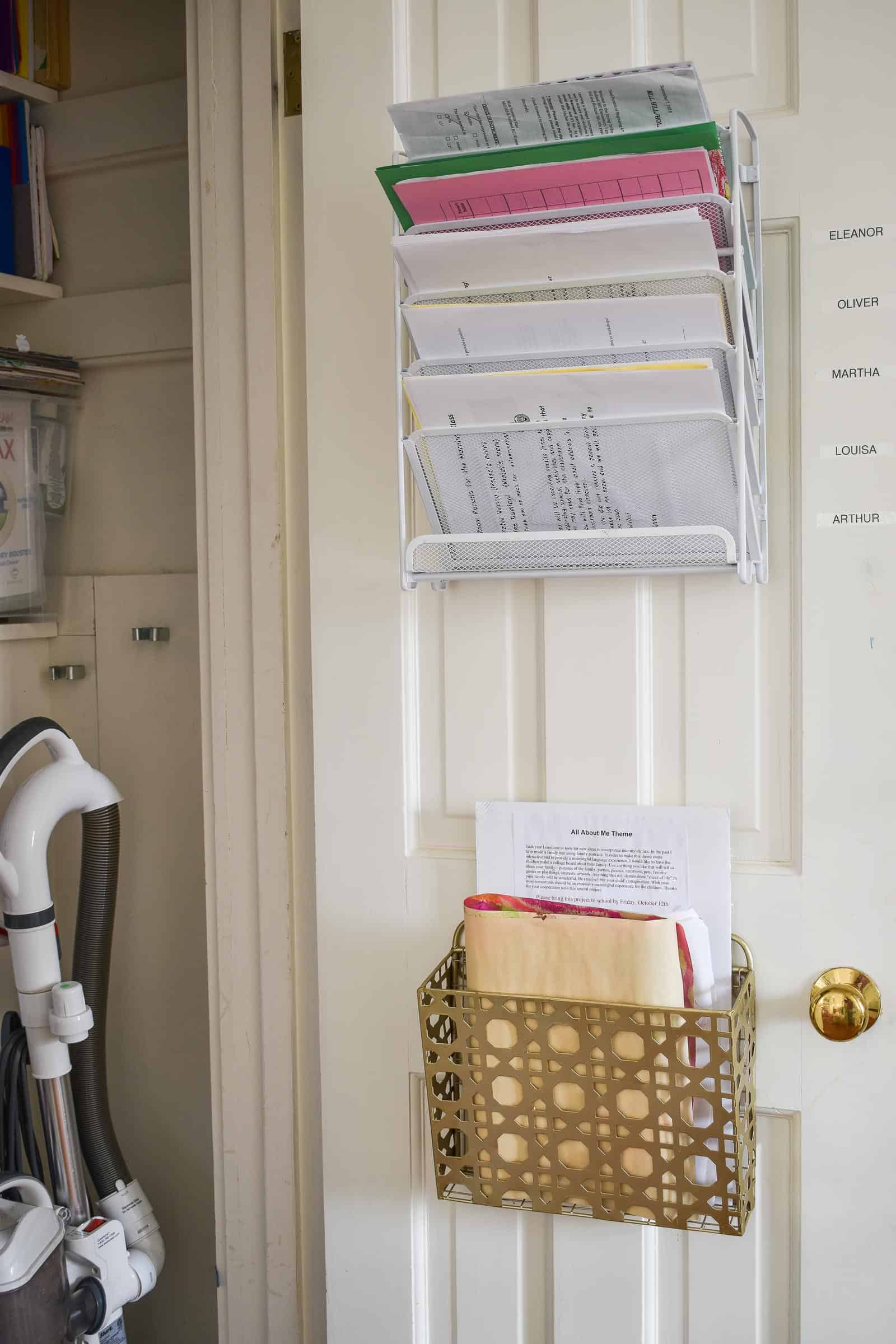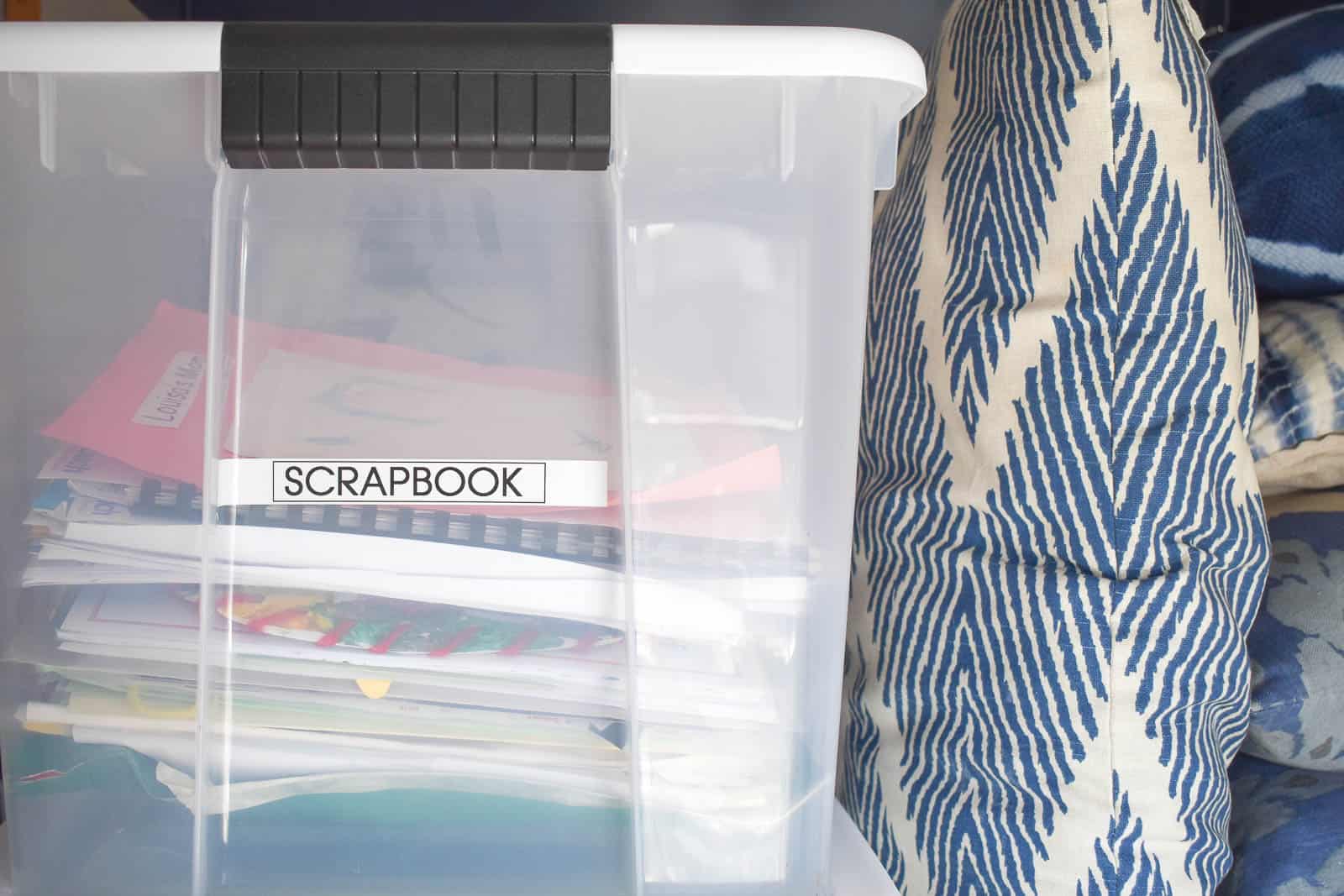 Finally, for the last category of papers- the ones that need to be filed away- I have this upcycled file cabinet in our office. I made a $10 file cabinet look MUCH more attractive so it doesn't stand out as an eyesore in our office!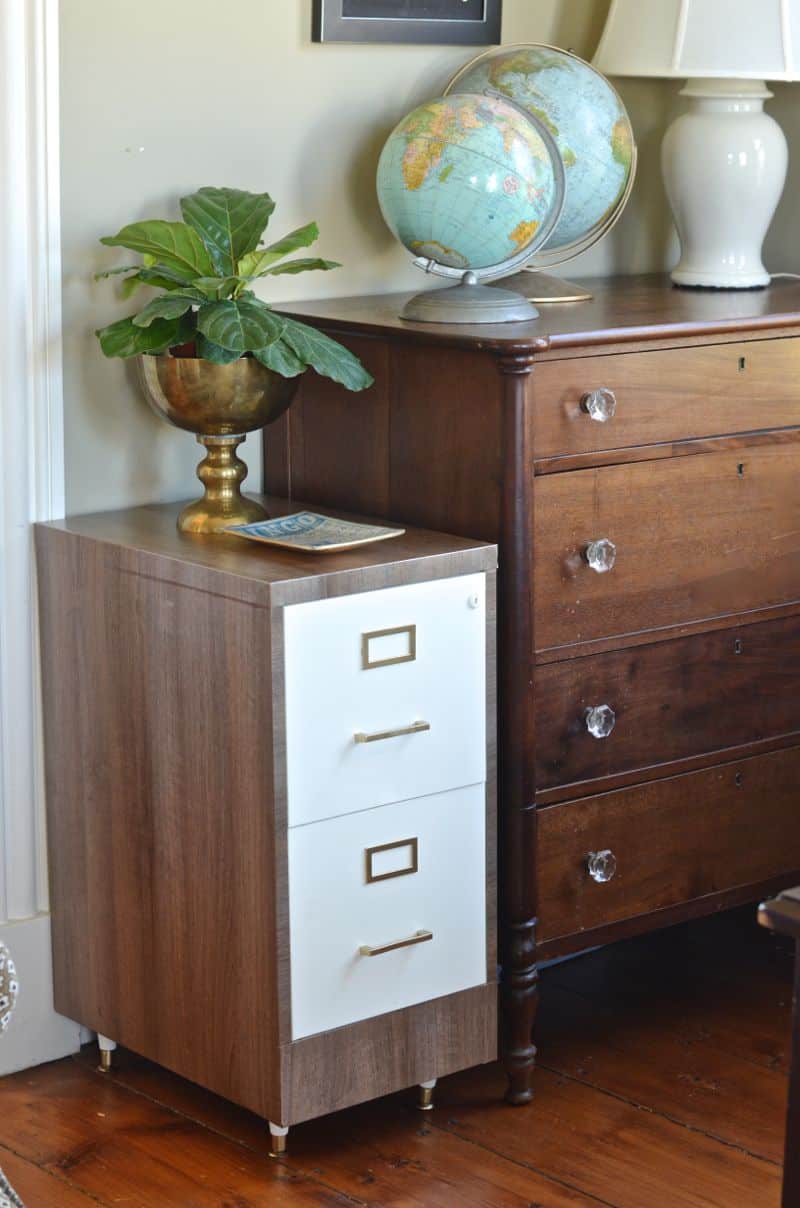 Is this paper system wildly creative or innovative? Nope. But it's super easy and it addresses all of the pain points for OUR family so hopefully it might give you some ideas for ways to make sense of all YOUR family papers!