Our Favorite Family Games
Psssst… this post *might* contain affiliate links: see my disclosure here.
Favorite Family Games of the Year
We love playing games together and these are a list of our favorites.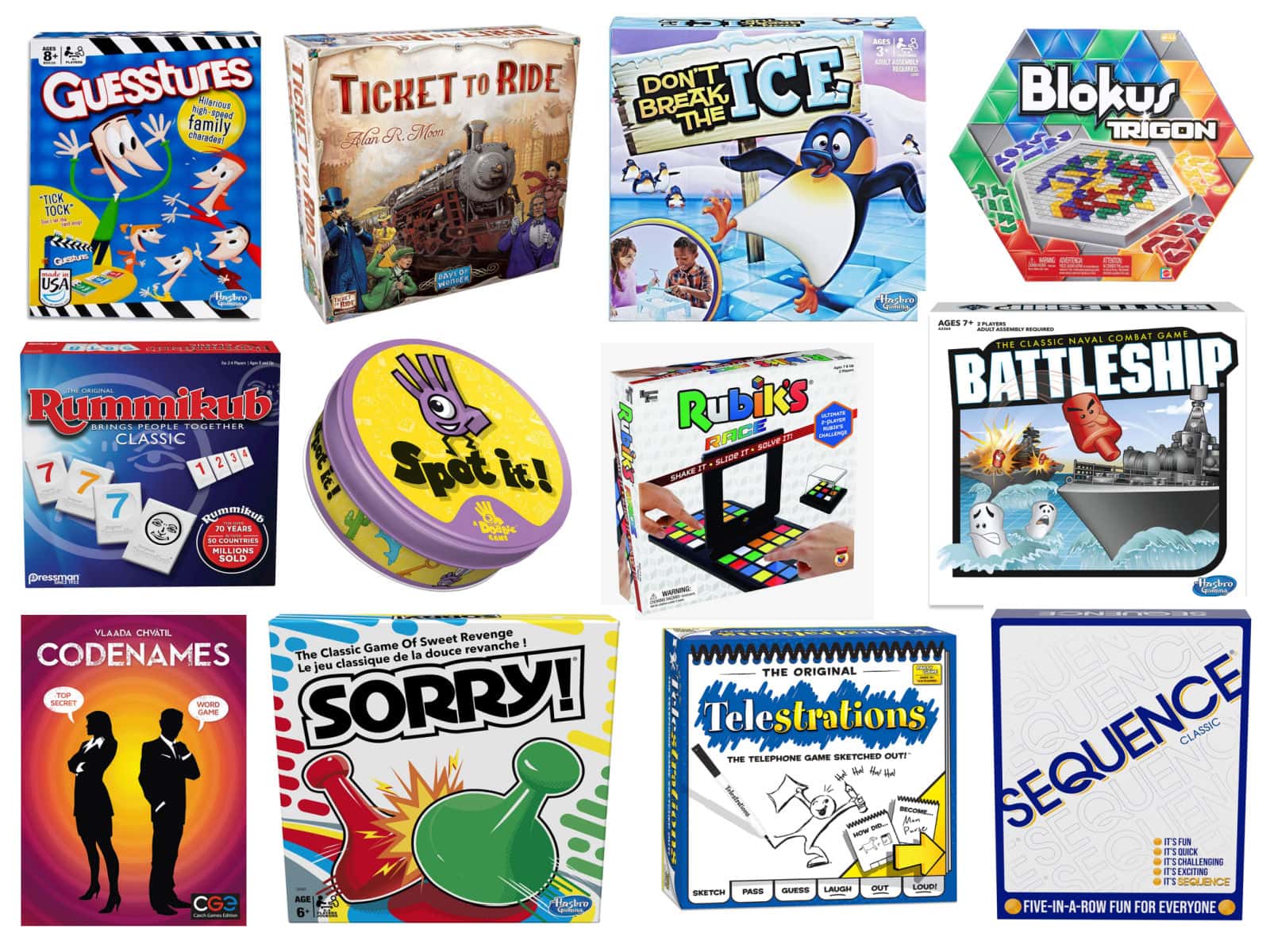 We've had a LOT of time to sit around and play games together lately and I figured some of you might want recommendations as we head into another dark winter of social distancing, etc. Reminder that our kids are aged 11-5 so I'll mention who enjoys each of these games… in most cases it's the four older kids, but Arthur likes to "help" and will often join us! In no particular order… here are our favorite games of the season!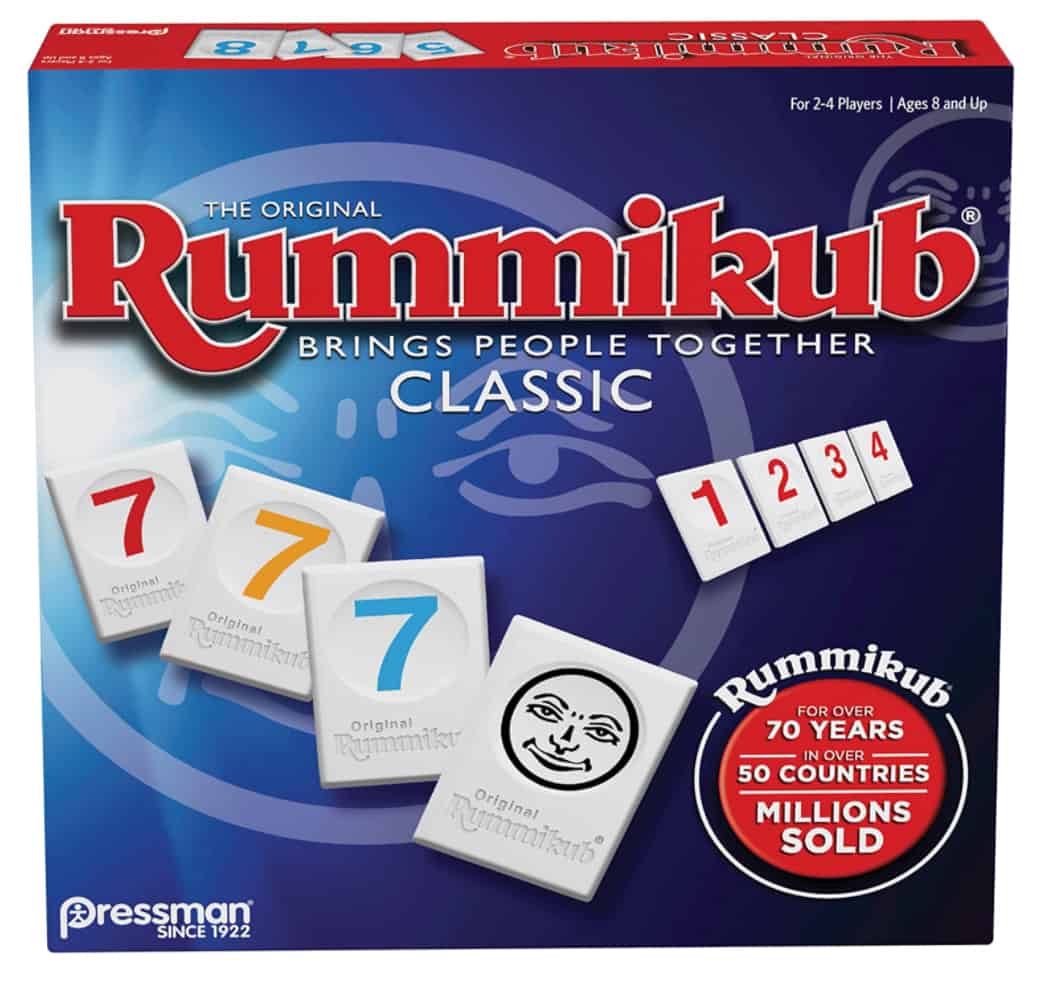 Rummikub is a game that the older 4 kids can play. (Not our 5 year-old.) The goal is empty your rack of tiles by making patterns of either number or color! There's enough strategy to keep it fun for the older kids but a simple enough premise for the younger kids to understand!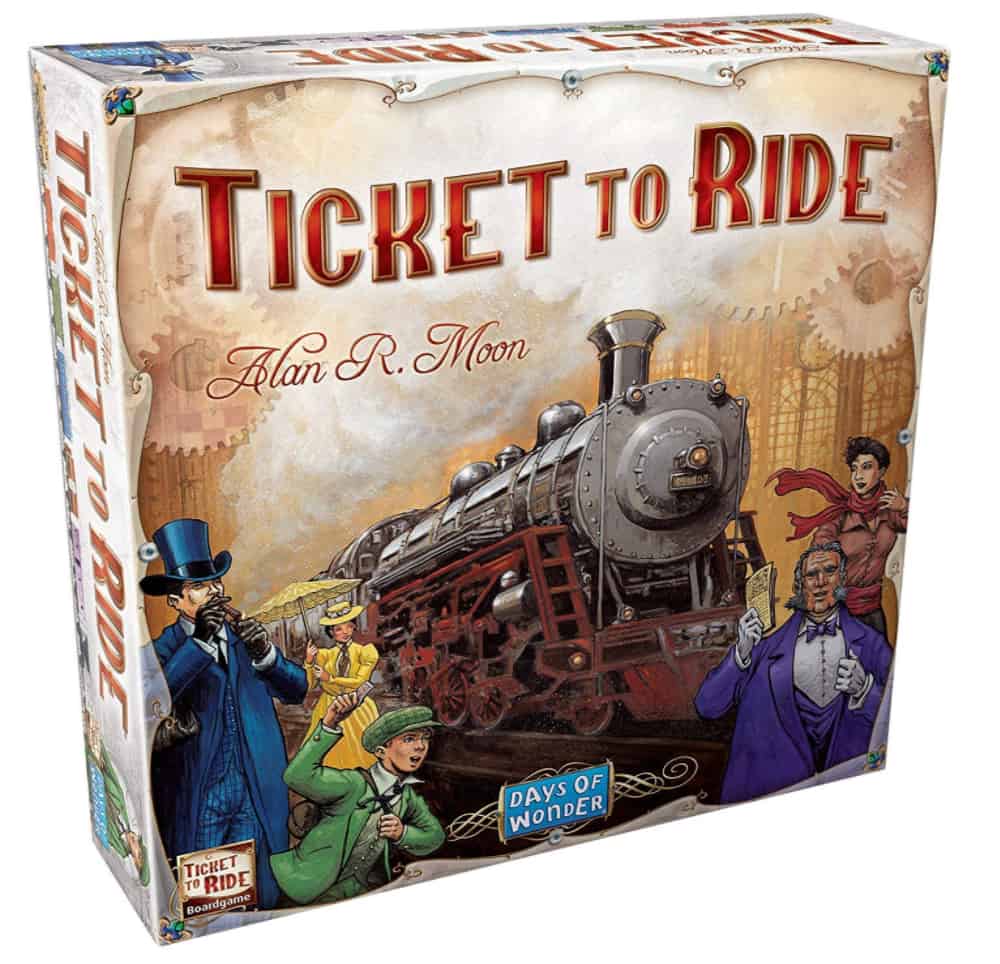 Ticket to ride is new to us this season and we love it! It's not a short game so we'll set it up on the dining room table and come back to it throughout the weekend. Again, the older 4 kids had a great time playing this. The goal is to collect tickets and add cars to your train to stretch across the country between various routes.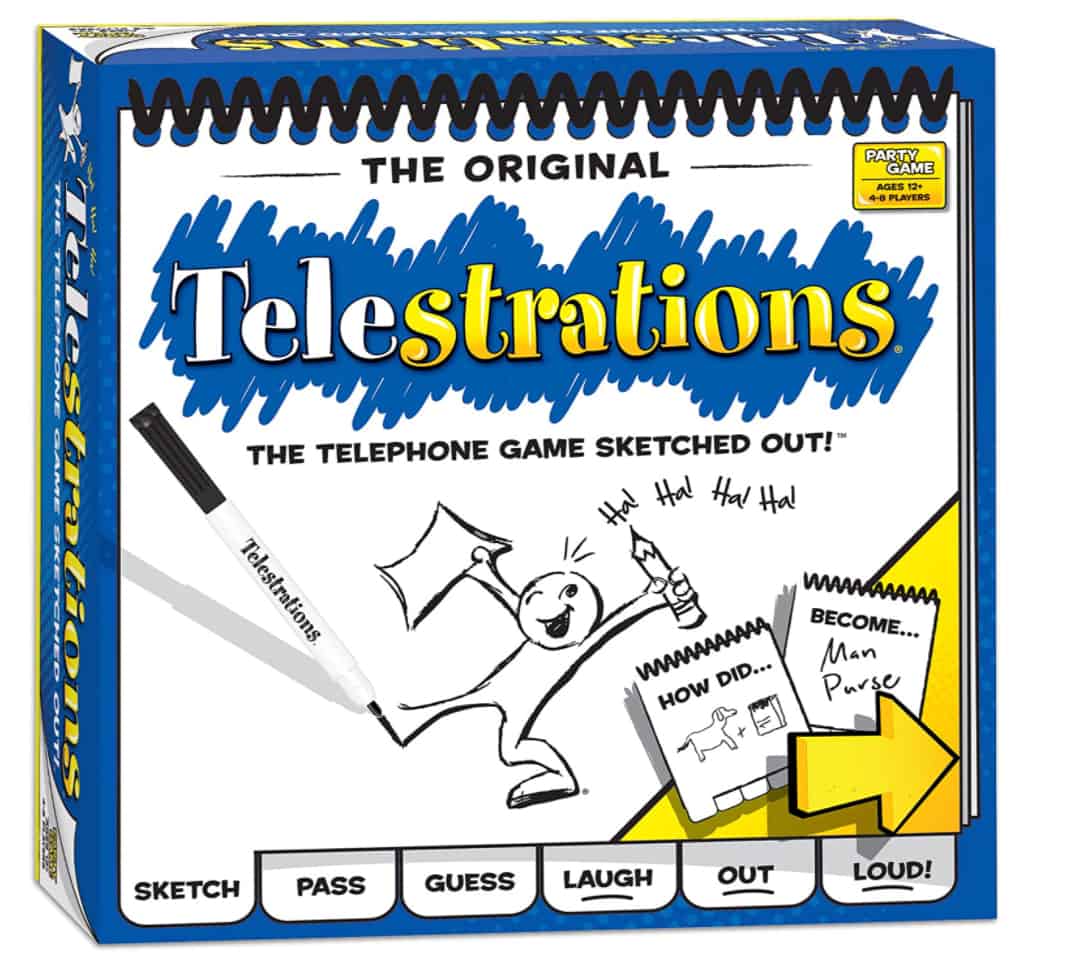 Telestrations requires reading, but our youngest partners up with someone who can help with the words and has a great time with the drawing. This is like the game of telephone… but with drawings. Best part? There's not a "winner" so it's just a fun game to play together!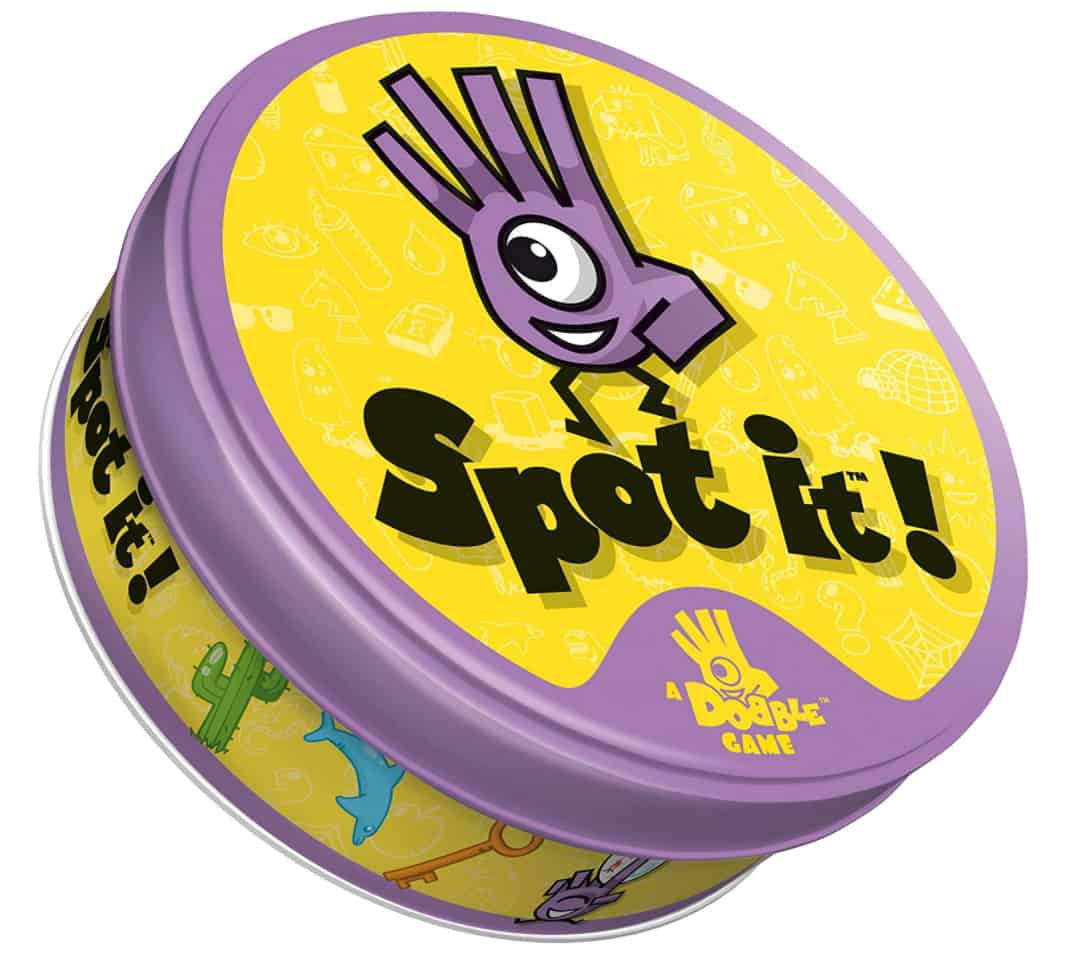 There are lots of versions of Spot it a few different ways you can play, but essentially you're looking at your card of assorted images and looking to find the ONE match with the card in the middle. Do NOT try to figure out how this works… your brain will hurt. Ask me how I know. All 5 of our kids love this game!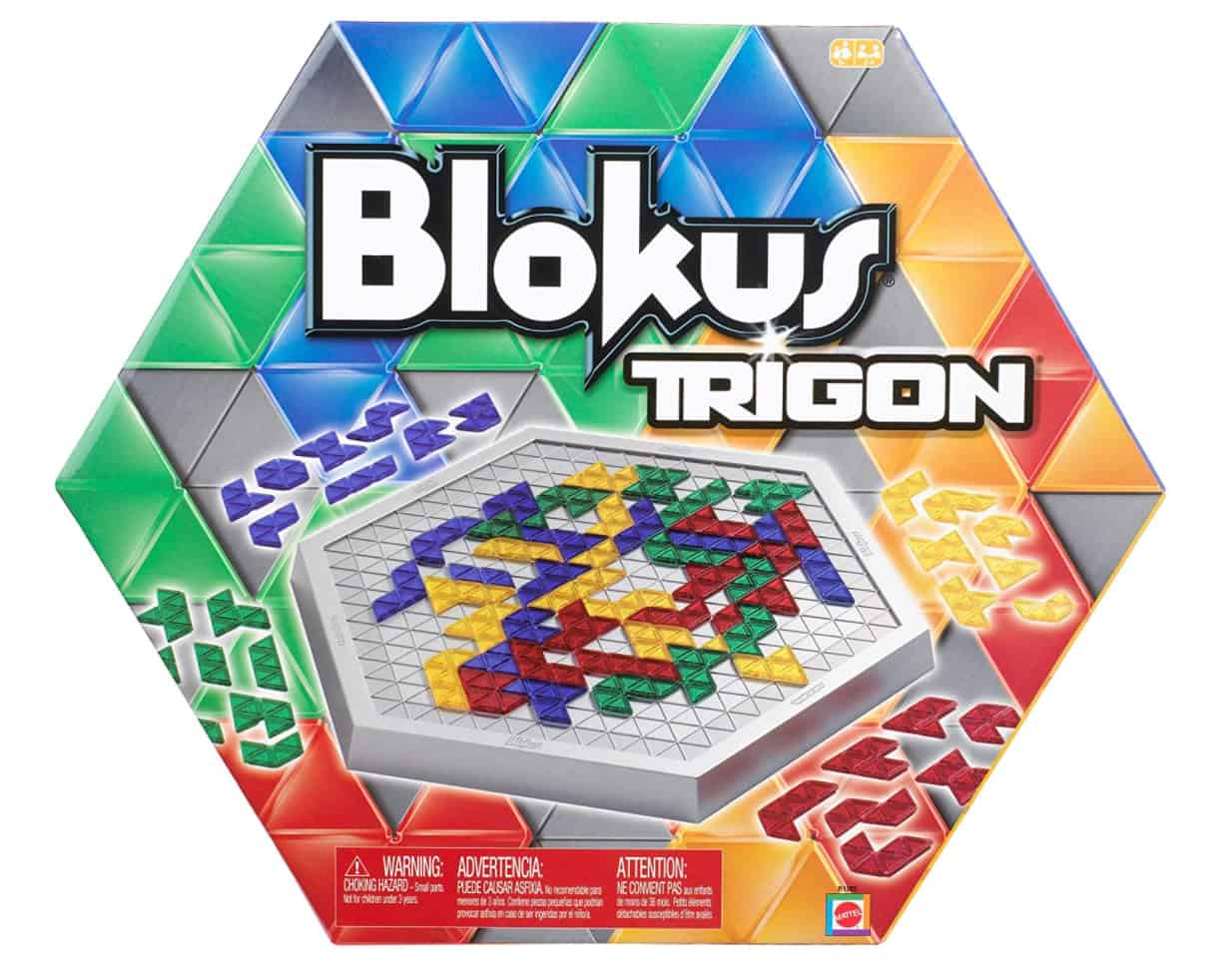 We also like the regular Blokus game but they're both very similar. The goal is to place the tiles, points touching, across the board in such a way to block your opponent and get the most pieces. Younger children can certainly play this, but they may not fully grasp the strategy!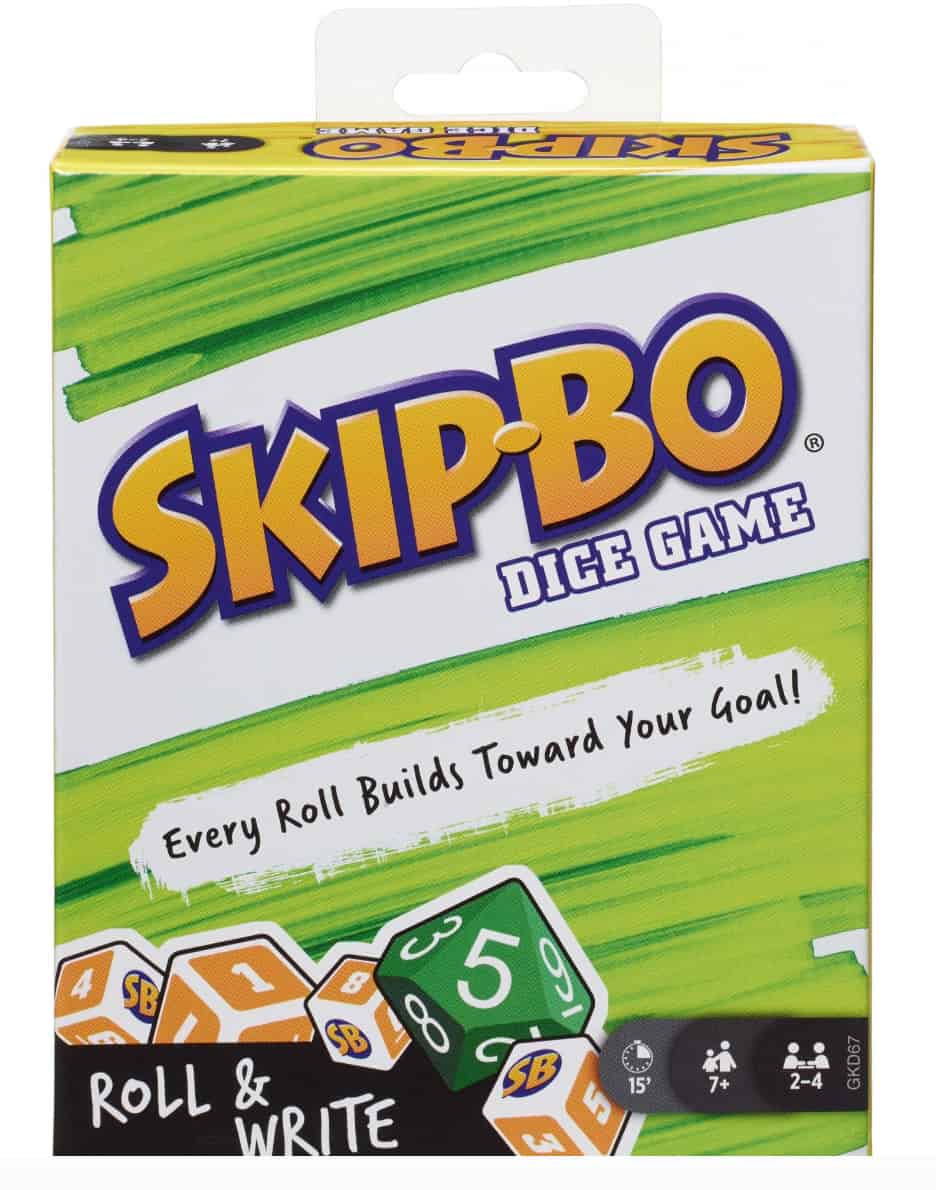 Martha was introduced to SkipBo at school last year, but this dice version is a really fun alternative! I play this with both Martha, 8, and Louisa, 6, before dinner! It's super compact so would be perfect for a road trip also!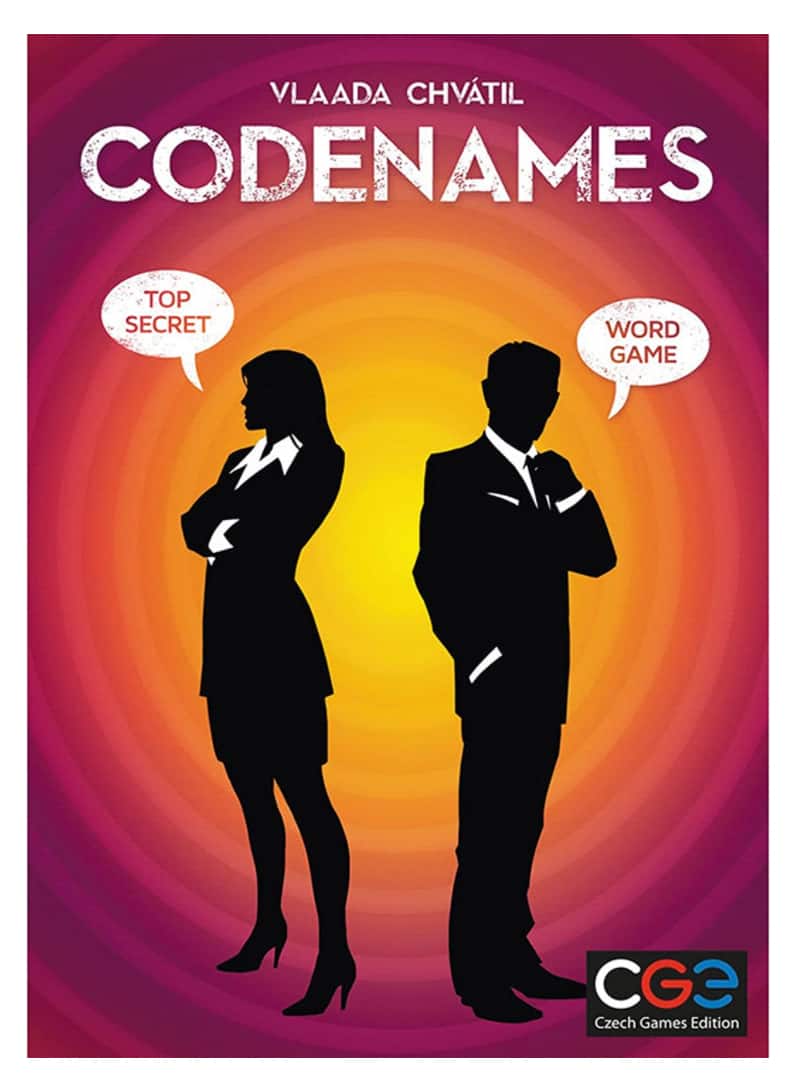 Reading is required for this one, but with a little supervision, all of our kids enjoyed Codenames on some level. A series of cards are layed out and the goal is to get your team mate to guess each card based on your one-word clue! The younger kids helped with the guessing and the older readers were in charge of giving the clues.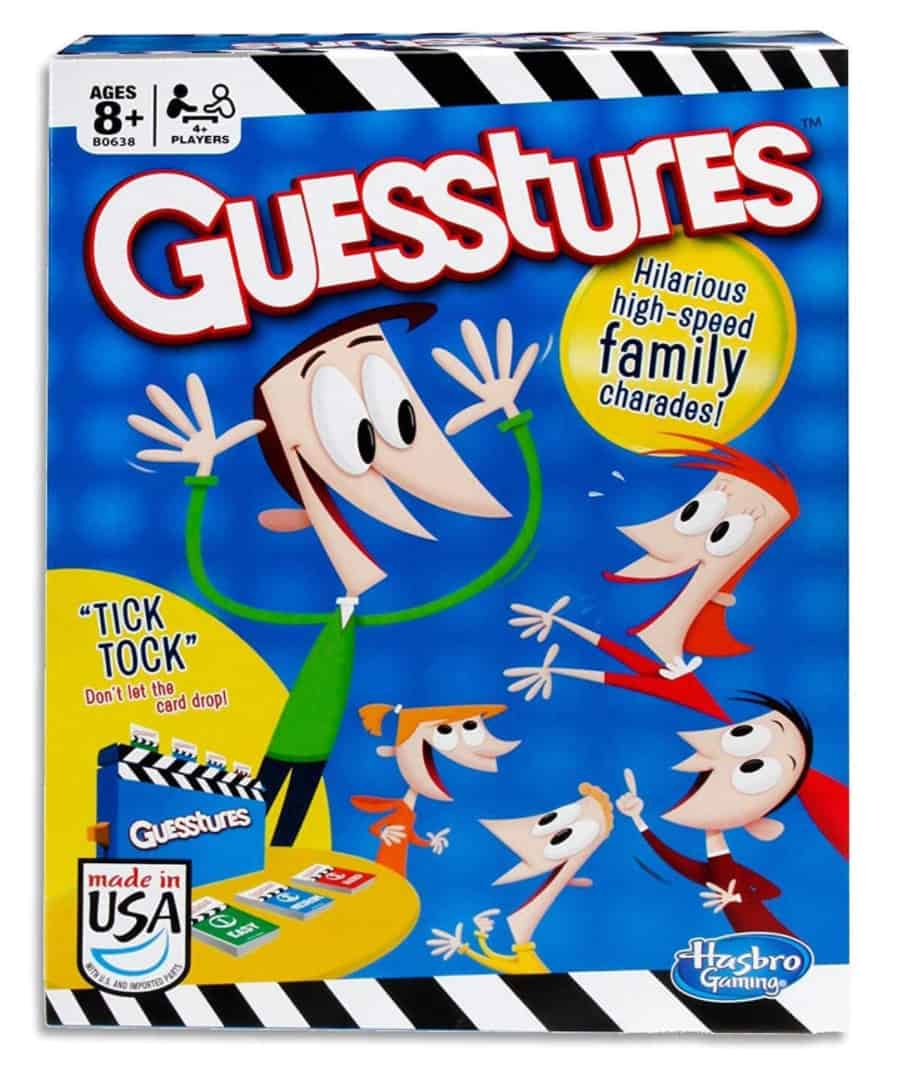 Another crowd favorite we enjoyed this game last Thanksgiving when we were with my whole extended family! Split into two teams of 8, this fast paced guessing game requires contestants to act out each word before time runs out and it drops down into the box. Younger players will need an older sibling to read the clues aloud but they can participate all on their own otherwise!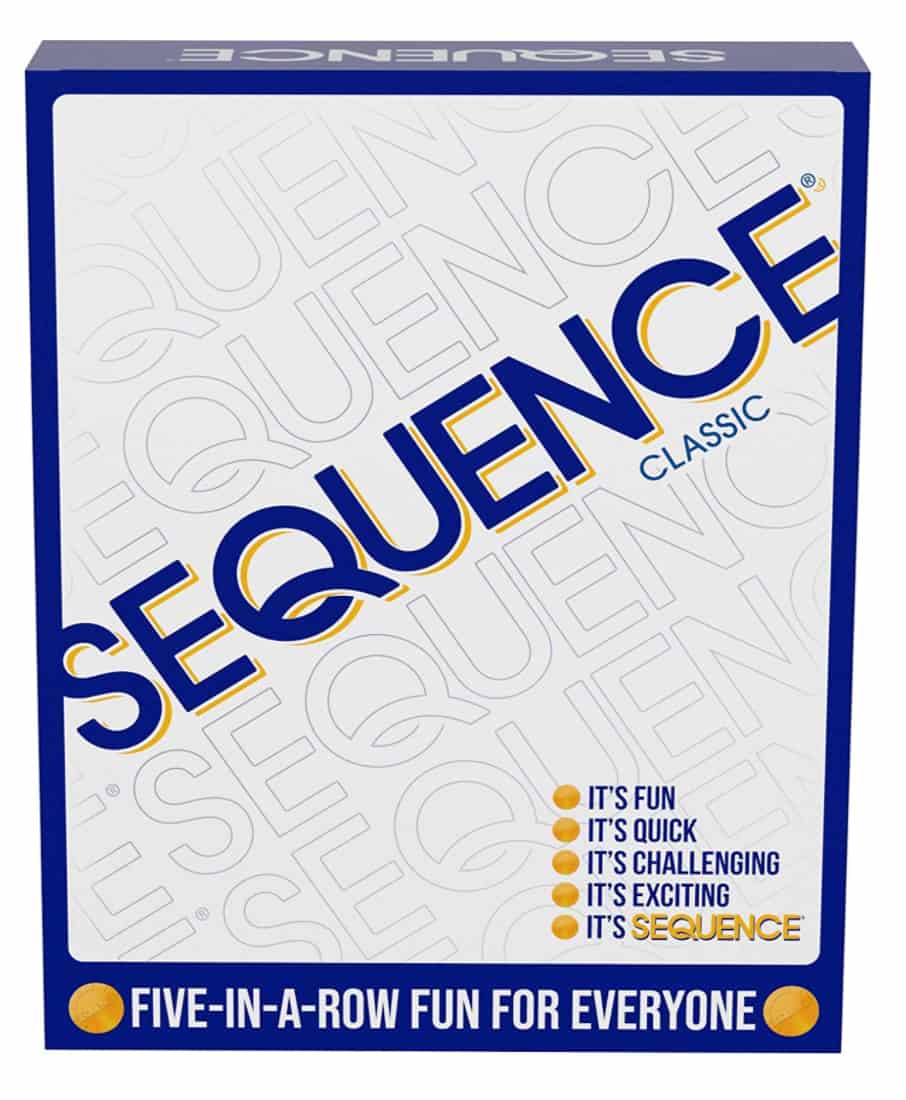 This was a pandemic game for us and the older kids and I have played it the most. The goal is to cover the cards on the game board and the first person to five in a row two times wins!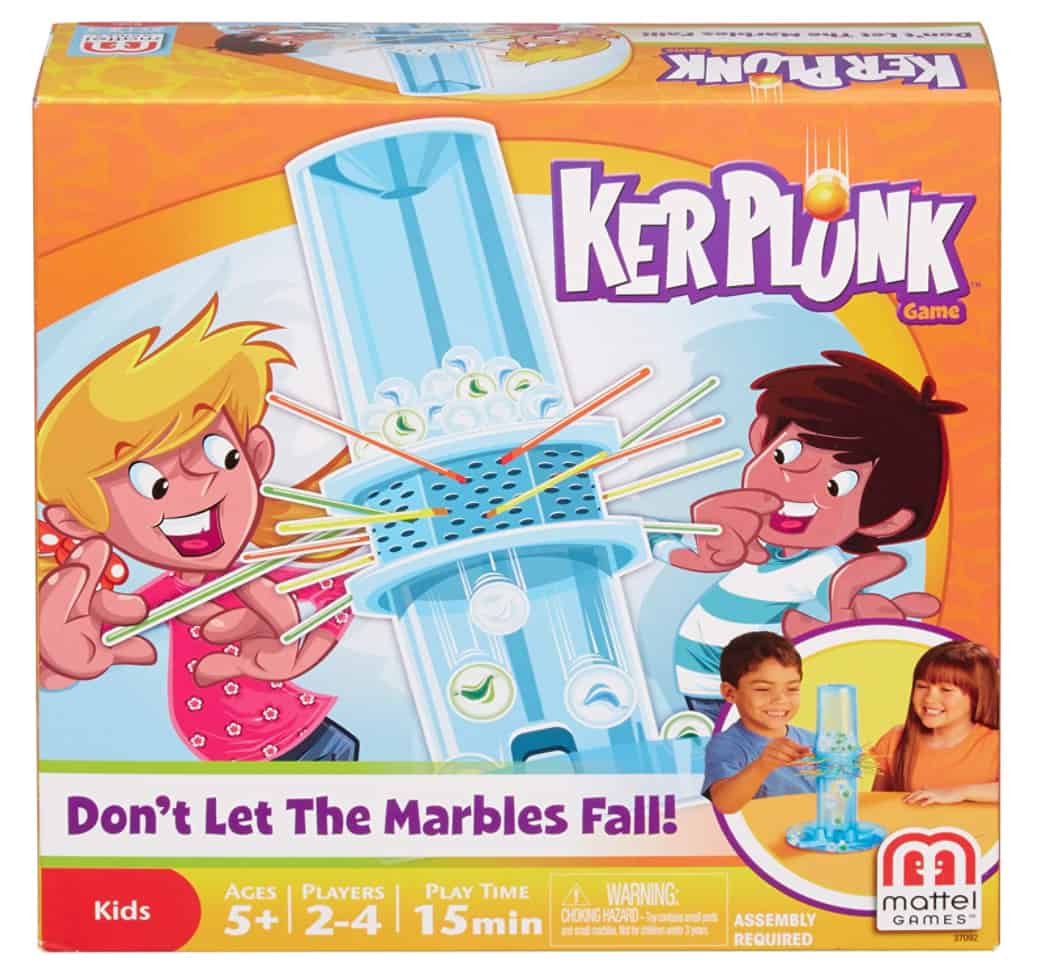 This is a classic that I think I remember playing many moons ago as a kid. The plastic sticks hold all the marbles in place to start and then one at a time, you remove the sticks. Eventually the marbles will start falling and the person with the least marbles at the end wins. Note… there are marbles so be aware if you have small children at home.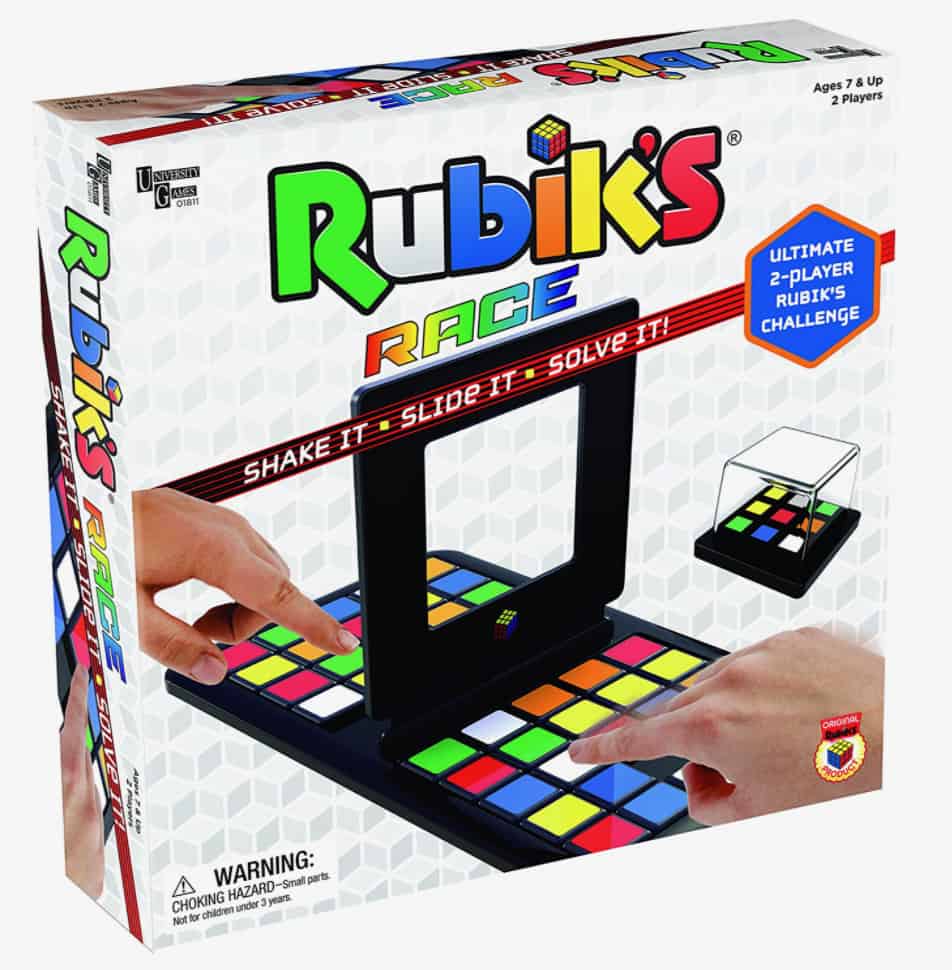 Rubiks race is essentially a slider game, but instead of creating a picture with by moving the squares, you're racing your opponent to match the squares. The four older kids enjoyed this game a lot… I had to slow down a bit when I played against Louisa (6) but Martha, Oliver and Eleanor were fierce competitors!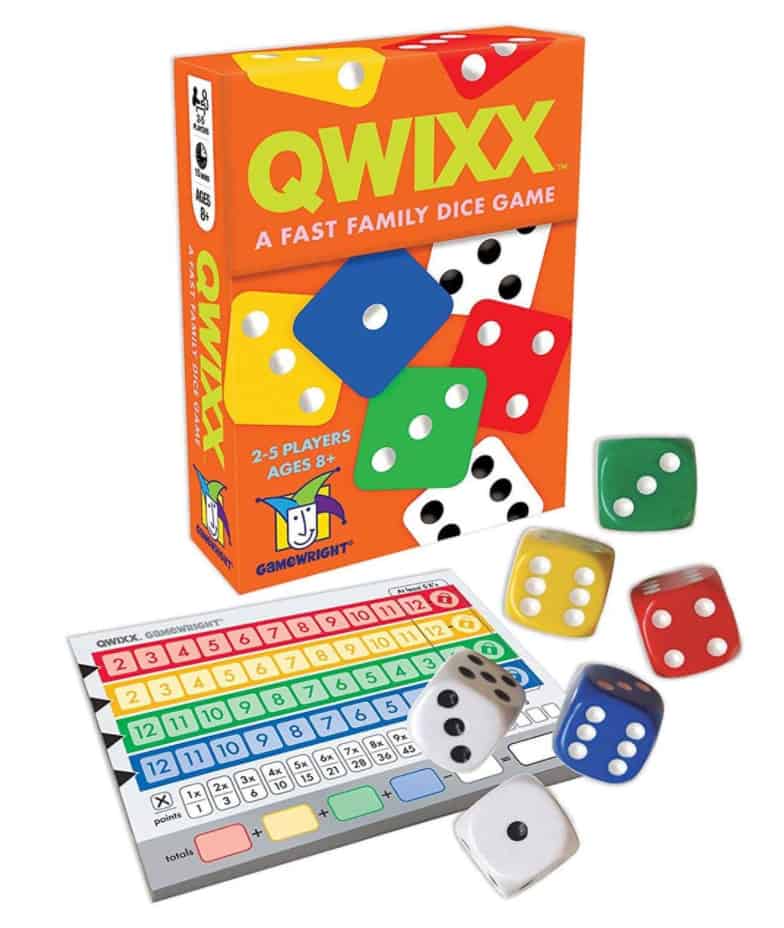 This dice game is another new favorite! Not only is it super compact so easy to play on the kitchen counter while dinner is cooking, but it's also fun for all of us! Arthur likes to sit with me and help cross off the numbers so technically he's not playing, but it's easy for him to be my scribe. The goal is to cross off one number at a time strategically and earn the most points by the end of the game. Bonus… there is a little bit of math required (adding one digit numbers) so this is great for early elementary schoolers.
I'm not going to describe all of these because they're classics, but we have them in our arsenal and the kids love them. Sorry is a new favorite and Arthur joins us for that. The others are a little above his head but right in the wheelhouse of the four older ones!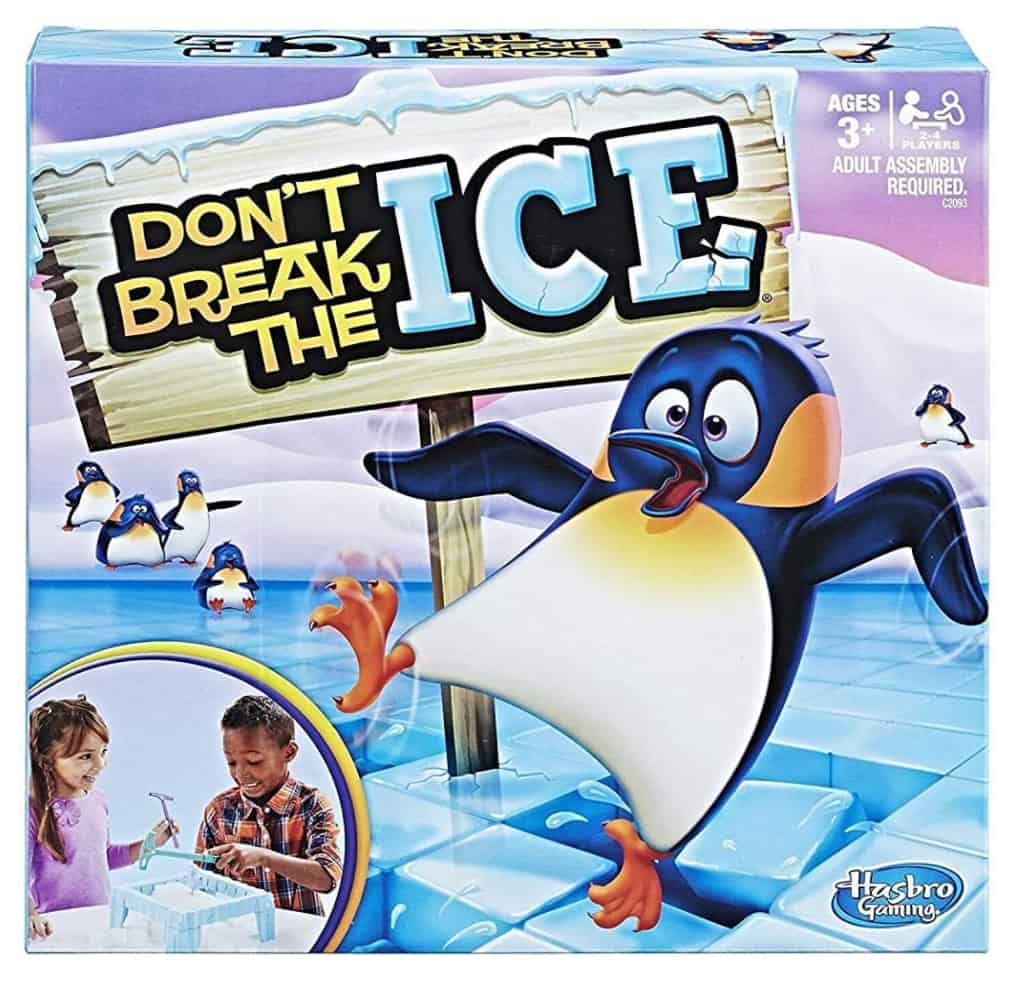 I know that finding games for younger children can be tricky… this one is Arthur's favorite and we play it A LOT. The goal is to bang each "ice cube" out of the frame without Phillip the Penguin falling through. It's quick and easy to play and there's banging… he loves it.
I find the more we can sit down and play games as a family, the better my kids get at things like taking turns, counting, and- most important- good sportsmanship. Learning how to win and lose with grace has been hard for some of the kids, but it's SUCH a valuable lesson. Simple games like this give them ample chance to practice when the stakes aren't very high. Also? Any activity that is fun for the whole group is priceless to me!