I Painted My Son's Bedroom Navy Blue
Disclosure: I reached out to Clare paint and they were kind enough to send me product for this room makeover.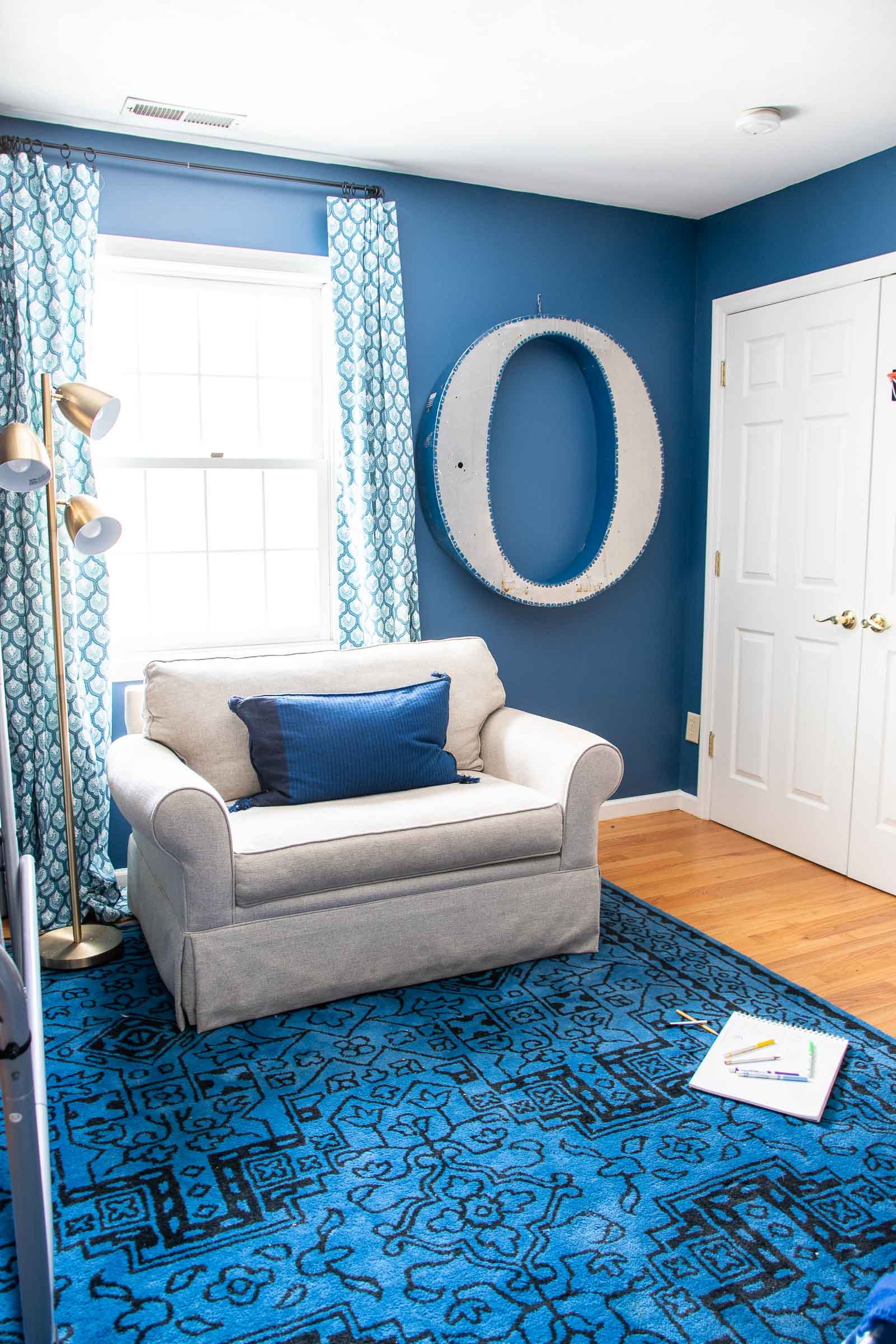 It's been fun settling into the new house and hearing about all my kids "requests" for their rooms. The girls want clouds on the wall and a swing. Eleanor wants a cork board. Arthur wanted a map. And Oliver wanted navy blue walls. There are a billion navy blue paint options so I reached out to the experts: Clare Paint. They have a curated list of colors, low VOC paint and a long list of my friends have used this paint and love it. (Spoiler: I agree.) I'm using Hyperlink in Oliver's room which, if you're a 9 year old boy, is a very cool name so brownie points.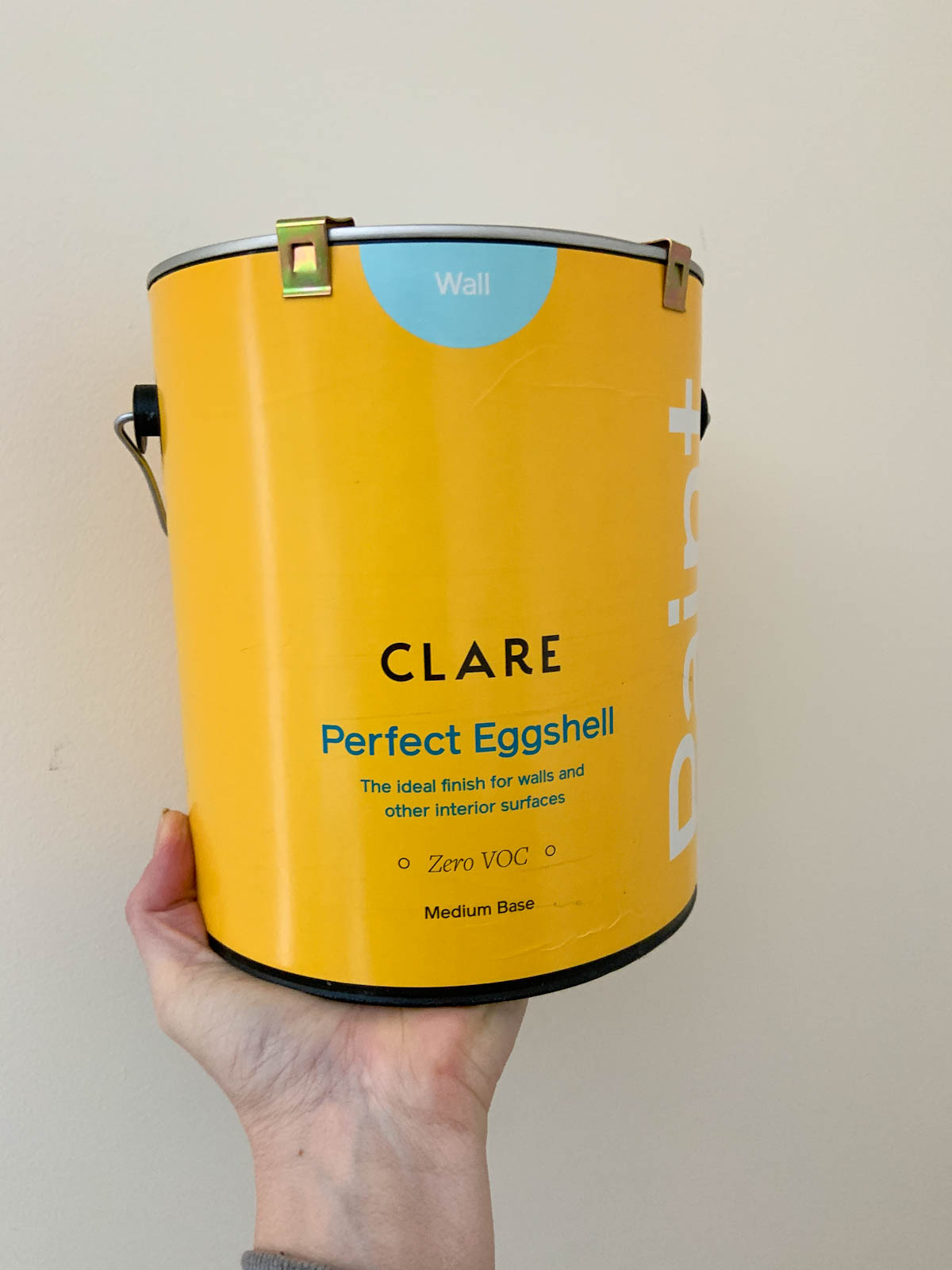 All of my kids' rooms are work in progress so I'm doing little things here and there. For Oliver's room I was braced for a day of painting since most dark colors require a couple of coats. Along with my paint, Clare sent their 5-piece paint kit (they have a whole page of various painting supplies) so I was ready to get painting as soon as the delivery truck left. I was a little worried that the blue might not play nice with the rug in Oliver's room but the color on the computer was exactly what I opened up in Oliver's room.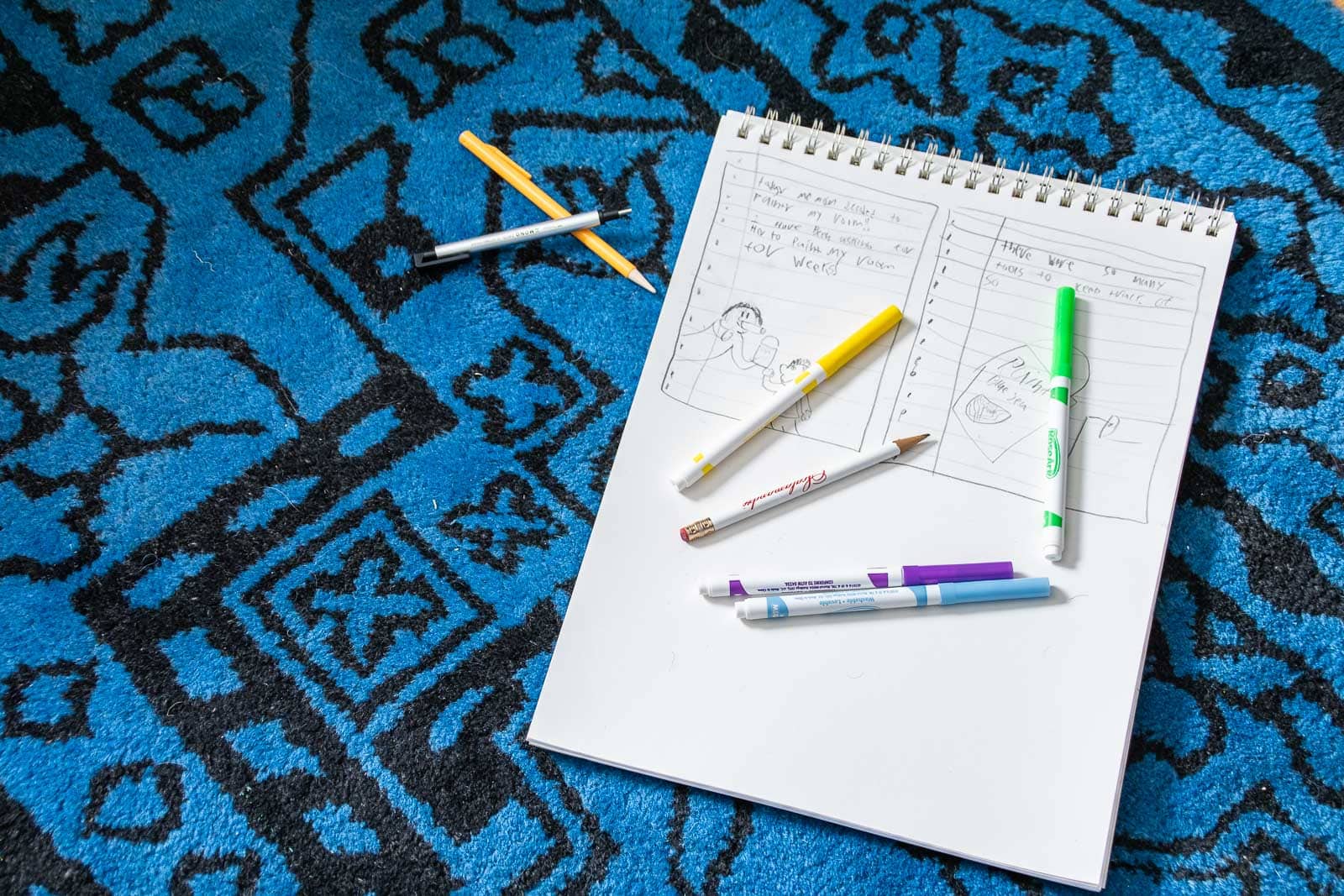 Floating Shelf 411
A lot of you asked about the floating shelves next to his bed. I was eager to get those hung up so I didn't do an extensive tutorial, but… these brackets are the key. Each pair can hold something like 25 pounds (we only wanted to display his legos so that was plenty sturdy for us). You could easily buy or reuse some melamine shelving, but I picked up an 8-foot select pine 1×8 from the lumber section and cut it into three even lengths. Mount the brackets either into a stud or use the anchors provided (I was able to line my brackets up with one stud, but had to anchor the others). The brackets essentially pinch the boards and support their weight like magic. Or physics.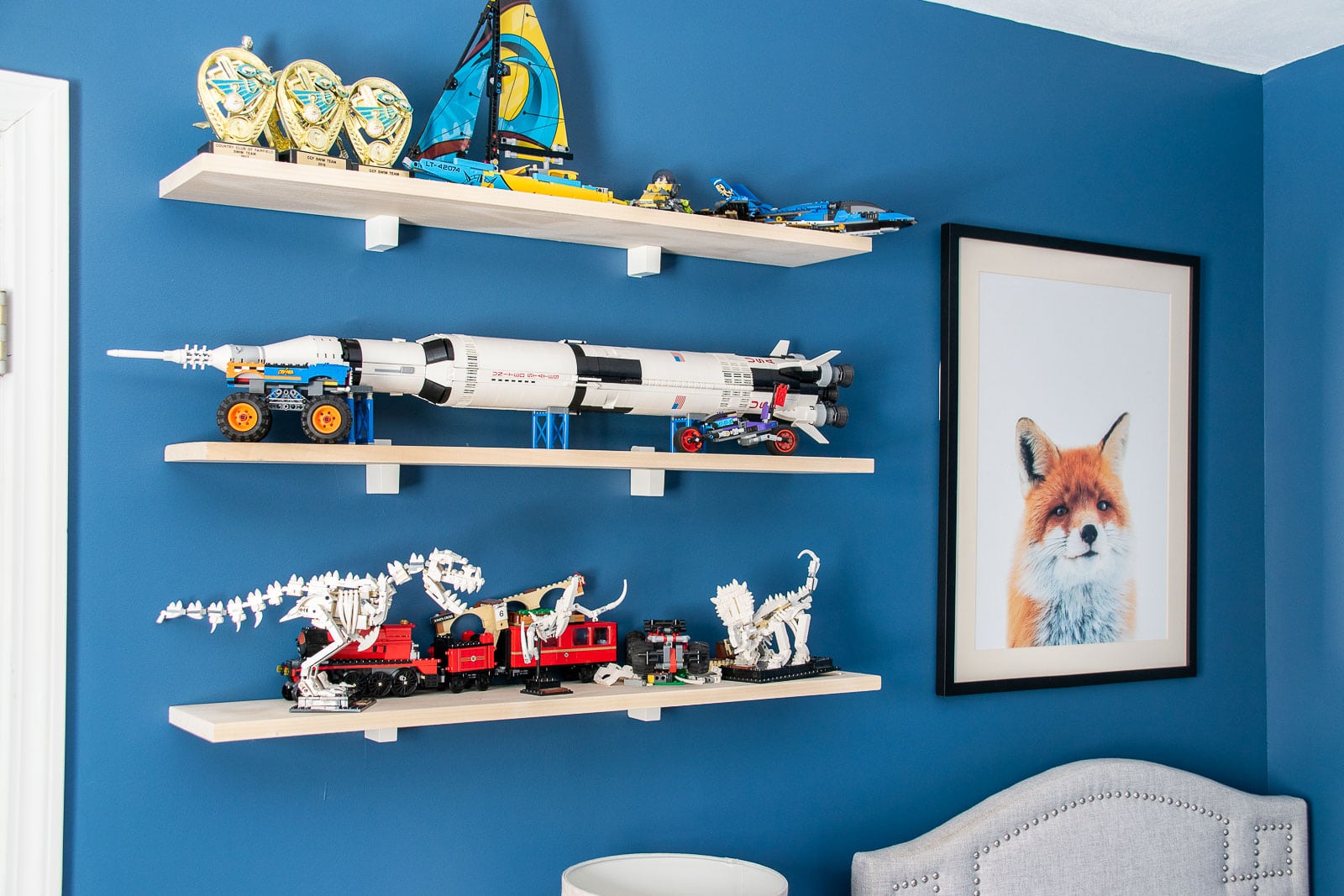 Prep for Paint
I've talked about my painting 'technique' a few times on stories, but I don't do anything revolutionary. I remove all the outlet covers first. This isn't essential, but if I ever need to replace them it's nice to know I won't have to come back and touch up if the new outlets show the unpainted wall underneath. ALL of the outlets in this house are an off white/ almond color. Not my favorite and something that I will gradually try to swap out. But not today for Oliver's room. Here's where we started: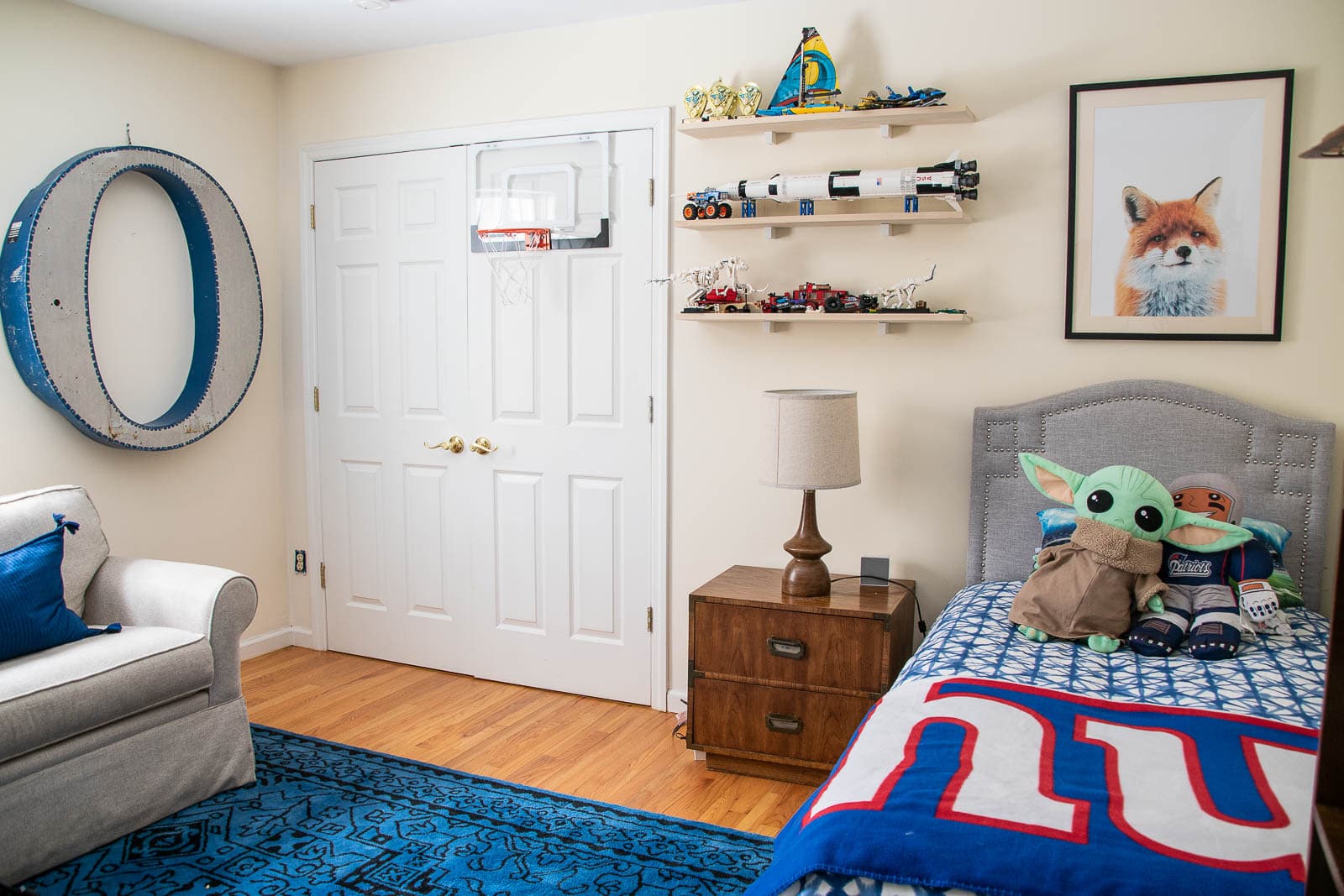 Roll the Walls First
I used to start a paint project with the edges, but inevitably, there were places that I didn't feather in enough so when I went back with a roller you could still see the paint line. Another thing that often happened when I edged first was I would get more paint on the ceiling because I wouldn't paint the wall enough with the brush so I'd have to creep too close with the roller. Long story short… now I roll first. Which is also a more satisfying way to start!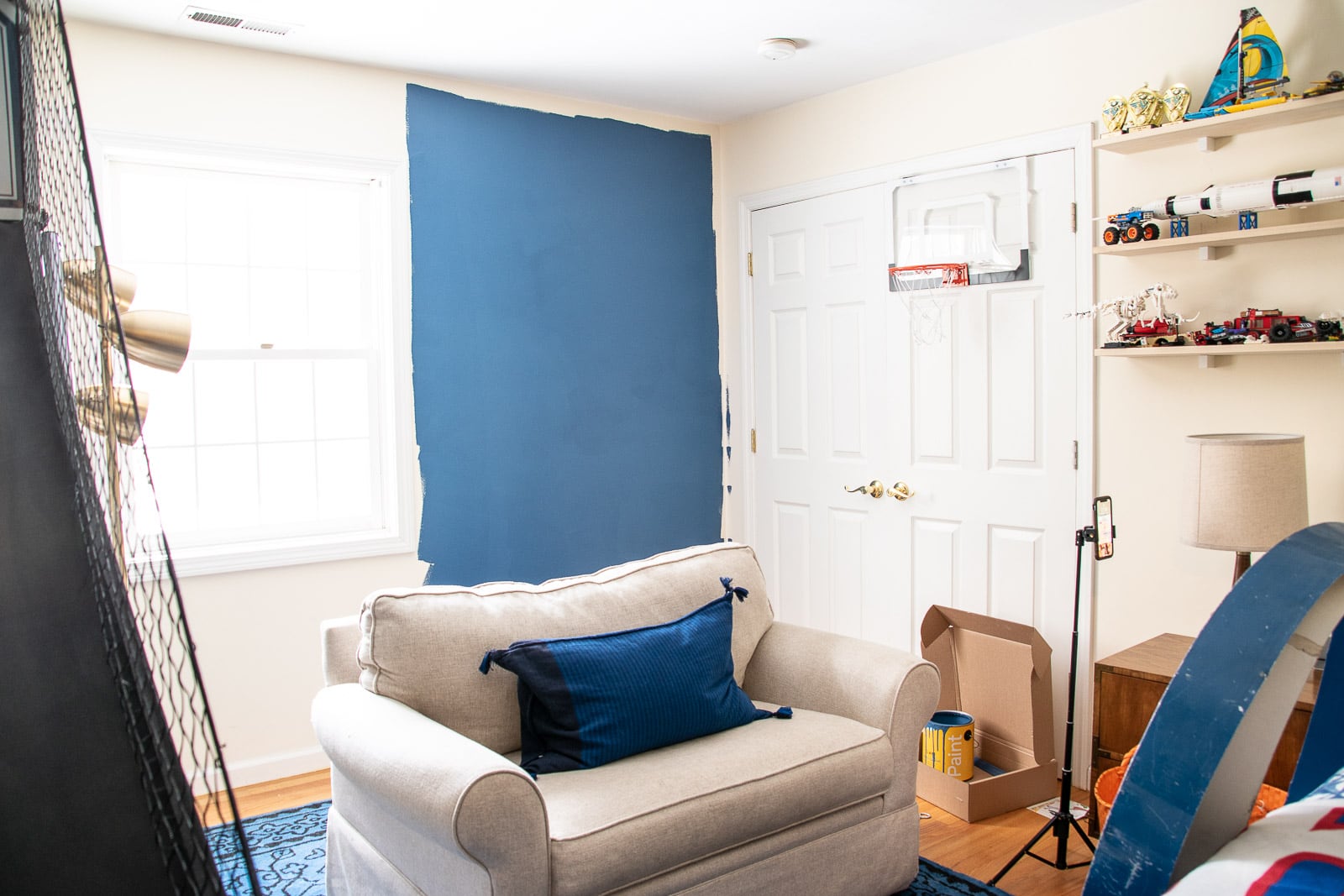 A lot of walls have been painted on my watch, and this paint was on of the smoothest I've used. I don't know what adjectives to describe it with… velvety? silken? You get the idea. It went on real nice and easy. Best part? I was expecting it to dry and I'd notice all the places where it needed a second coat? THERE WEREN'T ANY! One. Freaking. Coat. Which meant I painted this entire room in one afternoon.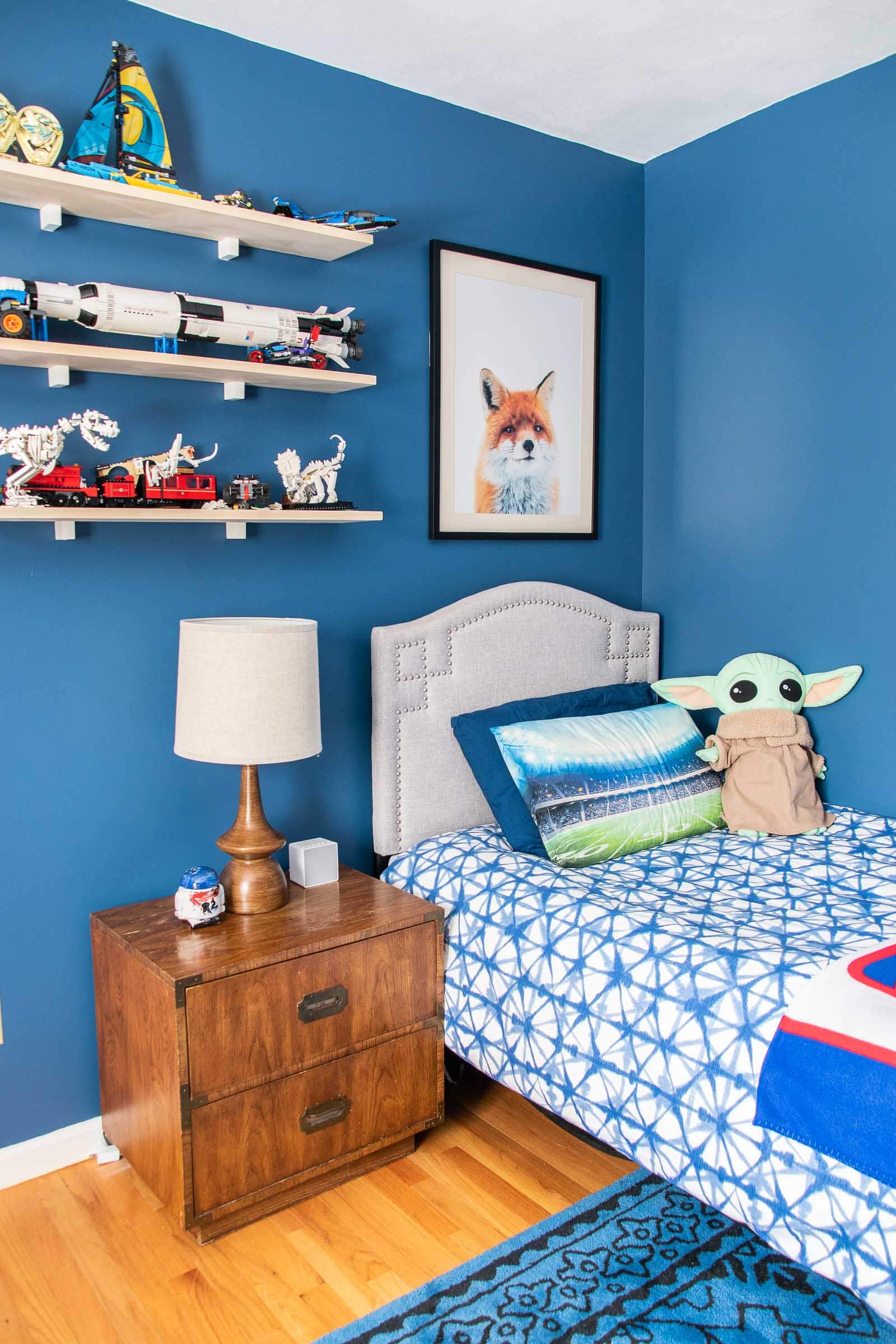 Finishing Touches… Eventually
I'm VERY tempted to go back and paint the door to his closet, but then I'd have to sand and paint the trim and the base boards. Which means pulling all the furniture away from the walls. (And sanding… ick.) Still might happen. (Most likely it will.) But not today. I also thought about painting the wooden shelves and I'm glad I didn't. I like the way the wood stands out against the blue walls.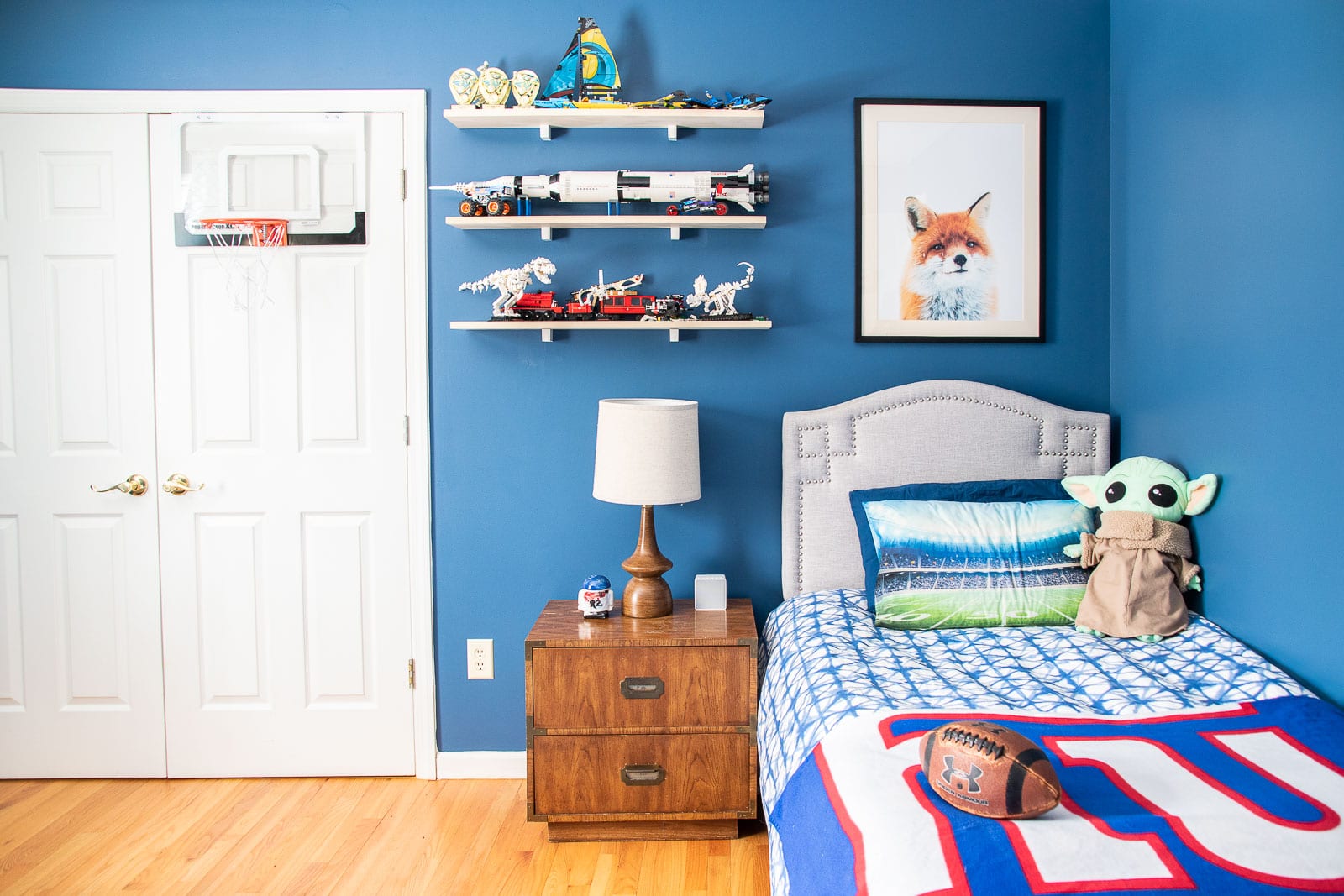 Oliver and I went shopping in my laundry room where I keep all the curtains I've ever hung in my life and he liked these ones that I made for our main bathroom in the old (old) house. They're a little long for these windows, but you can't tell in pictures and I love the way the look with the blue paint.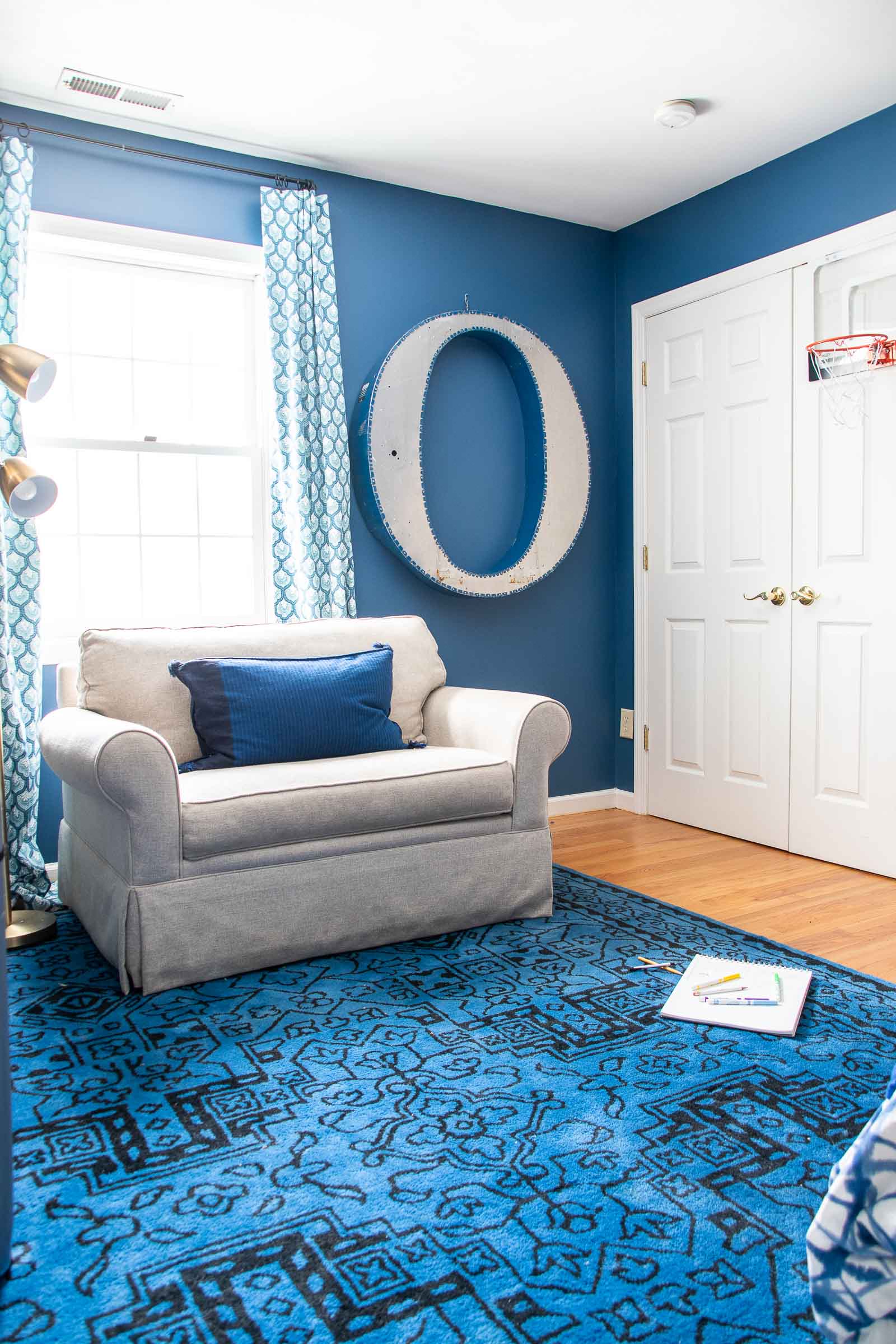 He's also discovered baby Yoda so you're welcome for that bit of decor accessory magic. Two other items that are coming are LED lights around the ceiling (I gather this is a tiktok thing?? My kids aren't on social media but thanks to all their Google Meets for school he can see them hanging in friend's rooms. Ha! He's also eager for a new football player decal like he had in his last room. I'd managed to hold him off for a few weeks while the paint "cures" but those are hotly anticipated.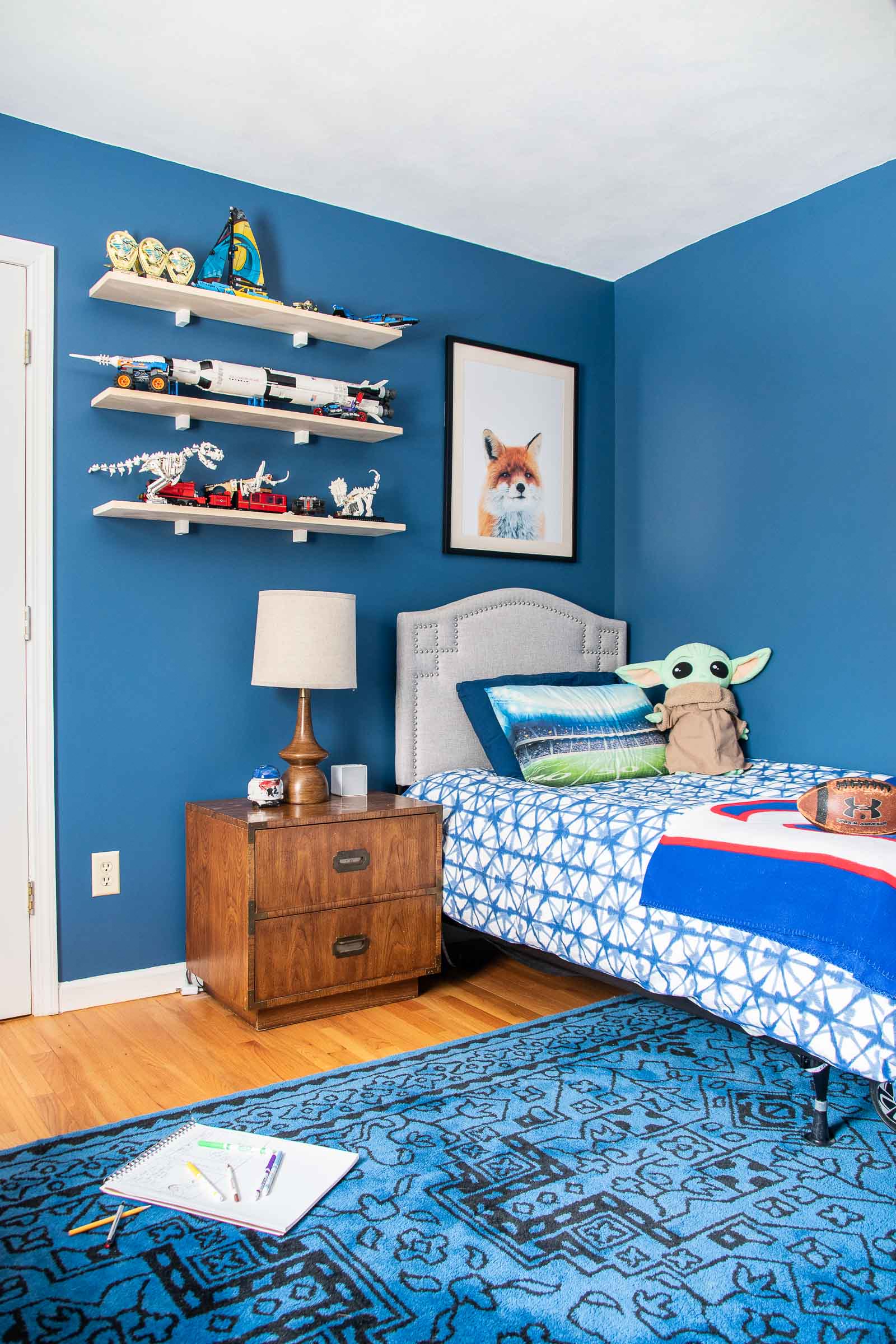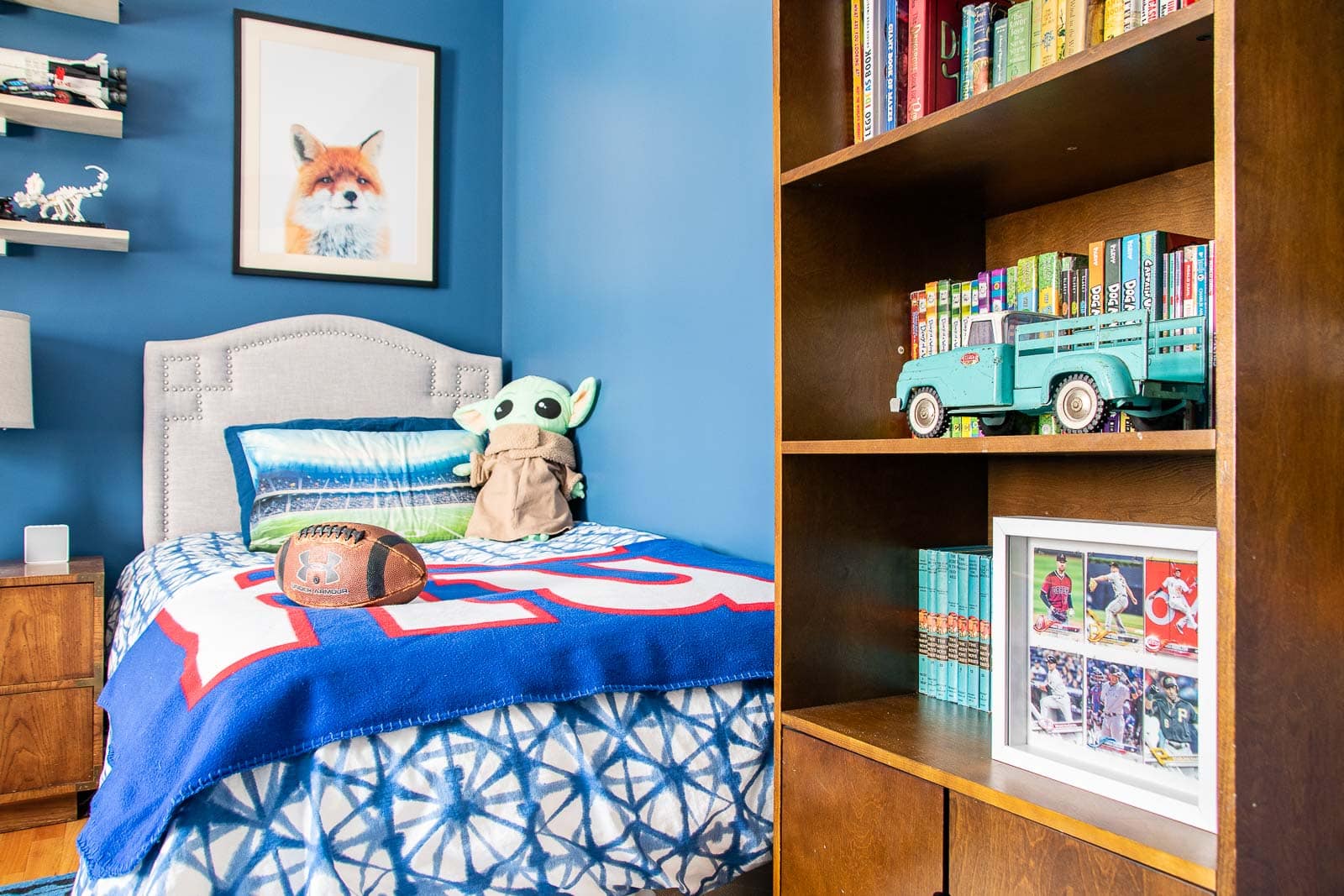 Thanks again to Clare paint for letting me try their product in this space. Not only is it a Black owned business which I'm thrilled to support but the paint is incredible for a jillion reasons. Read more about them here!

Sources
Rug: Homegoods
Nightstand: thrifted
Giant O: thrifted
Duvet Cover (mine was Ikea and no longer available but this looks similar.)
Football pillow case (this is the full bedding set. Individual sham no longer available. Throw pillow is is another great option.)
Curtains: DIY using this fabric. Blue no longer available so linking an alternative colorway
Bookshelf: Hayneedle (no longer available)
Fox Photo: Home Depot (no longer available)
Baby Yoda: We got ours at Homegoods, but this is similar if not identical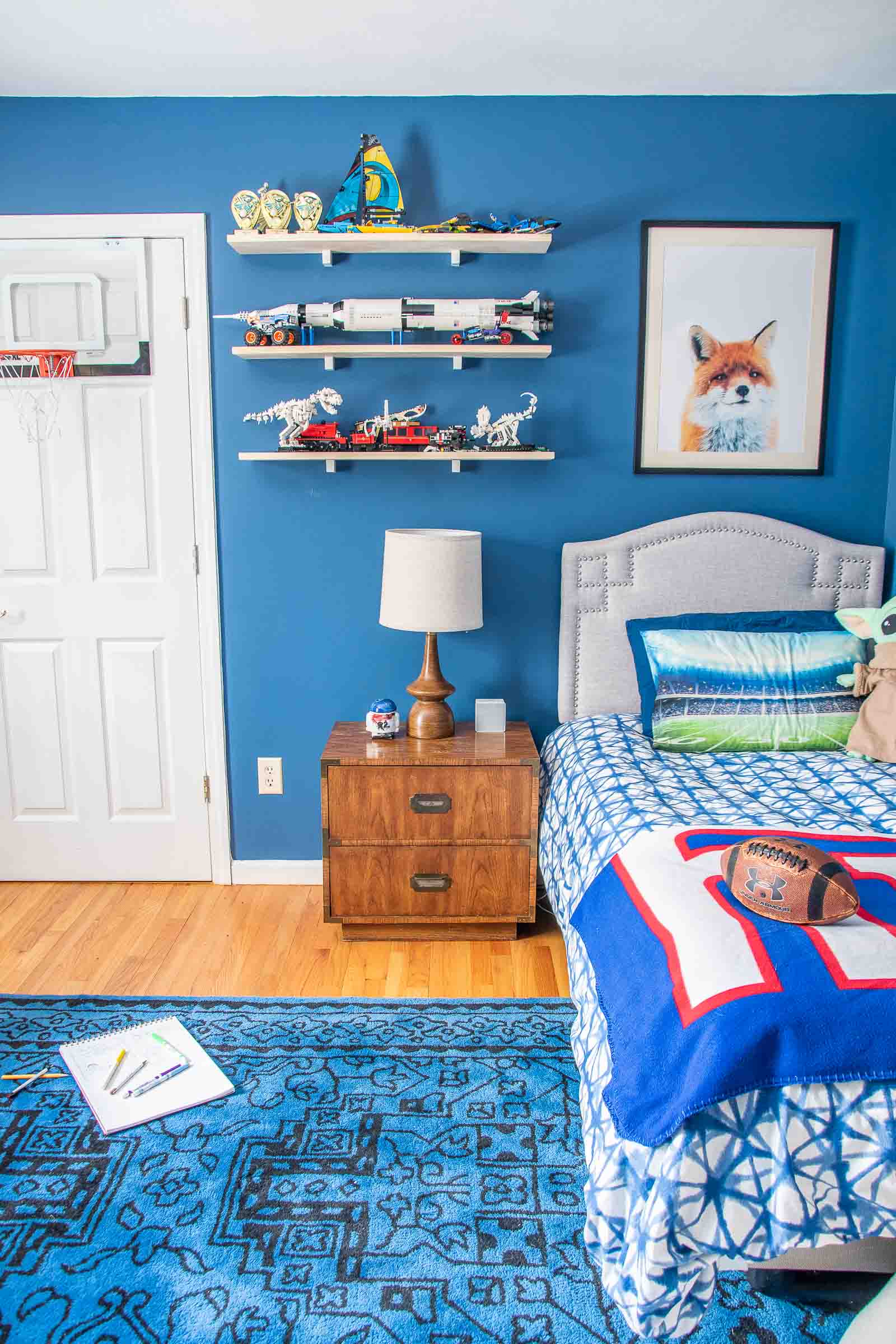 Bedroom BEFORE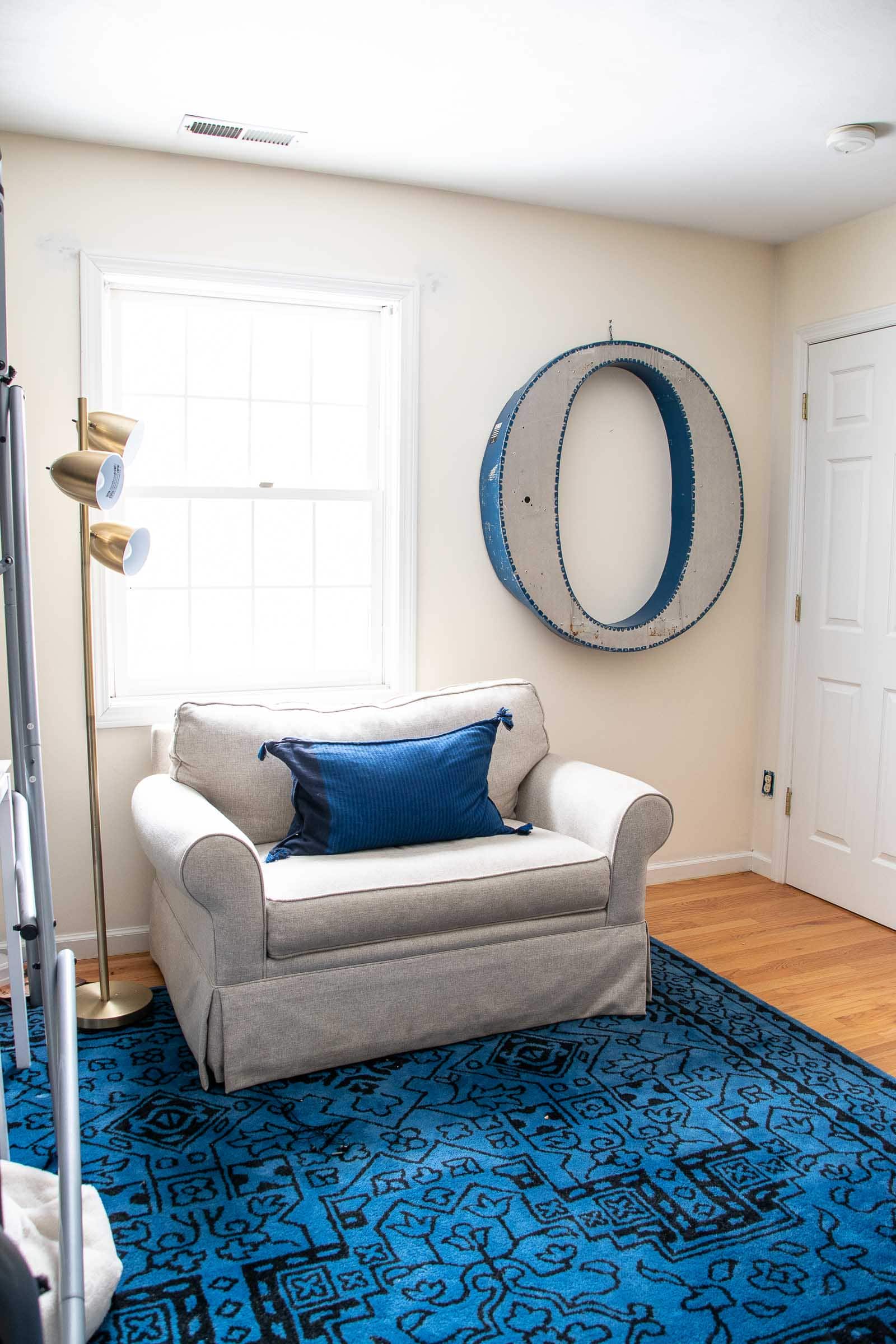 Bedroom After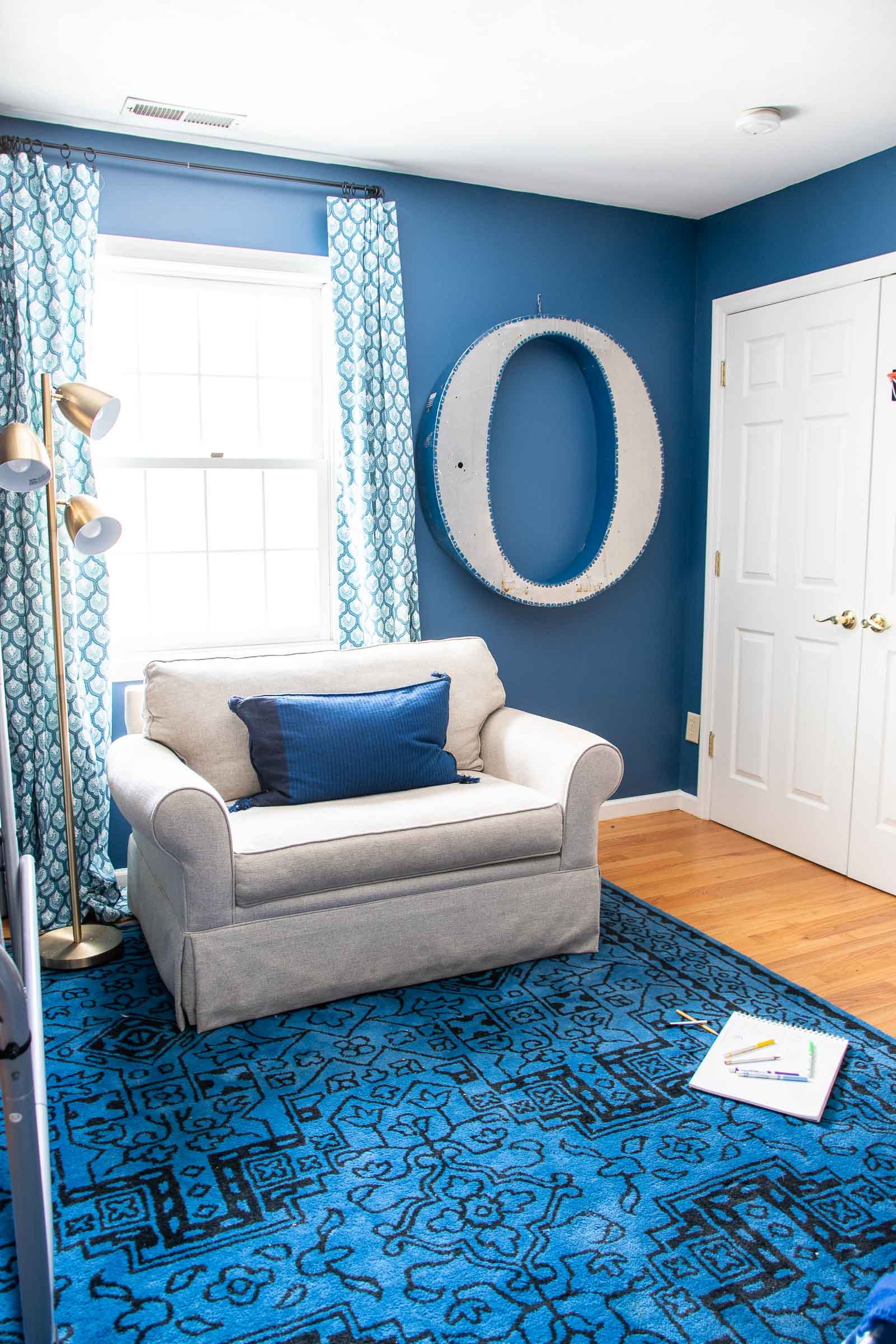 Say it with me: the power of paint!!