Colorful Christmas Wreath
This fun and cheerful painted holiday wreath is a special reminder of my day working at home and crafting with Phyllis.
Disclosure: Joann took a chance on me and invited me to participate in this campaign and I couldn't be more proud. Thanks, Joann!!
This wreath tutorial is the culmination of a true 'pinch me' moment as it involved a trip to St. Louis to work with Phyllis Smith (yep… *that* Phyllis). And when I say "work", I mean memorizing actual lines and cameras and a day of shooting on set at the coolest retro home I've ever seen. This project is just one part of a fun series Joann produced called "Working at Home with Phyllis". I played her crafty neighbor and we got to make wreaths together!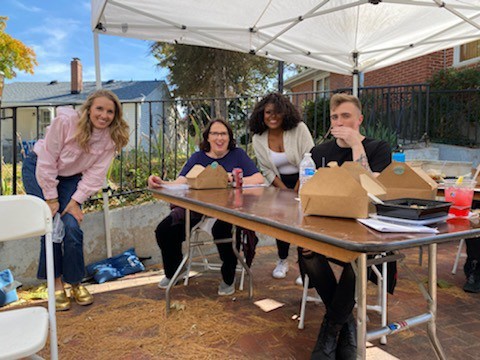 Phyllis was filming three 'chapters' so I hopped in and out with her to film my scenes and, let me tell you, memorizing lines is not my forte. She couldn't have been lovelier and watching her work was surreal. Each take she'd tweek her lines a bit… the slightest change of intonation or side glance to the camera can make all the difference! The picture below is of us running lines… how profesh does that sound?!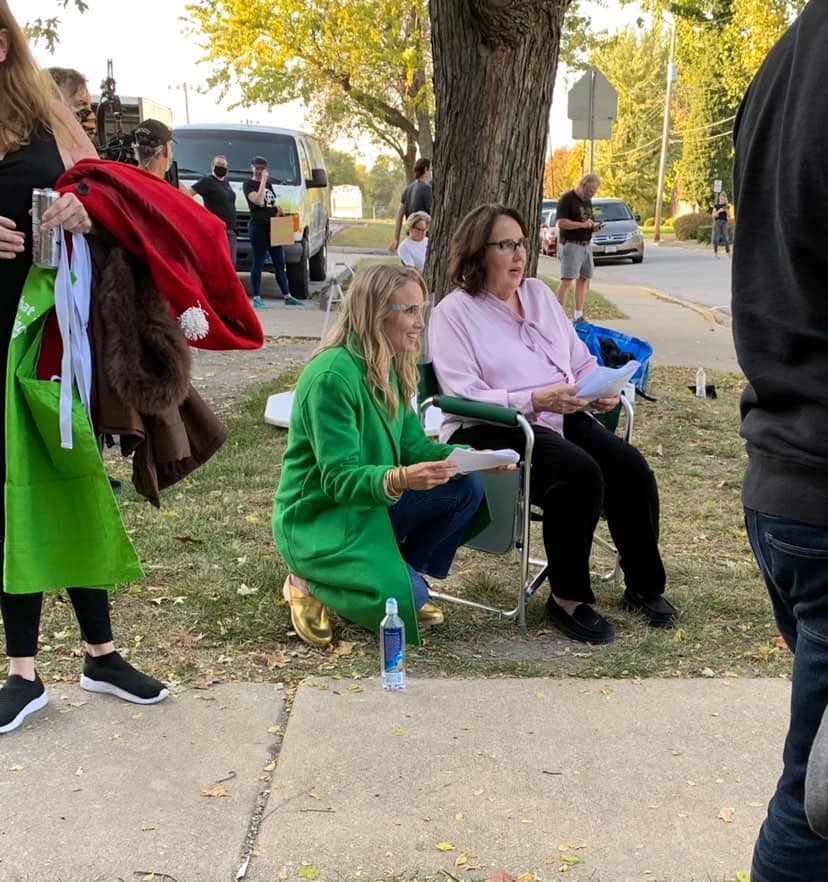 Be sure to check out our scene below and then come back for step by step instructions to make this adorable wreath!
Materials:
Step 1. Fluff the Wreath
Bend and spread out the wire branches of the wreath so that it's nice and full.
Step 2. Flock the Wreath
Using the chalk paint and the stencil brush, gently tap the branches to paint them ever so slightly. A dry brush is best so don't load up too much paint!
Step 3. Paint the mini houses
Using the craft paint, decorate the wooden houses. Add different colors, patterns.. have fun with it!
Step 4. Dye the Bottle Brush Trees
This was a hack I'm just a little bit obsessed with… did you know you could DYE bottle brush trees?! You can make these little white trees ANY color you want!! I found it was easiest to pour some of the dye into a ziplock bag with the sisal tree and move it around until the whole tree is covered and saturated with dye. Carefully remove the tree and let it try on a tray lined with paper towels (don't rinse).
Step 5. Paint the people
I painted our people to look like our family: sports jersey, book in hand, Frank and Pacey… (notice how the wreath used in the Joann commercial has Phyllis and the rest of us!).
Step 6. Assemble the wreath
Place the houses around the wreath where you want them. If you have a drill, drill two holes in the back of each house and use a floral wire to attach them to the wreath frame. if you don't have a drill, hot glue a ribbon onto the back of the house… they're pretty light so that should work!
Glue the little people onto each house and then glue the bottle brush trees around the wreath.
Step 7. Embellish with holiday picks
To fill out the wreath, snip some sprigs from various holiday picks and tuck them into the wreath to add a little depth.
Despite the handful of different steps, this was such a fun and easy wreath to assemble! I had grand plans of getting the kids involved to help paint, but then I started it one morning while they were at school and the rest is history!
This colorful and fun wreath is the first bit of Christmas decor I hung at the new house and I love that it reminds me of such an exciting and surreal few days in St. Louis! I'm thinking of carrying this whimsical theme into the rest of our Christmas decor so stay tuned!