You know how sometimes people say imitation is the best form of flattery? Well… I don't know if I buy that, but consider this post flattery to the MAX! I saw this image somewhere sometime and it instantly burned into my brain. It's from the incredibly talented Elsie Larson of A Beautiful Mess. Knowing her, she spend months and months and months curating and collecting. I started looking at the flea market one weekend and immediately felt discouraged and impatient. So… I reached out to my friends at DecoArt, they sent me some of their glass stain (affiliate) and I made my own!
DIY RAINBOW GLASS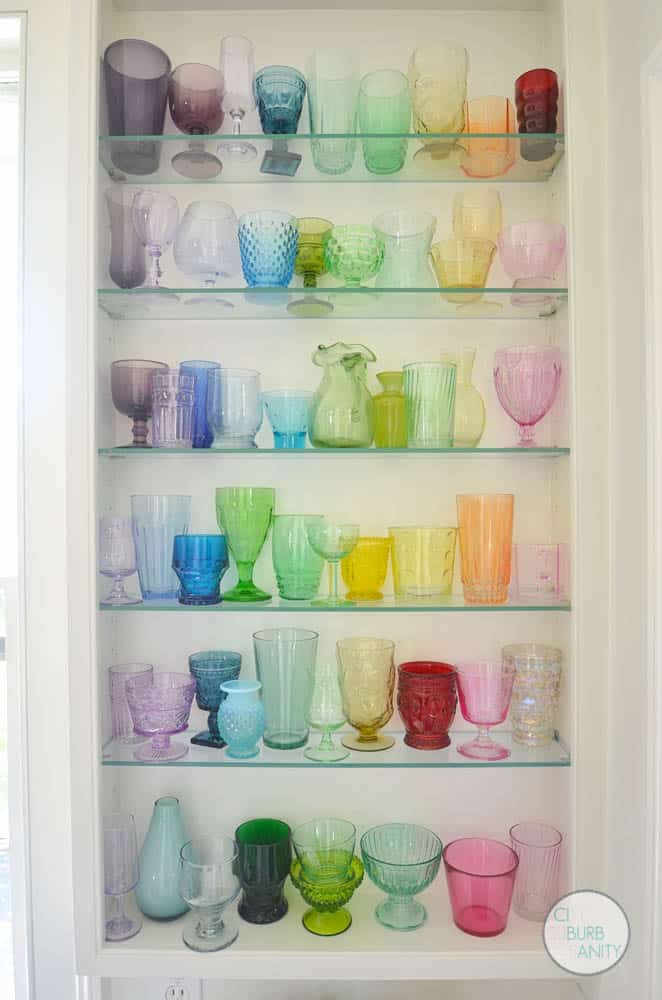 It started with a trip to the thrift store. Basically, any glass that was short enough to fit in our kitchen shelves and had a 50% off sticker came home with me. I was lucky and there was some legit colored glassware there so I grabbed those too.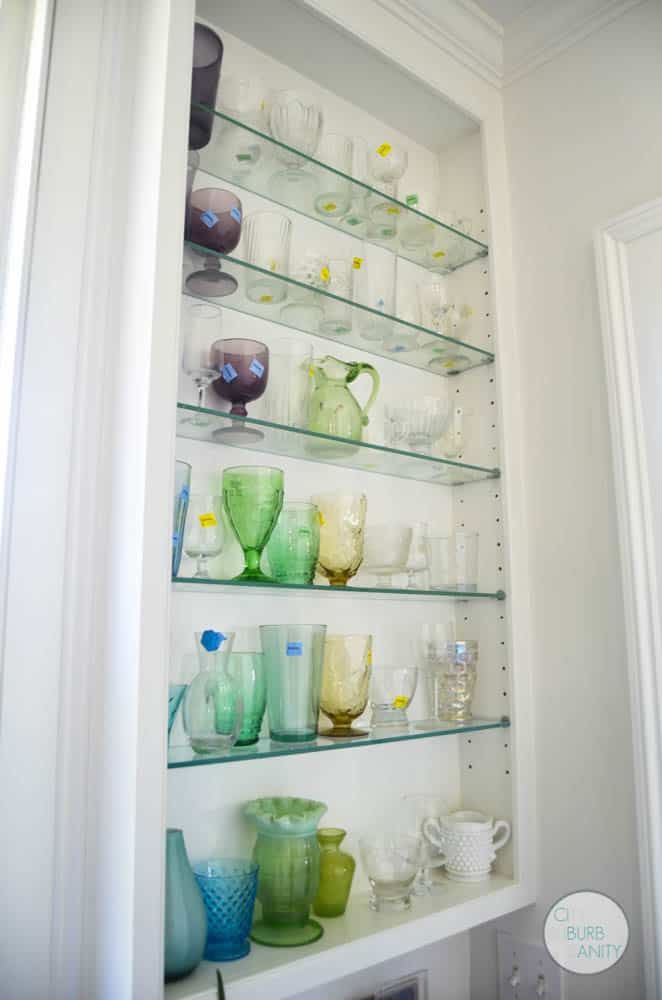 I definitely learned a few tips and tricks as I worked. I made a video to help demonstrate my technique… if you don't feel like watching… no biggie, I've shared the steps in writing also.
Tip 1
Use the right brush… softer is better and the ones I used are made for glass paint. It streaks REALLY easily if there's excess paint so a brush that applies a uniform coat to begin with is best.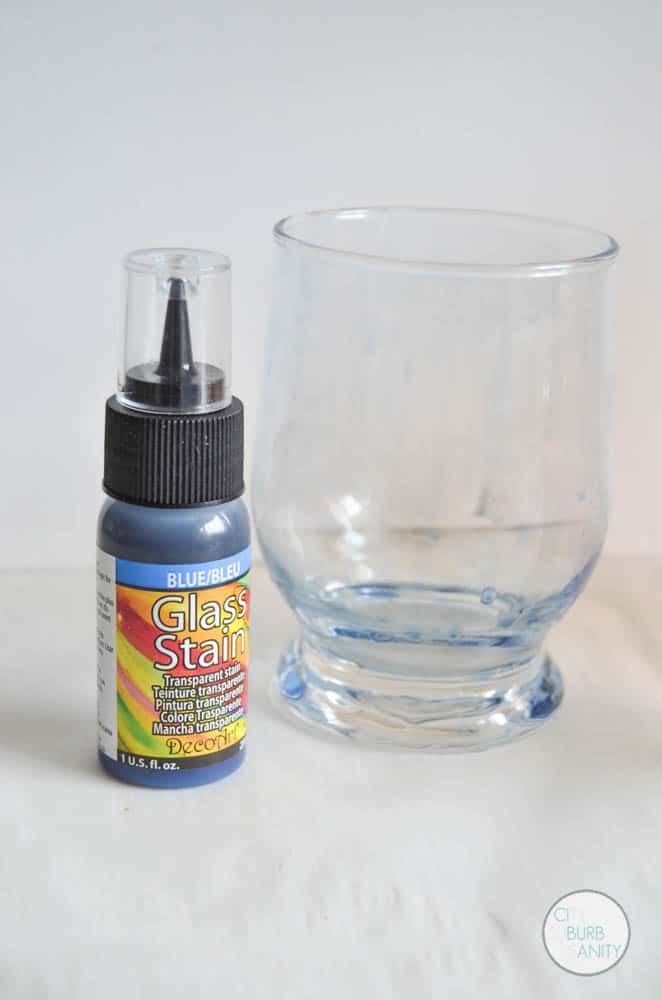 Painted Glass Tip 2
Go easy. I wanted rich dark colors so the first go around, I LOADED up the glass with paint… as you can see… there are lots of brush strokes and drips and it looks like a glass that I painted instead of colored glass.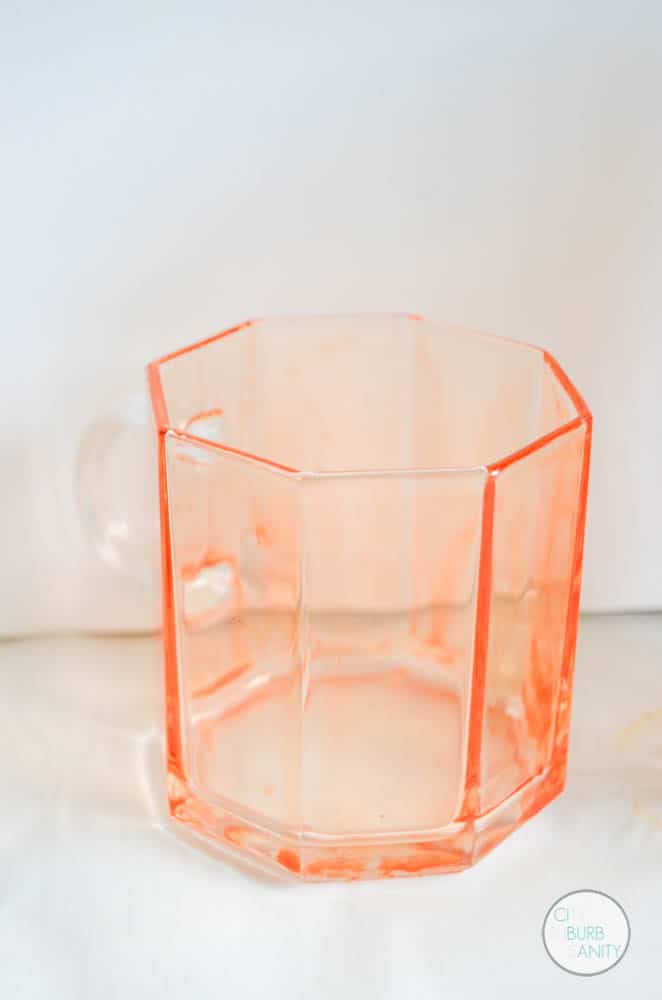 Painted Glass Tip 3
Move quickly. The technique that ultimately worked best for me was to squirt a thin line of paint and then go back and forth with the brush until a very thin coat had covered the glass. I worked parallel to the glass so drips wouldn't form as easily. The paint starts to cure pretty fast so I could go back and forth over my glass maybe 3 times. Once the paint begins to set, you'll see that the brush will make an obvious brush stroke.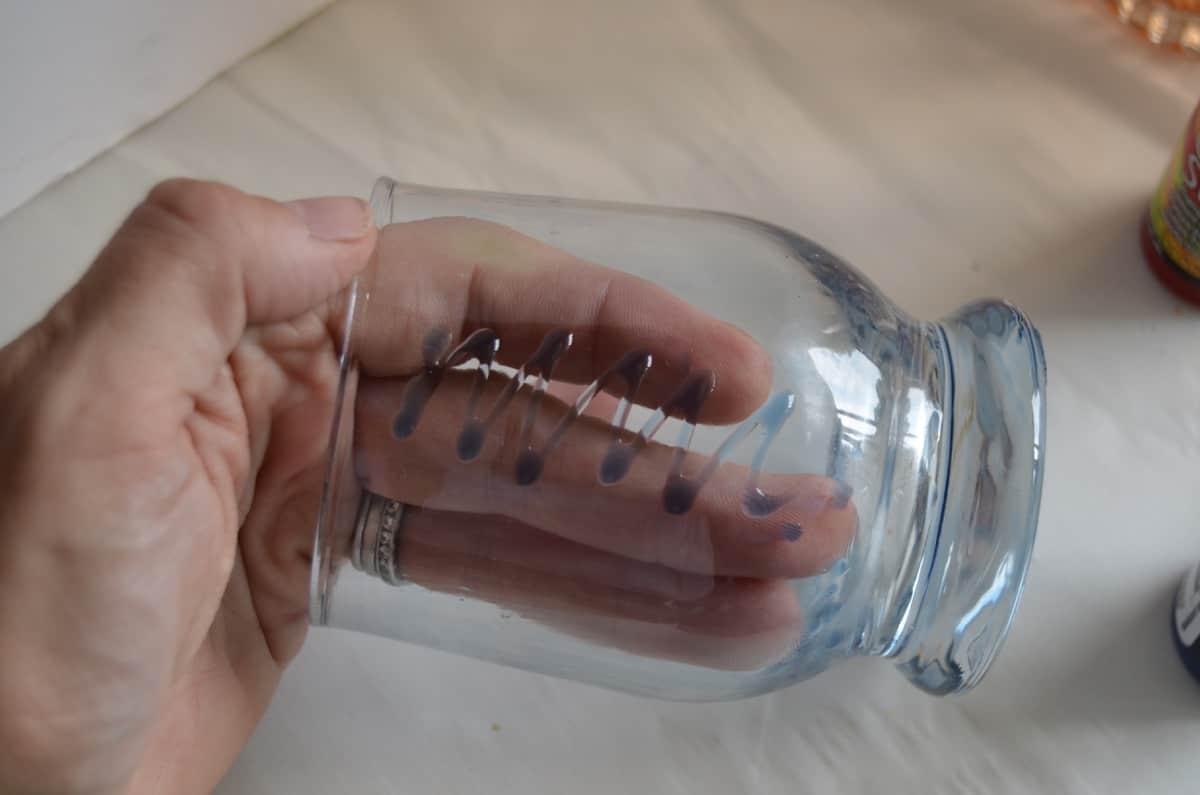 Painted Glass Tip 4
Smooth glass is easier. Any glass with patterns will naturally collect paint in the depressions which lends itself to drips.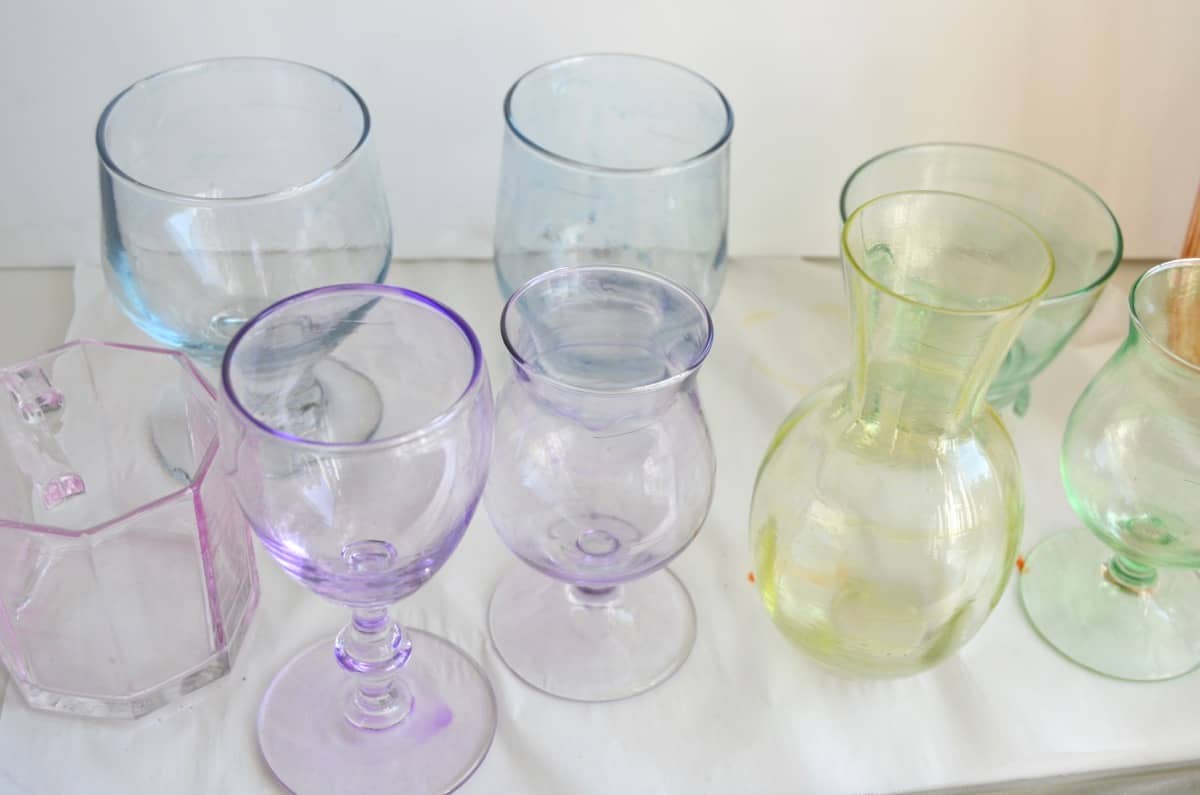 Painted Glass Tip 5
Clean the glass really well before painting. I should mention… this glass collection is TOTALLY decorative. At least the ones I painted are… although this paint is non-toxic, the DecoArt website says it should not come in contact with food or drink.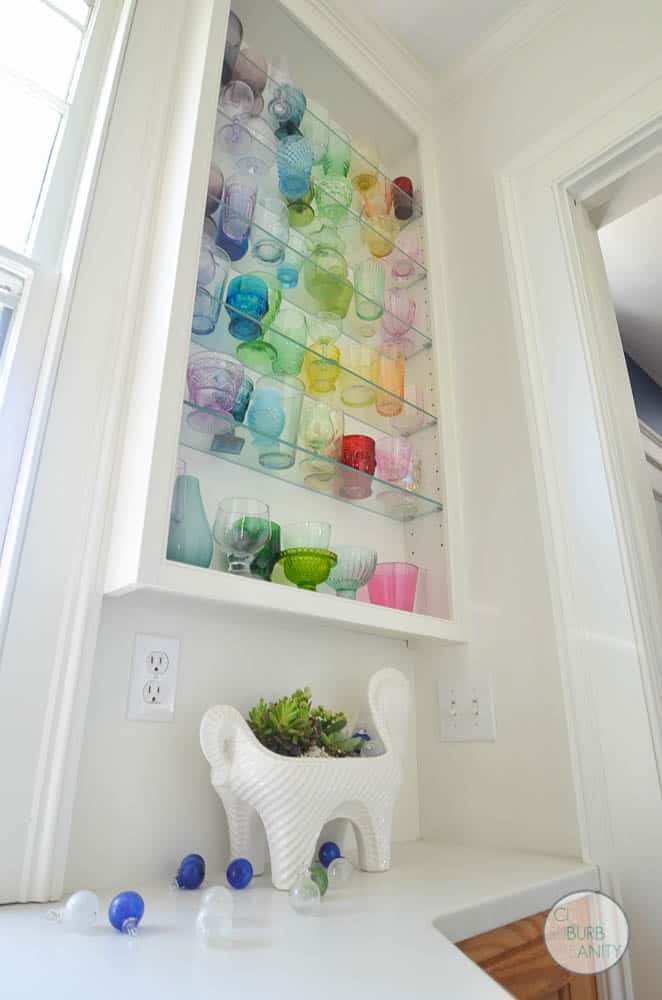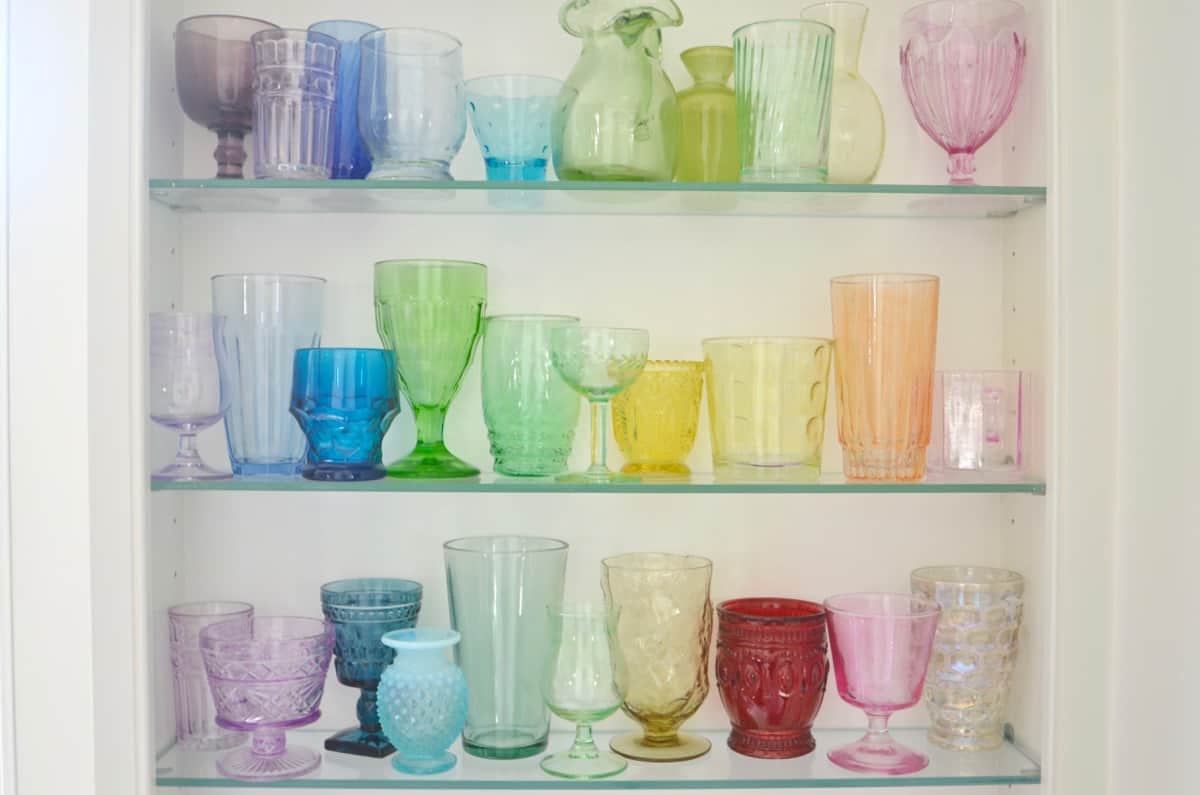 Isn't it SOOOOO dang pretty?! I can't even tell which glasses have been painted and which ones are colored. This little set of shelves in our kitchen is now such a happy little moment as I walk into the rest of the house! DIY for the win!