Red, White and Blue Decor for a Backyard Party
Psssst… this post *might* contain affiliate links: see my disclosure here.
Simple Decorations for an Outdoor Patio Party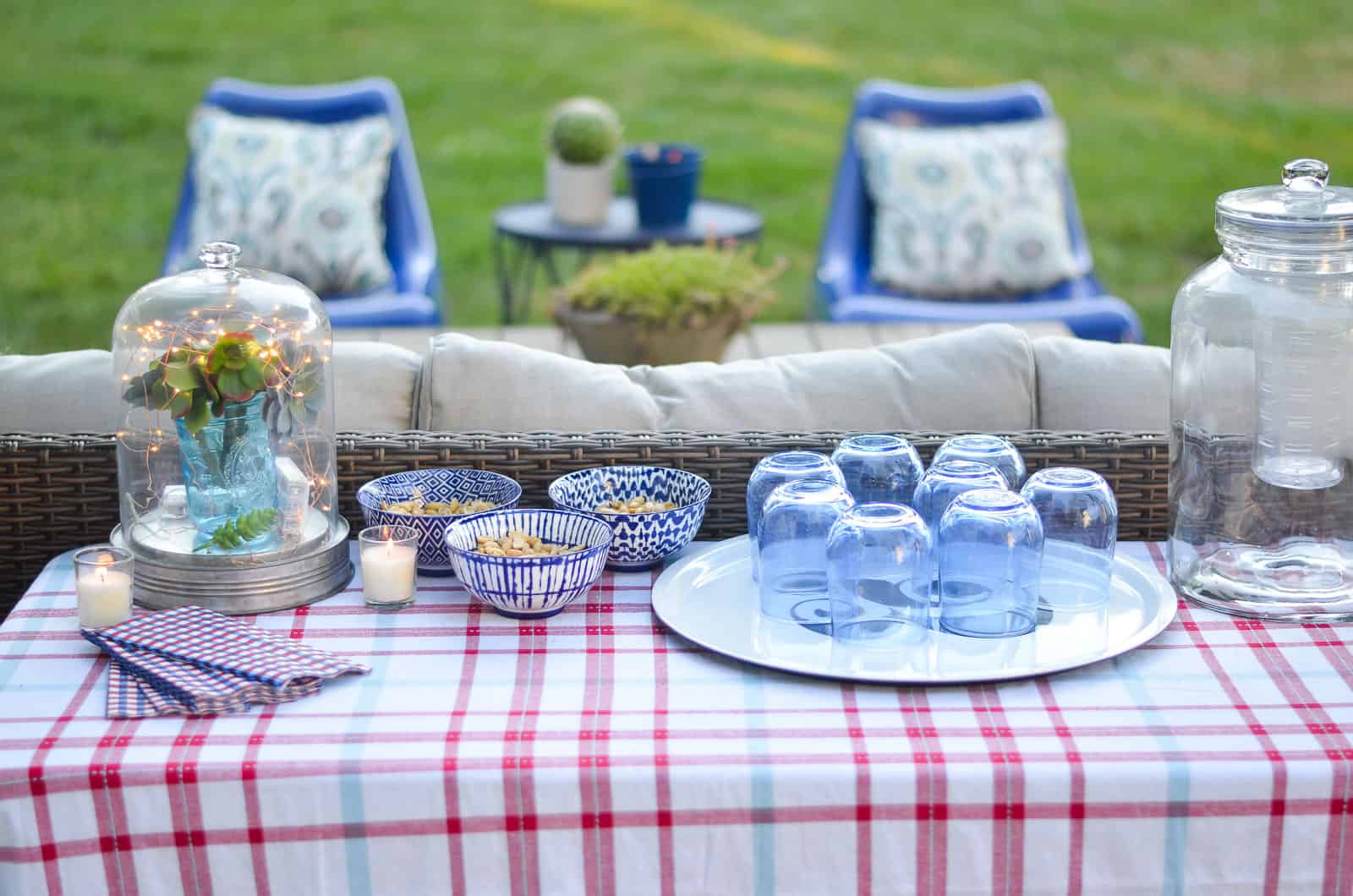 Disclosure: I partnered with The Christmas Tree shops on this post but all opinions are my own!
Last weekend, Mark and I hosted a group of friends for an outdoor summer barbecue! I had the food catered from a local BBQ joint so the only thing I had to worry about was décor and serving utensils! (The best part of party planning, if you ask me…)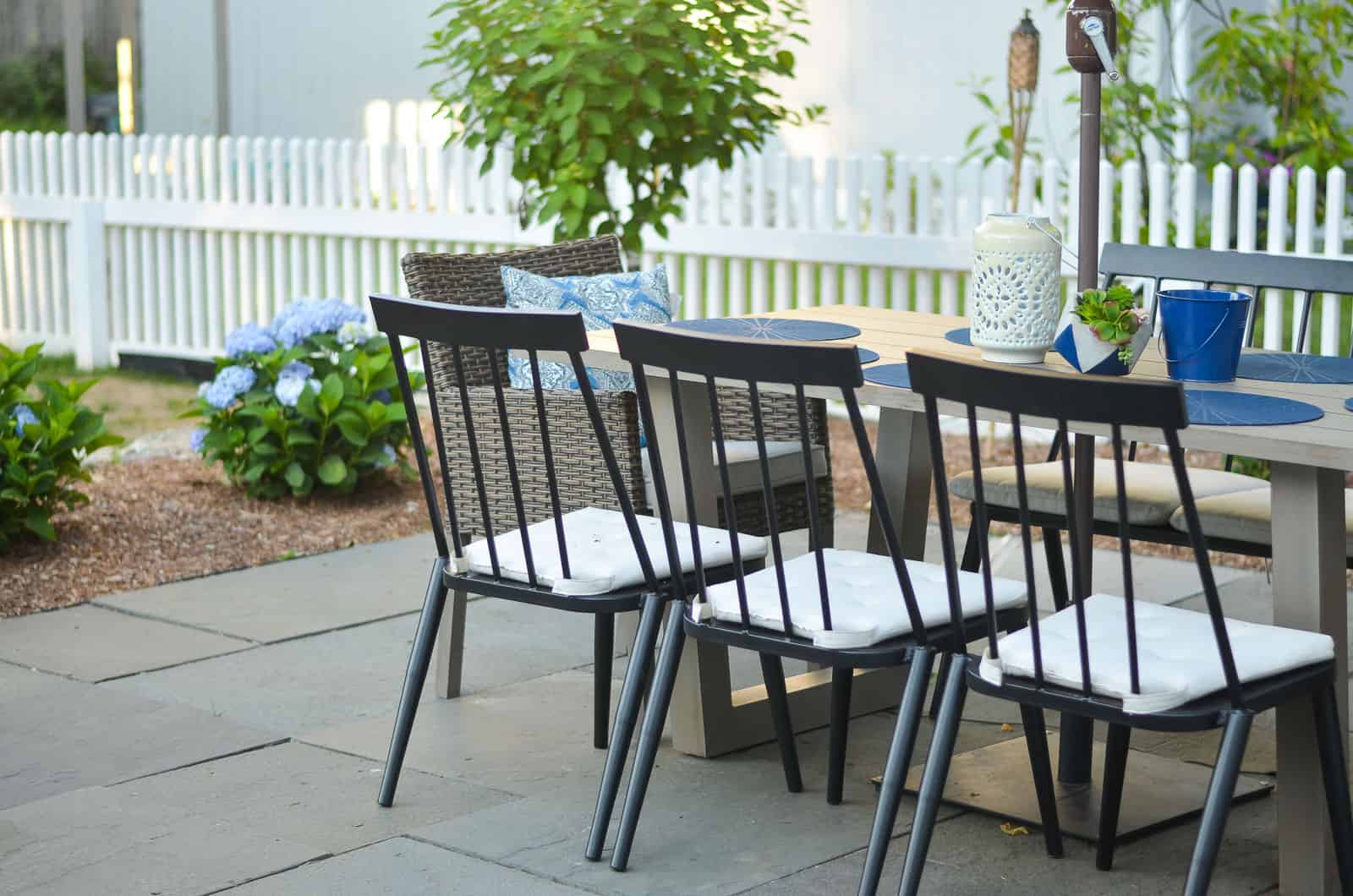 When I was brainstorming for the party, I immediately thought of The Christmas Tree shops because they have EVERYTHING. Décor, paper goods, food, drink, you name it. In other words, one stop shopping.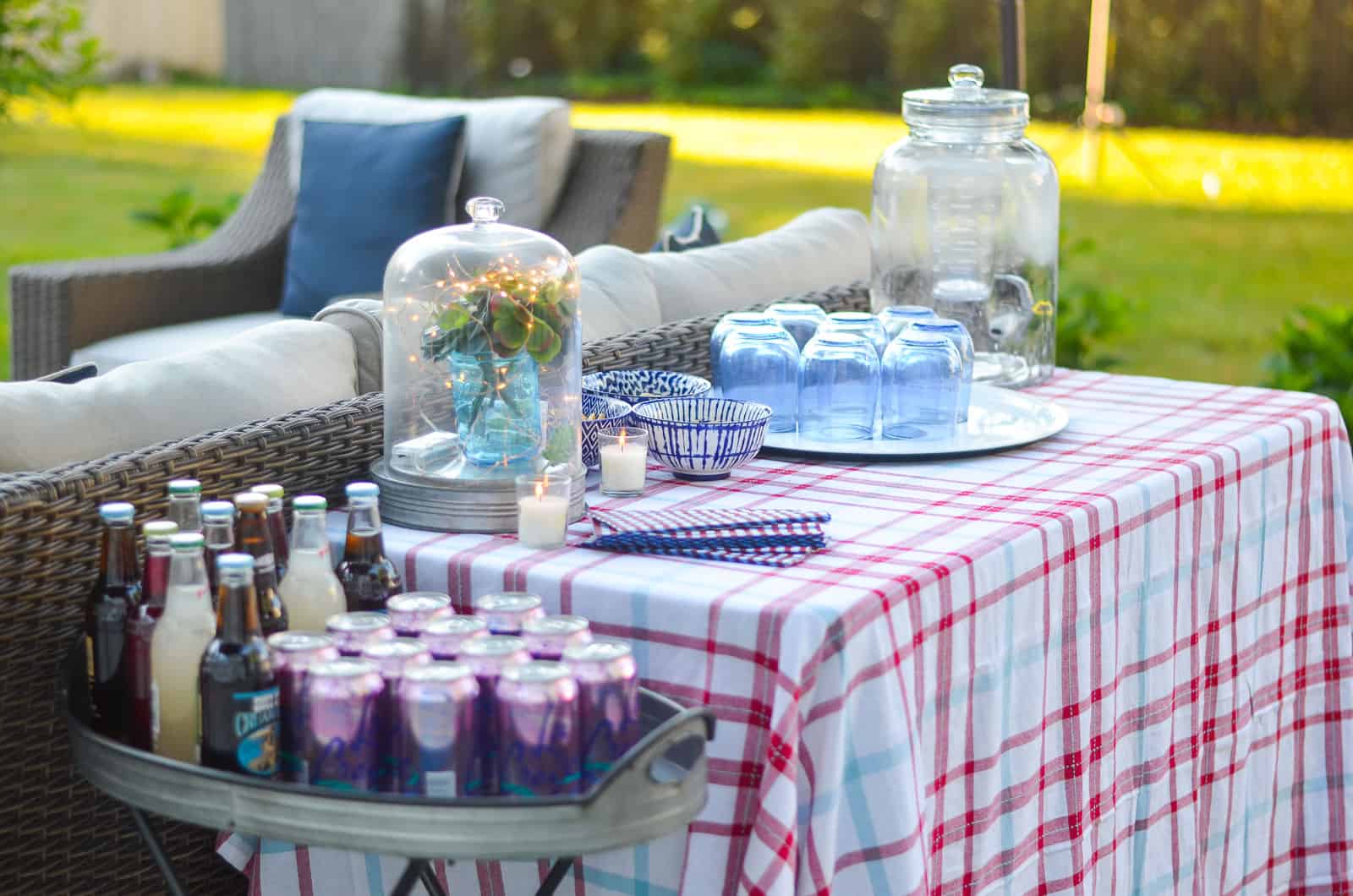 The party was on July 7, so I figured it wouldn't be crazy to bring in red, white and blue for a belated 4th of July theme. Not stars and flags per say, but festive Americana. Also, remember the menu was barbecue so I was also conscious of having sturdy plates and napkins to account for ribs and pulled pork, etc. I LOVE these basic cotton dish towels. They're thin and soft and big and, at three for $4, a BARGAIN. I wrapped them with ribbon to make it easy for everyone to help themselves.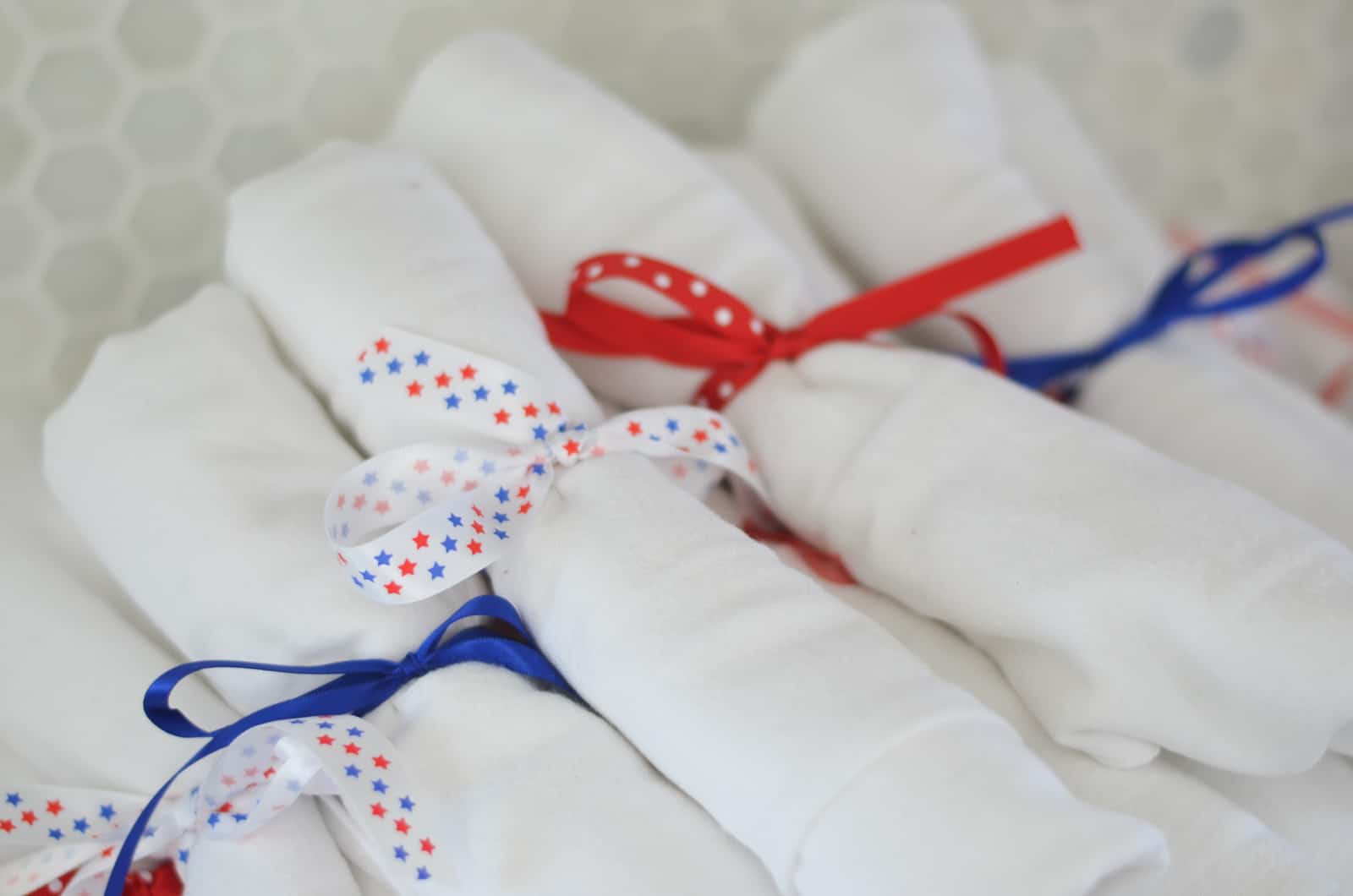 Those dishes are actually plastic so they're plenty sturdy and great for a large gathering like this. I thought about wrapping the silverware inside each napkin, but then decided that I liked being able to see the array of red, white and blue cutlery and people could just as easily help themselves!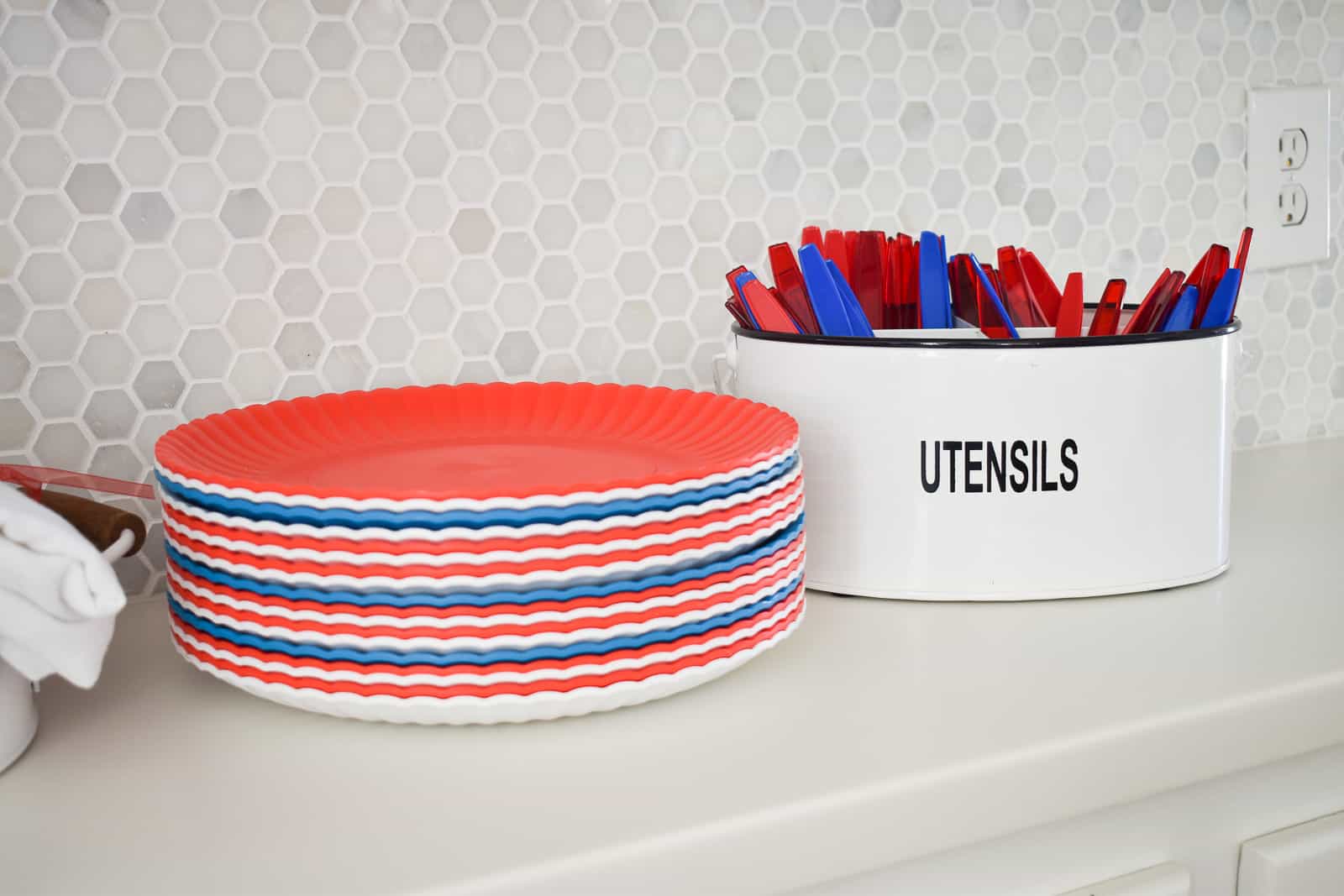 I could have brought home an entire set of these fun blue and white ceramic bowls. I exhibited remarkable self-restraint and only grabbed three to use for garnishes or hors d'oeuvres.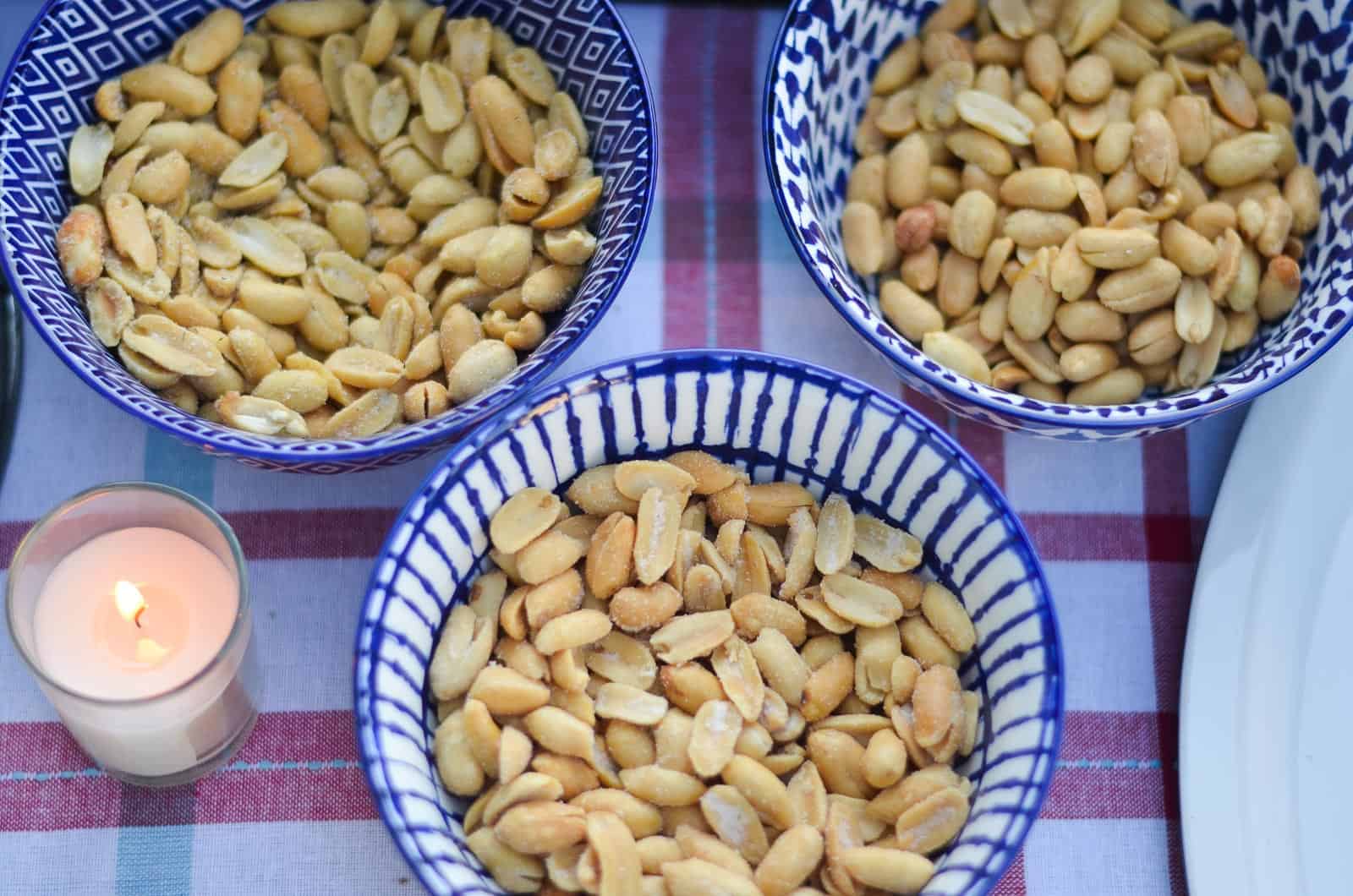 Finding enough serving dishes is always a challenge when I entertain. Or rather.. finding the *right* serving dish. We've had this menu before and there are so many delicious little tidbits so I planned ahead and brought home a larger version of the blue ceramic bowls as well as a navy recycled plastic bowl to round out my existing white serving platters.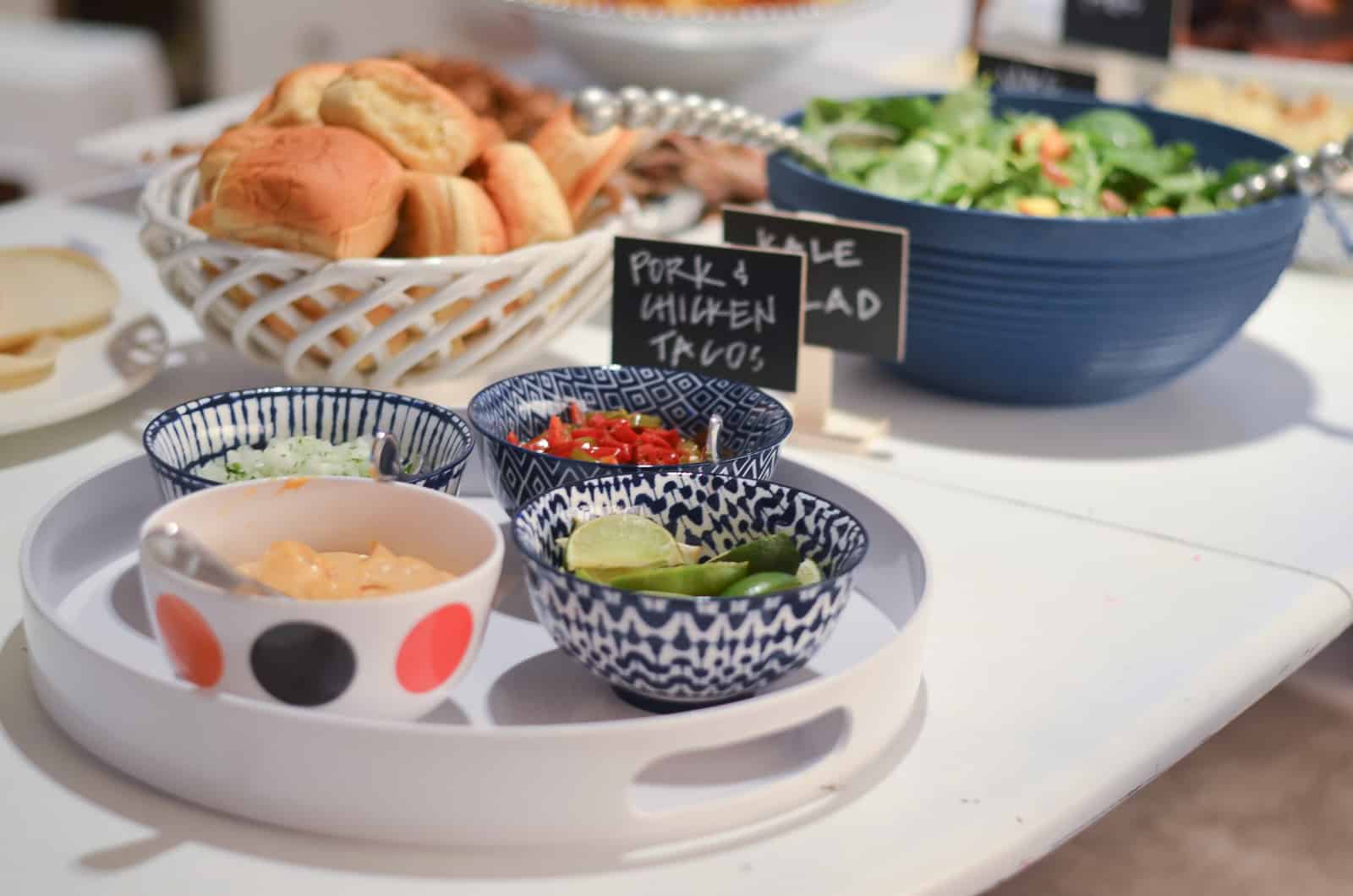 Okay, let's move back outside. We had the PERFECT night for the party. Not too hot, not too cold, and I was so happy to set up the bar on the patio. I have a small plastic folding table and this tablecloth is red white and blue without feeling too… overly patriotic. That cloche is not only decorative, but a couple of strands of small LED lights help to illuminate the bar as the sun set overhead.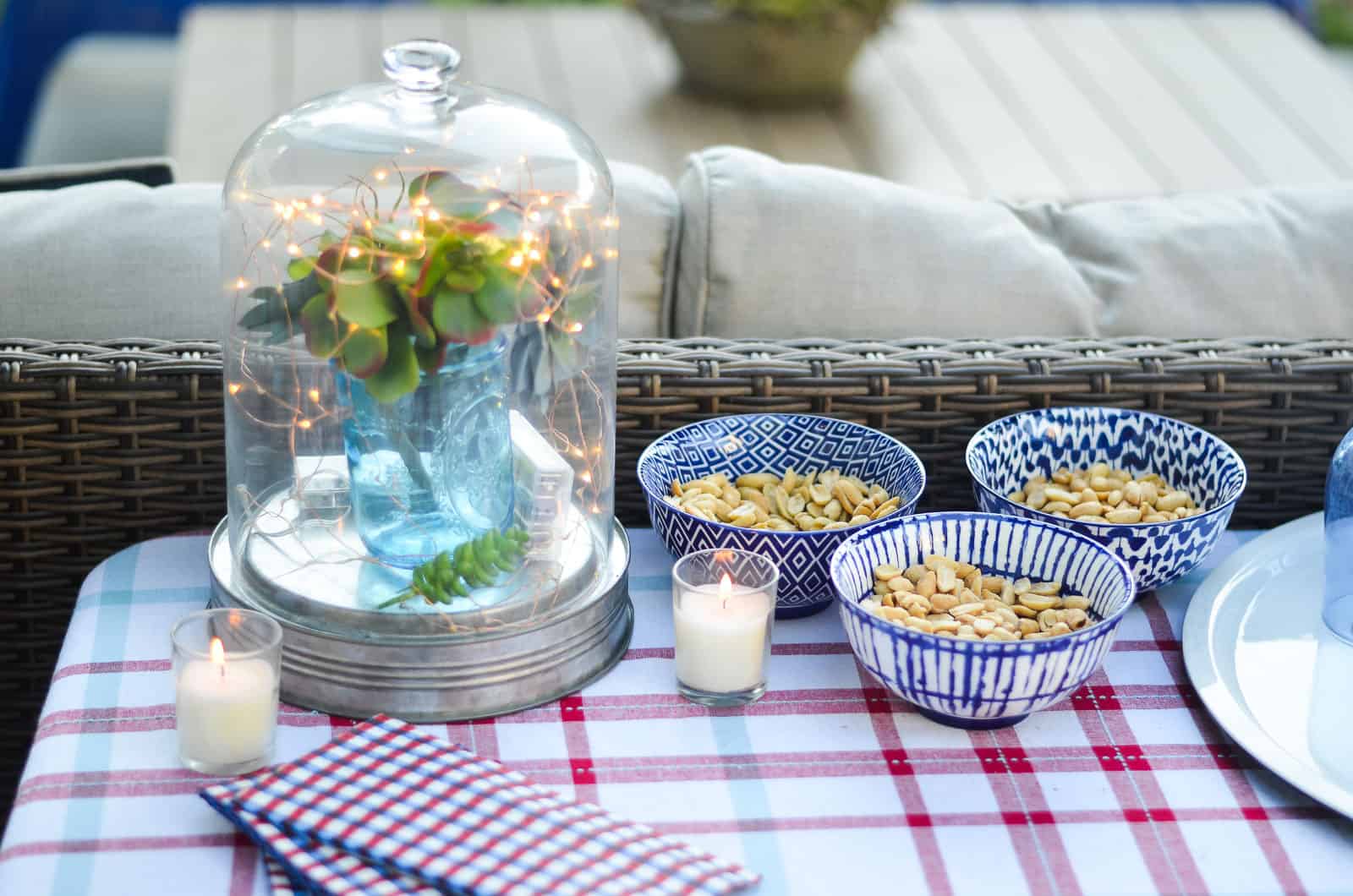 Remember earlier I said Christmas Tree Shops are one stop shopping? We served Dark and Stormies using those retro bottles of ginger beer set up on that cute metal tray table. If I had a bunker, I might just fill it with dozens of these flavored peanuts too… dill pickle? Salt and vinegar? Yesssssss.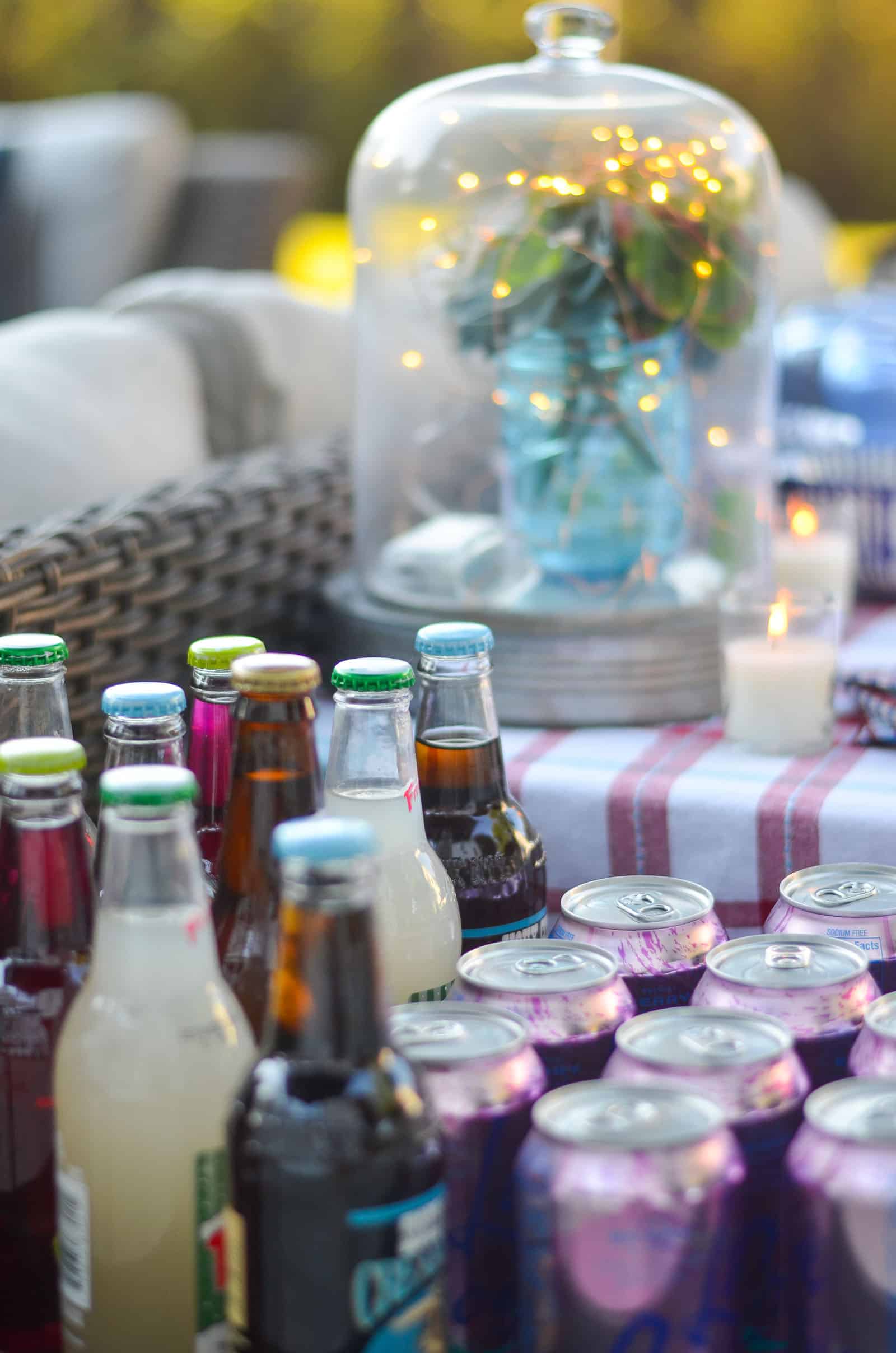 We haven't had a bad season for bugs, but I always set out a couple of citronella candles when I entertain outside. A faux cactus made the candle seem a bit more like a decorative vignette than just a candle smacked in the middle of that side table.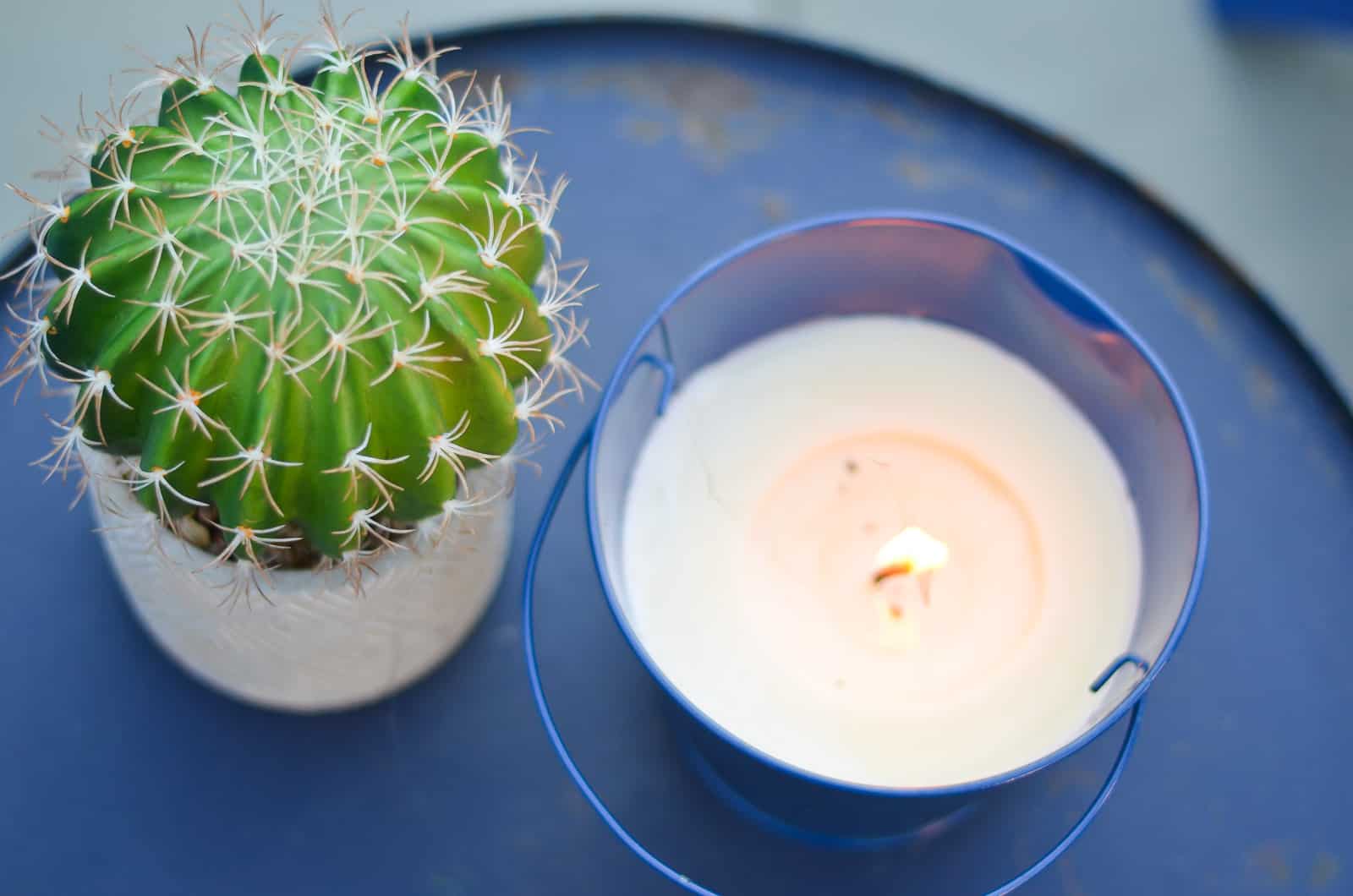 One of my favorite things about entertaining is bringing the whole party together with some sort of theme… for the kids, that theme is something like fairies or trucks or Harry Potter. But for our adult parties, the theme for me is usually color. Red, white and blue can get kitschy really fast, and that wasn't what I wanted. I love how these details come together but aren't… too much. Also? Having a bar set up on the patio isn't half bad!