DIY Budget Stair Runner
This $50 DIY stair runner was easy to install and made such a difference on our staircase.
Do you guys ever get an idea for some sort of DIY and have to do it, like NOW. Well this was my moment of 'git 'er done.' Our stairs needed a little padding, a little cushion and a little quiet…
I always figured we'd put a runner on these stairs to soften them up both physically and aesthetically, but it was never a high priority. It was also super expensive. Or so I thought.
Finding the Right Budget Carpet
There were three posts I read that somehow twisted my brain around to a cost effective solution. This one from YHL that made me realize, bam, there's no magic to a stair runner… John and Sherry pieced together a number of regular ol' hallway runners to work on their stairs. Then I read this post by the amazing Jenny who used… wait for it… Ikea. Like my 3-year-old at a Fresh Beat Band concert… the heavens parted and all was right with the world. I wanted something a little more colorful than the stripes Jenny chose, and whattya know… these throw rugs were my jam. And, hel-LO… $6.99 a piece.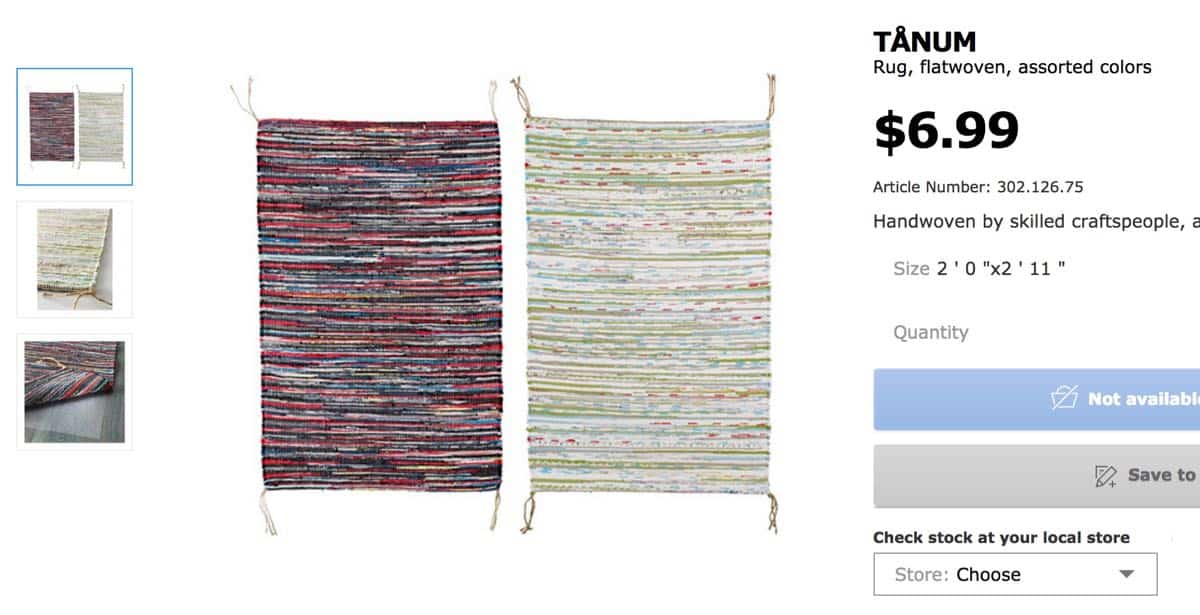 Measure Your Stairs
But would they fit. Time for some measuring. First, some stair terminology: Tread= the flat part you step on; Riser= the vertical portion you might kick with your toe as you walk up each stair; Nose= the little edge on the tread that makes the stairs look nice and finished.
The tread plus the riser of our stairs equalled 18″. I rounded this up to 21″ to account for the extra rug needed to wrap around the nose of each stair. I confirmed with my design friends on google, that 5″ on either side of the runner wouldn't look cray cray and I also confirmed with my design friends on google that I didn't need to have a rug on the landing either. Which meant this rug would be perfectorama. Winner winner, Ikea Swedish meatball dinner.
We're lucky to have an Ikea about 20 minutes away. It would have been fantastic if THAT Ikea had my rugs in stock. No dice. Not to be defeated, Louisa and I drove to an alternate Ikea an hour away and broke some sort of Ikea land-speed record for our 15 minute shopping trip and made it home in time for lunch. To install the runner, I needed a few tools (affiliate links included for your shopping convenience):
Materials for $50 Stair Runner:
Add Rug Pad
I grabbed an inexpensive rug pad from Homegoods and cut it up to fit each tread.
Mark the Edge of Runner
Following the advice of Jenny, John and Sherry, I measured and used some painters tape to mark off one edge of the runner in order to make sure it was aligned and straight.
Anchor One Carpet at the Top of the Staircase
Starting at the top of the staircase, I used the nails and the upholstery hammer to nail along the top edge of the first rug. It took me a couple of passes to learn what worked best… I experimented with different staples and ultimately determined that the 3/8″ were the best length, but I needed the nails along the top edge to really secure it. (This also meant I didn't need to undo the top hem because the nails could easily go through the thicker fabric.)
Continue By Stapling the Carpet onto Each Stair
Once the top edge of the rug was secure, I stapled it onto the back of the tread as close to the riser as possible. I pretty much jammed the staple gun as far as it would go to the back of the stair and let 'er rip. For the edges I wrapped the rug around and then stapled it along the underside of the nosing.
Call it DIY karma or something, but these rugs ended up being the perfect length… I was able to cover two stairs, and then I opened the bottom hem of the rug to gain an inch so that it finished right under the nosing.
With the next rug and my nails, I started the whole thing again. Each rug covered two risers and two treads.
The rugs are a little darker in person than they appeared on the web site, but I love the texture and the color scheme. The greens tie in well with the living room at the foot of the stairs and the colors not only hide dirt, but also keep it sort of interesting. I bought 12 rugs to give me some wiggle room, but ultimately only used 7. Which brings the grand total of this runner to just under $50. (Add another $10-15 for the rug pad if you want one.) I figure I'll keep the extra rugs in case I need to replace part of the runner going forward… with kids, it's a safe bet that something crazy will get spilled on it. (Strawberry syrup was my earliest carpet nemesis in this house…)