A few days ago, I was looking at our new (Craigslist) square coffee table and thinking it could do with an upgrade.  Before we moved to the suburbs for good, our family room looked like this.  Just whatever random furniture we could find to fill the space so we could relax when were here for the weekends.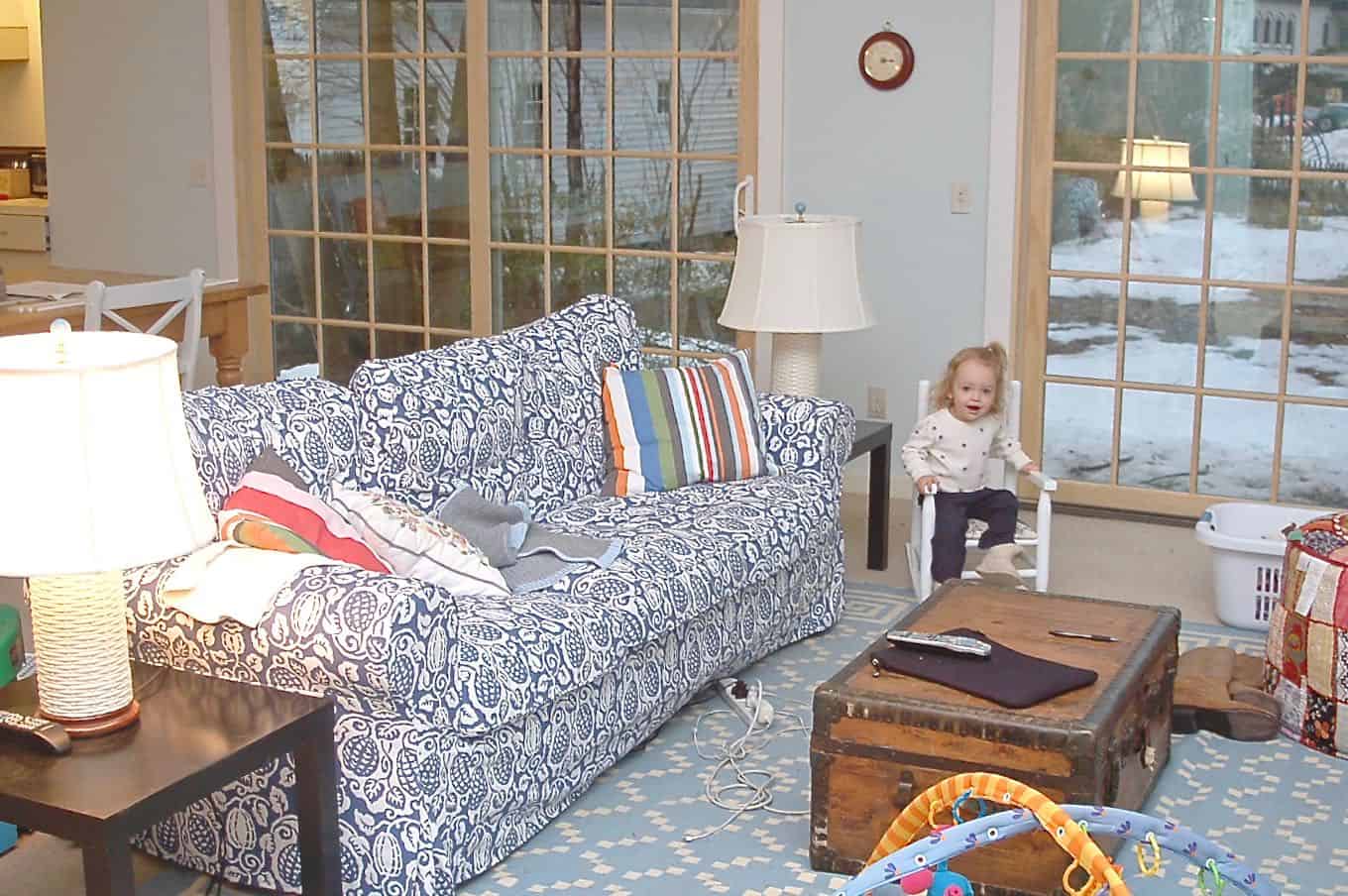 Then we were here a little more often and I started to move things around and actually try a little bit design wise.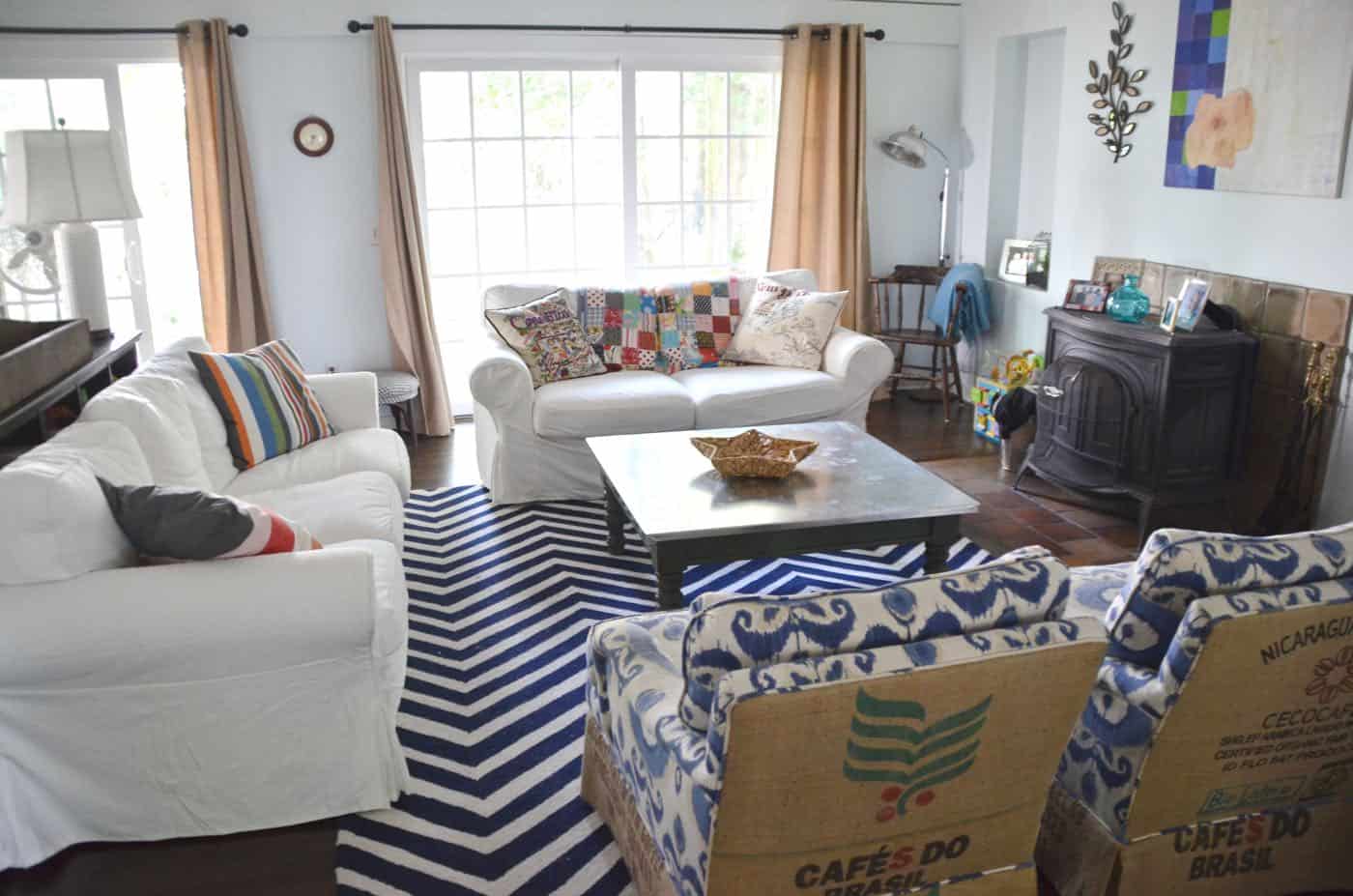 And then we upped and went suburban for good.  We brought with us a couple of couches and a couple of coffee tables.  The couches fit  the space, but neither of the coffee tables were quite right.  I didn't mind the white one you see above, but Mark thought it was too small. (I googled what the proper distance 'should' be between a coffee table and the couch and it came up 18″… so he was 'technically' right.) I turned to Craig for some help and found  one that was 40″ square and fit the space perfectly.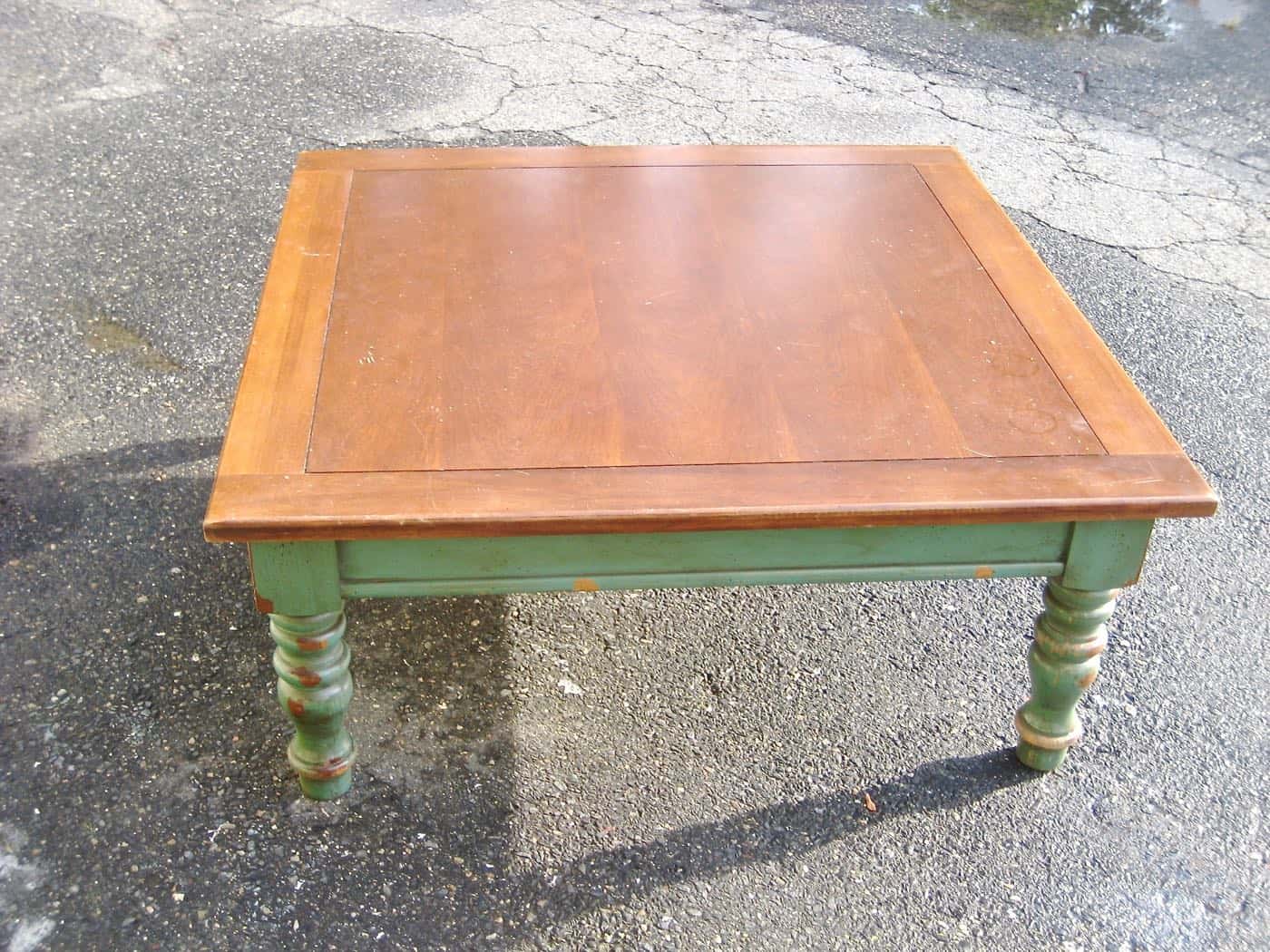 But that wooden top just wasn't my bag.  I like combining textures and thought a metallic topper of some sort might make the table seem a little less massive and pick up the mirrored sconces we have above the wood burning stove.  Stainless steel maybe?  Turns out sheet metal is really freaking thick so not something that I could just manage on my own.  I called around and one place said $450 so I was thinking this project would be dead on arrival.  But I made one hail mary call to a local kitchen place to ask who they used for their stainless steel countertops.  She didn't know but thought there was a place nearby that could help.  That place is at the end of the rainbow with a bowl of freshly poured Lucky Charms, and this is where  Joe at Central Sheet Metal comes into the equation.  Joe had me at hello.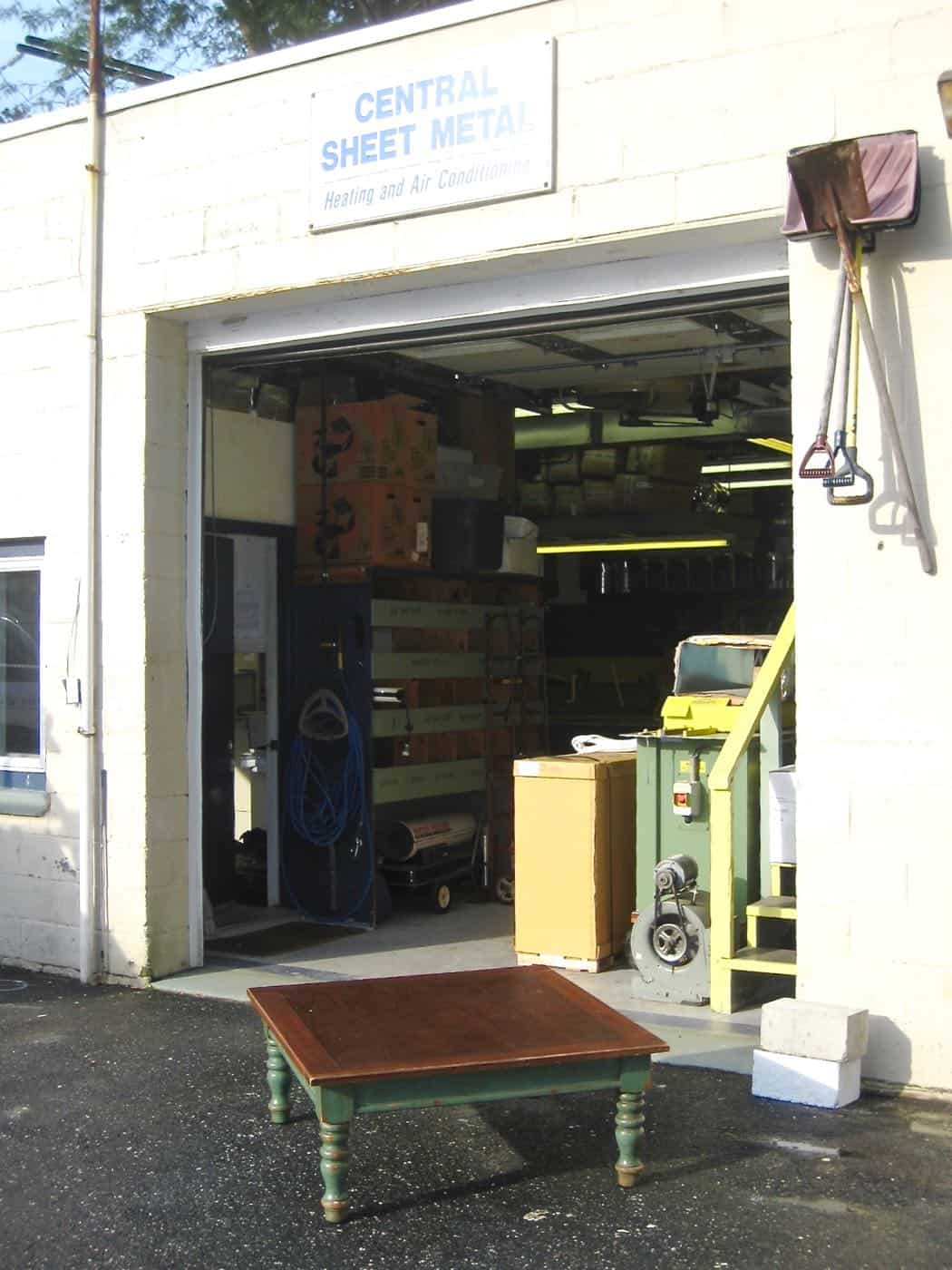 Joe said he could do what I was describing "no problem." It's not out of stainless… that would "cost a fortune" but is what HVAC ducts are made from.  If I could bring the table by on Tuesday morning, he could do it while I wait for… $60.  Um, hell to the yeah!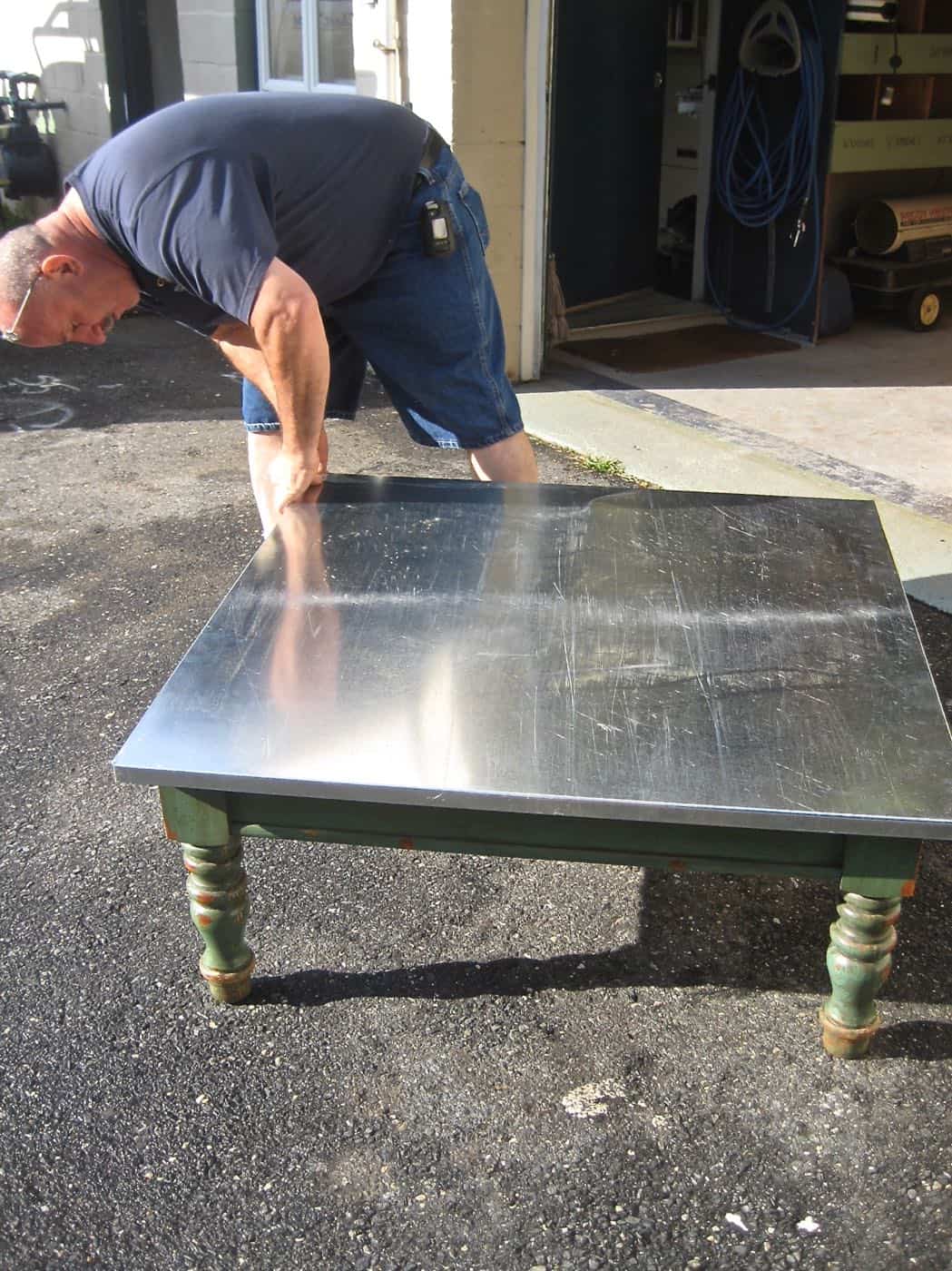 I didn't even have time to finish a conversation with my mother and the topper was already made.  He gave me a 'hemmed' edge so the bottom edges weren't sharp.  I went around the corners with a  hammer, so they're pretty kid friendly, but I still put some rubber corners on when we have early walkers to be safe.  The topper just rests on the table and can easily be lifted off whenever my fickle little heart desires.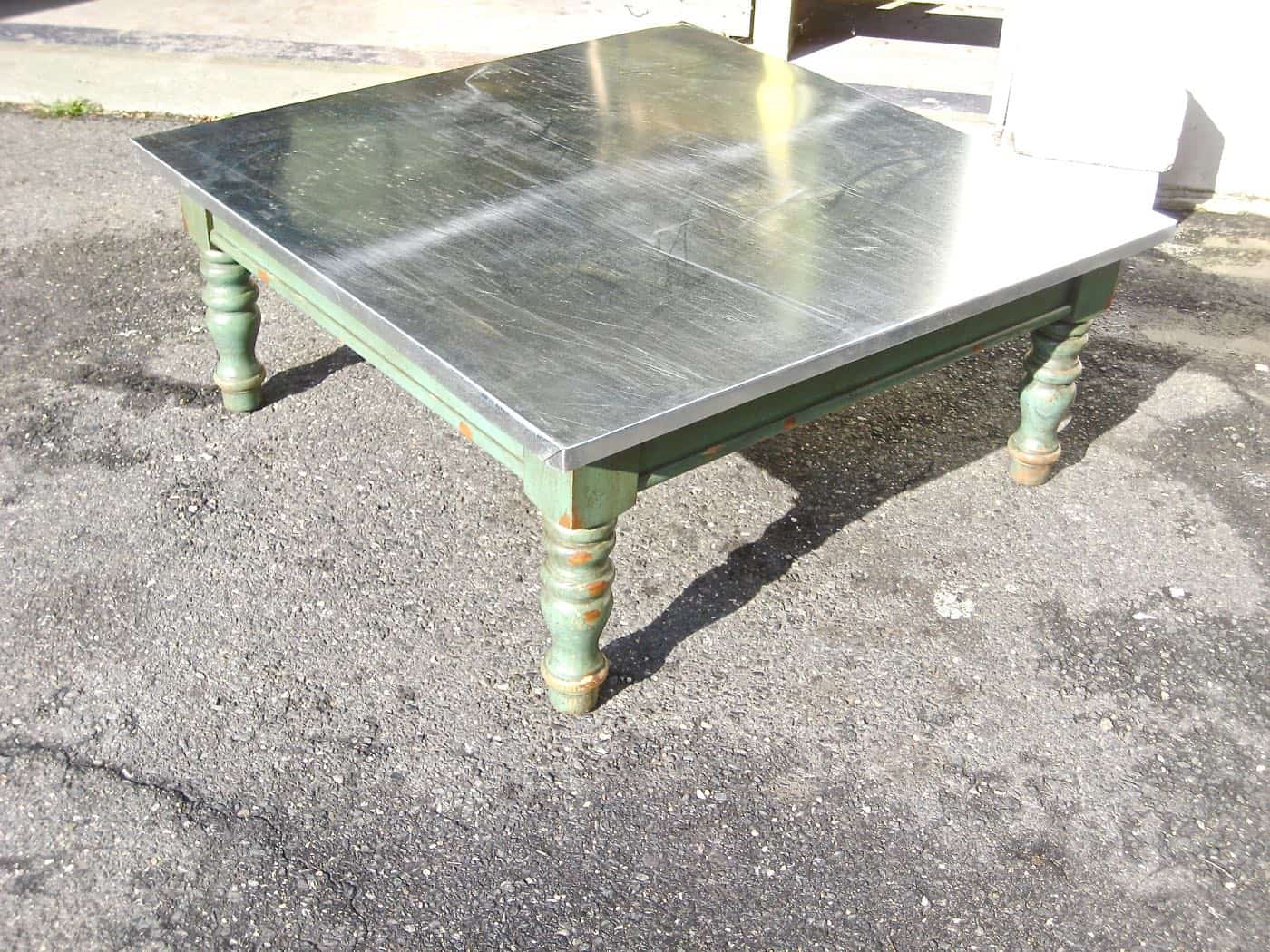 Aside from the people and dog in my life, this is the prettiest thing I've seen in a long time!  I may still be wearing my rose colored glasses, but I think it looks amazing.  And it's way more interesting than the plain old brown surface before!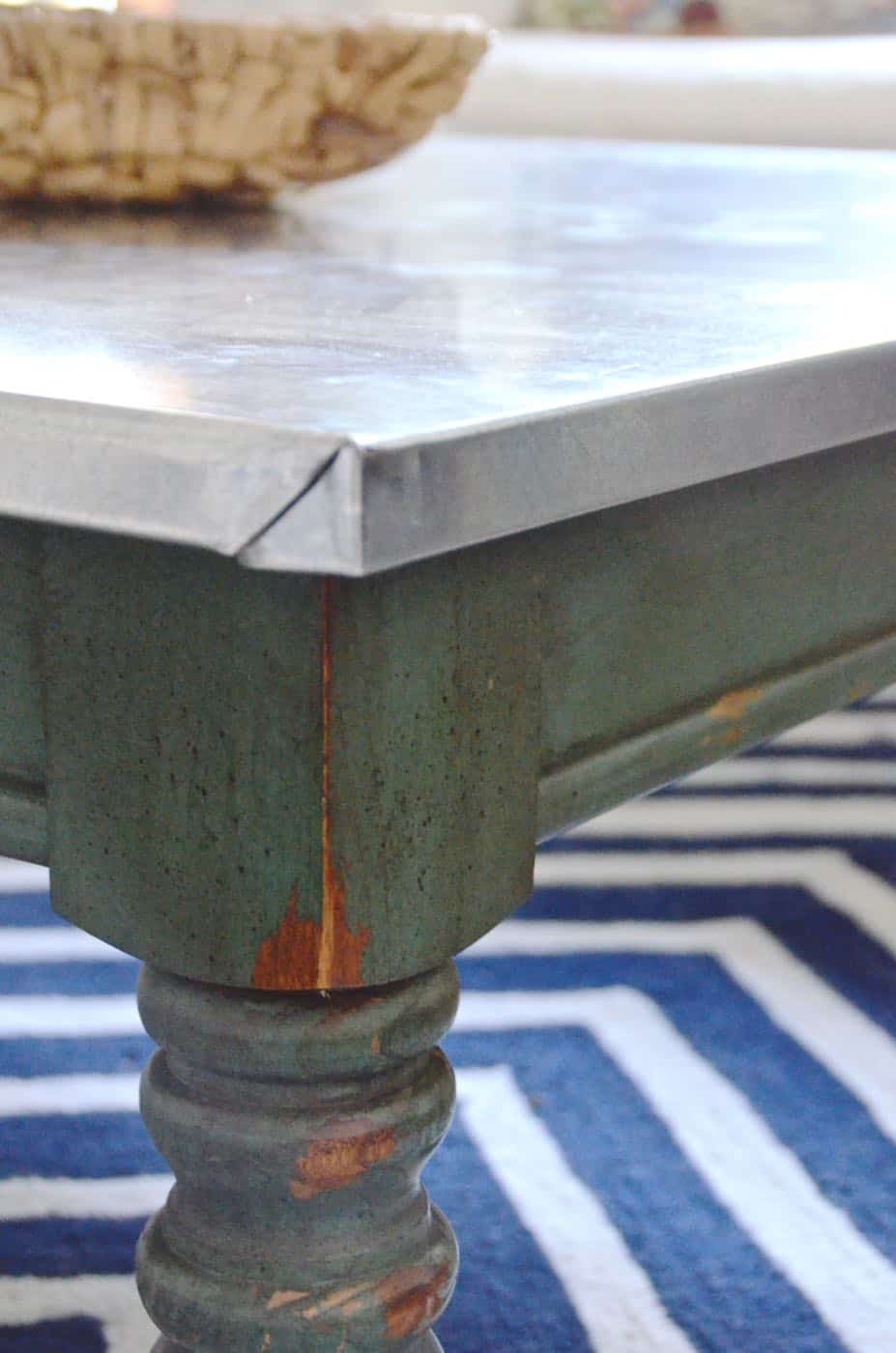 Update: Here's a picture of the space a year and a half later… lots of changes but the coffee table remains!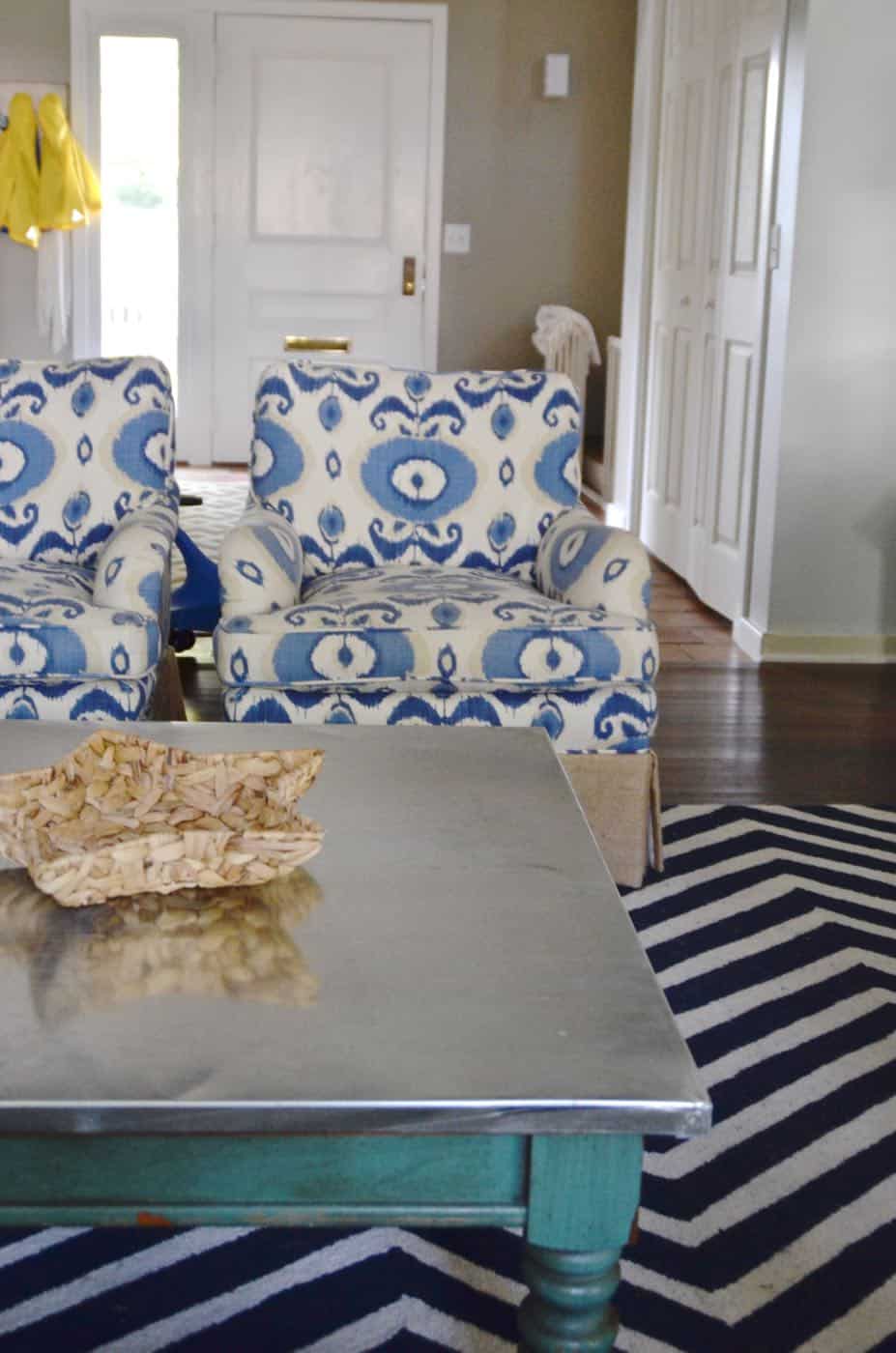 Joe seemed a little embarrassed when I offered him our first born child and invited him to our house for Thanksgiving, but he's got to understand that I really really like my new table.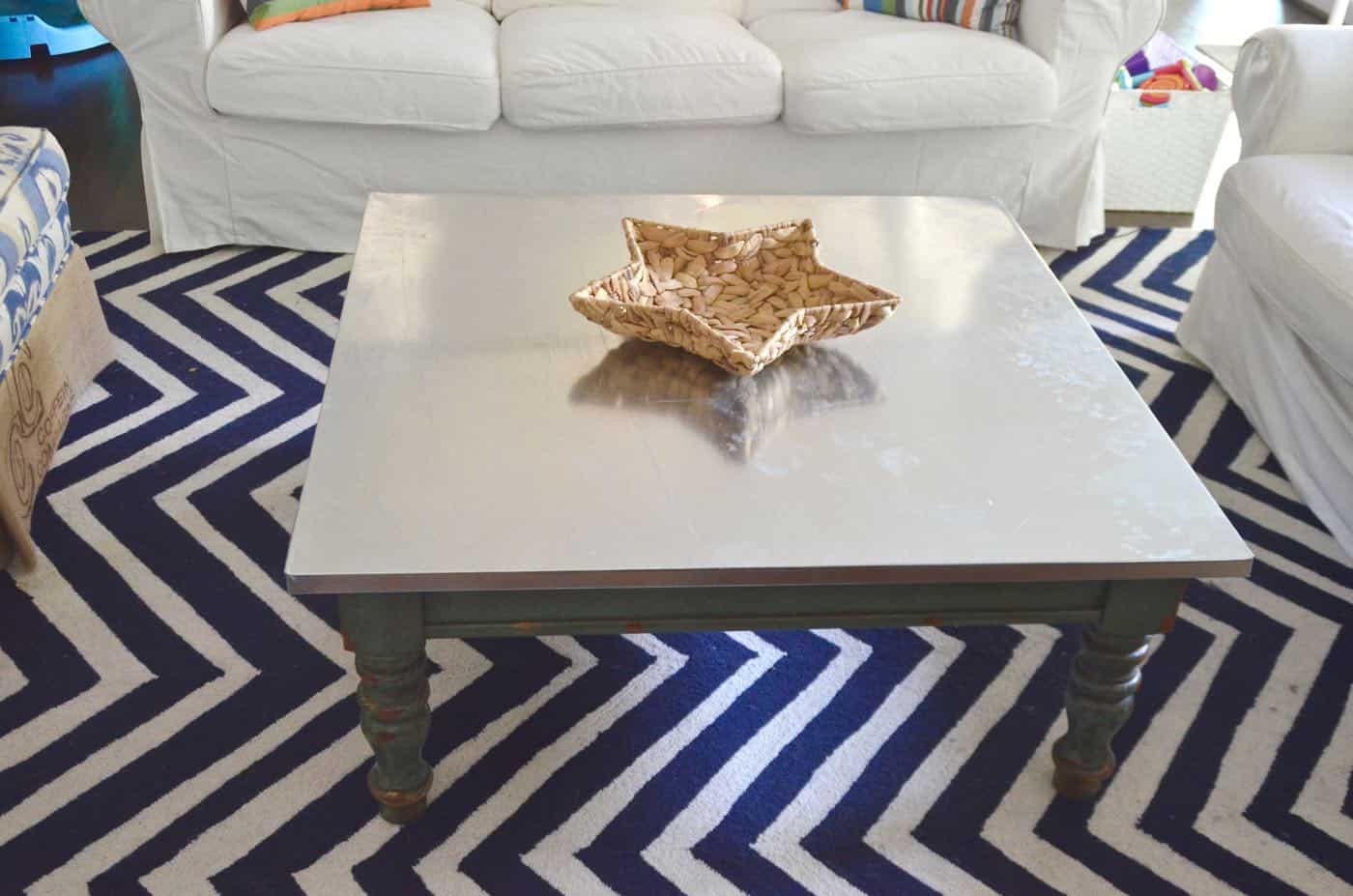 (Mark, for his part, has learned to smile and nod and say,  'it looks great, Char' to most of my projects, but he honest to God said he likes this!)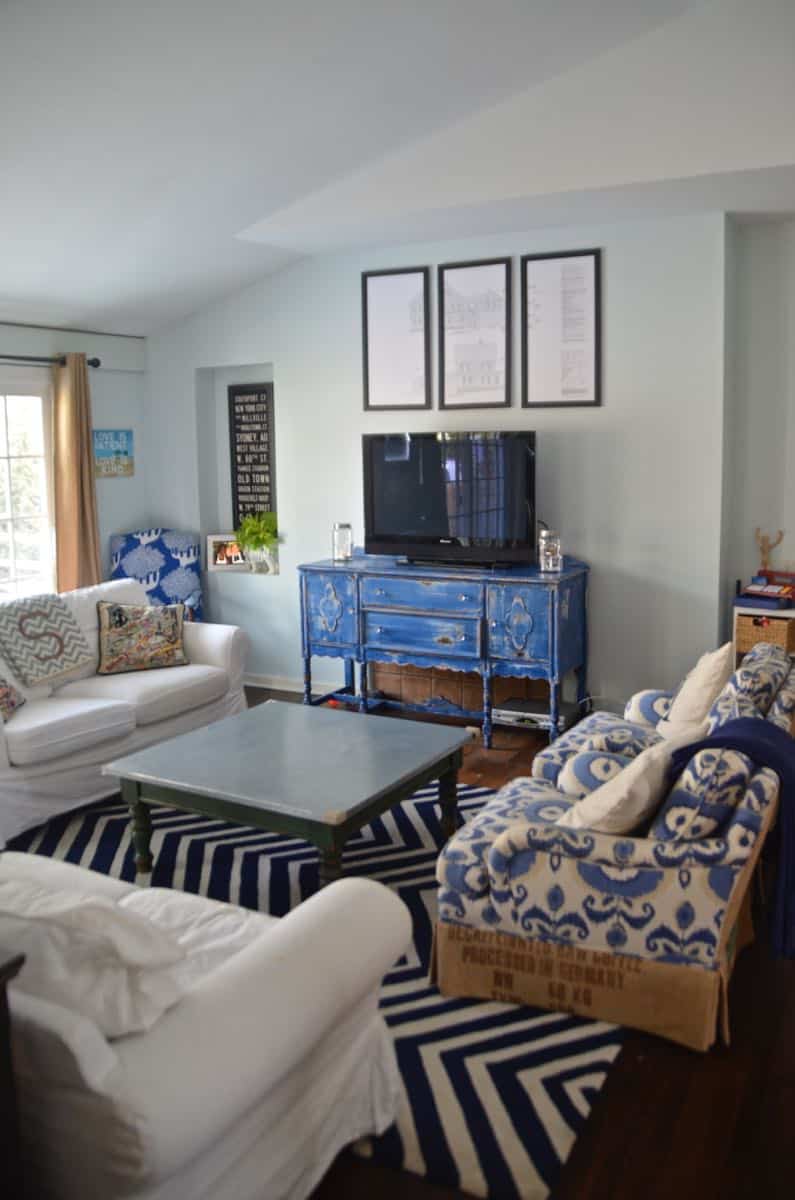 Update: We moved and the coffee table is STILL in great shape in our new family room.