On the rare night (Monday-Friday, and on weekends) when I'm sitting around watching television with my laptop open, I maaaay occasionally browse Pinterest for craft/ organization/ decor ideas.  One item that kept catching my eye, was repurposing a dresser to store dress-ups. Dress-ups around here are fast accumulating and have outgrown their current storage method of being tossed in the small basket in the corner.
So time for a project!  I searched on Craigslist and this bad boy popped up right away (it's a smaller size so great for a child).  Perfect- small, simple, and cheap!  (I'm afraid that Nicole might have been a taken aback by the passion and vigor with which I responded to the ad… there were lots of exclamation points and I probably professed my love for her bureau at least once.)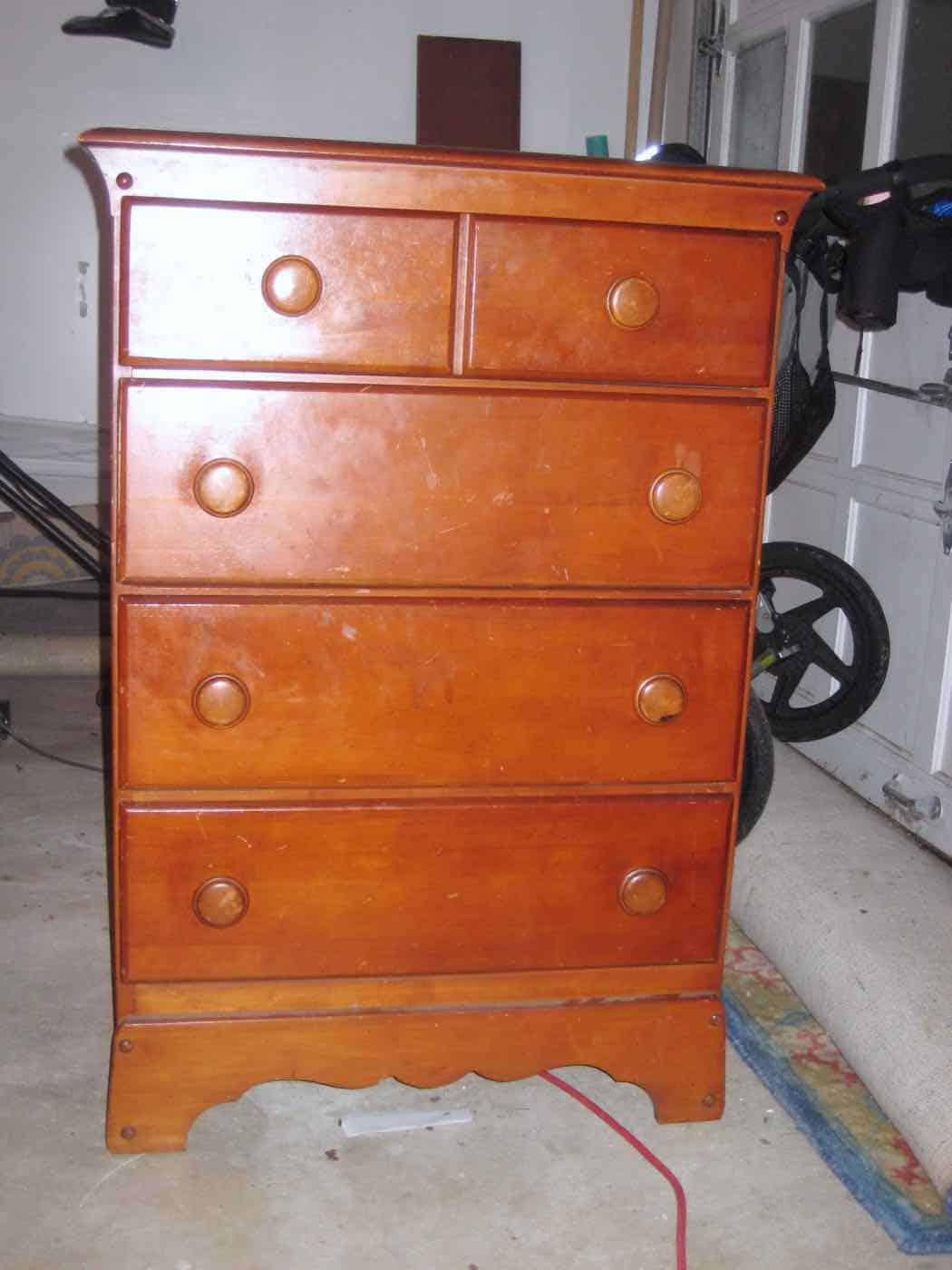 First step, removing the top three drawers.  The side frames unscrewed super easy.  The cross bars were well made with dowels so I had to get the hand saw and saw them in half so I could slide the dowels out of the sides of the dresser.  I patched these holes with wood filler.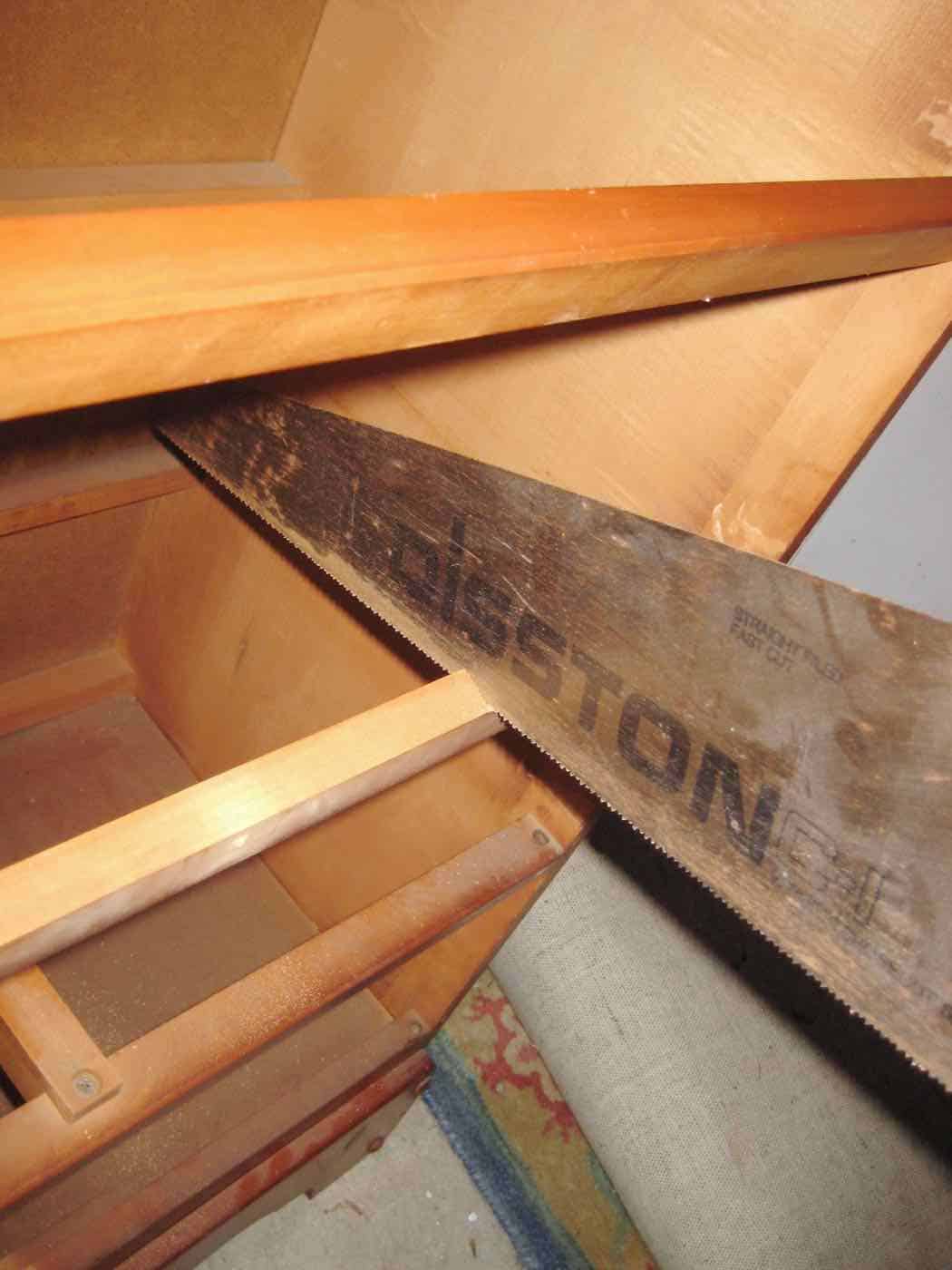 Next, priming and painting.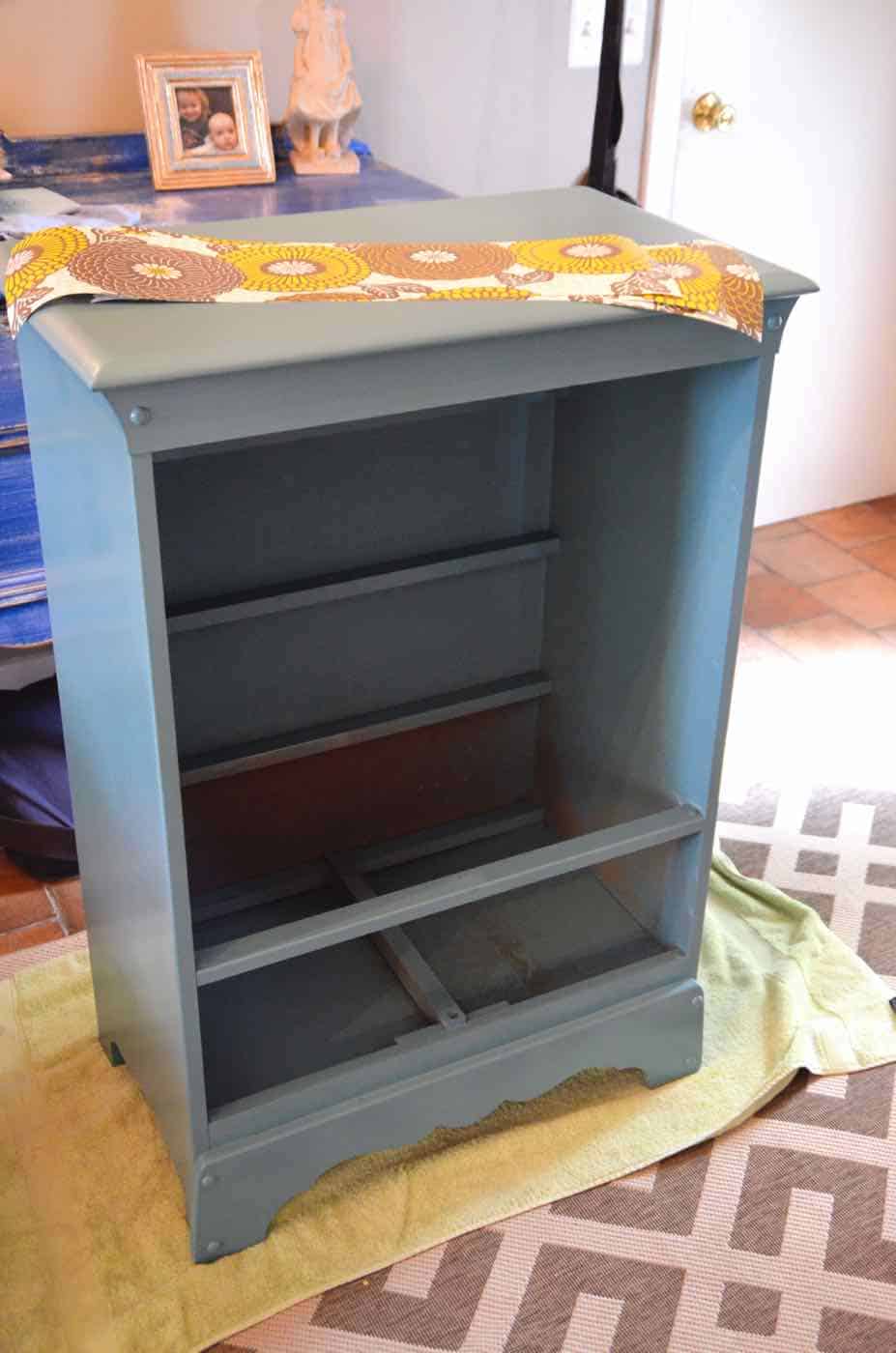 I LOVE this color.  It's Martha Stewart's discontinued paint line in Hosta from Home Depot, but they could color match it in their regular old semi gloss Behr.  Not too girly, but not too serious either.  I have to remember Oliver and his dress ups down the road!
I found some gorgeous paper at Papyrus.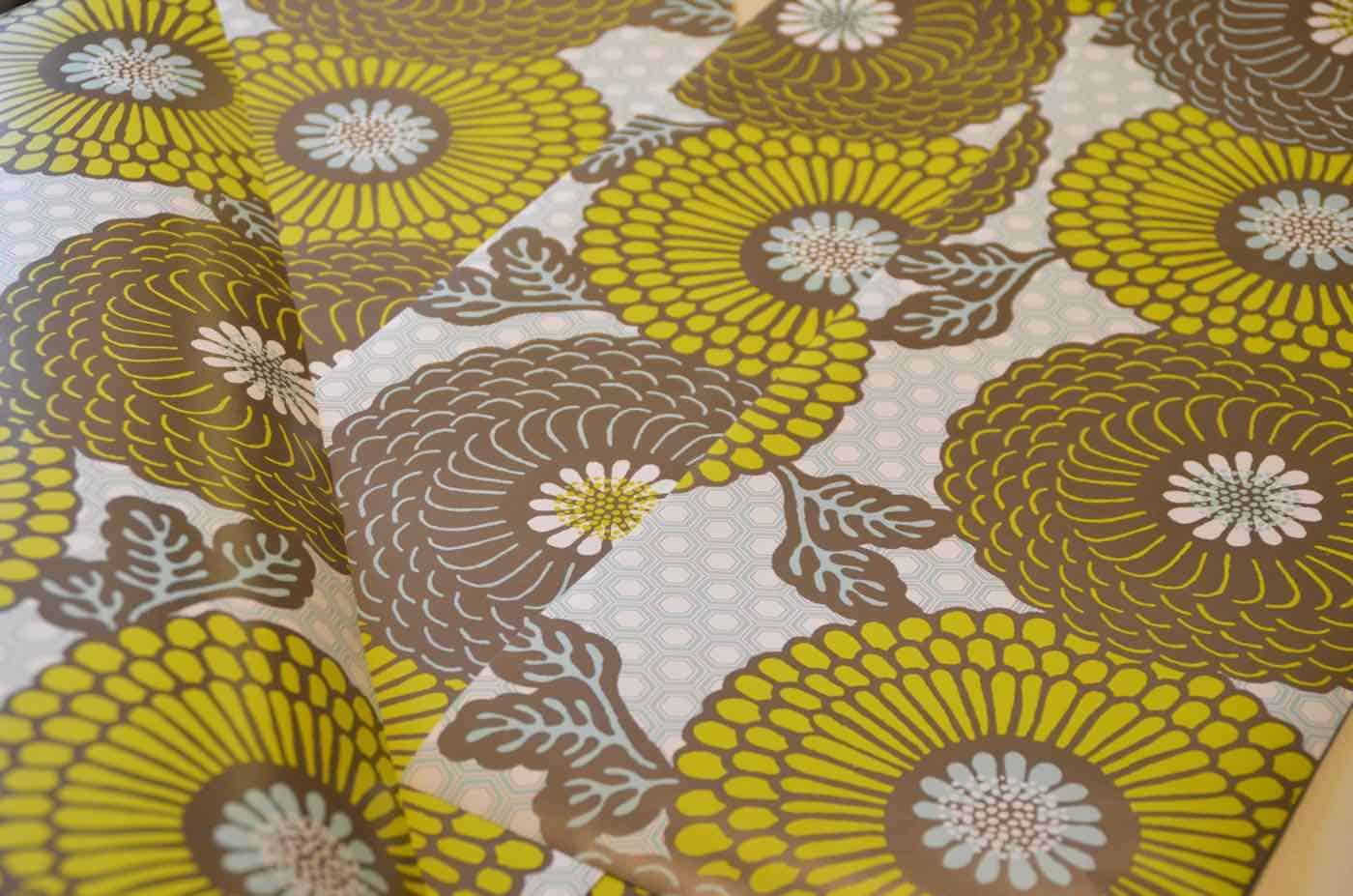 And used some wallpaper glue I had kicking around to affix it to the back.  It's a little wrinkly because it's such thin paper, but you only notice when you're right up close and personal. At one point, I was considering wall paper on the sides too, but the paint looked so nice that it seemed crazy to cover it with the paper.  The pattern is so busy that I'm glad I only used it on the back.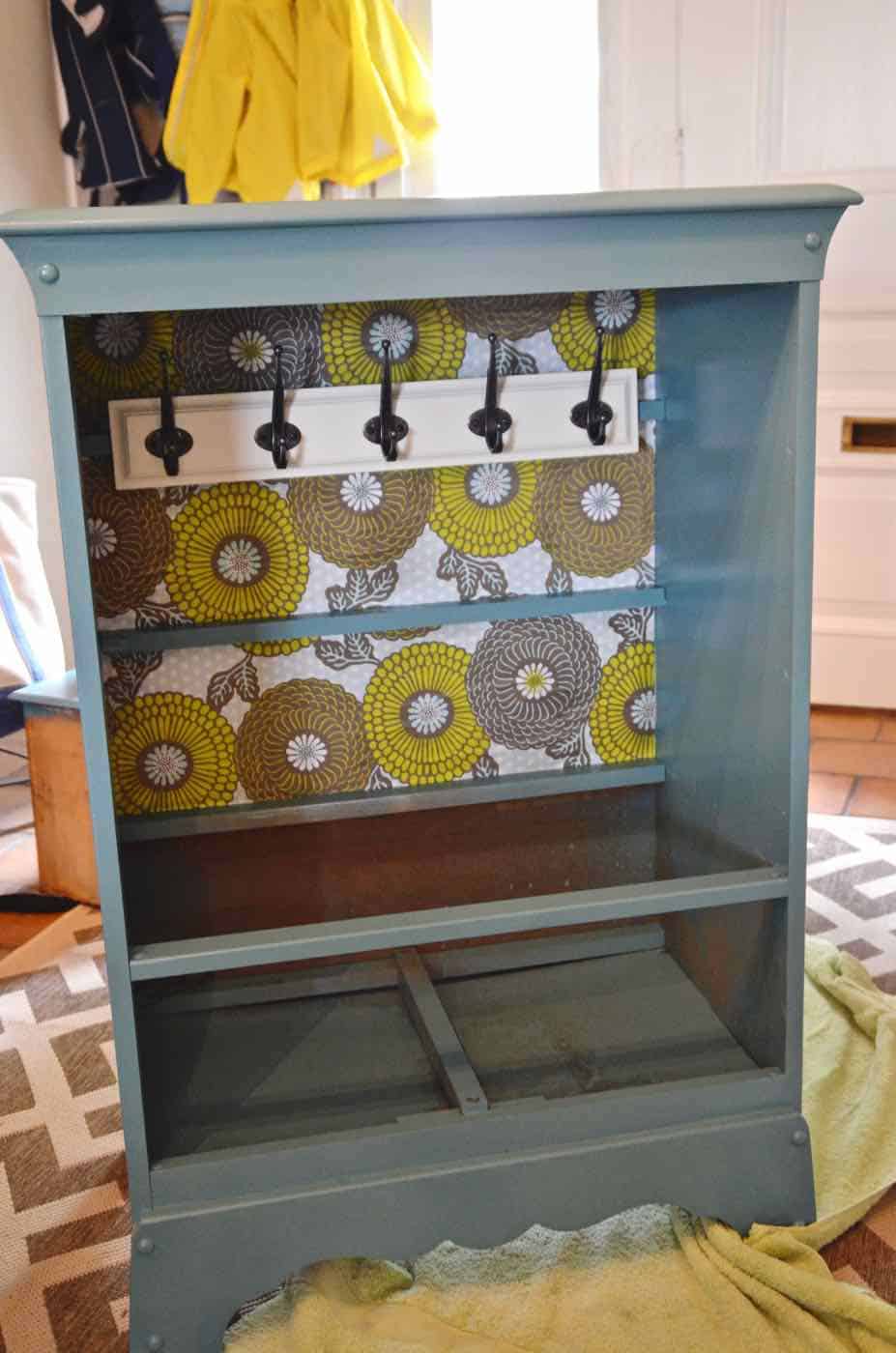 All of the bureaus I had pinned on Pinterest had a  bar with hangers, but when I focused on our specific dress up needs… I wasn't wildly confident that Eleanor would be able to use hangers for her stuff, so even though the bar looks adorable, I decided that hooks were way more practical for our dynamic duo.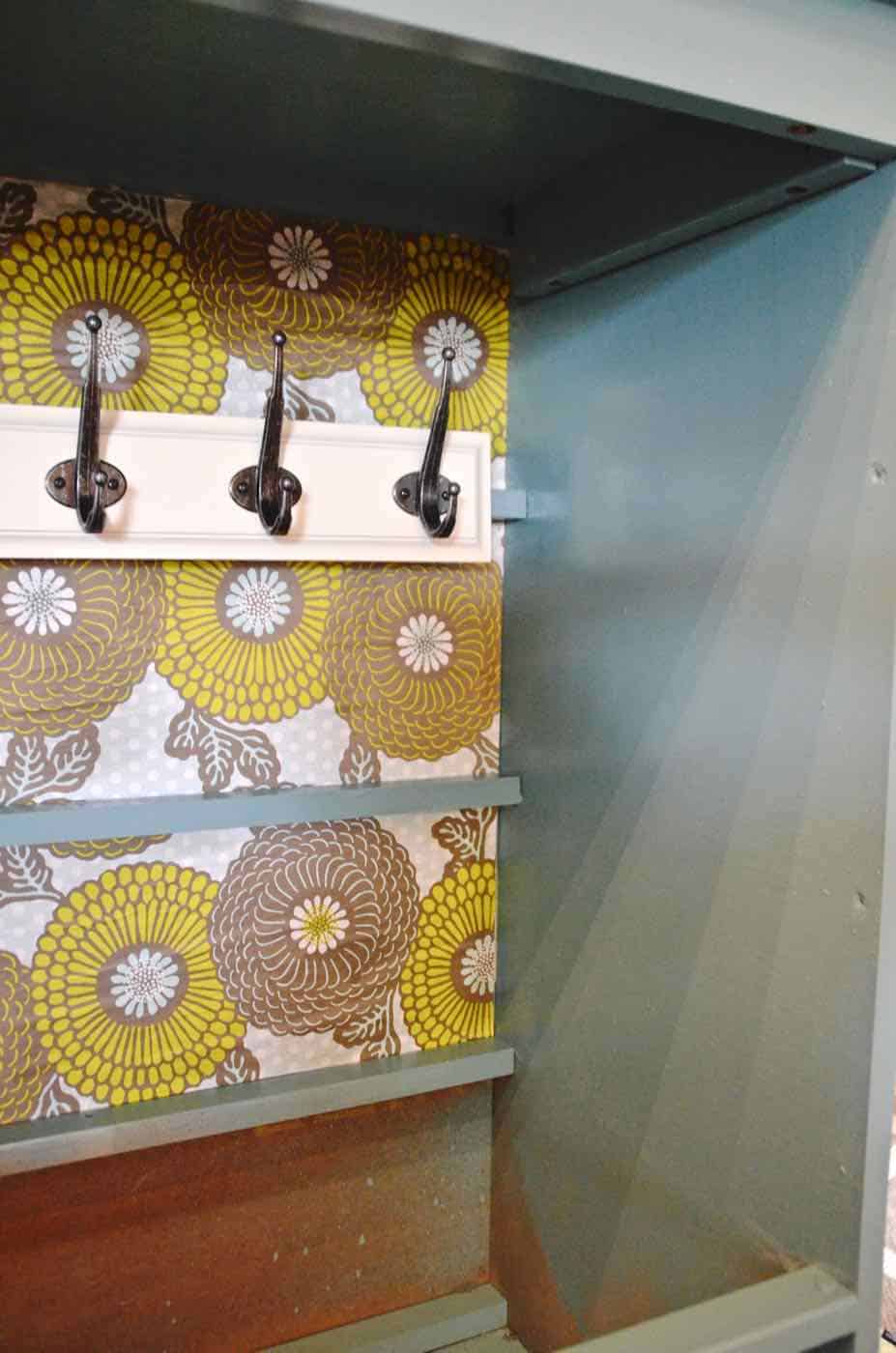 I used a set of hooks from Ikea across the wooden drawer support on the inside as well as a couple of other random ones I found at Home Depot on the outside.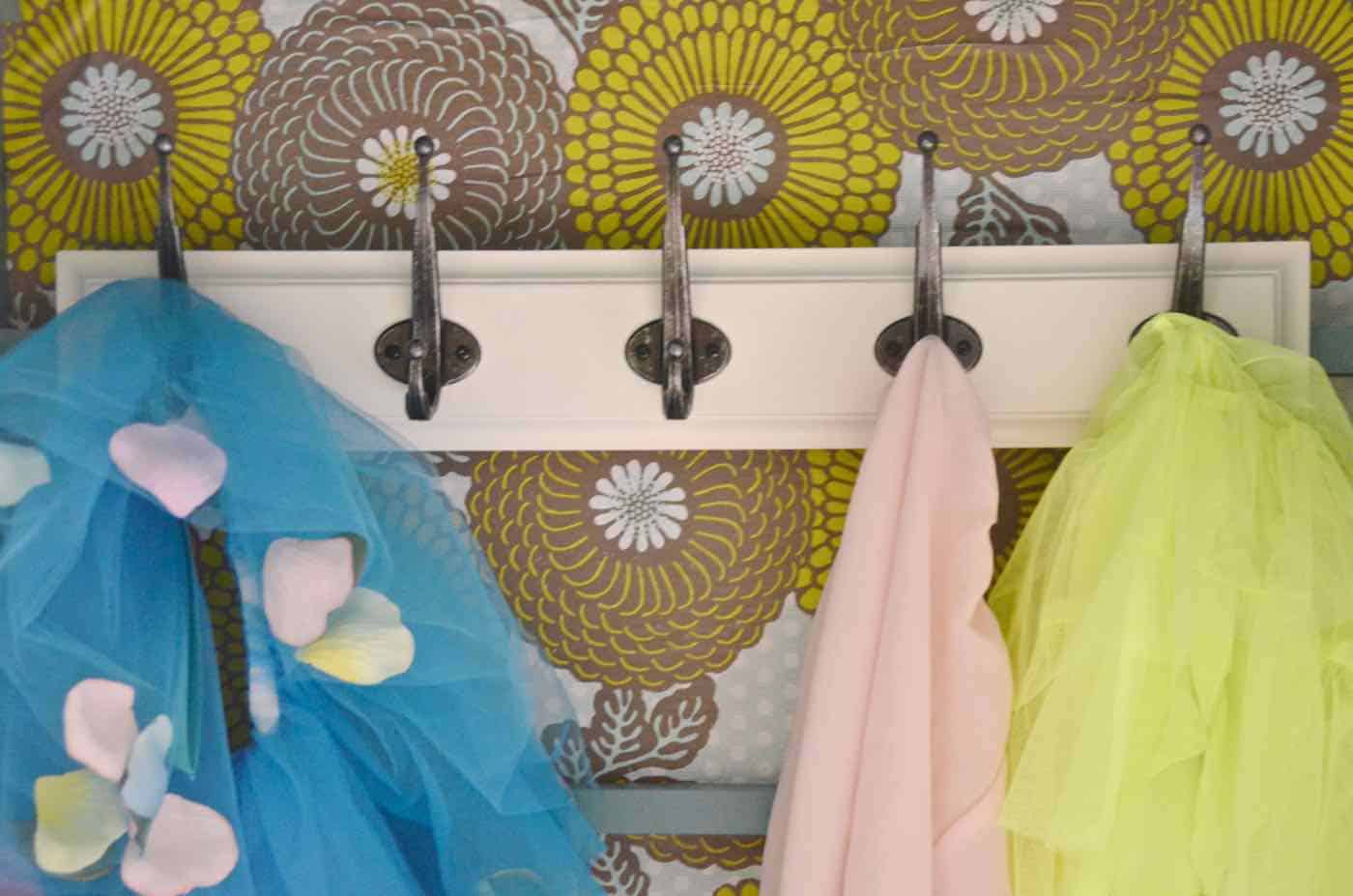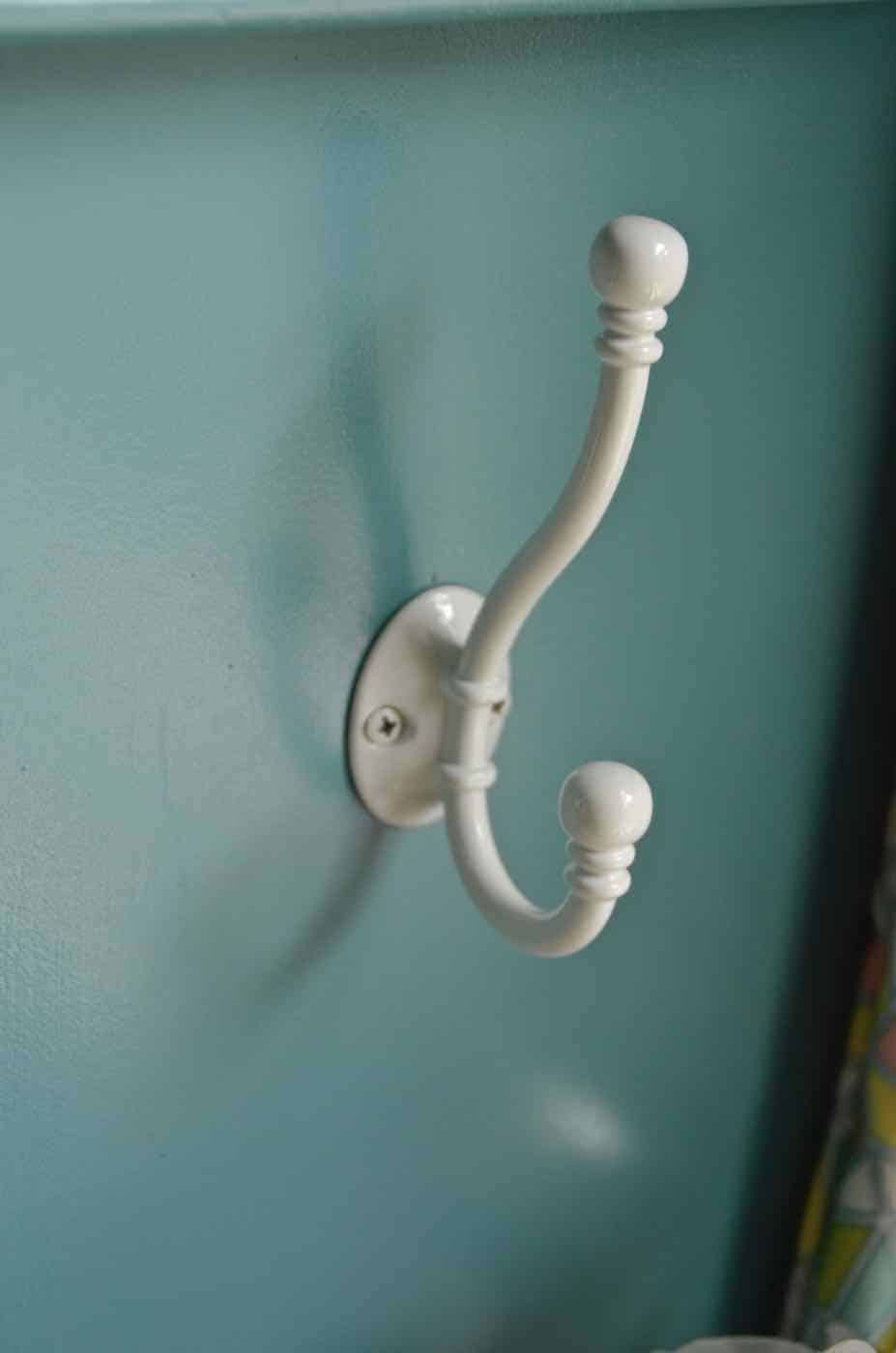 Eleanor and I went on an outing to Anthropologie to peruse knobs to go on the one drawer I was keeping… they have an amazing selection!  I limited her options to knobs that couldn't break since I figured anything in the kids' room will probably be under constant fire.  Here's what she chose; so cute!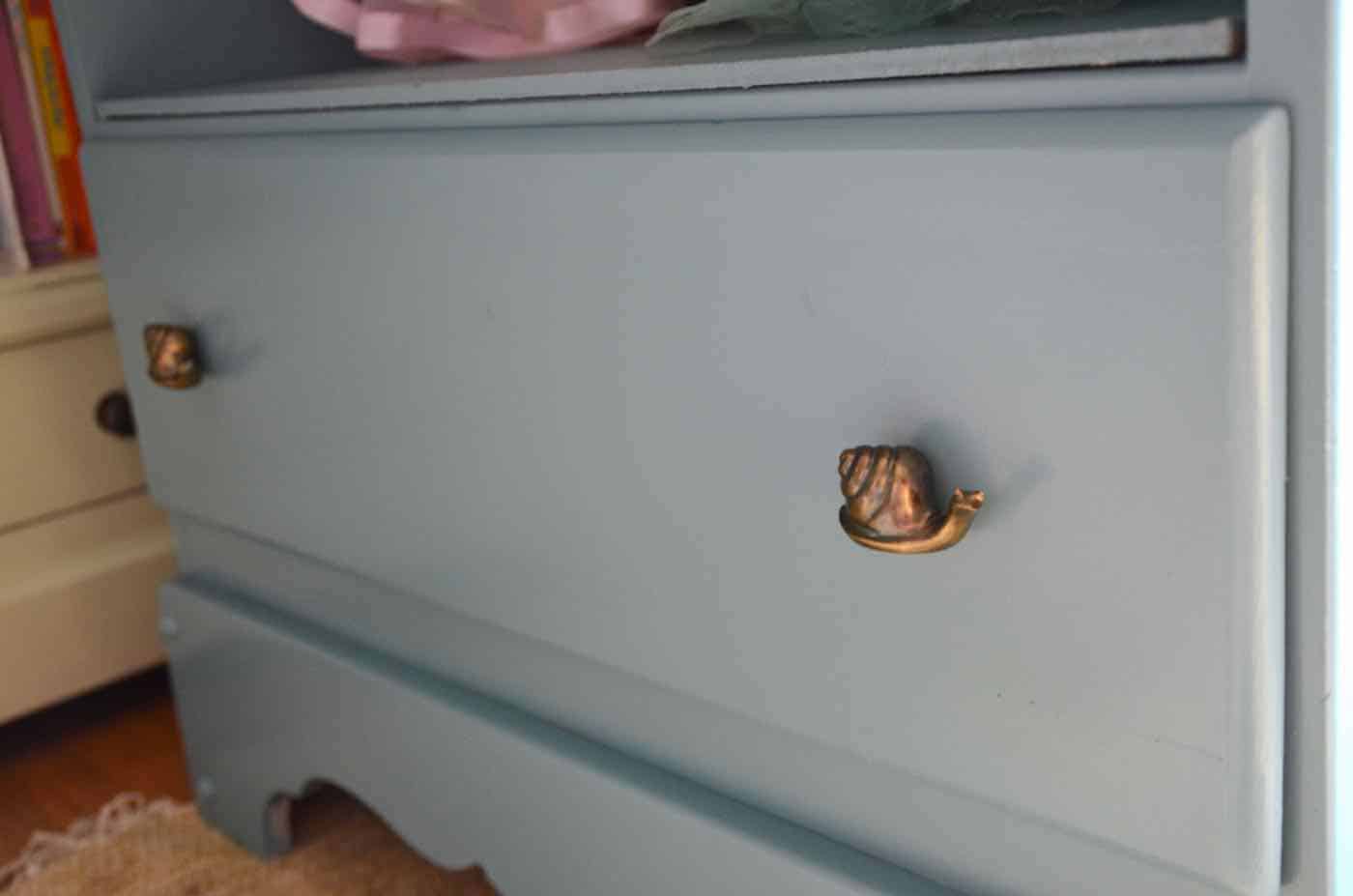 I figure the drawer can hold doll's clothes or Eleanor's dress-up hats.  Or old crackers or something. I bought a sheet of thin composite board at Home Depot for $7 or something and cut it to go on top of the bottom drawer so the 'closet' section of the dresser would have a floor.  A coat of paint later, and you can't even tell it's not part of the original dresser.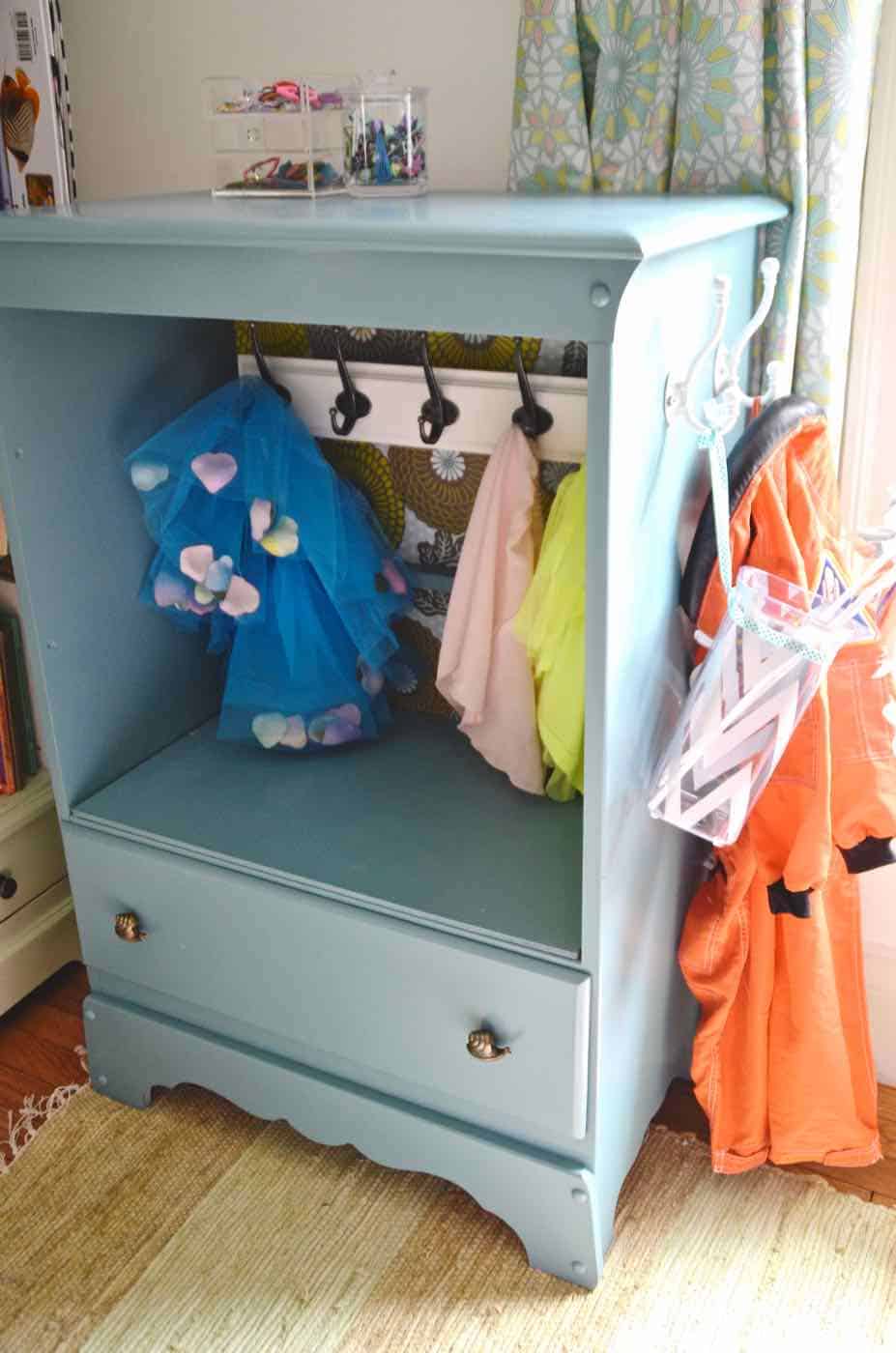 It occurred to me that my daughter doesn't need any encouragement to go after her dress-ups, but maybe this organization will at least make it easier for her to accessorize and embellish her outfit of the day.  And yes, after hanging them all up, I now know that for someone who hates frilly things (moi), we have a lot of tutus.