Spooky Black and White Halloween Tablescape
I feel like I was dipping my toes in the ocean a week ago and here I am already sharing Halloween decor, but when you know… you know. Walking through Christmas Tree Shops andThat it's almost IMPOSSIBLE not to be inspired by their Halloween decor. It all started with a skeleton plate…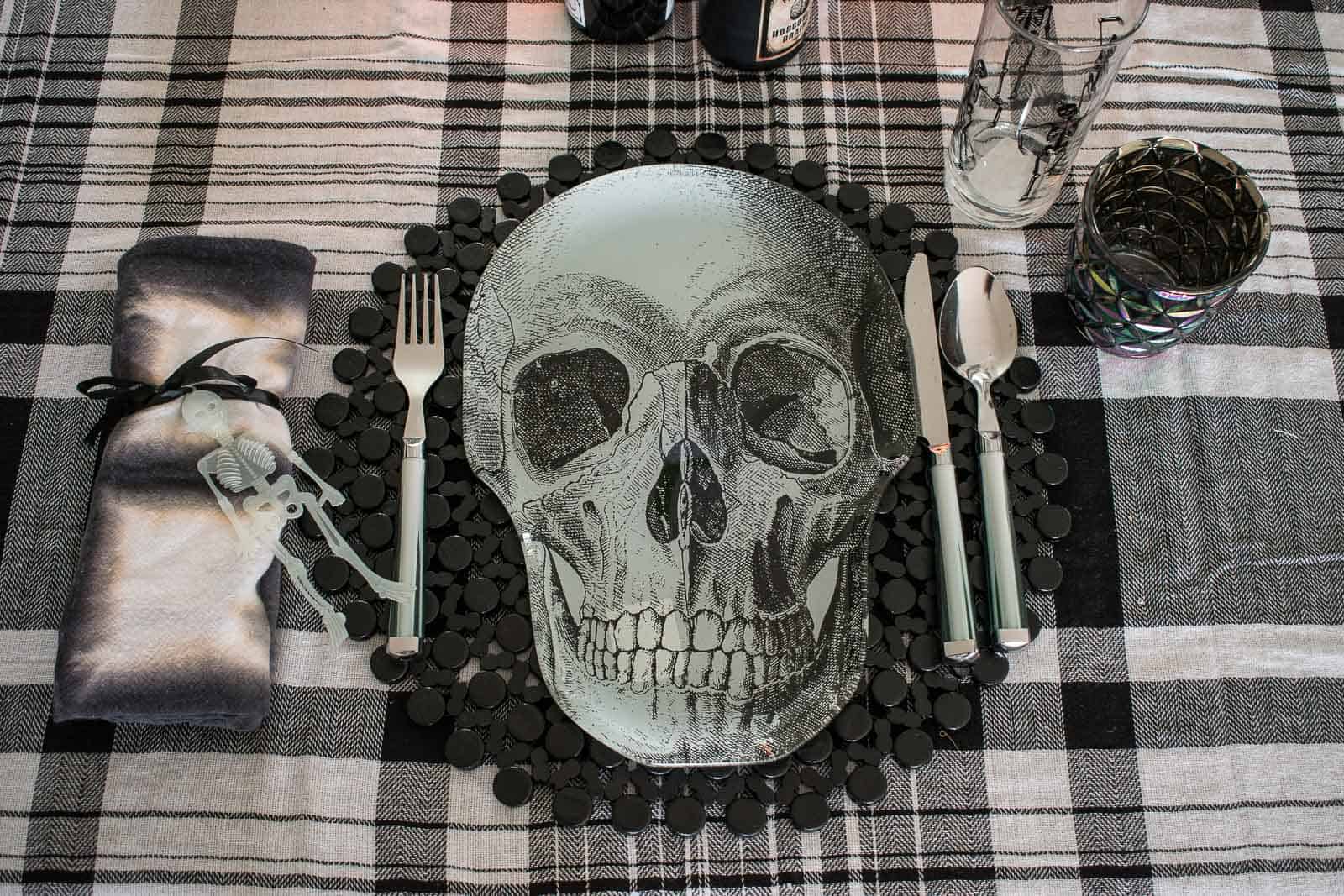 Thanks so much to Christmas Tree Shops andThat! for providing a gift card that made this spooky Halloween table possible!
Before I go too much further, if you haven't already… make sure you head over to see all the other great entertaining posts starting with my friend Heather from Southern State of Mind.
I LOVE that this plate is definitely Halloween, but it's also kind of chic! I'm not saying I'd use it for easter brunch, but… it's much cooler than a traditional orange jack-o-lantern if you know what I mean. I paired the plates with those fun wooden place mats and that lovely gray handled silverware.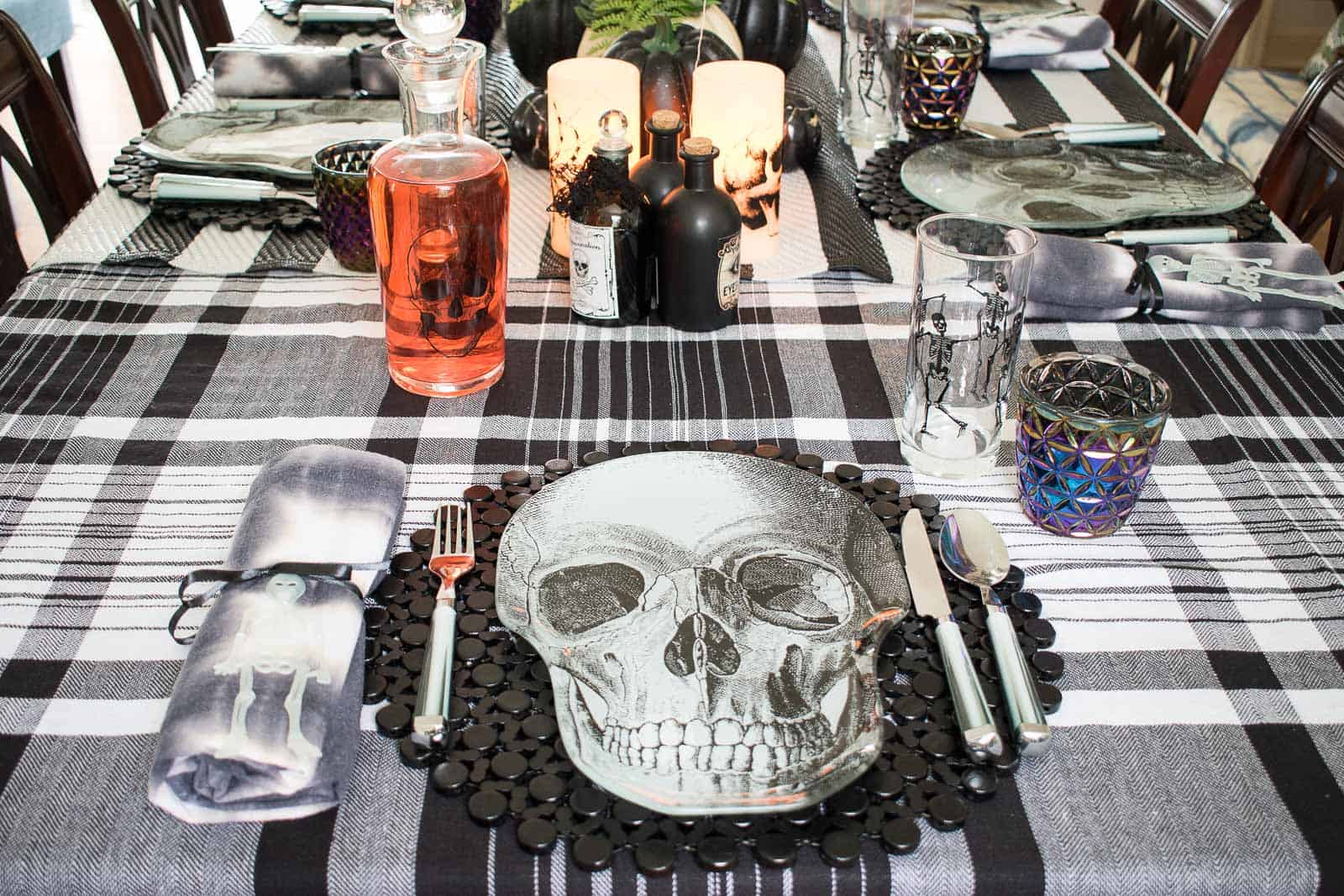 For the centerpiece, I used a handful of those black artificial pumpkins as well as a couple of those white succulent filled pumpkins to help soften the aesthetic. All faux (obviously) and all super affordable. I love that the white pumpkins stay within the black and white theme, but add a little non-Halloween to the table to keep it from being *too* theme-y.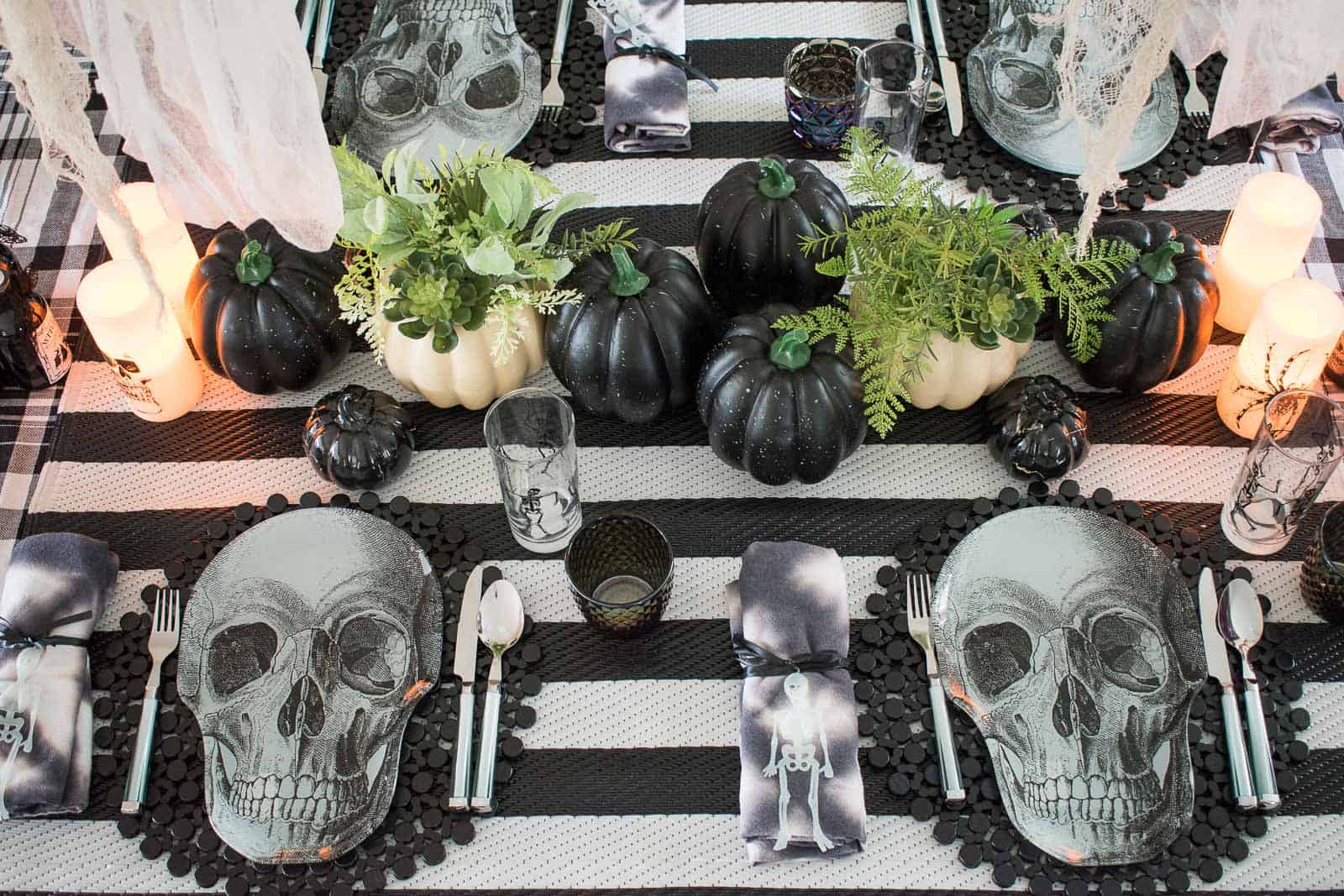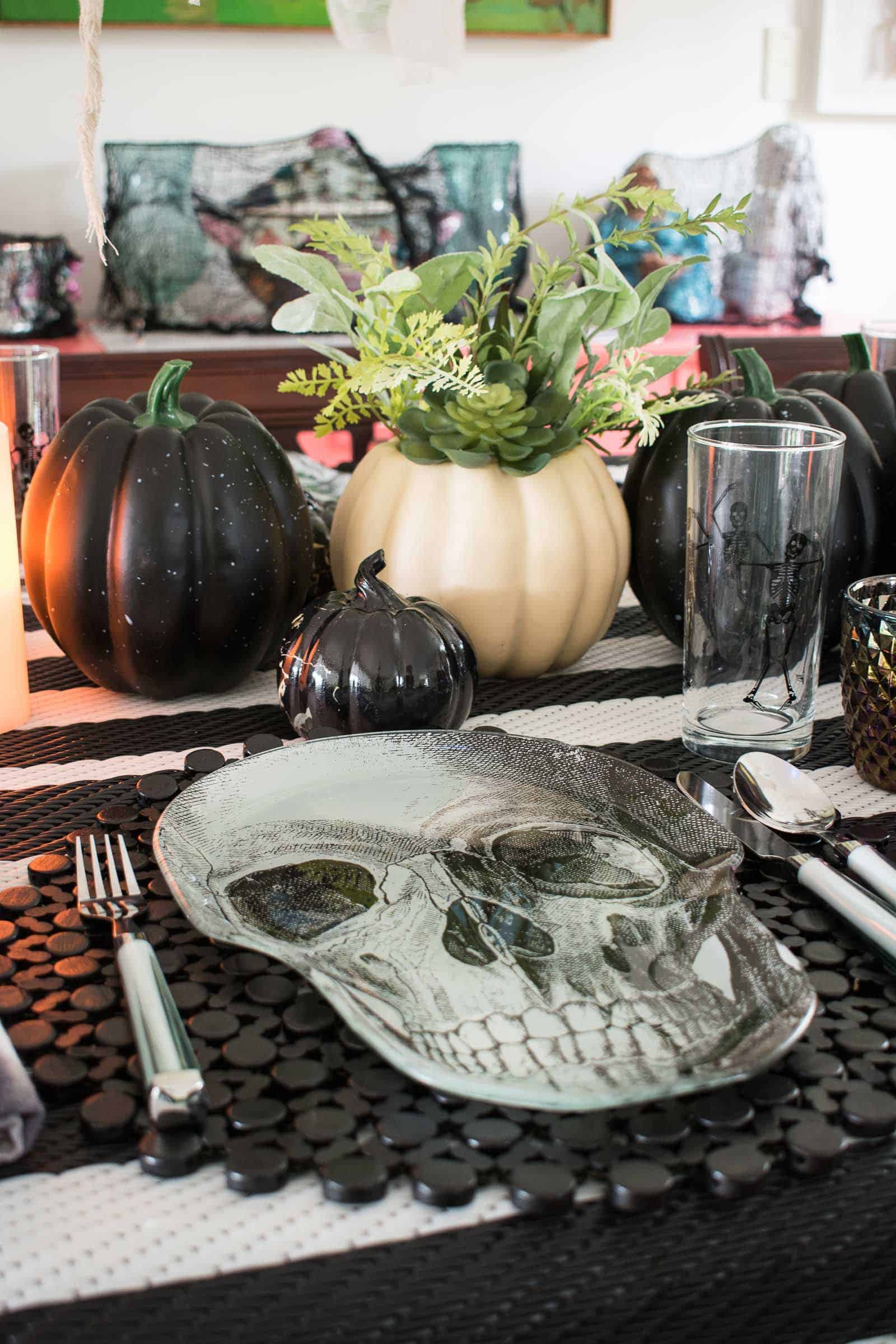 At either end of the centerpiece are a cluster of those cute potion bottles. I spent ages making my own last year (printing the labels, soaking in tea, yadda yadda) and these were all ready for me! I couldn't resist that skeleton decanter… obviously I'd fill it with something more exciting for an actual Halloween party. Wink wink.
Second to the skeleton plates are those glasses. The skeletons are fun and simple but still totally fitting the theme. Those black mercury cups are shiny and metallic and so pretty.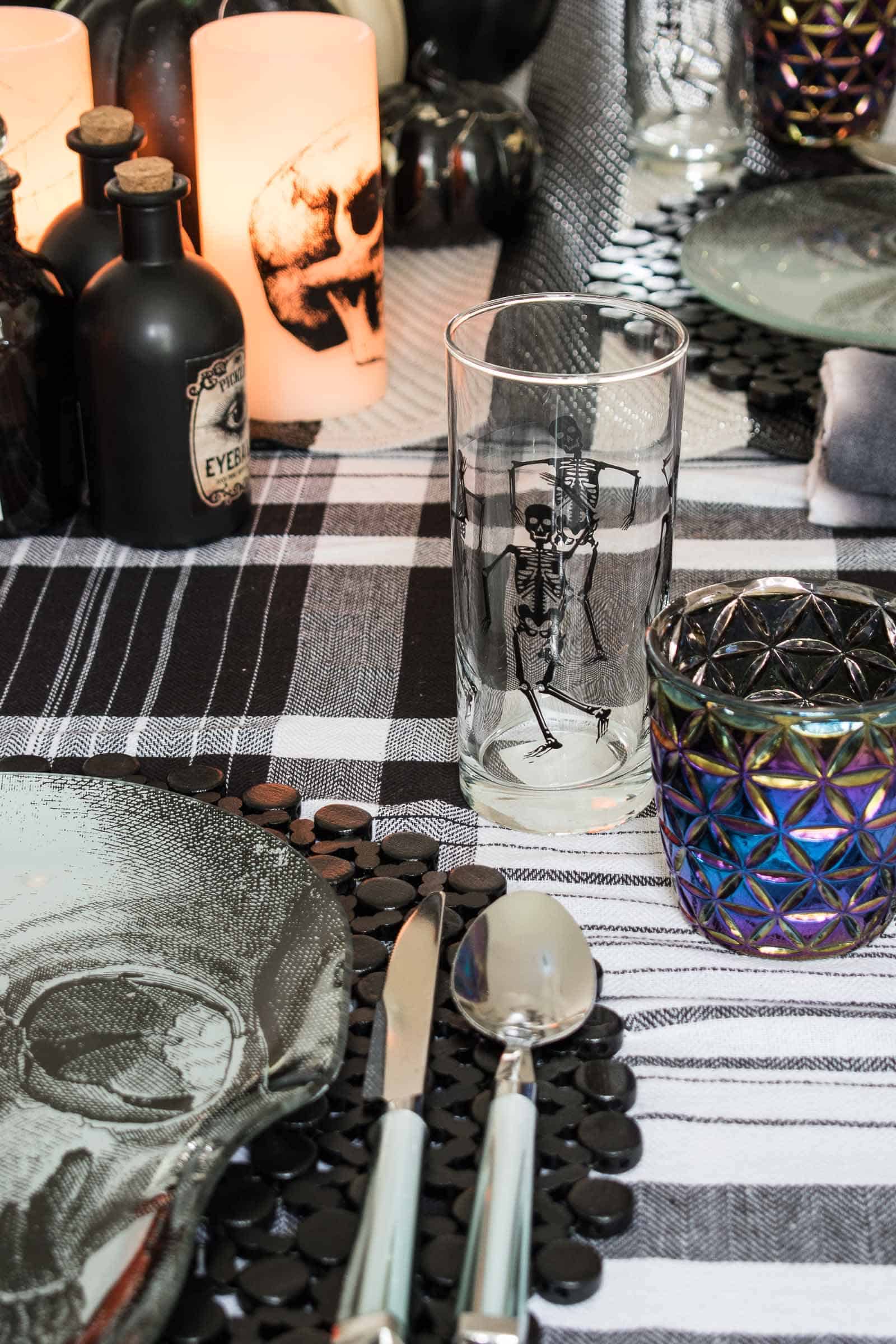 I couldn't find any napkins I loved so… I made some. These cotton flour sack dish towels are my favorites for napkins because they're big and so soft. I went through my stash and found some that were stained and quickly tie dyed them with that shibori print using black dye. It's hard to tell when they're folded, but they are SO fun! I couldn't help myself and I added a glow in the dark skeleton.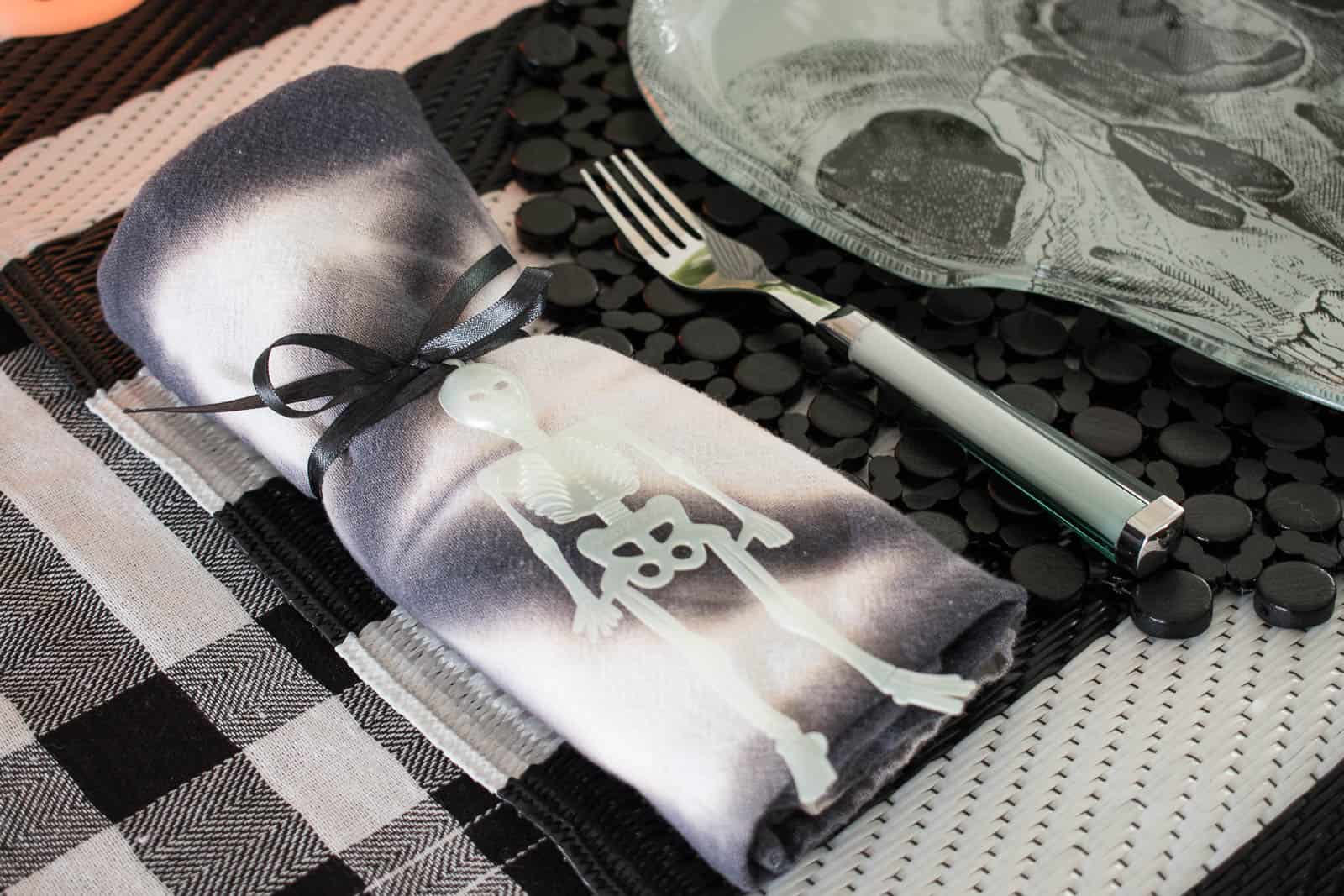 Hanging from the ceiling are a pair of gauzy light up ghosts. I love having an additional layer of decor hovering over the table. Our ceilings are crazy low so I might cut the bottom of the gauze a bit just to make it easier for folks to see across the table.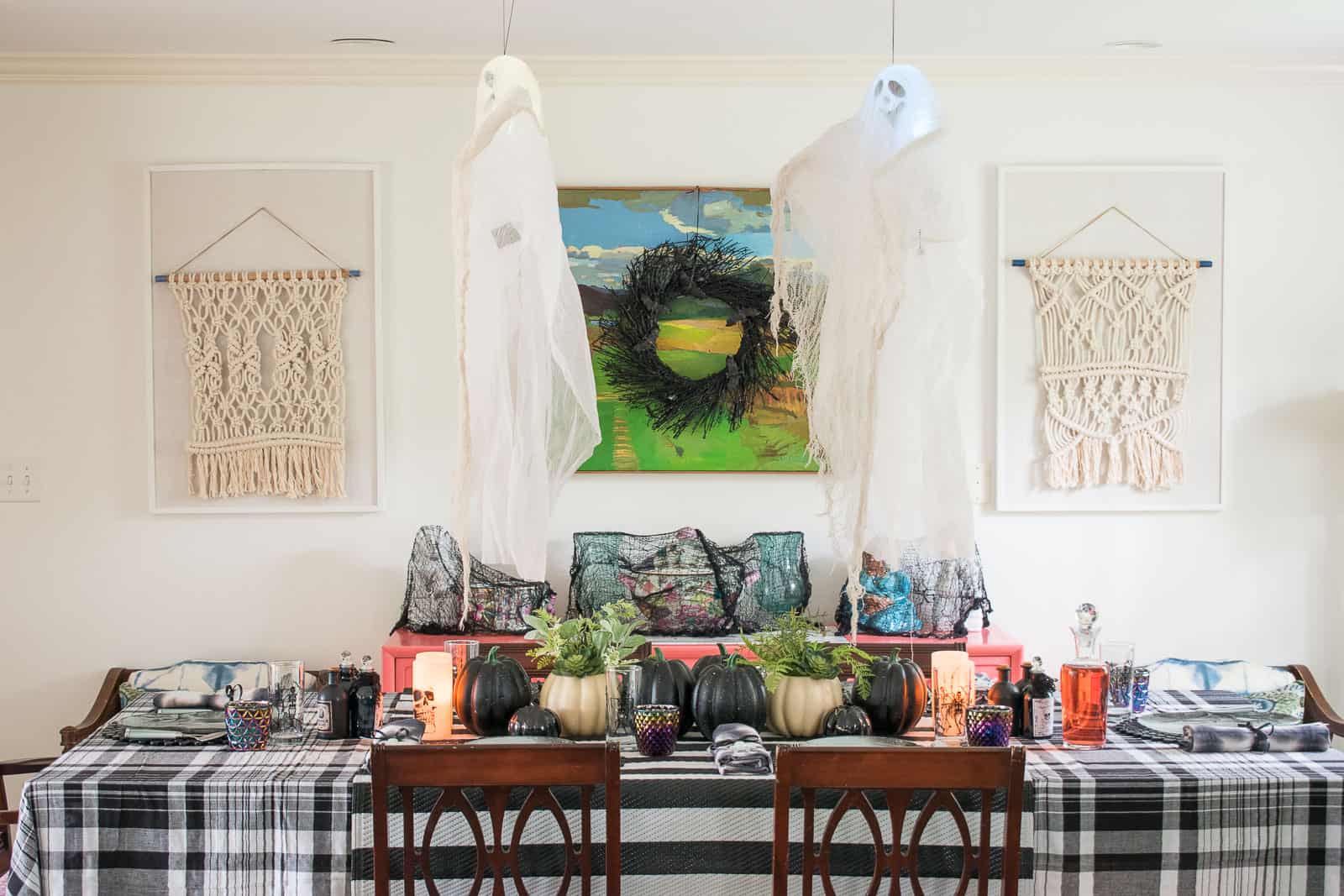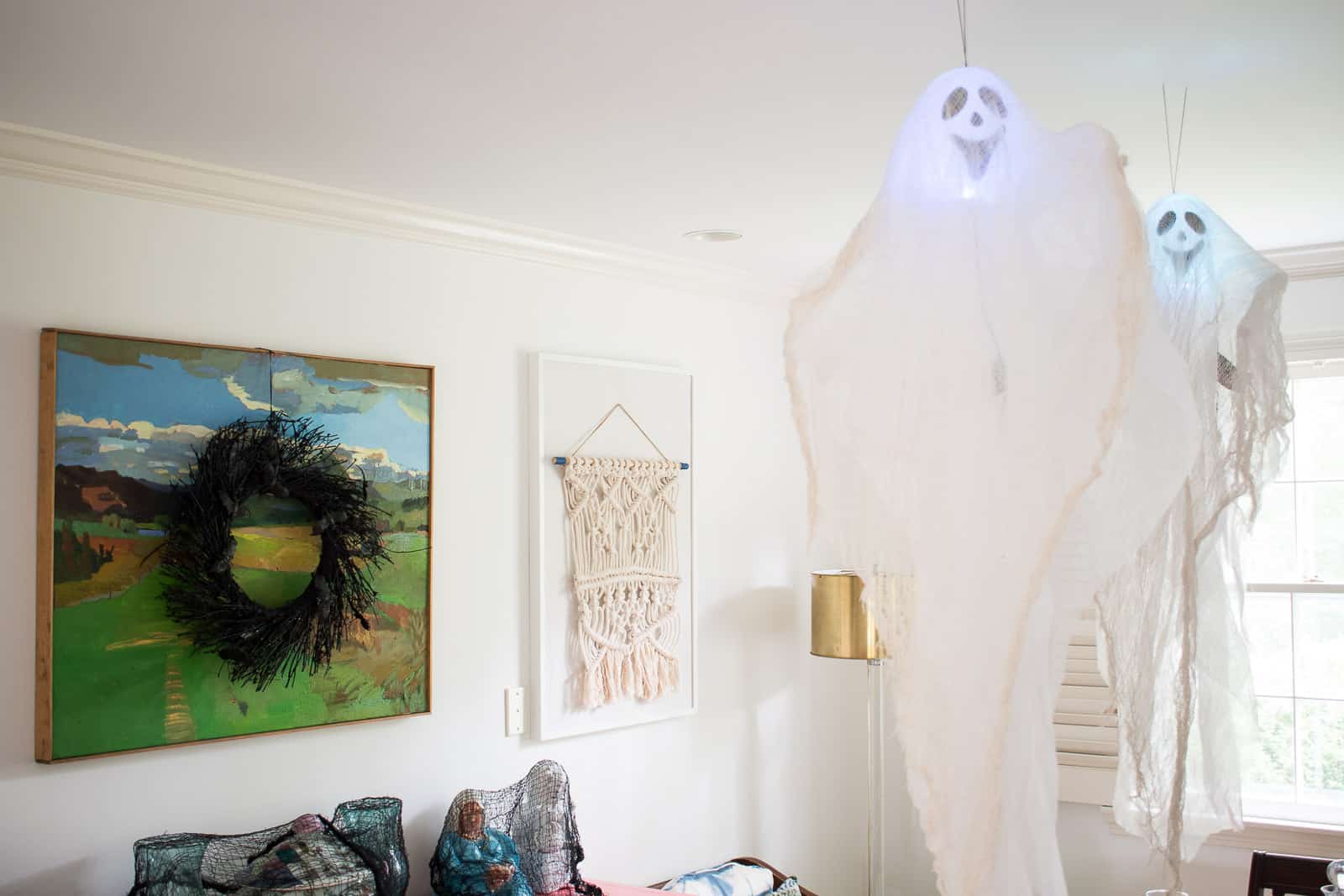 On the sideboard, all my ceramic figures are covered with black gauze and a fun batty wreath is hanging in front of that flea market painting.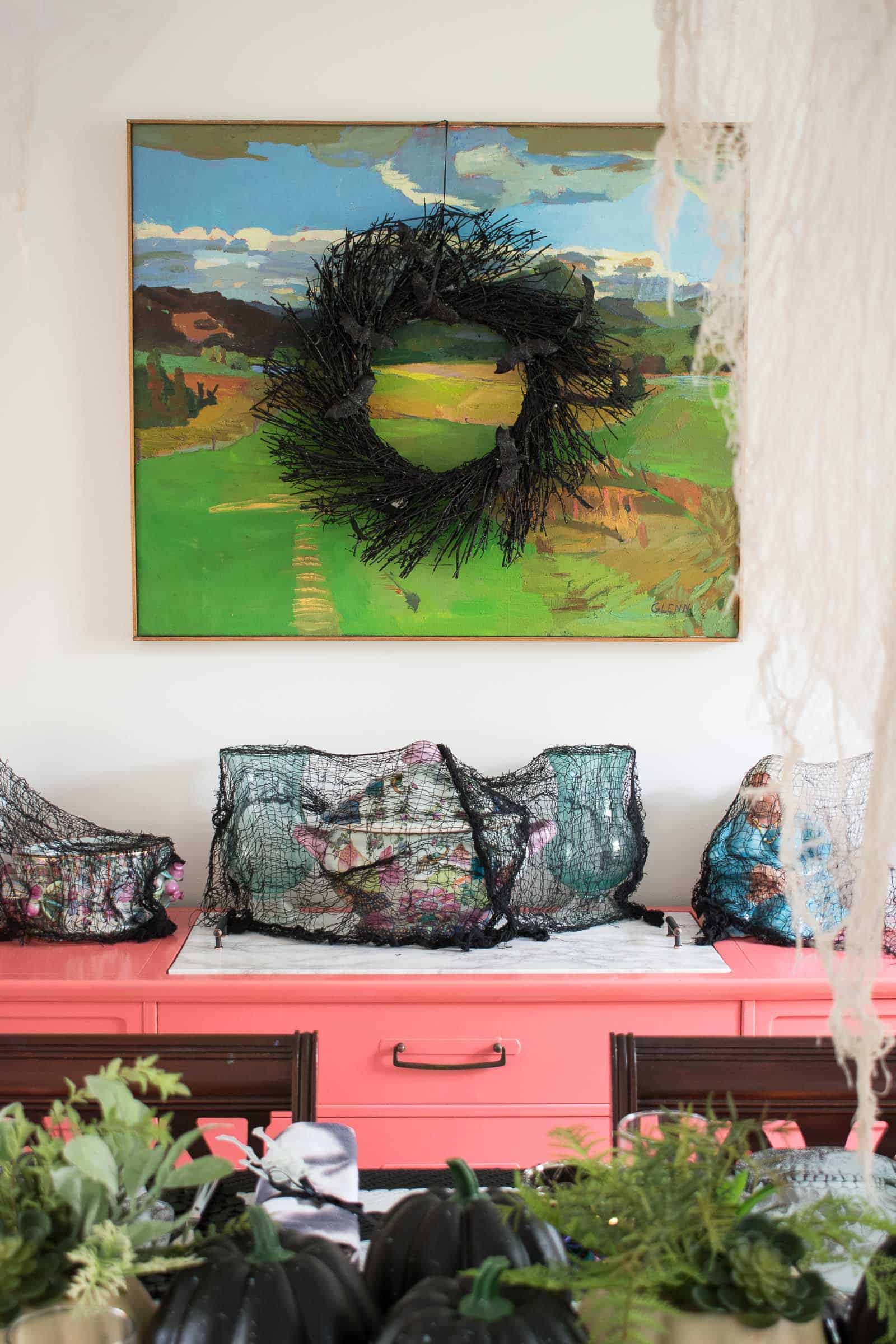 The good news is that my Halloween table is done and I get to enjoy it for more than a month! The bad news is that now I need to find room for all these gorgeous new Halloween dishes…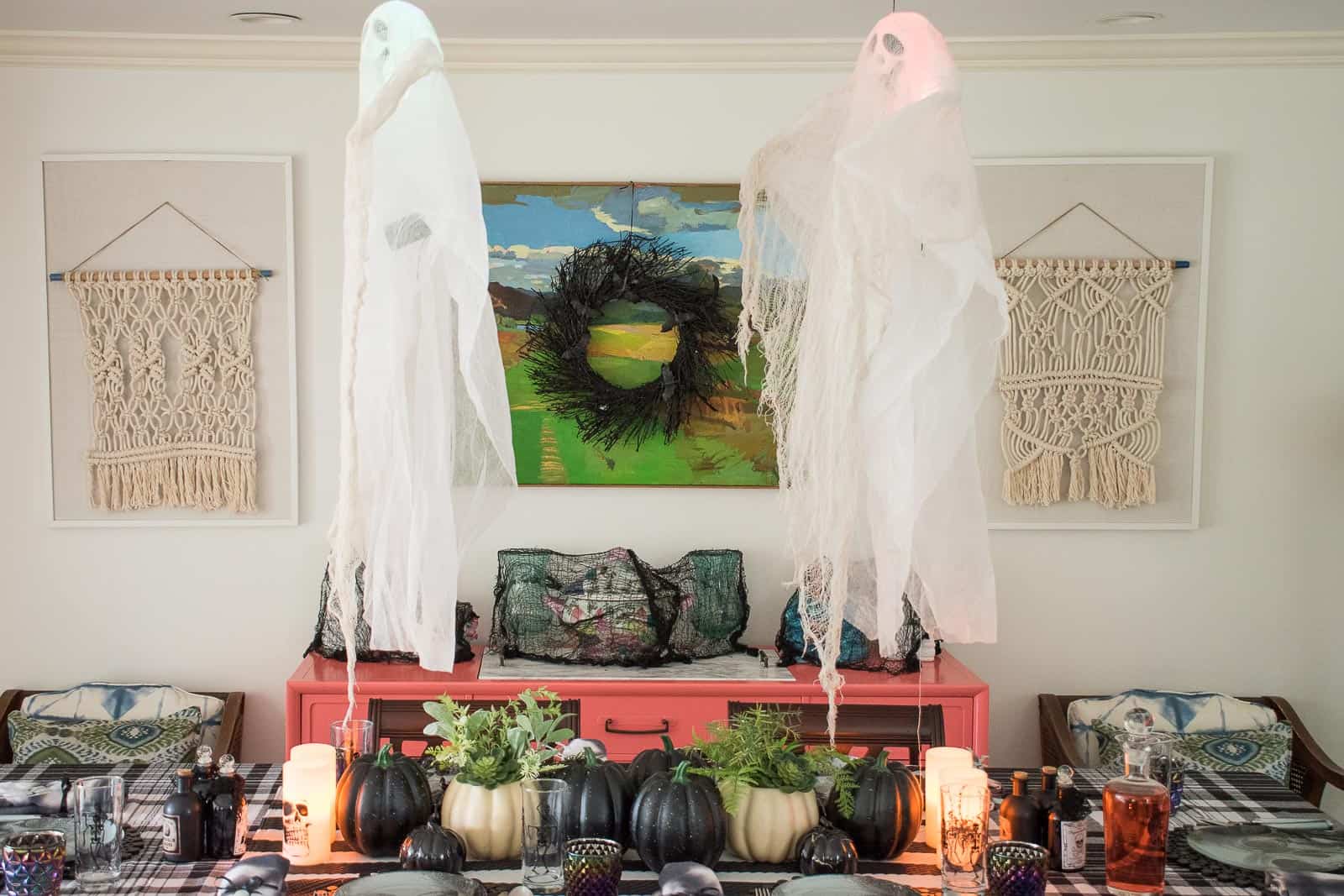 Thanks again to The Christmas Tree Shops andThat! for having so many holiday decor items… I can always walk in without a plan and come out with the perfect items for any holiday gathering! Don't forget to visit everyone else's blog their seasonal entertaining tips!
Southern State of Mind's Dessert Bar *  A Tufted Life's Fall Entryway *  Jordecor's Fall Glamping * Aratari At Home's Rustic Fall Tablescape