I am SO thrilled my friends Krista and April invited me to be part of this Seasonal Simplicity tour because it means our house is 1. clean and 2. READY FOR SPRING! If you're hopping over from Cherished Bliss, welcome!! I'm Charlotte. This is my house. I love color and thrifting and have lots of kids so most of the time my decor is crushed Cheerios and rogue socks! You're welcome.
Spring House Tour with LOTS of DIY Touches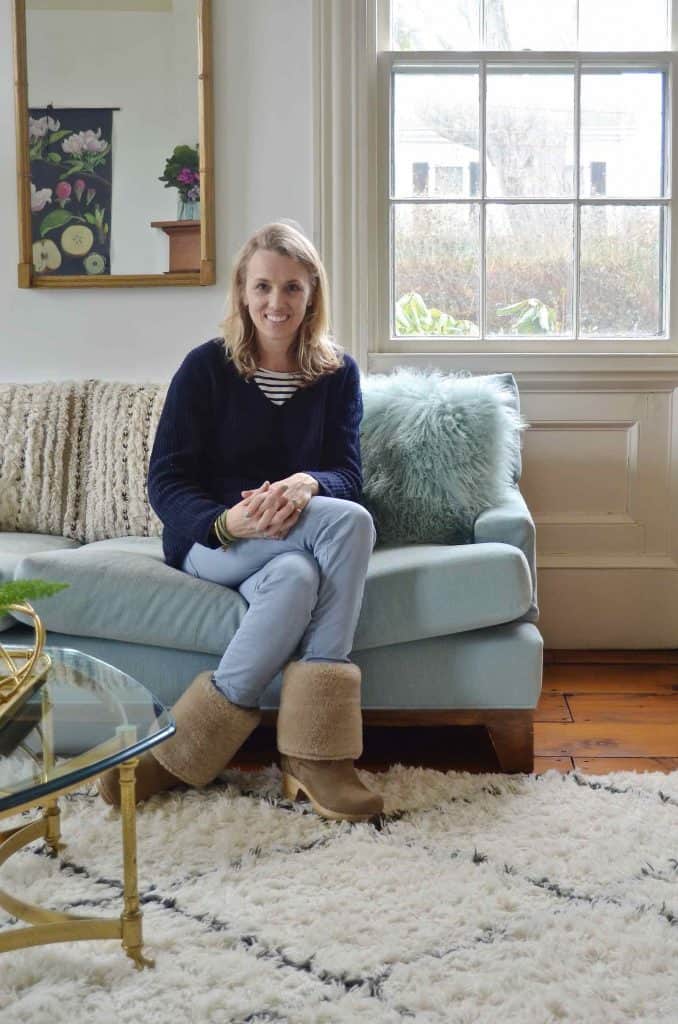 To me, spring means flowers and greens and blues so that's what I tried to bring in for this spring home tour. Thanks to a 50% off sale at Michaels, I was able to use mostly fake flowers which I KNOW seems cray, but… they truly look real and they can last for weeks!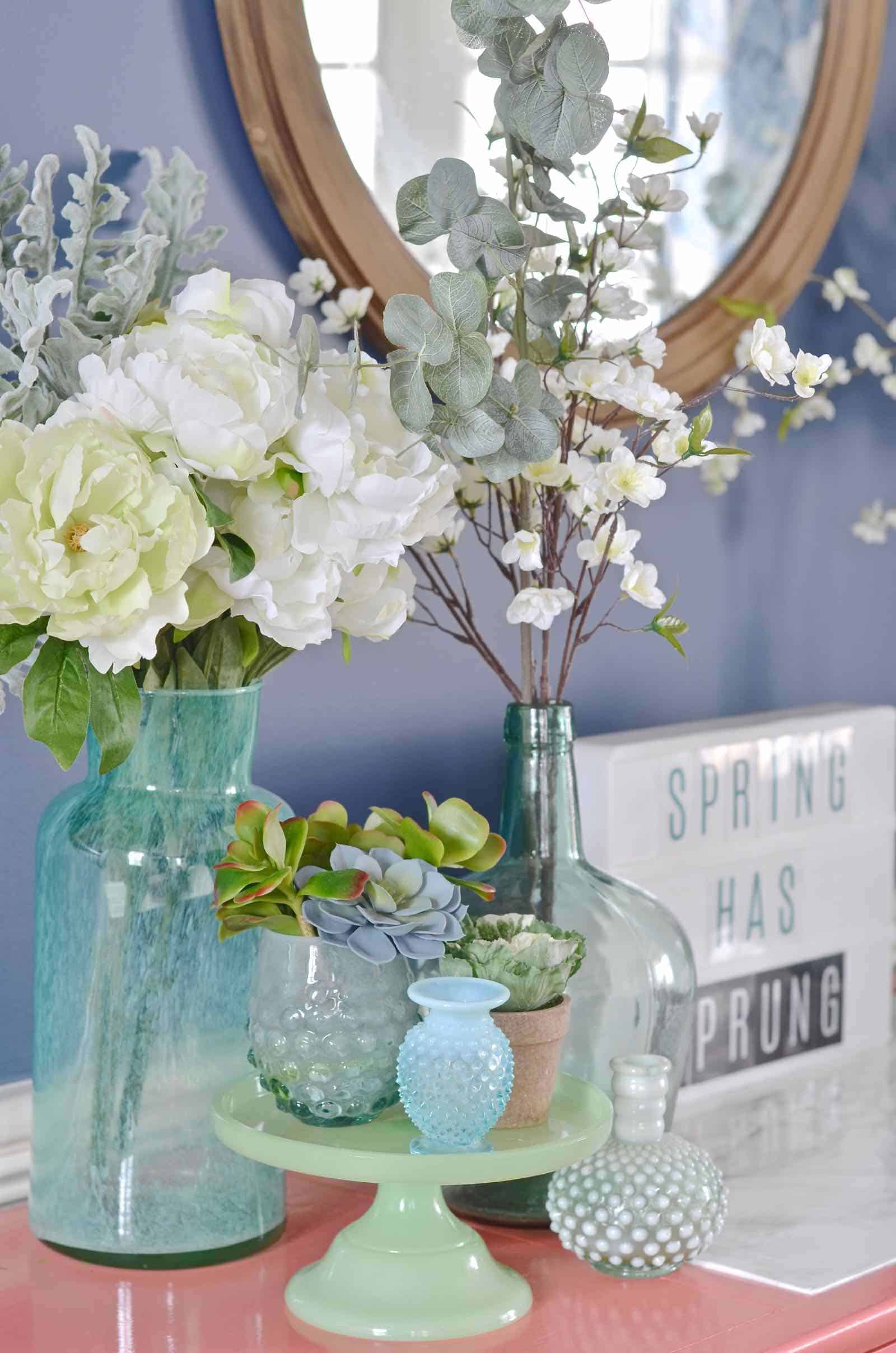 Walking into the foyer, I brought in a few flowers and a little nod to Easter on our front hall table. The chairs are already perfect for spring, but I swapped out the fur blanket for this fun pillow I grabbed from my friend Brooke at Nesting With Grace and then I gathered some greenery on that little campaign side table I snagged at the Restore.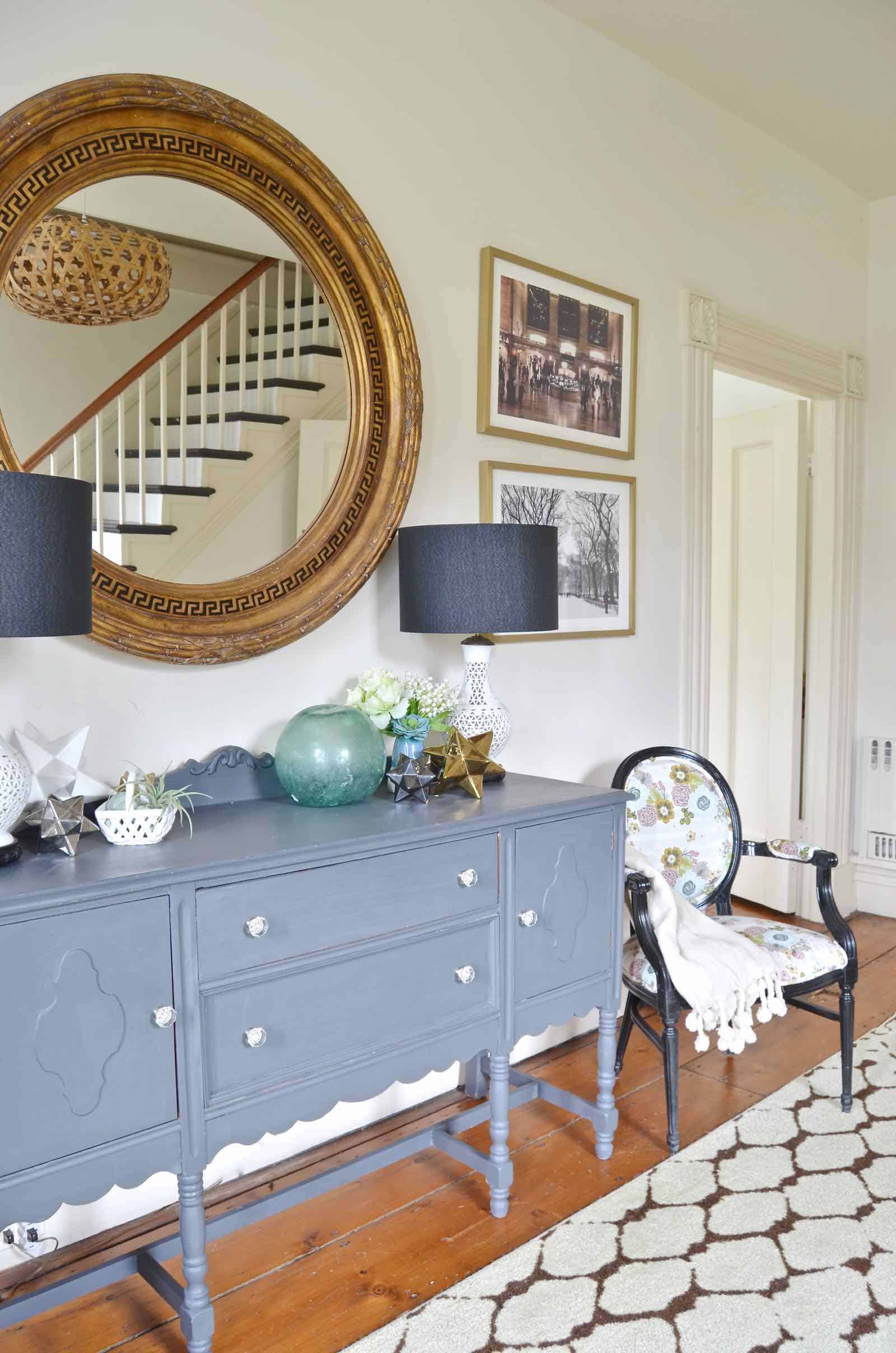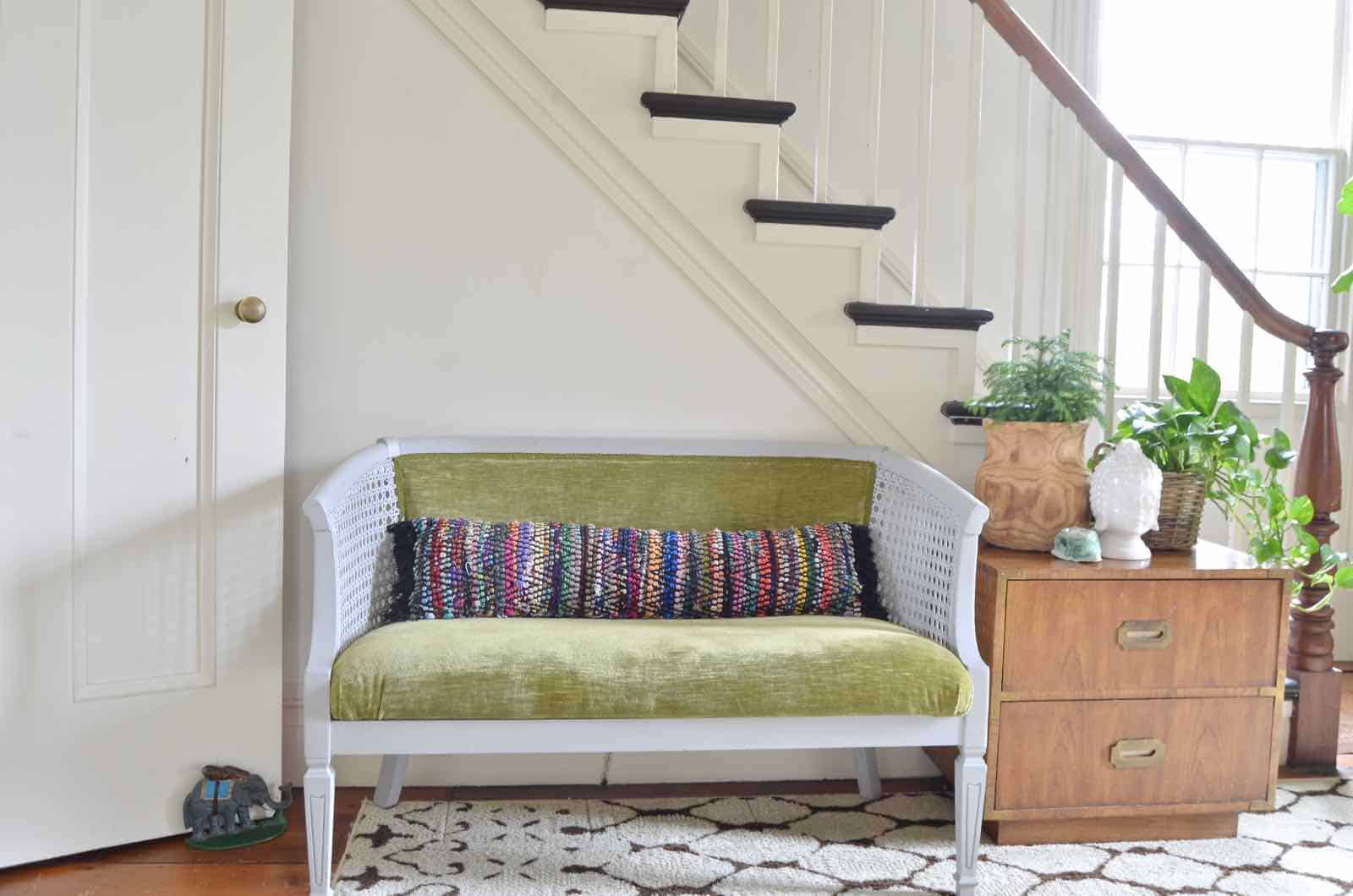 I shared a sneak peek of our living room on my Instagram Stories, and I'll be posting tutorials on both my YouTube channel and on the blog, but… I'm moderately obsessed with my DIY moss balls (official name is Kokedama) AND those killed turquoise buffalo check throw pillows.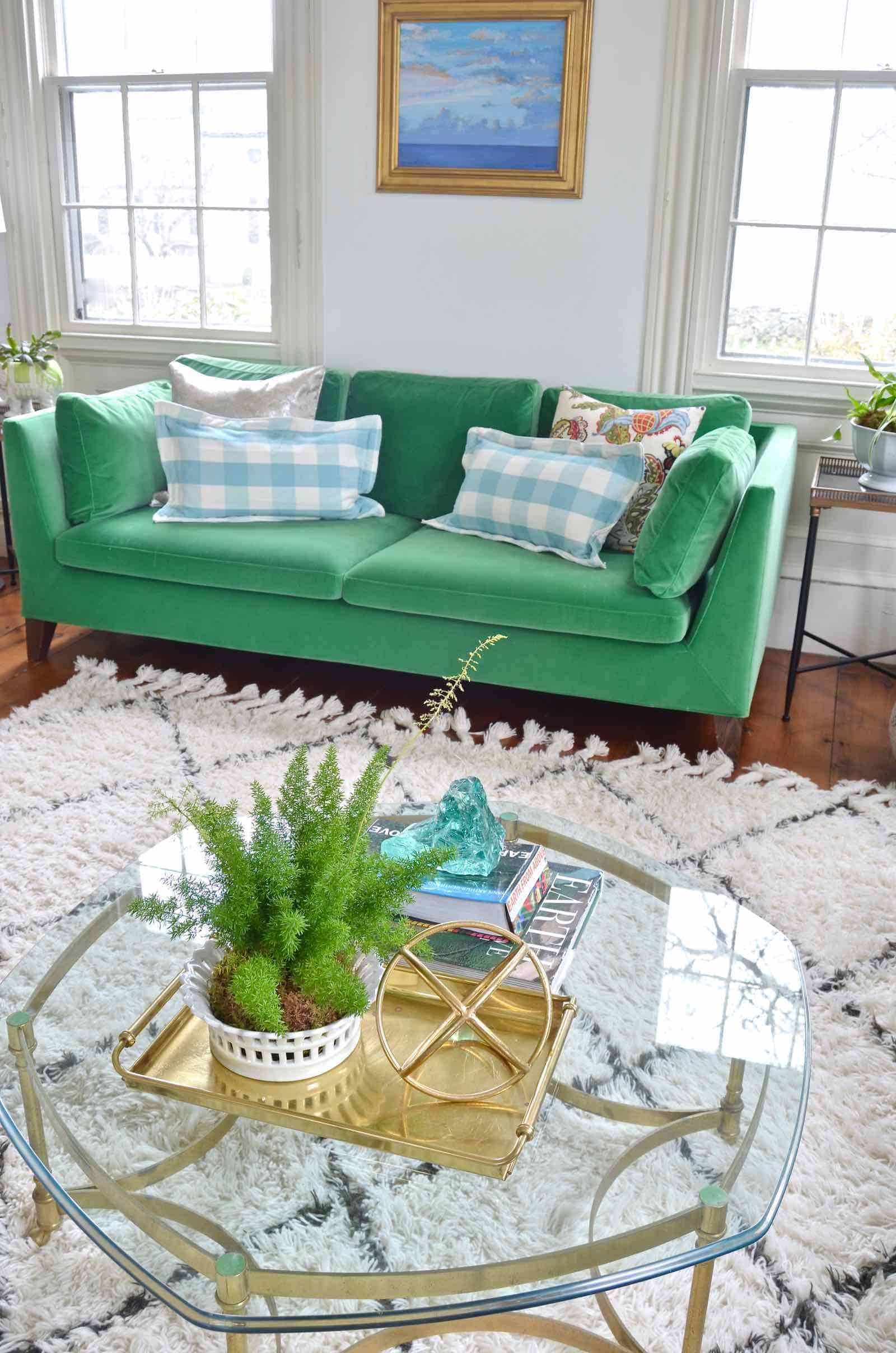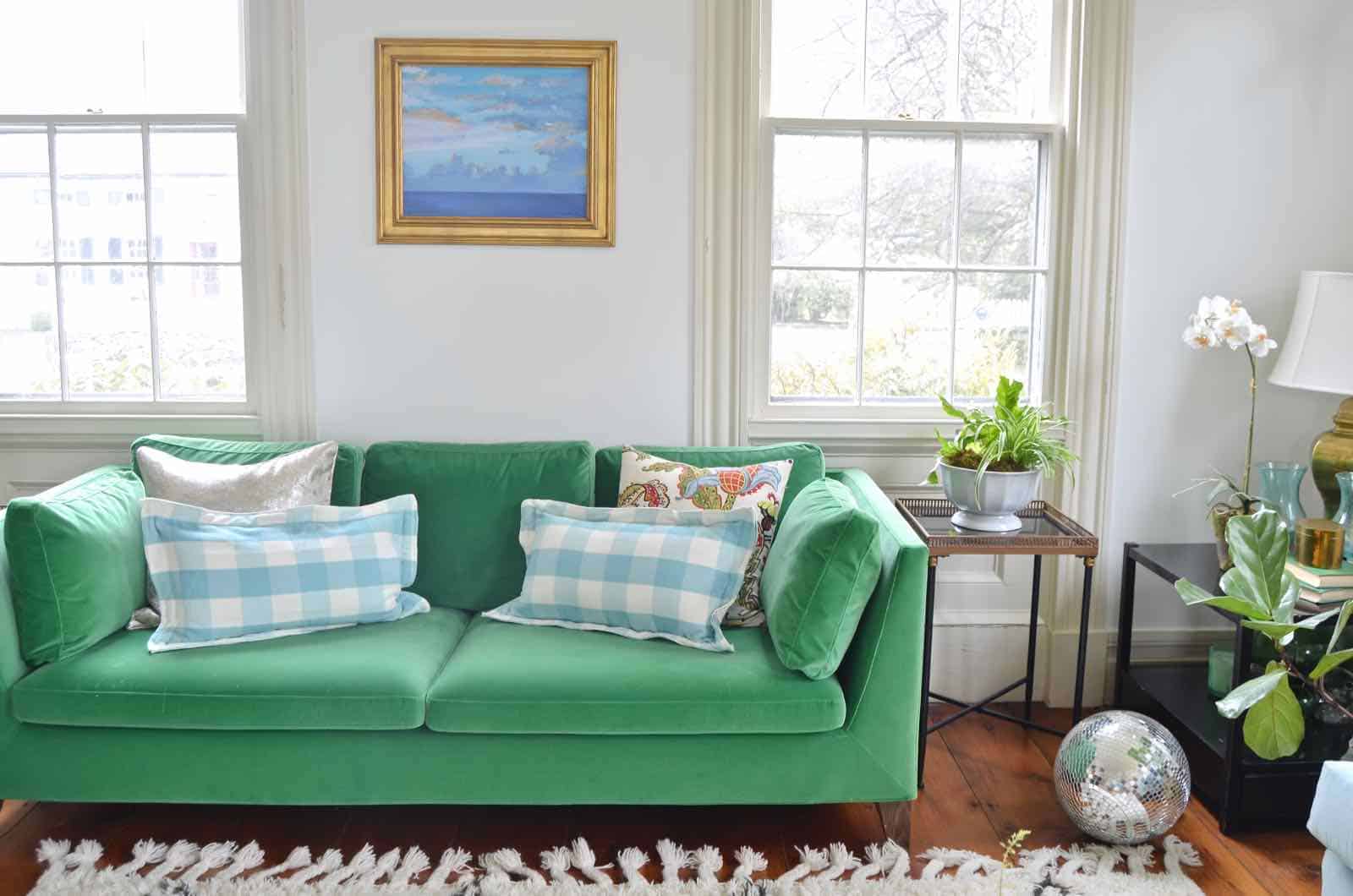 Spoiler alert: the throw pillows cost less than $15 and the moss balls cost about the same.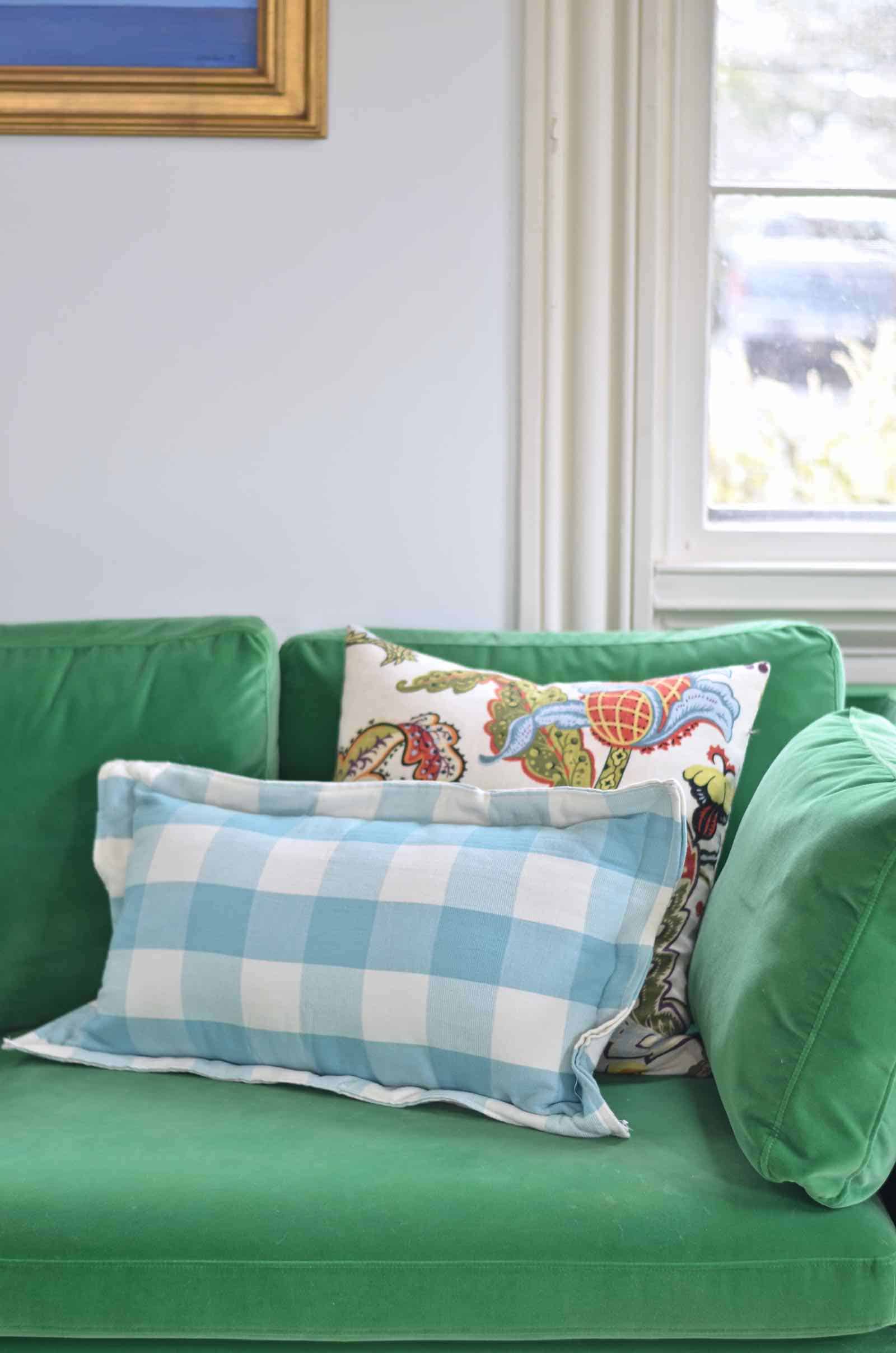 On to the mantel… more flowers and more blues. I'm always tempted to paint our mantels white but sometimes the warmth of the wood works really well… case in point, this spring layout.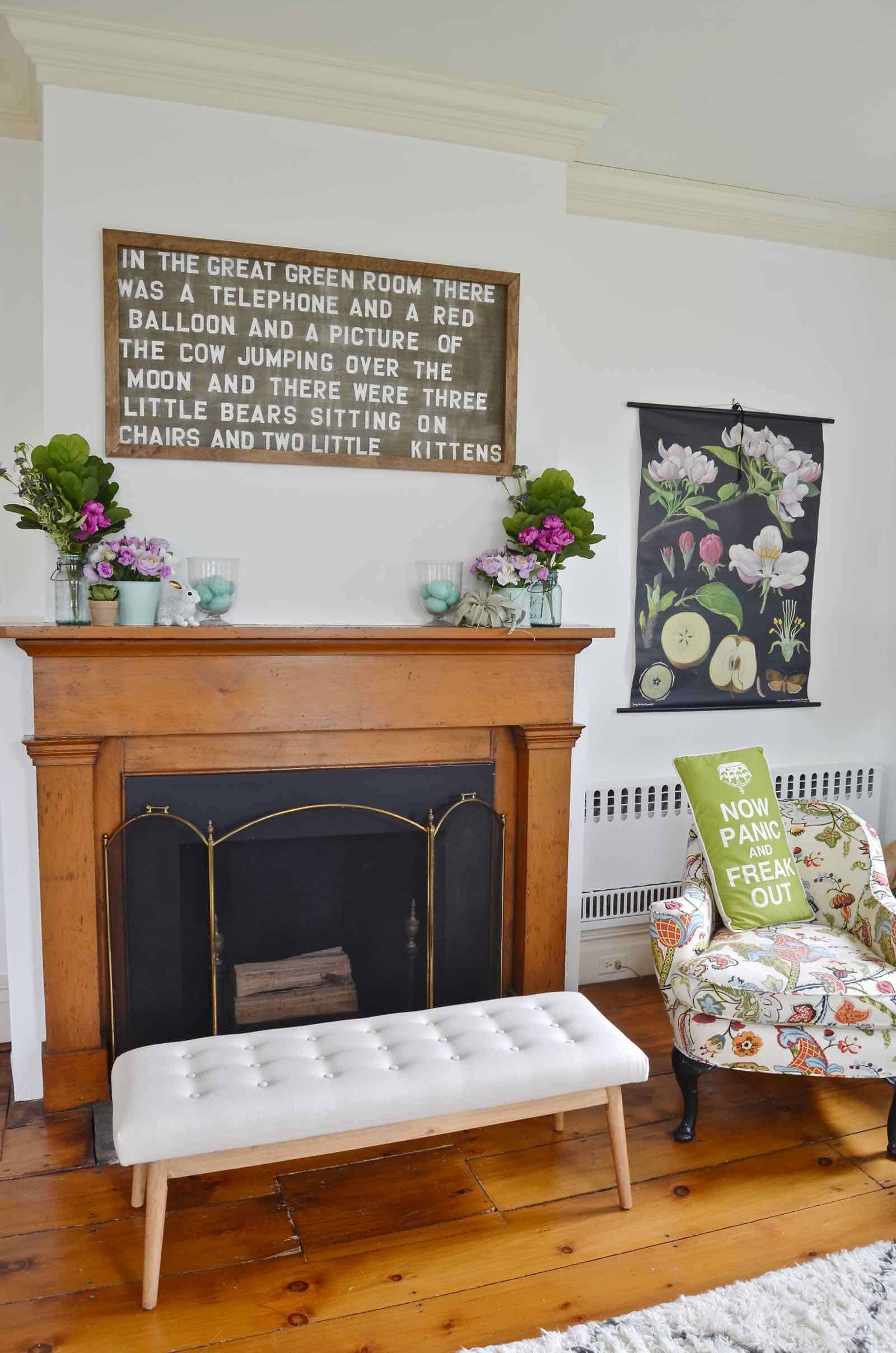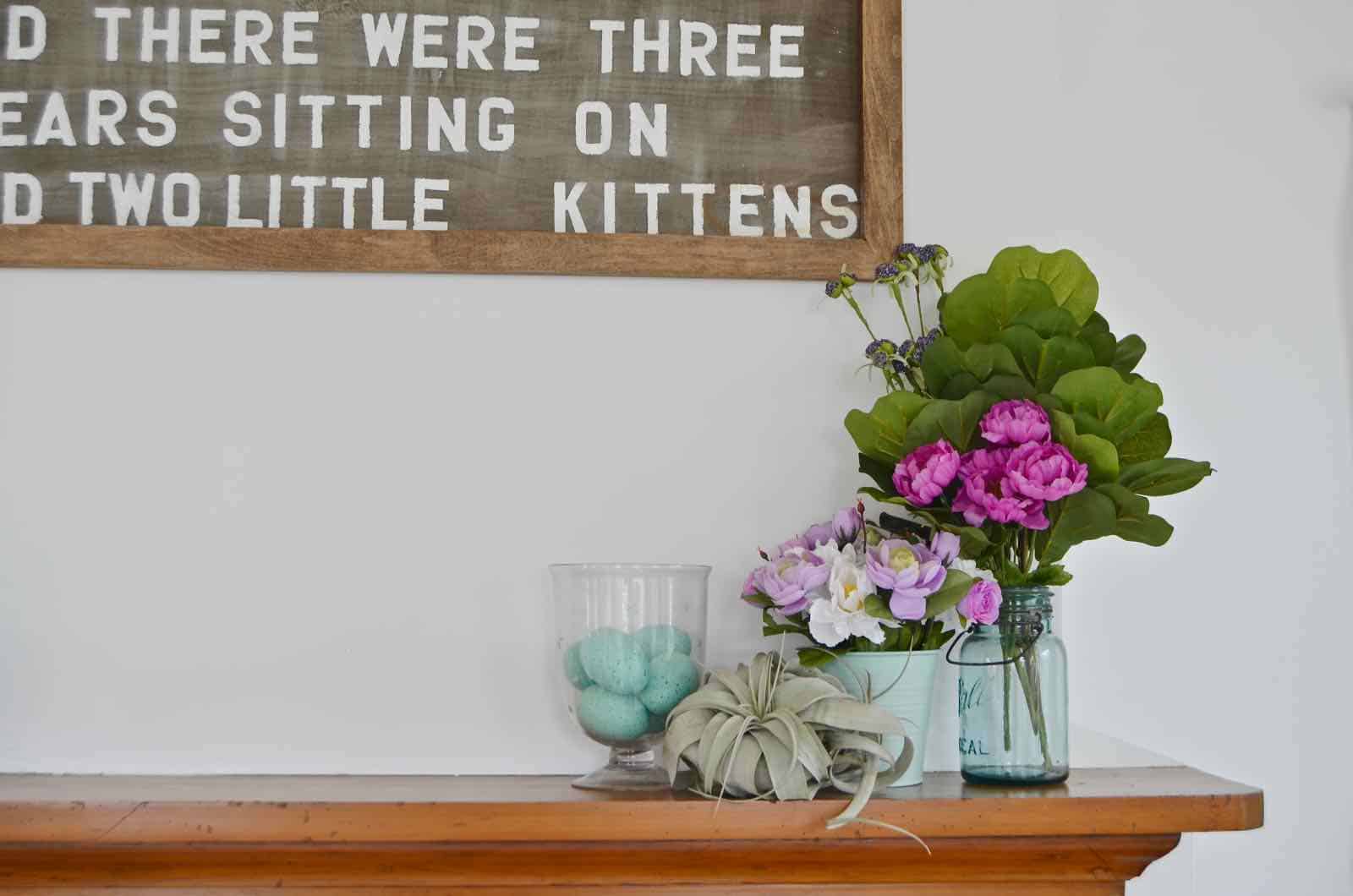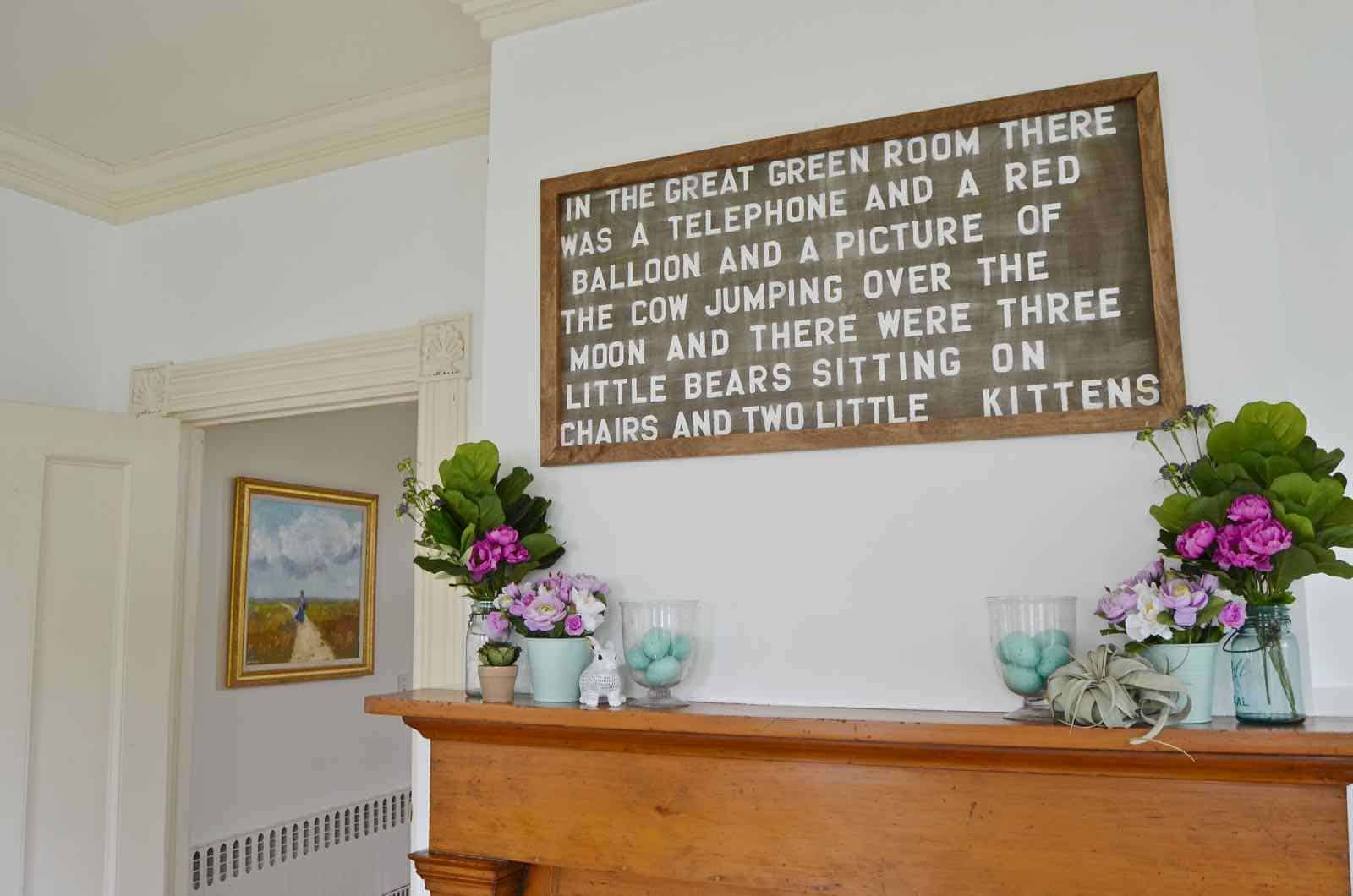 Next door in the office, is where I hung another DIY of the spring tour… that wreath! I'm not a huge wreath girl, but I saw this image on Pinterest and fell in love with the simplicity. I didn't have a wreath form that big so… I made one using dry cleaner coat hangers. (Yep… tutorial coming soon.)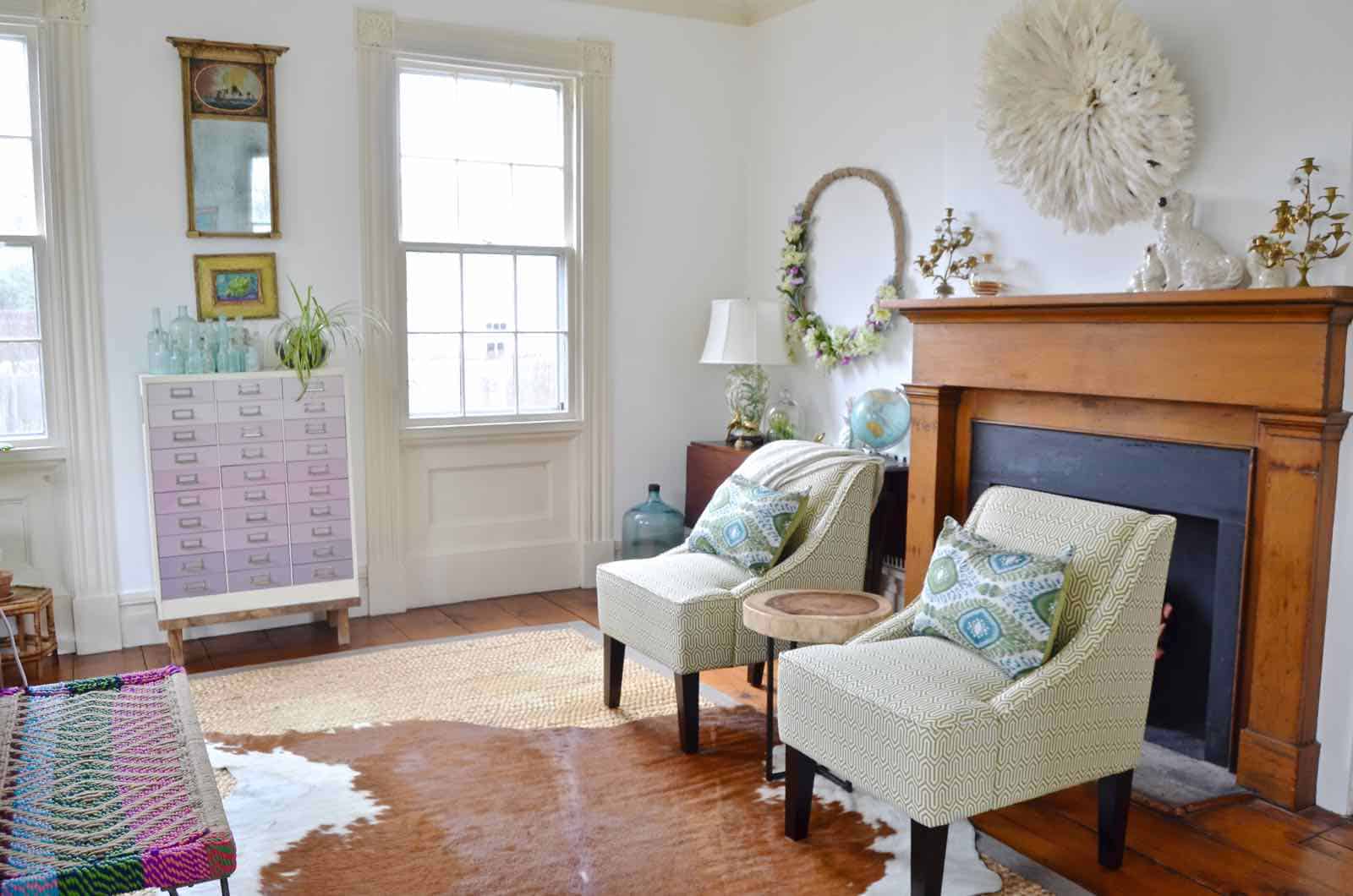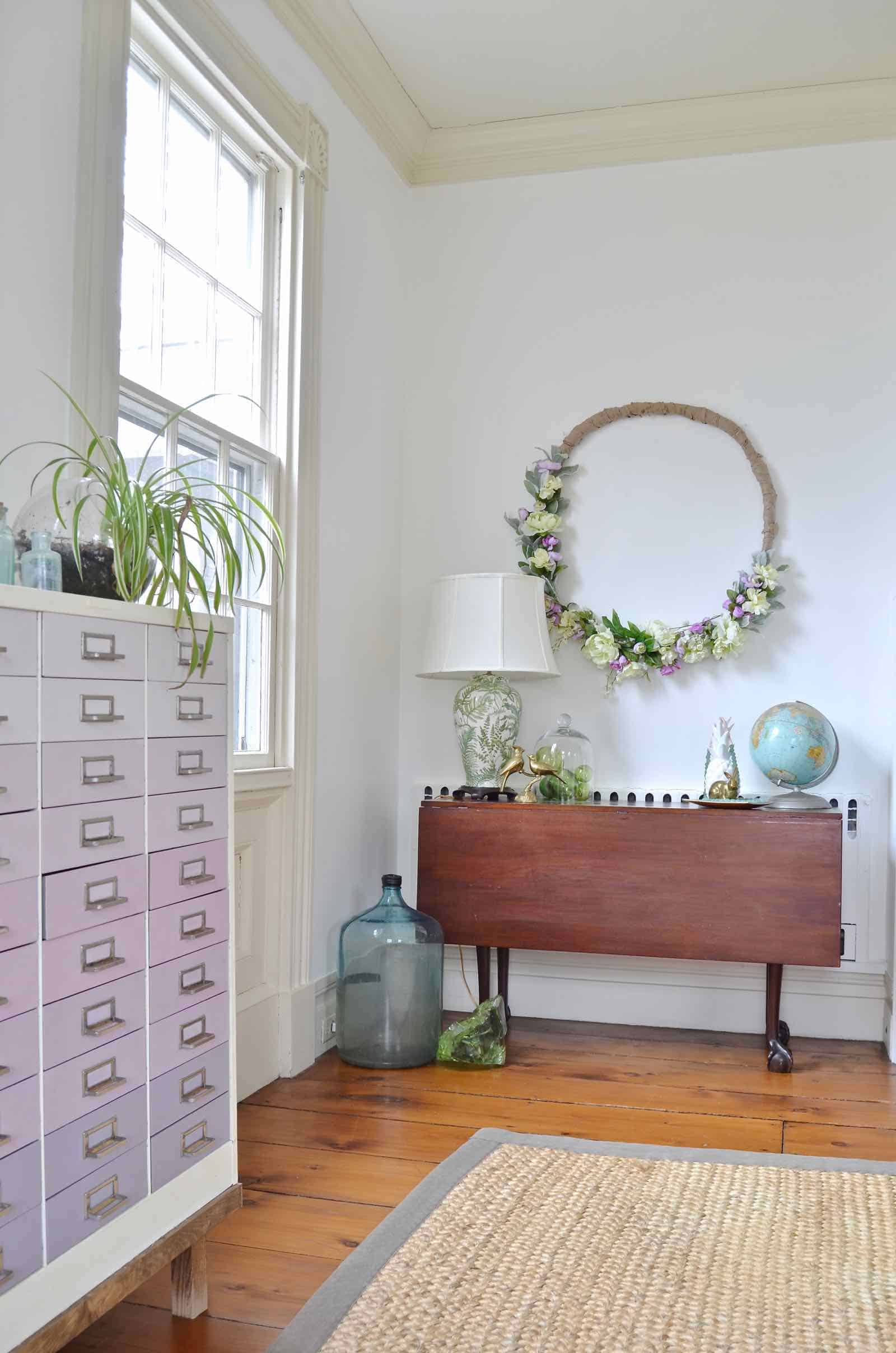 Below is my collection of glass fishing balls and my flea market glass beads. And a globe. There's always room for a globe.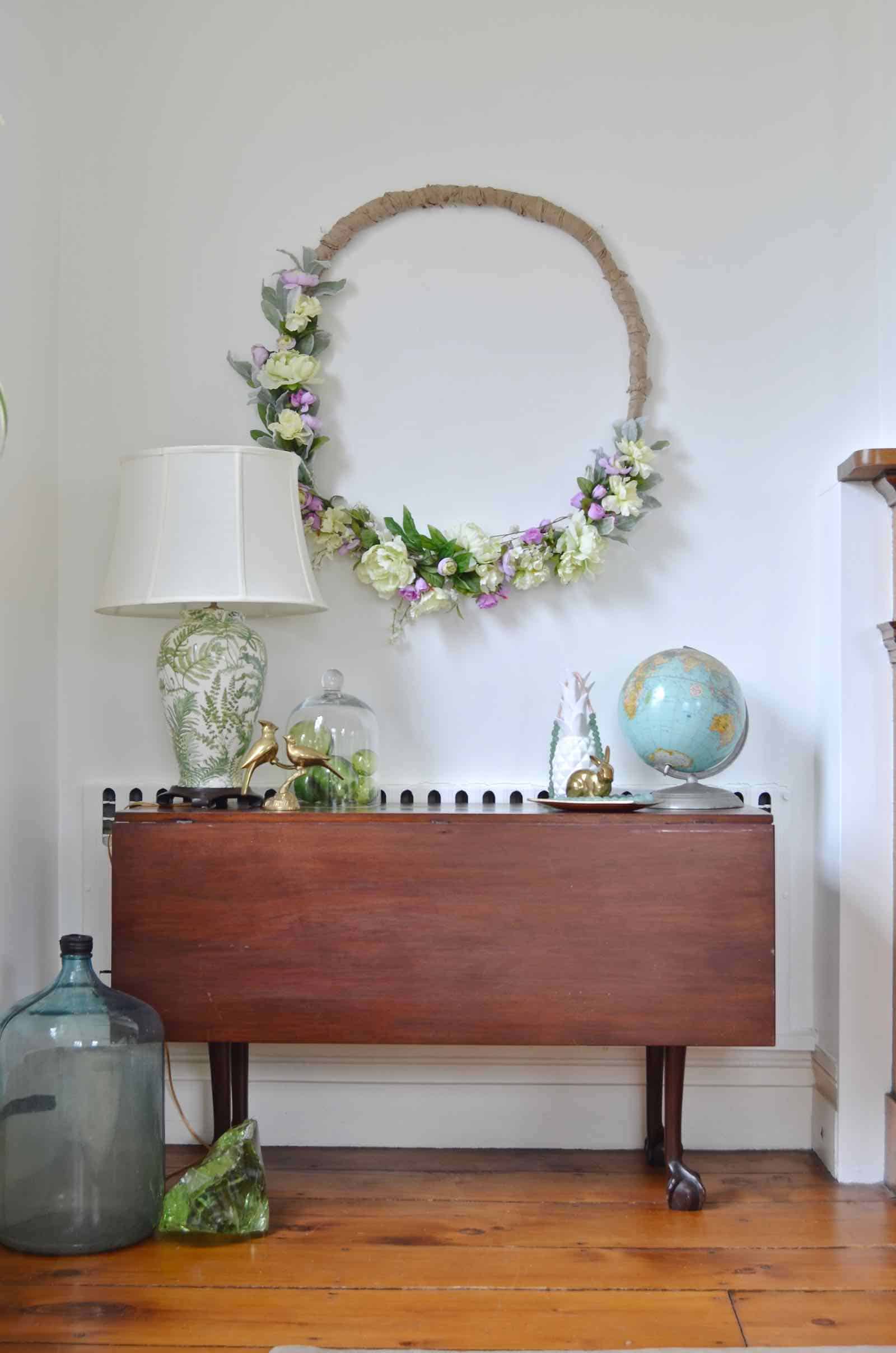 Here's what's SUCH a happy accident about this wreath… the purples in the flowers match the ombre in the file cabinet and the greens in the flowers, match my slag glass and my fishing balls. Boom. Coordination, folks.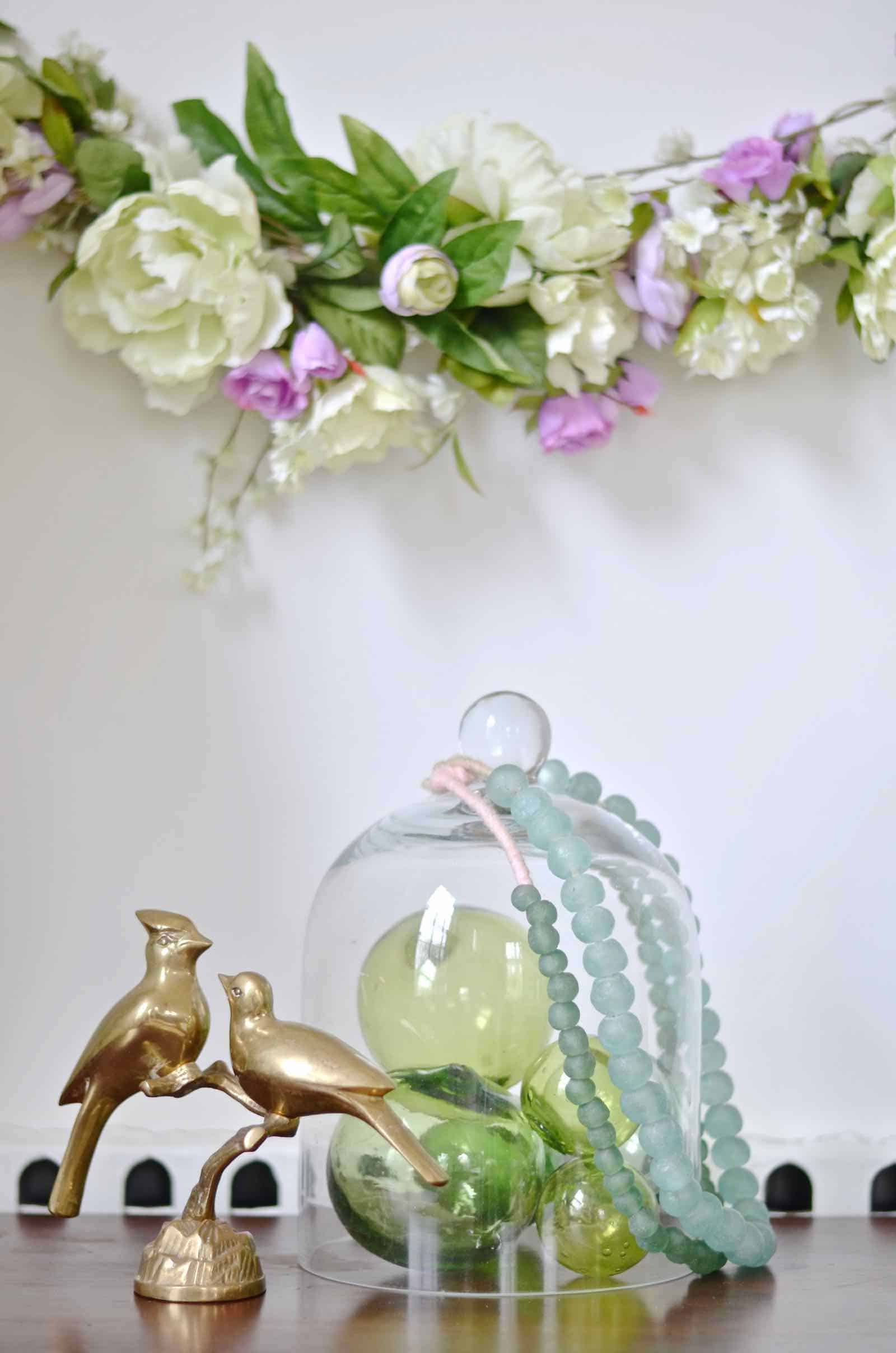 I can't share the WHOLE playroom with you, but I DID load up my antique bread bowl with those moss balls and a few clover plants…. Consider this your sneak peek!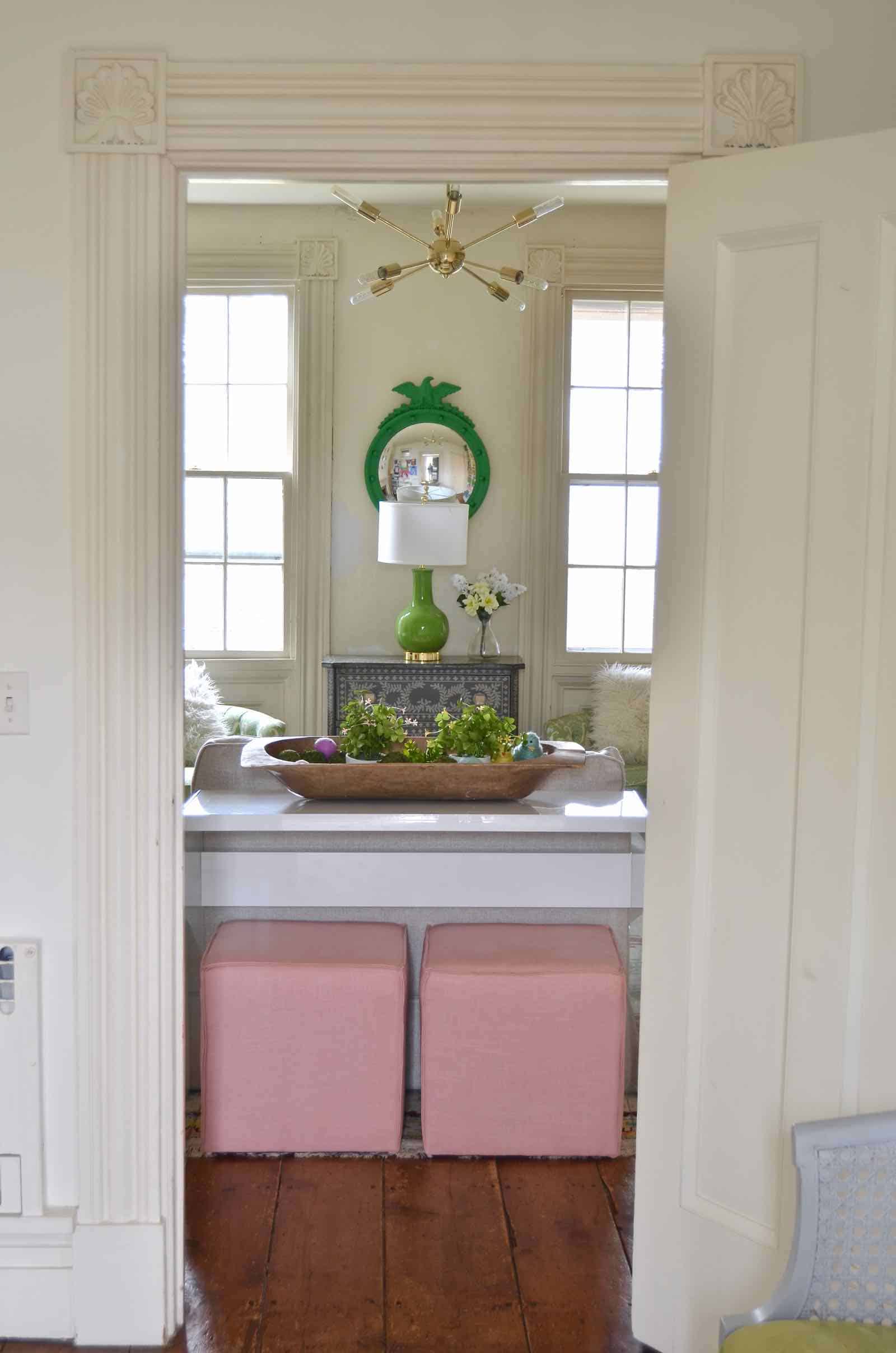 Moving into the dining room, I'll share a full Easter table scape with you in a few weeks, but I started to put the table together and loaded up the sideboard with a mixture of blue vases and simple white flowers. Would you believe me if I told you those large blue jugs were found at the dump? I NEVER go to the dump… clearly they were meant to be mine.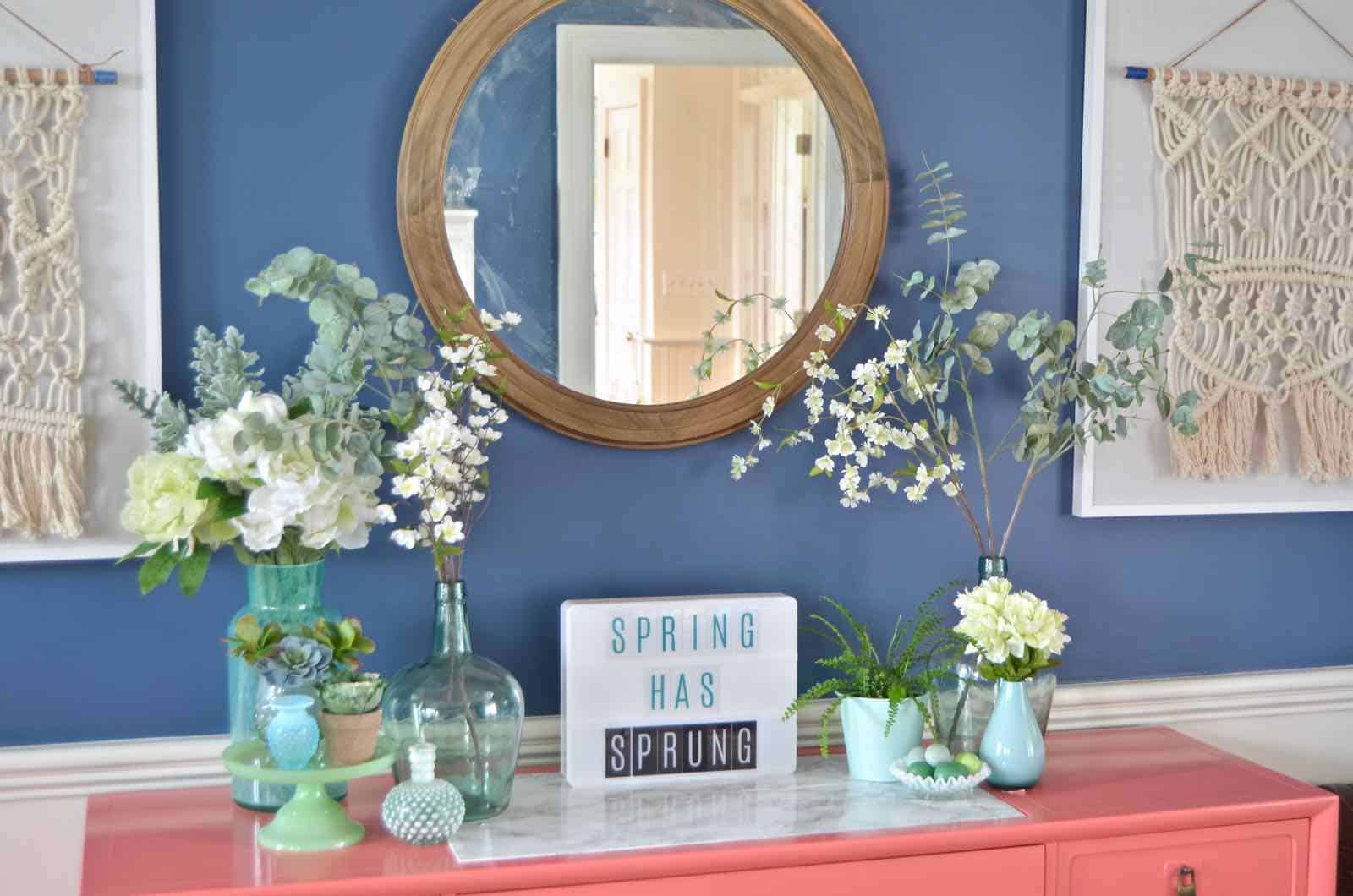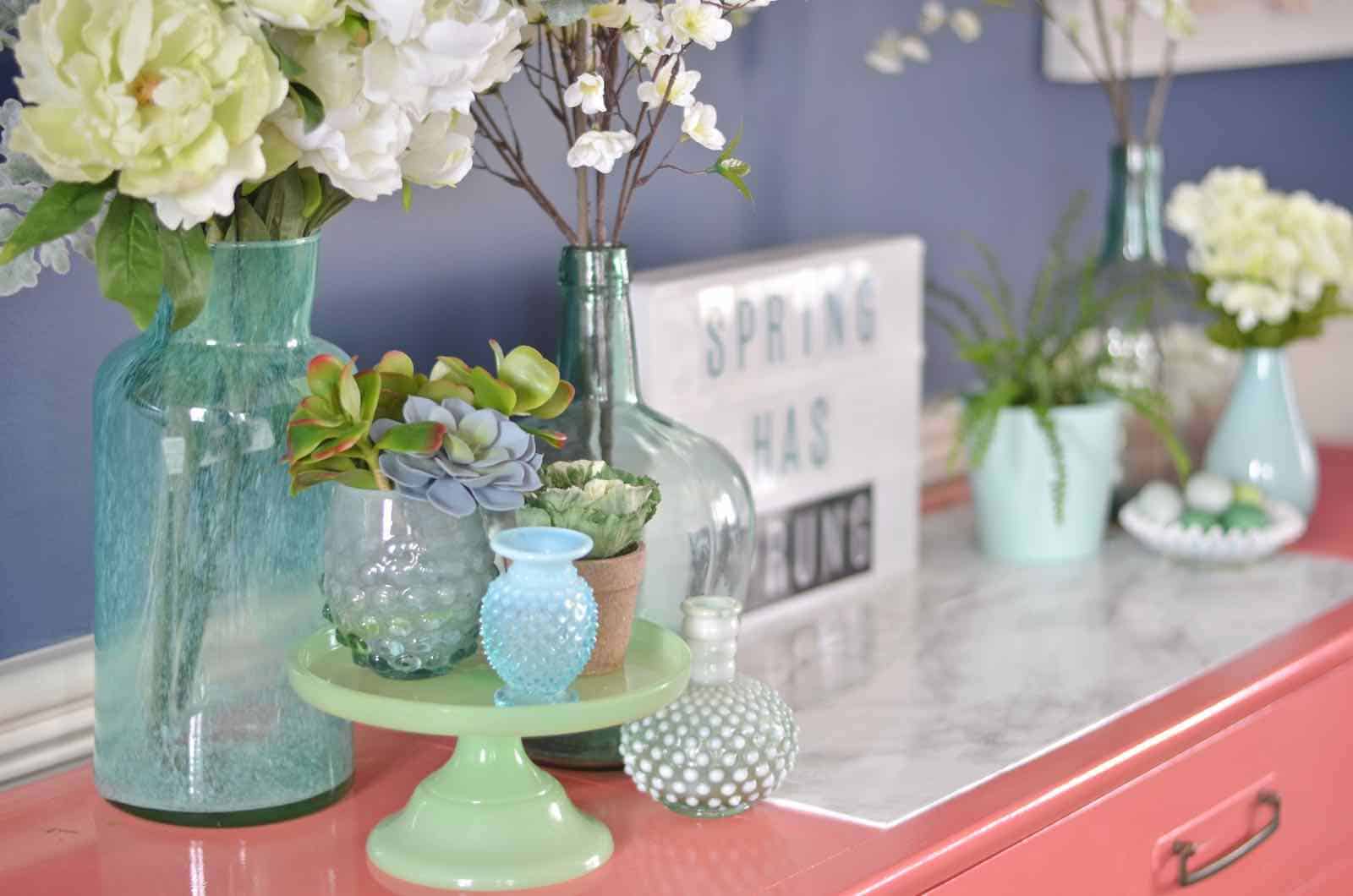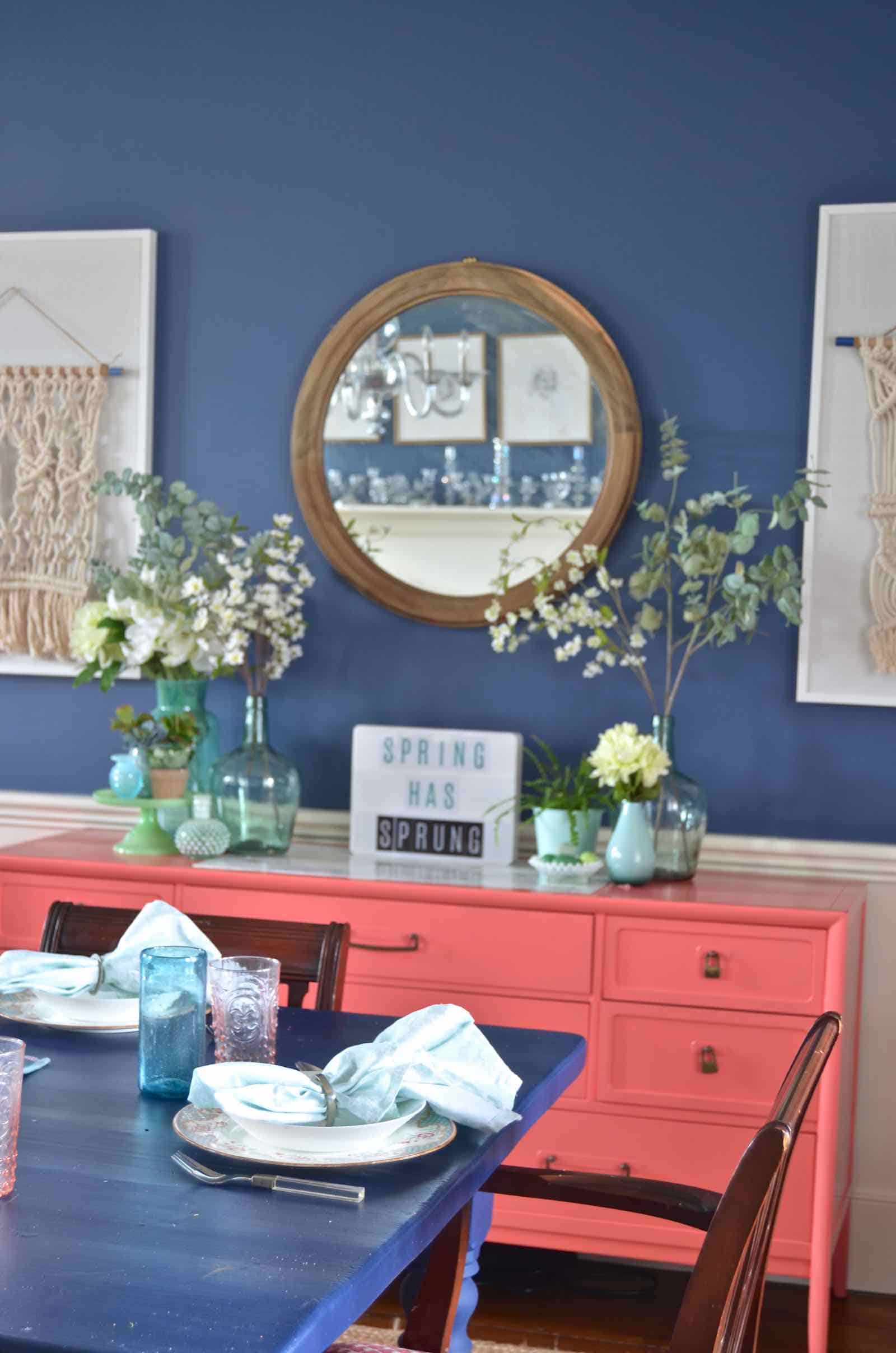 I don't typically do anything to the kids rooms in the way of seasonal decor, but… I just brought in a new duvet cover for her bed that ties in the greens and pinks in her room. And then I saw a table runner at Ikea with those EXACT colors. Wanna know what's crazy easy? Making a table runner into a bed pillow. (Tutorial coming… promise.)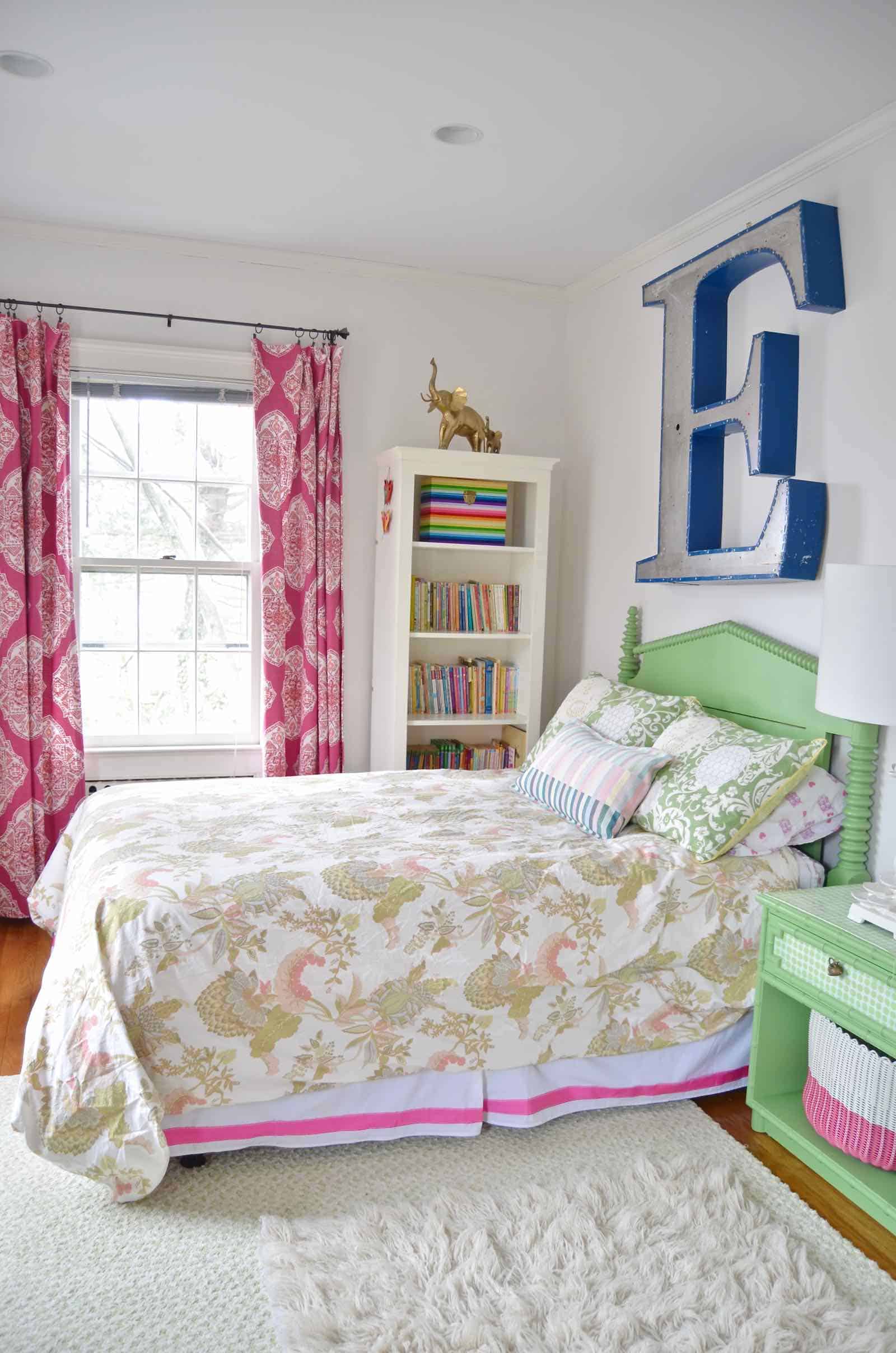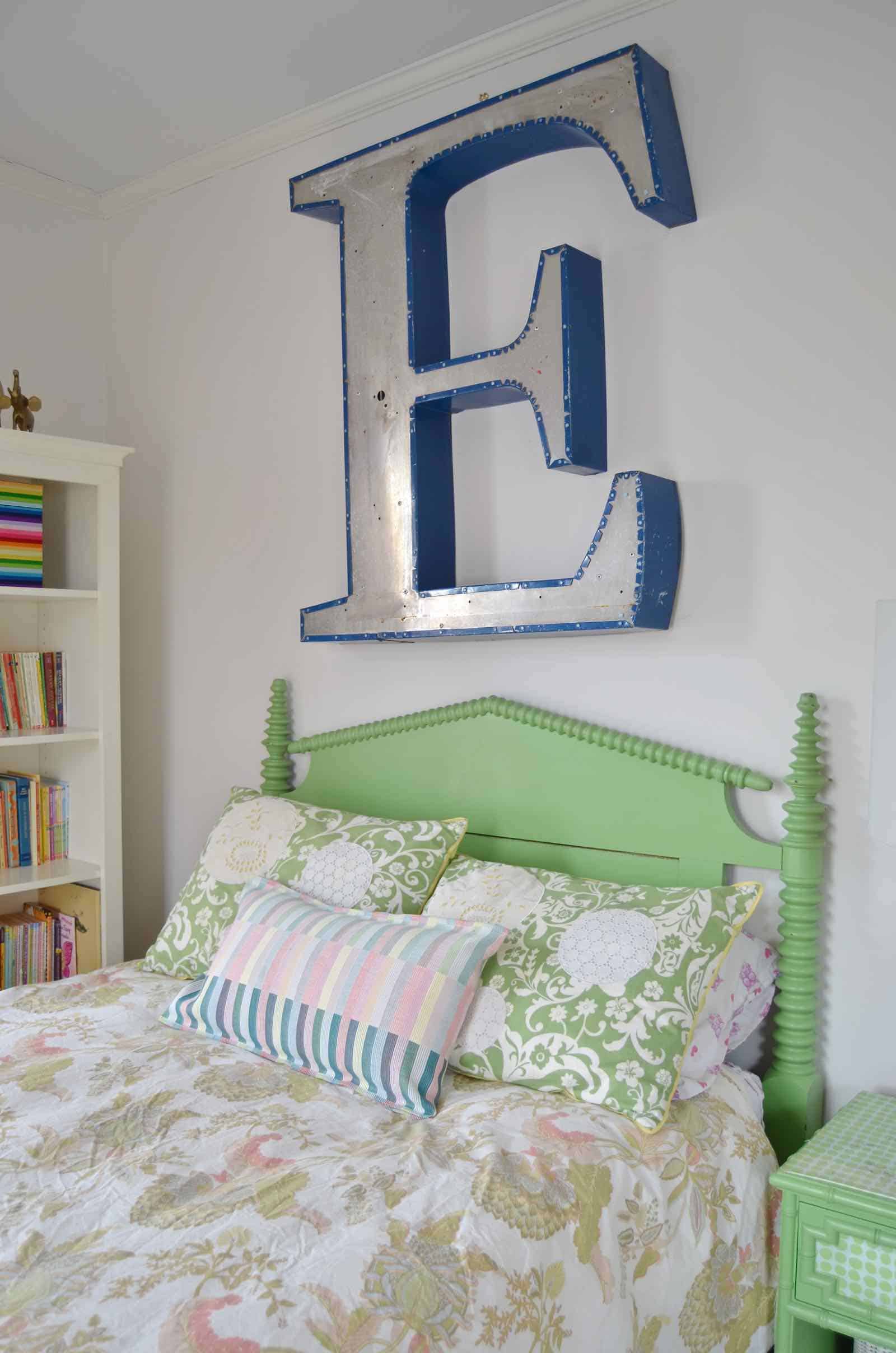 As for OUR room… Nothing in here is new, but I haven't shared it with you since Christmas. I found those pillowcases (affiliate) on Amazon for a steal and love how they match our nightstands. So our master is perfect for spring… flowers and that soft aqua blue.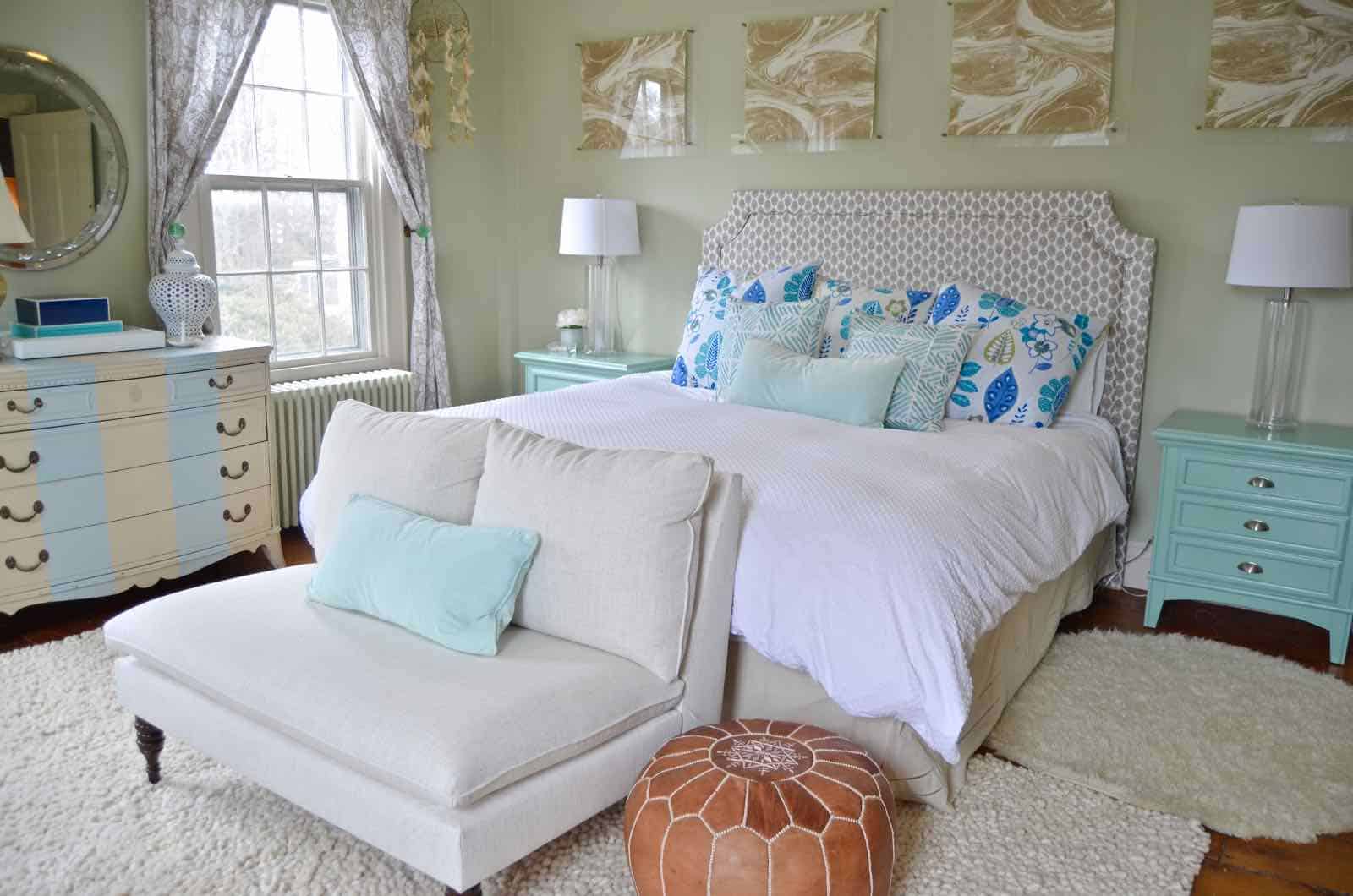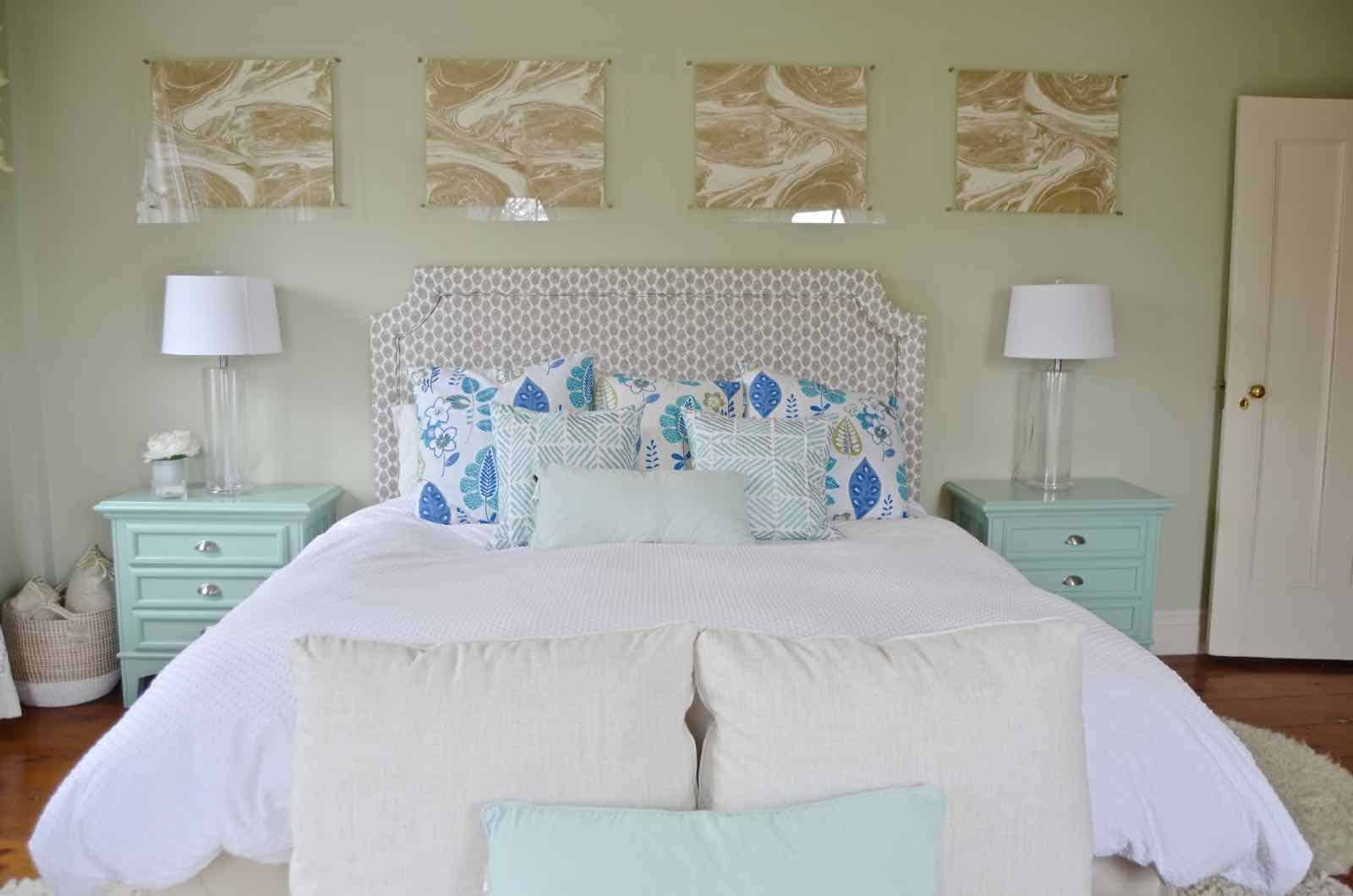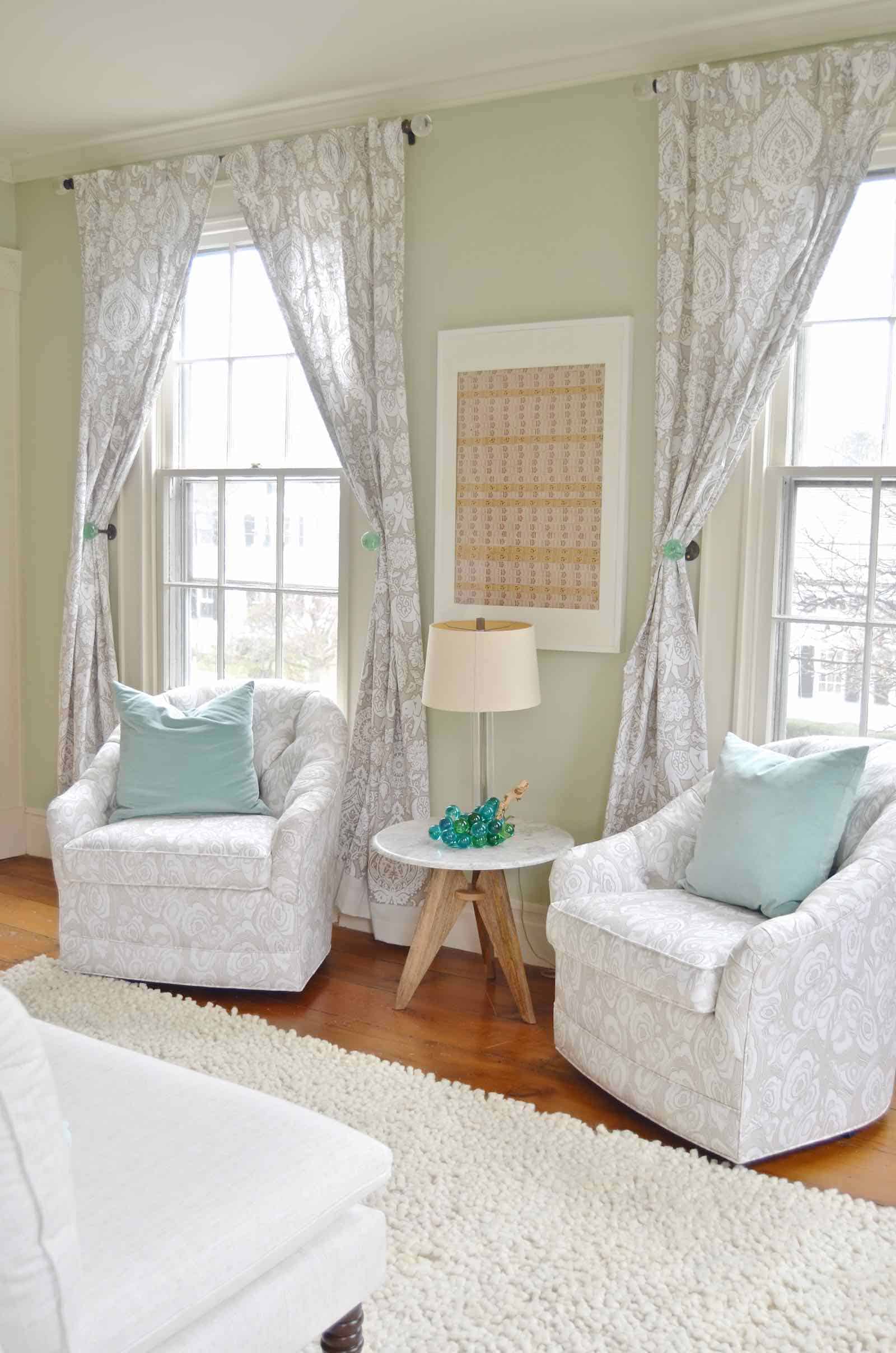 I'll be sharing tutorials for the pillows, the moss balls and the wreath so check back over the next week! Waiting on TWO more things for the updated playroom (see the vision for the space here). And… gulp… about to start work on a complete overhaul of our master bathroom! Bye bye, floral wallpaper!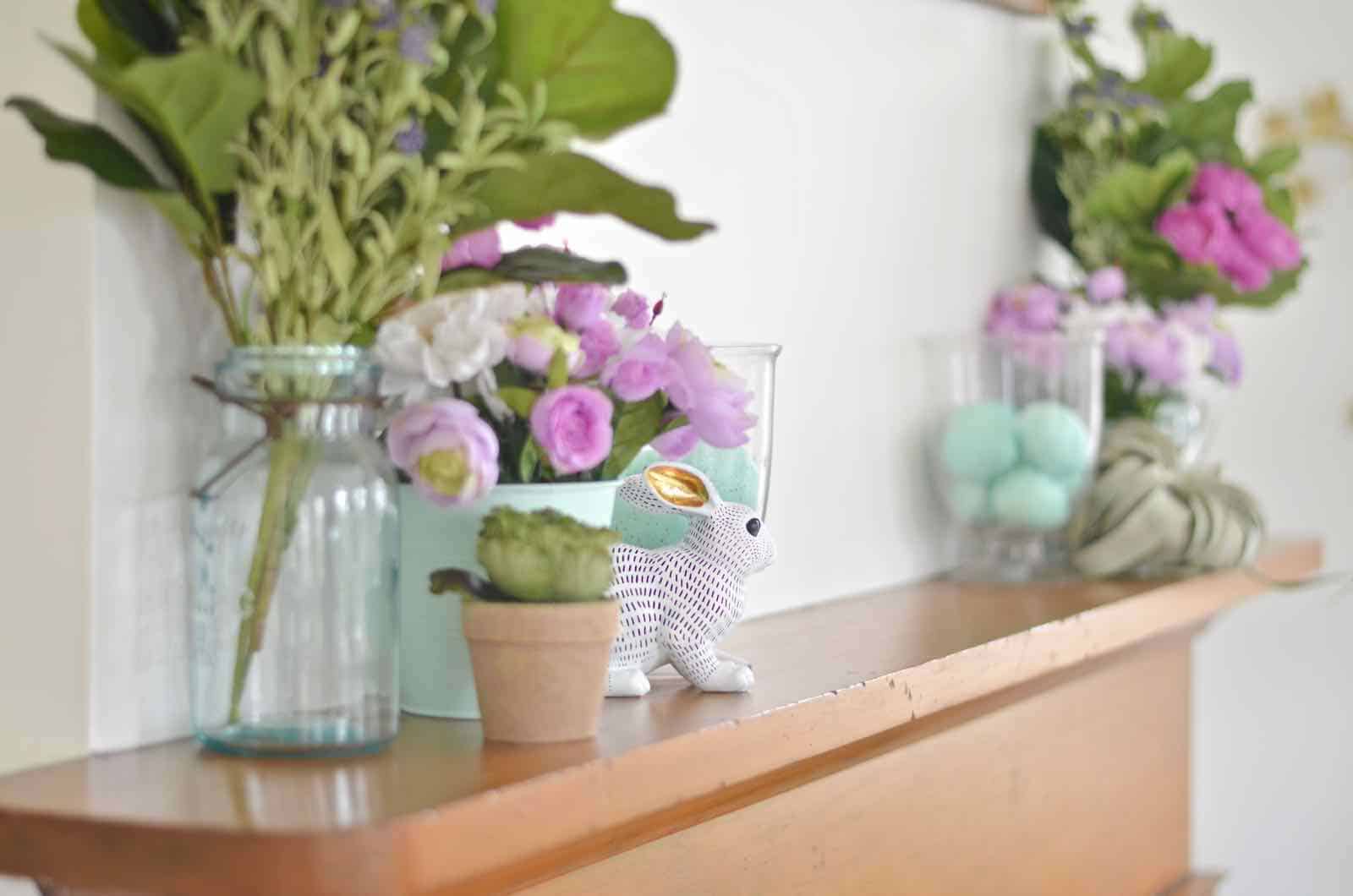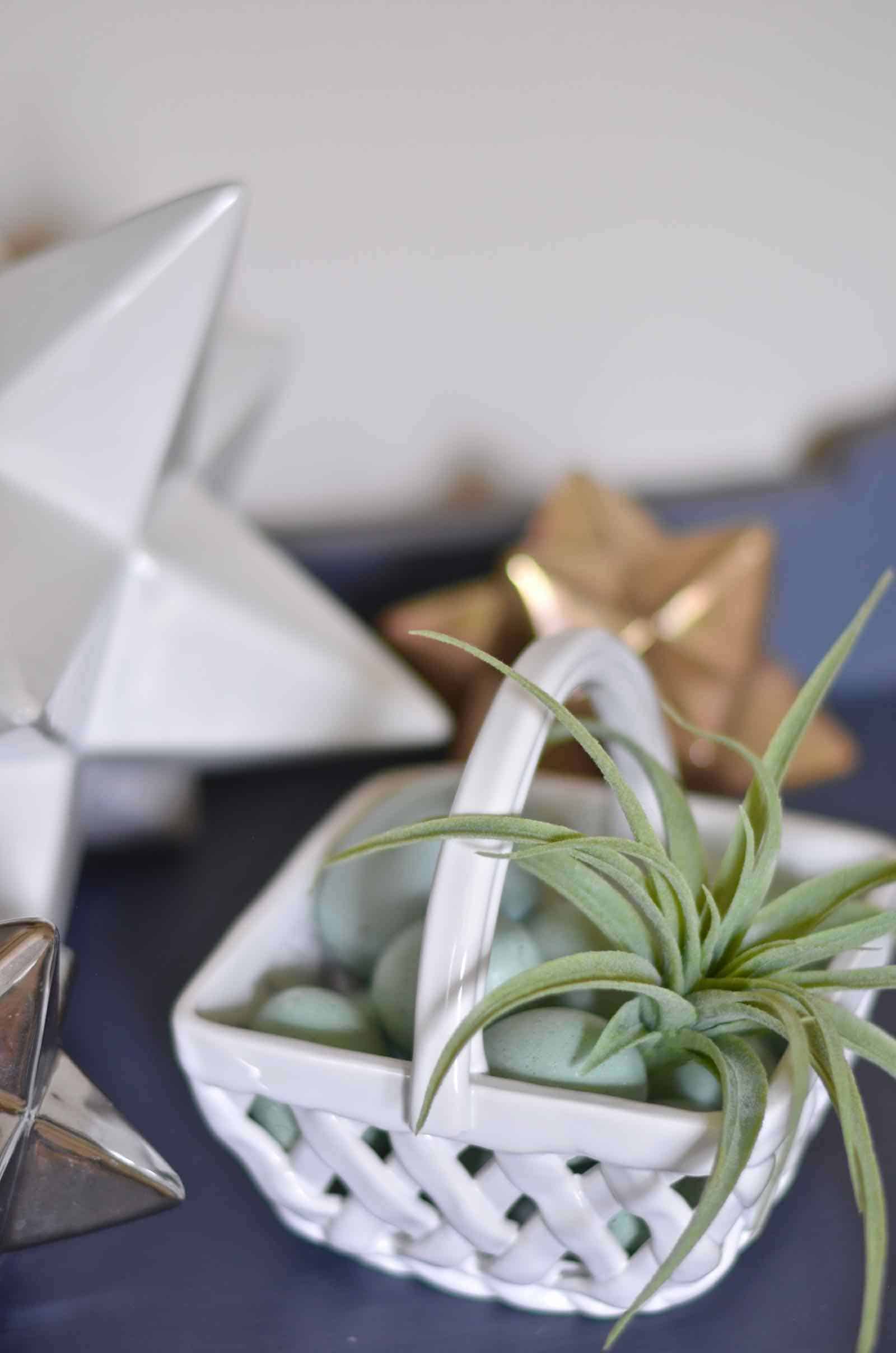 Head over to House 214 Design to see what awesome sauce Melinda has cooked up for you.  Her house is pristine and SO chic so get ready to take some notes! And then grab the rest of your spring inspiration from the other talented ladies sharing their homes today as well as the rest of the week!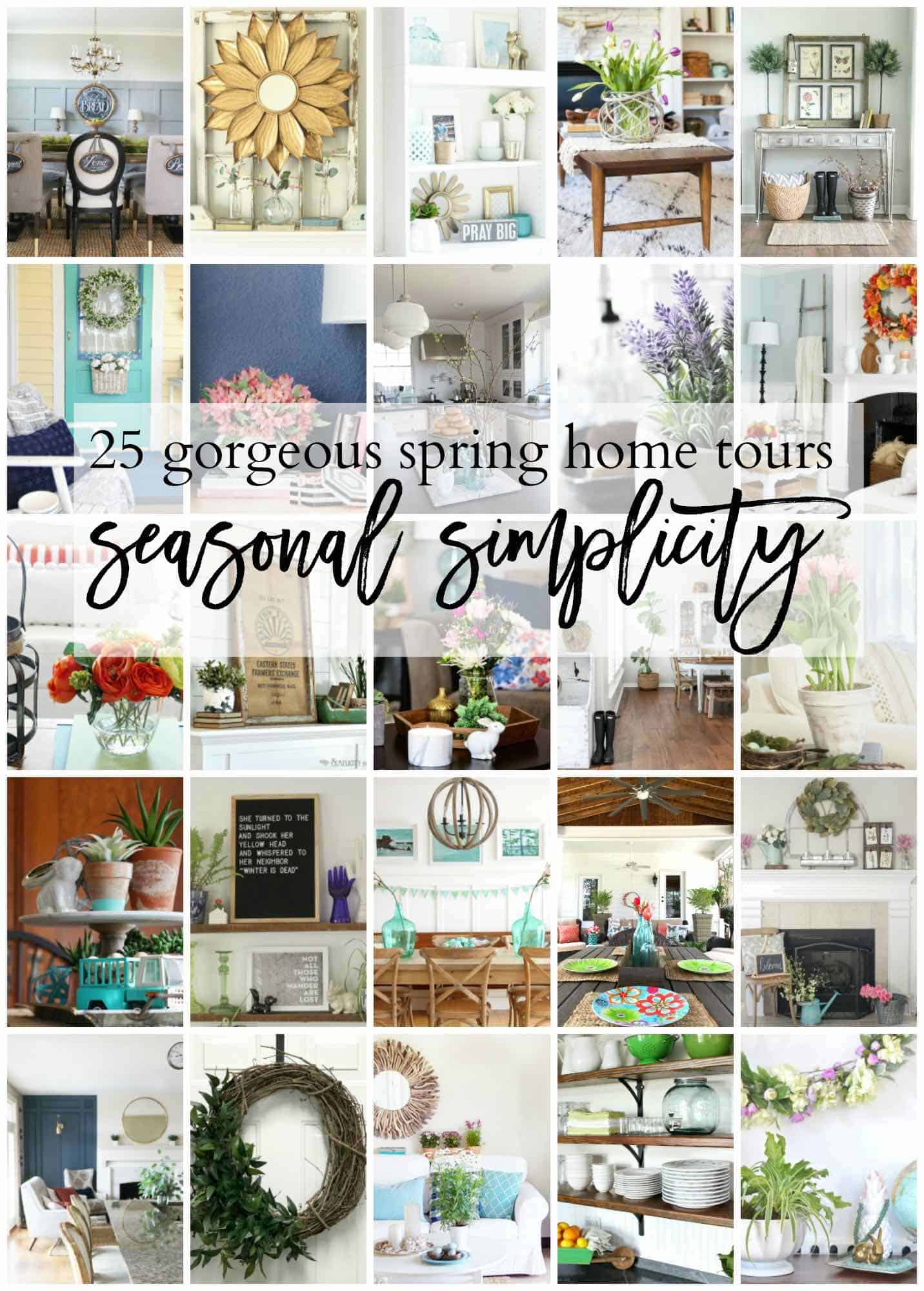 Monday
House by Hoff / The Happy Housie / The Turquoise Home / Maison de Pax / Refresh Restyle
Tuesday
The House of Wood / Simplicity in the South / Place of My Taste / Tidy Mom / That's My Letter
Wednesday
Sincerely, Sara D. / at HOME with the barkers / Paint Me Pink / Nina Hendrick Design Co. / A Burst of Beautiful
Thursday
Just a Girl and Her Blog / Cherished Bliss / At Charlotte's House (ME!) / House 214 Design / Town and Country Living
Friday
Cassie Bustamante / Robb Restyle / Erin Spain / My Fabuless Life / The Wicker House