A month ago, my friend Jen at Migonis Home emailed about a Spring Home Tour (and GIVEAWAY!) she had planned. With 3 feet of snow outside and gray as faaaaaar as the eye could see, I decided it would be a fun chance to play 'dress up' with my dreary winter home! Until I started blogging, the concept of decorating for spring never occurred to me. But… that joyful ache for the flowers and the green grass and that smell in the morning when spring is so close you can taste it… I love that. For me bringing that feeling into the house meant lots of flowers and greenery and sweet little accessories. Nothing complicated or intricate. Just color and textures and new LIFE!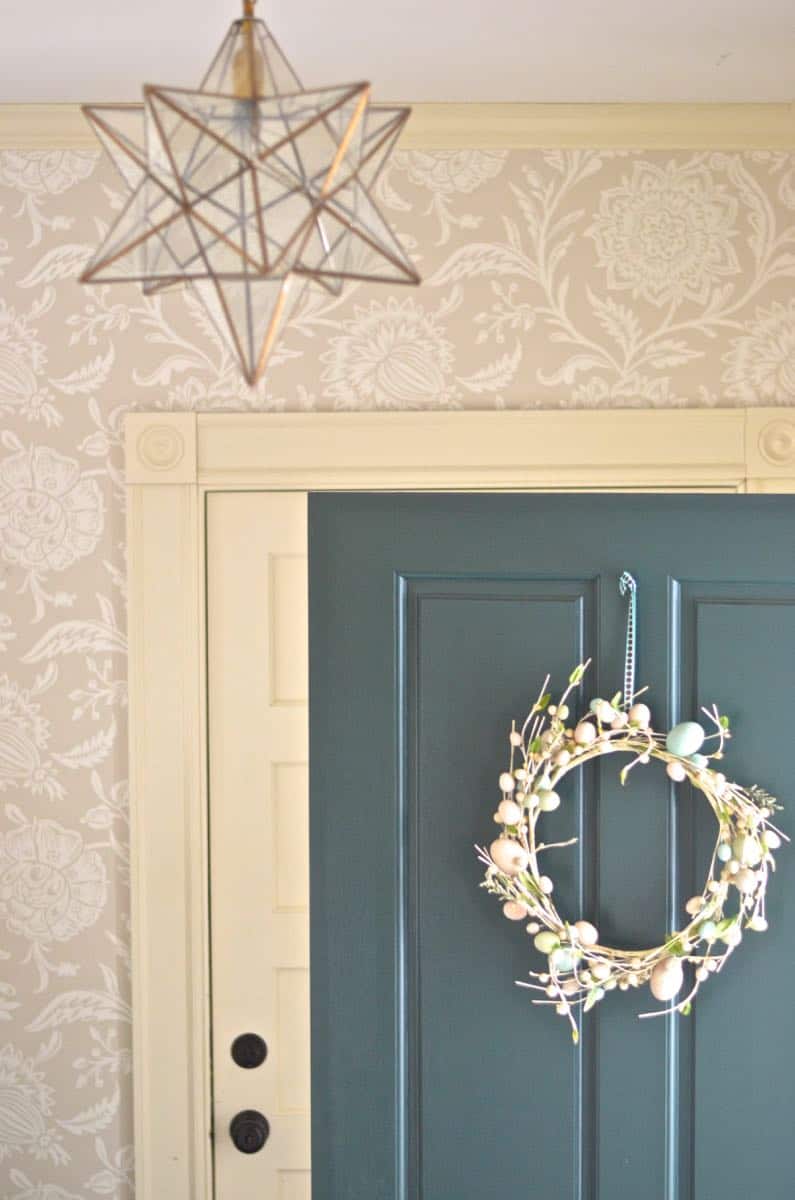 I've been keeping my eye out for dainty little containers at the thrift stores over the last few weeks, and have scored a nice little assortment!  These look perfect with flowers and candy on the mantel.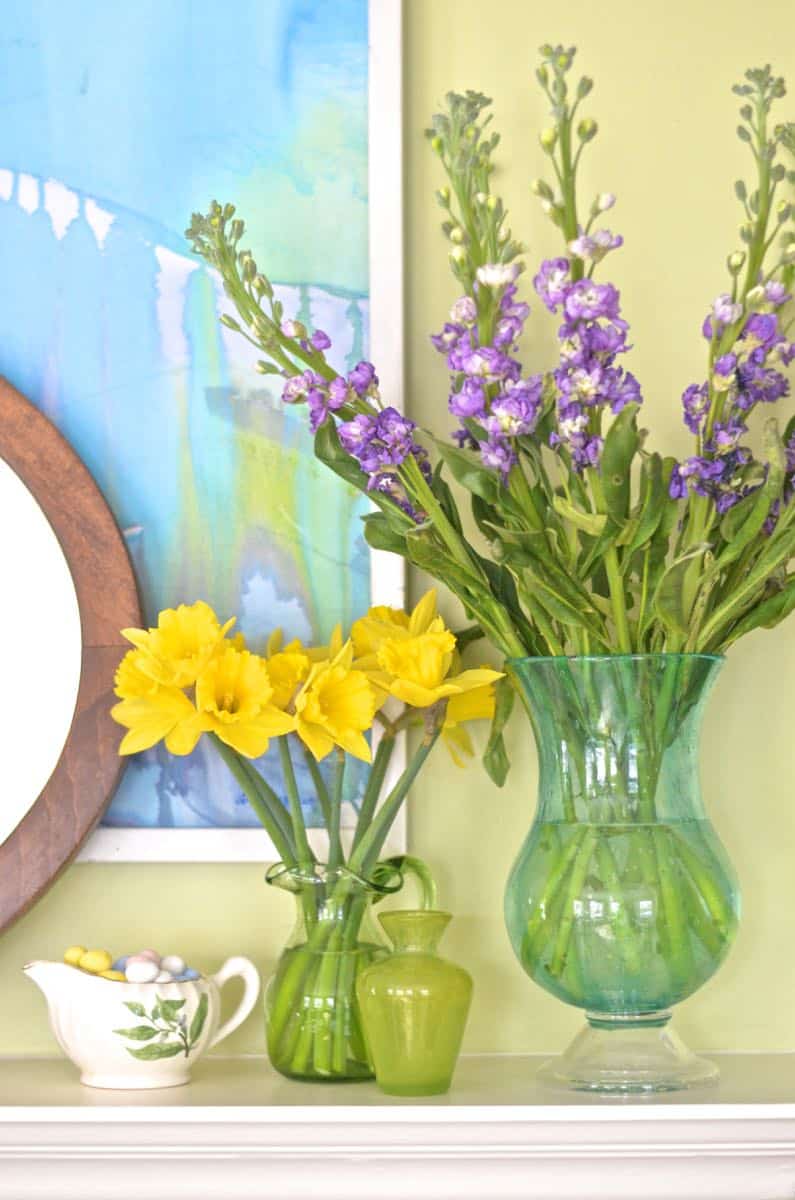 As much as I love fancy cut flowers, this time of year, basic spring bulbs are so inexpensive and just sitting there for the taking at the grocery store. When left in the dreary pastel foil or the green plastic pots… nothing special, but a thrifted basket and some moss and… such a pretty spring vignette.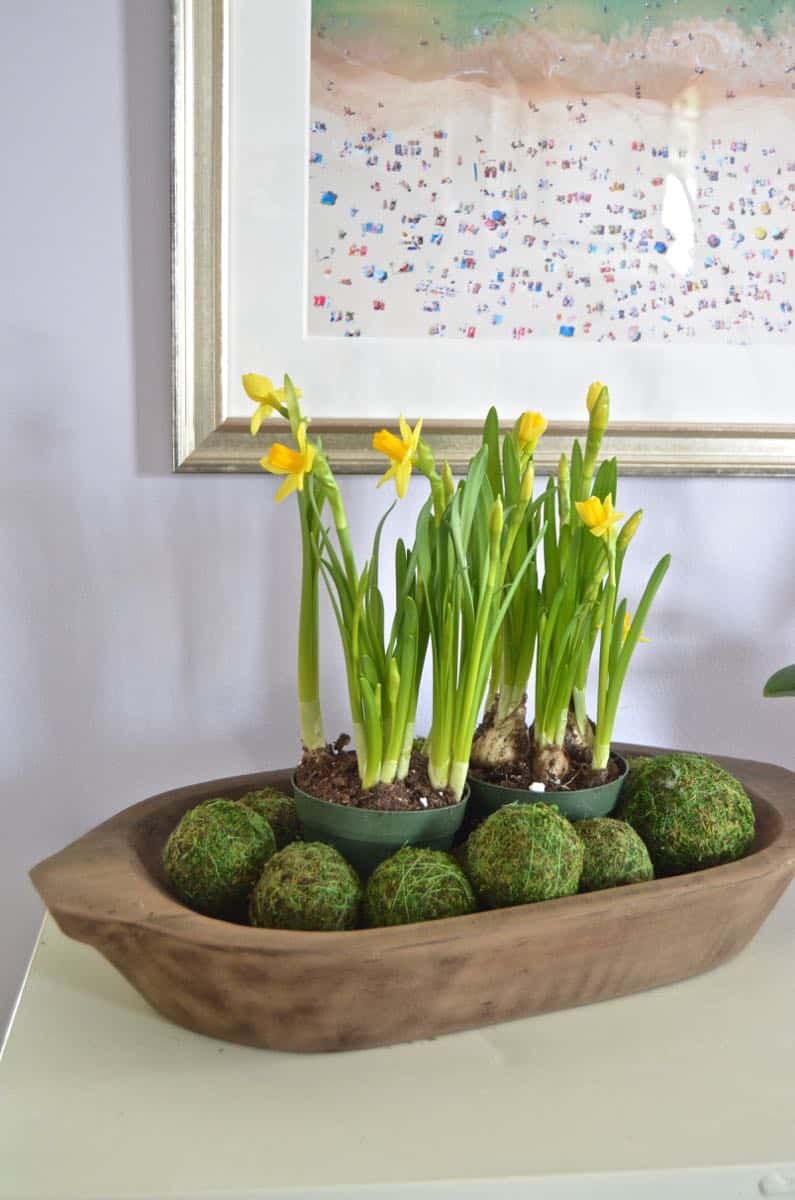 After seeing the talented Bold Abode's pixelated canvas, I've been obsessed with this graphic color-play. I made that pixel art and the colors are perfect for spring.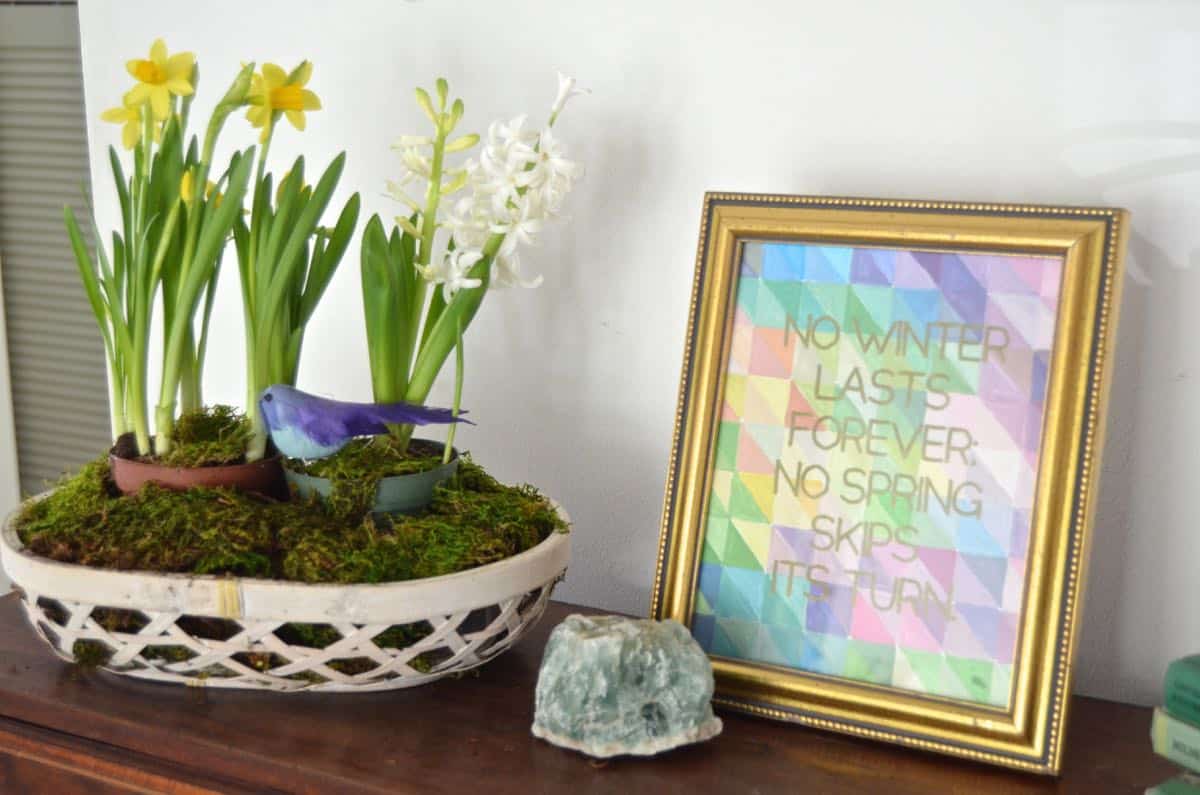 The best part about this spring house tour was that the amazing Kirklands gave us a gift card to help spring-ify our homes. Can you handle how amazing these accessories are?! This glass container looks even spring-ier just filled to the brim with jellybeans. (And no, I will not show you how it looked a few hours after I took these pictures.) See that green glass jar with the little bird on top? Kirklands. Home run.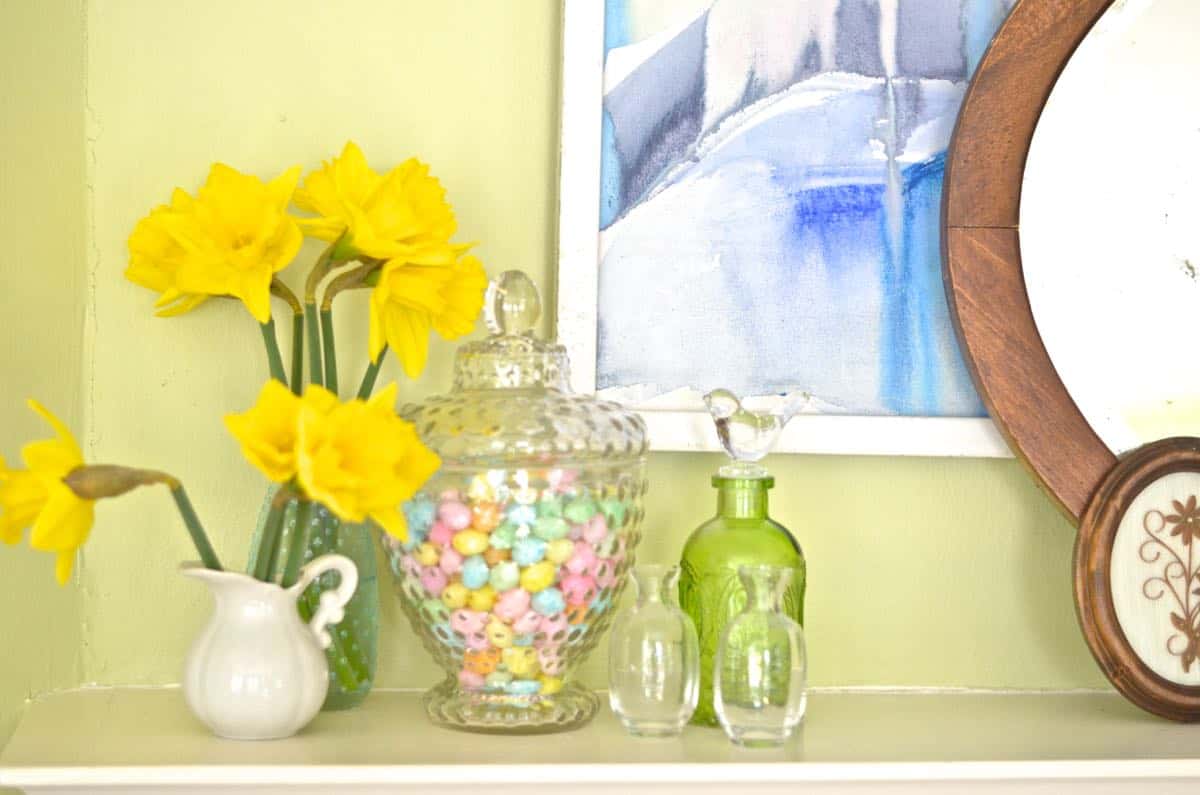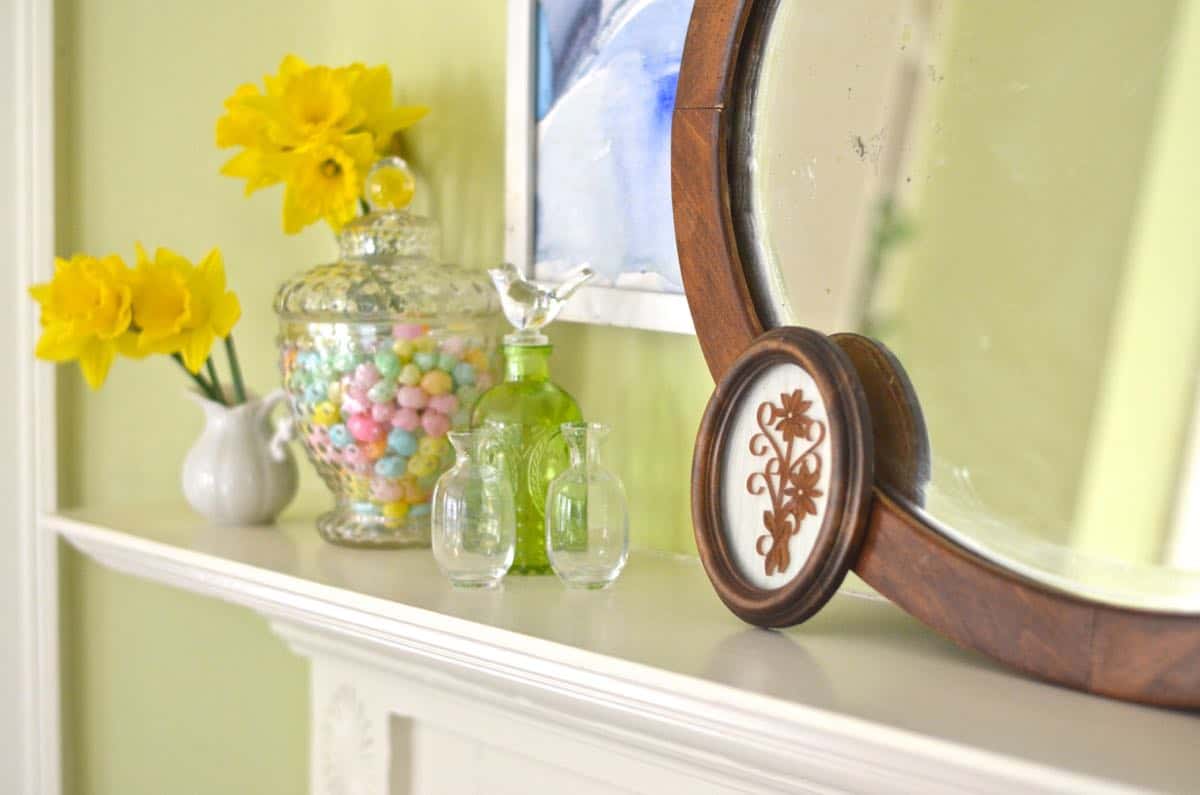 I also picked up this killer gold orb… It works all on its own or with a dollar store rabbit container tucked inside for spring!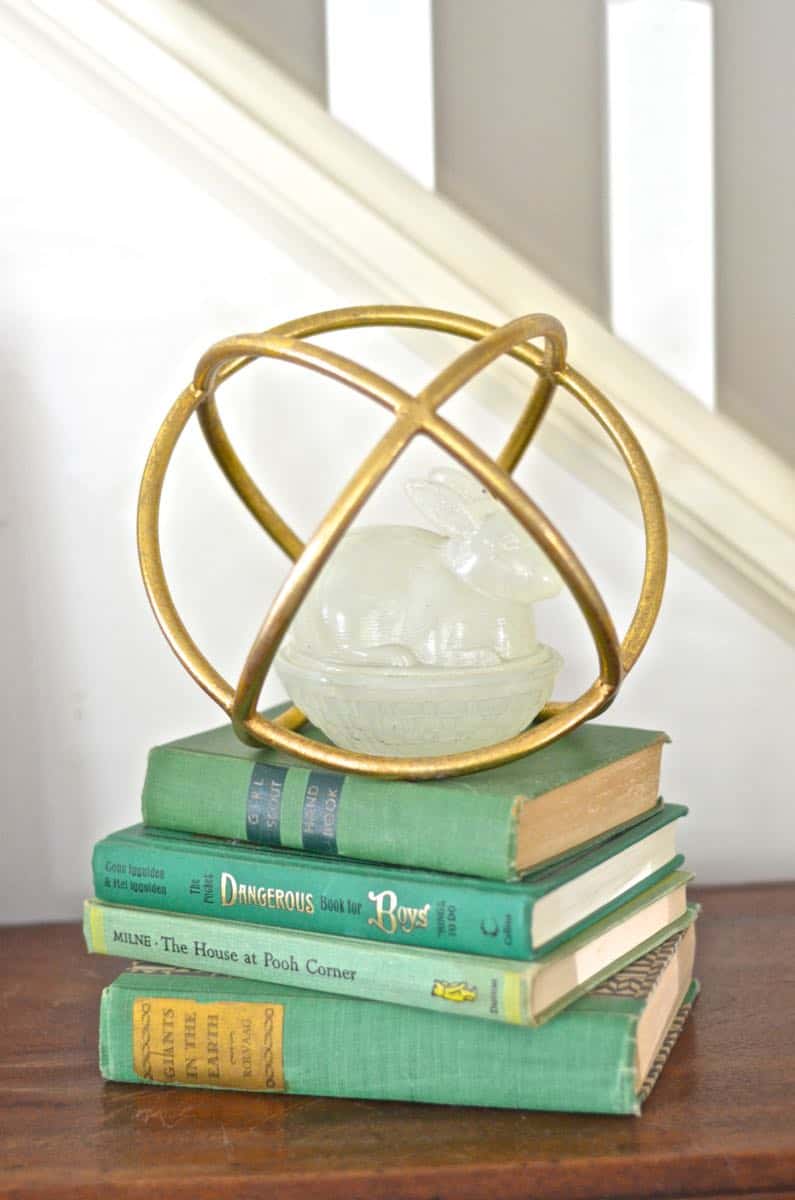 Colors are such a big part of spring for me, that I wanted a place just to bring together some of my favorite shades. The glass bunny was a Homegoods find and everything else was just plucked from around the house or my stash/ hoard. My refinished 'antique' bread bowl now holds some moss orbs… love. (Oh, and those flowers are totally fake… but I'm a sucker for poppies and lily of the valley!)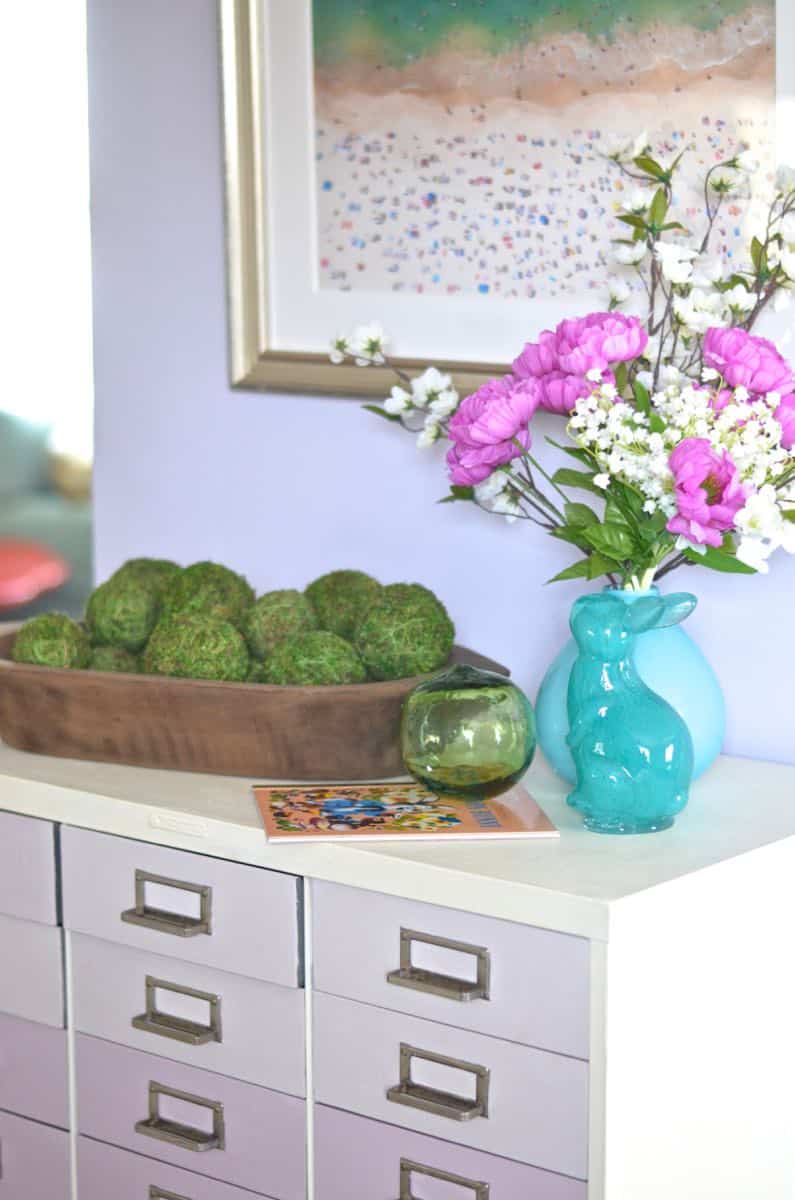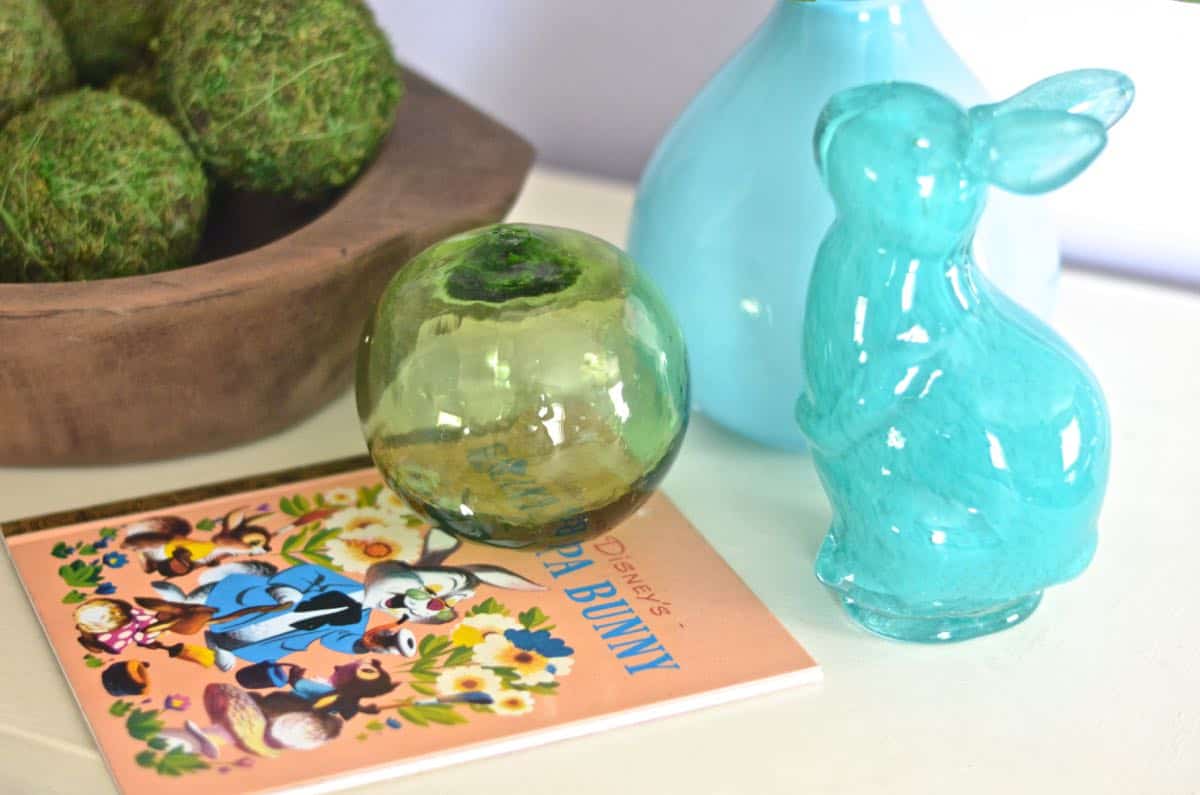 I found this great enamelware pot at the flea market and planted some grass inside for a cheap and easy little hint of green. (I could plant grass in anything this year!)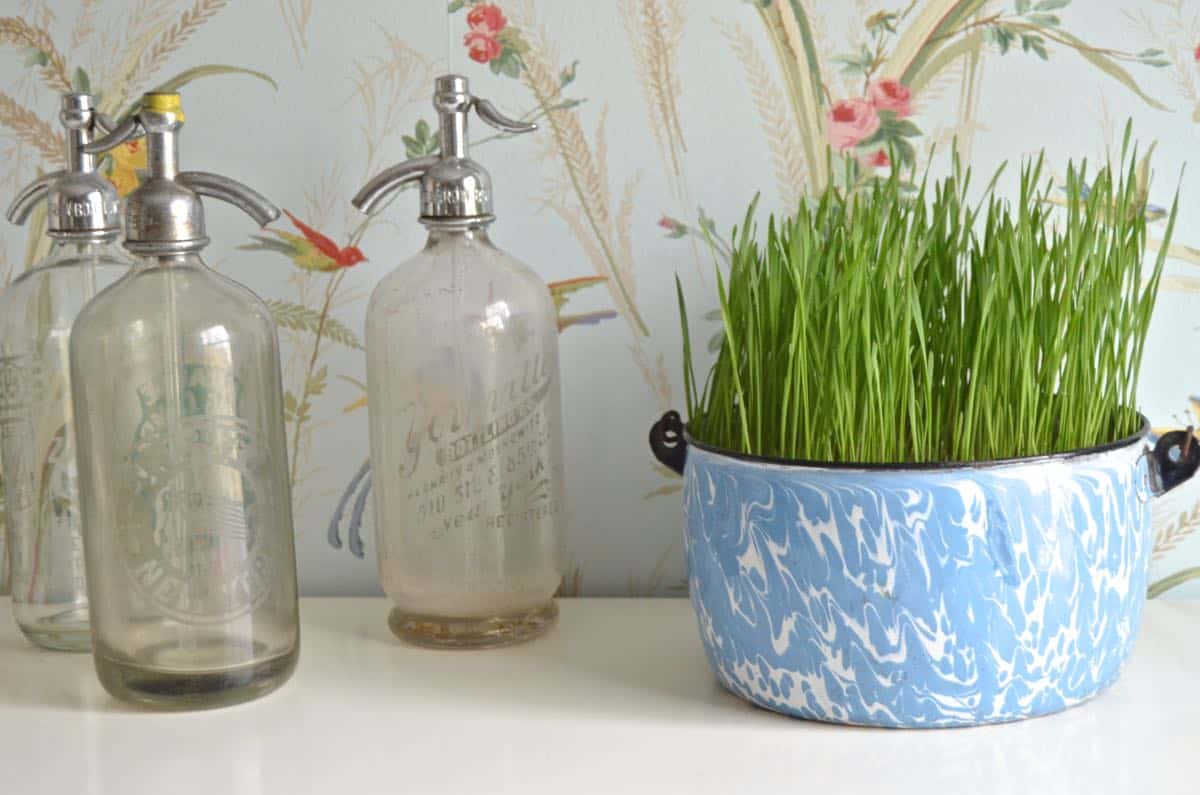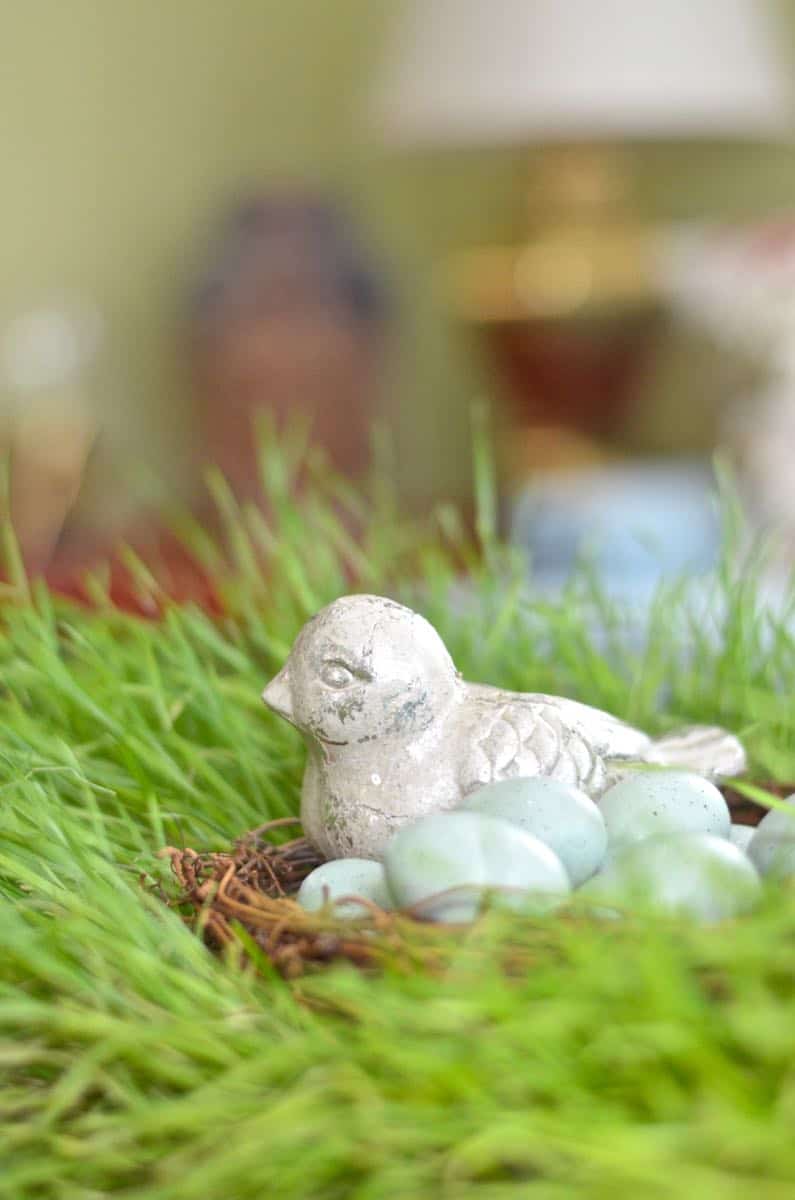 In the front hall, I love having some greenery. My track record with these maiden hair ferns is zero. I've consistently killed every single one, but perhaps in my old age this will be the one to break my losing streak! I also have a grocery store shamrock plant leftover from St. Patrick's day. A little moss bird is perched under the bell jar. (Oh, and not to beat a dead shopping horse, but the owl planter? Kirkland's.)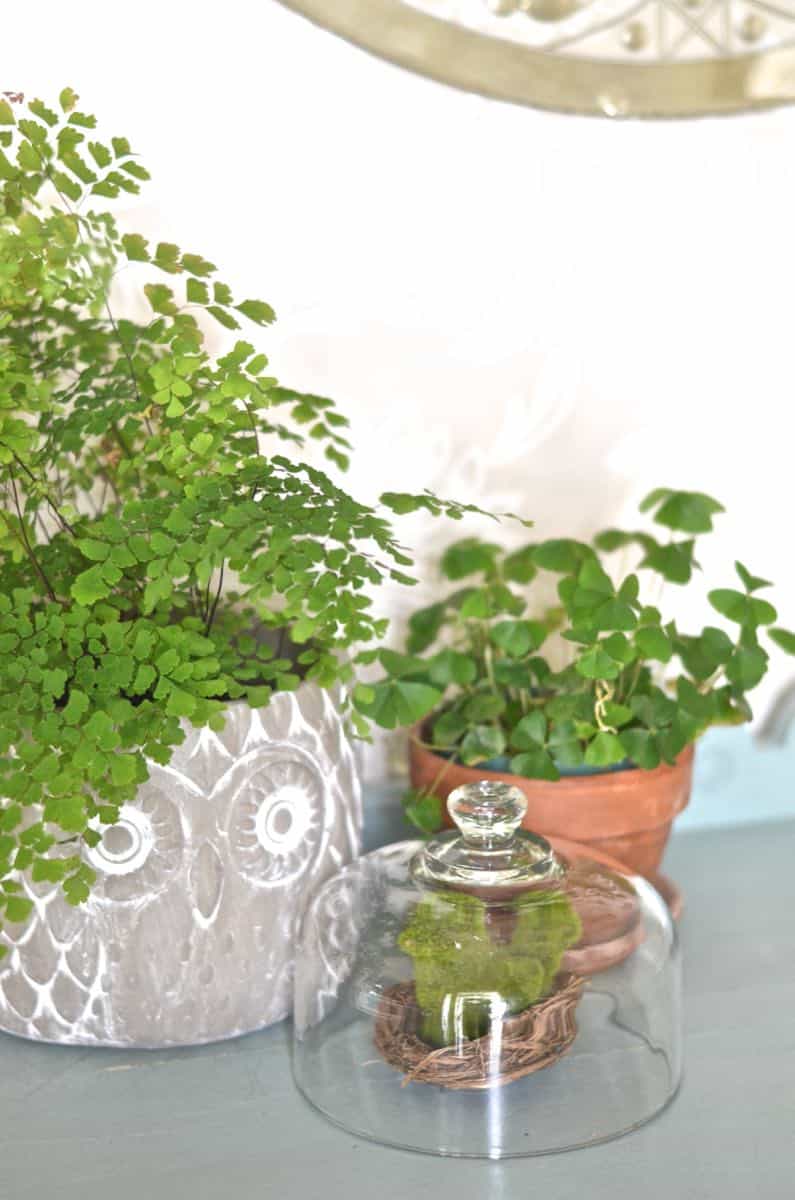 And that's all the spring she wrote over at chez Smith.  Thankfully, this post is just a piece of the fun… Check out all the other spring tours going on this week. Today, you can hop over to the ever amazing Rain on a Tin Roof, Setting For Four, The Blissful Bee and Fox Hollow Cottage to see their amazing homes.
Monday
Migonis Home | Maison de Pax | DIY on the Cheap | Cottage in the Oaks | Town and Country Living
Tuesday
The Blissful Bee | Rain on a Tin Roof | Ciburbanity | Fox Hollow Cottage | Setting for Four
Wednesday
House by Hoff | Love Grows Wild | All Things G&D | Life on Virginia Street
Thursday
rooms FOR rent | Everyday Enchanting | The Happy Housie | Wicks Nest | So Much Better with Age
Friday
Just a Girl and Her Blog | The Wood Grain Cottage | Jenna Sue Design | At Home with The Barkers | AKA Design