Psssst… this post *might* contain affiliate links: see my disclosure here.
When I made over our dining room, I wanted a lush green centerpiece so a terrarium was on my list for that space. A terrarium is a fun way to add some greenery to ANY room, and if you follow the right steps, in theory they can last you a little while!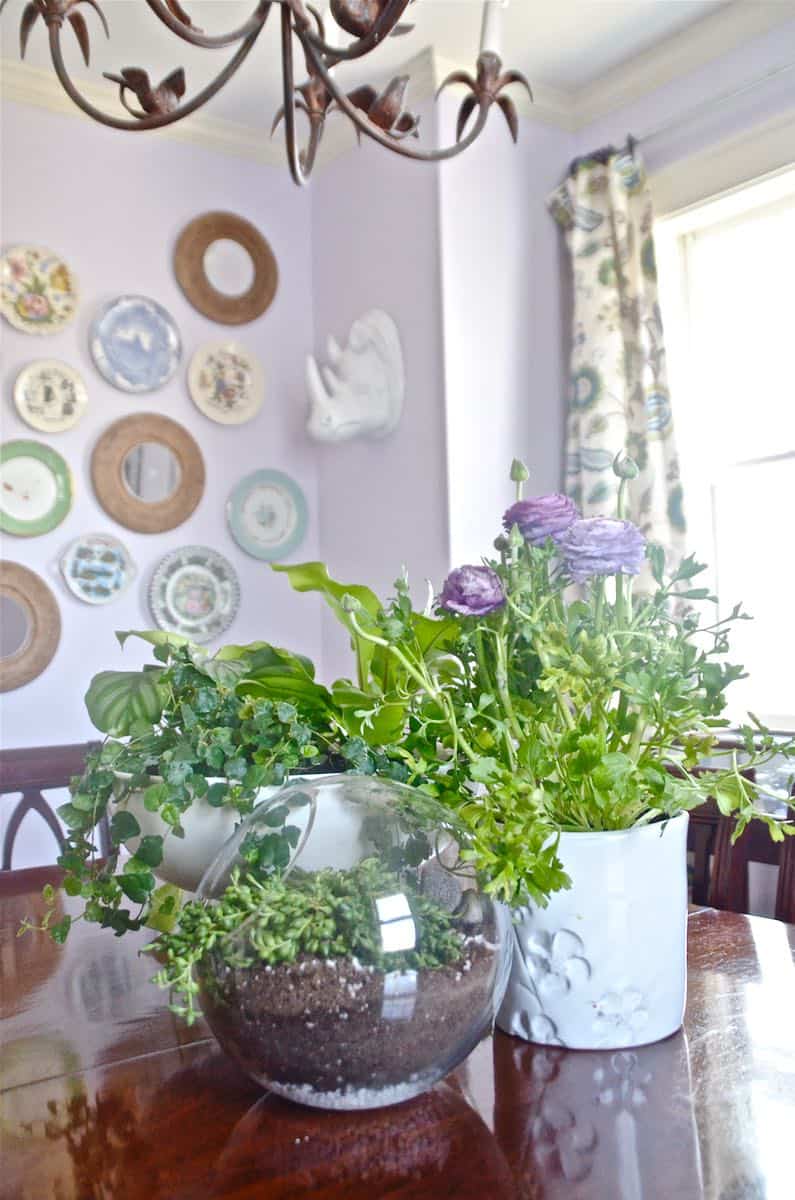 How to Plant a Terrarium
Step 1: Choose the right container
I fell in love with an incredible container that was ultimately a large stoneware bowl with a pedestal base similar to this. For $100. Not happening. But…. Homegoods did have a simple white bowl and a glass candle stick. So I sprayed the candle stick white and used a heavy duty epoxy to stick it onto the bowl. It's slightly out of proportion, but with plants hanging over, you don't notice the smaller base too much.
Step 2: Choose your plants
I selected a few plants that would be varied in height and texture. Just personal preference here… no rules, folks. No rules. (Well one rule… you'll need to opt for either all succulents or all regular ol' leafy plants.)
Step 3: Layer gravel then charcoal then dirt
The general rule of thumb for planting a terrarium is to layer the following materials: gravel, charcoal, soil, and plants. I cheat and buy fish tank gravel for the bottom layer… it's $5 a bag and virtually identical to whatever gravel you'll find at a garden store. The charcoal is super important for a terrarium as it helps filter toxins in the soil/ water/ air and it helps with any odor that builds up over time. Use a soil specific to your plants (e.g. succulent soil vs. potting soil).
Step 4: Plant!
When planting anything, dig a hole big enough to easily fit the root ball. Softly hold the plant and pull it out of the pot… if it doesn't easily pull out, don't be afraid to break apart the pot to keep the plant and roots in tact. Gently break apart the root ball a bit and place into your soil. Fill in around the roots to make sure there aren't any air pockets or places where the roots aren't surrounded by soil. Water, and start the clock to see how long you can keep it alive!
I find my containers at Homegoods in the glassware section and they're a FRACTION of the cost of anything at a home/ garden store. This round orb was $9.99…
Materials for planting a terrarium
(Affiliate links included for your convenience)