Using Wallpaper in Unique Ways
We hung wallpaper in my daughter's room in fun and simple unconventional ways.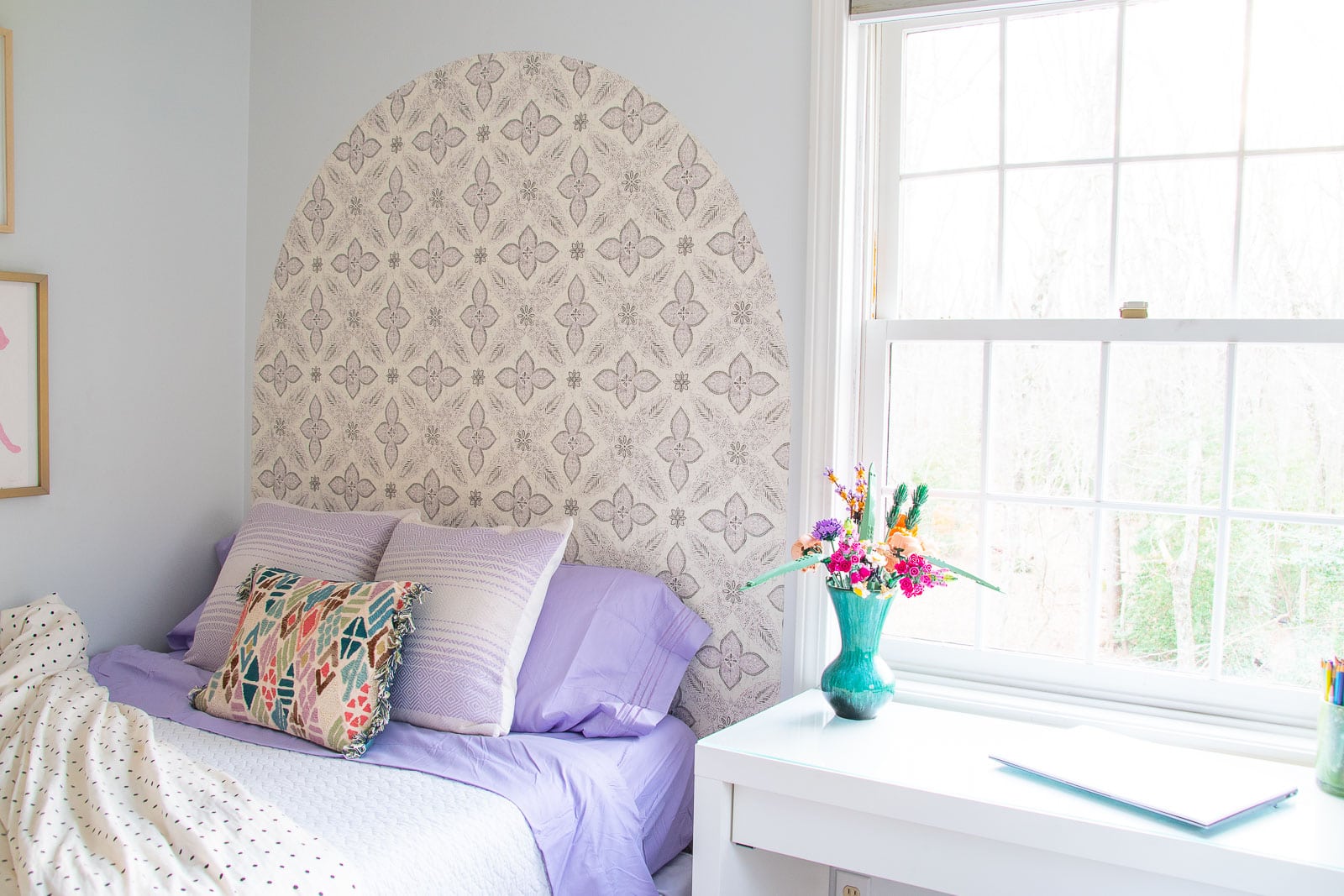 Disclosure: I am partnering with The Home Depot to share content for their Kids Workshops.
I love a wallpaper moment but my oldest daughter wasn't as enamored with the idea. Because she didn't want to have wallpaper all over her room, we decided to bring it in in smaller more specific ways and she loves it! We used this fun graphic paper from Home Depot to make her both a headboard and some patterned floating shelves. (I suggested covering her desk also, but she said no thank you.)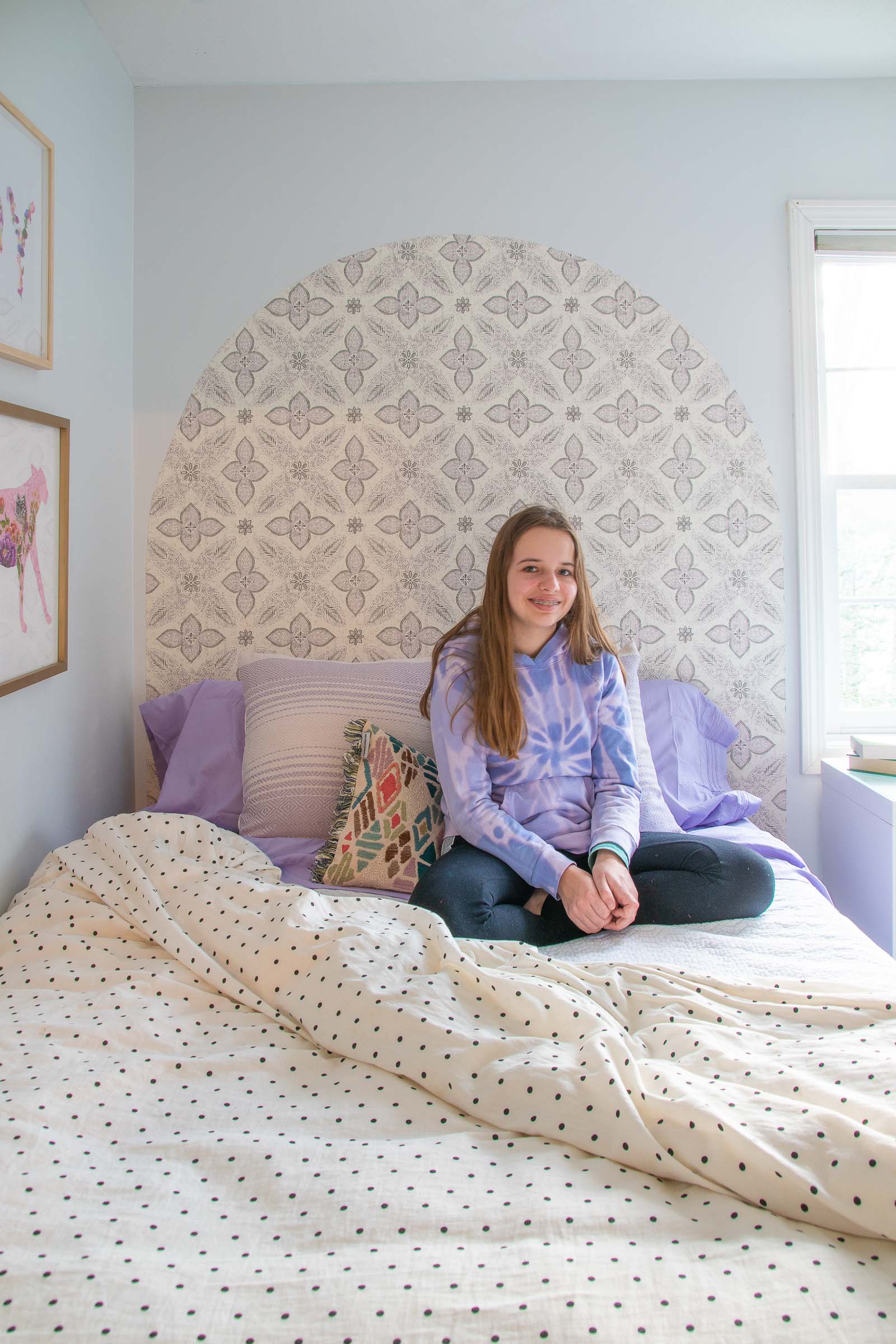 Materials for Wallpaper
Step 1. Decide your size
Once we'd moved her bed out of the way, we measured the wall and figured out how wide and how high to make our wallpaper arch. Eleanor likes her headboard so we wanted the arch to be tall enough so she could keep her headboard if she wanted.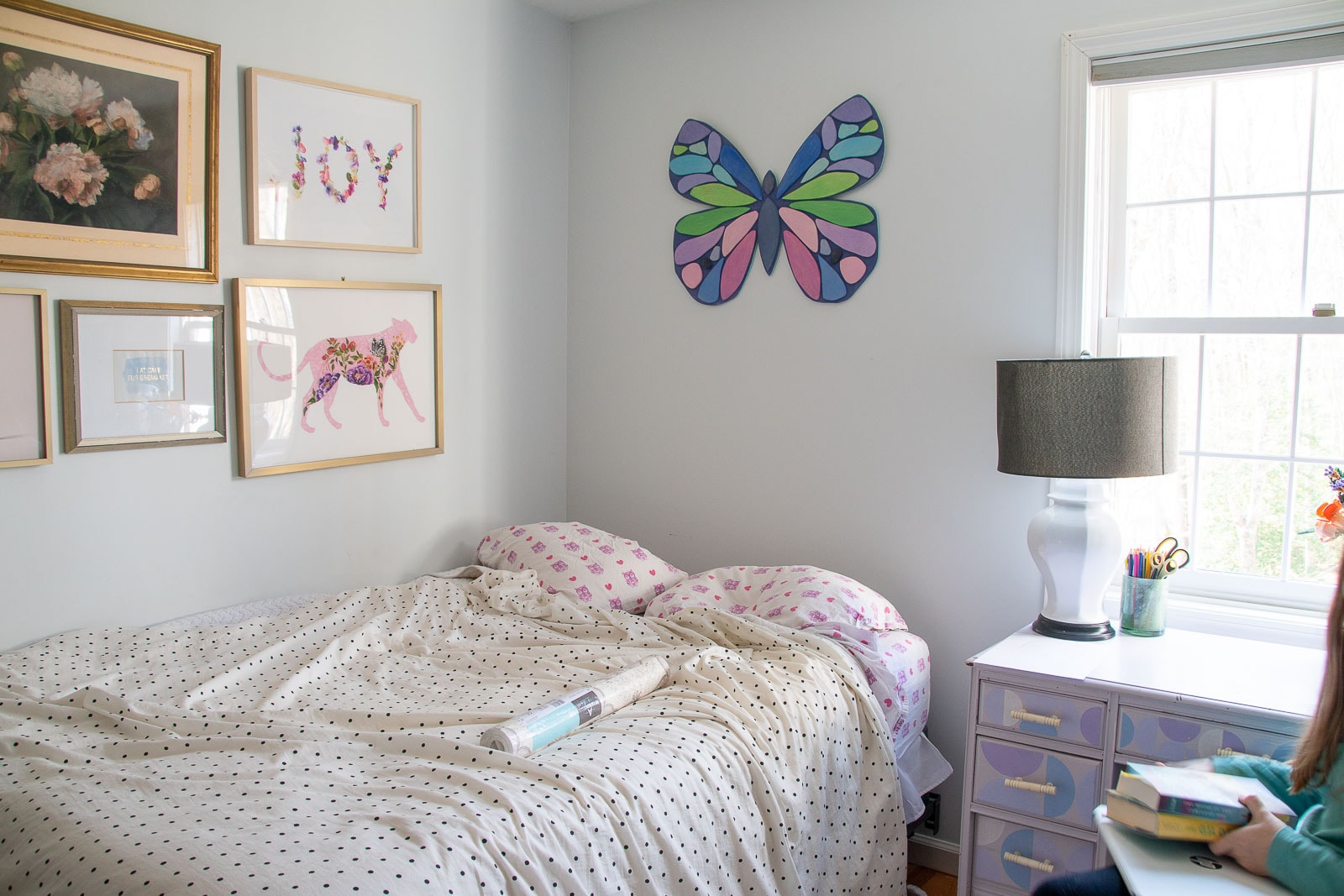 Step 2. Measure Out your Wallpaper
We found a floor area downstairs that was just large enough to unroll our wallpaper. We taped it in place, matched the pattern, and rolled out enough to cover the area we'd measured upstairs. I used green Frogtape to hold the paper in place, but should have used their yellow tape for delicate surfaces to be safe and prevent any tearing.
Step 3. Draw the Arch and Cut out the Paper
With the paper lined up, I tied a piece of twine to a thumbtack and had Eleanor hold it in place in the center of our "headboard". I tied a pencil to a length of twine the same length as our headboard radius. With Eleanor holding the thumbtack steady, that acted as the center point so I could stretch the twine taught and draw an arch. We untaped the paper, drew straight lines on either side and carefully cut it out.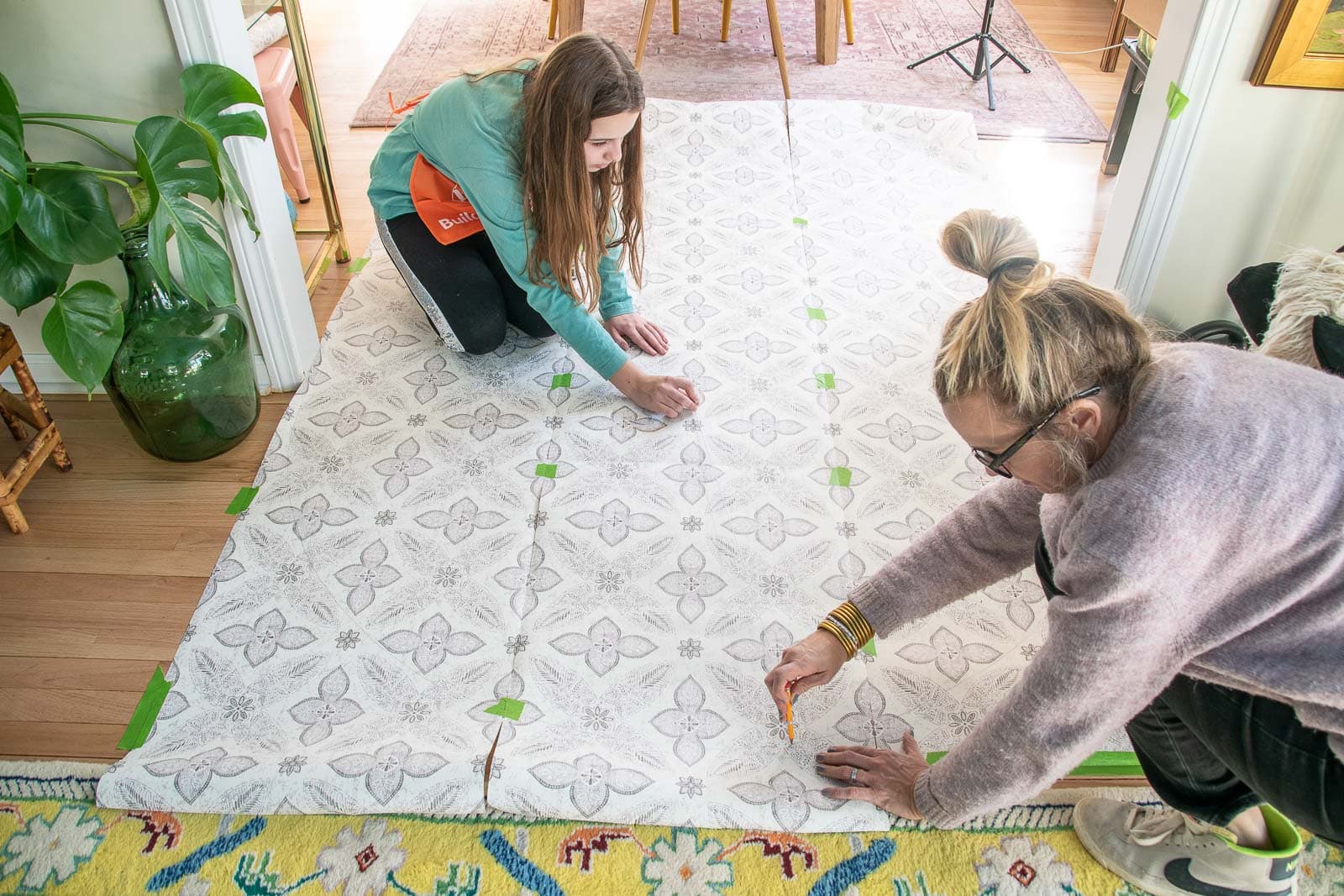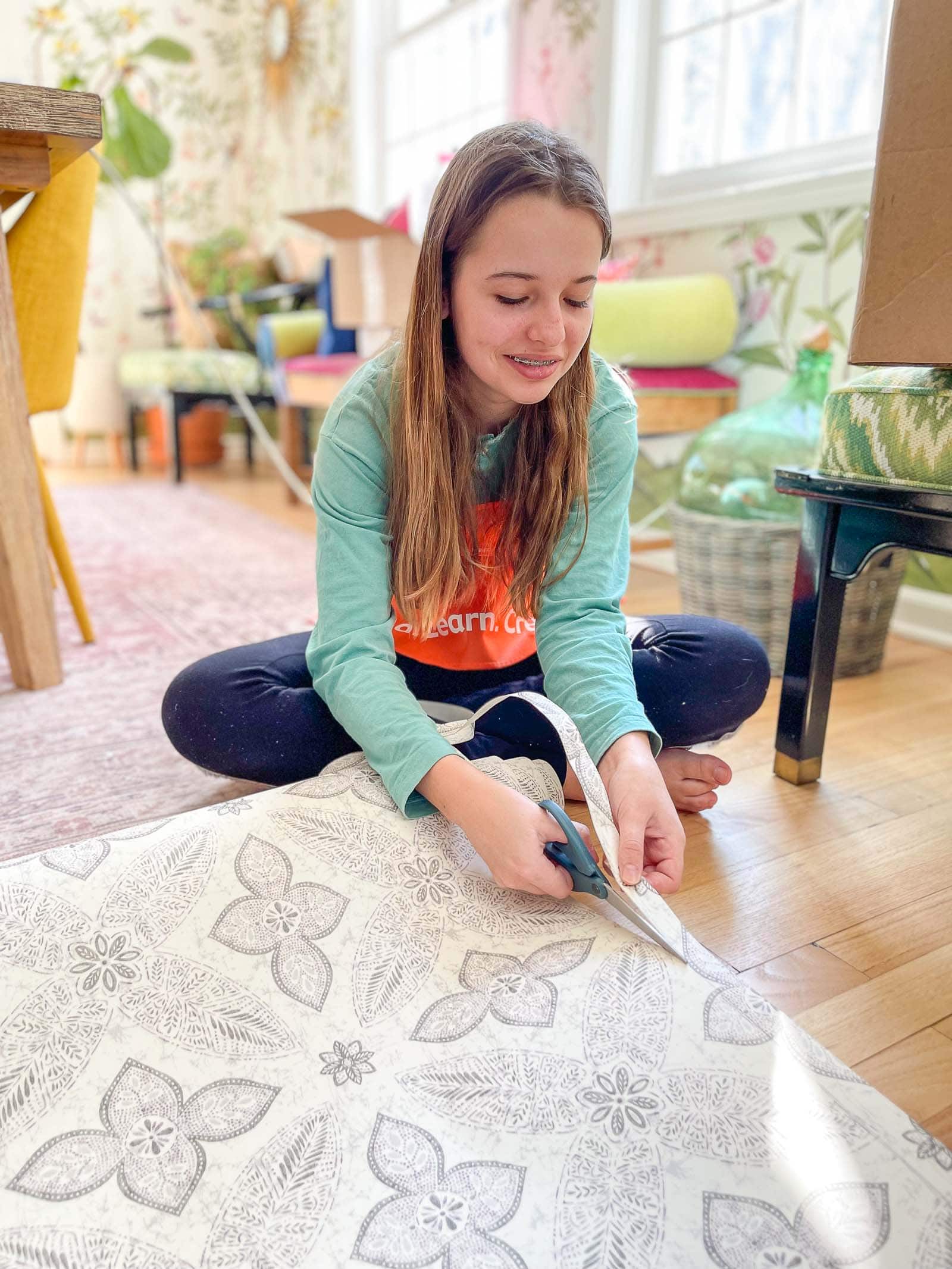 Step 4. Paste Wallpaper on the Wall
Upstairs in the bedroom, we measured and slightly marked where the headboard needed to go with a pencil so we would have guide lines. Eleanor was in charge of drawing the arch this time. We used a wallpaper paste that gets painted on the wall first and then carefully smoothed the first strip if our wallpaper headboard in place. It's always a good idea to use a level to draw your first vertical guide line.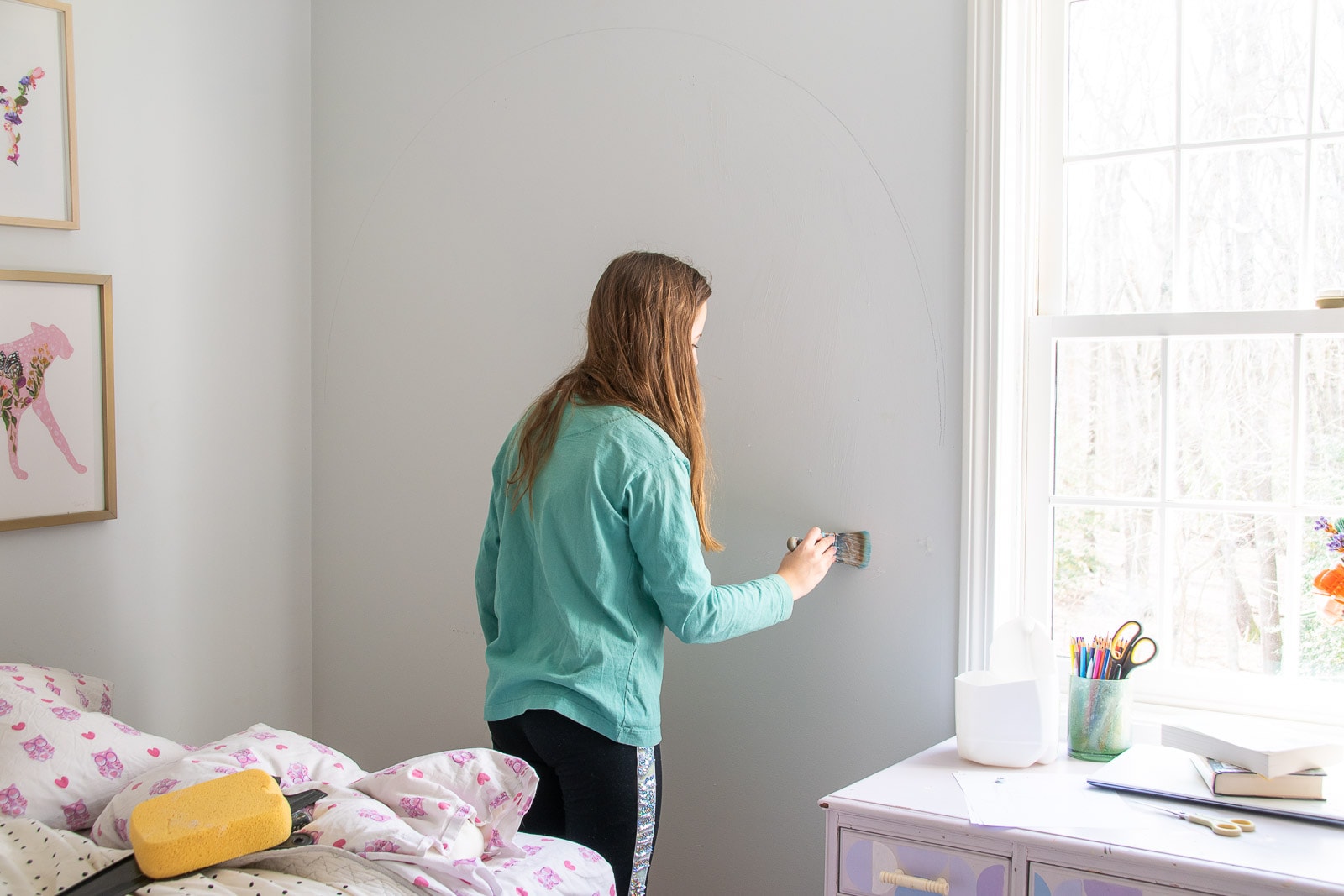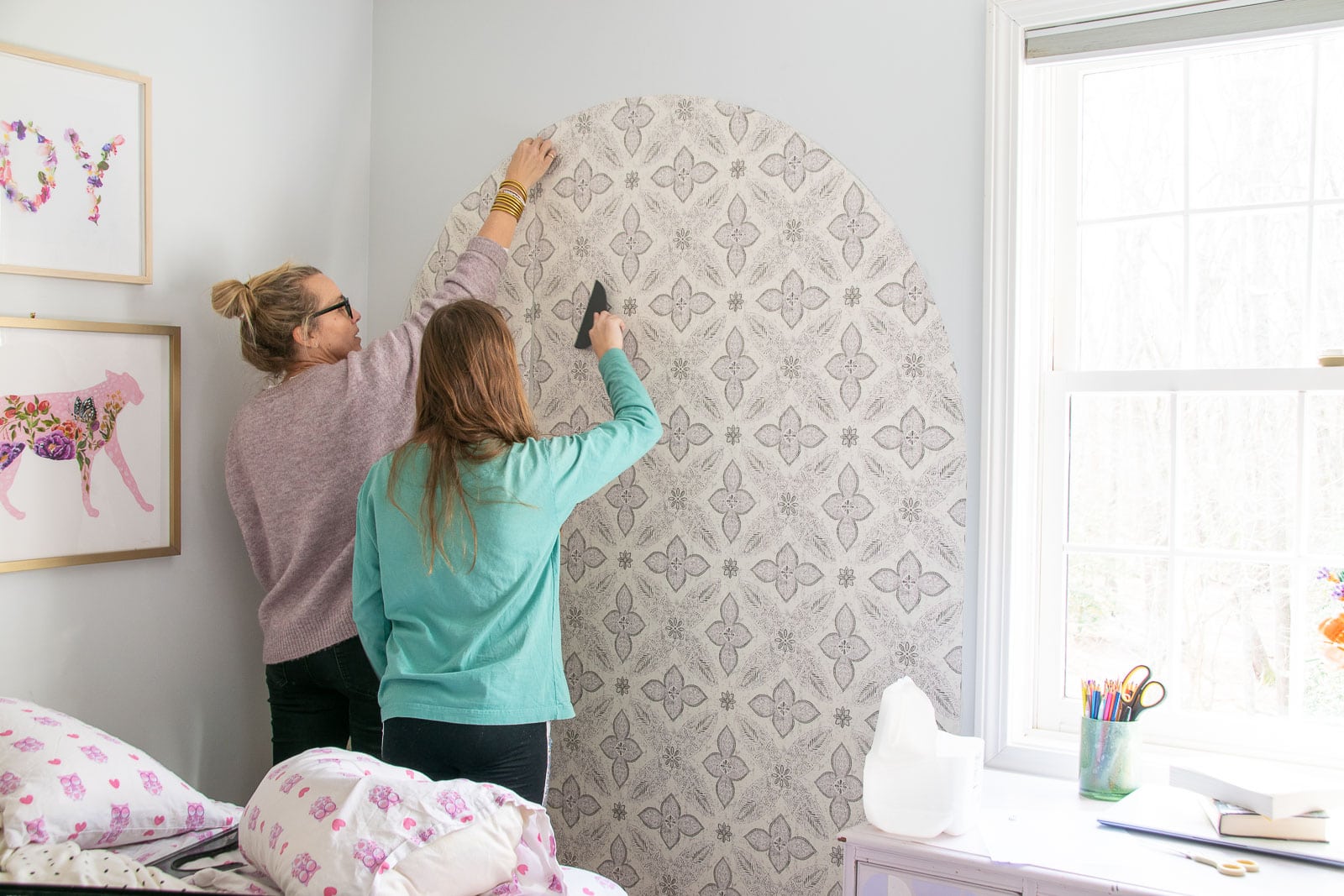 Our headboard was only three strips of wallpaper so Eleanor helped smooth rest in place and I showed her how to look for air-bubbles and pull them out towards the edges with our plastic scrapers.
To clean up any leftover pencil marks, I used a sponge along the edges of the headboard.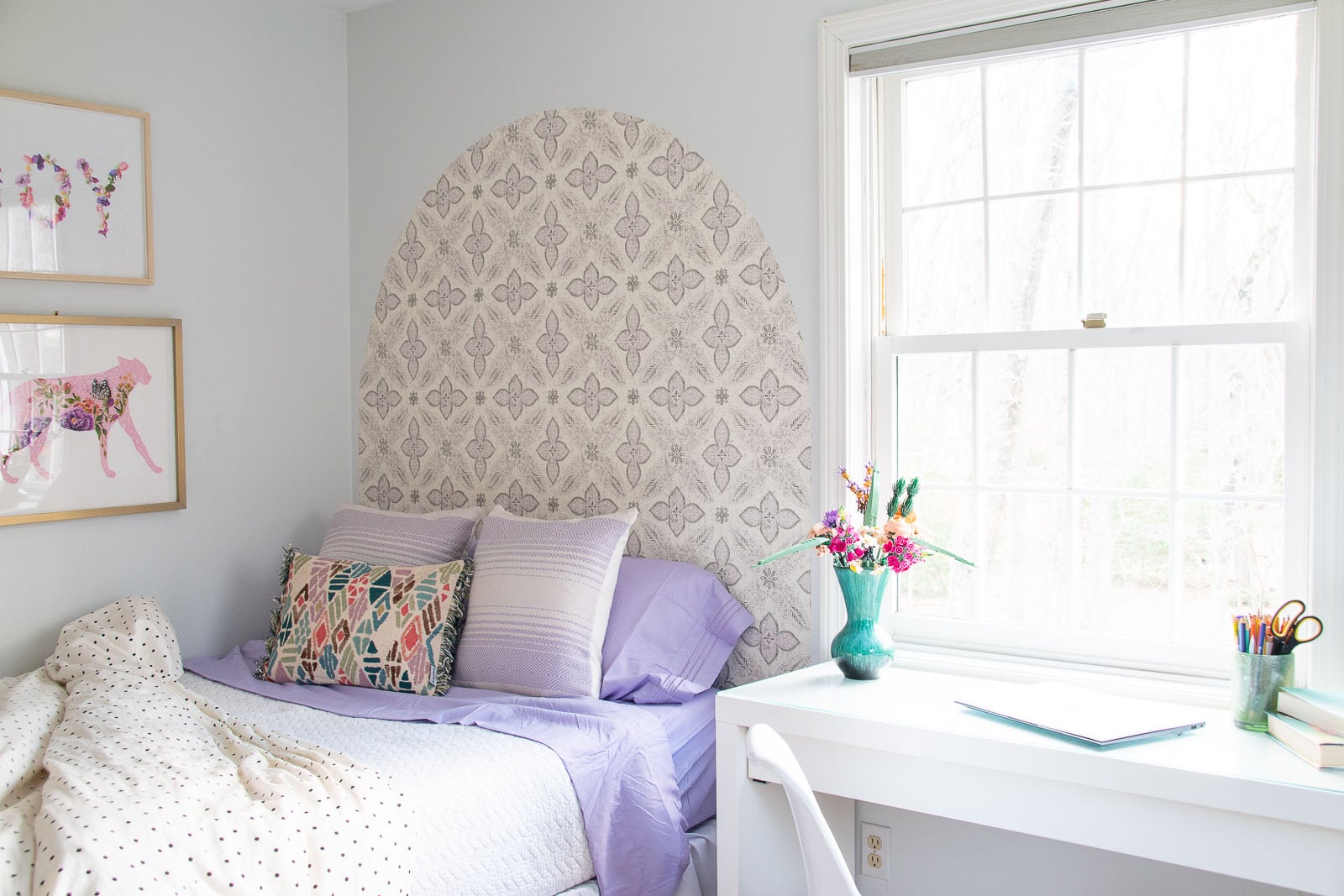 Step 5. Wallpaper on the Floating Shelves
For the other side of the room, Eleanor asked for some floating shelves and since they are a plain white, I suggested maybe bringing the wallpaper onto the front of these as well. Eleanor really liked the idea so we measured our paper, and centered it on the pasted shelves. We're only covering the front faces of the shelves to save paper but also to make it so we could still wipe down the top shelves if needed which would NOT be possible with wallpaper on there. We learned after installation, that we should *should* have lightly scuffed up the melamine shelves. The paste wasn't strong enough to hold the paper in place so we ultimately just used double stick tape which worked just as well.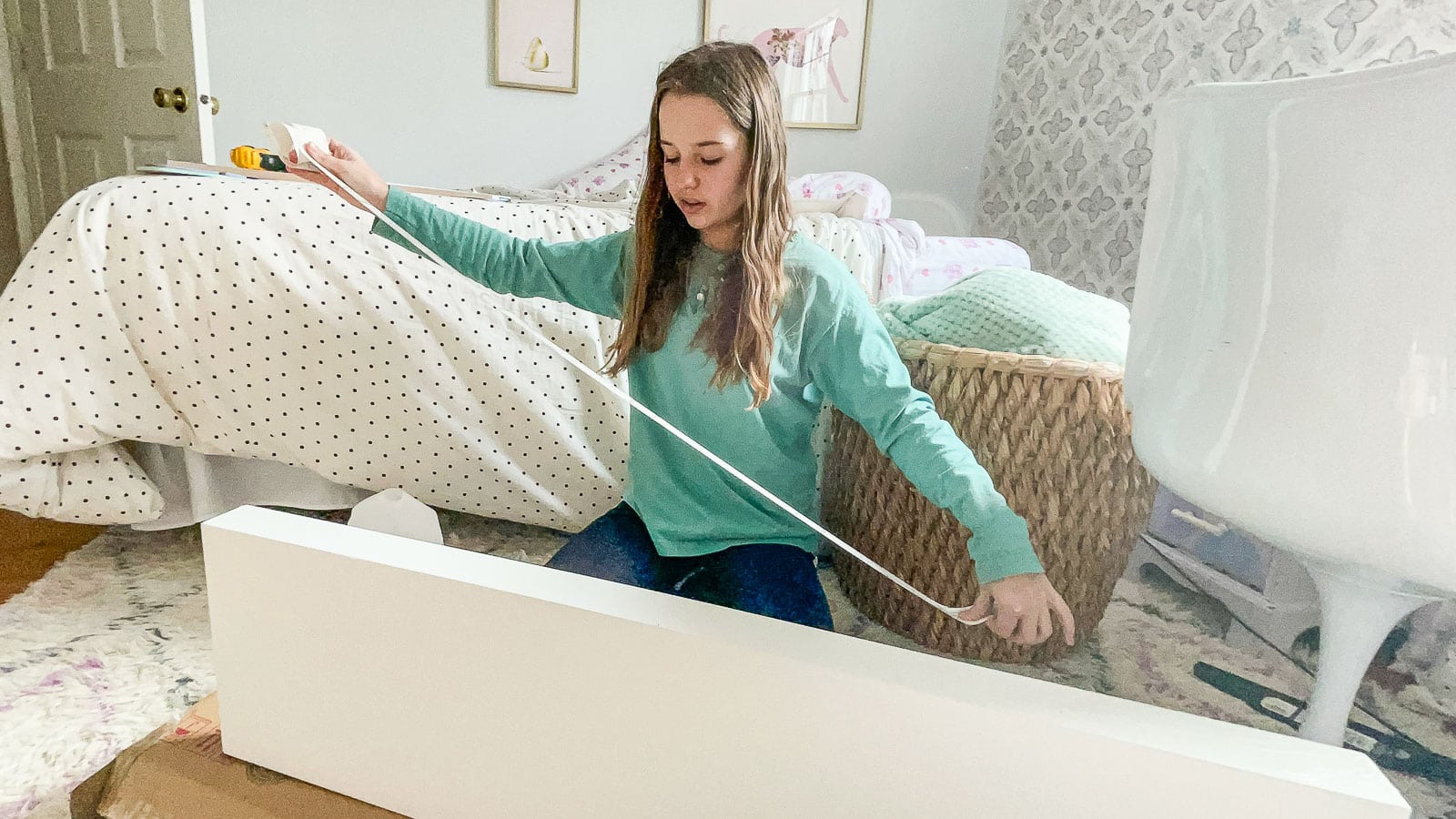 Step 6. Hang the Shelves
The shelves were pretty simple to hang. They have a weight limit of 15-20 pounds each and mount on plastic anchors. Eleanor knows not to load them down with lots of books and is excited to display some of her artwork and favorite things.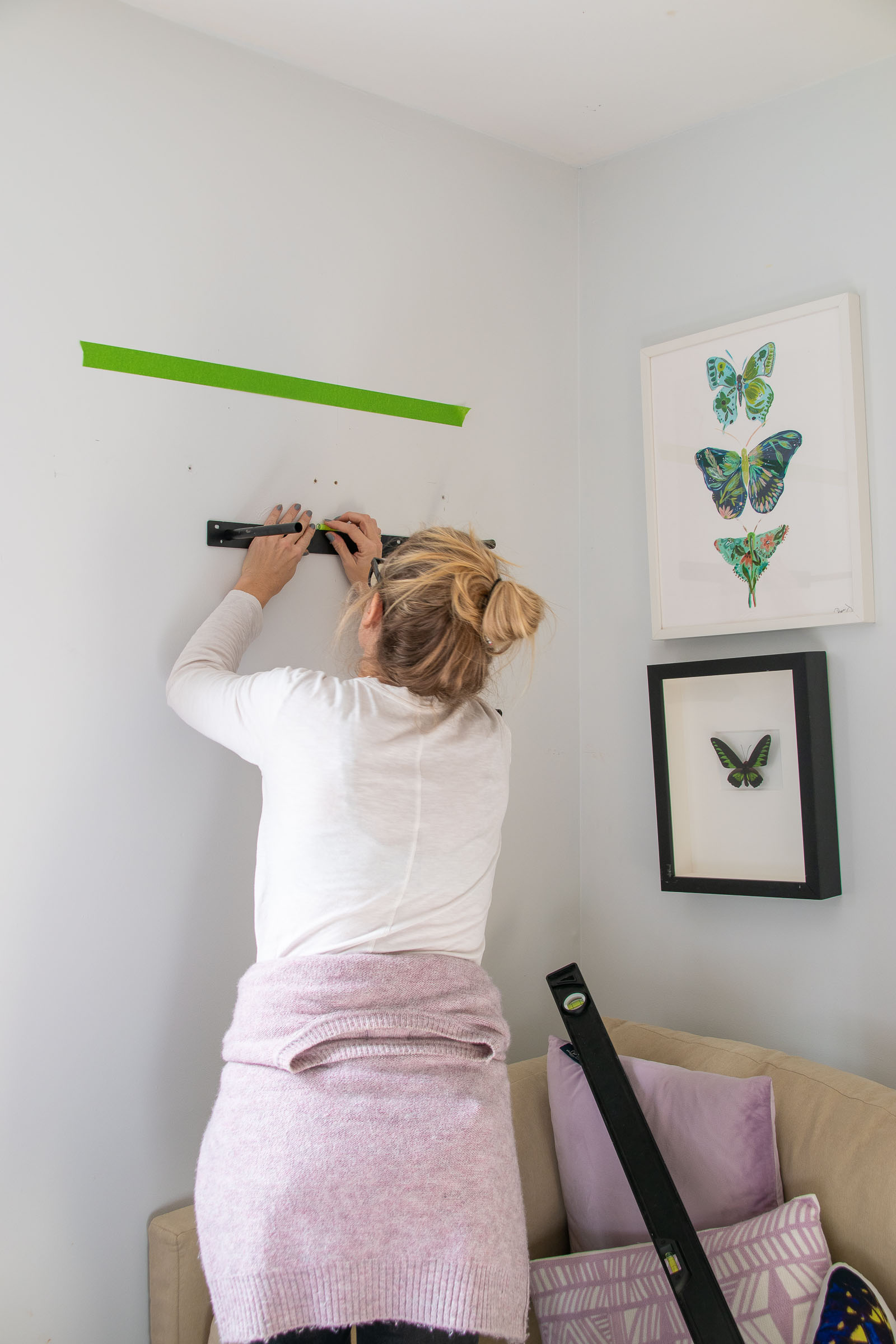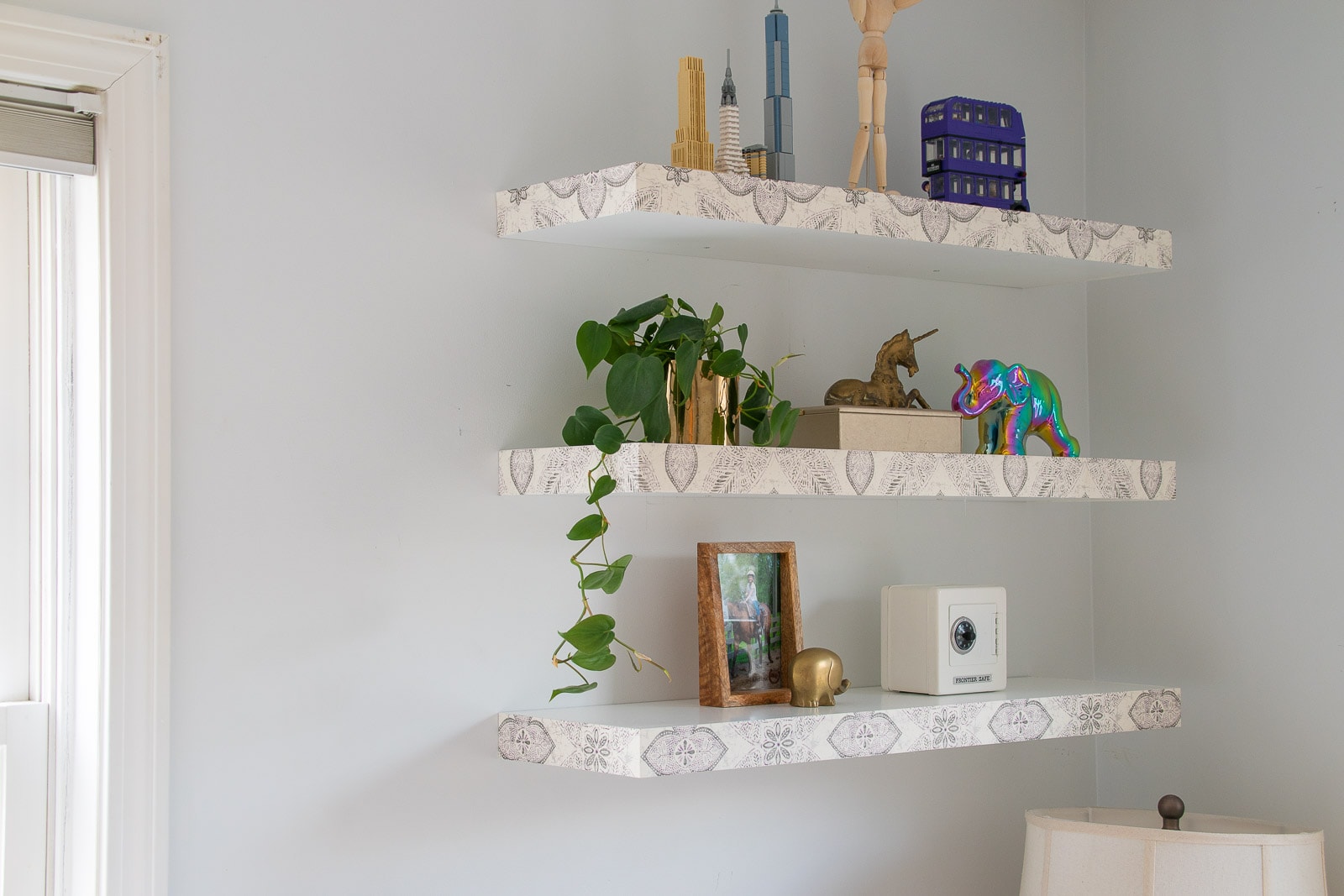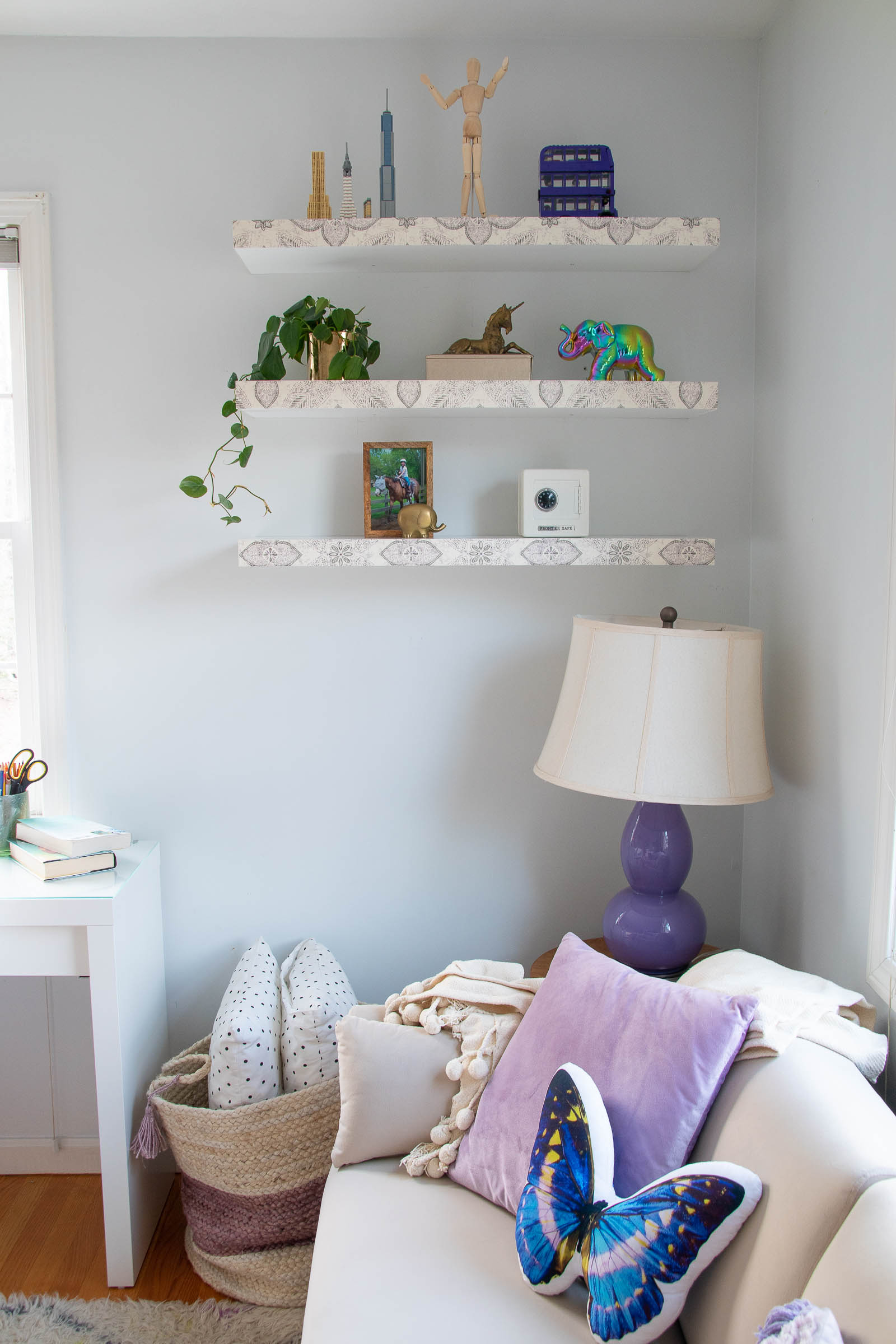 To make this makeover feel a bit more special, we also grabbed her a new loveseat and a few new lavender pillows. Of all my children, she spends the most time reading or drawing up in her room so I love being able to give her something special that she loves.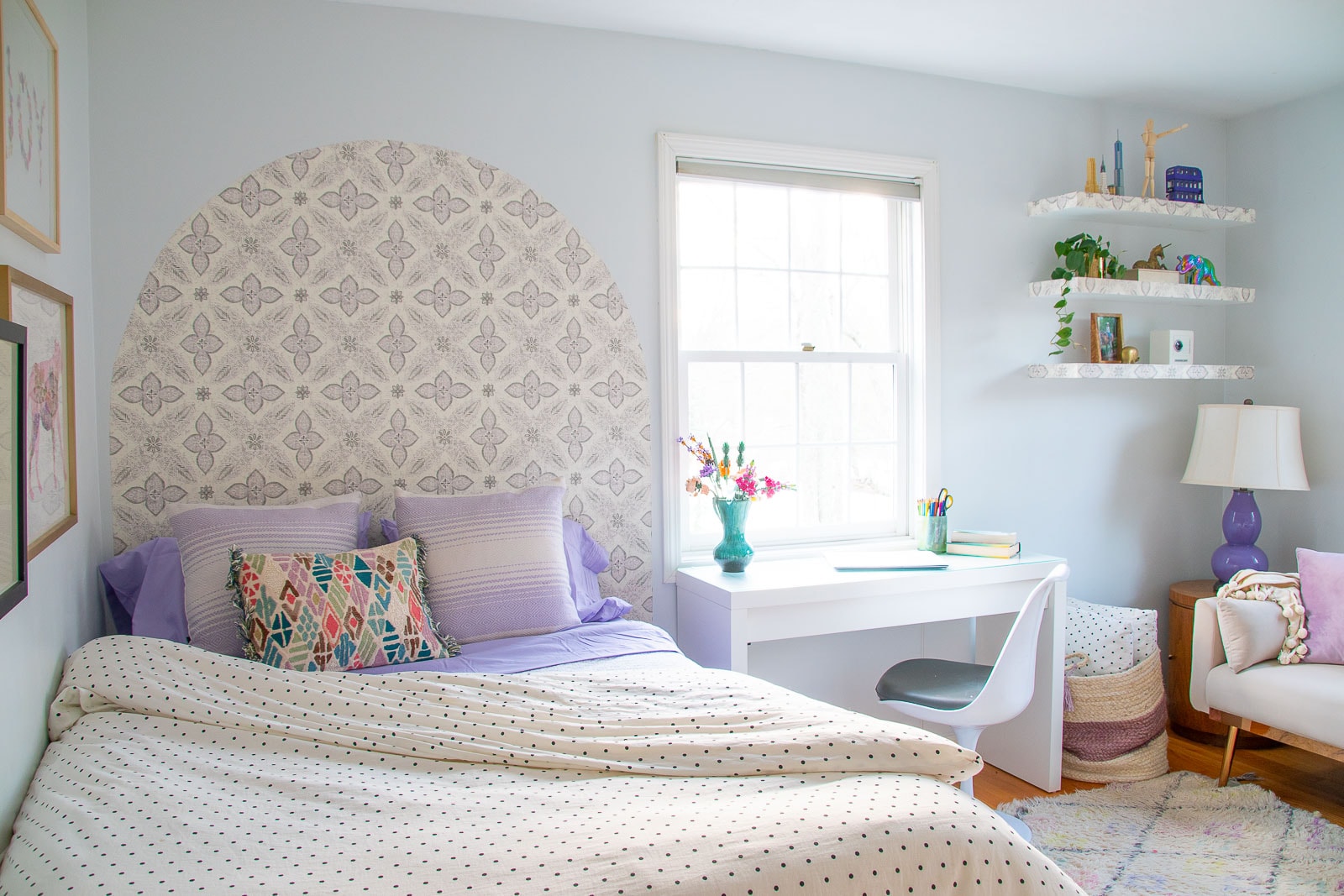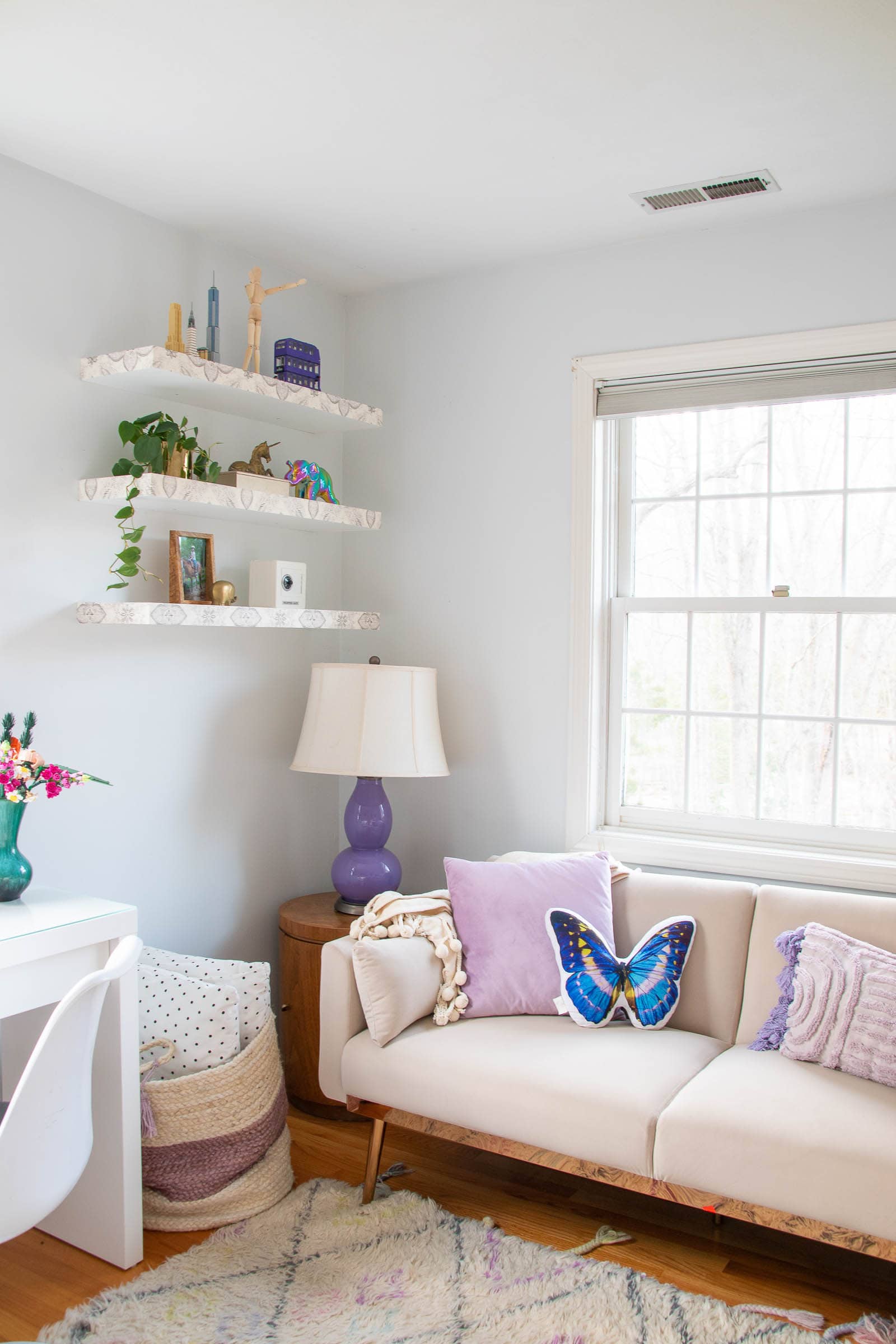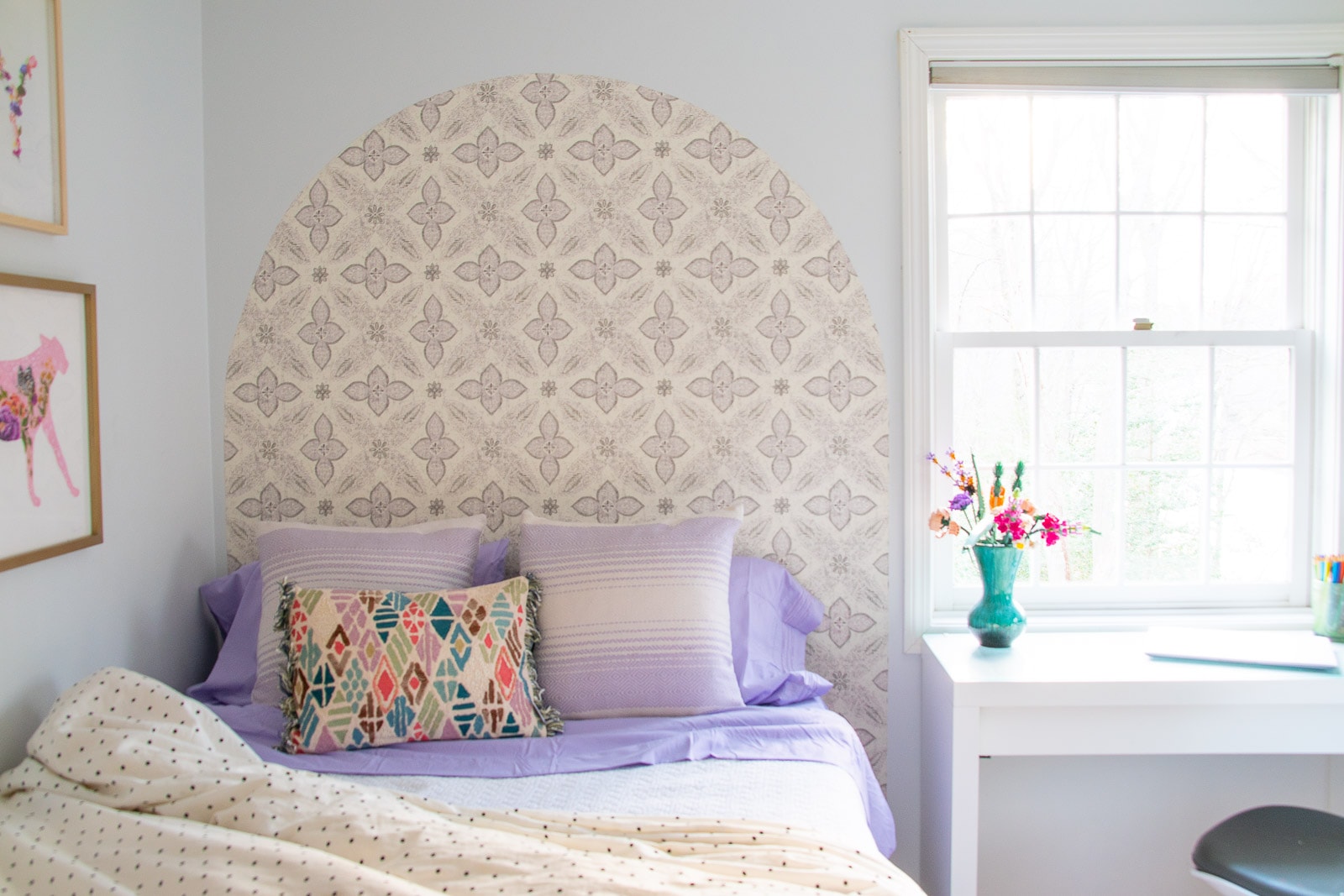 Head over to Home Depot for more kids workshop ideas and a video tutorial!