Adding Color and Pattern to Our Family Room
Psssst… this post *might* contain affiliate links: see my disclosure here.
Bringing Color and Flare into Our Dark Little Family Room
Our family room gets a lot of action, but it needed a bit of a colorful makeover!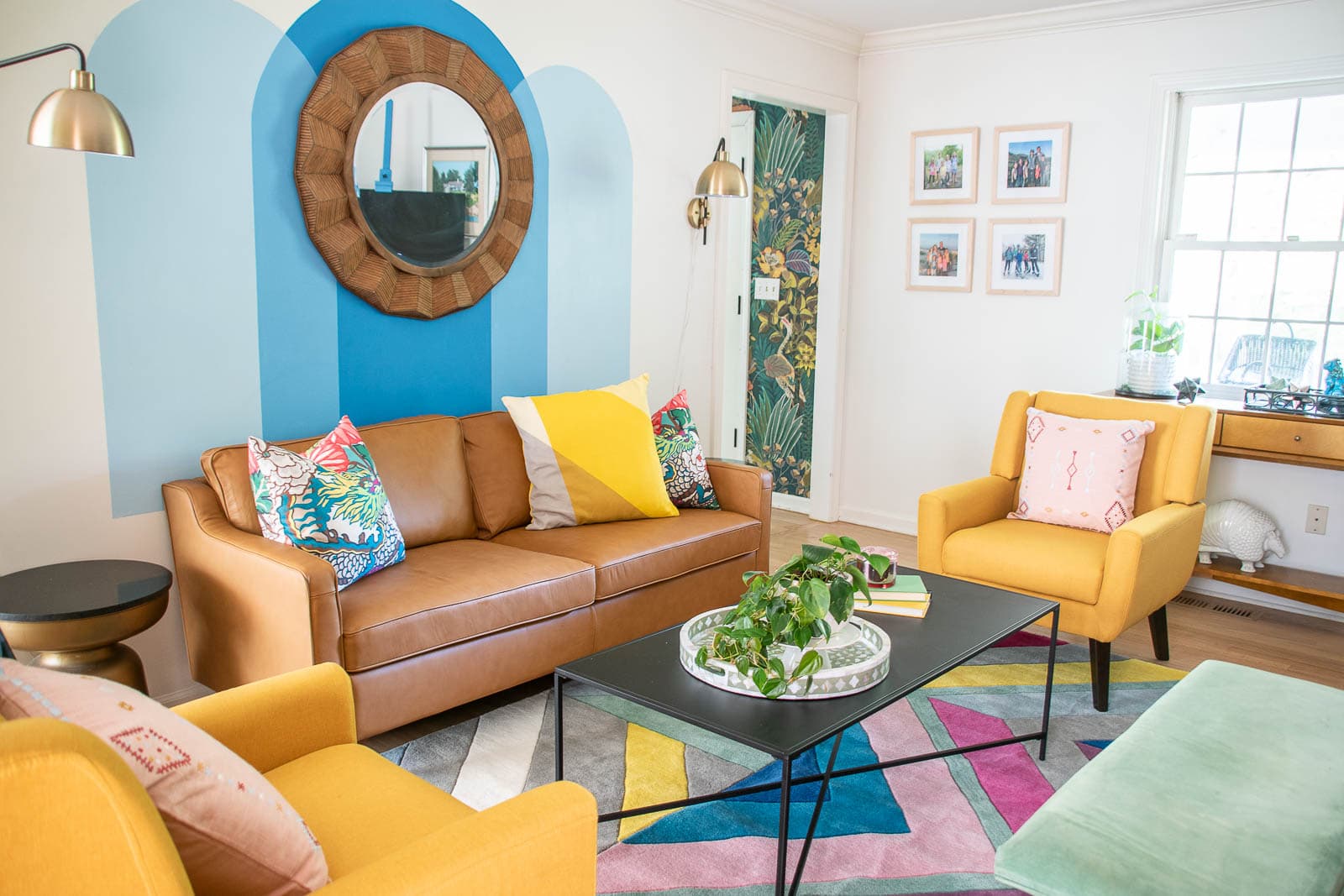 Disclosure: This post is sponsored by Home Depot Decor! All bold colors and design choices are my own!
Story Time: When I first saw our family room, I almost walked away from considering this house at all. Dramatic? A bit… but I also saw the awkward corner cabinet, the dated tile, and knew it was a tiiiight squeeze for our busy family of 7. But then I got a grip and started problem solving. The first thing I ever did in this house was remove the corner TV cabinet. That helped a lot. Then I painted the dated tile black which also helped. Painting the beige to white brightened up the dark space a tad and slowly the room started to a feel a bit more like 'me'. I still have dreams of mustering up the courage to add built-ins on either side of the fireplace, but for now… this final room makeover made a HUGE difference in making this space a bright and cheerful spot of family movie nights.
You can see how I made that TV Easel HERE, painted the mural HERE, and painted the fireplace HERE.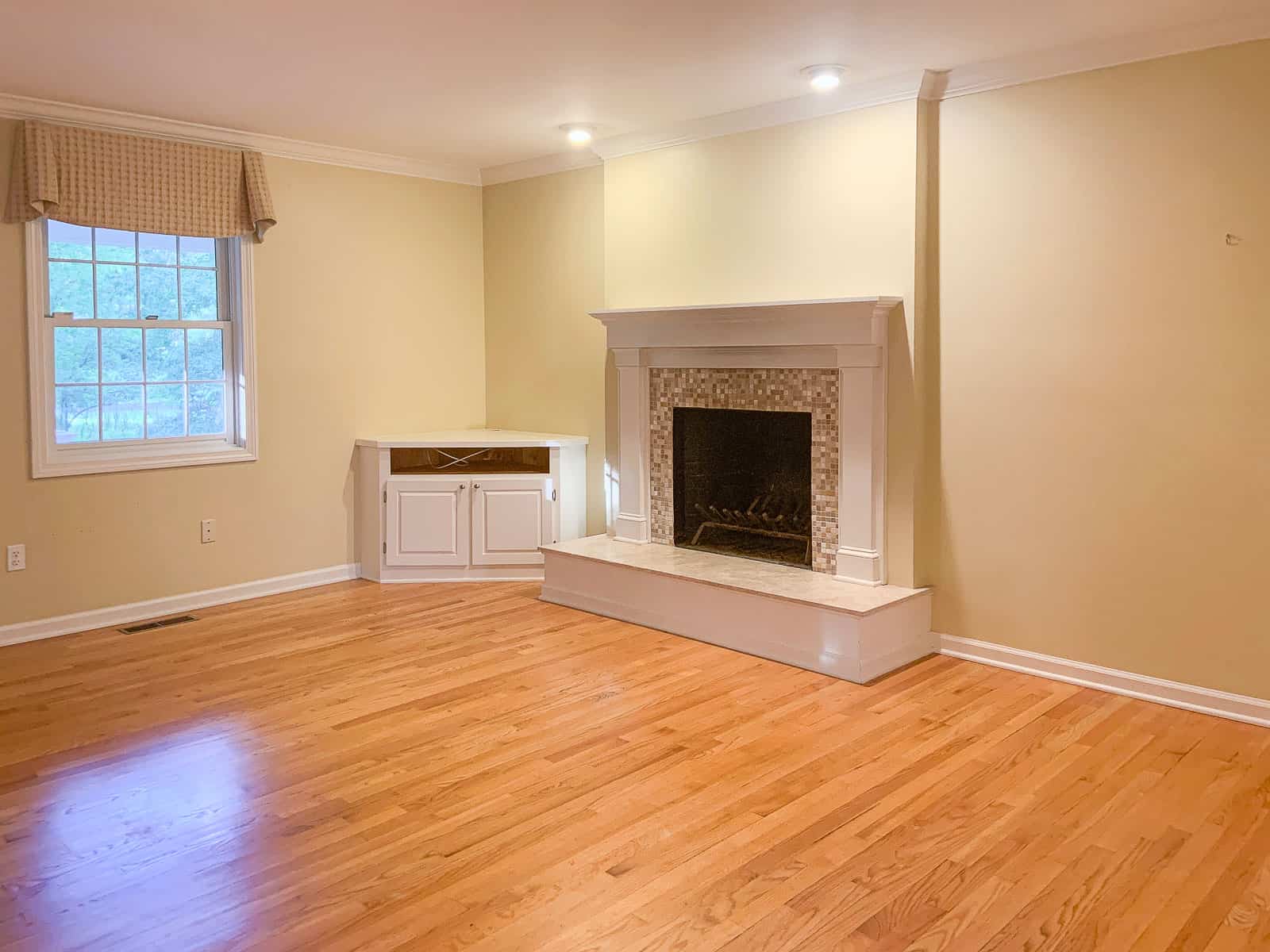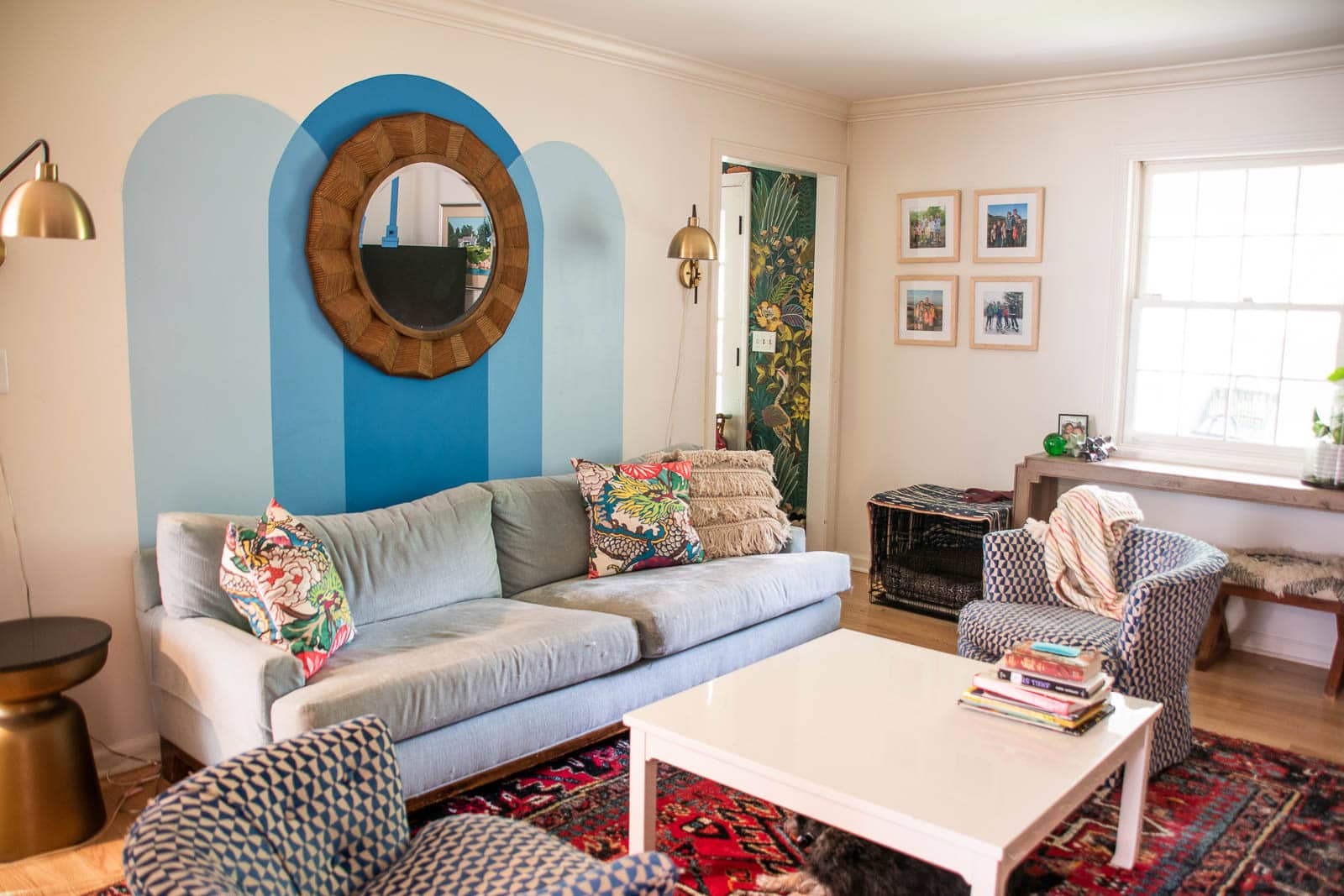 Design Board for Colorful Family Room Makeover
Whenever I work with Home Depot, I spend some time perusing their website and taking screen grabs/ copying links for any items that might work in whatever space I'm working on. For this project, I gave Home Depot a few different vision boards to choose from and they chose the one with the yellow arm chairs!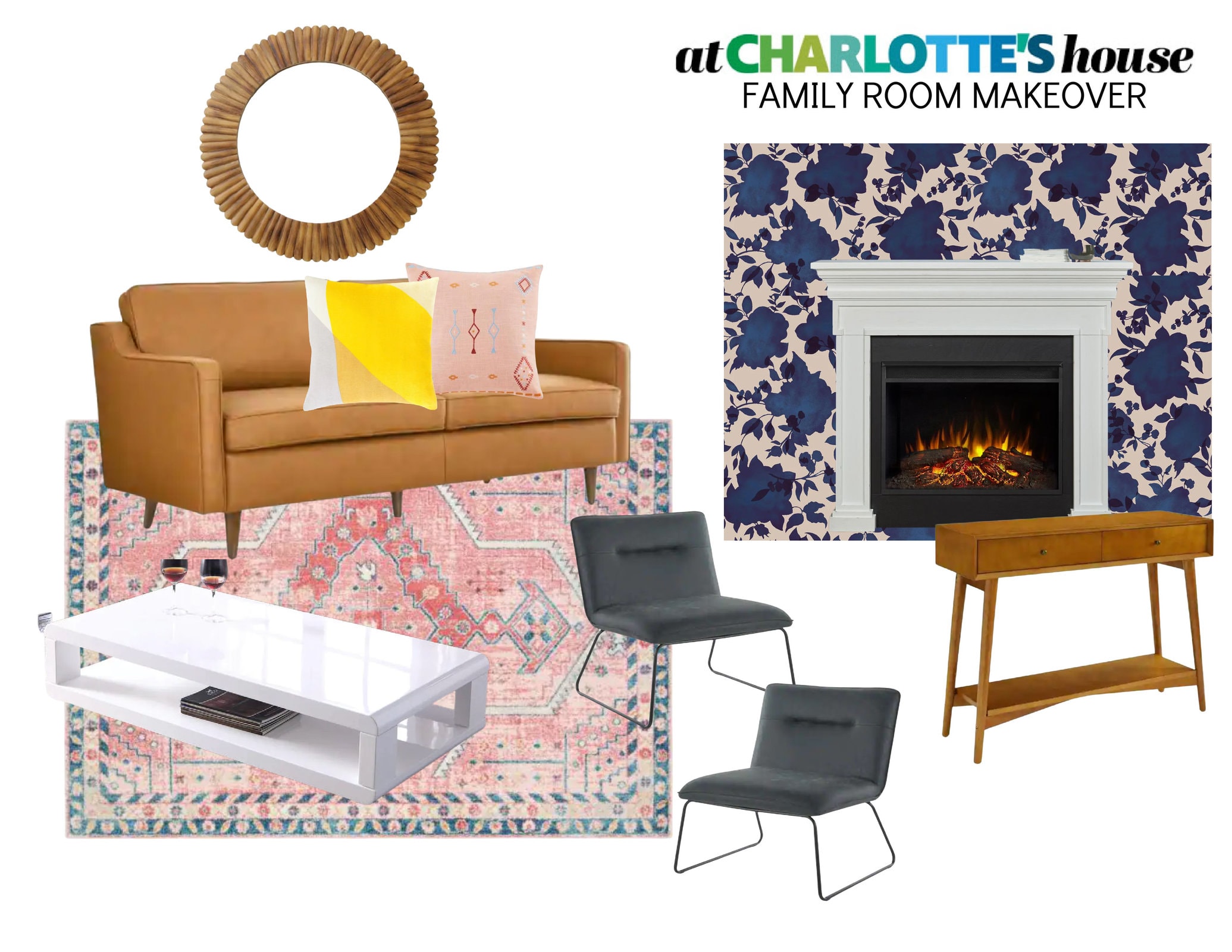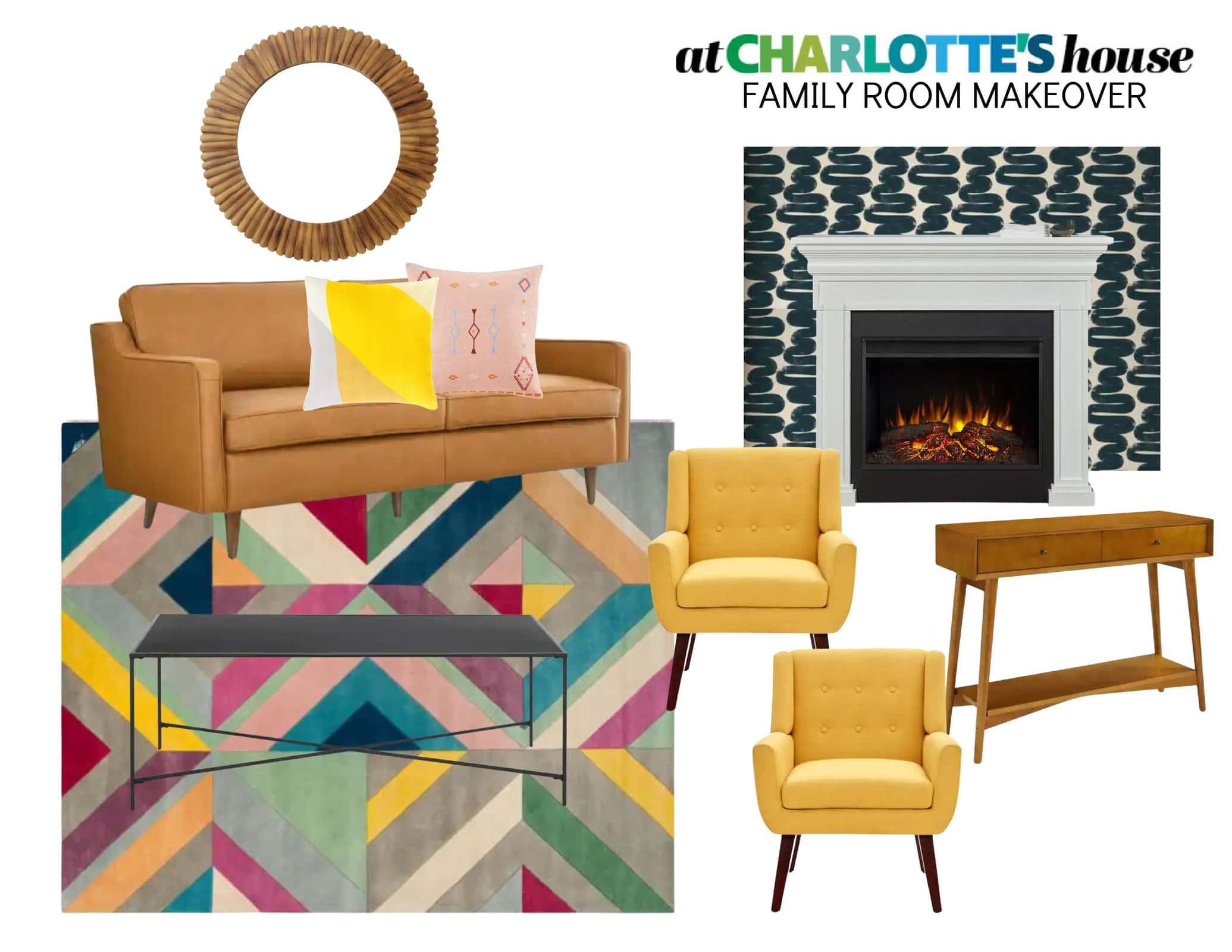 Wallpaper
Last year I added removable wallpaper to the small fireplace surround and it helped bring in a bit of pattern and definition to that architectural detail… but it was time for a change. I chose the first wallpaper to match the rug, but now that a new rug is entering the space. This removable Bobbie Berk Squiggle paper for Tempaper is adhesive and took maybe an hour to install. The previous paper was a removable pasted paper so all I did to prep the wall was wipe it down to remove any leftover glue.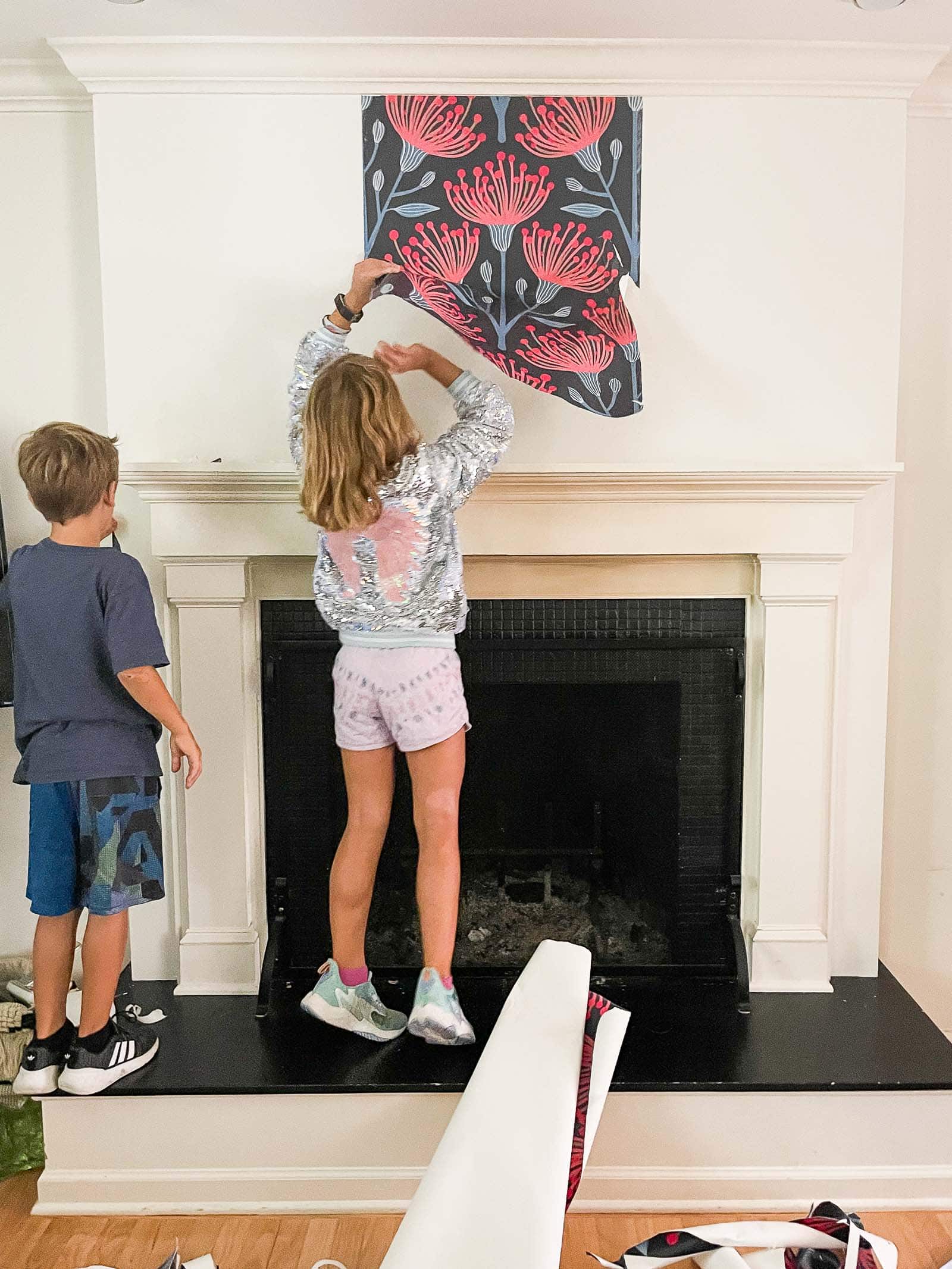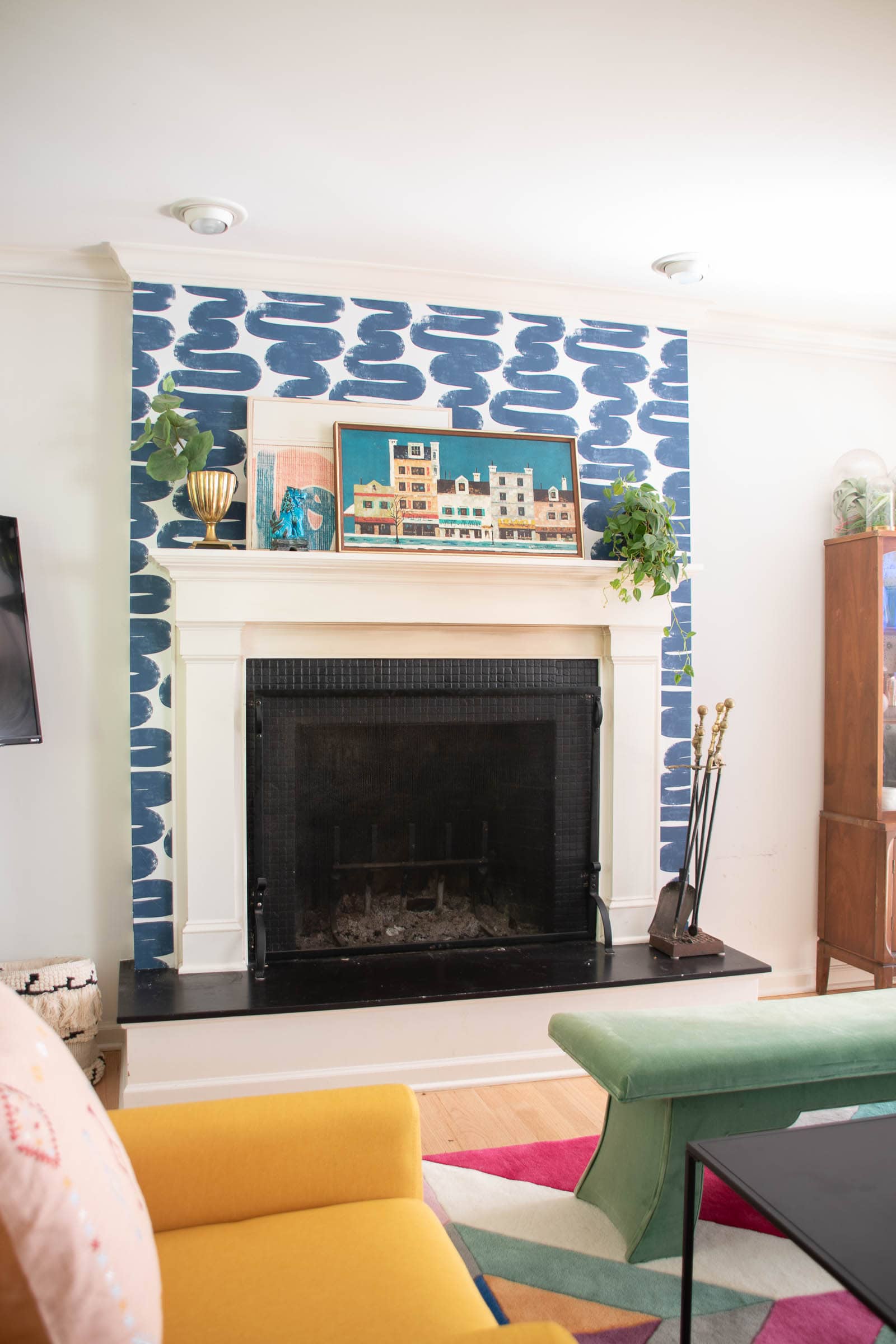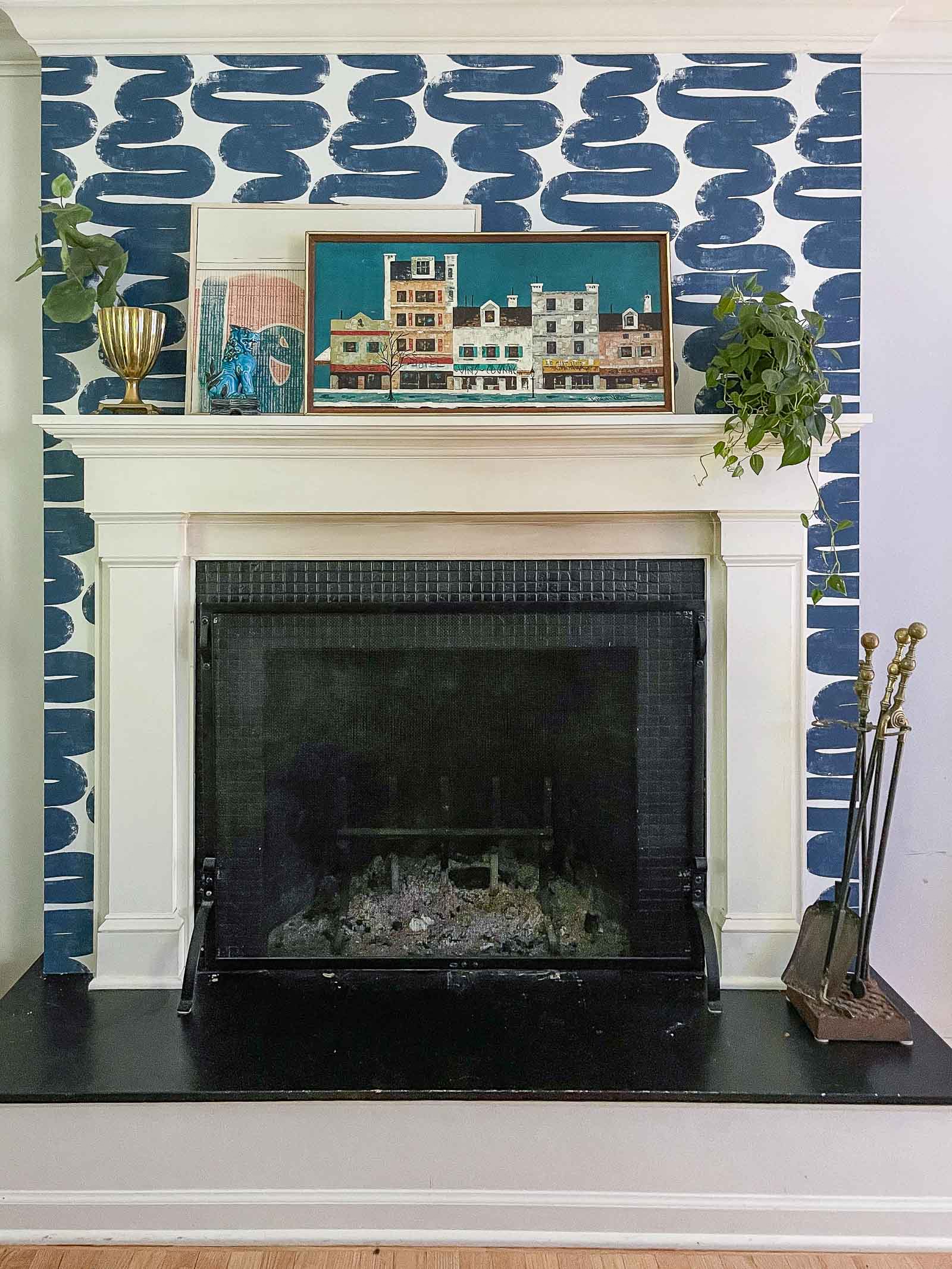 New Furniture and Rug
I LOVED this graphic rug from Safavieh and ended up basing the color palette of the space around it. I didn't want to replace every last thing in the space so I tried to replace furniture that would work with things like our TV easel or that wallpapered vintage hutch. I loved our existing blue couch but it was getting a little old and tired. This new faux camel leather option is a sleek modern addition and allows a little more room on either side for our existing side tables.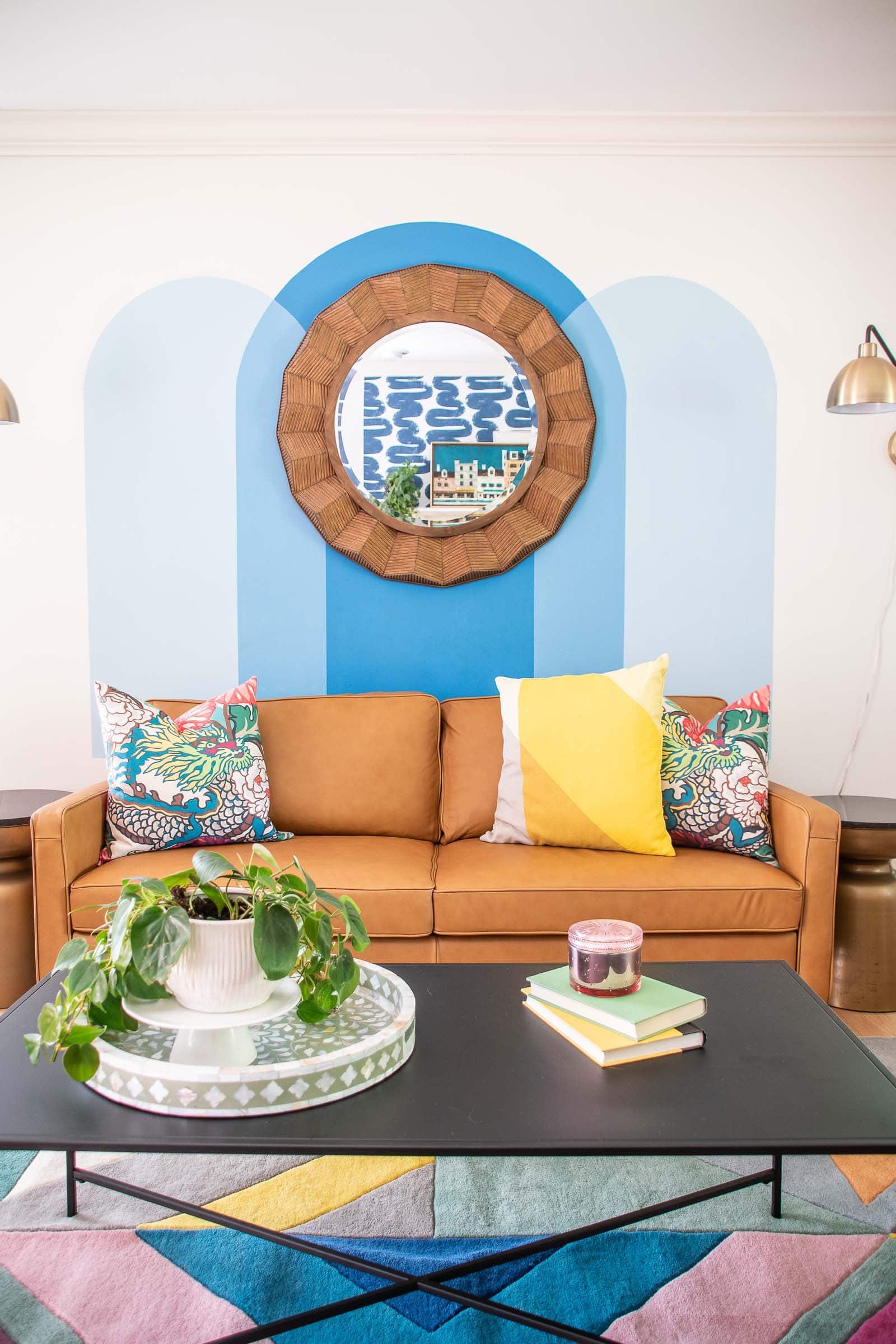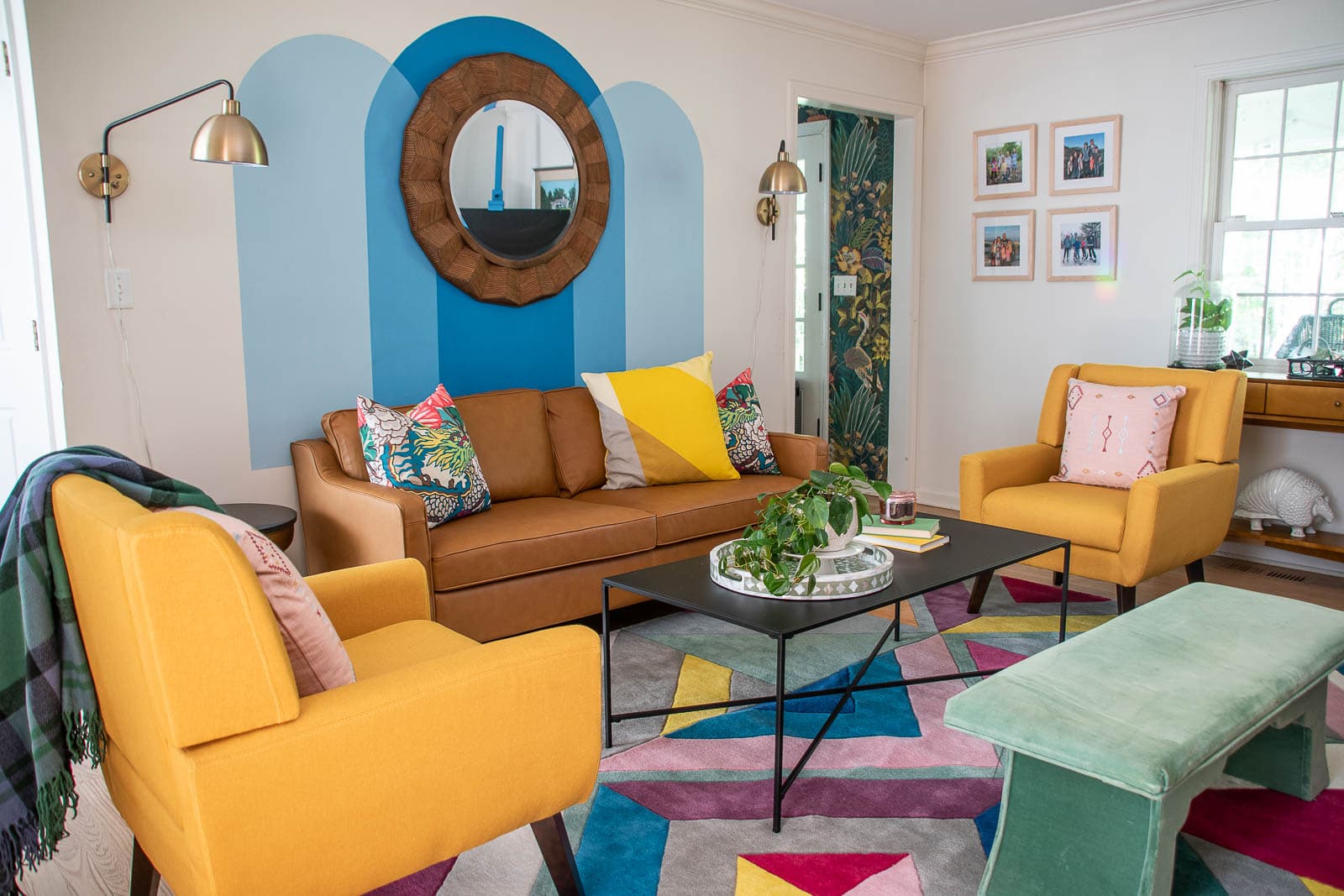 Our white coffee table worked perfectly in the rental house but was a little deep for this smaller room. Bringing in a more diminutive black metal table helped open up the space and meant it was easy to bring in that thrifted green bench for something to sit on by the fire.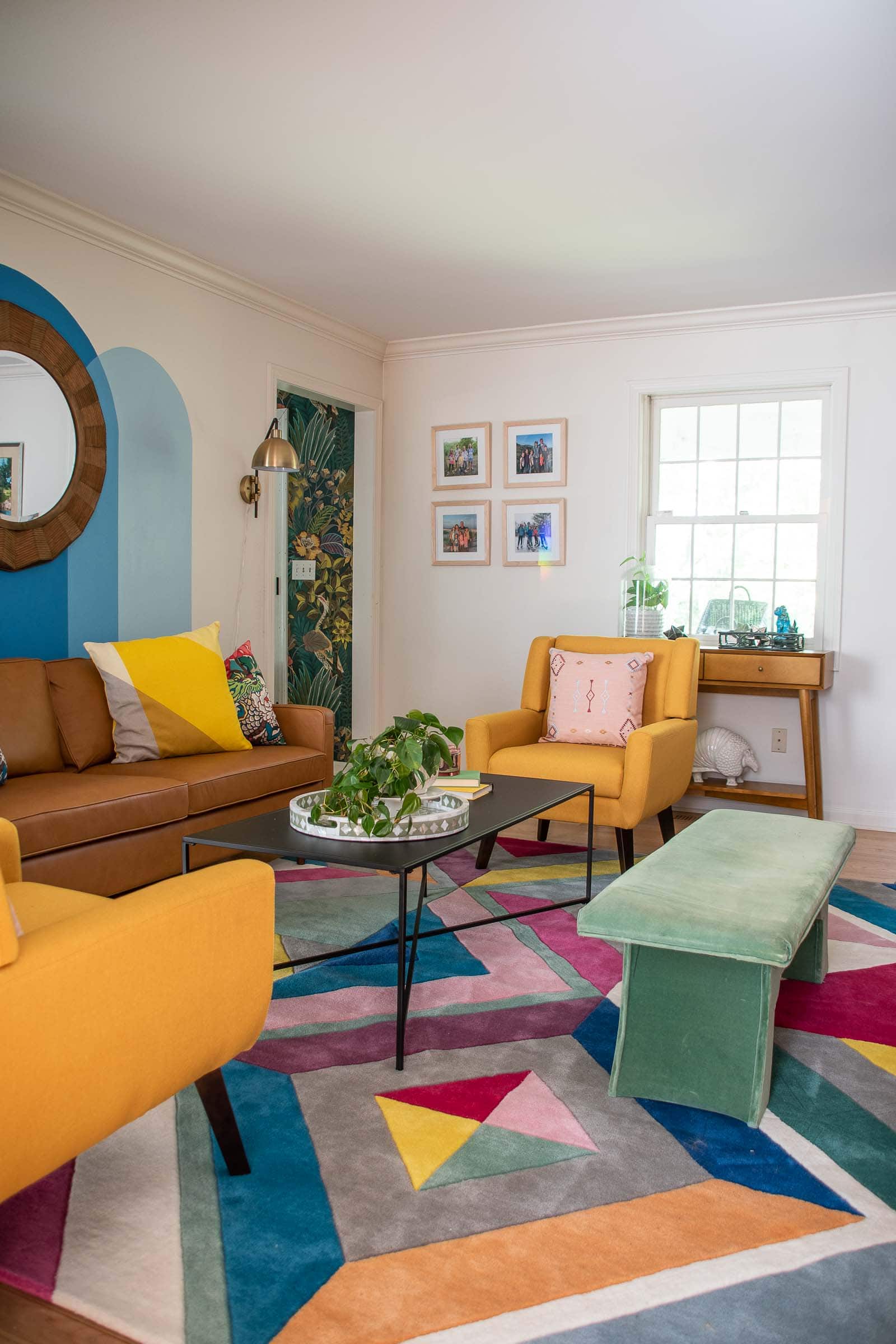 The only member of the family who is upset about the new yellow arm chairs is… Frank. As you can see in the before picture, his favorite spot to curl up is the blue patterned swivel chair. The yellow chairs *may* migrate down to our playroom eventually but for now I LOVE how they brighten the family room and have no plans to move them!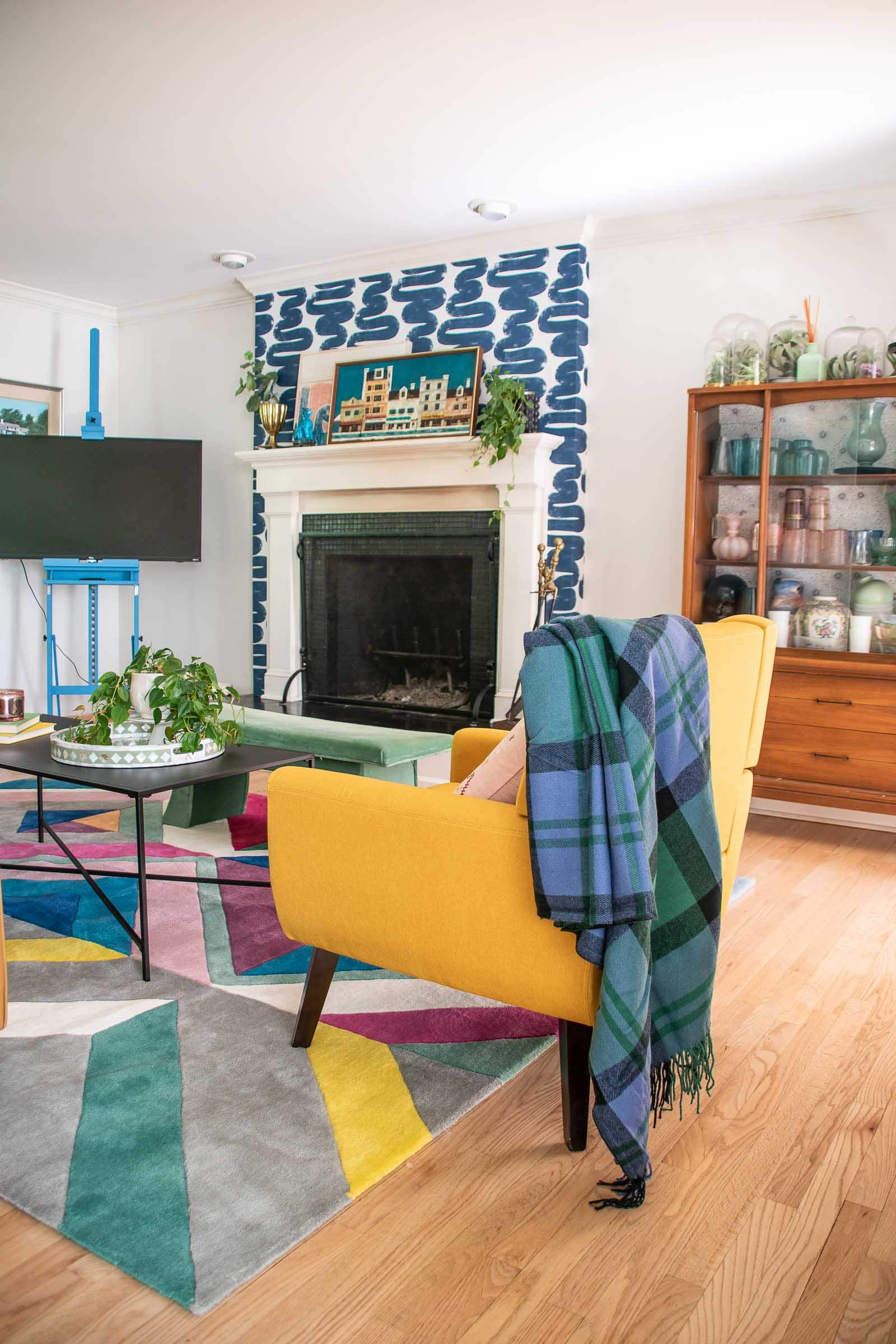 The last piece of furniture I replaced in here was the table under the window. I wanted something that provided a bit more storage and wasn't quite as large. This wooden console table works perfectly and doesn't take up nearly as much room as the previous sofa table did.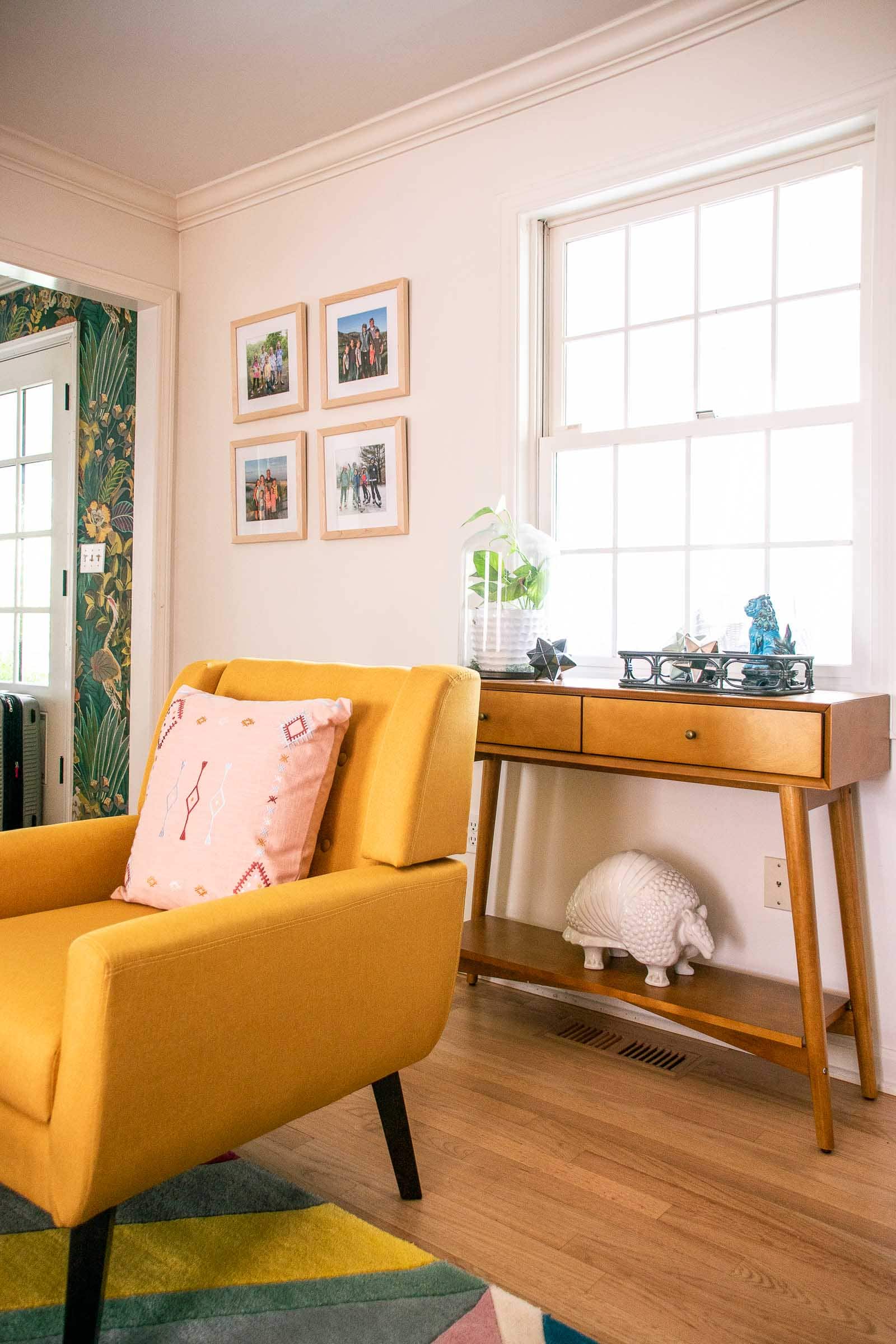 With all the furniture in place, the last details to layer in were some accessories! On a normal day, this room is littered with socks, books, pencils and cups of water. I didn't want to bring in too many competing items, but I didn't grab some throw pillows which I love! I already had the ming dragon ones, and was delighted that these additional ones from Home Depot matched so perfectly. You can find the pink ones here, and that graphic yellow one here.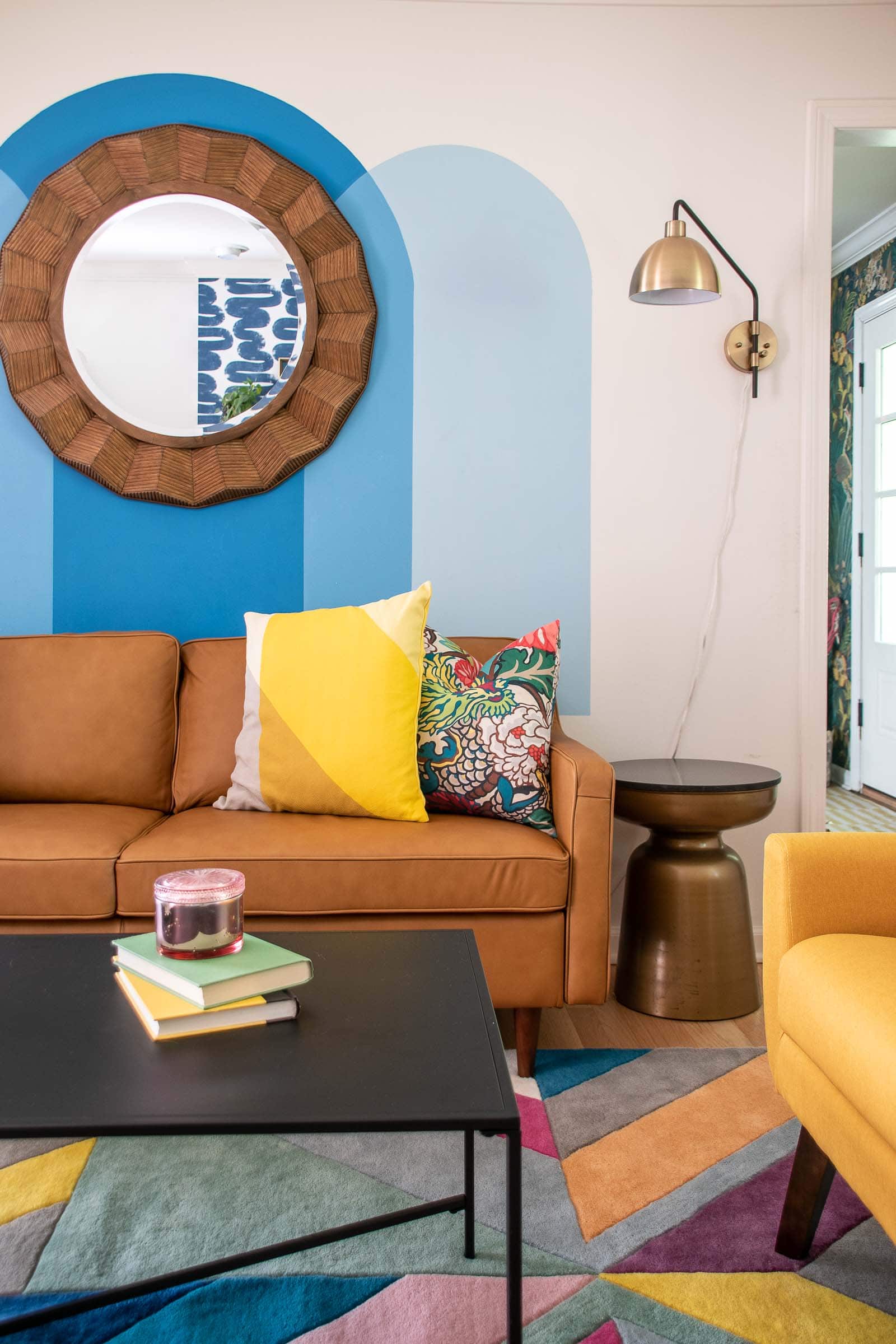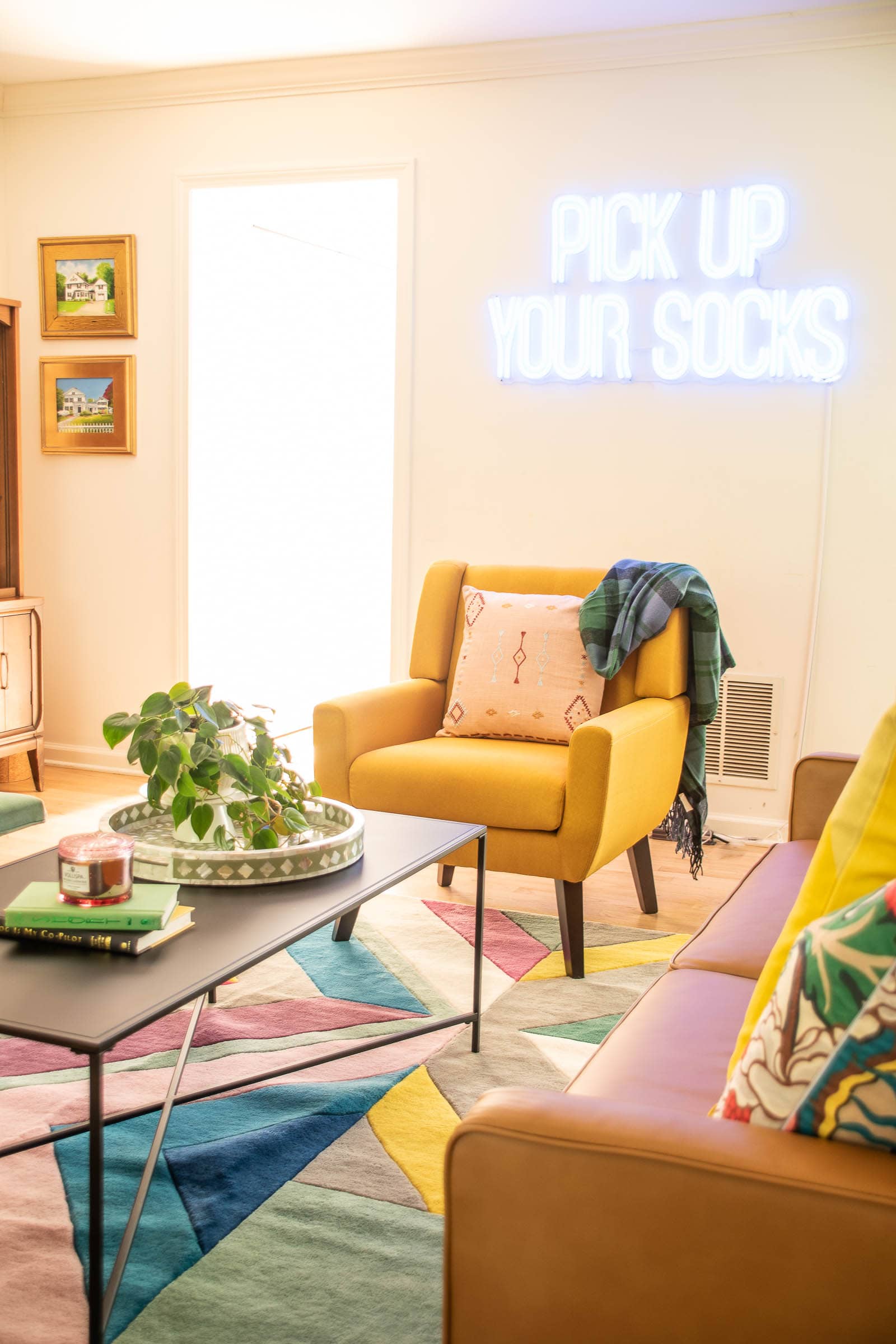 A couple of trays help to corral items on both the coffee table and the console table. The round inlay one is spectacular in person; check it out here. And over on the console table is a simple black metal one with that caned detail.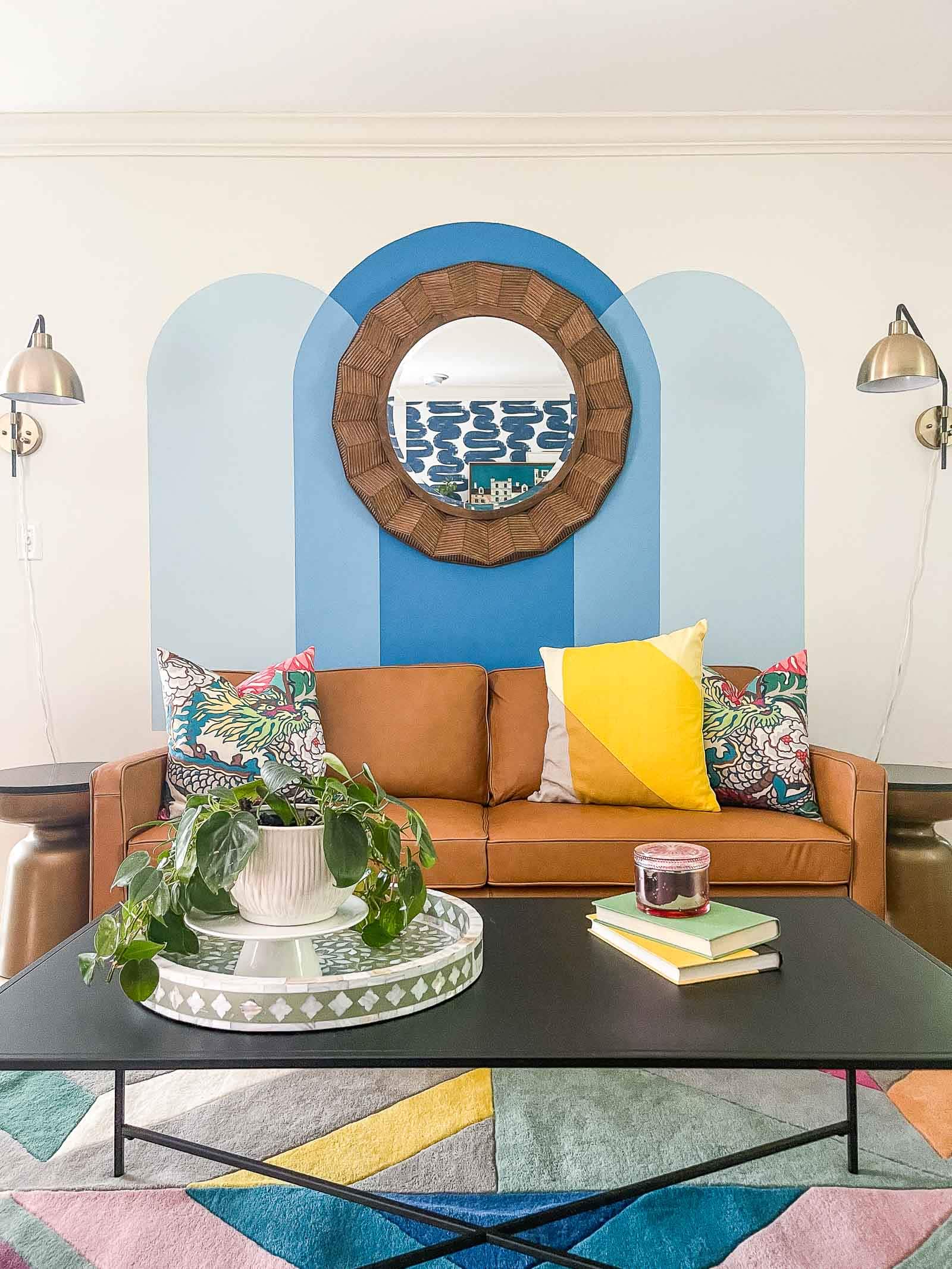 No space would be complete without a cozy throw blanket. I LOVE the colors in this one and you can never go wrong with a classic plaid in my opinion. And of course, once everyone saw the new space, the throw blanket was their favorite thing about it all. Insert an eye roll here because… #kids.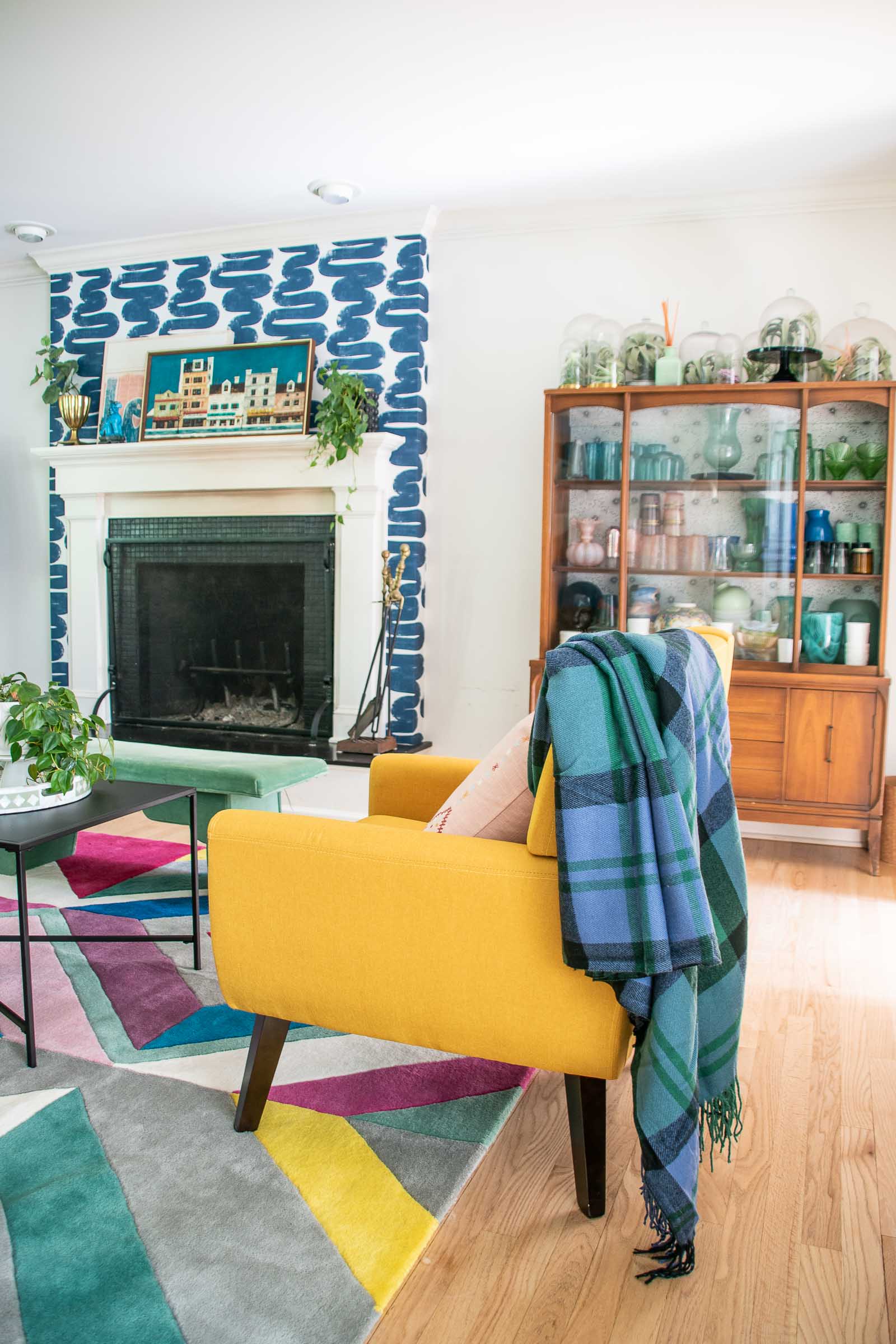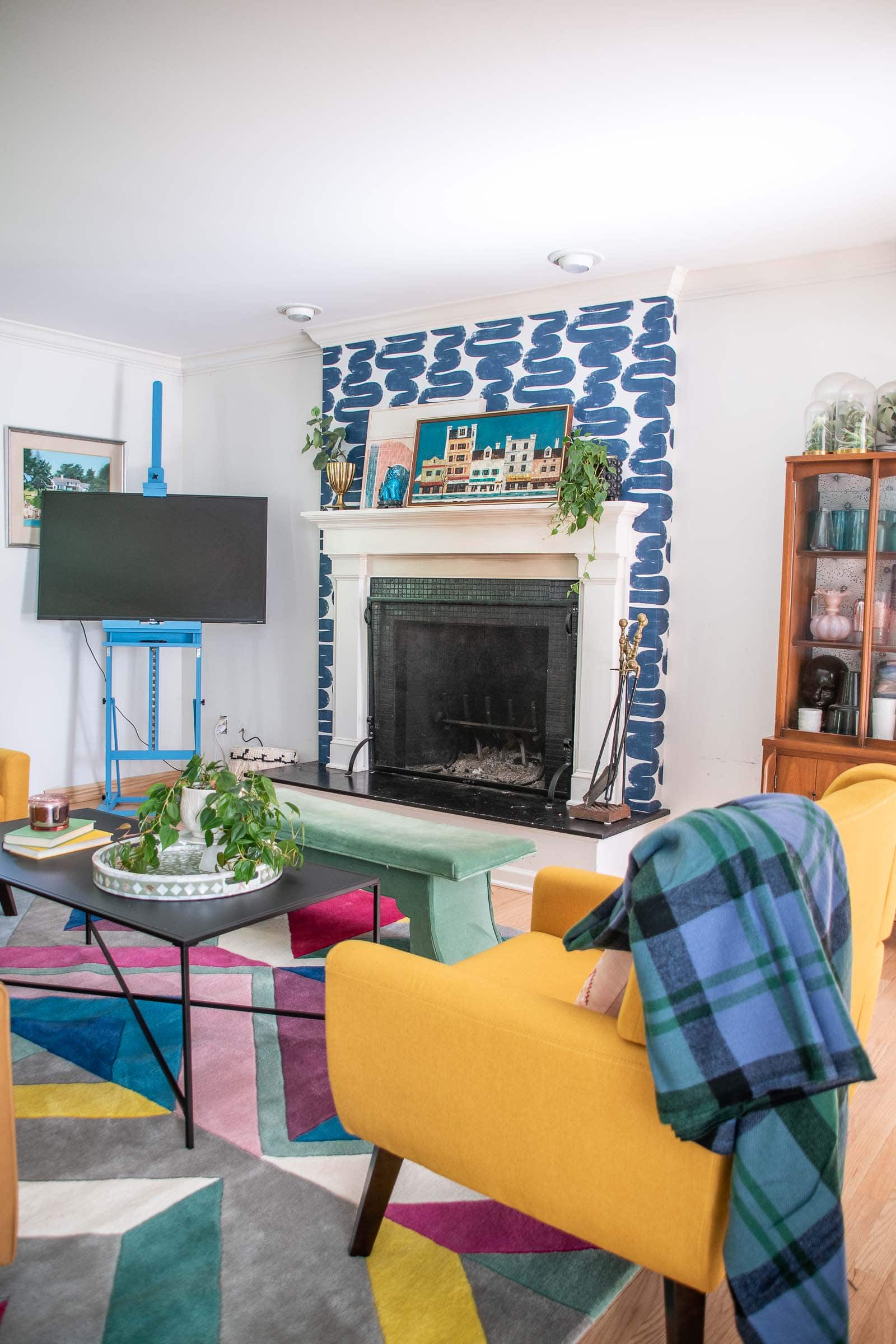 Leave me a comment and let me know which is your favorite new addition from this makeover… I'm tied between the new colorful graphic rug and the faux leather couch. I love the way the camel leather pops off the blue arches on the mural! You'd never know this room is as small and dark as it is in real life because of all the new colorful additions! Thanks as always to my friends at Home Depot for helping bring this space together!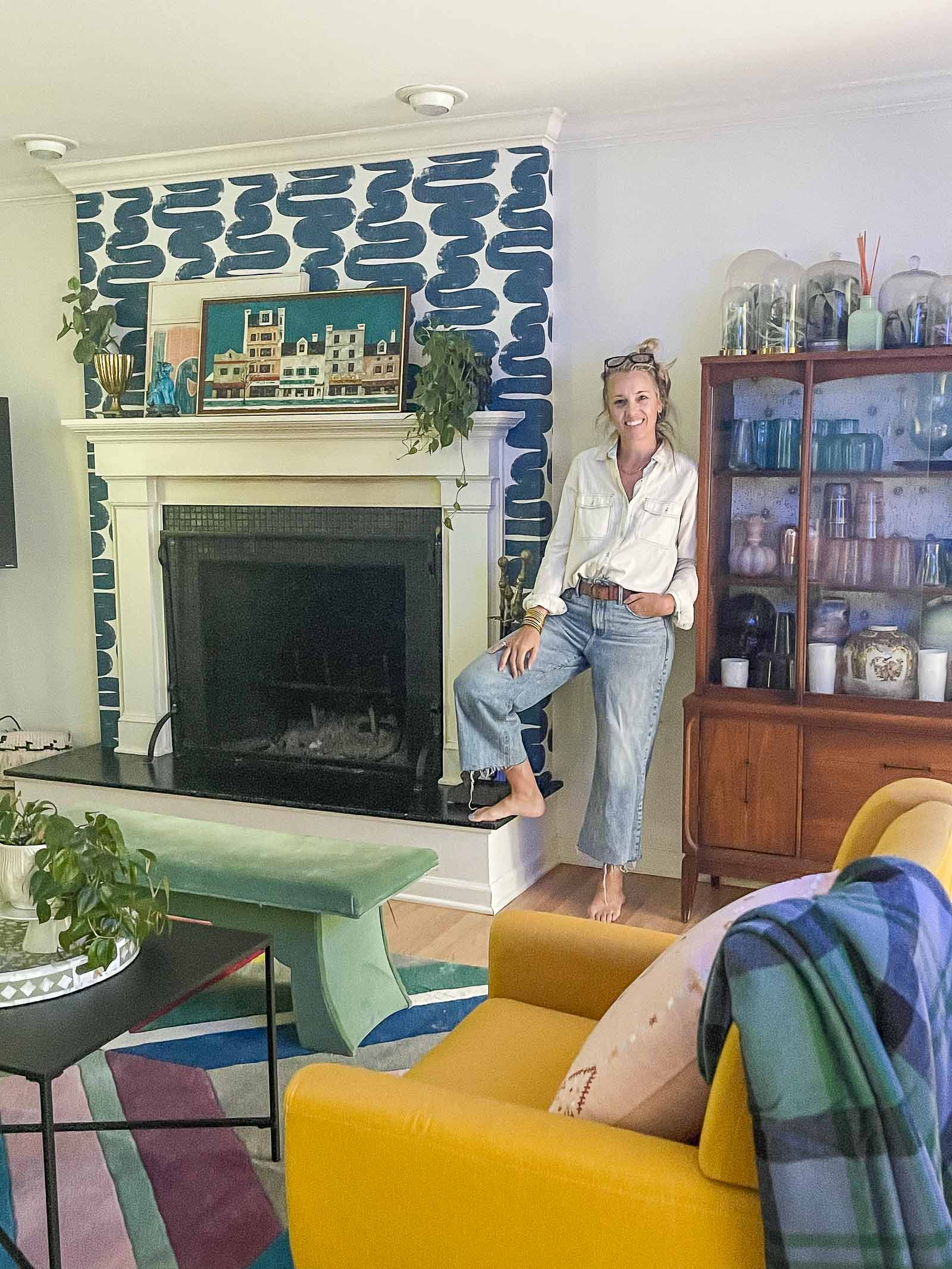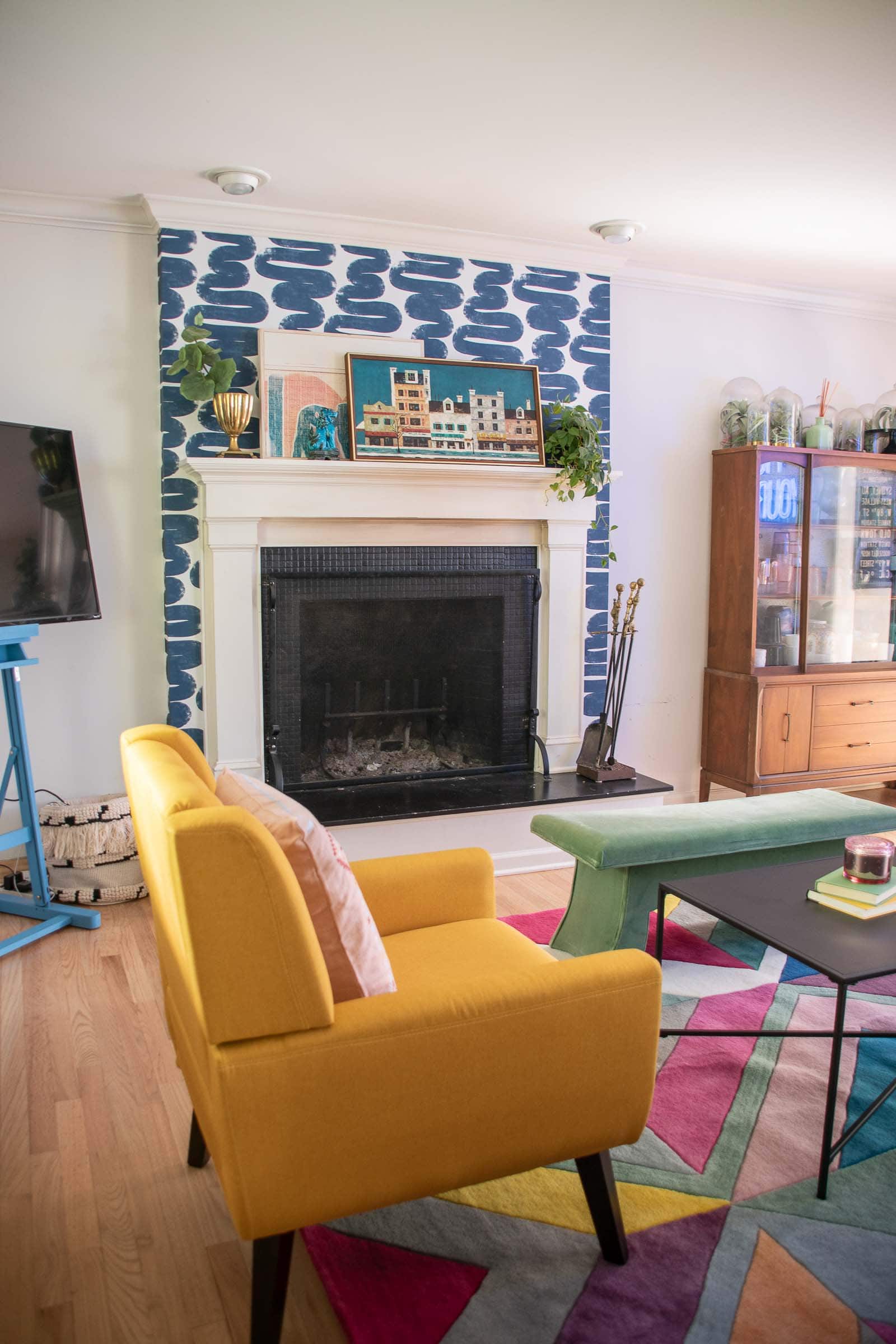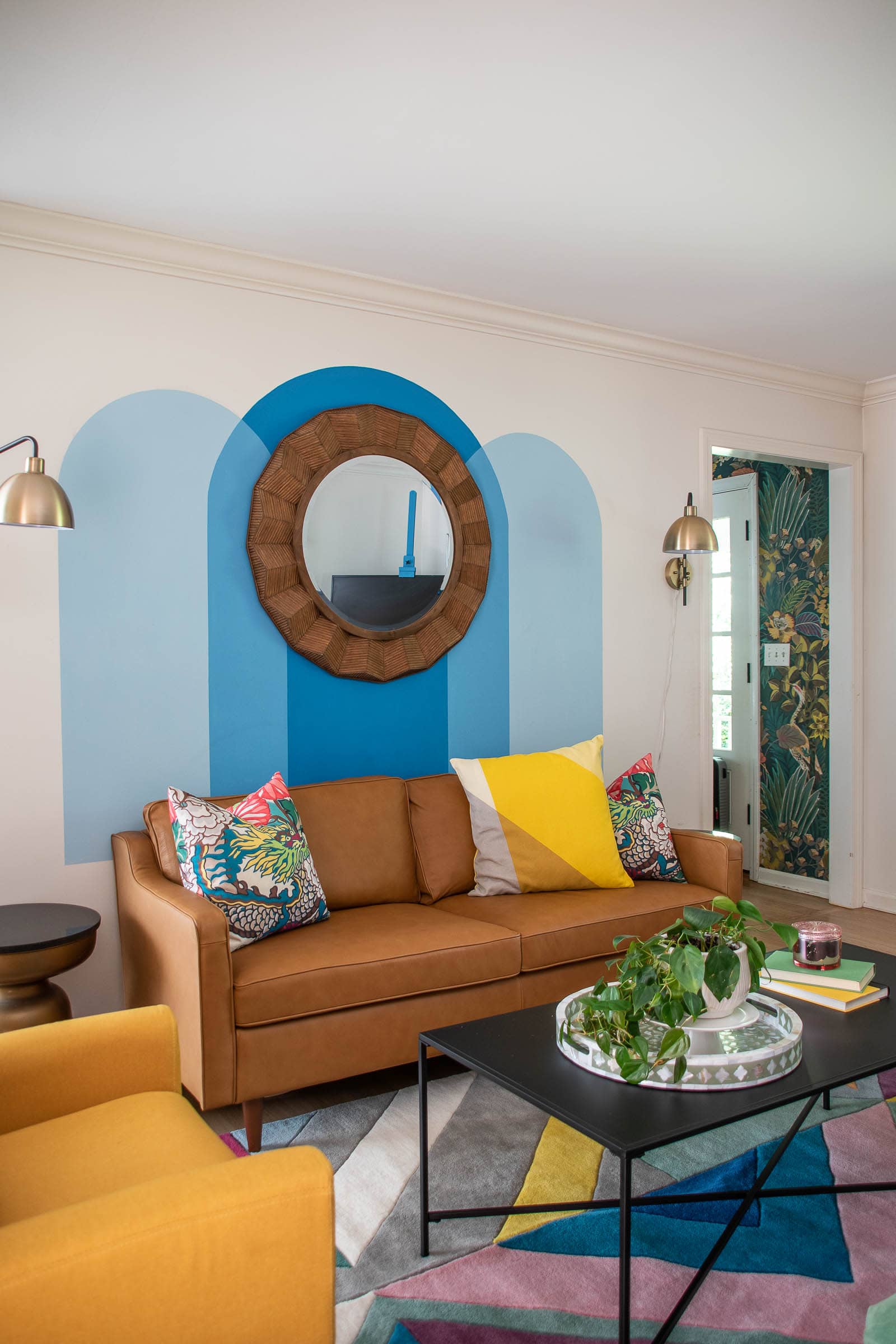 Materials List