Decorating our Sunroom with Two Areas
Psssst… this post *might* contain affiliate links: see my disclosure here.
Colorful Sunroom Makeover Just in Time for the Holidays
I swapped out the furniture in our sunroom to create more space and function for our busy family.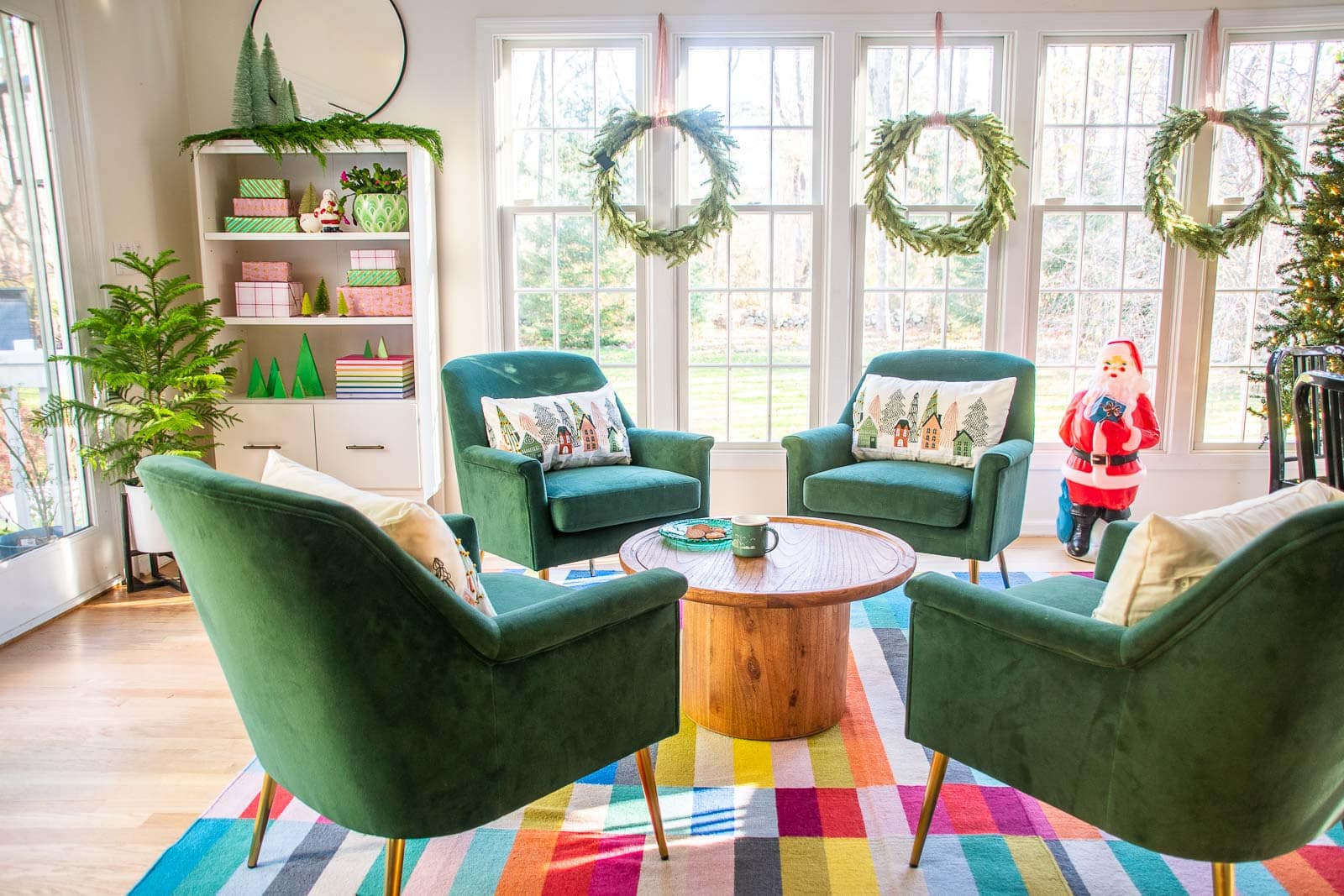 Disclosure: This post is sponsored by Home Depot decor but all design decisions and opinions are my own.
The space immediately off of our kitchen is one of the brightest, sunniest rooms in the house, but it's also an awkward size… I've been trying to figure it out ever since we moved in and, with the help of decor from Home Depot, I think I've done it! Let's start from the beginning when we first walked through the house. This space had dated tile floors and a dated ceiling fan and questionable molding. We immediately replaced the floor with hardwood (hallelujah!) and I swapped out the ceiling fan. (I have big dreams of removing the molding on the ceiling and replacing it with exposed wood and beams, but that's for our contractor to help with!) Oh yeah, I also painted it white… big help!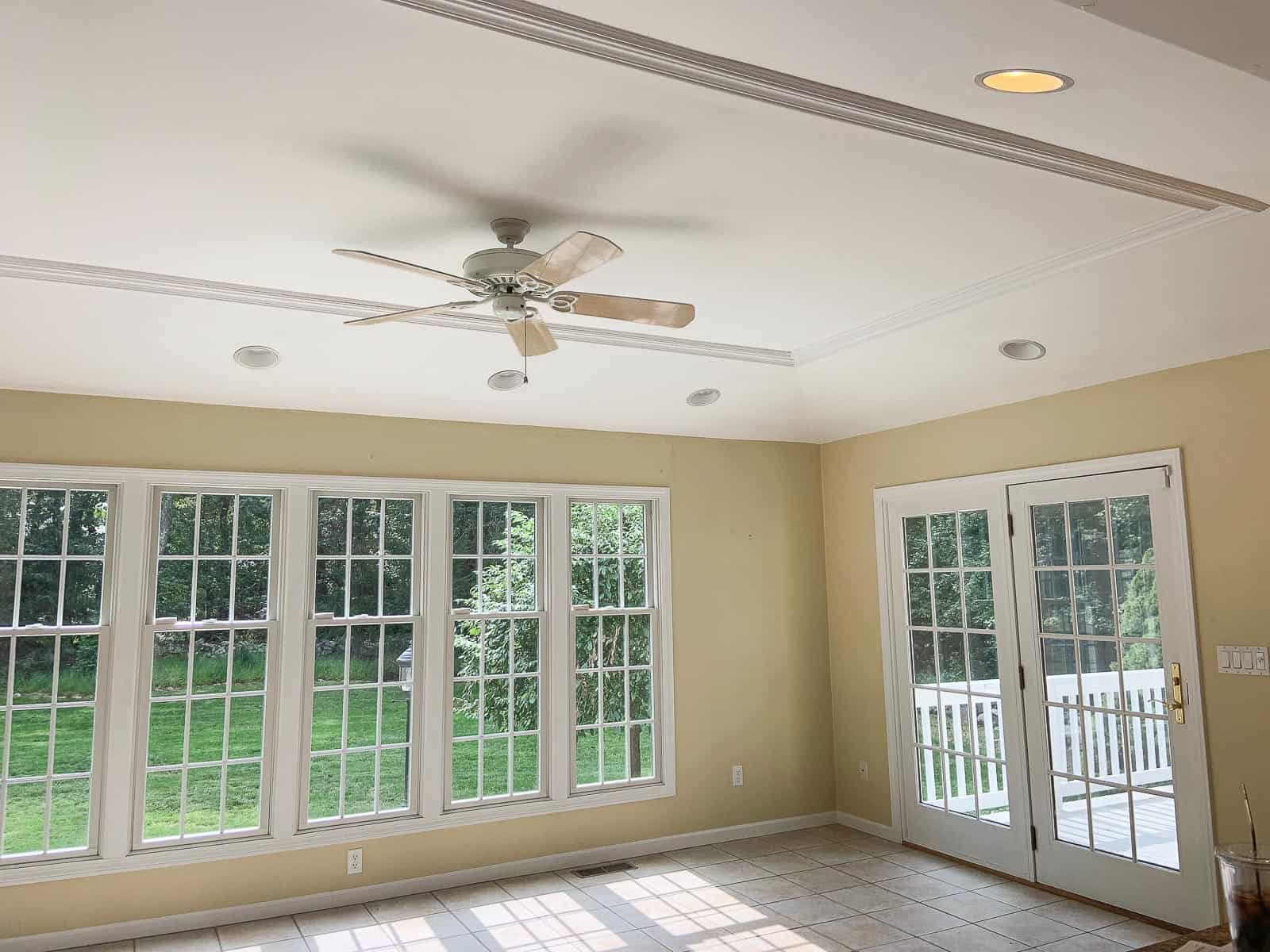 Onto furniture… the space is a little too big to be ONE seating area, but it's tricky as two. Here were our pain points: we tried two swivel chairs against the window but the kids were always slamming them against the windows. Then I moved the swivel chairs into the room and added a loveseat. This was fine, but felt a little crowded. You saw me post about our white board table and the kids LOVE it, but… it's a bit large for this space and it's a bit larger than we really need. (The counter has seats for the kids so the table only gets used periodically when we have family dinners.) Bottom line, we were close but not quite there with our furniture layout.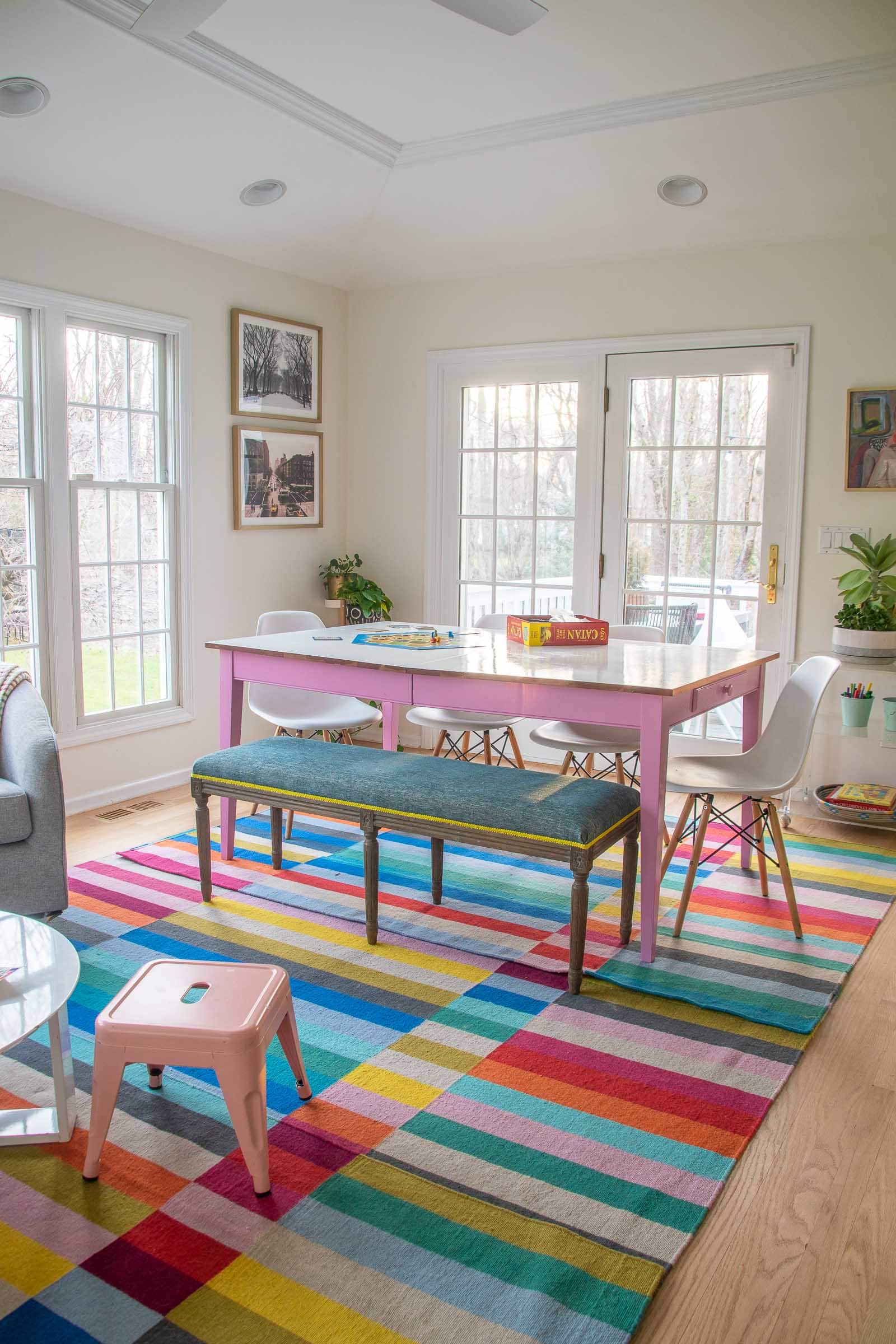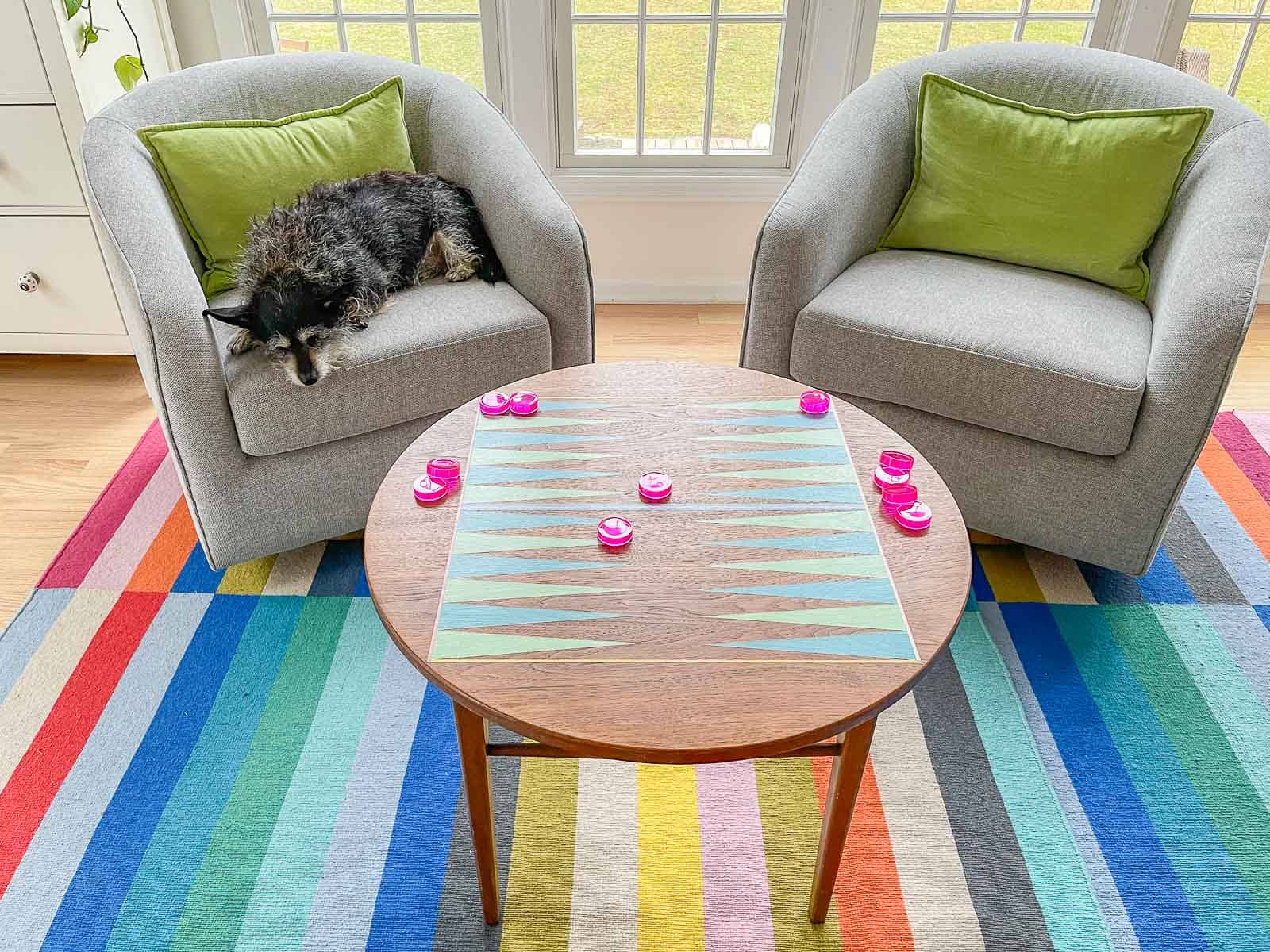 For the seating area, the one iteration we hadn't tried was FOUR seats with a table in the middle. I grabbed these colorful green velvet chairs because they were comfortable but not huge. This smaller round coffee table is the perfect size but also sturdy/ durable enough to handle the (ahem) climbing that somethings happens on our tables. And because it's holiday season, I wanted to style this space for Christmas! These holiday throw pillows are the cutest!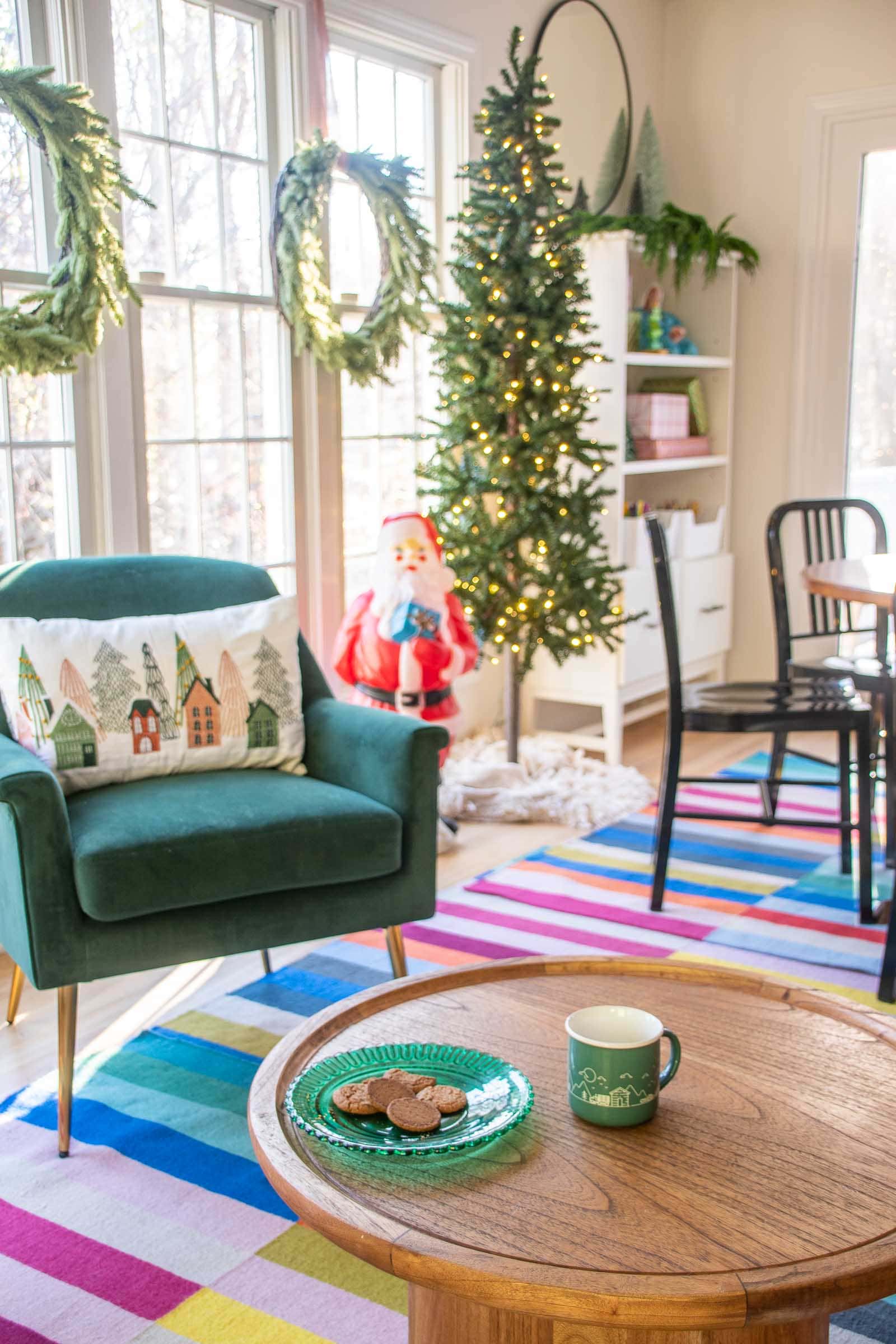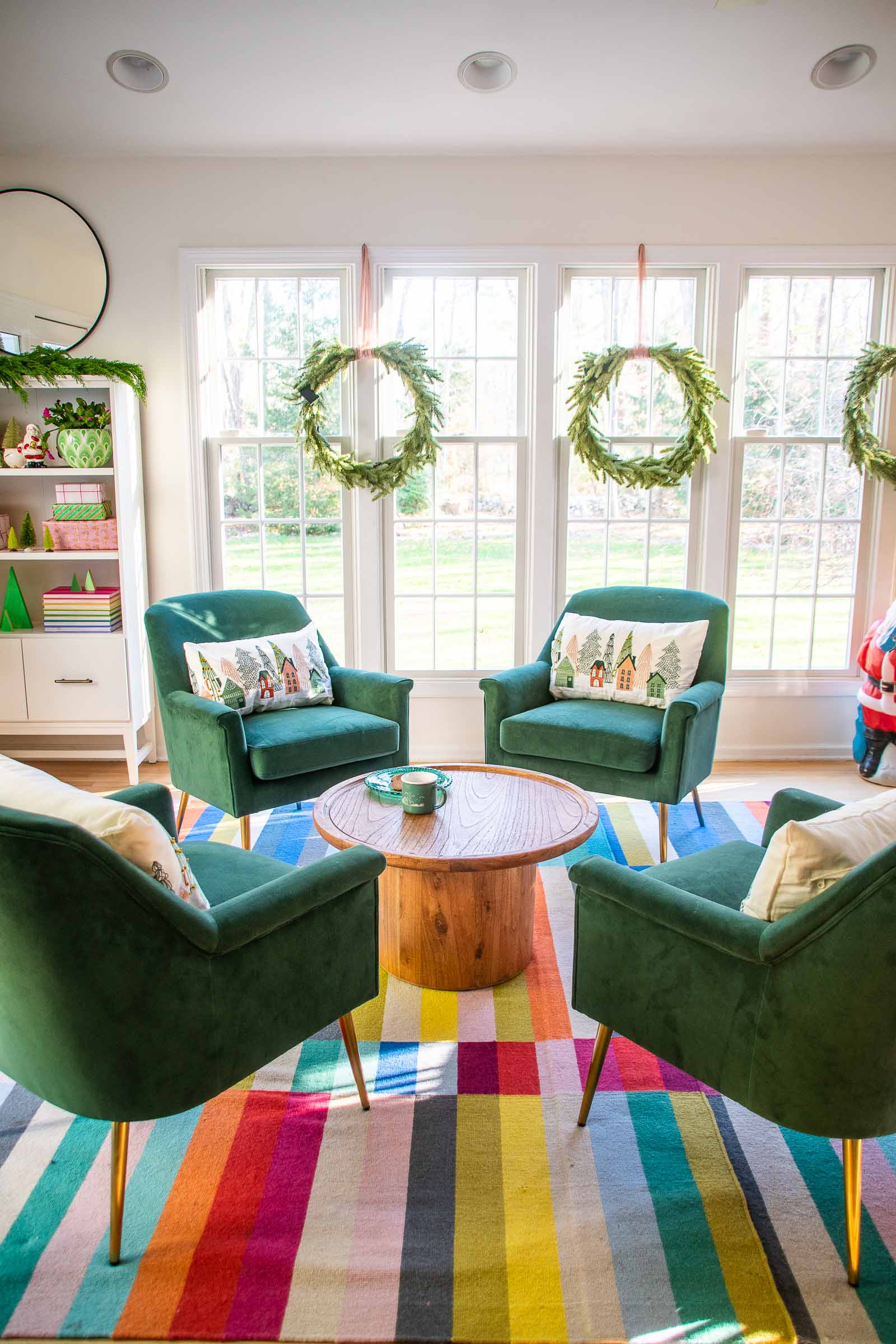 For the adjacent eating area… I've had this beautiful old MCM table in our garage for… a while. I wanted to see what a smaller round table might feel like in the space so I refinished the top and brought this up into the room to see. The kids LOVE their white board table so this was not a family approved decision, but I'm crazy about how this round table looks so I might stand my ground. Because this table is a bit smaller, I added these simple metal chairs. When all seven of us are sitting here, we'll bring in a dining room table and squeeze, but it's much more typical to have a few people sitting here at once so six chairs is plenty.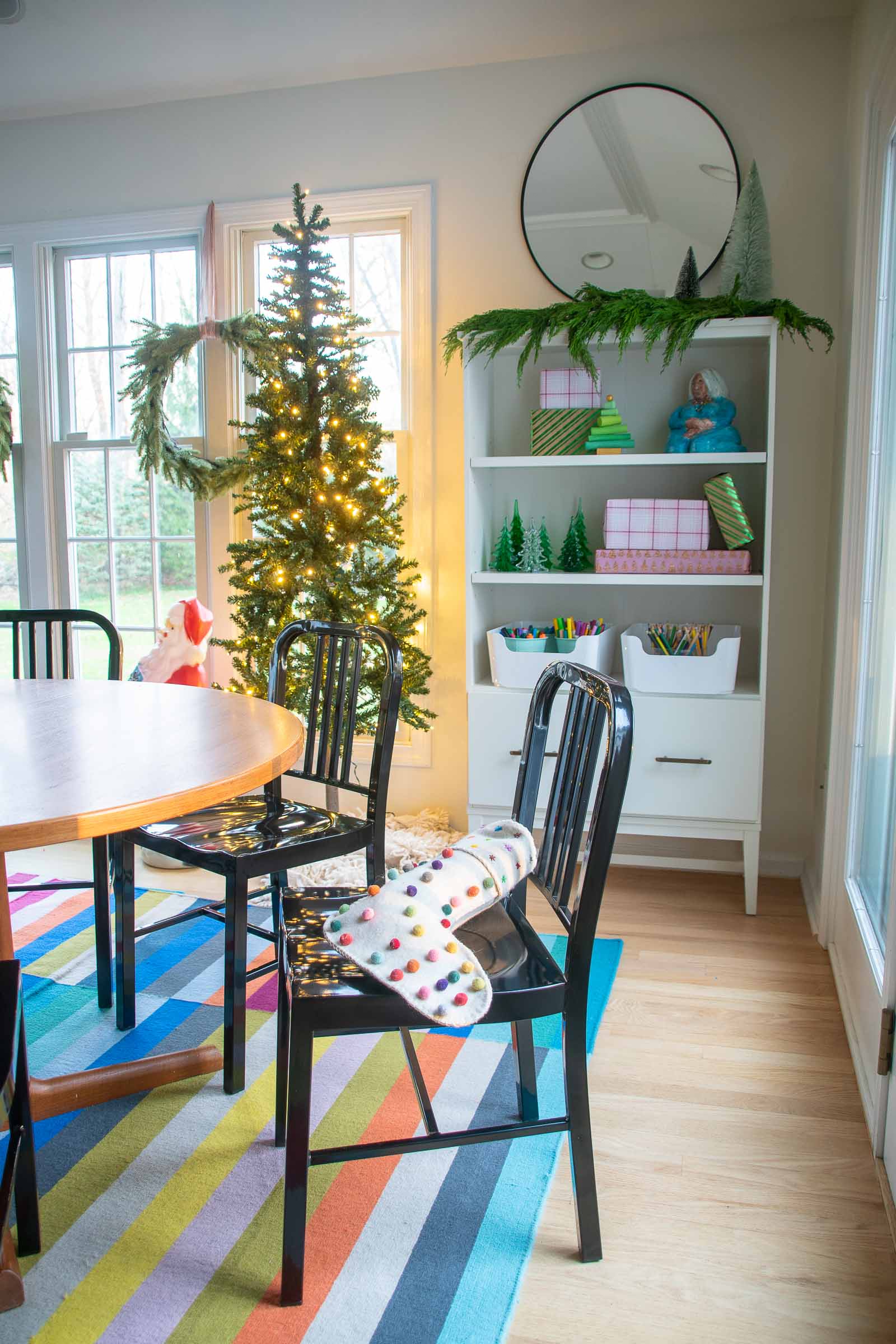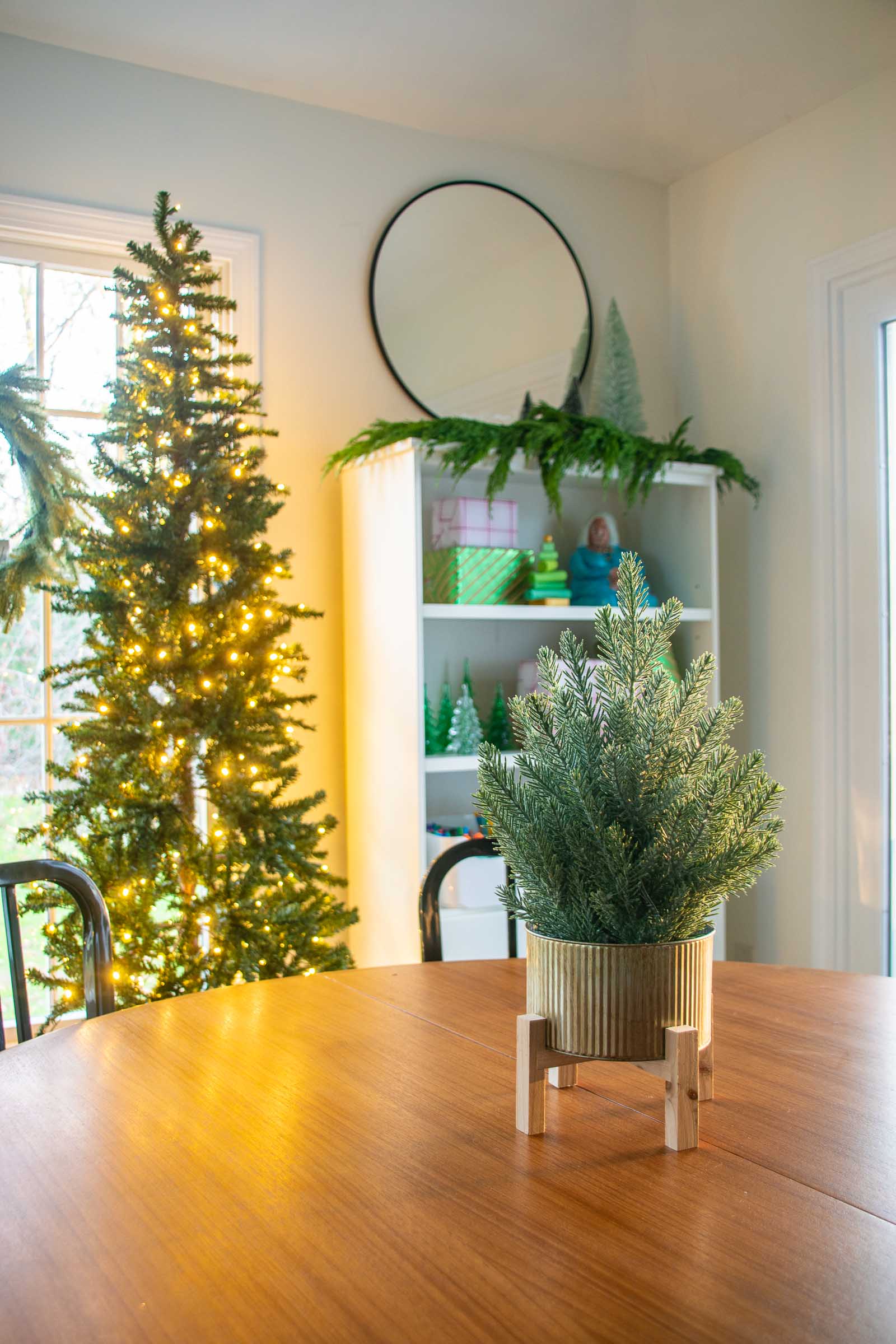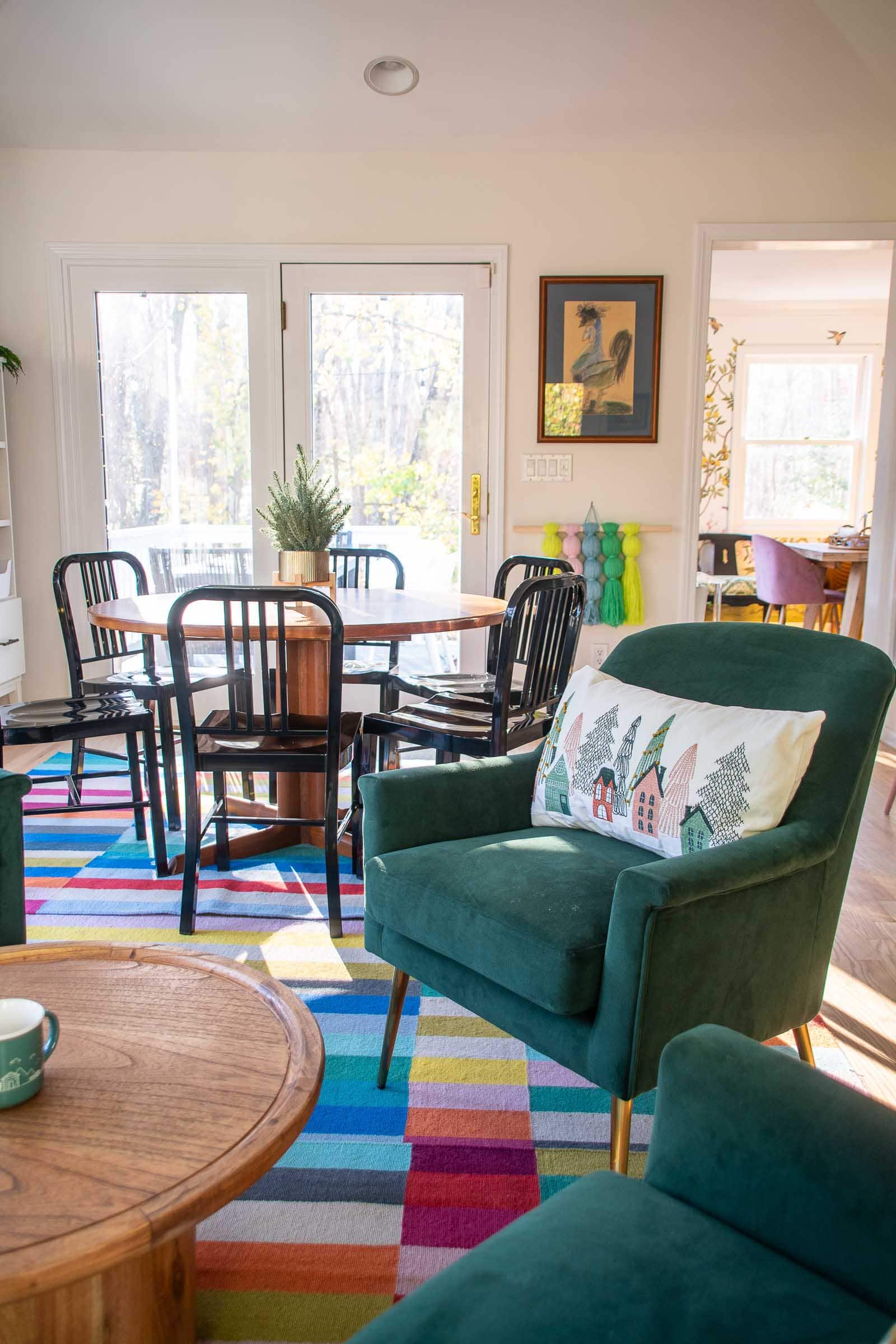 Finally, we had a dresser in one corner and my DIY table in the other… I knew the table wasn't the perfect piece for that corner, but I was pretty comfortable with the dresser UNTIL… I swapped it out for this matching set of shelves. I was worried they would feel a little short in the room because of the high ceilings so I added that simple black mirror above them to bring the eye up. We need storage in this space for things like dog paraphernalia, arts and crafts, first aid, table linens… and all of that was in the one dresser. With these two pieces, it's easy to store the eye sore items in the four drawers, and things like arts and crafts can live on the shelves in white bins. I also love having a few bookshelves on which I can display decor items or art projects, etc.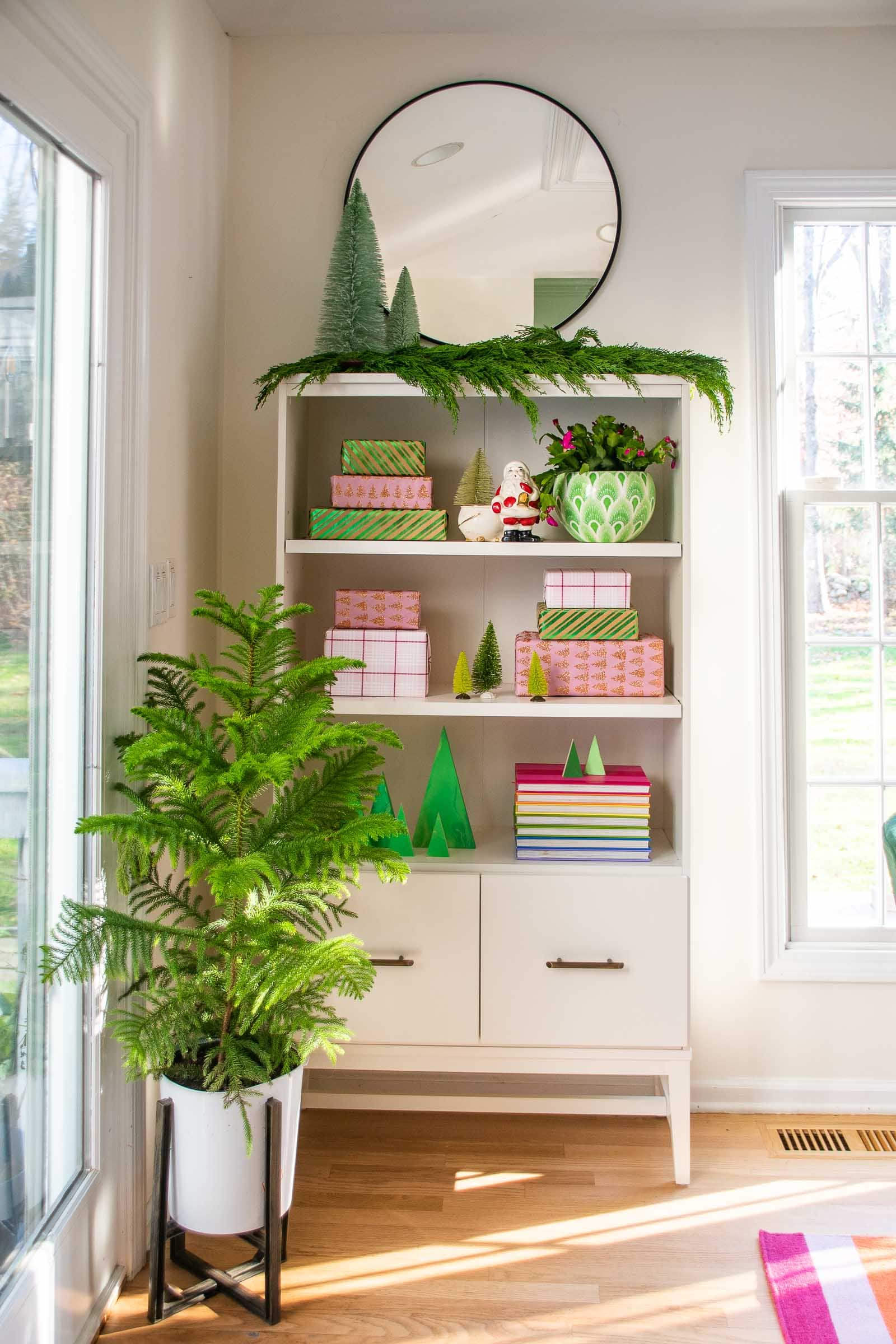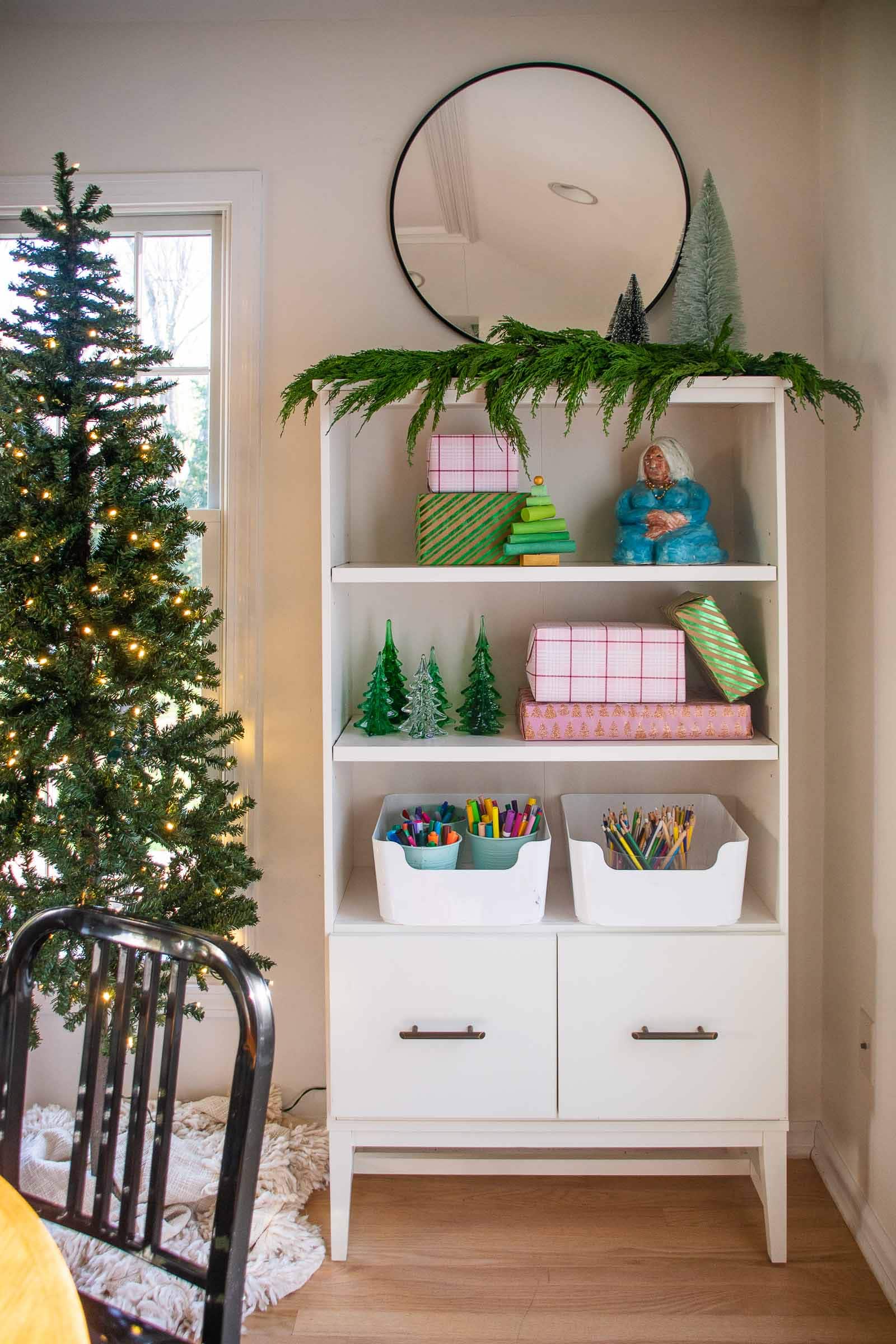 This room is busy and always has someone in here whether they're at the table doing homework or drawing, or sitting in one of the chairs working on their computer or reading a book. I didn't want to bring in so much Christmas that the space was compromised so I lay two cedar garlands on the top of the shelves, hung those light-up wreaths in front of the windows, popped a small evergreen centerpiece onto the table and added a skinny tree in one corner.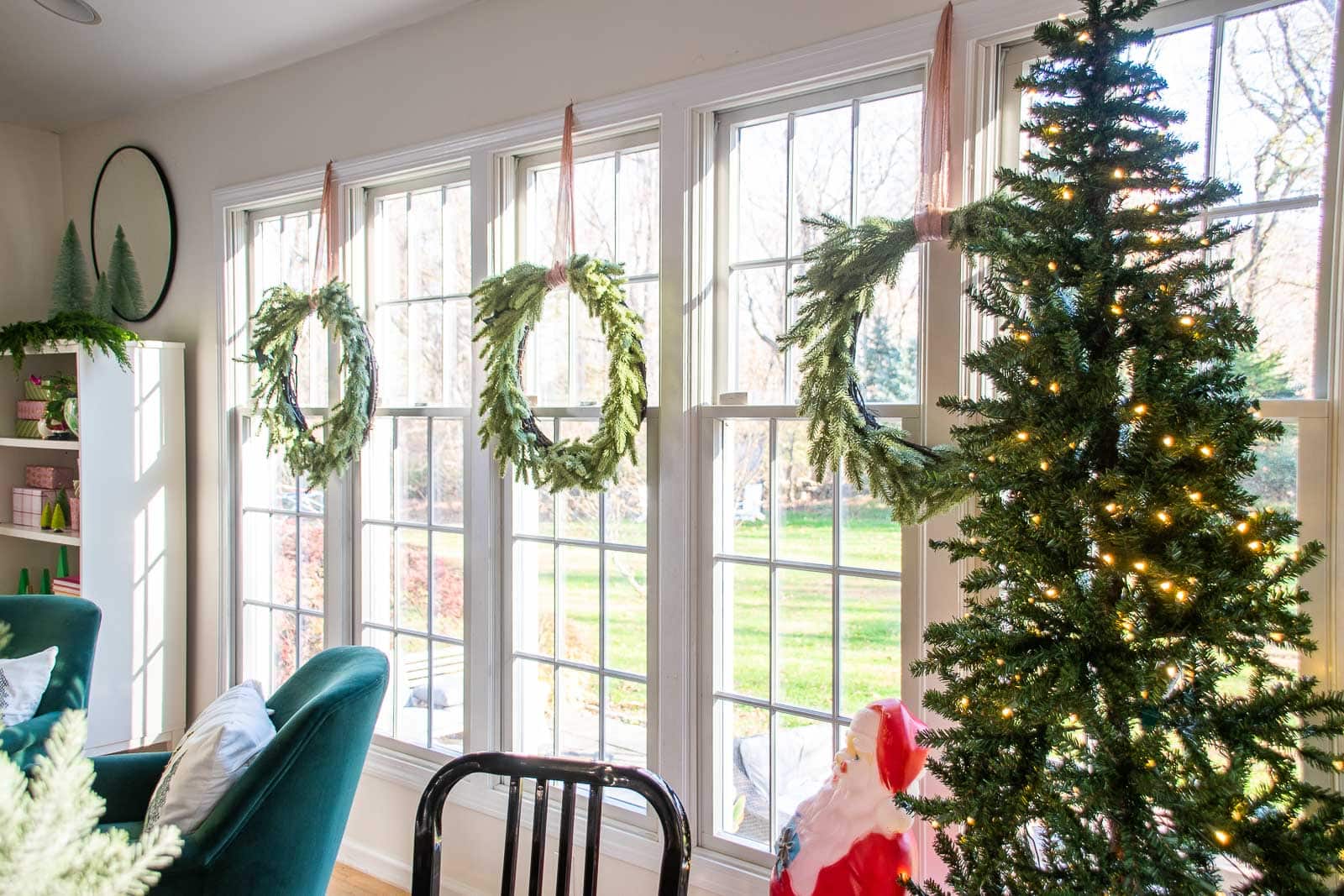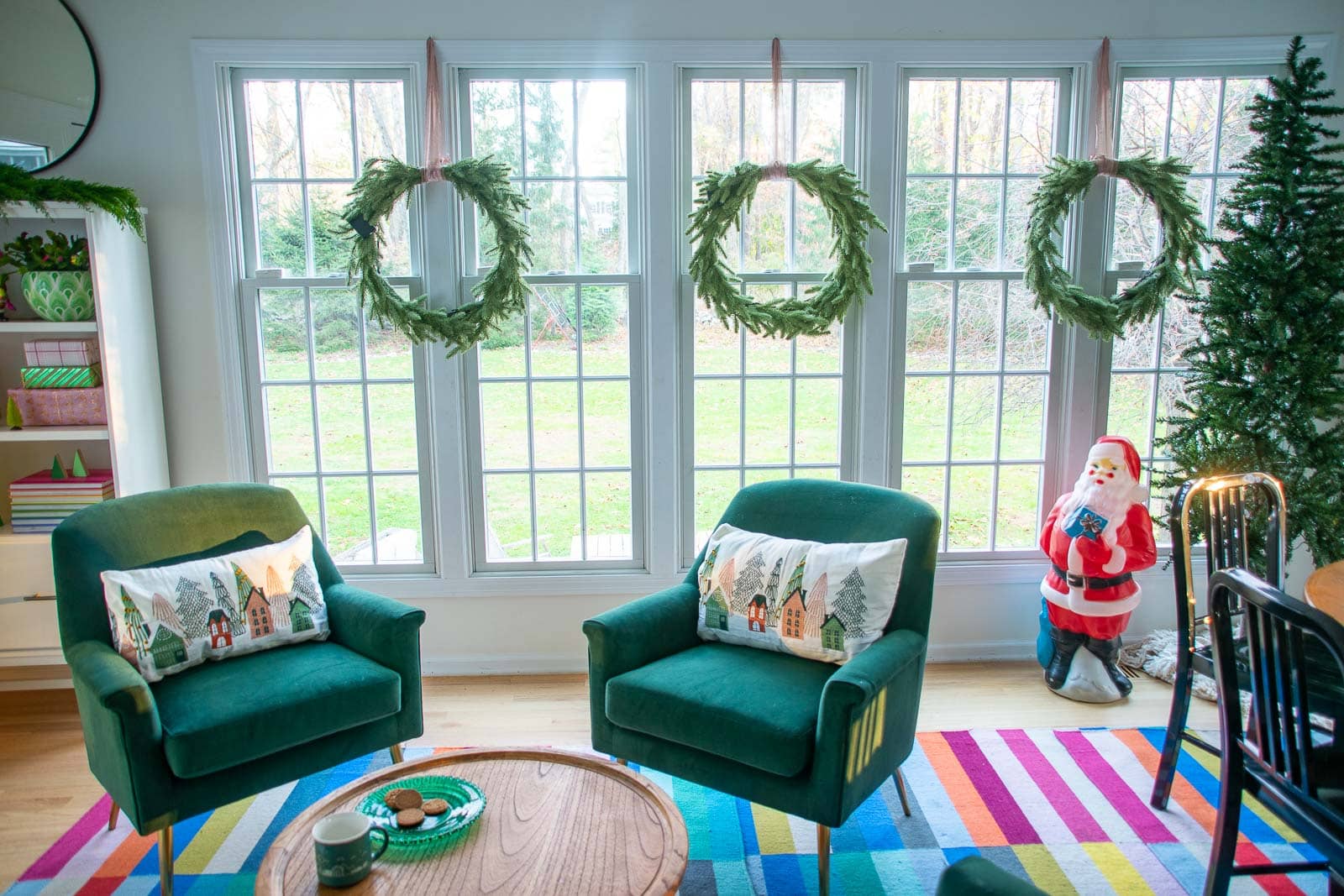 To style the room a bit more for Christmas, I raided my holiday decor bins for bottlebrush trees, vintage items and a few DIY wooden trees. Finally, I couldn't resist that real tree in the corner courtesy of our local Home Depot plant section. So cute, right?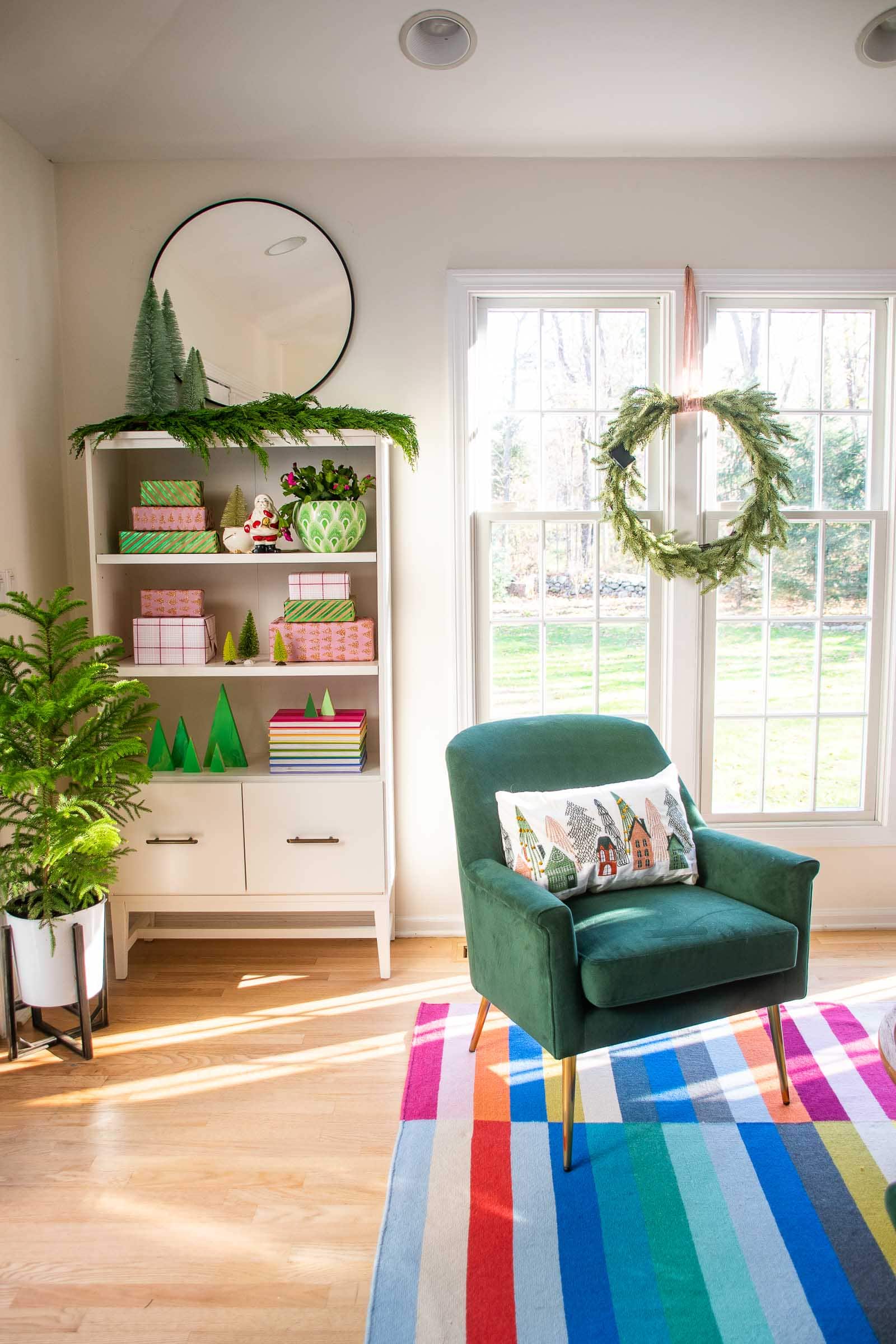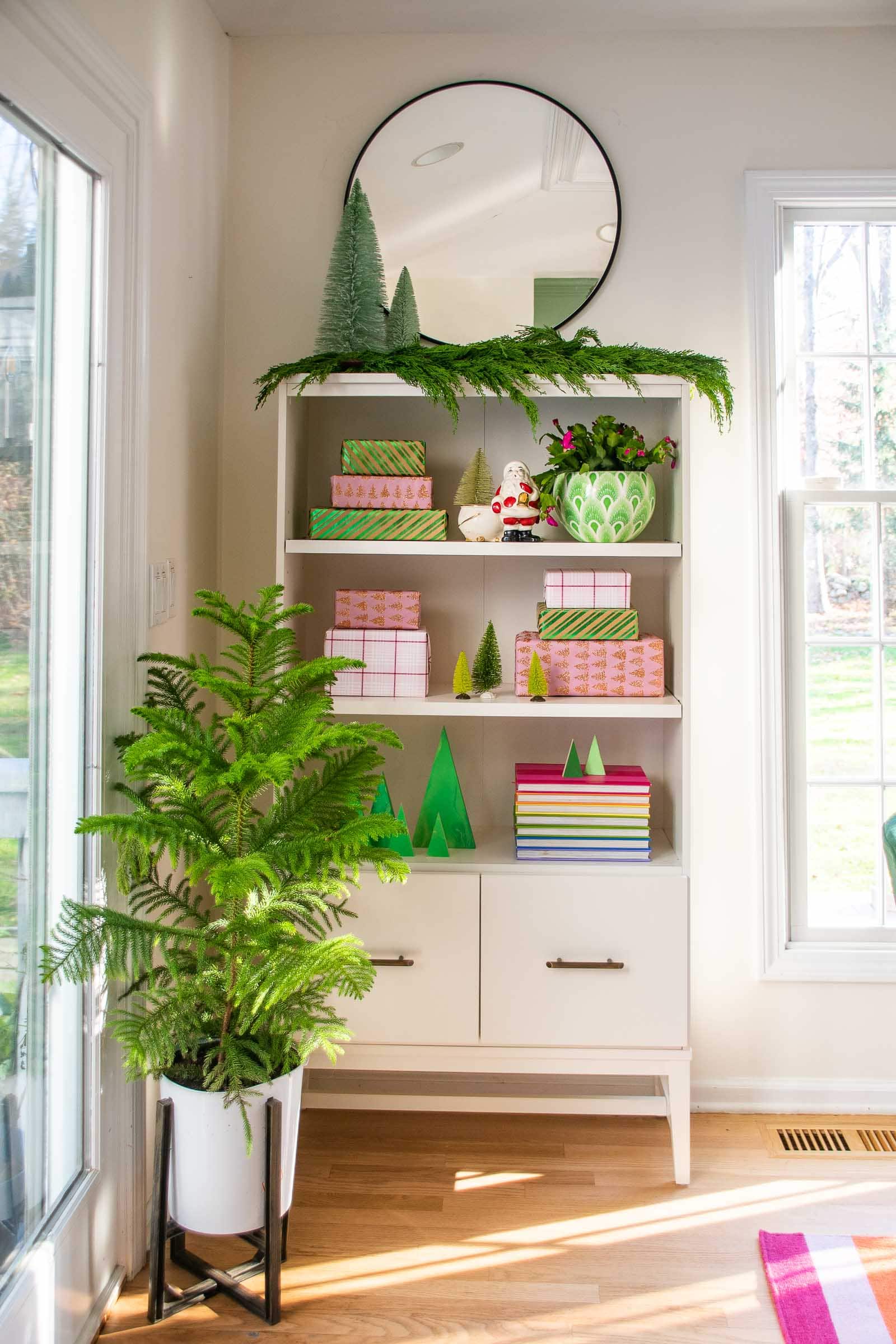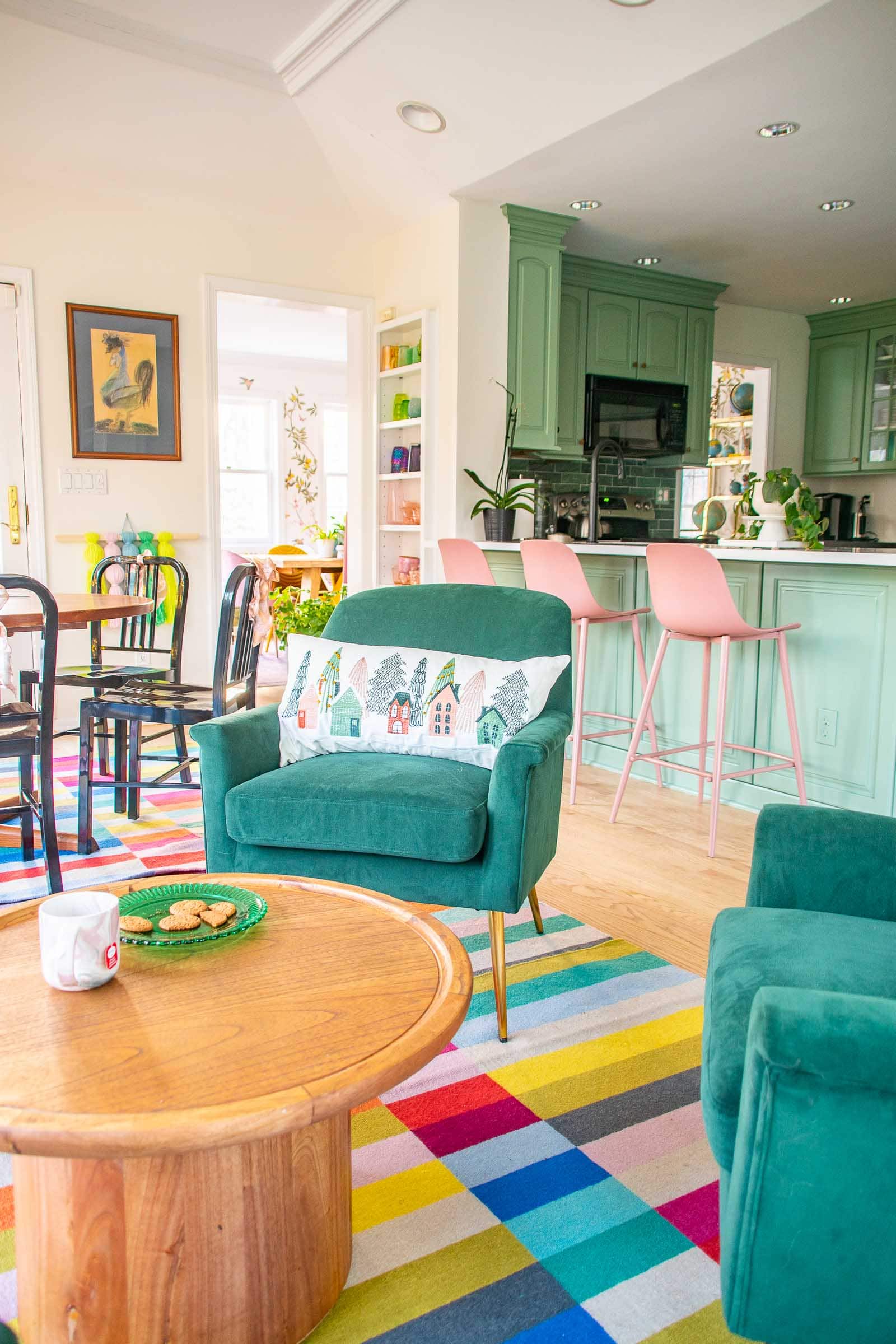 As with any space makeover, we're going to live with it for a bit and see how it serves our busy family. I *love* the way this looks, but it has to function well for us too. Leave me a comment if you have any questions or suggestions for the space… all products are linked below!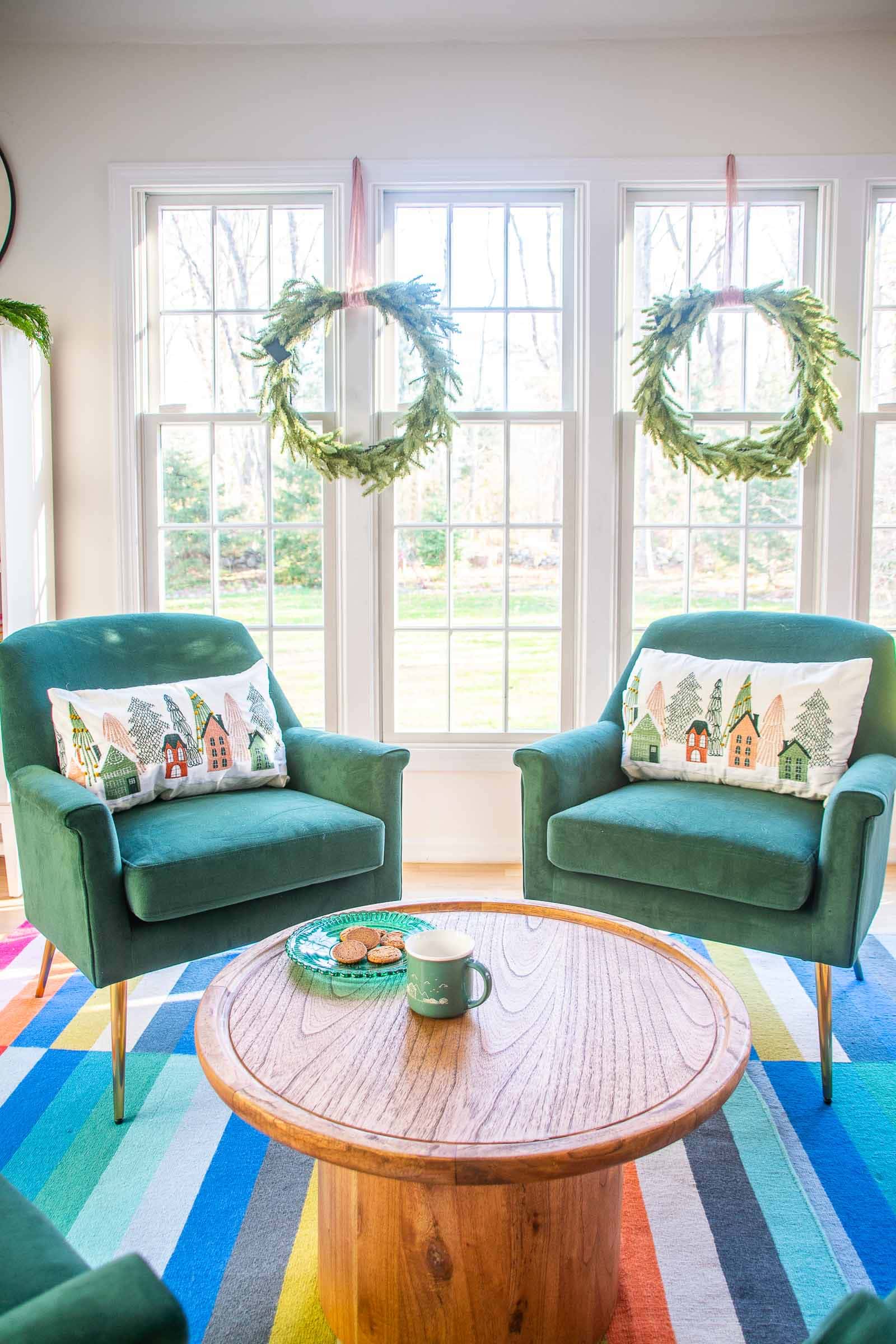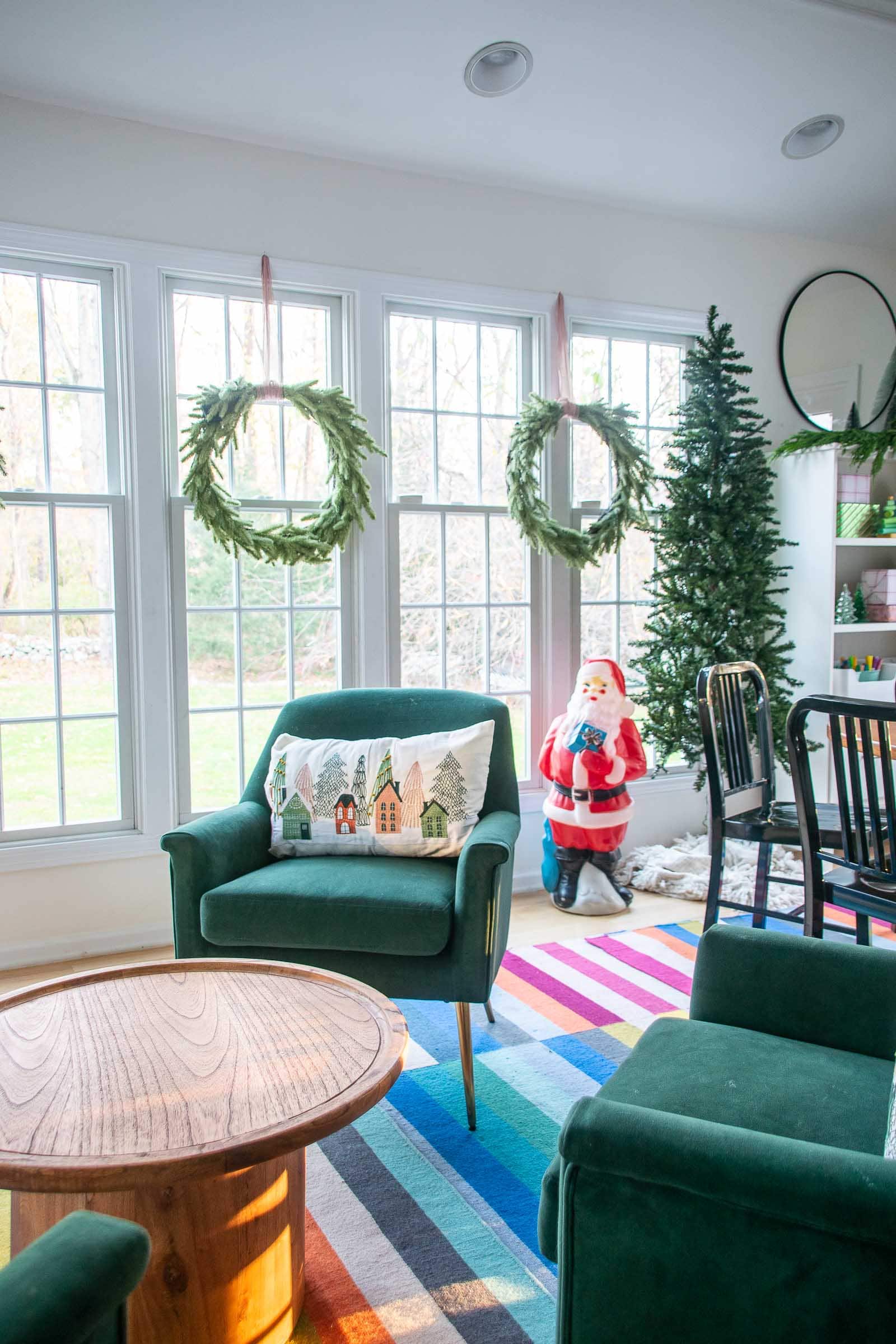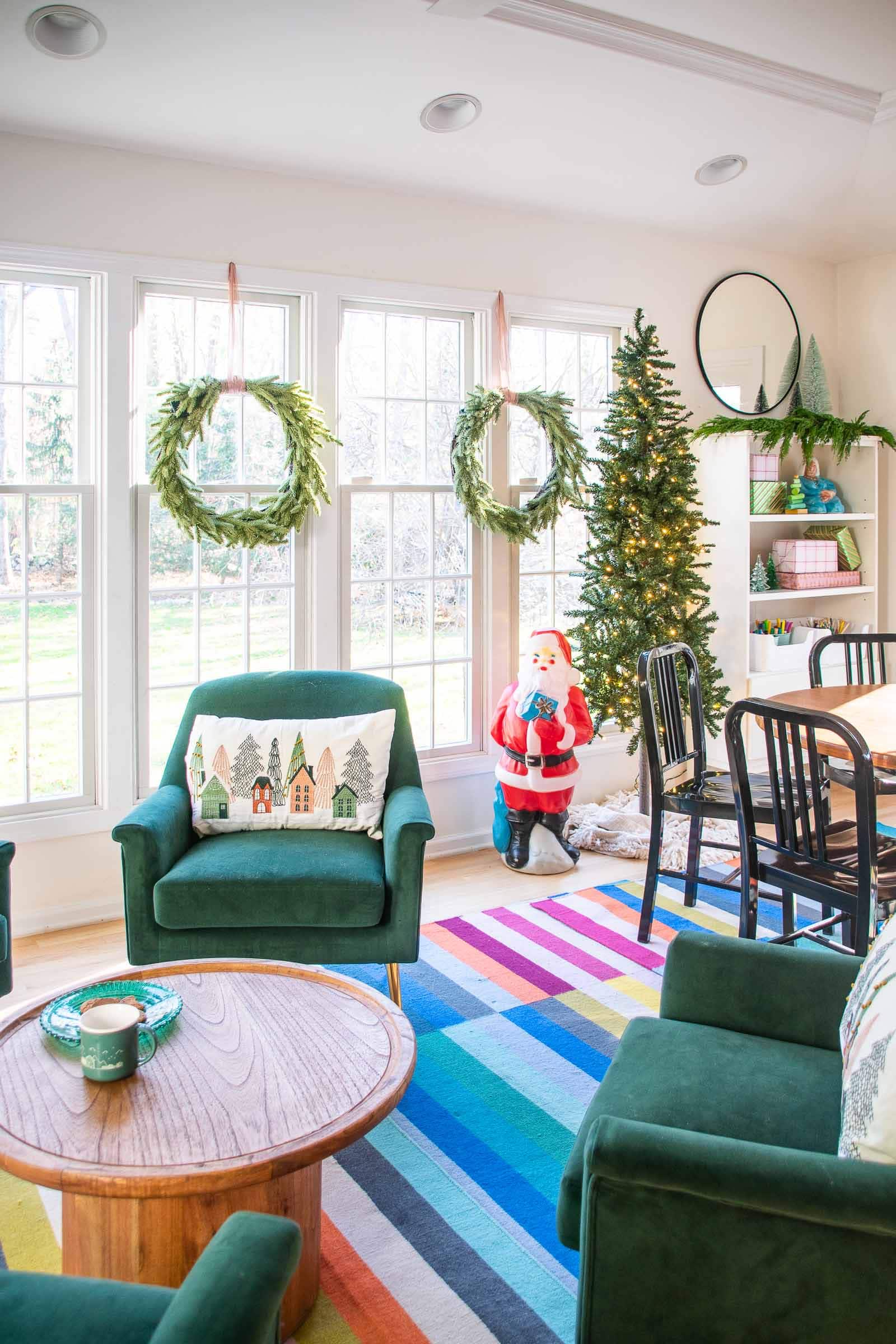 Home Depot Decor Product List: