When we left our old house, we had a number of storage shelves from the old playroom that didn't have a home.  These long storage shelves fit in Martha's room, but they were a liiiiiitle dull.  (I should mention that the fabric for this makeover was all provided by Minted. Yes… THAT Minted. Did you know they have FABRIC. Really, really great fabric!)
How to Turn a Shelf into a Bench Seat
For this makeover, I picked out a sweet and colorful fabric for Martha's room.  I ordered this one (affiliate).  Her room is a hodge podge of blues and greens and floral so these colors work well enough!  She picked the flowers for an easy bench seat update for her Ikea storage.
Check out this video for how I quickly upholstered a piece of plywood and then attached it to that SUPER basic Ikea Expedit (discontinued but virtually identical to the newer Kallax line).
If you don't have time for the video, I cut a piece of plywood to size, placed a length of 2″ foam on top and wrapped it with batting.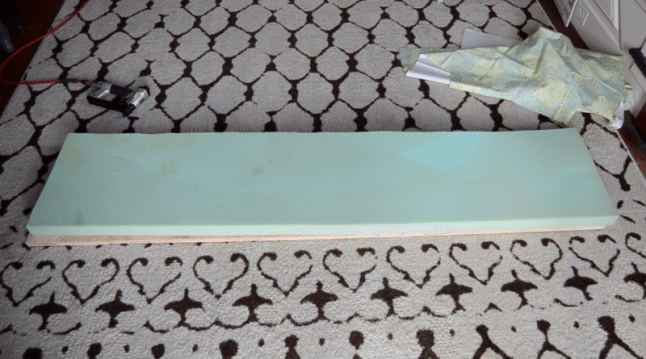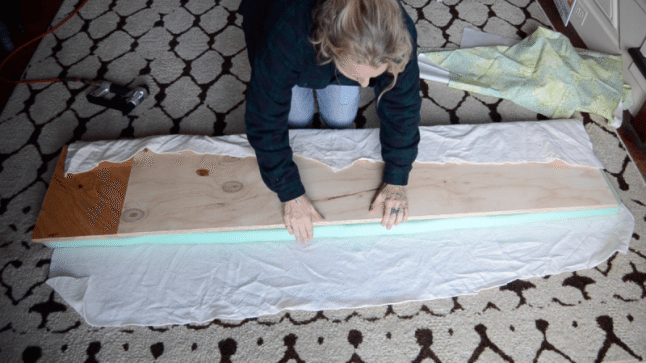 Working back and forth from side to side, I wrapped my fabric around the foam and stapled it on the bottom of the plywood.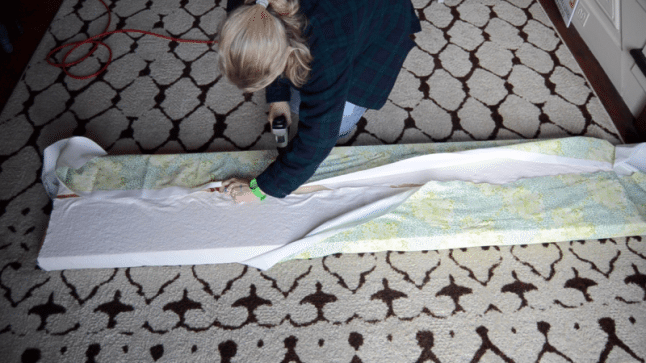 I also added some legs to customize the piece even further.  This is a long bench so I wanted 6 legs to be sturdy enough. As sweet as the bun feet  are at Home Depot, they're almost $10 a pop.  I opted to go for these not nearly as interesting looking ones (affiliate), but I cut them shorter and gave them a fun coat of green paint.
To attach, I opted for heavy duty top plates like this (affiliate). The plates simply screw into the shelf and then you can screw the legs right into 'em.
I attached the upholstered seat to the bench with 2 1/2″ screws through the top of the Ikea piece and then into the plywood. You obviously want to measure to make sure the screw doesn't go *all* the way through the plywood. Ouch.
So now the bare storage bench in Martha's room is a cozy and chic upholstered 'window seat.' In one short afternoon no less!