Making Over Bedrooms in a California Community Home
After months of planning, last week a group of us helped to makeover and furnish a pair of bedrooms in a California women's shelter.
Story Time
When I was in elementary school (younger than 5th grade, older than 1st grade), there was lots of talk about the famine in Africa. It was my first memory of feeling like I needed to help. I drew a picture with neatly printed "African Famine Relief" and then my memory gets foggy. I think I set up shop during a Red Cross blood drive because my mother was a volunteer, but I also think I went door to door to neighbors in our town who I knew. Regardless… I think that lens has been present ever since. 9 times out of 10, I am in a position to help and so… that's what I try to do.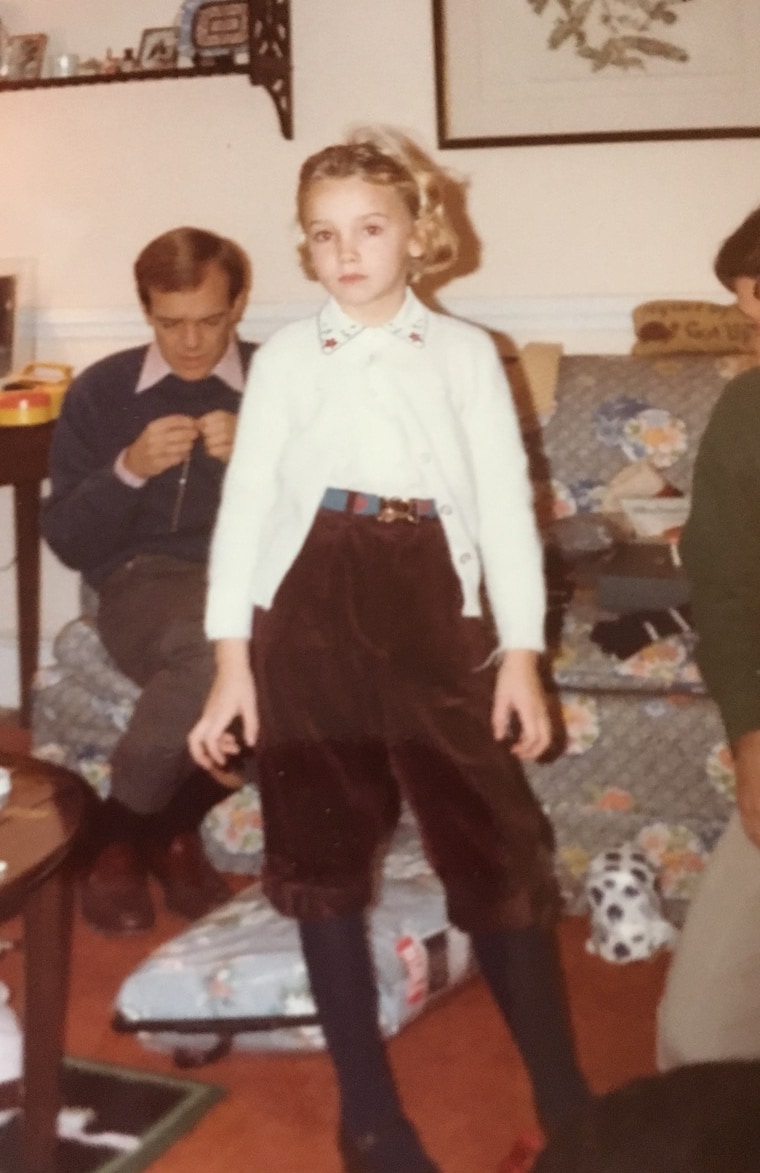 Five years ago I was getting my stride with this whole blog thing but also feeling like I was developing all these skills but using them for silly things like redecorating my bedroom or turning a closet into an office. Totally satisfying and fun for me but I wanted to give back somehow. Bloggers Heart Habitat was born. I partnered with local content creators and we worked with brands to help furnish newly built Habitat houses. In total, we helped pull together more than a dozen rooms in 7 different houses over the years. Make It Bright is the next iteration of this dream to use my DIY and design skills to give back. As with all of the Habitat projects, I could not do this solo. I am eternally grateful to my friends (Left to right). Erinn (@erinnmakesthings), Monica (@House.of.Esperanza), Christina (@leclaire.lane.life), and Jocelyn (@cheekydiyhome) for all their time and energy spent pulling these rooms together.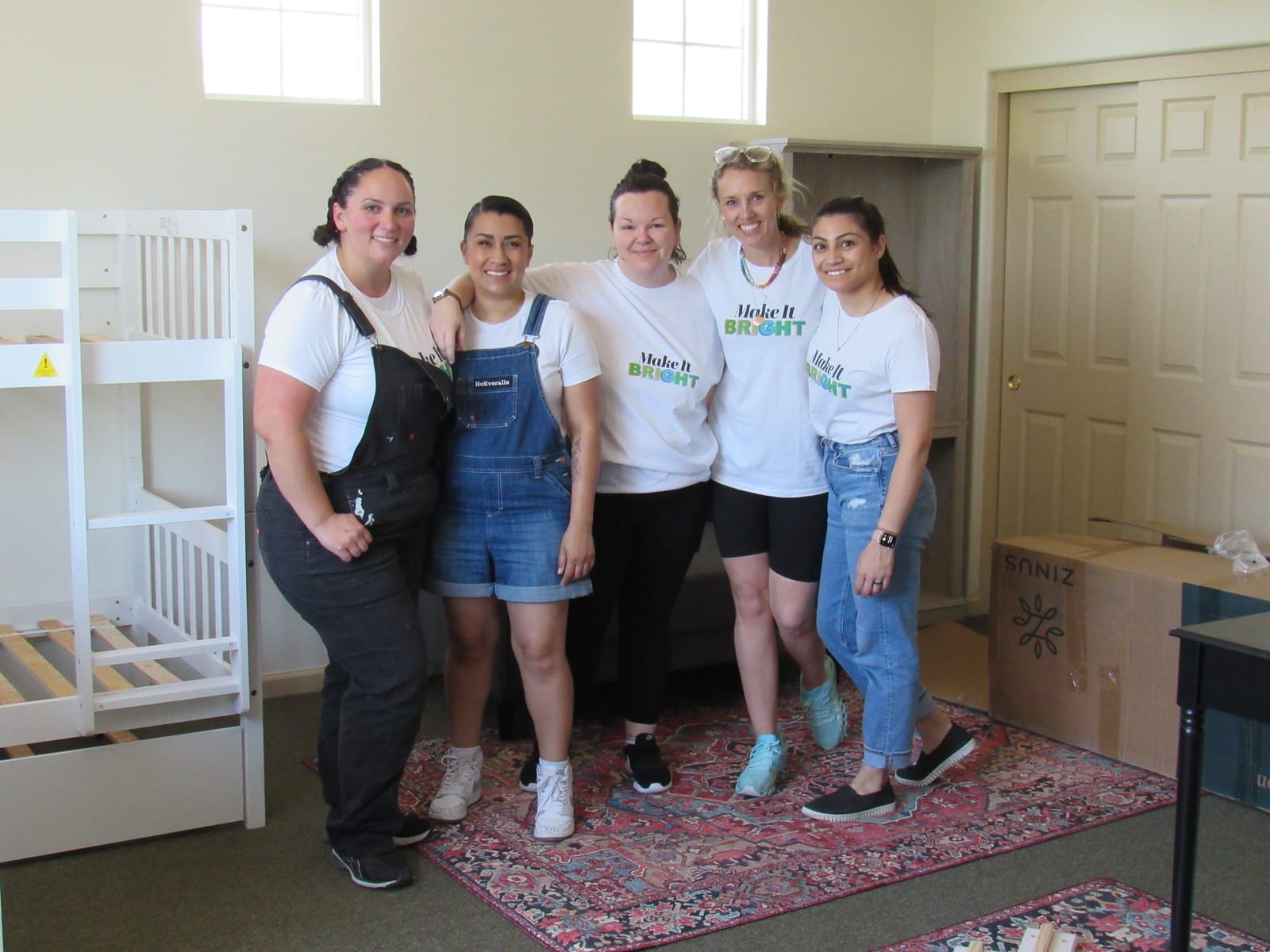 The Challenge
Typically the way these projects work is that I reach out to the charity and ask whether they have any spaces they need help with. The answer is usually YES! Erinn knew about Shepherd's Gate so I reached out to them first. Shepherd's Gate provides housing for women stuggling with addiction, homelessness or abuse and they have been amazing to work with. When we first spoke, they had a new room set up to accommodate women coming in with children so that was our primary assignment: create a bedroom apartment that could accommodate an adult with as many children as possible. This bedroom happens to connect to another bedroom via a bathroom so we had that space in the back of our mind too!
My beloved brand partners for this project were Home Depot for alllllll the paint and furniture, JOANN for the fun art and workshop supplies, and most of the artwork is from Urban Garden Prints. I am beyond grateful to these brands for their support of not just my work but more importantly ME and my dreams.
The Plan
The bedrooms in the shelter were an intense shade of ecru. Like the type of beige that burns into your soul. With only a couple days to work, paint was a challenge, but it was also something we wanted to do for them. The rest of the project was pretty much furniture and furniture layout. I used my favorite furniture planner to figure out a floorplan and then spent hours and hours cruising around HomeDepot.com to find furniture that would look nice, appeal to many, AND serve a useful purpose. Sidenote: homedepot.com has *everything*… I was able to order furniture, bedding, lighting and more for delivery direct to Monica in California… I'll link everything at the end of this post! We furnished two bedrooms, but below you can see my plans for the family bedroom.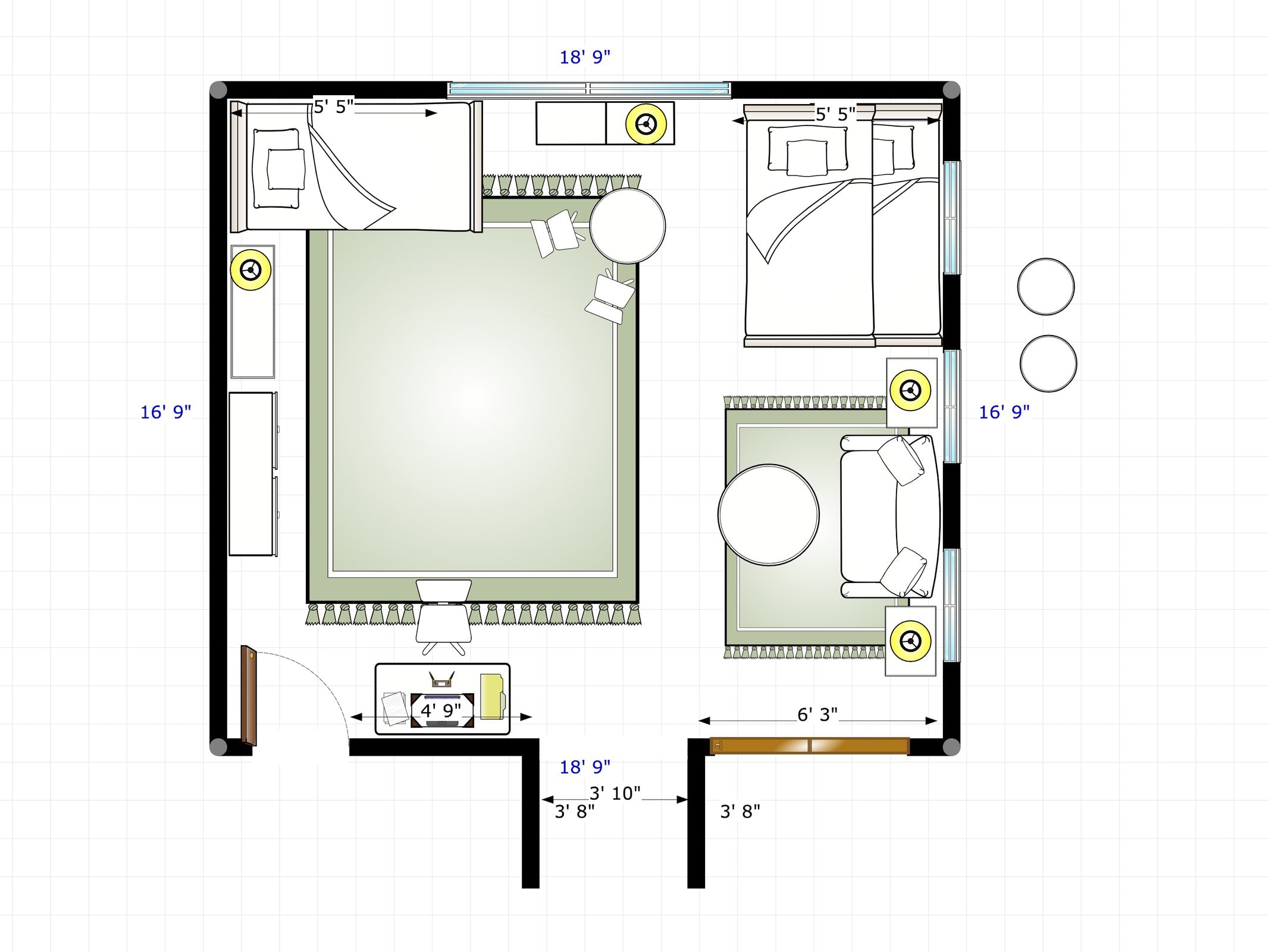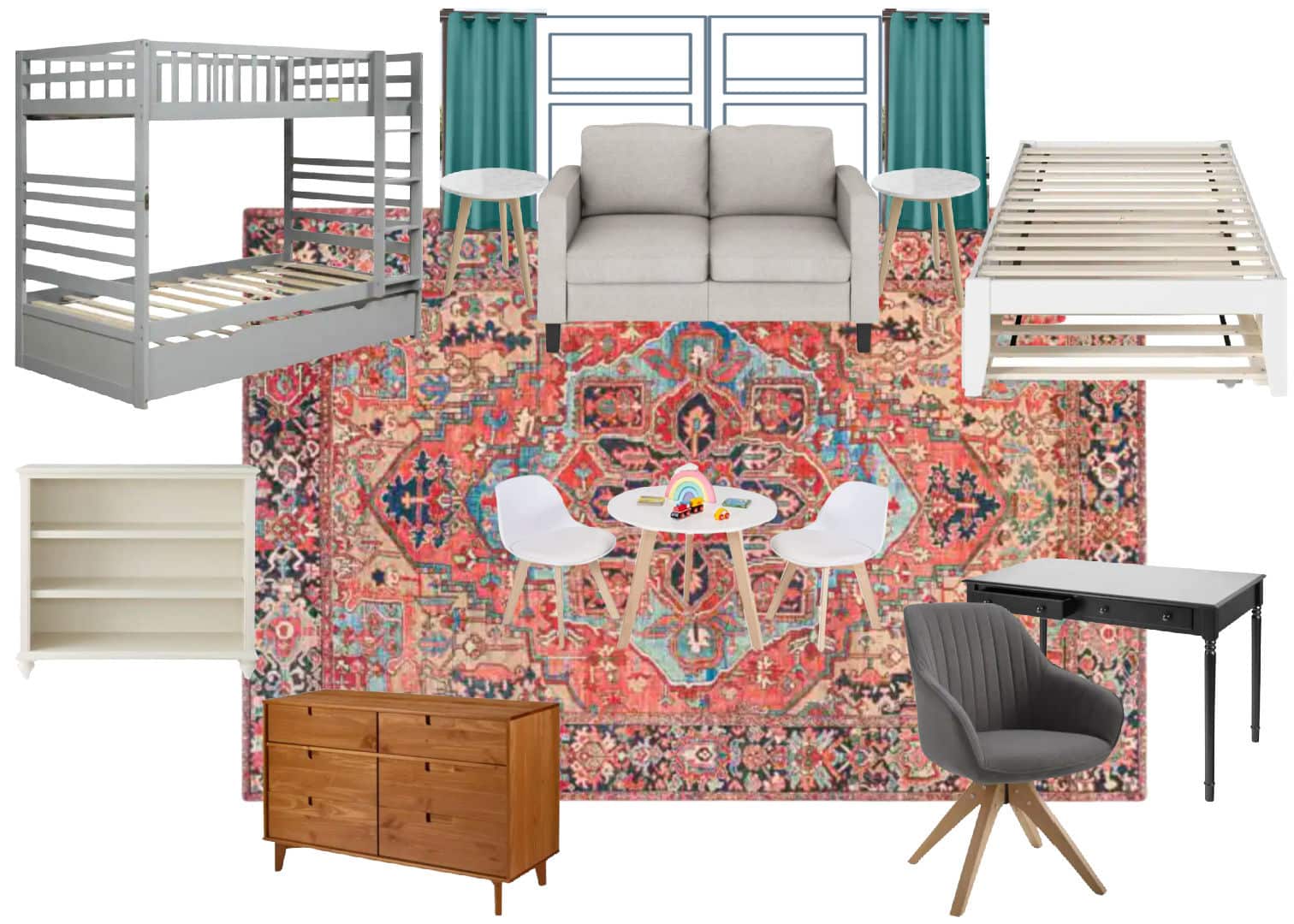 We were also hoping to lead a short workshop with the residents to give them Tools 101. For everyone on our Make It Bright team, DIY and home design have been the most empowering thing in our lives and that confidence was something we wanted to pay forward. Alas… the day we finished painting, we got word that there was a positive Covid case in the facility so we had to cancel that in person workshop. Obviously we left art supplies for everyone (plus additional care packages for future residents) and they were thrilled.
The Execution
Monica and her team assembled ALL the furniture we could before I even arrived in California. I knew she had helpers when I agreed to furnish two full rooms, but having their support and manpower was essential. We had a lot of furniture to assemble! I arrived in California on Wednesday and the fun began! I spent Wednesday afternoon shopping for last minute supplies and a handful of accessories for styling the rooms. Because the rooms had been emptied for us, we had nothing to make the space look a little more 'lived in' like we would in our own homes. That layer of styling is essential for photography so finding accessories was important to me!
On Thursday morning we loaded up the UHaul with all the assembled furniture. Did I take any pictures? No… but I shared to my Instagram so you can check out that highlight or just close your eyes and picture 6 women rearranging furniture in the back of a box truck. Thursday afternoon was our paint day. I was hopeful we would tackle this fast, but there's no way to know how many coats a space will take, etc, etc. The five of us in addition to Gaby (@tia_gabys_anthology) and Anis (@aniscamacho) started painting with our eye on the fresh paint prize. The few of us with a bit more, ahem, height were in charge of cutting in along the ceiling, and the rest of the team tackled cutting in along the baseboards and rolling the walls. We painted those rooms in record time… three hours… and they looked amazing!
Installation
Installation day is always a bit of a worry as there's no way to really know how long it will take and what road bumps we might hit. Because all this furniture was already assembled (except for beds), I was reasonably confident that we would finish without too much stress. Jocelyn and I headed over early to start unloading the truck. Let's say we got our steps in that day, but nothing was too bulky which made it easier for sure. Once Erinn, Monica and Christina had delivered children to school, they headed over and started to assemble the beds. We ended up following my floorplan almost exactly so the space came together pretty fast once the beds were finished. We took a break for lunch, I ran down to Target to pick up a few things we'd forgotten (pillows… and some replacement duvet covers) so all we needed to do after lunch was lightly style the space and take our photos!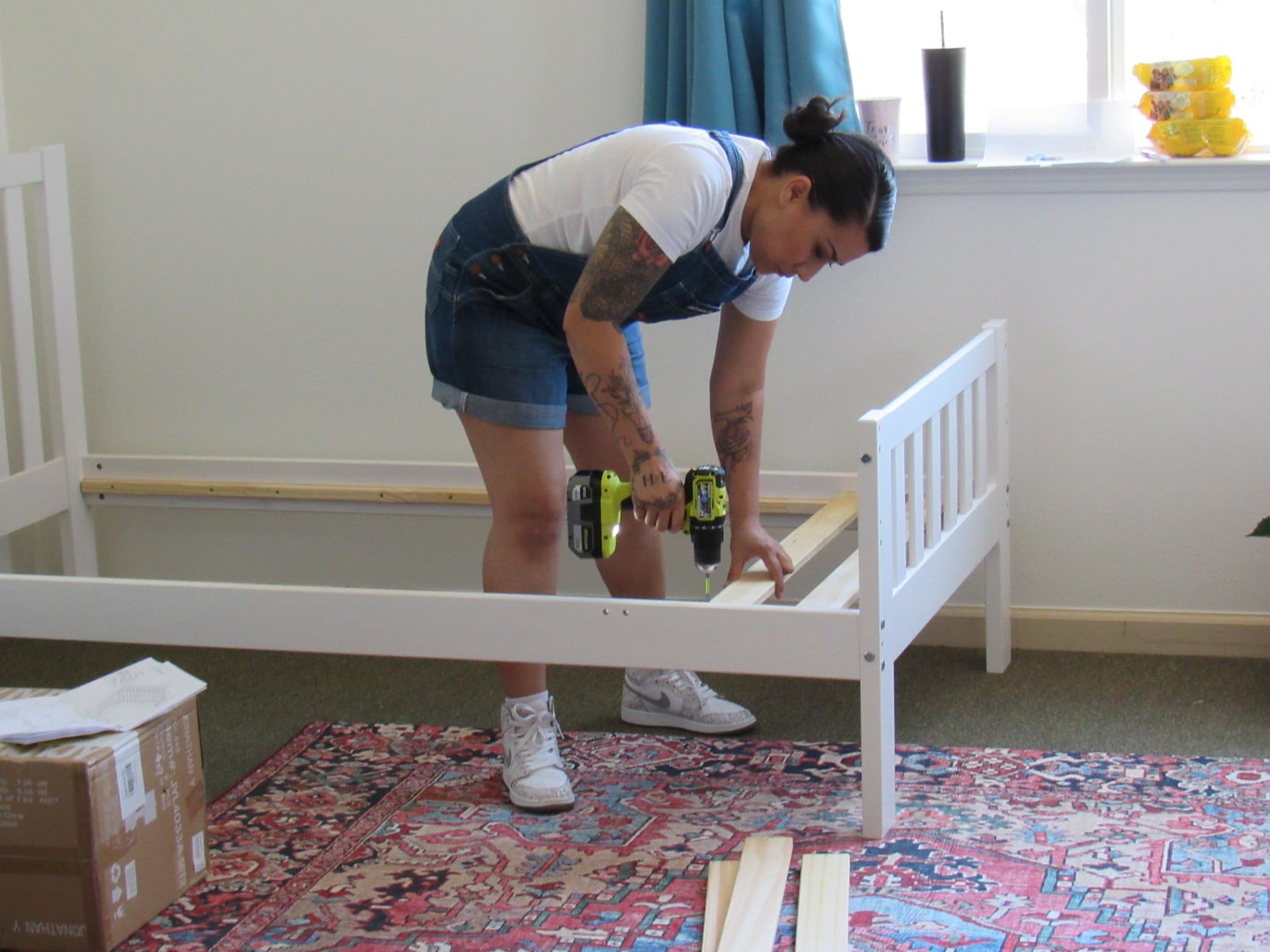 I wish we could have seen the resident's reactions to the space, but the members of the Shepherd's Gate leadership team were thrilled and so grateful to have a space to help them continue with their mission of providing safe and loving care to women in recovery. As all of us know, having a home that feels peaceful and warm… has a direct effect on our state of mind and our ability to focus our energy in other areas. We're hoping this space will be the backdrop for many a challenge overcome or a personal goal achieved for women and children for years to come!
Click here to learn more about Shepherd's Gate and their mission.
Please go check out the accounts of all the women who helped make this project possible. That's an easy way for you to show support. Another cyber hug to my friends at Home Depot, JOANN and Urban Garden Prints. When work partners are friends, it doesn't get much better!
Source List