Kitchen Makeover on a Budget
I made some basic changes to our kitchen for a total demo-free makeover.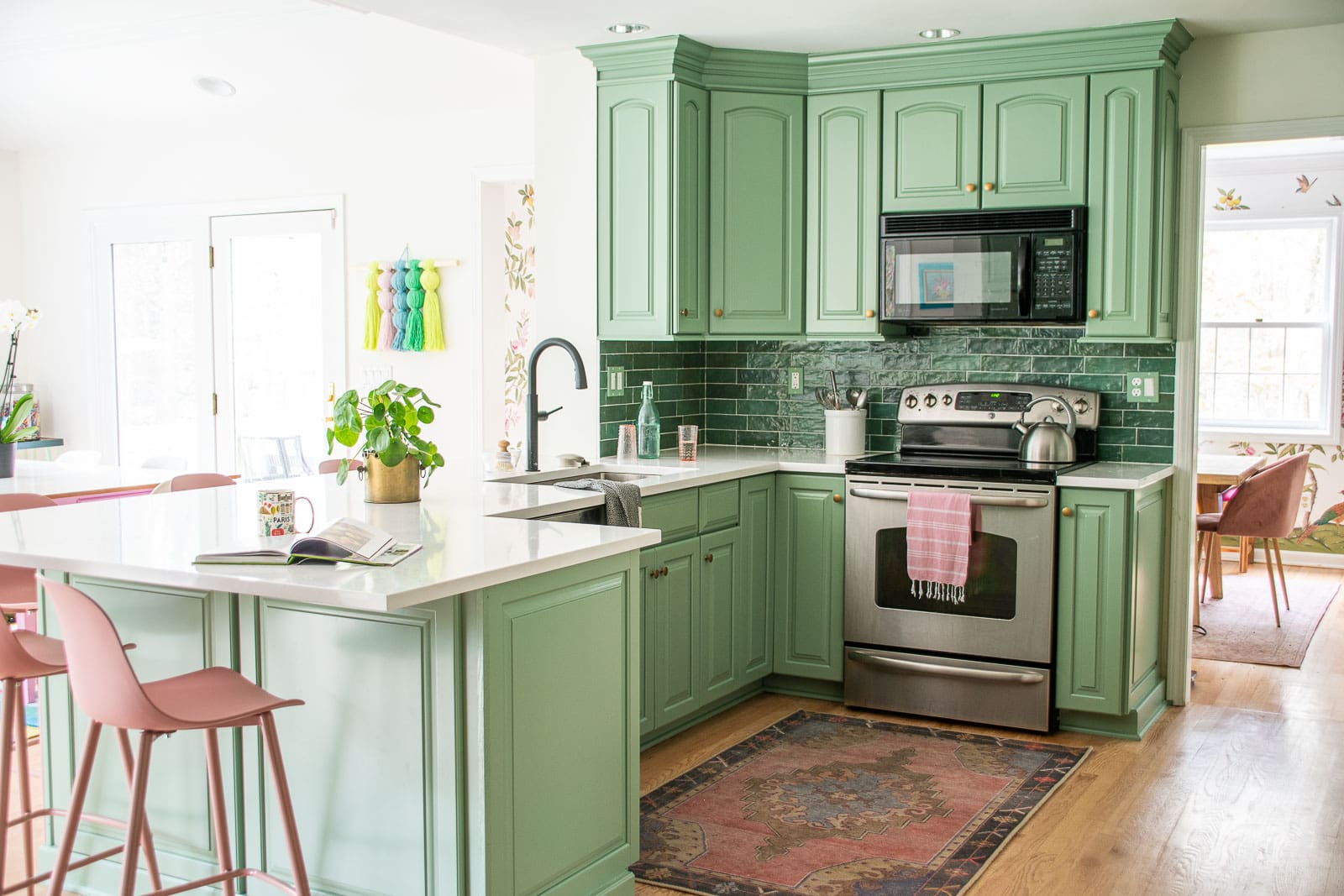 Disclosure: I partnered with American Standard and WilsonArt for this kitchen project. Make sure you head over to their websites for more information.
Storytime
When I was in 3rd grade, I checked out a cookbook from our lower school library and offered to make dinner for the family. The theme of the cookbook was enchanted castles and wizards with things like witch's broom breadsticks and blueberry fairy crisp. I slowly made my way through the breadsticks, kneading the dough and rolling them out and baking. Measuring and prepping for whatever the main entree was. Preheating and baking the dessert. Cut to a couple hours later, and it's about 45 minutes past dinner time and the only thing left to make was that classic side dish of the 70s: white rice. Which was how I learned the importance of timing when preparing food. I also remember that kitchen… the formica counter and the terra cotta tile floor. The handmade pot holders and the yellow measuring cups. I watch my own kids cooking in our kitchen… and wonder what they might remember about this new and improved space!
When we bought this house a year and a half ago, the kitchen layout seemed fine, but it was definitely a little dated in other ways. I didn't love the profile of the cabinet doors. Counters were bad and the sink was hardly big enough for two people much less seven. A full renovation was never going to be in our budget, we no question we could do better in here. We replaced the tile floors before we even moved in which was a huge improvement, but the picture above was technically where we started.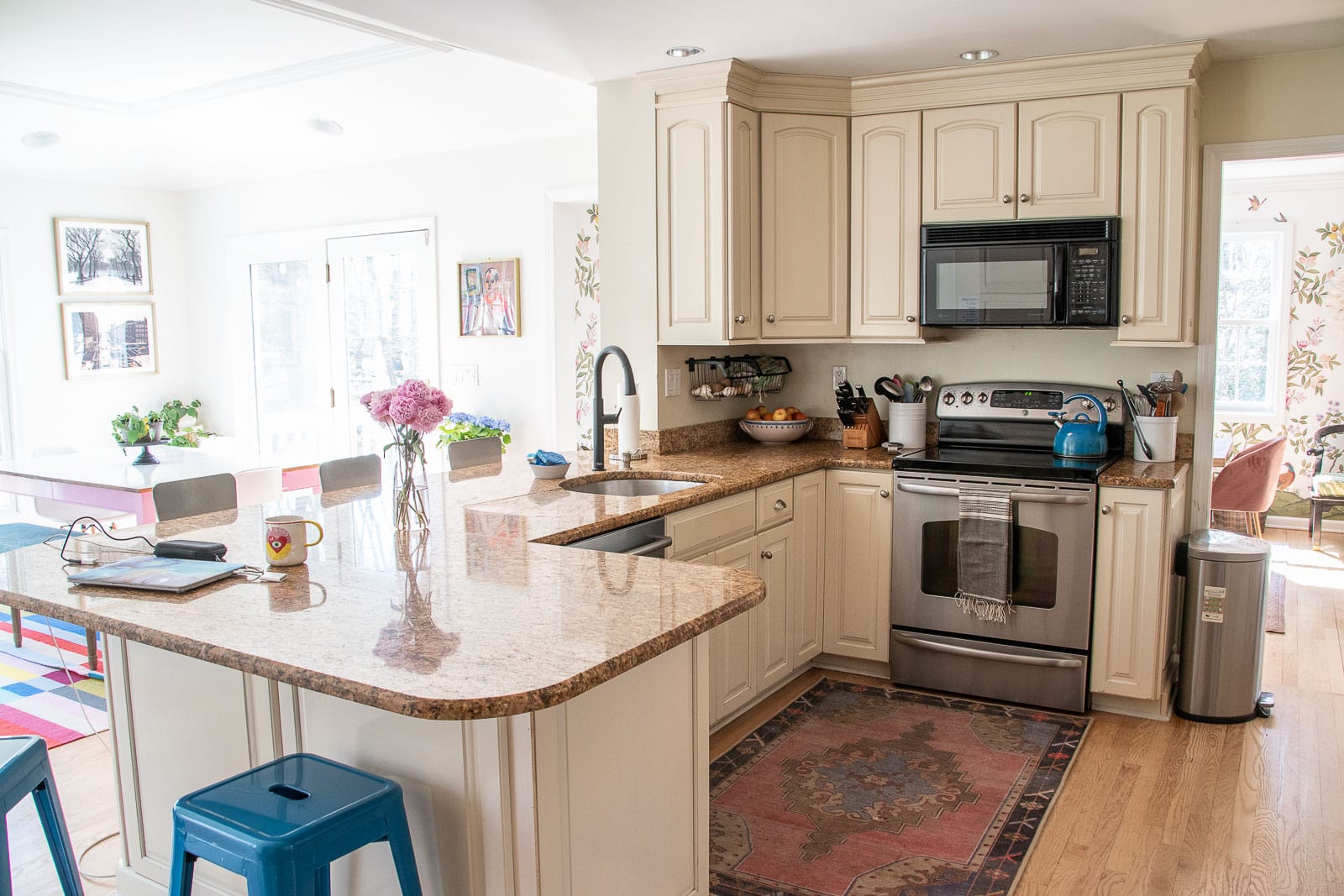 New Kitchen Sink and Faucet
The kitchen detail to fall into place was a partnership with American Standard which meant a GORGEOUS new sink and faucet. If you give a mouse a cookie…. she's going to order a bigger sink which also means she'll have to replace the counters. As luck would have it, I was approached by the folks at Wilson Art and they helped with a gorgeous quartz for the main kitchen counter and then that slate looking high pressure laminate for the two side counters. (Stay tuned for a post all about the counter process.)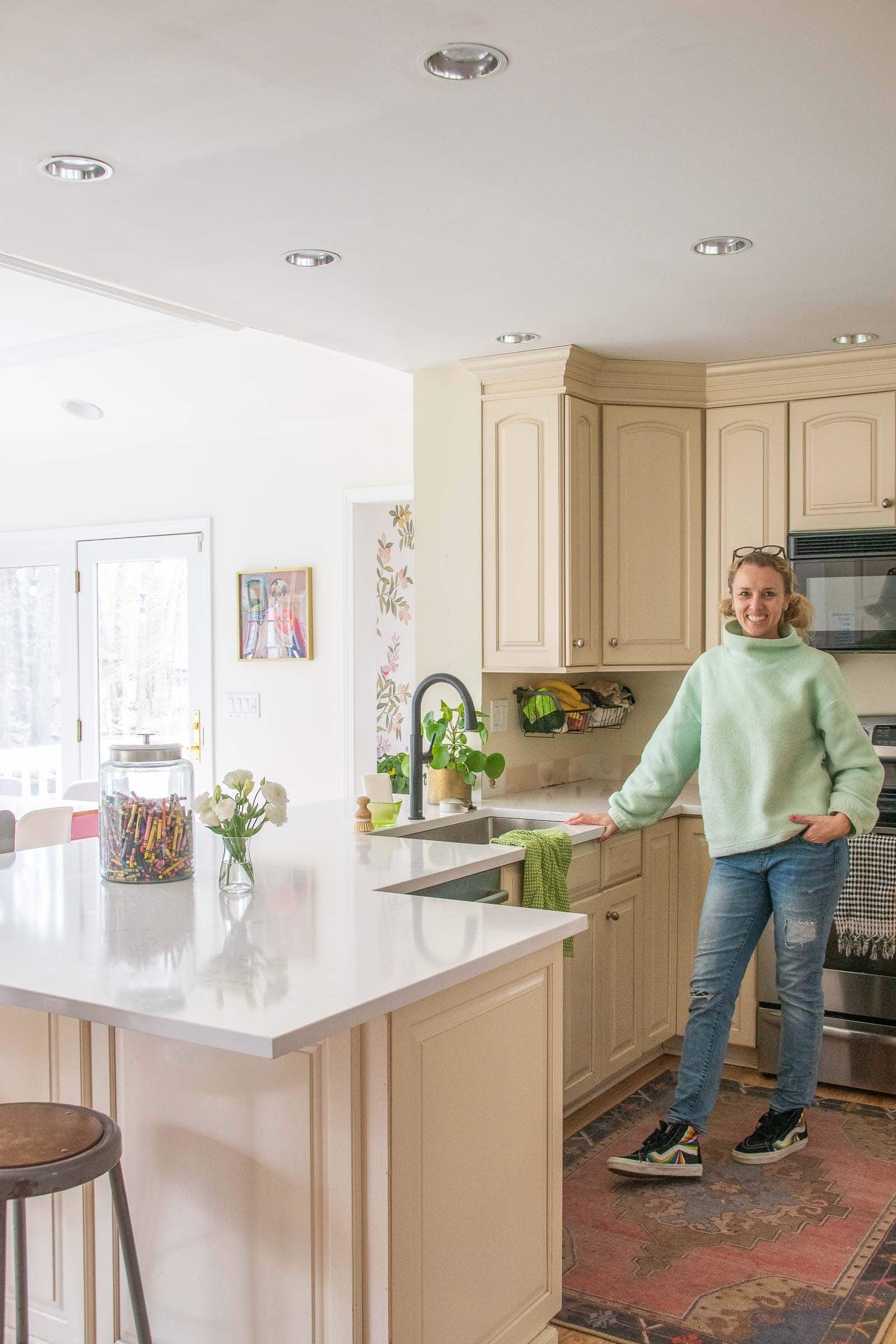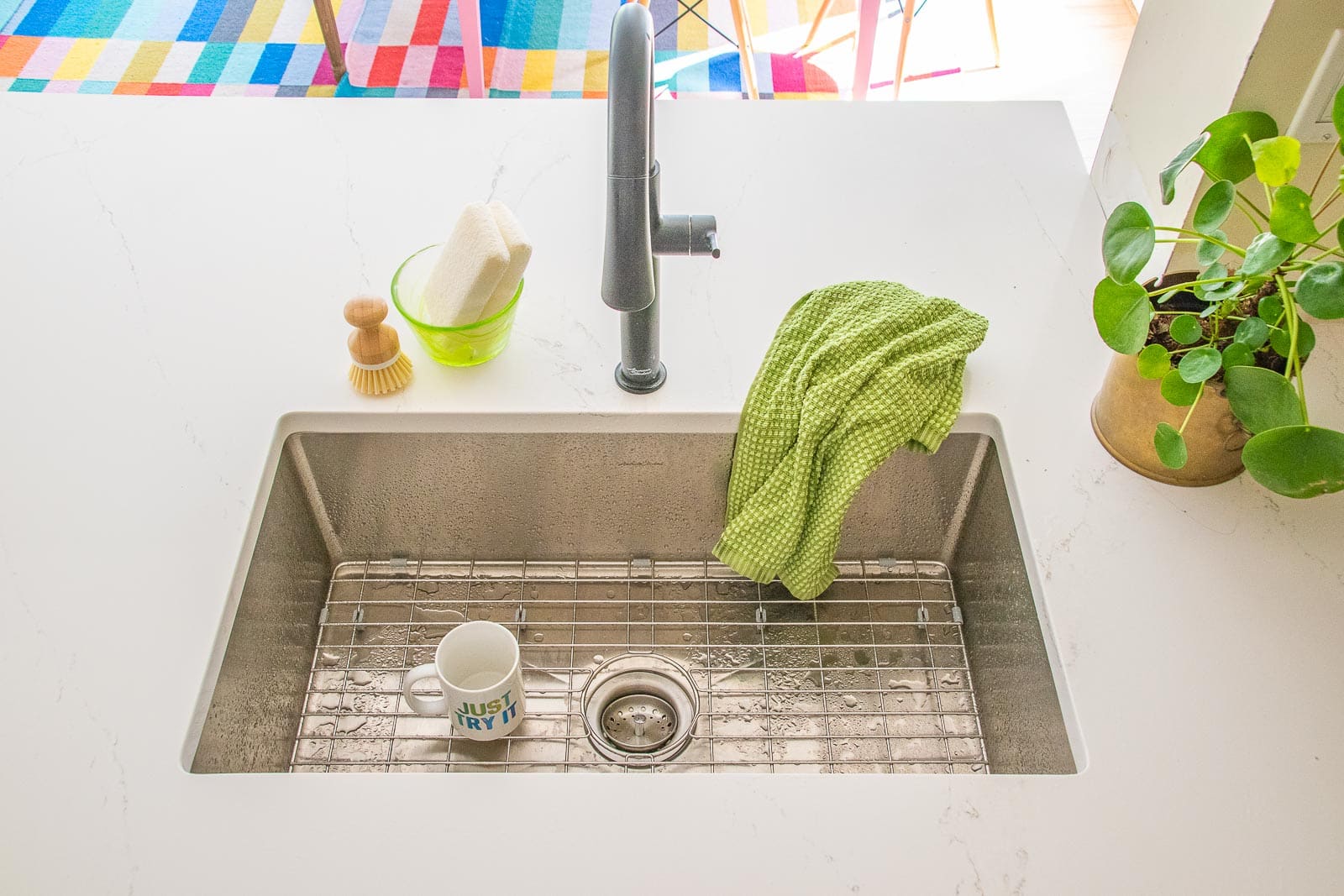 With sink and counters taken care of, time to tackle the most challenging and potentially expensive detail of this makeover: the cabinets. Originally I was planning to remove the doors and drawer fronts and simple replace them with a plain white shaker front cabinets. The cabinet boxes are in great shape, there's enough space for us and the layout works pretty well. I figured I could bring in *some* color via bold colorful backsplash behind the stove.
Adding Backsplash Tile
When I saw this vibrant green tile with a handmade irregular vibe at a local tile store, I was sold. I saw lots of green kitchen tile inspo online and my visions for the space were slowly coming to better focus. I used an adhesive tile mat called Musselbound in lieu of thinset to lay the tile and was pleasantly surprised by how easy it was. The adhesive mat rolls onto the wall like wallpaper and then you simply press the tile in place. No waiting necessary before grout.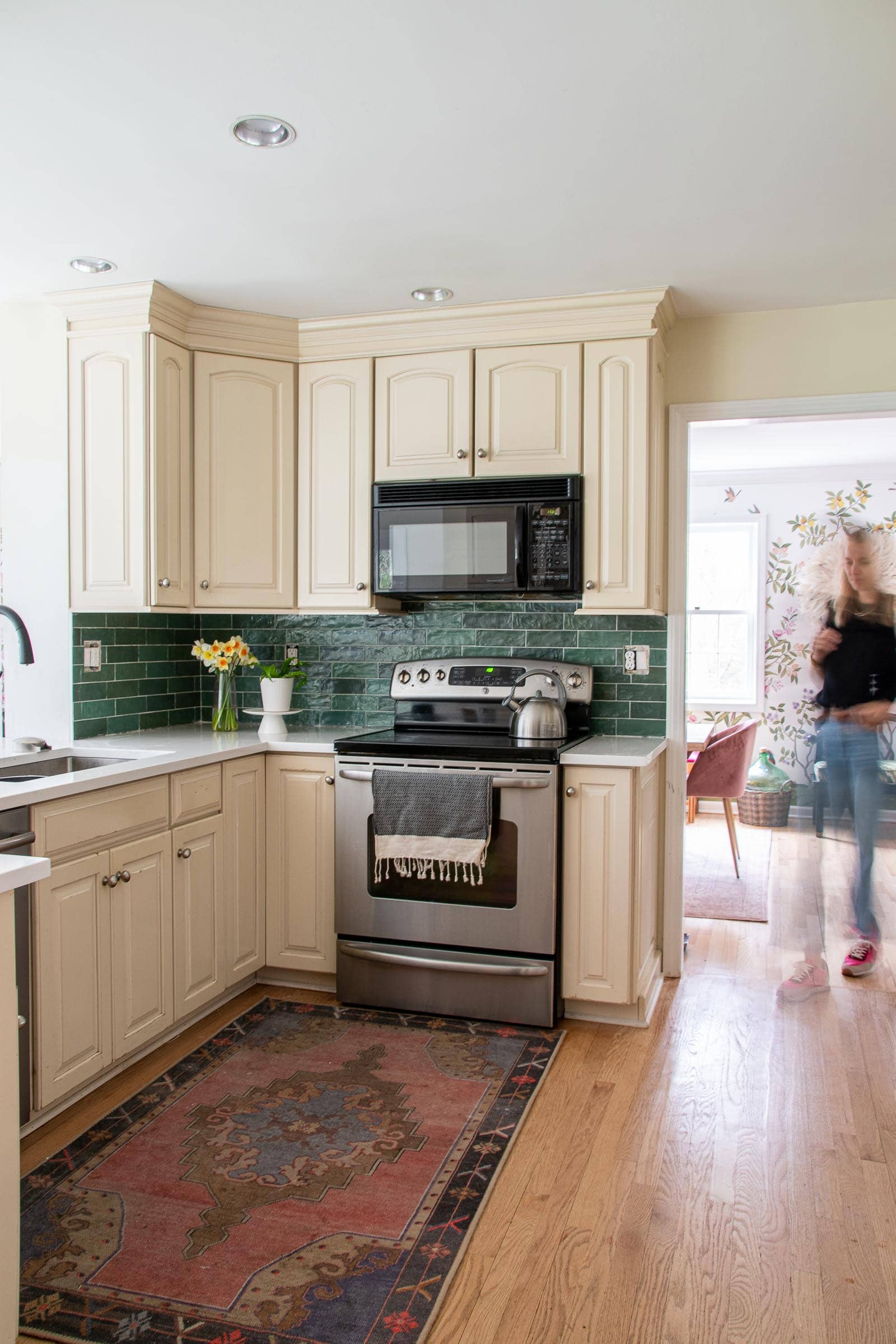 Guess what I learned about our cabinets? They're semi custom which also means it was more than semi impossible to remove the decorative panels without disassembling the cabinets… that's a hard pass. Pivot. Once it was clear that replacing the cabinet fronts was off the table, the only other option was paint. Paint can't change the curved cabinet molding but… maybe it could camouflage it a bit. Bye bye sleek white shaker front cabinets, hello bold colorful GREEN cabinets.
Painting the Kitchen Cabinets
I'll also share a blog post with tips and advise for choosing a paint color. I probably picked up 20 different samples before settling on this one: Benjamin Moore's Summer's Day. I LOVE it. Also… it's COMPLETELY different than I expected. It's not quite as saturated and bold as I envisioned, but I also think it's perfect with the tile and the adjacent rooms and it adds a layer of sophistication that these old cabinets didn't have before. Now the color distracts me from the aspects of this cabinet profile that I dislike. I paid to have them sprayed while we were gone for spring break so the finish is pristine and I couldn't be happier.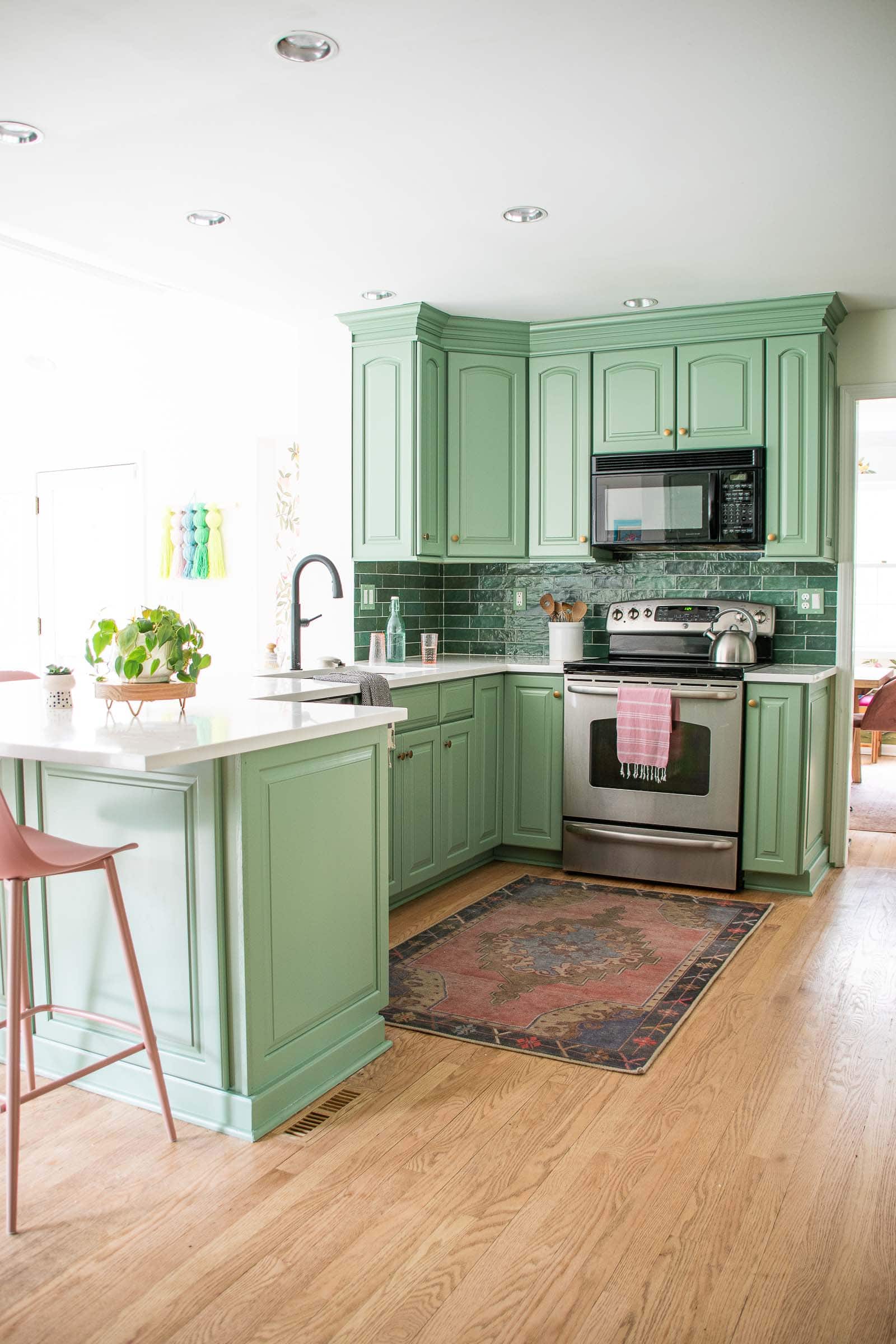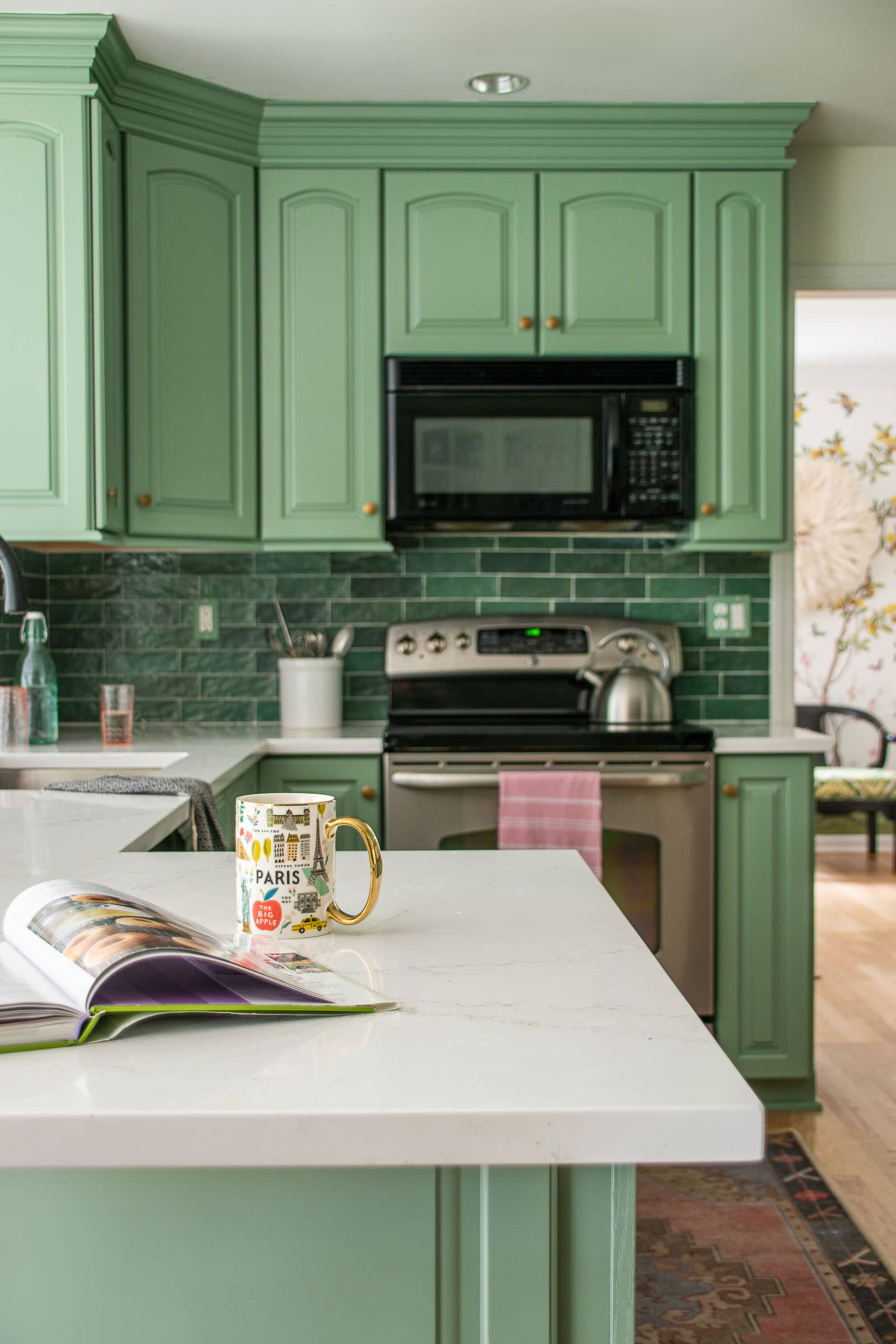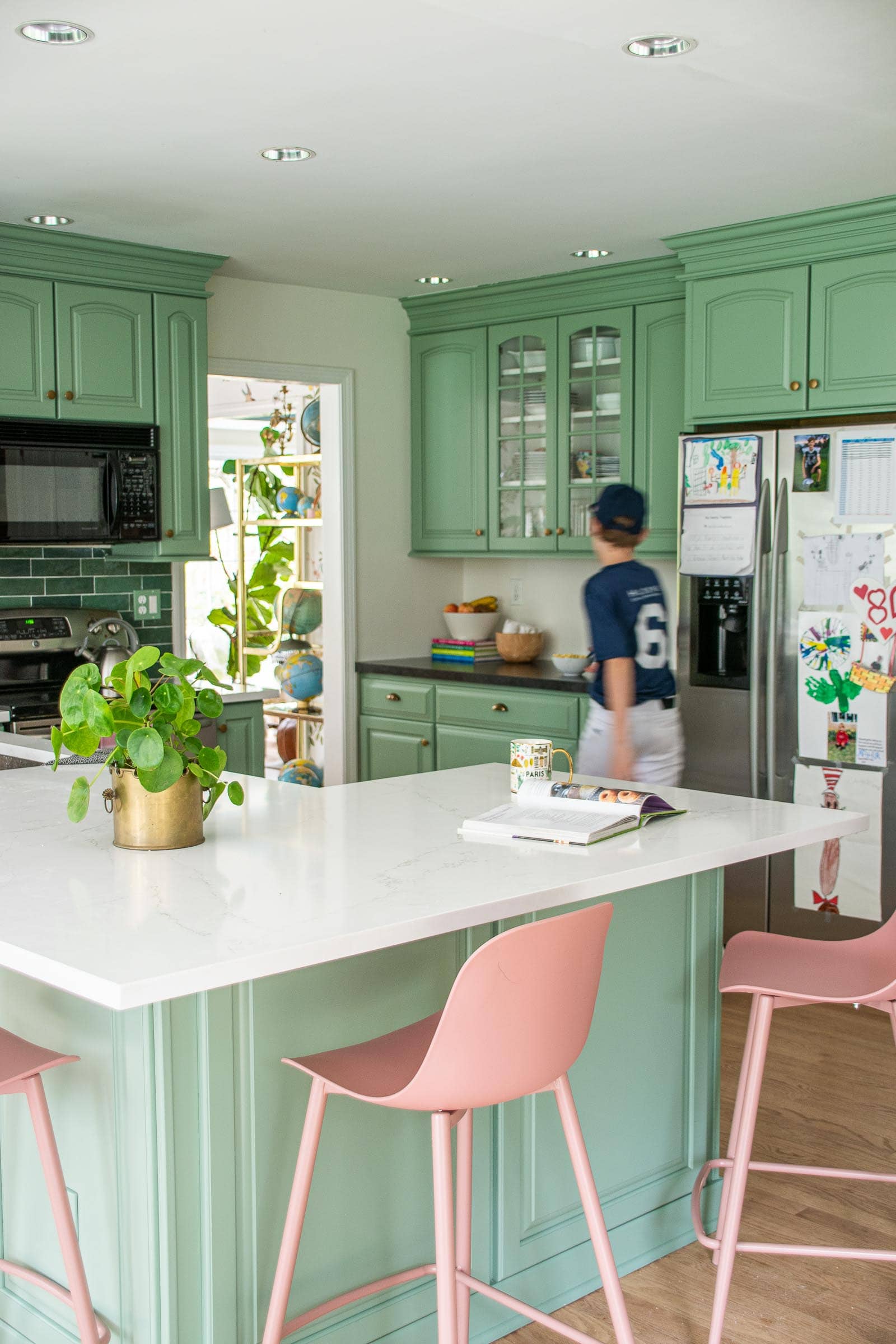 I replaced the hardware, painted the rest of the room White Dove to match the adjacent rooms and picked up some new matching bar stools and it almost feels like a new room. Eventually we'll replace the microwave, stove and refrigerator, but for now… I'm calling this space done! I partnered with American Standard and WilsonArt so the sink/ faucet and counters were no cost to me, but if I'd paid for everything out of pocket, this makeover would have cost around $10,000. That's a lot of money, but it's peanuts compared to a full kitchen renovation! Never underestimate the power of some paint and new finishes!

Check back for posts about the counters and the paint process, but feel free to leave me any questions below in the comments!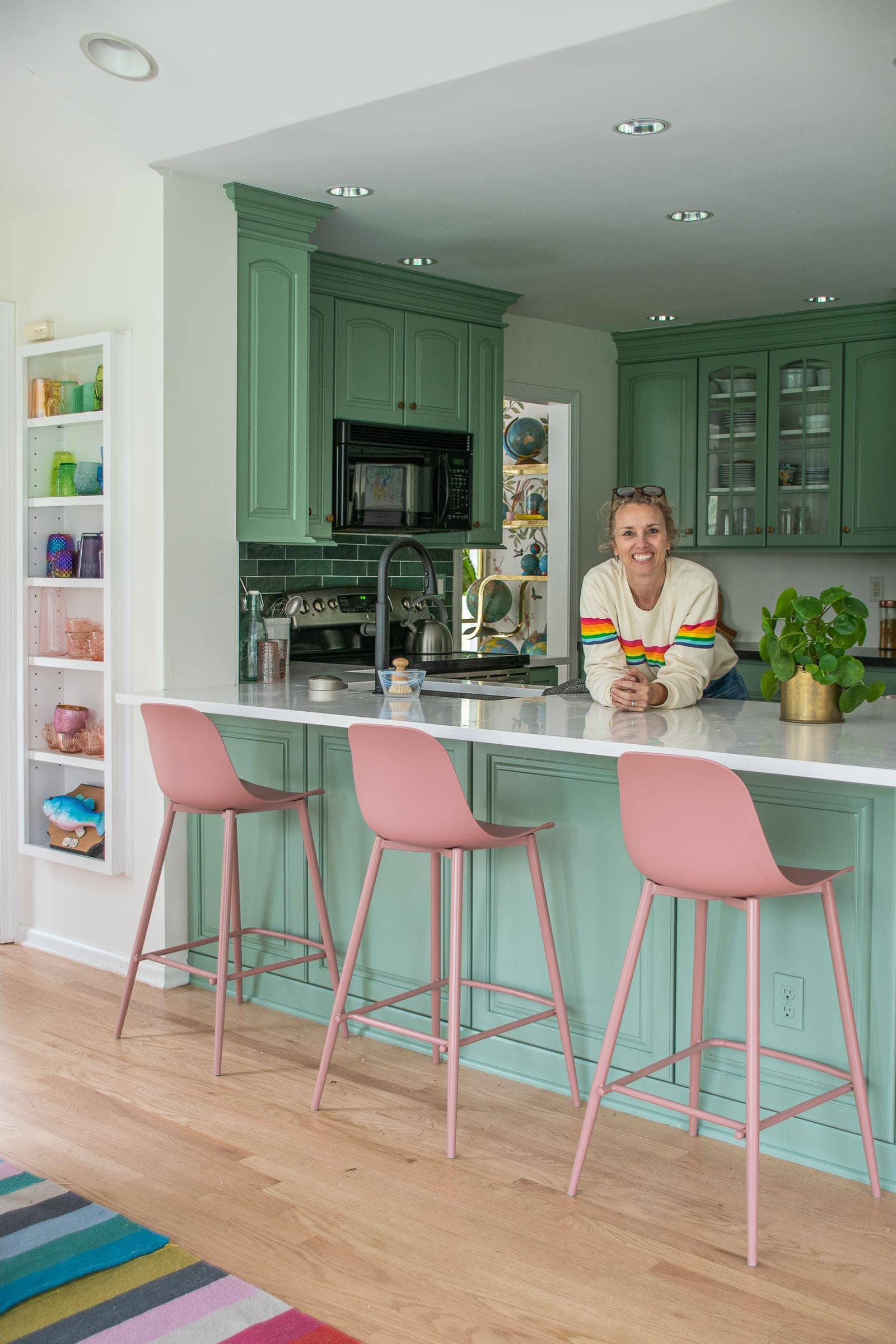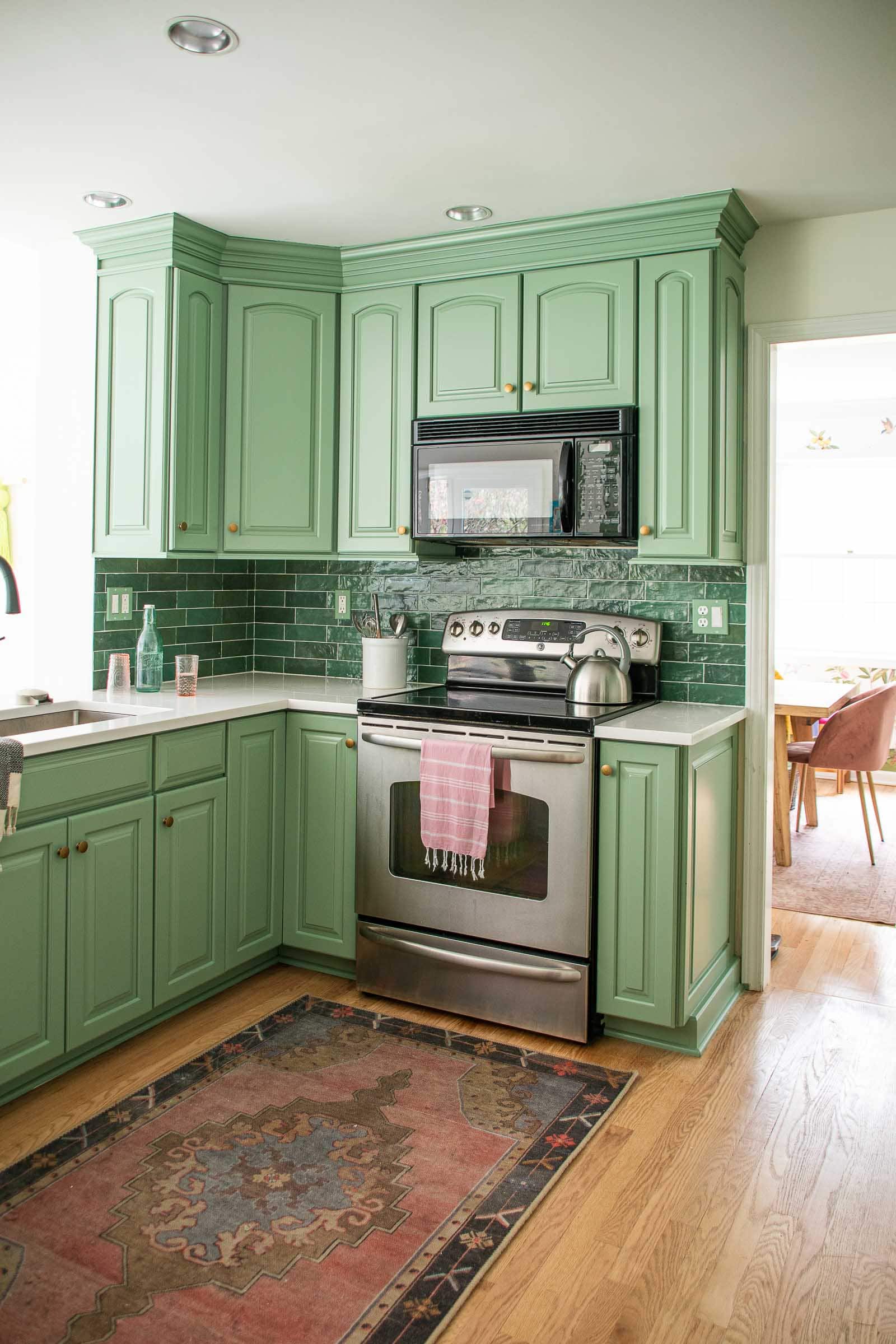 Sources: