Have I mentioned I love unicorns?!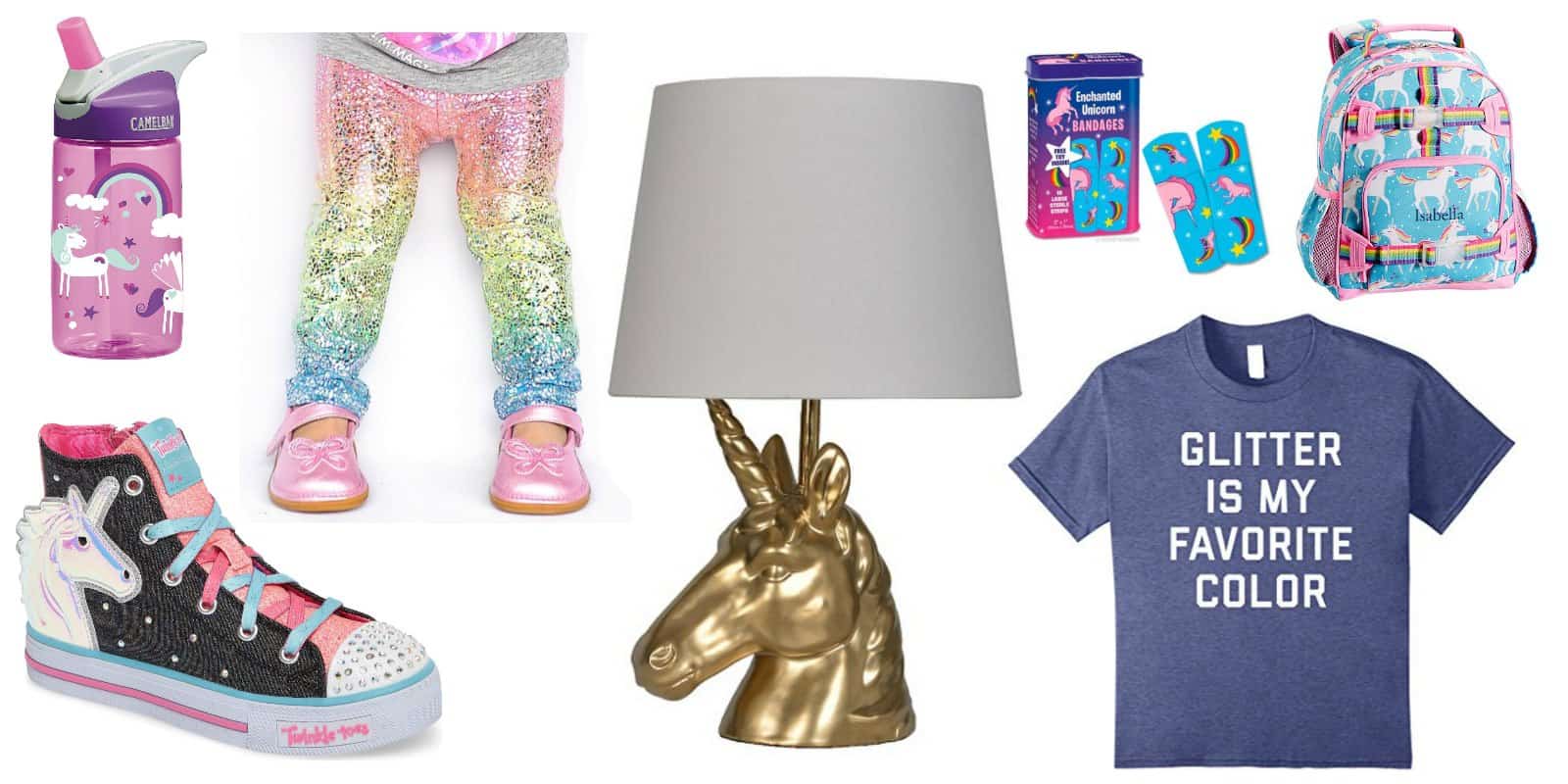 Forgive me this indulgence… I love decorating a kids room because I can let loose a bit when it comes to color and pattern, but I'm also not afraid to throw in all those whimsical little things that I would have liked in my own room eons ago! Hence… this ENTIRE post dedicated to, yep, the UNICORN. All three of my girls enjoy a unicorn. It's not an obsession or anything, but they'll happily include one in their decor. (Affiliate links included for your shopping convenience!)
Here's why I LOVE a unicorn.
1. It can be cute and girly as well as a bit more sophisticated and grown up. Sure… you're probably not going to find a unicorn table lamp in the Queen of England's she-shed, but… something like this gold lamp could totally work as an adult woman's desk lamp.
SHOP UNICORN DECOR

2. Unicorns often come with rainbows. And I love rainbows because they match anything. OK, maybe not anything, but ROYGBV… so lots of choices. This all a fancy way of saying that unicorns are also a gateway to rainbows. Bring on the rainbows!
SHOP UNICORNS AND RAINBOWS

3. Unicorns stand for hope and imagination and magic. I'm totally down with ALL of those things. If I can wear something with a pithy little saying on it share that with the world… why not?!
SHIP UNICORN CLOTHING

4. Something about a unicorn makes me feel happy. I don't know why. Is it everything I mentioned above? The magic… the glitter... the rainbows. Who knows. It's happy without being suuuuuper childish (in my opinion). A unicorn can be subtle… or exaggerated. Sometimes you want a little unicorn… sometimes you want a lot!
SHOP UNICORN FAVORITES

As you can see, I pulled all my favorite unicorn items from around the web… here they all are in one image… click each item to see the direct link!