Colorful Fall Pumpkin Tablescape
I picked up all these pumpkins at Christmas Tree Shops andThat to help create our colorful fall harvest table decor!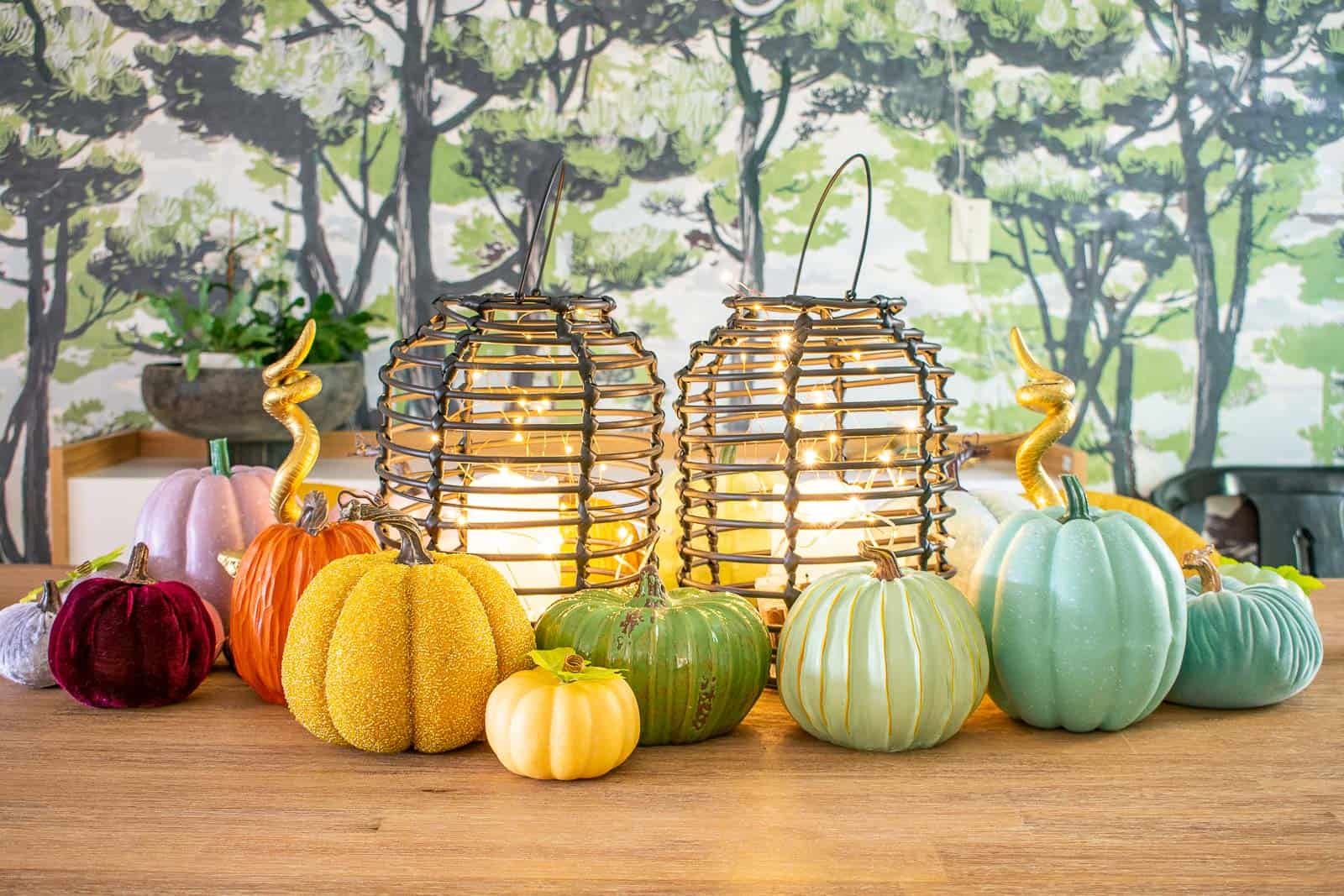 Disclosure: I'm partnering with Christmas Tree Shops andThat on this post but all pumpkin opinions are my own!
Every year I'm a broken record when I say that it feels like fall arrives in Connecticut OVERNIGHT. Like one minute were barbecuing and jumping in the pool and the next minute I'm wearing fleece! For once, however… my decor is aligned with the seasons because I have a gorgeous fall harvest tablescape to share with you today and I could not love it more! I partnered with Christmas Tree Shops andThat to find some colorful autumn goodies for the table and they did not disappoint. Check out their fall harvest decor line here!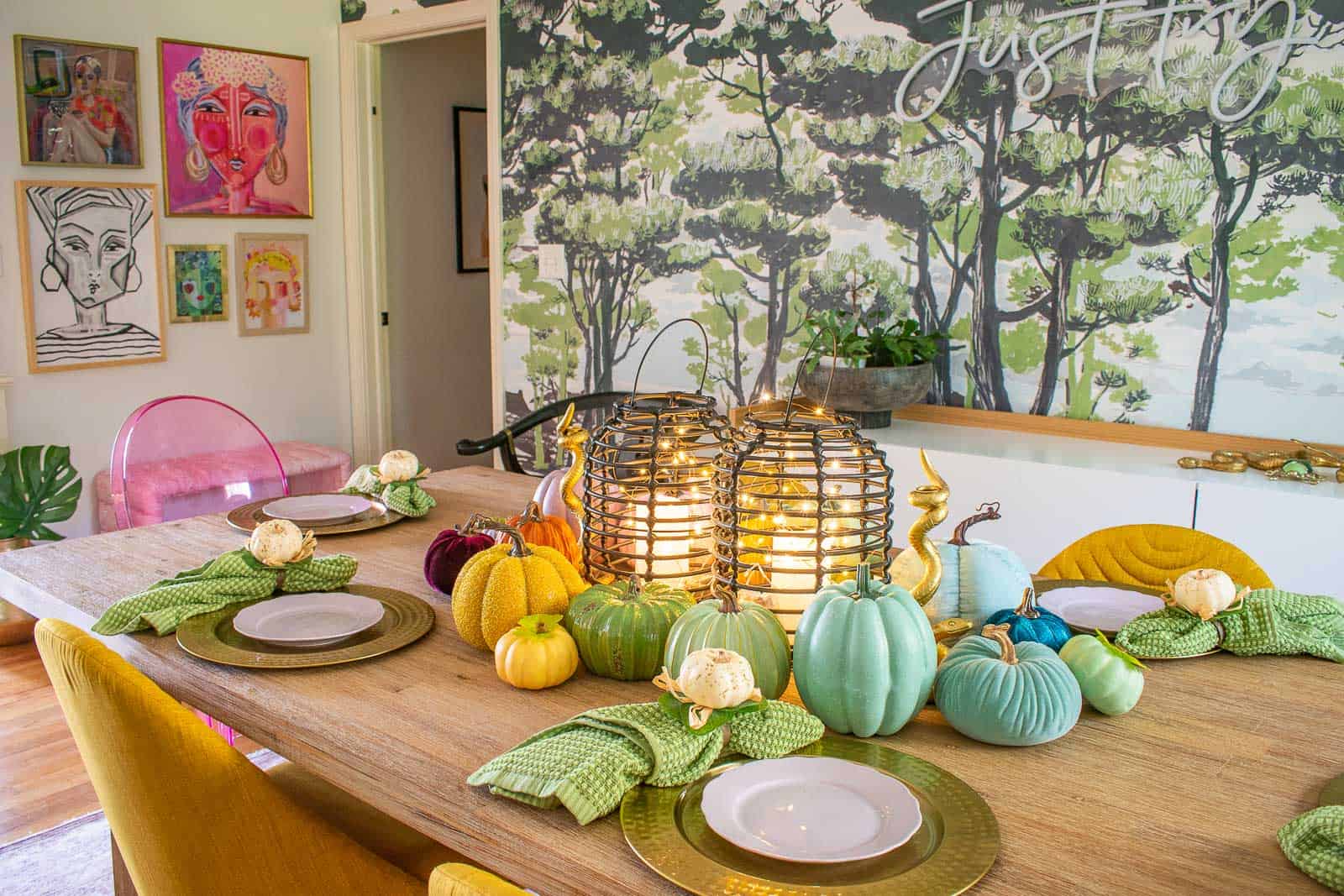 Whenever I walk into a place like the Christmas Tree Shops I'm not sure what I'm going to find so I *never* have a plan. I just wander. What I noticed this season was that that had pumpkins in all shapes and sizes and textures and COLORS. So…. obviously I had to start collecting as many different colored pumpkins as possible.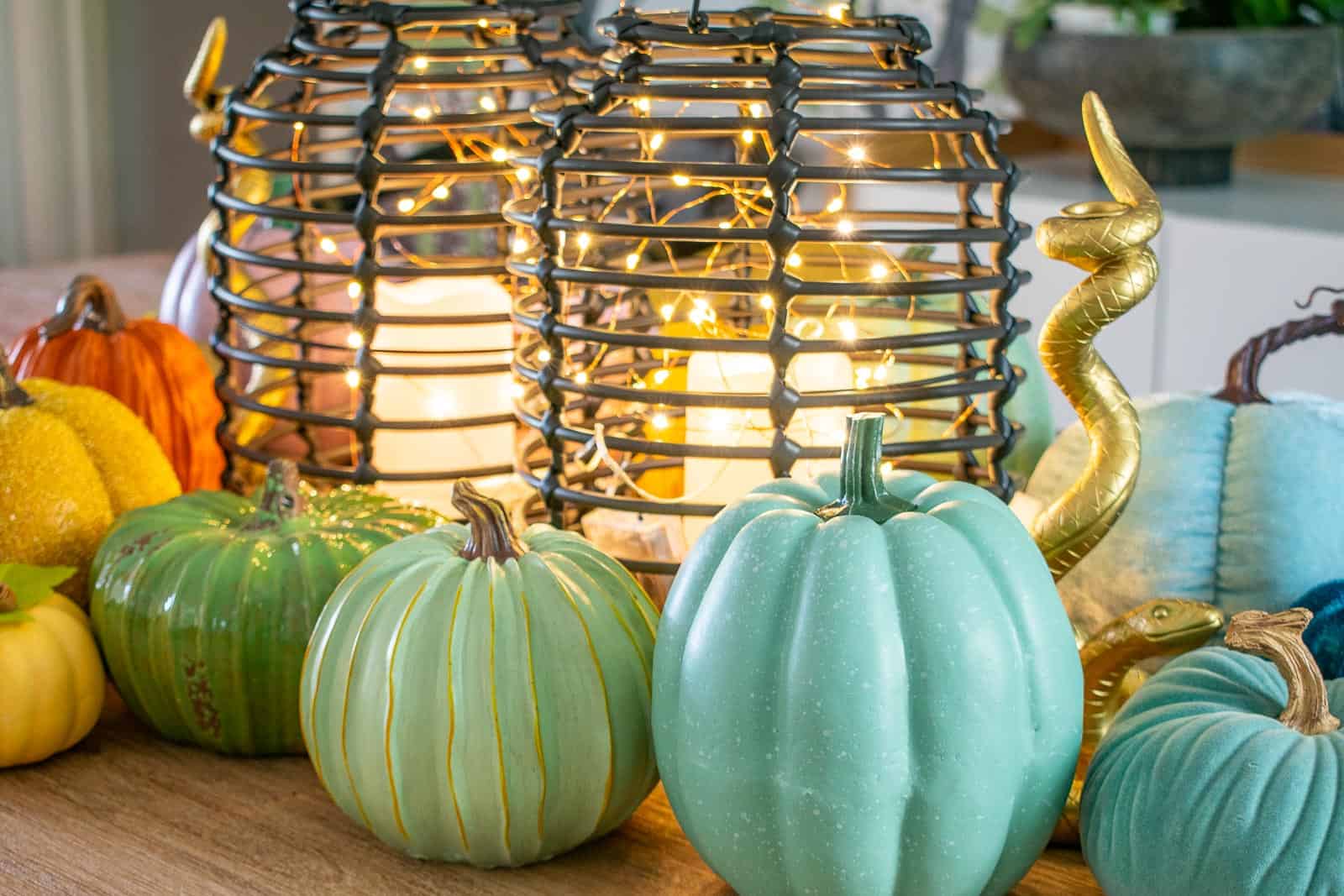 To ground the centerpiece a bit, I picked up two of these all weather lanterns. I love the airy feel of these but I also love that the black will relate to the rest of the room a bit AND… bonus… I can bring these outside if necessary!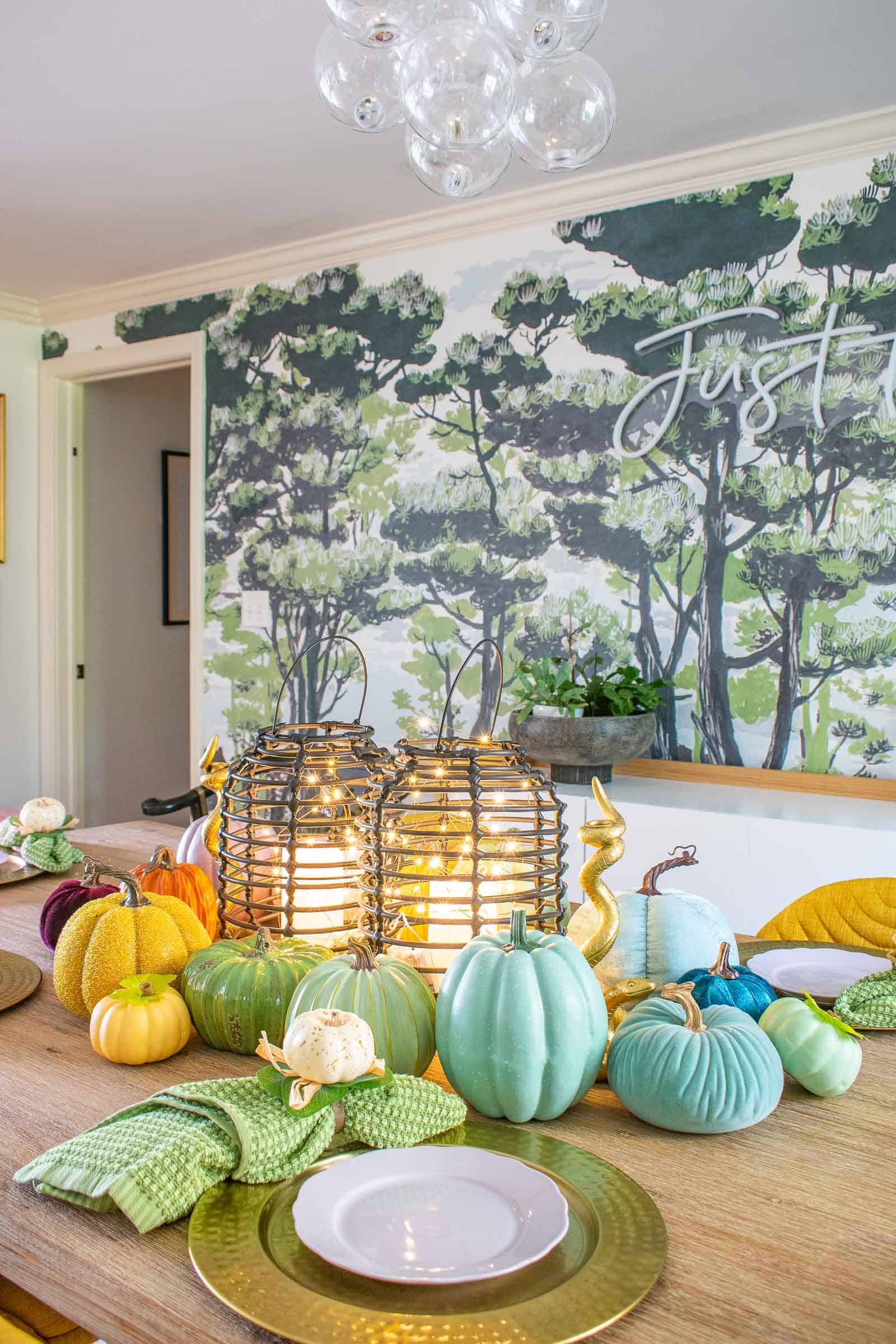 Tucked in next to the lanterns are those two gold snakes candlesticks. I'm usually pretty chill when it comes to shopping, but these guys genuinely caused me to leap into action to get them into my cart. The same feeling you might get when there's only one bag of Baked Cheetos on the shelf and you notice someone else approaching. Yah. I hustled.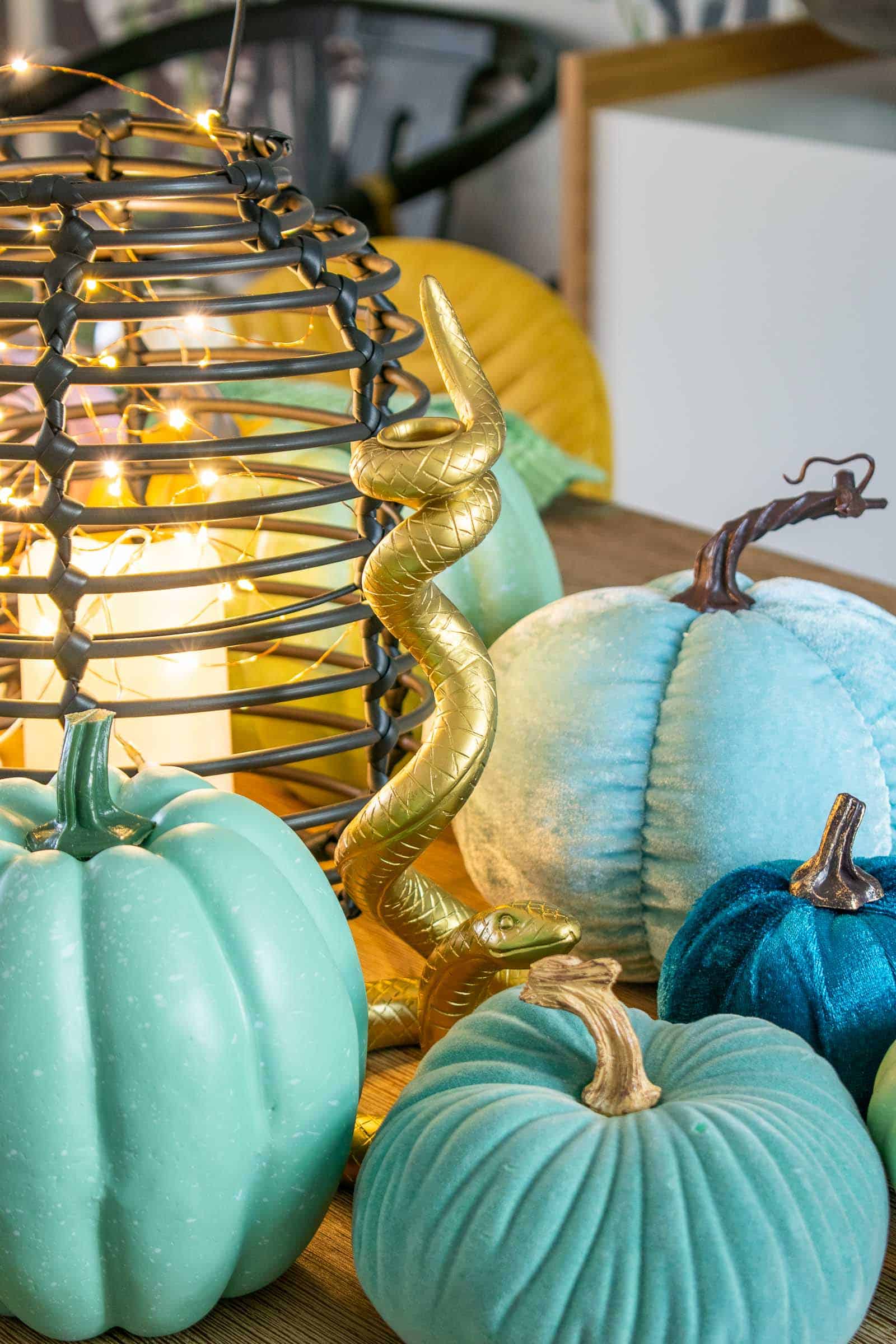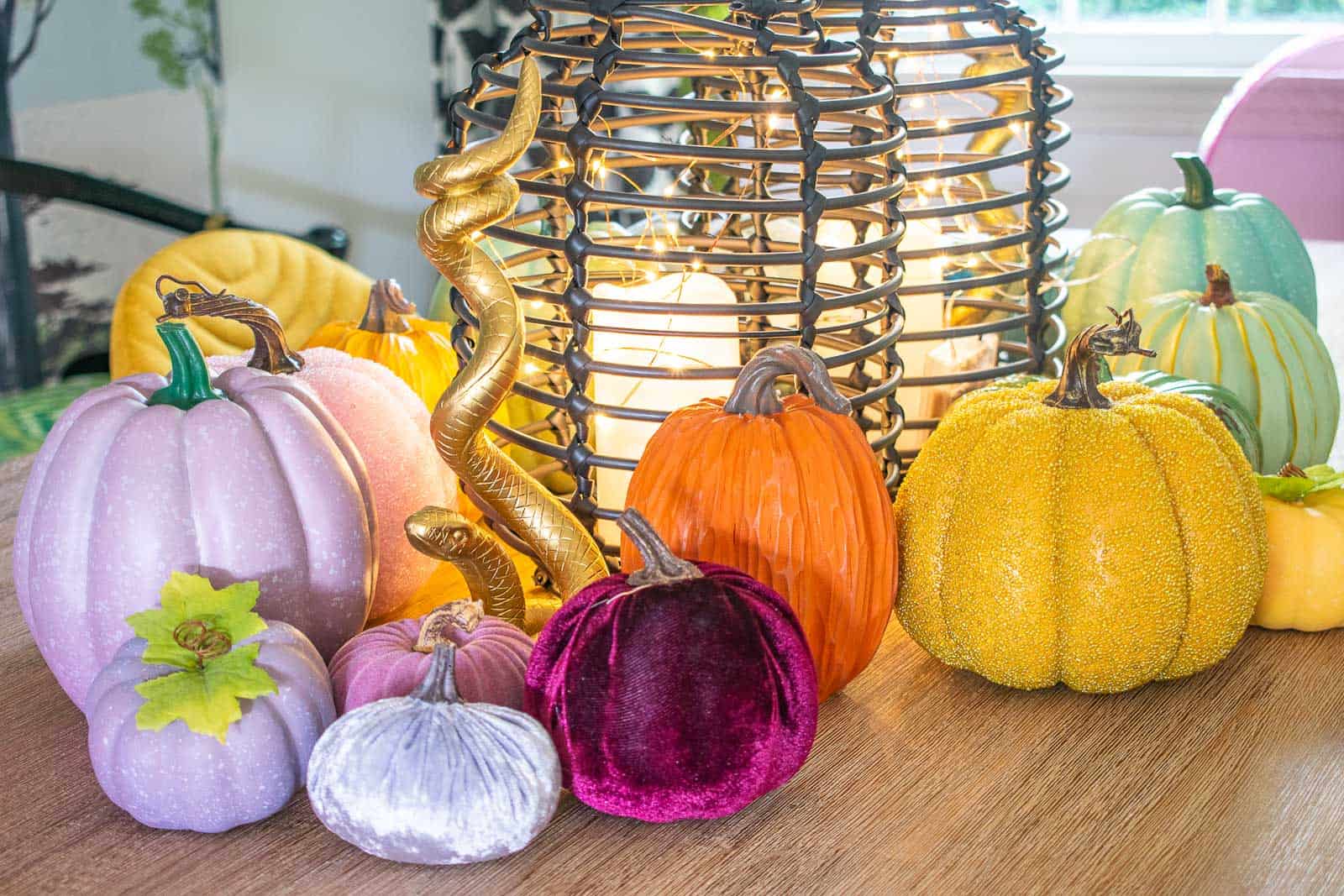 This pumpkin arrangement is pretty enough to leave in place all season, but I wanted to show you how this looks when the table is actually set for entertaining. (My kids love a "fancy" dinner in the dining room every so often so picture this tablescape with mac and cheese or something.) I started with those brass chargers. I love them.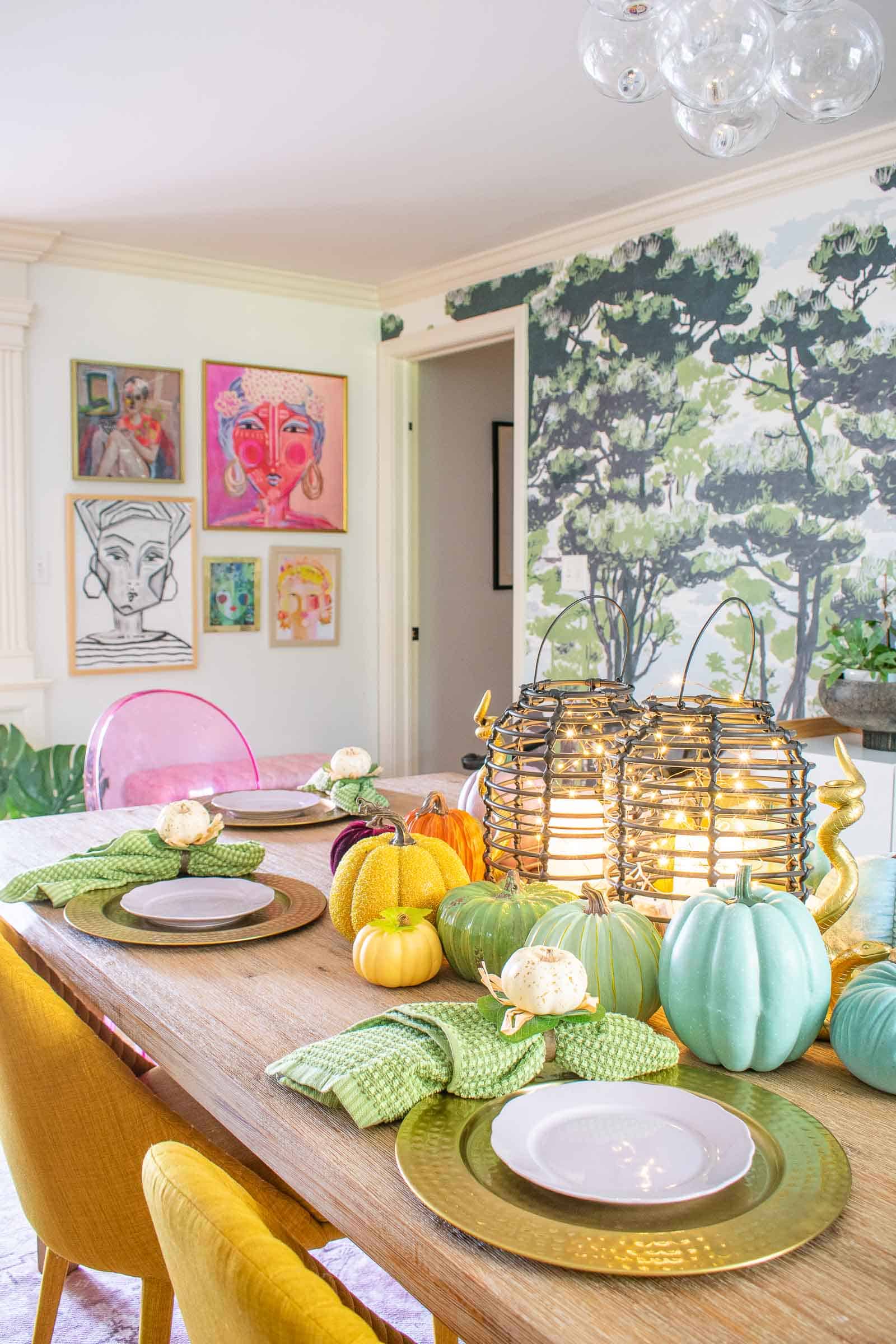 You know that pink makes me happy in this space so these sweet scalloped pink plates were the perfect combo. They're not actual dinner plates, but… hack… when I use smaller plates with the kids, it's harder for them to push their food around to convince me they've eaten enough.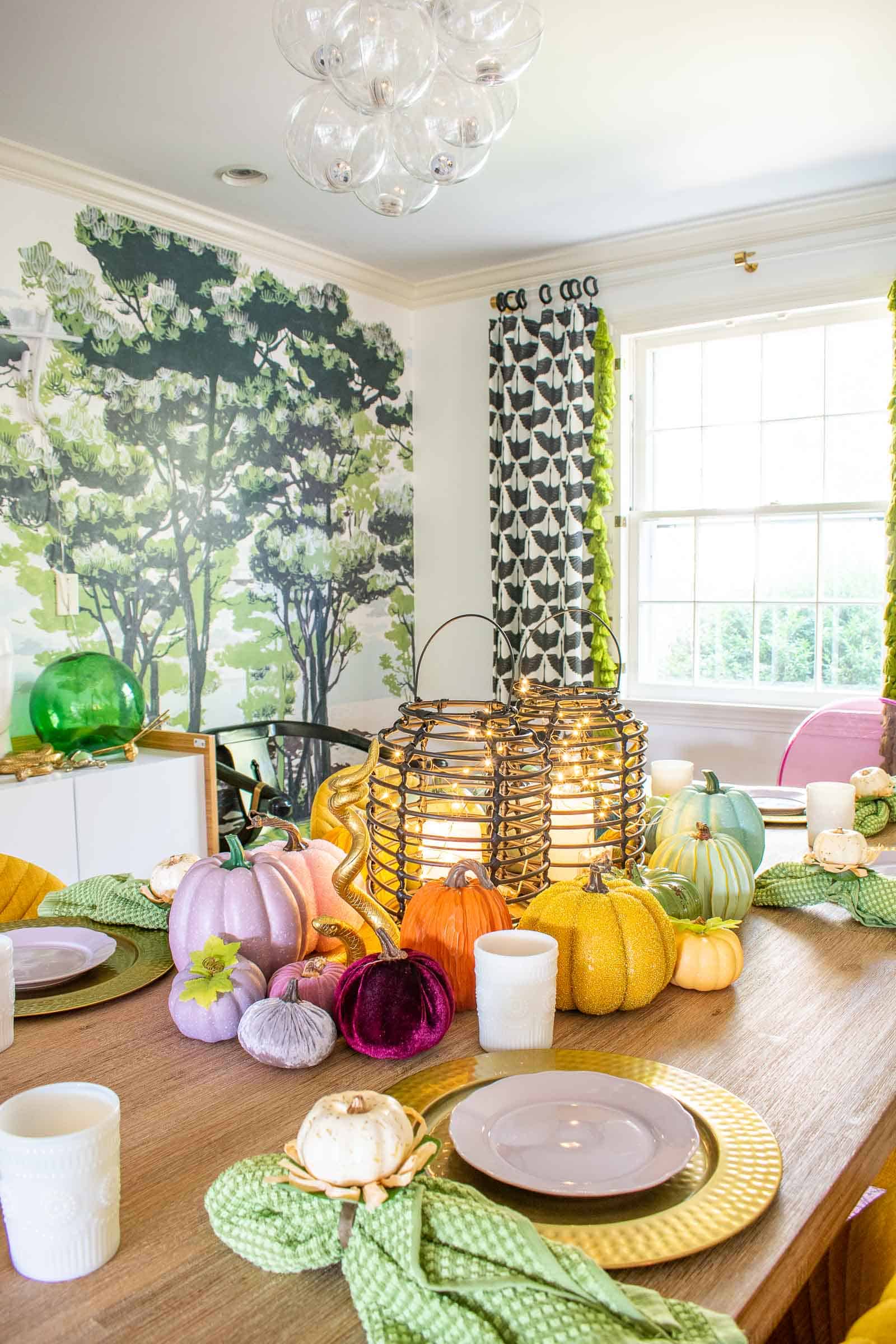 Take a peek at those napkins. Notice anything? Another go-to move of mine when decorating a table is to grab dishtowels in lieu of napkins. They're bigger and they're thicker (kids=winning) … but they can also be used when we're NOT setting a fancy table much more easily than typical cloth napkins. I couldn't resist those pumpkin napkin rings… those might come out on Thanksgiving!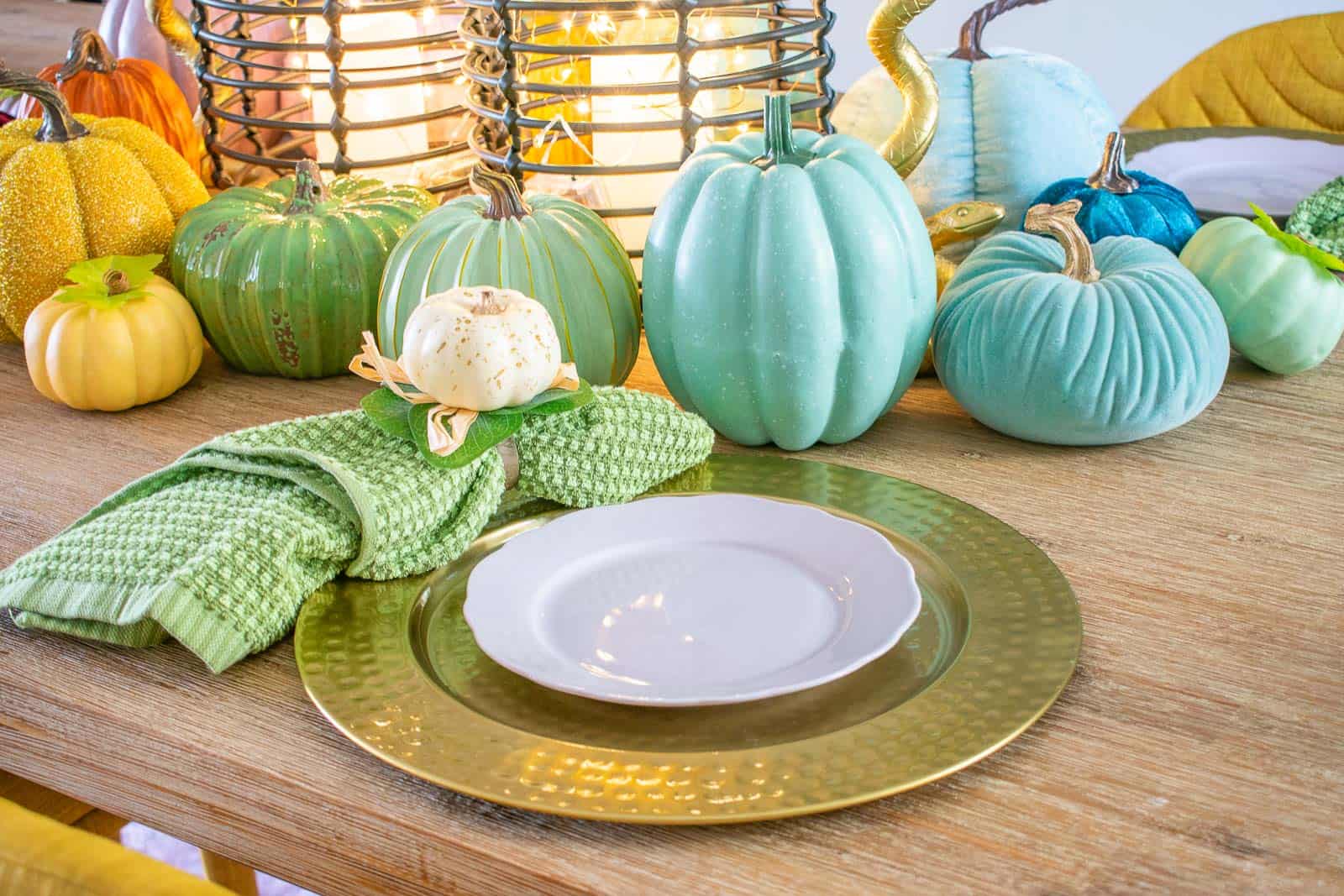 Finally… because ambiance is everything, I grabbed two strands of battery powered mini LED lights to tuck into the lanterns just to add some sparkle to the faux candles.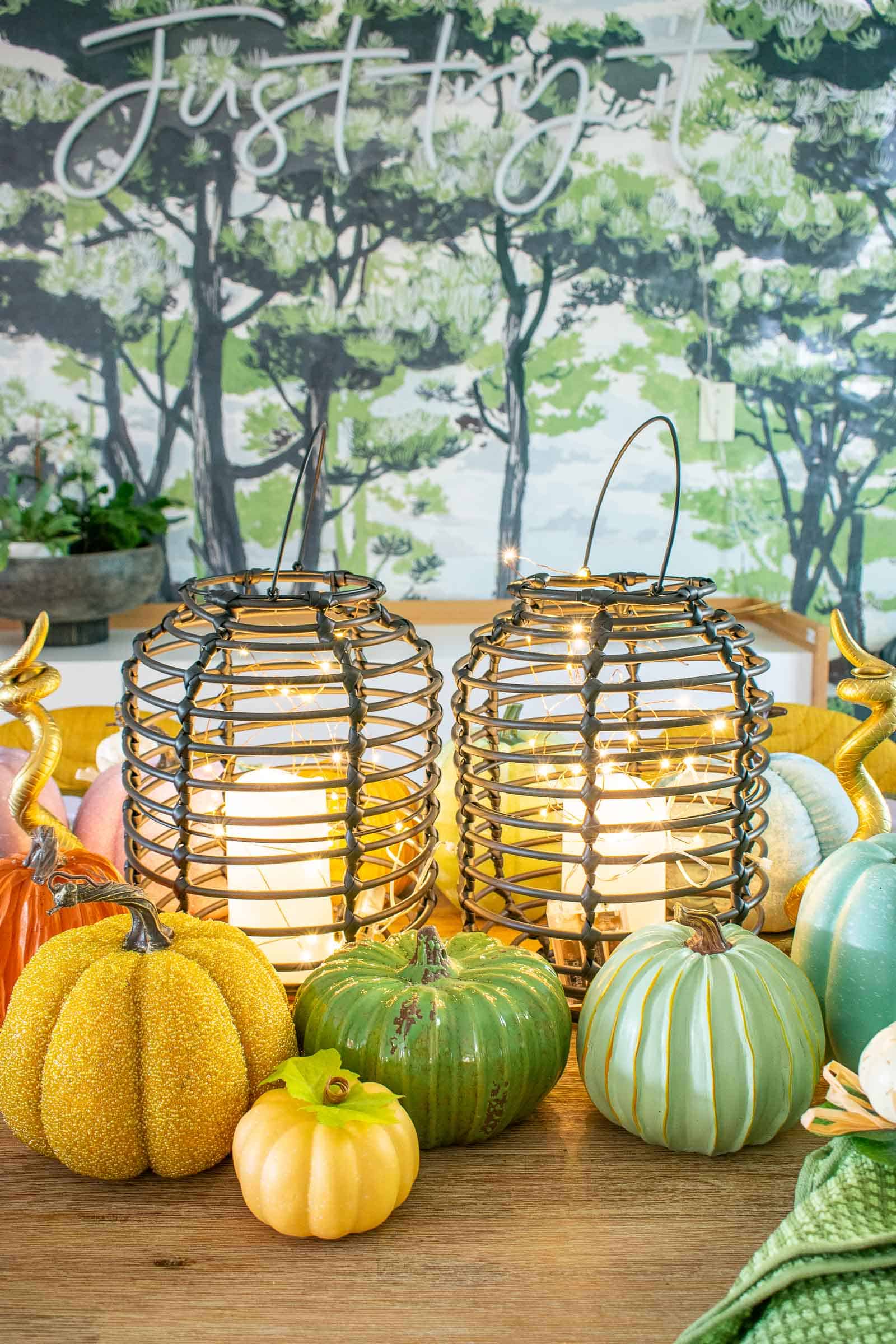 The rest of my house may be a disaster with pencils and paper and glue sticks scattered, but the dining room table is organized and festive and happy so thanks to Christmas Tree Shops and That for helping me bring just a little bit of fall peace into our home!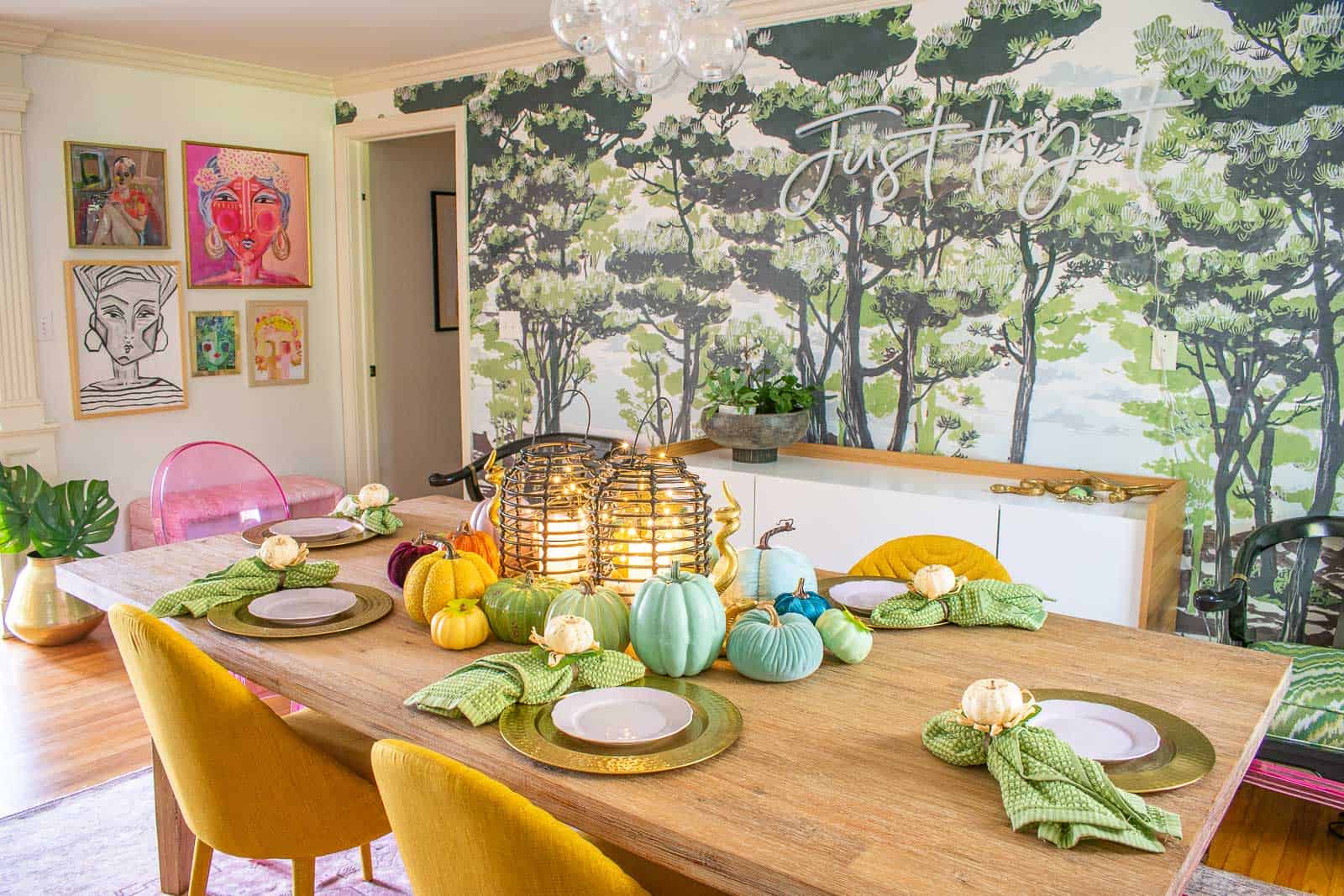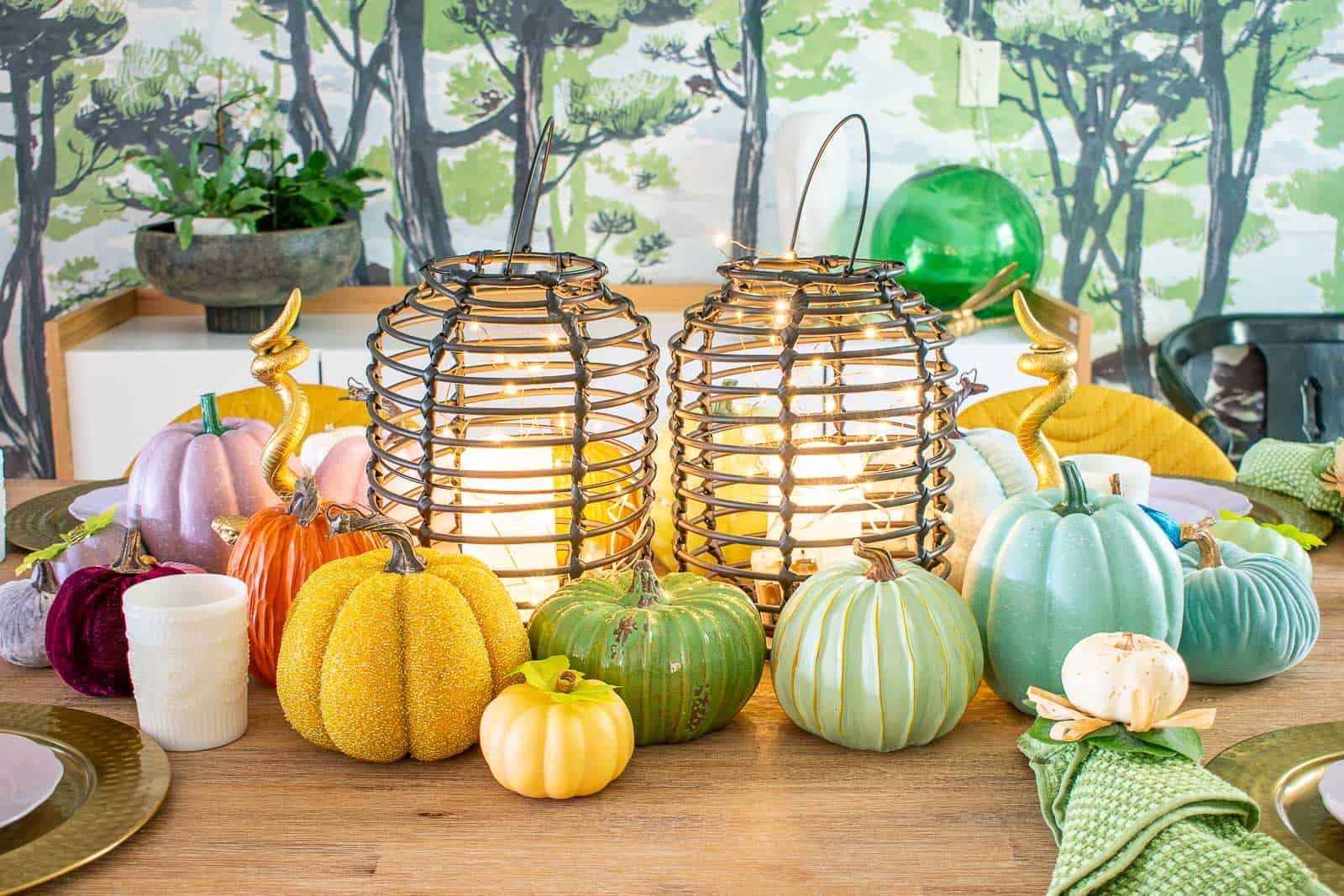 Don't forget to check out all of the Christmas Tree Shops harvest decor here!