Adding Pattern and Color to Our Rental Living Room
Folks… I've shared our colorful living room on Instagram but haven't given you the full walk through so… picture me walking backwards like a college tour guide. You're about to see what I've done with this space! Welcome welcome to those of you hopping over from Kate's blog… I love having a DIY hype girl!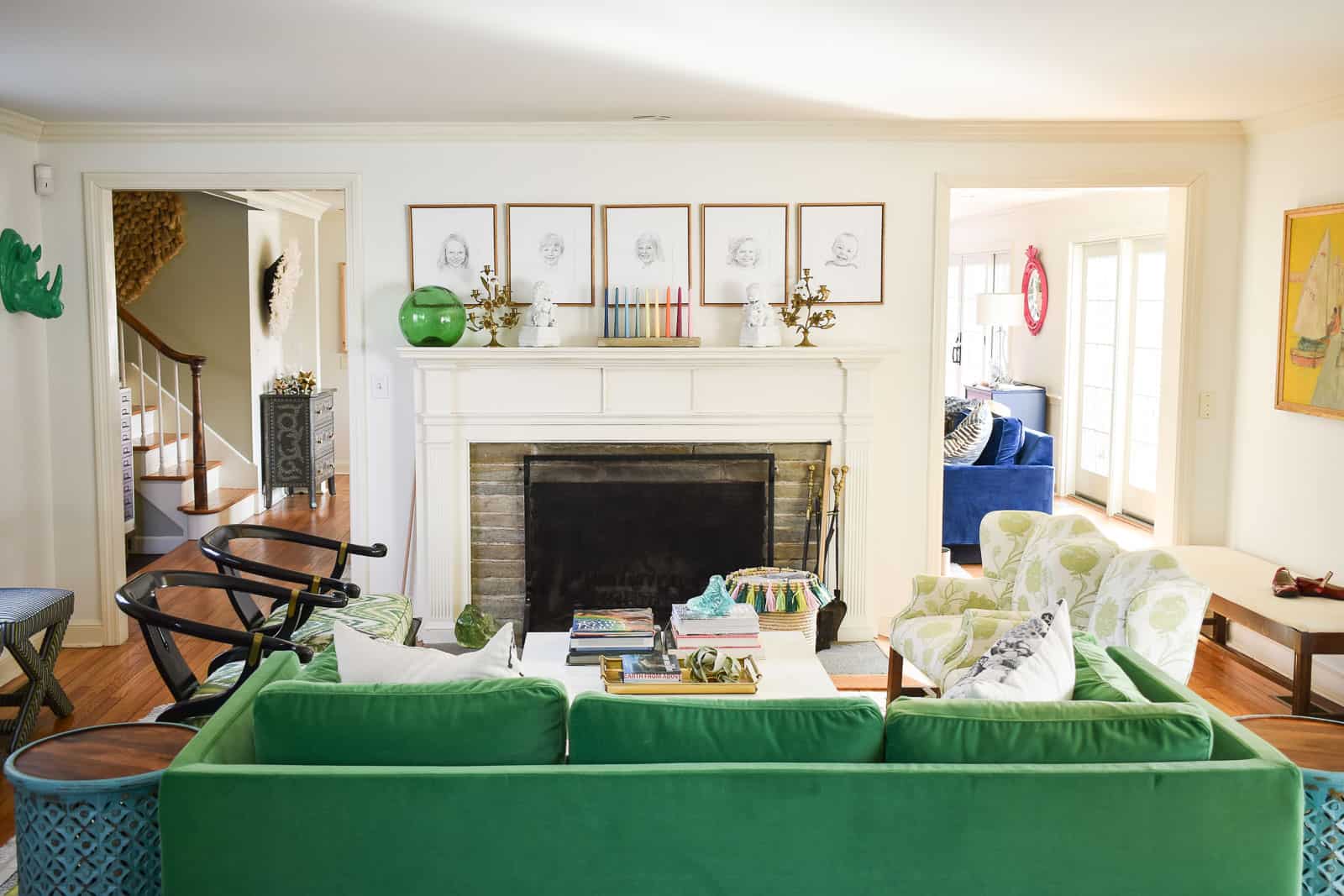 Alas, the new house doesn't have the tall ceilings like our living room in the old house, but… it still fits much of our colorful furniture and I actually love the new layout around the fireplace. The green couch is obviously the OG of the space so I worked backwards from there.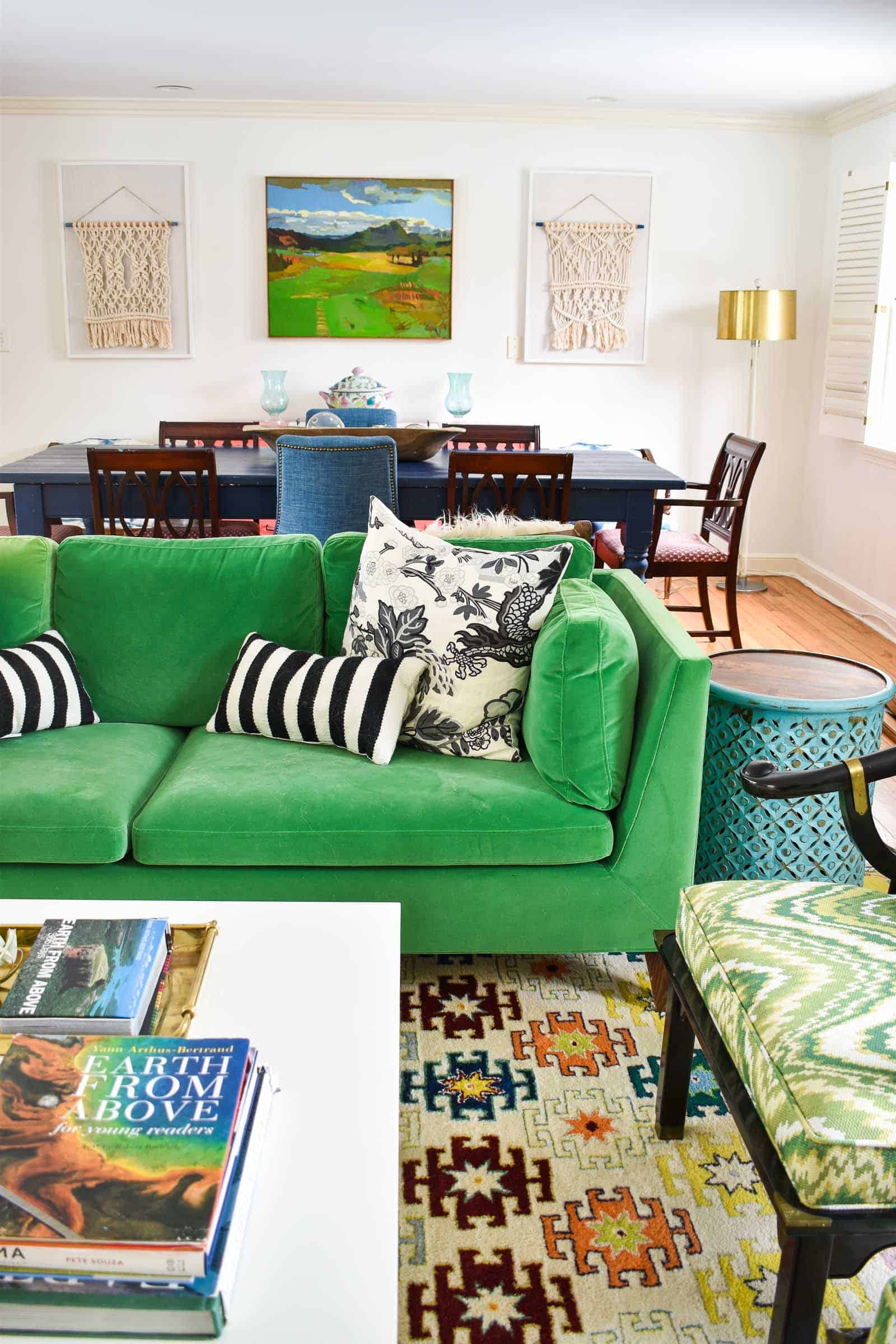 Those two black chairs are from the flea market and they originally came with a graphic fabric that was fine but a little dull with the black wood. So I pulled out that green flame stitch fabric (also from the flea market) and used that for new cushions.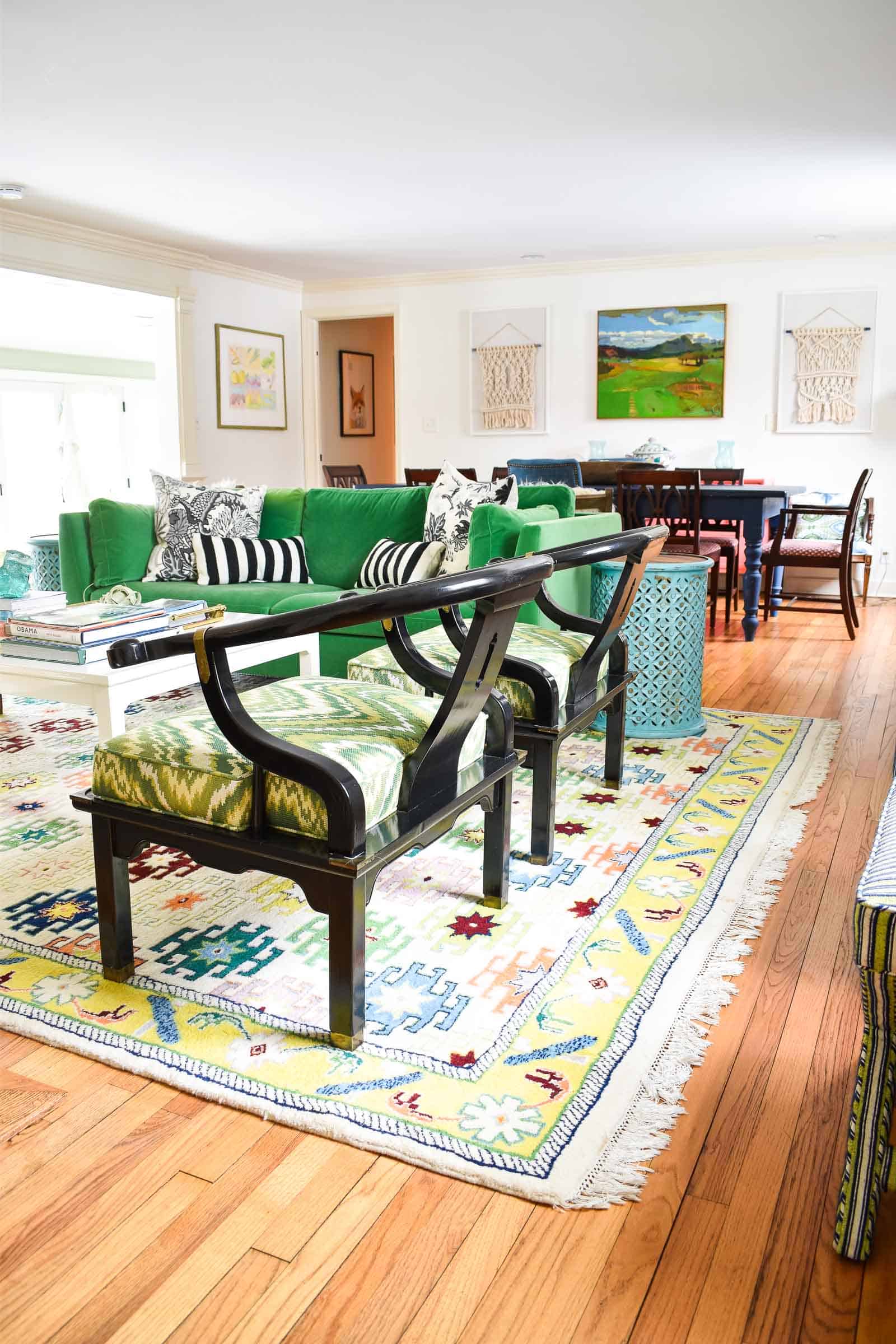 I bought these miniature wing backs at an estate sale and recovered them with that sweet green floral fabric. There's a lot of green in this room and a lot of pattern, but… here's why I'm OK with it. 1. The patterns are VERY different. One is a retro graphic and the other is a softer traditional style. 2. They relate to each other because they're both green. 3. I love pattern so I don't really think too hard about whether it 'goes'… I just tell myself it works and I leave it at that!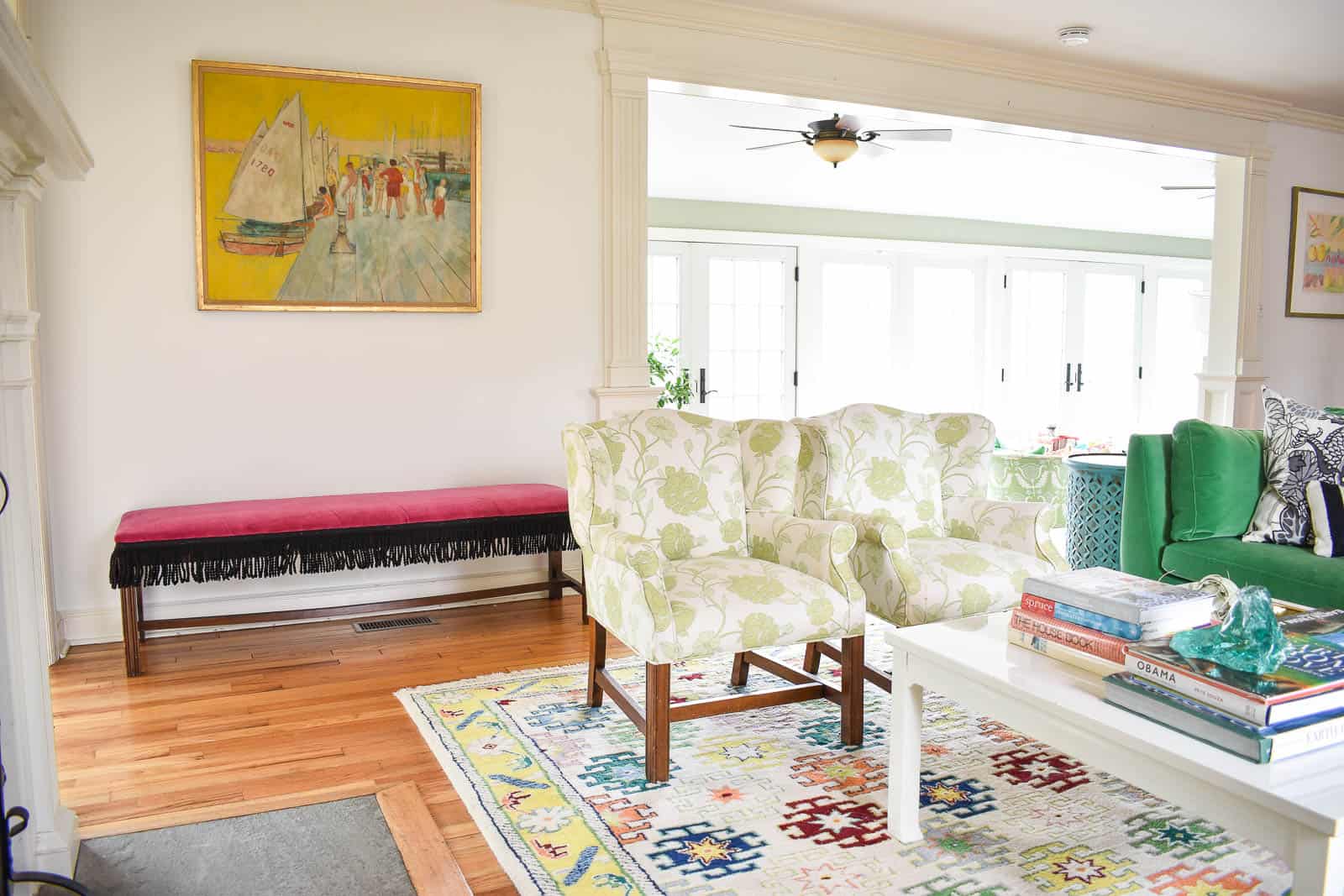 My hanging rhino got a makeover when he got hung in the living room… when I bought him he was brown so he was immediately spray painted white. But the white disappeared into that little space so… bright green for the win. I was hesitant to go green because there's already SO much green in the space, but because the site line leads into the other room, I wanted to choose a color that would play nice with both our family room and the living room.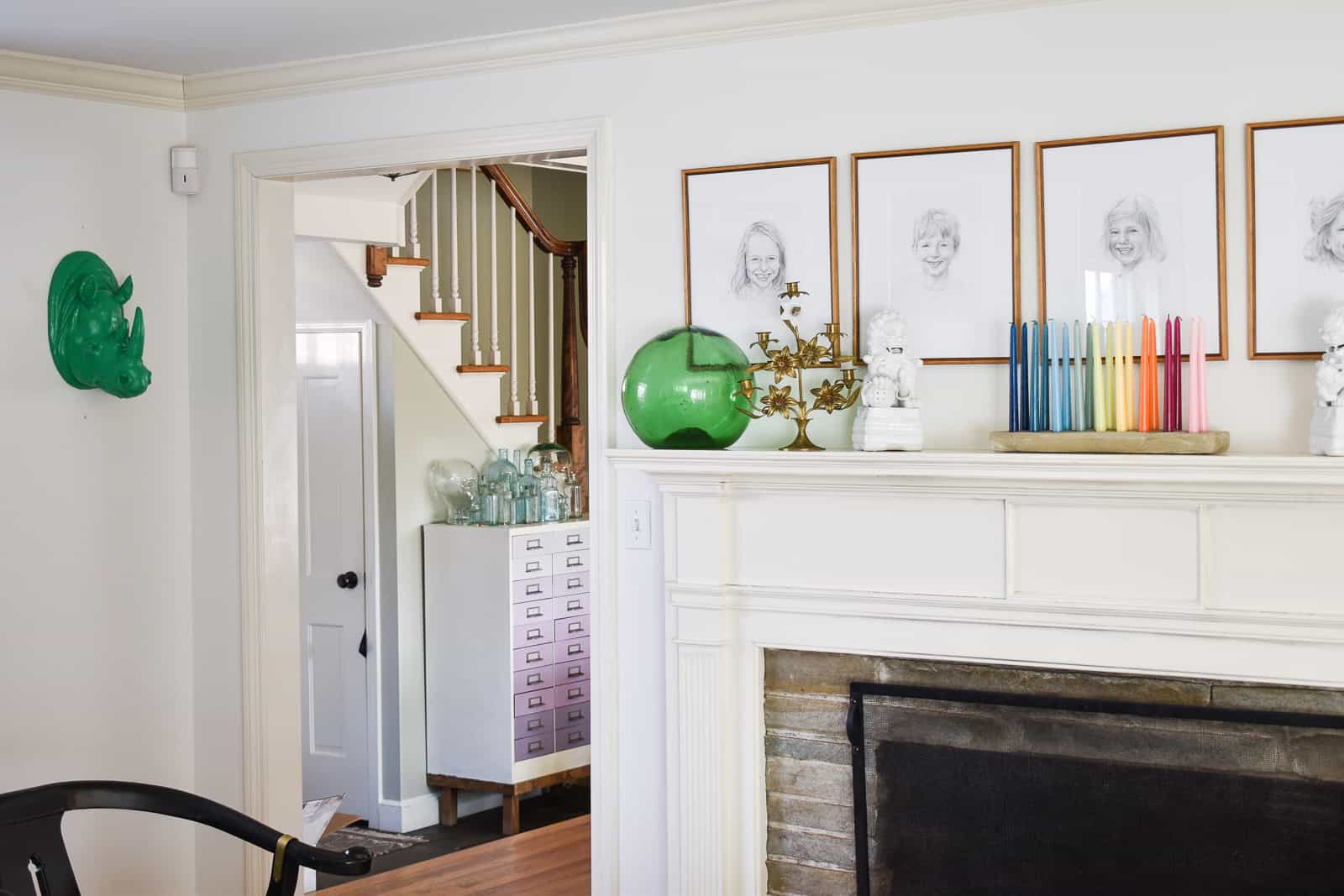 Finally, I ALWAYS get asked about this rug and I desperately wish I could link to it, but… I snagged this at a local outlet and am still convinced they had the wrong price tag on it. It's a favorite and this color pallet has truly informed my decor throughout the space.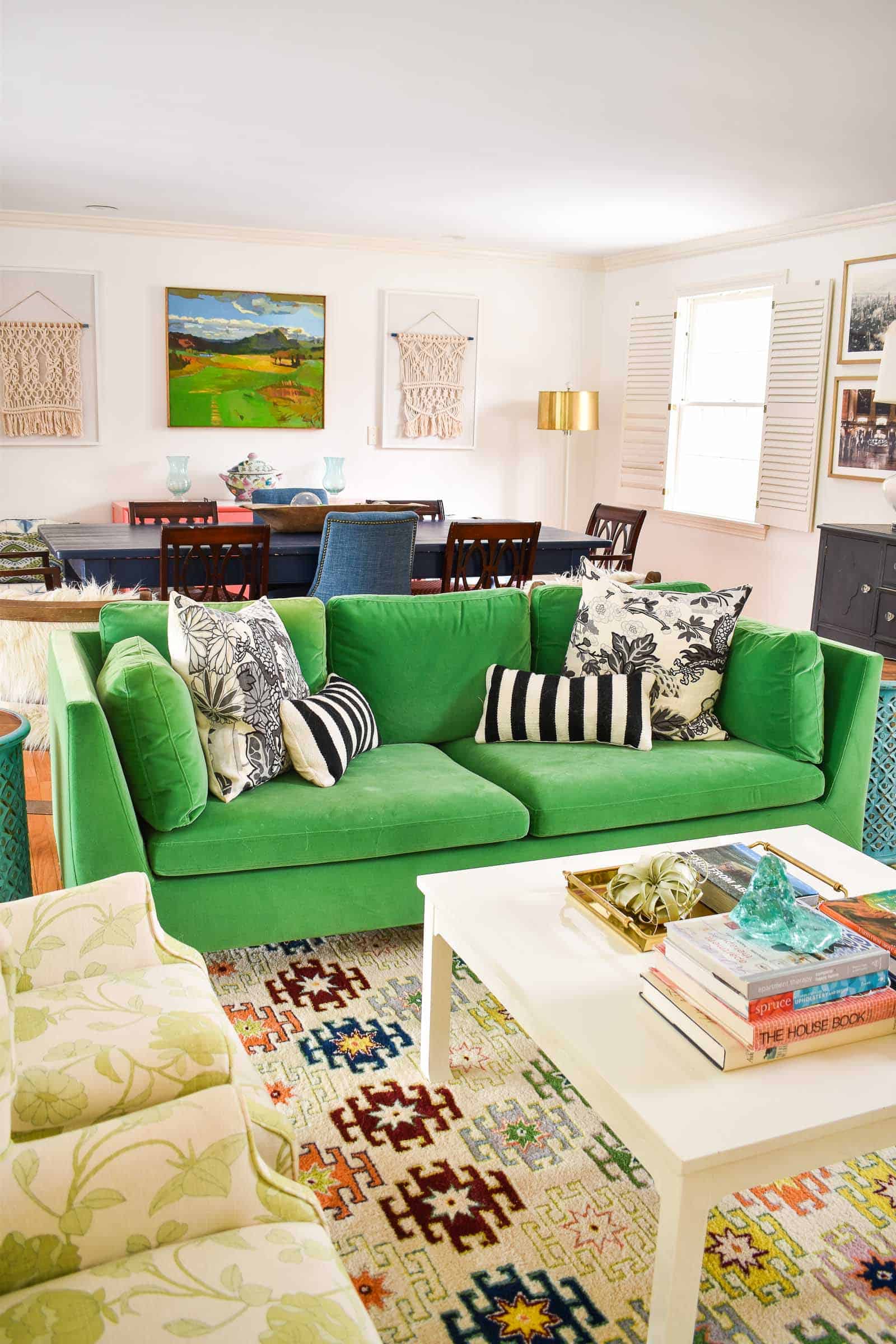 Because there's so much color in the room, I didn't go too crazy on the mantel. I had what I thought was a GENIUS idea with concrete and all those colorful candles… I will reserve judgment until I make one more, but this first one is not necessarily genius but it's fine.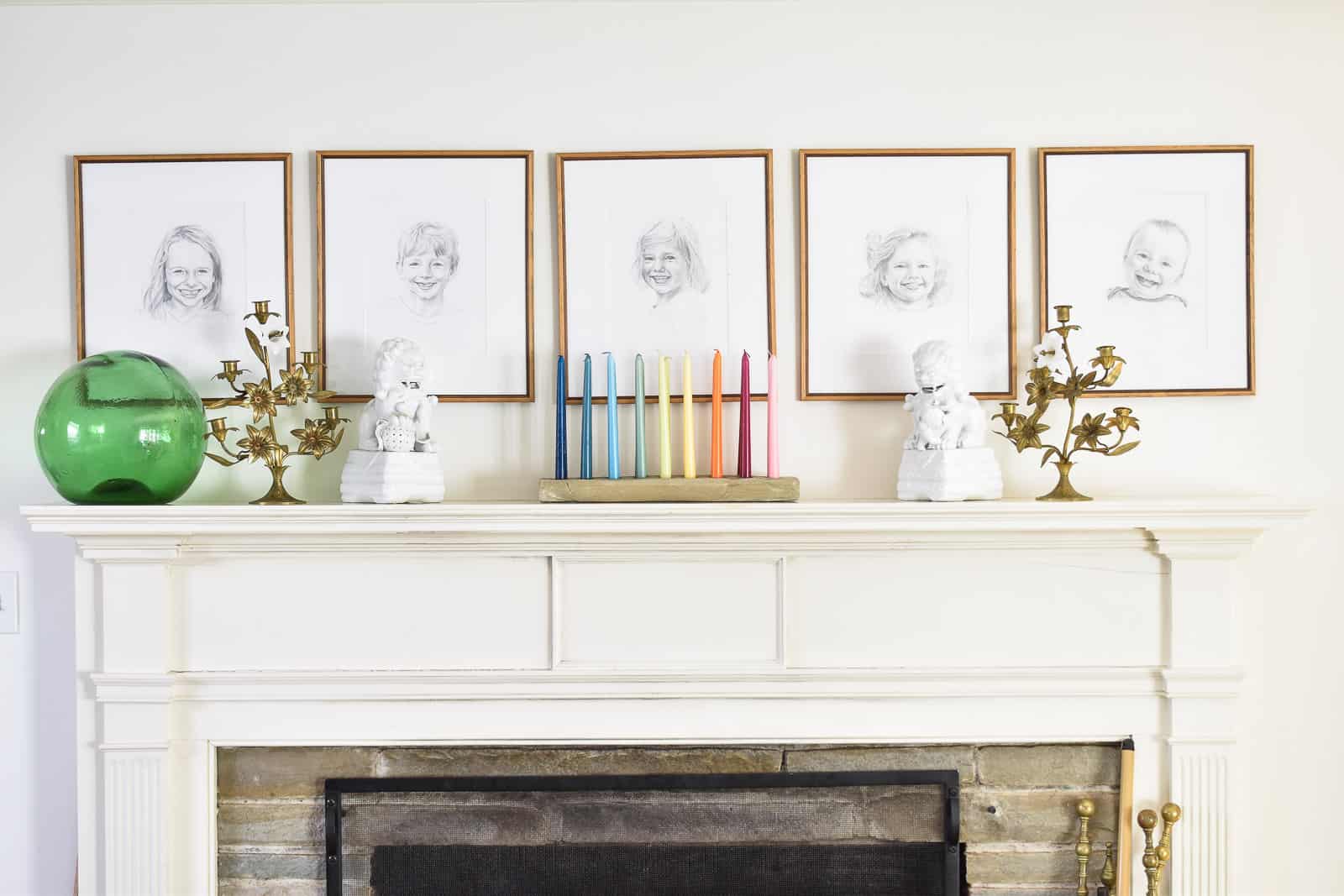 The painted gray buffet against the wall doesn't work perfectly in this smaller space, but I didn't have the heart to sell it when we moved into the rental so I figured I'd squeeze it in. It provides nice storage and doesn't look *awful* so there it sits! And yeah… the drawer is ajar… #nailedit.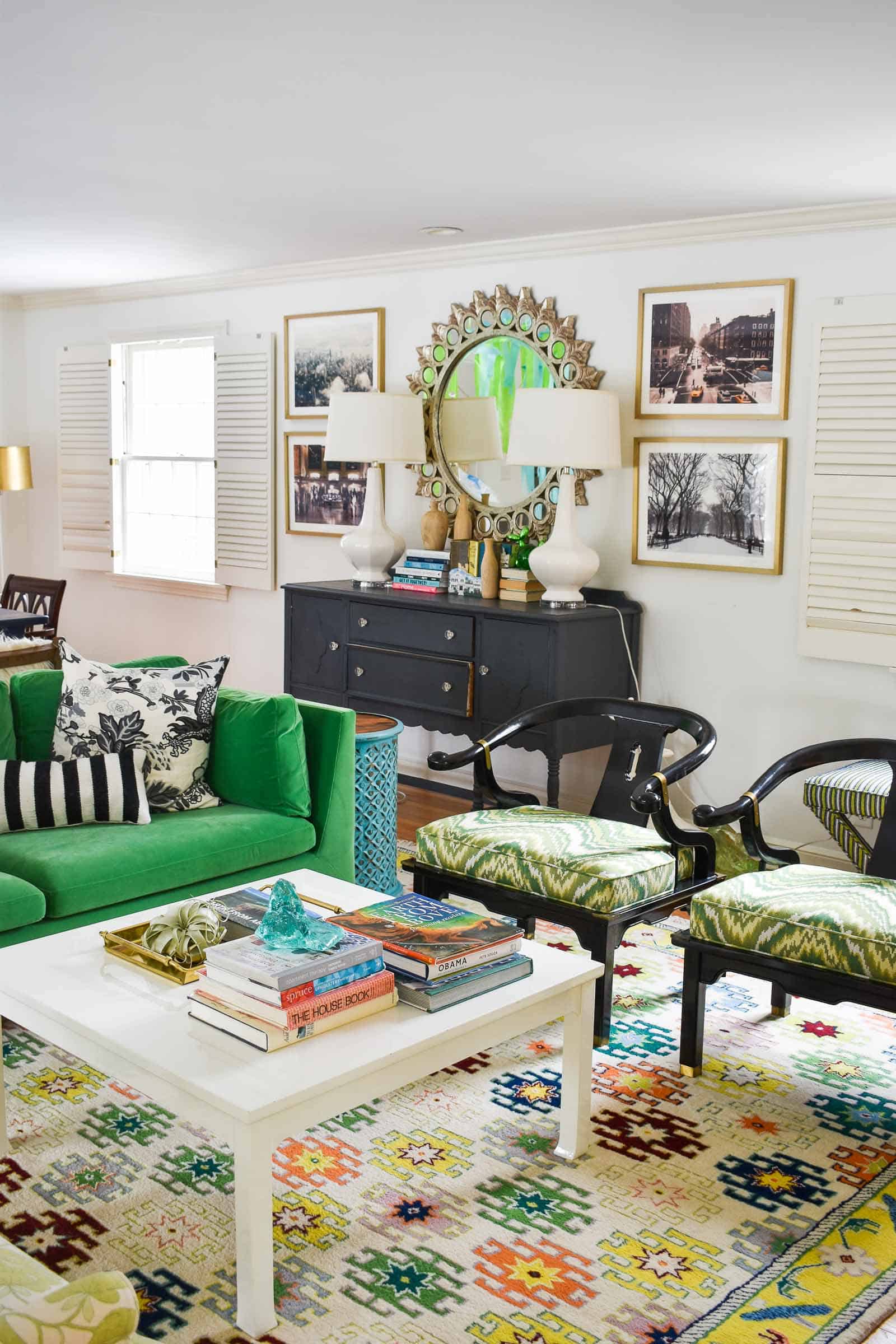 Last but not least, can we PLEASE talk about this bench. You've never seen it because I bought it off Facebook marketplace ages ago (hoarding for the win!). It had a drab off white seat… it's LONG which I loved and it was screaming for a makeover. You'll notice that the dining table is on the far end of the living room so a bench like this is perfect if we're hosting a large group so I like having it handy.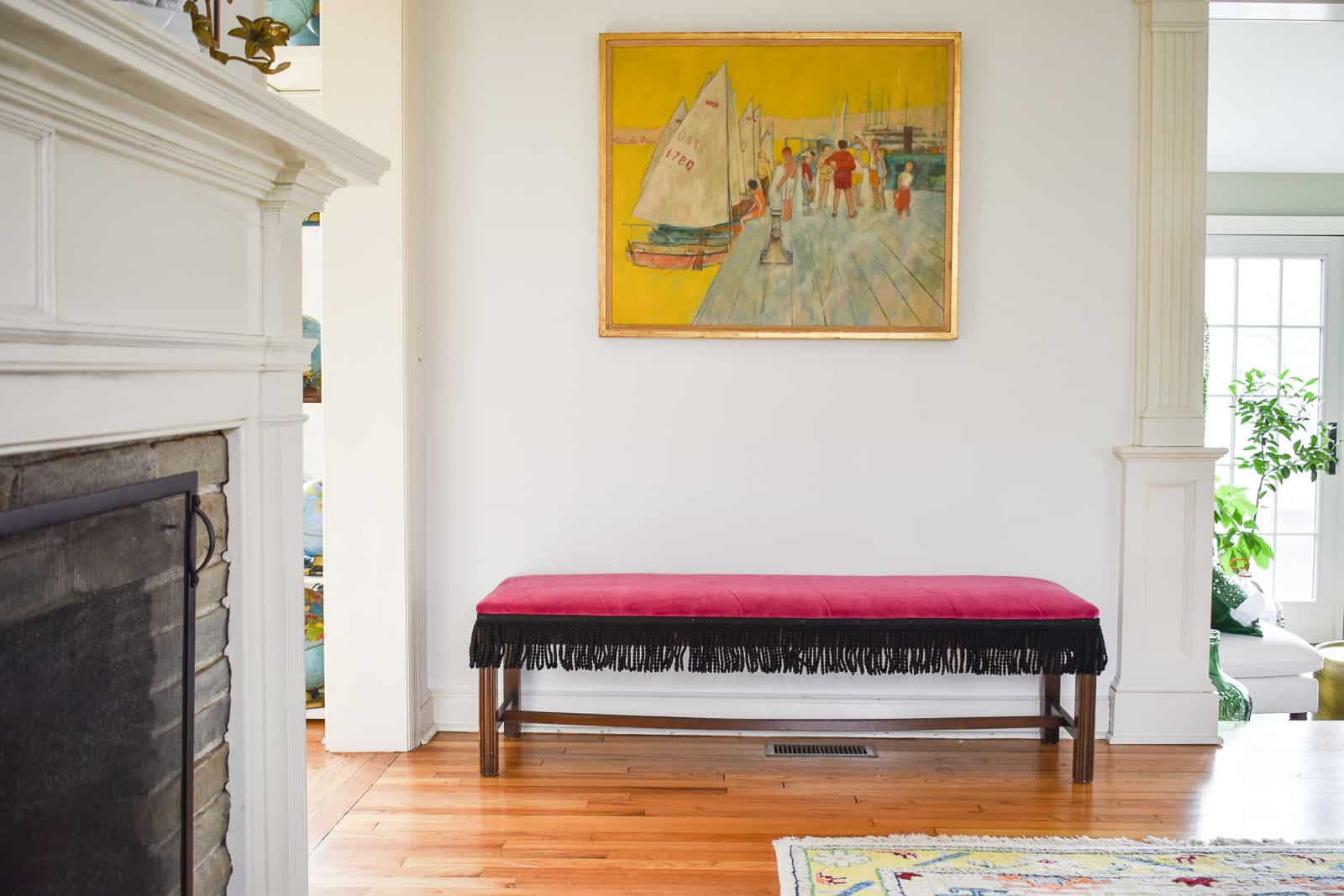 How to Upholster a Bench
If you haven't reupholstered anything, start with a bench. (You can find all my upholstery projects here!) It's SO simple. And the basic change in fabric makes this bench SO. Much. Better.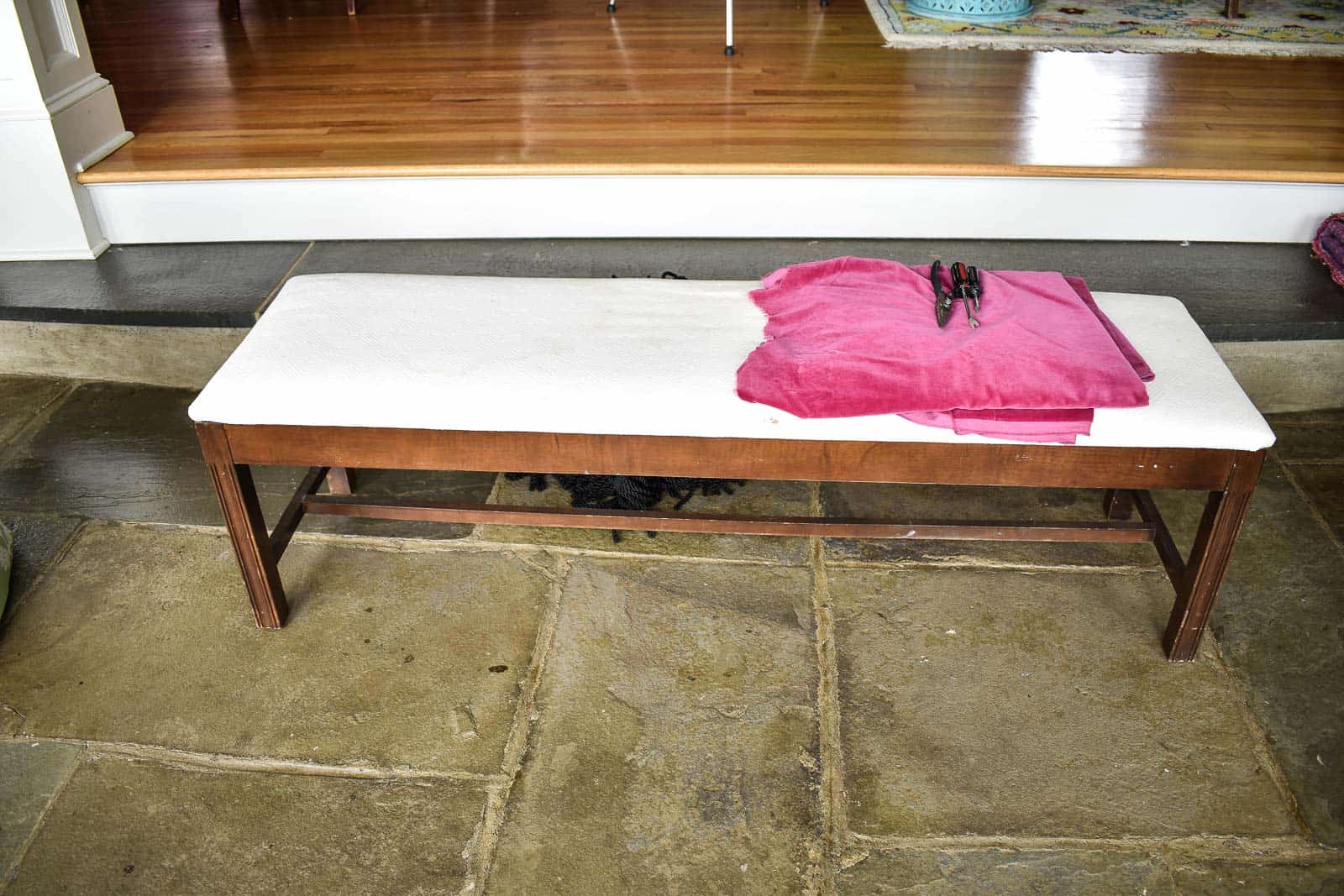 Step 1: Remove seat and fabric
I unscrewed the seat from the bench and removed the old fabric and as much of the staples as I could.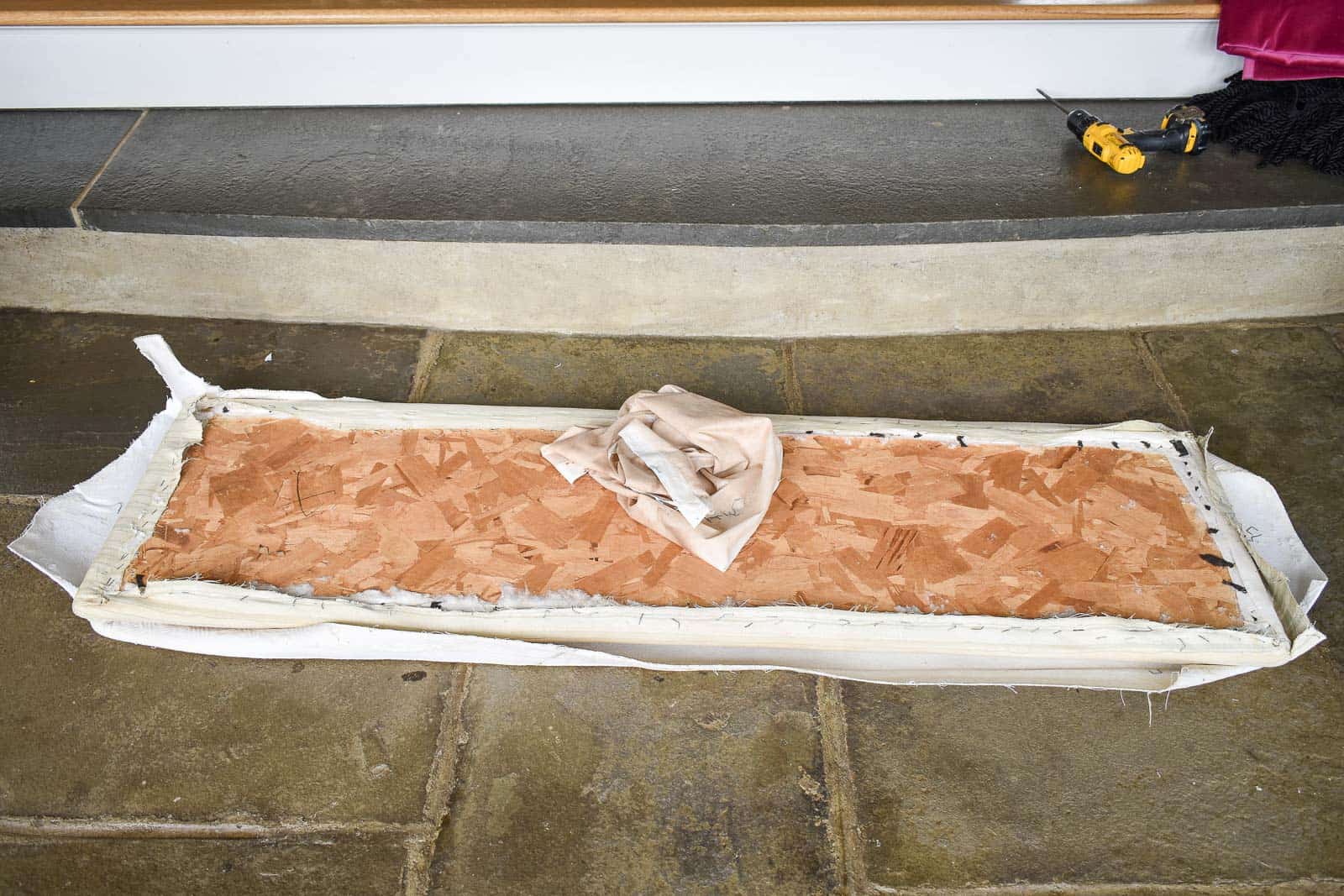 Step 2. Replace foam and batting if needed
I didn't replace the batting or foam because I'm cheap that way.
Step 3. Wrap bench with new fabric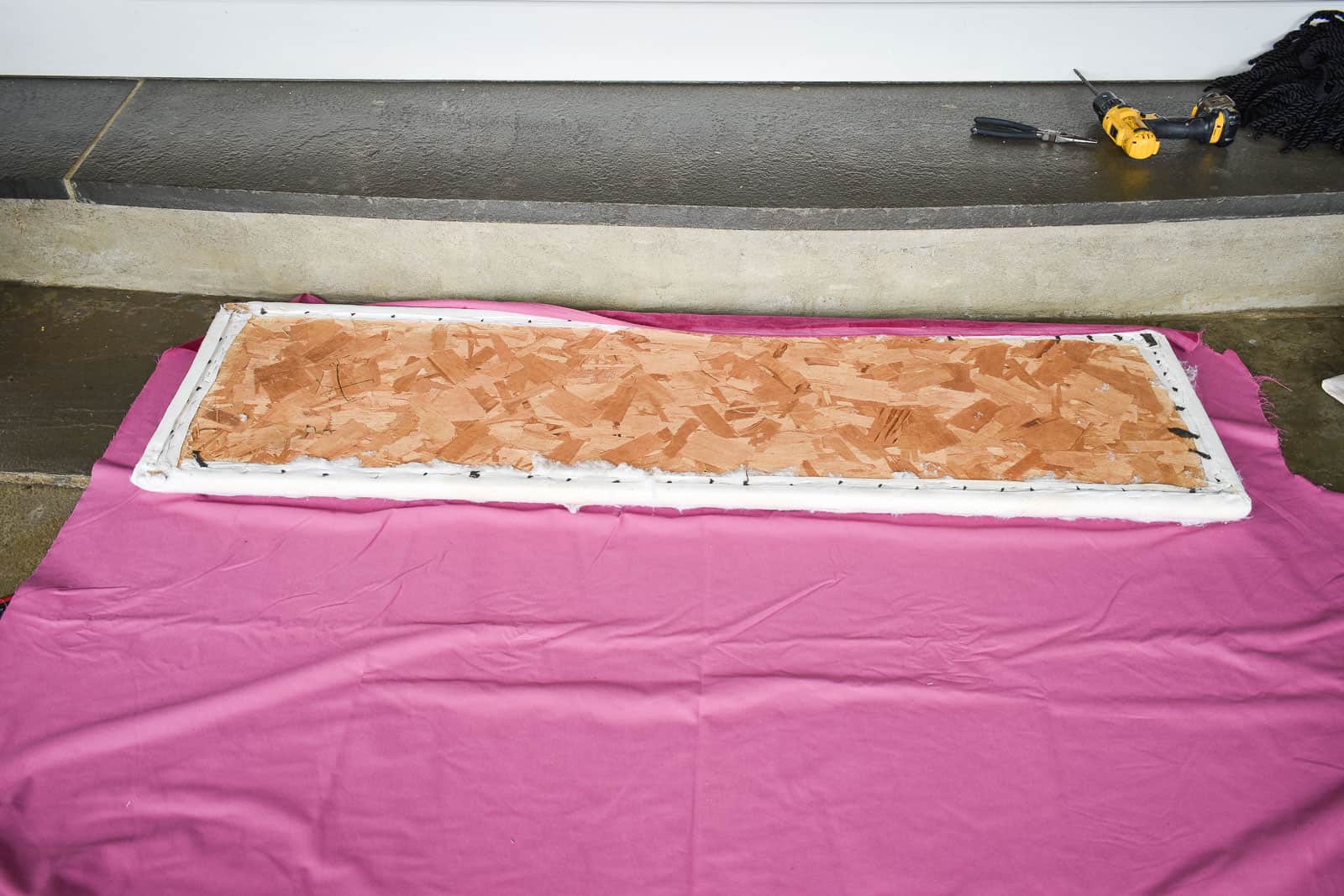 Then it's simply a matter of wrapping the new fabric around the seat and stapling in place. I usually start by stapling the fabric once or twice in the middle of the long end. Next, I pull the fabric tight and secure on the opposite side. I follow up with a few staples in the middle of the long end, and then repeat opposite on the final side.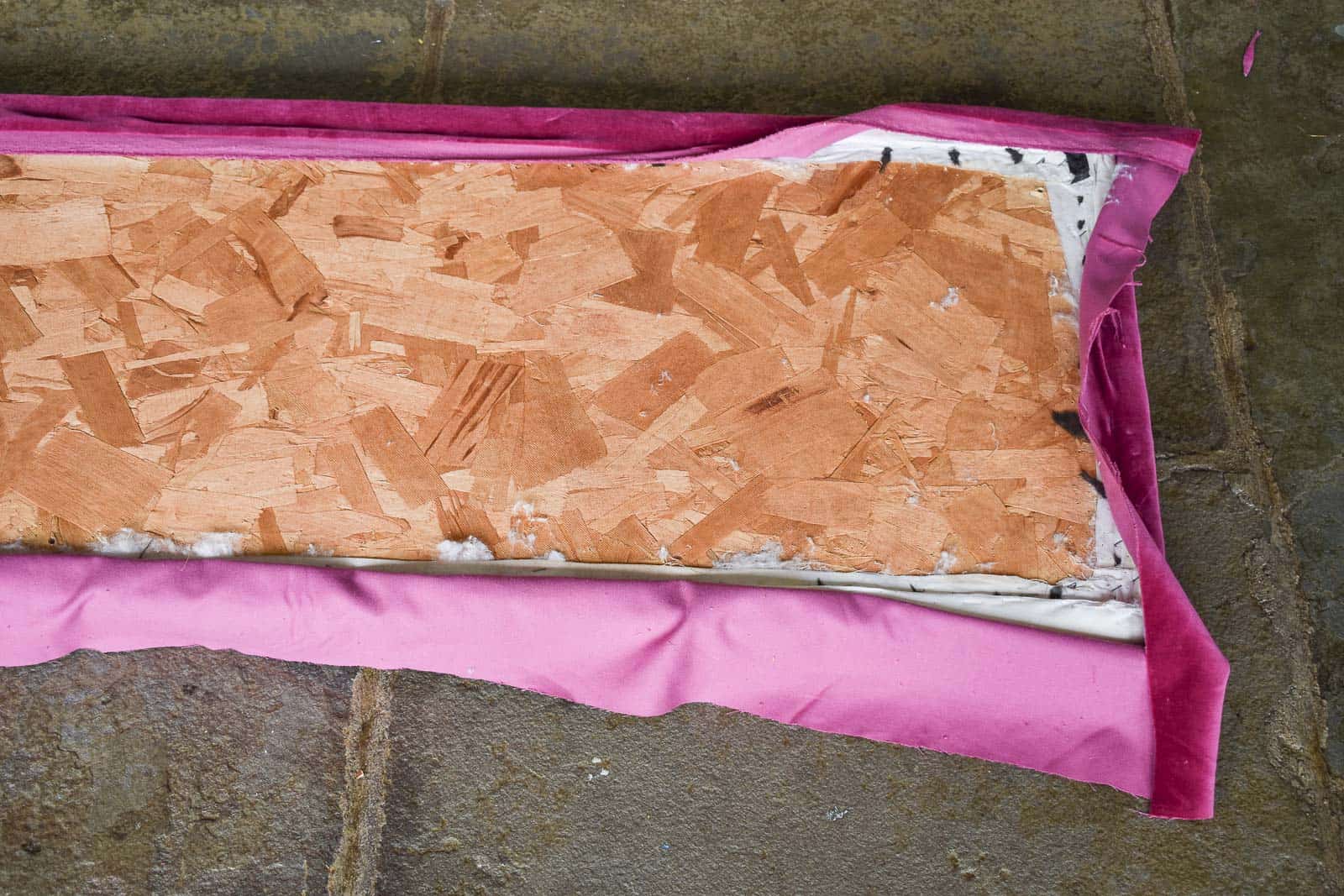 The corners are always the trickiest. I try to wrap the corners like a present. Sometimes I have to staple in places to allow for the smoothest folds.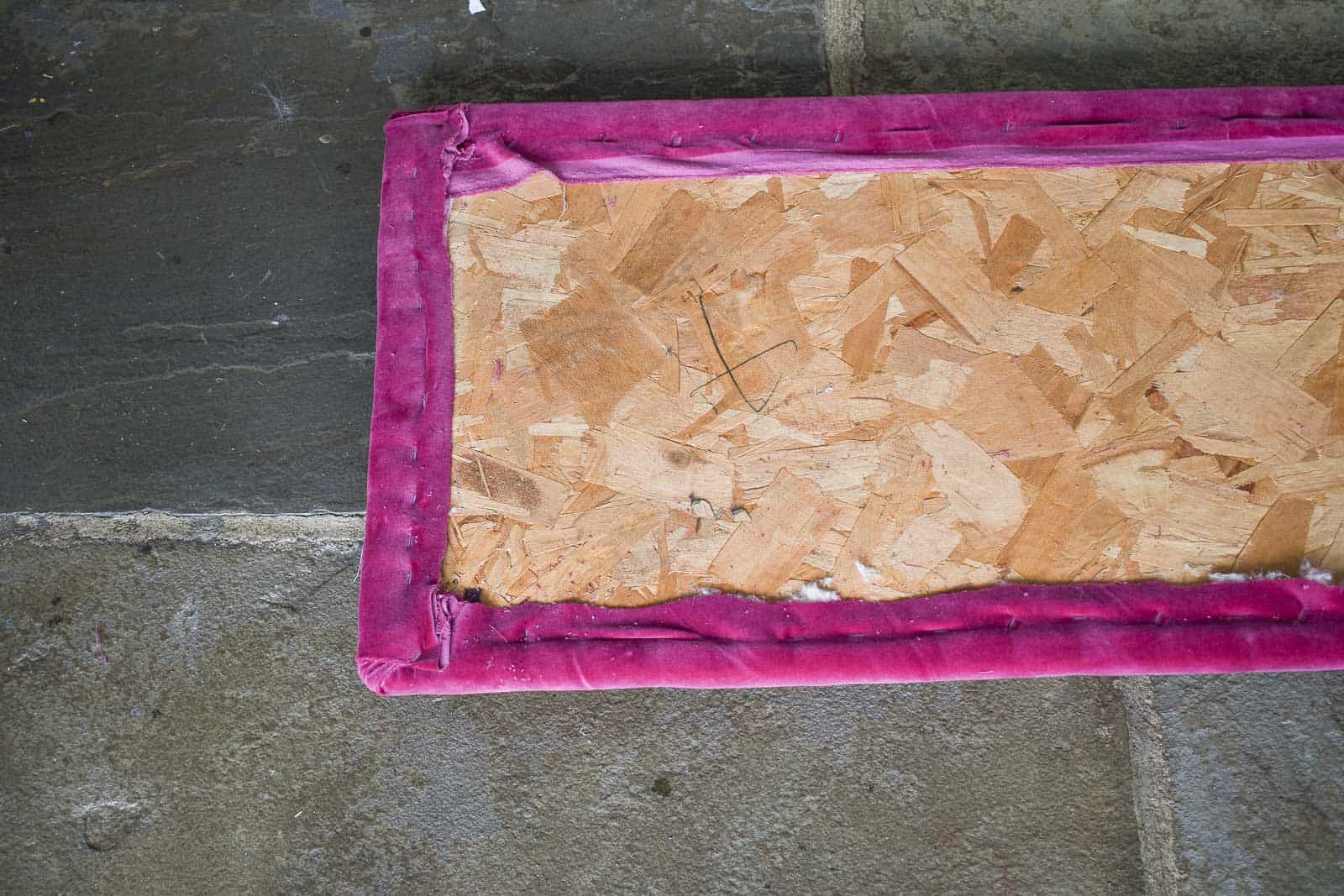 Step 4. Screw upholstered seat back in place and add trim
And just to add some optional flare… I glue some fringe in place to channel my inner Jewel Marlowe. I simply used a hot glue gun to adhered the fringe right onto the wooden frame below the upholstered seat.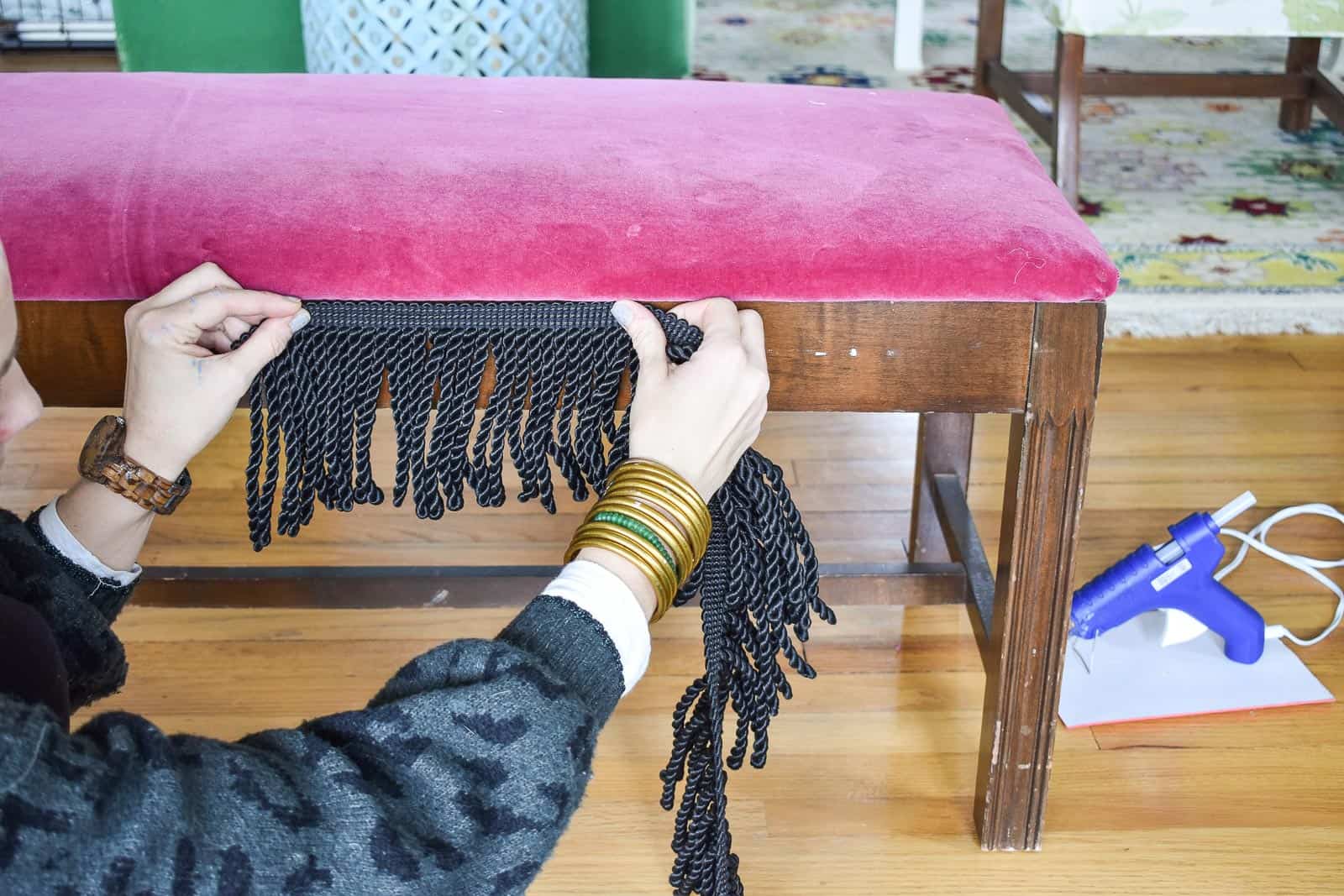 For more images of that dining room, I just shared a spring tablescape last week so head over here to see details of that end of the room.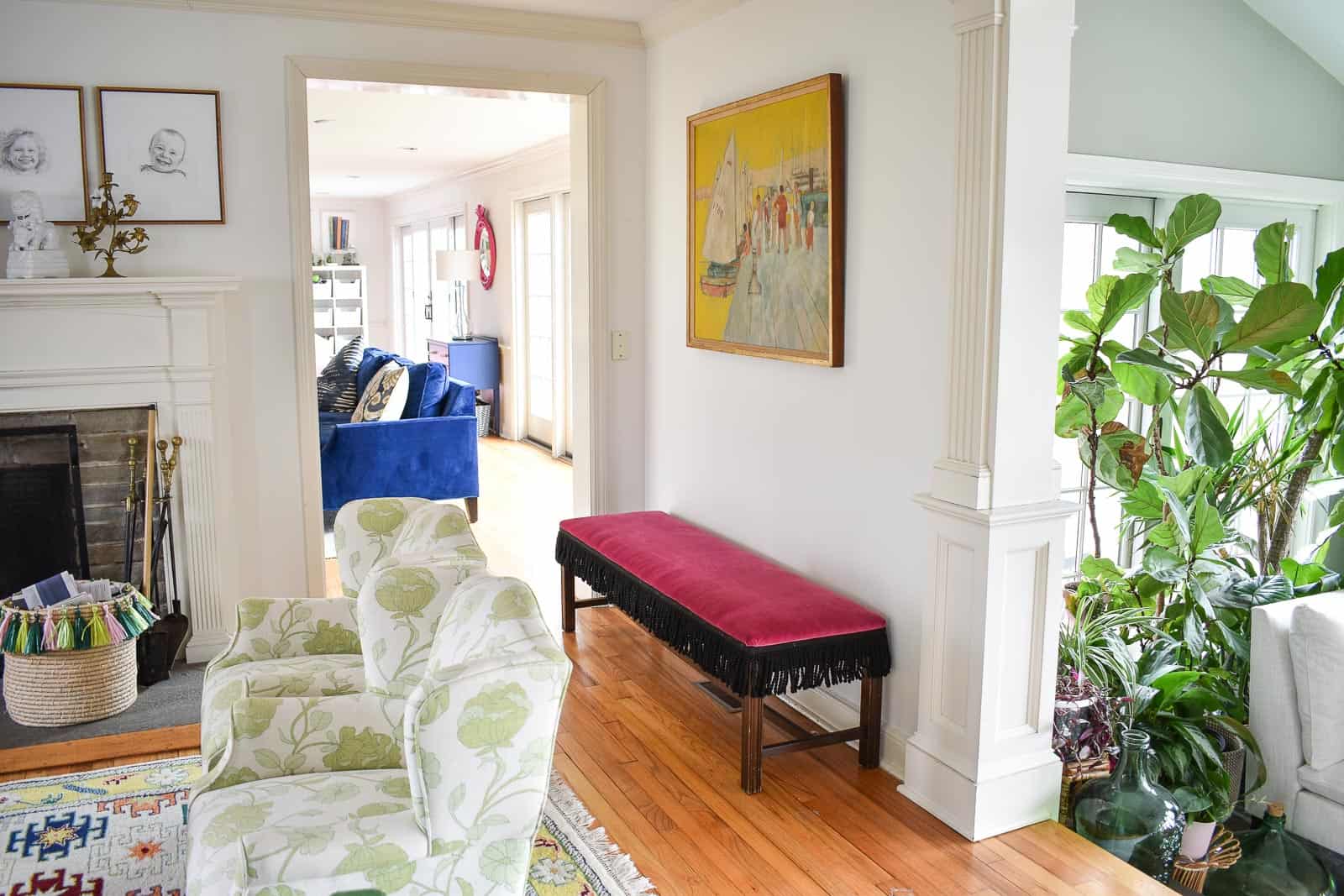 I LOVE collaborating with all my other color loving blogging babes so head on over to Carmel's site to see what she has up her sleeves. I've been following these ladies all week and their spaces are STUNNING!
TUESDAY
WEDNESDAY
THURSDAY