Creating a Kids Reading Nook
Psssst… this post *might* contain affiliate links: see my disclosure here.
Designing a Small Cozy Children's Space
This little room in our rental house needed a little pick me up so I gave this cozy reading nook a makeover.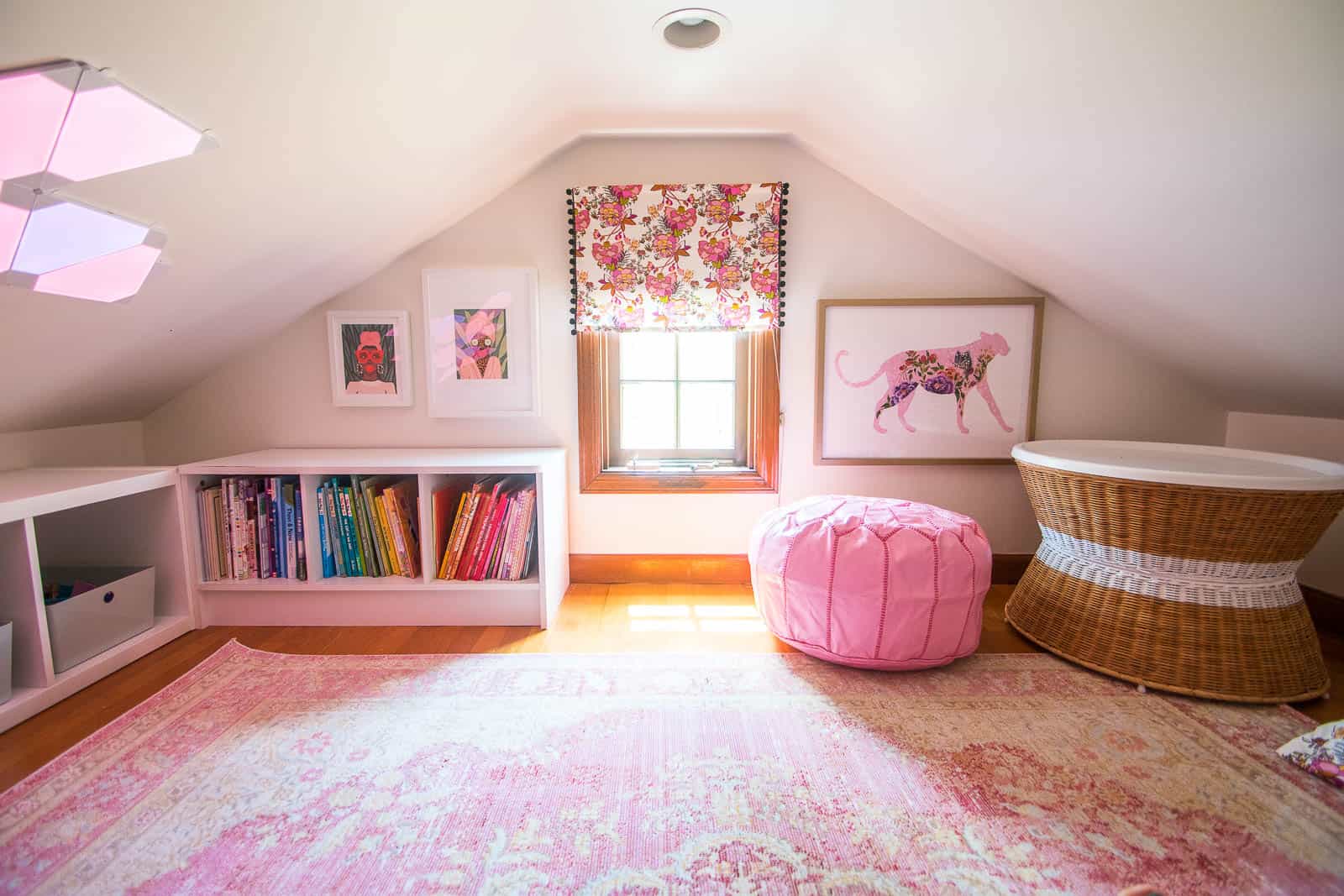 When we moved into the rental house, the kids were thrilled to discover this cute little room off of Martha's bedroom. We called it the secret nook and it quickly got "moved into" which is code speak for piles and piles of toys were brought into the space. It didn't help matters that the walls were an inexplicably harsh shade of red. There were a few pieces of furniture and a rug in there, but the kids never really used it the way I'd hoped they might. So I decided to change that and give the space a makeover…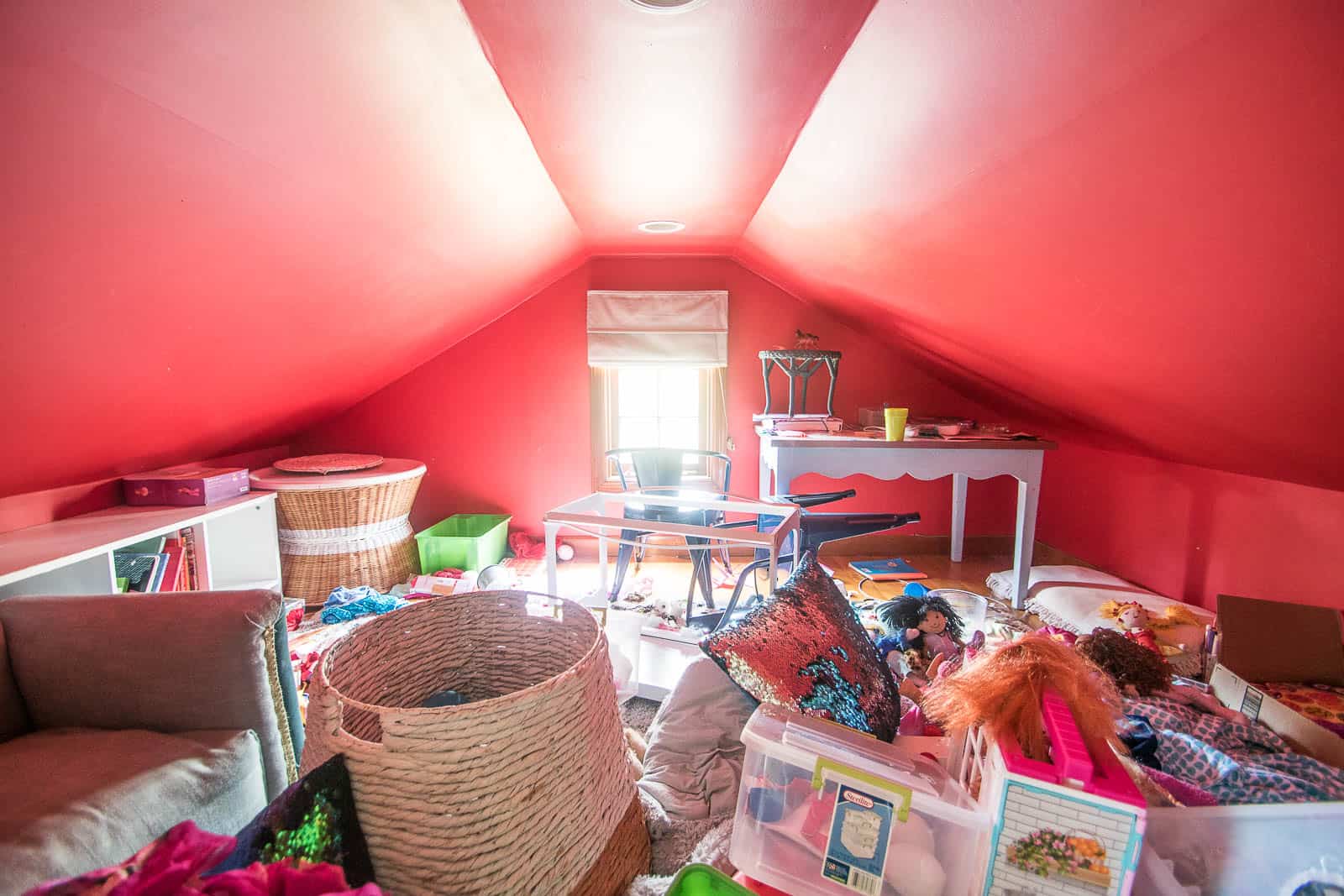 Obviously the first step was to clear out the clutter and get rid of that red. With a color that bold, I knew a good primer would be essential. I used Zinsser Bullseye 1-2-3 and it worked perfectly. I painted the walls with two coats of my usual Benjamin Moore White Dove. Once the walls were painted, honestly… the space was 90% better. Sometimes a dark color can make a small room feel bigger because the walls and ceiling appear to be farther away… but these red walls felt oppressive.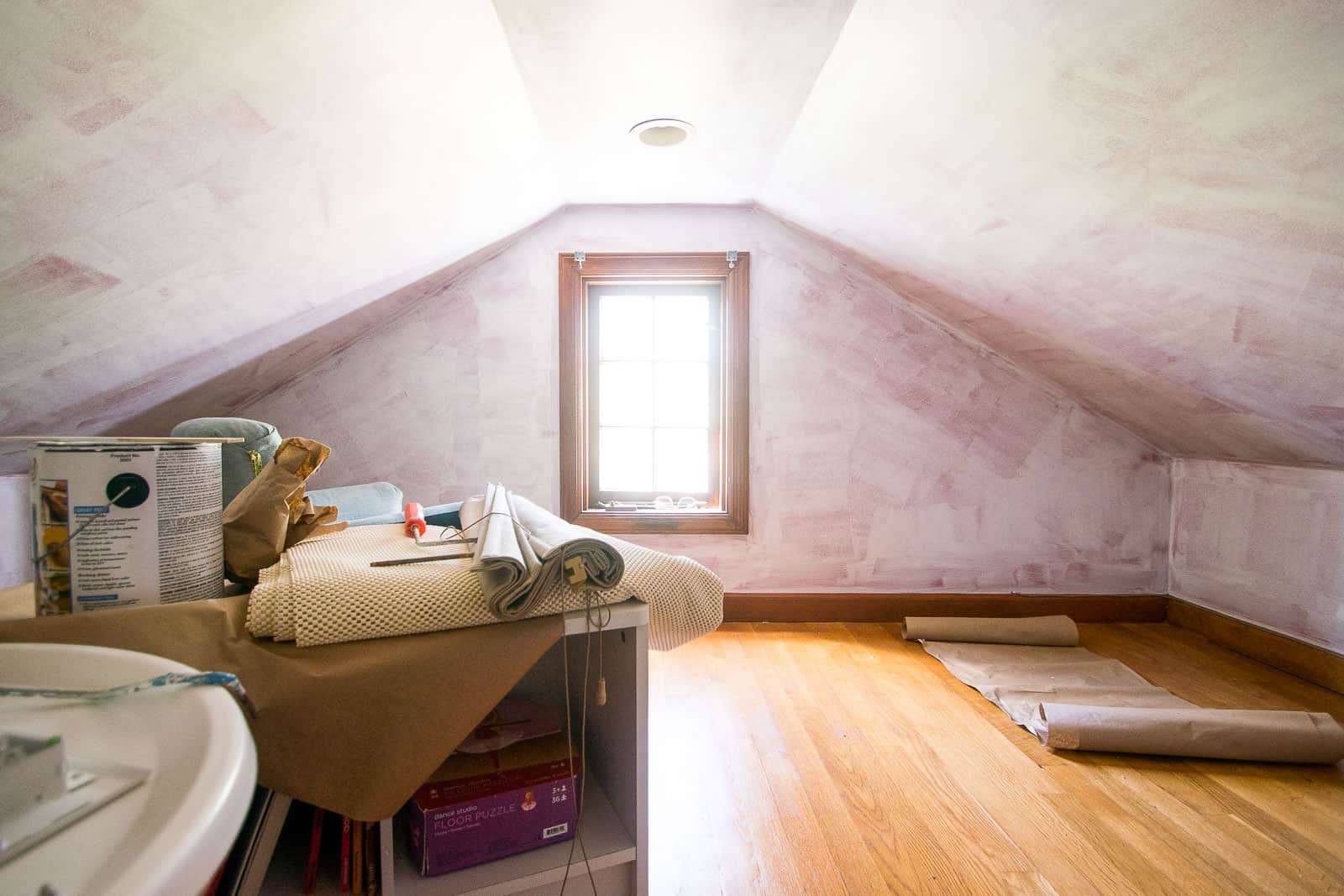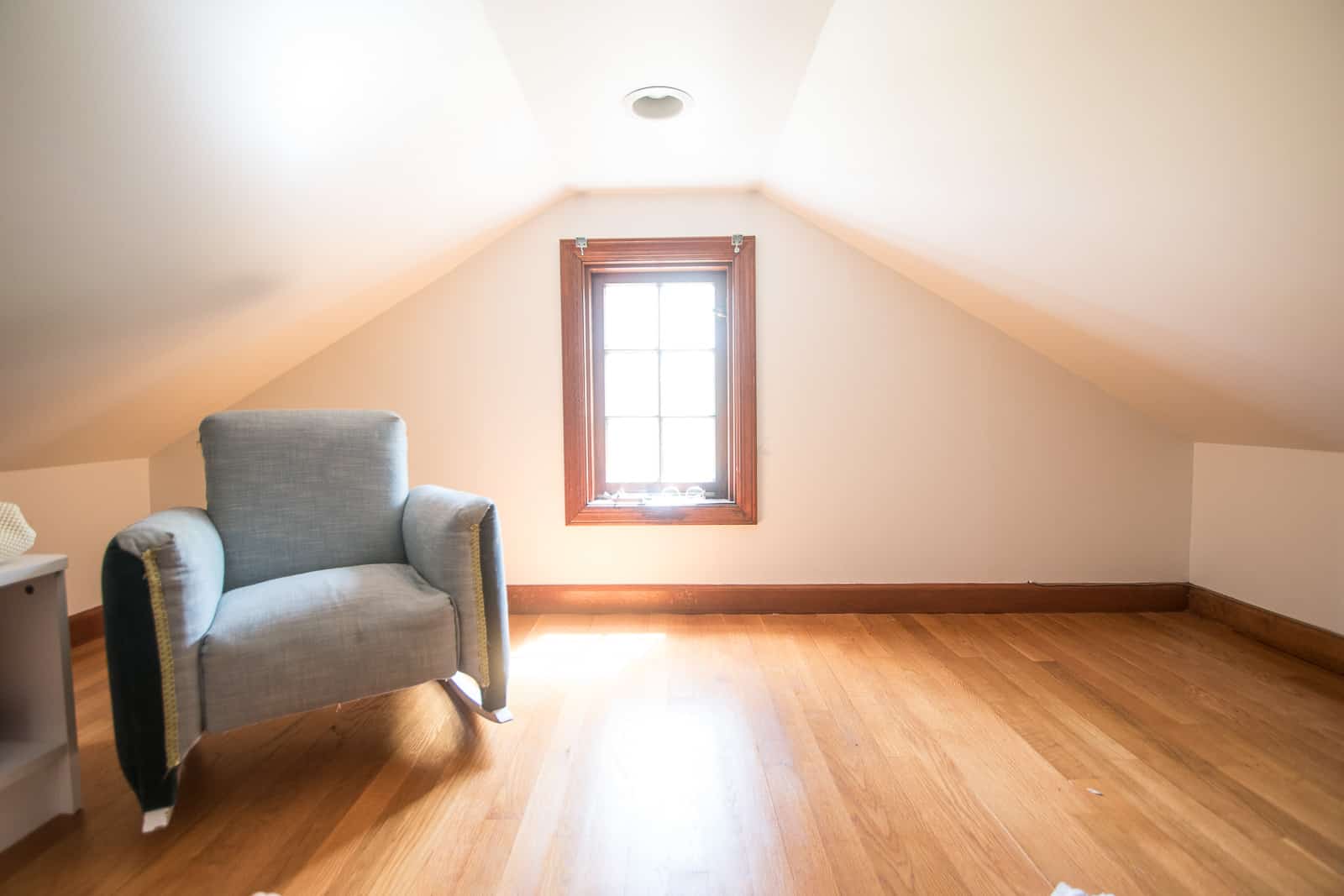 It's a small space, but I still wanted to bring in a bit more storage. We already had one Closetmaid storage cube, but I added one of my favorite Ikea Kallax shelves. We have the same ones in our kitchen eating area to hold all the kids art supplies and lunch boxes and coloring books, etc. I added those Kuggis bins in a light mint green and love that they're a little lower so the kids can see what's in them without pulling them all out.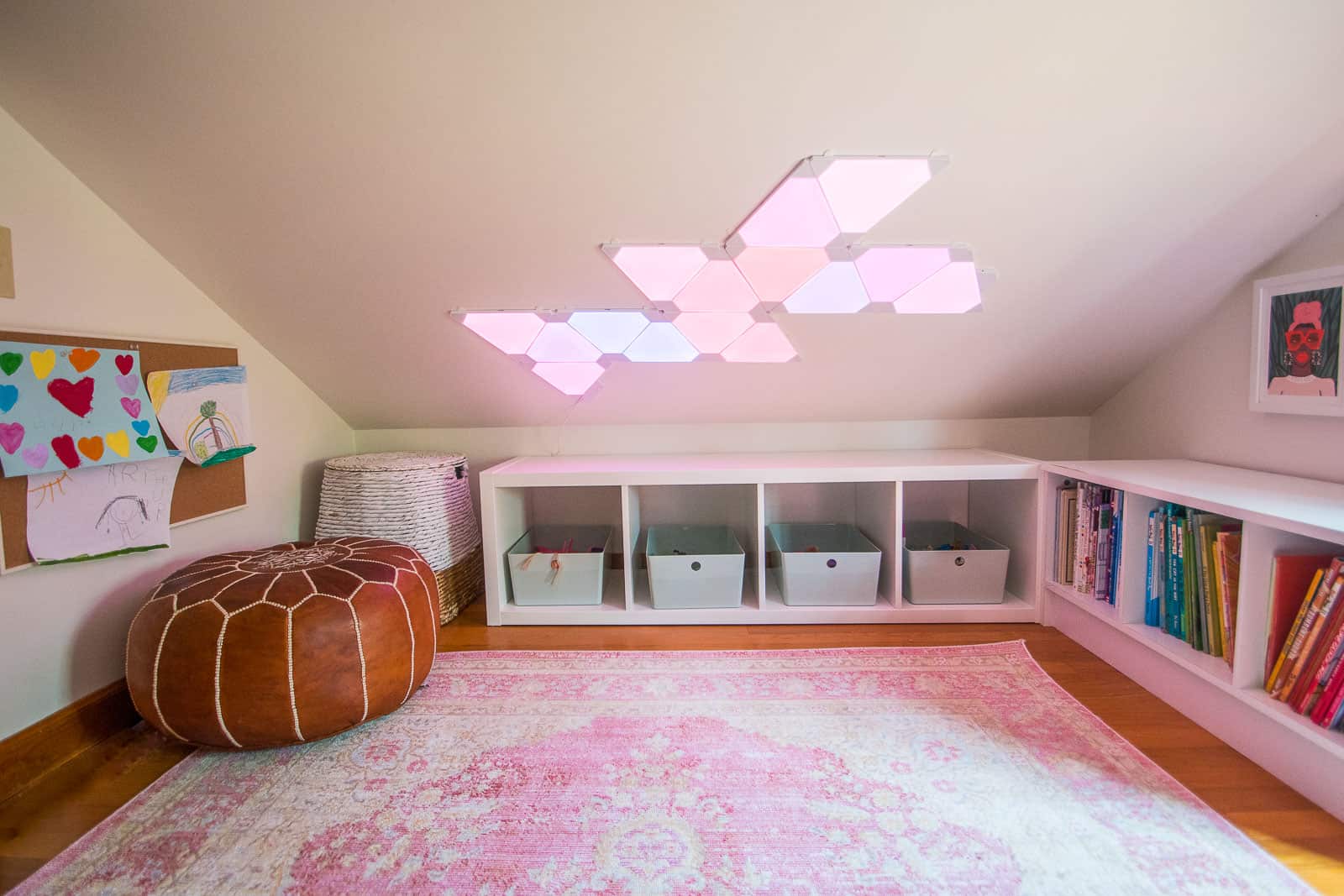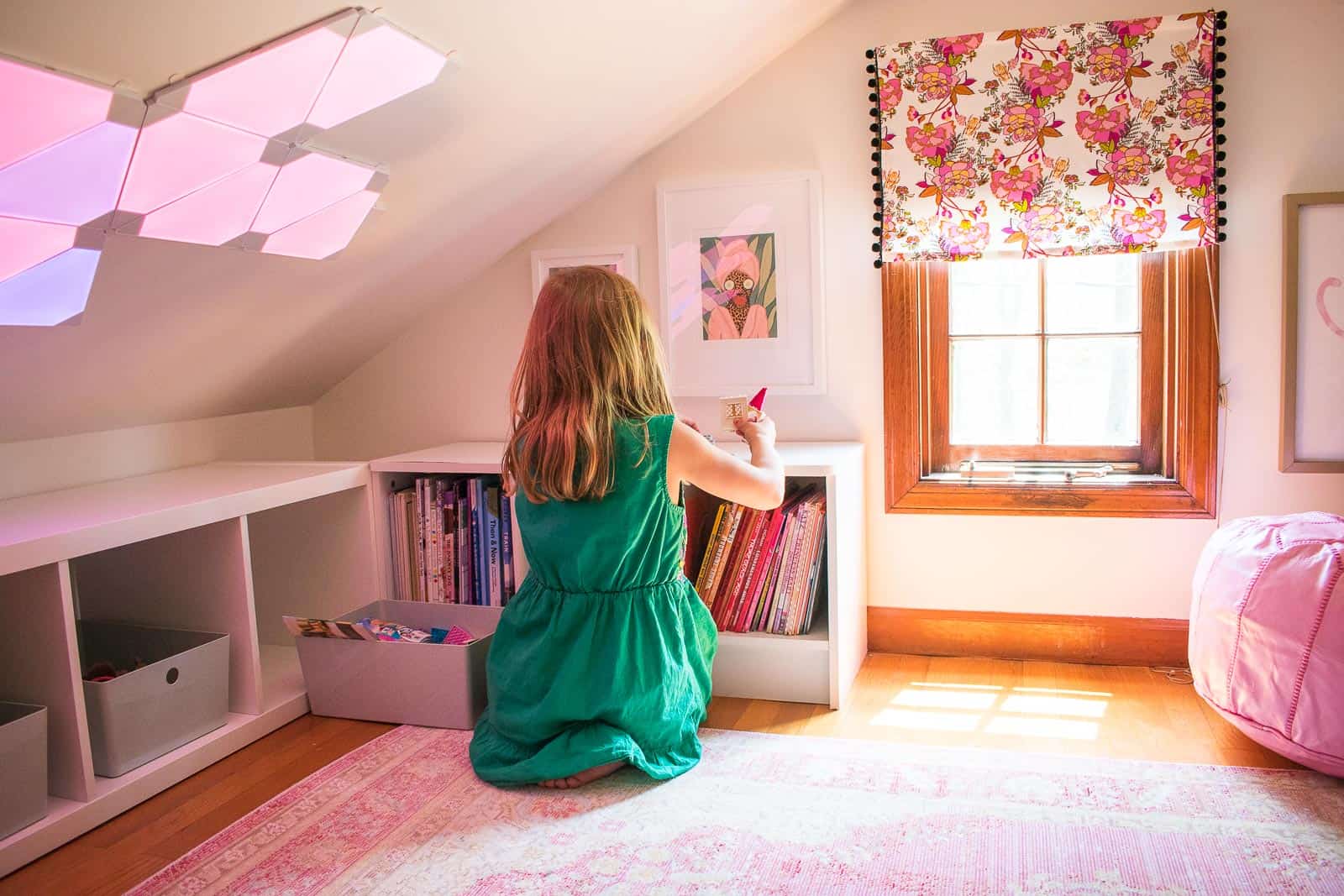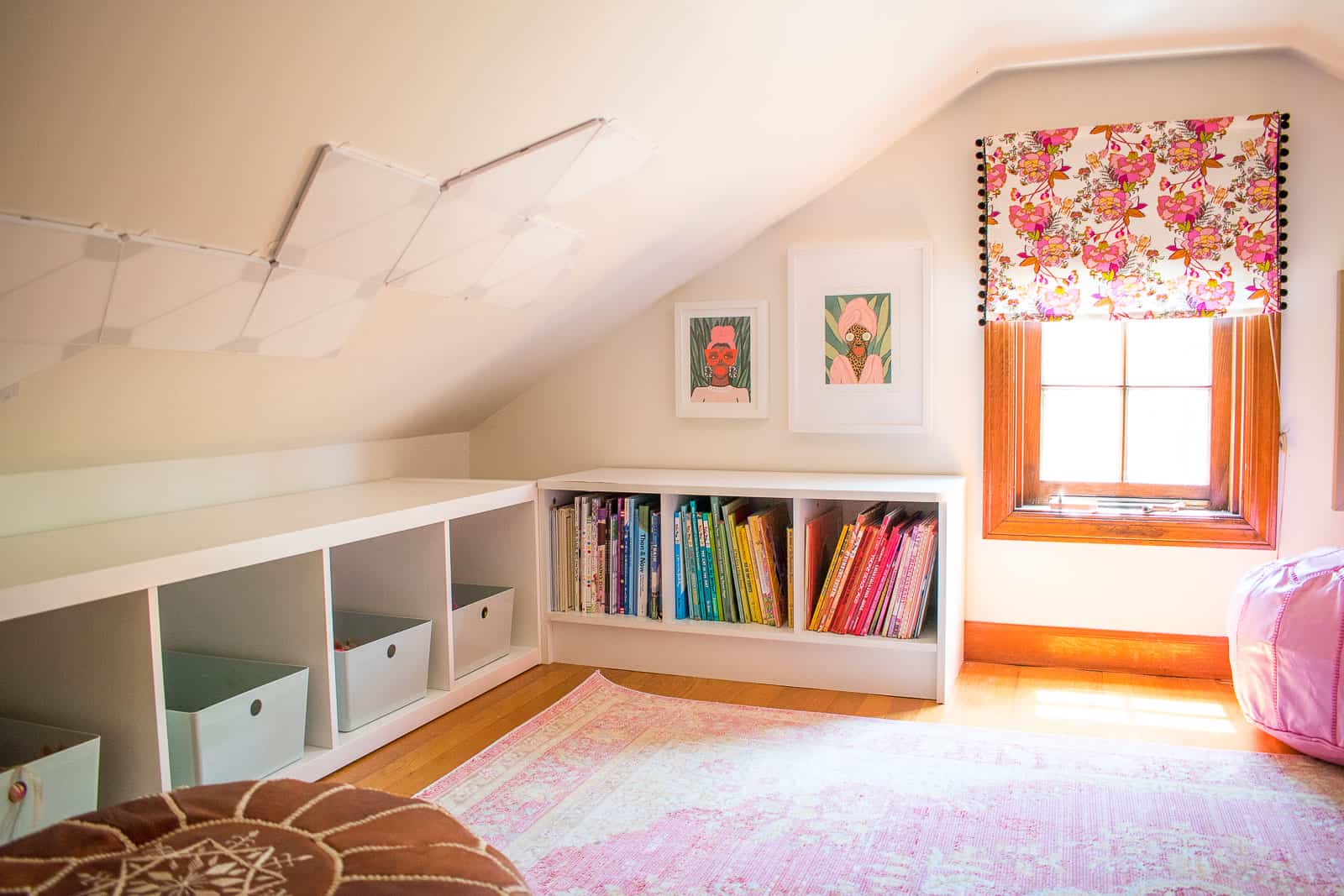 I took out one of the tables that used to be in the nook because the kids reported they never used it. They did, however, say they liked the smaller round table (purchased a few years ago from Ikea). I bought this cute Moroccan pouf cover and used extra throw pillows for stuffing which (getting these poufs unstuffed saves quite a bit of money…).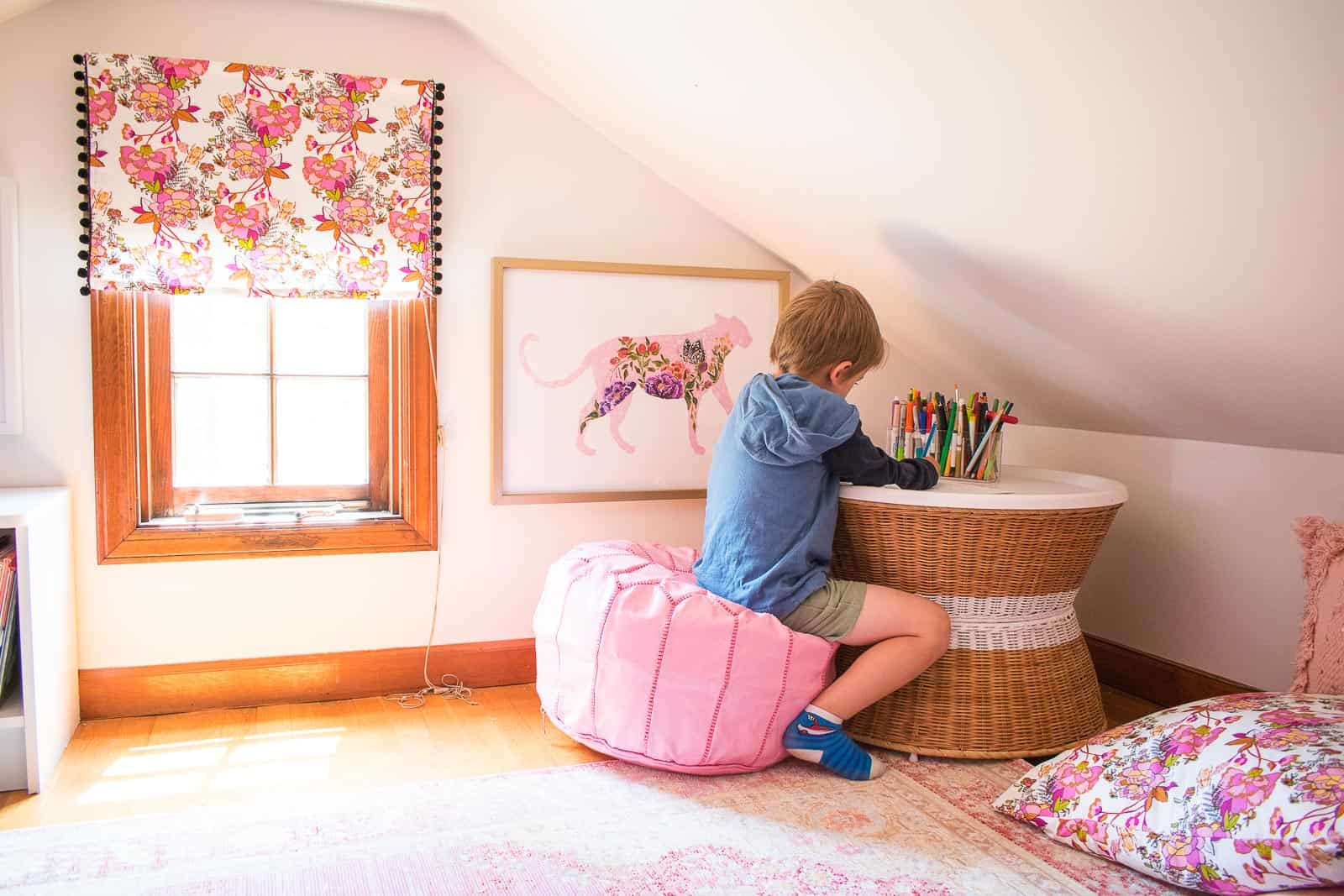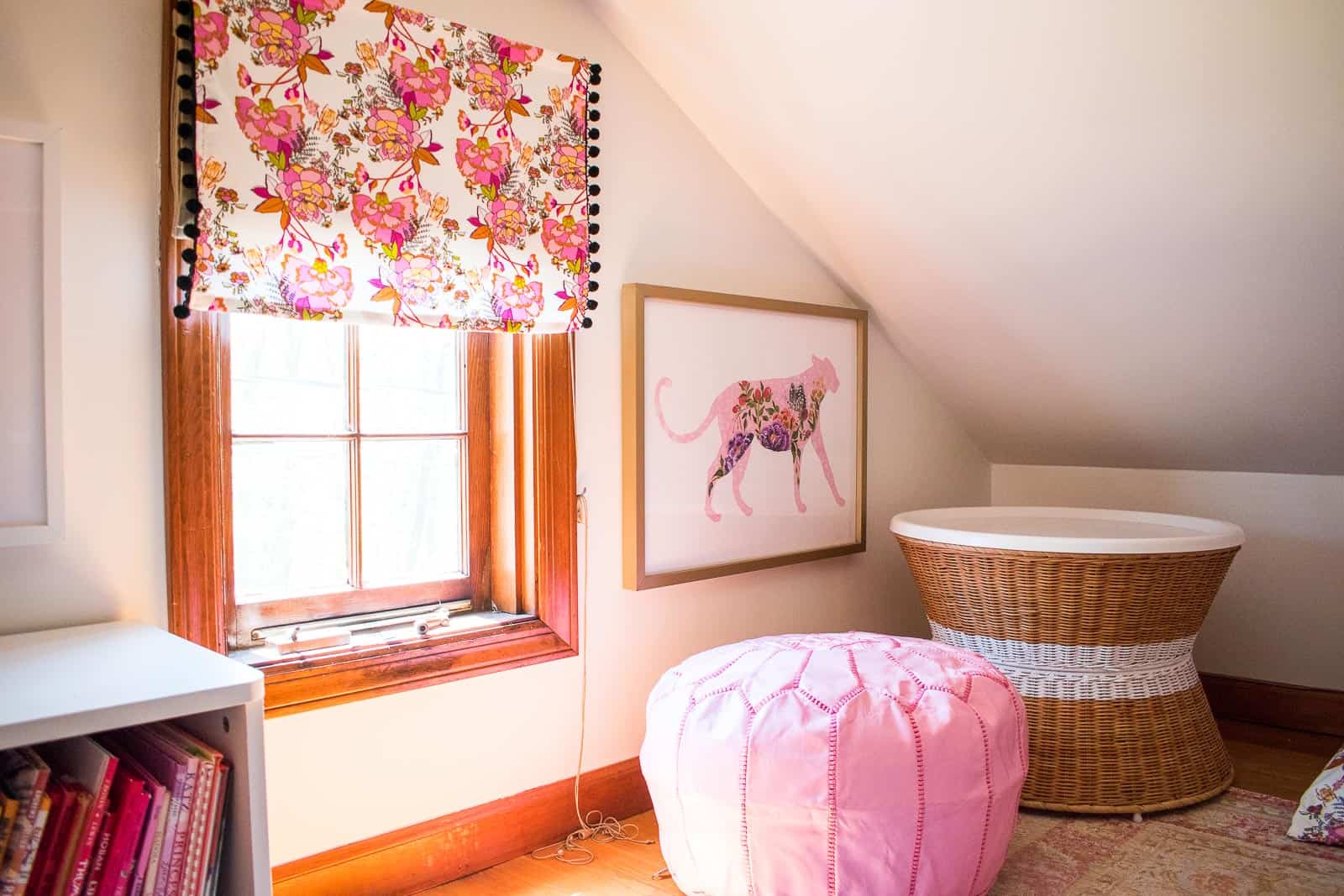 The rug is new and the girls are crazy about it… they've already declared it "so soft" which is essentially an elementary school rave review. Link for rug here. To create a corner reading area, I grabbed a handful of 26×26 cushions from Ikea and added a few back pillows. Most of the pillow cases are from Ikea as well but I sewed a couple using my friend Bari's incredible floral fabric available here.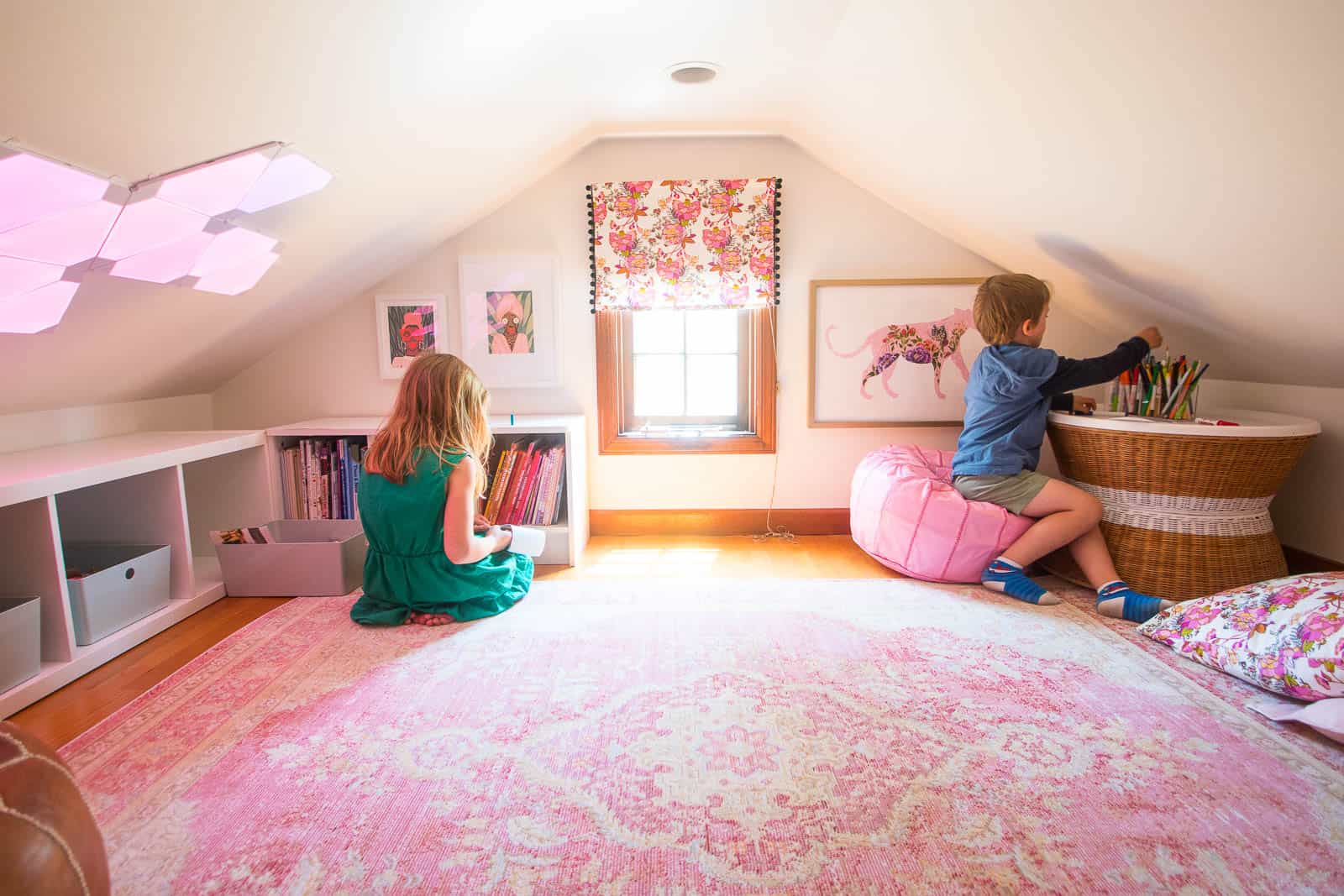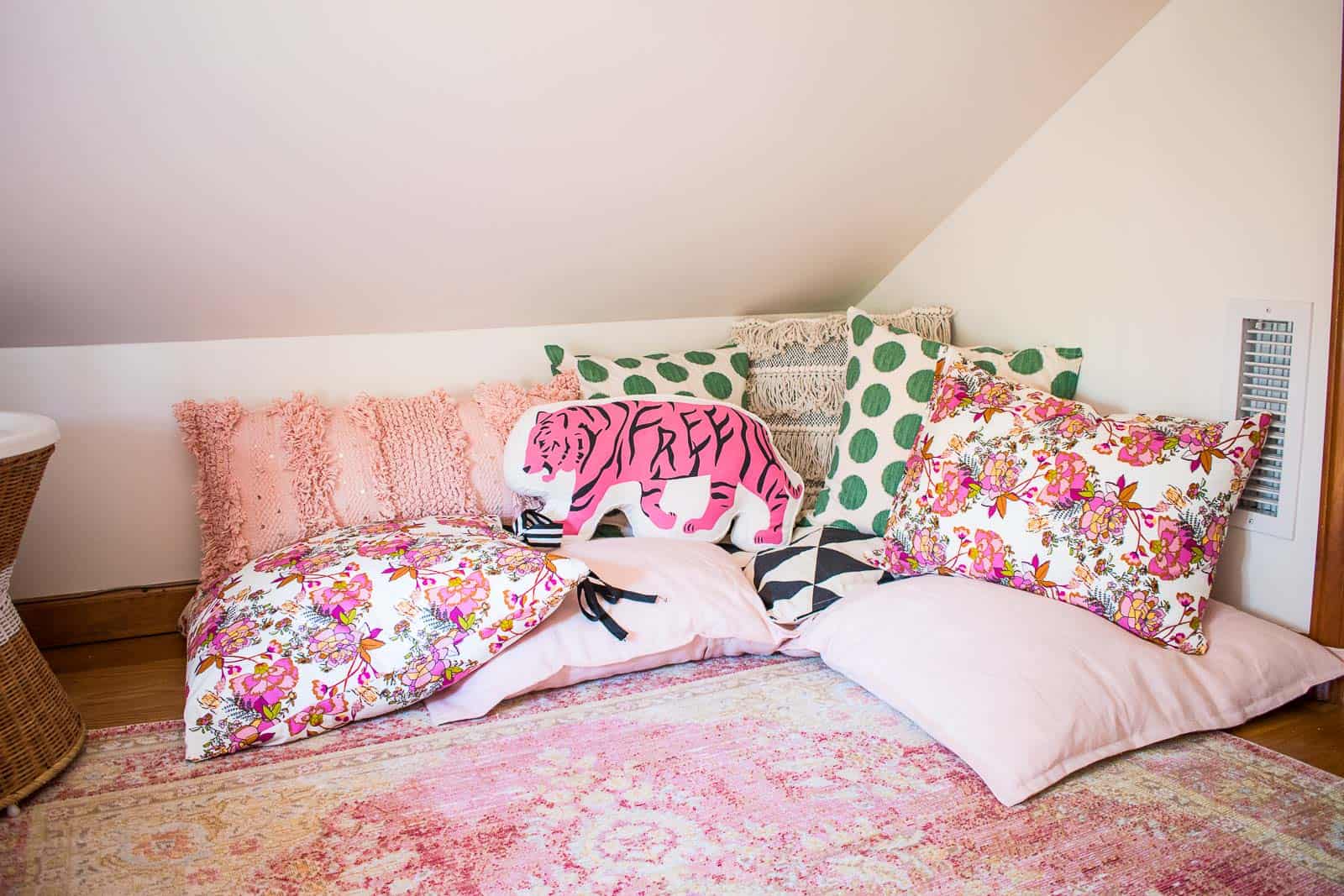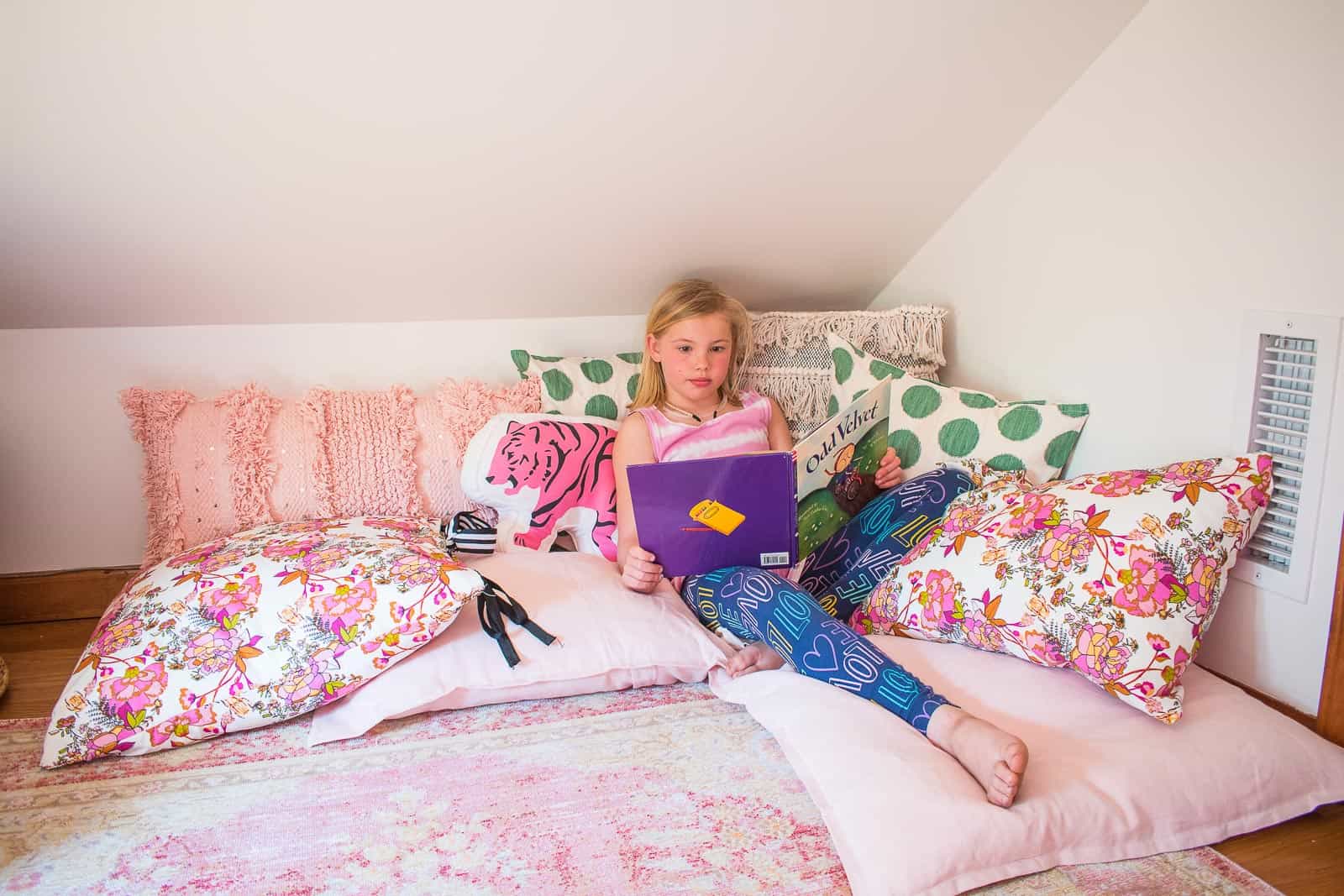 That window already had a custom canvas roman shade. When I pulled it down to paint, I realized that the front valance was attached with velcro so I swapped it out for that floral one I made. Of course I messed up the measurements so it was 1/4″ too narrow, hence… the black ball fringe. You know I love a ball fringe and I actually love how the black relates to that one black and white floor pillow and keeps the space from feeling too "pink."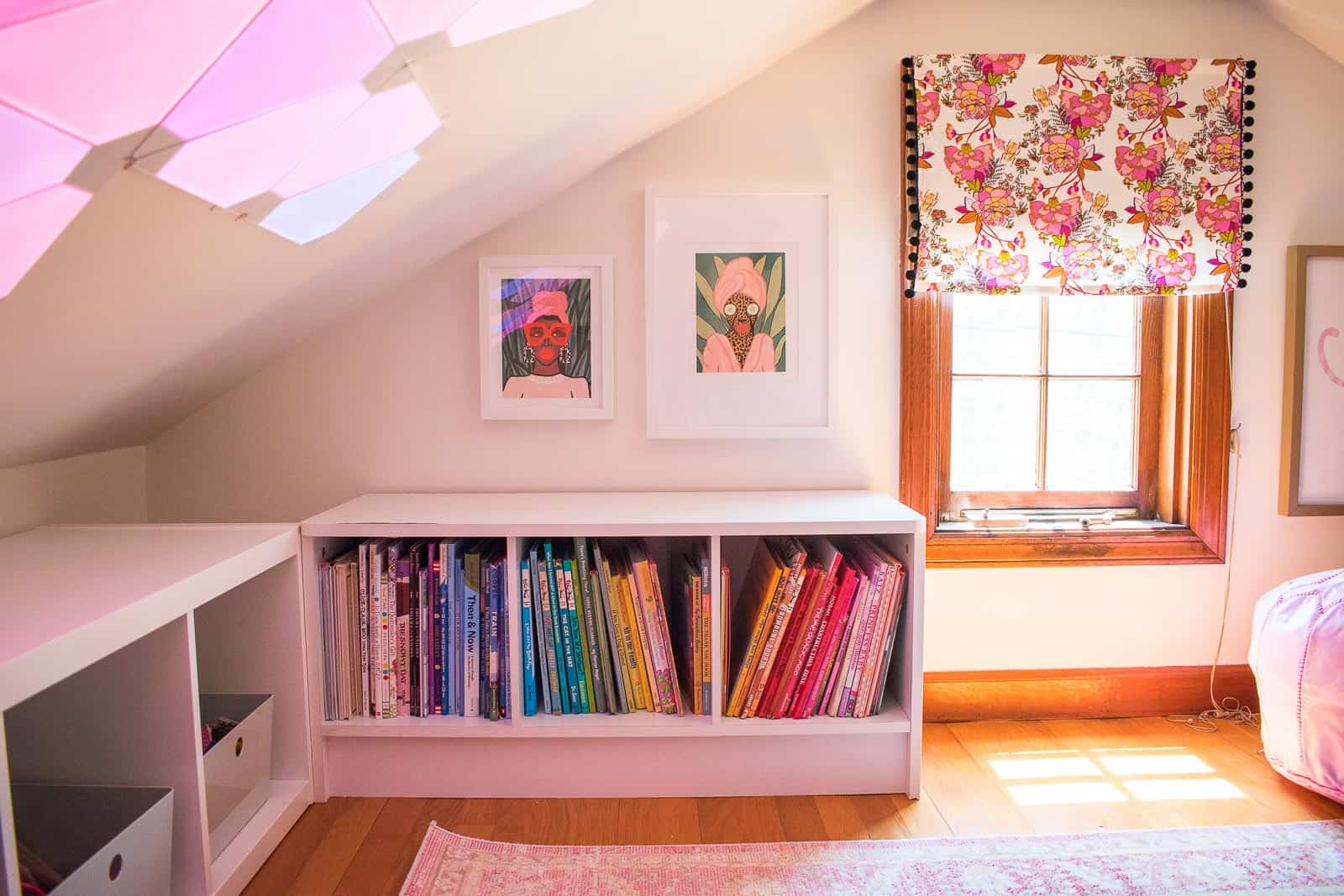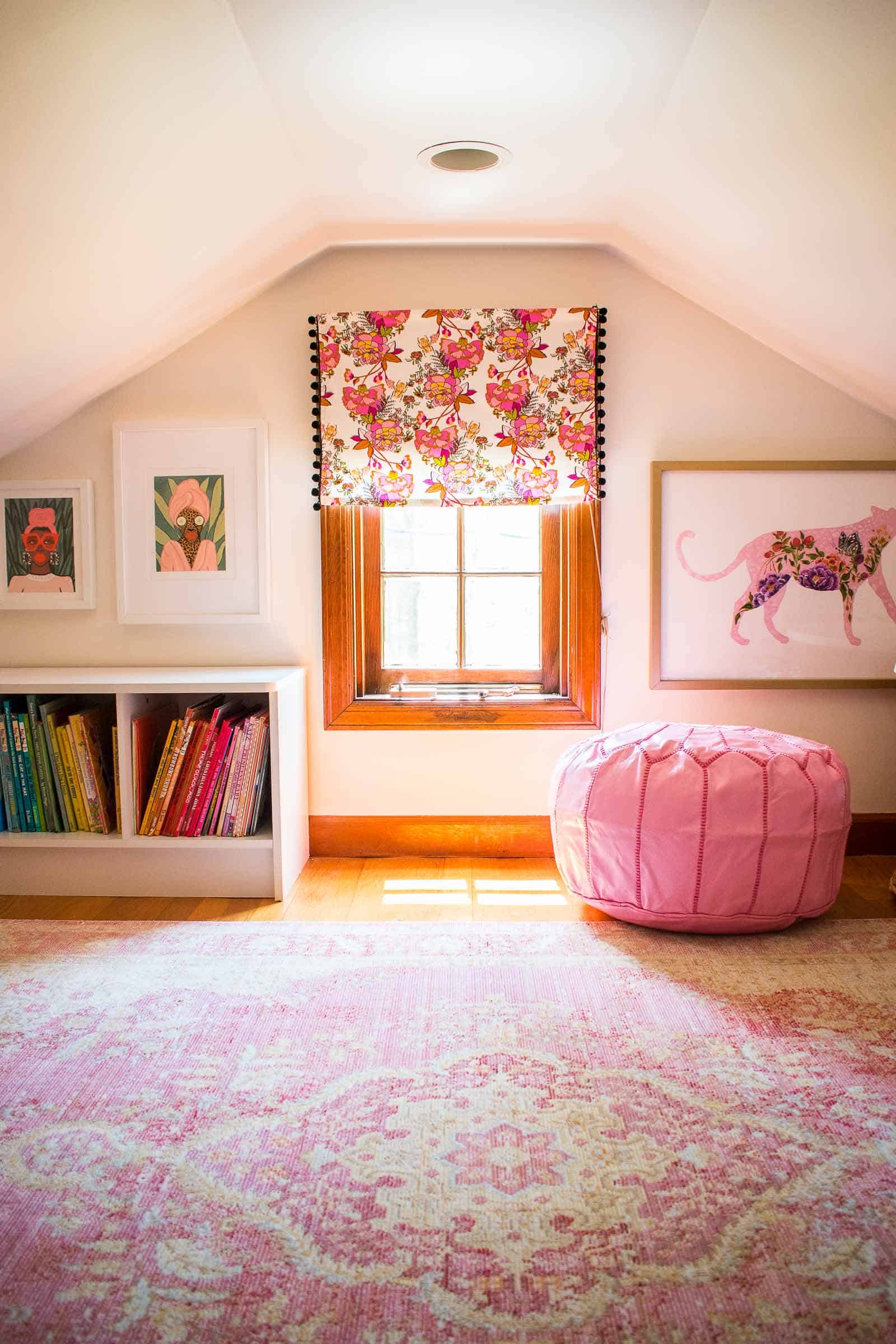 Notice those colorful triangular lights on the ceiling? I saw those back in December at The Home Depot holiday preview and fell in love with them immediately. They're called Nanoleaf tiles and they're LED lights that connect to an app on your phone and you can arrange them in any configuration you like! I stuck these to the ceiling using the removable stickers provided (they work like command strips so they pull right off when you need to move them).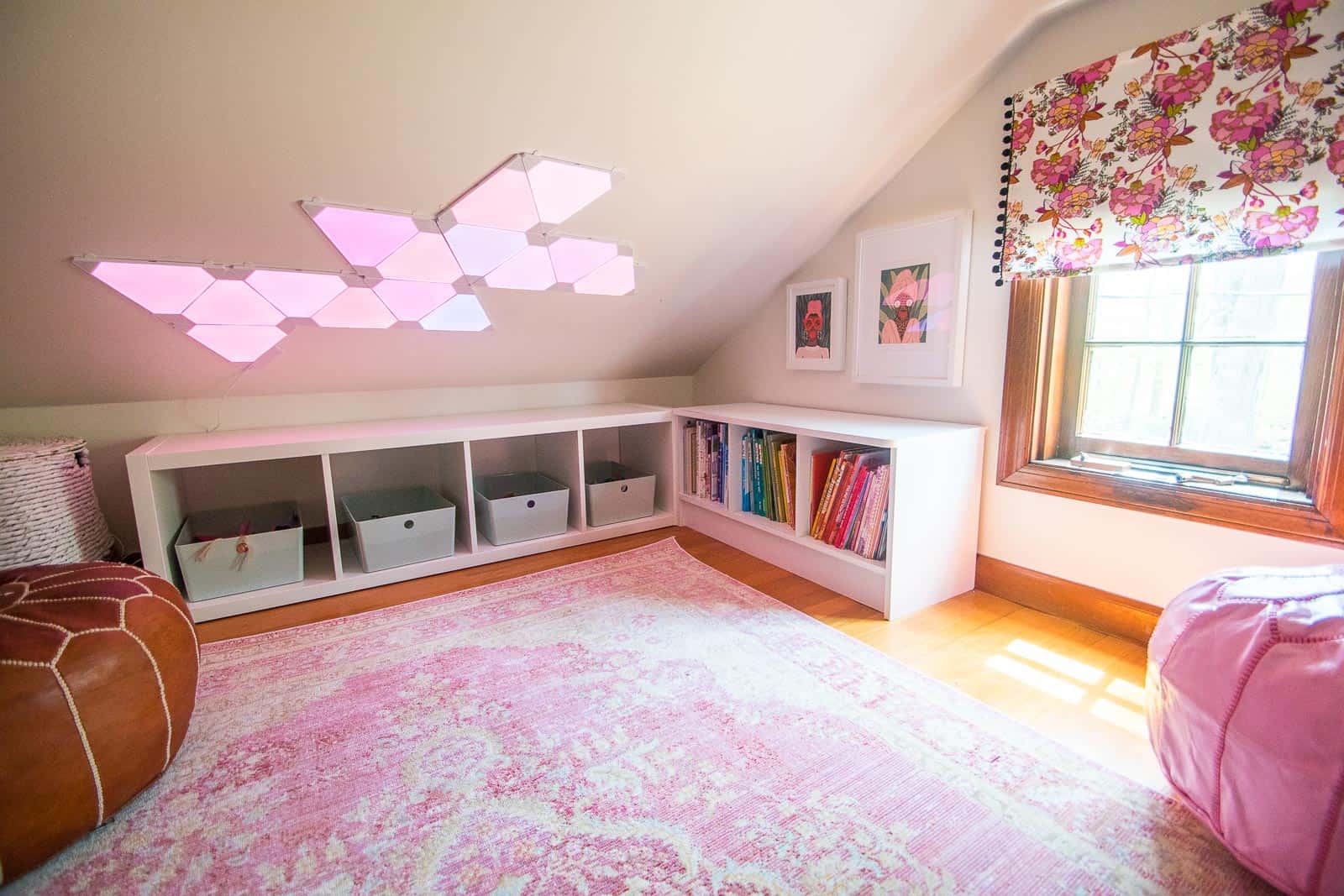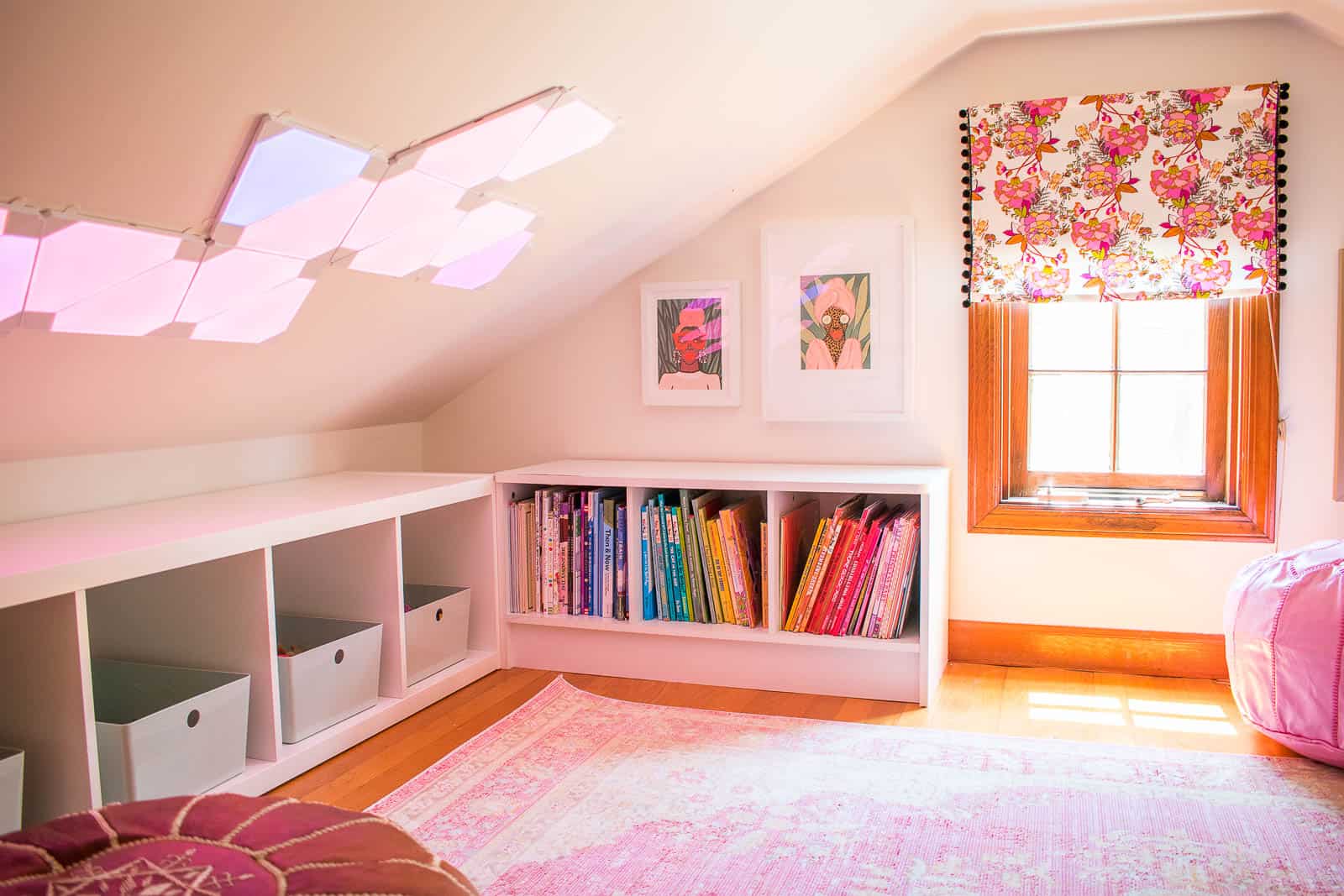 Finally, the artwork. There's not a lot of space for artwork, but I knew I wanted something on the walls. That glorious painted cheetah is also from my friend Bari. (We have one of her butterflies in Eleanor's room!). The prints on the other side of the window are these ones by Kendra Dandy from Society 6. And last but not least, Martha requested a cork board for her artwork and as soon as I took these pictures, they loaded it up with coloring pages of their LOL dolls.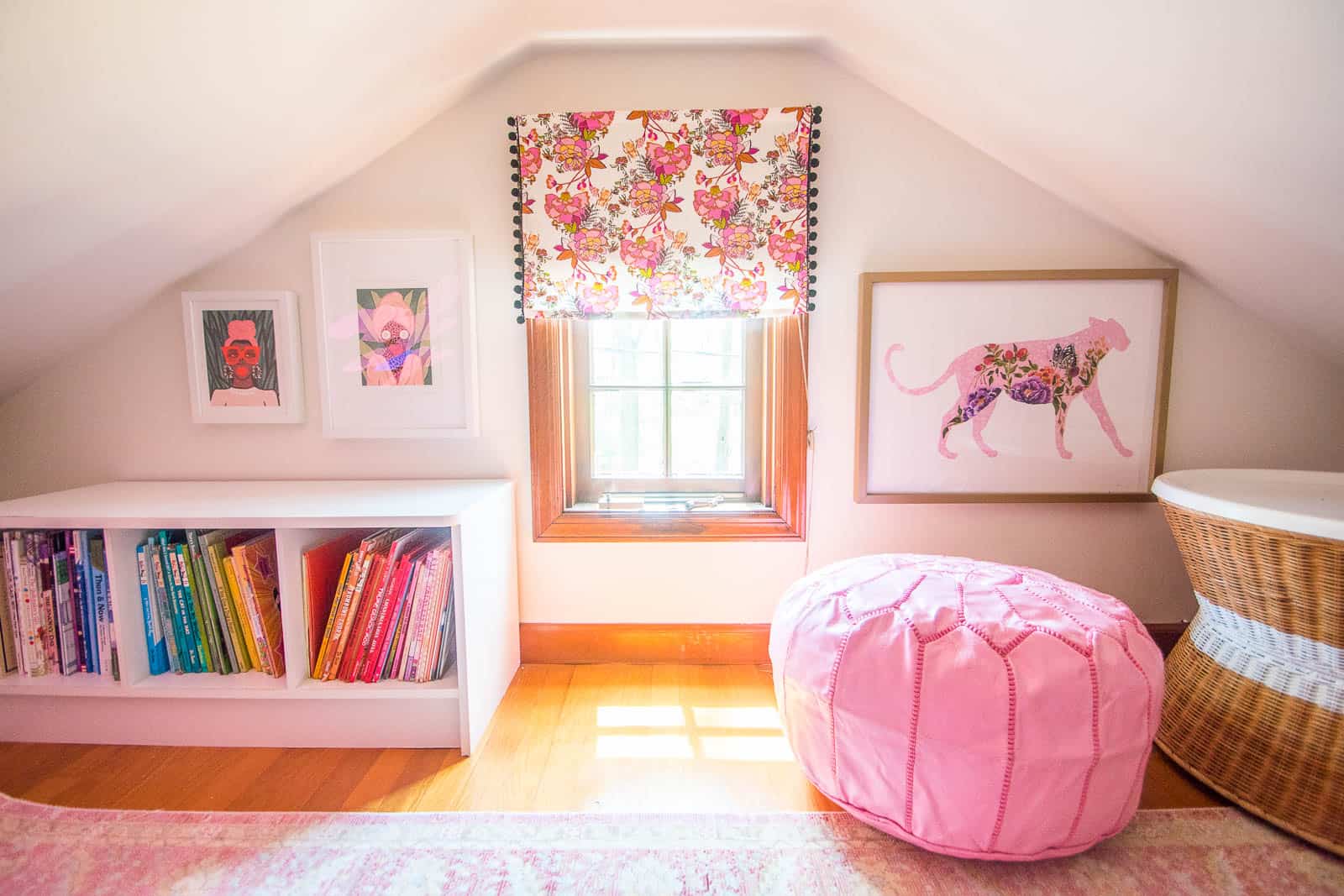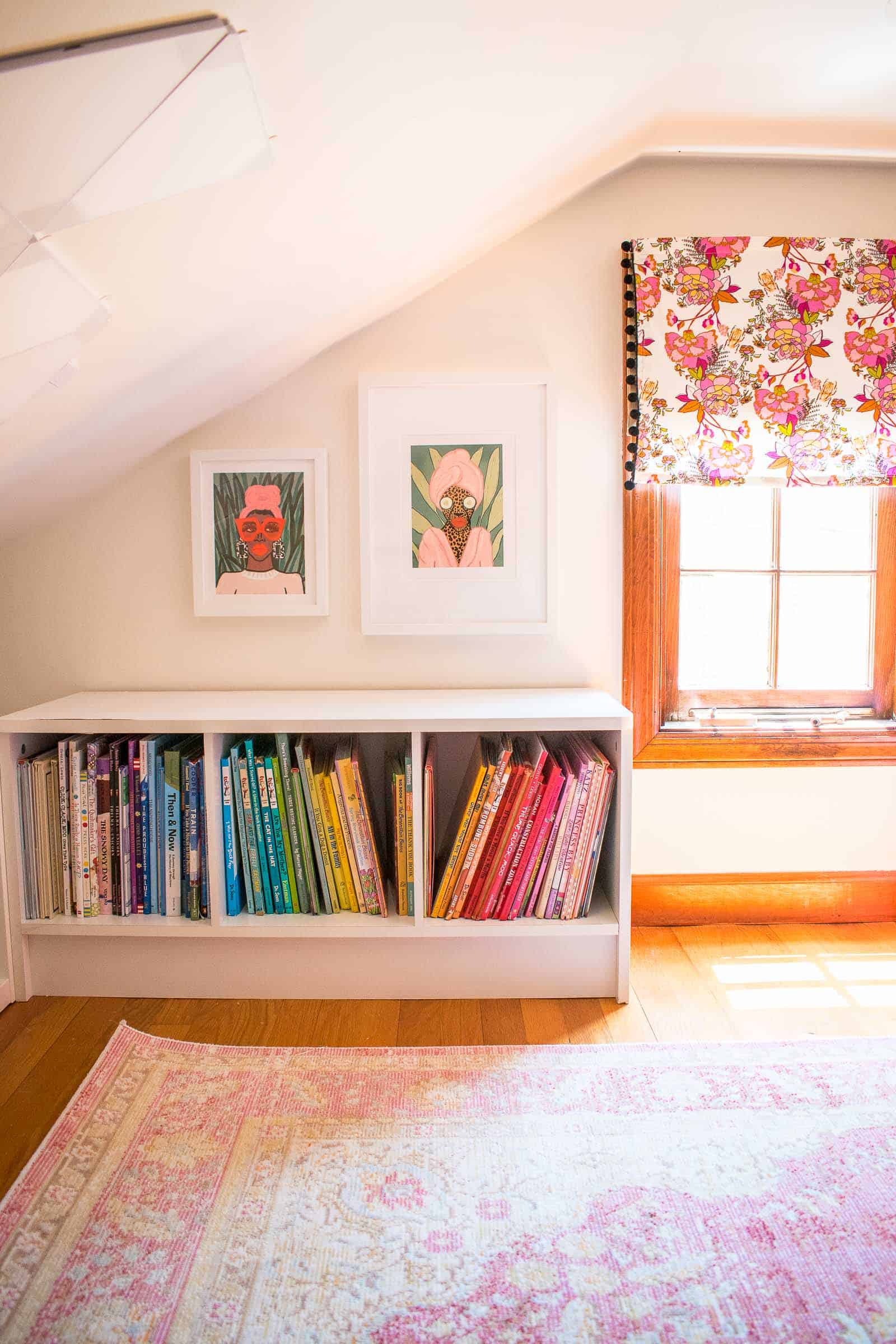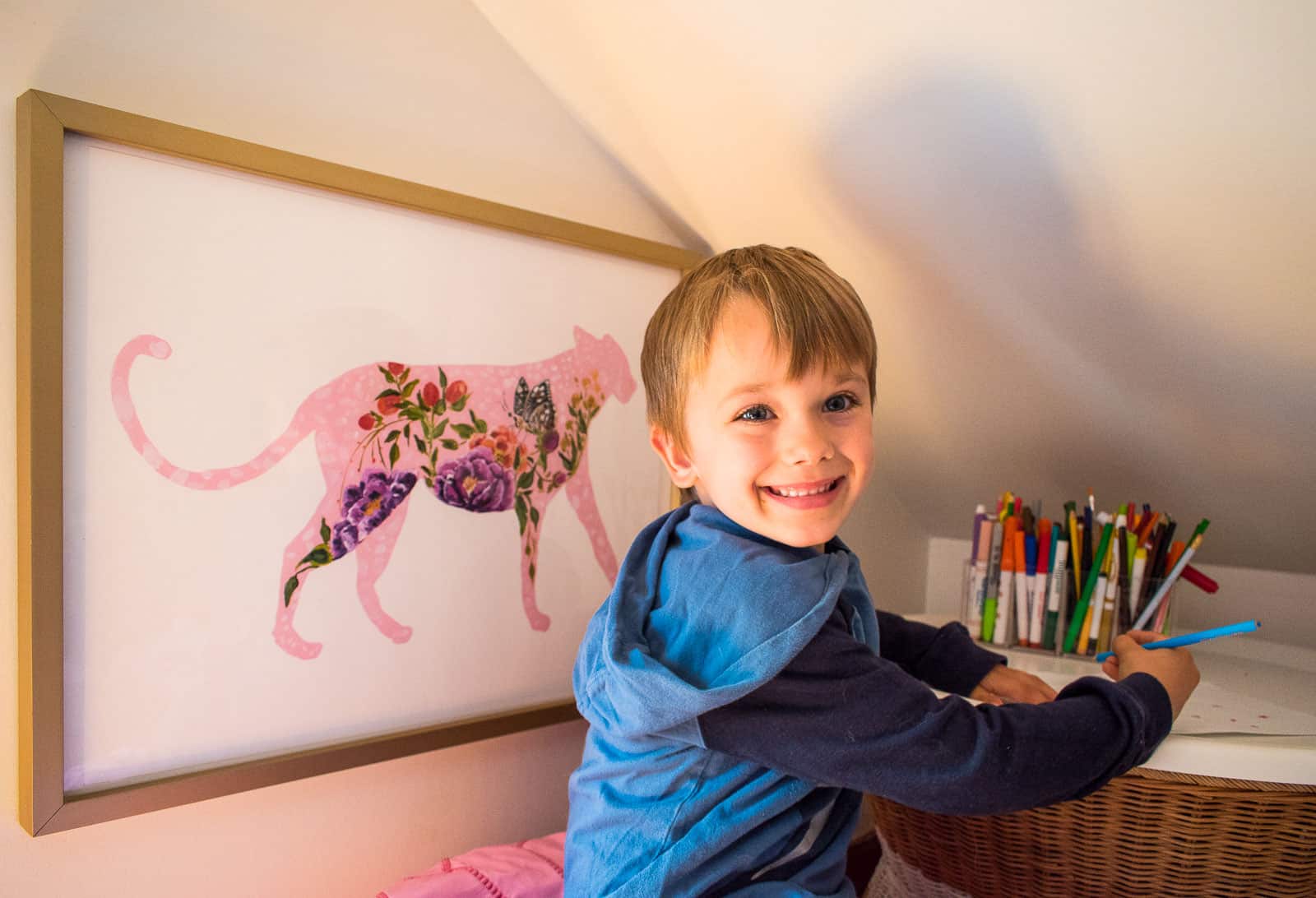 I'm still amazed at how different the whole rooms looks with just a few small changes. Paint made a huge difference but more cohesive decor and an additional storage piece didn't hurt. I've told the kids to treat this space as a *quiet* zone so fingers crossed… it may not get trashed! Here's another look at the before and after… it's pretty dramatic when you see them side by side!