Custom Upholstered Ottoman
Psssst… this post *might* contain affiliate links: see my disclosure here.
Disclosure: Fairfield World sent me the guts of this project but the foam and batting have been perfection and all opinions are my own!
Months and months ago, I dragged this wooden ottoman frame home from the flea market. I loved the global style and the size and figured it would be easy enough to make a cushion for it.  It took me almost a year, but I did it…finally… thanks to the Fab Flippin Contest and our sponsor Fairfield World's amazing foam and batting. If you go back and search this blog, I threaten to "really' upholster stuff WAY more often than I actually upholster stuff so woohoo for one project done!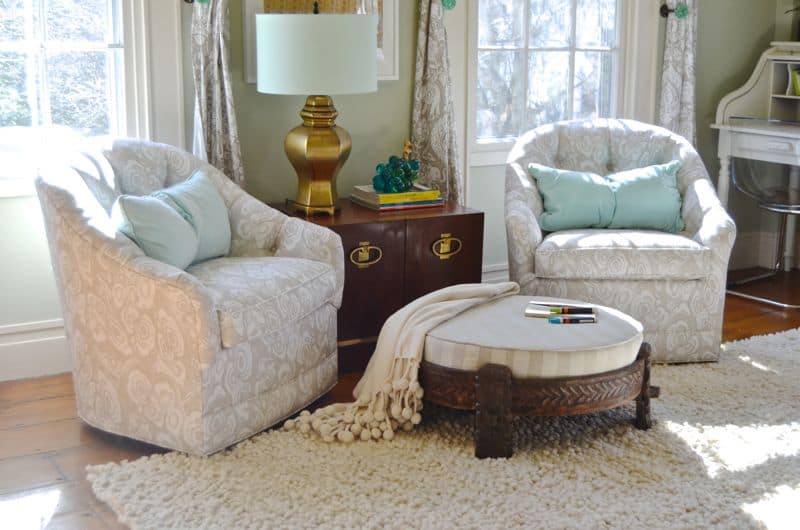 I'm getting better with my sewing machine and just ordered fabric for my first upholstered chair so stay tuned to see if I survive!  Thankfully, this ottoman came together as I'd envisioned.
Custom Upholstered Ottoman
Step 1: Clean
I started by giving the wooden base a good cleaning. I had some Murphy's Oil Soap, but diluted vinegar or even mildly foamy water should work too.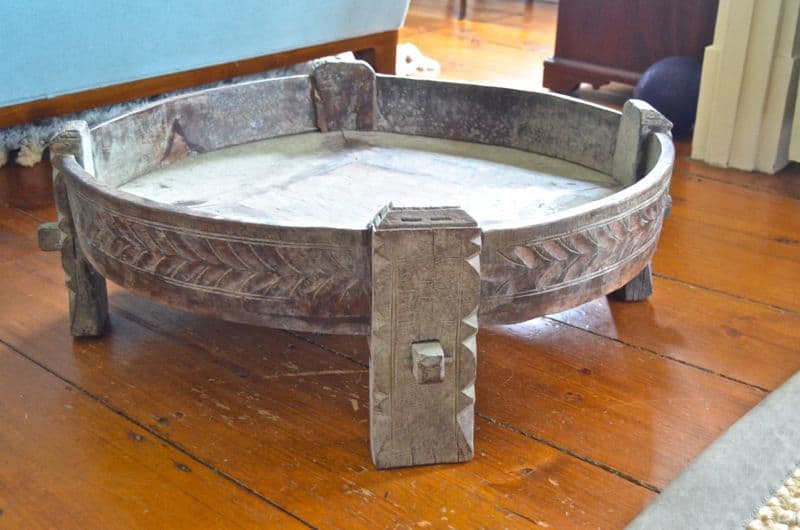 Step 2: Measure and cut your foam.
This ottoman was a little tricky because it's not a perfect circle, but I made a simple compass with a length of string tied to a Sharpie. Because the ottoman is so deep, I was piecing together three layers of 2″ foam.  And for an added level of difficulty, the foam sheets weren't quite wide enough so I had to cut six semicircles.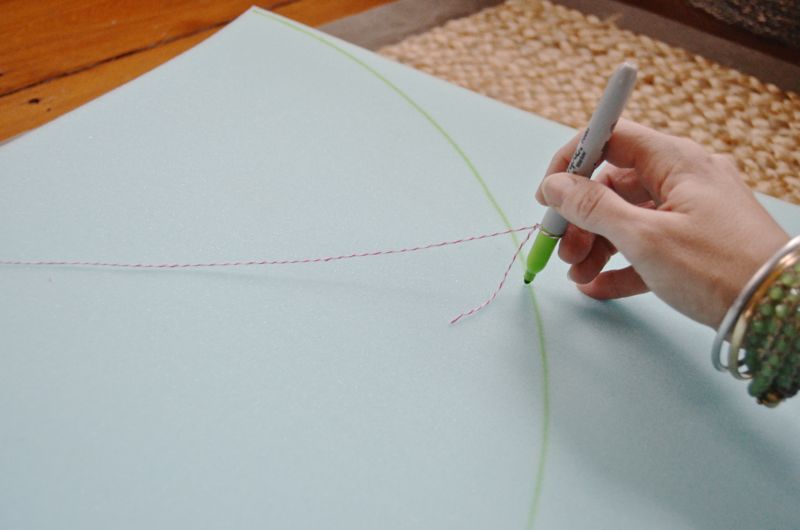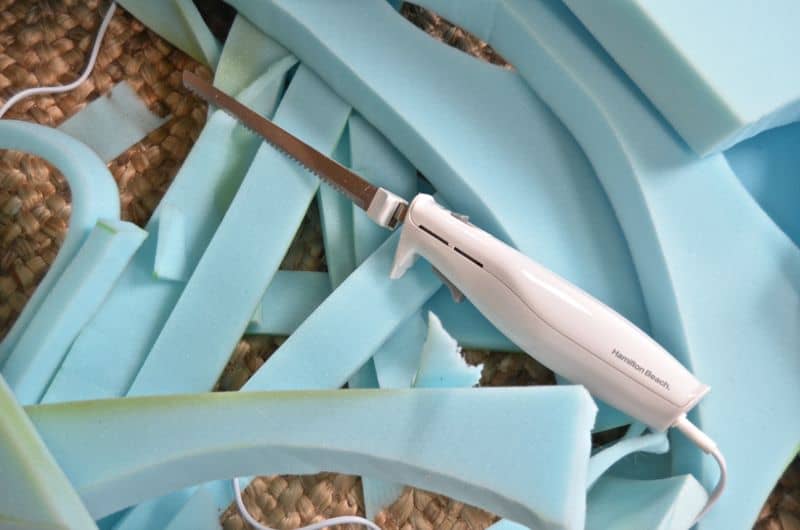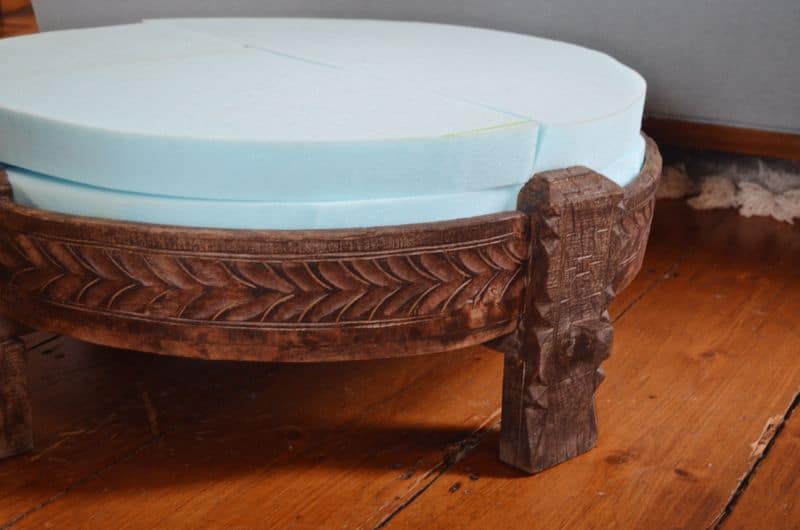 It required some finesse.  (I use a bread knife to trim the foam… cuts like butter.)
Step 3: Cut Fabric
Onto the slipcover! I laid out the fabric and cut out two large circles and a strip long enough to wrap around the full diameter (I had to sew two lengths of fabric together for the strip.) Next, I had to cut bias strips for the piping. Bias strip are simple… cut 1 1/2 inch diagonal strips of fabric. The diagonal cut is important because it will allow the piping to bend and wrap around corners accordingly.
Step 4: Sew
Hear me when I tell you this: a sewing foot made for piping will save your upholstery life. I don't know where this little extra has been all my life, but it meant sewing all the piping was a breeze!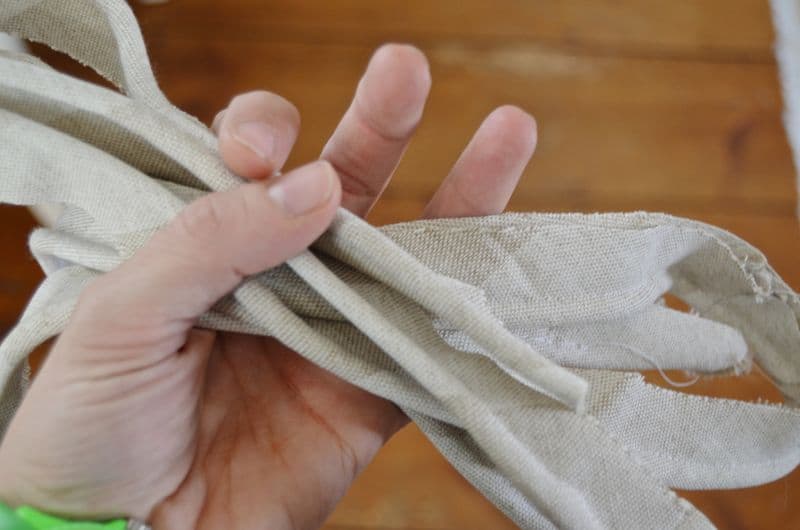 With piping in hand, I pinned and sewed.  The cording should be sandwiched between the top circle and the side strips.
Step 5: Insert Foam
There may be a more legit way to do this, but I'll bet it involves sewing. Mitigating the sewing is usually a top priority for me when I take on any upholstery project. So I spread the batting out inside the slipcover and squeezed my six pieces of foam inside. I was careful to pull the batting taught as I worked and to press the foam down into the corners of the slipcover as best I could. (Again… the upholstery handbook would probably have me sewing another slipcover out of the batting or something.)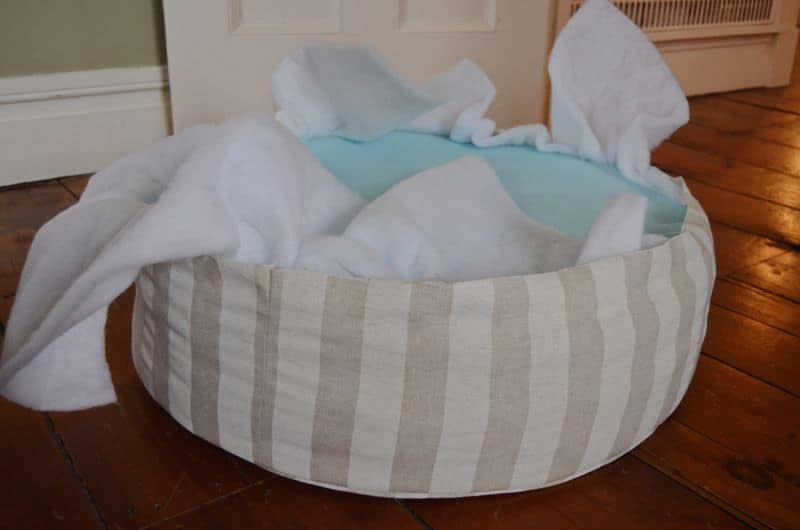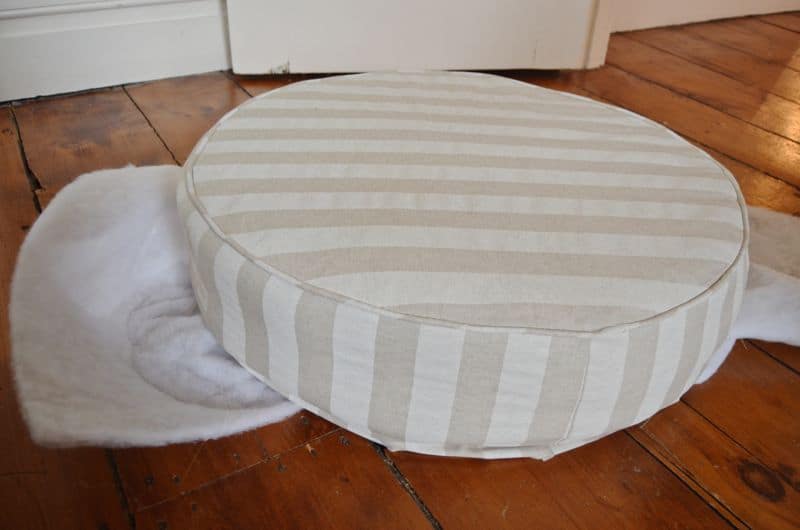 To finish the cushion off, I trimmed the excess batting and hand sewed the bottom circle onto the sides. I measured to make sure I was sewing a straight seam around the circumference. But, to be honest, because this was on the bottom, I didn't go crazy making sure it was perfect. Ideally I could have sewed all seams of the cover first using the sewing machine, but because I was fitting together foam, I was worried it would be tricky managing all those smaller pieces through a smaller side seam.
I decided to bring this into our master bedroom as a place to rest my feet in the Never-Neverland where I'm sitting on one of those chairs reading. It *will* happen one day!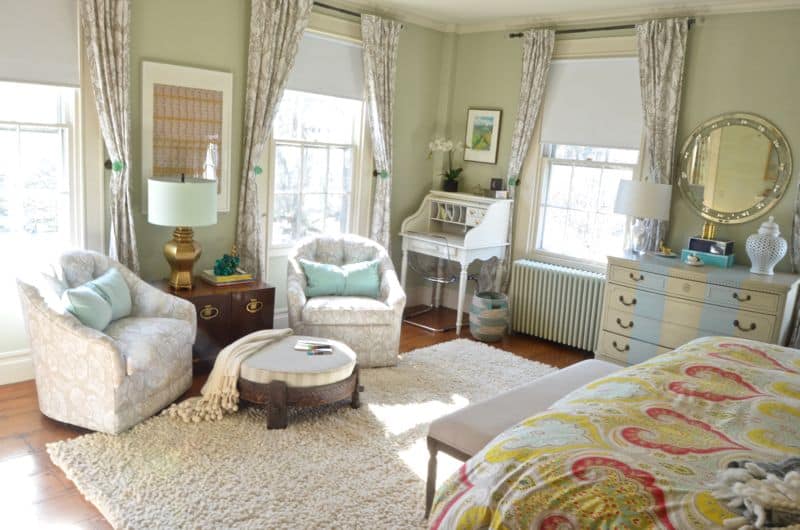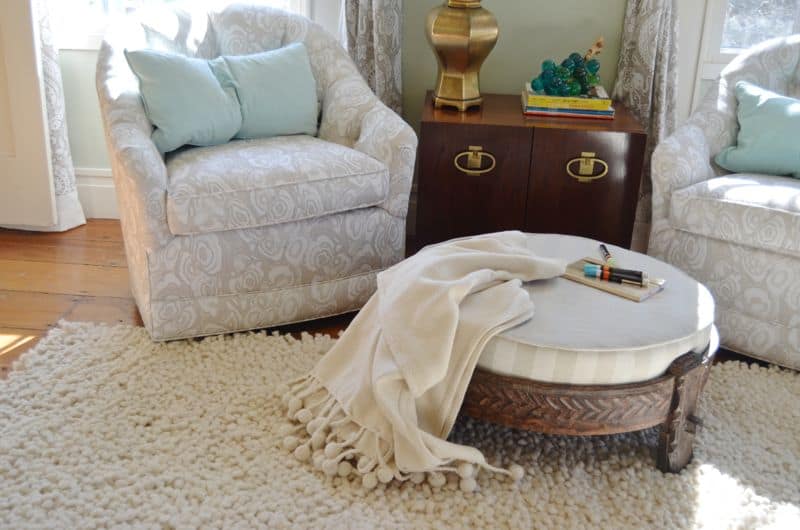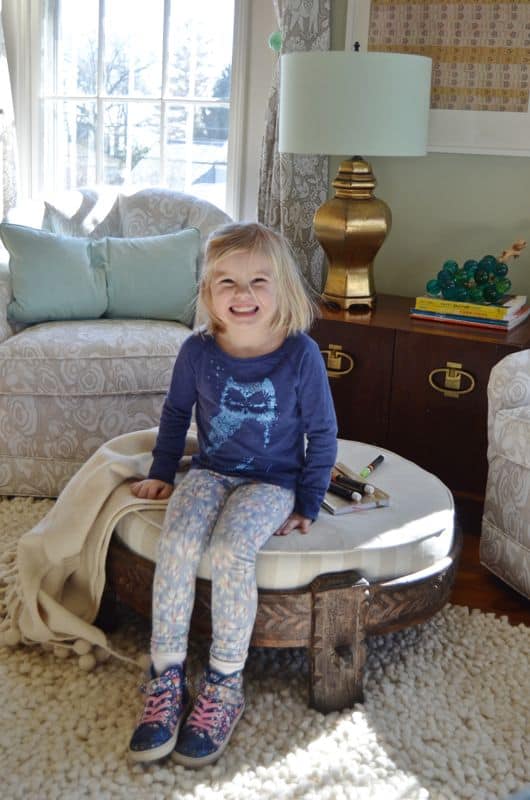 Materials
(Affiliate links included for your convenience)
fabric of choice
cording (size is personal preference)
Pin it here–>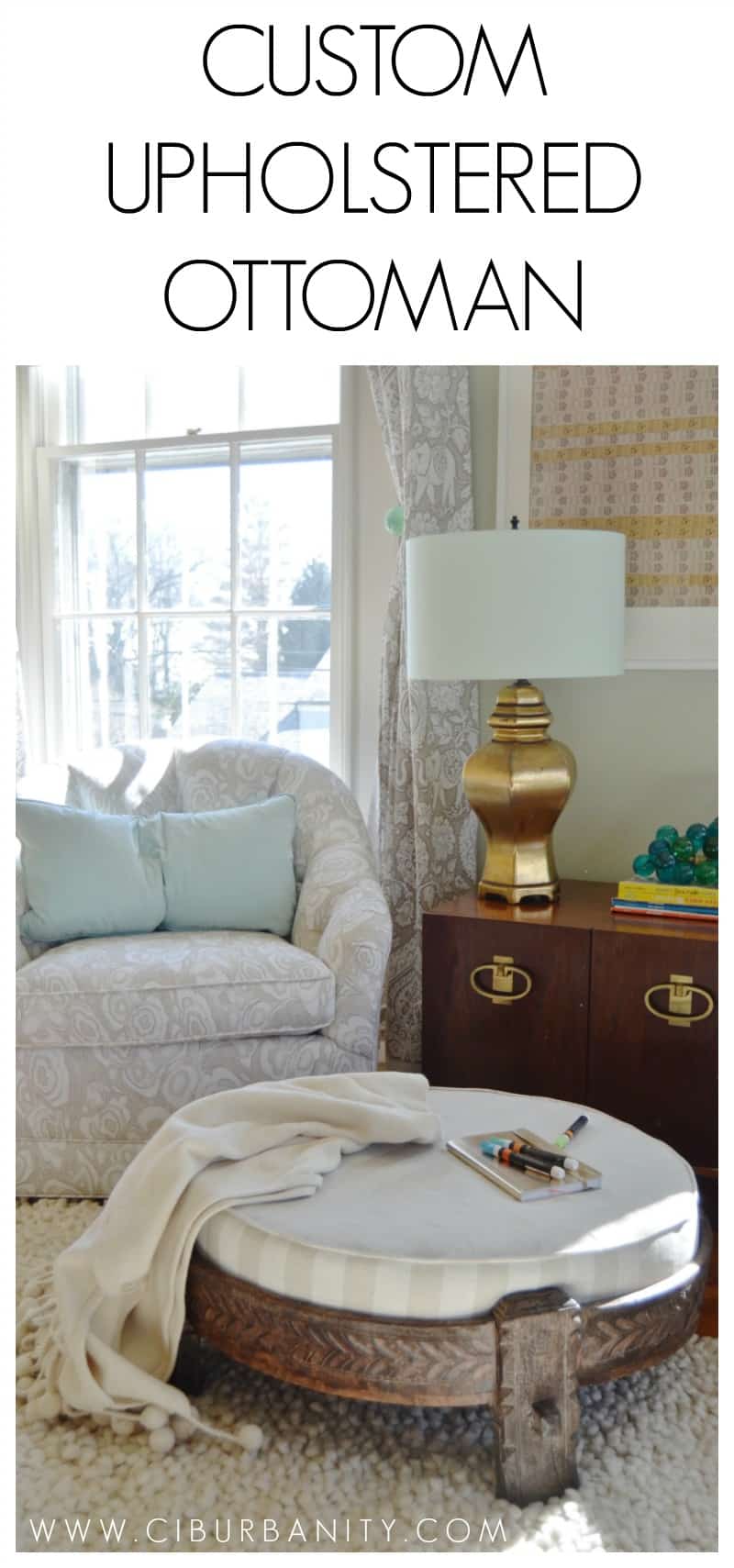 But enough about me and my upholstery project… time to link up and see what all of YOU are up to! The amazing peeps at Fairfield World are sponsoring this month's Fab Flippin Contest and the theme is "At the Heart of Your Project". I can't wait to see what everyone comes up with and I can't wait to turn to Fairfield for my future upholstery domination. First place winner will receive $100 and second place winner will get $50!
Link up below and check back in throughout the month to see all the entries! While you're at it, give my fellow co-hosts a shout out:
Anastasia Vintage
Thirty Eighth Street
58 Water Street
Evey's Creations
If interested in participating in this contest going forward, please contact the lovely Evey at [email protected] or Stacy at [email protected]. Tune in all month to see the gorgeous entries for Fairfield World's "At the Heart of Your Project."
Loading InLinkz ...