Day 9: Glitter Snow Globe in a Clear Plastic Ornament
Psssst… this post *might* contain affiliate links: see my disclosure here.
Glitter Snow Globe Using a Craft Store Acrylic Ornament
These bargain clear acrylic ornaments are readily available this time of year and this easy glitter snow globe is an adorable way to use them!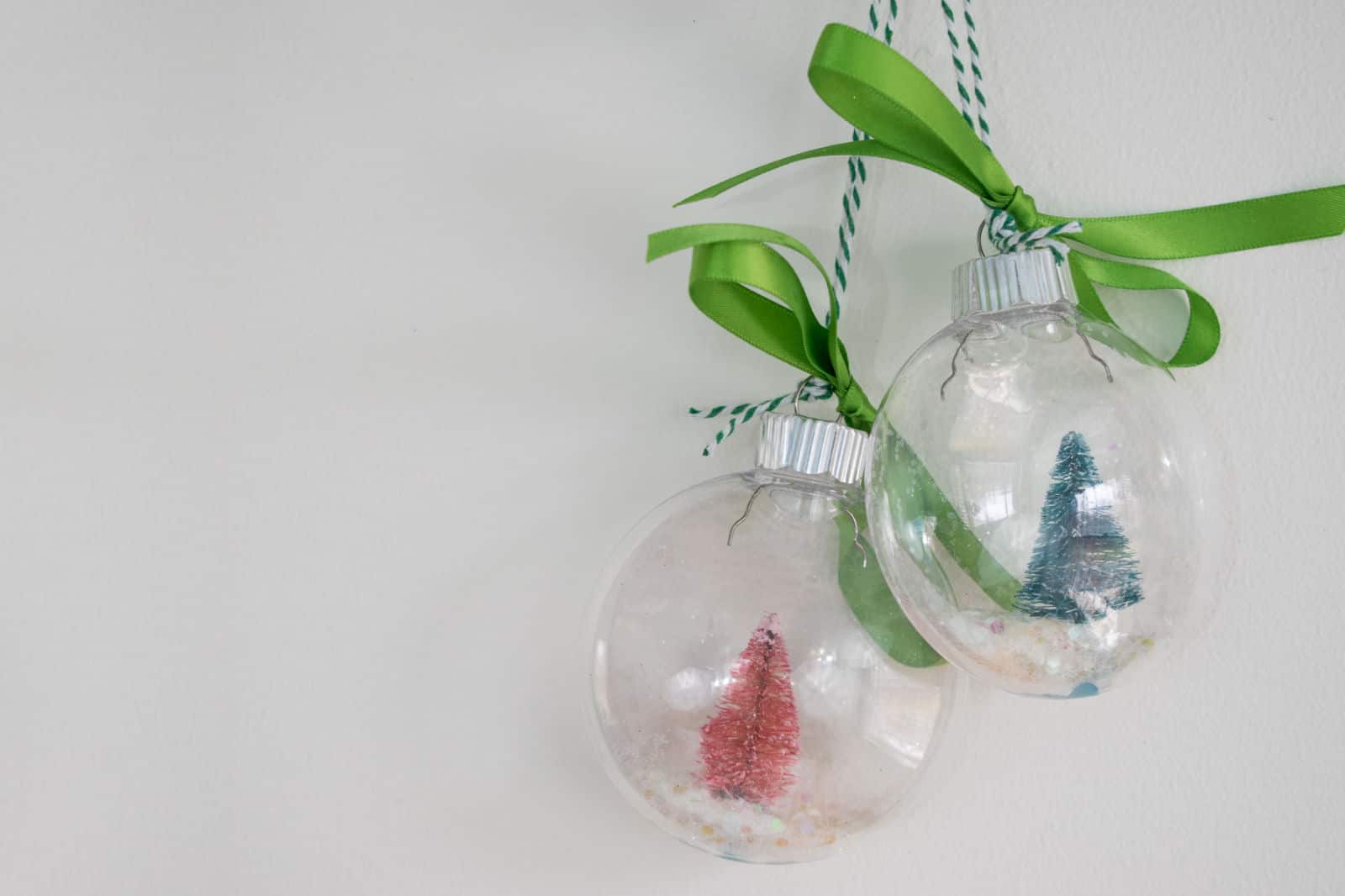 This is the second ornament I've shared using these clear acrylic ornaments (the first one is here) and I love how cute this turned out. Reminder that I'm sharing 12 Days of Ornaments on both my YouTube channel and my blog so make sure you head over to both places to get caught up! All materials are linked here in my Amazon shop so you can craft any and all of these without leaving the house!!
Step 1. Prep the Bottle Brush Trees
Remove the little wooden base from the bottle brush tree. Typically you just need to unscrew and it will come apart pretty easily. With your hot glue gun, glue the bottle brush tree into the middle of the wooden bead. IMPORTANT: You need to make sure that when you grab the tip of your bottlebrush tree it will not only fit through the mouth of the ornament AND that it will reach the bottom of your ornament.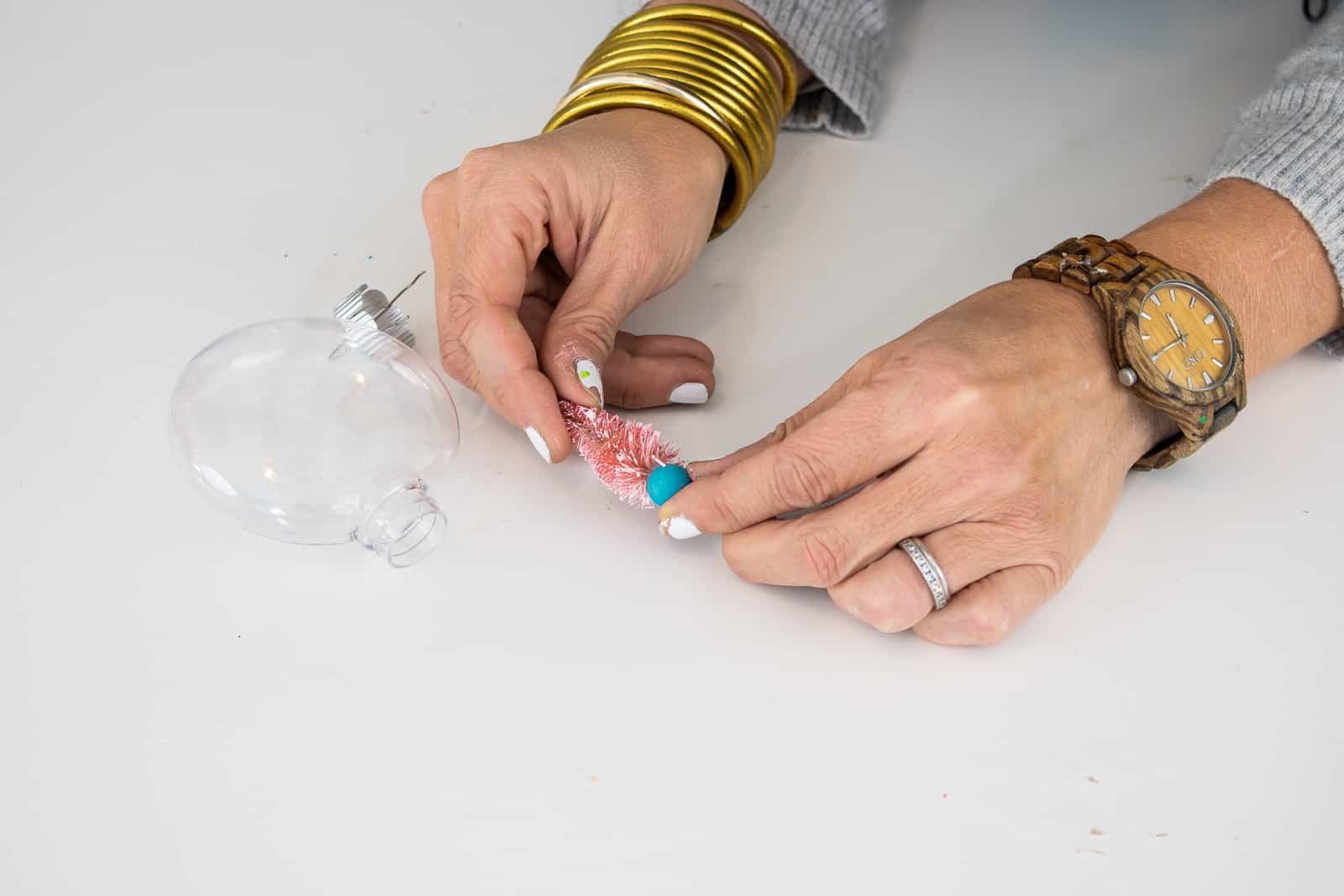 Step 2. Glue the tree/ bead to the bottom of the ornament
This is where the bead comes in handy: because it's rounded, it should tuck onto the bottom of the ornament a little easier. Put some hot glue onto the bottom of the bead and quickly pop it into the ornament and stick it to the bottom. Some of my trees tipped over a bit when I placed them, so I was happy to have a staple remover/ screwdriver to help hold the bead in place while the glue dried.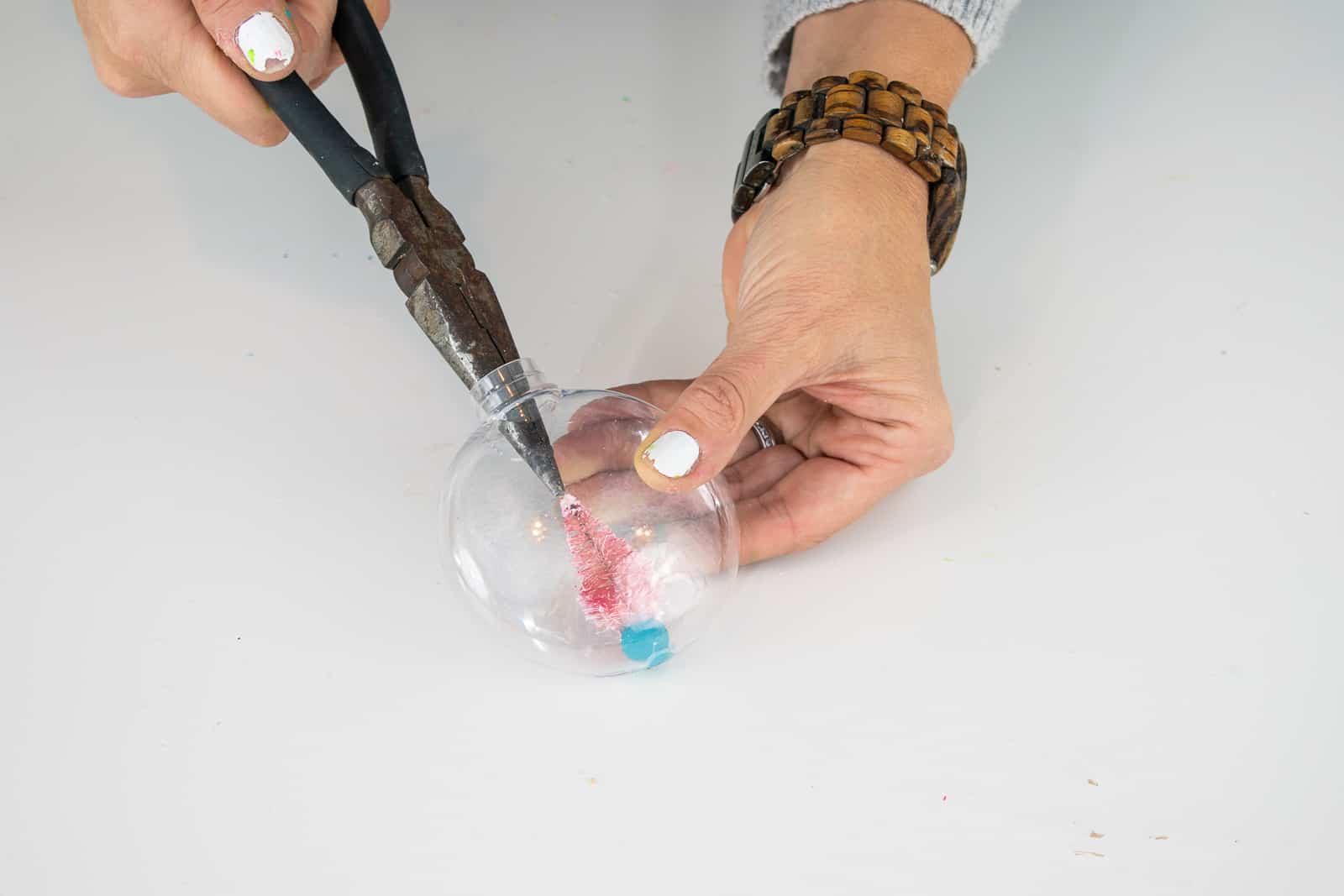 Step 3. Add glitter
Let the hot glue cure and then add glitter. I used a mixture of the white glitters I had in my craft room and added enough to cover the wooden bead.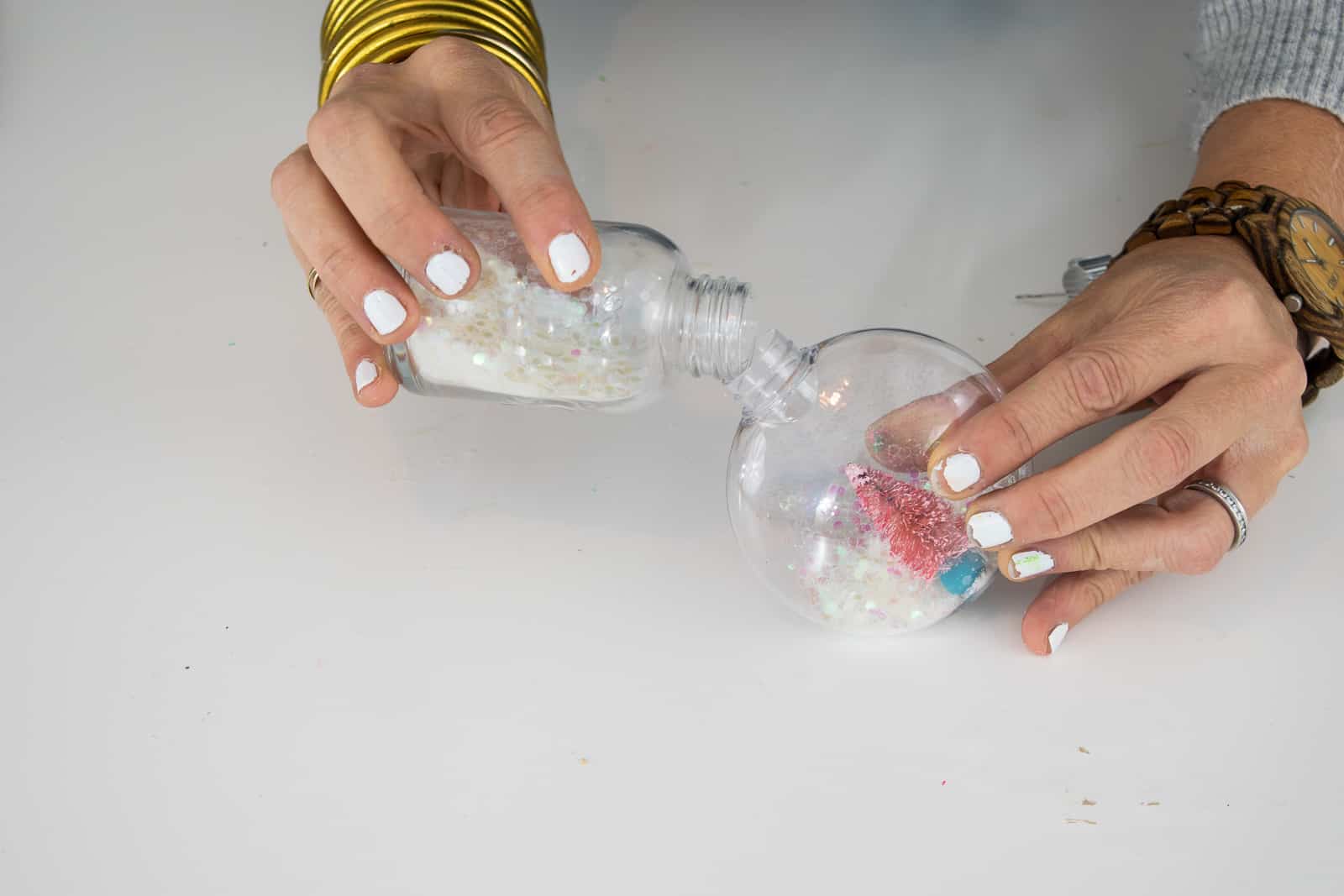 Step 4. Add a bow and a loop for hanging
Yeah. That's it. So super easy. Note: If you use super fine glitter, some of it may sneak out, so feel free to glue the top of your ornament back into place to prevent a glitter accident!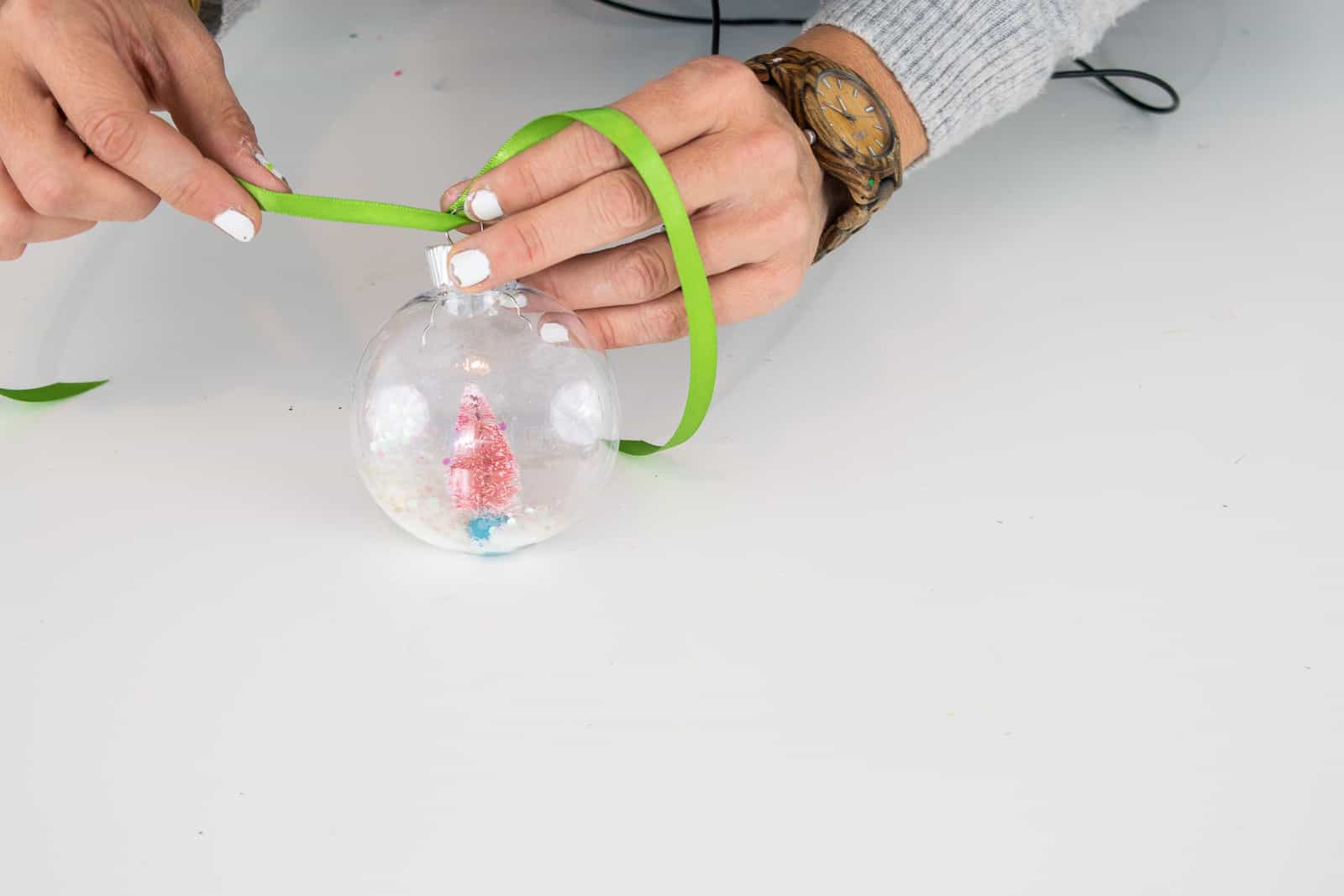 Materials for Glitter Snow Globe Tree