How to Make Your Own Rent Friendly Removable Wallpaper
Psssst… this post *might* contain affiliate links: see my disclosure here.
DIY Removable Wallpaper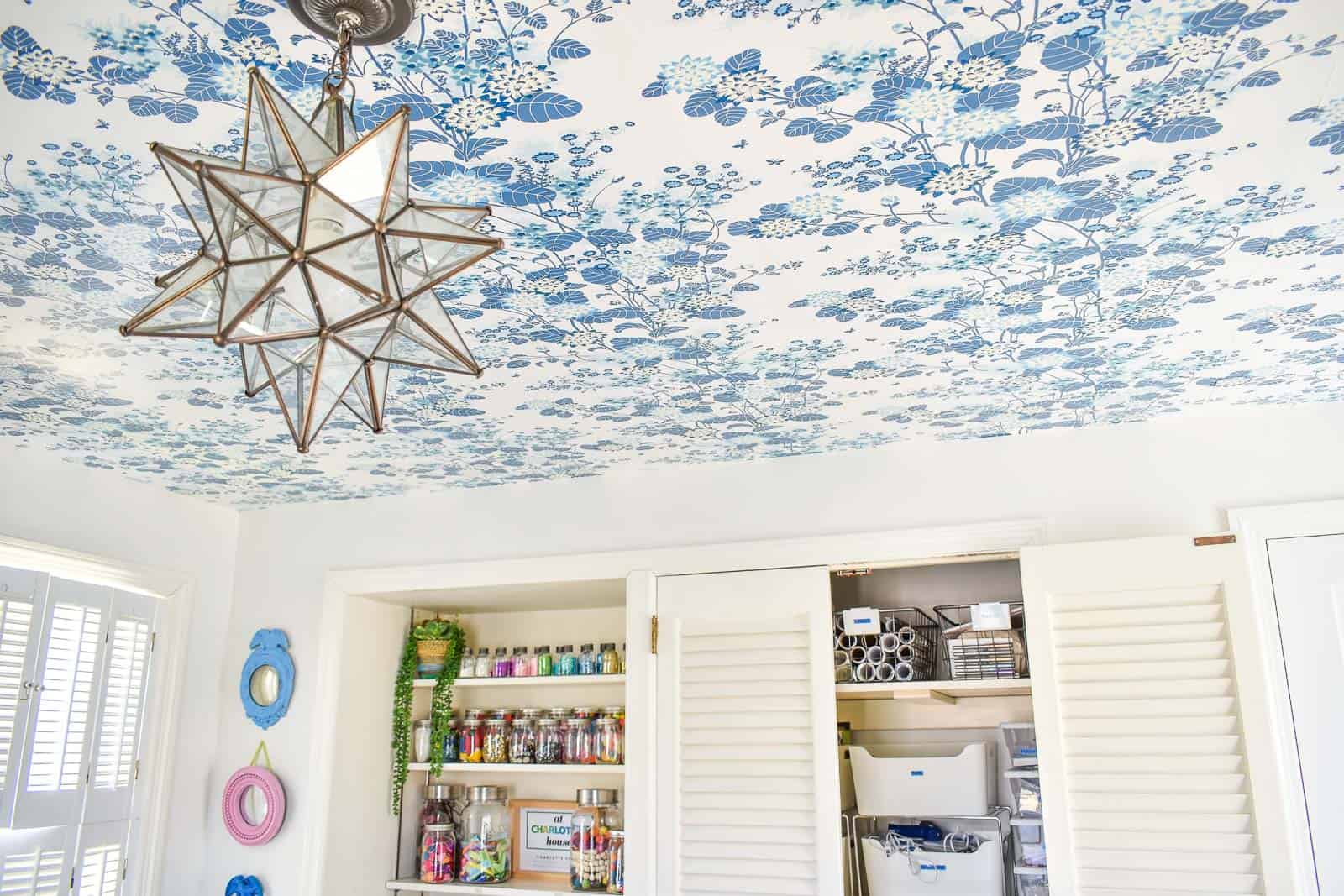 UPDATE: We moved so I had to remove all my wallpaper so I'm here to report! For both of them it was necessary to 'activate' the starch by getting the paper wet. I used a combination of a spray bottle a wet sponge to dampen the wallpaper first and then I was able to peel off the paper. The mural paper came off SUPER easily. In fact, I saved it and hope to reuse it in the new house! There were a few places I needed to go over with a wet sponge to clean the liquid starch residue. I didn't get so lucky with the paper in my office. It came off more like typical wallpaper where the paper peels away from the backing a bit. Unlike typical wallpaper, though… I just needed to spray water to easily scrape off the rest of the paper. No adhesive residue. It took some elbow grease to clean the starch residue, but again… more typical to a regular pasted wallpaper. My theory is that the flat surface of the ceiling gave the starch/ wallpaper more to adhere too. My walls in the dining room had a bit more sheen which may have helped the wallpaper come off more easily. All in all I'd say the starch was still a GREAT solution for rental wallpaper, but maybe test a bit of your specific wallpaper first just to see how much elbow grease you'll need when removing.
One of my favorite features from my new office is the wallpapered ceiling! It adds a surprise of pattern and fun. Best part? I was able to make regular wallpaper REMOVABLE! Which means that- you guessed it- this is RENTAL FRIENDLY WALLPAPER!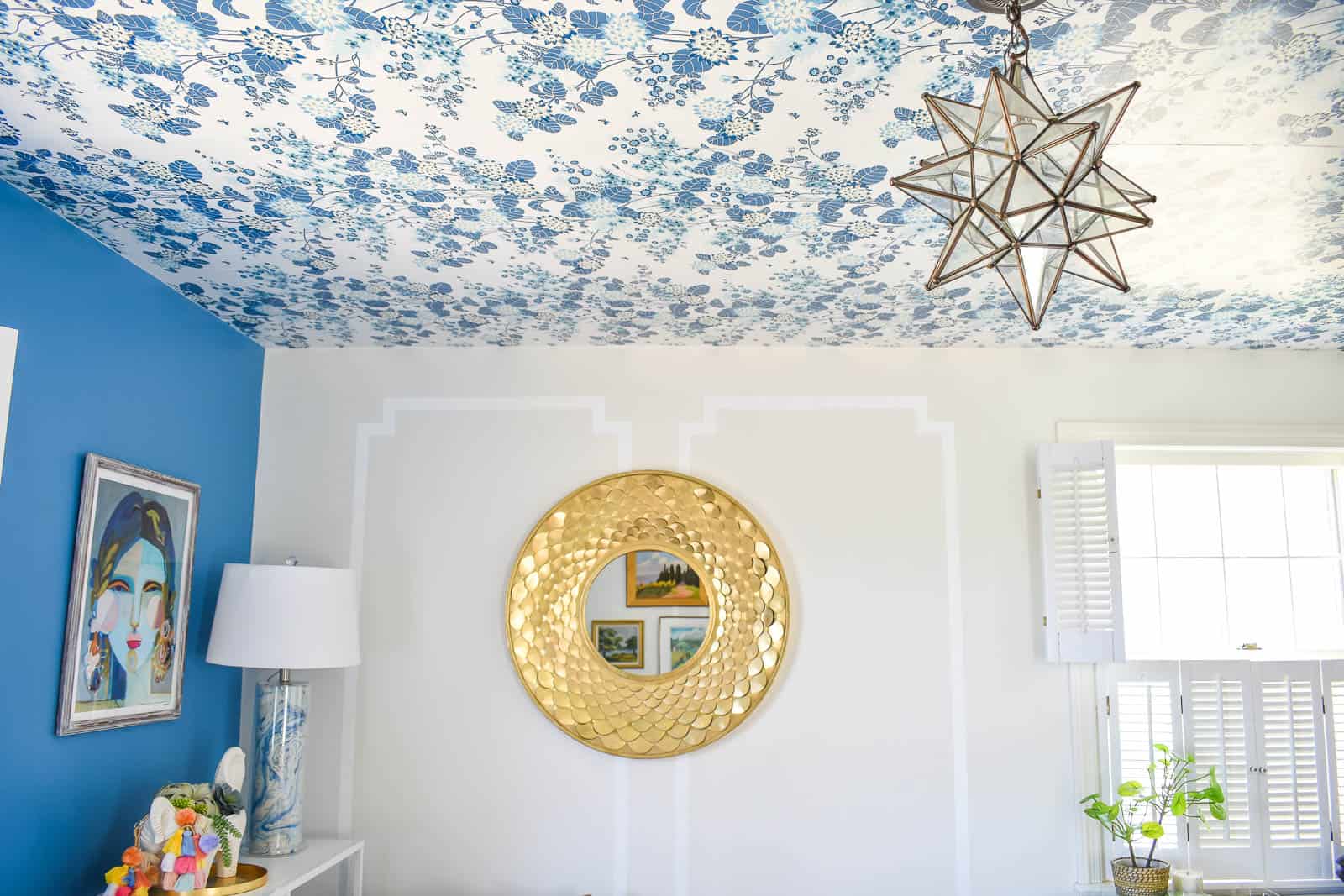 This all started when I was asked to participate in the Frogtape Paintover challenge. I knew I wanted to add some big impact details to this space, but I also knew I was limited by budget and whether it was rental friendly! Removable wallpaper is amazing. I've used it in other spaces around the rental like this homework station and an accent wall in our playroom. Buuuut… it can also be much more expensive AND typically you're limited to certain patterns. I found a few patterns that I loved, but they were regular old standard wallpaper. Good thing I figured out a hack.
Removable Wallpaper Materials:
Wallpaper (important: NOT pasted)
Paint tray
Paint roller
Straight edge/ right angle tool
Sharp blades
Folding table (optional… but makes your job SO much easier)
Plastic to protect your work surface
Large sponge
Liquid starch
Note of disclaimer. Technically I have *not* removed this paper so… I honestly can't tell you how easily it removes. But I've done this technique with fabric and it pulls right off. Worst case scenario for me is that some of the paper might not come away from the ceiling cleanly and I'll have to go back over with sponge and white vinegar. But starch is water based so I'm confident it will be infinitely easier to remove than pasted adhesive wallpaper. (Did you see my update above? This was essentially exactly what happened!)
How to make regular wallpaper removable
Step 1: Cut Wallpaper into Panels
OK, back to the project. I quickly learned that starch was adhesive… but not adhesive enough to hold in place an entire length of wallpaper upside down on the ceiling. That said, I was doing this alone so with a few sets of hands, perhaps you could manage! I cut my wallpaper into 36″ lengths. I found that these were easy enough to work with while still covering as much of the ceiling with each go around as I could.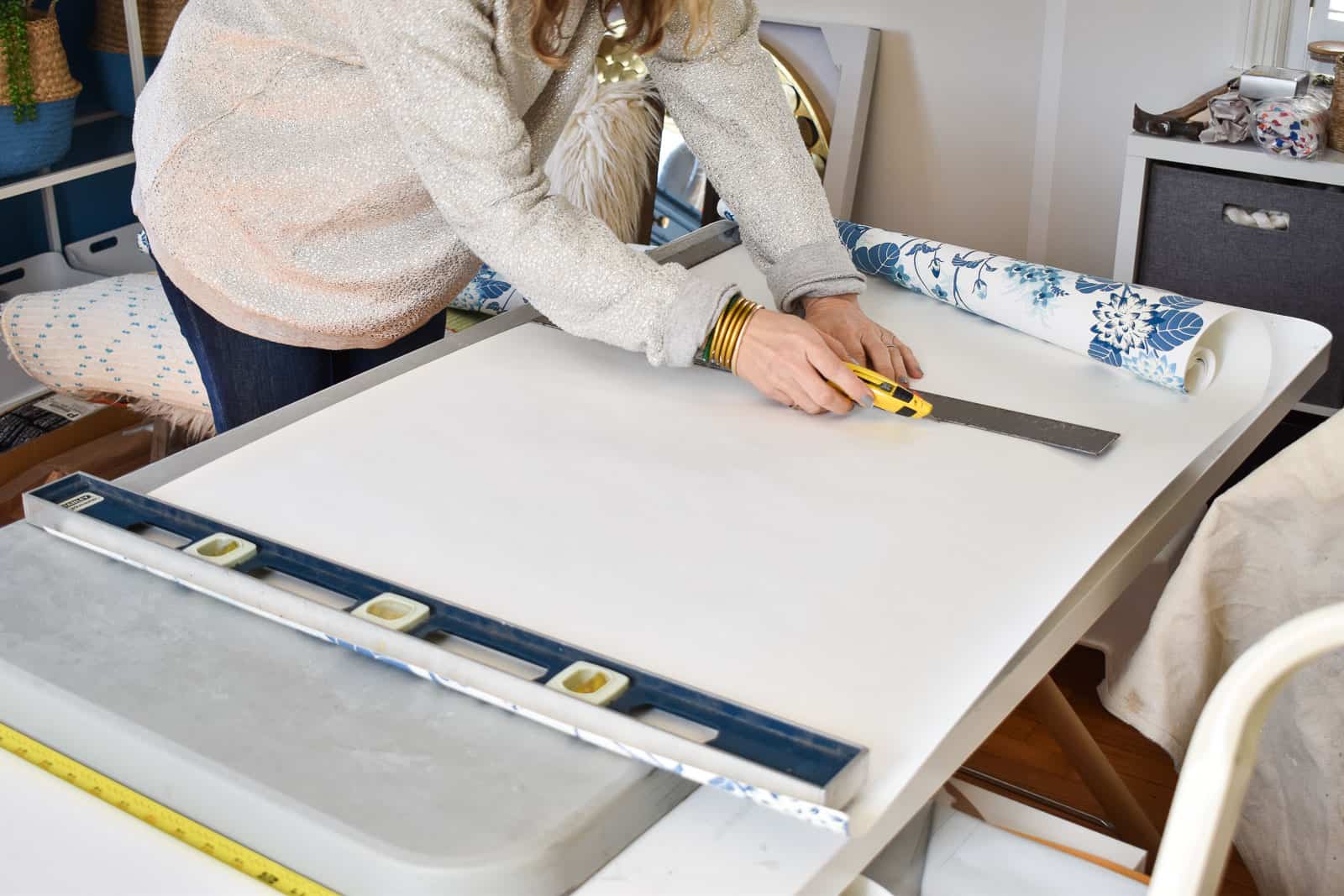 Step 2: Draw a guideline
With any wallpaper project, you want to start with a straight guideline. For this project in particular, I was REALLY glad to have a paper with such a forgiving busy pattern. Once the guideline is on the ceiling, I measured and cut the paper to 36-inches long using a right angle. I was REALLY careful to make each cut clean, because I was matching the patterns off of each cut (i.e. no room for error).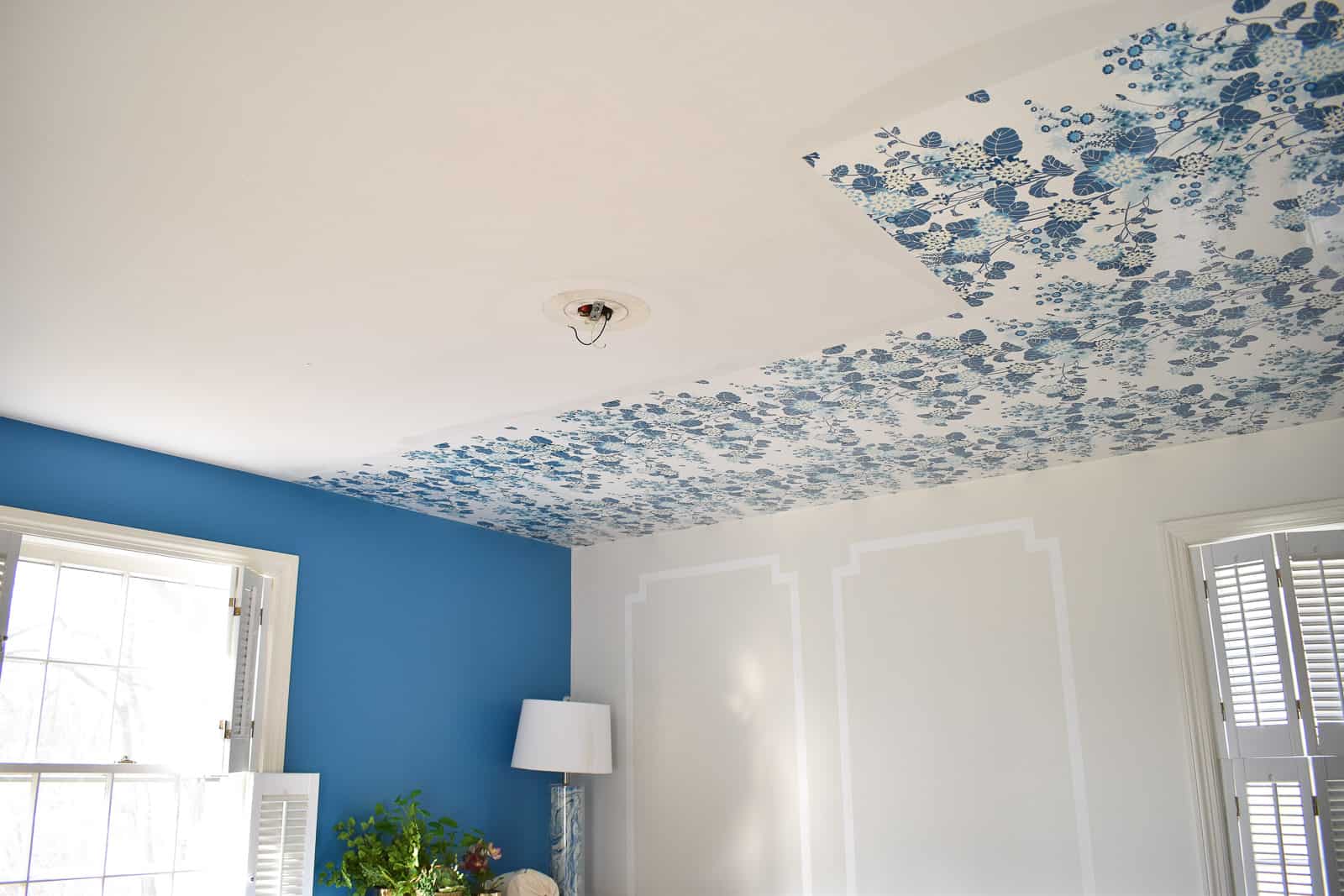 Step 3. Apply the wallpaper
Pour the starch into a paint tray and roll the starch onto BOTH the ceiling and the wallpaper. IMPORTANT: DO NOT USE PASTED WALLPAPER. You have to use unpasted wallpaper for this otherwise… it won't be removable. Line up the corner/ edge of the first wallpaper panel and smooth it into place with your hands. Go back over with the large sponge and continue to smooth out the paper moving any air bubbles towards the edge of the panel. The edges of the paper are going to want to curl on you… I had to go back with the sponge and more starch until the edges lay flat.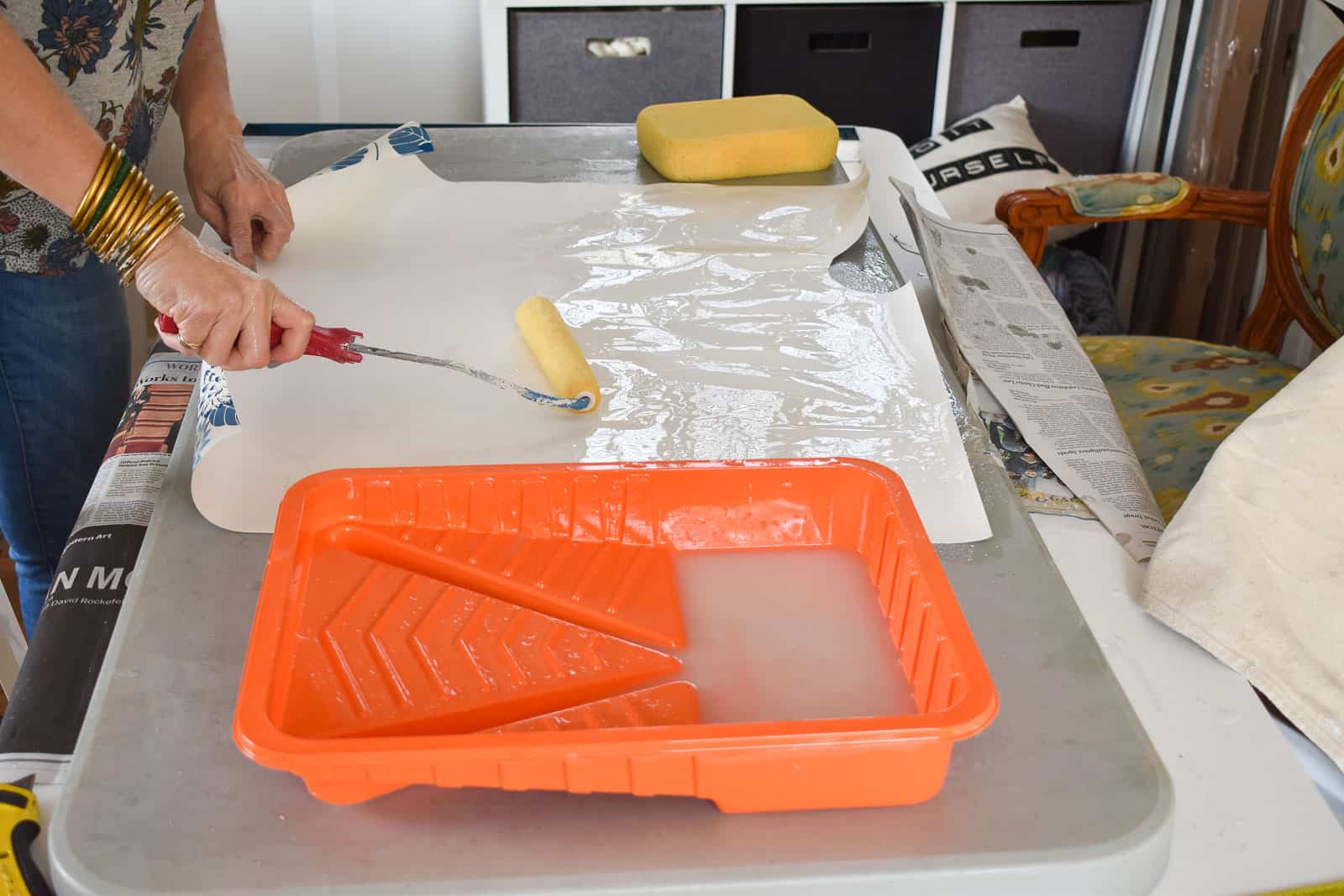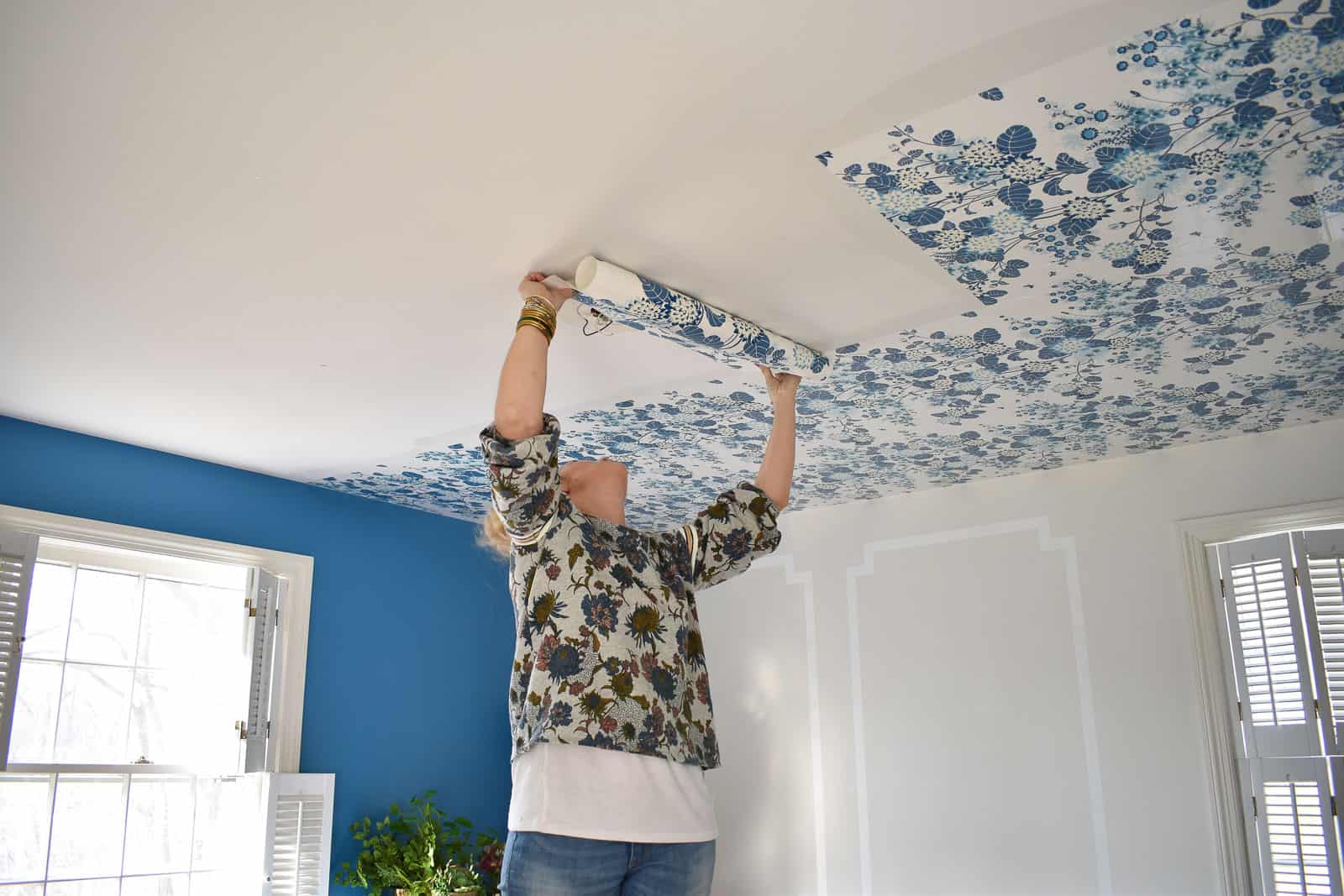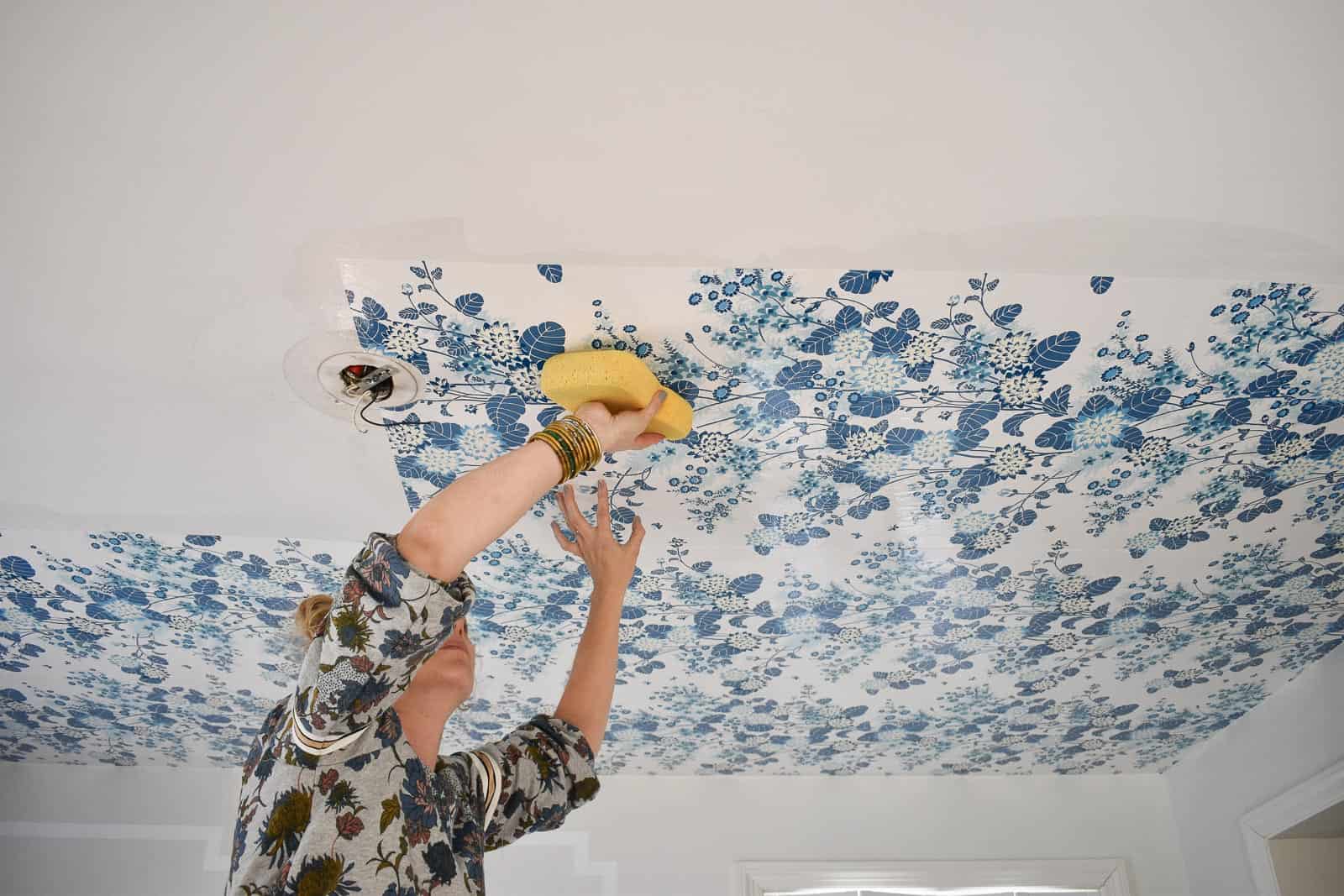 For the next panel, cut another 36″ from the roll of wallpaper. Carefully line up the pattern and smooth in place. Again, because there are so many seams with the smaller panels. having a busy pattern like this blue floral was really helpful.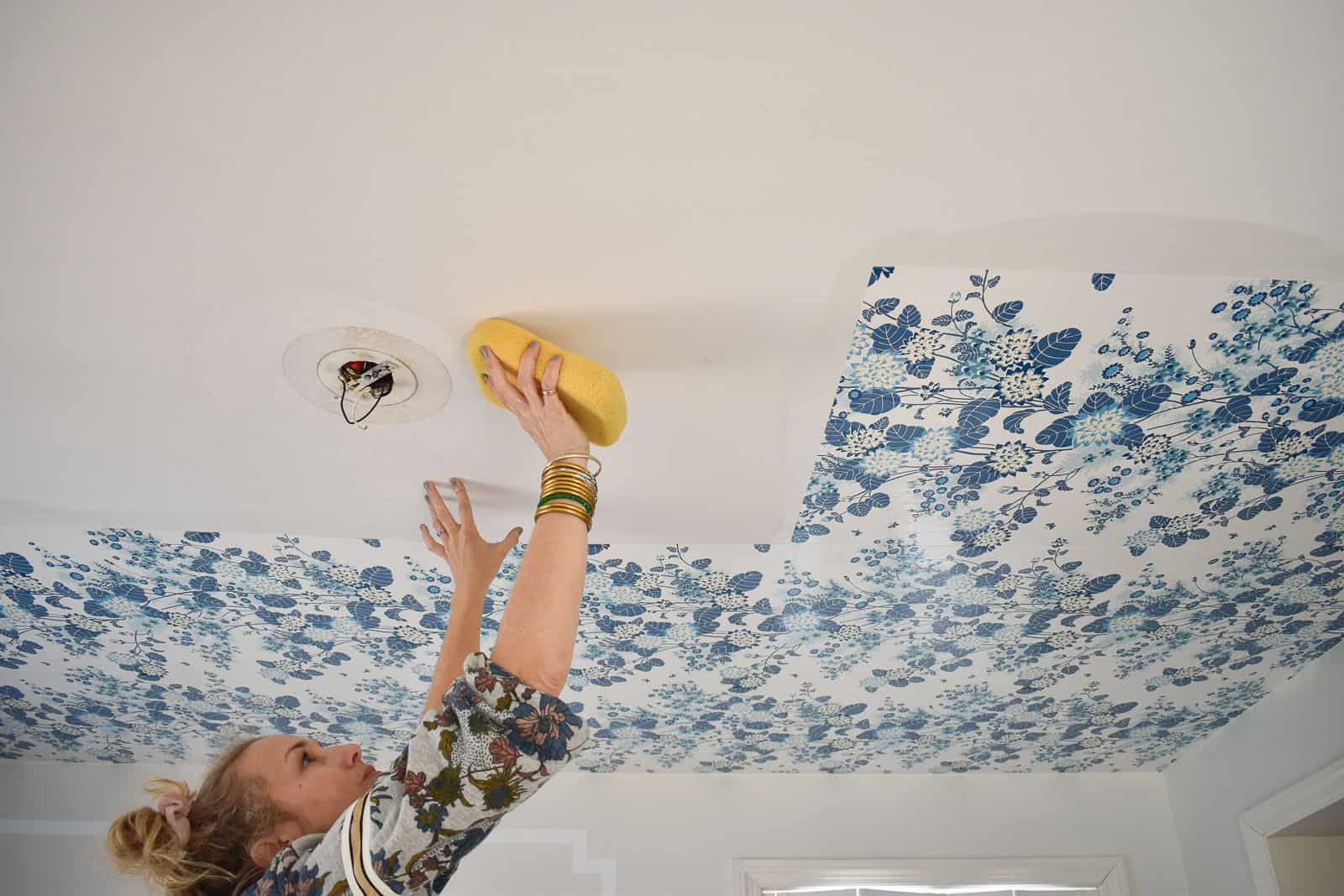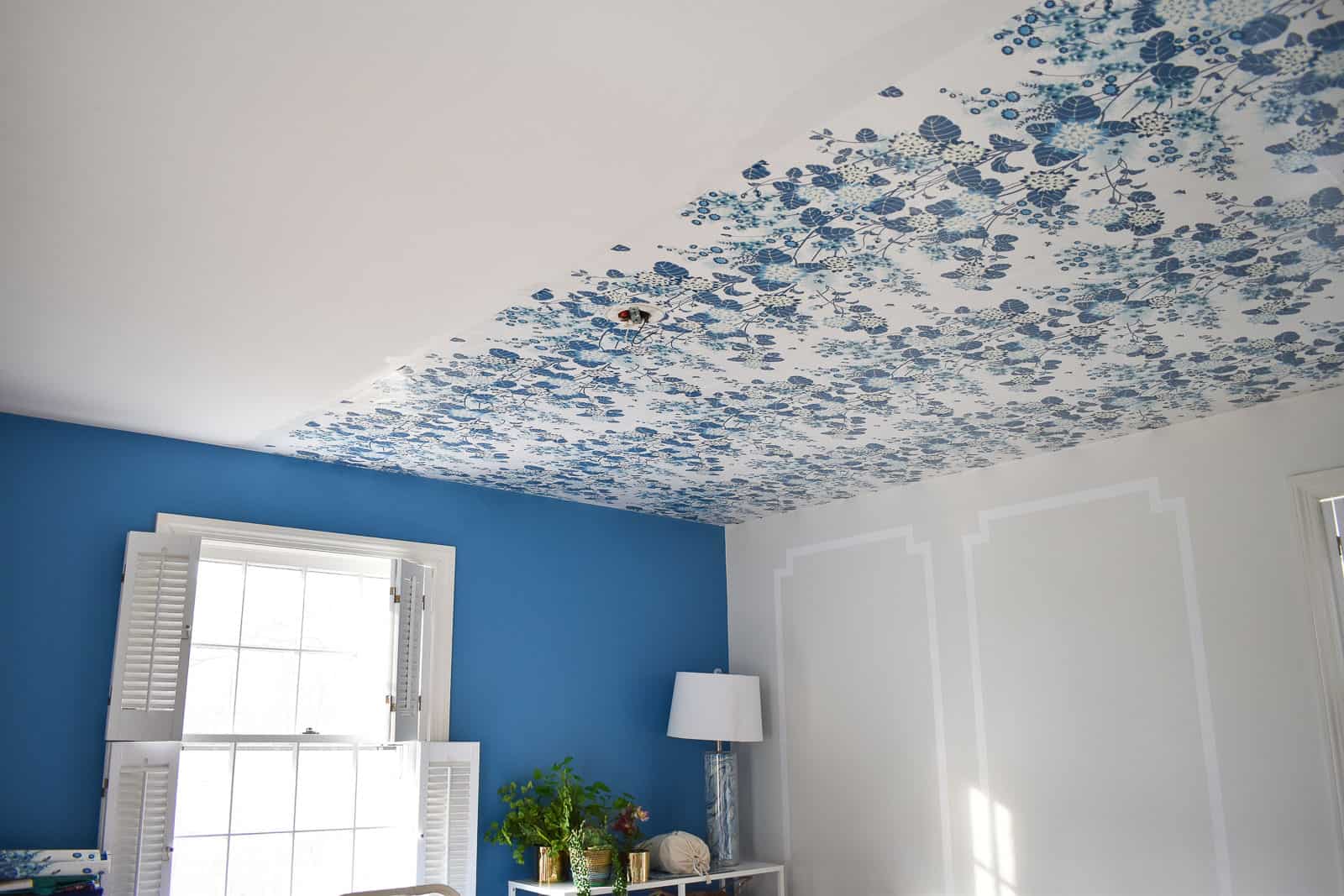 When you reach a corner, make sure you leave about 1-2 inches excess. In order to keep my blade from slipping, I held a straight edge against the corner of the ceiling and the wall and then slid the blade along to trim. A sharp blade is ESSENTIAL. I replace my blade every 3 or 4 cuts!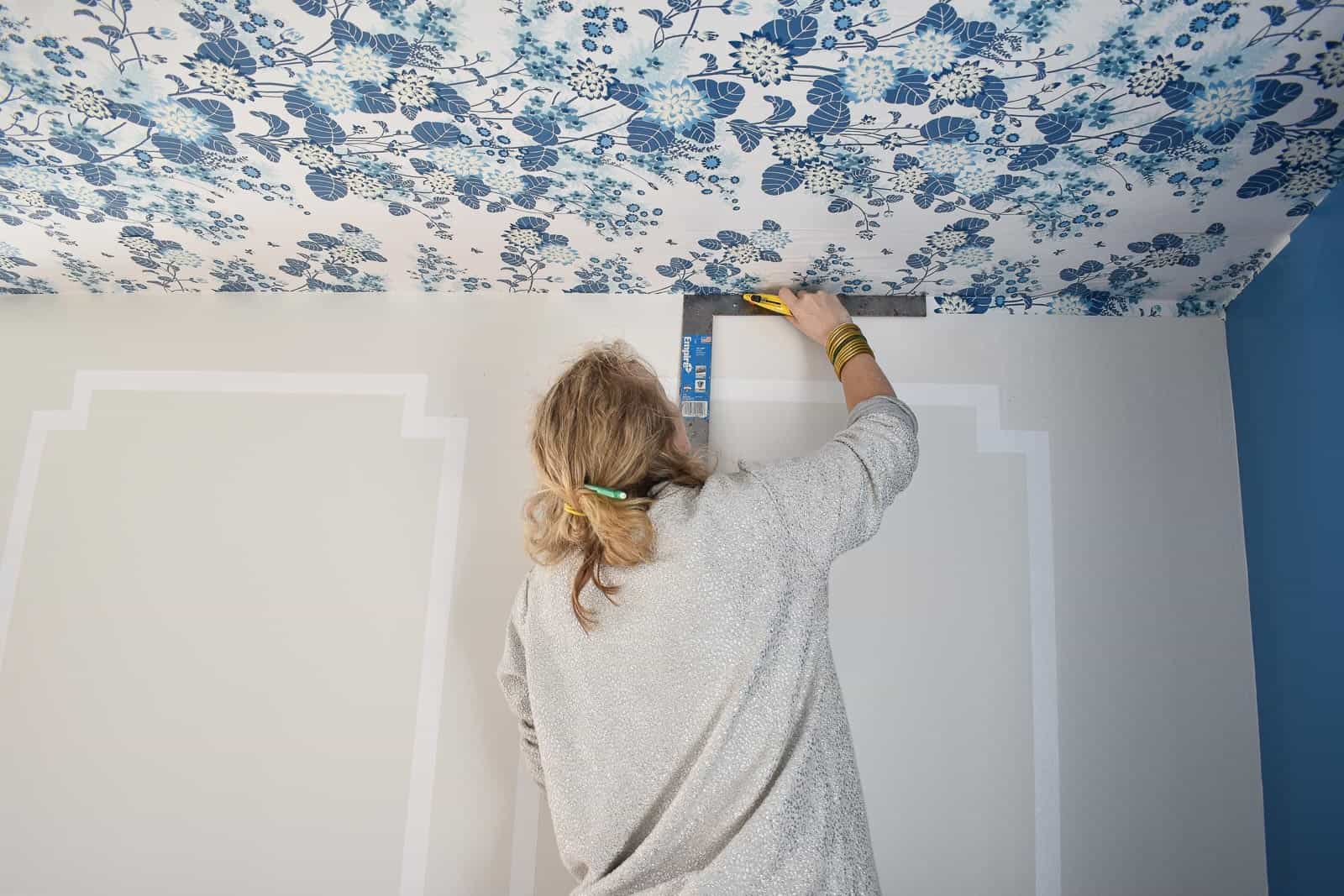 Essentially this is like applying any wallpaper, except you're using liquid starch instead of wallpaper paste. I suspect if you were doing this on a WALL… it might not be necessary to cut the paper into panels because gravity won't be working against you. And again, if you have someone helping you… it also might be possible to hang longer strips of wallpaper at a time.