Handmade Stamped Fabric
Have I ever told you that my favorite fabric hack is a painter's drop cloth? It's super inexpensive, readily available and good sturdy cotton canvas! I have a couple of projects in mind for one drop cloth including this DIY patterned fabric!
Step 1. Bleach
If I'm organized enough, I prep the drop cloth by soaking it in water with a a cup or so of bleach. It lightens the fabric a bit and softens it. Once prepped, I got to the business of creating my pattern!
Step 2. Mix paint
Similar to my painting style for this canvas, I mixed up a few different colors of paint first. I was originally thinking this fabric would go on this Xbench for the Dueling DIY guest room so I used blues and greens. Buuuut…. I love the idea of trying this again with brighter happier colors! (I'm using this fabric paint (affiliate) in a few different colors.)
Step 3. Measure Your Pattern
I wanted a fairly graphic layout, so I quickly measured my pattern and used a disappearing fabric pen to mark where each polka dot should go.
Step 4. Stamp
I'm using a round sponge that's about 1.5 inches in diameter. I find that it stamps a little better if the sponge is *slightly* damp. For a fully painted, solid dot, make sure your sponge is saturated with paint without being DRENCHED. I liked the haphazard look of having some circles with less paint so I loaded my sponge and used it in a few different places around the fabric. Because I had my pattern marked out in advance, it was easy to dot the paint sporadically. I used one color at a time and just tried to keep it somewhat balanced.
Because this won't be on clothing or anything that requires major laundering, I didn't bother to iron the paint or otherwise 'seal it'. As mentioned earlier, I didn't love how this fabric looked when upholstered on my Xbench, but I LOVE how it looks with matching teal velvet on the back as a pillow. (Fabric hoard for the win!)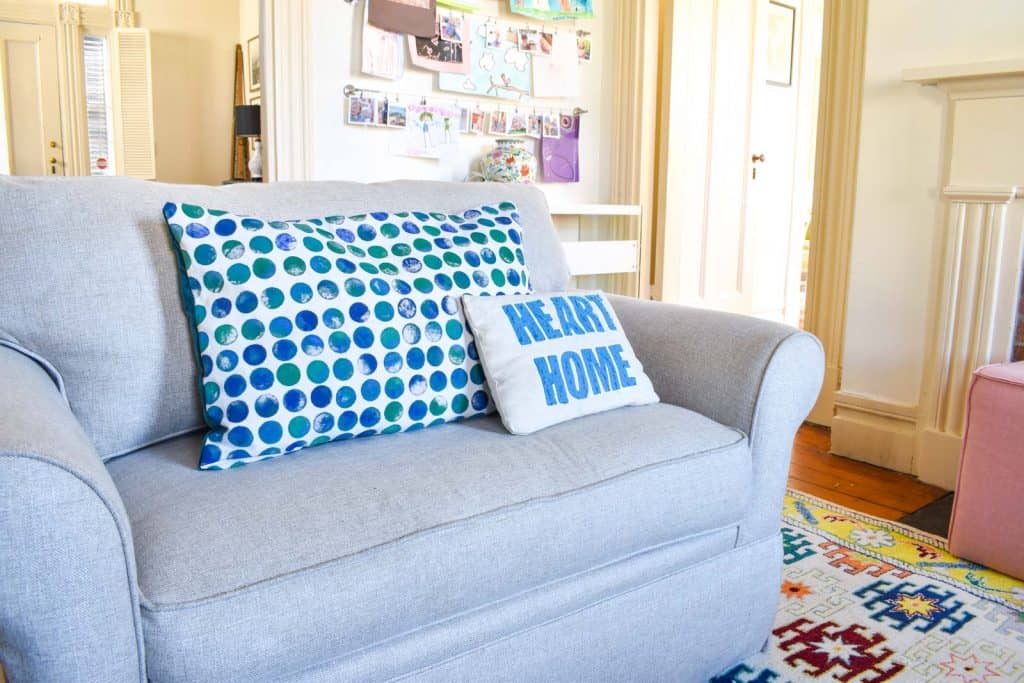 Materials:
Fabric Paint (various colors)
Video tutorial here if you like to see it in person!