Painting Simple Wall Art
See how easy it is to diy an abstract canvas for easily painted wall art.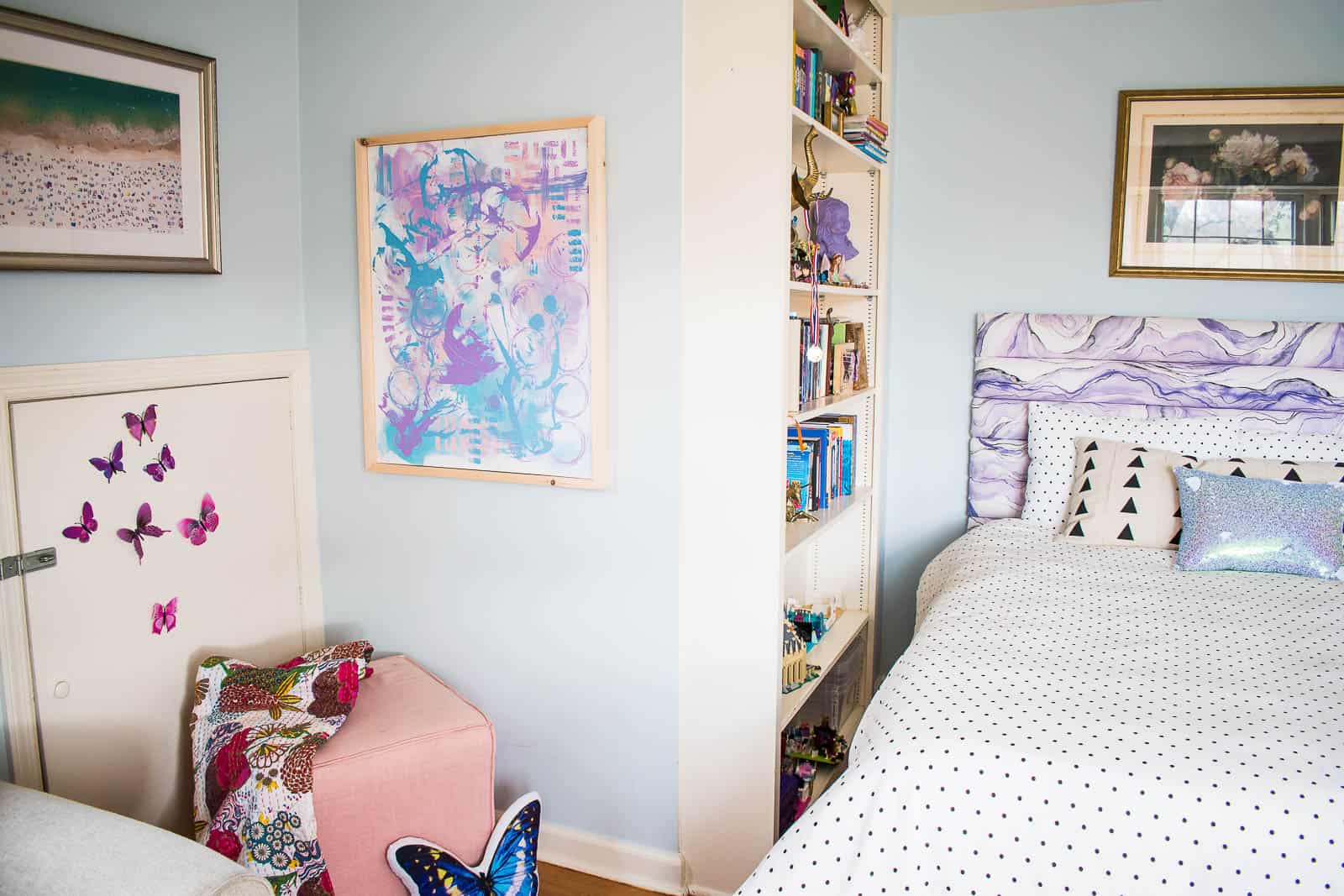 For this months DIY challenge, we're taking on wall art! In college I was a fine art major and remembering those hours I would spend in the studio, paint drips everywhere with a walkman blasting the first 90 minutes of Rent… let's just say it makes me happy and also reminds me that college was a loooong time ago. I didn't have 5 hours to spend painting for this project, but I did have an inexpensive canvas (grab them when they're on sale at places like JOANN), assorted craft paint and a few random household items. See what fun little techniques I used to create this painting for Eleanor's room.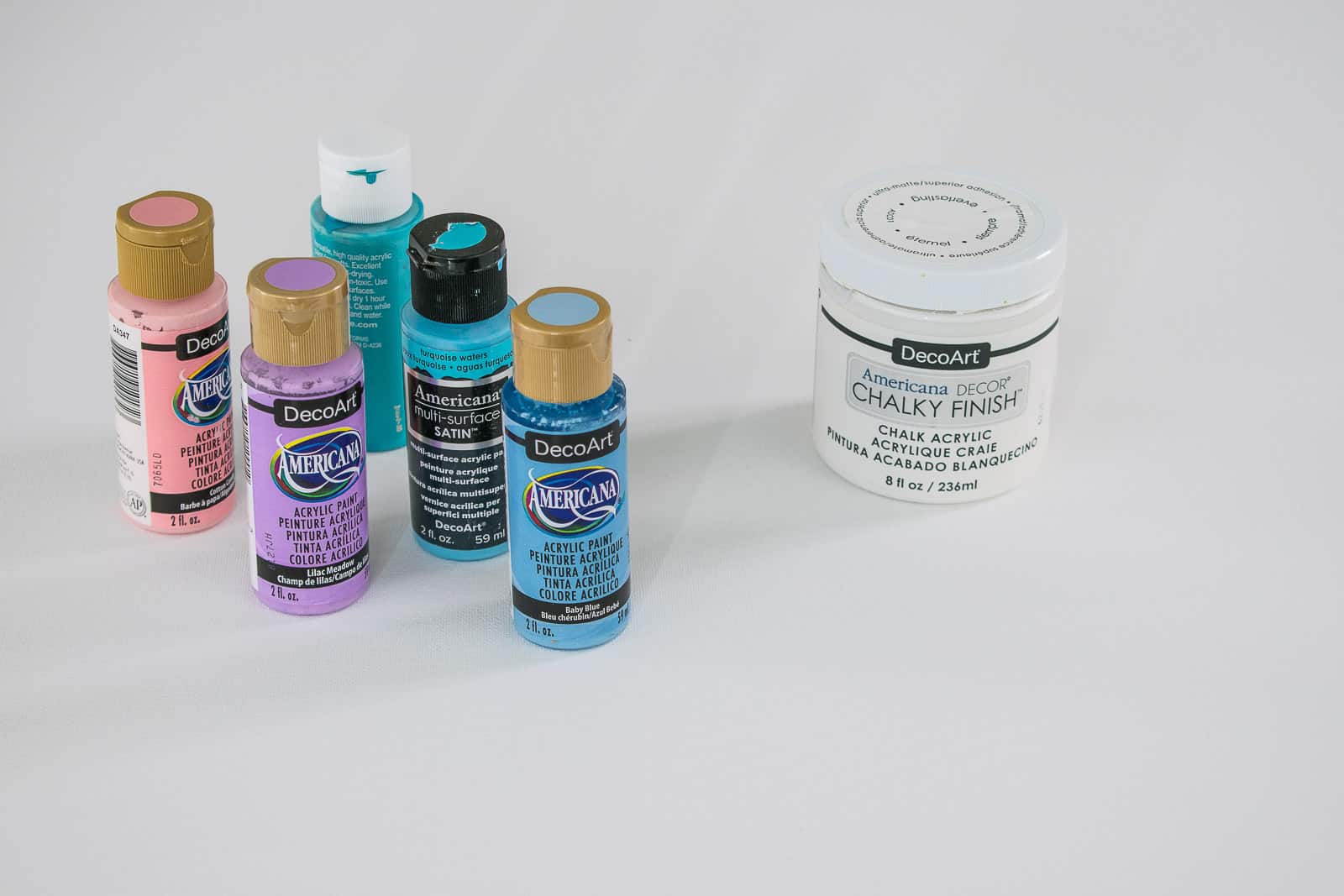 1. Prep Your Canvas
Any canvas you get at the craft store will technically be prepped. (Raw canvases are like the drop clothes you buy for painting… these need to be prepped so that the paint doesn't just soak into the canvas.) Even though the canvases you buy at JOANN can be painted on right away, I don't love how harsh the white background is so I often give them a quick coat of paint to cut the harsh white.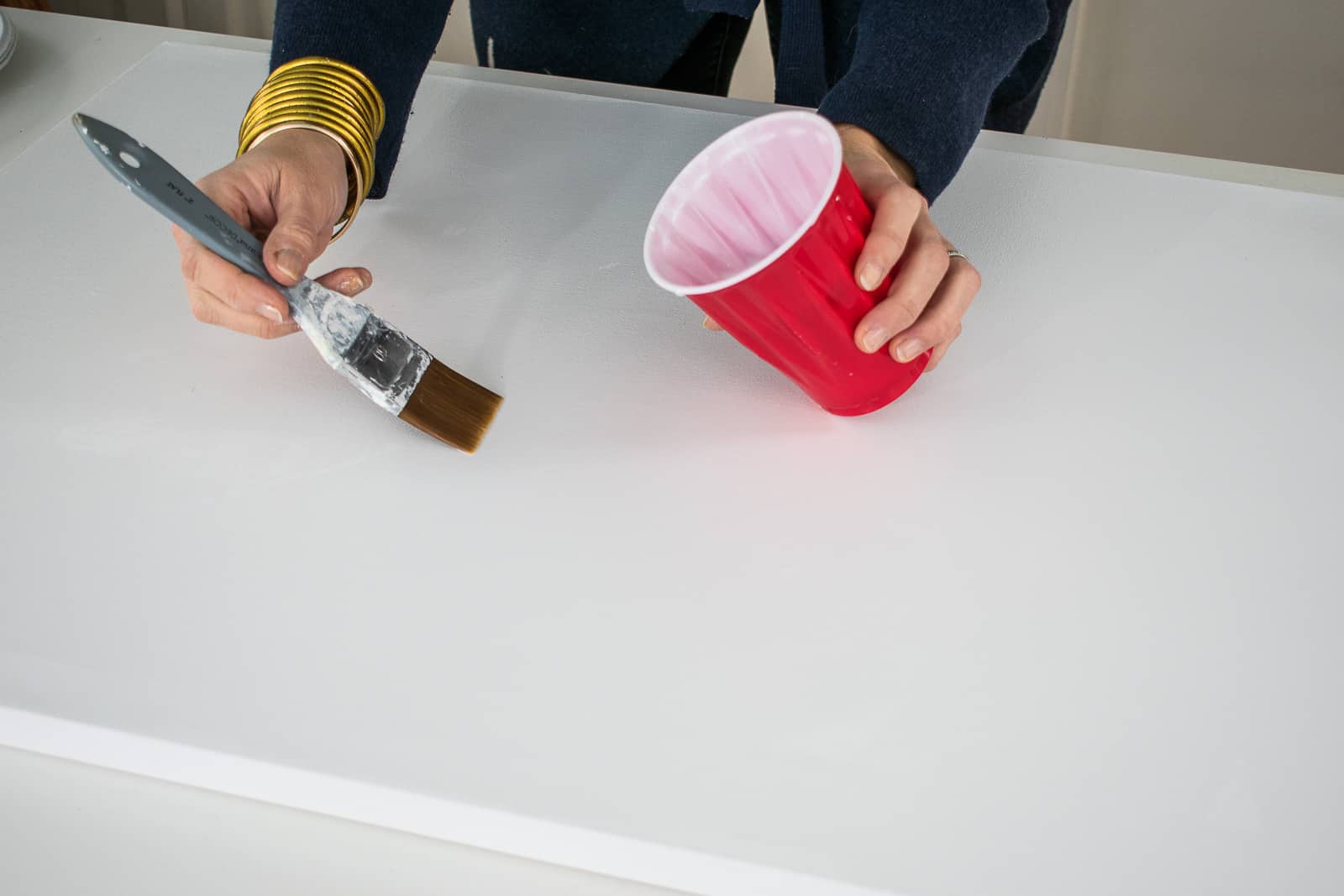 To make it easier, lightly brush the canvas with water and then go back with your craft paint. I grabbed a little bit of white, then added the slightest bit of pink and purple and blue and blended them right on the canvas. There are NO rules here…. have fun!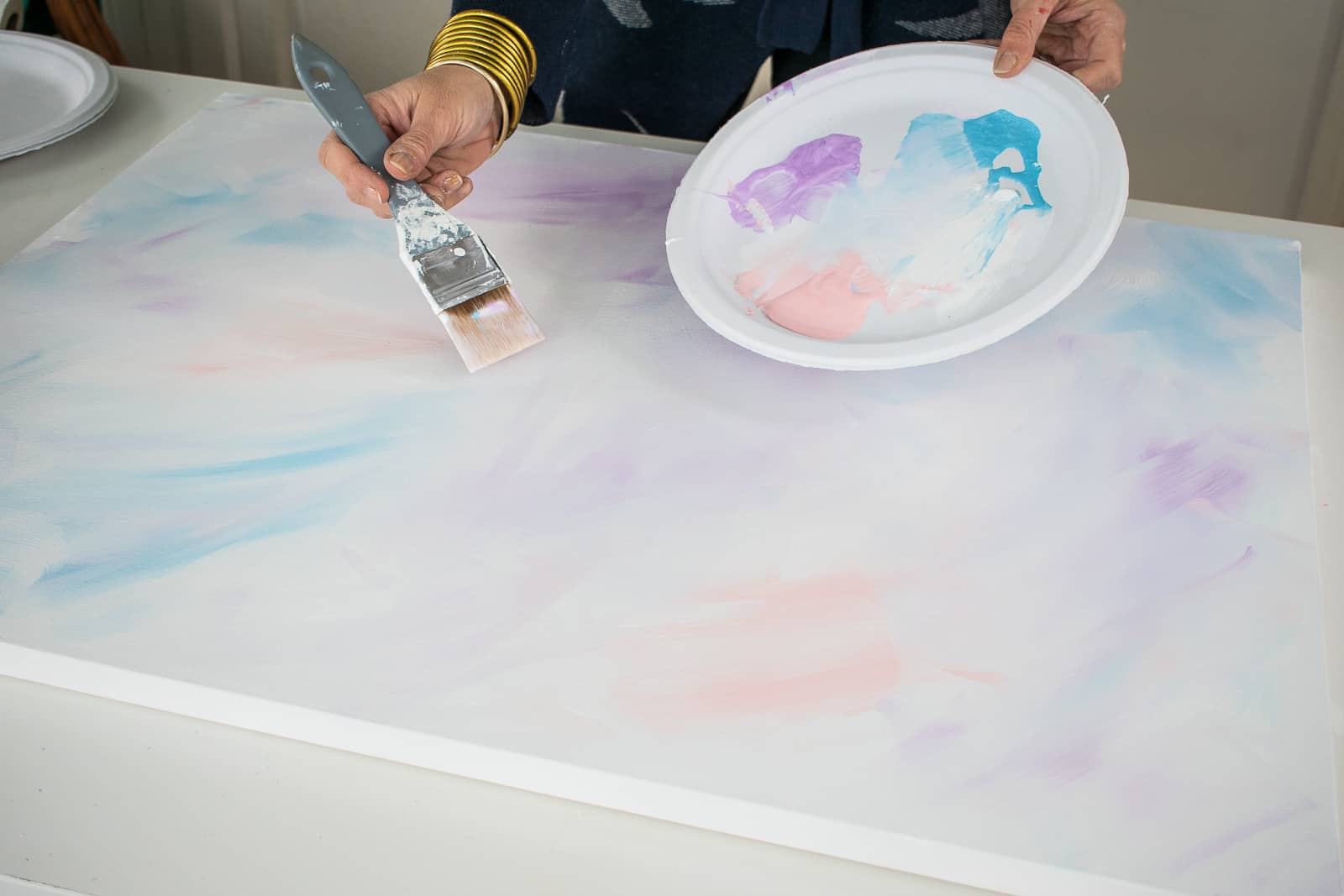 2. Painting Ideas for your Canvas
Technique One: Cup Circles
Squirt some paint onto a paper plate. Flip a solo cup over and dip the rim into the paint and use it as a circle stamp on your painting.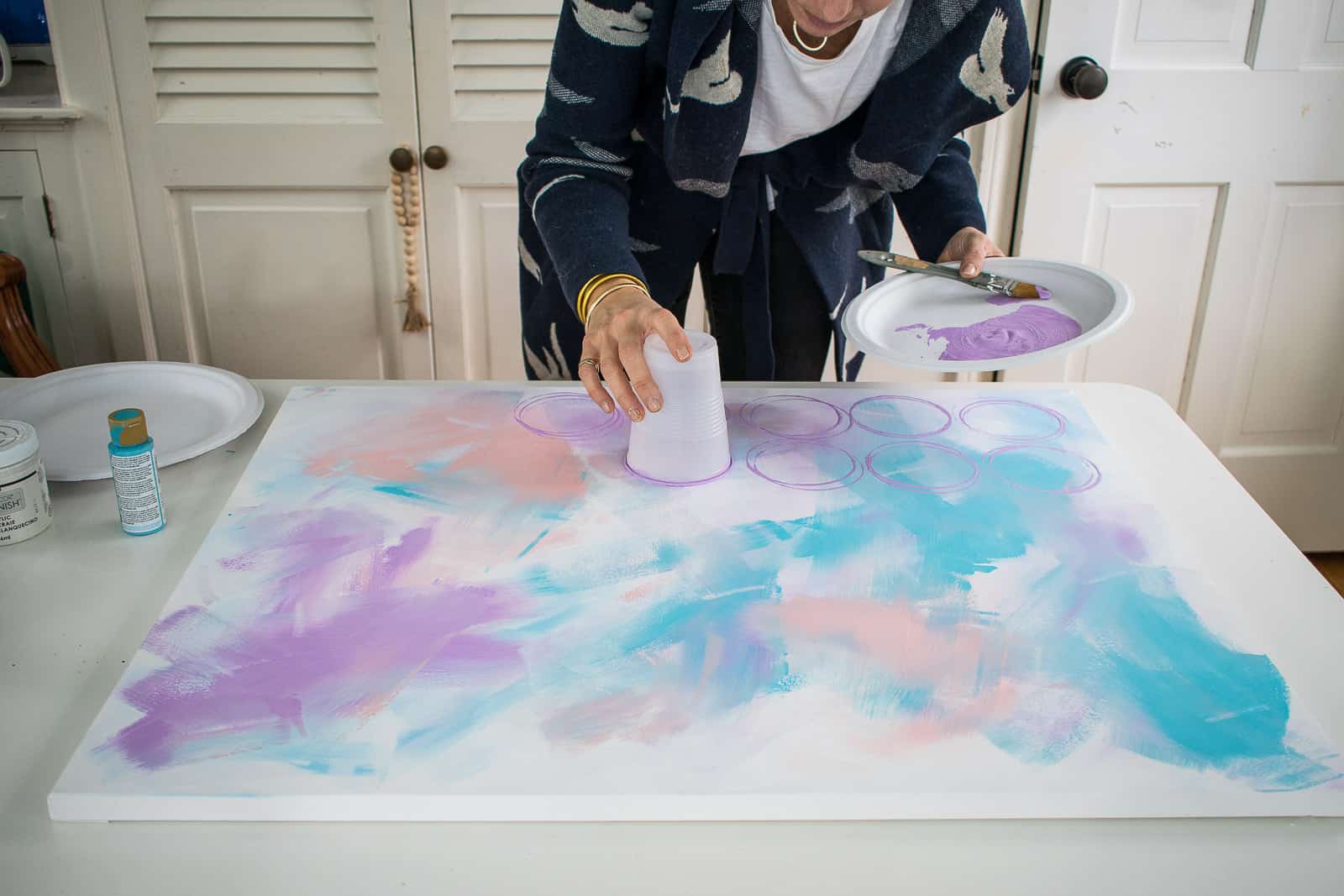 Technique Two: Sponge and Clothes pin
I love this one and think it would totally work as a DIY wall pattern. I cut a simple 10¢ sponge into strips and then folded each strip in half and pinched it with a clothes punch. Dip this sponge into the paint and lightly tap it on your canvas. Experiment and explore the various patterns you can make!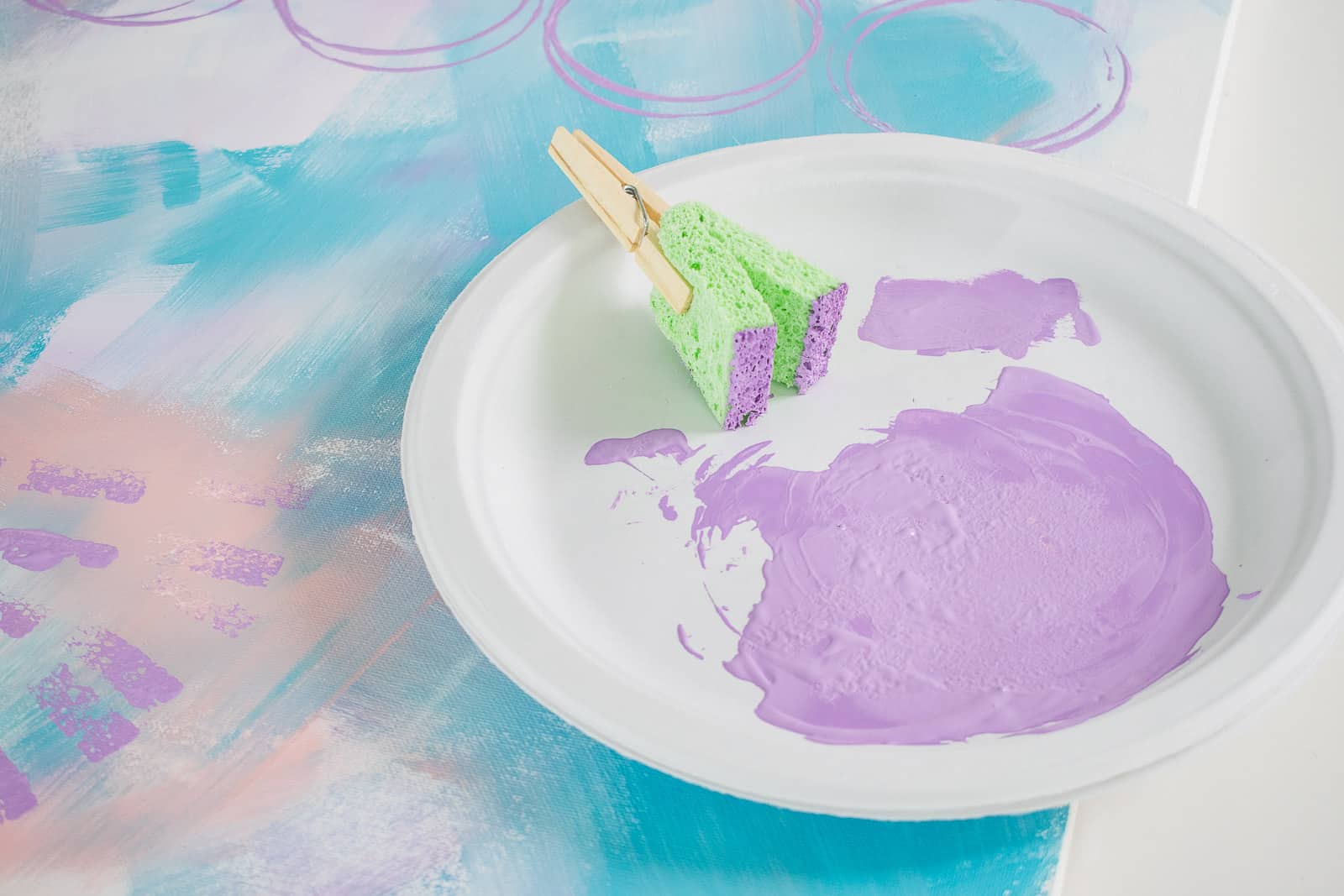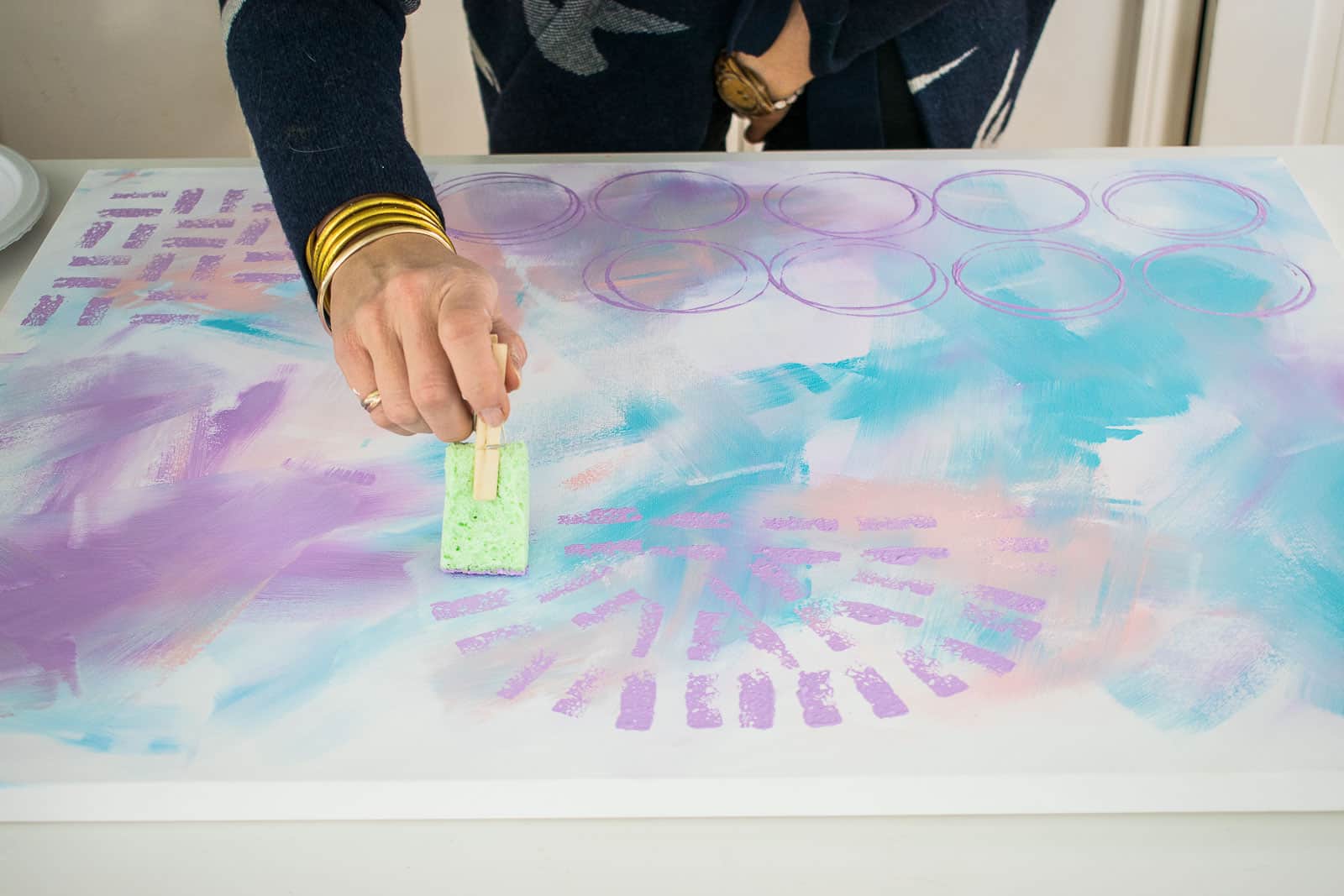 Technique Three: Kitchen Basting Brush
I used to have a whole basket of random items from the dollar tree that the kids could use to paint with: spatulas and sponges and whisks, etc. When we moved, I got rid of it, but we had this rubber basting brush left. I experimented with it to see what sort of pattern it made with the paint. Turns out not much, but I was able to get some cute circles out of it here and there. (Obviously… I wasn't sold so I didn't take a picture of this.)
Technique Four: Cotton String
I wanted this to be the ONLY type of technique originally because I thought it could result in a cool abstract pattern. I need to keep experimenting, but the premise worked for this. Squirt a little craft paint into a cup and dilute it with the tiniest bit of water. Dip your string into the paint and then carefully drop the string down onto the canvas. Take one end of the string and slowly pull it to drag the paint colored string along the canvas. As with these other techniques, there's no right or wrong way to drag your string… experiment and see what you like the most!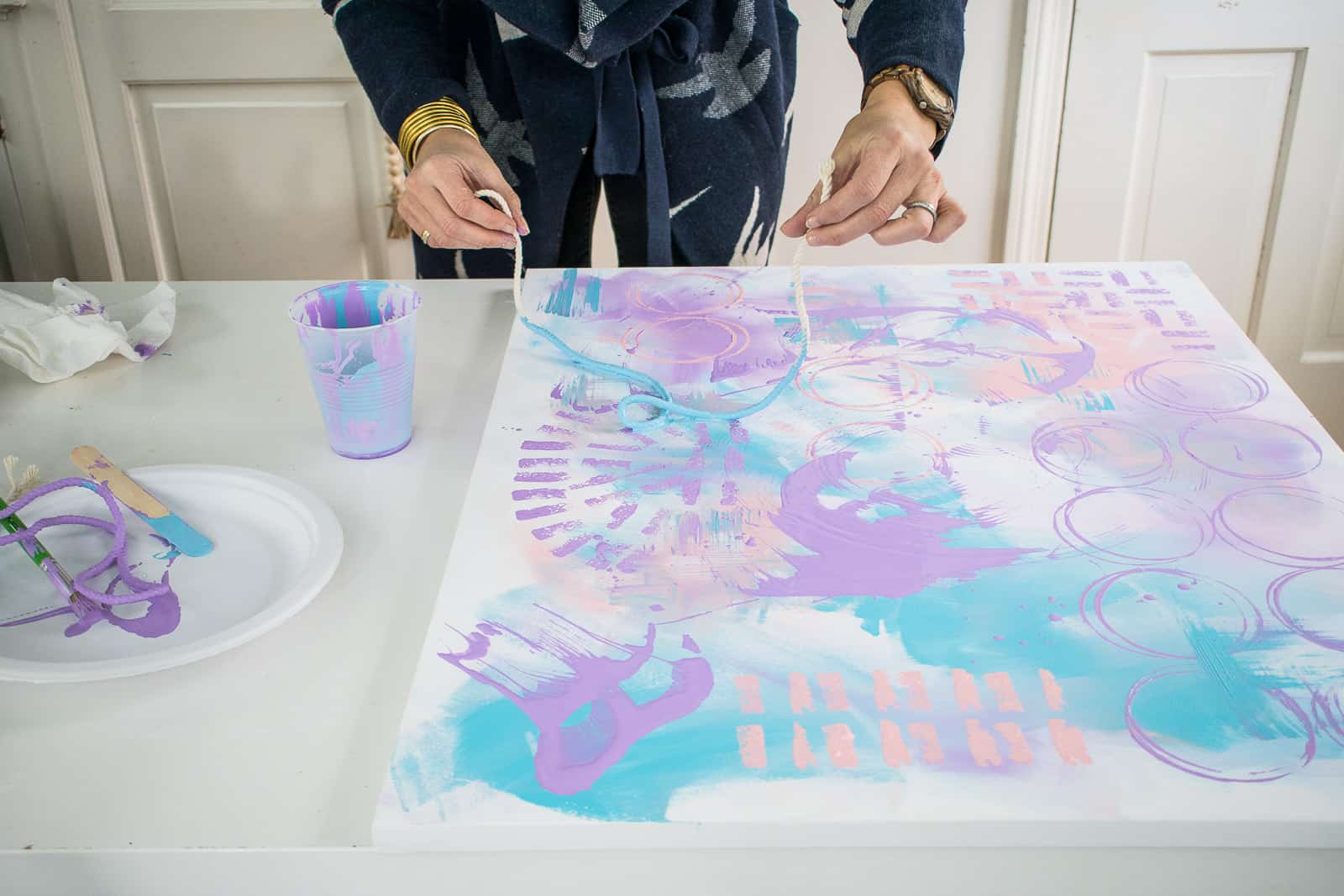 3. Framing the canvas
Making a craft store canvas look more polished is as easy as adding a common pine frame. Did I set up a time lapse to show you how? Yes. Did I cut off 75% of what I was doing? Also yes. Check out this post for a full tutorial on framing a craft store canvas. I simply miter the edges and use my brad nailer to attach the pine 1×2 around the perimeter of the canvas!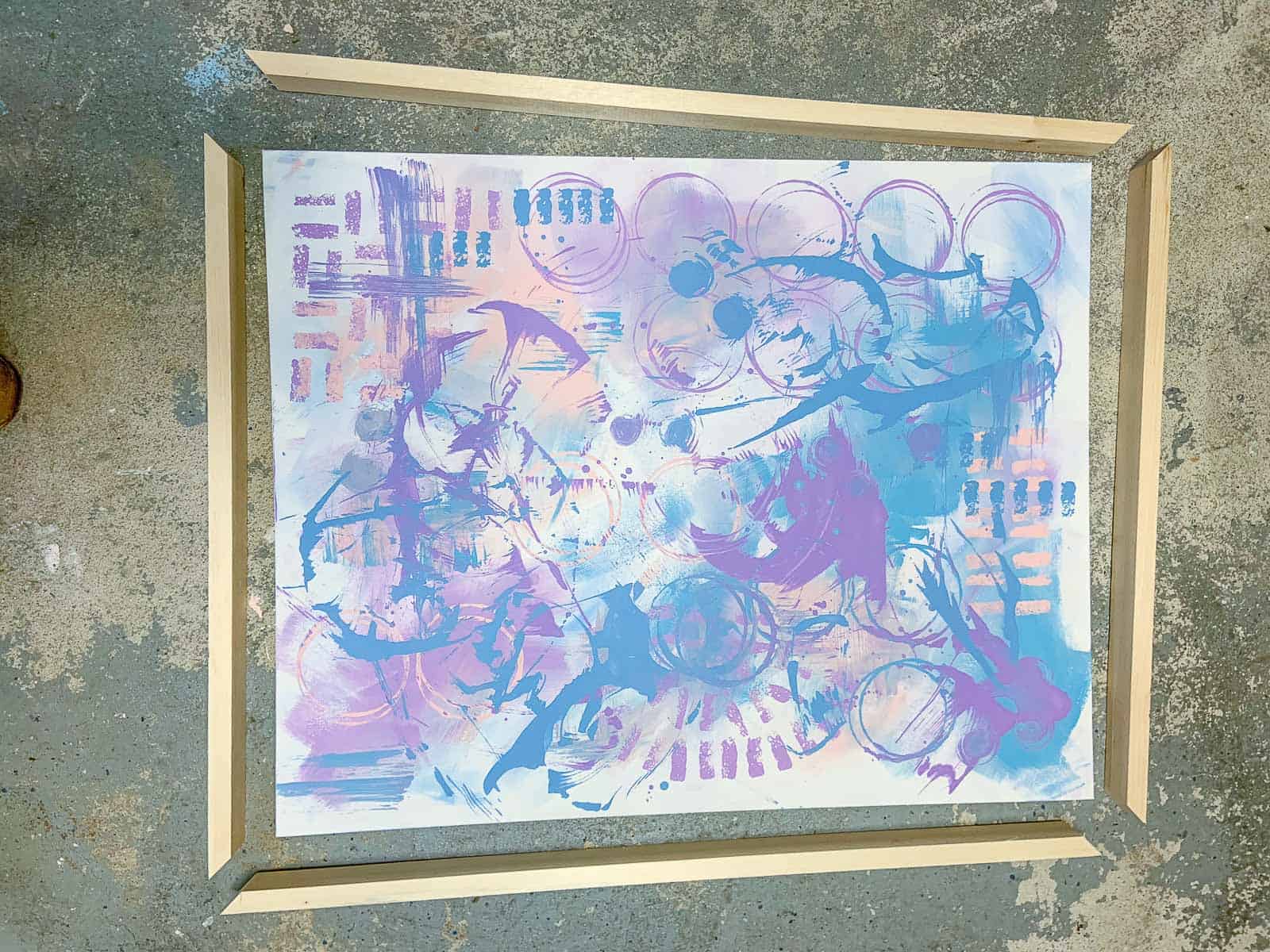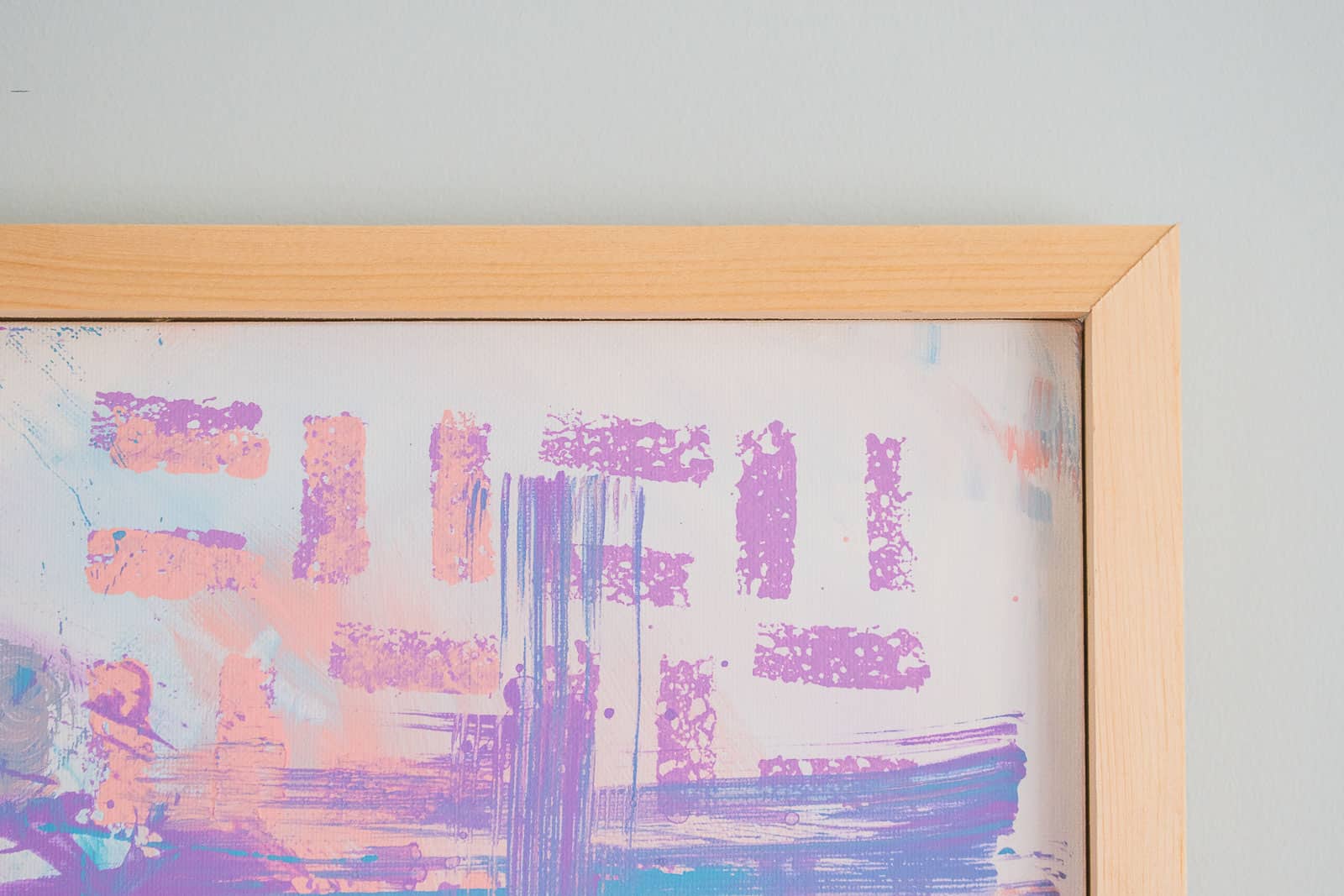 I should have mentioned from the get go that these colors are not my favorite, but they ARE Eleanor's favorite… so try to picture this canvas with colors that might suit your decor. All of these techniques would work if your color scheme was neutrals, monochromatic color or pastels! Kids could help. NO RULES. Just try it!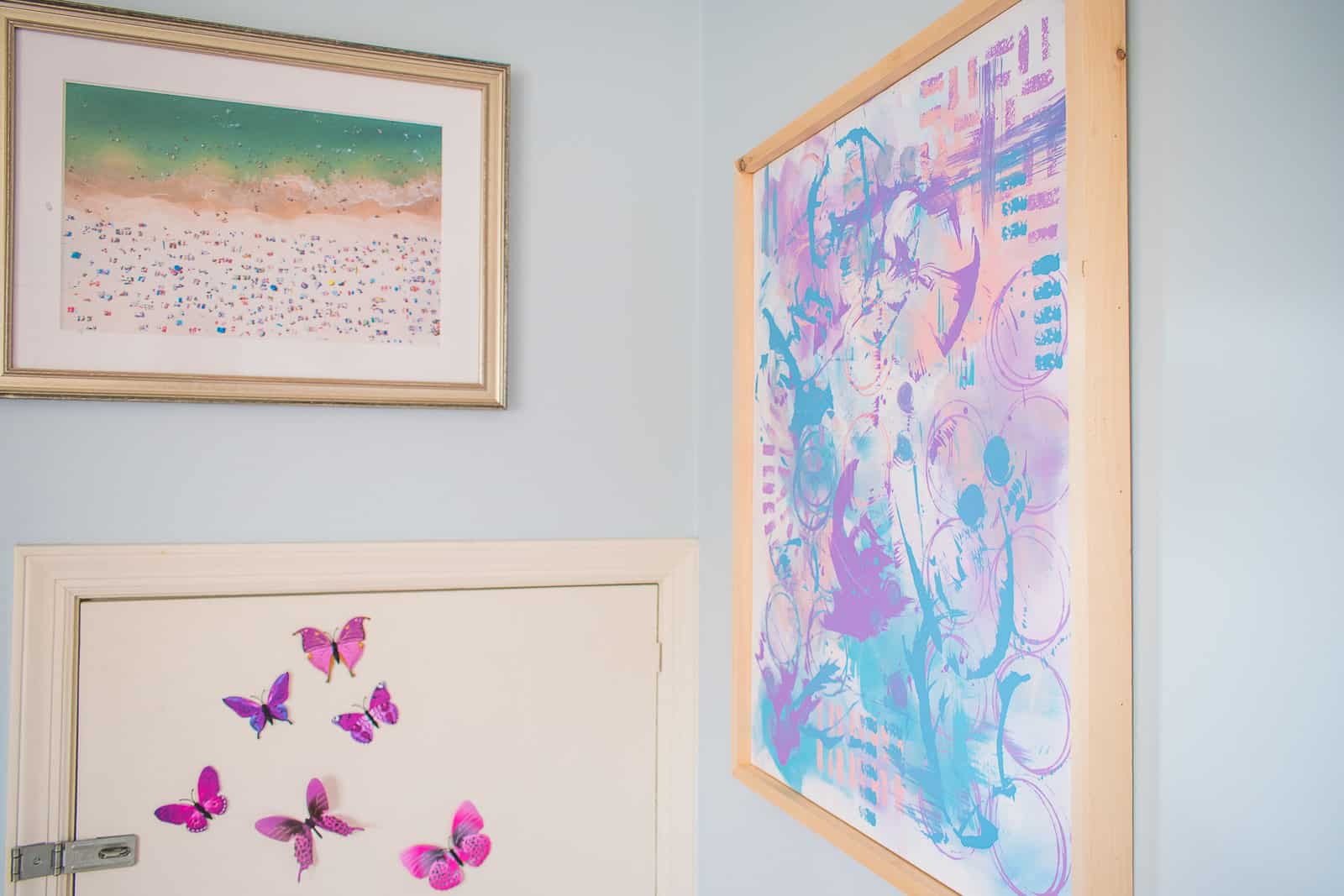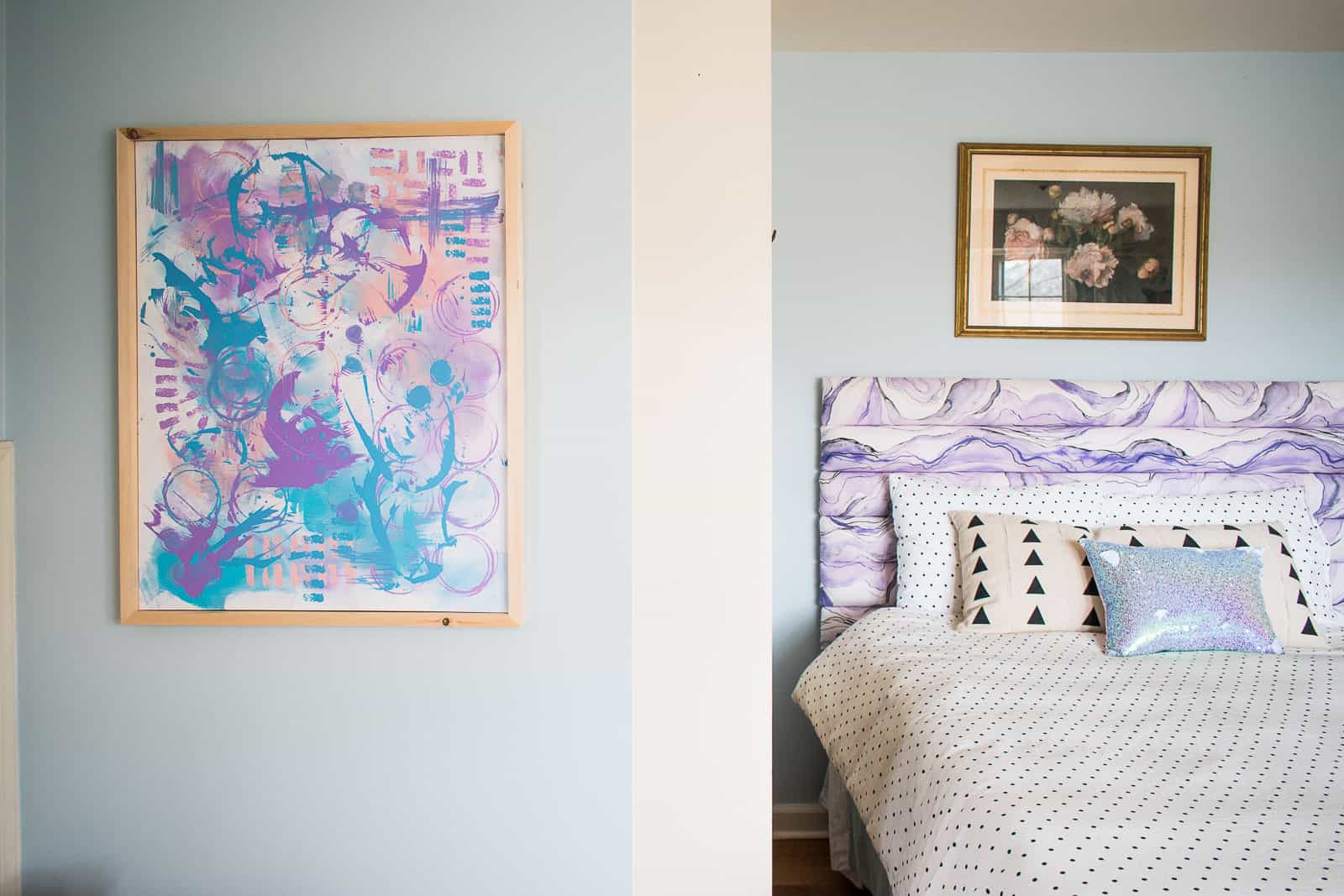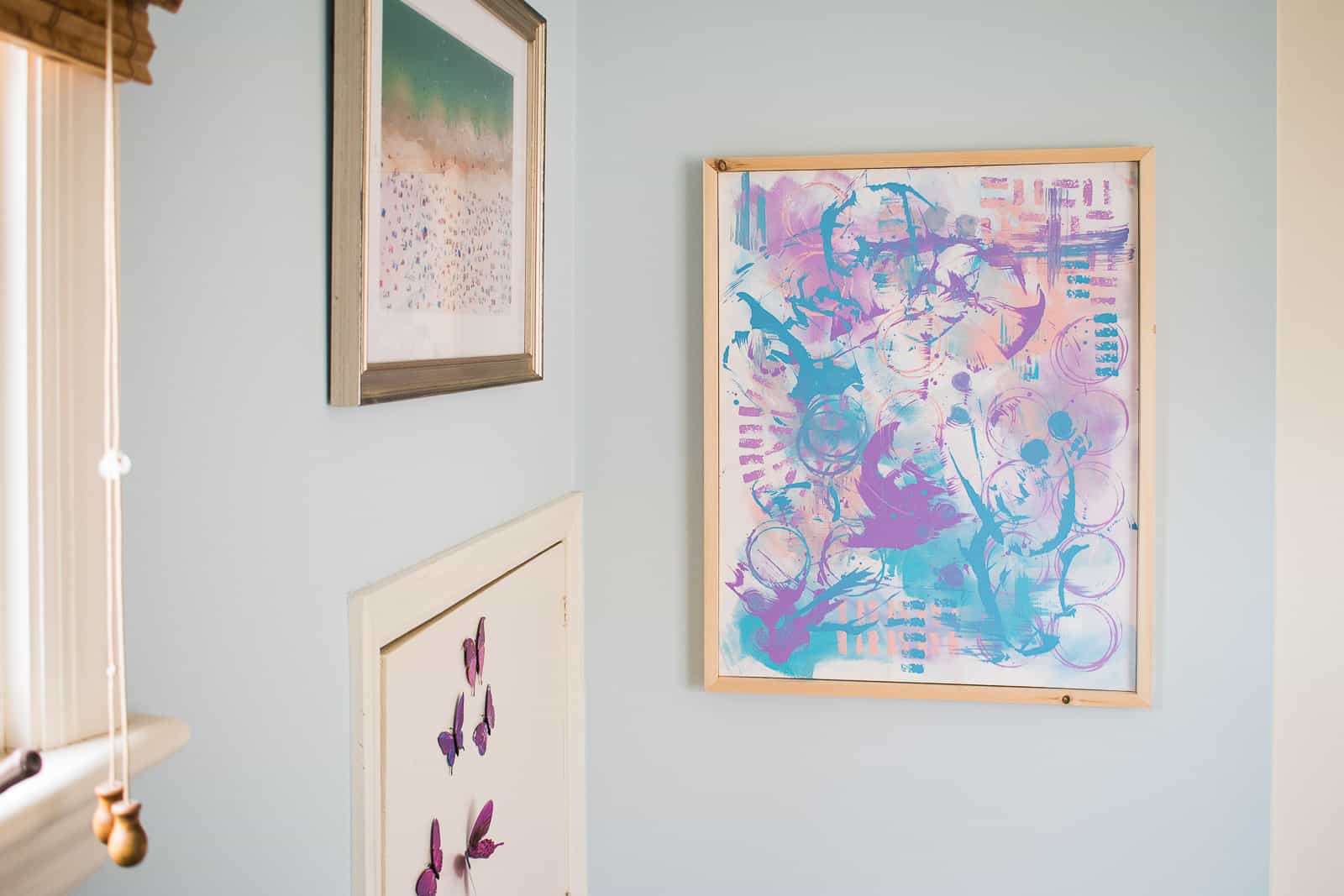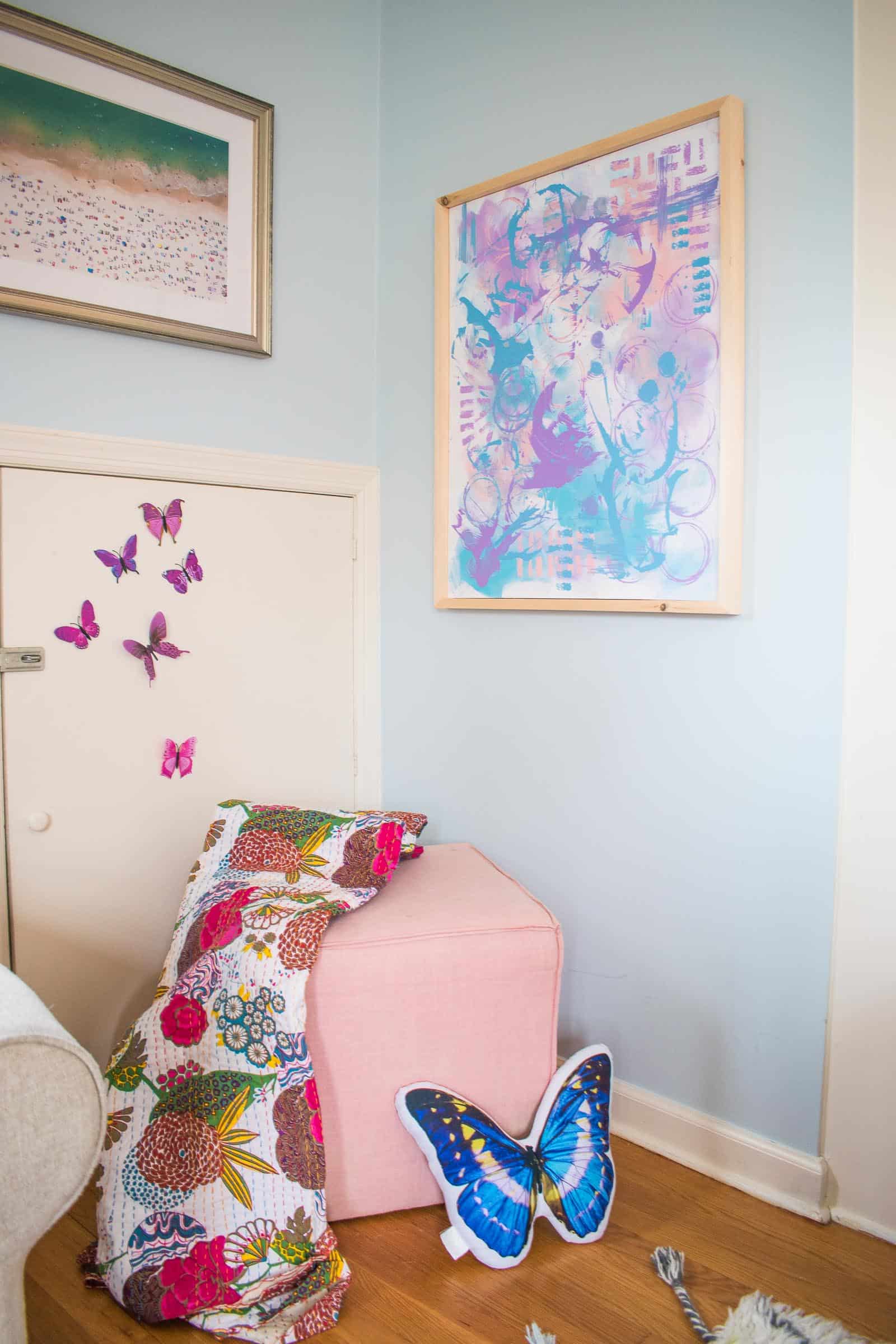 Each month our DIY Challenge has a different theme and this group of makers and doers will be sharing our ideas with you! If you liked my project, I'm confident you'll like everyone else's so go check them all out!!
Addicted to DIY / My Repurposed Life / Ugly Duckling DIY / Anika's DIY Life / The Awesome Orange / Joyful Derivatives / Ellison Made