Kids Unicorn Birthday Party
Psssst… this post *might* contain affiliate links: see my disclosure here.
Throwing a Crafty Rainbow Unicorn Party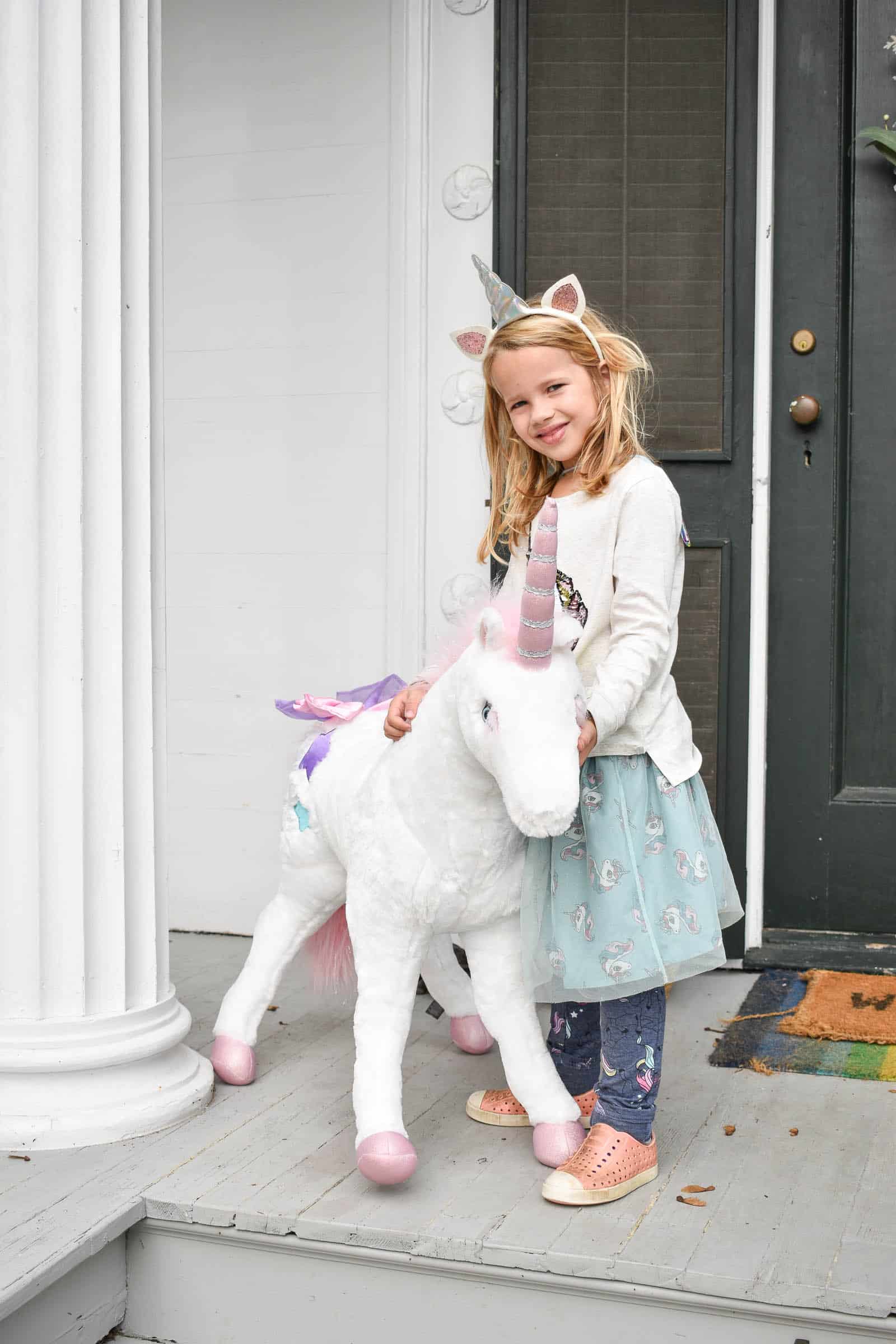 When Louisa said she wanted to have a unicorn themed party for her 5th birthday, I was ALL IN. I figured we'd do a few activities/ crafts, have a snack and then be done! Turns out, we plowed through FIVE projects, so I'm glad I was prepared!
1. Arrival Activity
When the girls first arrived, they each got one of these cute unicorn headbands.  I had rainbow play dough and a play dough mat (I simply laminated a coloring page using my favorite home laminator) at each of their seats, and I taped together construction paper in rainbow order for a tablecloth. I usually try to have something pretty simple and self explanatory for them to do when they first arrive otherwise, there's lots of running around and shrieking with excitement.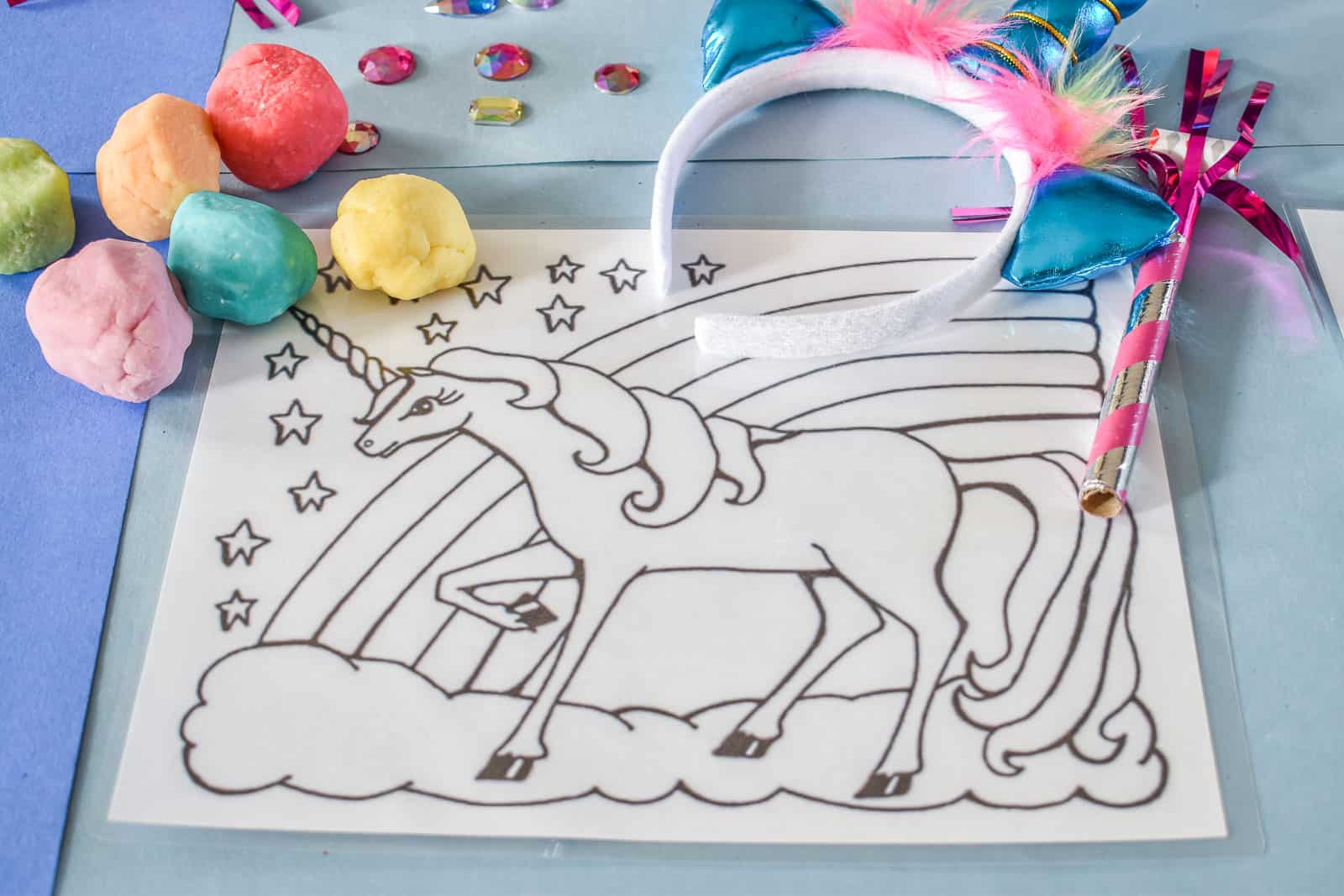 2. DIY Unicorn Tails
Once the girls had arrived, we pushed the play dough aside and moved on to their unicorn tails! (Instructions below.) I had individual bottles of tacky glue and these assorted gems and paper flowers for them to embellish and decorate their very own dress up unicorn tails.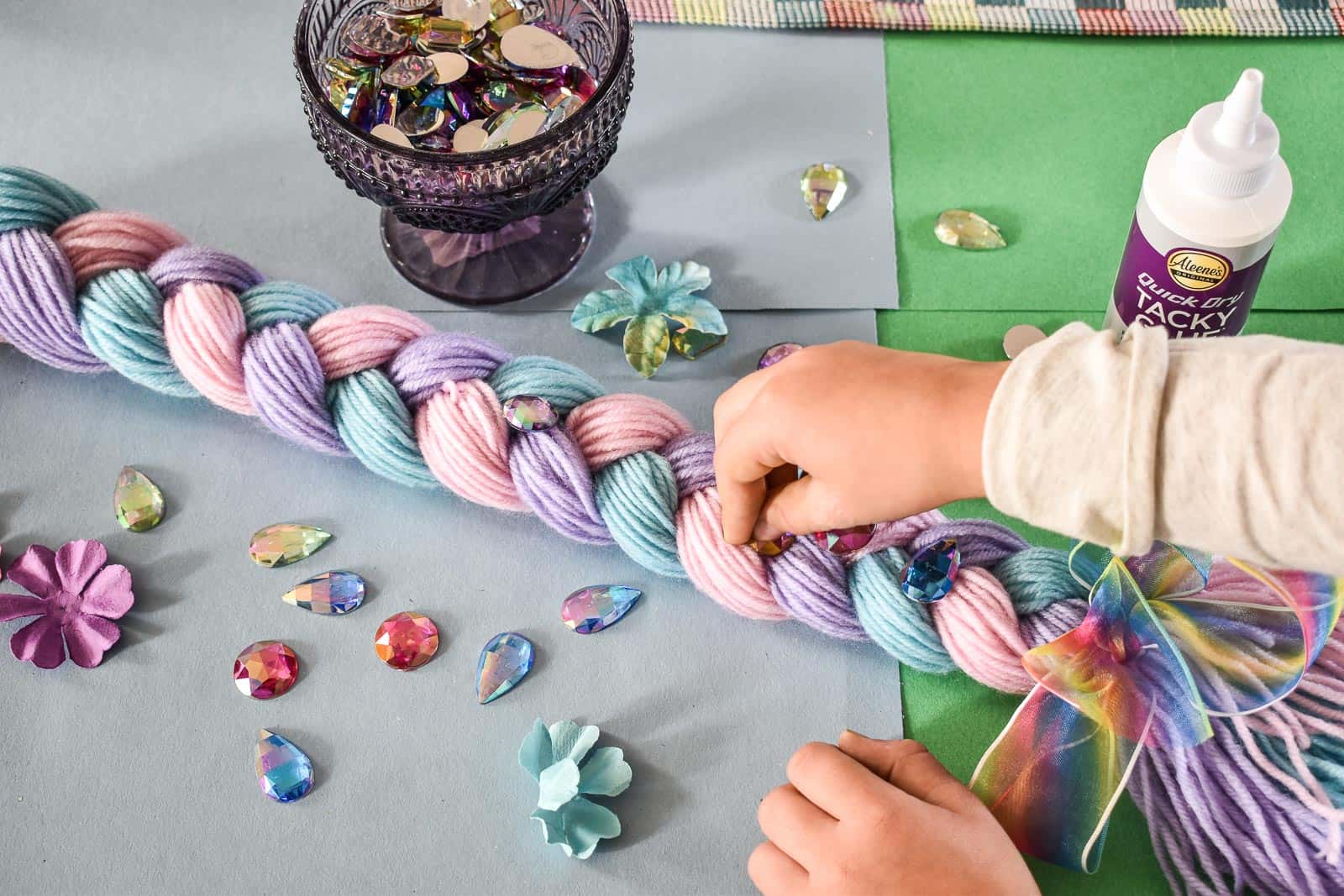 3. Coloring Goodie Bags
These needed some time to dry before the party was over, so I added the girls names with frog tape and then pulled out activity #3: unicorn backpacks! These cute cotton unicorn bags and these fabric markers were affordable on Amazon and the girls loved coloring them. Make your own goodie bags!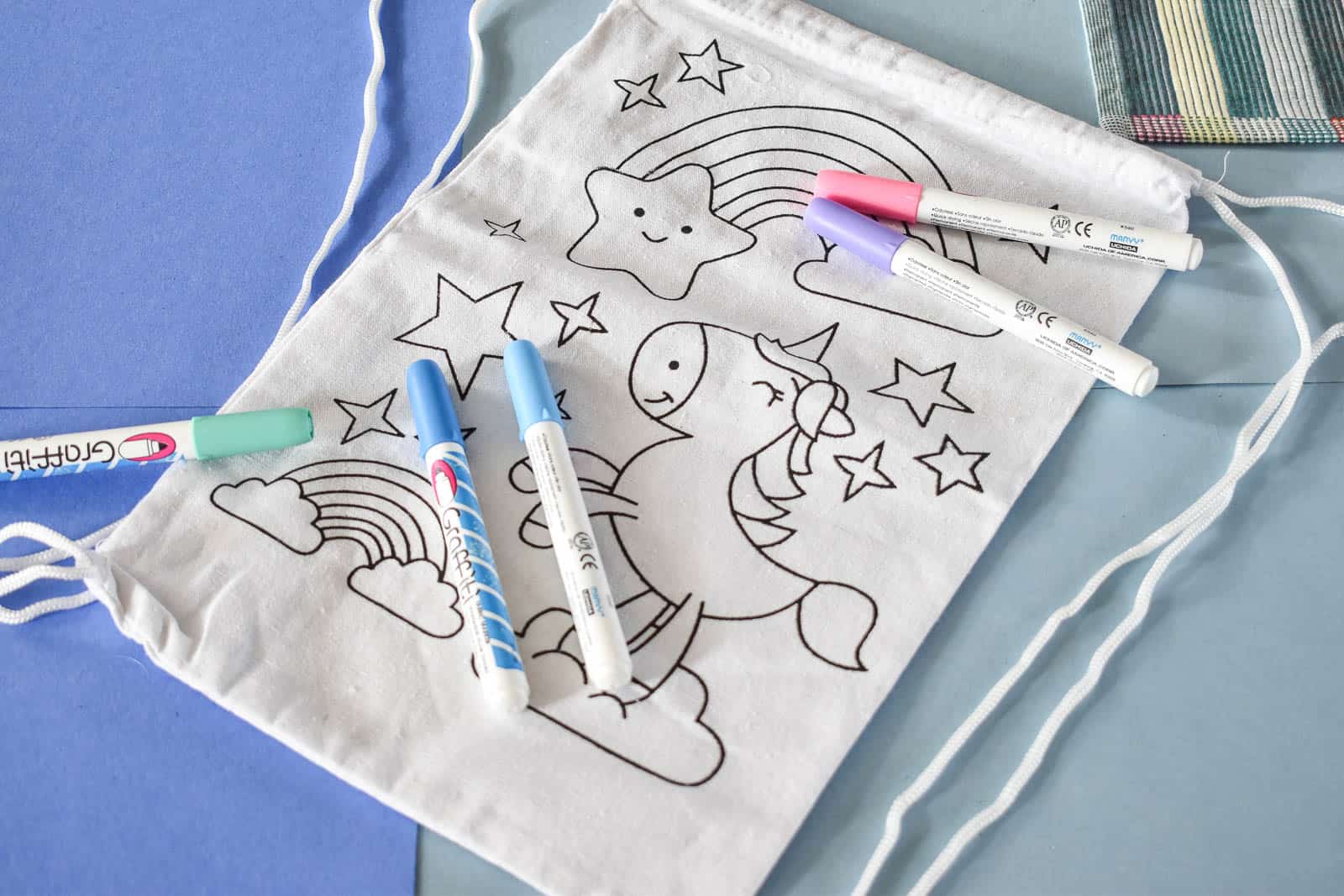 4. Unicorn Snack Mix
One thing I stumbled across on Pinterest that seemed super cute was unicorn snack mix! There were lots of different iterations, but I used the following ingredients:
Fruity Pebbles
Fruit Loops
Lucky Charms
Mini M&Ms
Assorted sprinkles
Bugles*
*I microwaved 1/2 cup candy melts with 1 tbsp Crisco for 30 seconds and mixed them together. I drizzled this over a cup of bugles and then placed this mixture into a ziplock bag with 1/2 cup powdered sugar. Shake to coat, then pour out onto a baking sheet to cool down.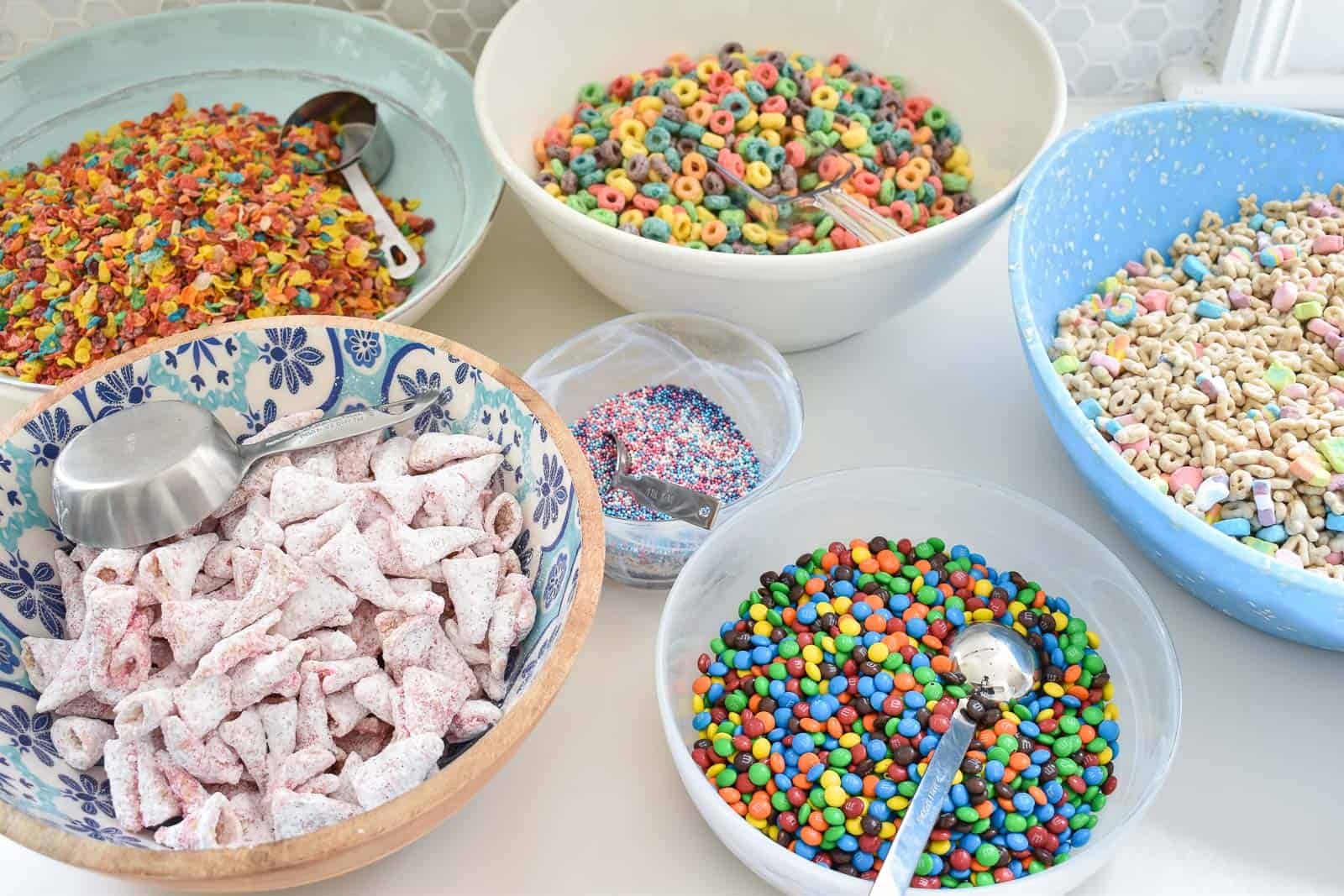 I lined up the bowls of goodies, and let the girls line up and take a scoop of each one into clear snack bags. I checked that there weren't food allergies prior to the party and thankfully everyone could enjoy!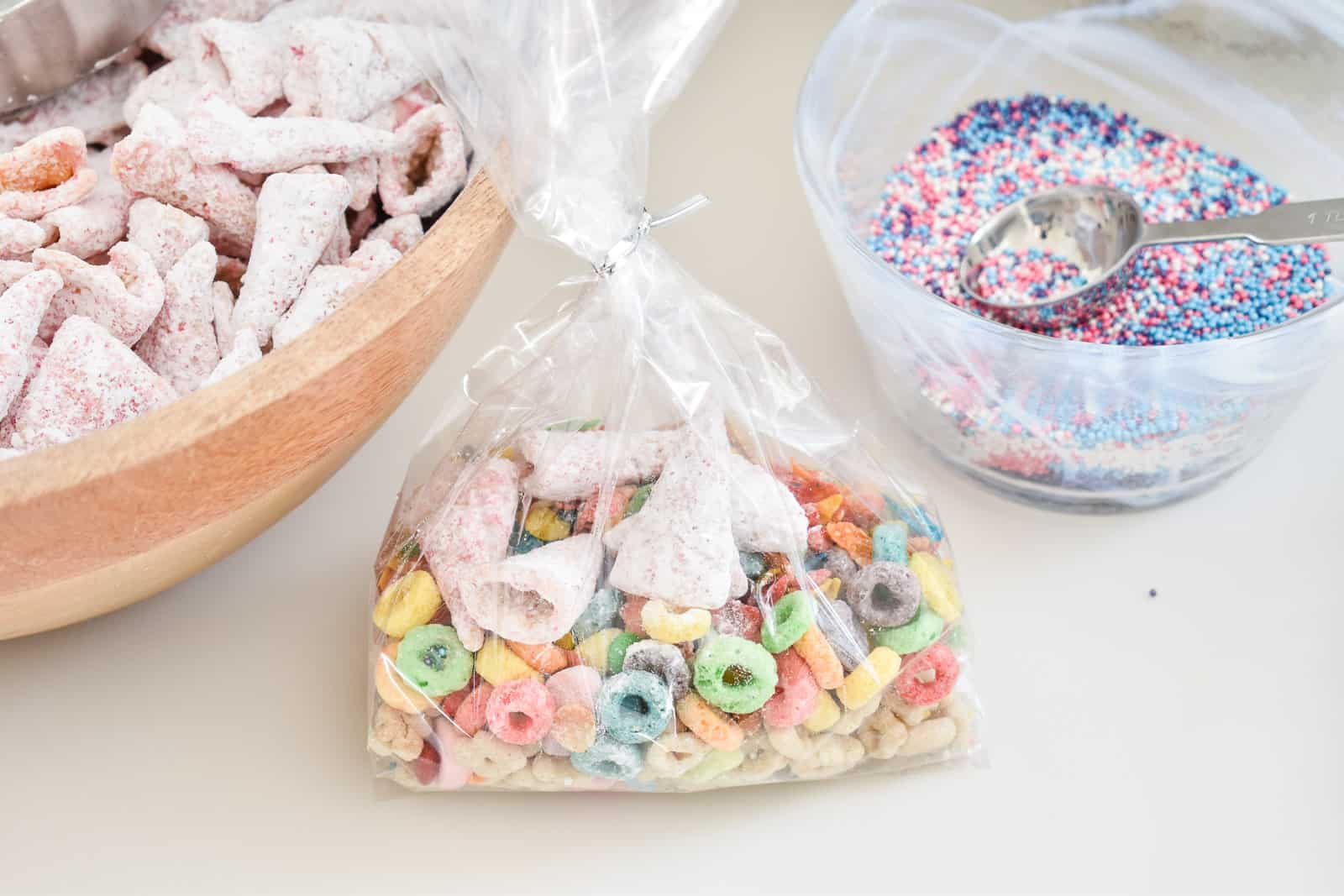 5. Unicorn Cupcakes
Our party was at 2, so I didn't serve pizza, but we had to have cupcakes! (I let my kids choose whether they want cupcakes or a larger cake.) I used these sweet unicorn cupcake toppers and that lovely shade of purple icing for her cupcakes.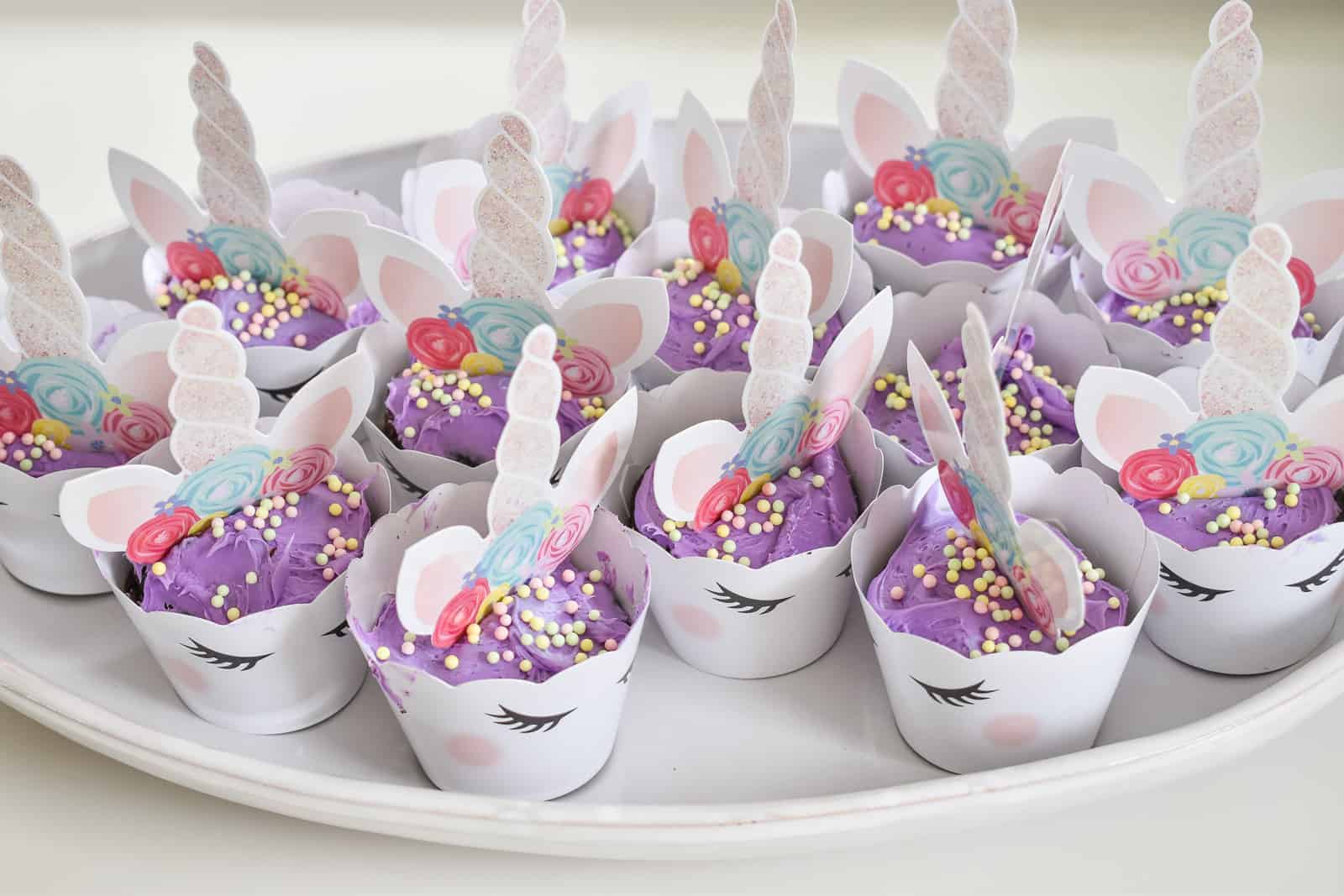 6. Reusable Pinata
The final activity for the party was a reusable Pinata! Whaaaat?! I didn't want to include pictures of the other children, but this was SO much nicer than the standard pinata that involves beating and swinging a hard bat. The kids twist and pull out one key at a time until the 'magic' key releases all the goodies and prizes within!
The girls had a great time and loved being able to color and glue and make all sorts of sparkly rainbow unicorn accessories!
How to Make a Unicorn Tail
Step 1.
Wrap yarn between your hands 20+ times, holding your hands about three-feet apart.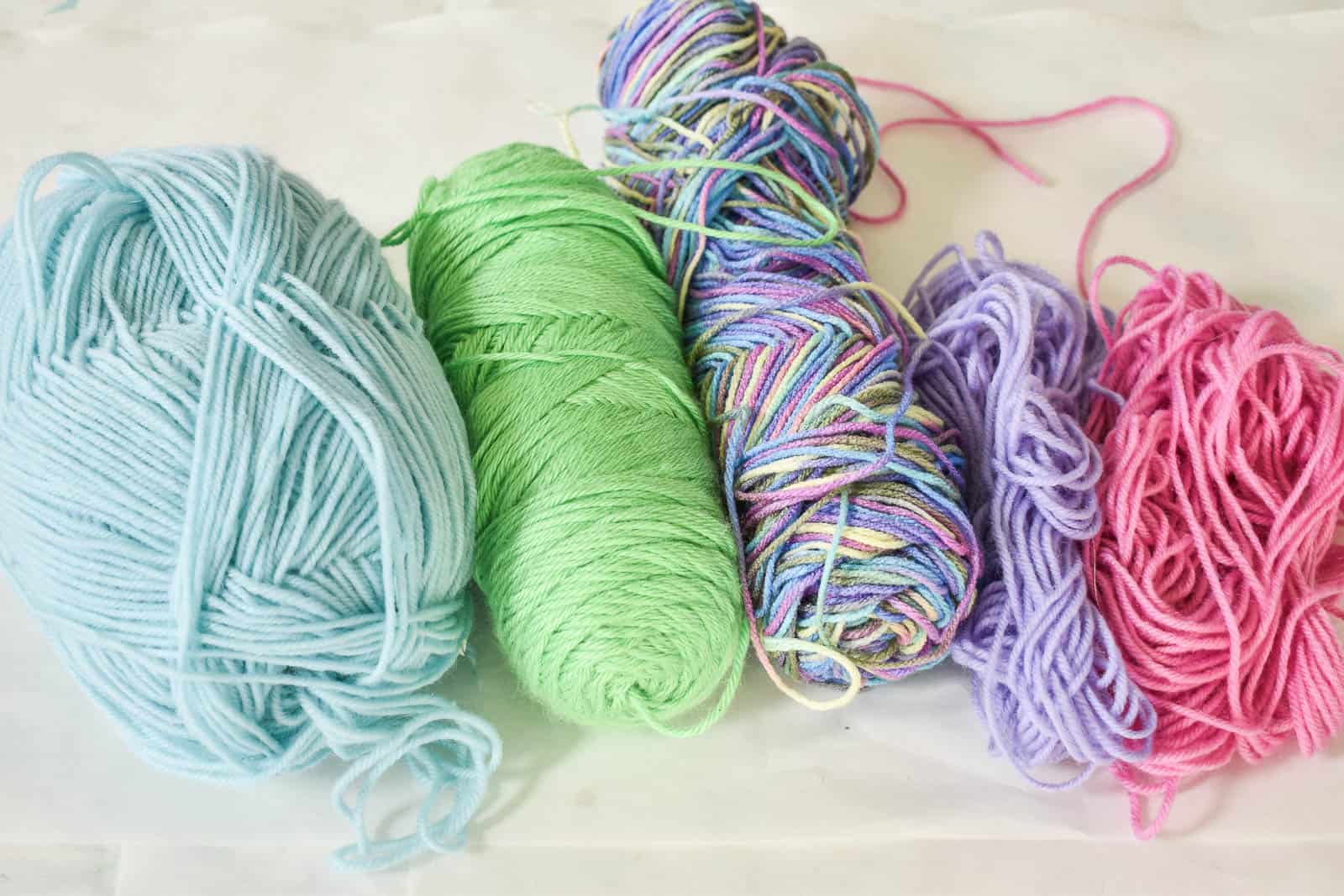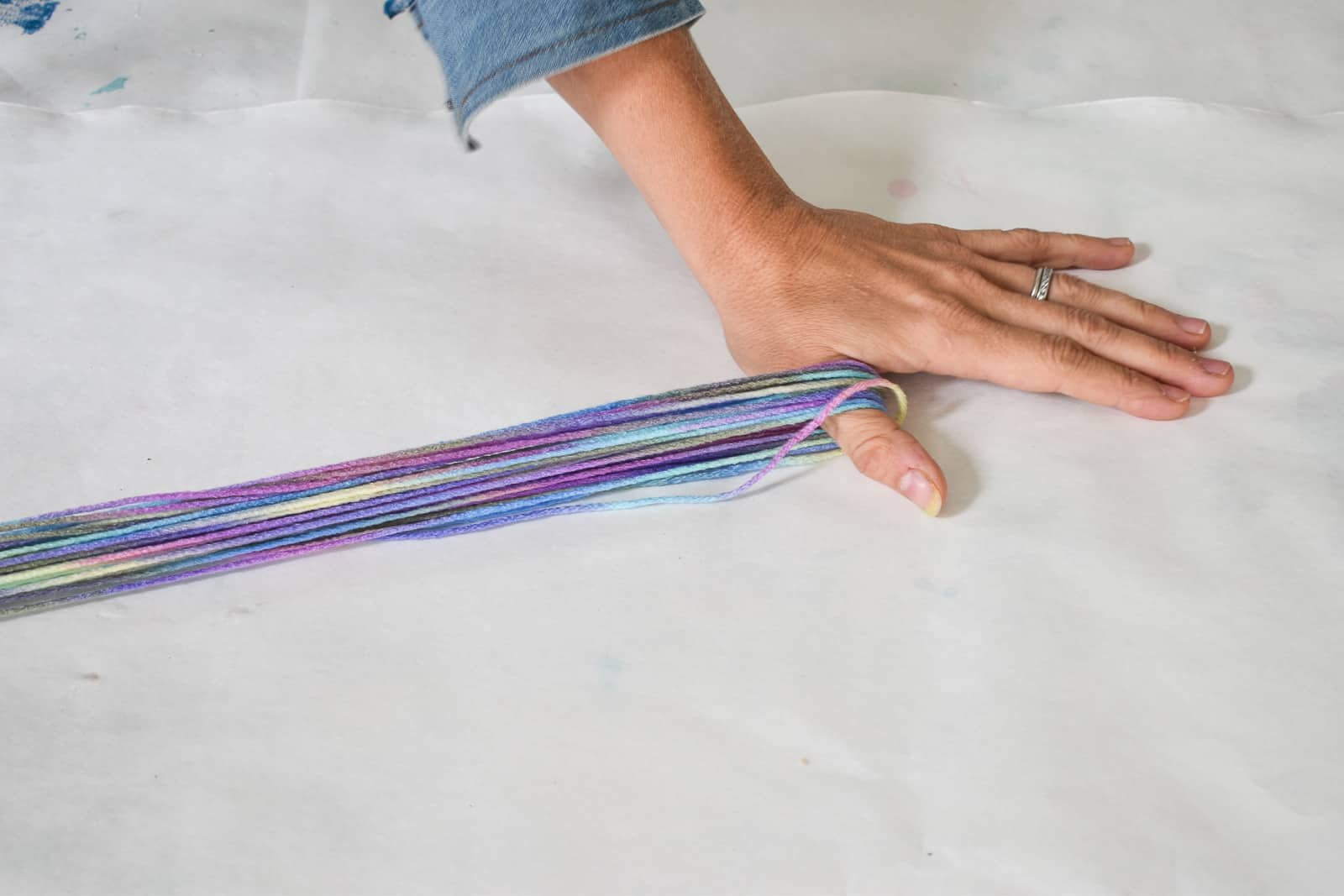 Step 2.
Tie a bow around the loop to keep it from getting tangled.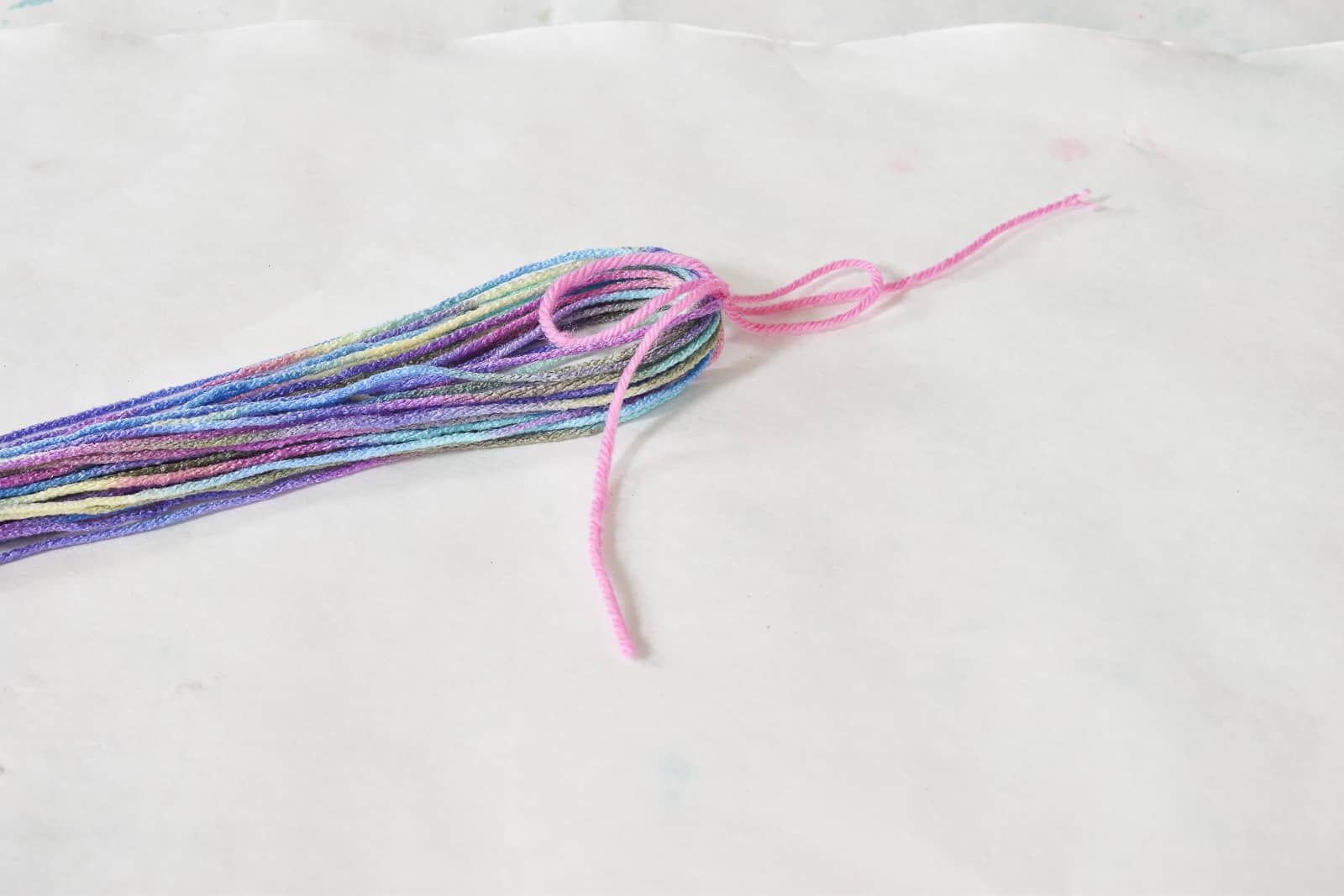 Step 3.
Repeat Step 1 and 2 until you have three groups of yarn. Take a length of yarn and pass it through the loop of all three clumps of yarn and tie a tight knot. At this point, you can untie the bows you initially used to hold each individual group of yarn together.
Step 4.
Braid the yarn until you have at least 4 inches left of all three colors. Tie off the end of the braid and trip the uneven ends with fabric scissors.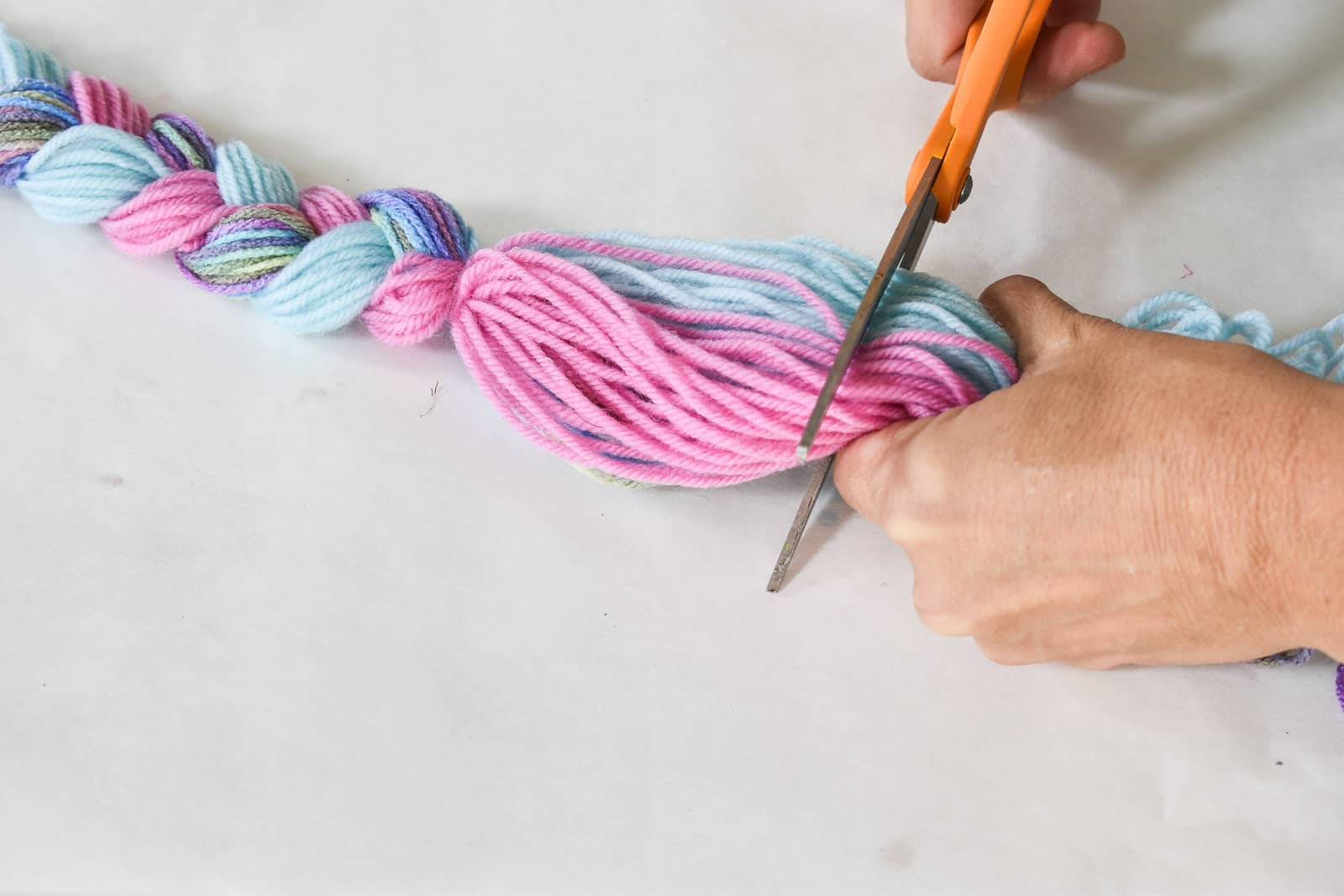 Step 5.
Add a bow to the end of the braid.
Step 6.
Using ribbon or tulle (I used these rolls of 6-inch tulle because it was cheaper than ribbon), bring the tie through the loop at the end of the braid and knot it in place to secure it.
Step 7.
Use tacky glue or fabric glue to let the kids add gems or flowers or other embellishments to their tails. It won't be quite dry by the end of the party, but it should be ok to carefully bring home!
To say that the girls enjoyed all of their activities is an understatement. I love planning simple crafts like this for a birthday party! They get a chance to hang out and make things and enjoy a little bit of creative birthday time!