For years, I noticed bloggers referring to the One Room Challenge and I never really had a clue what it was about. So I started asking questions and…drum roll, I'm doing the One Room Challenge. Here's what that means… Linda from Calling It Home started this bi-yearly gig and invites 20 amazing bloggers and style mavens to decorate ONE room over the course of six weeks. It might not seem like much, but when you consider all that can go into a room, that time FLIES! (Paint, upholstery, shopping, furniture, styling…)  Here's where the rest of us come in… each week, we get to play along, share our progress and link up over on Linda's site. Basically, it's a great kick in the pants to get a room done AND to enjoy all the other amazing makeovers at the same time!
Are you curious what room I'm doing and what my plans for it are?
Boom. Dining Room.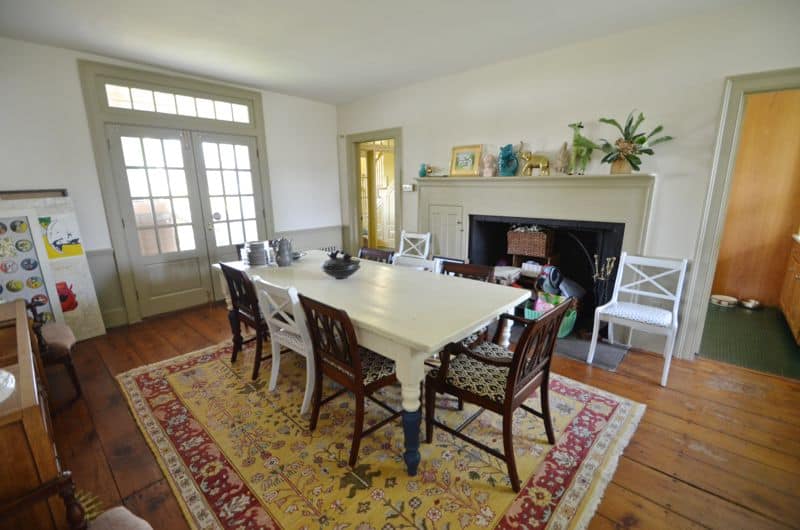 This new house has a lovely formal dining room with an old fireplace complete with a crane for when the fireplace was used for cooking back in the day. Here's how it looked in our walk through:
Until now, this room has been a dumping ground for blog supplies, random furniture, and leftover decor.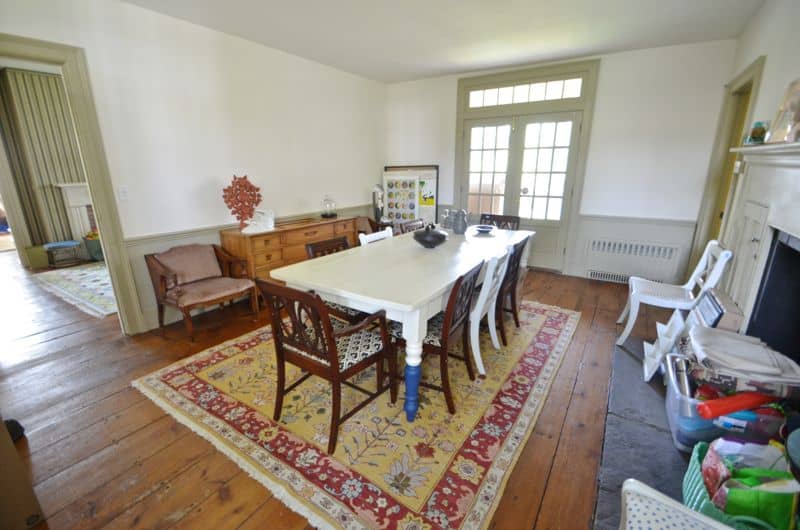 Here's what I have planned for the space: revamp the table and the sideboard; recover the chairs and add some window treatments; I'll be putting in a new light, and changing up the floor covering. Oh… and did I mention the whole room will get a coat of paint!  Finish it all off with some fun wall decor and that's a wrap.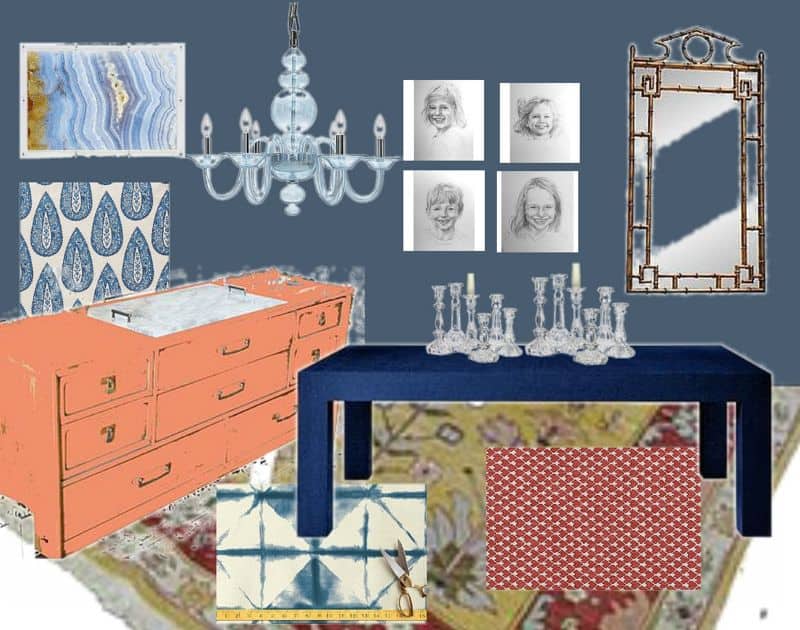 I'll post more as the room progresses, but here are some close up shots of the individual projects just to have a better record of the BEFORE.  The large farmhouse table from our old house actually fits the space pretty well and, bonus, fits our family REALLY well. But… the white seems a little casual for what I have planned (and it's way more chipped and marked up than these pictures show).  Also… the trim in our house is mostly an off-white (thank you, historic home!), so I was worried the white table might seem a little bright up against the new paint colors.
Chairs. These chairs have to stay… but the fabric will get swapped out.
While I'm on the topic of fabric, here's a sneak peek of that thanks to my favorite, Lacefield Designs.
These chairs came from the ReStore and have been sitting uncovered for….  more than a year. I actually went so far as to get fabric for them and I had an upholsterer help sew the back pillow… and there they sat. Unfinished.
Finally, this sideboard/ credenza/ dresser. It was $25 at the ReStore and it's in tough shape. The middle piece is missing (I replaced it with this hack) as is the mirror. I use it as a sideboard and love the lines/ storage, but not so much the color. In this space, it's just the wrong wood tone. The floor is a warm pine and then the dining room chairs and cane side chairs are a darker wood tone. This light mod/ 60's tone doesn't work. Cover your eyes folks… this gal's getting a coat of paint.
There you have it! My plans for my premiere One Room Challenge. SO excited to keep working on this room and then share it all with you!!! Tune in each week for progress and any tutorials I can scrape together.  And just because I can… here's the vision for the space again:
What do you think? Am I crazy? (And don't forget to come back THURSDAY… I'll be sharing my #SwapItLikeItsHot projects!!!!  Have you seen the ones so far? So. Freaking. Good.)