Fun and Festive Tablescape for Kids
Welcome to the summer edition of the blogging progressive dinner party organized by my friend Heather from A Southern State of Mind. Click around to all the other blogs tagged at the end of this post to get fun ideas for summer tablescapes, recipes, and cocktails.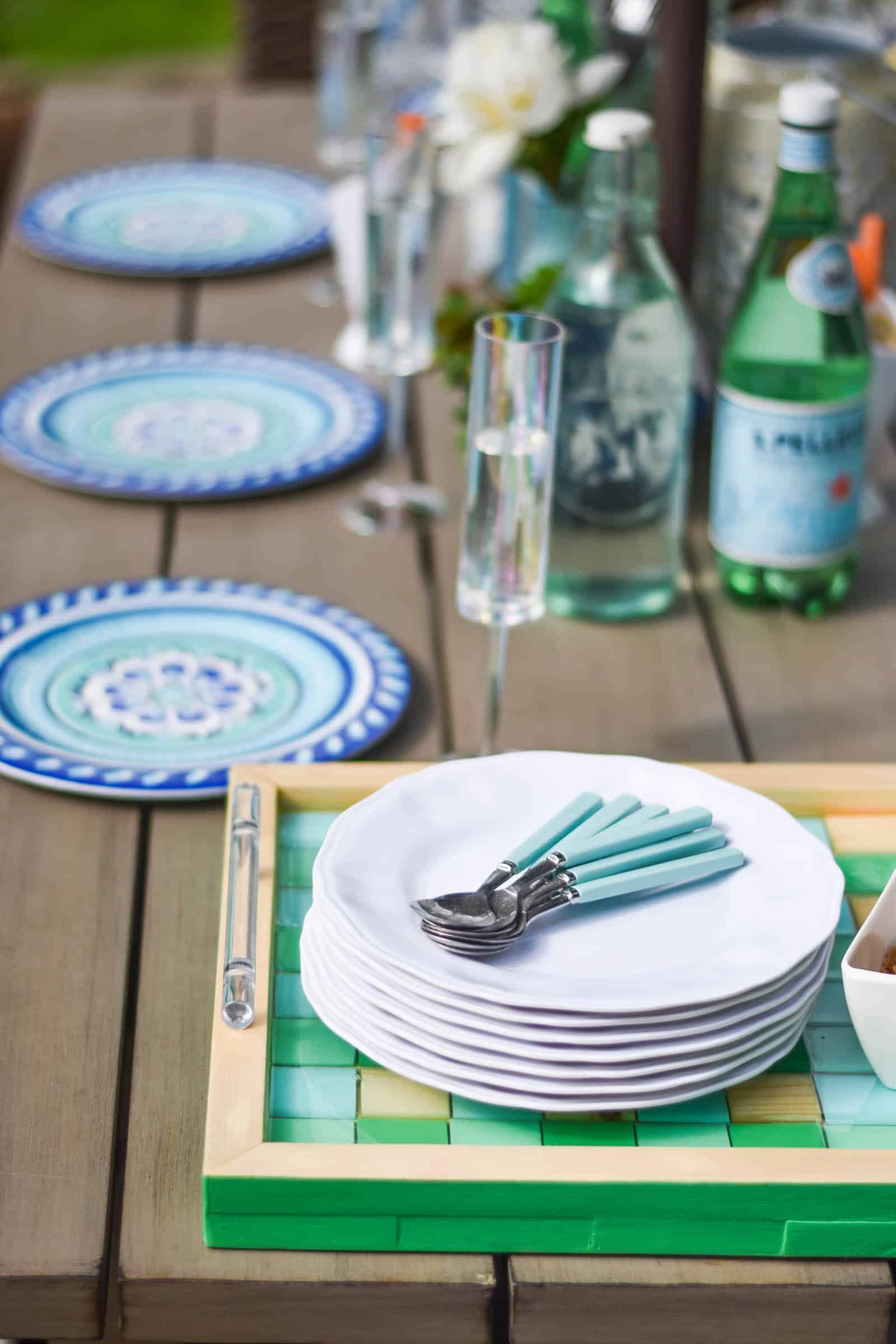 Last summer we made some improvements to our patio (cleared trees, expanded the flagstones, added a new patio set) and THIS summer, we're enjoying it! We have a party for adults planned for early July, but… in the mean time, I wanted to share some of the ways we make it fun (and fancy-ish) for the kids!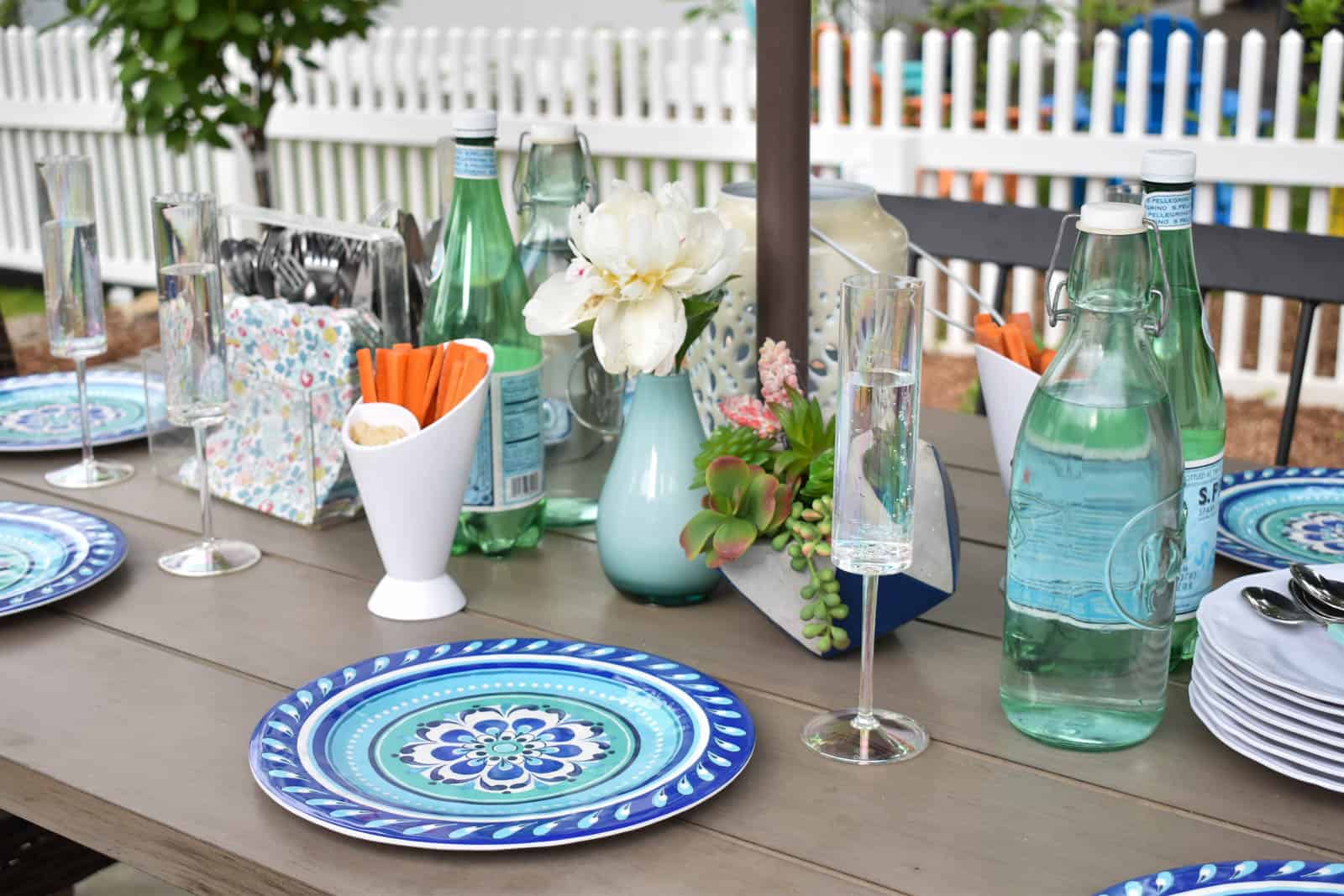 We certainly like to keep things practical when it comes to patio dining with the kids (i.e. less breakables), but it's fun for the kids to feel like they're having a special meal every so often. (Note… the subtext of all this is that if my kids feel like they're having an 'elegant' meal, the hope is that they will also ACT elegant.) Here's my 6 tips for making it fun and festive for the kids: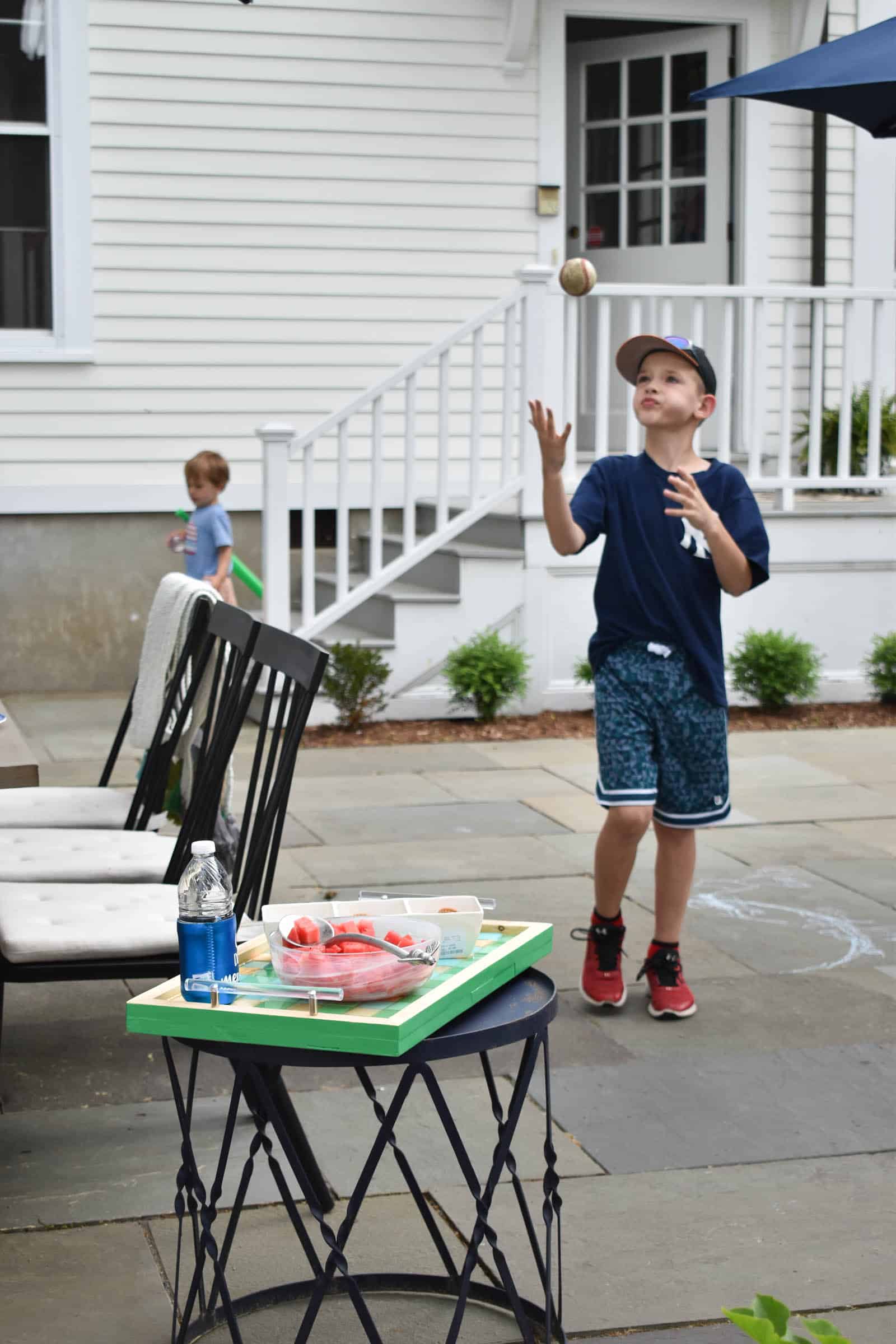 1. Different than the Norm
Normally, they eat off of plastic rainbow-colored Ikea plates. But to make it special, I bring out a different set of melamine plates that I love and makes them feel soooper adult.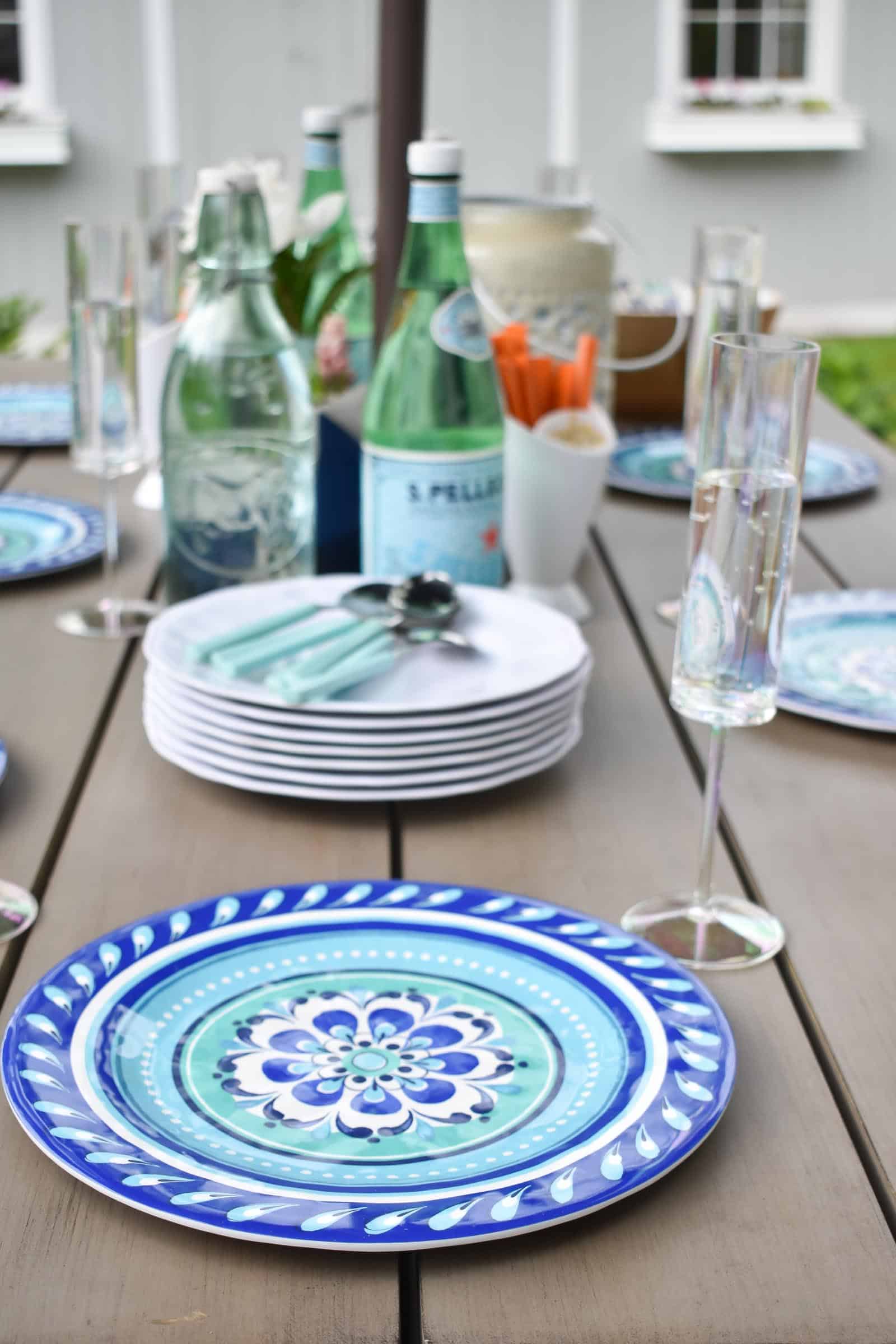 2. Make it Adult-ish
When I set a more decadent table for an adult gathering, I'll try to use an array of glassware and utensils… so for the kids, I keep this same idea in mind… hence the champagne glasses (don't worry… they're plastic too!) and bubbly water. Watching them negotiate the champagne glasses was the best surprise of the meal, but no doubt they felt very grown-up.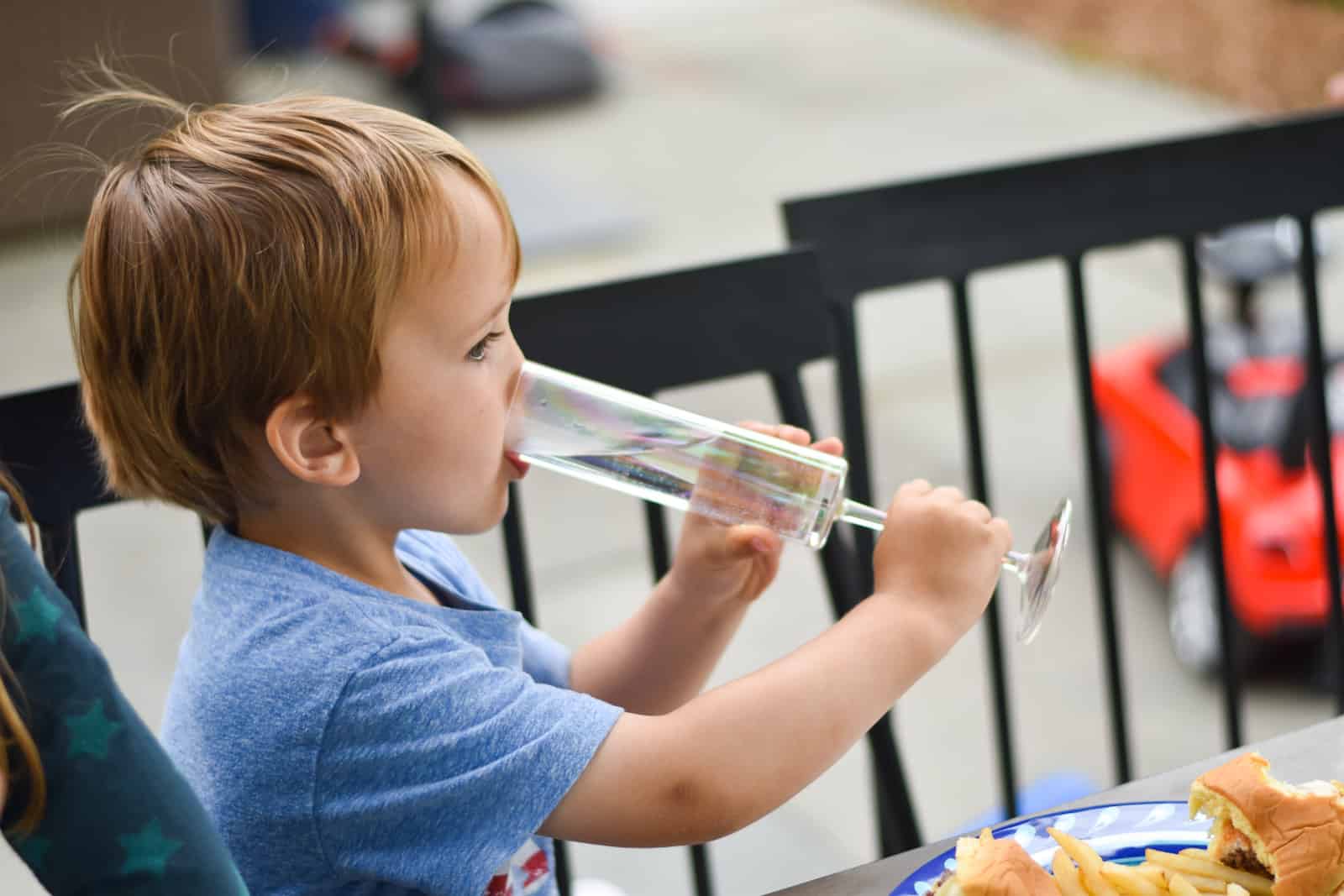 3. Ambiance
The sun is already setting fairly late here so candles don't show up on camera, but I love to use tea lights to glam up the kids table whenever possible! Ditto to the lights on the umbrella! I should have turned them on for you to see, but instead, I set the ambiance by bringing over a few items for a centerpiece. Certainly not the fanciest, but fancier than the pair of socks that often sits in the middle of our regular kitchen table.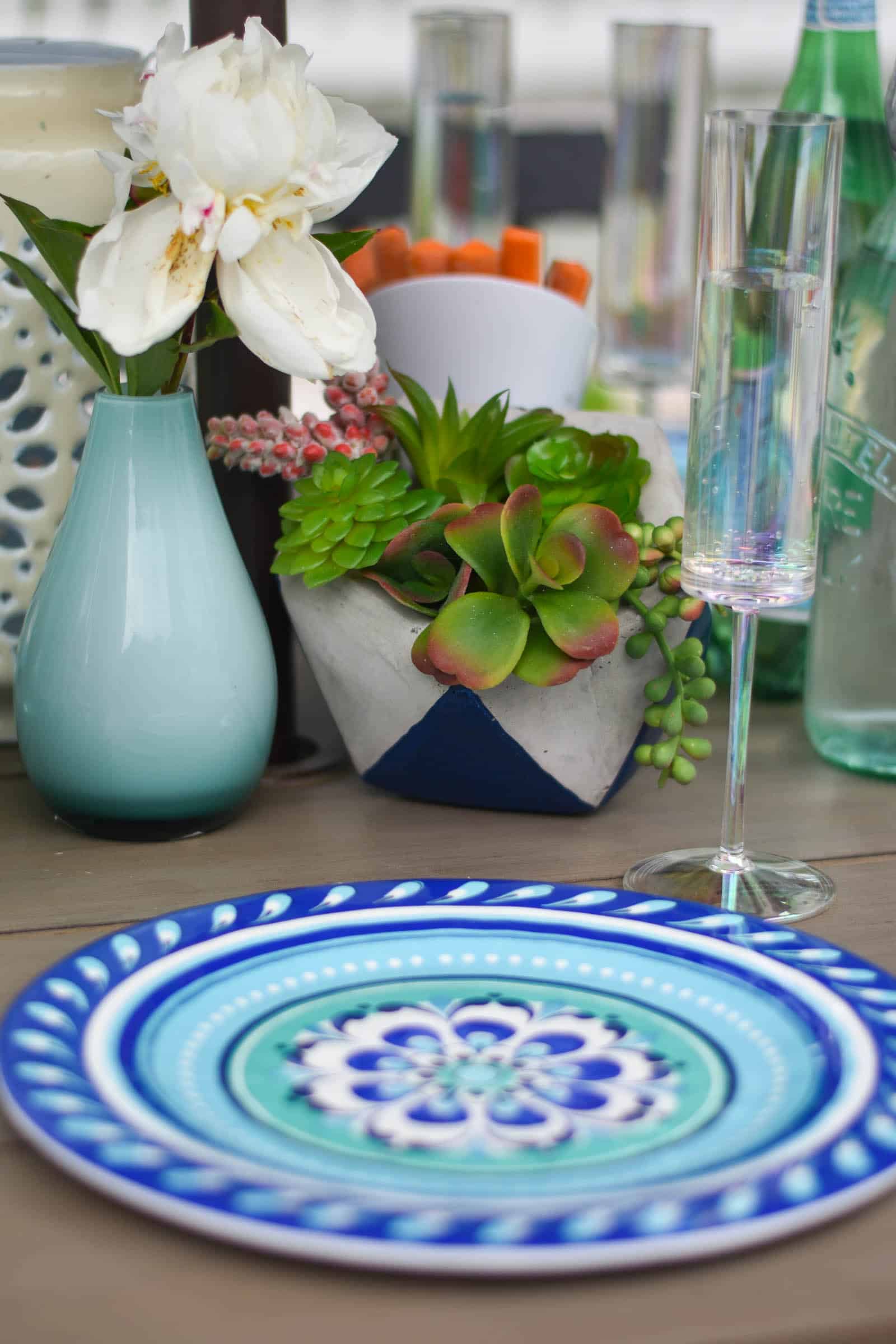 4. Food presentation
You'll note that we served cheeseburgers for the kids which isn't anything fancy, but… I brought out some 'appetizers' (carrots and hummus) beforehand on a tray and had a colorful fruit salad and cookies waiting in the wings to up my serving game. Normally, they finish a meal and I bring over fruit when they're done, so this was different than usual.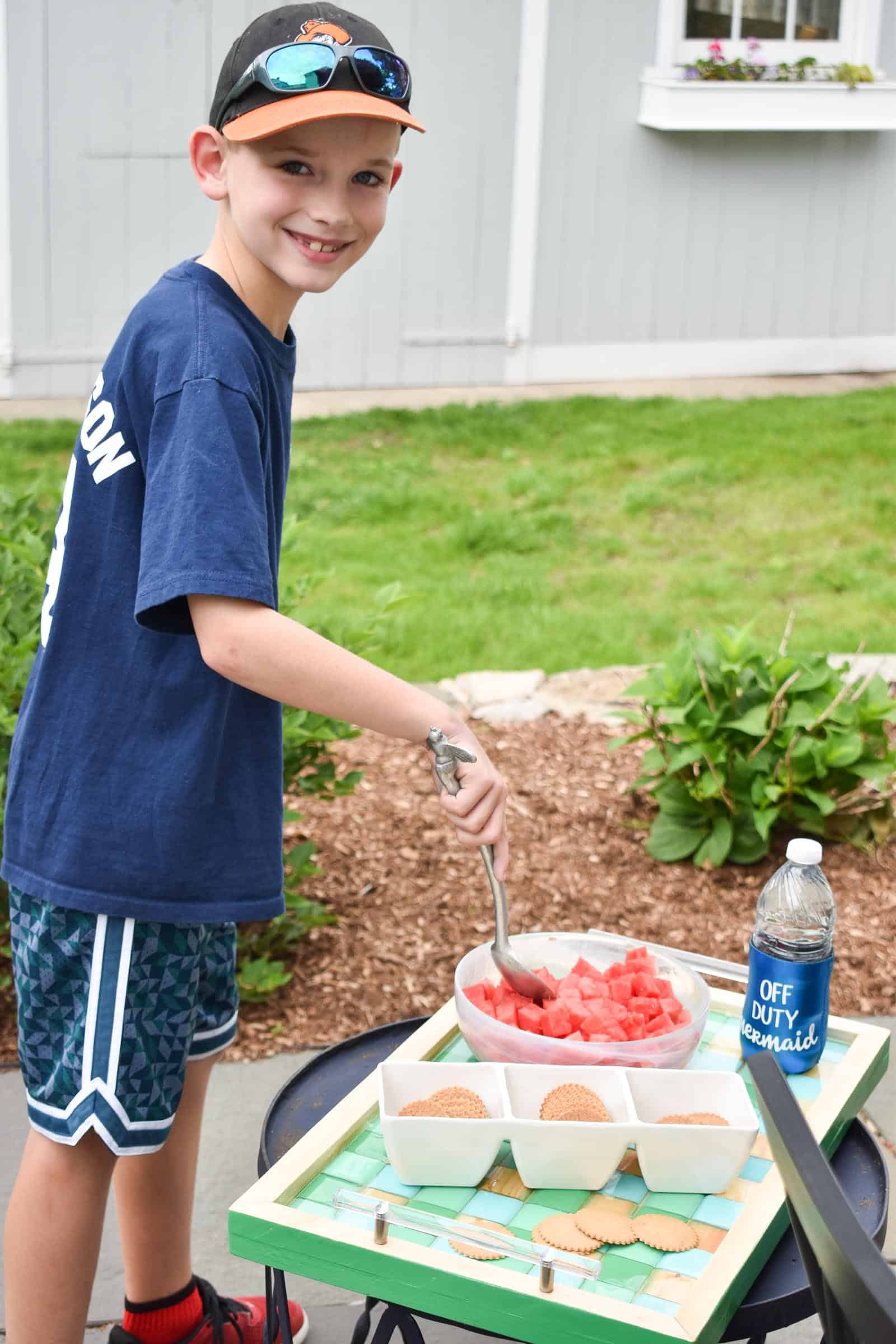 5. Protocol
Here's how mealtime usually works for us: Mark or I make the food, call out to the kids that dinner is ready, they come sit at either the bar or the table, and dinner is served. Drinks are brought over. 3.4 minutes go by and the kids ask for fruit. Fruit is served. Kids ask for dessert. Dessert is served (or not)… and we're done. So for this outdoor kids' meal, I had the whole meal ready to go so we all could sit down together and remain seated for the whole meal. We clinked glasses and said cheers. You get the drill… we tried to make it special!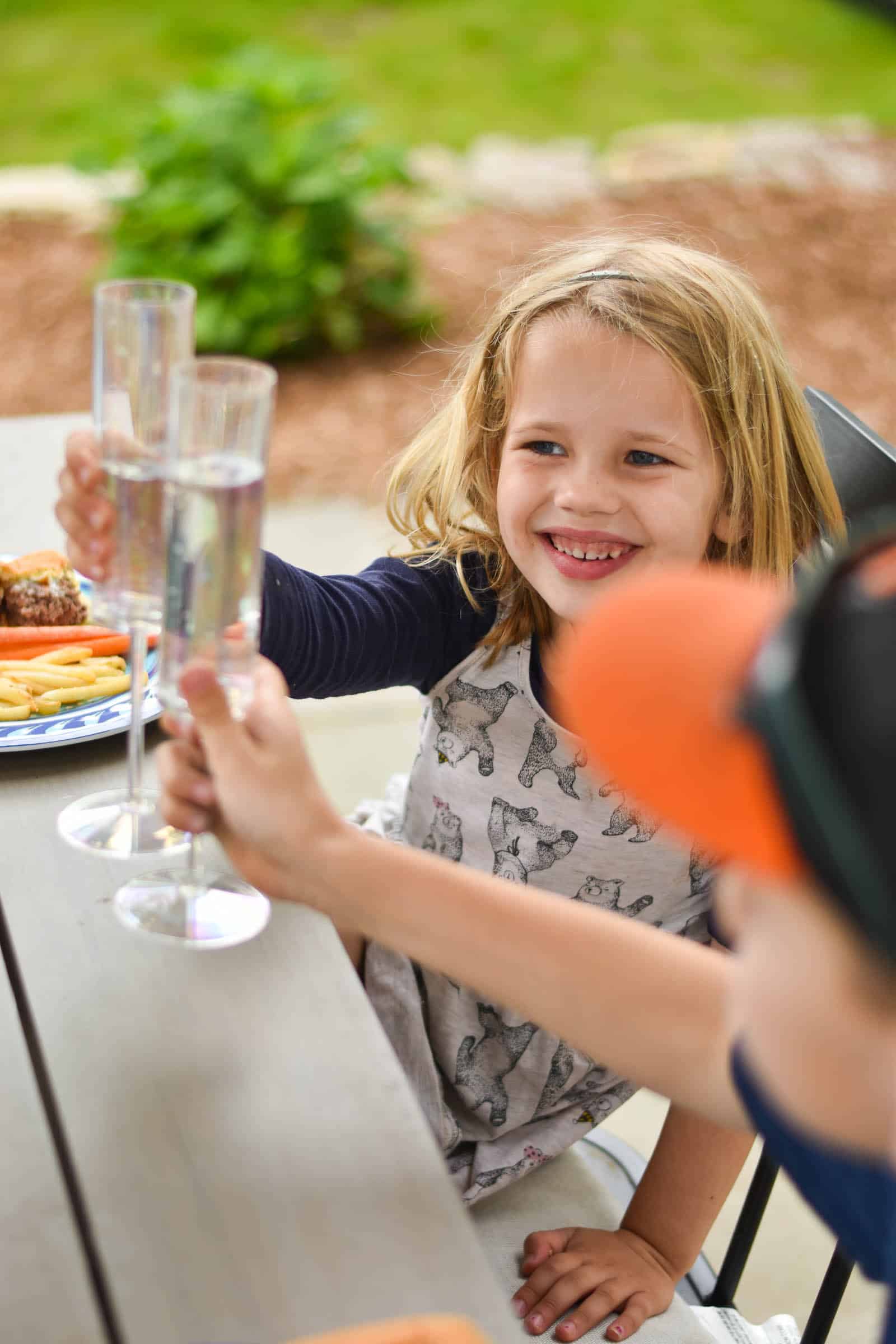 6. Talk It Up
A lot of the strategy for making this outdoor meal special was just the fanfare that went into it! "We're having a fancy meal outside… such a SPECIAL occasion… we can't wait. This is such a treat." Etcetera Etcetera.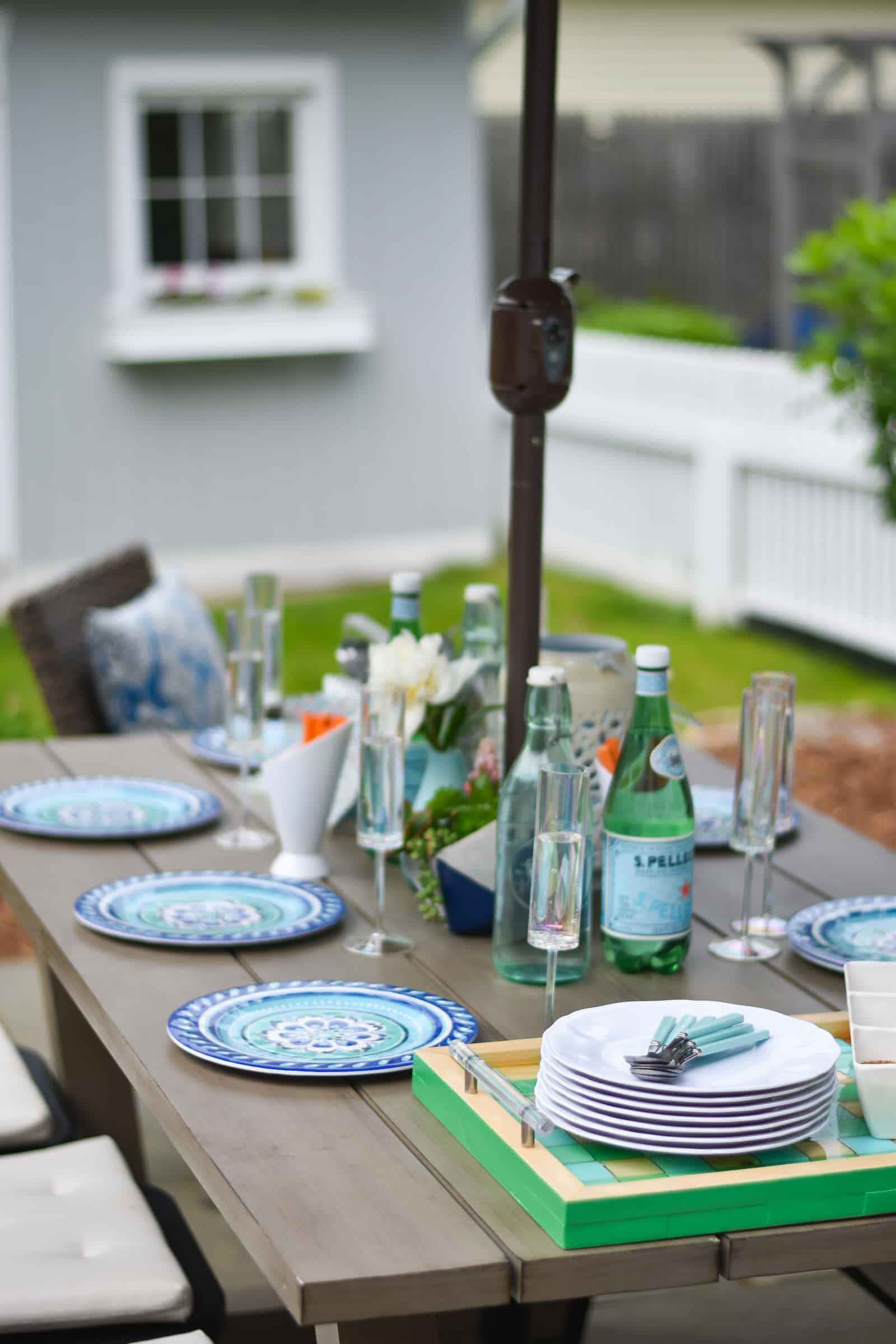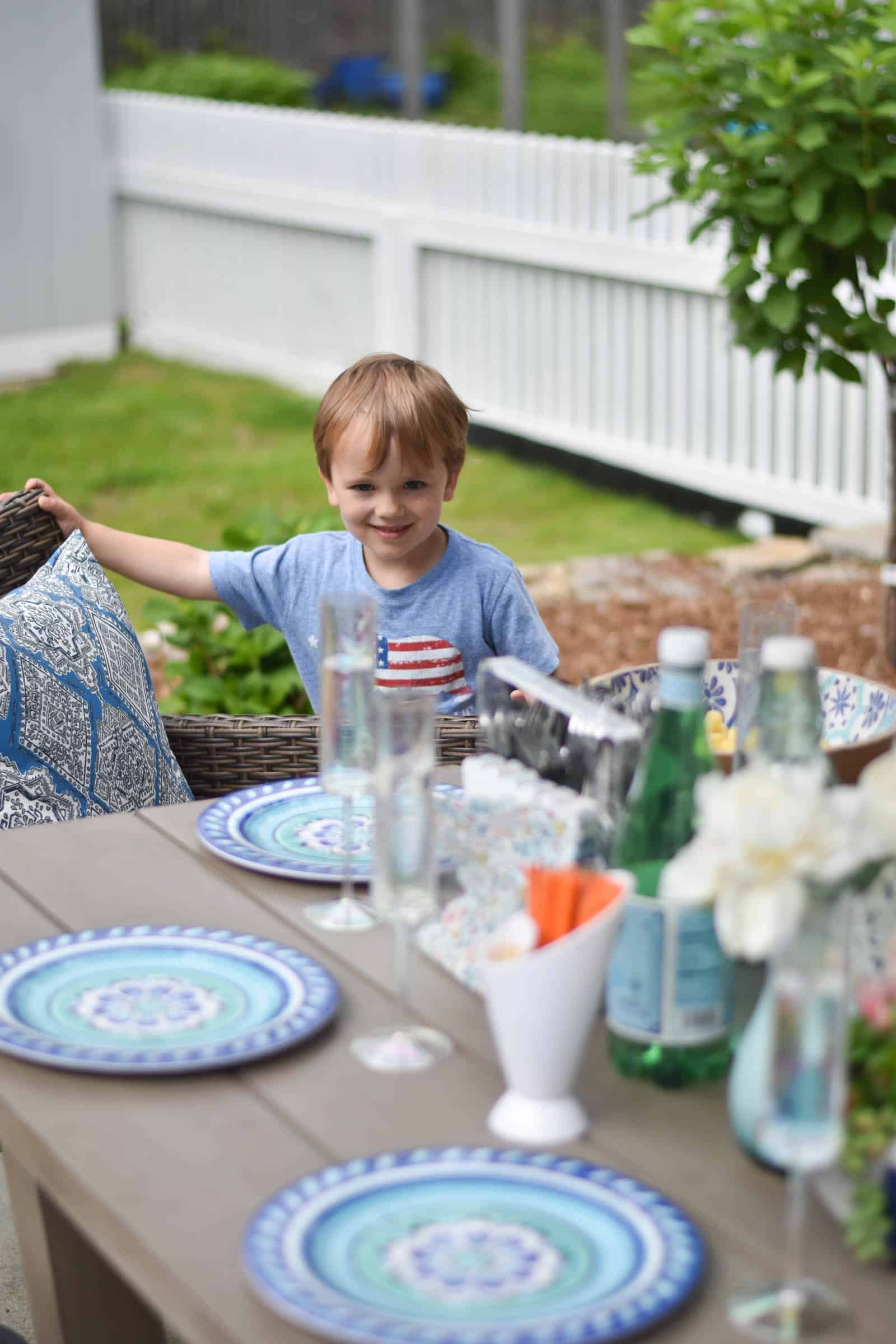 Look… there's nothing overly creative about ANY of this… but setting a 'elaborate' table for the kids was really fun for me and sneaky exciting for the kids. It's so easy to have a backyard BBQ and just throw out disposable paper plates, and goodness knows we do A LOT of that, but a chance to make the kids meal a little more thoughtful was a grand occasion for all of us!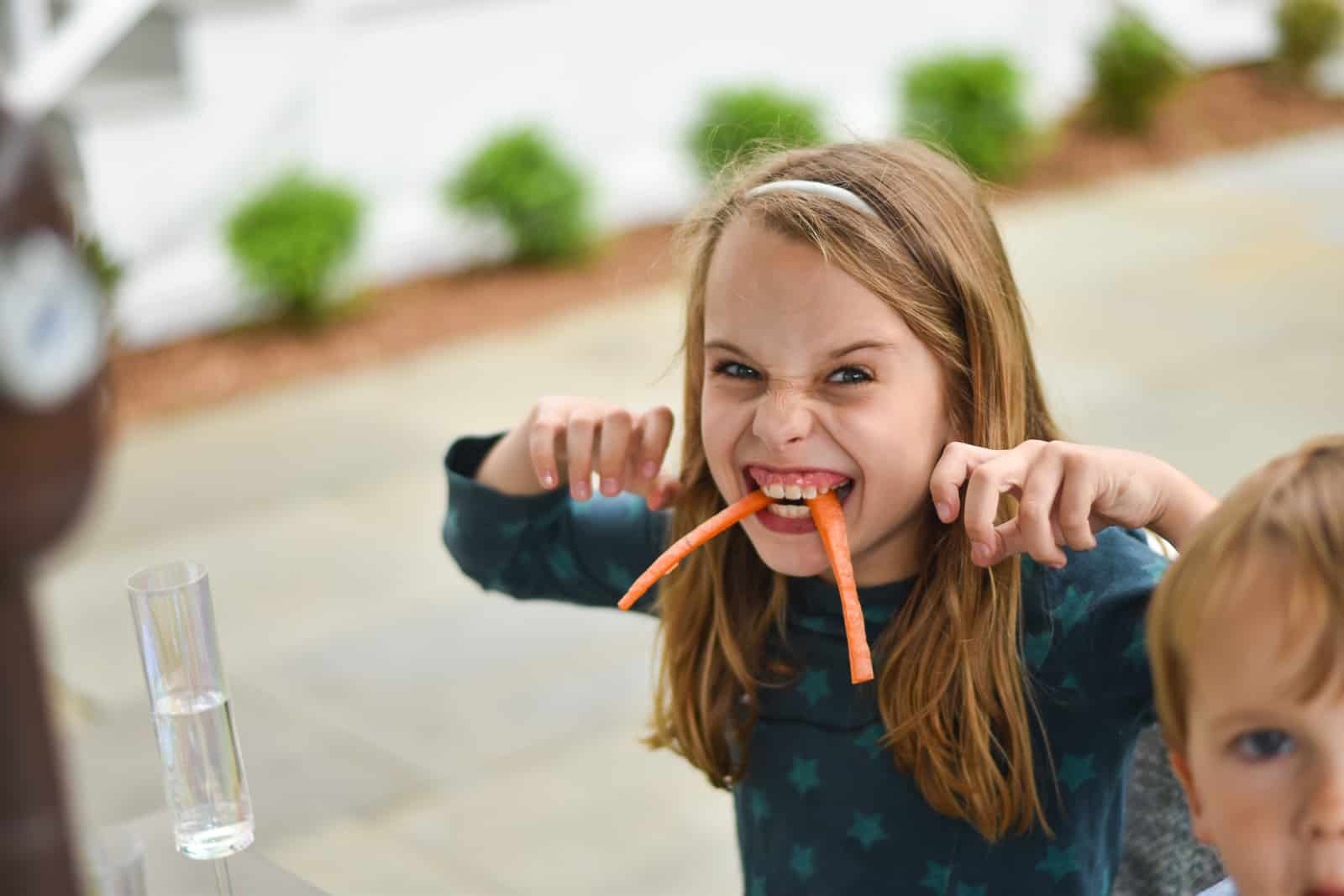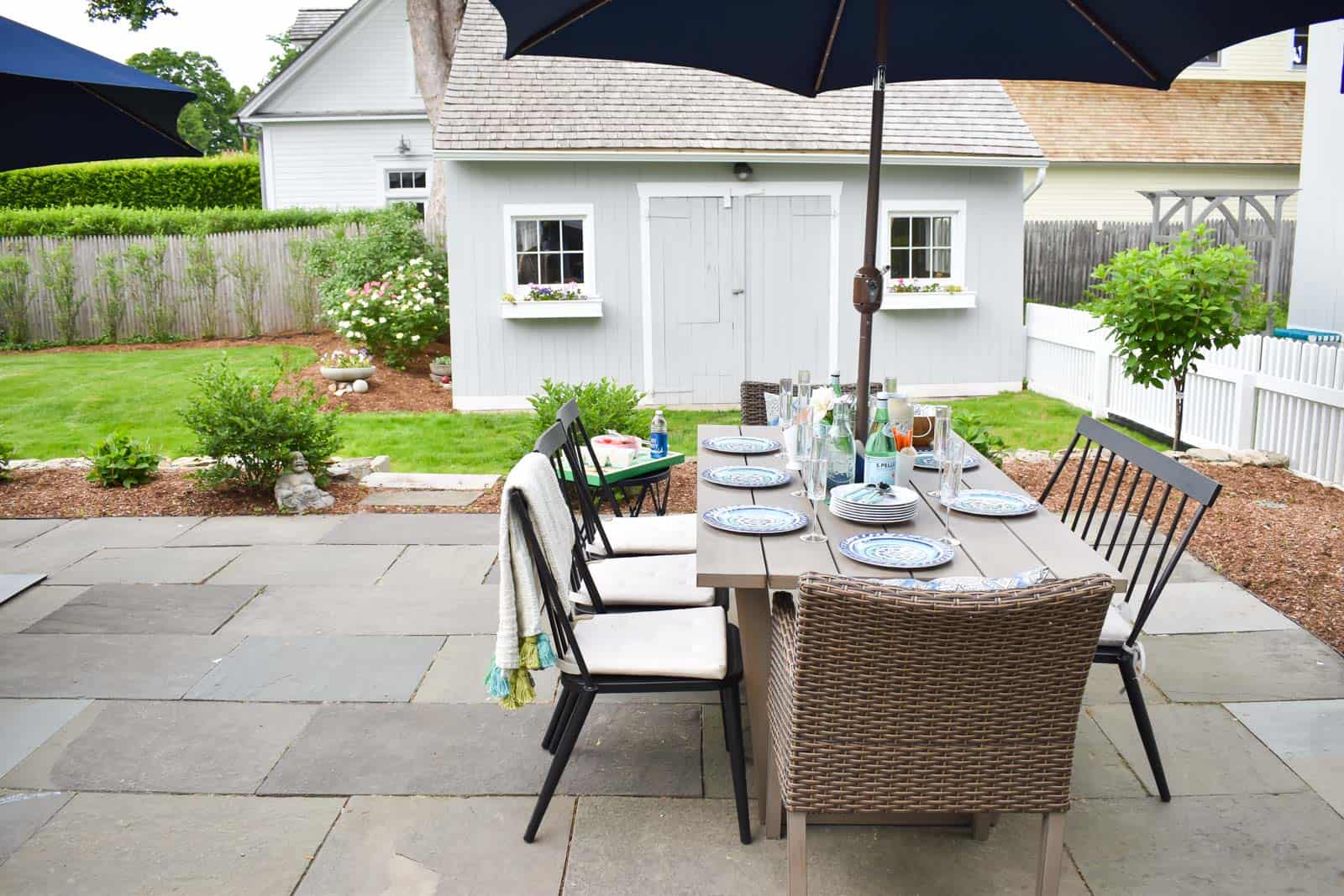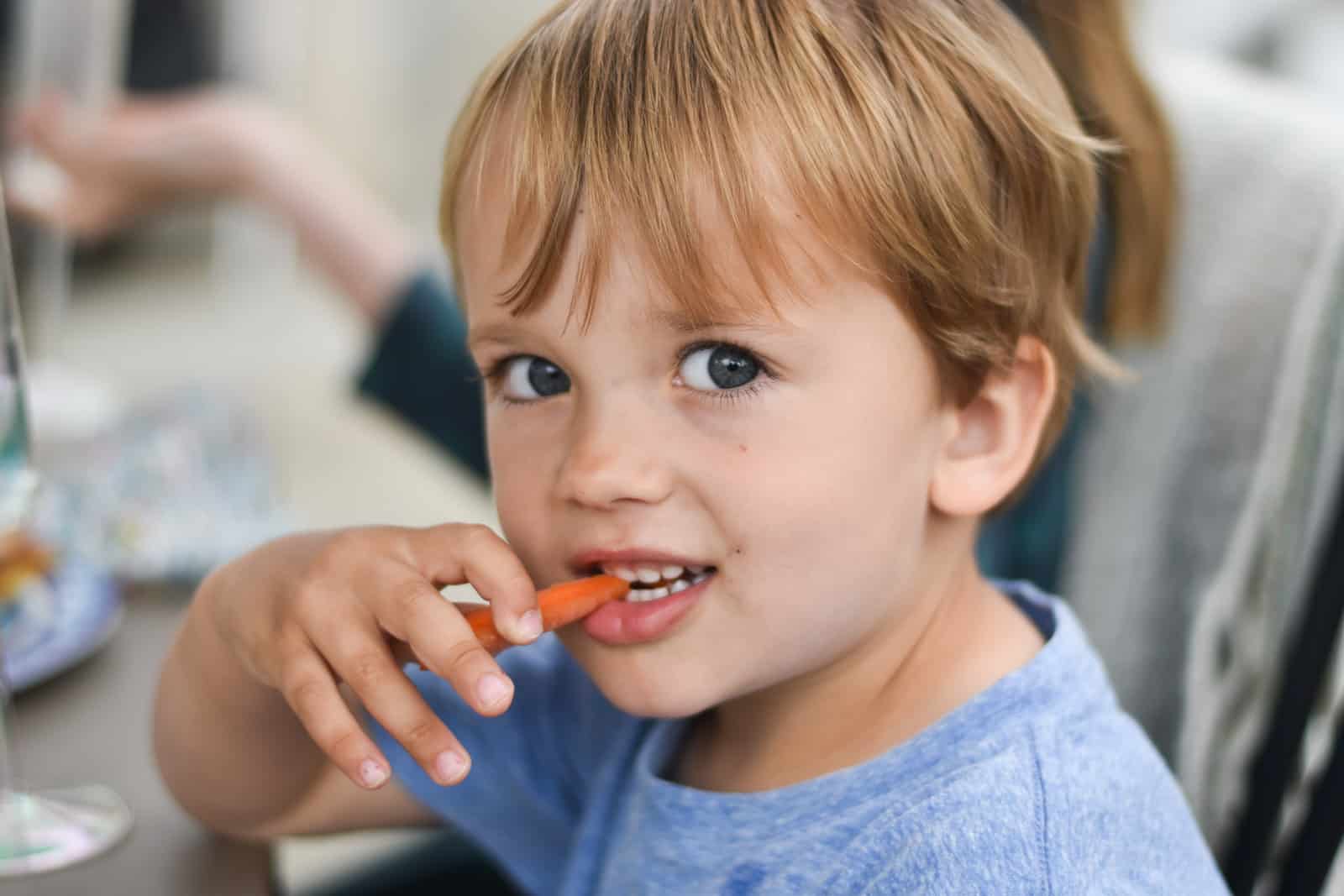 At Charlotte's House
Dixie Delights
Dimples and Tangles
Haneen's Haven
Our Fifth House
Southern State of Mind
This Is Our Bliss