Boy's Bedroom Makeover and DIY Painted Curtains
I gave my son's room a quick and simple update and painted curtains as the finishing touch!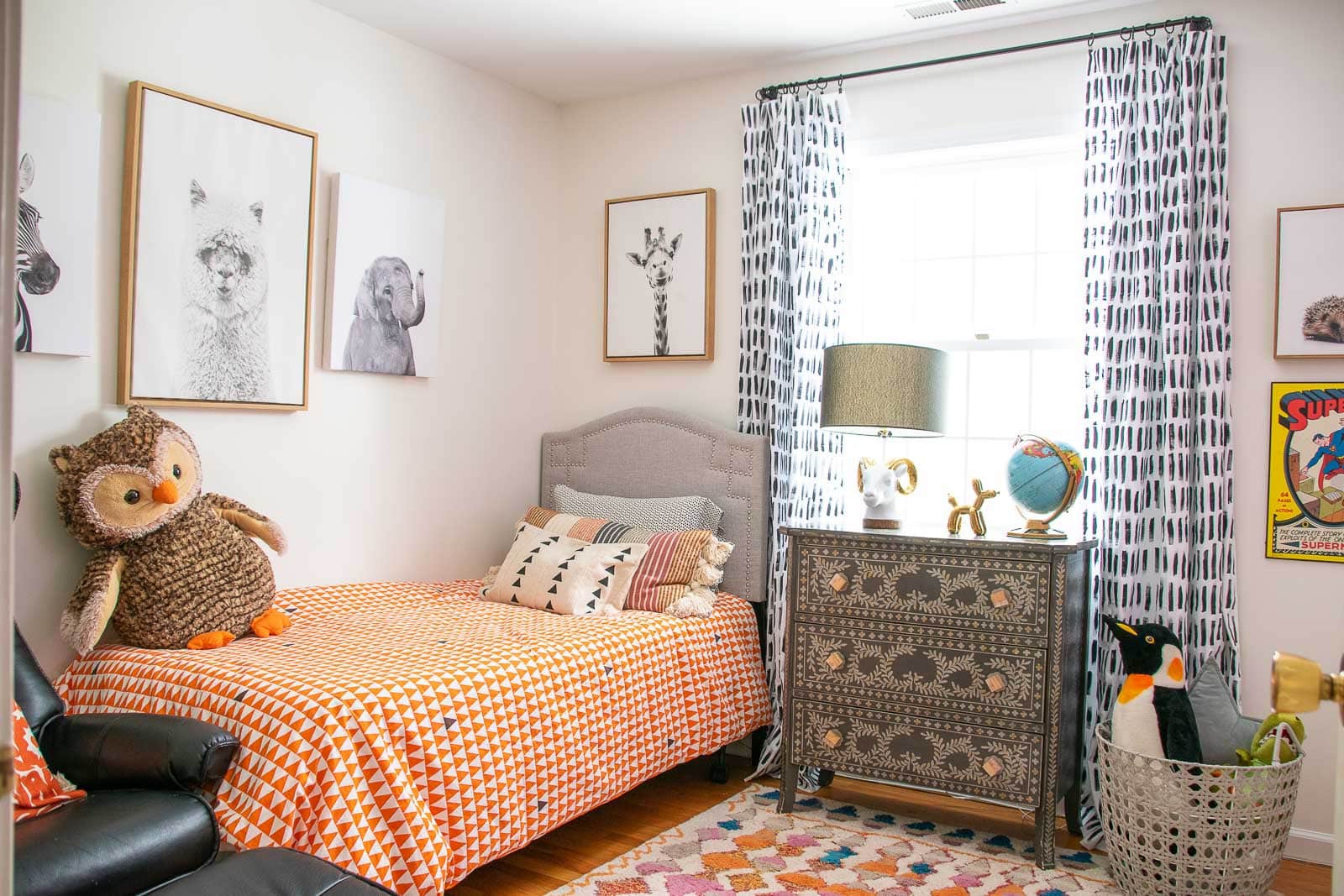 Let's rewind a bit to this past fall when the house was empty. Arthur was BEYOND excited to have his own room. It's a small room but big enough for a bed, a chair, a nightstand and a bookshelf.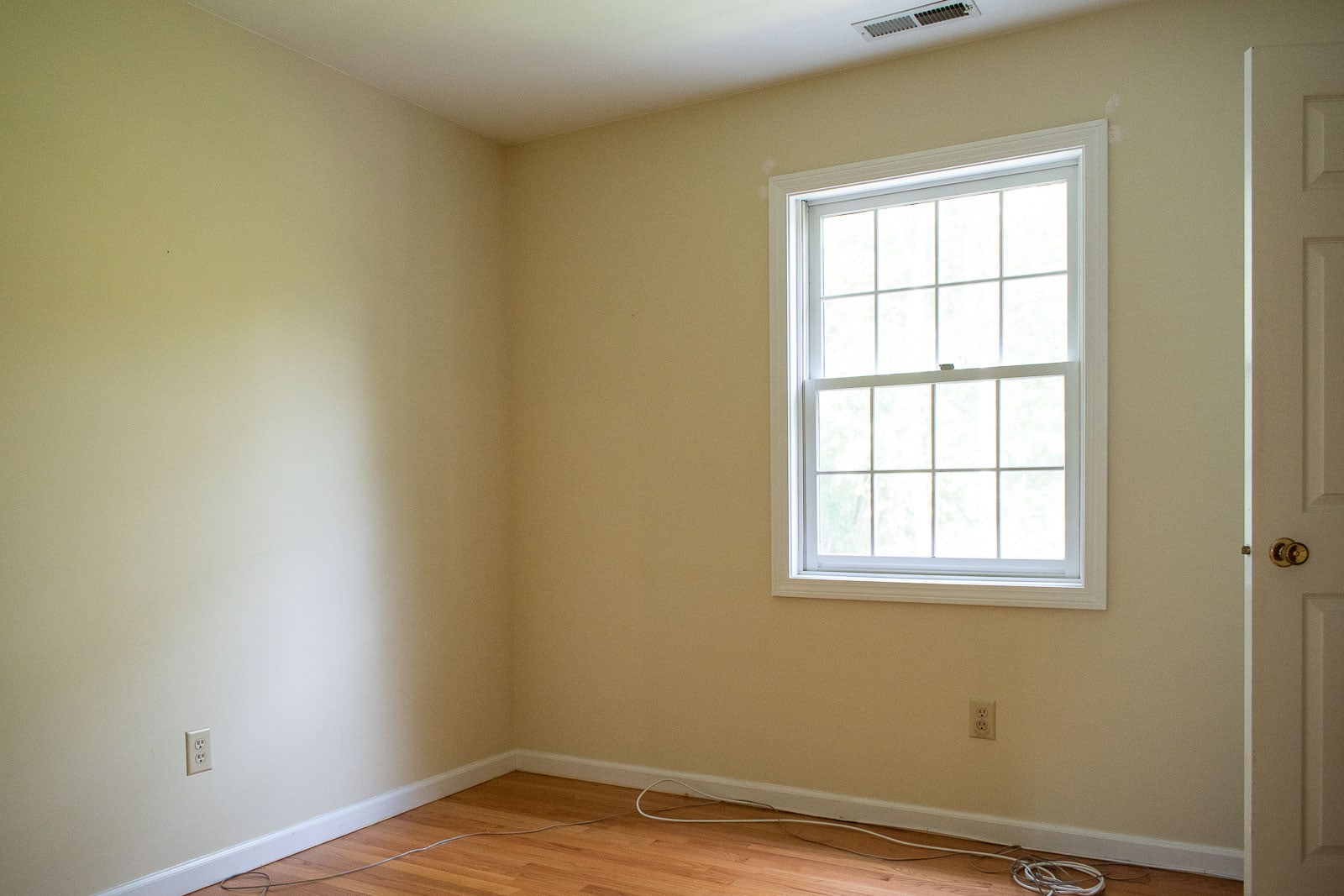 Right when we moved in, he asked for a map. Thankfully I went through a map phase at the flea market so, guess what? I had a map for him. (Truth be told, I had three maps for him, so he could choose which one he liked most.) So I hung the map and then he said he didn't want it anymore. Tough luck, kid… it's staying. Once the map was hung, I didn't do too much else to his room other than try to hack a $7 budget roller shade to work with fabric for his window. Spoiler… it kind of worked, kind of didn't. Back to the drawing board.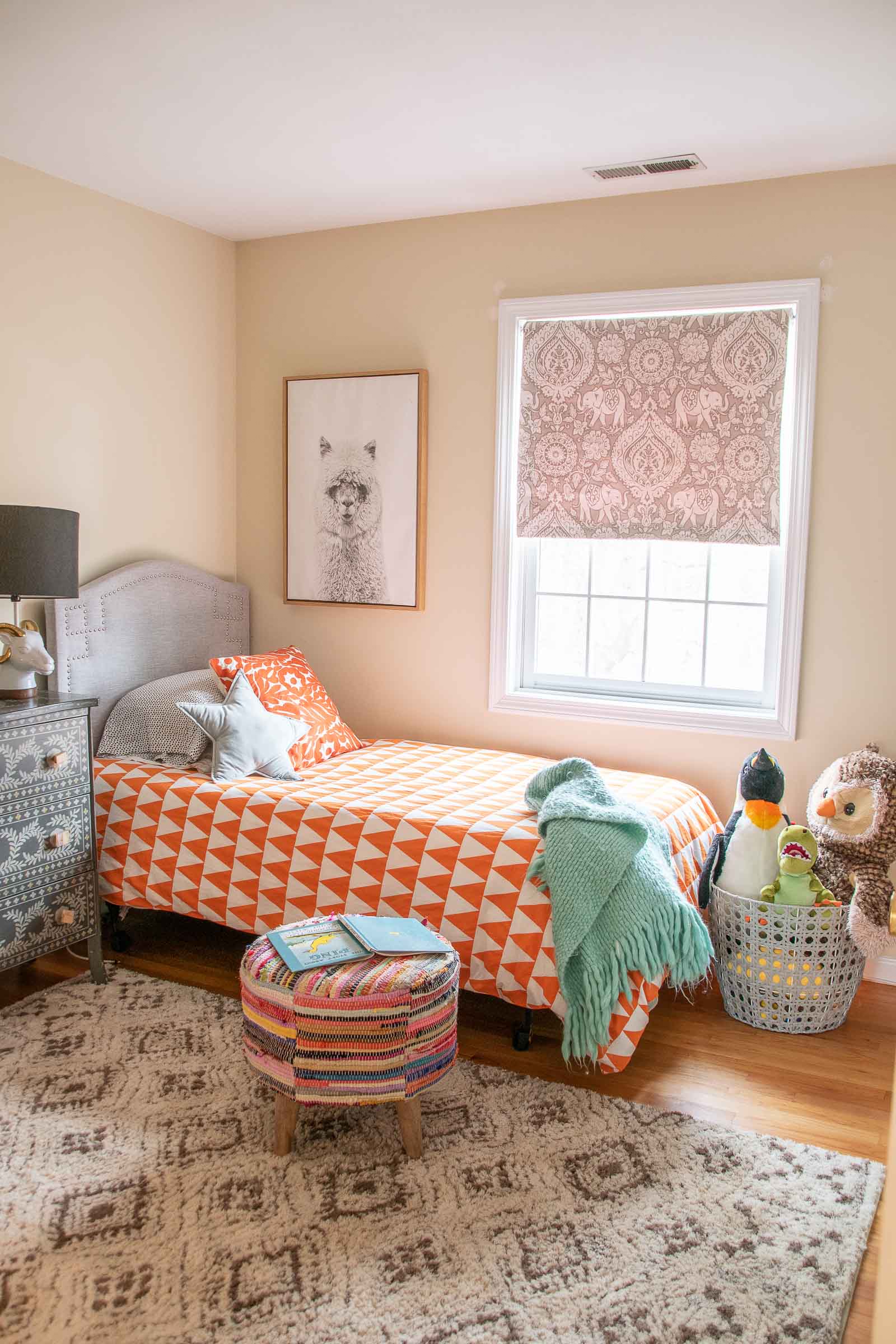 And then he requested a recliner. How? Why? I don't remember. I just know that he decided he wanted a chair "like the one in the New Hampshire bedroom" which was a legit La-Z-Boy. I knew his room wasn't big enough (nor did I really want) a large upholstered recliner, but I did find a more diminutive one on Facebook Marketplace for him. It was black leather so a little serious, but certainly something that could work in the space.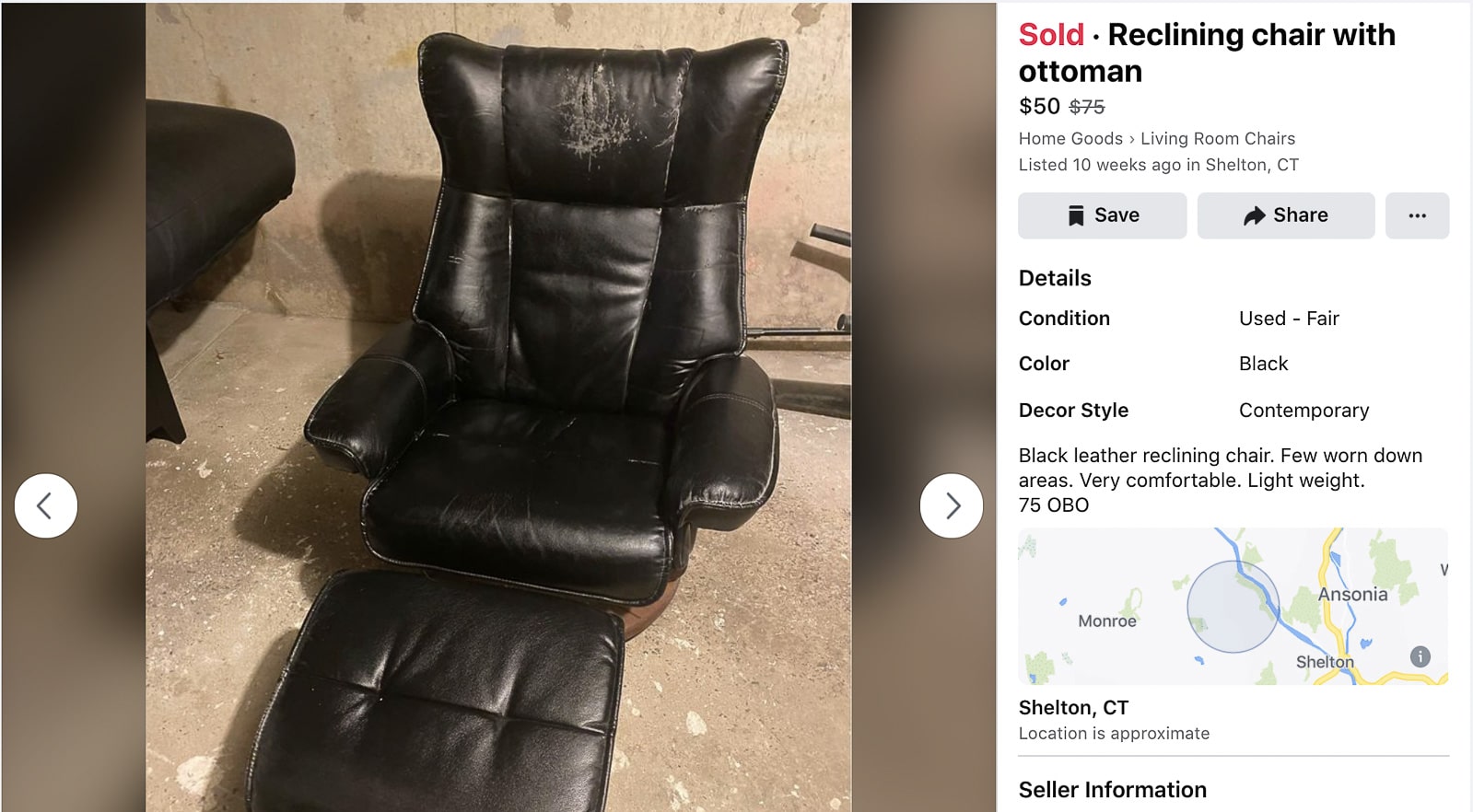 In order to make a black leather recliner work in the corner, I had to make a few changes: we rearranged the room a bit and turned his bed so that it wasn't under the window. I also decided it was time to paint his walls. I used a PPG Timeless color match for Benjamin Moore's White Dove. Arthur's headboard is a beige-y gray and the dresser is gray so the more yellow/ tan walls made the whole space feel 'meh'. I think the warmed colors of the wall were bringing out the yellow undertones of the headboard and the dresser and it just felt kind of washed out and dreary. The white walls mean that the headboard/ dresser stand out more and the black can be the contrasting detail.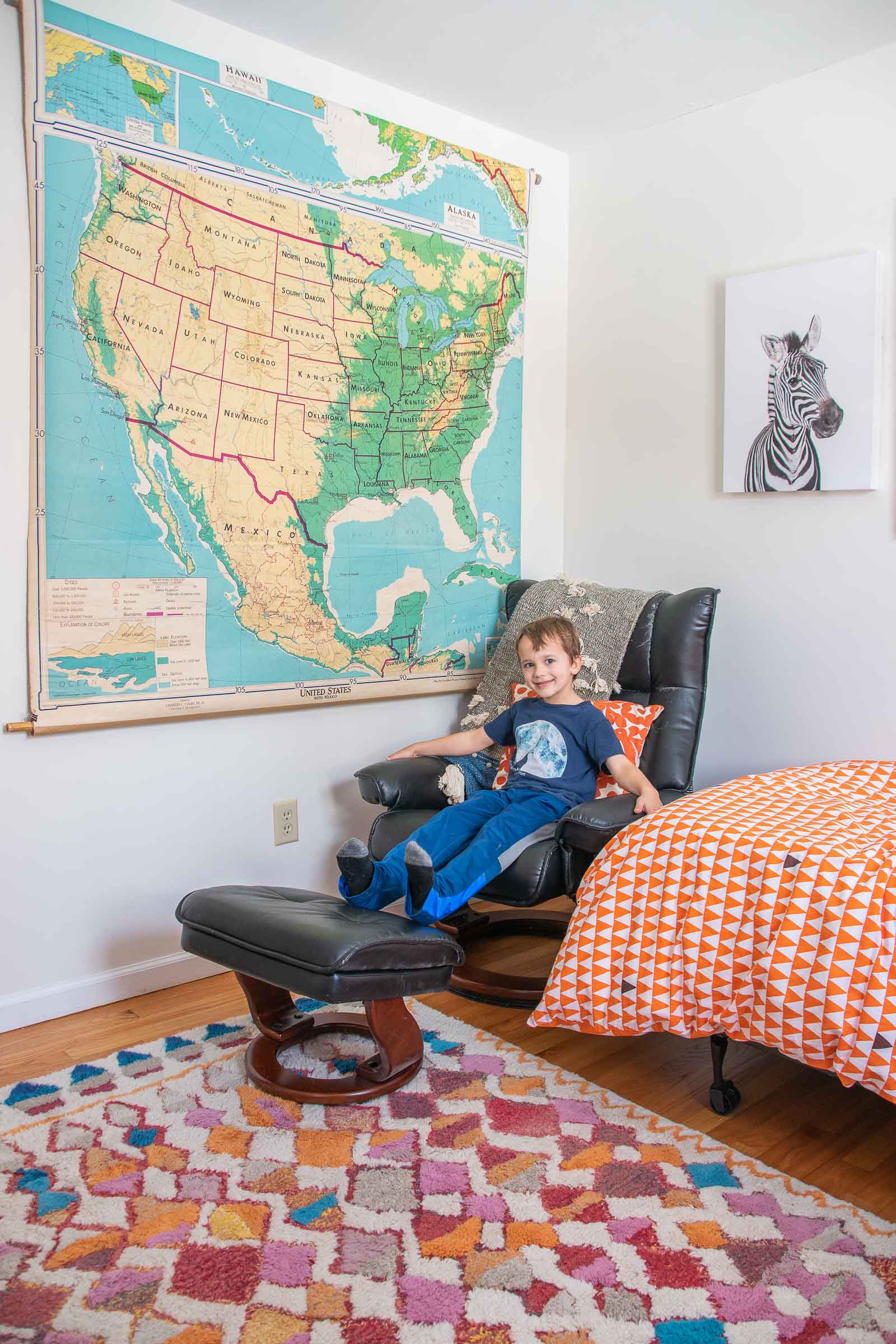 Notice I also brought in some black and white photos and a black planter? I also swapped out his rug for something a bit of color. The room desperately needed a bit of color. (It's a kids room, afterall!) The green toy bins don't really work, but this whole space is a process so I'll replace them with something better eventually!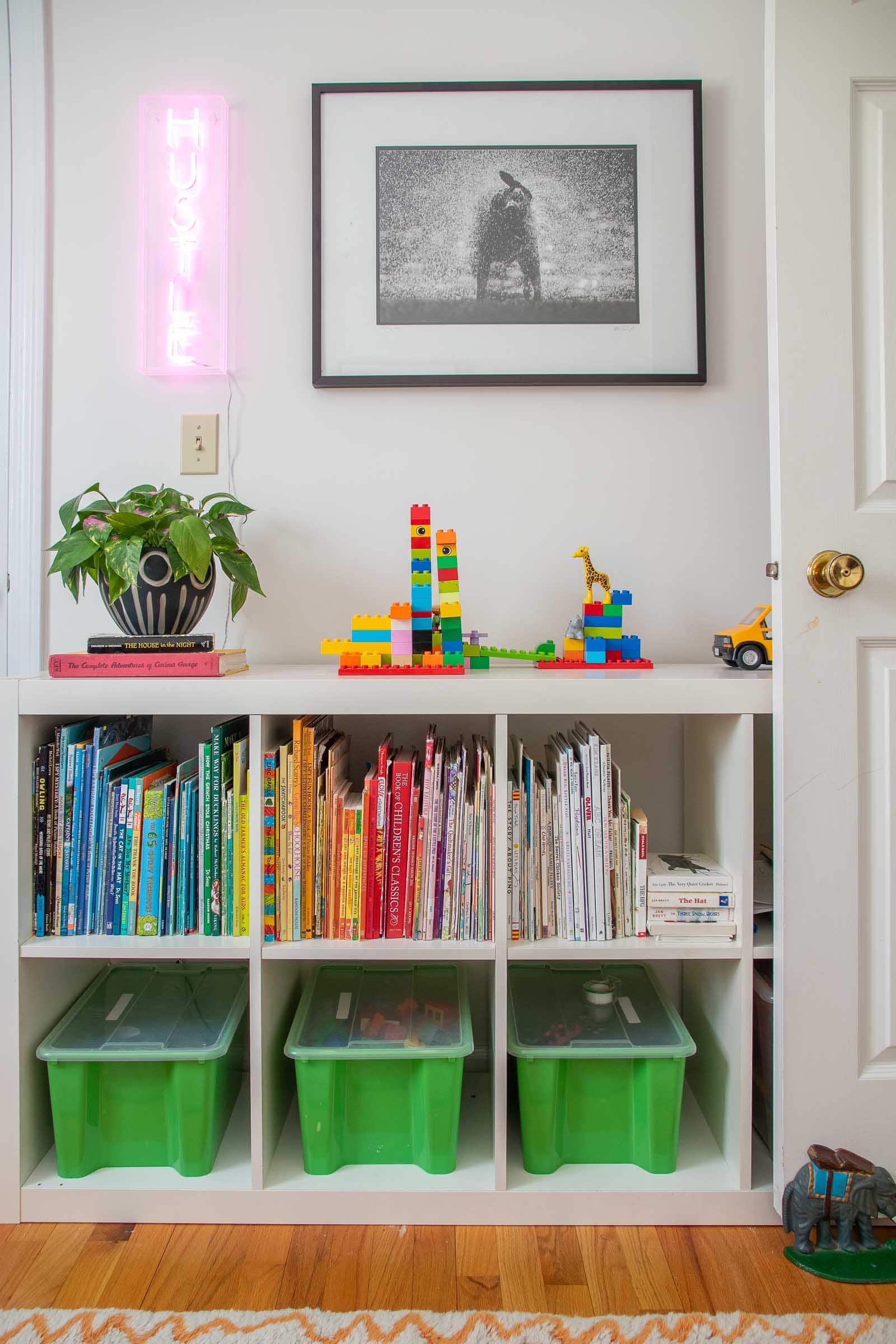 Last but not least, you guys want to know about the curtains, right?! I didn't document the whole process forensically because I wanted to finish them and hang them up before Arthur's bedtime! That said, you can *definitely* do this yourself so read the simple directions below and watch how I did it here! I bought these curtains and laid them out on our kitchen counter with cardboard underneath. (I probably should have ironed/ steamed them first, but I didn't…). I'm using a brush like this and basic black acrylic craft paint mixed with fabric medium. Starting at the bottom edge, I just worked my way across making approximately 3-inch dashes. I wanted this pattern to feel loose so I tried to work fast and stay loose. I went back and forth over each dash a few times but didn't worry too much if some of them were 'brushier' than others. I let these sit for a few hours to dry before I hung them! I didn't mark the curtain fabric first or measure, but the great thing about this pattern is that it's VERY forgiving and shouldn't be too perfect to start with!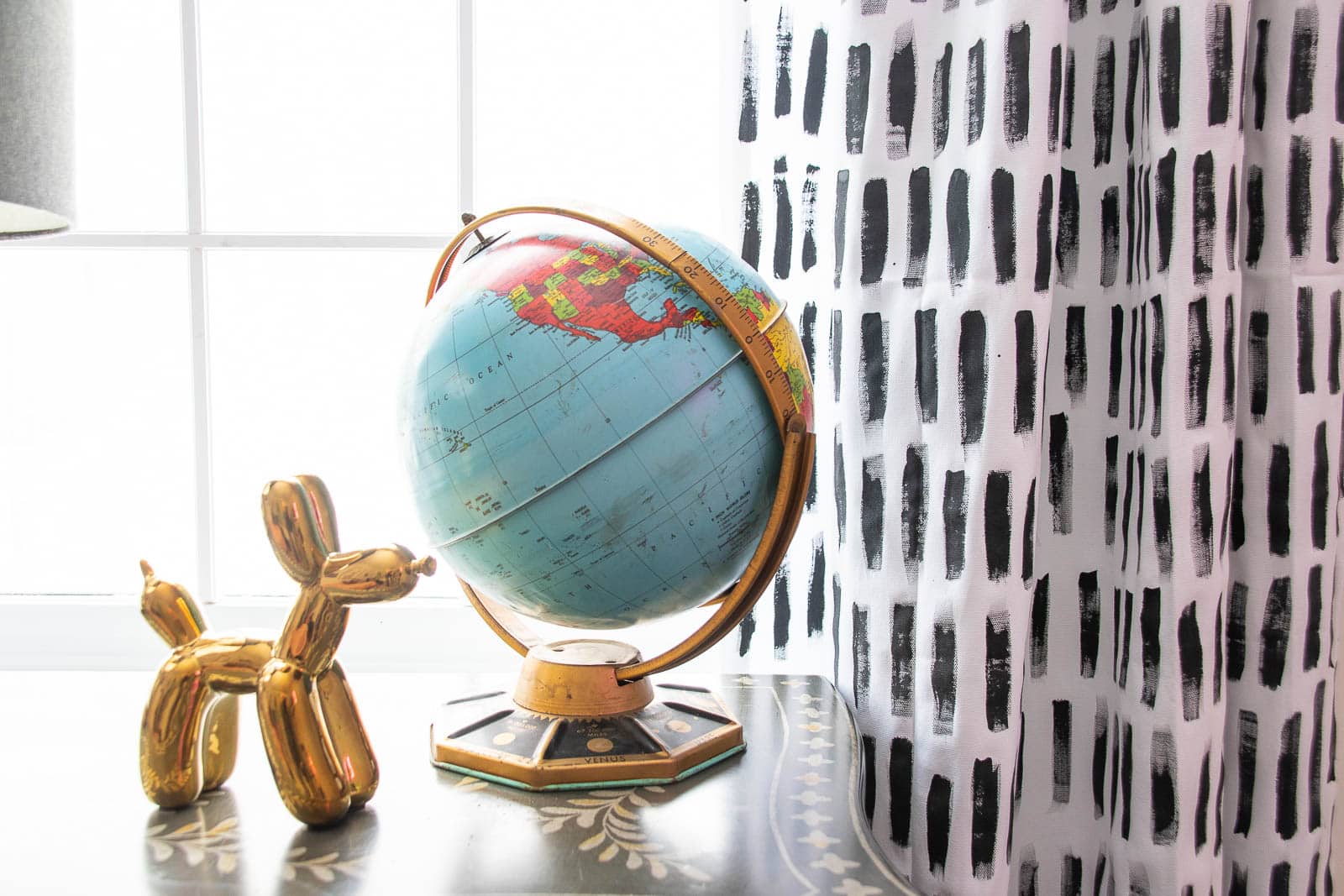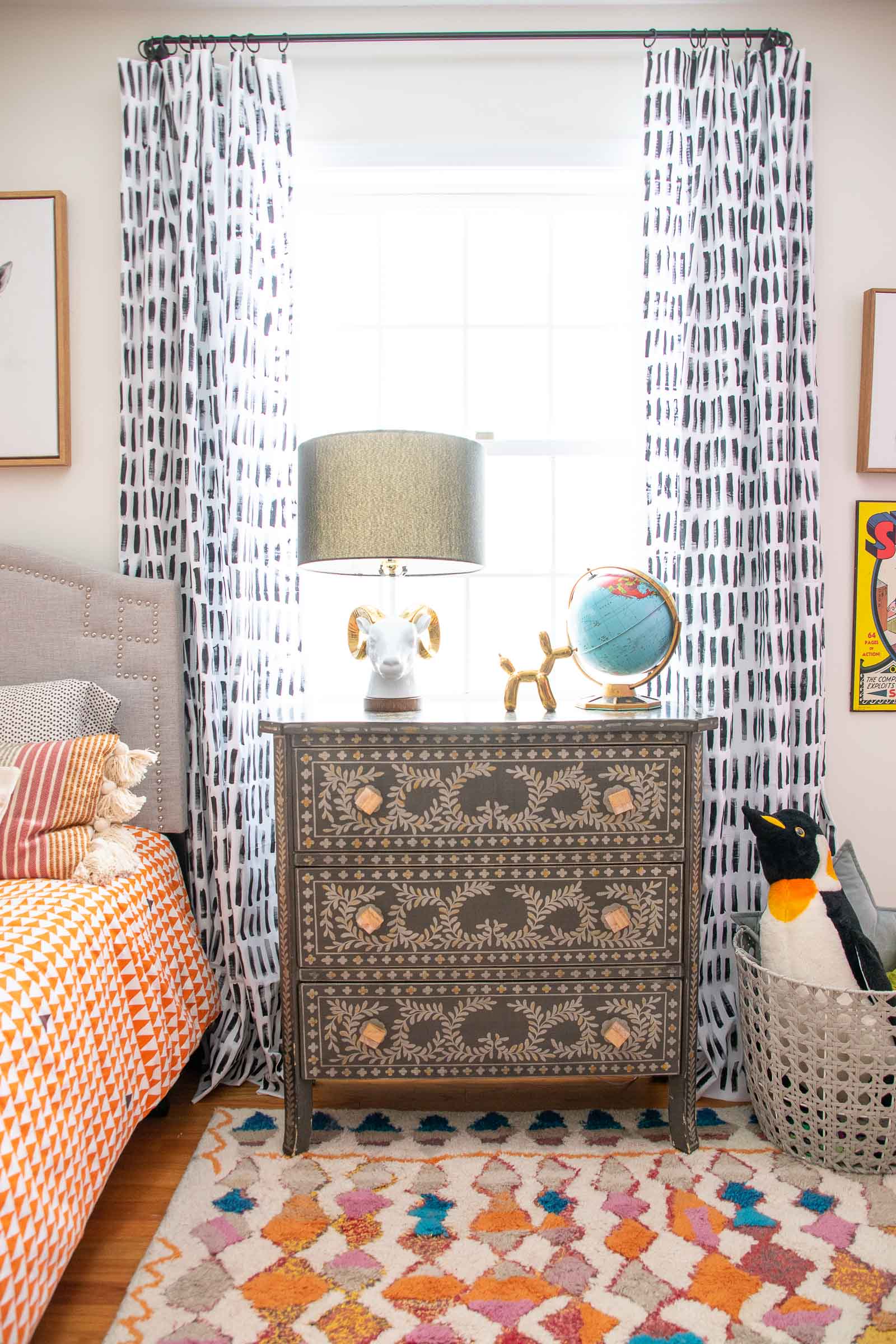 Arthur is CRAZY about his new room. He listens to audible books on his kindle in his armchair. He turns on his neon light. He gets books out of the bookshelf and continues to wake up too early in his newly turned bed. The curtains are not black out curtains so I may get a plain white vinyl roller shade before summer when the sun is out long past his bedtime. I could also hang black out curtains behind the ones I painted. To be determined.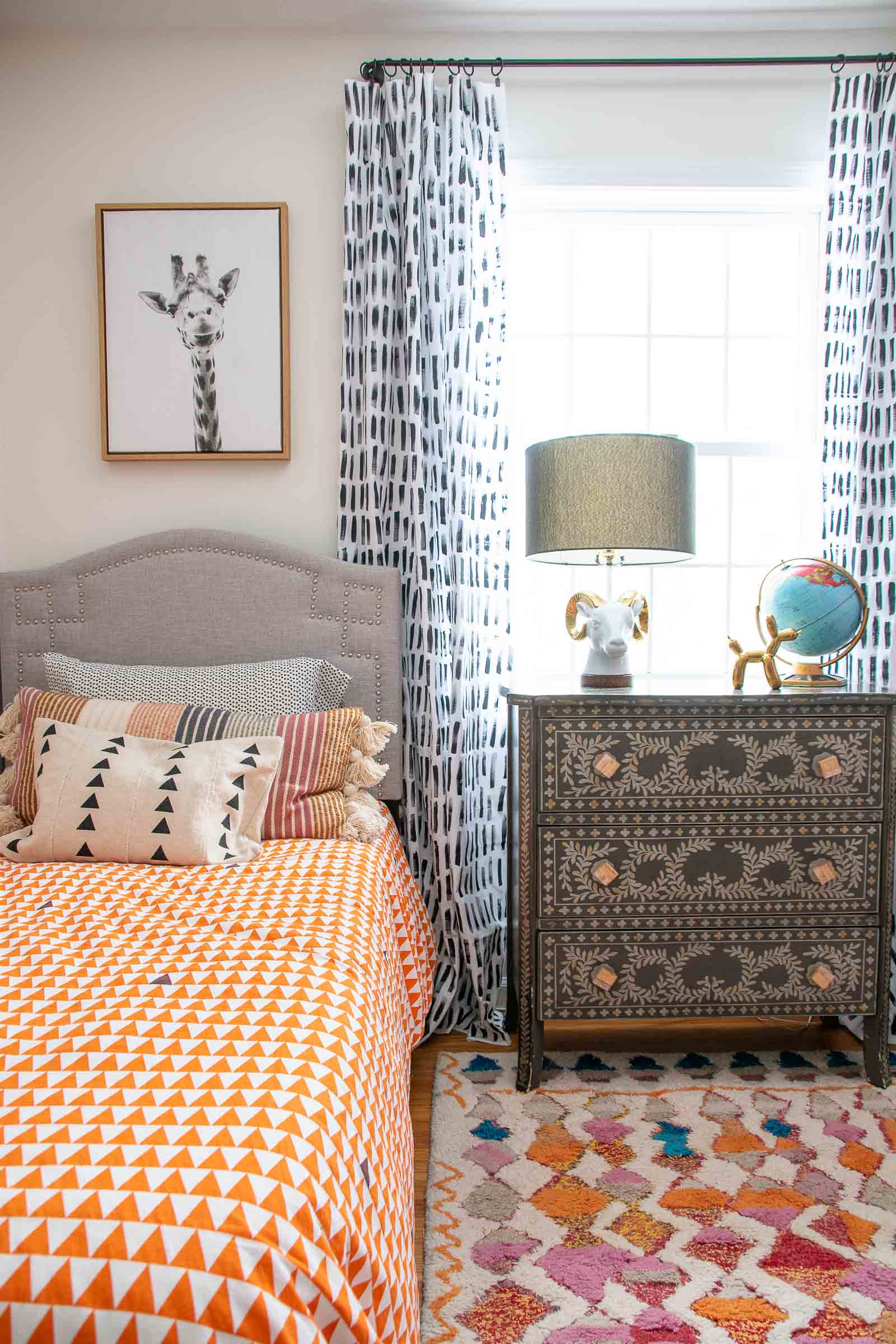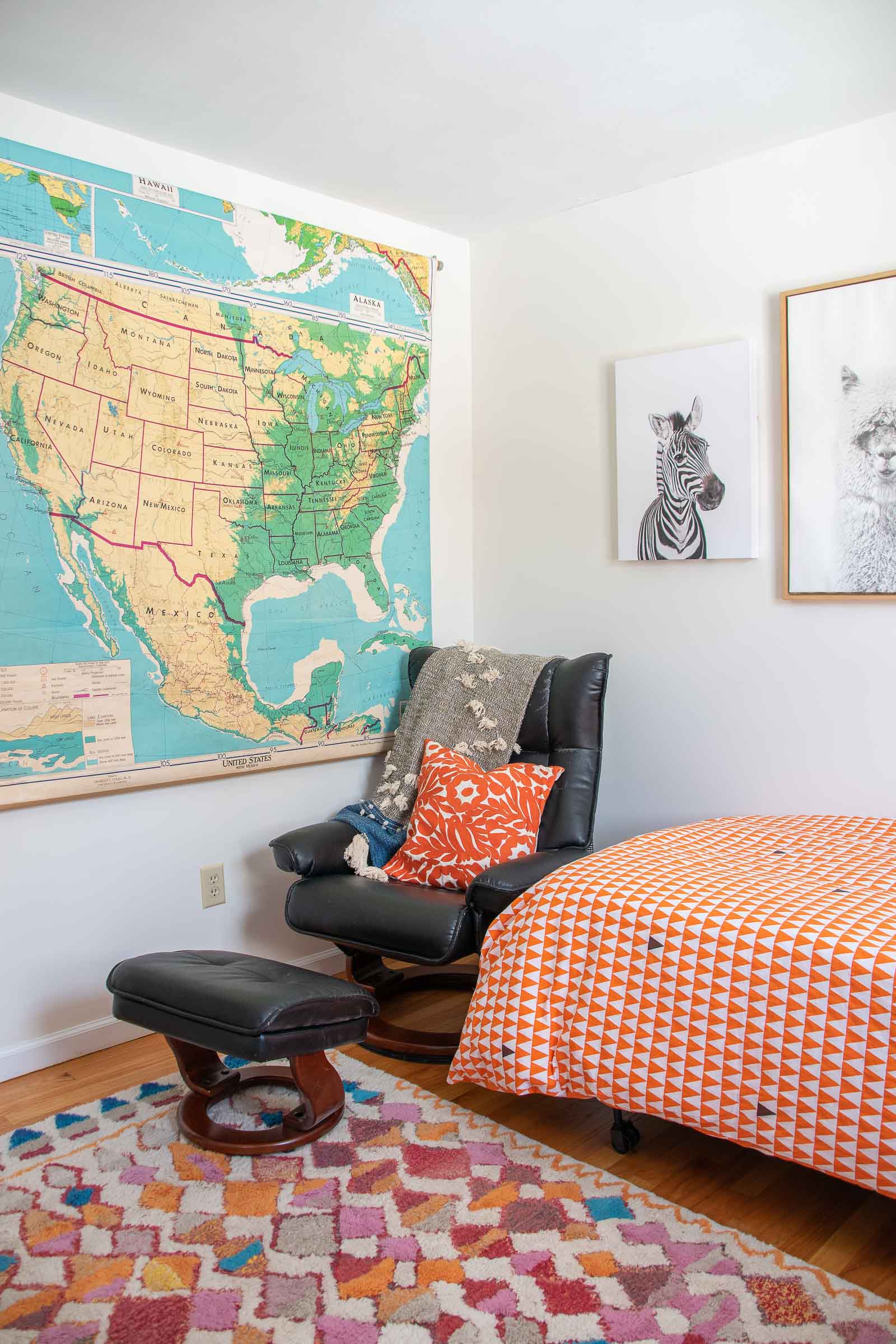 Materials and Links
Black and White Prints from Homegoods, but this and this is similar
Brush (I used the bigger 1/2″ one)
Black rings (I already had some)
Map (vintage)
Chair (thrifted)