Habitat for Humanity Room Makeover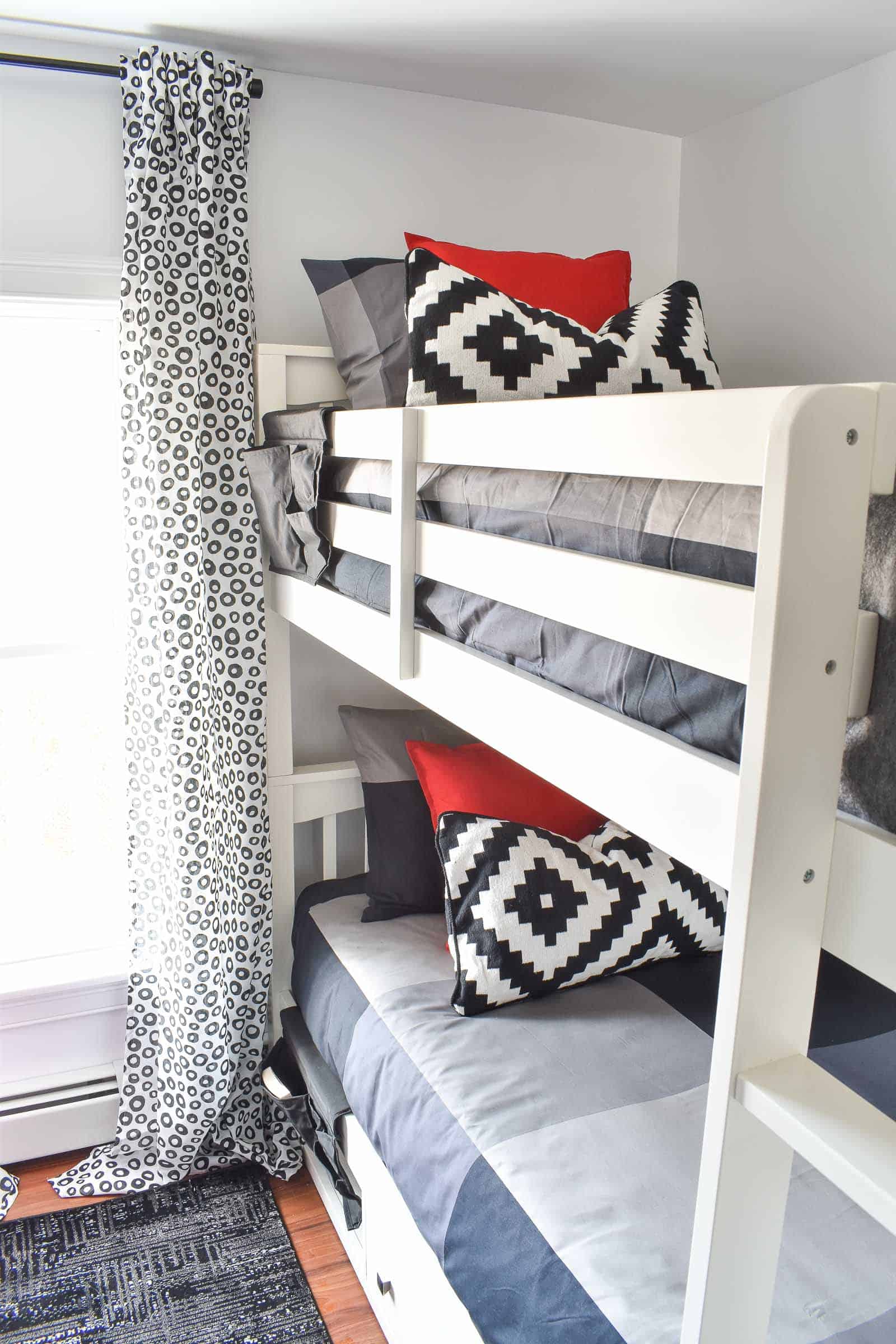 Disclosure: I am so grateful to Raymour and Flanigan for being the most generous sponsor a gal could ask for. They have stepped up to not only provide the furniture needed to make this transformation possible, but they also give us a cash contribution so that we can fill in the gaps with necessary  things like sheets and accessories.
Sharing a Bloggers Heart Habitat home is always one of my favorite posts to write! A couple of years ago I started a collaboration with Habitat for Humanity and a group of local bloggers. We help design and decorate a couple of rooms in a newly built Habitat house and it is truly the most fun design of the season for me! Habitat selects families who qualify and together they work on building a gorgeous new house, but… when it comes time to move in, the families don't always have the beds and furniture and decor they need to feel like this new house is a truly comfortable and welcoming HOME. That's where we come in… My team for this house was Carli from Fearfully and Wonderfully Made By Carli, Lisa from Shine Your Light, Diane from The Rath Project, Jillian from I Am a Homemaker and Kate from Kate Smith Interiors. Head over to their sites to give them a high five and to see more gorgeous pics of the home!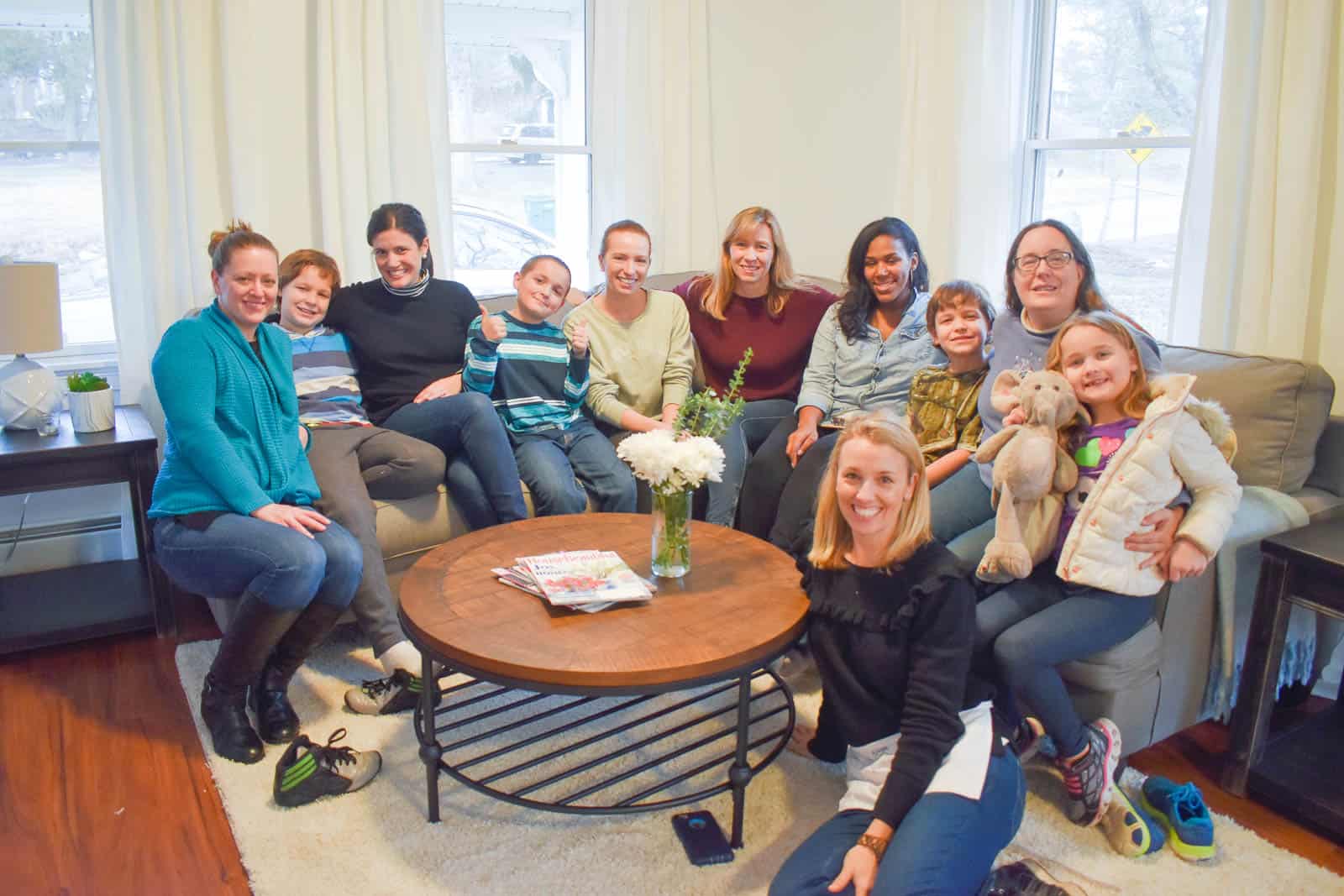 The homeowner, Kristie, asked us to help her pull together her open concept family/ dining room as well as a shared bunk room for two of her four children.  I met with Kristie in advance to not only lay eyes on the space and take measurements but also to get to know preferences and tastes and family dynamics a bit more. This house is SO sunny and cheerful and imagining the bare rooms filled with furniture and kids is the best part.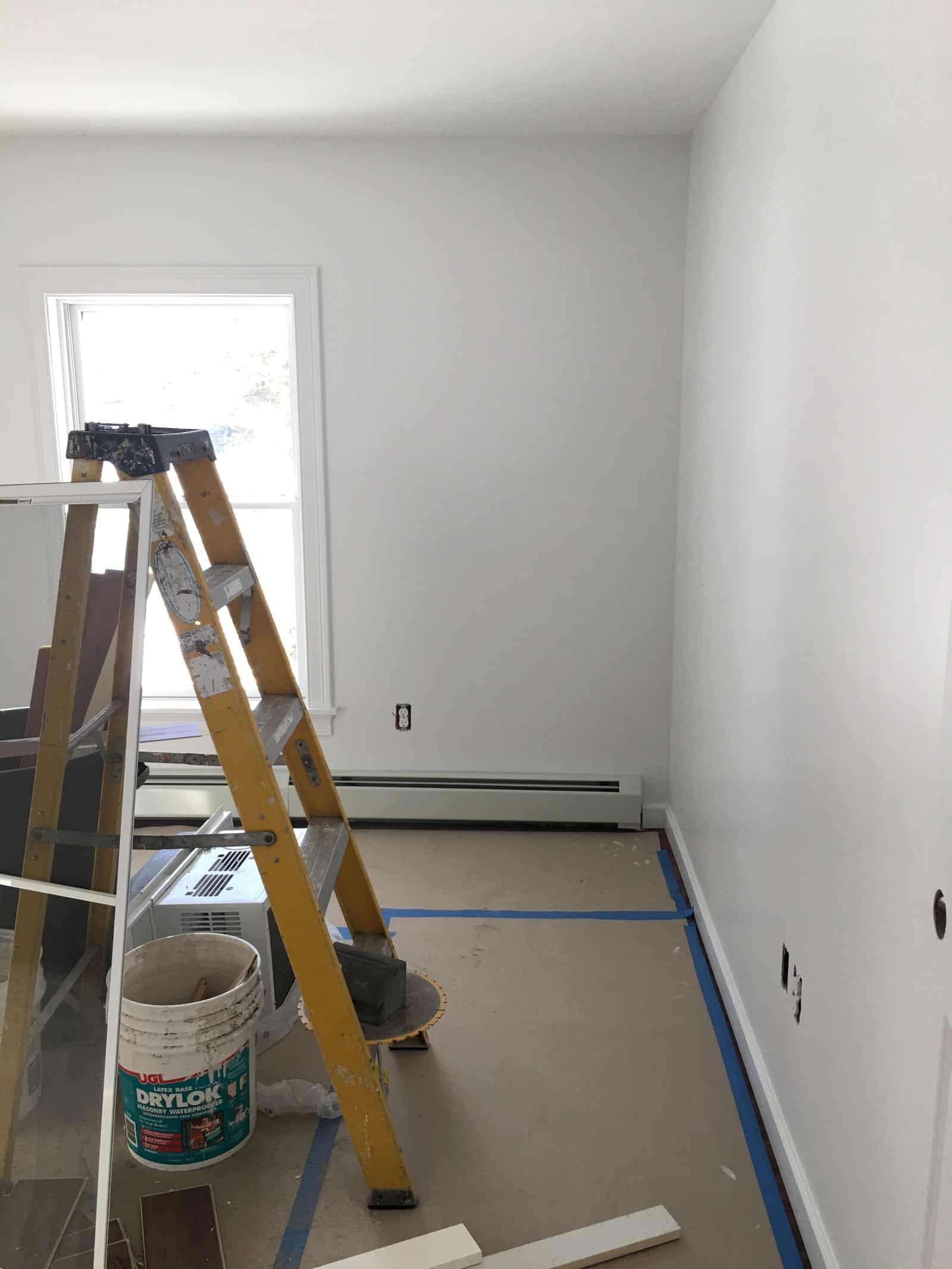 Once I have measurements, the texting begins! Kate, Jillian and I were Team Boys Room. We went online and pulled favorites from the Raymour Site. The best part about Raymour is that for all their items that are in stock, they will guarantee delivery within 3 days! That's crazy! We included a couple of items that were special order so they didn't arrive in time for photographs, but Kristie and co. will get to enjoy them since she got the keys last week!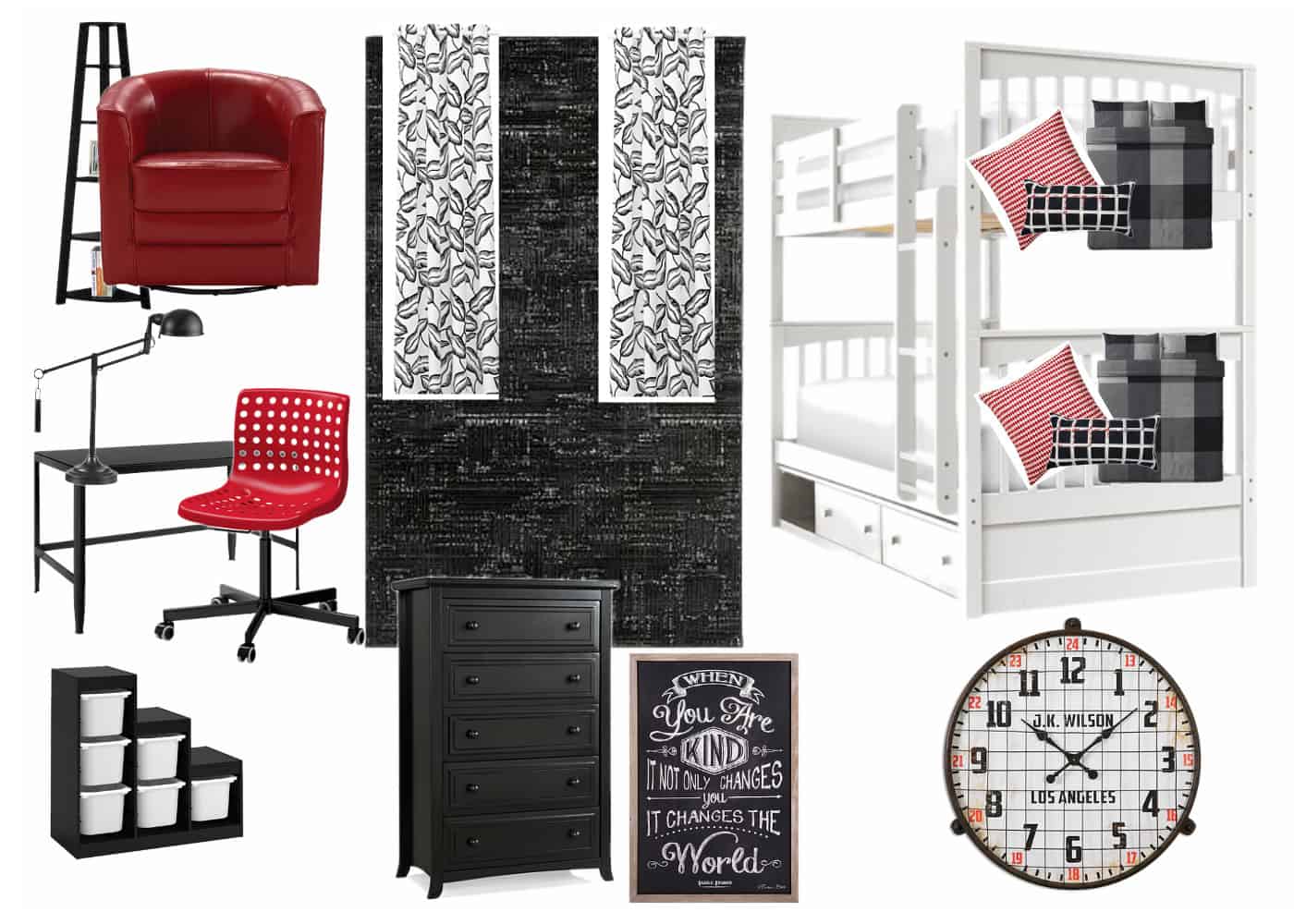 The biggest challenge for the boys' room was obviously the size. It's quite small for two growing boys, but… with some careful space planning, I think we gave them a space that will work well for both of them as they grow. Kristie told us that her boys loved red and black and legos cars. Using those parameters, we found lots of great items to work with!
Obviously, we needed a bunk bed and this one is perfect. Not too fussy… clean lines… super comfortable. STORAGE! Item #1.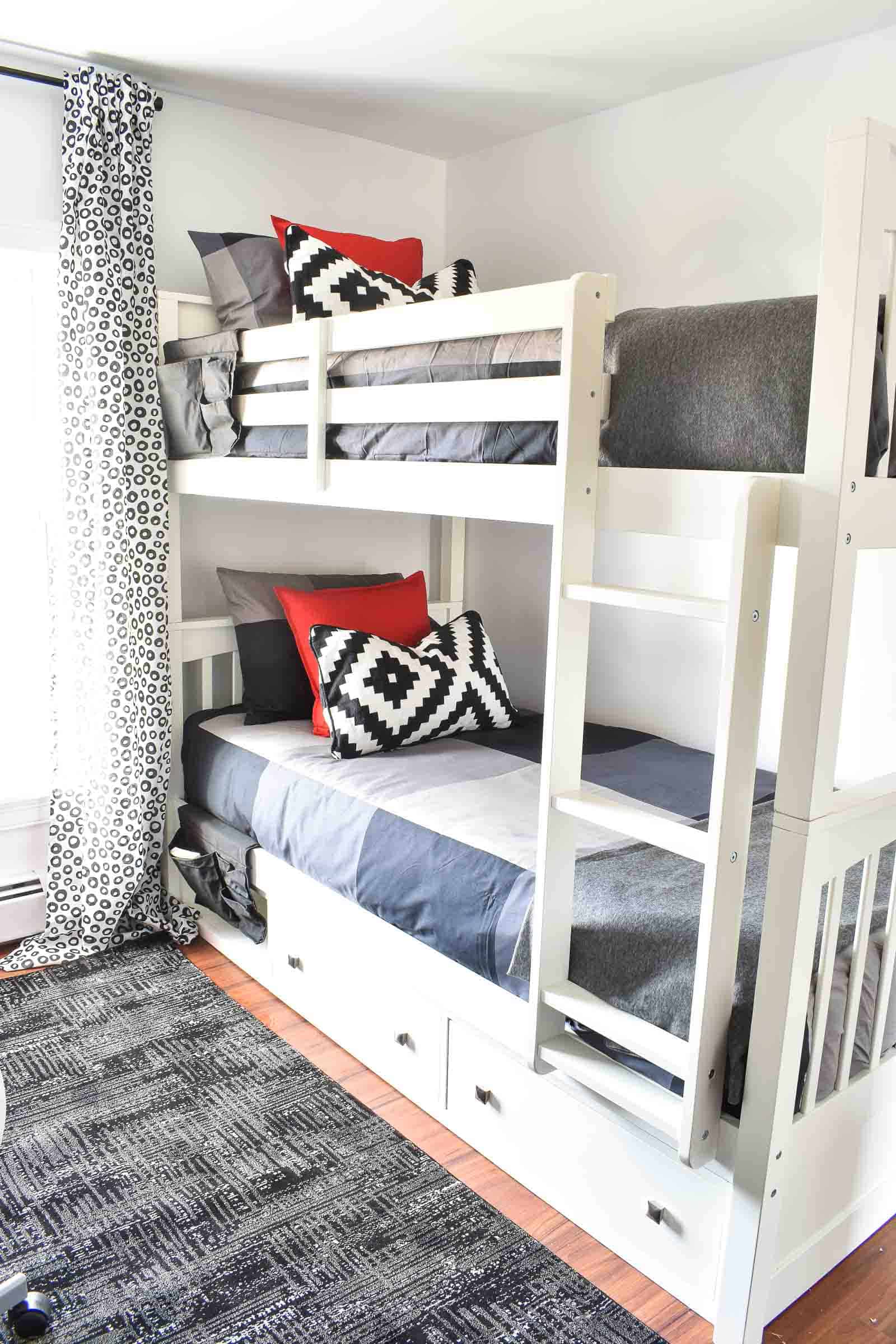 The bunk bed storage is great, but we also added that sleek black dresser for the boys to share. I love this dresser and would put it in my house tomorrow. Sleek… cool… not too modern, but not too childish.  We looked around online for some downloadable prints and popped them in some frames for some inexpensive, easy custom-ish artwork.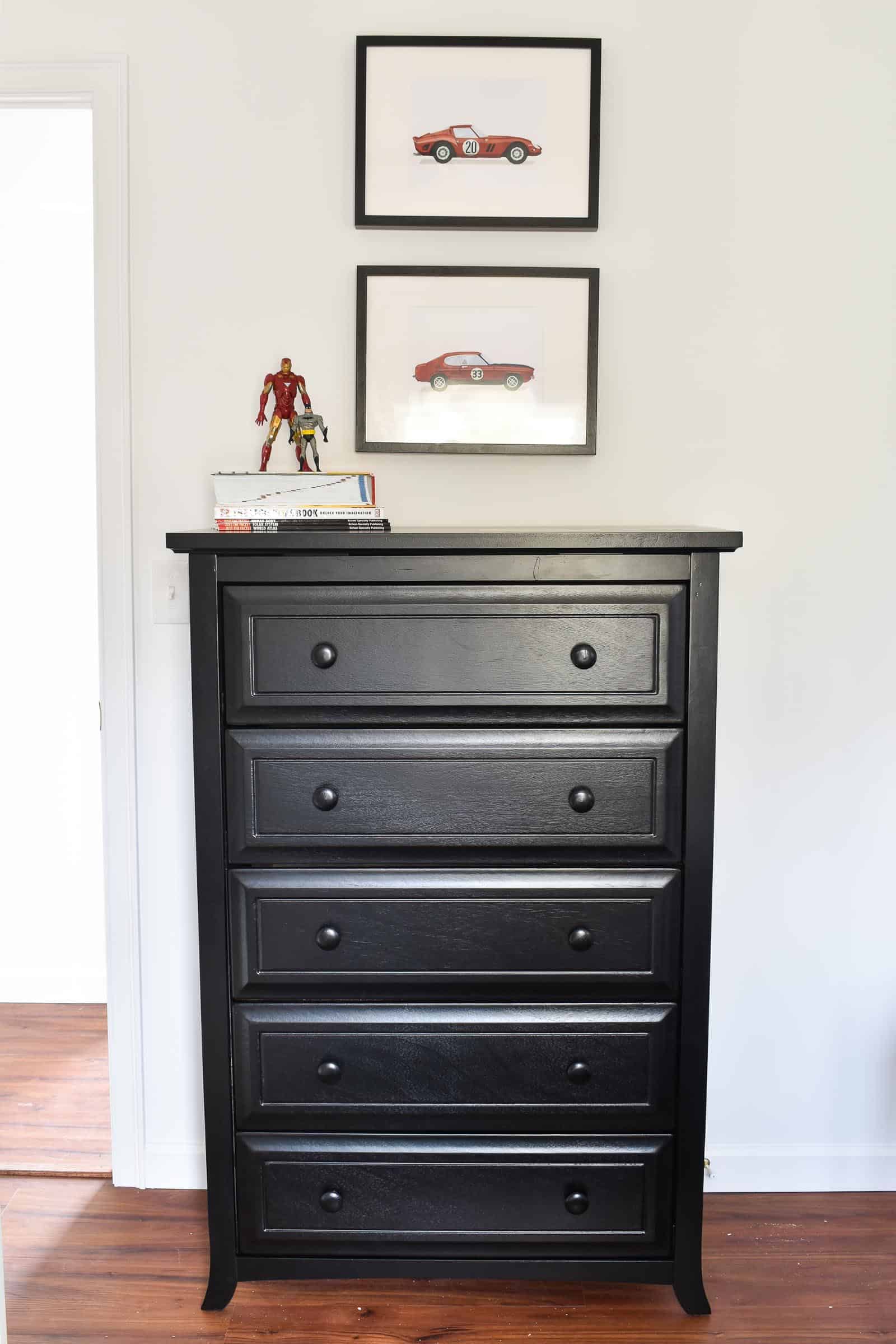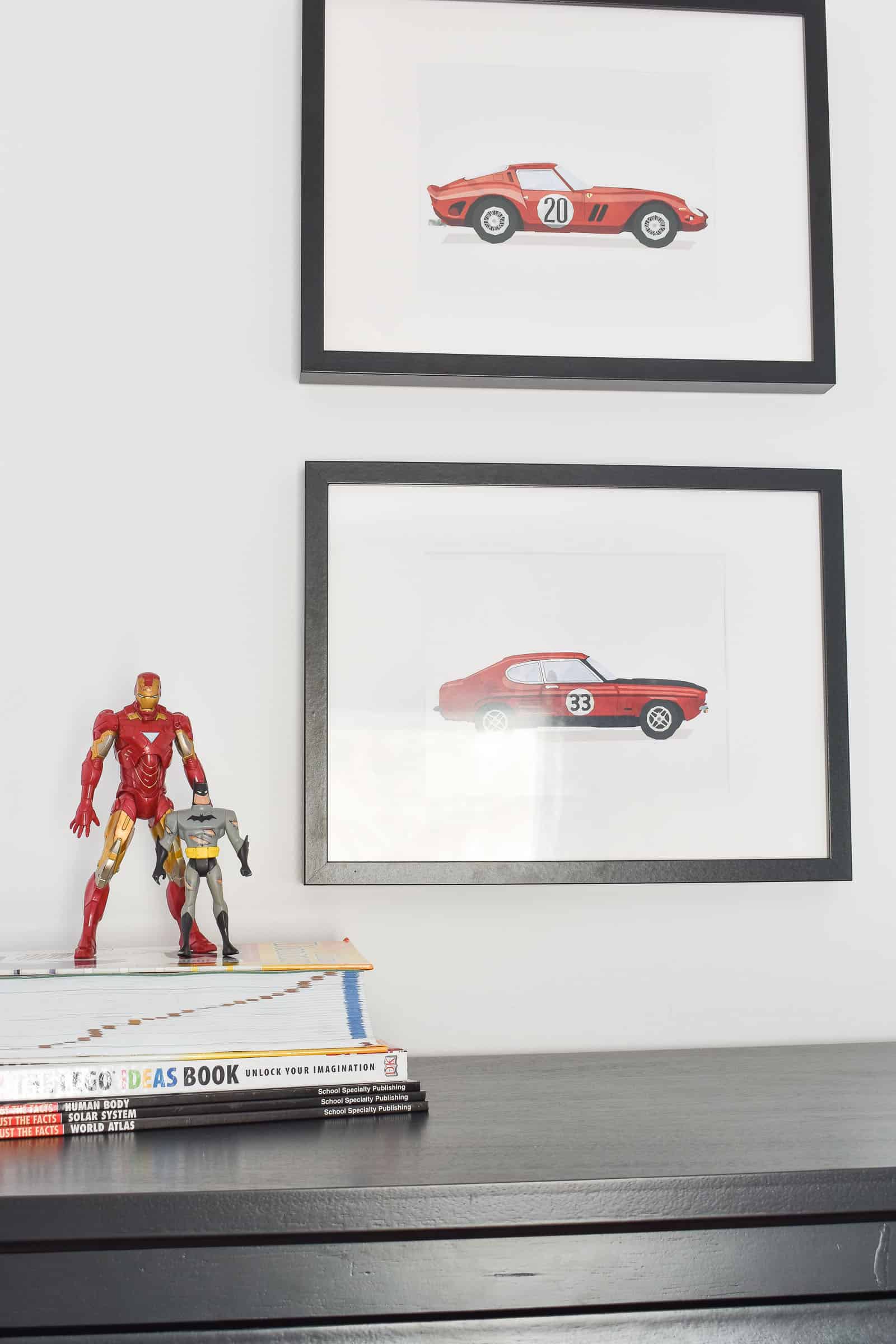 We felt that a desk would be important for the boys since they're both approaching middle school so having a homework spot will be important. This metal desk is great because it provides a spot to work, but because it doesn't have bulky drawers or file cabinets below, it doesn't "fill" the space the way a more traditional desk might. We added a few containers for pens and pencils and then gave them some storage boxes that are tucked away in the closet.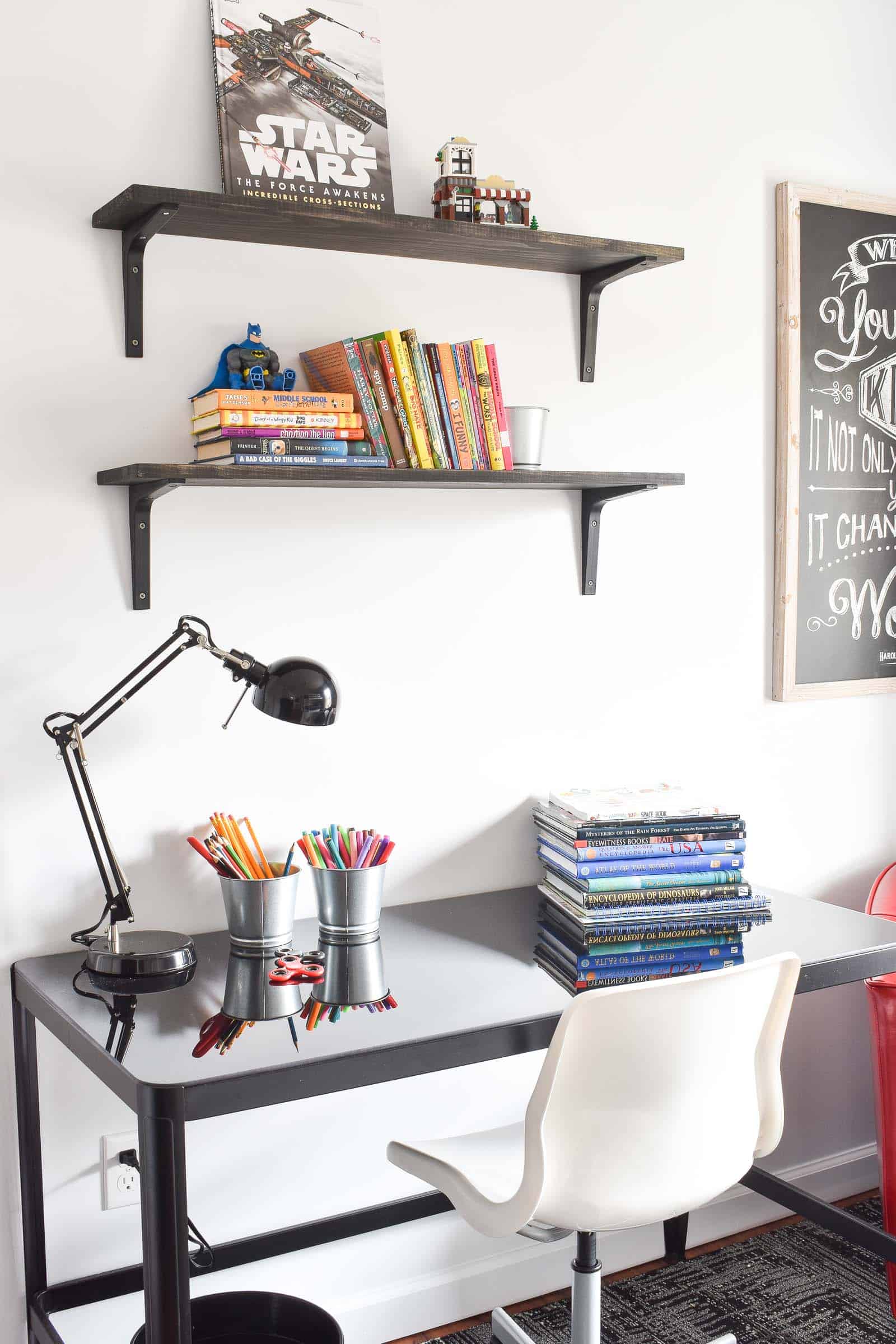 A few DIY open shelves provide more storage and again… because they're a simple stained length of wood, they don't feel too heavy or big above the desk. We screwed the brackets right into the studs, so those things are solid as can be.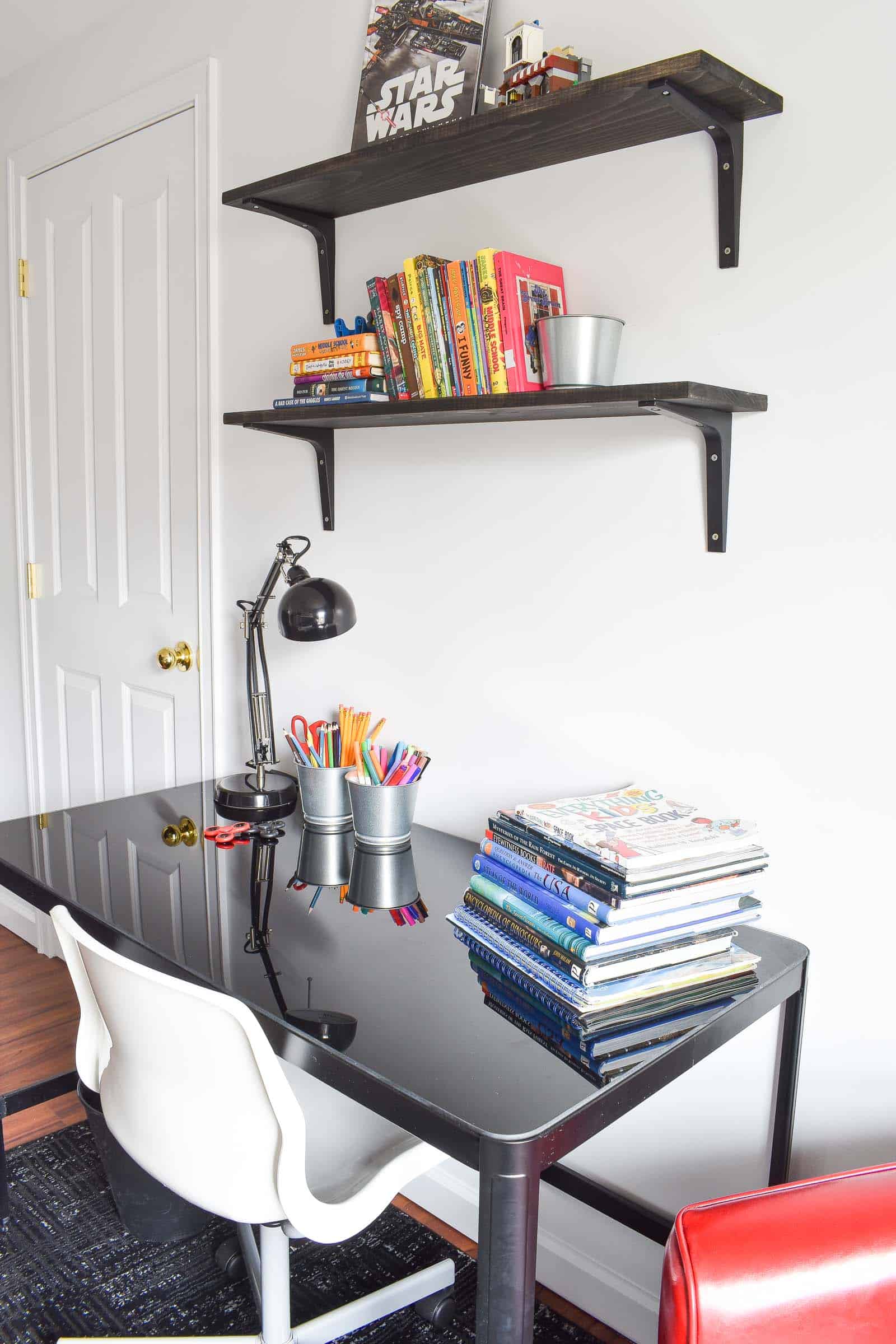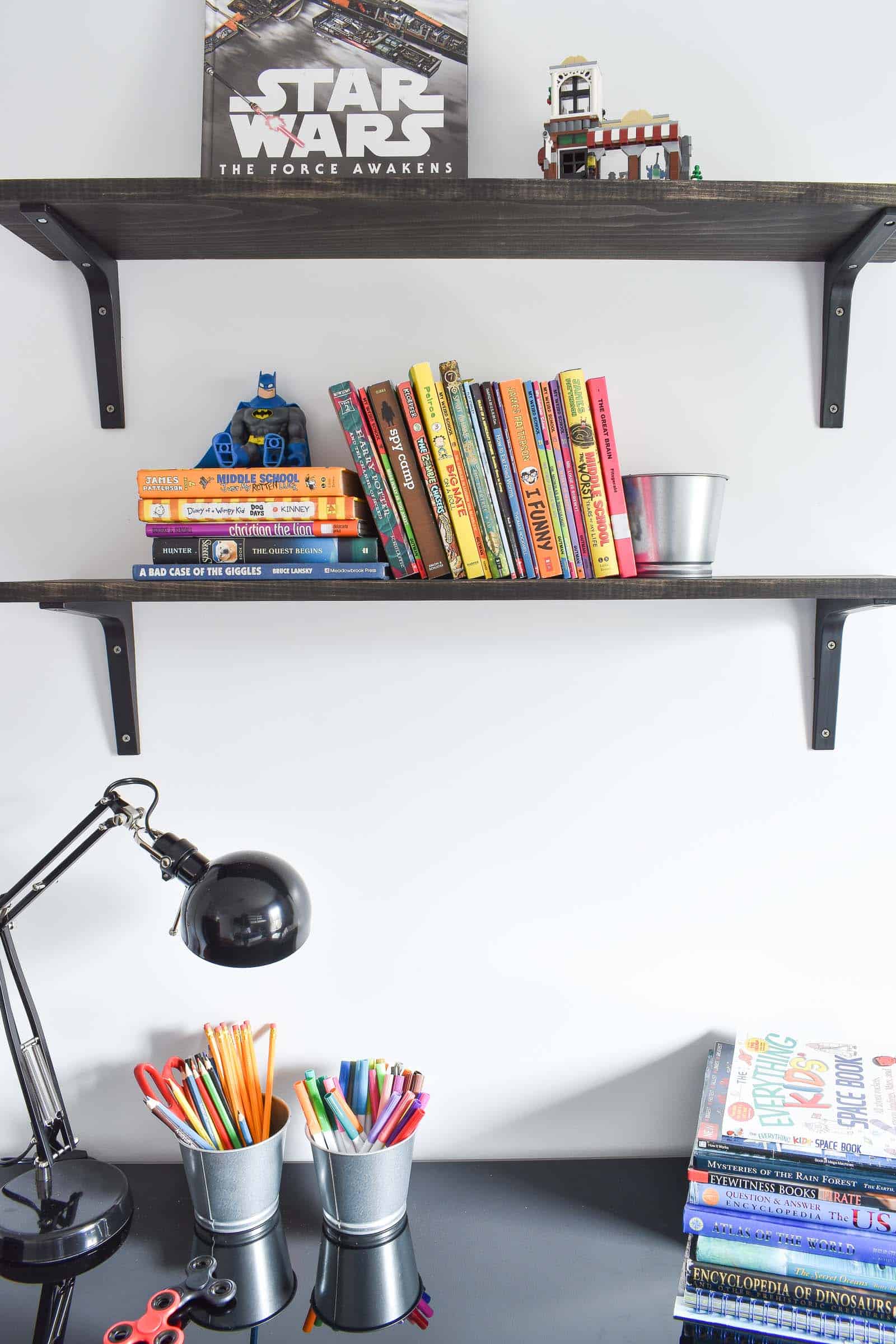 I can't say I've ever walked into a showroom *looking* for a red leather chair, but… that swivel chair in the corner was the perfect bit of red to bring into the room without making it all feel like a life-sized checker's game. It's fairly small and obviously super durable because of the leather, so hopefully it will be a place for one of them to sit and read or get comfortable.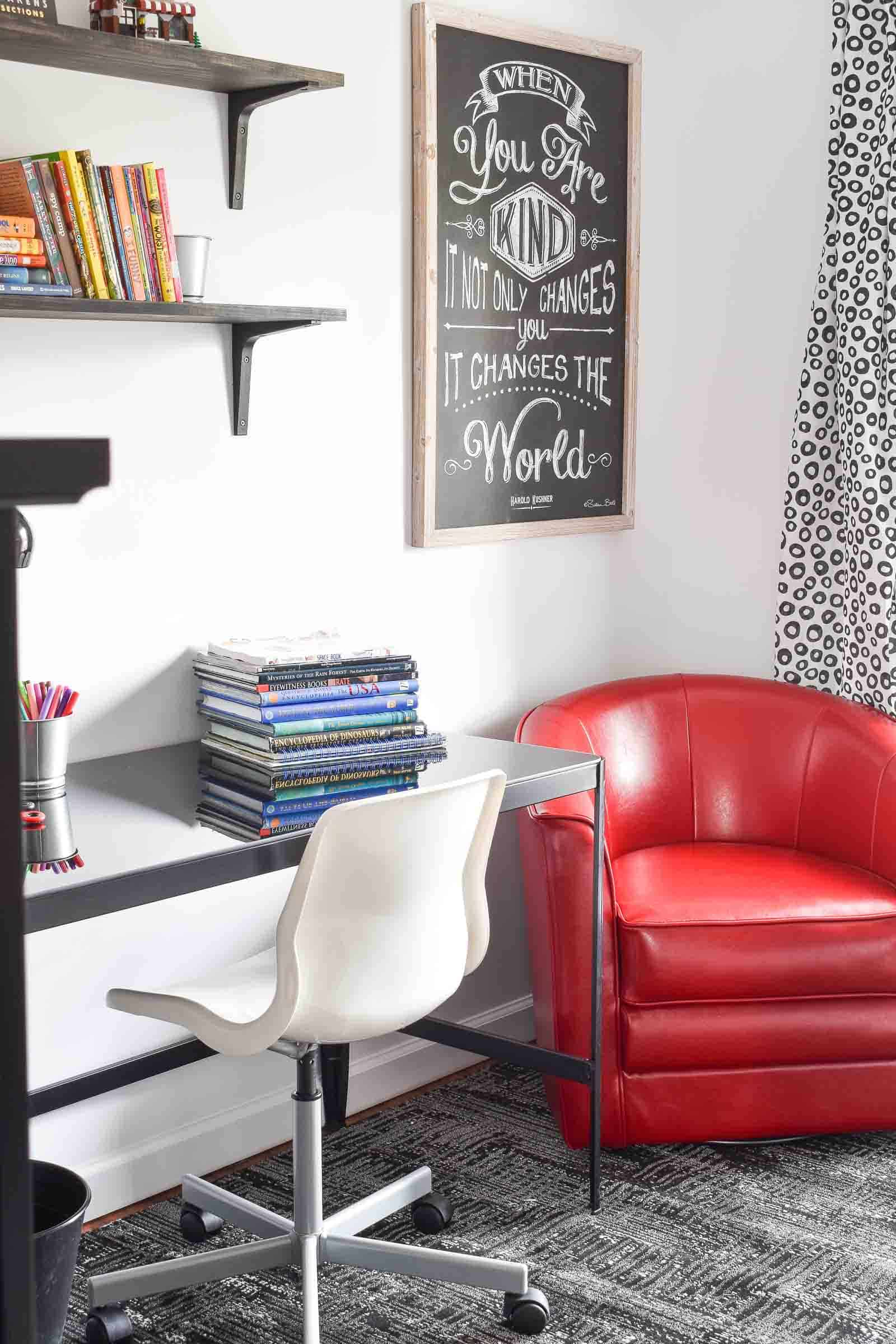 The print over the chair is a favorite… I added it to the Faculty Room makeover as well, and it always stands out to me when I see it in the showroom.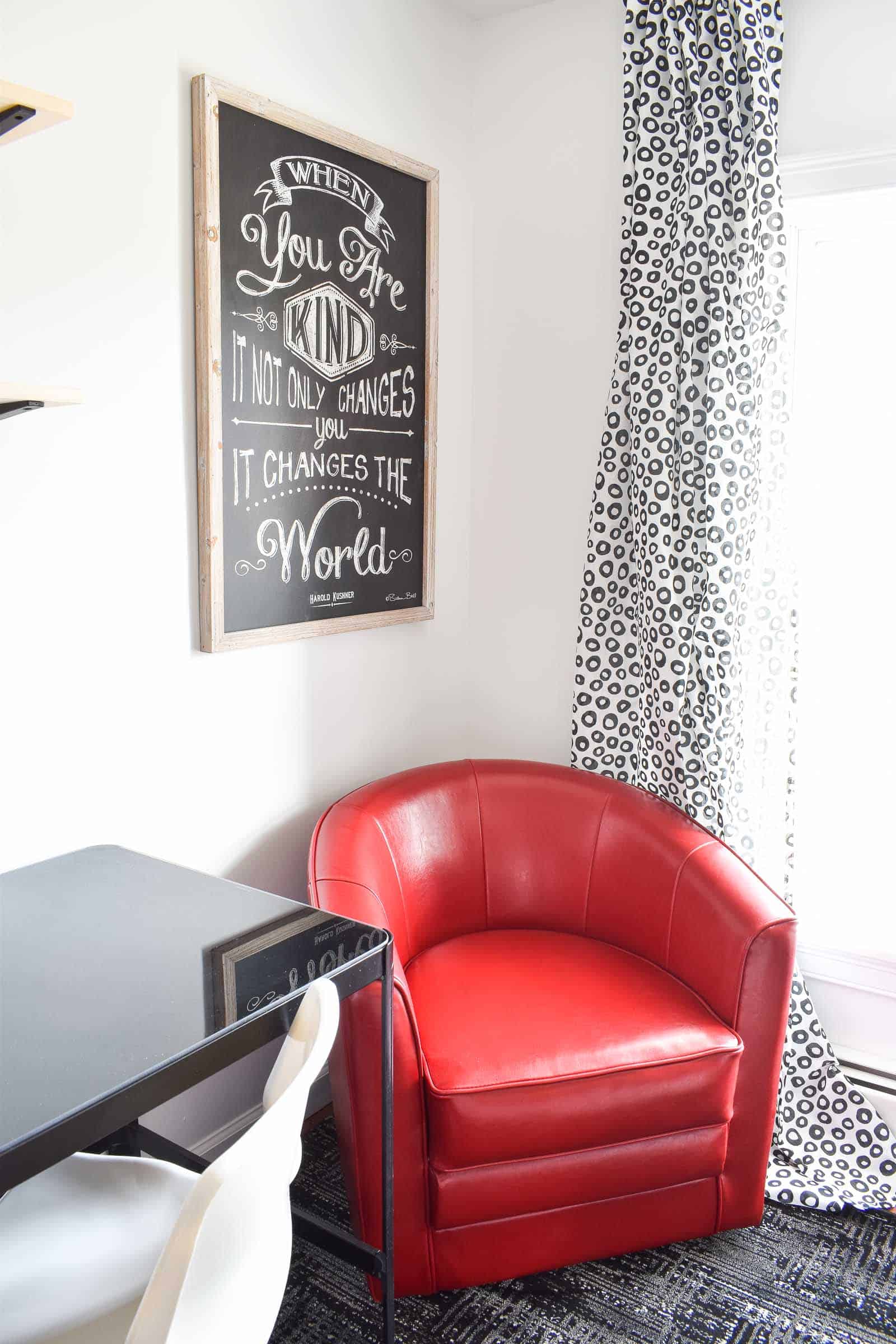 All the bedrooms in this house have great closets, but in order to take full advantage of the space, we used the closet for lego storage. Kristie said her boys didn't need the hanging space and I was SO touched by friends and followers and other bloggers who offered to contribute books and legos and toys. The boys were BLOWN away and started building the minute they discovered their lego closet.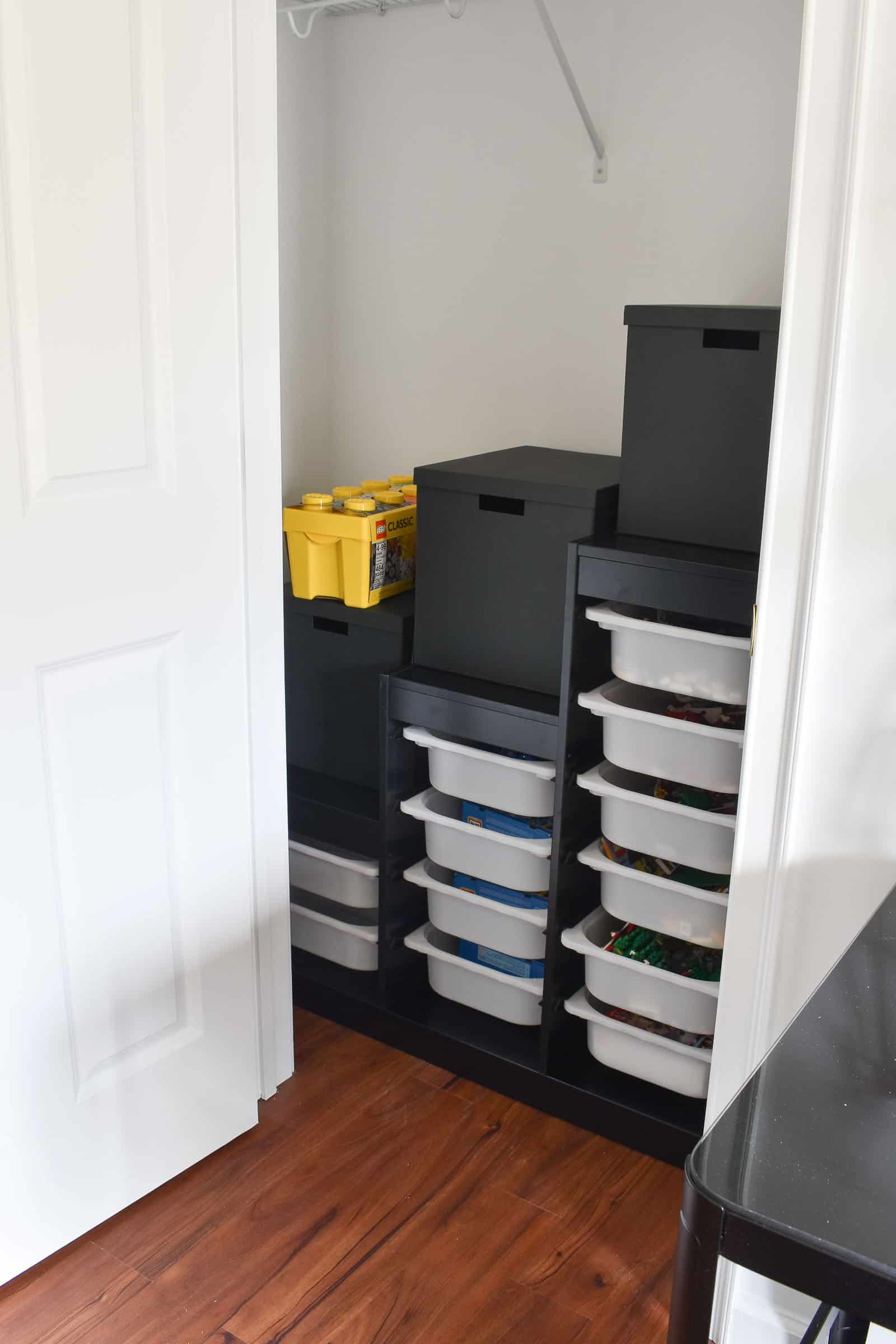 Every time I talk about these Bloggers Heart Habitat projects I get a little choked up, because there is a distinct moment when I can tell from the look in their eyes and the sound of their voice that the homeowner realizes this is THEIR home. It's easy to talk about what colors they like or what shape table works best, but it doesn't feel real to anyone until those kids are climbing into THEIR bed, and the family is sitting back in THEIR sofa.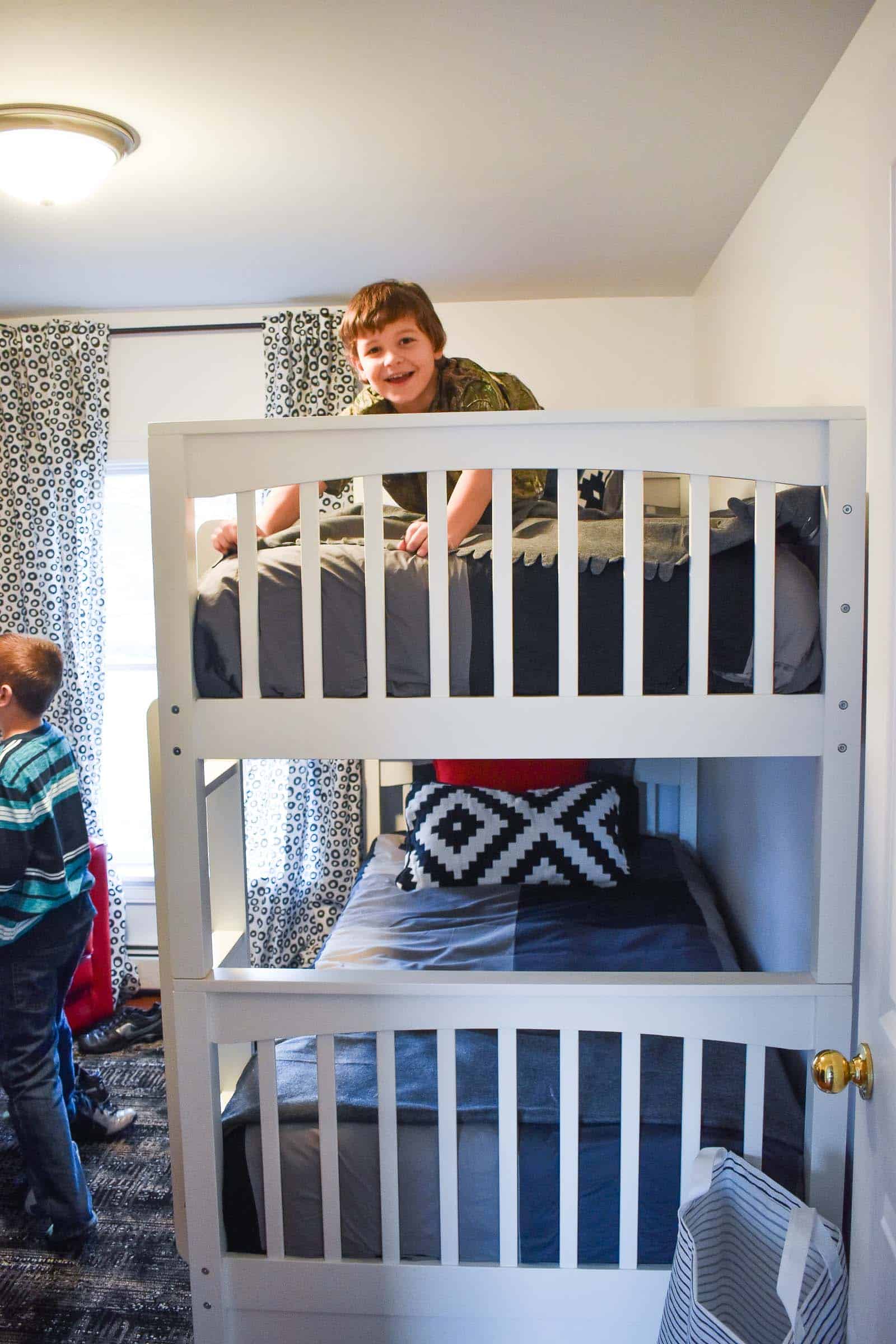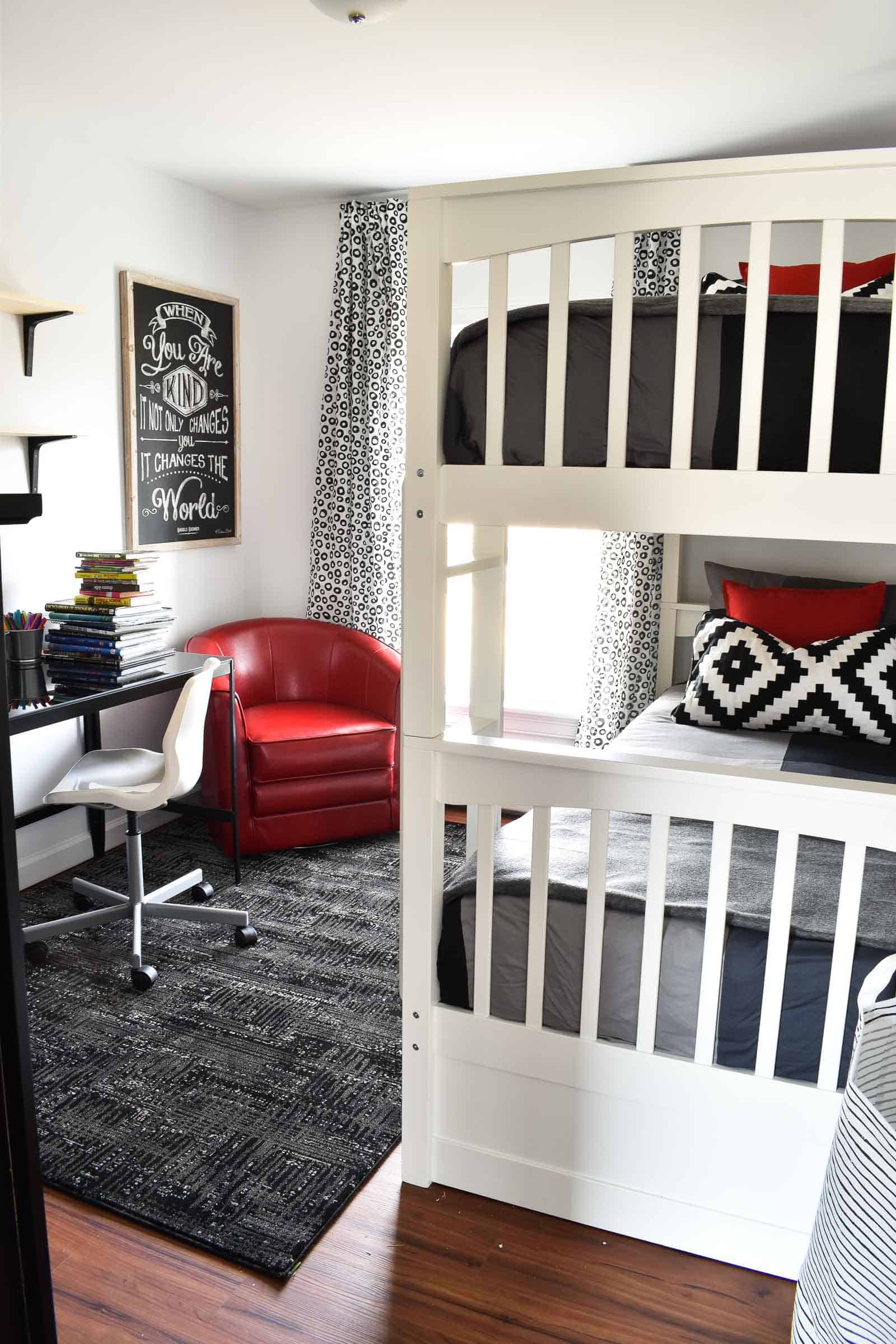 Sending in a bunch of furniture is one thing, but adding the details and personal touches is what makes this such a special memorable project. For everyone!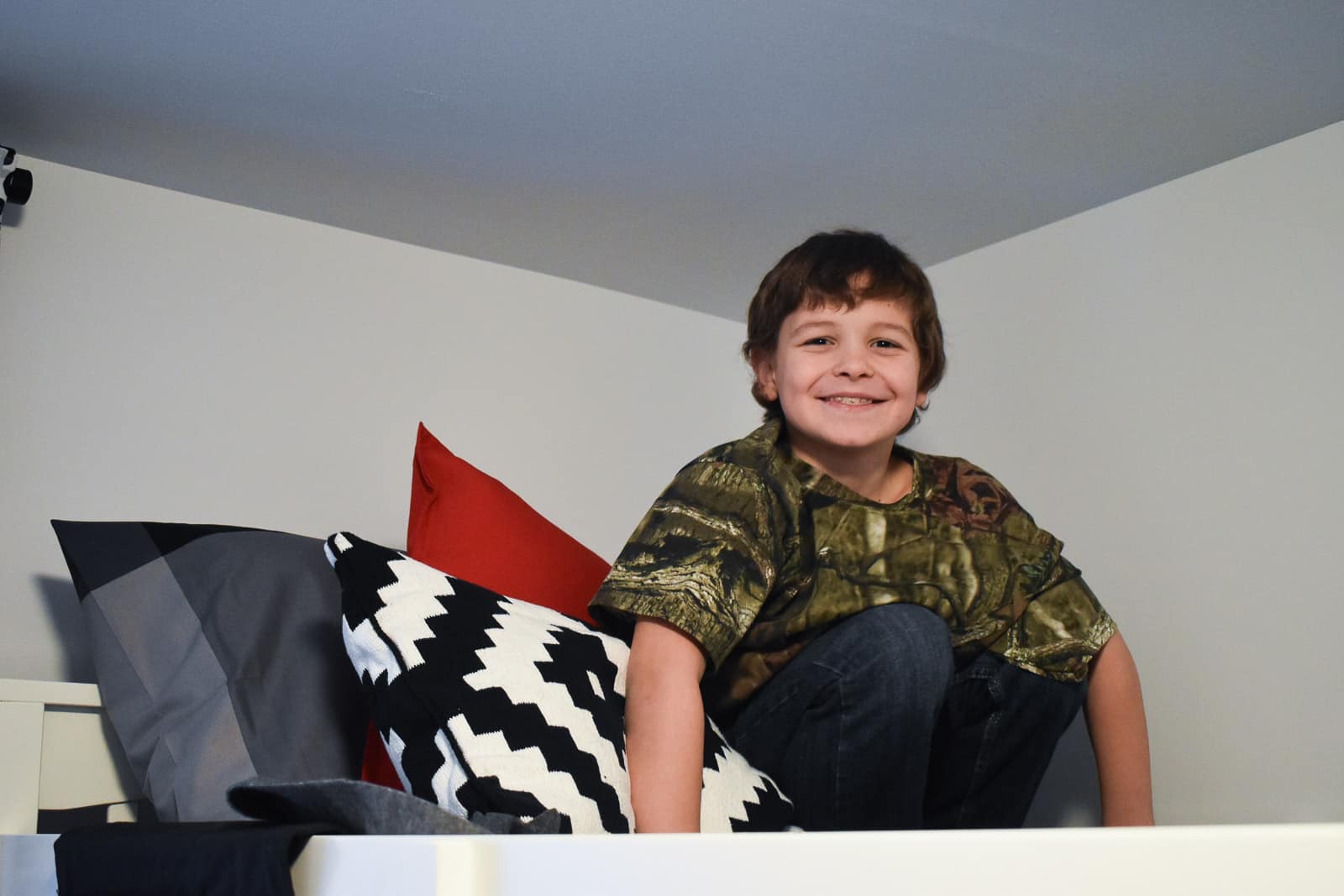 I mentioned most of these items above in the text, but here's a more itemized list of the items Raymour provided for this space. Head over to Diane, Carli, and Lisa's posts to see all the amazing furniture they used downstairs in the living room/ dining room!
Reminder that this is where we started with this room:
And this is where we finished!
The other team was responsible for the dining room/ family room downstairs… if this doesn't wet your whistle to go check this out, I don't know what will:
Thanks again to my amazing team of bloggers and to Raymour and Flanigan for helping bring our vision into real life! If you're a blogger and interested in reaching out to a local Habitat to bring Bloggers Heart Habitat into your own neck of the woods, let me know and I can send you a starter kit! When I first started this program, I simply wanted a way to take these silly skills I'd learned as a blogger- design, space planning, networking- and I wanted to use those to *really* make a difference…. when I look back at the homes and the families we've met… I'm truly proud of the work my team and I have done!