Do you ever visit a blogger's house tour and think everything looks so pretty but you don't really feel like you get the space? Today I'm diving into the deep end, folks.  Yep… A VIDEO house tour.  Basically a chance for me to go bla bla bla…. here's a room… bla bla bla…. here's another room!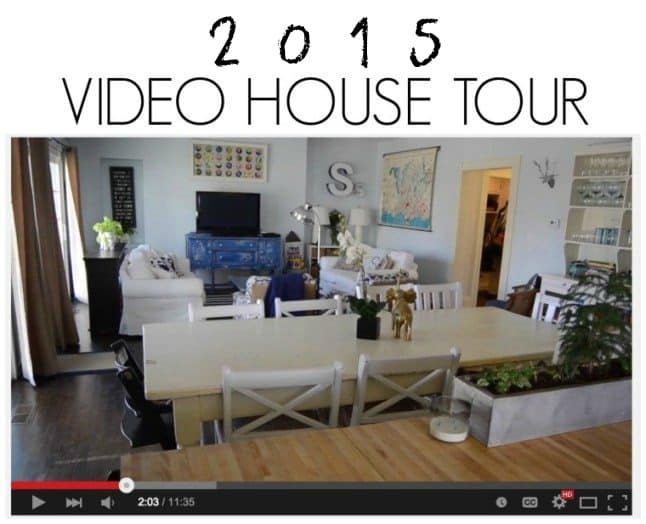 Here's what you'll see:
A few changes we made to the family room furniture layout.
Frank the dog. The slightest bump gets him up to greet the potential visitor/ intruder.
Allllllll the rooms. Including the dated master bath that gets NO time on the blog as well as the kids' bathroom. (Yes, that IS always in the shower in there.)
You'll also get a better peek at our circa 1970s kitchen… not many ways to make this space look blogworthy!
Where they actually photographed the ombre file cabinet for Better Homes and Gardens (i.e. NOT where it is now)
Where each of my spring tour vignettes are set up… tucked in lots of nooks and crannies.
A classy stash of toilet paper in our vintage bathroom
Here's what you will not see. Never ever.
Inside closets or the pantry.  The pantry's actually in good shape, but why set a precedent ya know?
Moi.  Accept for one rogue reflection.
The garage.  I like myself some camera time, but I don't need A&E's Hoarders production team showing up.
Our yard.  It's still so so sad out there… all snowy and gray. Boo.
The kids. I love you guys sooooo much that I used the 45 minutes of kid free time to tidy and video the house. I mean, that's alotta love right there!
If you're at work, then don't worry about listening to me yap… I probably don't say anything that mindblowing. Check that… I DEFINITELY don't say anything that mind blowing.  And be warned that I do an awkward spin move in the last minute that will make you sick and serves no purpose other than to wrap up the video in a choppy totally ungraceful manner. #mybad
Thanks for watching!