For the past 6 months, I've been lucky enough to have a fun monthly stint on Good Morning, CT. I go in, I chat for 5 minutes, and I head home for a 2nd cup of coffee! Short and sweet.  Last week I promised to give you a full play by play of what those mornings look like for me… a little behind the scenes sort of a post.  Are you prepared for the magic? Good… I thought so.
A few weeks before my segment I bounce ideas off the producer and then start prepping.  Sometimes I suggest projects I've already done for the blog, and sometimes I have to start from scratch.  If I have time, I'll try to shoot some beauty shots to use as still photos in the background of my segment.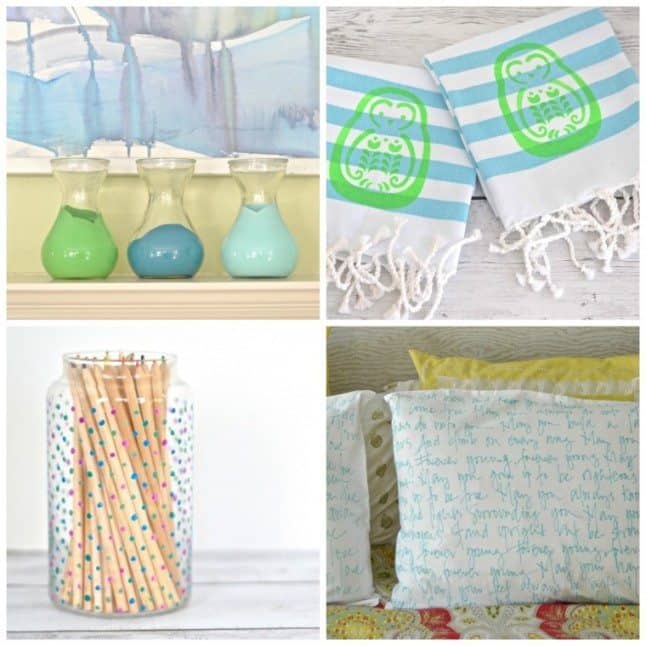 The day before, I organize everything to make sure I have the show-and-tell ready as well as any props or materials that might help explain each project or activity. Like I said, I'm pretty fancy, so I like to use a big ol' reusable Ikea bag to transport all my props.  Nothing says big time like a giant blue bag.
Typically I go on at either 7:10 or 7:40 a.m. and I need to be there at least 30 minutes ahead of time to set up and… not give producers a heart attack.  Which means, the alarms go off early.
I shower the night before to cut prep time so this is how I look when I wake up. Sleeping on wet hair is always a killer look.
My body of work includes making a pendant light out of plastic travel bottles and wrapping a thrift store lamp with clothes line, but I cannot do my own hair for my life.  All to say, I have two hair strategies: straightening iron or attempt to wield a curling iron.  Typically I choose the former.
I also do my own makeup.  I took a lesson.  I don't look like a cast member from Cirque du Soleil but that's about all I can say about my ability in the makeup department…
Did I mention how cold it's been for us this winter? Wakes a girl RIGHT up when she gets into the car.
First stop… Dunkin' Donuts.
The drive to the studio is about 25 minutes door to door.  I use this time to work through my segment double checking that I'm not WAY over my allotted 4-5 minutes.  I practice my talking points and basically make sure I don't sound like an idiot.
In the morning, it's a small group over there.  The anchor, the weatherman, a few PAs who help clip on microphones, and a camera operator.
The camera's are all moved remotely so Leroy can sit at his console and take care of everything!
I was the 2nd 'guest' of the morning so I had to wait for my table to free up.  I got myself some pictures taken.
Here's Sam. You can't tell but what he's saying is, "Bla bla bla… really cold. Bla bla bla… snow.  Bla bla, more cold. Bla bla… snow."
Once my table is free, I get set up.  I try to vary the height of things and make it easier to see from the wide shot.  I'm still learning, but my tablescapes are getting better.  There are only a couple of cameras so I can't expect too many close up shots.  And don't EVEN get me started on which camera is filming where. I just try to ignore them.
5 minutes later, my segment is over.
Television magic is made. I got a weatherman to mention Baby Got Back and I'm packed up in my car by 8:08 a.m. Home by breakfast!