It's 9:30 p.m. and I kind of want to go sit in my shed. In fact… I want to invite everyone over to come and SIT IN MY SHED! I'm kindasorta obsessed. And it's not even finished!!! I left you last week and the walls were painted. The amazing lights were installed. But aside from a few projects completed, the shed was very much in disarray. But not this week, folks! This week, it's taking shape!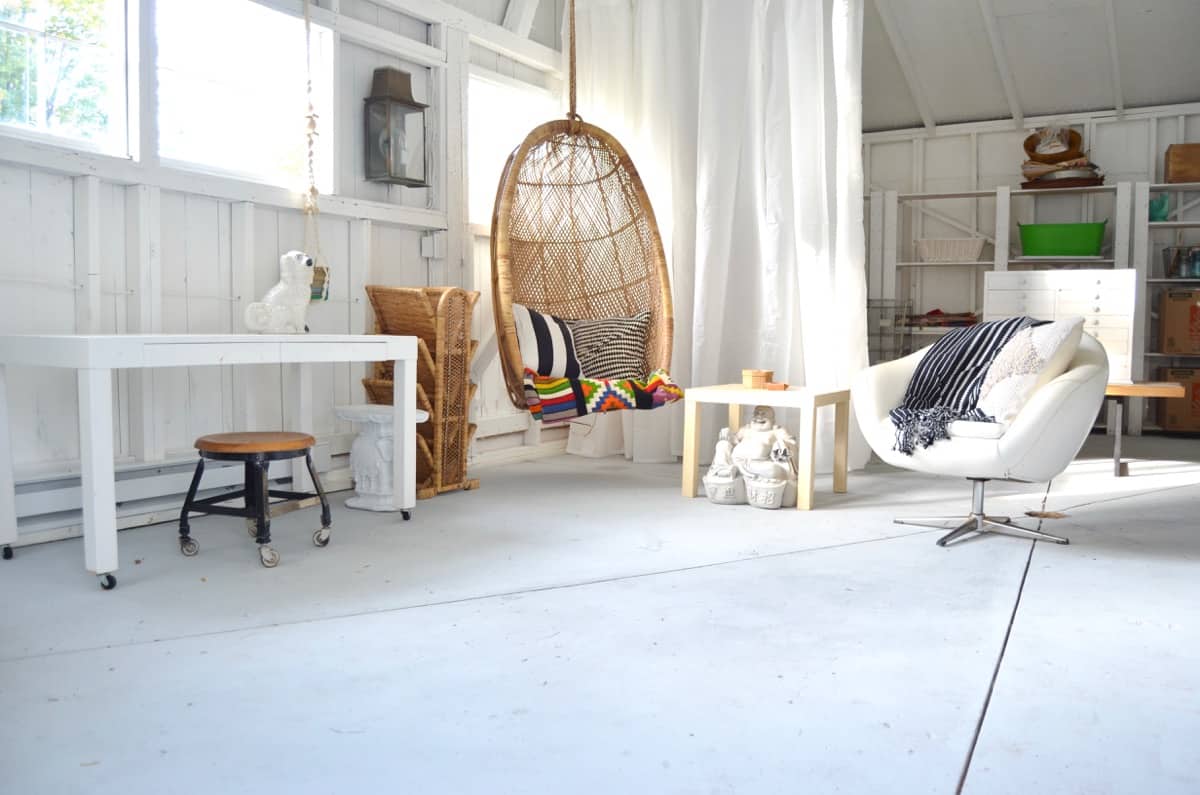 Here's what's changed. The FLOOR. It has paint. I've officially submitted my application to the Home Shopping Network so I can sit on stage, take calls, and generally pimp the hell out of the paint I used for the shed floor. Painting the shed floor was no small endeavor: the concrete slab in the shed is thin which means it 'sweats' with a change in temperature so moisture is coming up through it. Also the two back corners leak during big storms… all to say, this floor will get wet from all angles which is a deal breaker for most paints. The talented Rachel from Shades of Blue Interiors suggested a chalk and clay paint because it's porous. Any moisture will pass through the paint rather than getting trapped below it. Turns out my friend Evey is a brand rep for Cece Caldwells paints. Their paint is legit chalk and clay paint so I took the gamble that it might hold up.
Disclosure: Cece Caldwell provided me the paint for free, but guys… it's like a bag of magic beans. This stuff works miracles.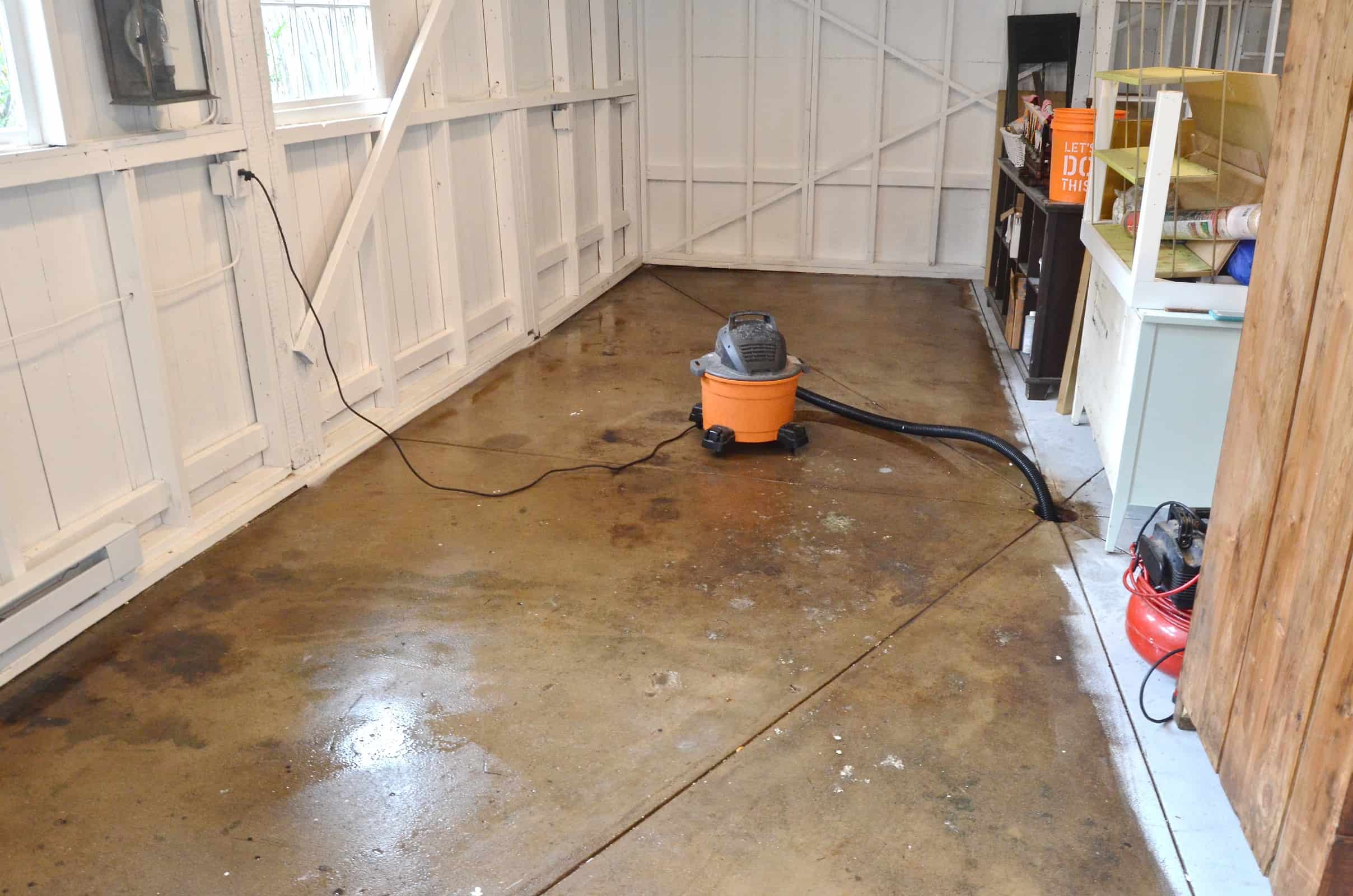 I contacted the amazing peeps at Cece Caldwell and they agreed to ship me paint…the blessed day arrived and Fed Ex delivered what I assumed would be cans upon cans of paint. I ran to the front door and this is what greets me: four 16.9 ounce cans of paint. FOUR. I sent a nervous text to Evey, emailed Cece Caldwell… generally tried to keep my cool but was frustrated beyond belief that I clearly didn't have enough paint.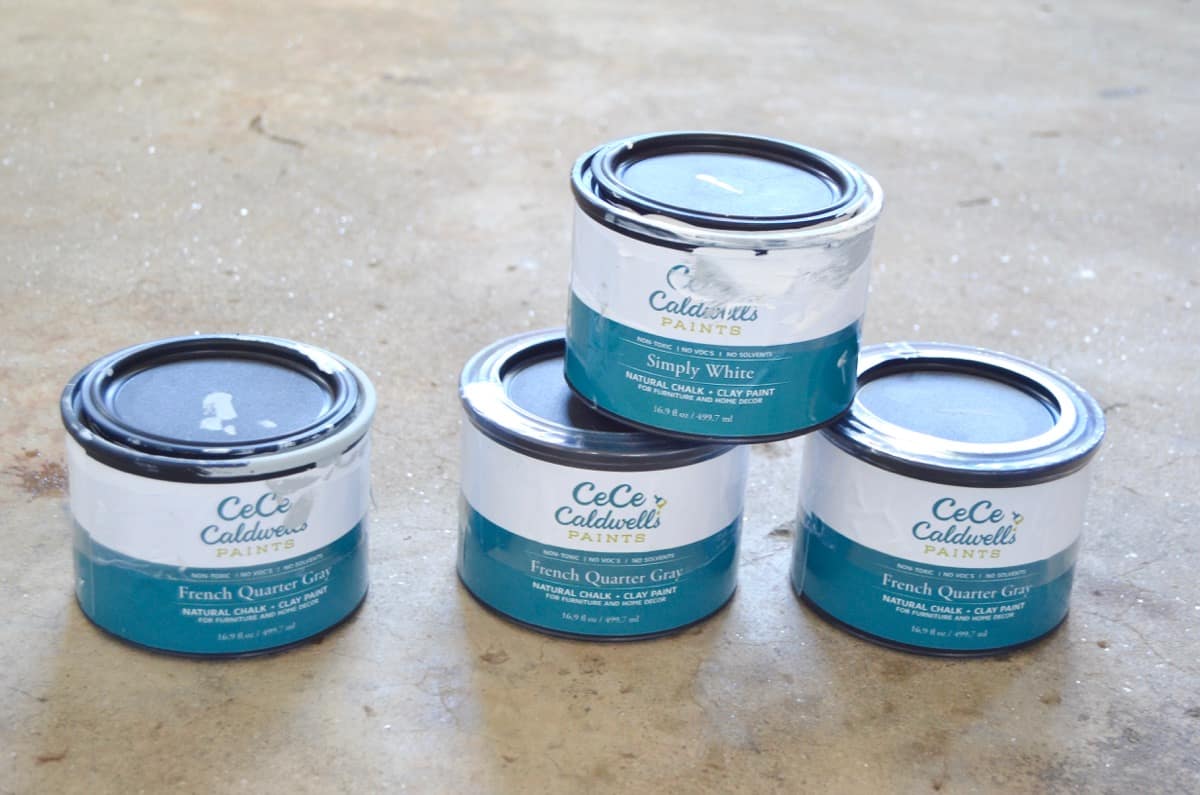 1/2 the shed floor was clean and clear. (I used a concrete cleaner (affiliate) first and then went over again with TSP just to be safe.) With half a  clean concrete floor… I decided to see whether the paint would work diluted. I did the quick math and figured that 2x the paint I had miiiight work for a single coat, so I added 1 part water to 1 part paint for my test swatch.  To say the coverage was absurd would be an understatement. This paint went on like a wash because of the watery consistency, but had the coverage of any regular paint. And trust me when I say this floor did NOT clean up real nice in preparation for paint. It was 'clean' but still SUPER discolored and blotchy.  Even diluted 1:1 with water… this paint covered 99% of the ick on this concrete floor. Like any good HSN host, I made a video to show you:
I've been pushing around furniture on the floor… the painted half got wet in a few places when I was cleaning and prepping the other half of the room, and the paint hasn't FLINCHED. It's hardcore… this diluted chalk and clay paint will not budge and I AM PUMPED.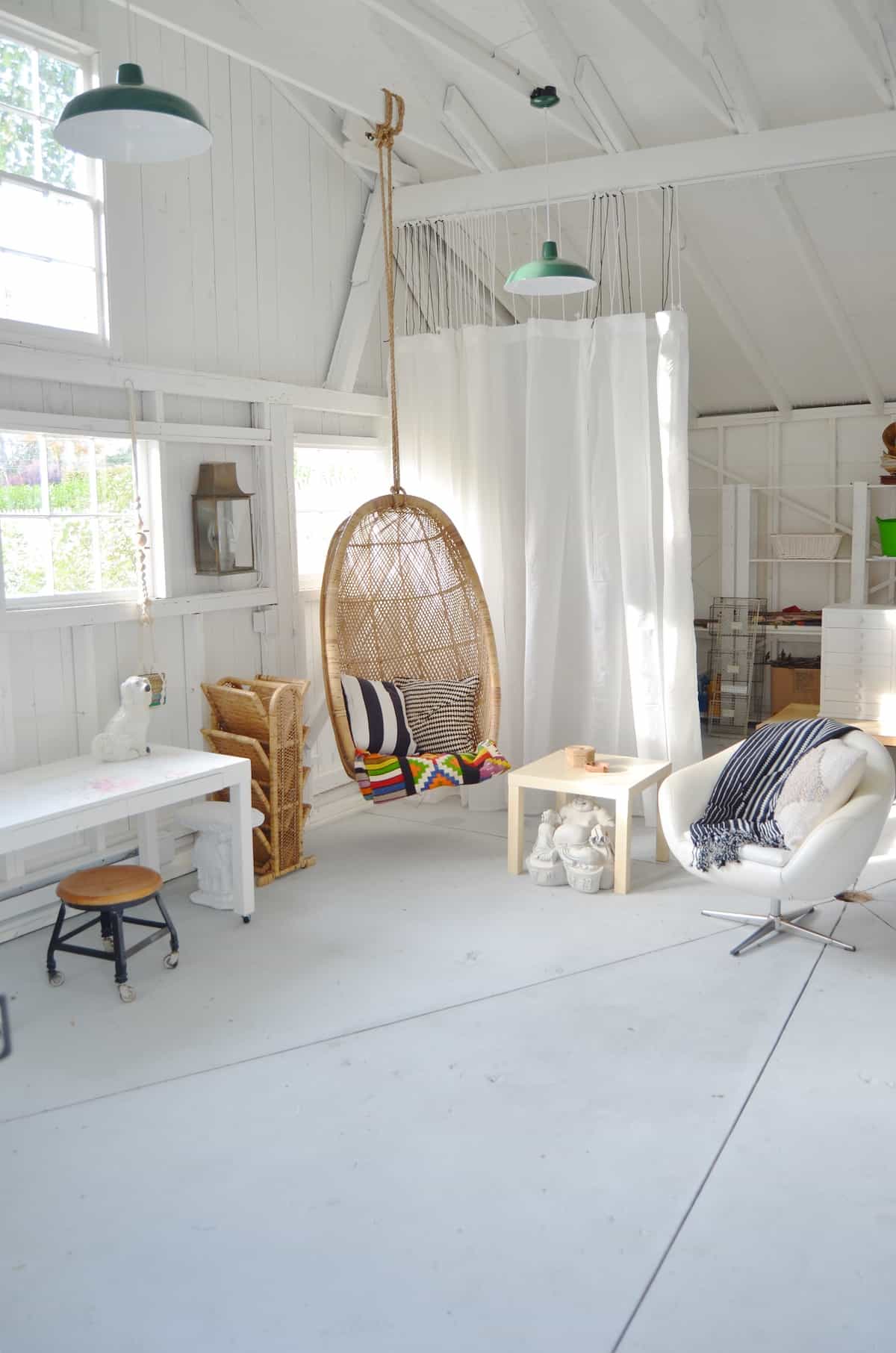 With floors painted, I've been able to set up furniture and begin to install some of the design details.
I painted all the shelves white so those will be great for showcasing accessories/ photo props.
My spray paint is now unpacked so I won't keep buying "Glossy White" just in case.
I spruced up an armoire that was passed along to us AGES ago by a beloved friend.
The rattan chair is FINALLY hung.
I hung curtains across the middle of the shed so I can pull them to conceal the storage and act as a backdrop for video.
Boom.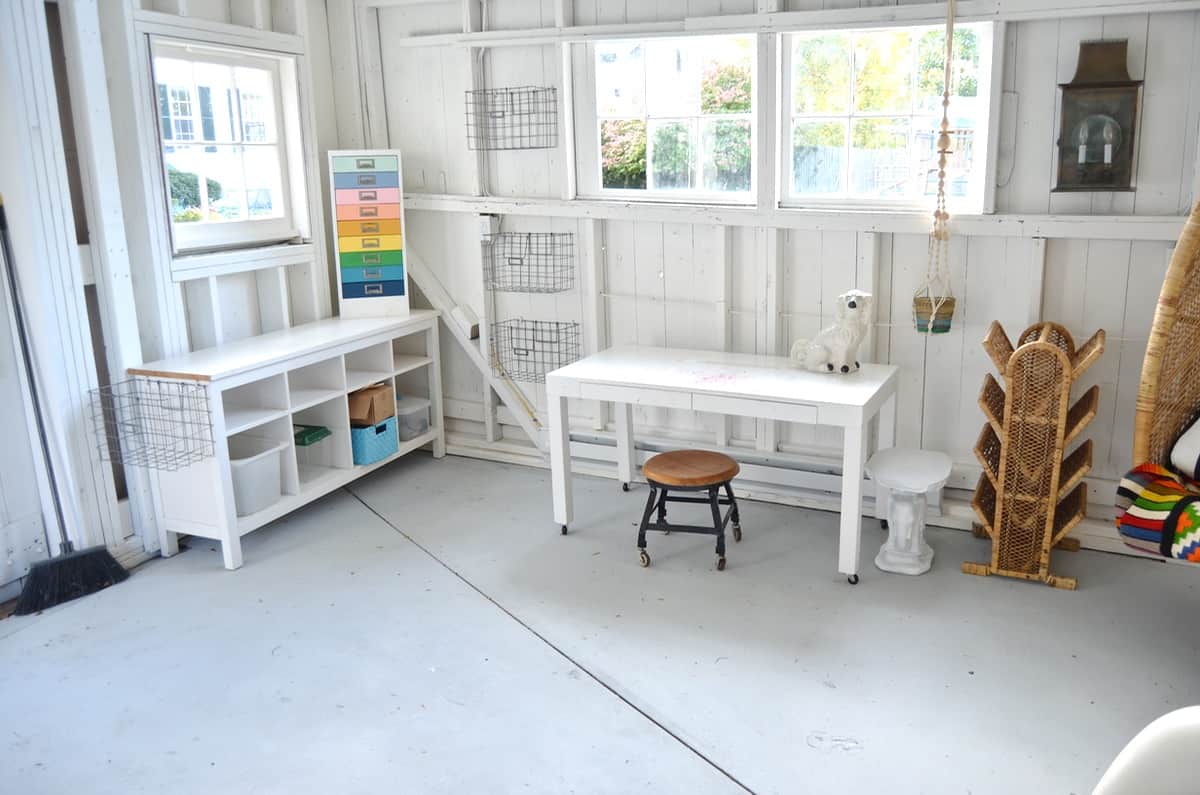 Next steps? Hanging artwork. And getting my storage loving butt in gear. It's been a great week for the shed!! See my vision for the shed in my Week 1 post, and of COURSE head over to Calling It Home to see all the other inspiring spaces being made over by my fellow bloggers.