Decorating A Porch for Fall
These fall decorations were a quick and easy way to decorate our fall porch!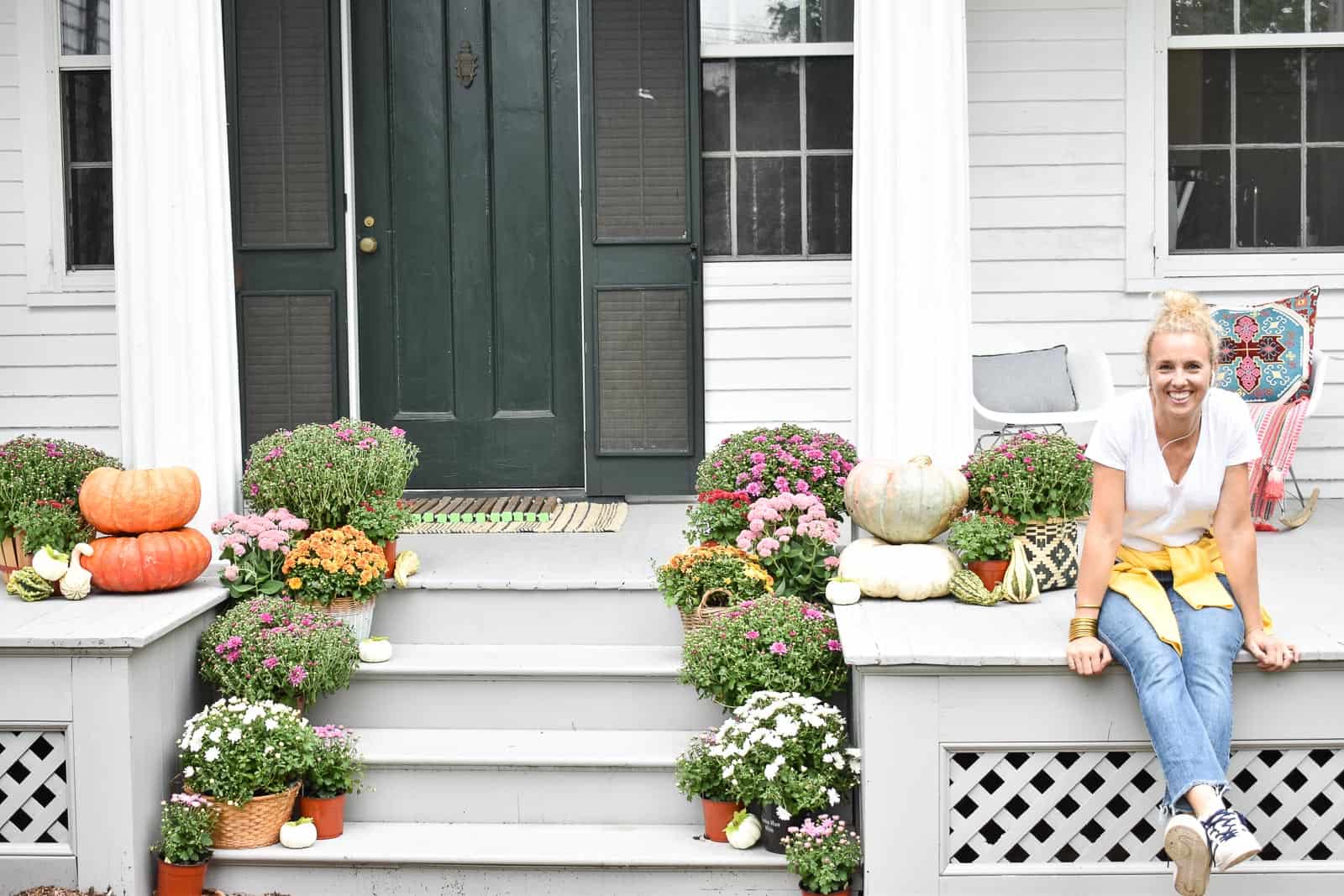 I wasn't planning to do anything major to our front porches for fall… but then I kind of did. It all started with $4 mums and then quickly spiraled into flea market pumpkins and some thrift store baskets. But here's the thing… it was SO EASY!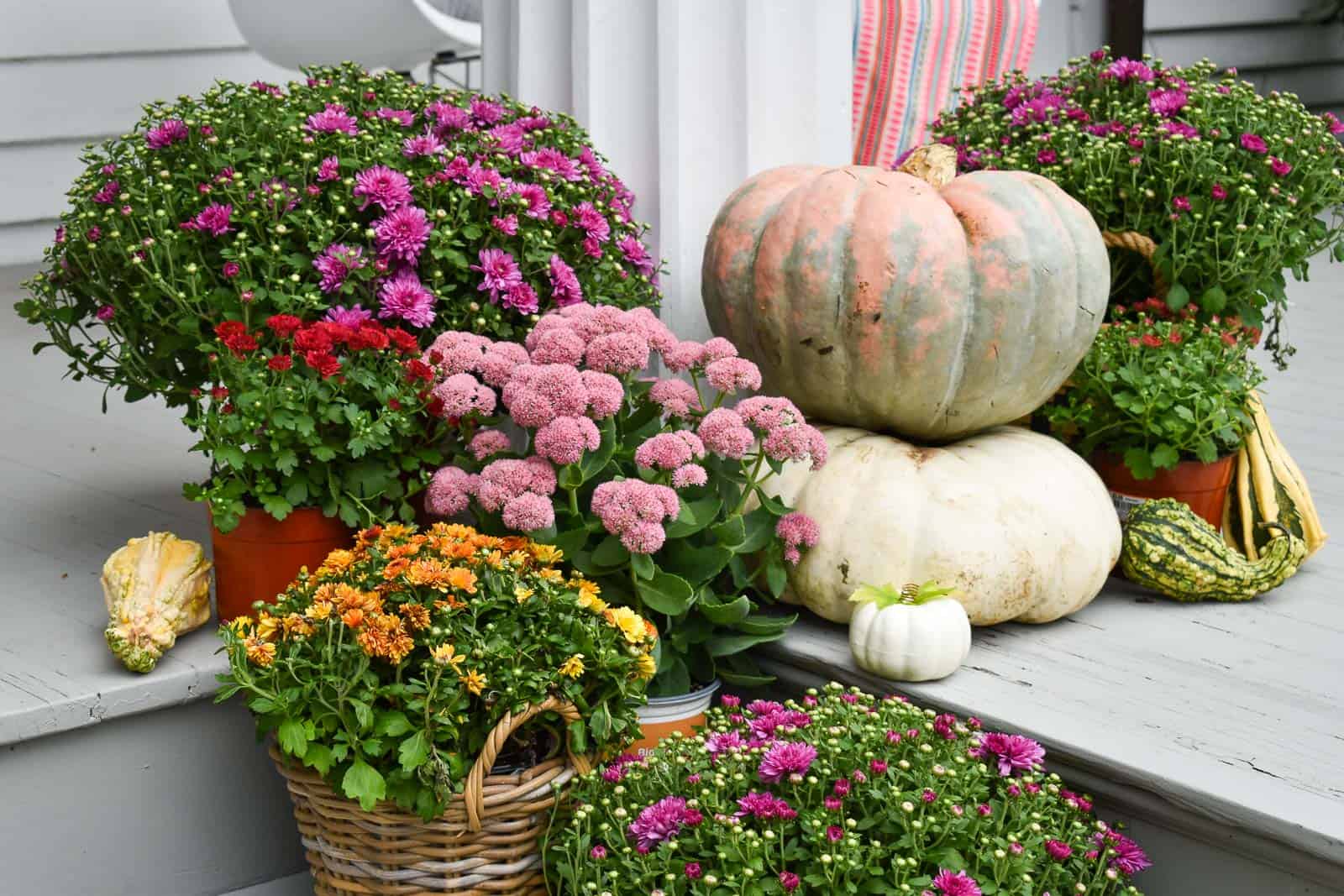 A lot of my outdoor/ holiday decor is dictated by what I find at the stores… so for the front porch, it was all about the plant selection. I picked up some sedum and smaller mums from The Home Depot and then found those gorgeous 8″ pots for $4 at Whole Foods of all places. The large pumpkins were dirt cheap at the flea market!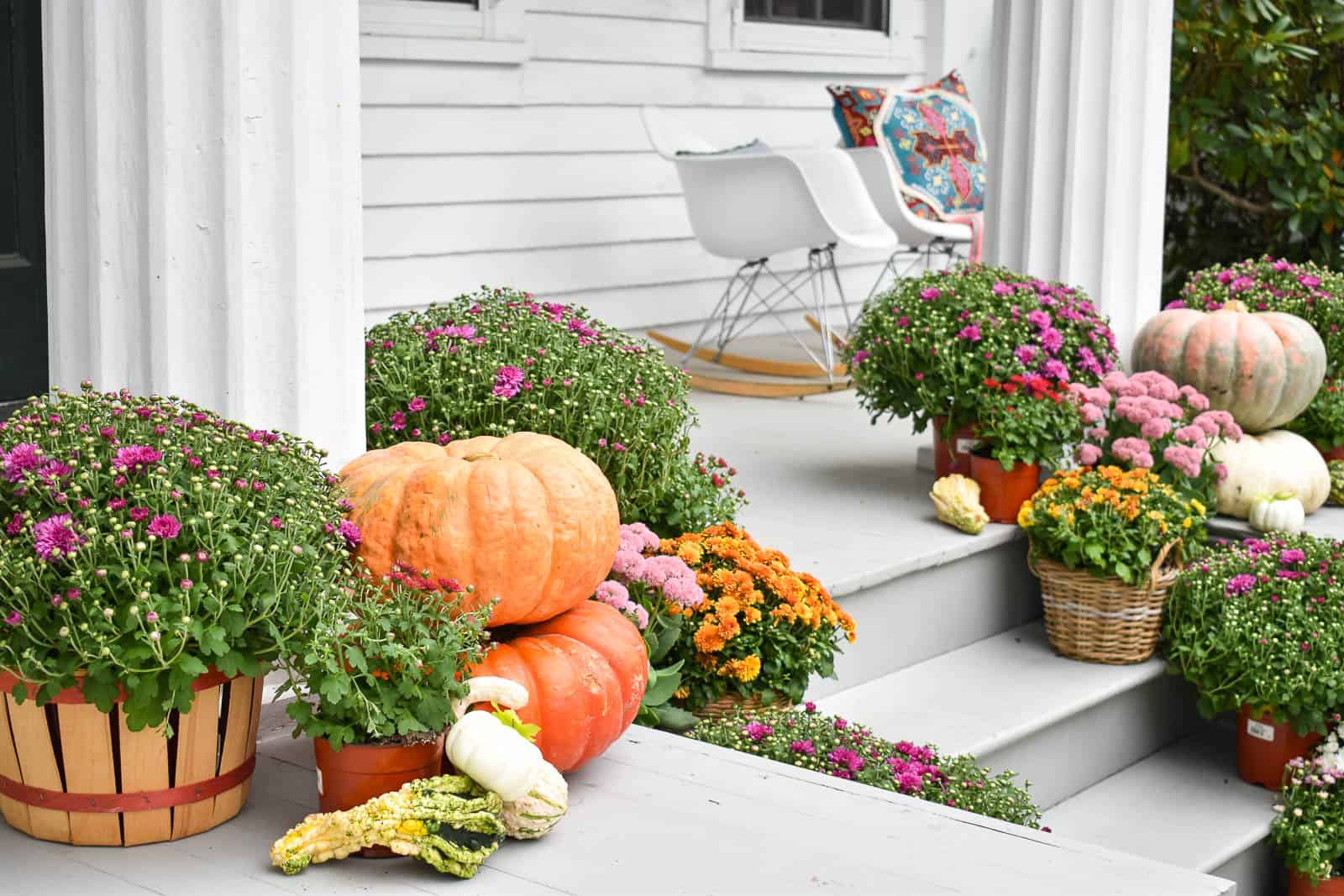 I started by placing two large mums on the base of the columns, and then I stacked two pumpkins next to them.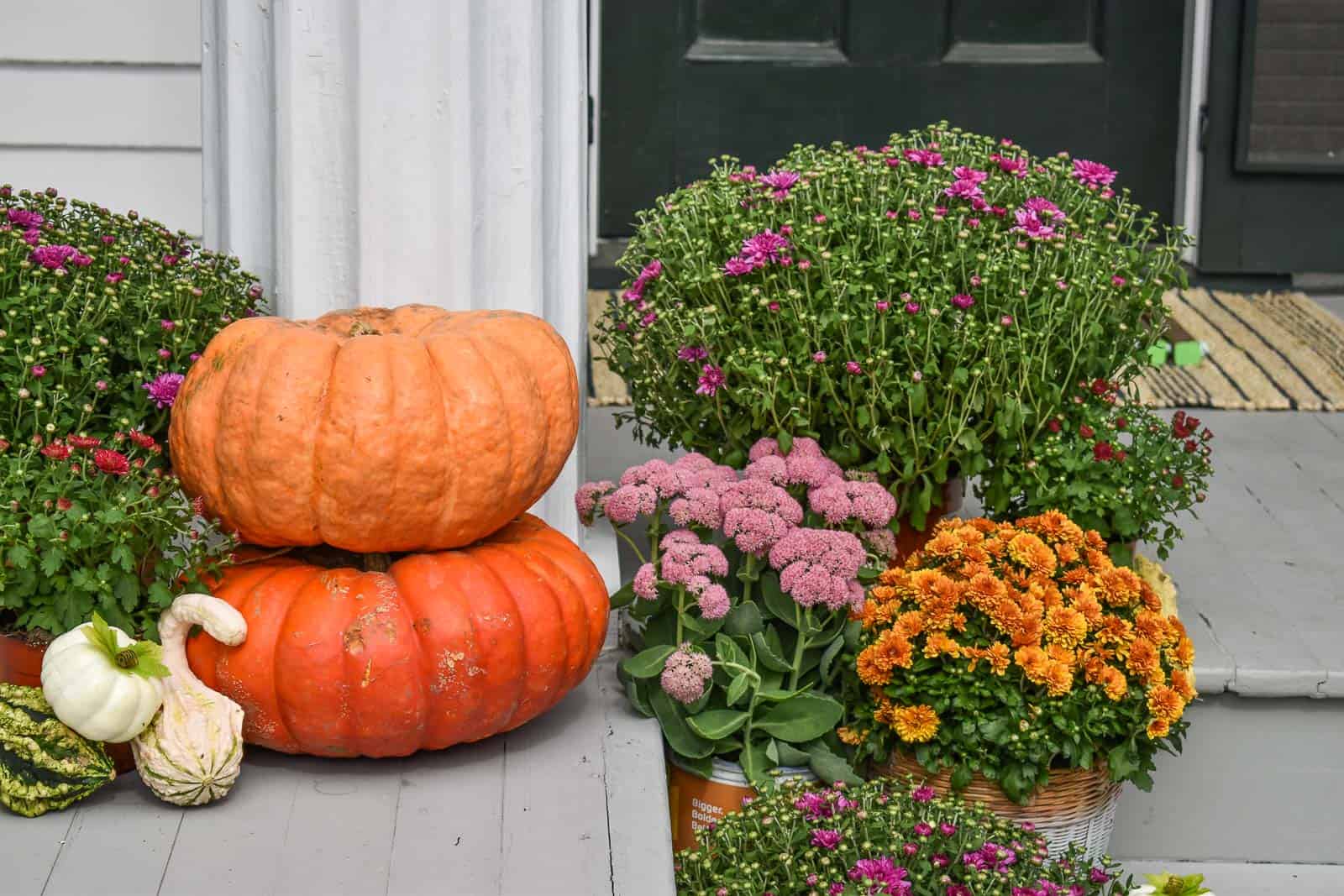 From there, I placed more 8″ mums on each step and filled in around them with the smaller mums and a few ugly squash plants. I grabbed a couple $1 baskets at Goodwill, and shopped my house for a few others. I didn't have enough to cover every plastic pot, but I'll keep my eye out for more.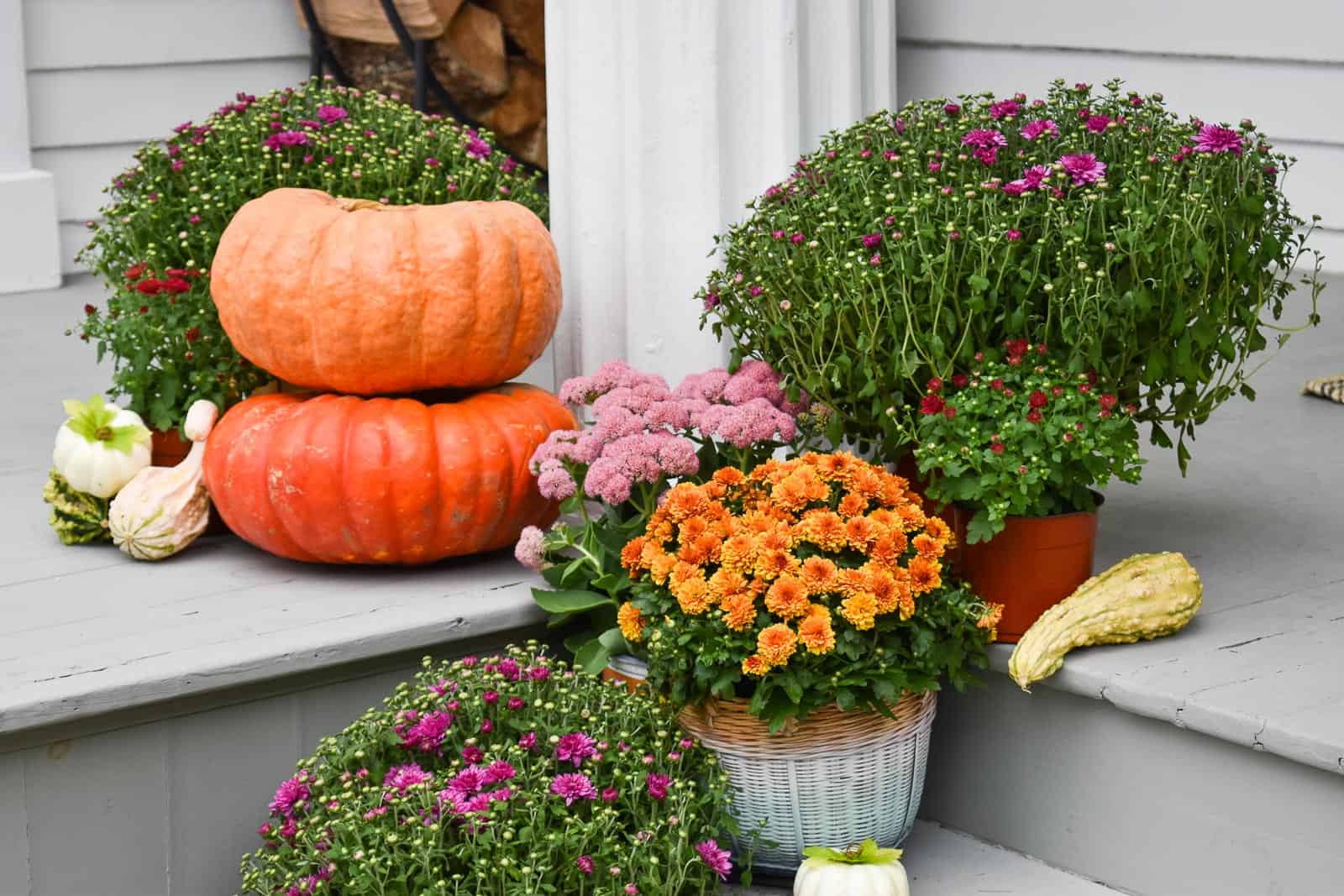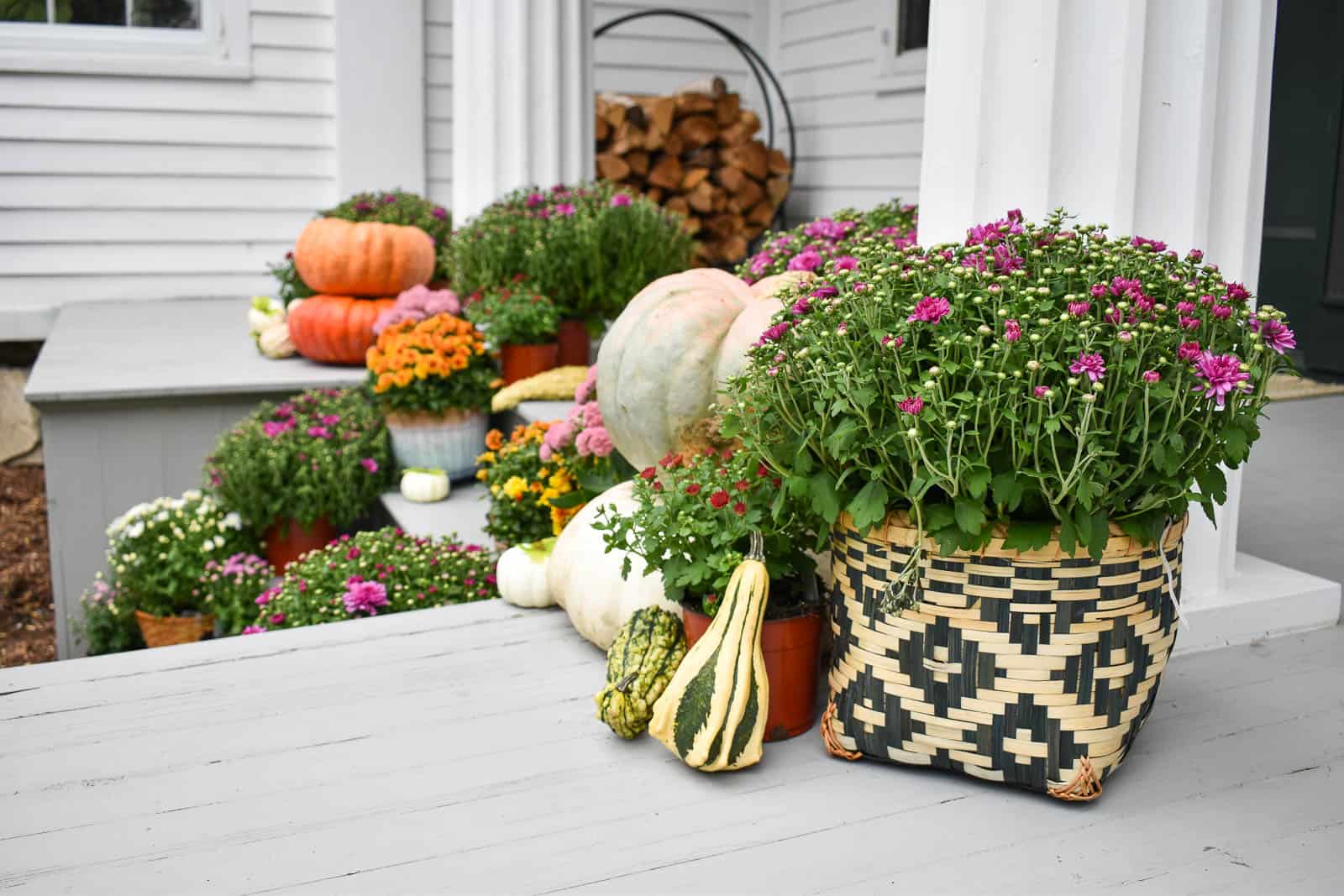 We don't really use this door, but I layered a natural sisal doormat under my DIY Wooden doormat to fill the space a bit more. Similarly, I saw that pillow at Homegoods on sale and LOVED the bright colors. I also appreciate the contrast of the modern white rockers with the classic architecture of our porch.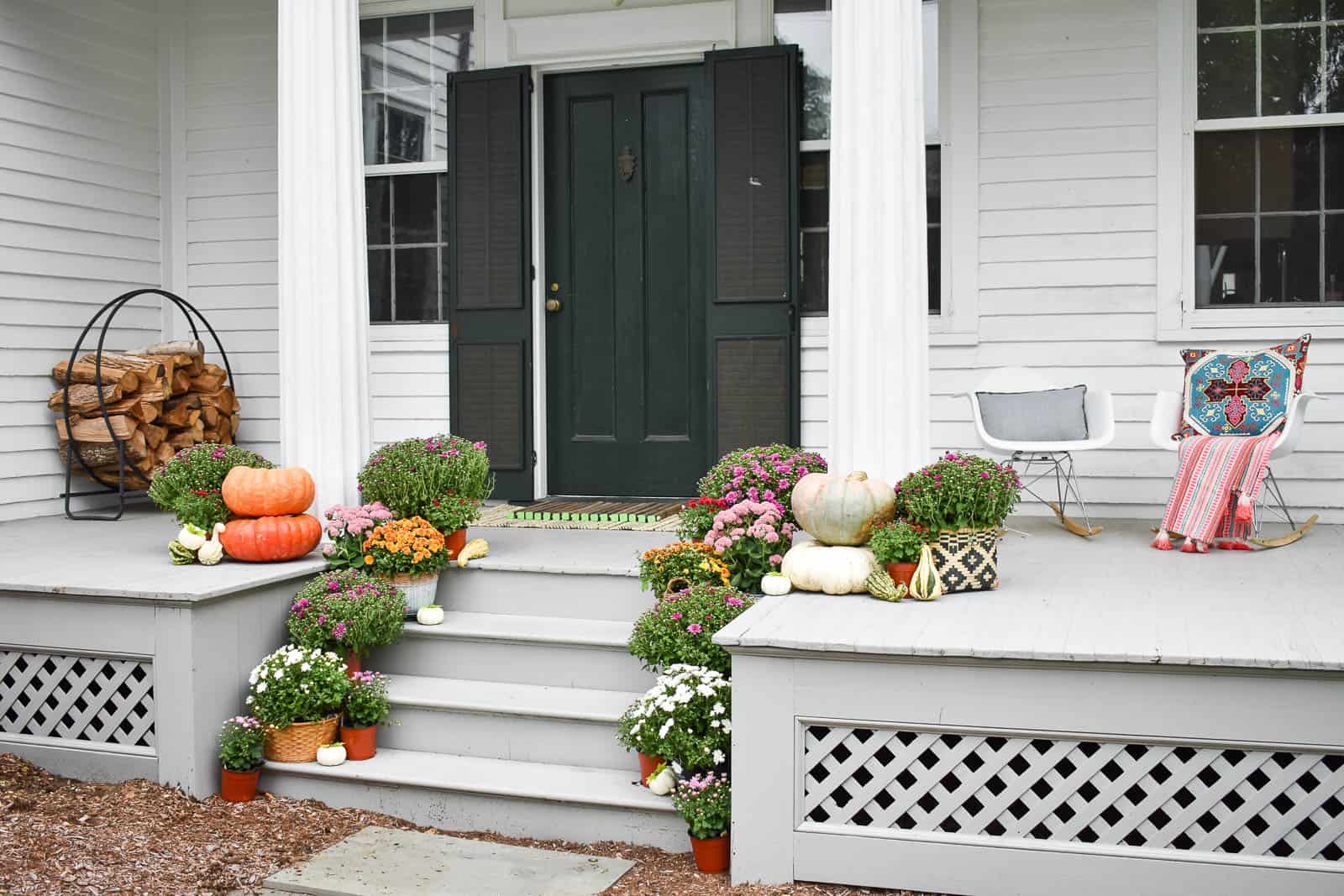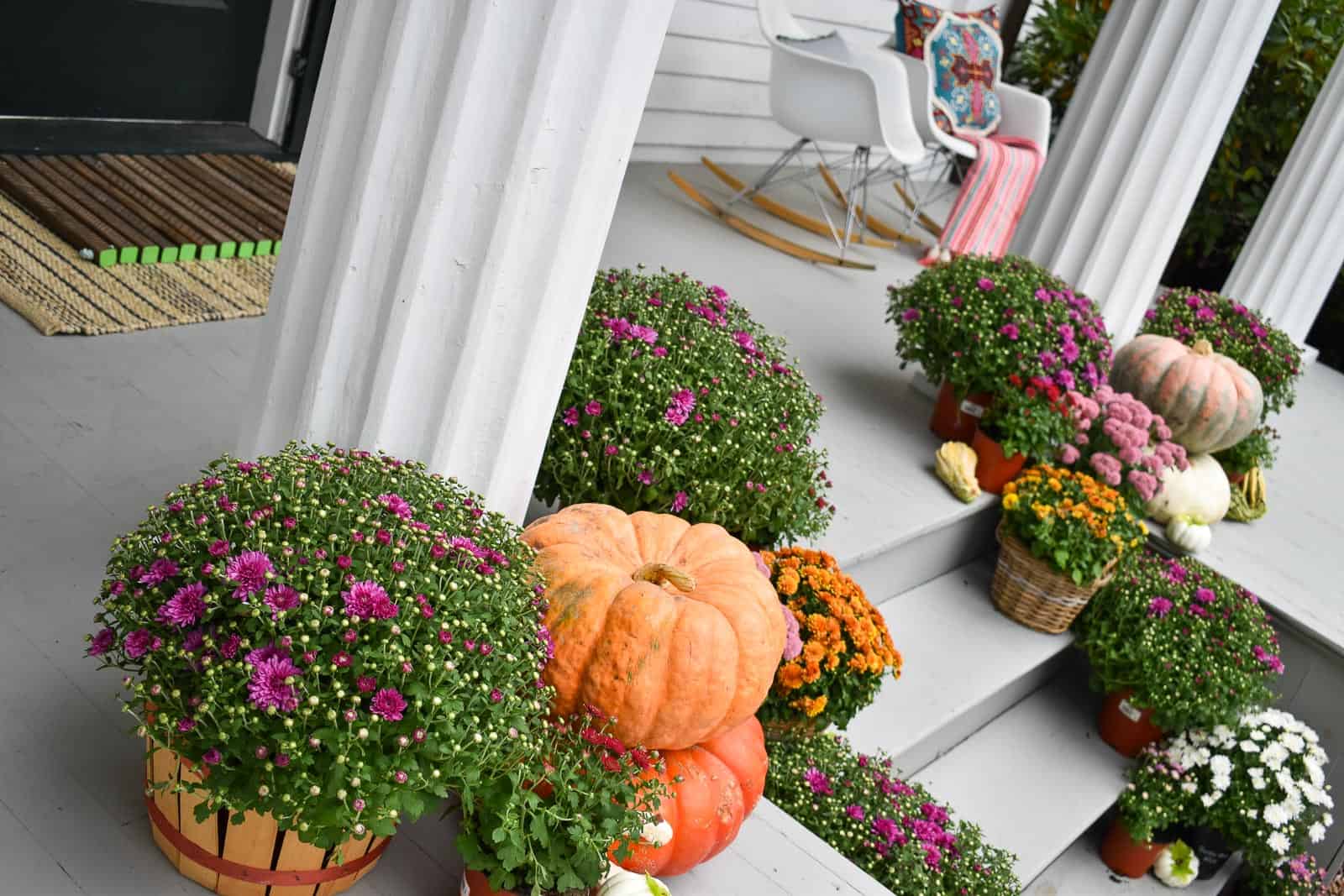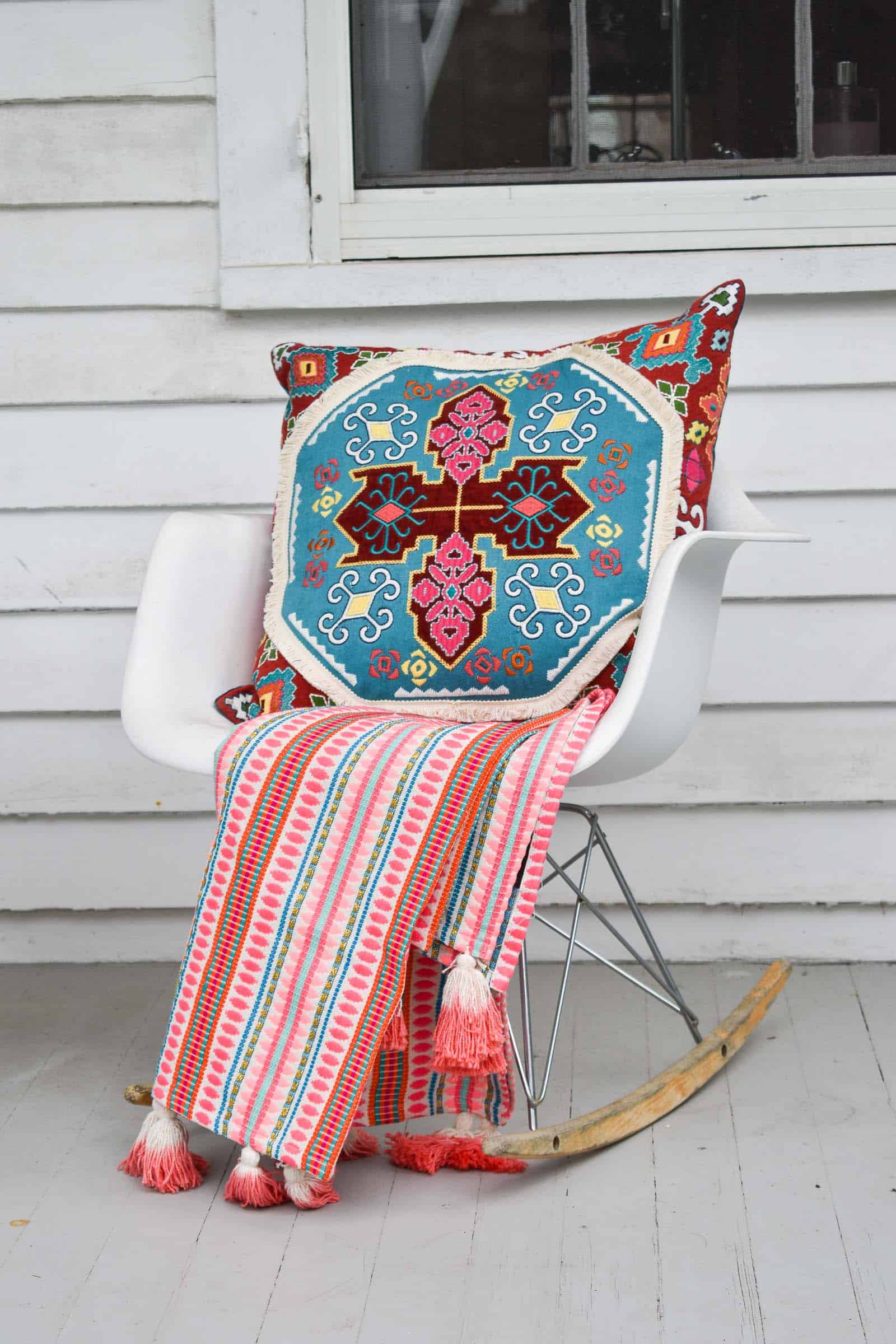 I didn't do much to the other front porch since that's where we sit each morning to wait for the bus, and I have zero faith that my children wouldn't destroy anything I put out there. I popped some mums, decorative peppers and lambs ear into baskets on either side of the door and hung the wreath I made last year. My rainbow doormat is in great shape layered under that "welcome" mat… the colors work fairly well with the flowers!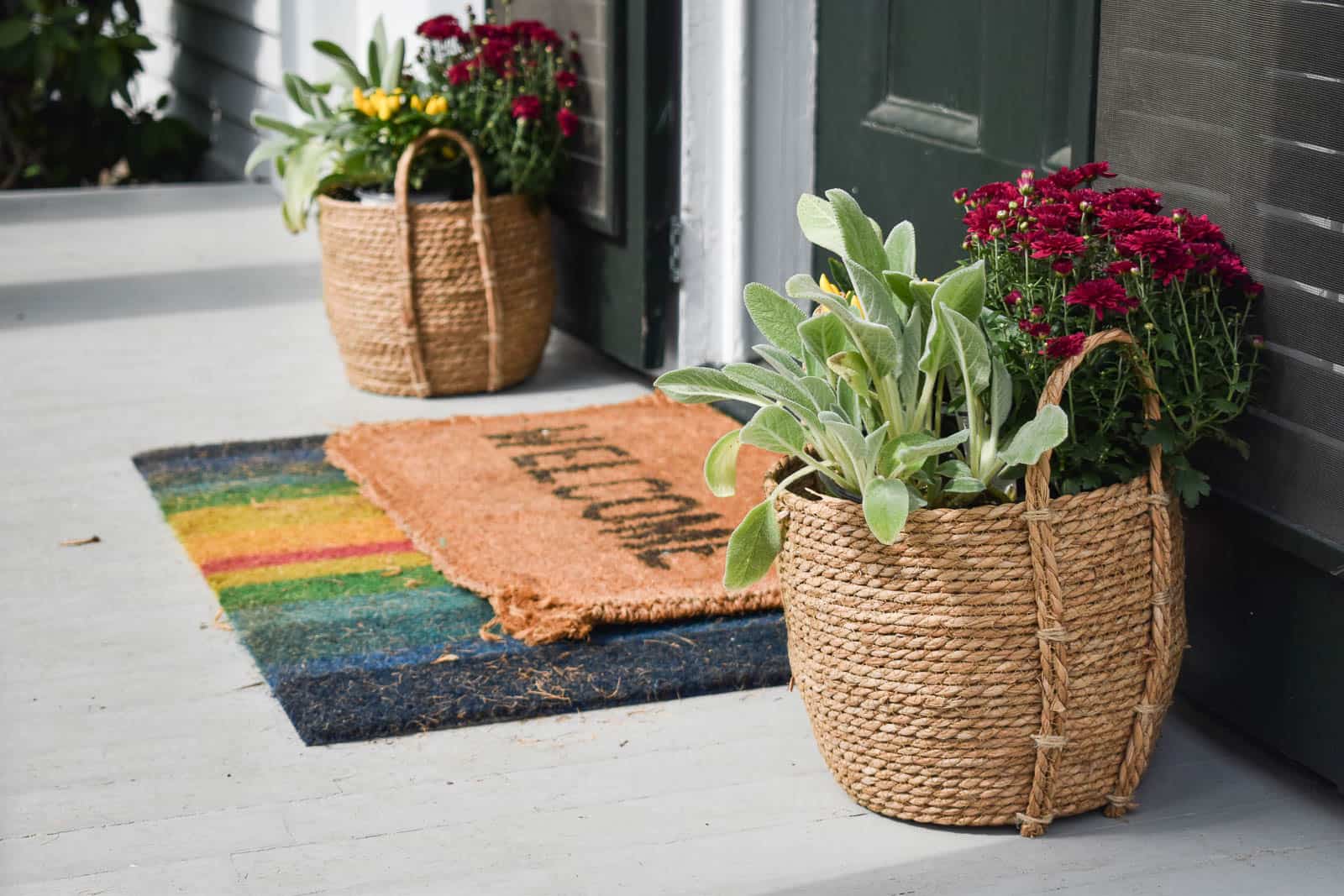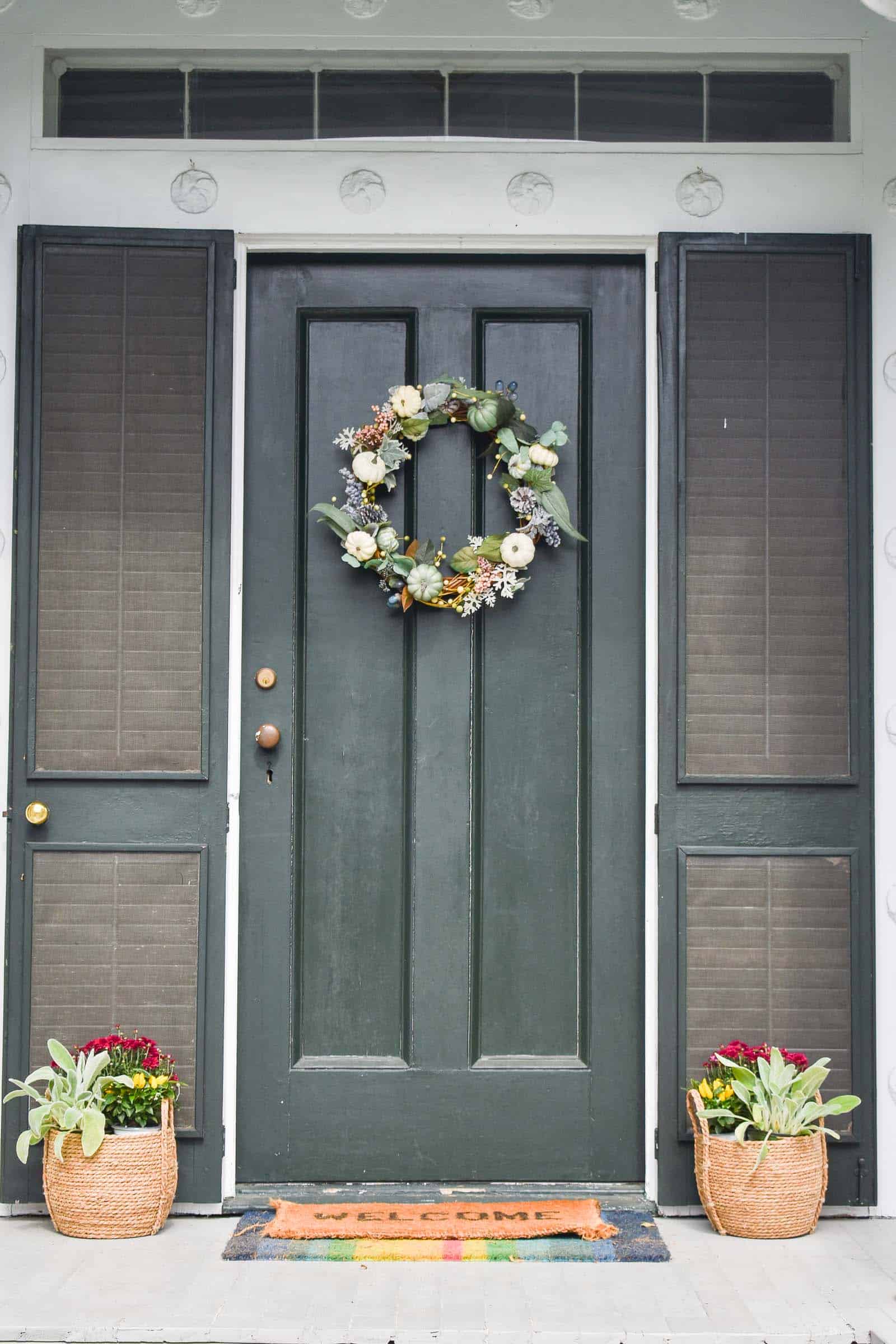 I'm not sure what else I can tell you about our porch decor… I was lucky enough to grab a bunch of mums for really low prices, and that made all the difference in the world. Varying the sizes helped and I stuck with three colors. If I find a few more medium size white pumpkins, I might scatter then around on the steps to add some different shapes, but also to conceal the plastic pots a bit more. For now, I'm just trying to remember to water my mums!