Welcome back to the upstairs portion of this "Before" house tour!! I realized when I looked back at the downstairs home tour, as neat and 'organized' as the space feels to me after pushing through boxes, it's still pretty far on the crazy cluttered side of things… keeping it real. It will only make these Before pictures that much better to improve upon!! Thanks for coming back to see the upstairs! All the kids have their own little bedrooms in this house which I didn't think I cared about, but… it's so nice. Eleanor wakes up early and will just hang out and draw or do legoes in her room. Oliver made a big long train of cars in his room this morning, and Louisa finally has a little space of her own with books to read before bed and her own little chair. Martha's always had her own room, but it's nice to have her on the same floor as everyone else!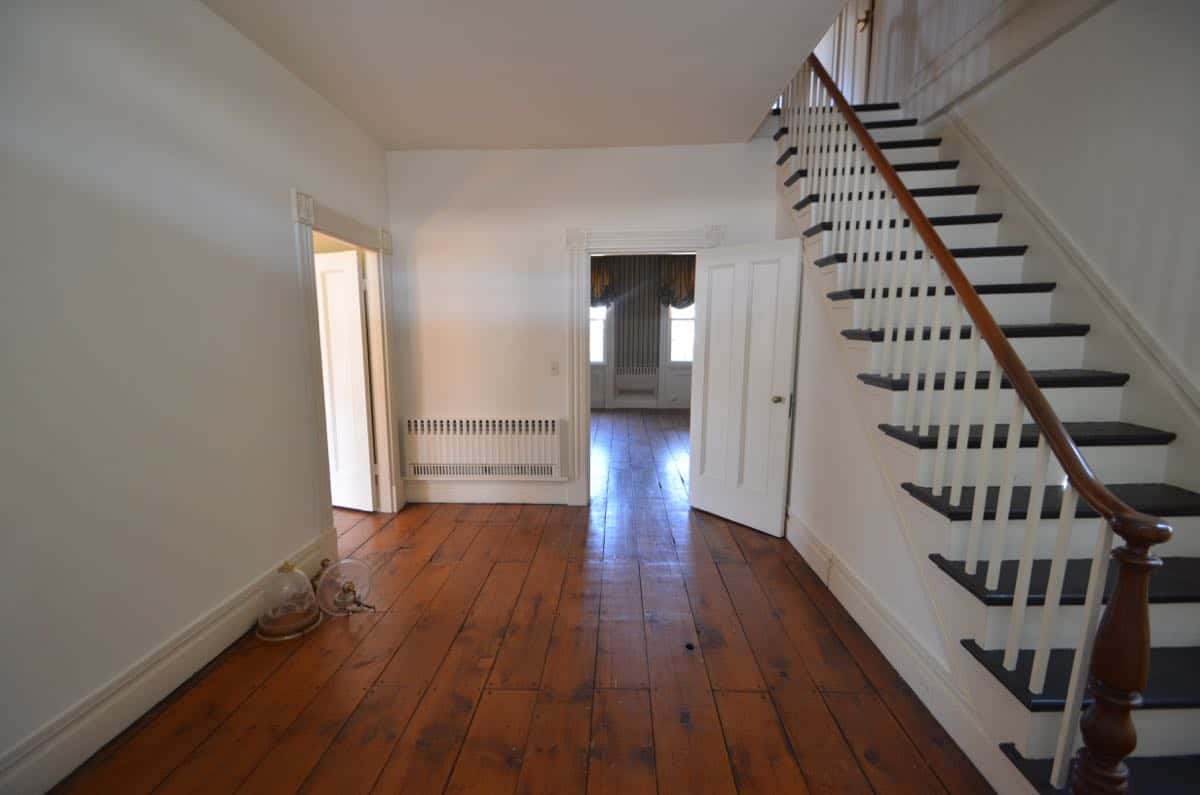 Let's start with the master bedroom. You come up the main stairs and our bedroom and Martha's bedroom are right there.
I had NO idea that this room would be as large as it is after seeing it during the walk through. There actually WAS a big 4 poster bed in here so you'd think the scale would have been evident, but we're thrilled by all the possibilities. In these old houses with lots of fireplaces, it's now against code to have one flue service two fireplaces, so the one in the living room downstairs is open and the one in our bedroom is closed up. As romantic as it sounds to have a fireplace in your bedroom, I think the reality is that it's just cold and drafty so we're fine to have this one be only decorative.
We have a large bathroom off of our bedroom with full wallpaper/ curtain regalia. We haven't had a double vanity since Brooklyn so this is a treat. And… this is where Oliver's favorite thing in the house is. Any guesses? Yep… of course, the "bottom washer." It leaks, so we've already turned the water off, but it's there in all it's glory.
Other plans for this space?
– I've been sitting on (no pun intended) a pair of swivel chairs that I grabbed for $25 on Craigslist a couple of years ago. Excited to recover these for a little seating area in our bedroom.
– I also have a fun upholstered ottoman to make from a base I picked up at the flea market this summer
– paint… I actually like the green in here a lot, but… it's not quite the right shade for the aqua accents in our bedding/ bedside tables
– curtains
– Closet. We have plans to actually create a little more closet space by borrowing some room from the extra large landing at the top of the stairs and pushing out the one and only tiny closet in the bathroom. As much as we love the large landing area… it's not really space that will get used, so a closet is definitely more helpful to us.
– eventually, there is some work to be done in the bathroom… remove the bidet, perhaps reconfigure things to use the large space a little better, but for now… the wallpaper will come down and perhaps replace the curtains
PSST: HERE's HOW IT LOOKS NOW!
Martha's room is the same size as ours, lucky girl. We sort of expect to bring Louisa in there one day so the size will make more sense, but for now, she's just reveling in her abundance! She has most of the furniture from Eleanor and Oliver's old room. Still trying to figure out which toys make sense to bring up here for her… somehow the roller coaster made it's way there and that's her primary source of activity when she's in her room.
Other plans for this space?
– curtains
– figure out storage/ toy needs
– her bathroom needs to have the floor replaced
PSST: HERE's HOW IT LOOKS NOW!
Above the master and Martha's room is our guest room. It has a tiny little bathroom and plenty of space, and no child to be relocated whenever guests come, so this will be a nice room to have anytime someone drops by to visit!
Other plans for this space?
– The bathroom could stand to be improved… but that's nothing we'll take on right away
– the paint around the skylight is in bad shape from condensation over time and sun, etc… at some point, we'll have to bring our painters in to scrape, clean and repaint every window in this old house, but… not anytime soon
PSST: HERE's HOW IT LOOKS NOW!
Back down on the second floor are the rest of the kids' rooms…
It's so sweet for Louisa to have her own space. She has a door leading out to a little porch area, but until we put a deck down, the roof isn't suitable for walking. No worries as again, I think the idea of a 2nd floor porch is lovely, but probably wouldn't get a ton of use for us just now.
Other plans for this space?
– Honestly? Not much… Probably bring in another storage piece so she can have some toys, but I'm happy to leave this room as is for the time being!
– I need to hem the curtains. These are the old ones from the playroom in the other house so they're way too long, but the colors work just fine!
PSST: HERE's HOW IT LOOKS NOW!
The next room will be the baby's room. I've never really planned a nursery!The first few kids were born in the city while we were renting so I was limited by what I could do. And then Louisa was plopped into the new guest room at the old house. But this little bundle is getting his/ her own designed space!!
Other plans for this space?
– I have a couple different wall treatments in mind as well as some paint.
– Remove the decorative wallpaper border
– patch some crazy holes in the ceiling/ wall
– artwork
– I'm hoping to reuse a dresser we have as a changing table, so TBD whether the color will work out…
PSST: HERE's HOW IT LOOKS NOW!
Over the kitchen/ family room are Oliver and Eleanor's rooms. Oliver's is the sunniest room in the house if you ask me! He's already in heaven making train tracks and tucking himself into his very own bed.
Other plans for this space?
– window treatments. The previous owner had these sweet striped Roman shades and I wished she'd left them… so maybe I'll go with something like that in here.
– bed skirt… I like the idea of keeping the navy/ orange/ pale blue color scheme that's ended up in here. Who knows what fabric will bring that all together a bit better.
– Trundle bed. For both Eleanor and Oliver's room, I'd like to DIY a simple roll away bed that can slide under their beds… we have time since their sleepover nights are a few years away!
PSST: HERE's HOW IT LOOKS NOW!
Eleanor's room had these incredibly intricate red window valances in it when I first did a walk through. I was so distracted by them, that I didn't realize the bright yellow walls! I have some fun plans in store for this space. She's already in love with her big bed and her desk… She makes her bed every morning and has a few books on her bedside table to read in case she can't fall asleep. Love it.
Other plans for this space?
– window treatments… these ones are going to be good!
– I plan to paint her dresser
– I have another hoarded, er… stored, item that I'm hoping to bring in for wall decor
– she loves that dress up dresser, but… it doesn't match in here. TBD whether this will go live in Martha's room or whether we'll somehow repaint to better accommodate the new colors in here.
– paint the walls… Eleanor suggested a fuchsia. I think I'll probably go somewhere closer to a white since there will be lots of colors throughout the space
– TBD on whether this will fit, but I have a super fun ottoman project that I'm dying to do, but it might be a little large for the room. I'll find a way!
PSST: HERE's HOW IT LOOKS NOW!
So that's the upstairs portion of this home tour!! I feel like I have the most to do in the bedrooms, but these are also smaller projects… i.e. painting a dresser and not an entire kitchen of cabinets. Ugh. Already, it's been so rewarding for Mark and I to watch the kids 'move in' to their rooms. Every morning there's another little something they've done or set up or dragged into the space… I can only imagine what the buzz up here will be in 10 years!!
Update: If you want to see how all this stuff used to look when it coordinated, feel free to check out the Home Tour from our first house here.
I also posted a video House Tour of the first house, if you want the live version!!
Update Update: See the CURRENT state of this house HERE!