Ahhhh, holidays. That time of year when we drive ourselves batty trying to create joy.  This year, I listened to my own inner voice a bit more and kept things around the house a little simpler. I'm not sure the end results will put me in the holiday issue of HGTV Magazine, but… I LOVED the process of decorating with ONLY the things that make me happy or 'work' in the space.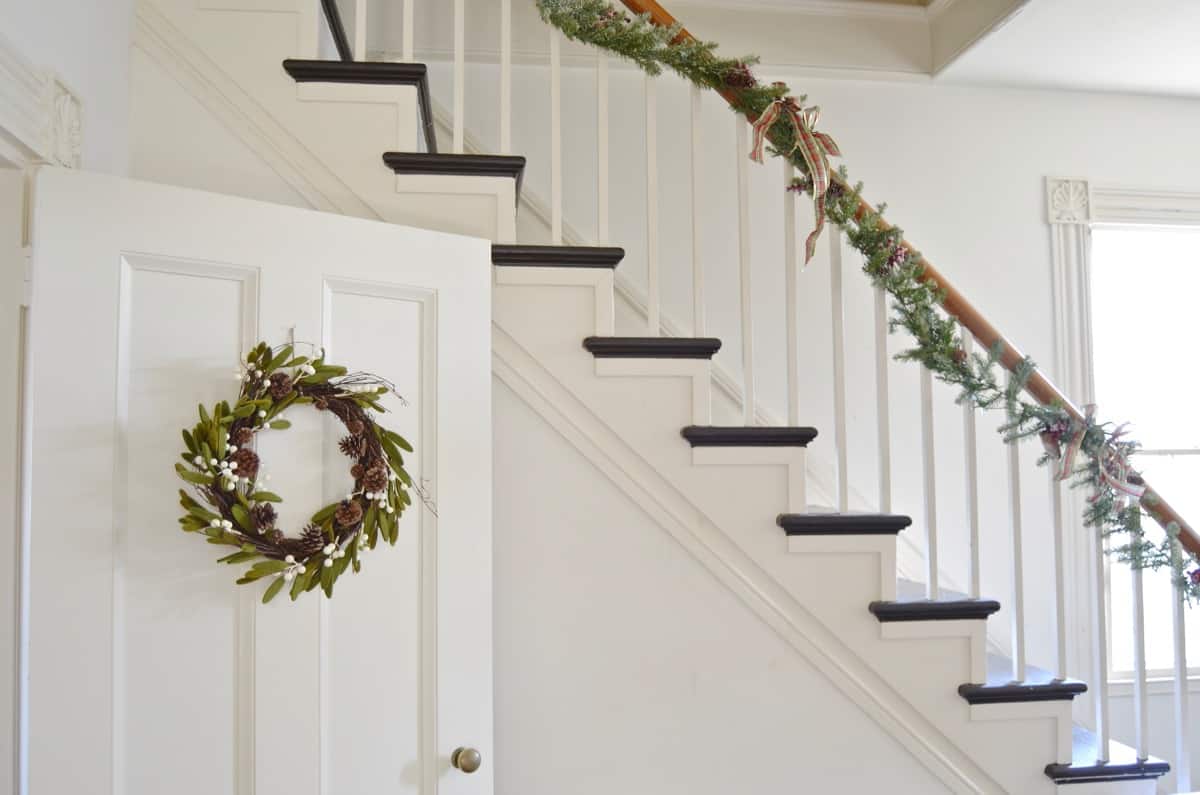 Layering Christmas decorations is a challenge for me. I have boxes and boxes of sweet garlands and ornaments, but they don't necessarily work all together! I found that leaving half of those decorations up in the attic was exactly what I needed to enjoy decorating. I'm LOVING all these beautiful lit up Christmas trees this year so I pulled out anything that fit that scheme.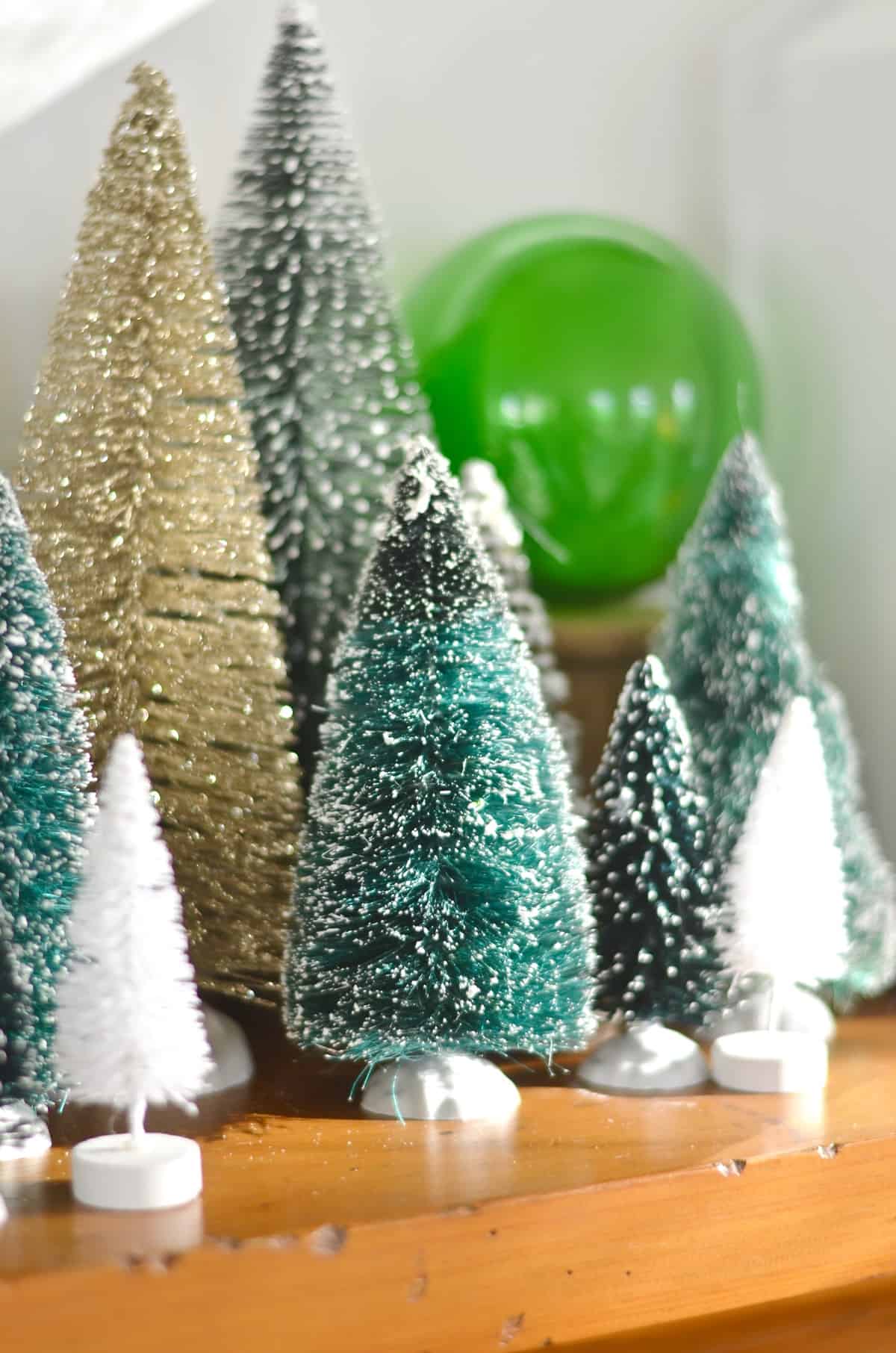 I haven't teased it on the blog yet (yes… I know I'm running out of runway to Christmas), but the front entrance greets folks (and by folks I mean our UPS guy) with that fun DIY Santa Hat mat.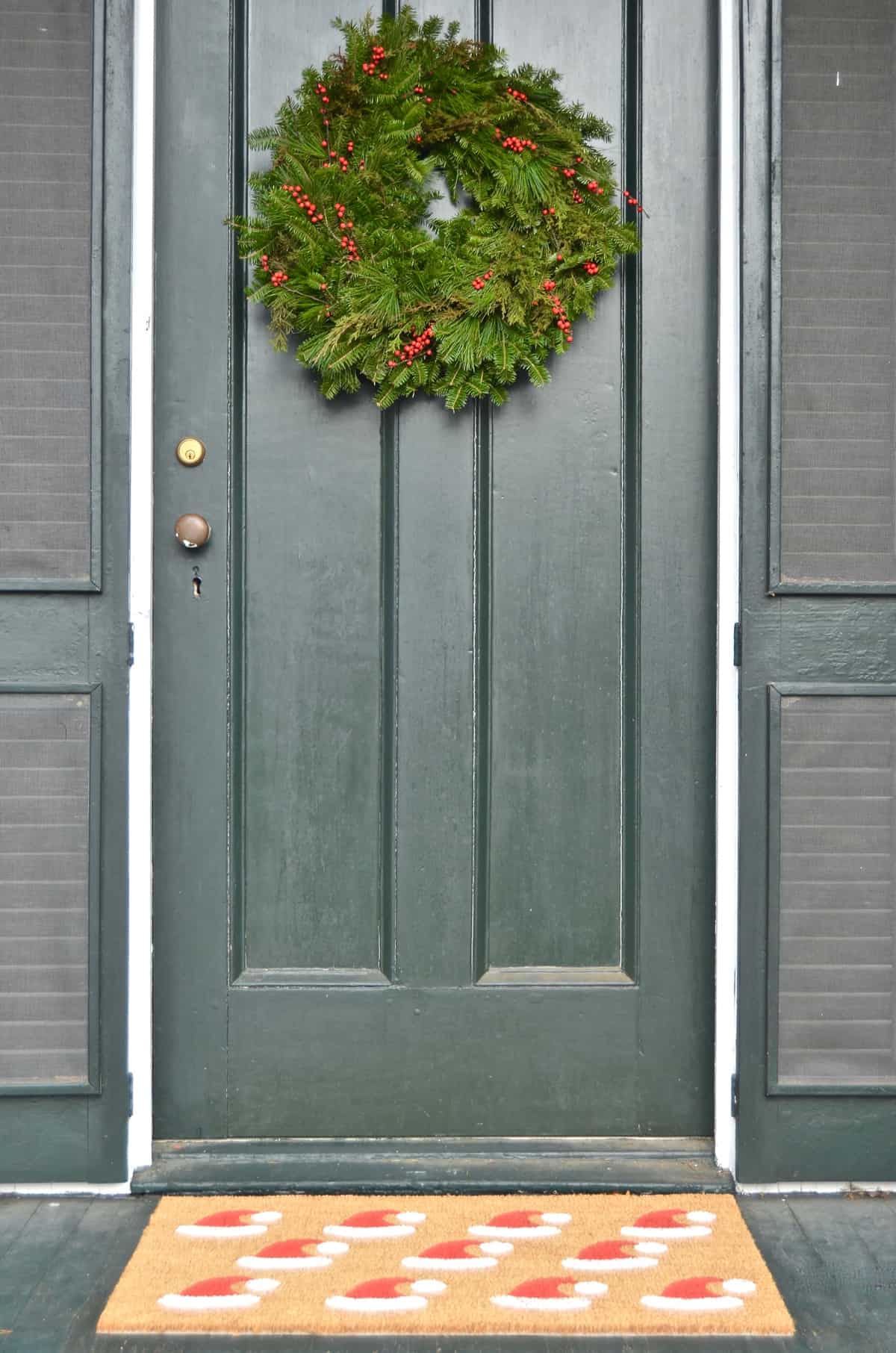 The foyer already had that one mini tree that I decorated three different ways, so I added some more bottle brush trees and added that handy Santa.  He's got a tool belt on… we're pals.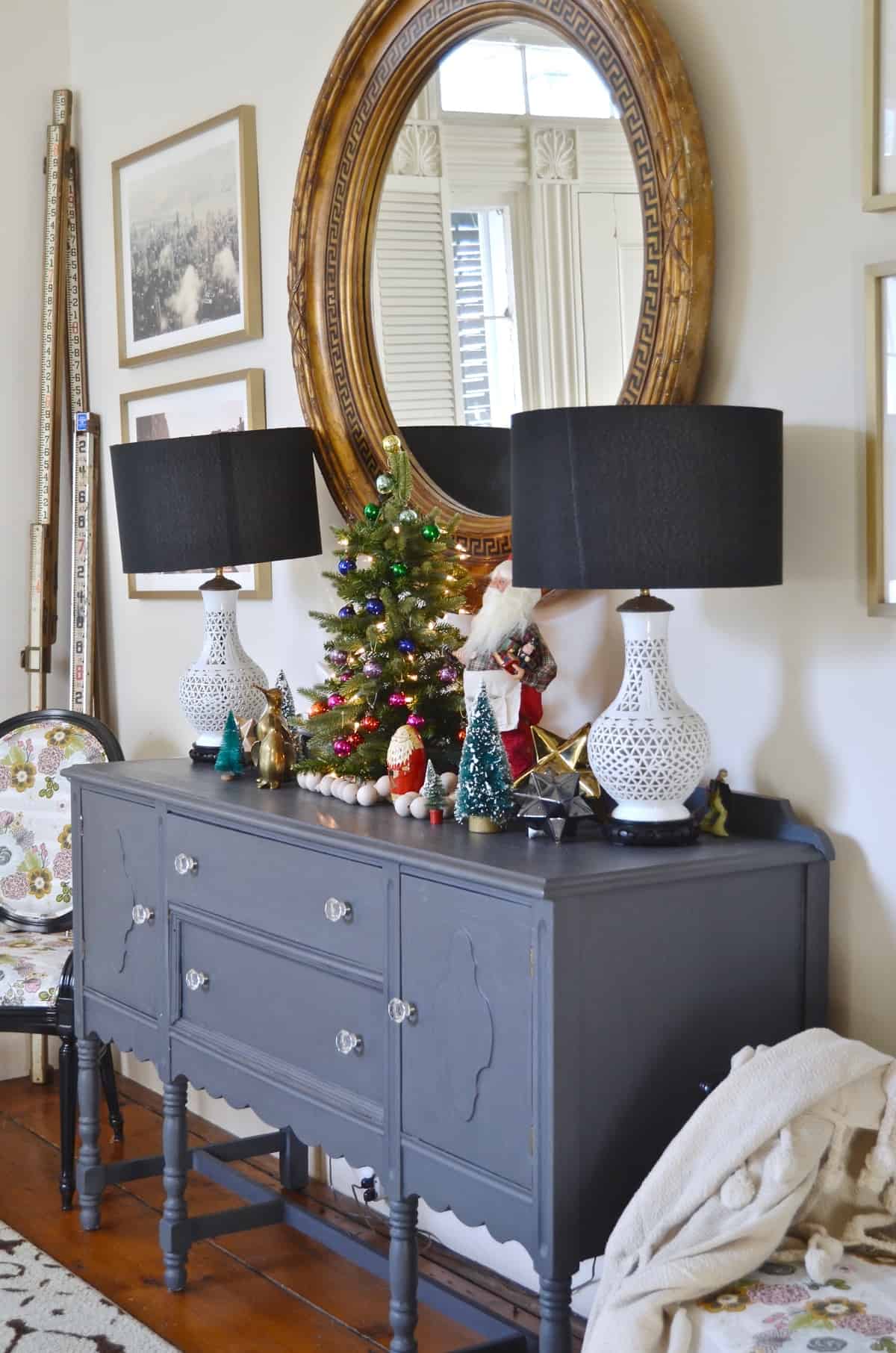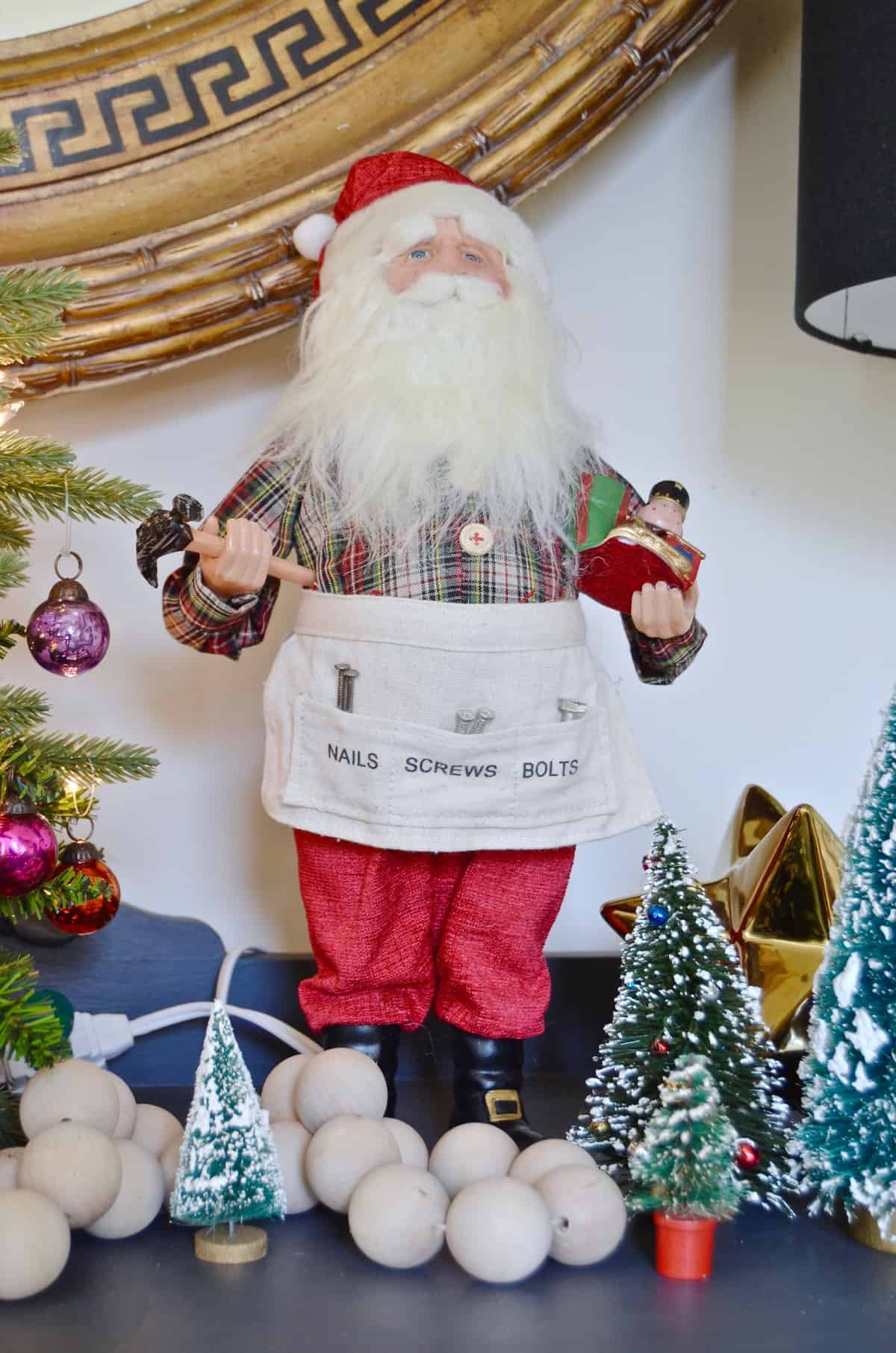 That giant framed tree was a project for eHow last year… I shared some more pictures of it in this post. (Be prepared to have your mind blown a little bit with the styling… or maybe not.)
I love having all these green plants inside during the winter. They complement my Home Depot stocking post over in that sunny corner of the foyer.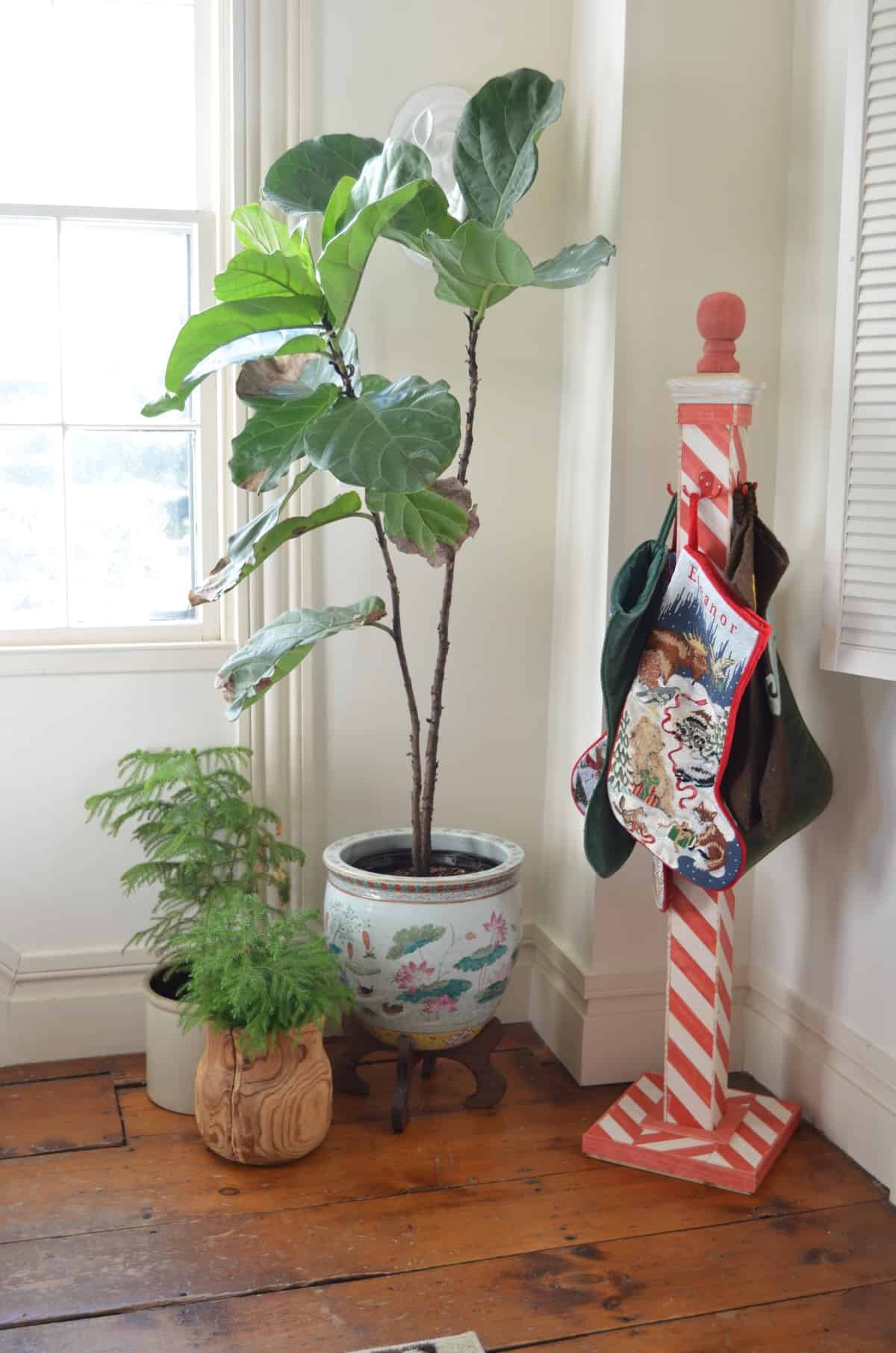 Last week I won that cheerful light box from Brite Lite Tribe and I plunked it next to a few more bottle brush trees.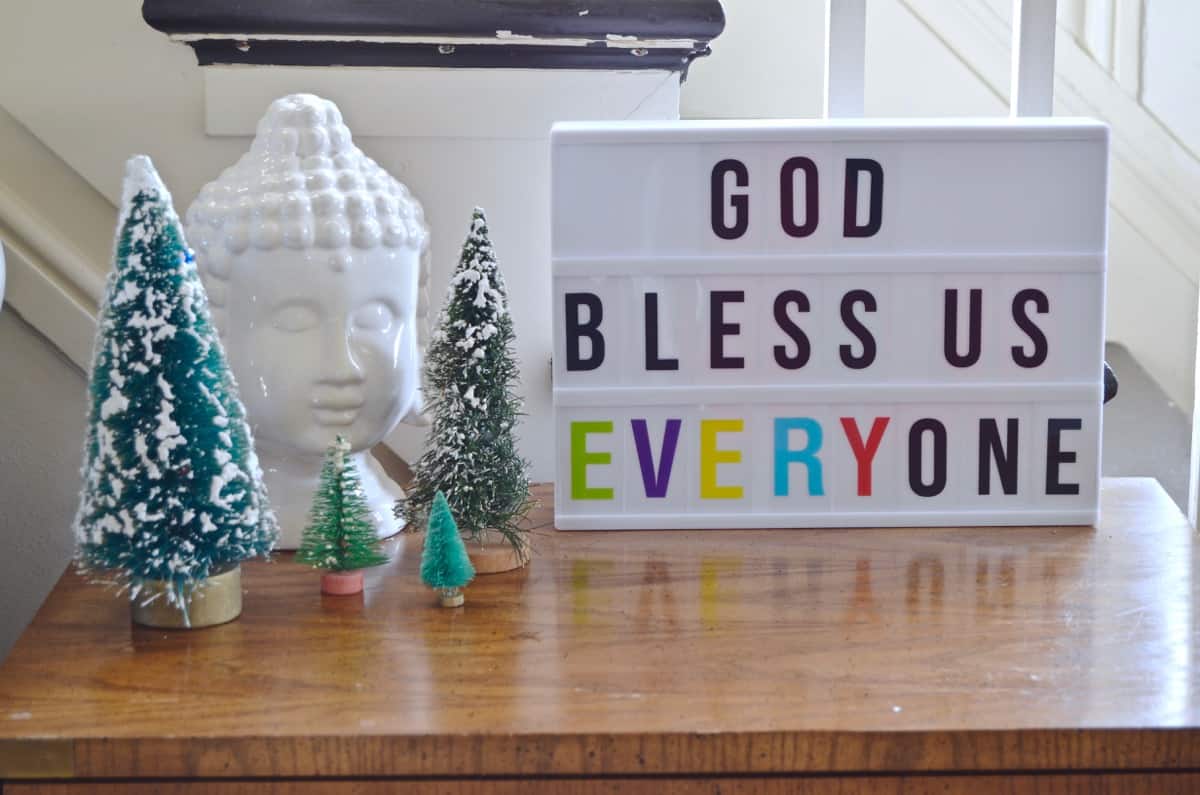 If you follow me on Instagram, then you saw this image… the tranquility of that simple wreath and the garland brings me calm.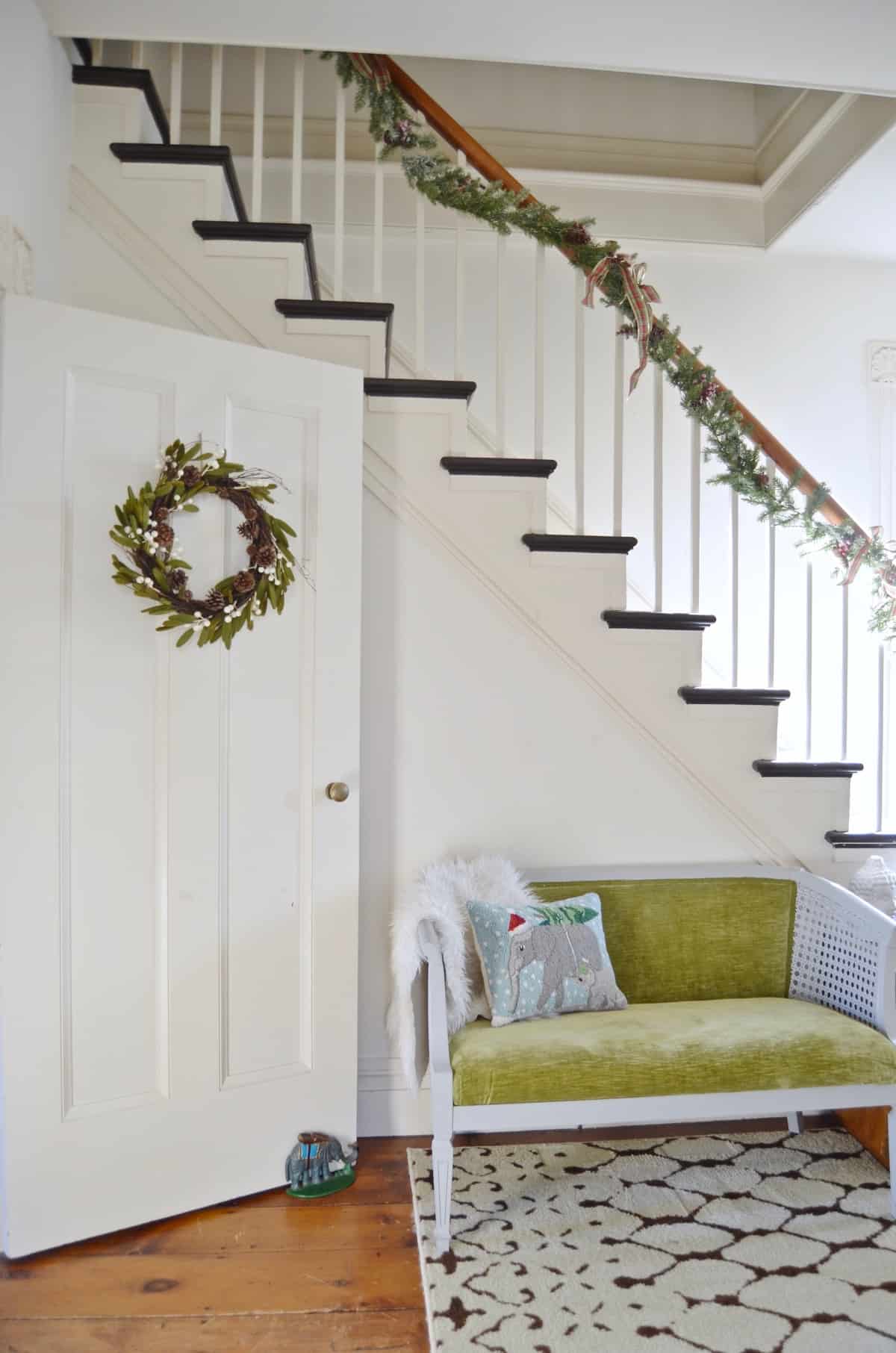 Moving into the living room, the mantel is a fun one for decorating. I started by loading it up with bottle brush trees, and then I included those amazing shadow boxes that I got on sale after Christmas last year from Home Decorators Collection.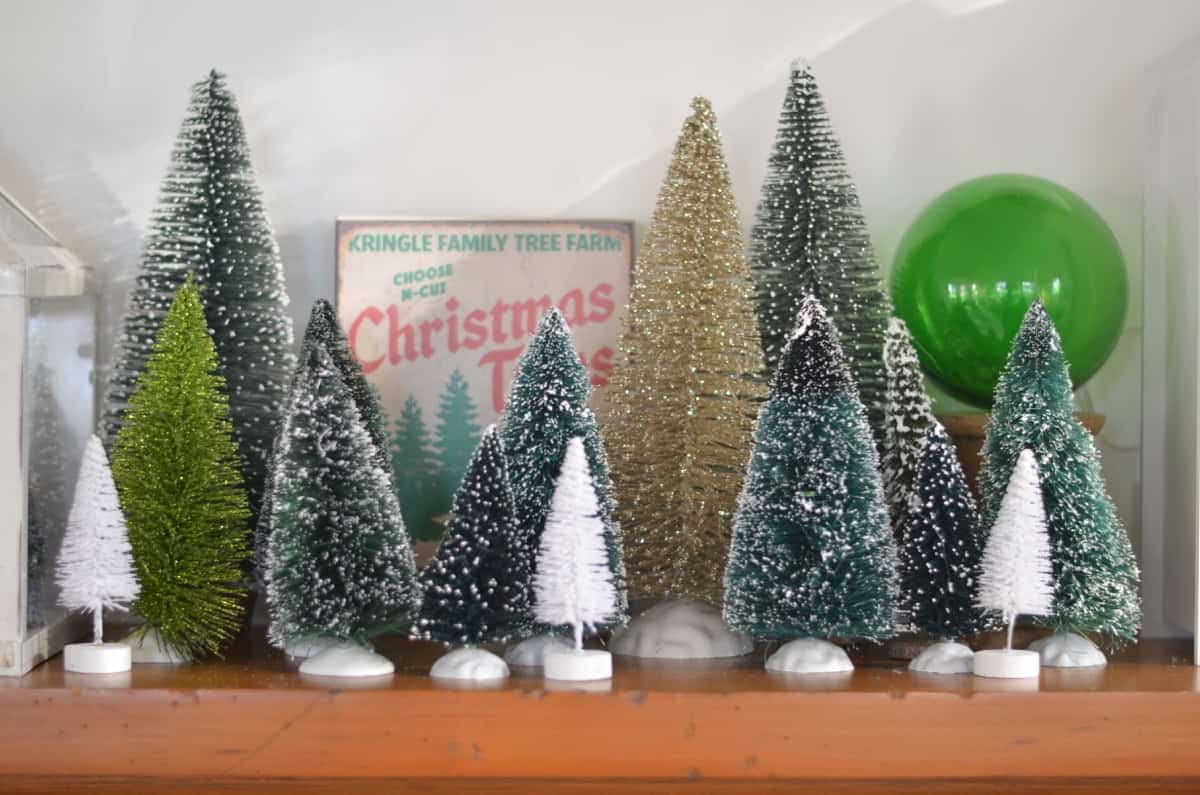 I found that hilarious printed bag at the flea market and wasn't sure exactly what to do with it, so I just rested it against the hearth with that green chunk of slag glass. (NOT coal… see what I did there?!)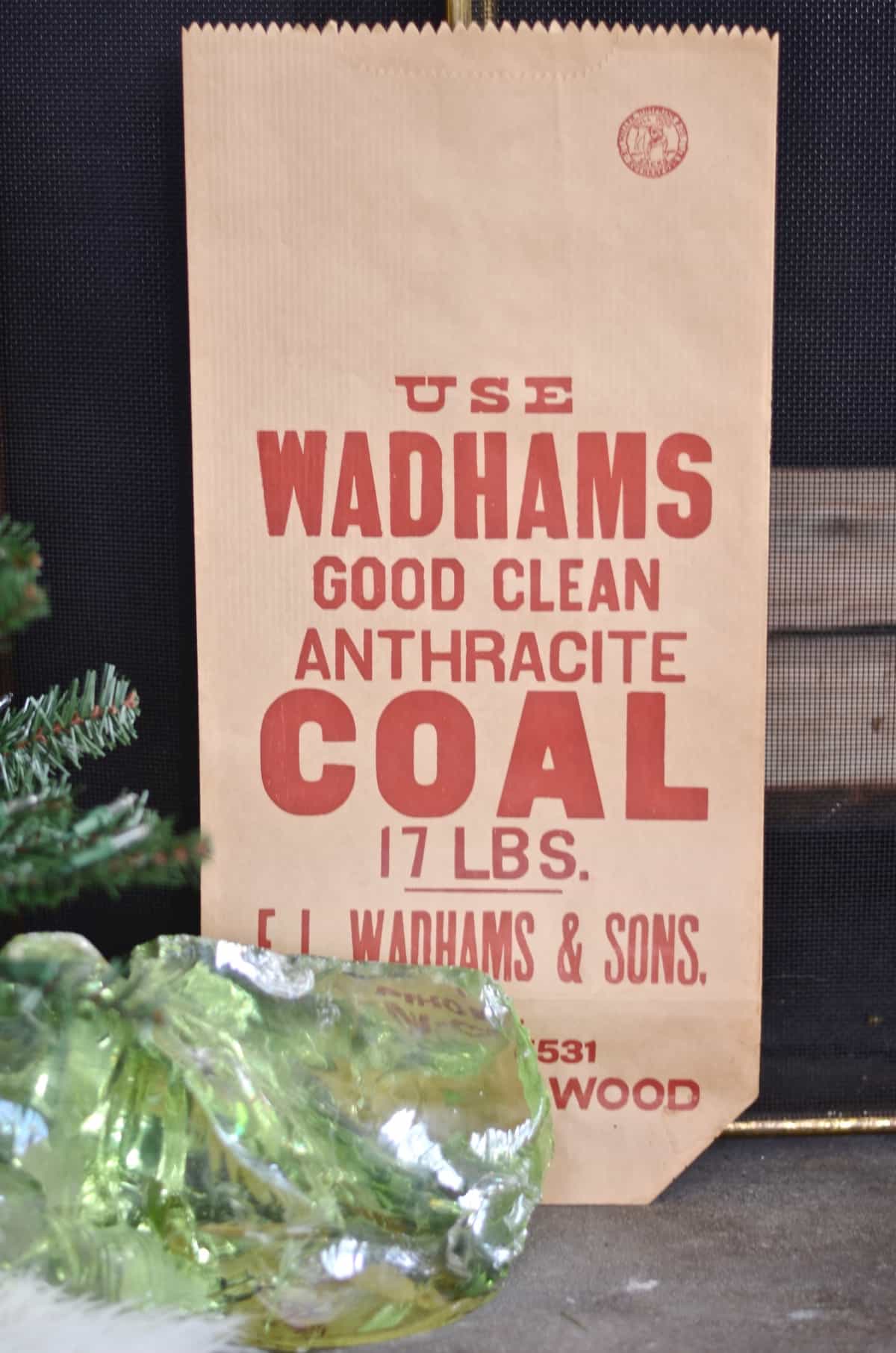 Those mini trees and all the DIY garlands were mentioned in my post last week.  Also, paperwhites. I LOVE planting these in any container I can get my hands on. These ones should be blooming right in time for Christmas.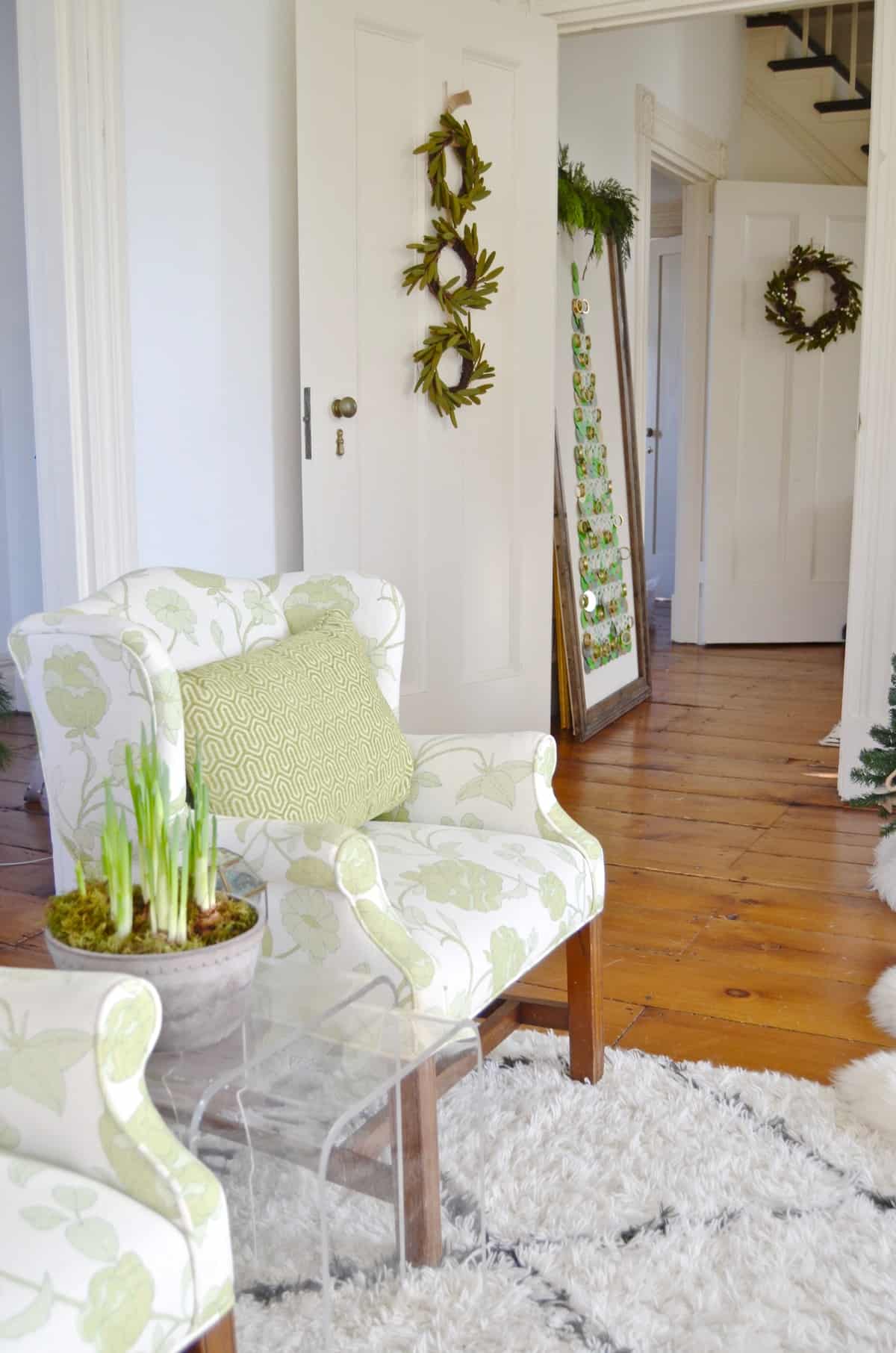 Our Christmas tree is in the office. We cut it down ourselves and the kids litter it with all the handmade and souvenir ornaments we've collected over the years. We grab an ornament whenever we travel and it's always a fun reminder of past adventures.  This year, the tree is completely lopsided. Ha!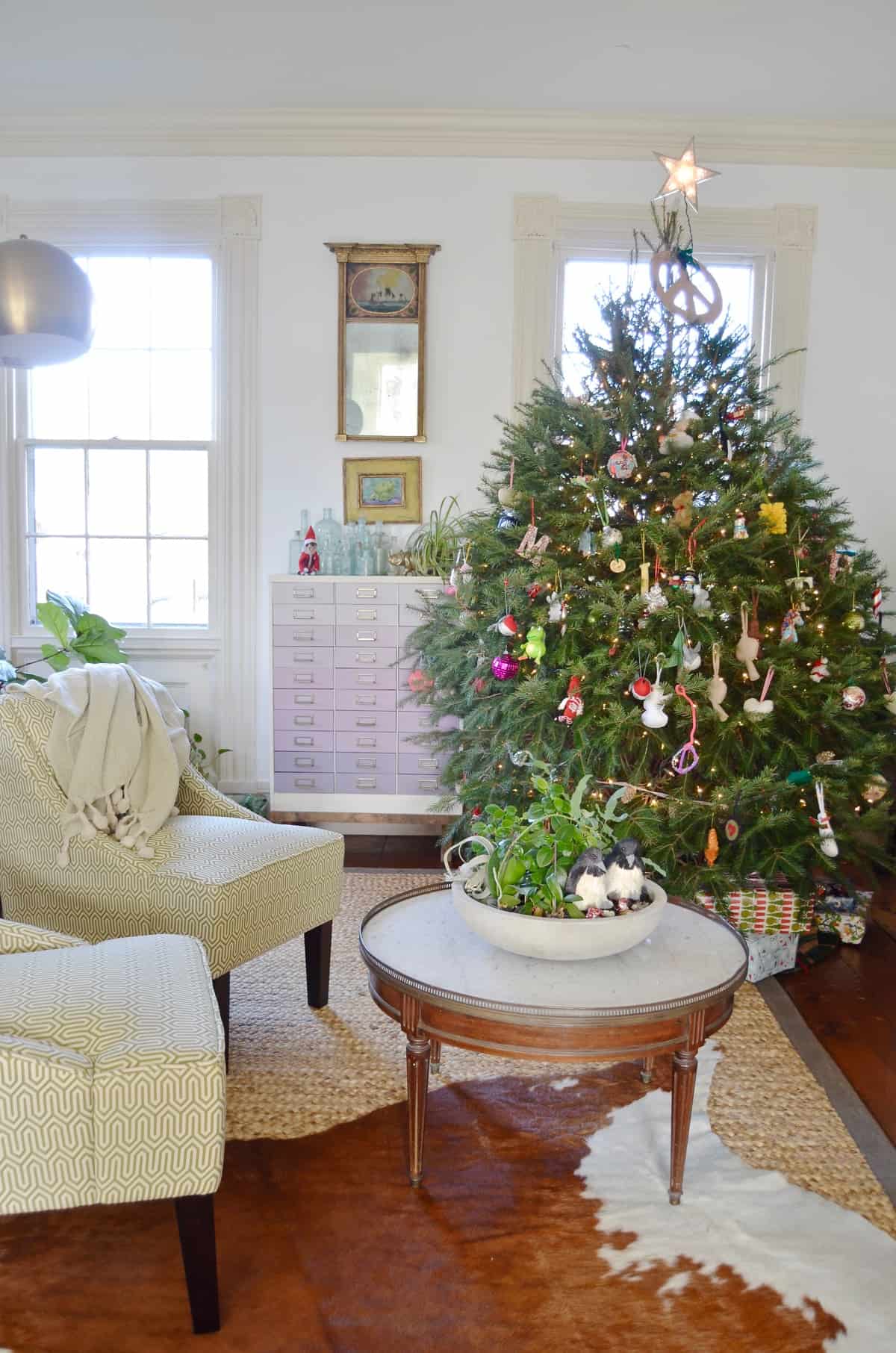 The office is midway through a refresh with some new furniture, etc. so it's not particularly photo-ready, but I brought in some of my thrifted red beads for the piano guts hanging on the wall.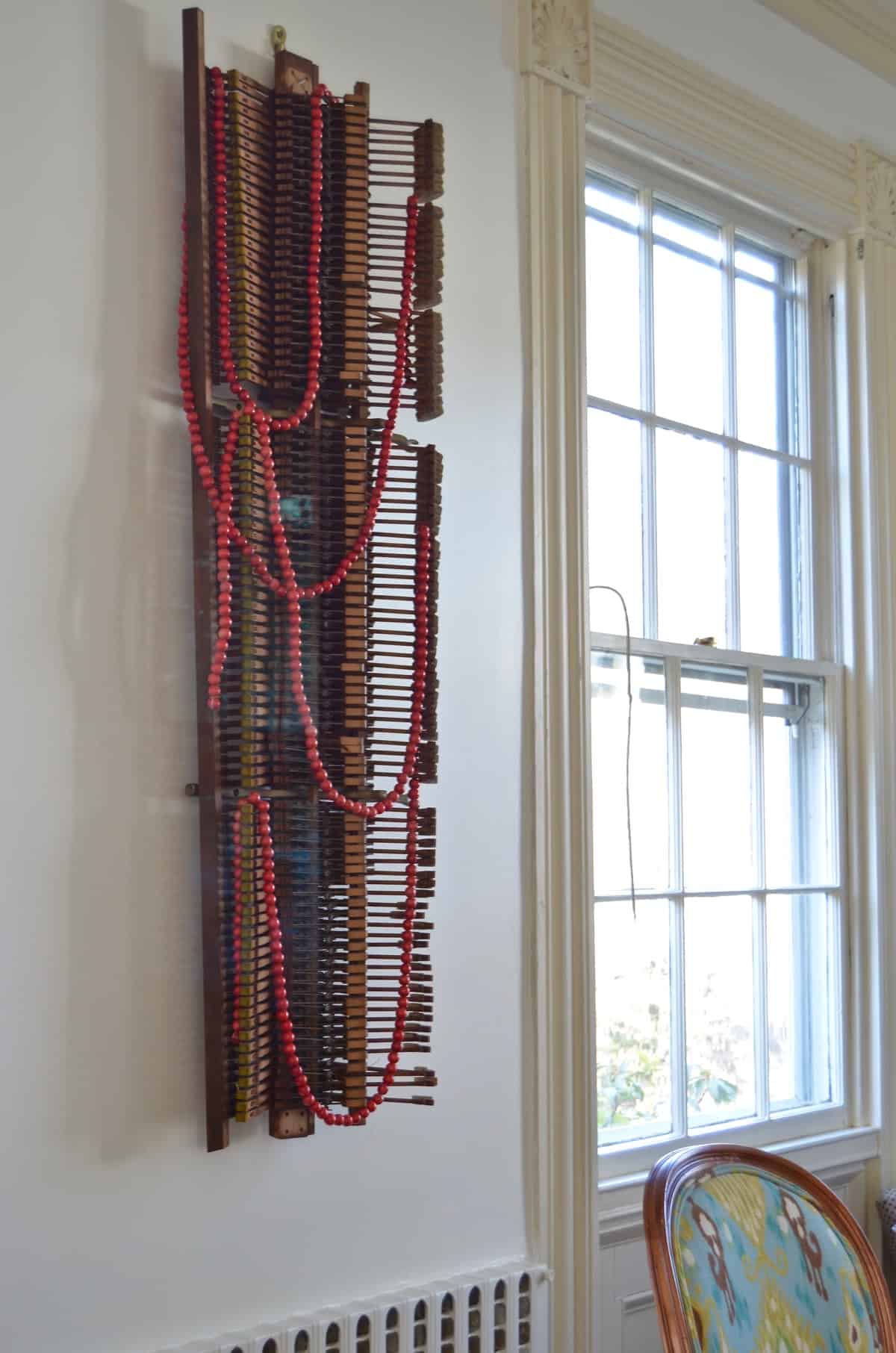 Next week, I'll share the tablescape, but it involves more of those bright red accents.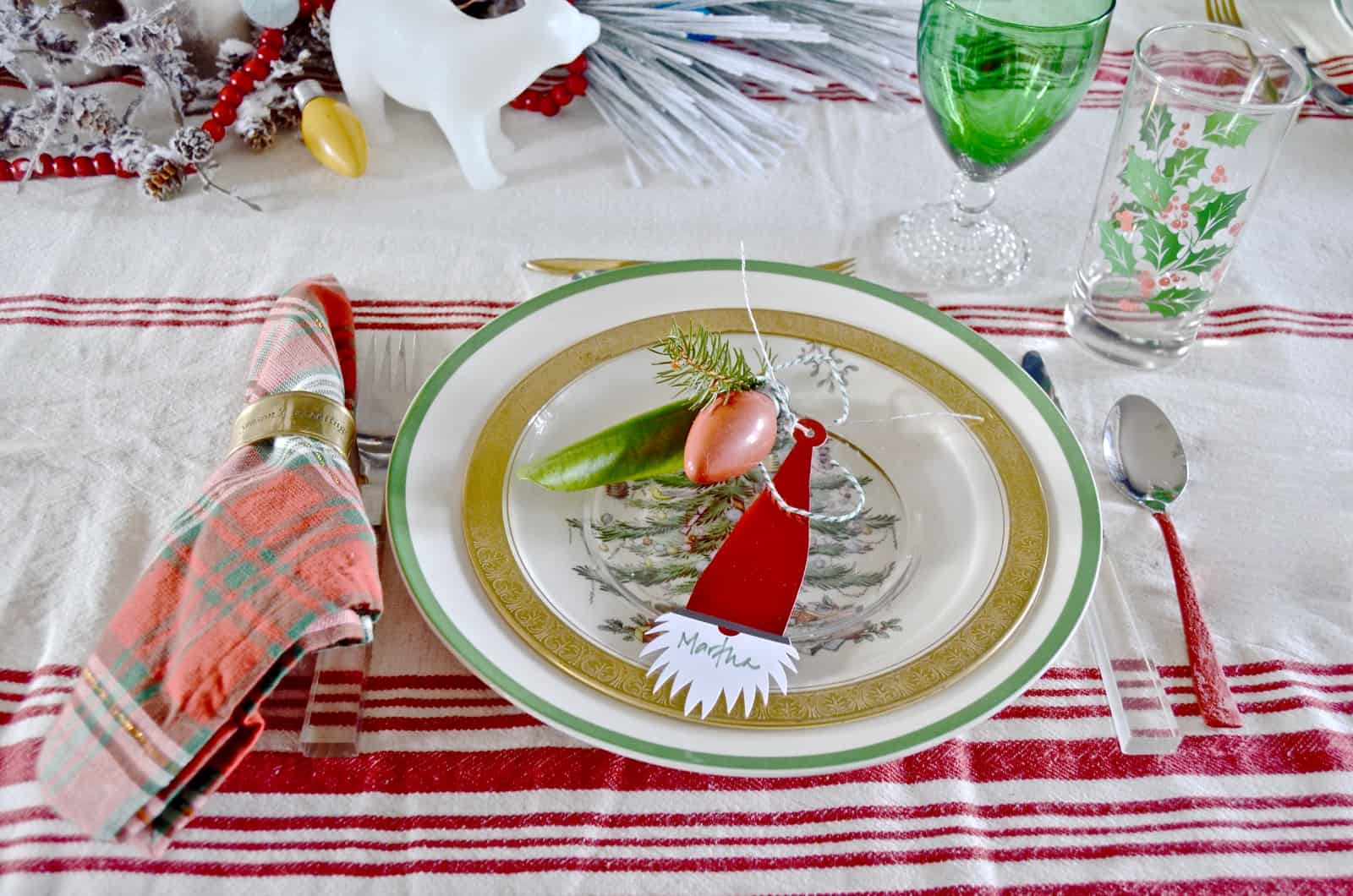 There are a couple of rooms that I've already shared with you. For our master bedroom, I brought in some wonderful red tones and a prelit tree and the whole space immediately felt cozy.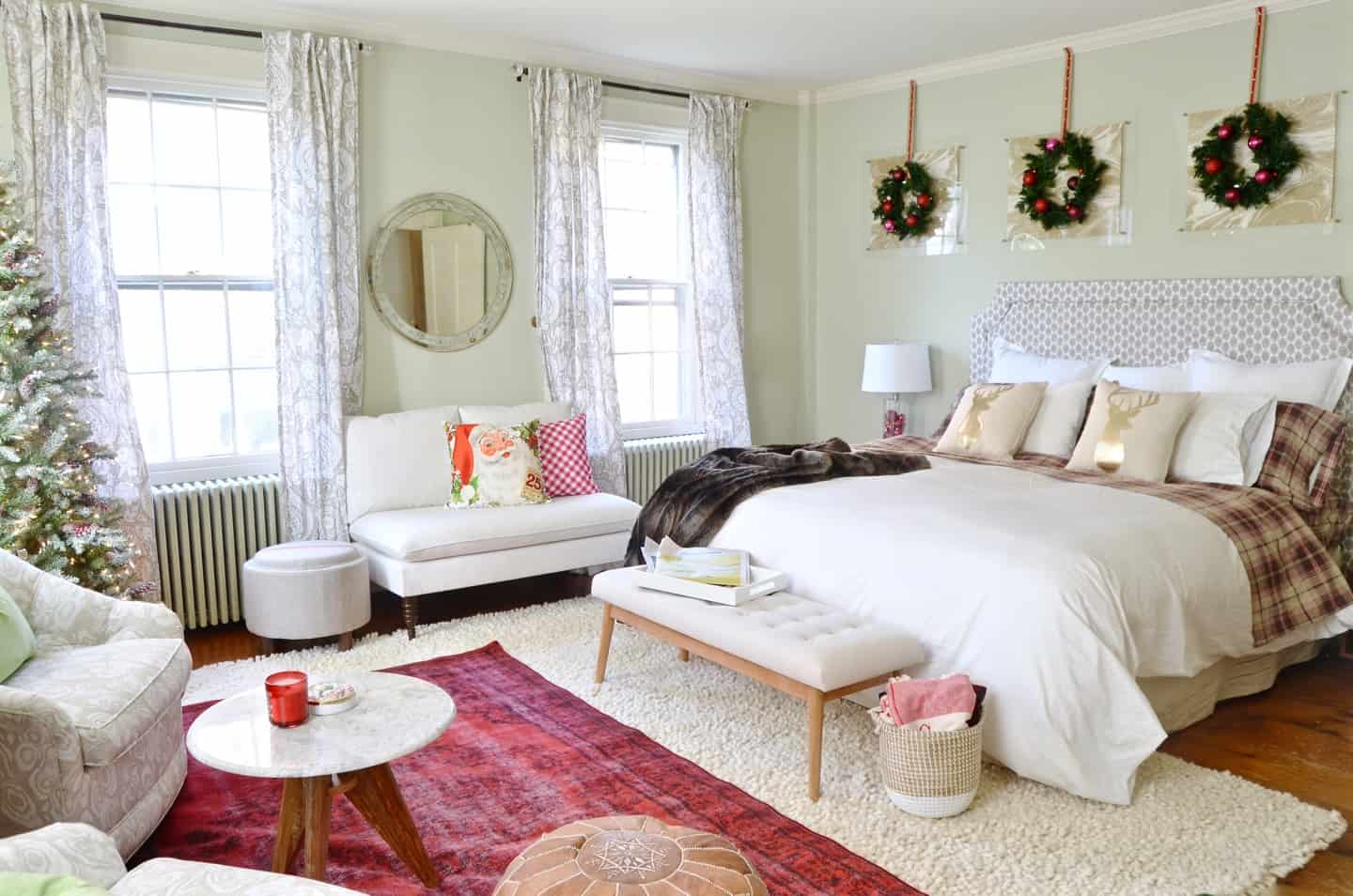 The front porch was a similar scheme. Simple greenery, colorful pillows, a bright detail here and there.  The layering of holiday decor is a challenge for me.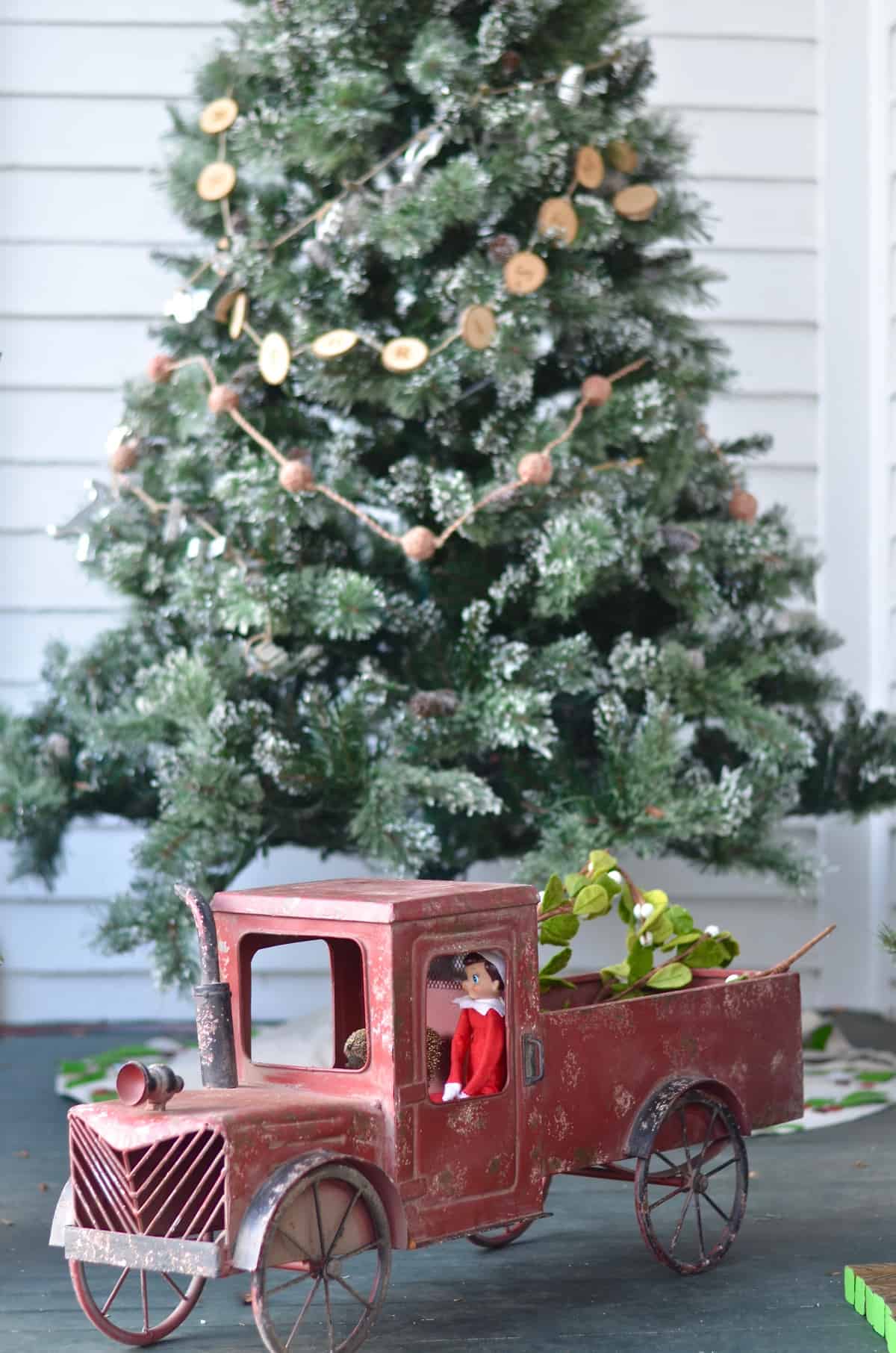 Now you've seen the extent of my holiday house tour, but I've got a treat in store. On Monday, I'm teaming up with my hilarious friends for another round of Keeping It Real house tours. I'll pull back the curtain on just about every aspect of this *somewhat* pulled together holiday scheme and blow it all to bits. NONE of this is real, folks. Promise. Tune in Monday for all the not-so-pristine details.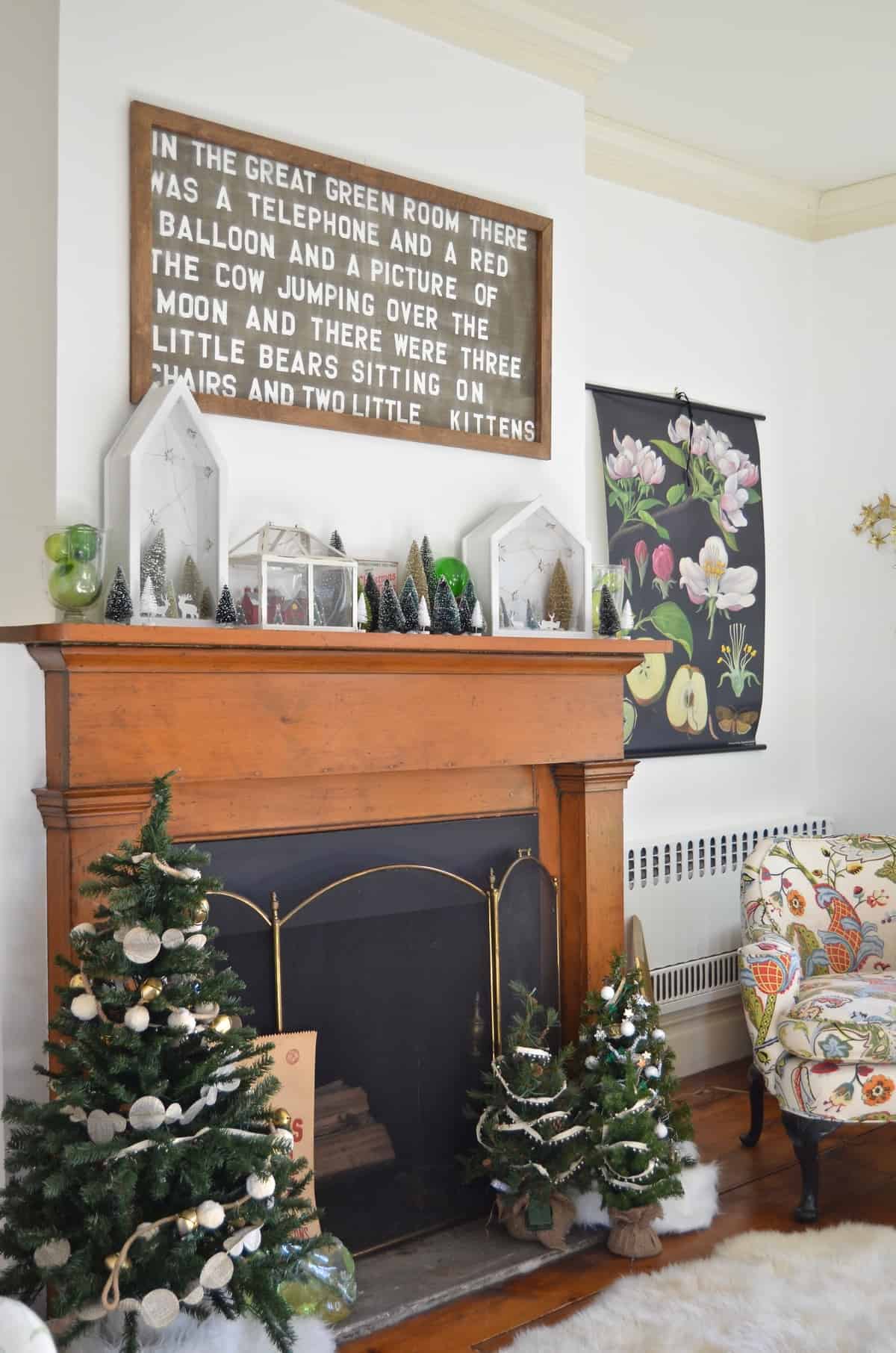 (And the tablescape. I'll share that too.)
Don't forget to PIN IT for later–>