Colorful Makeover for a Dull Bathroom
Psssst… this post *might* contain affiliate links: see my disclosure here.
Colorful Bathroom Reveal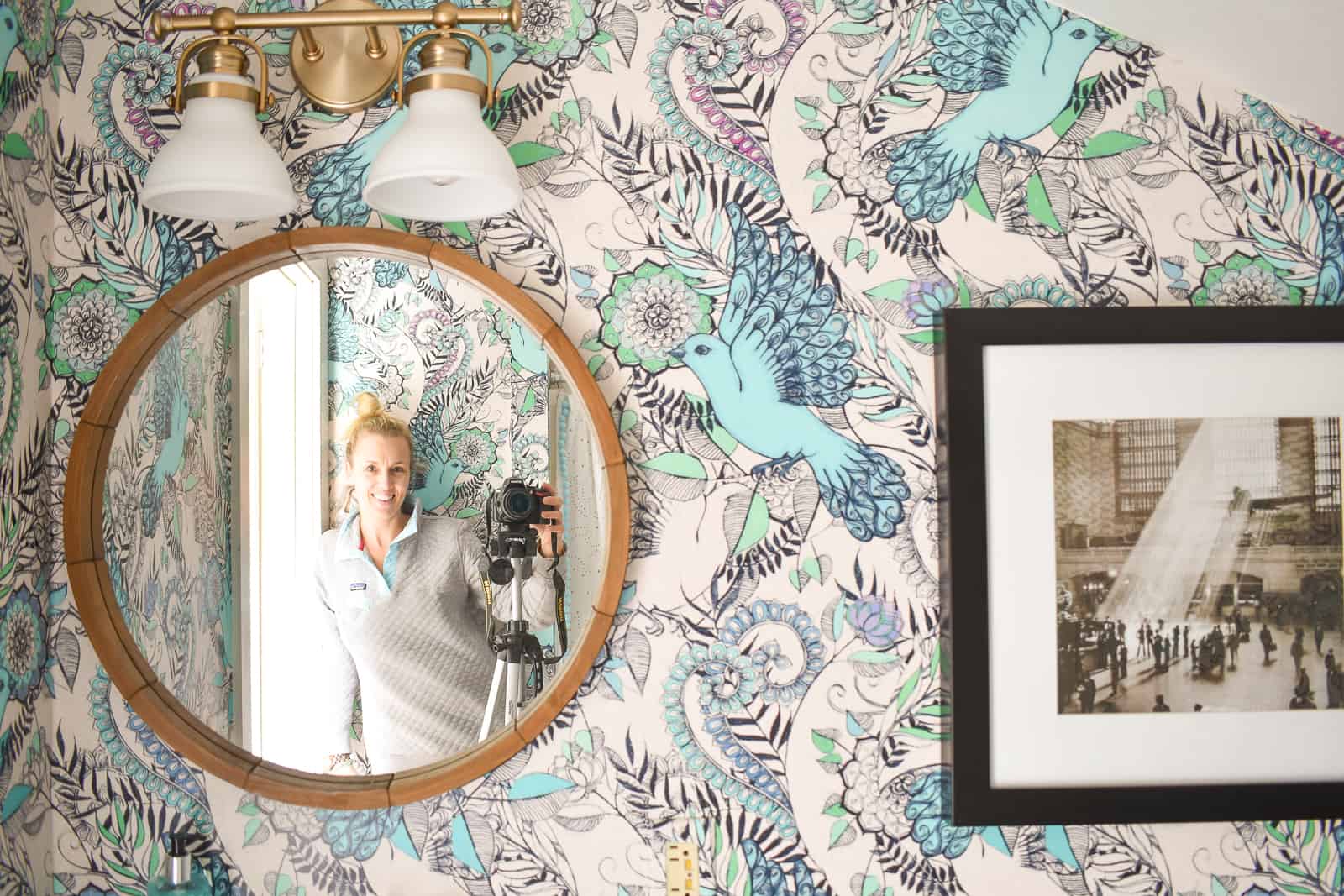 When I tell you this post is down to the wire, I mean it's DOWN TO THE WIRE! I actually photographed the room last week, but editing and hitting publish was the challenge here! I digress… our third floor bathroom is DONE! Fin! Complete! With everything all said and done, this makeover was my favorite type: dramatic before/ after but not any real "heavy lifting"… i.e. mostly superficial!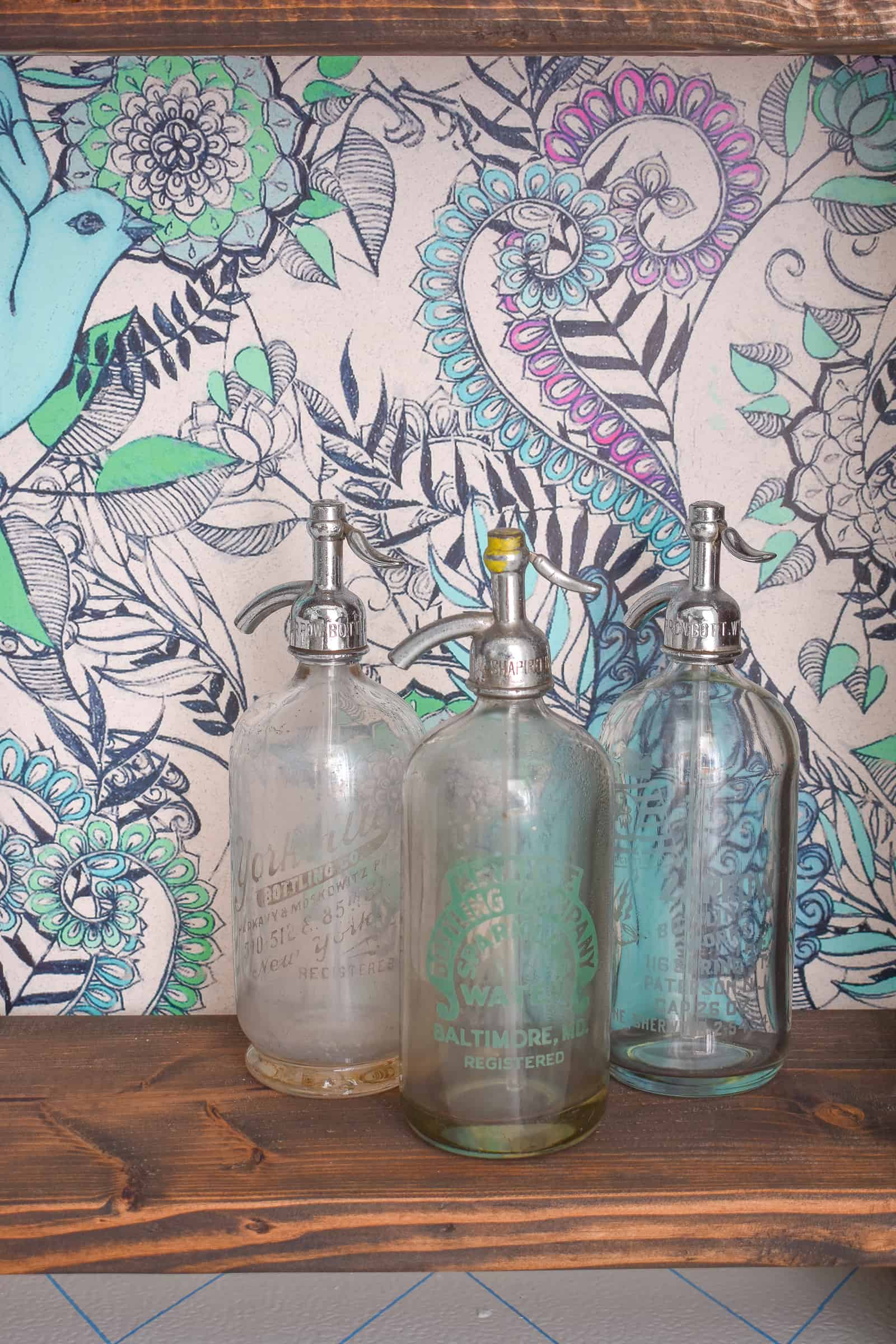 Let's hop in the way way back machine and see how this room started, shall we? Dingy walls, dated floor, junky sconce, stupid storage, tiny mirror, no artwork… like a bad motel.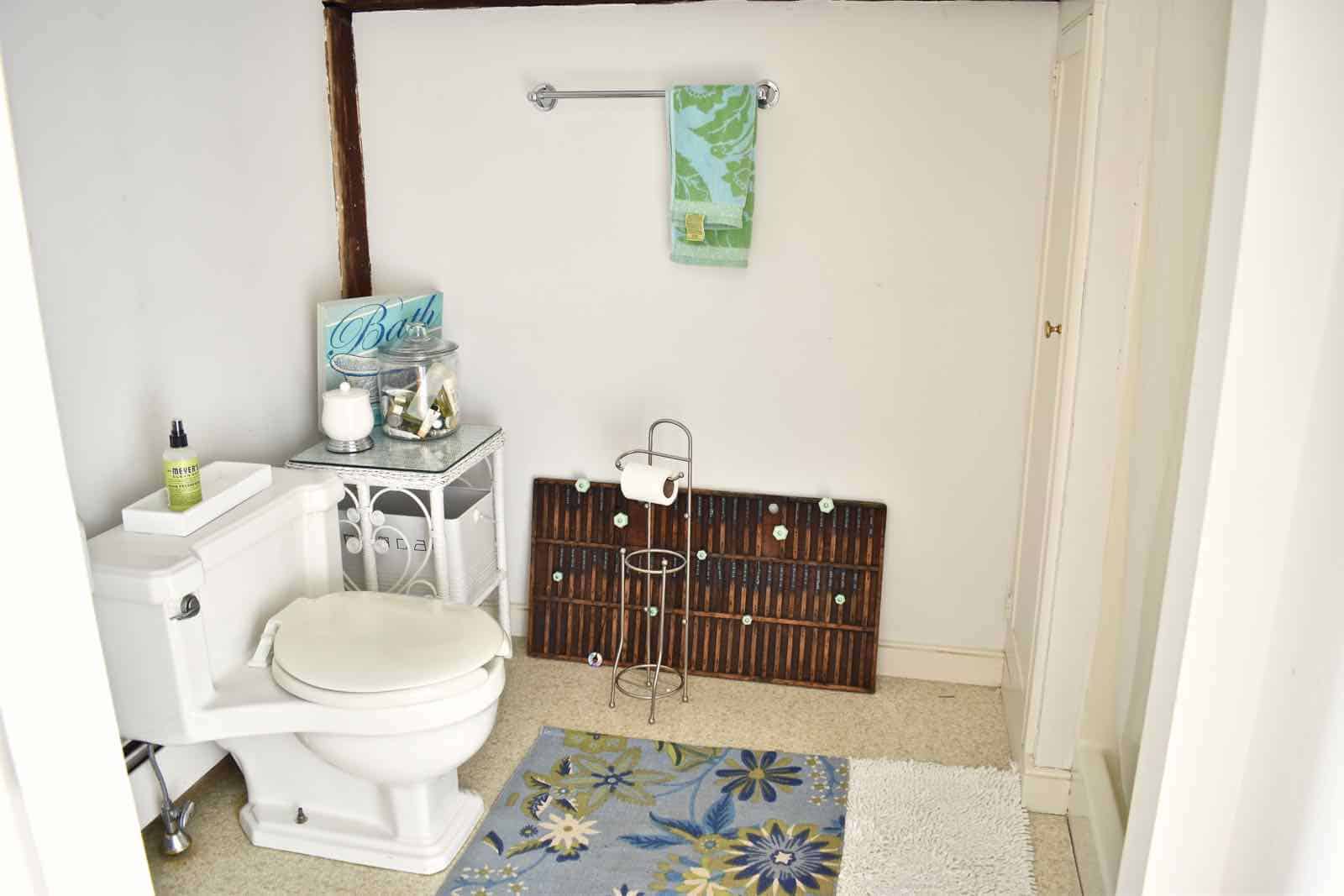 You've pretty much seen the blow by blow so today's post is mostly to see the whole thing all styled and purty. To get you up to speed, Week 1 I shared my vision for the space and gave you some glamour shots of the room in it's BEFORE glory.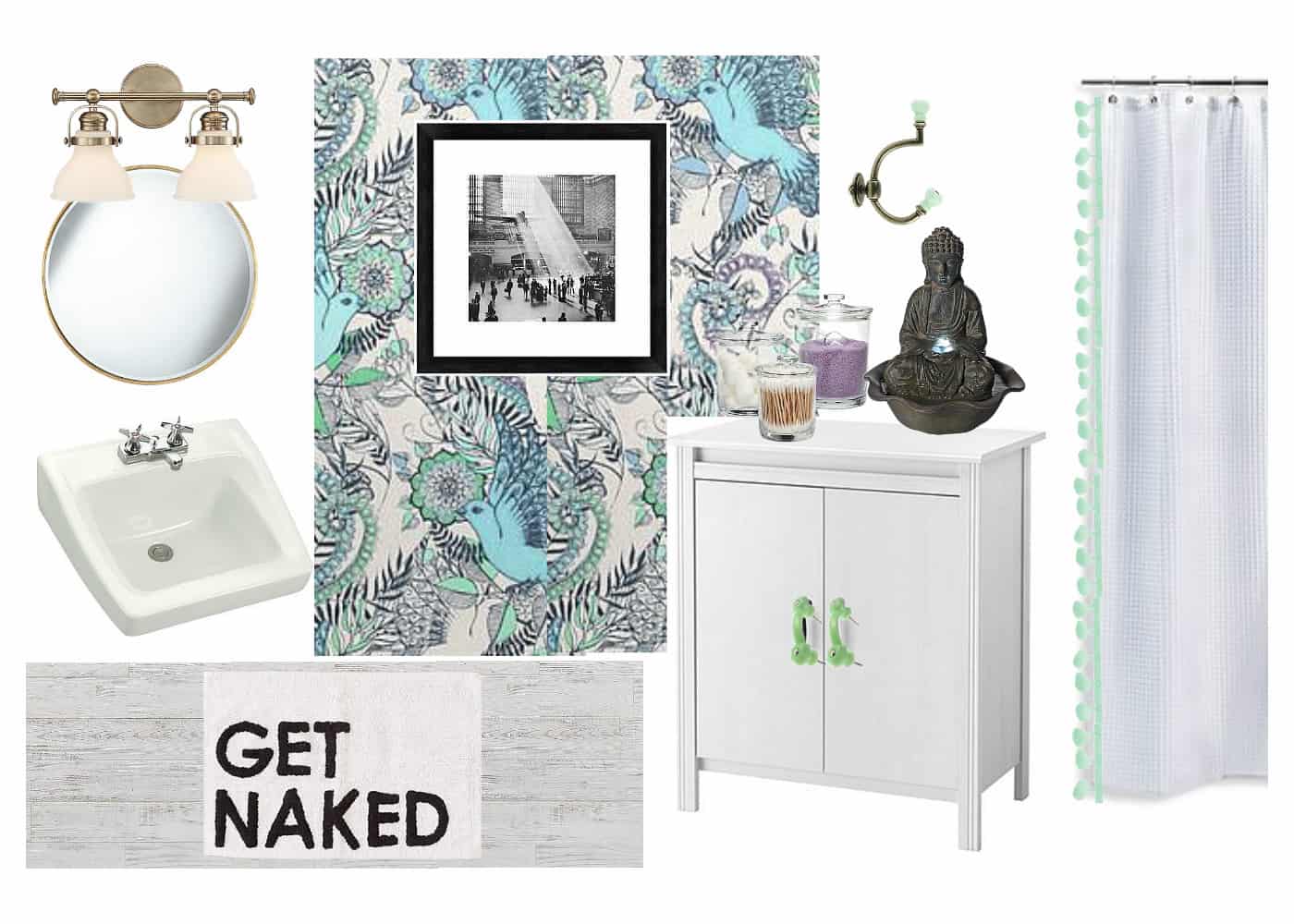 Week 2: I built a new storage table and added some ball fringe to the shower curtain. I stained the table to match the exposed beams that are throughout the third floor, and I love that rich little bit of wood.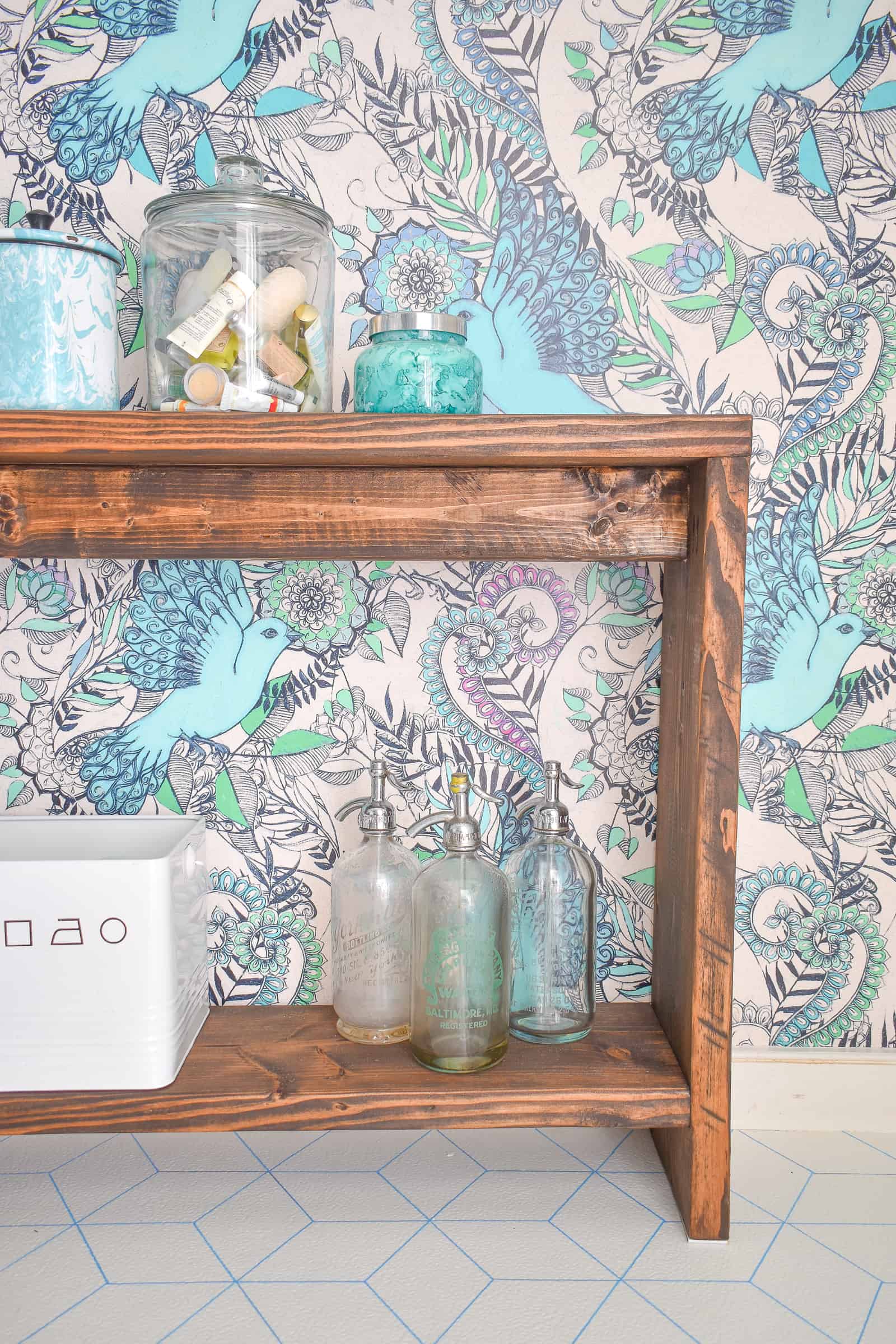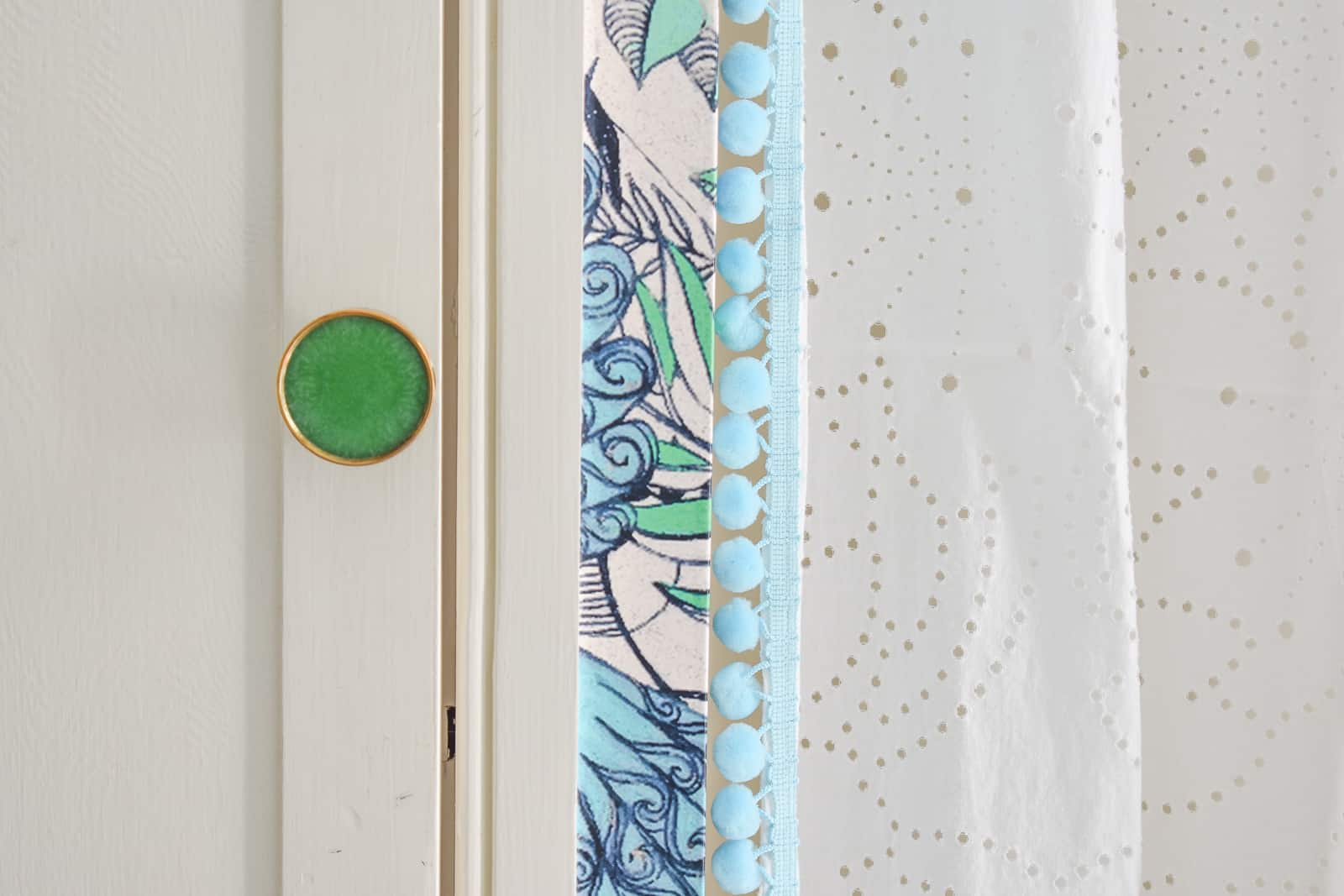 Week 3, I tackled the wallpaper. And I LURVE it. It's from Spoonflower and was designed by the artist Micklyn Le Feuvre. So pretty!  I'm no expert at wallpapering, but I'm getting better! Having that bright and colorful pattern in the space makes the whole room feel more modern and luxe. In my opinion.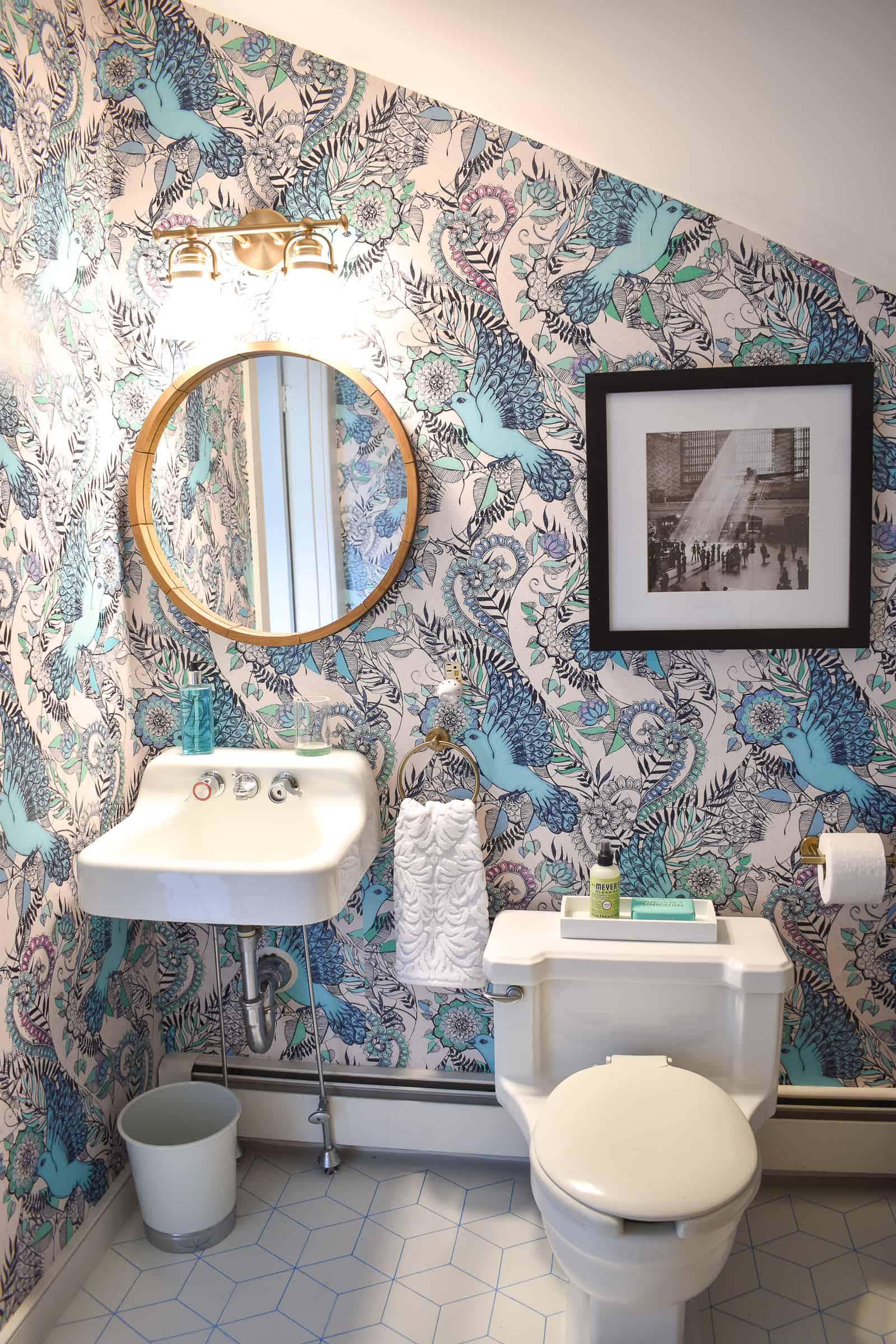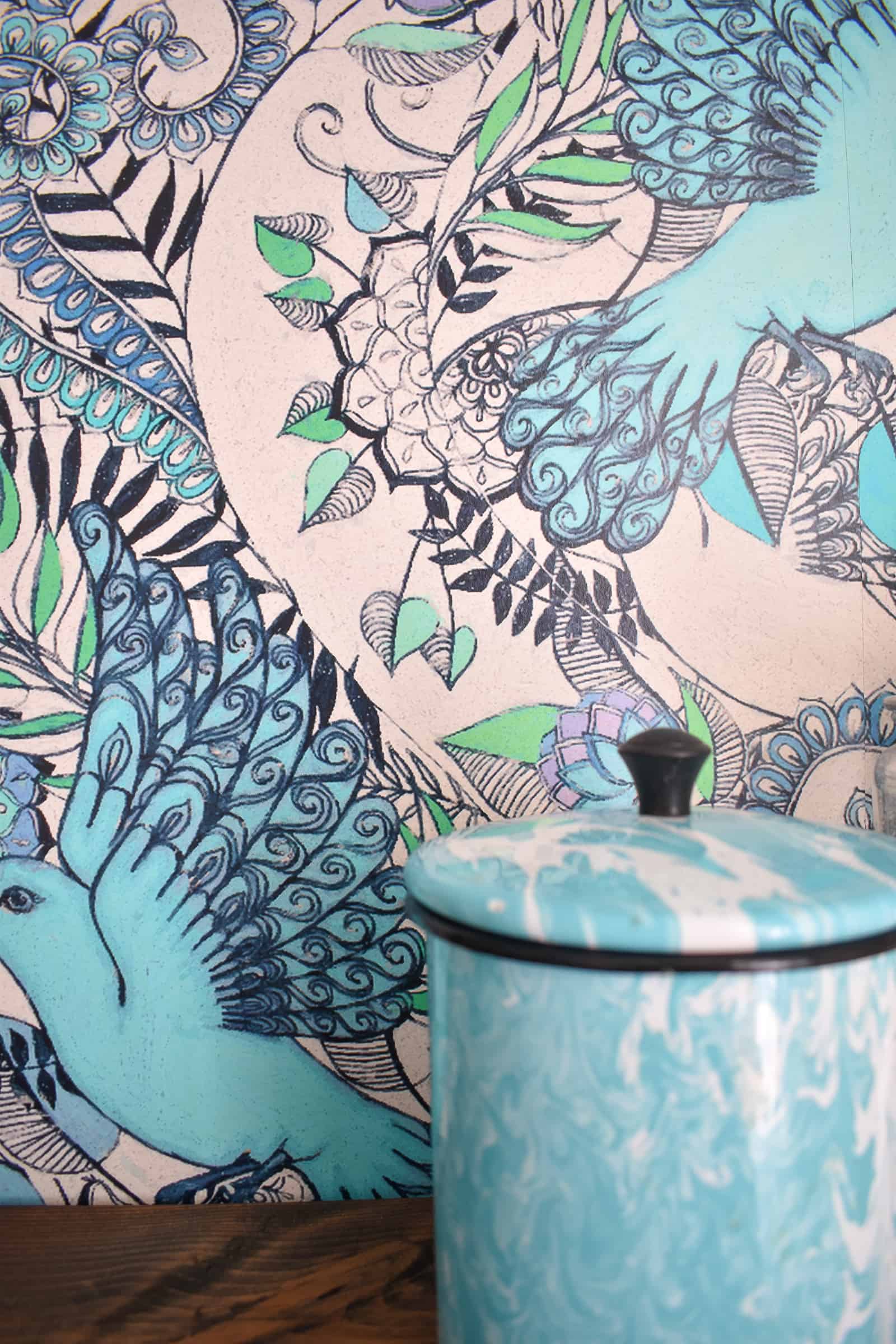 Week 4 and I gave the area right outside the bathroom a little love. A new improved garment rack and a bright new mirror meant this tied in a bit more to the whole space.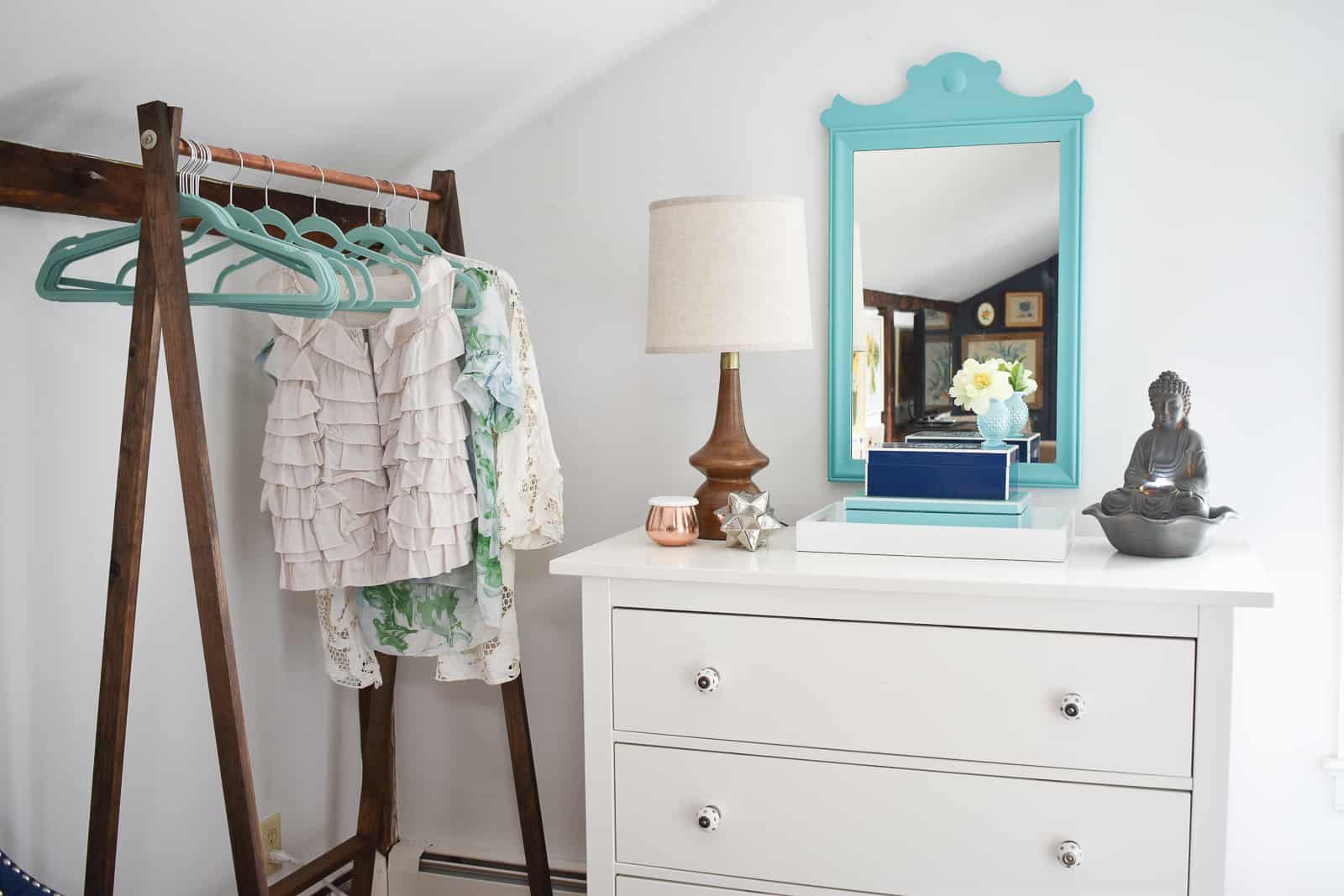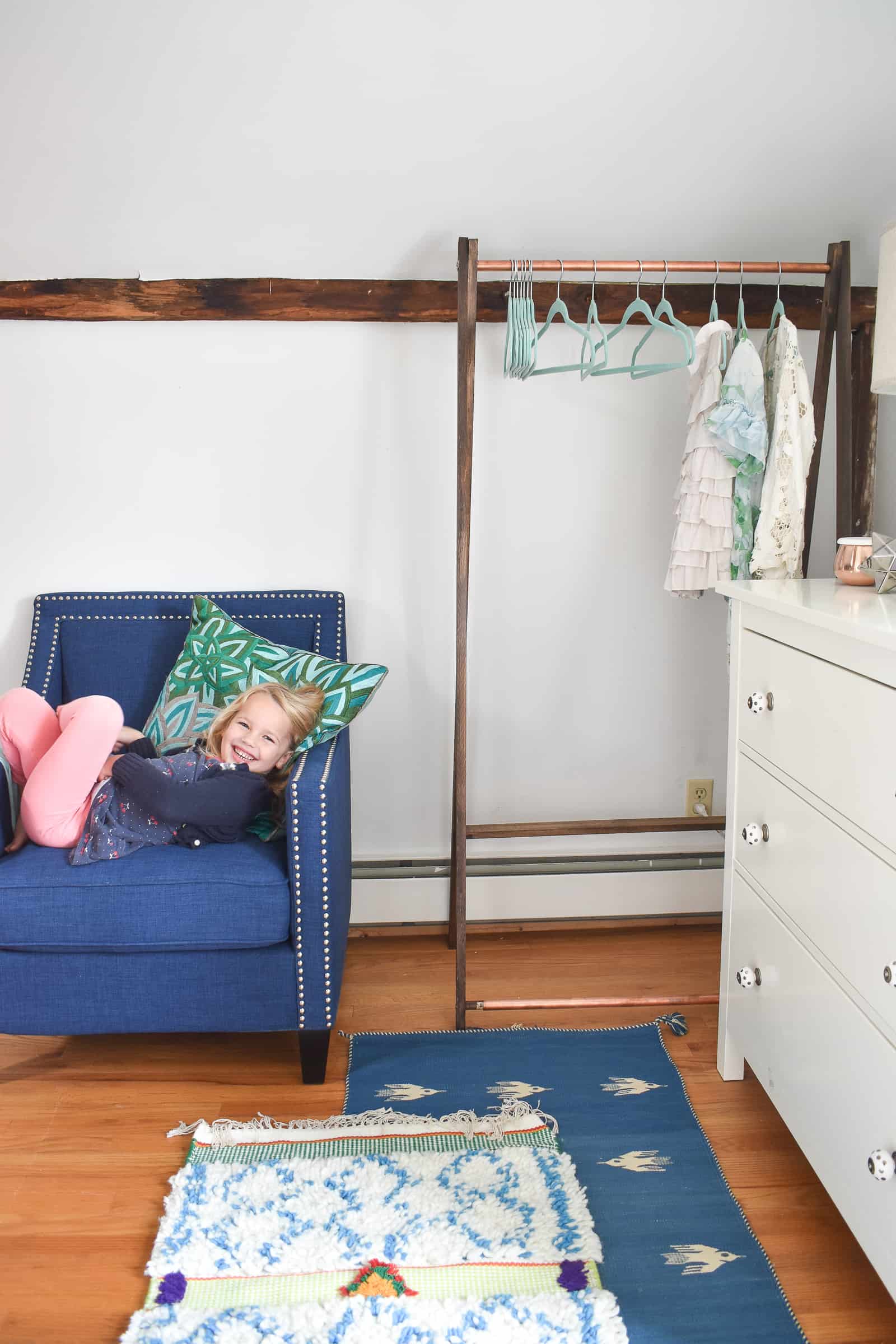 Week 5… yeah, I think I skipped that one. The challenge was extended by a week this go around so… I gave myself a pass…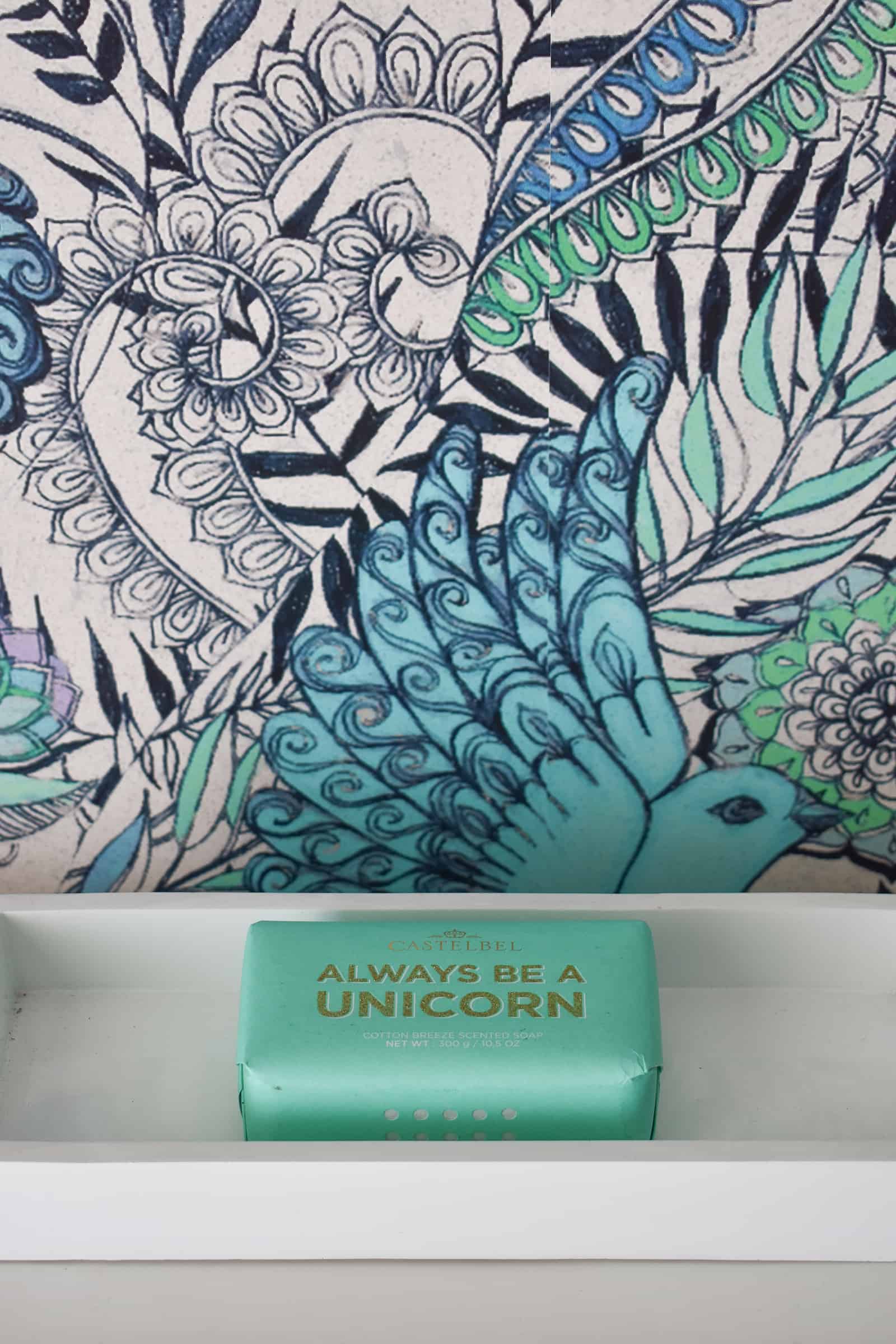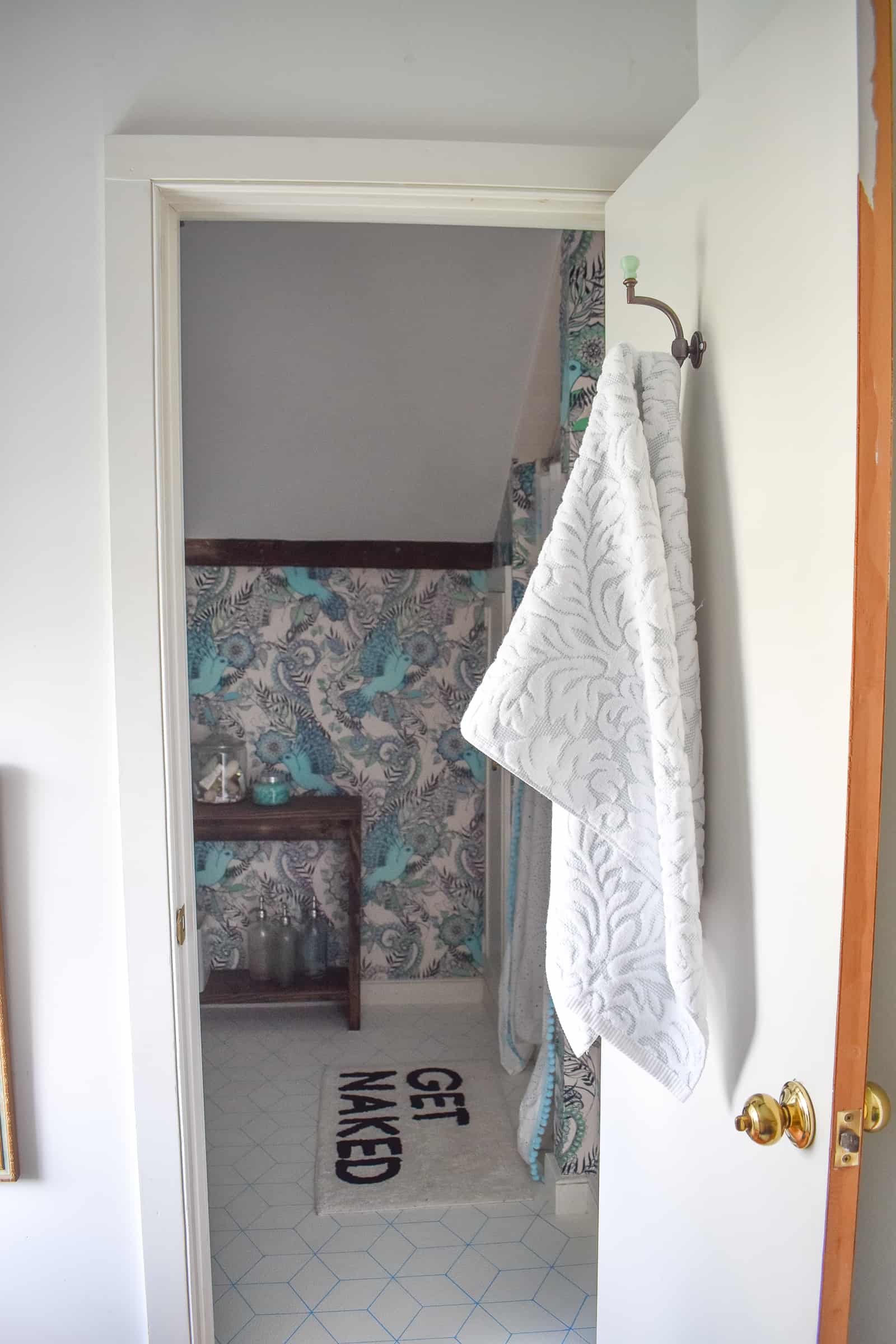 Week 6. I was a little nervous that this would take an eternity, but… it didn't! I tackled the floor and gave it an awesome graphic treatment (for $5!) that meant the whole space looked fresh and updated, but… no tiling or demo involved. Win-win!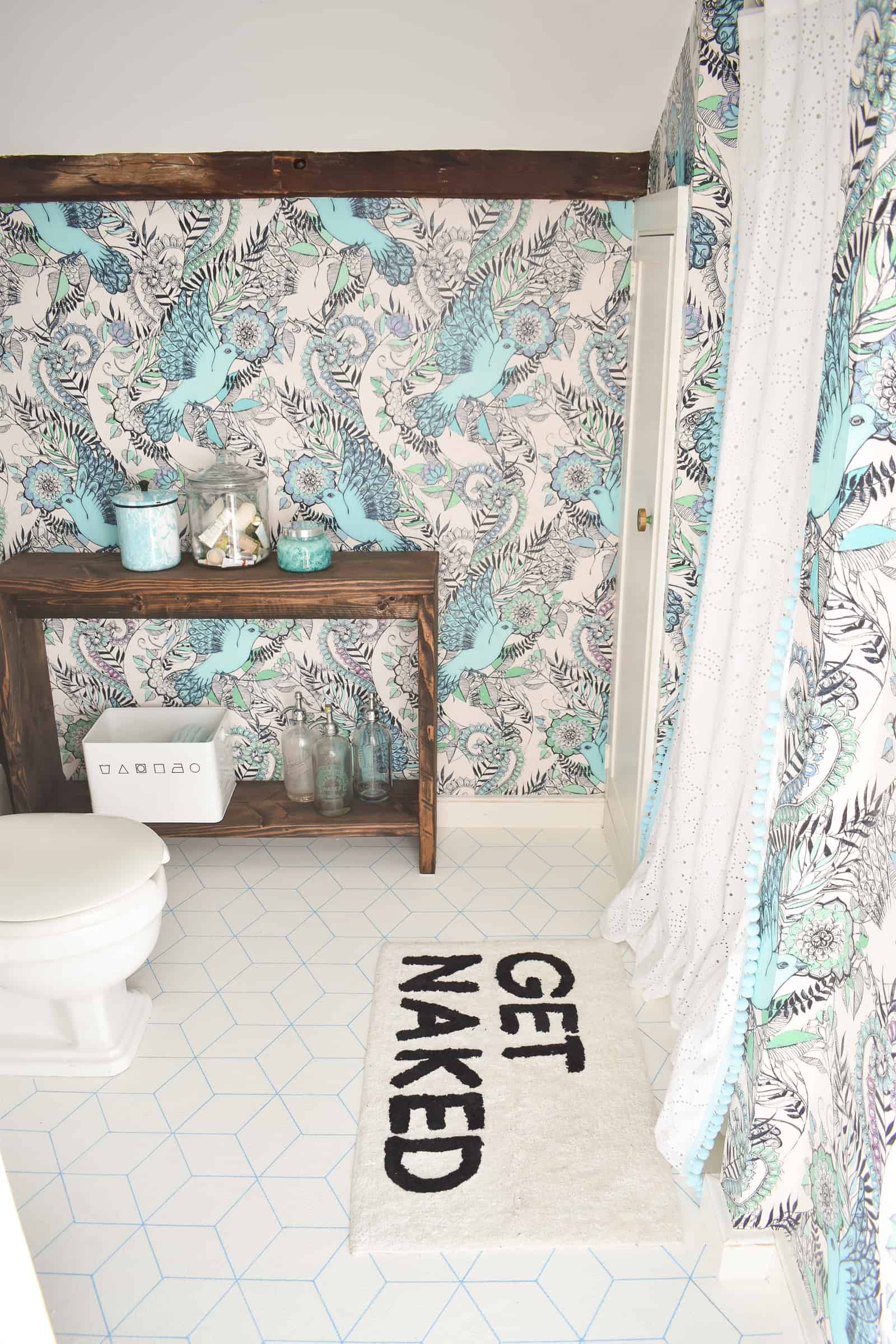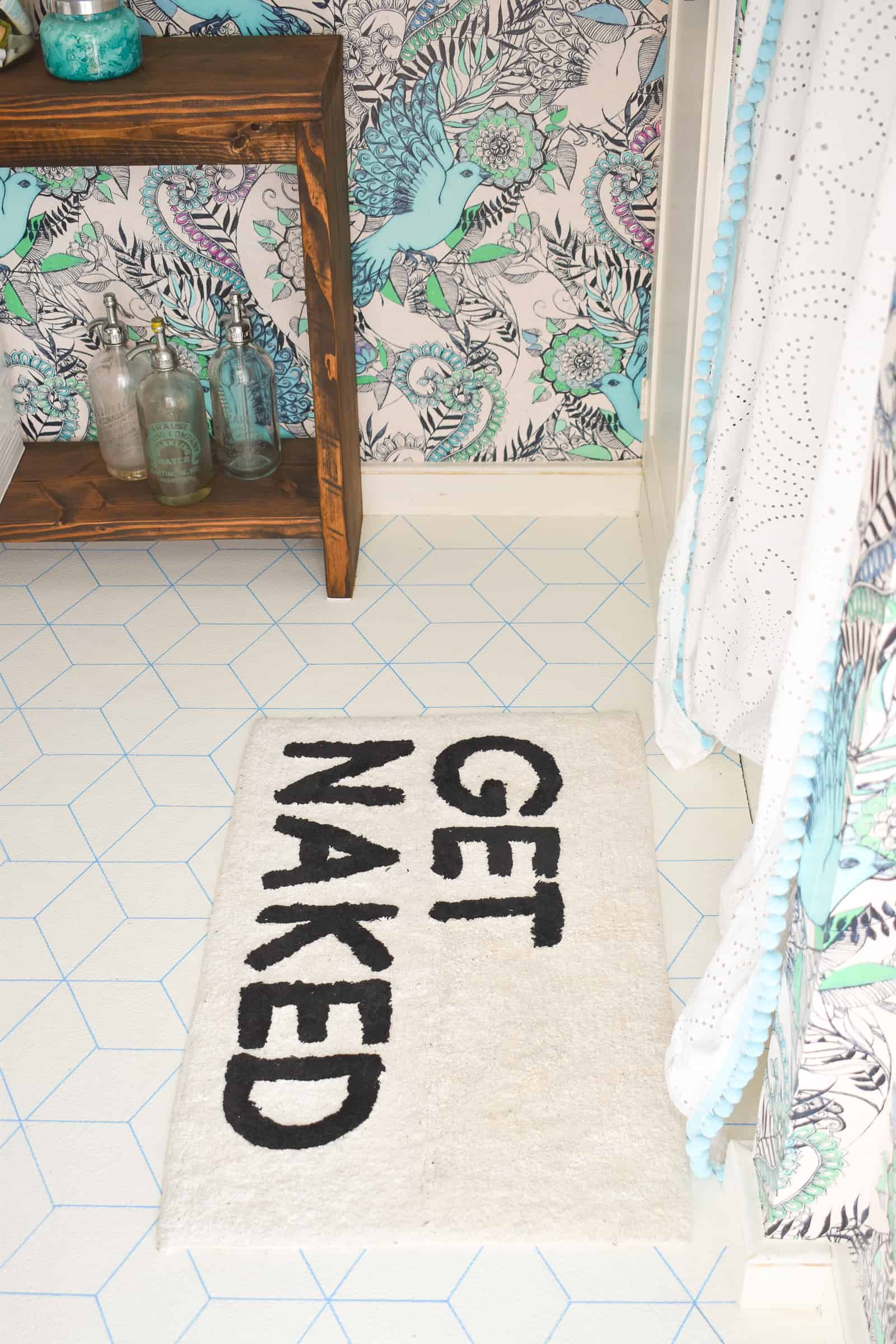 Which brings us to today! The grand reveal! I mean, the room is like 4×8 so it's not like there are any hidden angles you haven't seen, but… I brought in a new light fixtures from Lamps Plus, a new round mirror from Target, artwork, and antique gold accessories and, voila. Wanna come stay with us just so you can use the guest bathroom? Thought so.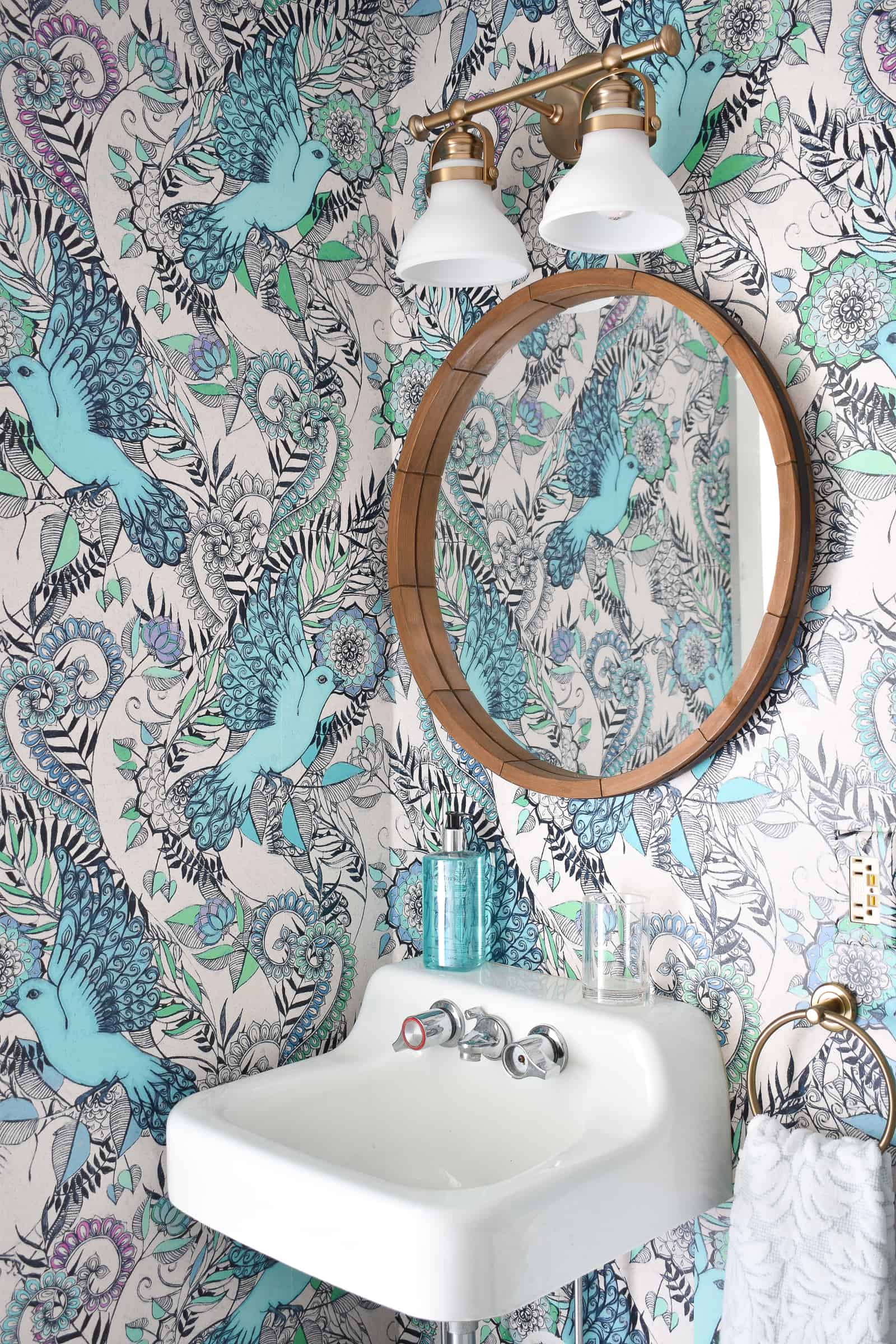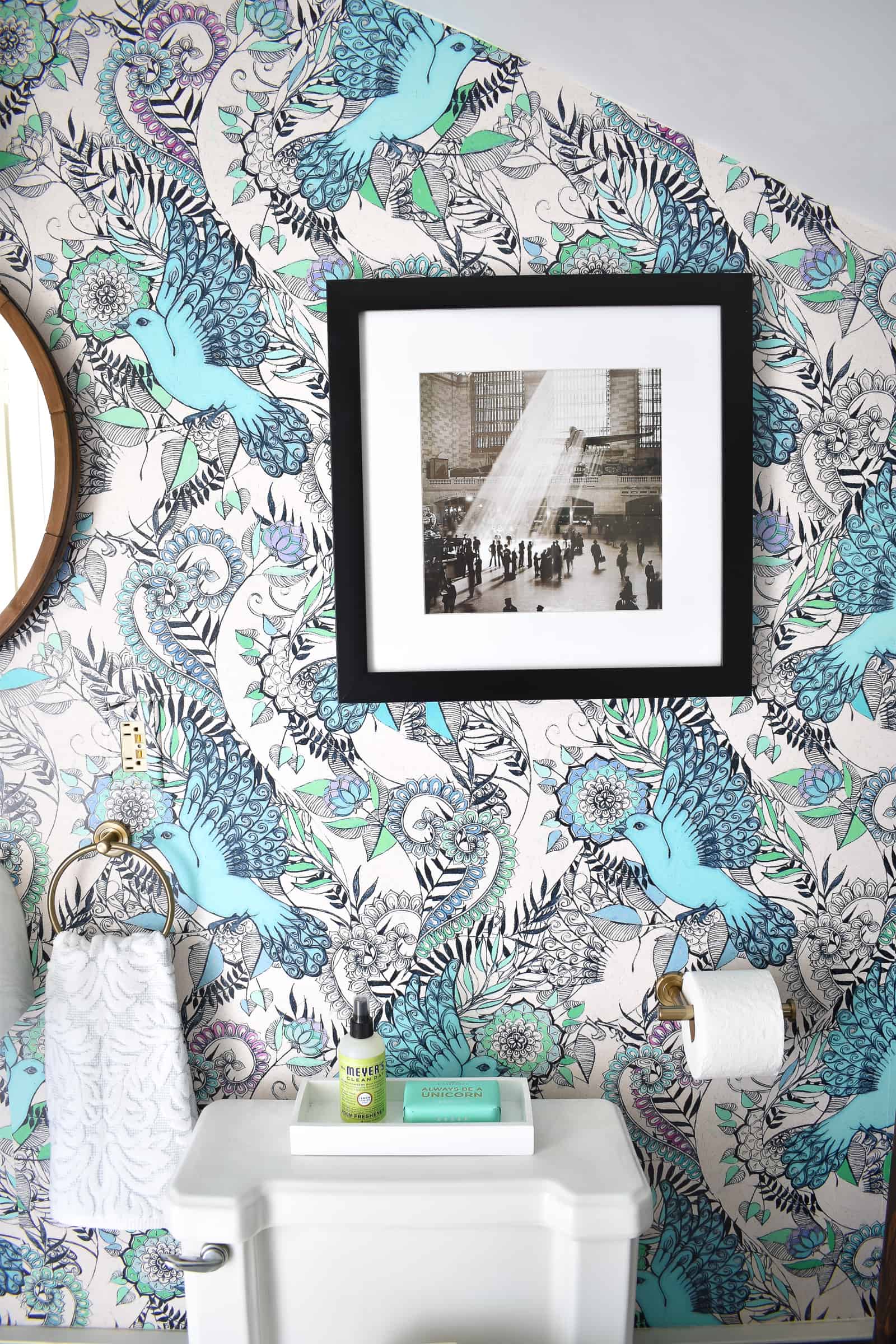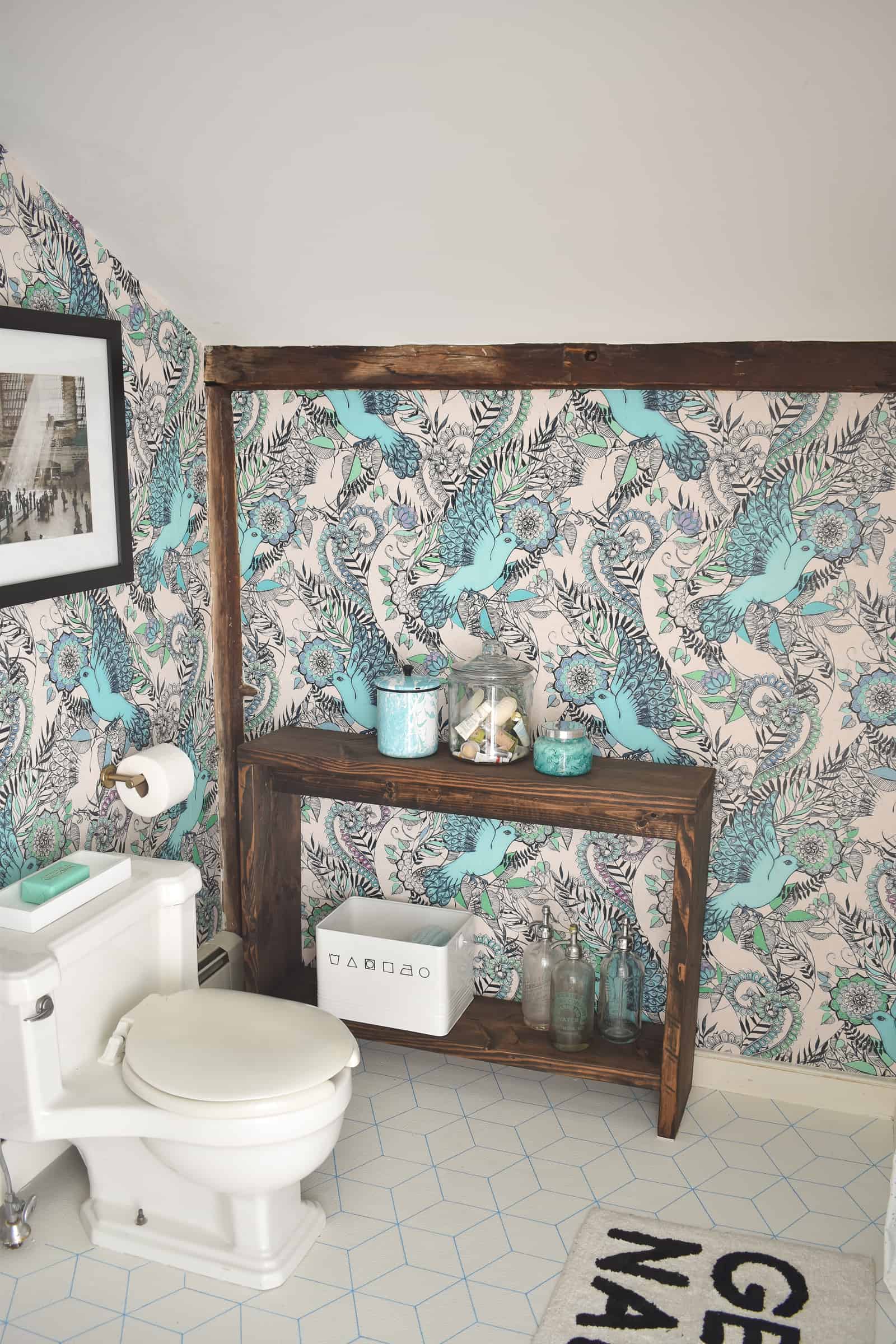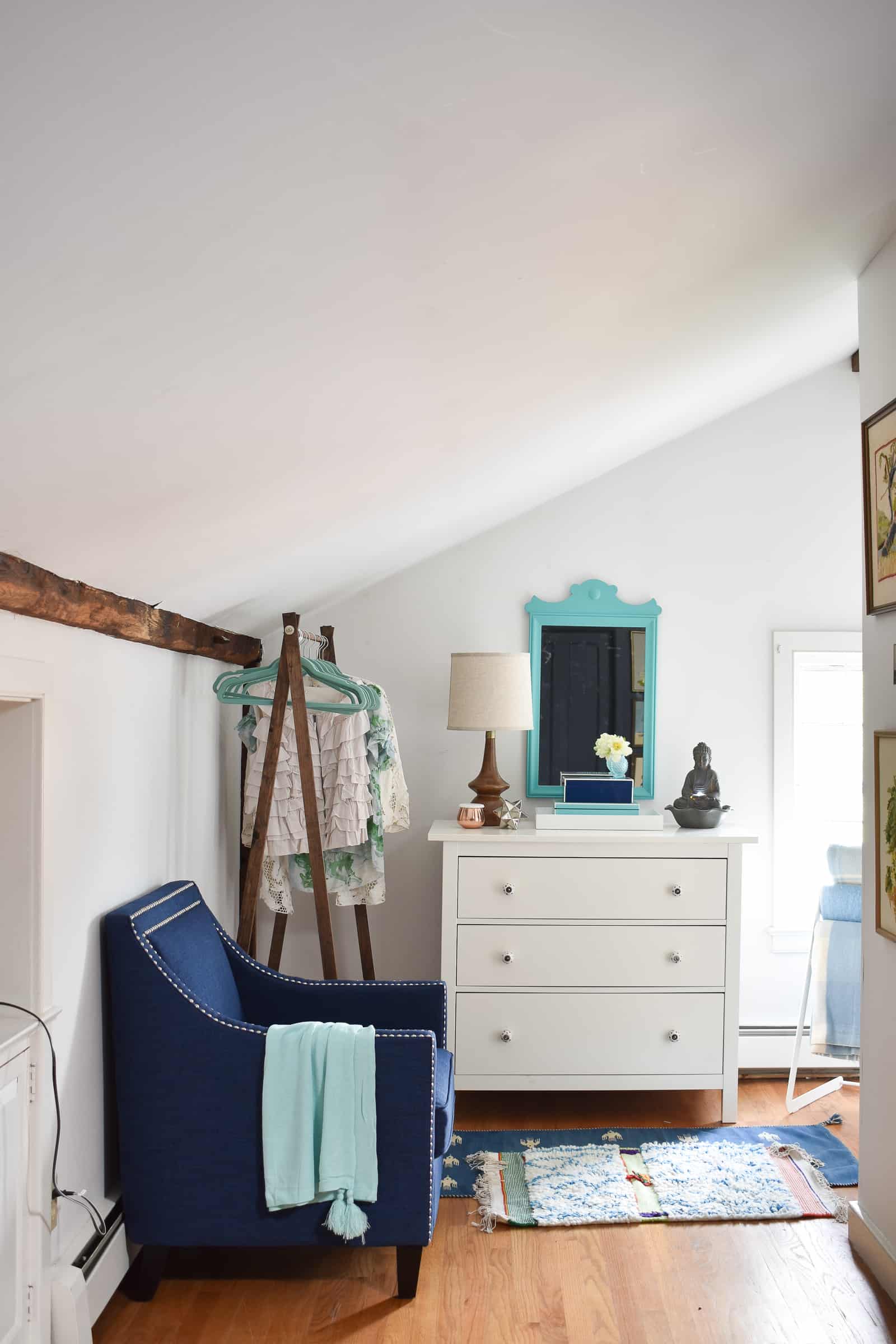 And just for the grand finale… care to see the before/ after back to back?! Yeah… I thought you might.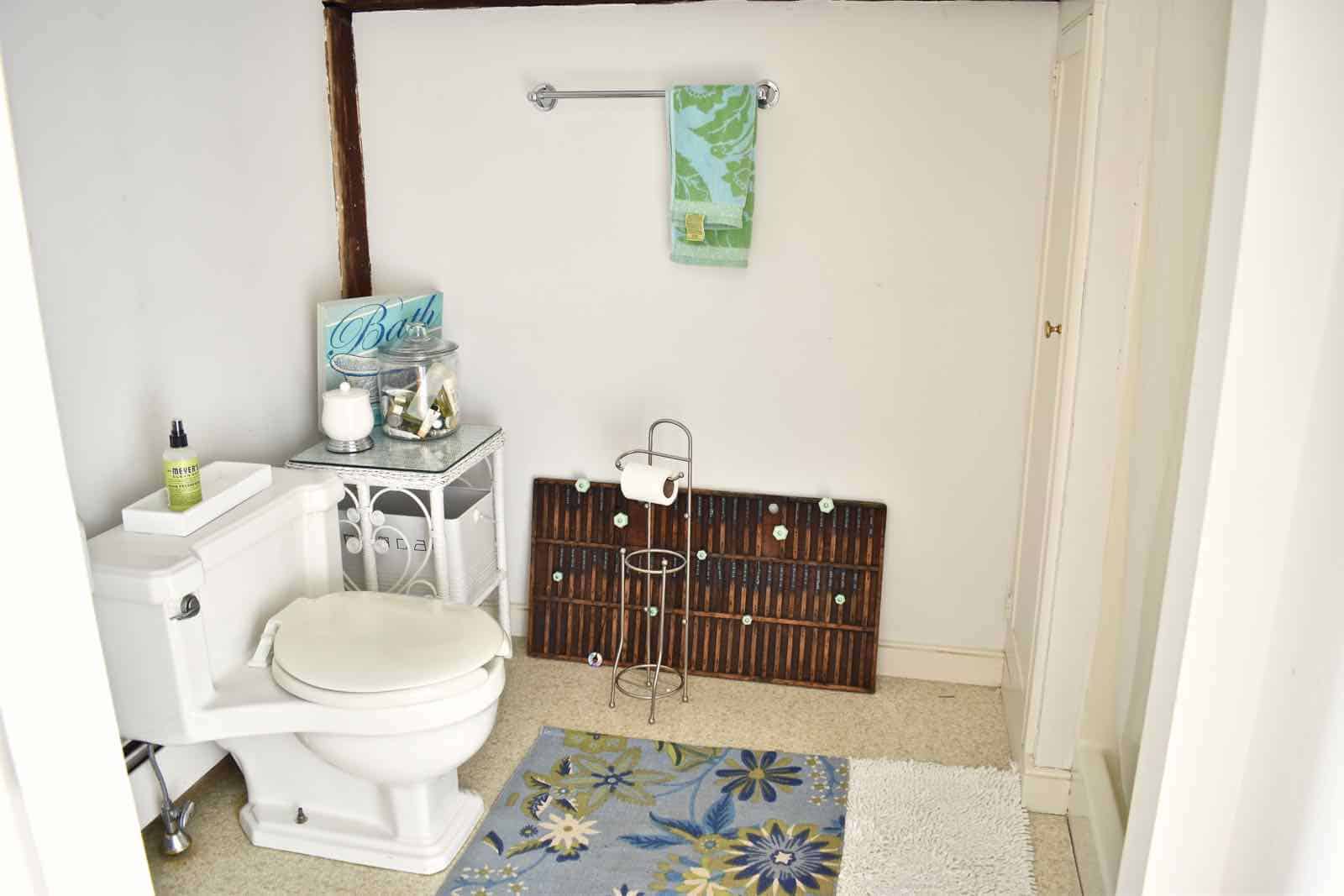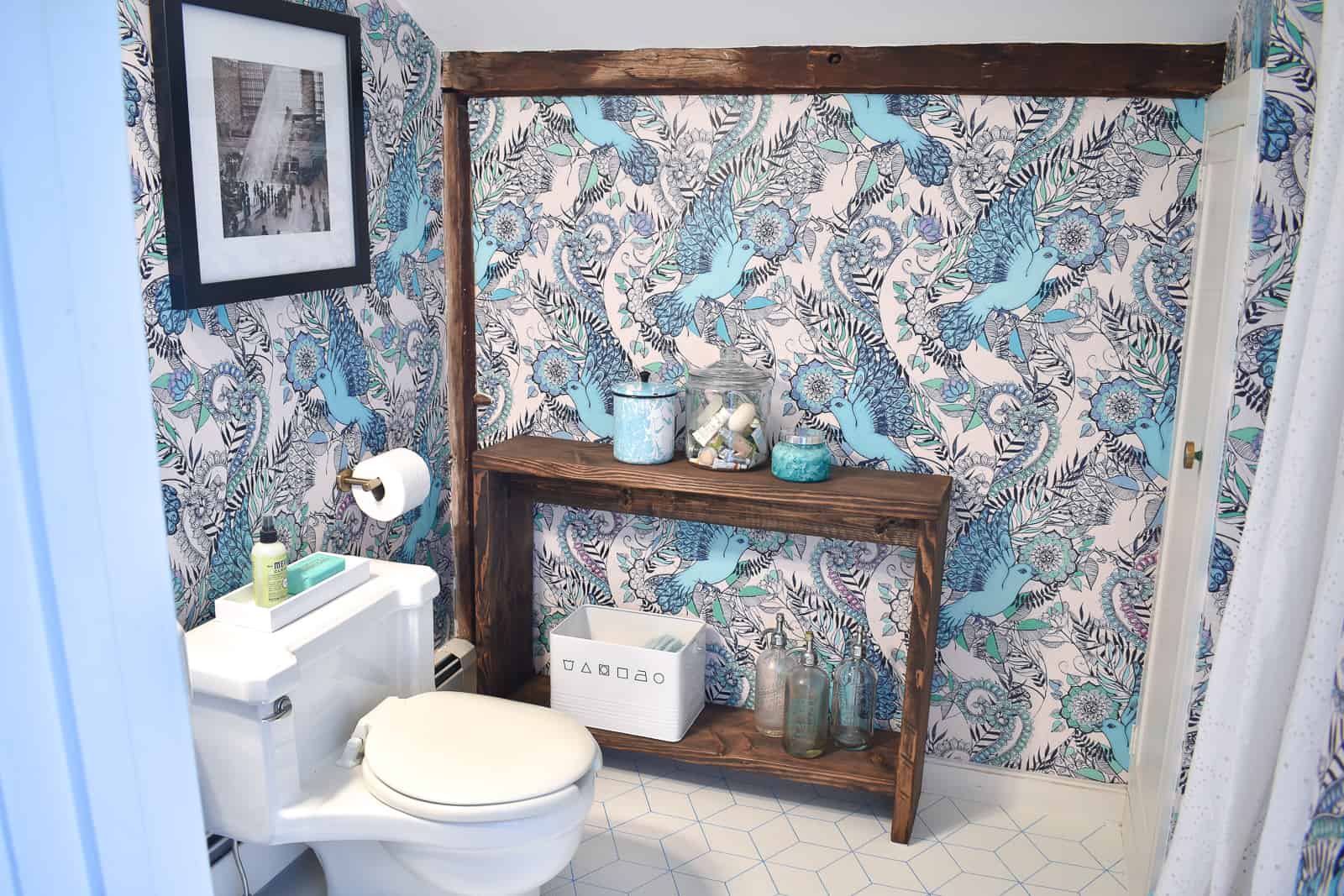 Aaaaaaand last one: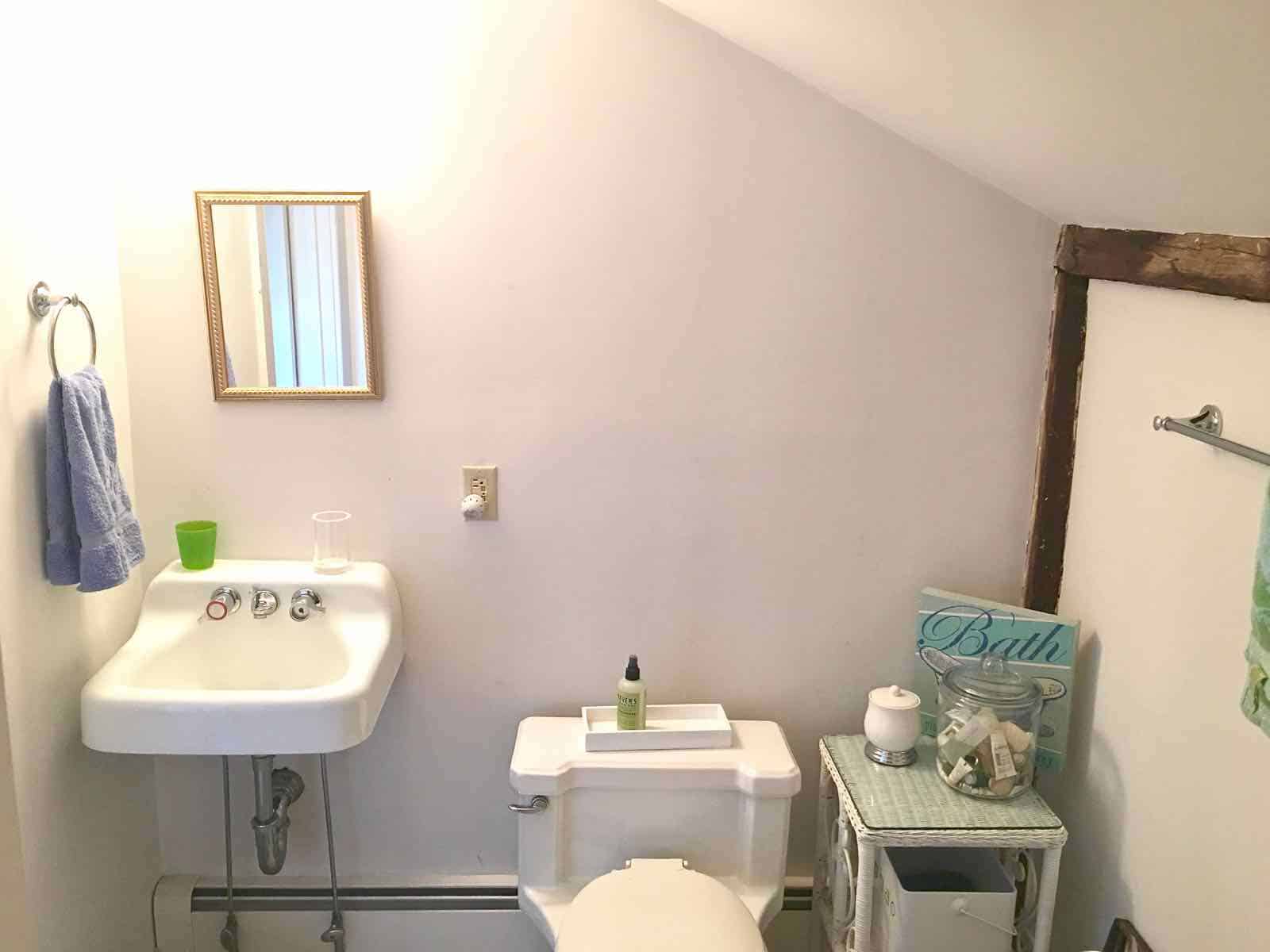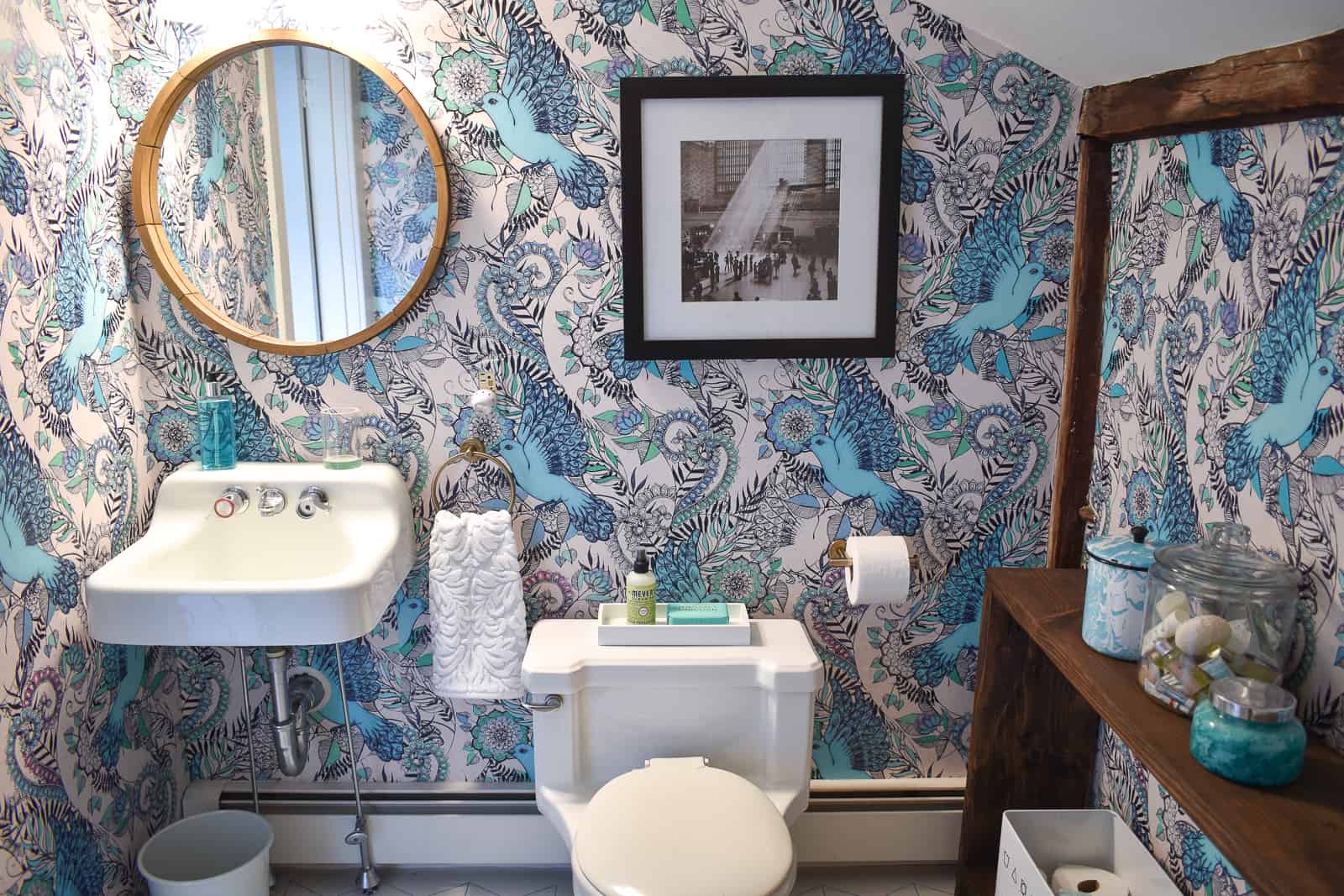 Thanks SO much to my amazing sponsors: Lamps Plus and Spoonflower. As I mentioned, that stunning wallpaper is from Spoonflower. The blue chair, table lamp, Buddha fountain, light fixture, towel ring, and black and white print are all from Lamps Plus.
Mostly thanks to Linda from Calling It Home for yet another fun packed One Room Challenge! Make SURE you head over to the link up and congratulate everyone who finished and ogle the amazing reveals!