I'm actively trying not to show you too much of this shed, but I may or may not be dreaming of a sleepover there one night soon. When I left you last week, I was singing the praises of my newly painted floor. Rainbows and magic beans, folks. This week I've been getting to the business of art on the walls, decorating and organizing. Both sizeable tasks, but both super fun!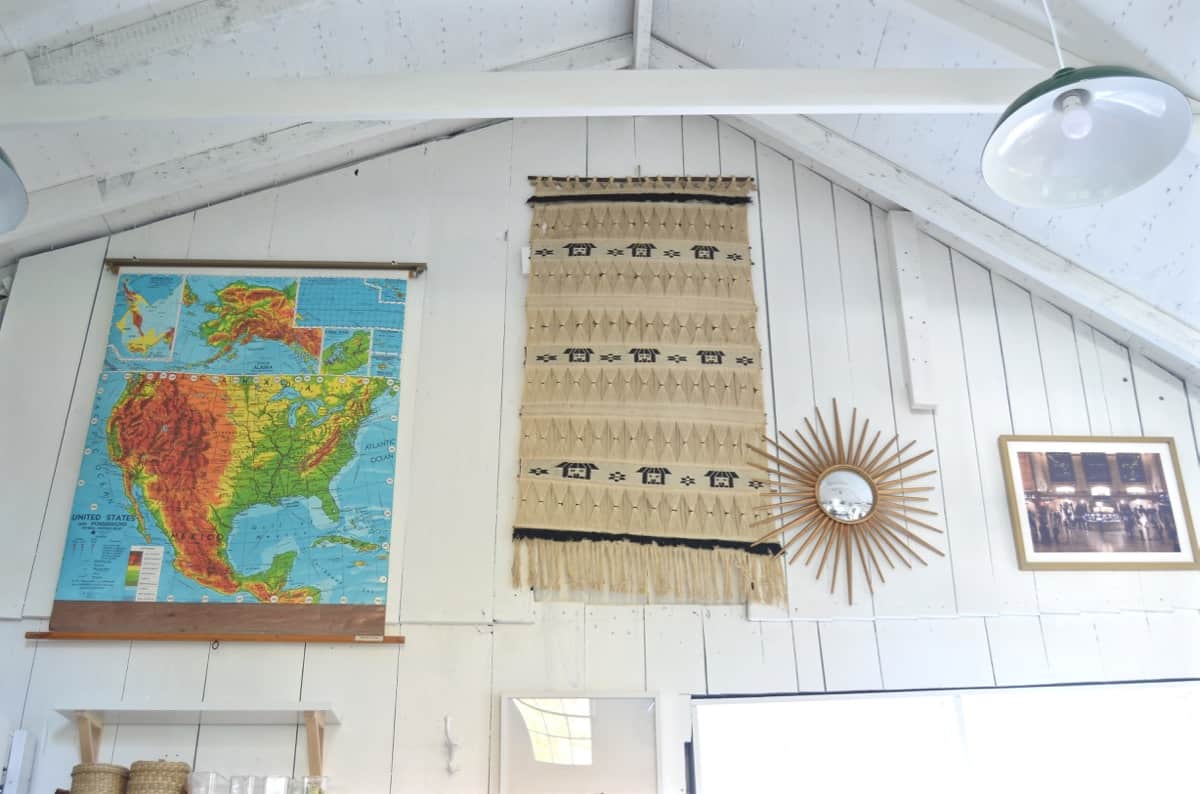 No big surprise, I have a good ol' working hoard of wall decor. They're my thrifting vice… When I'm hanging artwork, I wish I could tell you that I had a 3 step plan. An explicit strategy. (Not to be confused with an elicit strategy.. different blog post, folks.) In an effort to sound teach-y, I've turned my artwork non-plan into a plan for you! Without further ado…
Simple Tips for Hanging Art
Step 1: Pick your favorites
And I mean favorites. Anything that makes you happy… grab it. Is it a painting? Great. Weaving? Perfect. Collage of Home Depot receipts? Clever… do it. Sadly, I have a lot of favorites, but I managed to narrow them down for the shed. (Sidenote: how many maps are too many? I fear I'm close…)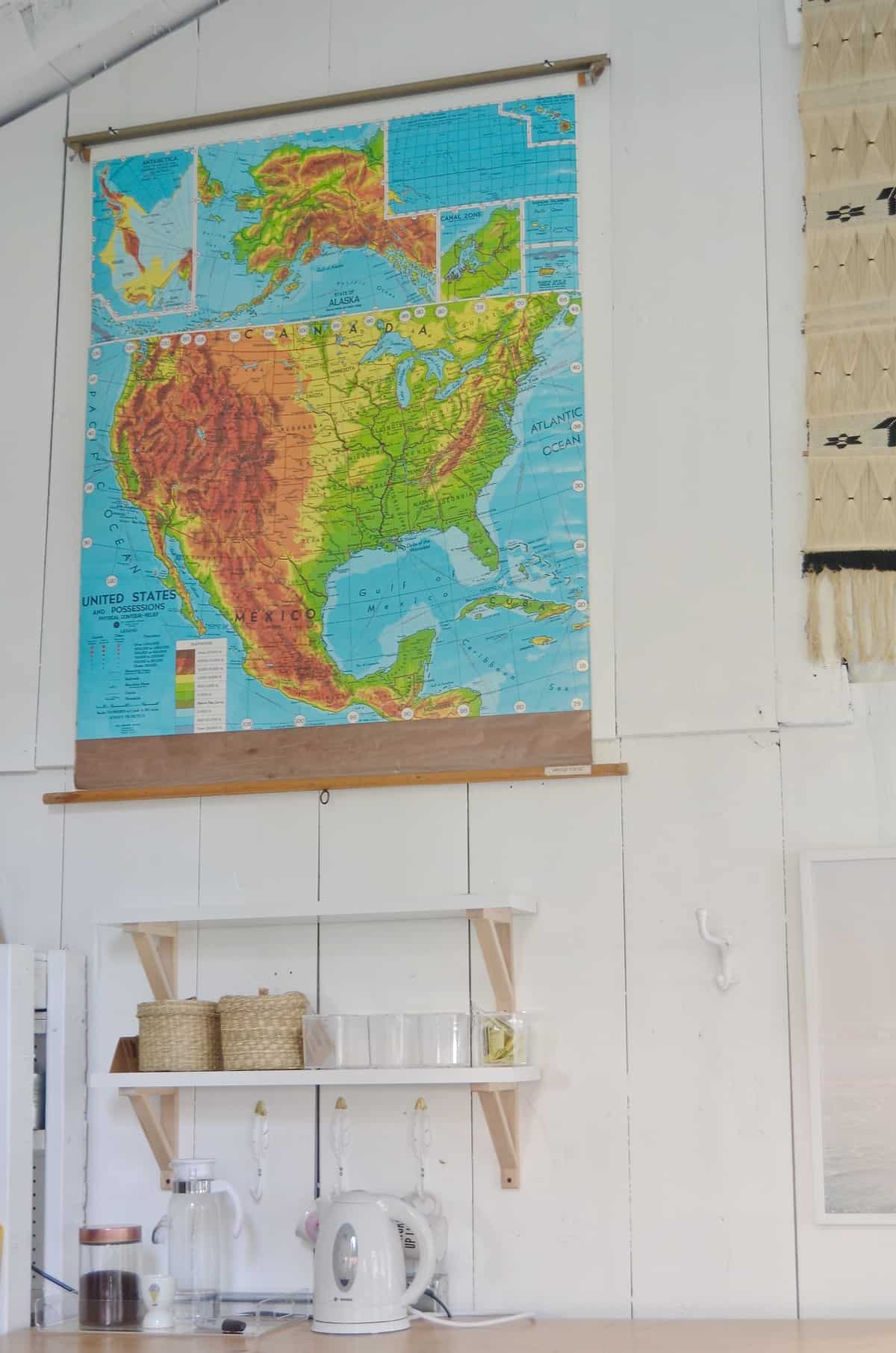 Step 2: Suss Out the Space
Look at all your big beautiful walls and consider the space. Here's where it's going to get a little technical, but hang in there with me: if you have a bigger piece of art… you'll need more space on the wall. For smaller wall decor… you won't need as much space. Expertise, y'all. Right here. Here's how this complicated theory played out in the shed… there were only two places large enough for my thrifted map and that amazing wall hanging. I needed something large-ish for the wall above the hanging chair. (Pro tip: if you don't have anything large enough, consider a gallery wall of multiple smaller objects!)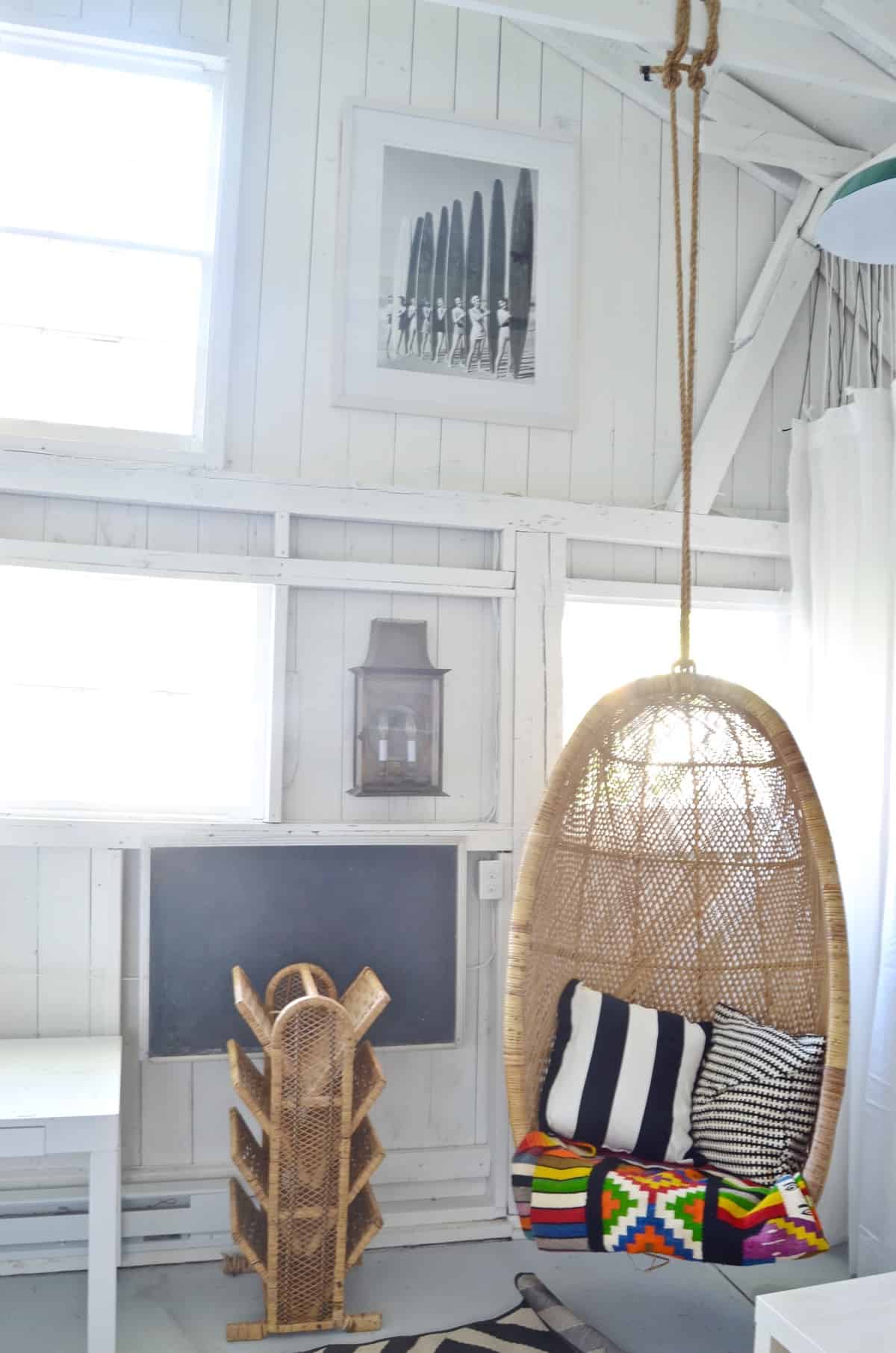 Step 3: Balance
Balance is just a fancy word for spread out the love. This can be across a large space or within a specific gallery, but in general I look to balance the colors or the textures or the medium. Huh, you say? Okay, take the shed for example: I have a pair of woven pieces, so I split em up and put one on the right wall and the other opposite on the left wall. The bright blanket in the hanging chair relates to the map and keeps that side of the shed from being the "colorful" side. Which I guess is kind of cheating because the blanket's not wall art, but you get the thesis of my non-plan plan, right?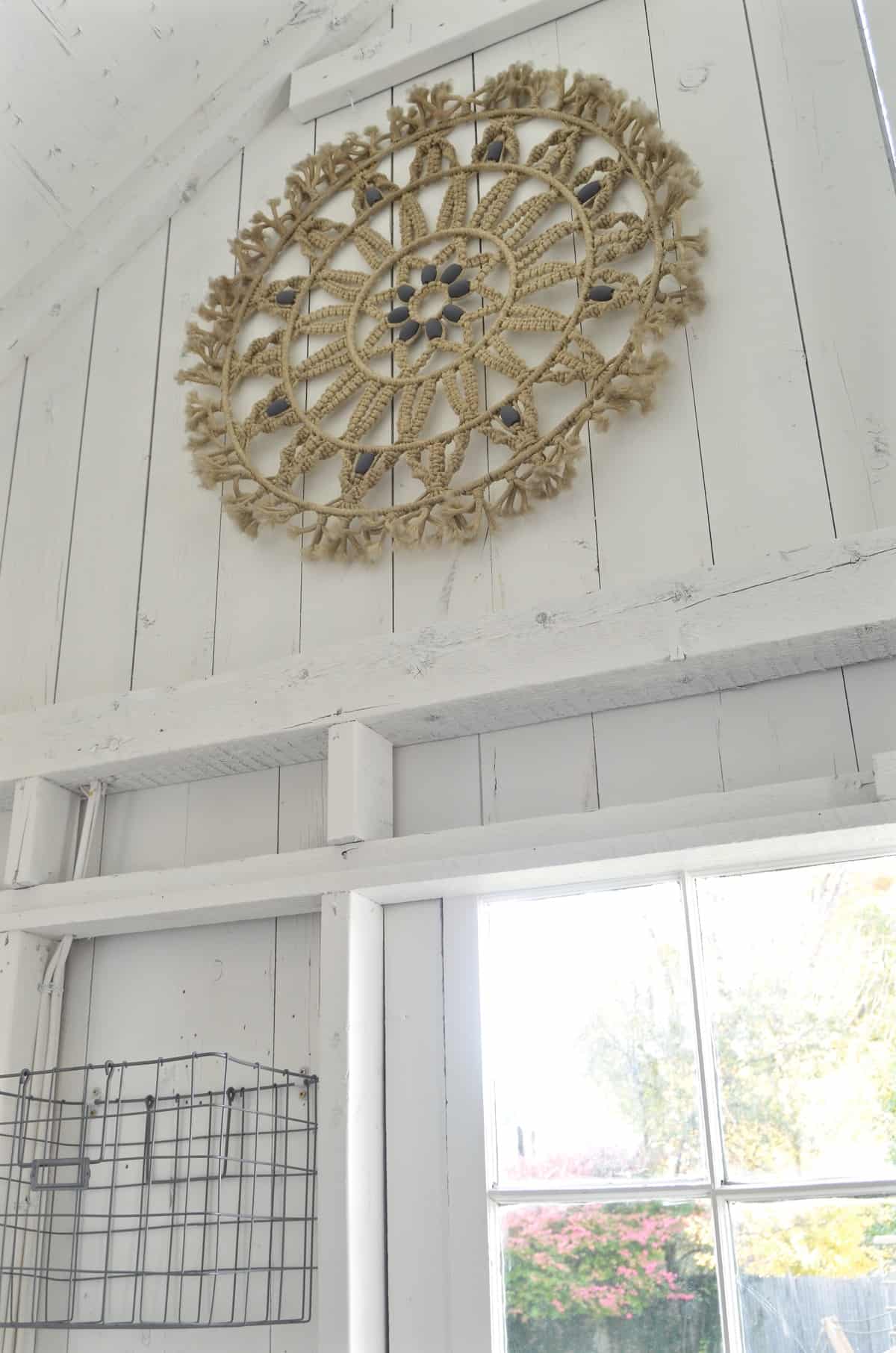 Step 4: Just Because
'Just because' moments are the moments that don't necessarily fit a design board, but they bring meaning. They're personal. These are the elements of space that make it one-of-a-kind and emotional. In other words, these are the most important parts of a room!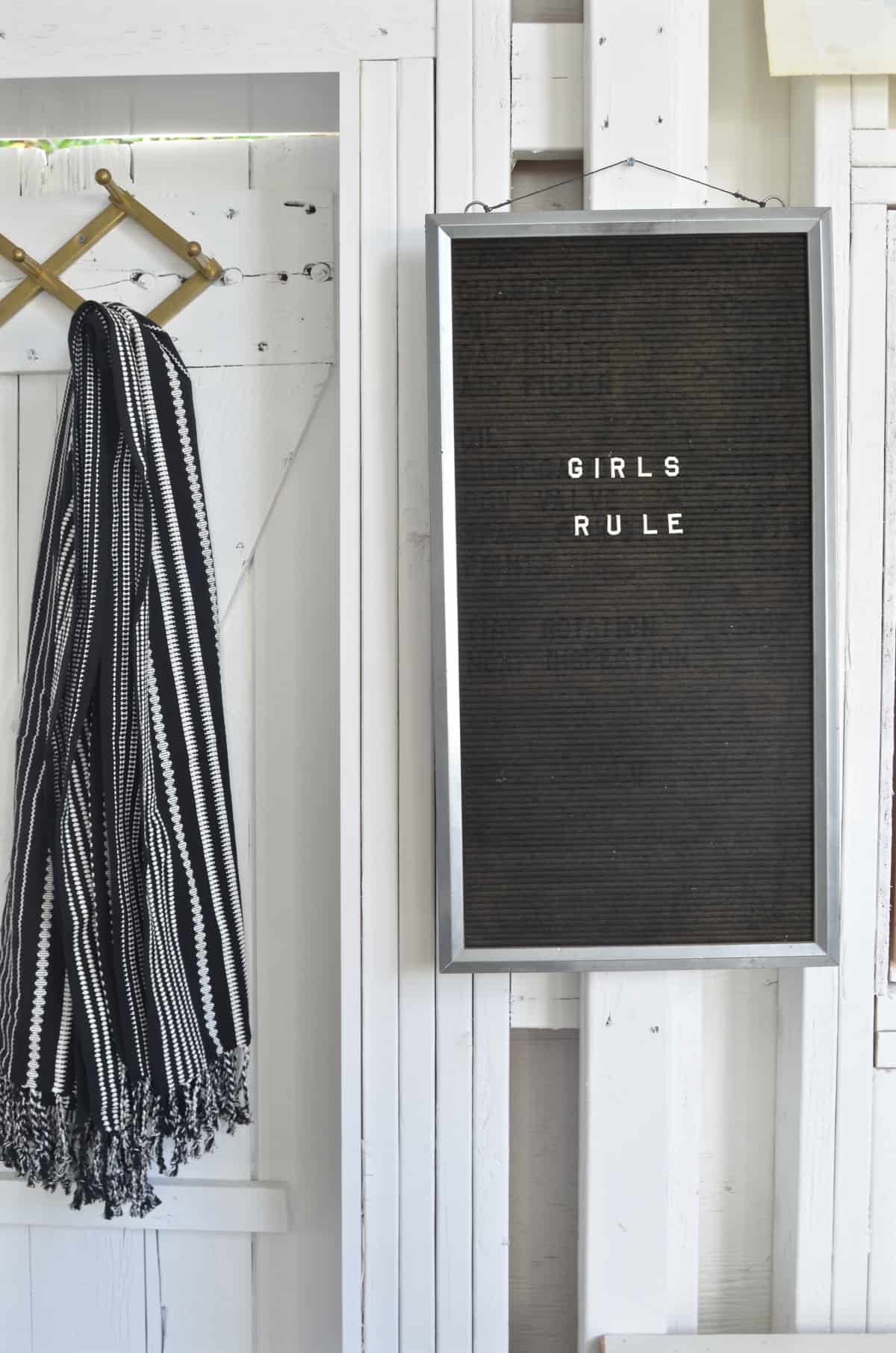 My first 'just because' moment is this amazing photograph I was sent by Minted. I wanted something more contemporary to balance the thrifted/ vintageness of the weavings and the map. This photograph is how I'd love my inner-self to be. Calm… peaceful… basking in the sun. Ha. I may not be quite this relaxed, but it's a great reminder for my work space, no?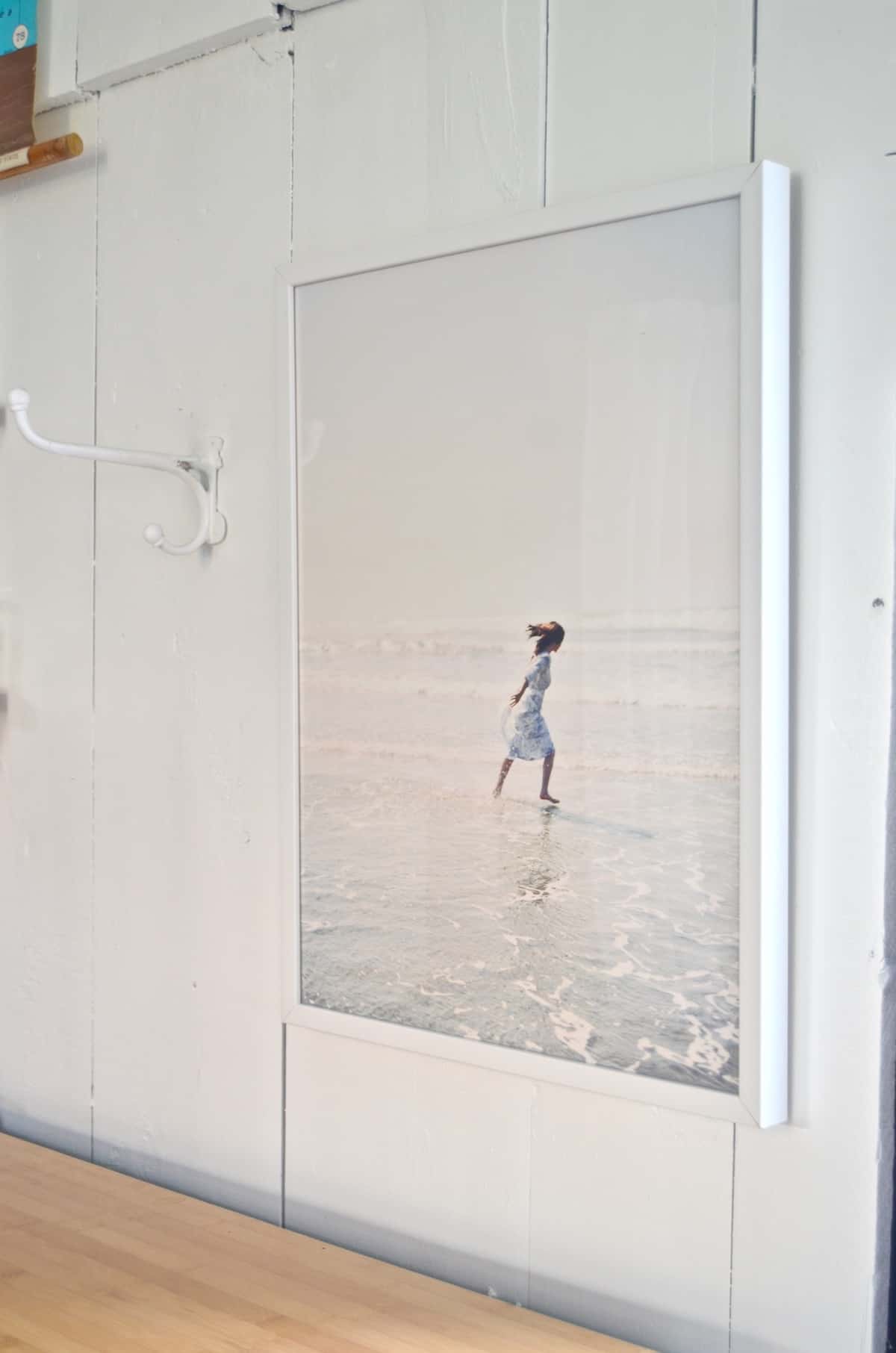 If you follow me on Facebook, then you know I head to the flea market bright and early on many Sundays and I share all the quirky or potential scores that I spy throughout the morning. These gals caught my eye from the back of a crowded blanket. I studied painting in college and love the idea of someone practicing their brush strokes and watercolor wash as these women each sat quietly for their portrait. These ladies are my squad.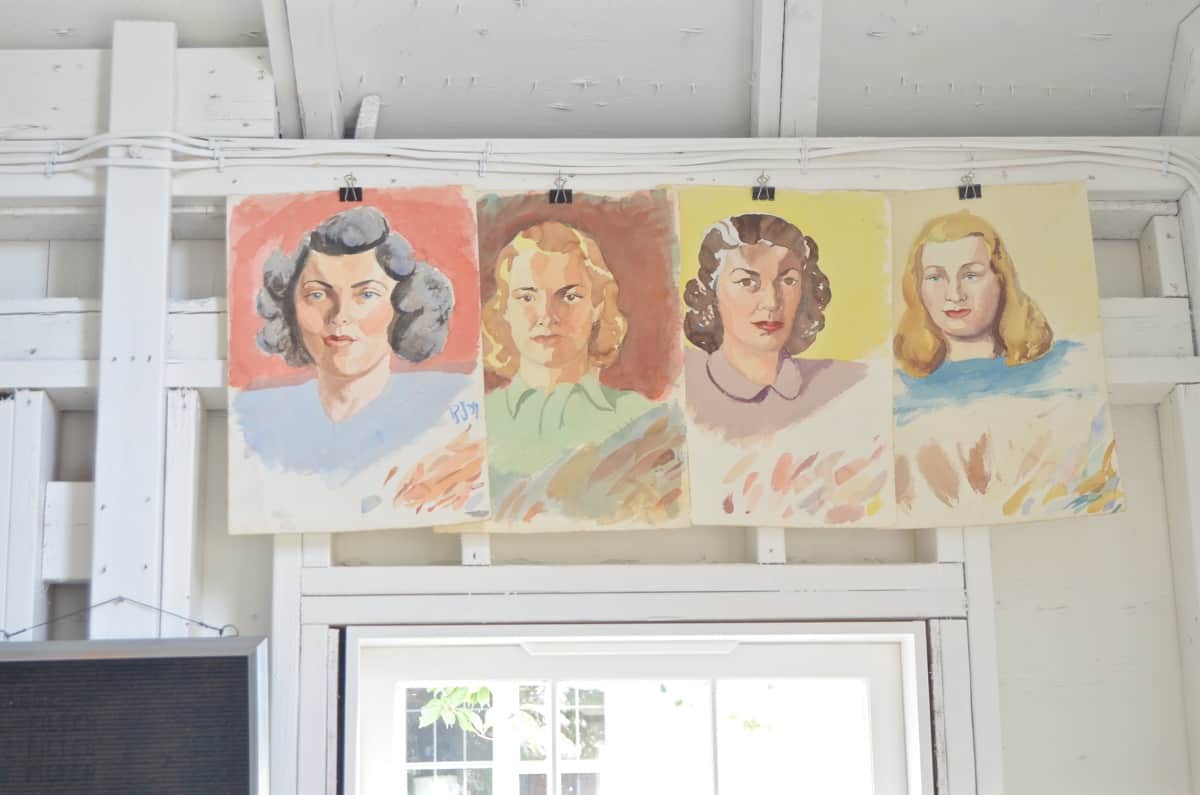 Like I said… decor is personal. If you like it… YOU like it. Don't worry about "rules"… just worry that you feel happy and comfortable in YOUR space.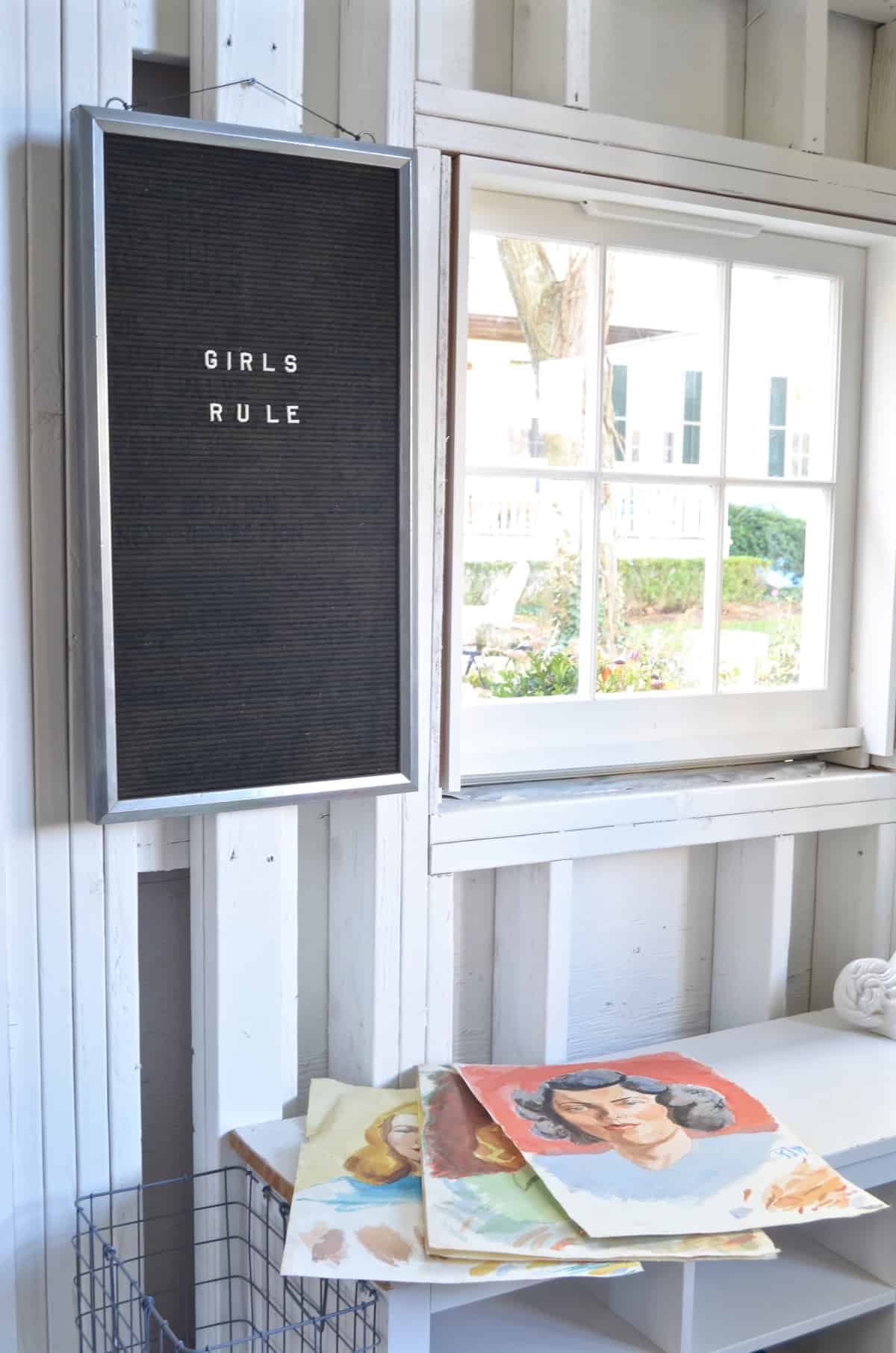 ONE MORE WEEK until the big ol' reveal! Have you been following all the other rooms getting a 6-week makeover? They are SO good! I need an extra day each week to visit and comment on them all! And, as always, mega thanks to Linda from Calling It Home for hosting such an awesome challenge. Click here to see all the other rooms linking up for Week 5! (To see where this shed started, here's Week 1, Week 2, Week 3, and Week 4!)