Mural Installation for Week 2
Helloooo… and welcome back to another exciting edition of 'how much time did I waste this week and did I make any progress on my dining room?!' The answer, at least for Week 2, is HECK YEAH! I made some GREAT progress and am beyond excited about this mural. Thanks as always to the One Room Challenge and media partner Better Homes and Gardens for creating such a wonderful bi-annual design celebration. Here's how the space looked before: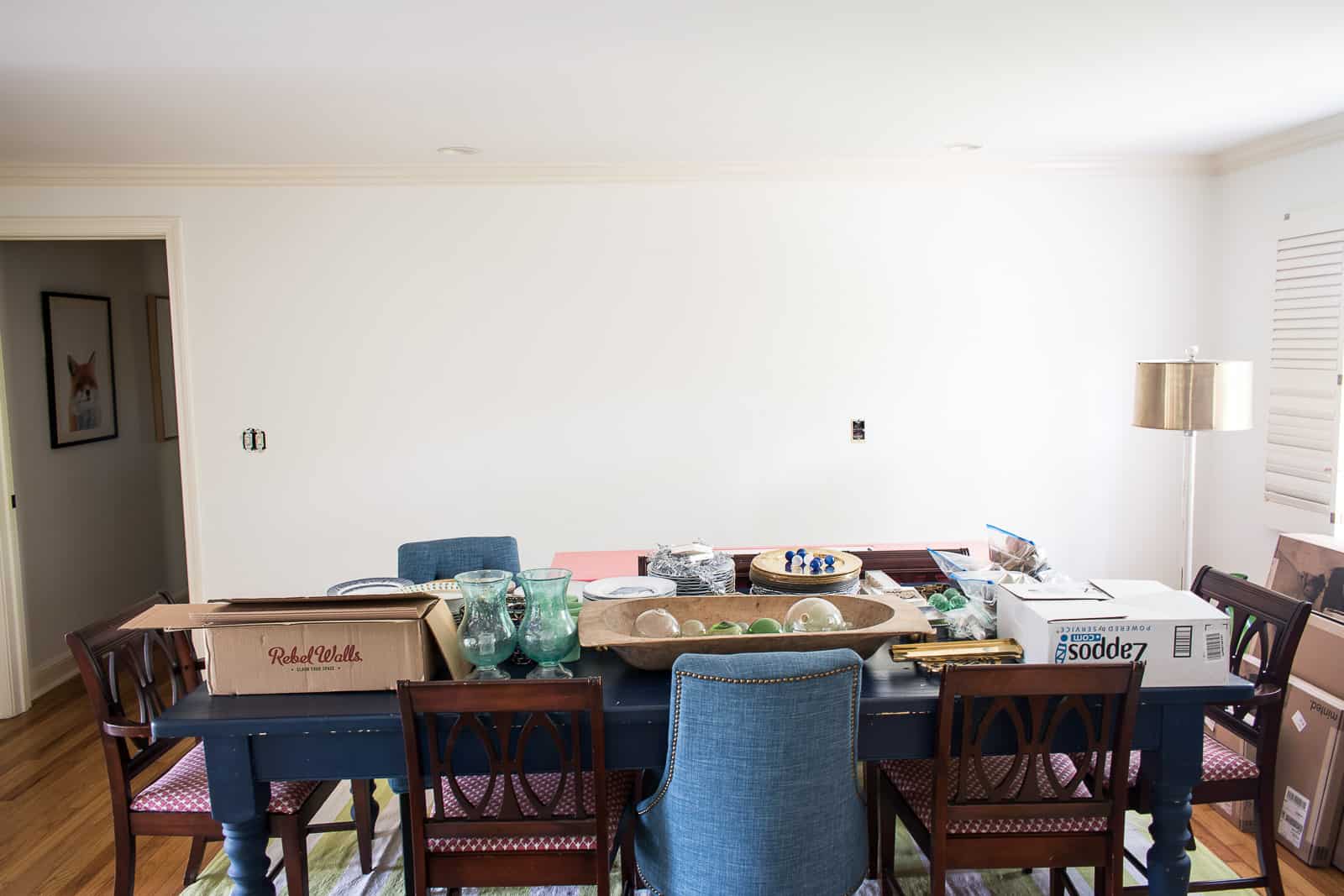 Disclosure: thanks to Rebel Walls for being amazing and sending me this glorious specimen of an accent wall.
I shared this in my Instagram stories, but if you're new to my site… one of the bigger challenges of designing this space is that we are currently renting. (See why here.) So lots of things like molding, lighting, flooring, wallpaper are off the table. Or ARE they? (Cue some sort of maniacal decorating grin here.) I discovered this incredible rental hack back when I was setting up my office and it worked like a charm for this dining room accent wall. I ADORE wallpaper and love that it makes a big bold colorful statement in a room. Reusable wallpaper is great (but expensive) and I fell in love with this Enchanted Forest mural from Rebel Walls… which was NOT removable. Good thing liquid starch works JUST like wallpaper paste but won't damage the walls and the paper will pull off easy peasy!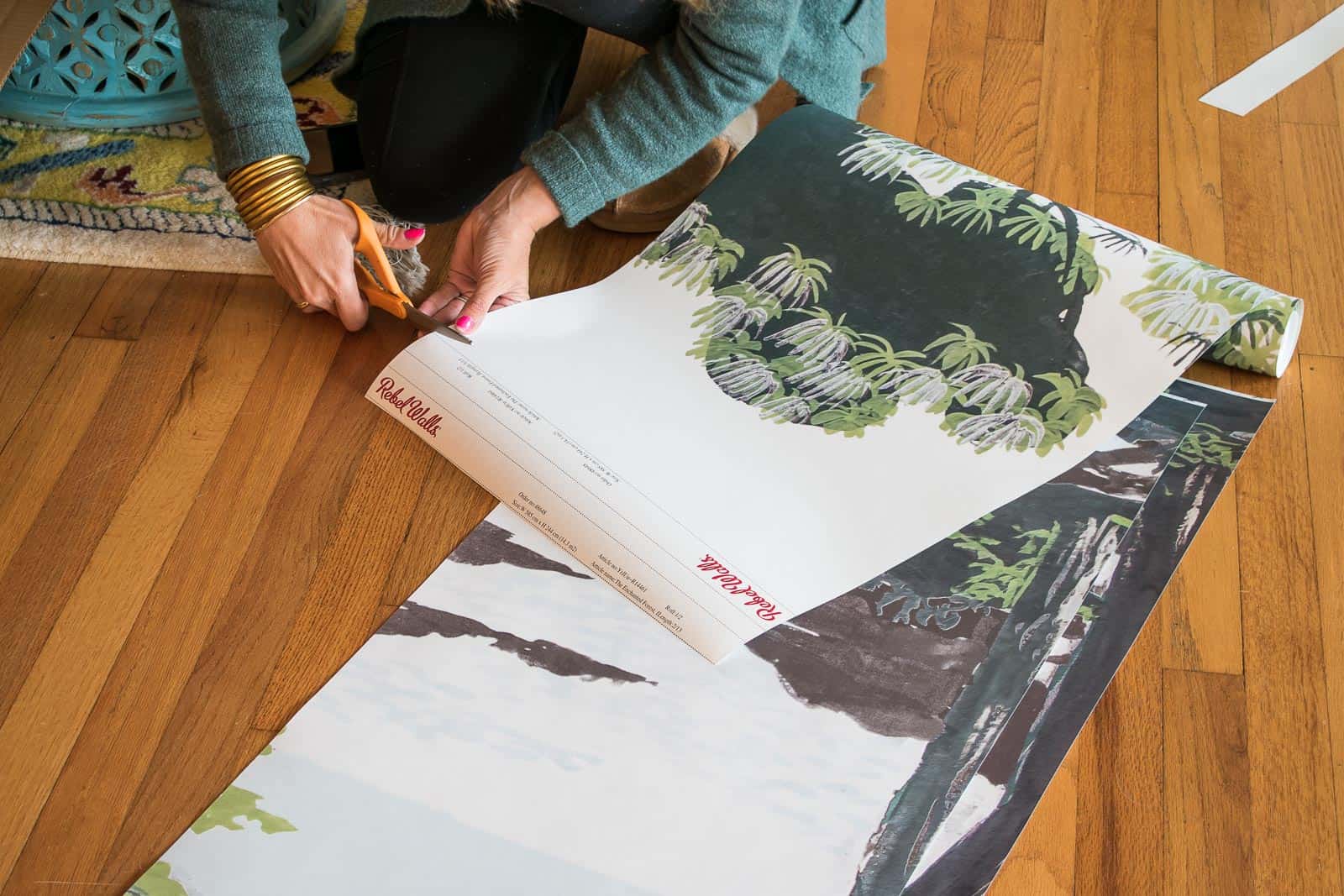 Using a regular paint roller, roll the liquid starch onto the wall, and then roll it onto the back of your wallpaper. IMPORTANT: do NOT use this method on prepasted paper… the starch will activate the paste and… you'll be disappointed when you go to remove the paper. Just like regular wallpaper, set a straight vertical guideline and smooth the paper onto your wall!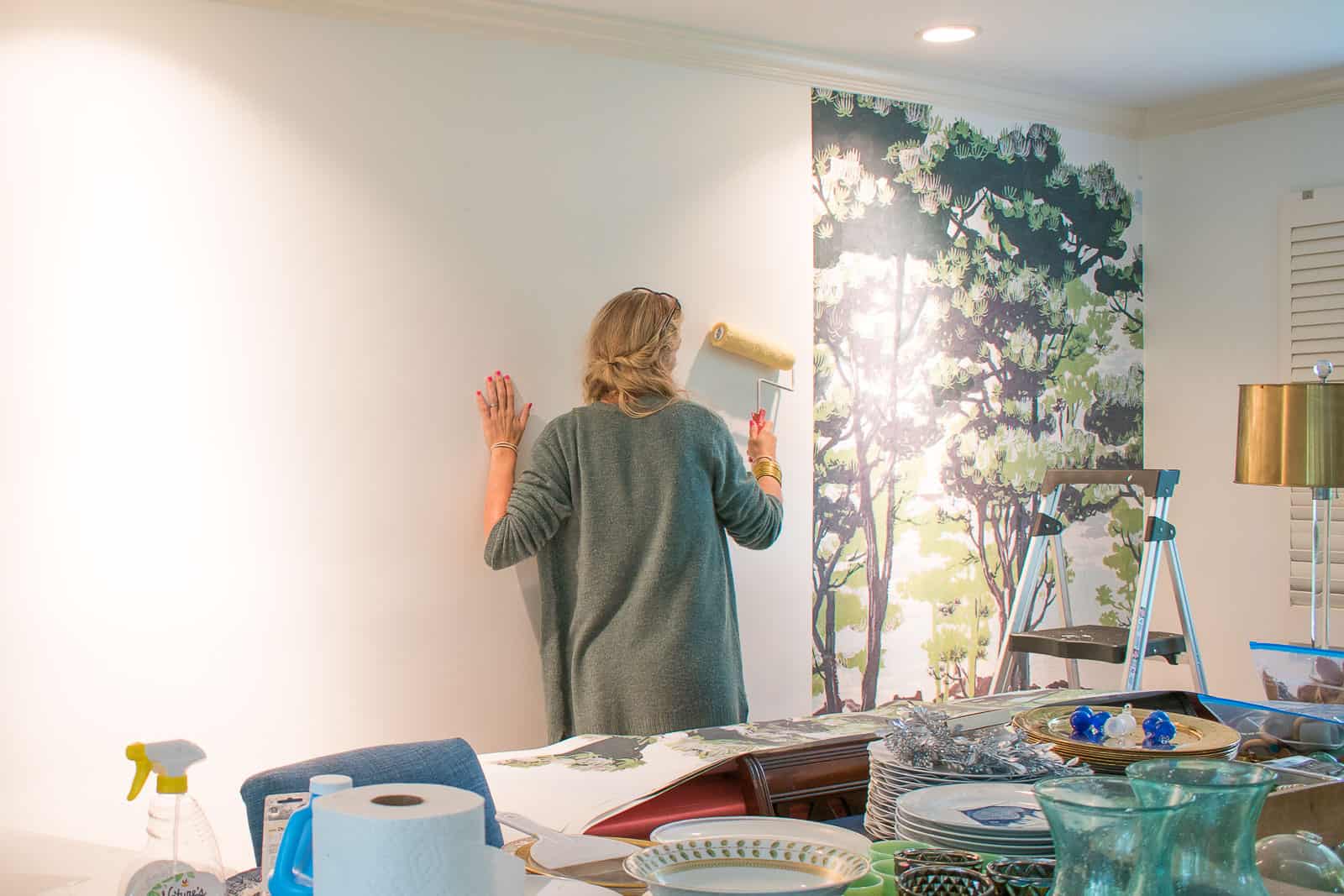 Rebel walls murals come in rolls with each panel clearly marked. Cut the panels apart and install them one at a time matching up the edges.  I haven't had to remove any of my starch applied wallpaper yet, but I've done this same technique with fabric and it comes right off. (I've also read numerous articles/ blog posts online that attest to the fact that the paper peels right off.)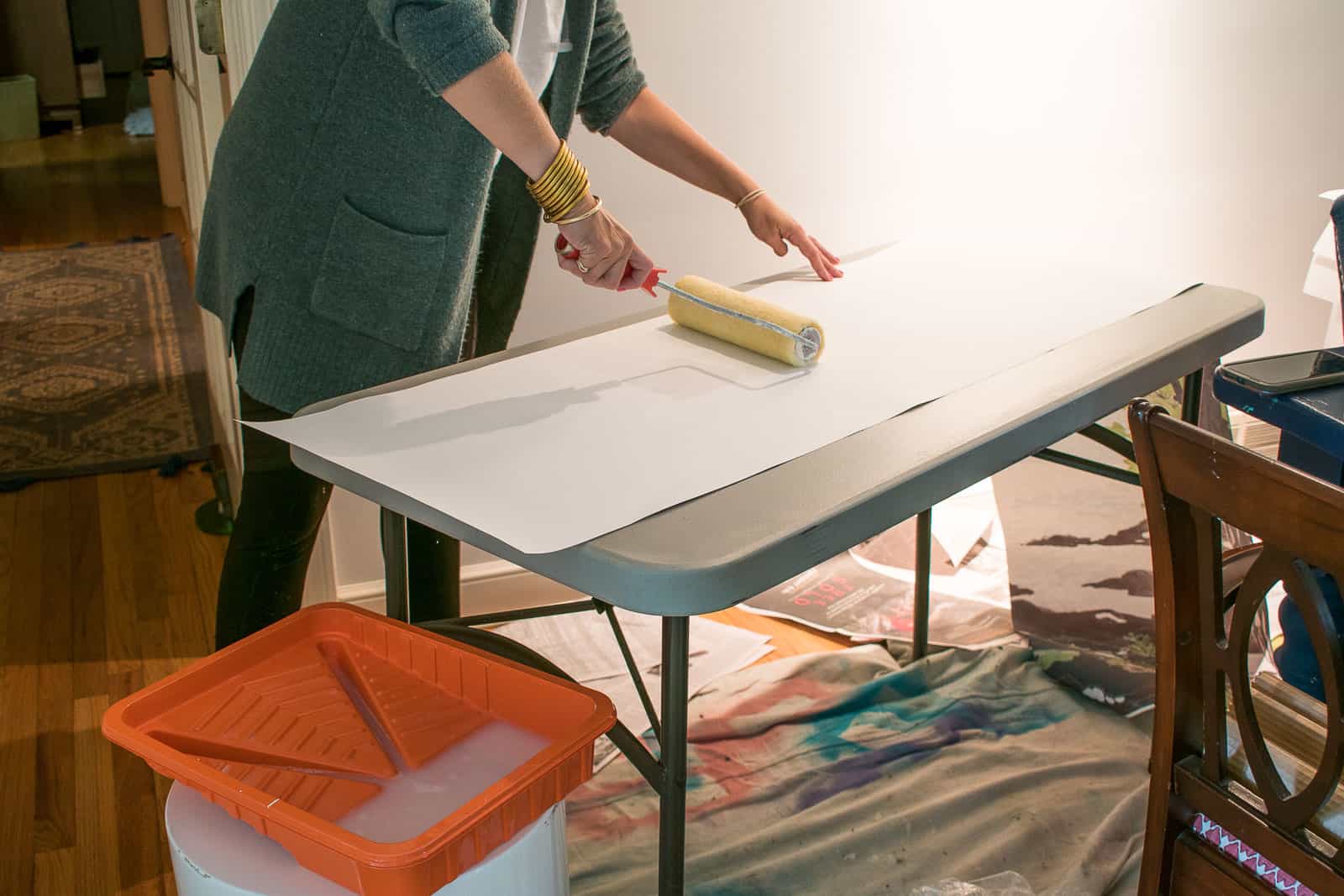 The mural was my big progress this week, but I have a room full of boxes that I can begin focusing on now that the mural is up.
Because they will be immediately next to the mural, I unboxed an assortment of incredible prints from Minted for a gallery wall I have planned. I was originally going to add a few graphic DIY pieces, but now that I see how all the portraits look together, I'm kind of loving the figure theme. What do you think?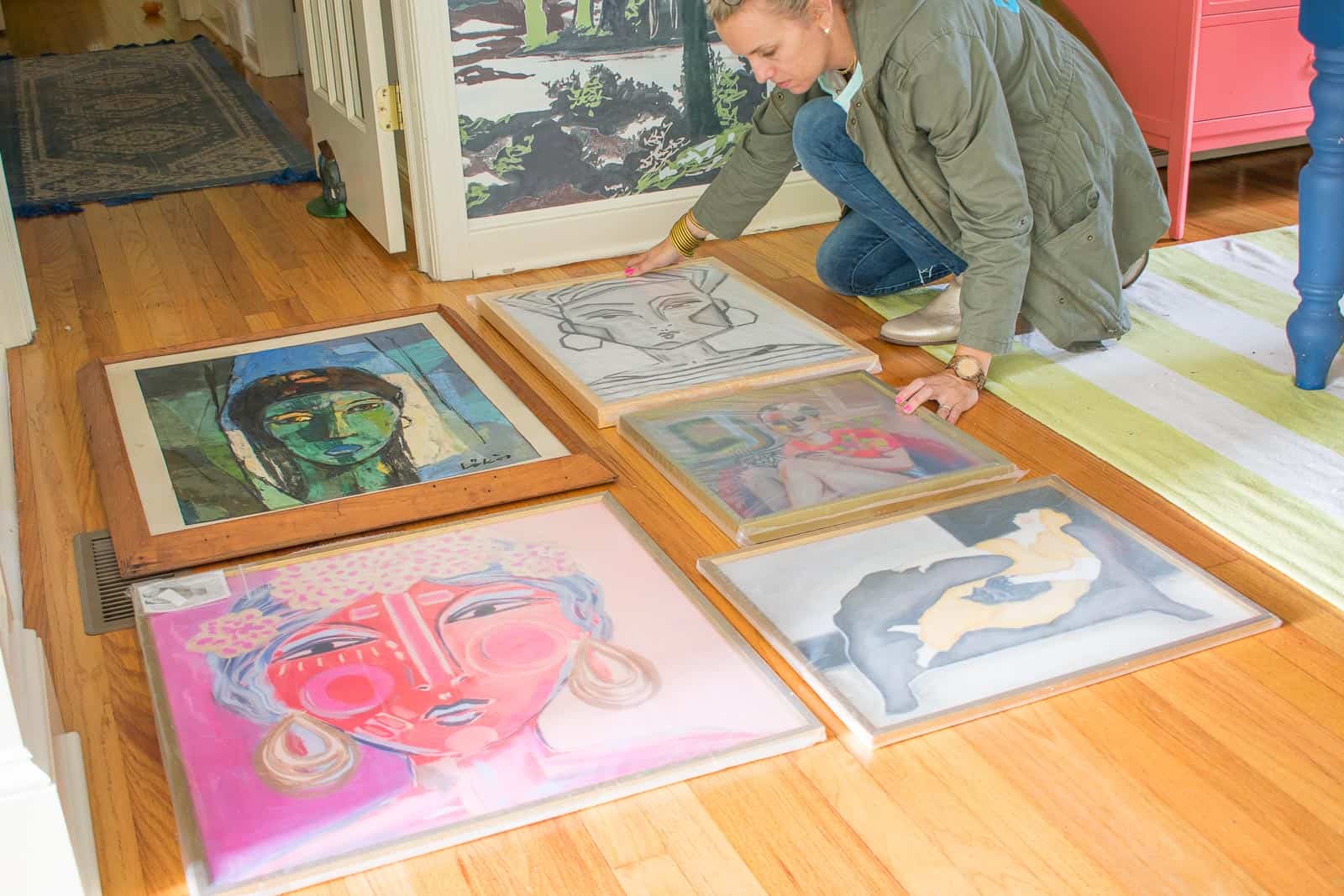 That pink sideboard is going away, but that black figure from LampsPlus was on my vision board and I love it! It's big enough to make a statement and such a soft chic black.
I LOVE this mural and am beyond thrilled with how good it looks! The perfect accent for all the other layers in the space. Hopefully I'll love them as much as I love this!
What's on the docket for next week?
I have this idea for a DIY non-electric chandelier. Yep. NO electrical box required… and it costs under $30.
A bench. I'm rearranging the seating a bit in the living room and have plans for a fun DIY upholstered bench. Wish me luck- I have a love hate relationship with upholstery.
Reminder that this is my overall plan for the room: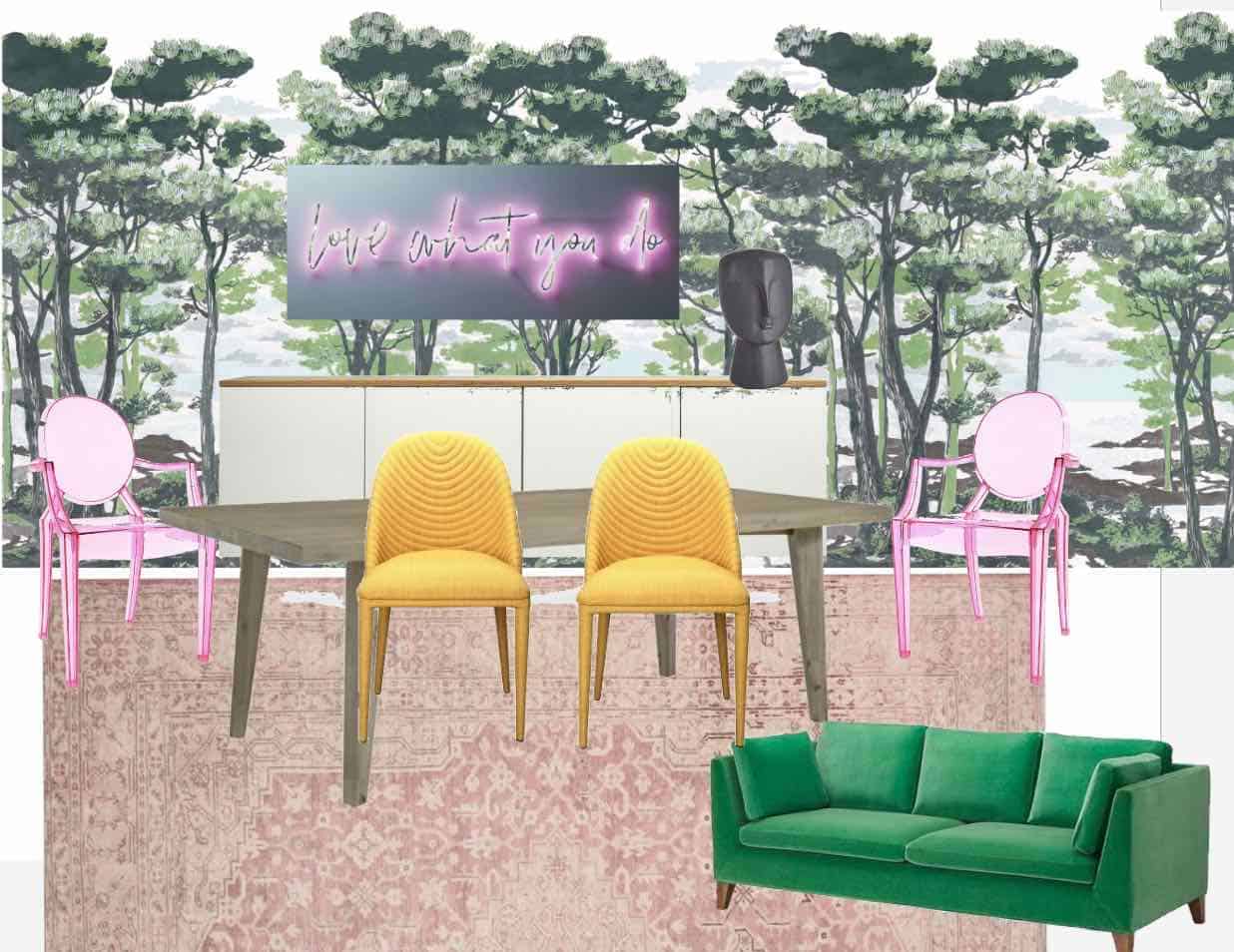 In case you missed it, see my post from Week 1 below:

Make sure you check out all my fellow designers and their progress. I'm AMAZED at some of the projects this talented group of creatives is taking on!
Design Addict Mom | Erika Ward Interiors | Erin Kestenbaum | Girl & Grey
Gray Malin | Hommeboys | I Spy DIY | Jewel Marlowe | The Learner Observer | Making it Lovely
 Nicole White Designs | Old Brand New | Oscar Bravo Home | Place of My Taste | The Rath Project
Room for Tuesday | SG Style | Undecorated Home | Veronica Solomon | Media BH&G | TM by ORC