One Room Challenge Living Room Dining Room Reveal
Disclosure: I am so fortunate to have partnered with lots of brands to make this room makeover possible. All links and brand mentions are included at the end of this post and all opinions are mine.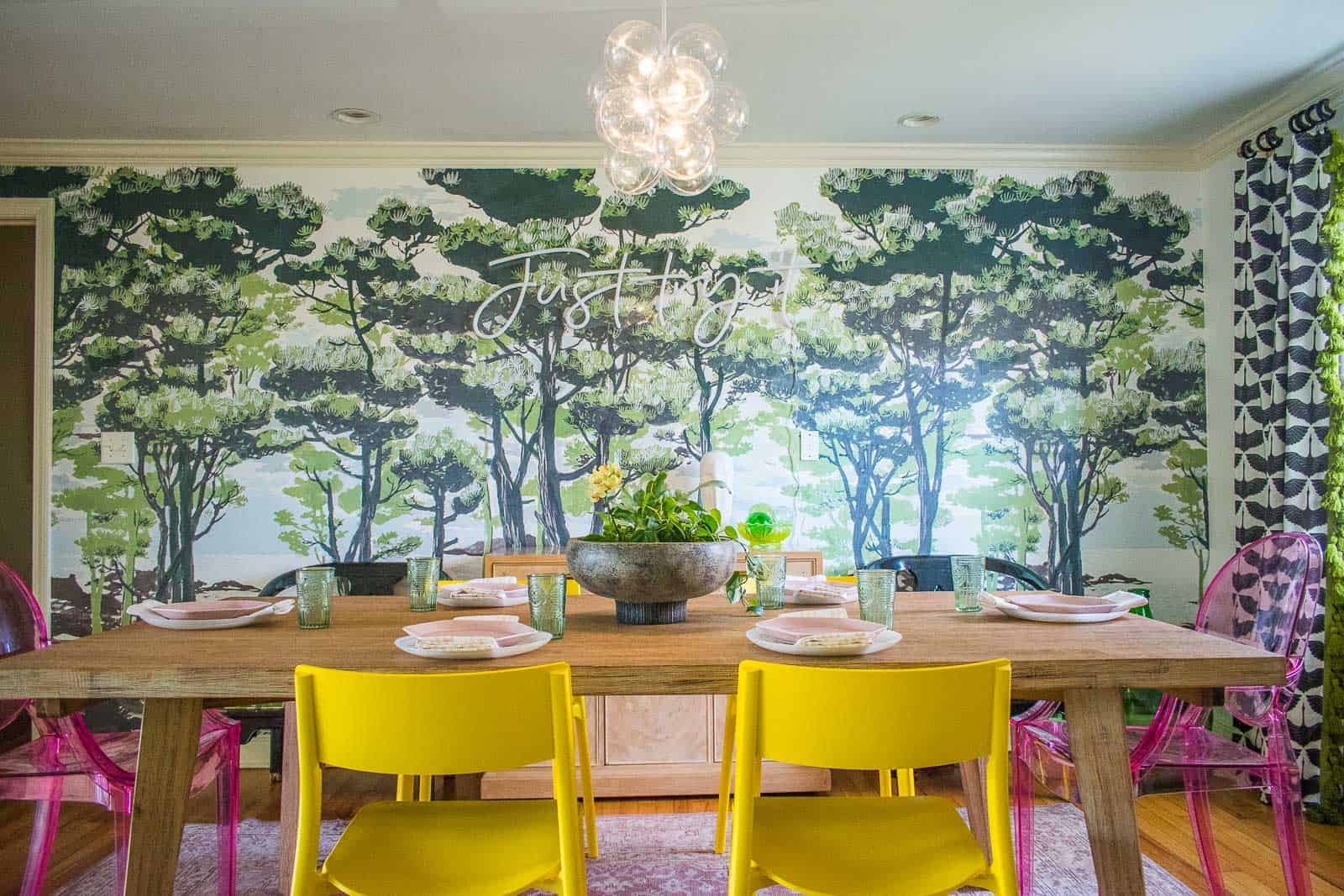 To say that the last six weeks have flown by is an understatement! I need to start by extending my profound thanks to Linda from the One Room Challenge for believing in me and inviting me to participate I am beyond grateful for the opportunity! When I started designing this room, I knew I would be limited because of renting, so my goal was to maximize the makeover with color and pattern and furniture choices! A couple things I'm self conscious about right from the get go: compared to some of the other makeovers…. this feels totally minimal. I didn't gut the room first. I didn't reframe the windows. I didn't pull up the hardwood floors. And frankly, I didn't even change the function of the room! BUT… I added LOTS of new details and DIYed a handful of really fun easy projects and dang it if I don't love this space.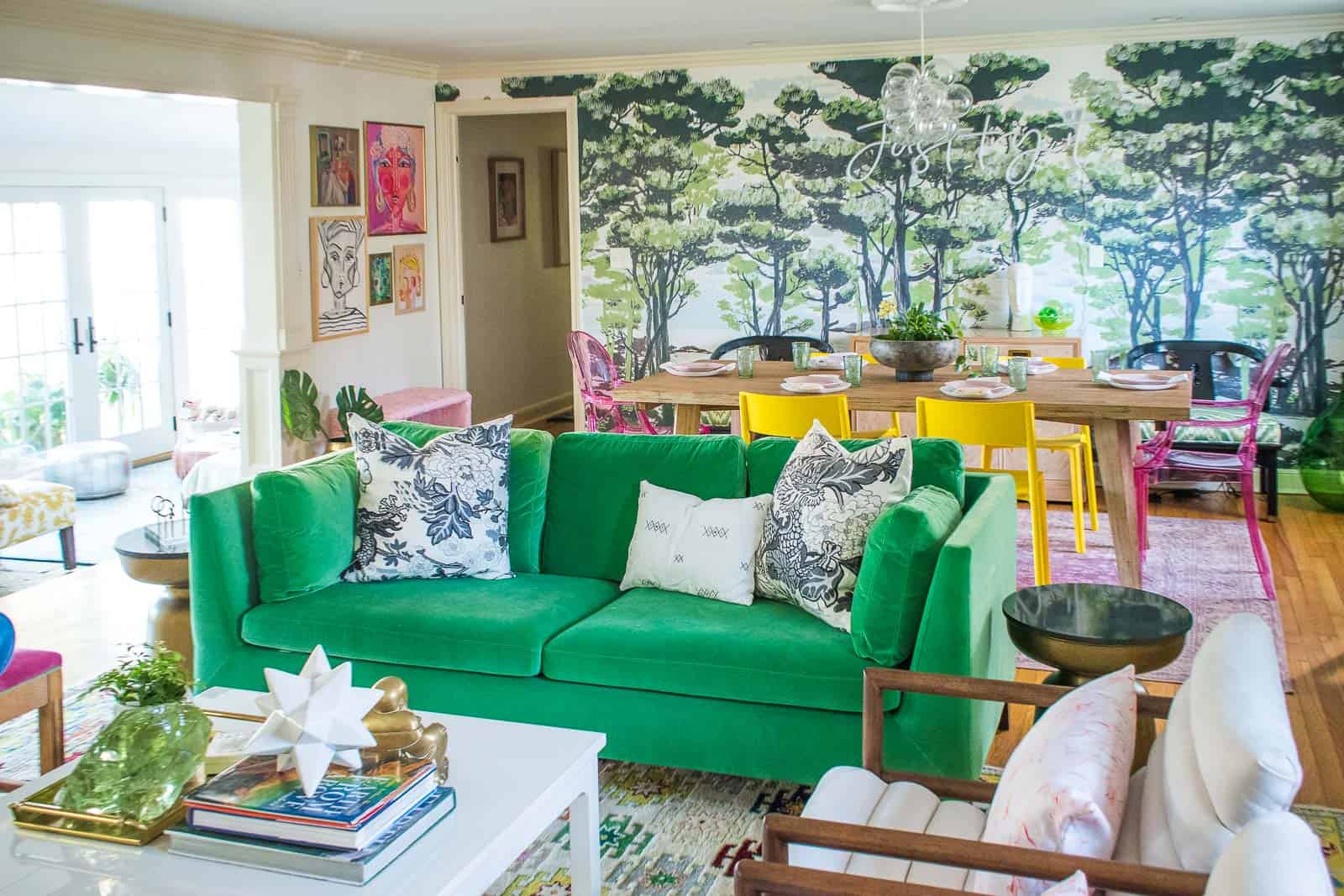 Thank you for sharing in my enthusiasm and cheering me on these past six weeks. It's hard not to be humbled amongst this crew of featured designers so I thank you for your encouragement and kind words! Just to make this reveal that much more legit, let's remember where we started shall we? When we first walked through the rental, the living room dining room space was an interesting shade of ochre. Low ceilings. Shutters that were 75% dysfunctional. But hardwood floors and lots of space.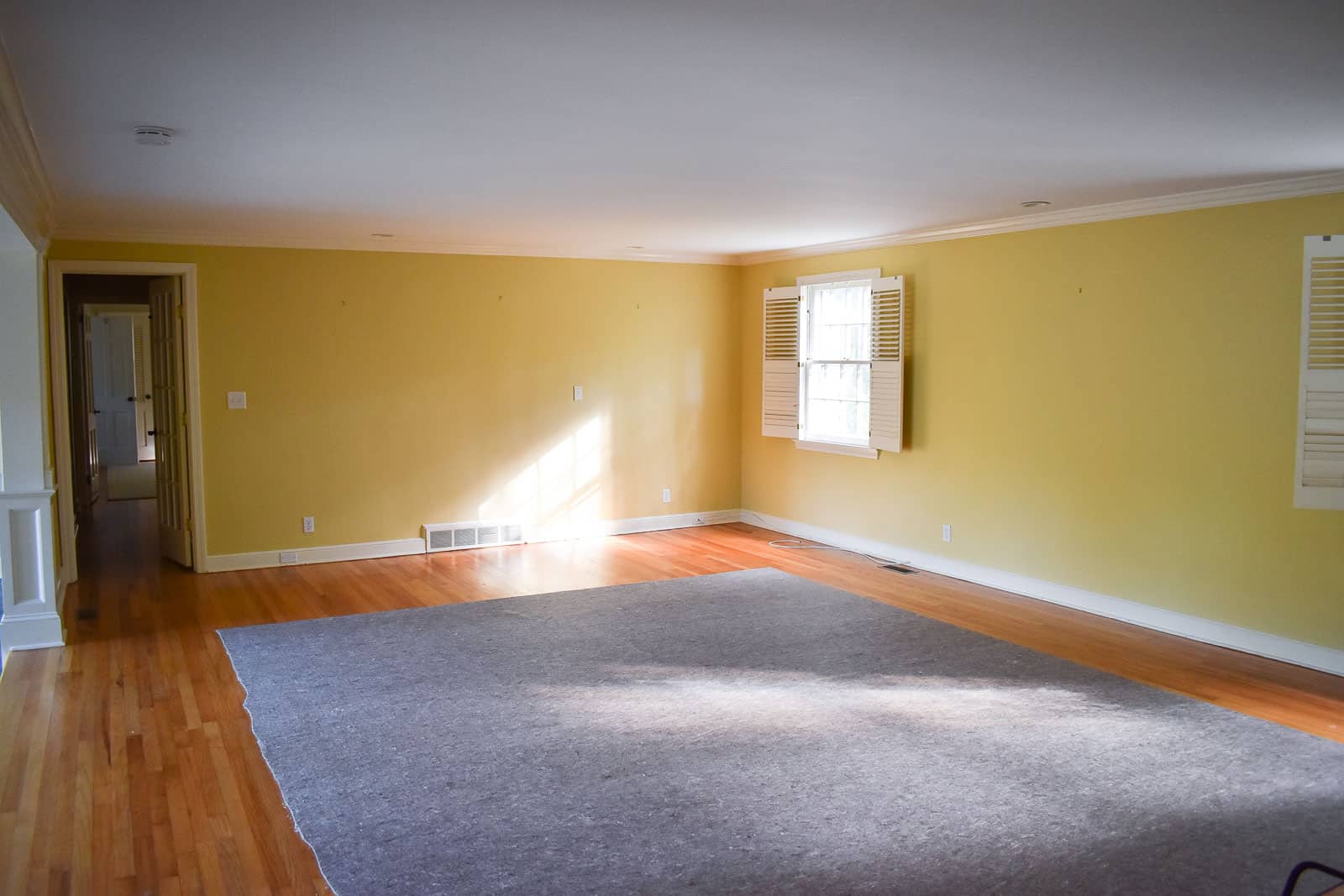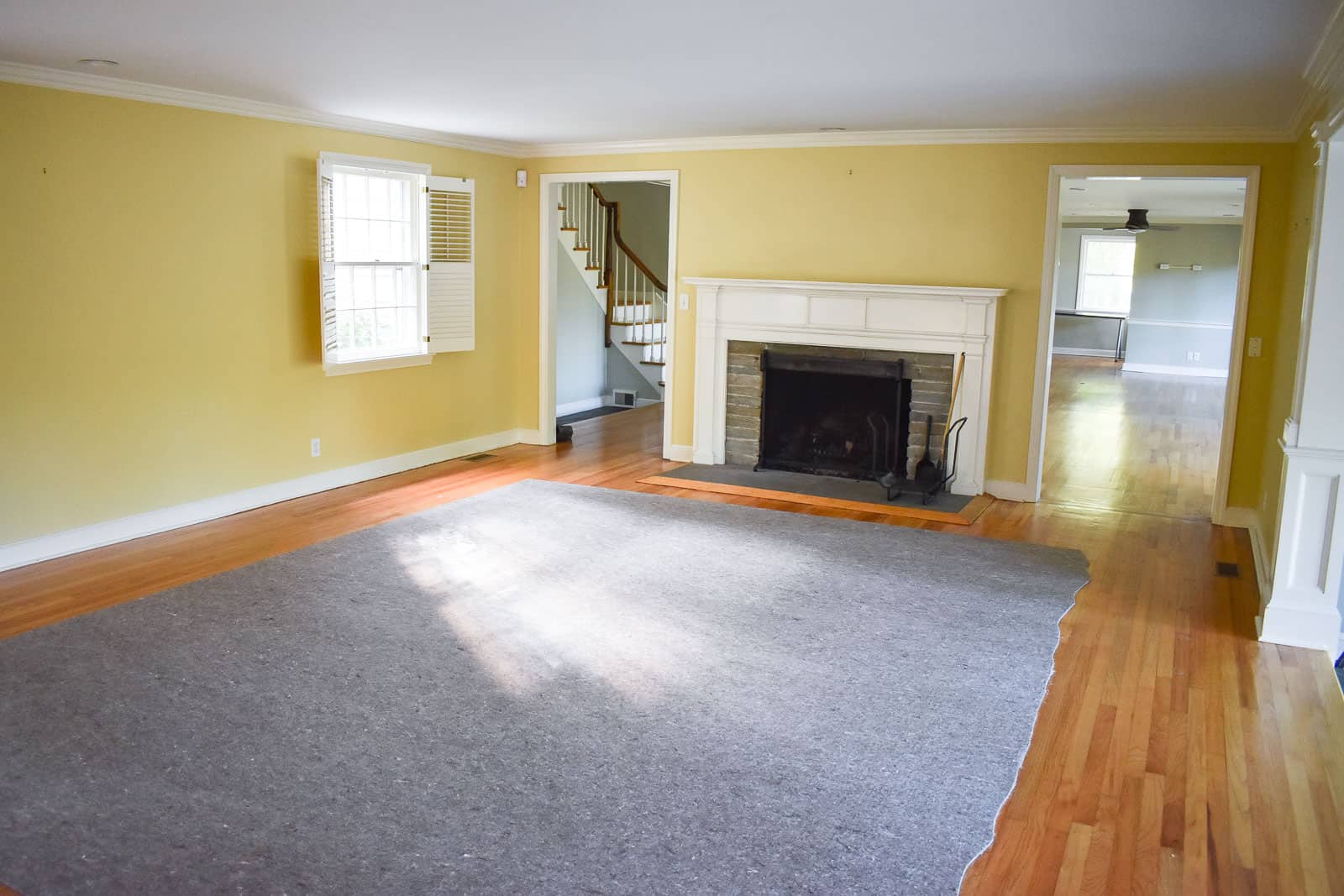 With a fireplace at one end, it seemed obvious that the dining room would be opposite. The room is big enough that it makes sense to have two separate areas so dining room living room combo it is. As much as I love a makeover, I didn't want to swap out every piece of furniture on principle. My green couch has been discontinued and, without anywhere to store it, I couldn't bear to part with it. Ditto my colorful carpet purchased years ago from a local carpet outlet.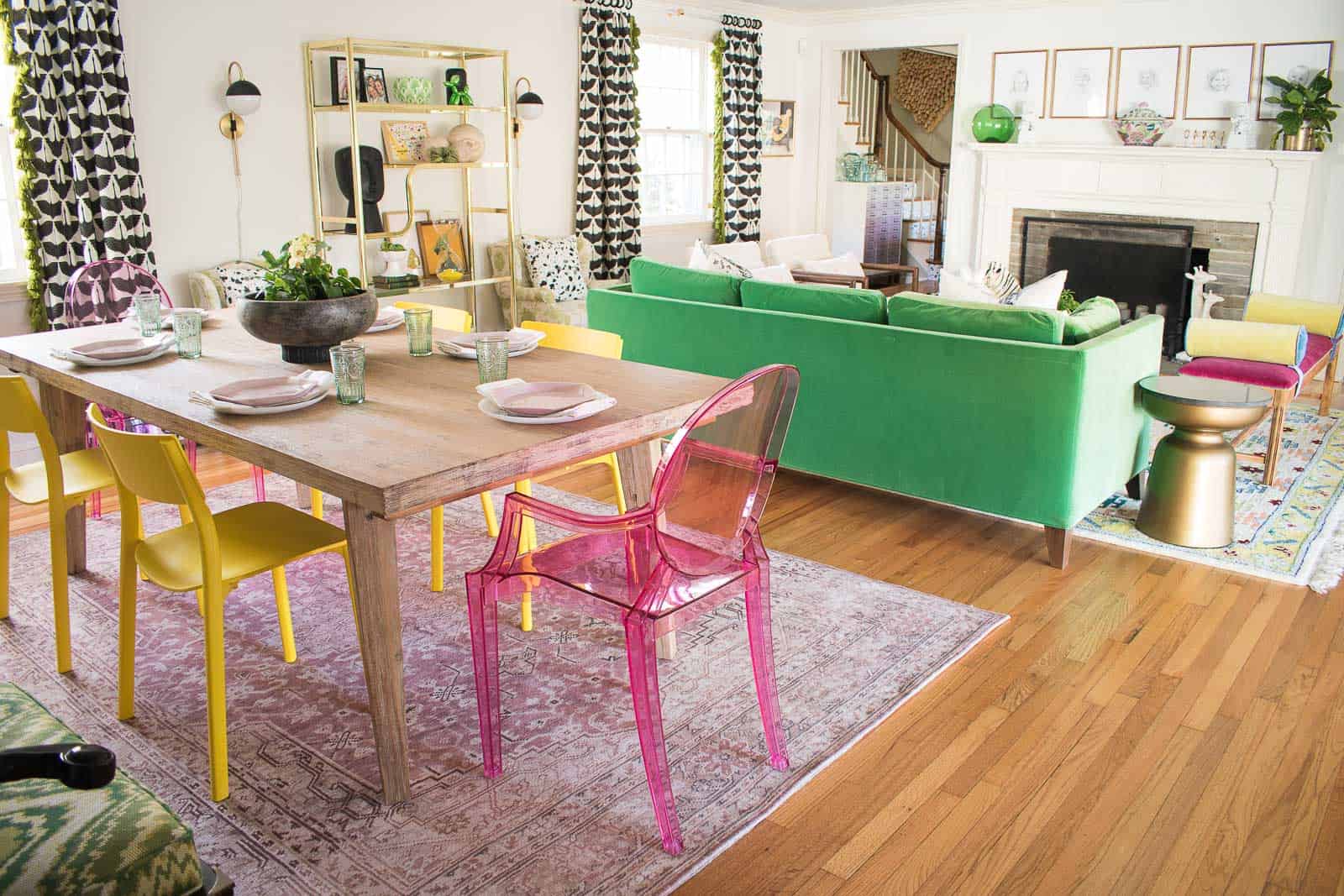 Let's talk about what I DID do. My favorite detail is the mural on the far wall. It brings in so much fun texture and color. Check out my post on how I was able to hang the mural without worrying about my security deposit. I didn't want to cover the mural with any large artwork so I opted for this cheerful pink "neon" sign. It's LED so it doesn't get too hot and it says "Just Try It" which is kind of my motto for anything DIY (and dining as it turns out. ha!).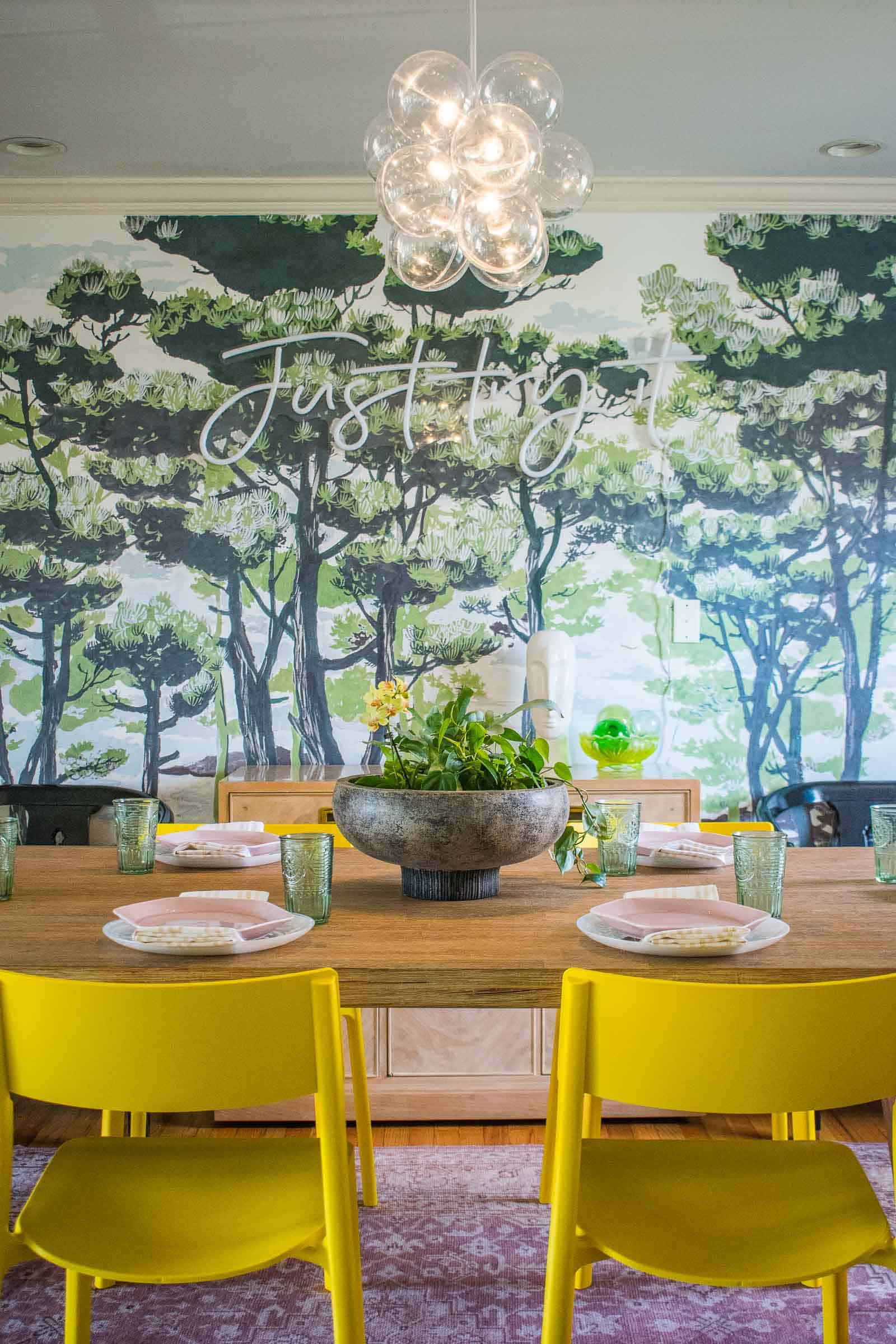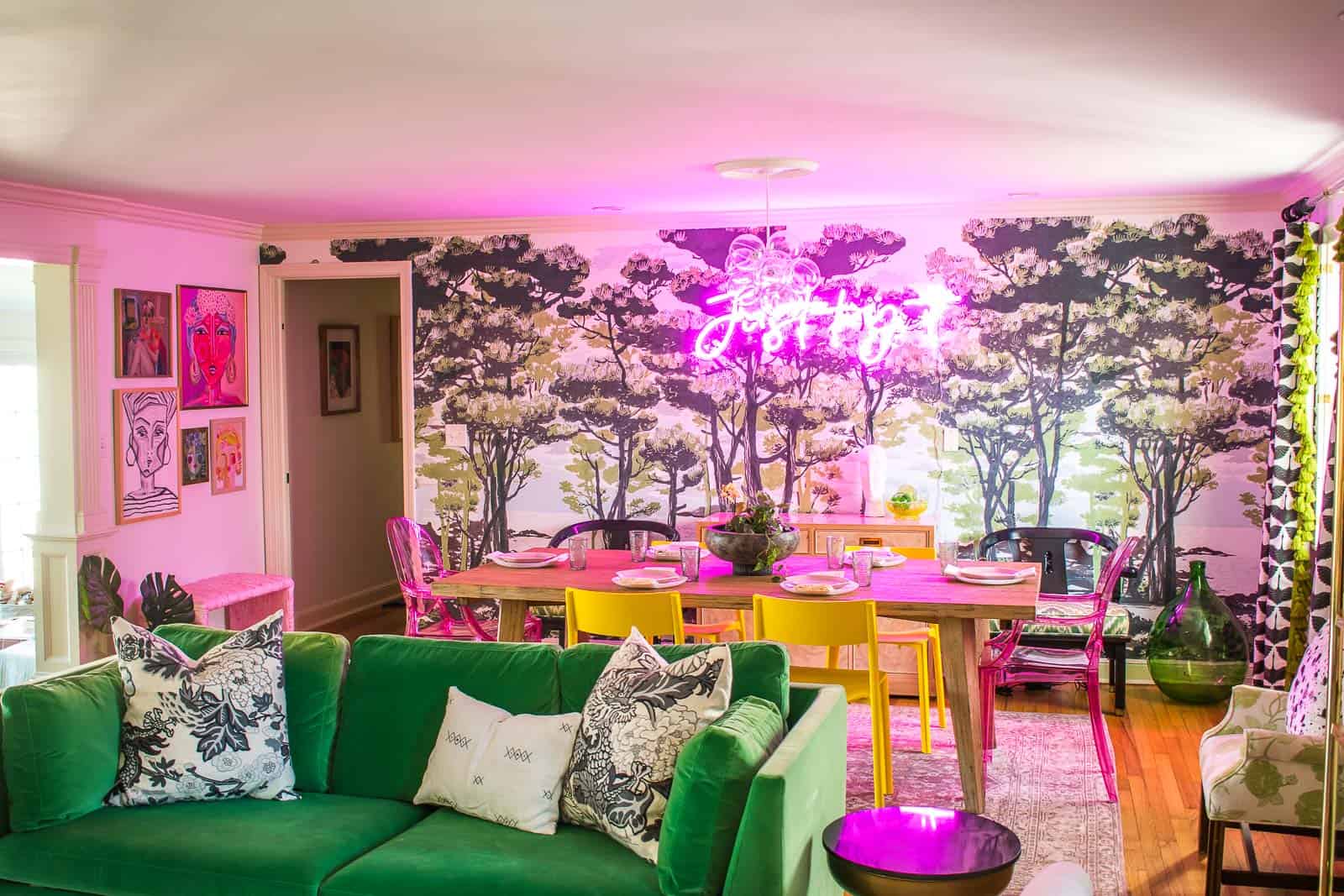 I have a new dining room table from Raymour and Flanigan and I love how the wood softens the space and feels a bit more contemporary than the painted blue farmhouse table that was there before. I found out a week ago that my dining chairs and sideboard were backordered so I had to scramble and found a sideboard from Facebook marketplace and those yellow chairs from Ikea. The head chairs were always part of my plan!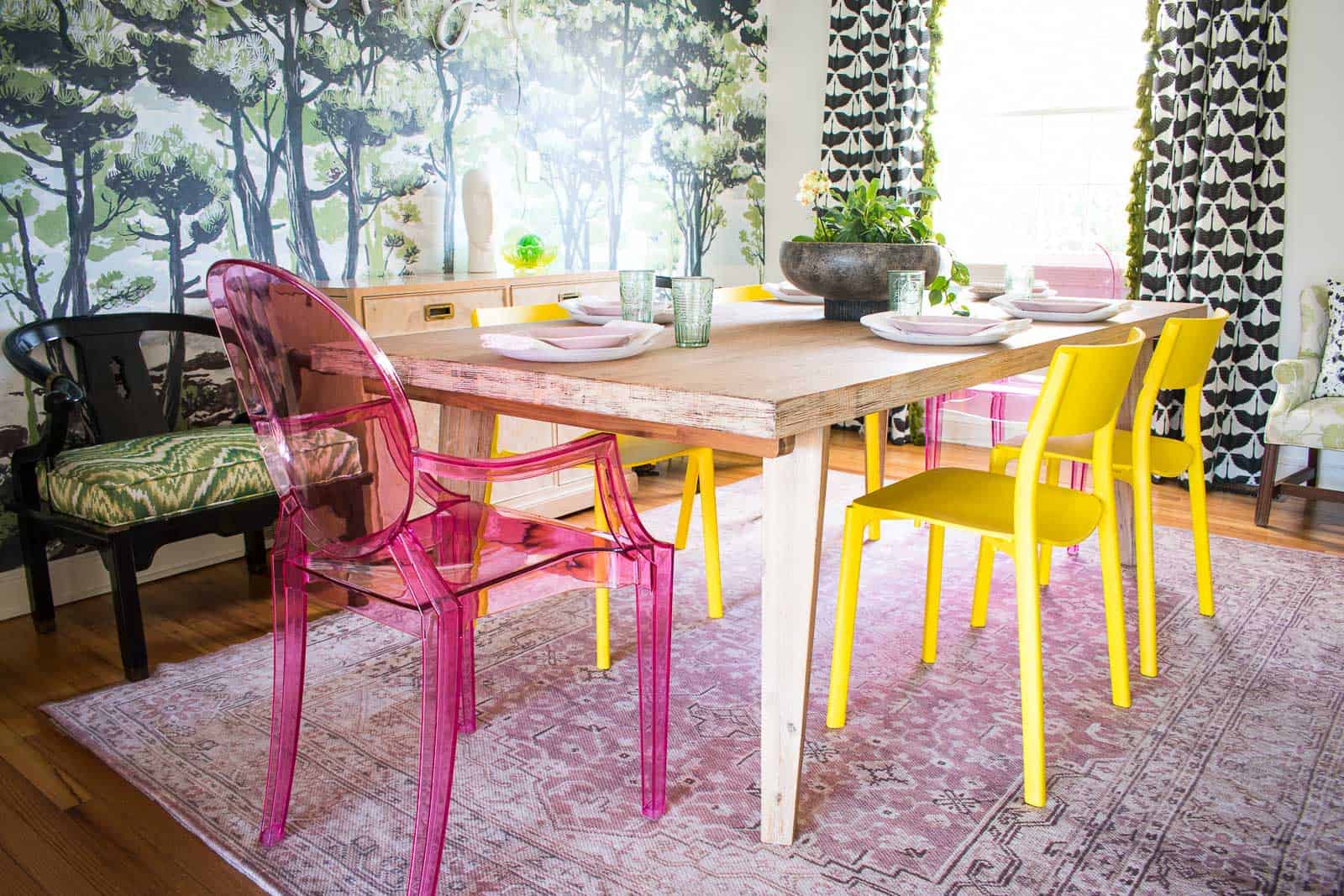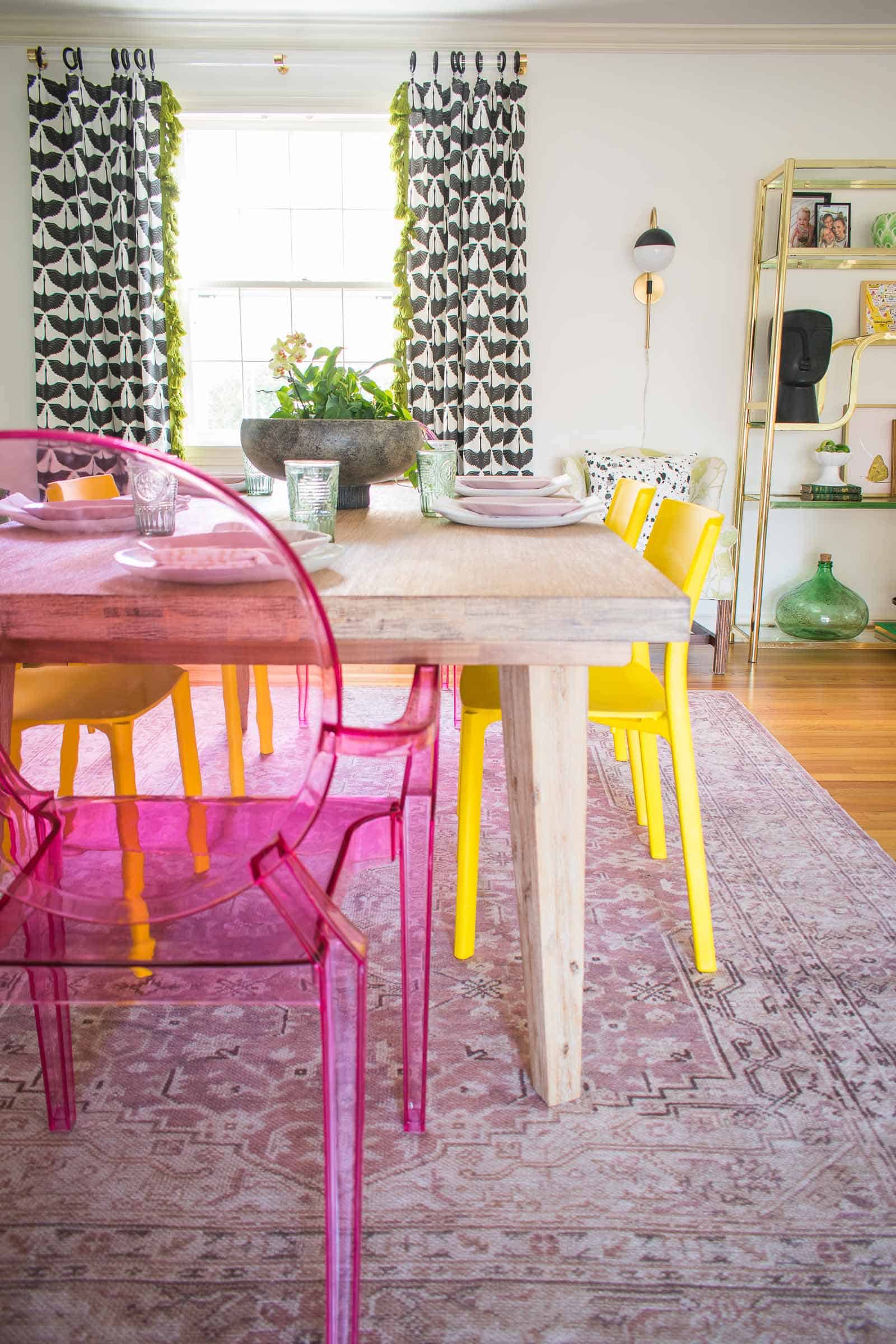 I shared the tutorial here, but I added that non electric bubble light chandelier just to define the dining space a bit more and give the eye a higher focal point.  You'll also notice a new distressed pink rug under the table. In my various vision boards, a color looked best under the dining room table (versus black and white) and this pale pink vintage style rug by Magnolia Home for Loloi fit the bill!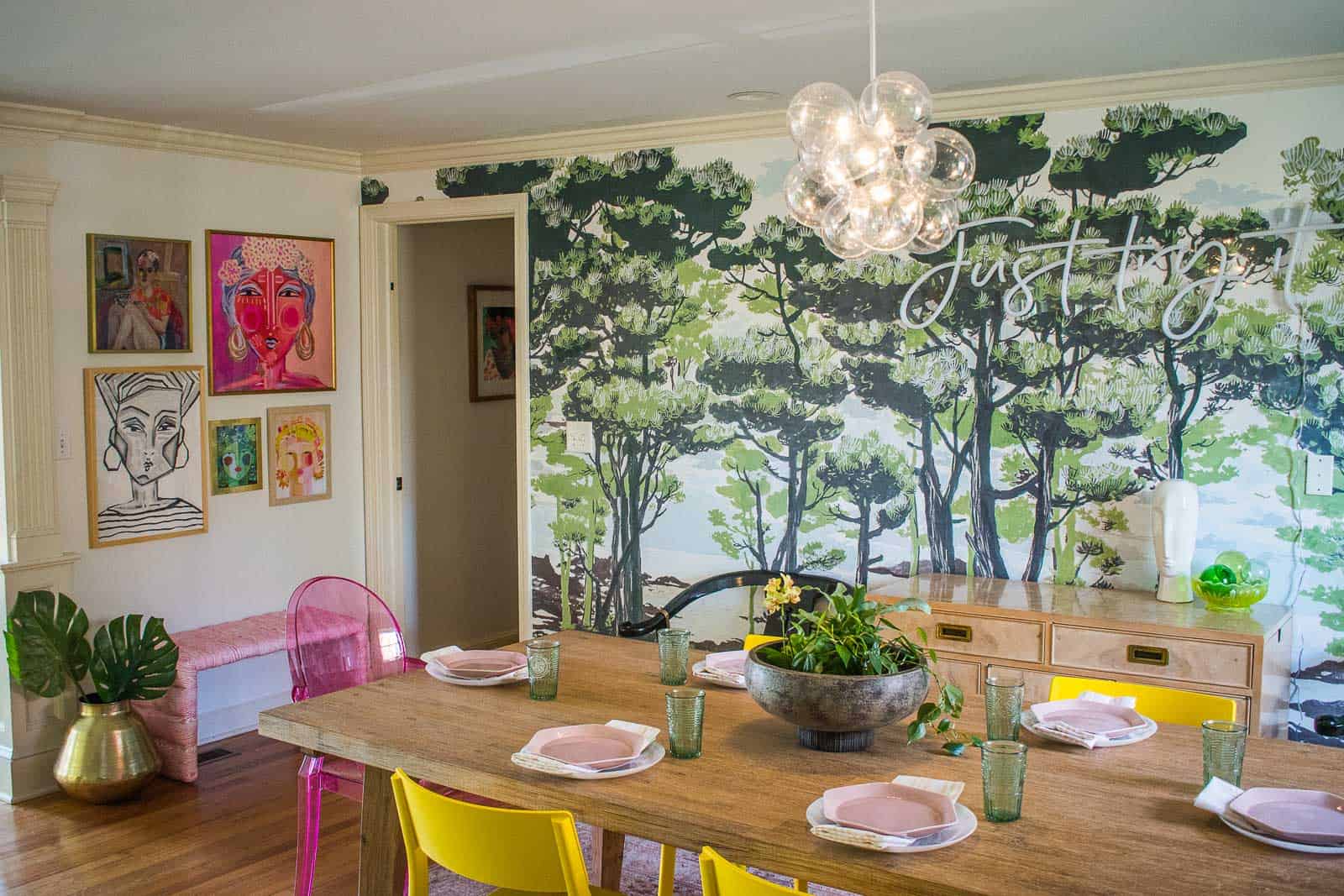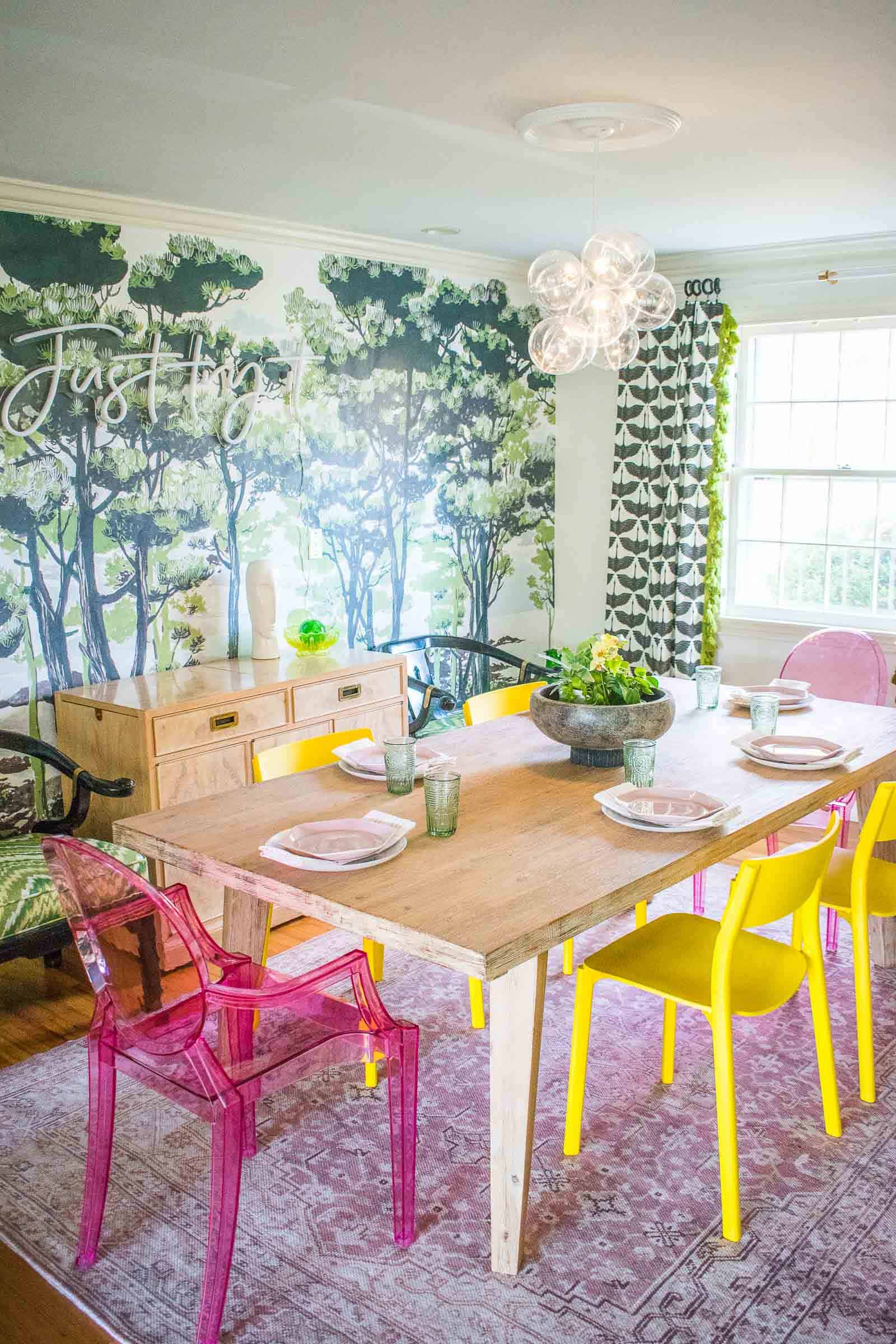 Minted was one of our sponsors and I was able to gather a handful of glorious prints to hang throughout the space. I'm crazy about the gallery wall of colorful ladies (featuring the work of Juniper Biggs, Gloria Blatt and Hailey Mitchell). Underneath the gallery wall is that fun channel tufted upholstered bench. (Full tutorial here.) I used that subtle pink faux bois fabric from Spoonflower and it's the perfect bit of pattern without being too bold.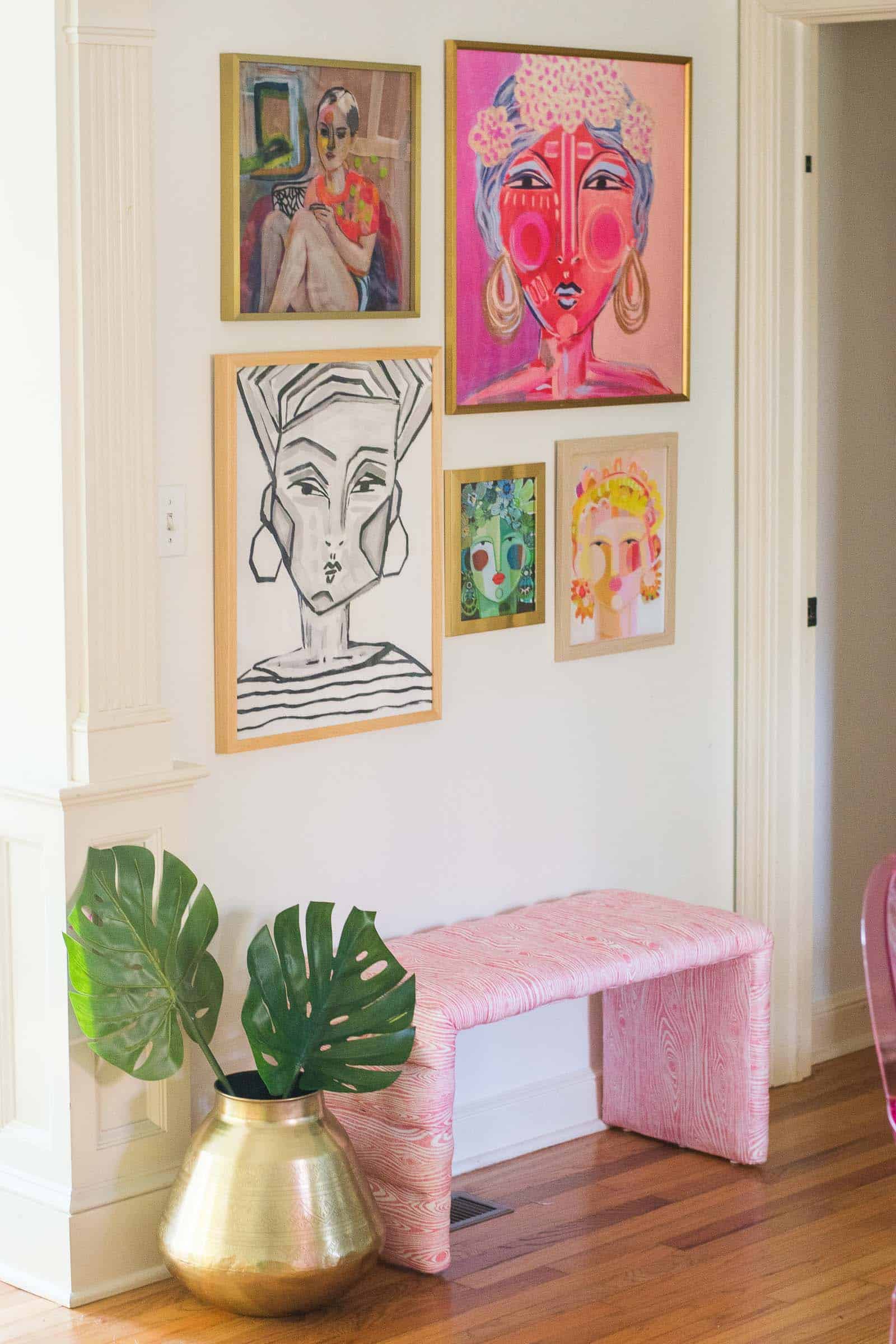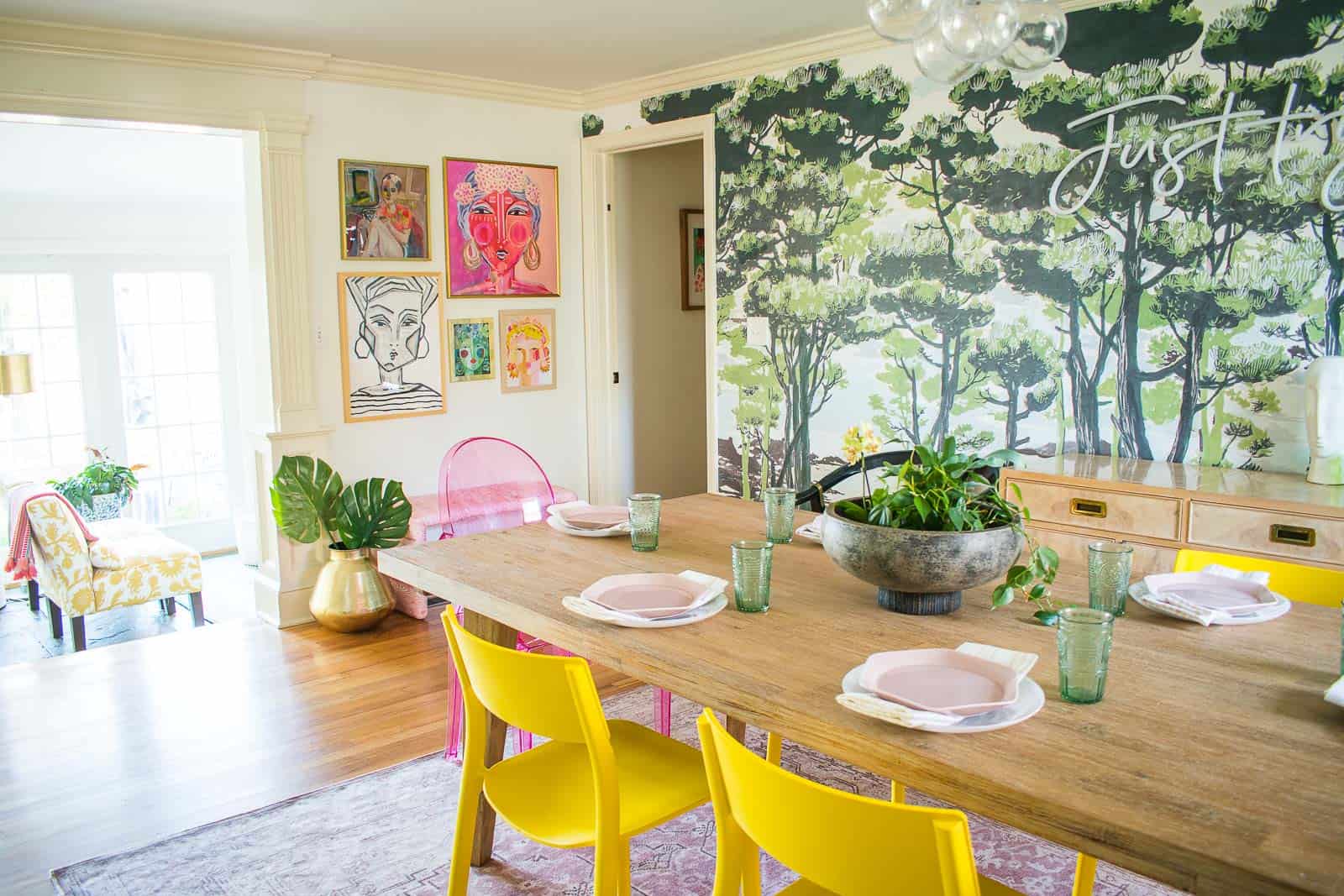 When we moved in, I put a large gray sideboard between the windows with a mirror and artwork above. Now that I've replaced the sideboard with those vintage brass shelves, I realized how heavy it was. The shelves are much better suited for that wall and… they gave me a chance to practice my shelf styling.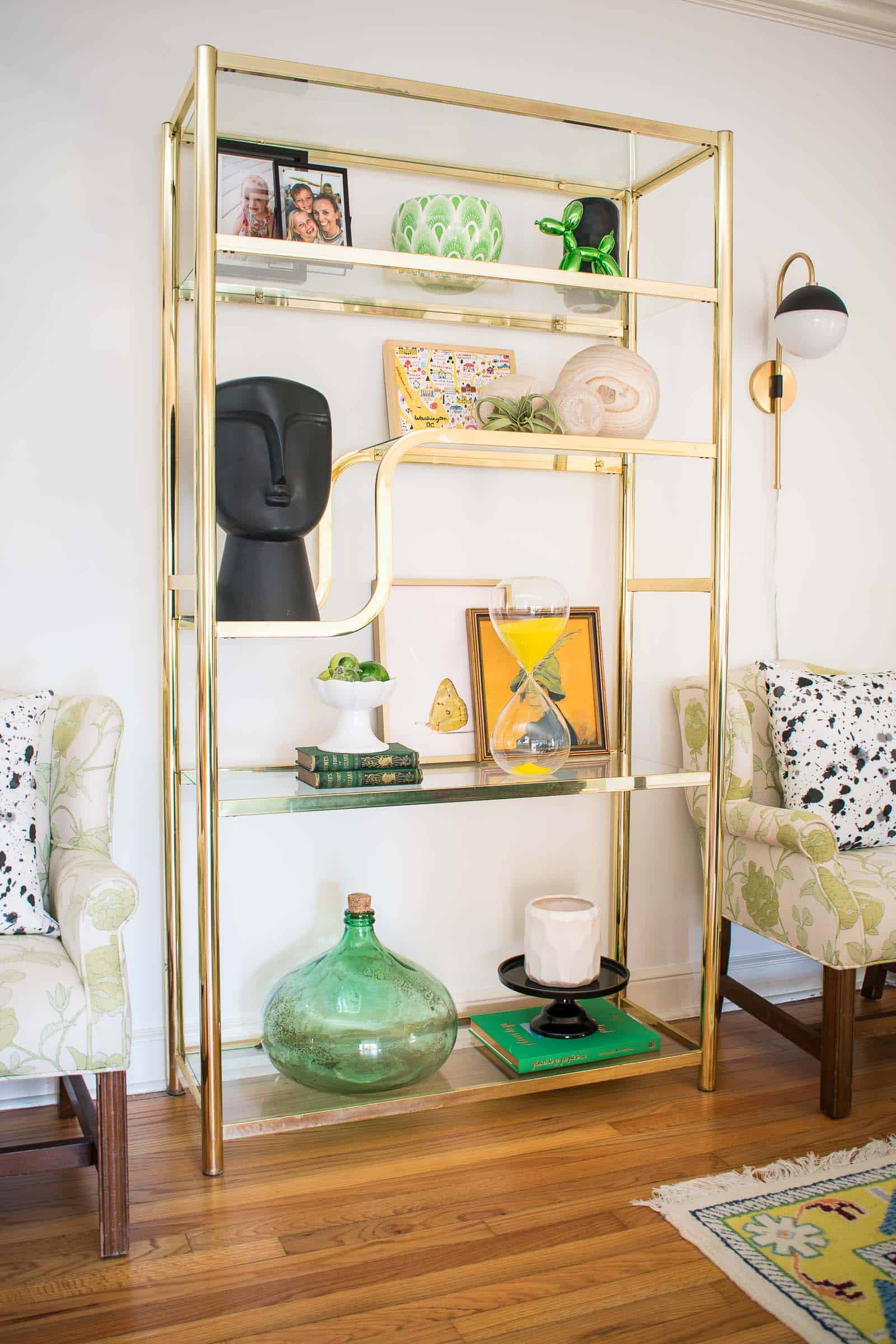 Taking a closer look at the shelves, I certainly used some of my own items from around the house, but there are a few notable pieces I need to mention. First and foremost is that exquisite hand painted green bowl from the illustrious Jill Rosenwald. When I shared this in my Instagram stories, I heard from  dozens of you that owning one of your pieces was a goal… I am beyond thrilled and flattered that she agreed to work with me on this piece.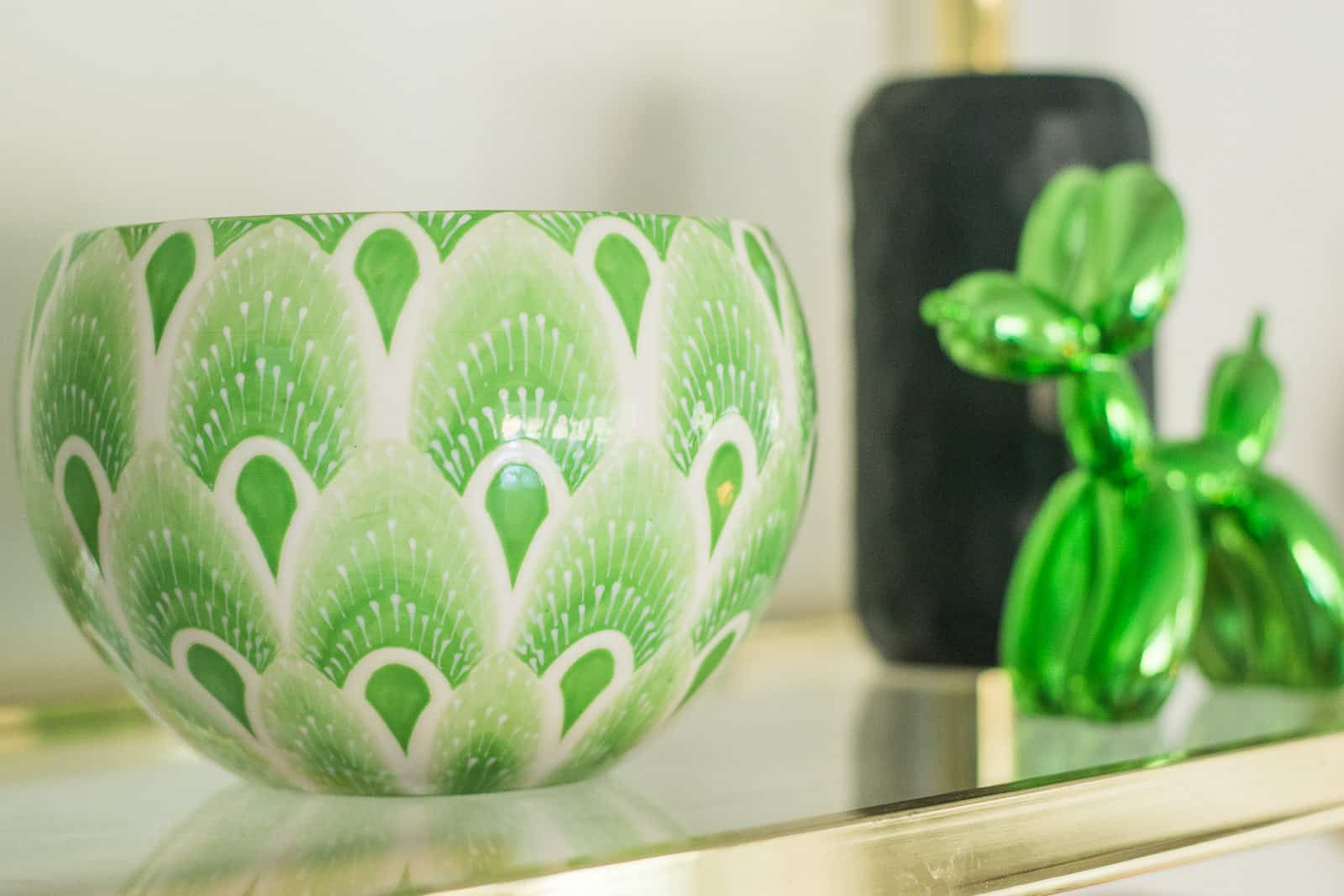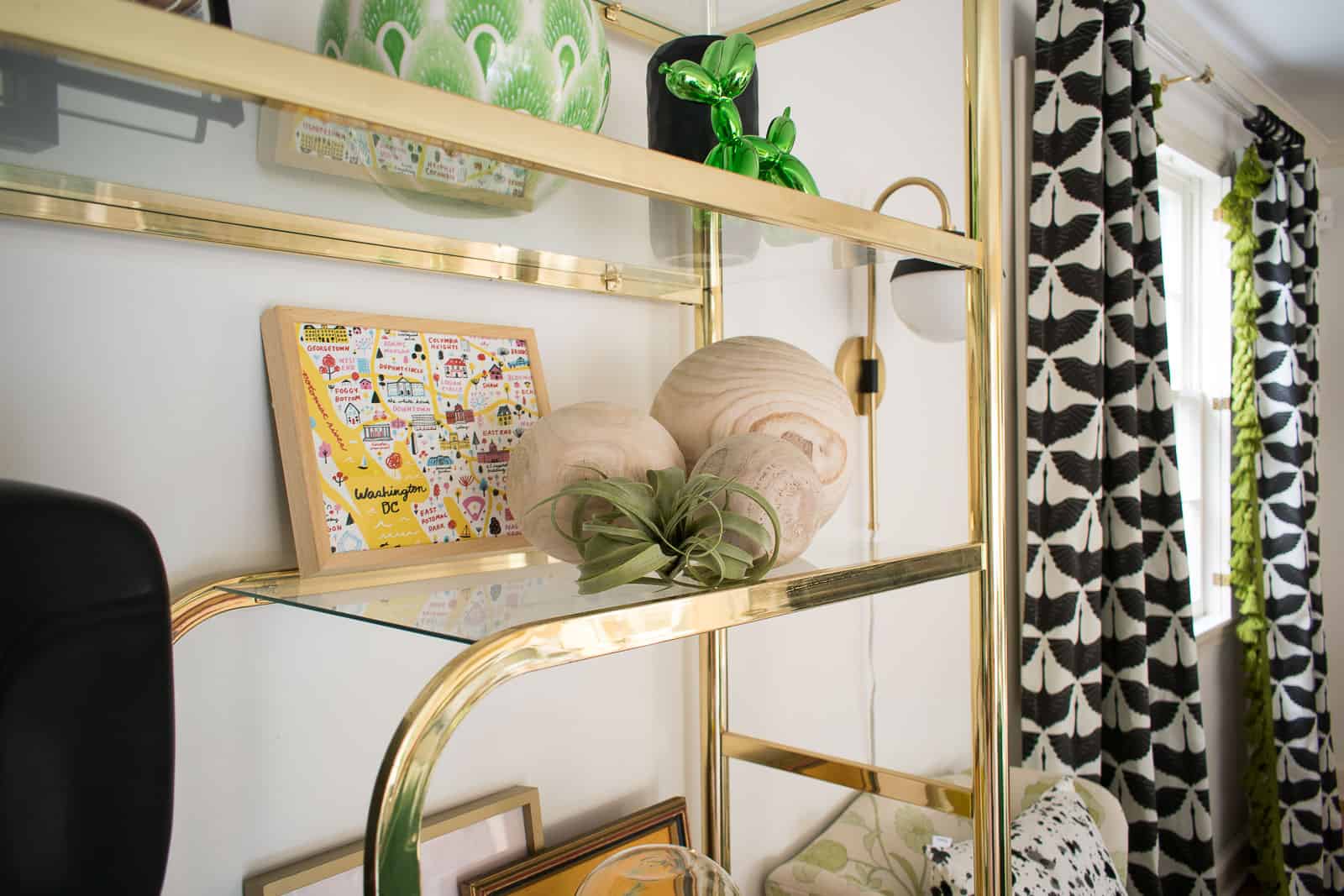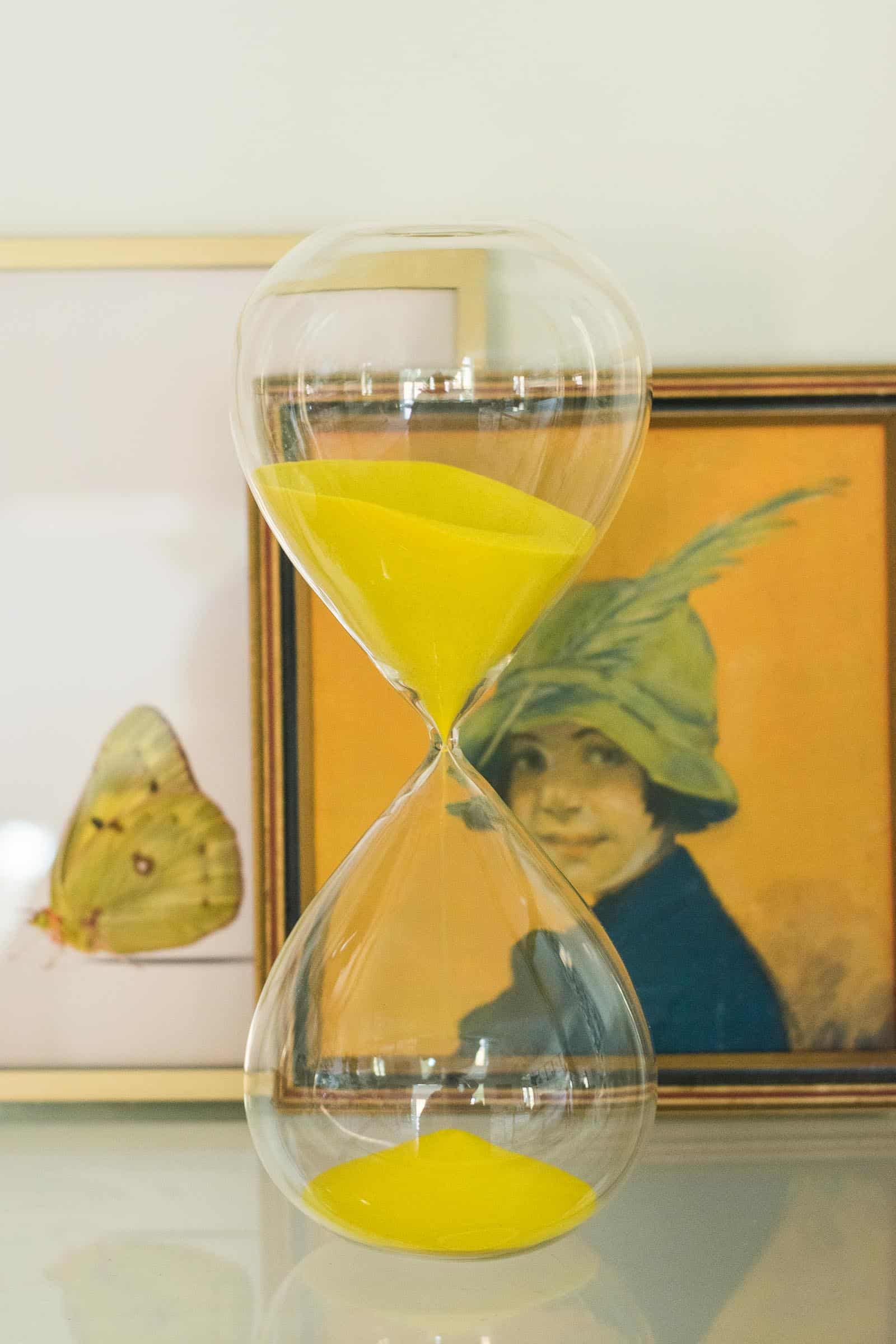 Elsewhere on the shelf… that stunning black head from Lamps Plus. My hope was that this piece would help ground some of the colorful whimsy in the room. I love a bright and playful space, but I didn't want this room to feel 'childlike' so little details like this help create that balance in my opinion.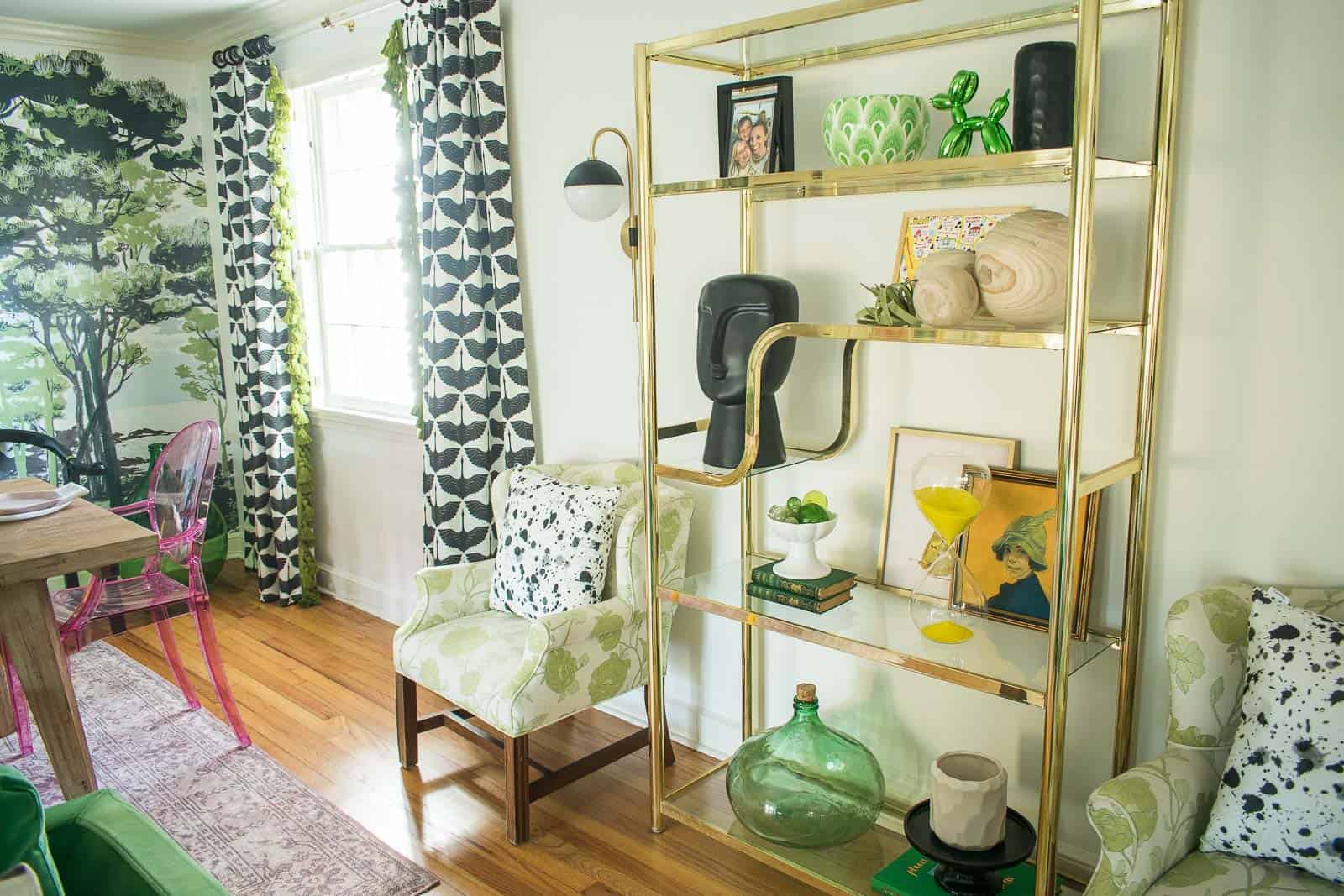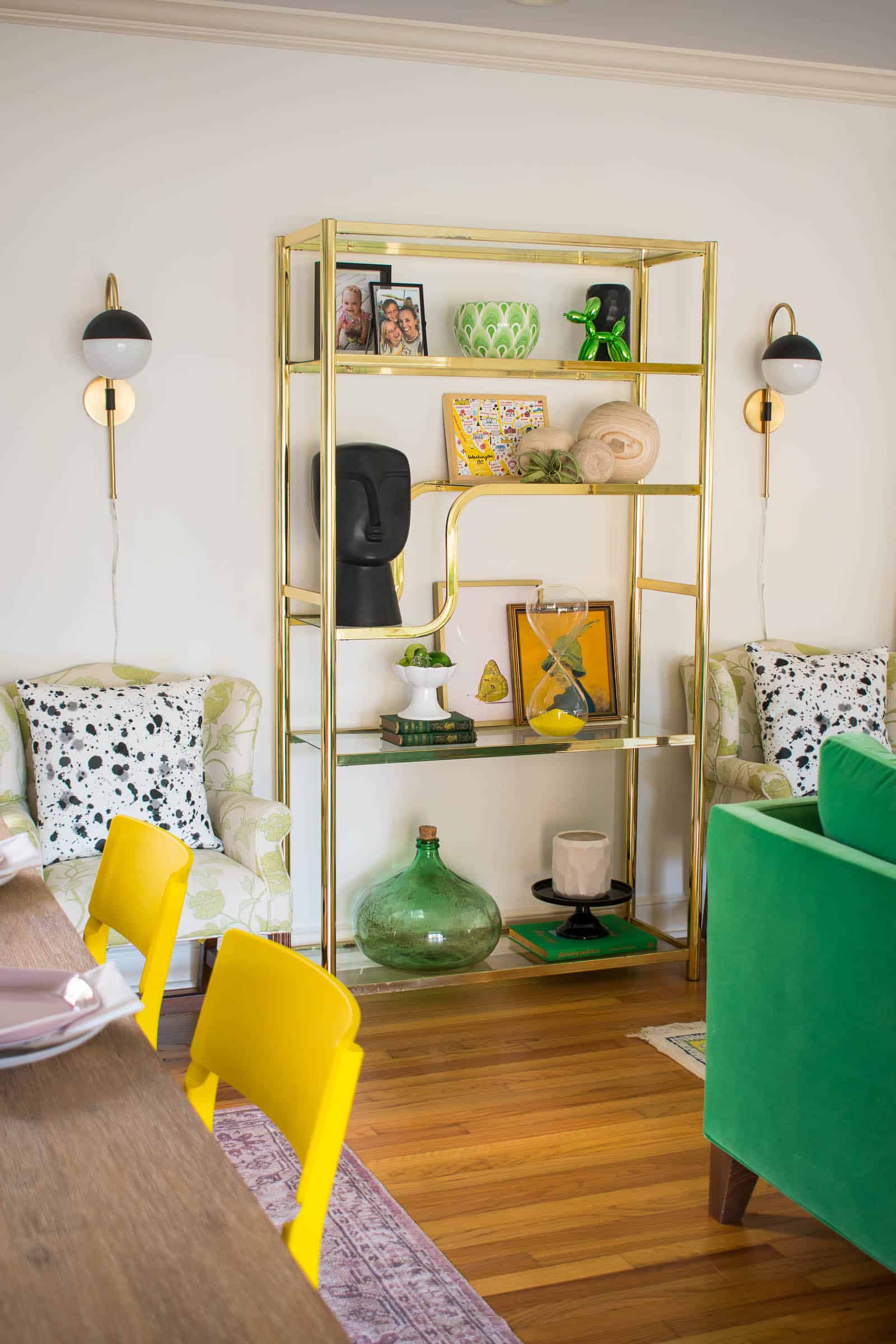 One of the reasons the brass shelves work between the windows is that I decided to add curtains. I decided on this chic egret pattern by Brains Are Pretty… I wanted black and white to offset the color in the rest of the room, and I love that this fabric has a print but reads as graphic if that makes any sense. Not only to they cover the ill-working shutters, but they also help stretch the ceiling a tad higher. (Hopefully.) I used lucite curtain rods from Luxe Holdups which create the illusion of height and then hung them quite a bit wider than the windows to fill in that wall space a bit. And just to add a little bit of flair… that exquisite green tassel fringe from Fringe Market is complete icing on the cake.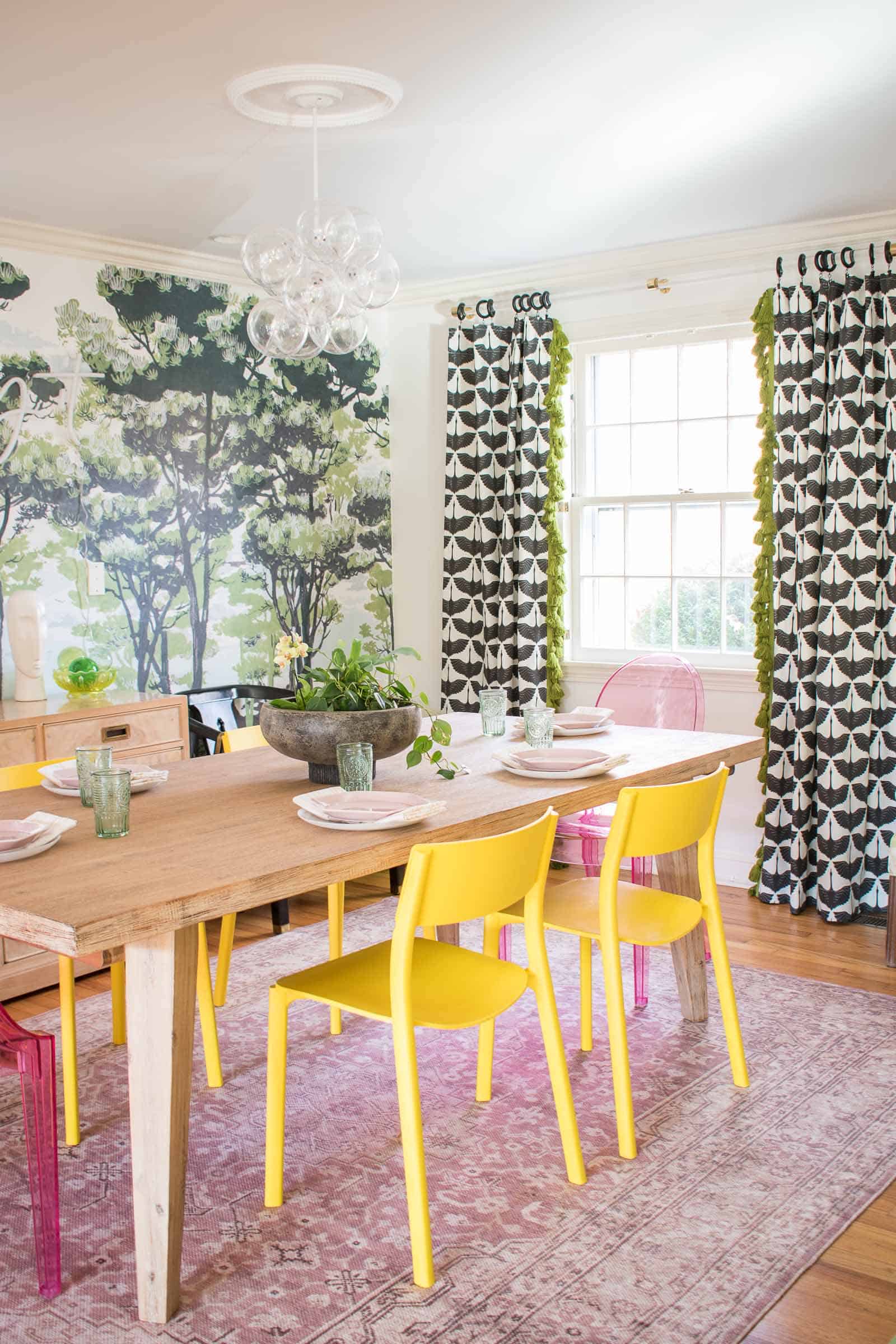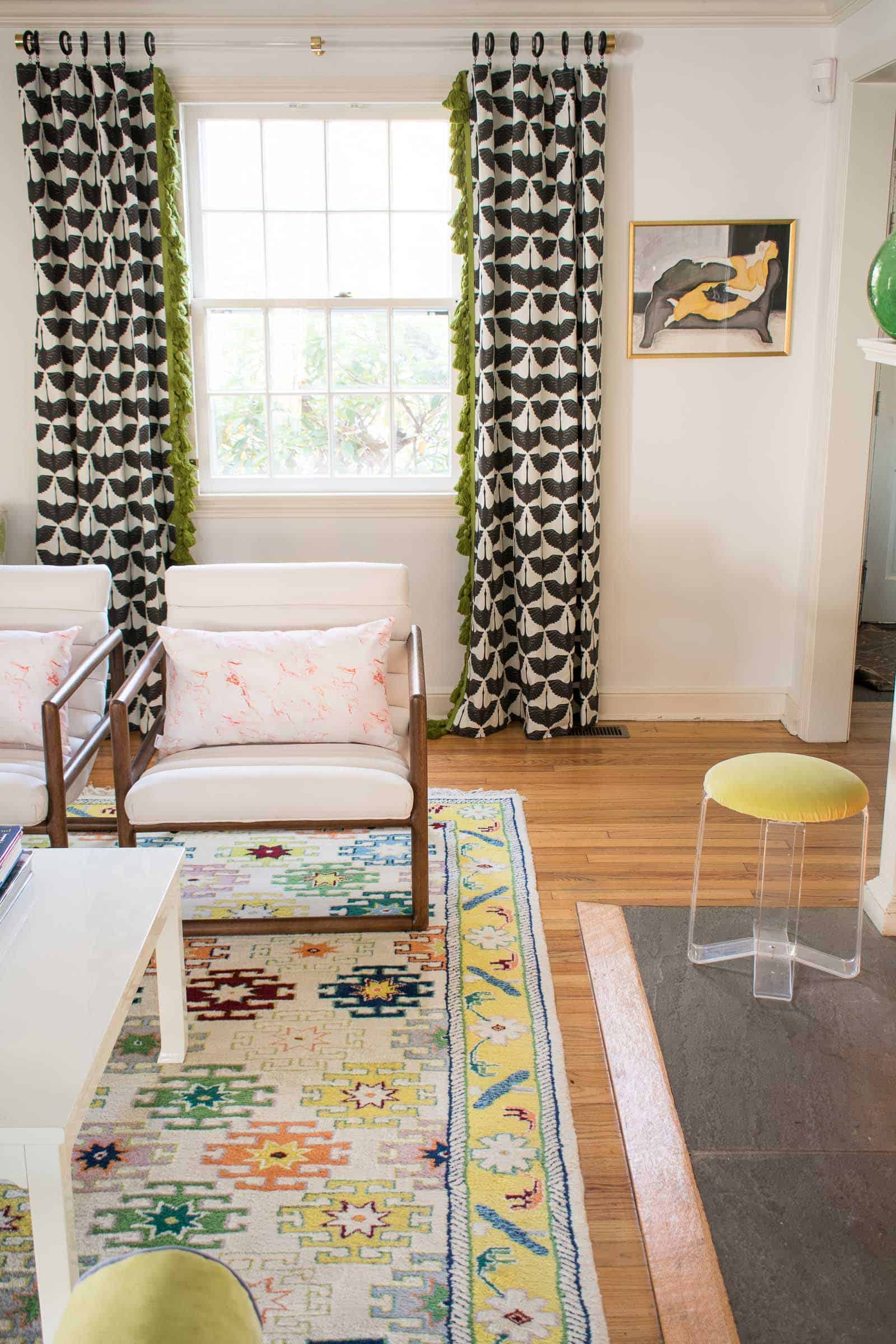 I've worked with Hudson Valley and My Mitzi in other areas of this house and I LOVE their clean lines. These Renee sconces can be hardwired or plugged in so they're perfect flanking the brass shelves. I have them plugged into remote control outlets, but we may upgrade to Amazon Alexa plugs so they are voice controlled.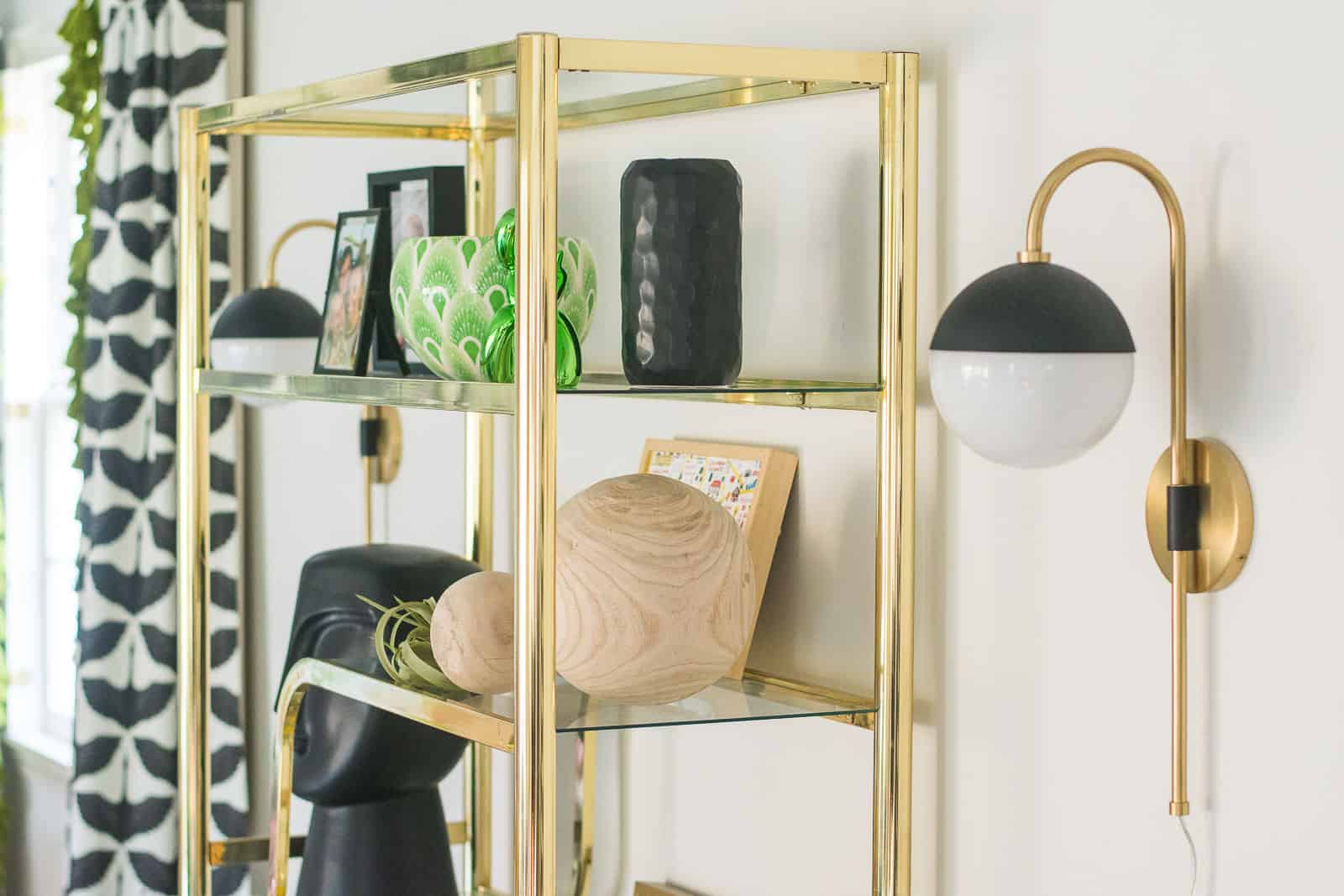 Moving into the living room, you all recognize the green couch and the colorful rug. I pulled from these colors when planning the rest of the room. The white coffee table is Jonathan Adler via Facebook marketplace and the size is right. I have two new armchairs from Raymour with the same channel tufting as my bench. I love that they bring in a more contemporary vibe as well as a neutral color. Yep. I said neutral.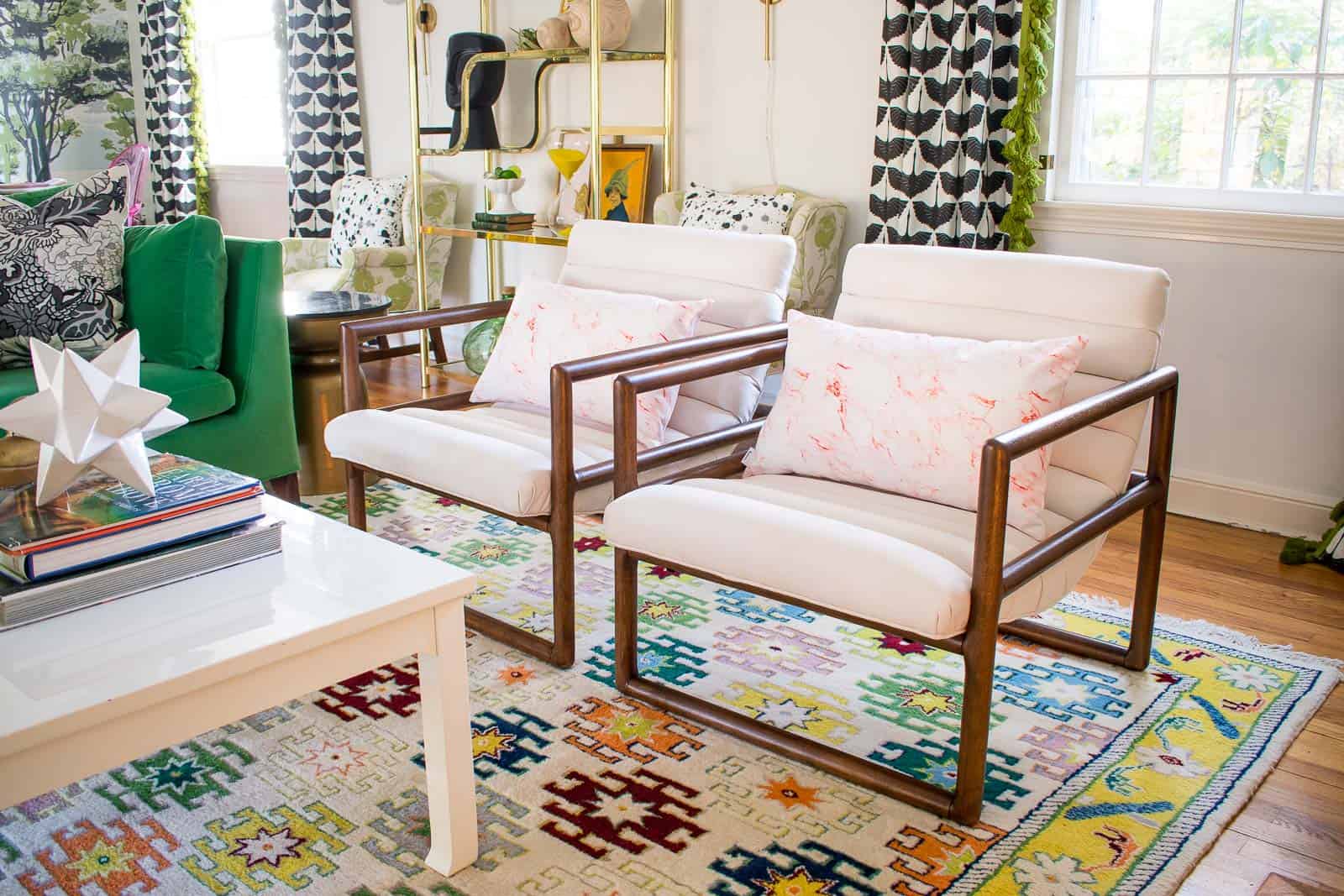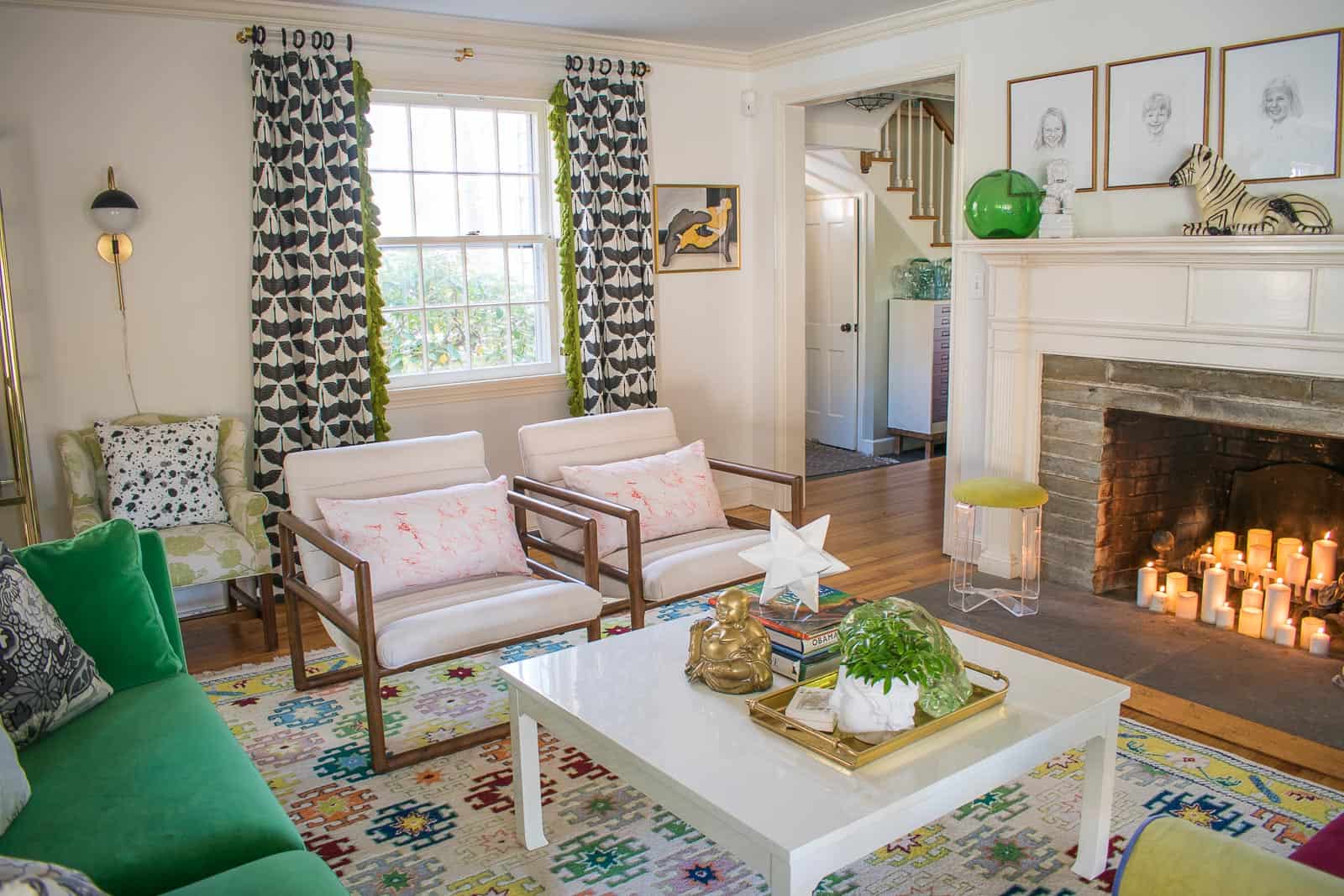 Across from the chairs is my updated bench. I love having a bench there instead of *another* pair of chairs. I'd already upholstered that bench with the pink velvet, but then I decided to add contrasting trim and those homemade bolsters. I love that it adds a bit of color to that side of the room, but doesn't compete with the patterns elsewhere in the space.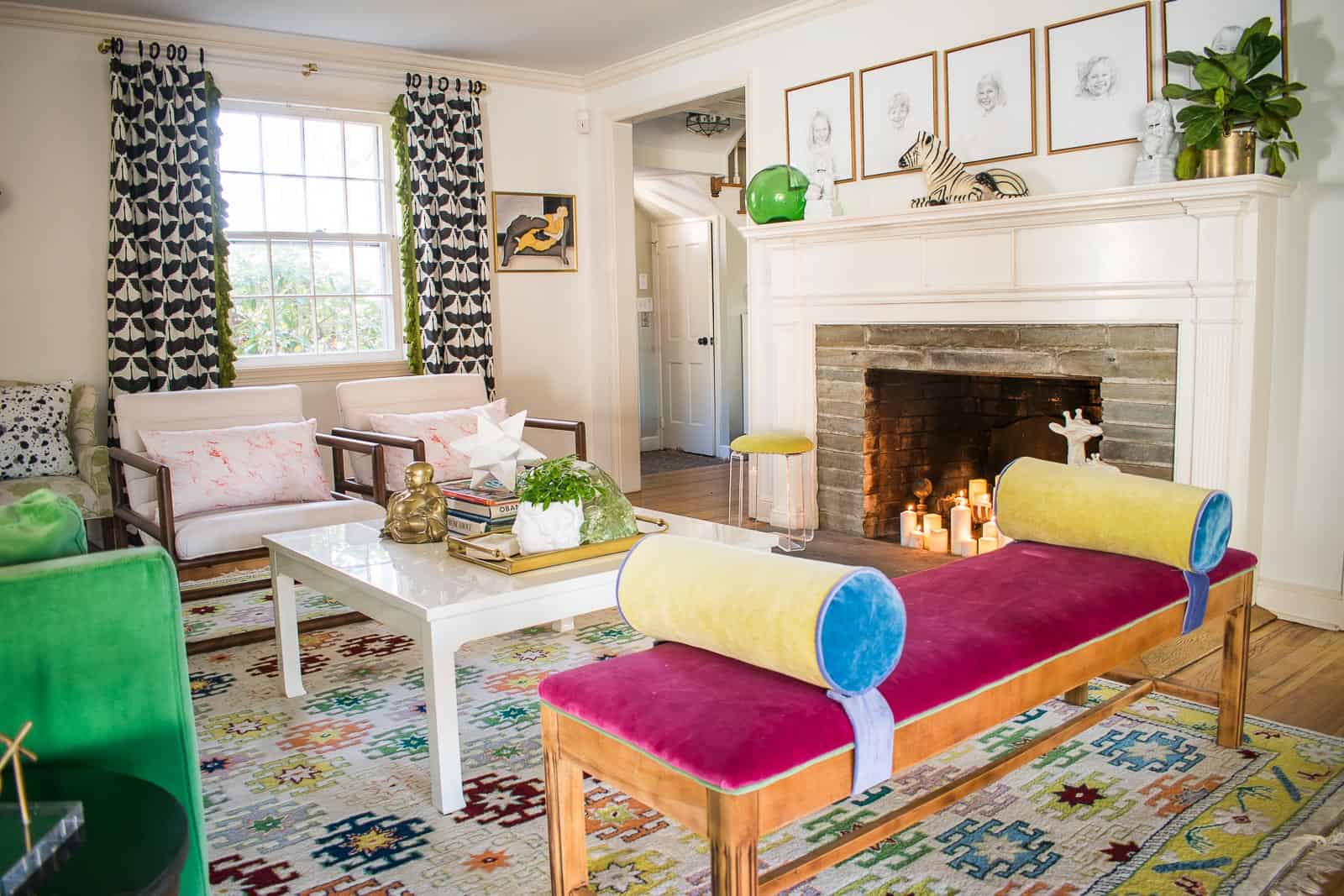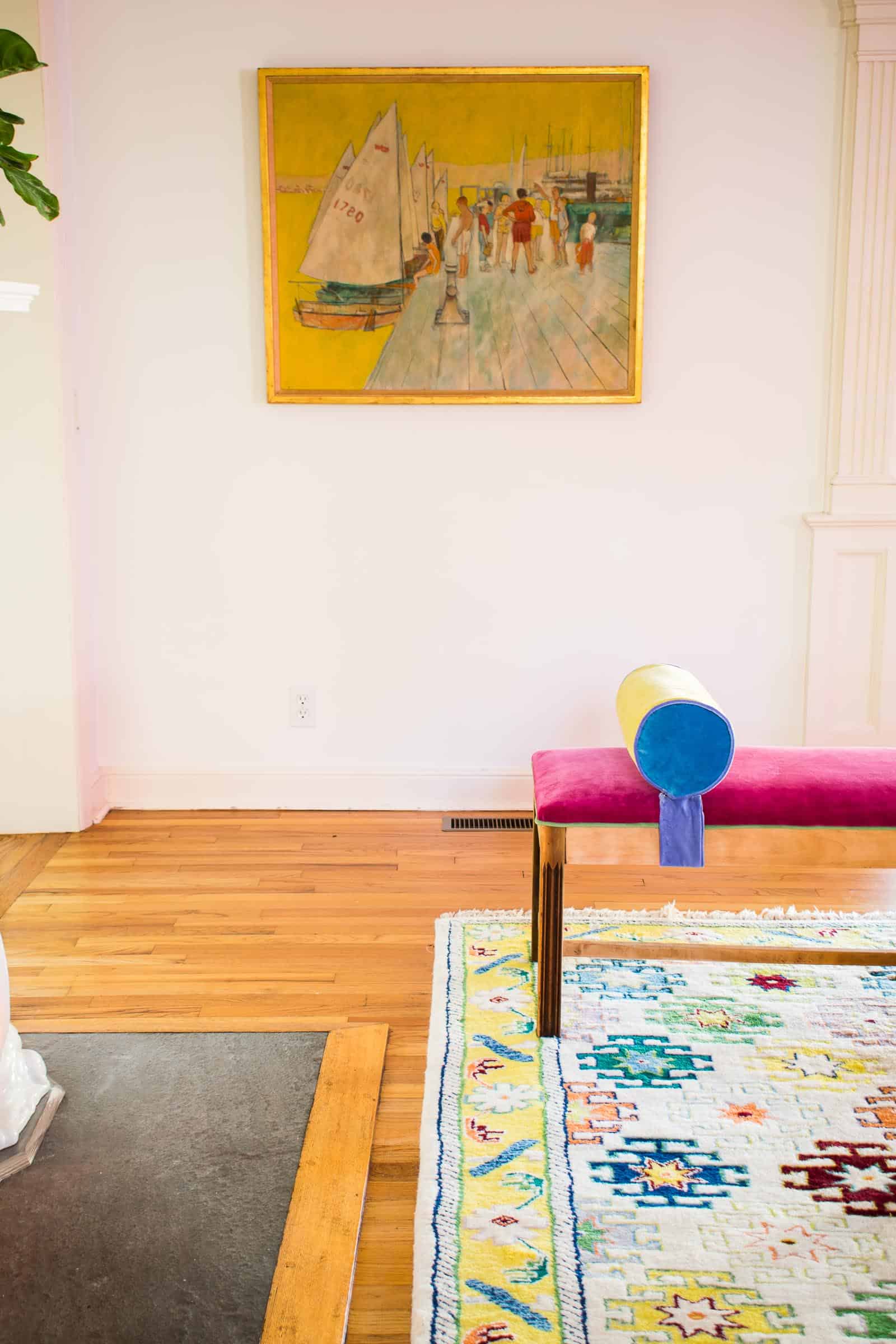 I've been walking through this room for the last couple of weeks watching it come together and I honestly don't know if any of that comes across in these photos. I love how much fun pattern and color is present in the room. I love that the colors compliment the rest of the house. I love that it feels grown up but still cheerful. I love that there's not a stray sock to be found!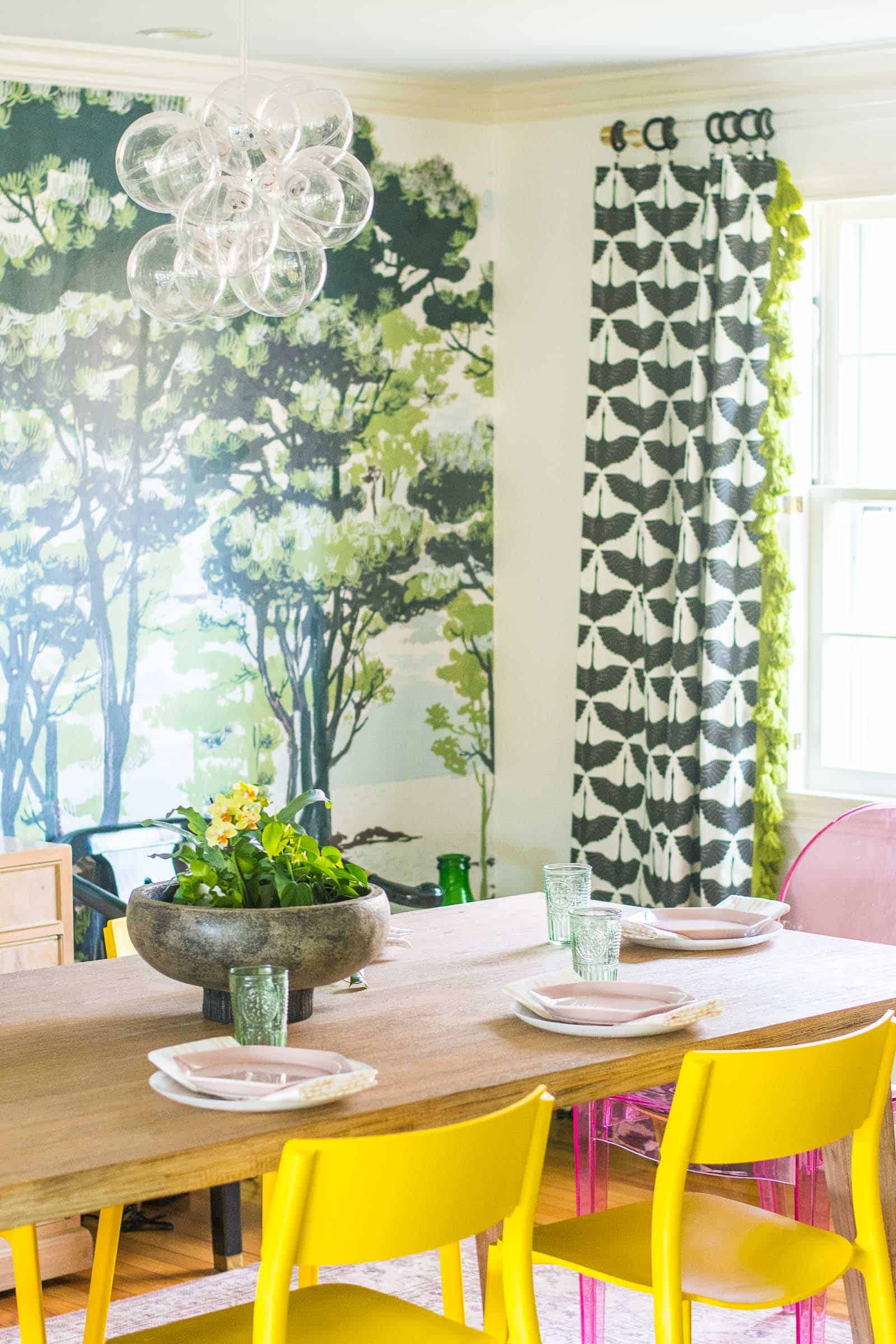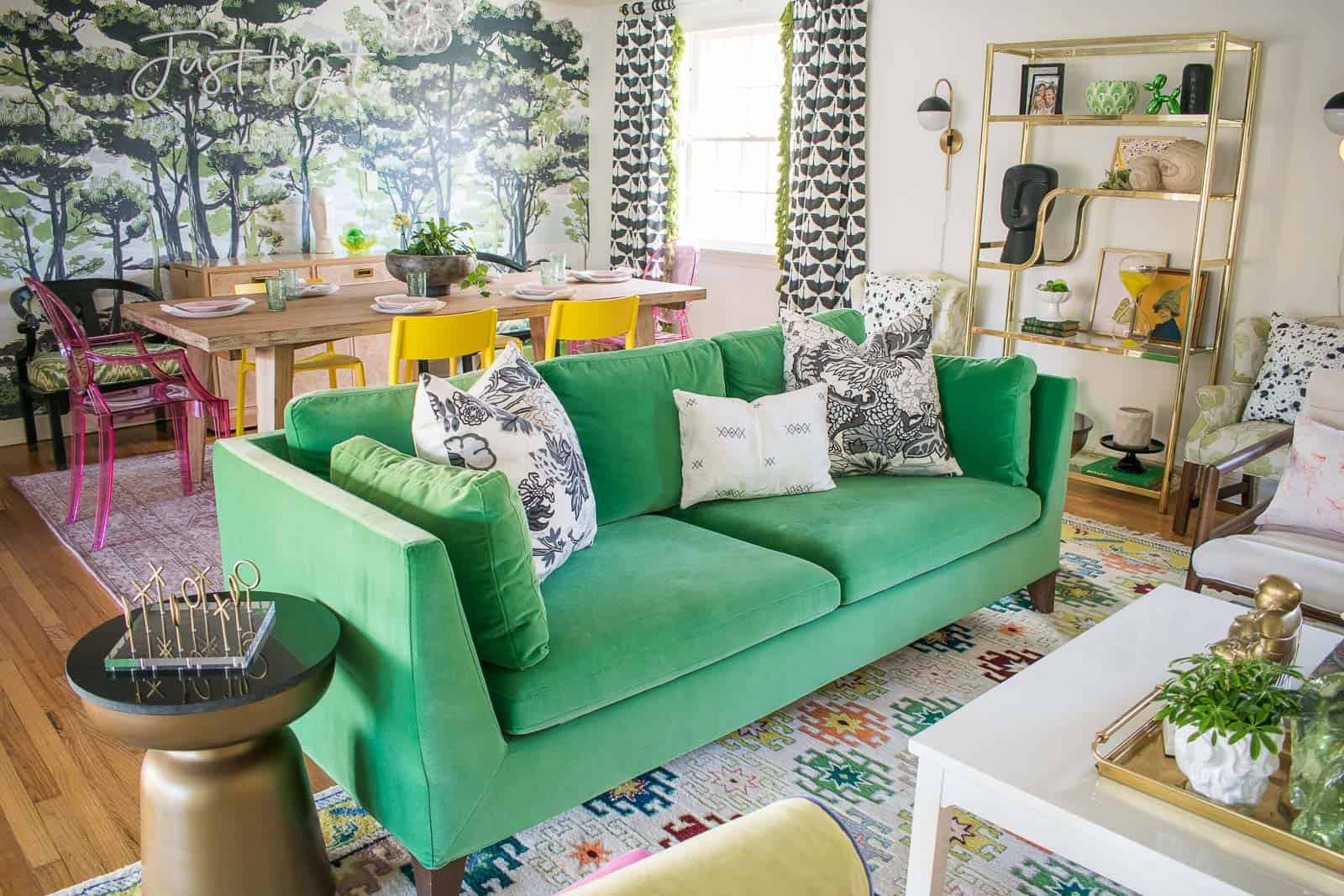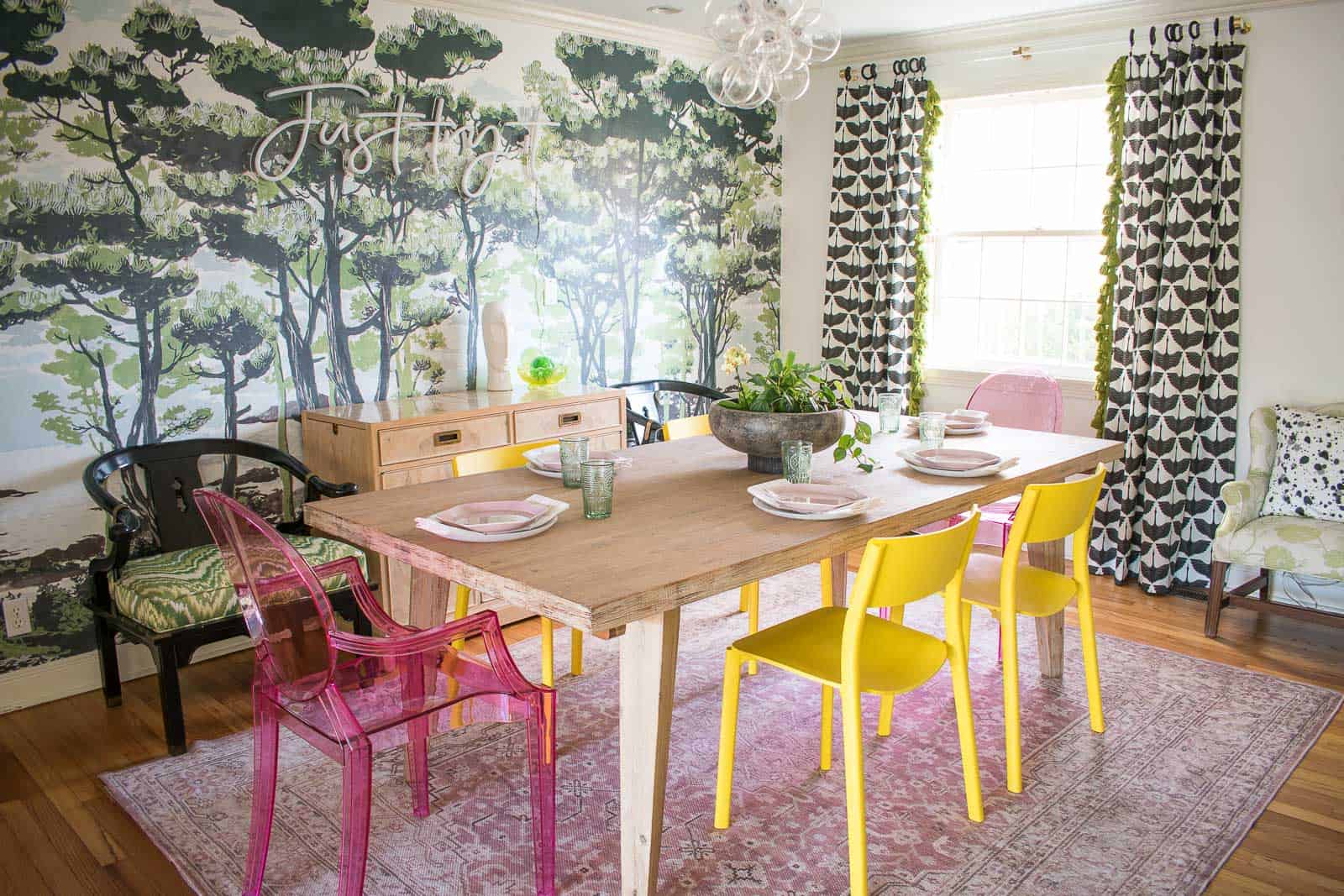 Source List
Thanks to the wonderful sponsors of the One Room Challenge. They make it possible for us to pull together these massive makeovers in six weeks and I truly appreciate their generosity!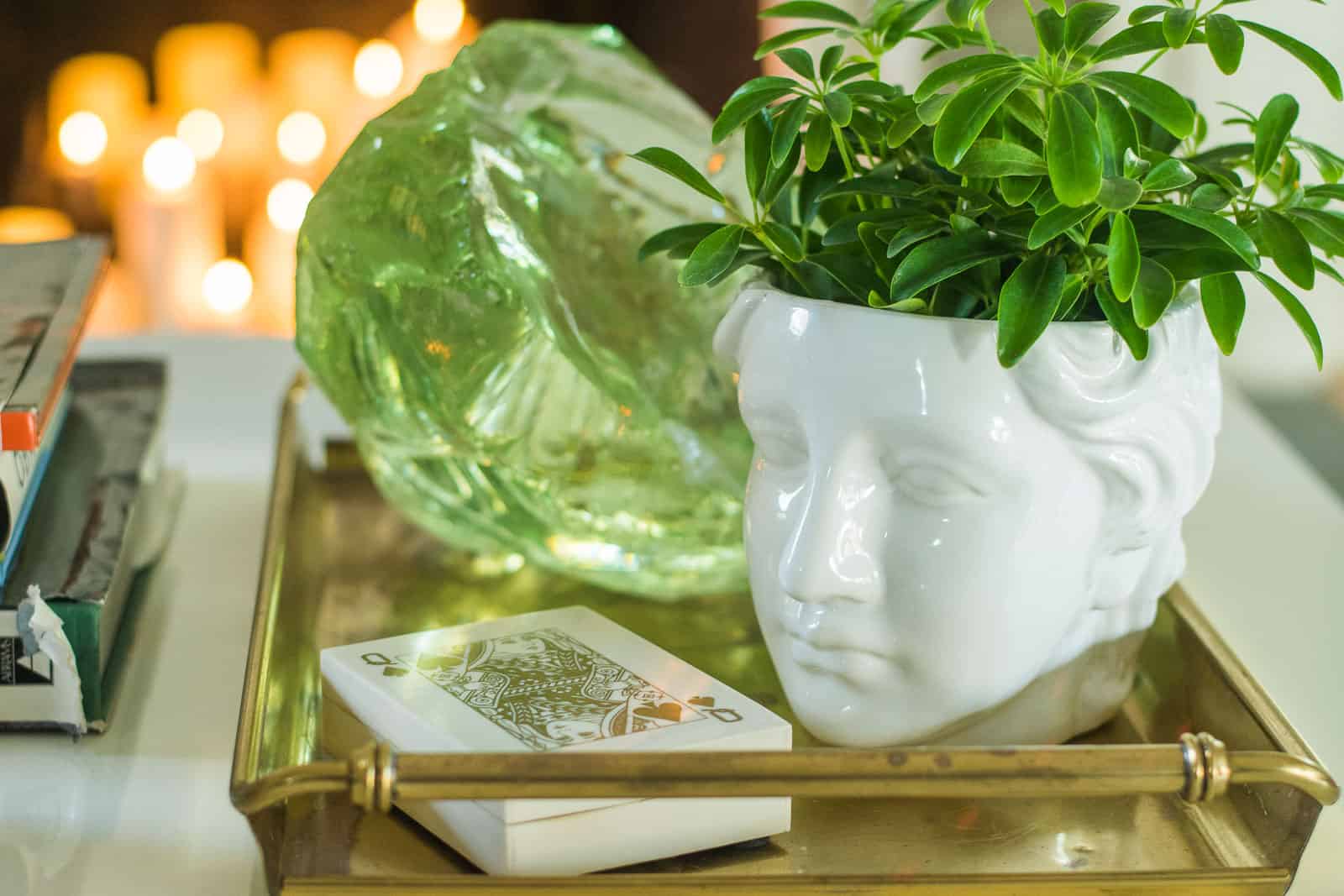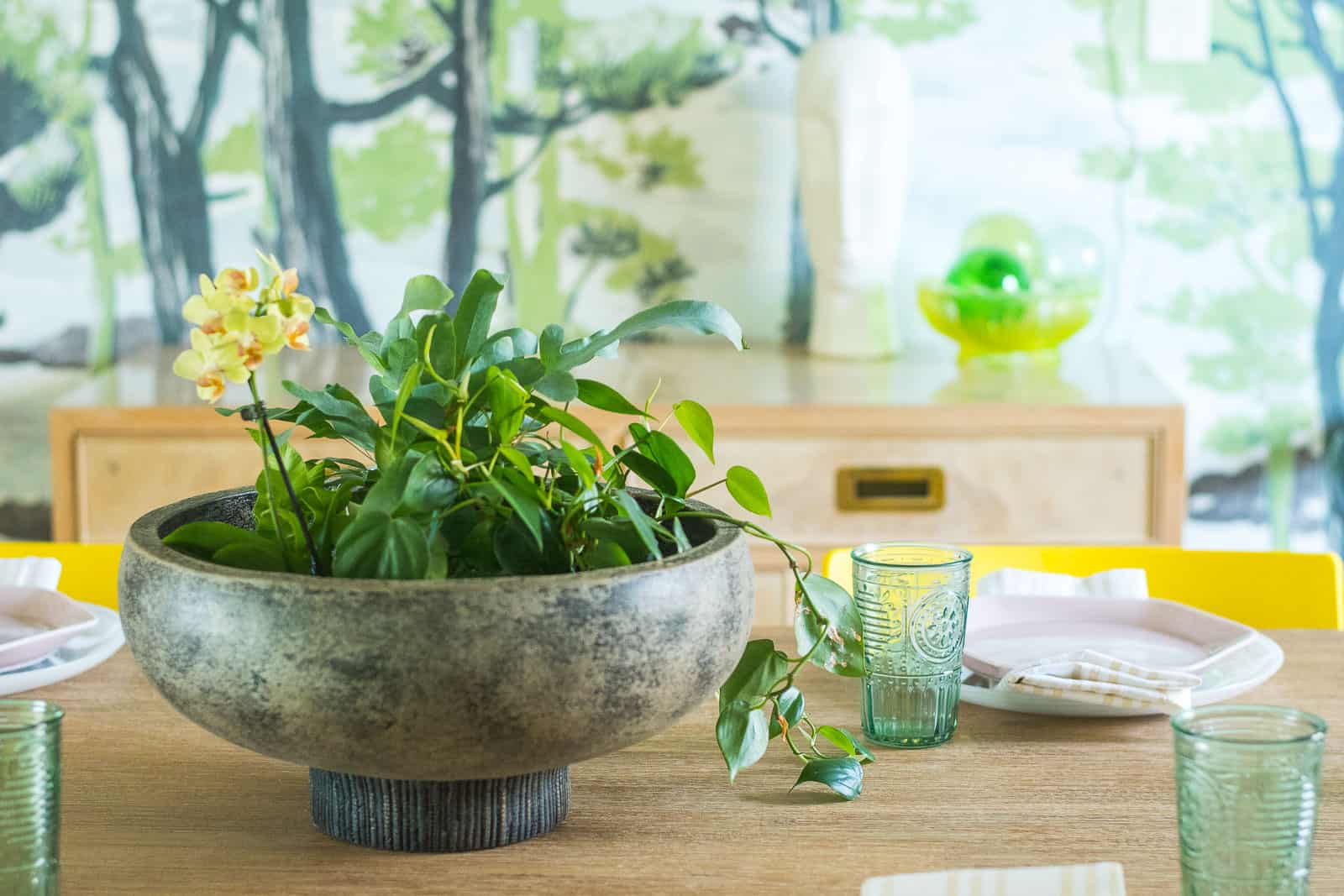 Now… I'm going to brew a cup of coffee and go revel in the spaces my fellow featured designers have pulled together. I've been STUNNED by the hard work and transformations these folks have taken on.
Design Addict Mom | Erika Ward Interiors | Erin Kestenbaum | Girl & Grey
Gray Malin | Hommeboys | I Spy DIY | Jewel Marlowe | The Learner Observer | Making it Lovely
 Nicole White Designs | Old Brand New | Oscar Bravo Home | Place of My Taste | The Rath Project
Room for Tuesday | SG Style | Undecorated Home | Veronica Solomon | Media BH&G | TM by ORC
And just in case you want to walk down memory lane… here are my posts from the very beginning.