One Room Challenge- Week 5
Psssst… this post *might* contain affiliate links: see my disclosure here.
Week 5- No Furniture But Plenty of Pattern
Down to the wire here and the last big detail to add to the room is… furniture.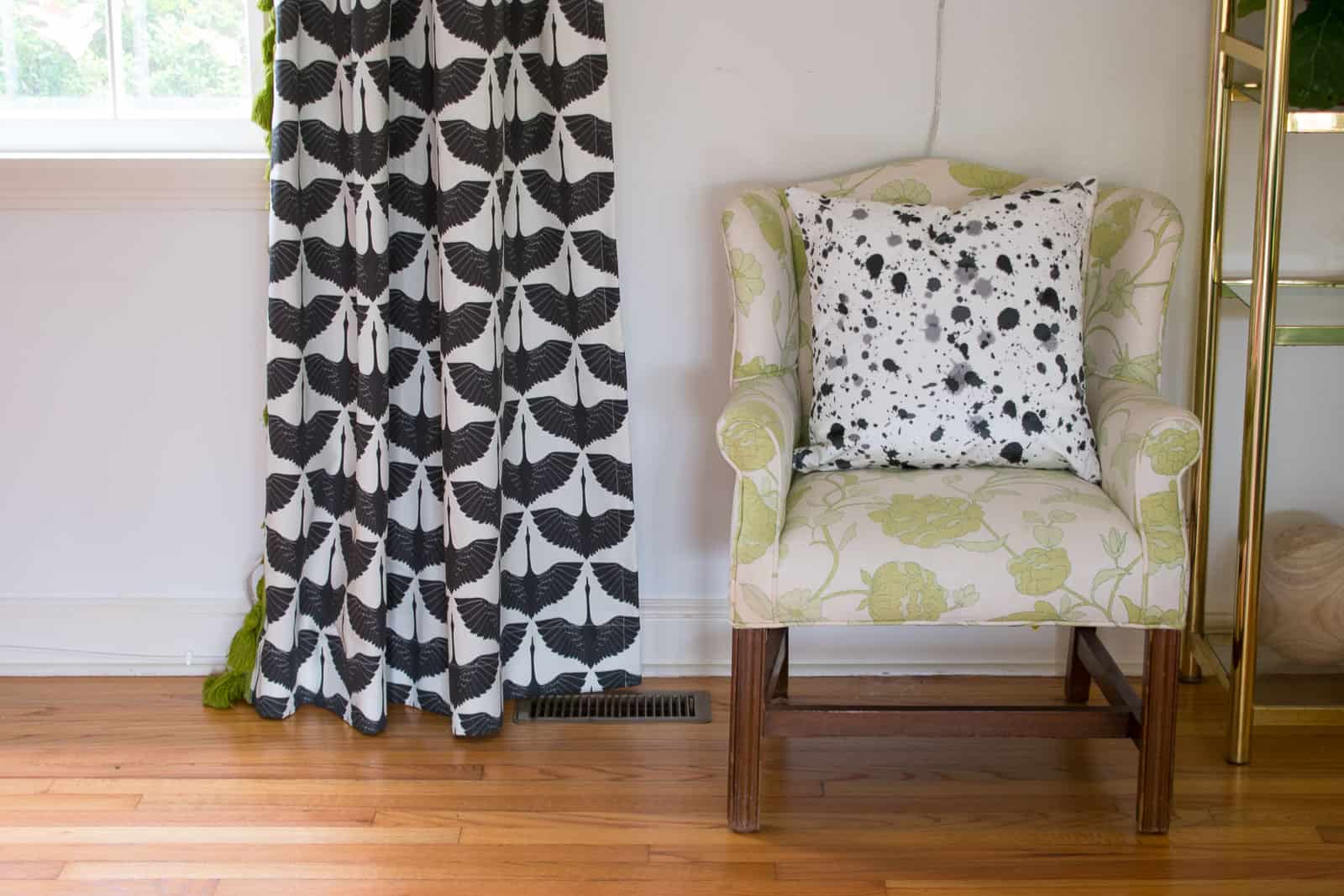 You know what's kind of a big deal when you're renting and can't change the floors or the layout or add tiles or molding or other fancy architectural details? Furniture. In a flurry of Facebook marketplace activity, I've sold the table and chairs and sideboard and accent chairs so I'm now staring at an empty room just waiting for… stuff.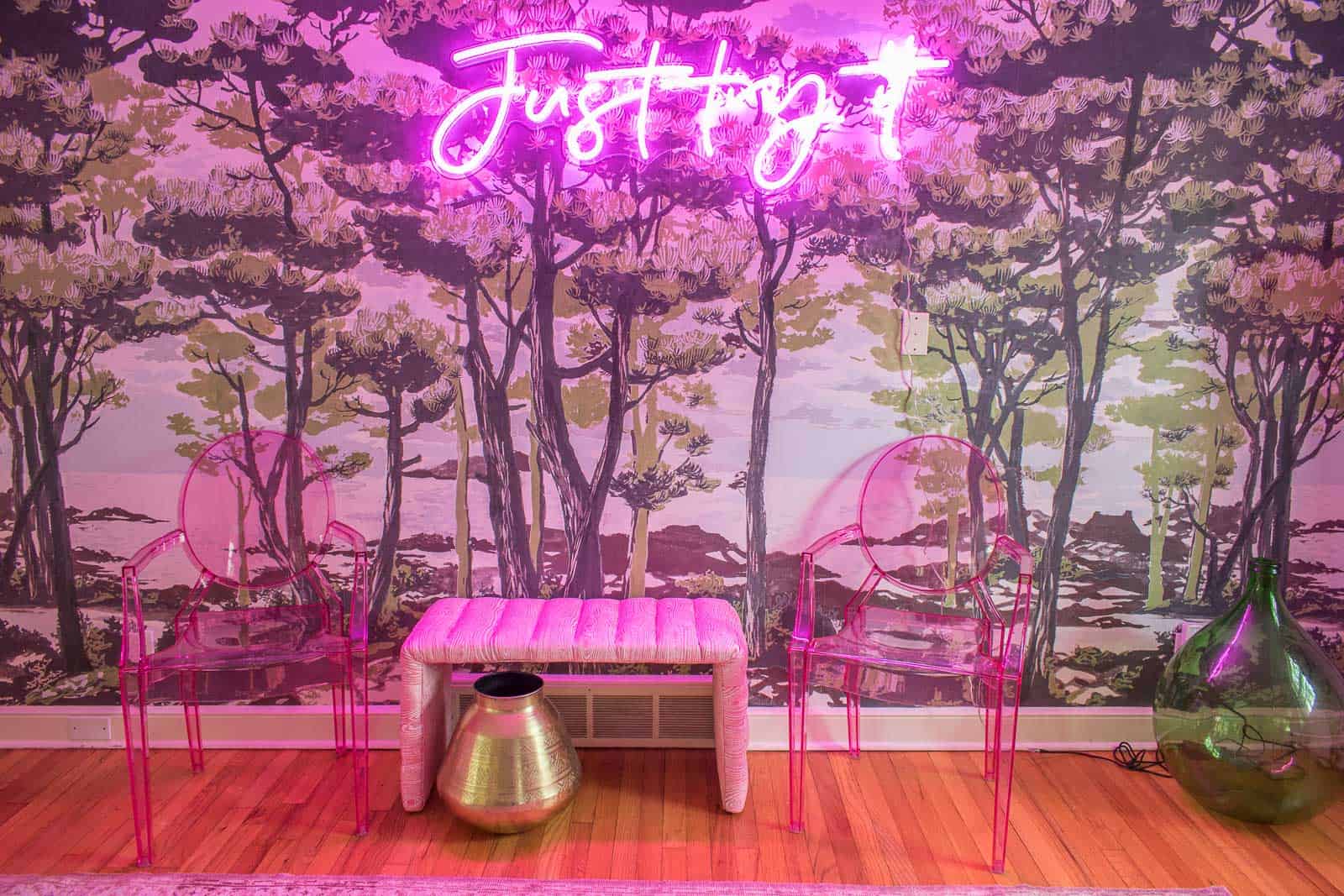 Because the basic layout of the space isn't changing (dining room at the far end, living room by the fireplace), I've been trying to find ways to make it seem like a significant makeover considering a couple pieces didn't go anywhere: ahem, green couch and white coffee table.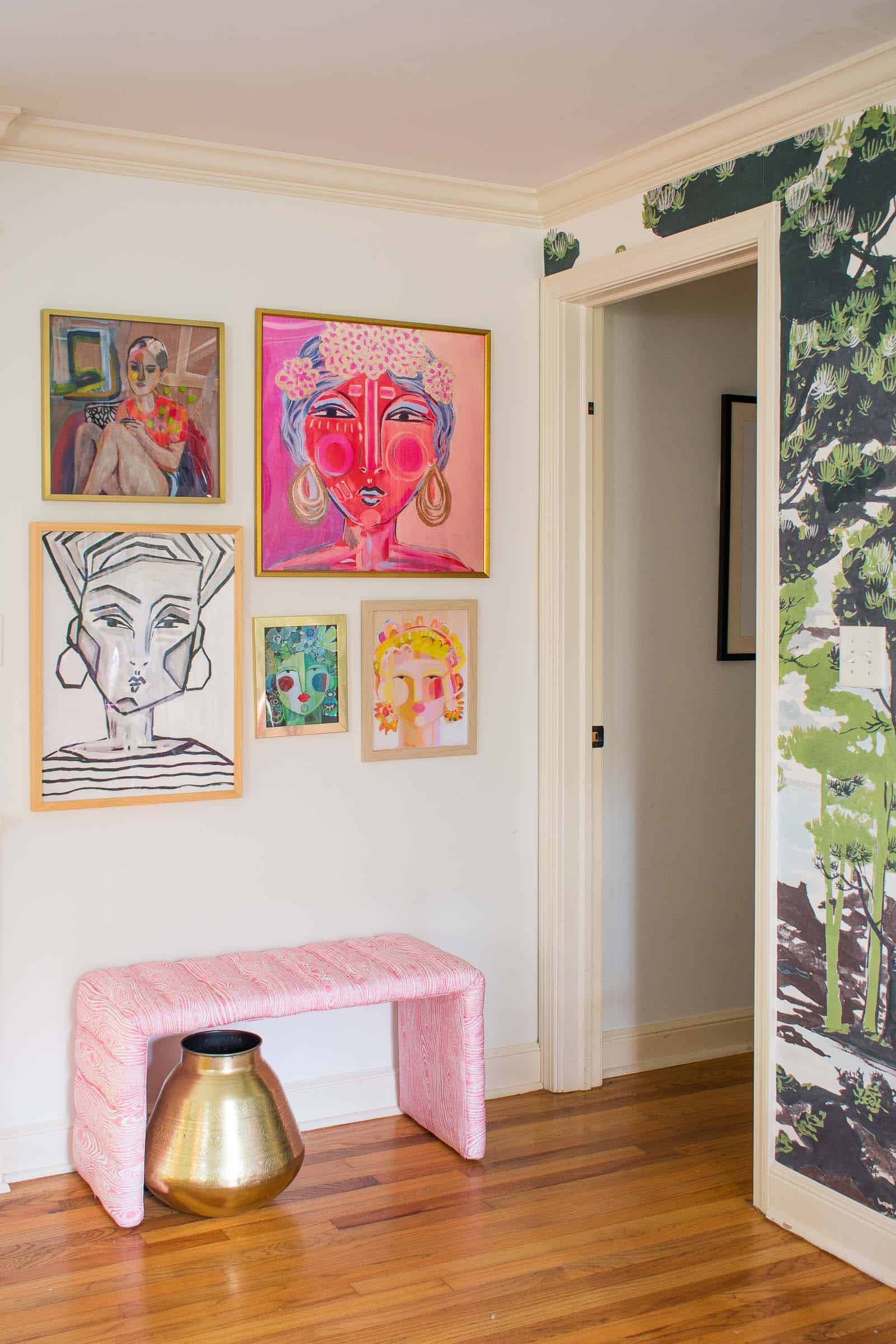 This is the first real peek you've been given of some of the textiles coming into the space. Those curtains from Spoonflower are everything I'd hoped. I LOVE how the black and white feels a bit more sober to balance the color bursting around the rest of the room.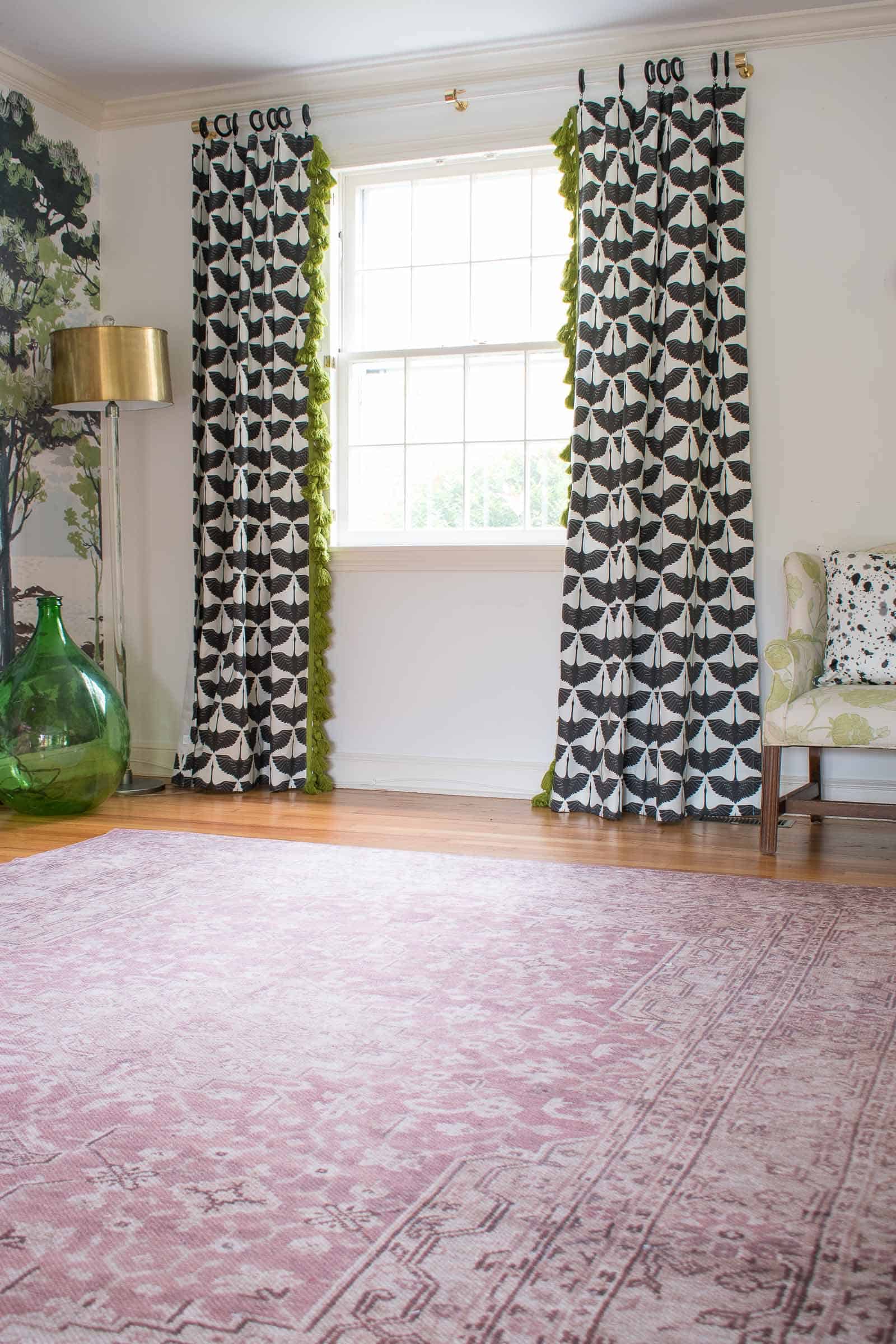 I LOVE adding tassels to premade curtains and have reached for pom pom fringe in the past. But these tassels from Fringe Market are BEYOND fabulous. I love how the green looks with the black and white of the fabric and I love that it brings in the green from the mural.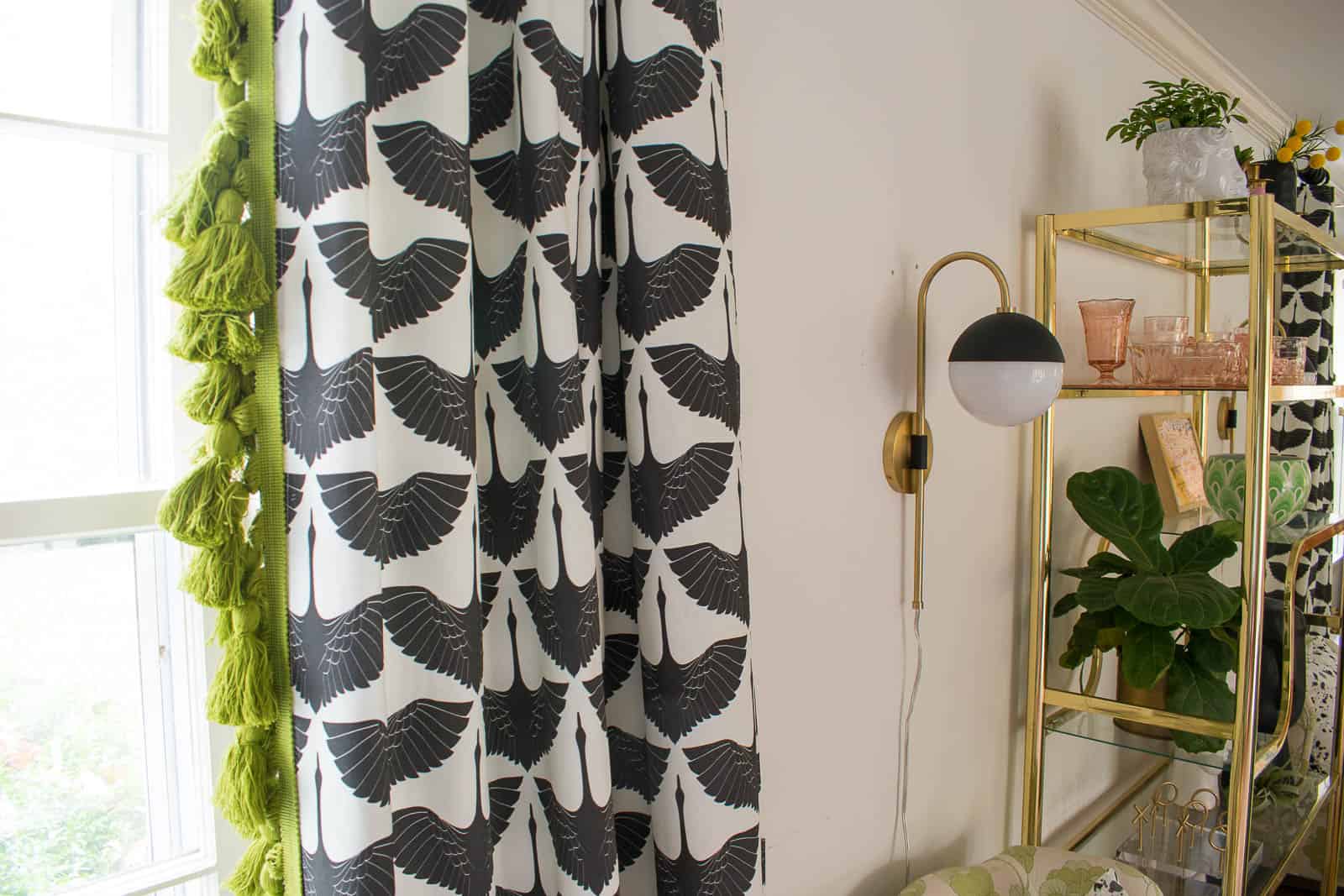 Did we talk about those sconces? No? Well let's. They're the Renee from Mitzi and they plug right in (shout out to my fellow renters) and they're SO pretty. I hung them too high the first time, but this  lower height is much better. Those miniature armchairs were over in the living room seating area, but they actually look quite sweet tucked under the sconces. Splatter pillow linked here and is also from Spoonflower (I've used that pattern on my stairs and in our old playroom!)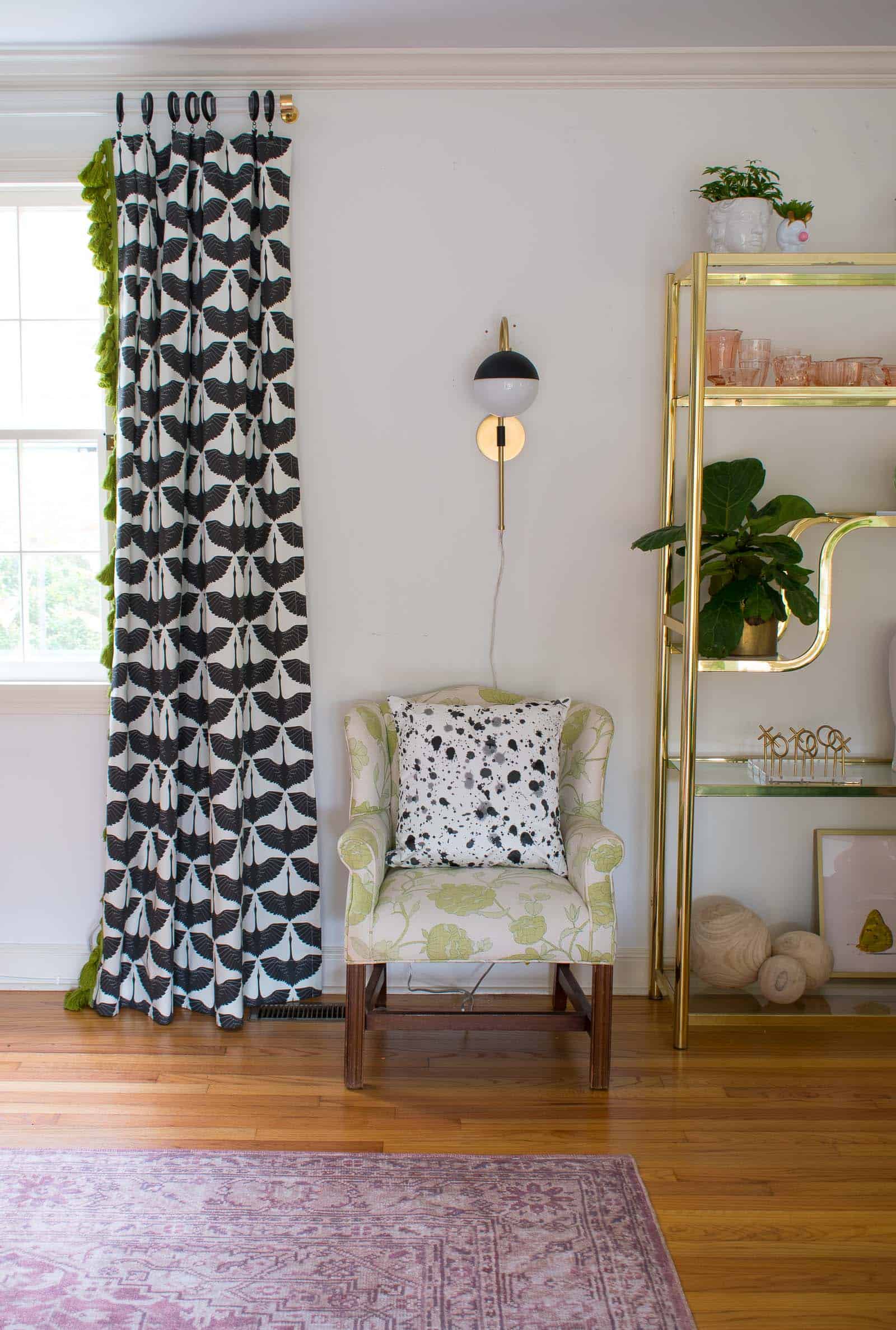 I have them plugged into a remote control outlet, but someone mentioned that you can get plugs that are compatible with Alexa so eventually we may upgrade to those so these lights will be on voice command. "Alexa, turn on the living room sconces."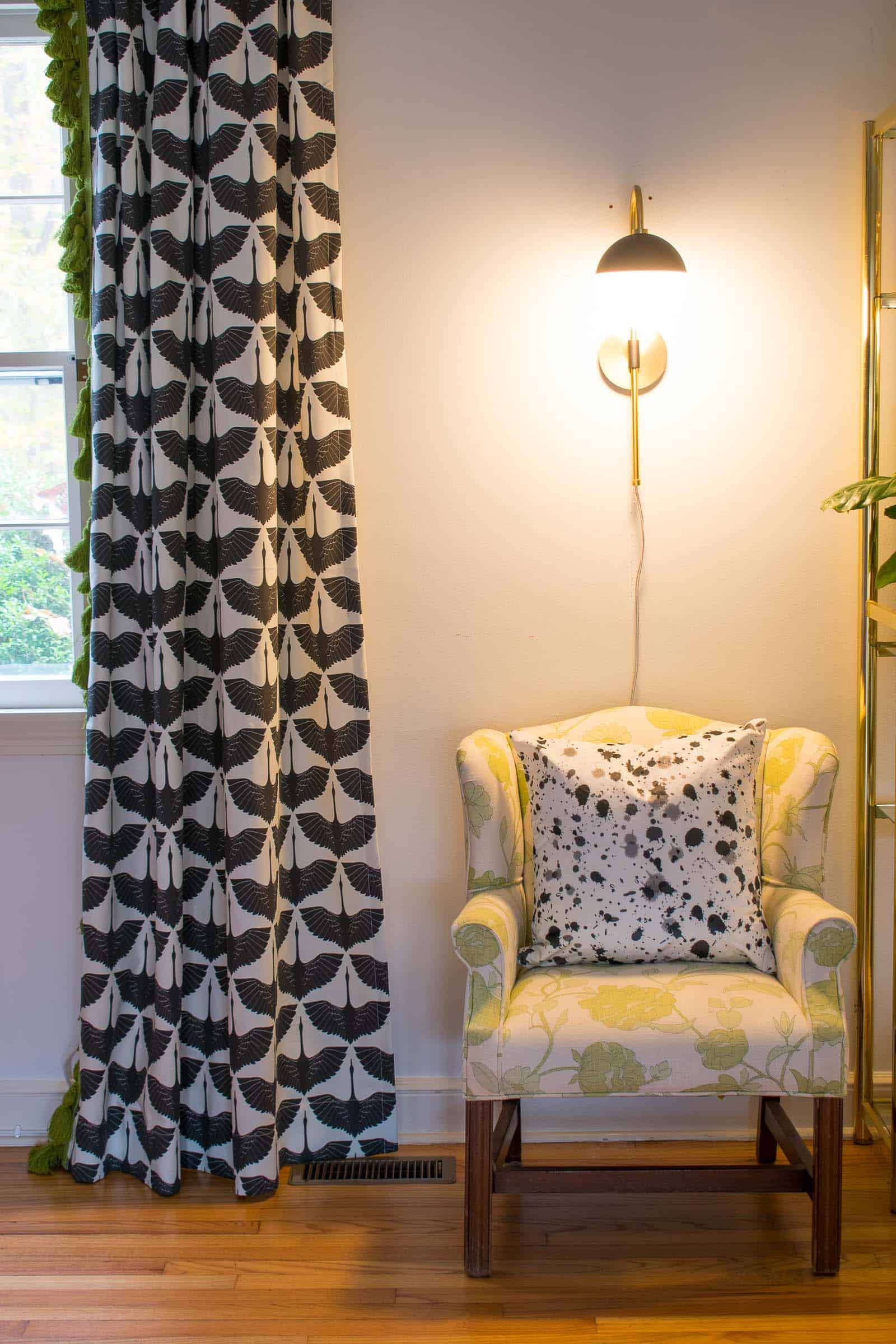 No real updates in the dining room because… no furniture. Once we sold the old table, I was able to unroll that Loloi Magnolia rug. I wanted pink just to balance the neon and the pink chairs, but I also knew it had to have very little pattern in order to work with the living room rug. I know it seems like there is A LOT of pattern in the room, but there will be a big ol' solid table coming in along with some other solid pieces of furniture so I'm hoping that the pattern will soften a bit once the room is fully set up.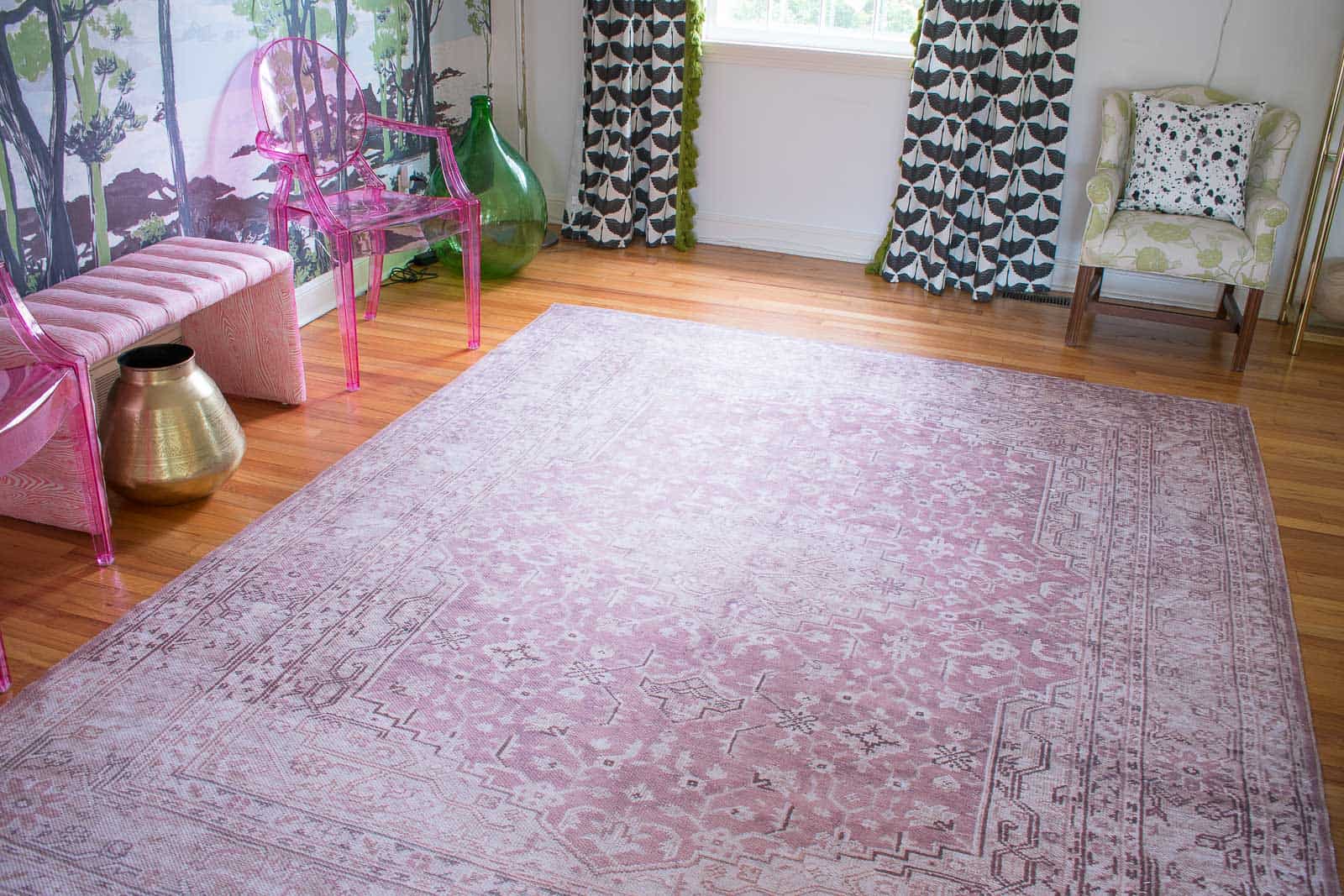 I'm burying the lead, however, because I'm sharing the results of one of my last minutes decisions! I had this pink bench sitting against the wall. I reupholstered it and added some fringe. But then I started thinking about the seating arrangements in the living room and it felt like a lot of pairs of chairs. I was moments from bringing in a small loveseat to recover when I realized that bench might be a bit less of a project and a bit less obtrusive in the room.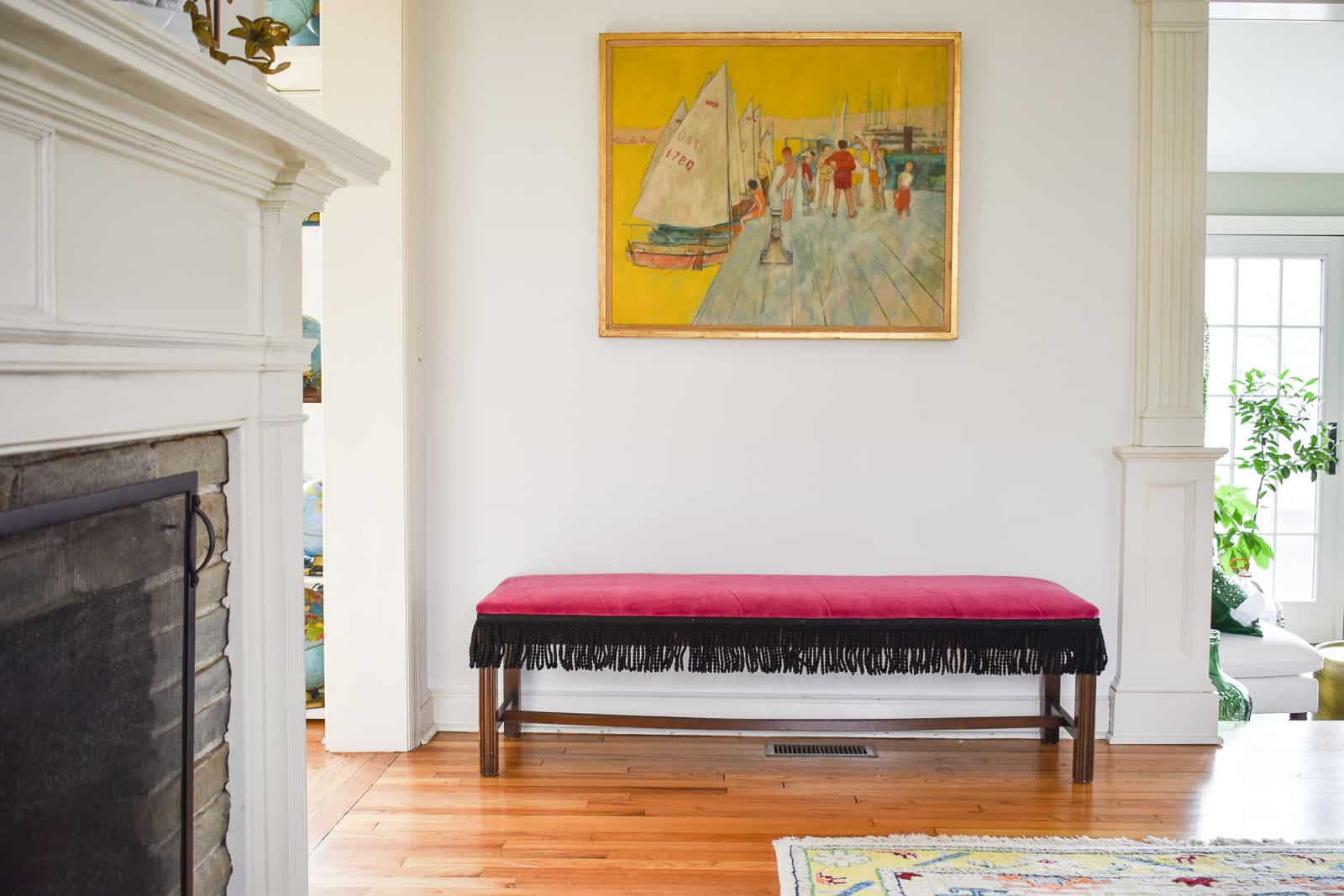 I sewed some piping and made a pair of bolsters eh voila… a new colorful bench. I LOVE how the color blocking on the bench contrasts a bit with the solid couch and the solid chairs that are coming without adding another *actual* pattern into the space.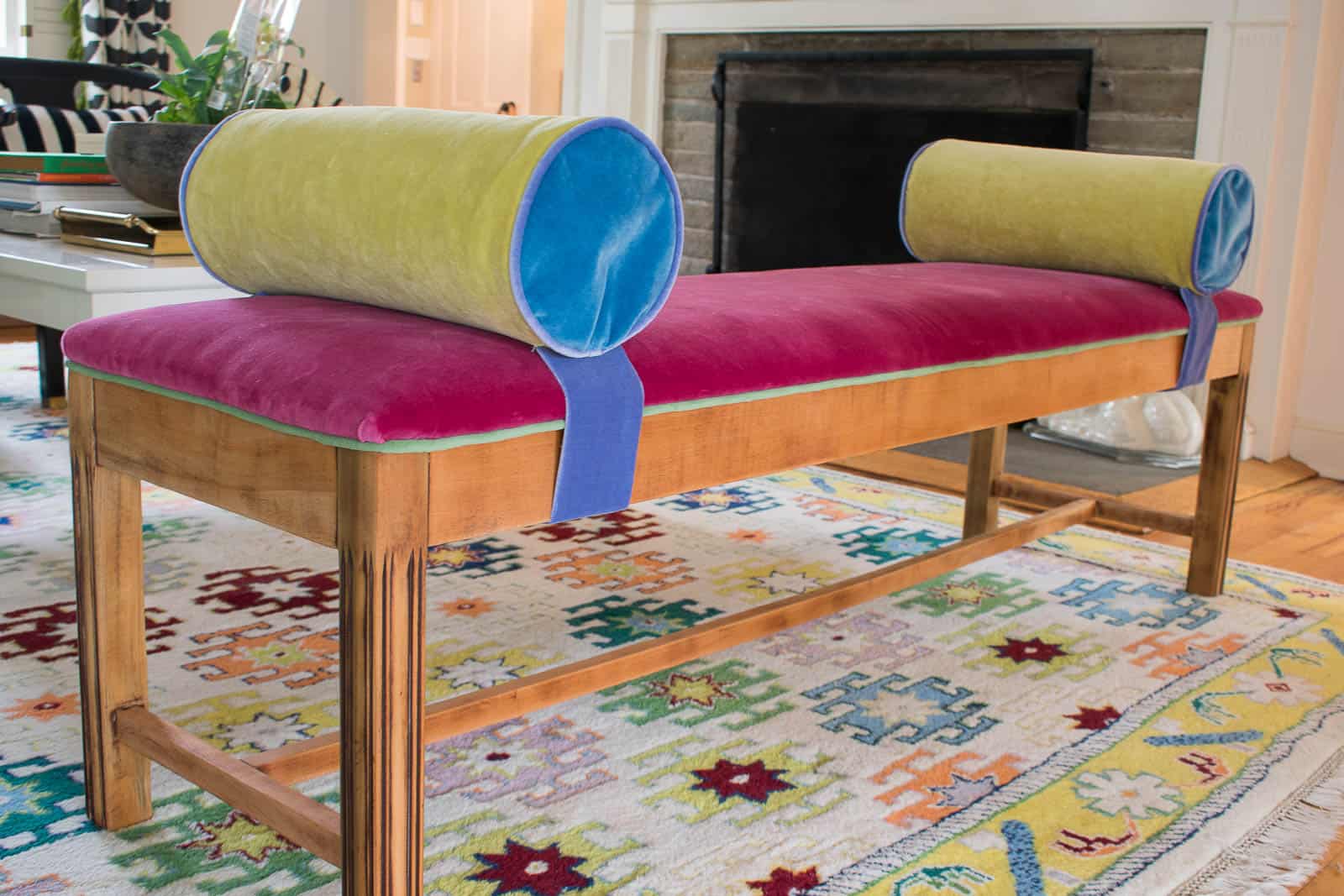 So what's next? Well, obviously… a dining table and chairs and a new sideboard. I've had to scramble a bit to get something for the reveal since the furniture I ordered in September won't be here in time. I'm already tearing my hair out a bit trying to make sense of the styling for those brass shelves. (Thankfully I already have one show stopper thanks to Jill Rosenwald... that bowl!) Hopefully the few angles I've shown you today won't take away from the big reveal next week! Can we believe the One Room Challenge is already coming to an end?!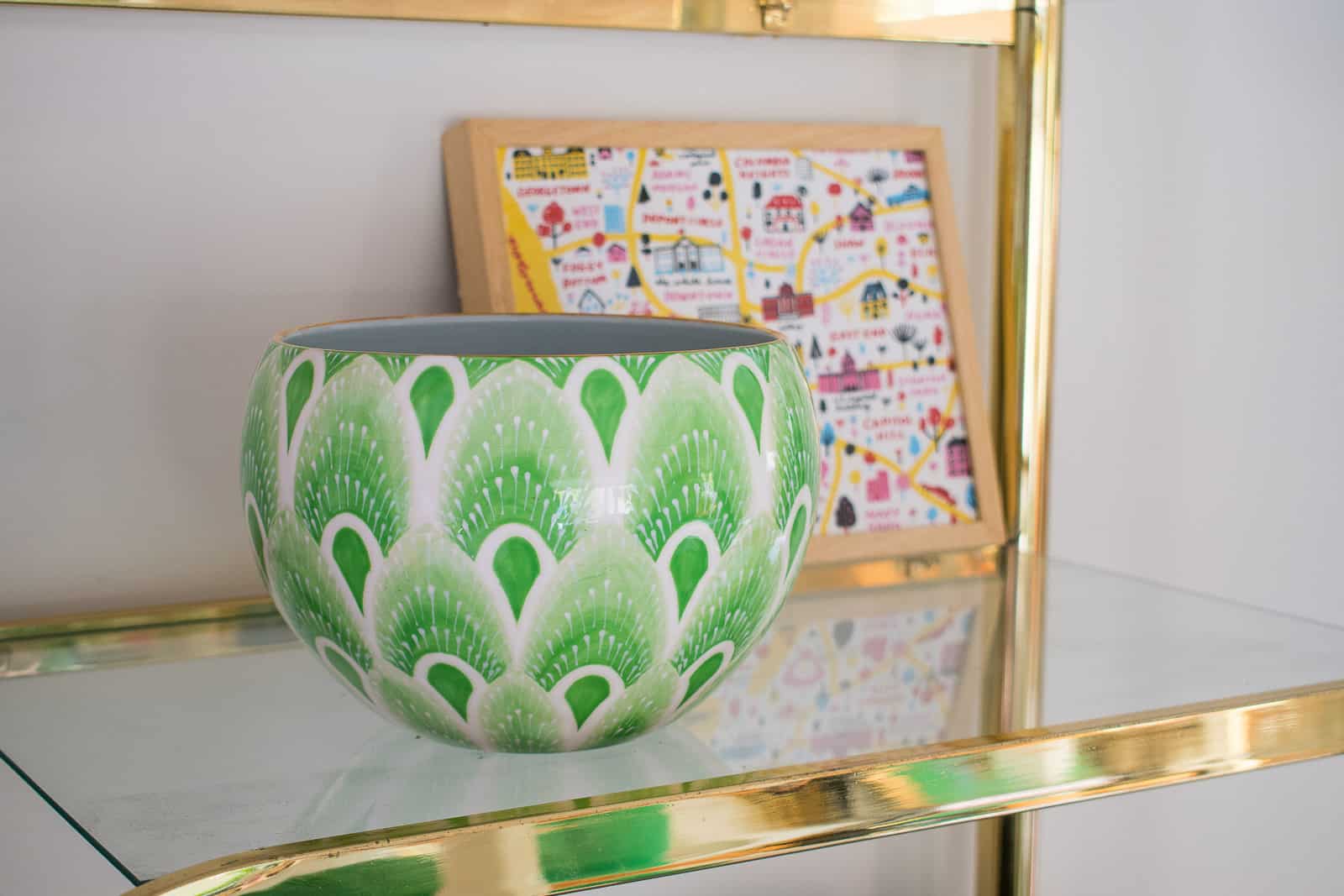 To get caught up on what I've done each week, feel free to click on the links below!



Make sure to go keep tabs on all my fellow designers. I'm so impressed by the attention to detail and layers of work everyone is putting into their spaces!
Design Addict Mom | Erika Ward Interiors | Erin Kestenbaum | Girl & Grey
Gray Malin | Hommeboys | I Spy DIY | Jewel Marlowe | The Learner Observer | Making it Lovely
 Nicole White Designs | Old Brand New | Oscar Bravo Home | Place of My Taste | The Rath Project
Room for Tuesday | SG Style | Undecorated Home | Veronica Solomon | Media BH&G | TM by ORC