Designing a Little Girls Room for Habitat for Humanity
Two weeks ago, I joined forces with a group of Bloggers to help transform an empty Habitat for Humanity house into a cozy decorated home (I helped with this cute girls bedroom design!).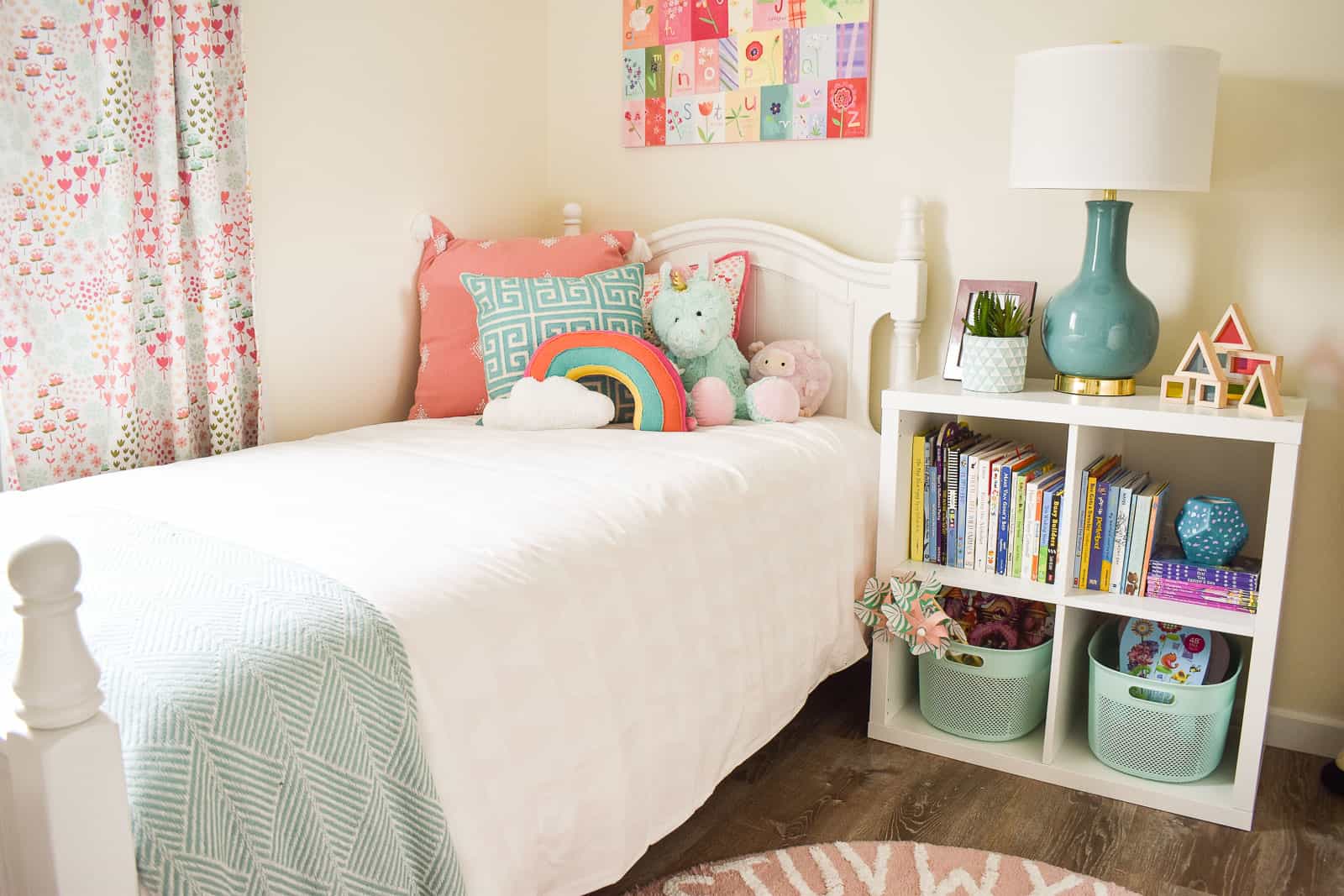 Disclosure: Eternal gratitude to Raymour and Flanigan for being such a generous partner to Bloggers Heart Habitat. They truly make this process possible and we are so thankful to be working with them on these homes.
A few years ago, I decided I wanted to use this curious skill set that I'd developed as a blogger to make a difference in someone's life. Through a contact at my news station, I was put in touch with the Middlesex, CT branch of Habitat for Humanity and… Bloggers Heart Habitat was born. I reached out to my blogging friends and mobilized their talent and energy and figured the rest would come together. We cobbled together cash donations with sponsored gift cards and managed to outfit that first house from top to bottom. (See that one here… notice the wall-to-wall carpeting hadn't even been installed on our makeover date!) For our third house, Raymour and Flanigan got involved and the rest is history. We've now partnered on 3 more homes and it's always the best day of the year for me.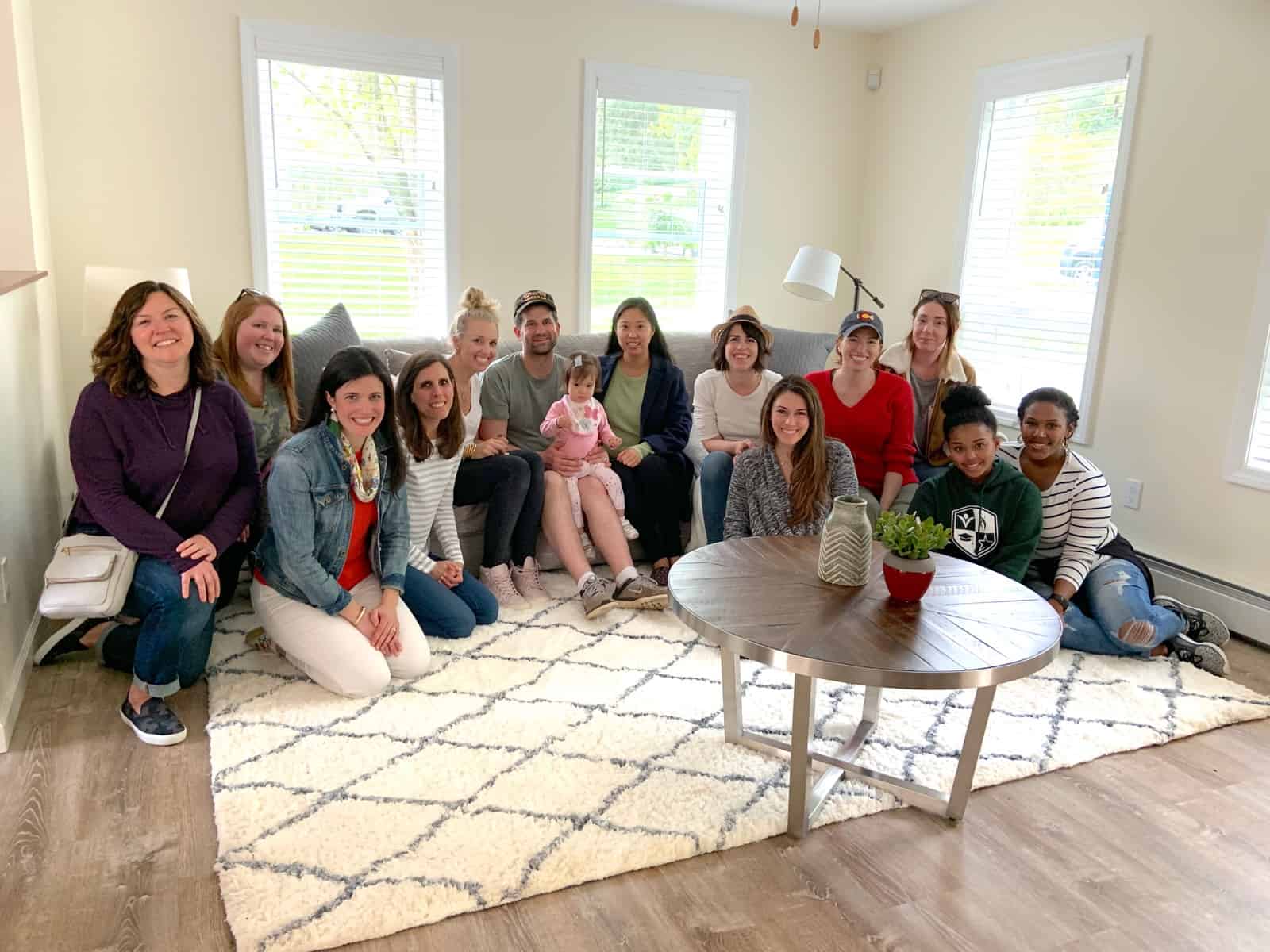 Let's back up to the house that was finished two weeks ago. Each branch of Habitat for Humanity works within their community to select a family who would benefit substantially from receiving a new house. Habitat also ensures that the recipients will be able to handle the responsibility of a mortgage (interest free) and general home ownership. The Fitzpatricks couldn't have been more fun to work with. He is retired marines, and both of them are putting themselves through graduate school. They have a 1 year-old daughter and a son on the way. We were able to help furnish all three upstairs bedrooms, an open concept family room/ dining room/ kitchen, and then an in-law guest room downstairs in the basement!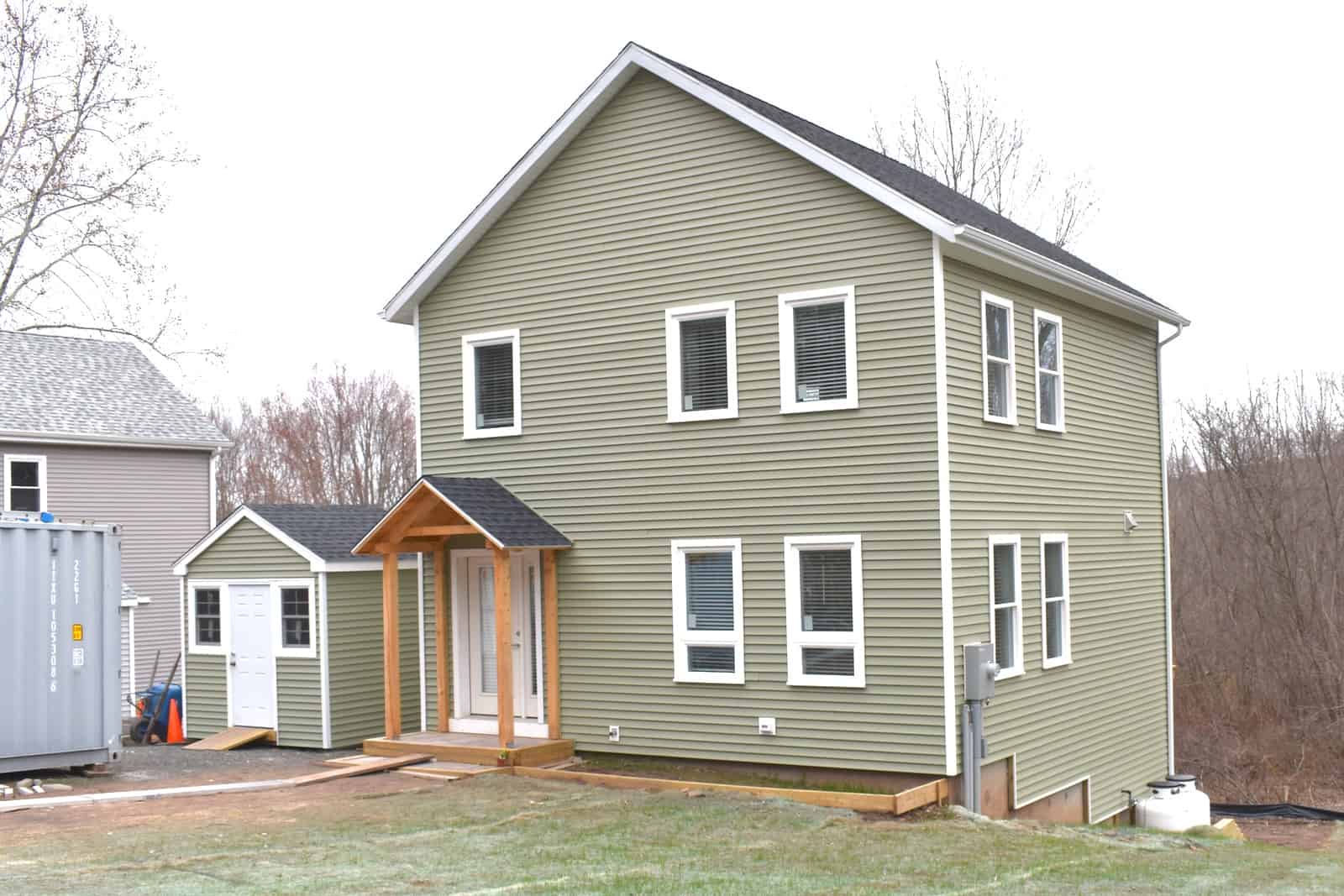 I teamed up with my friends Kate (Kate Smith Interiors) and Stephanie (The Seasoned Home) to design a sweet bedroom for their daughter! She will probably be next door in the nursery for the next several months until the baby is born, so we just wanted to make a space that she could grown into and feel excited about. Let's get started!!! Before we even got to the house, the three of us spent some time figuring out which furniture would make sense and how it would look with all the accessories… we weren't sure whether the room would accommodate that glider, but we included it just in case! (Design boards are a GREAT way to see how colors/ patterns/ shapes are coming together in a space- I wrote a post on my process here!)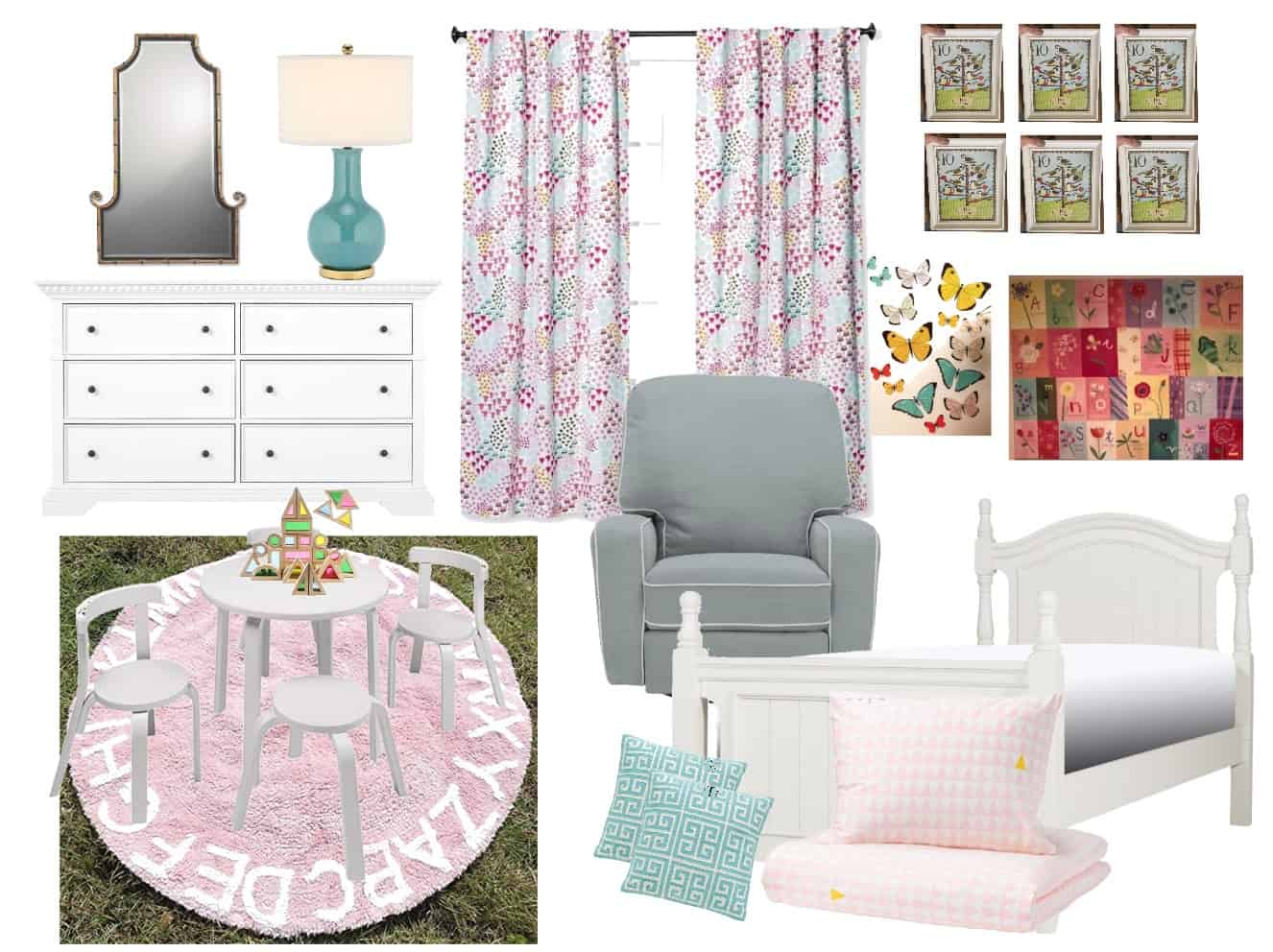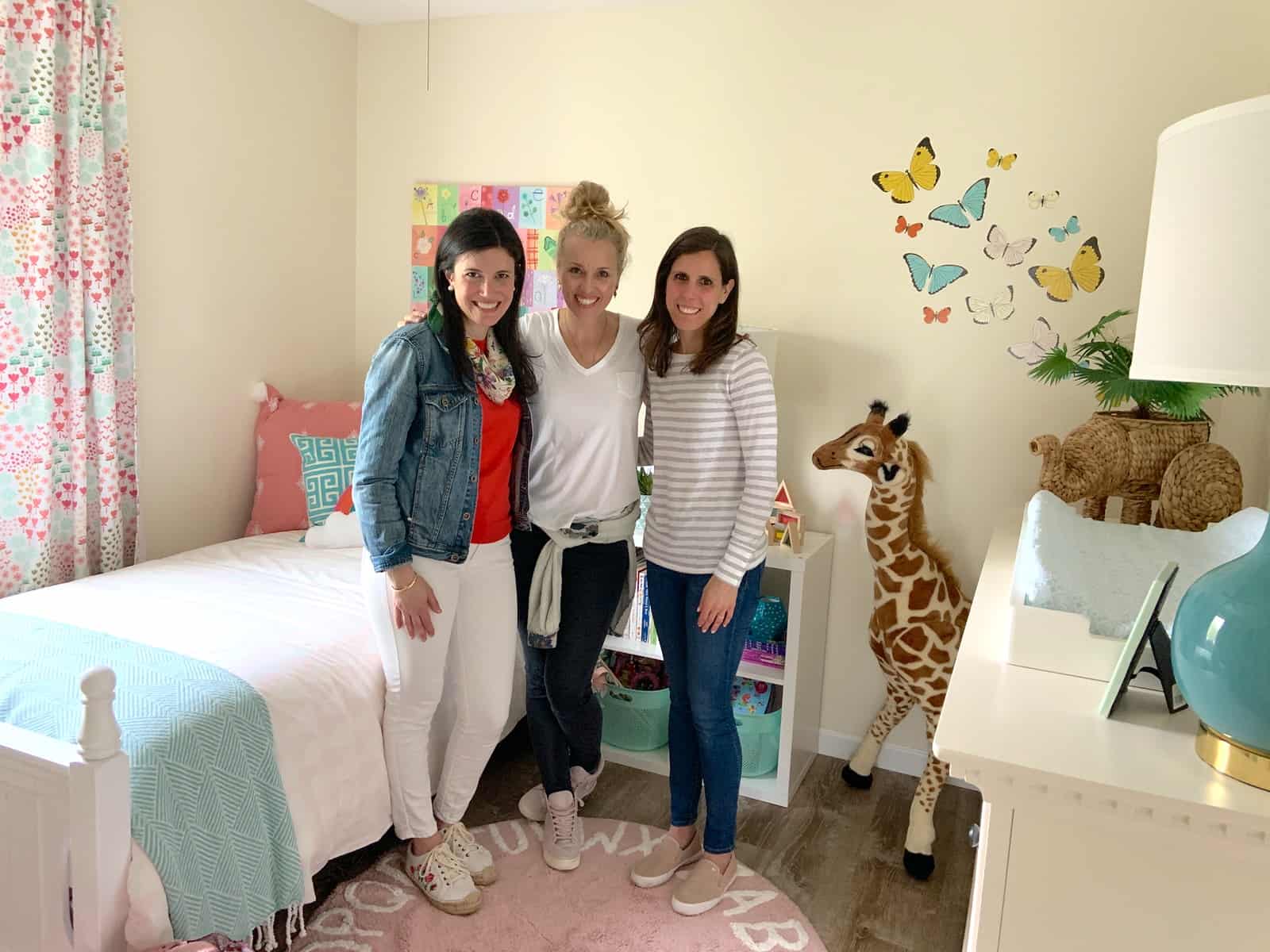 Here's how the room looked when I arrived on Saturday morning. Empty. Habitat paints the spaces and installs lighting, but that's usually about it. This house had amazing laminate floors to work with in addition to wonderful blinds on the windows.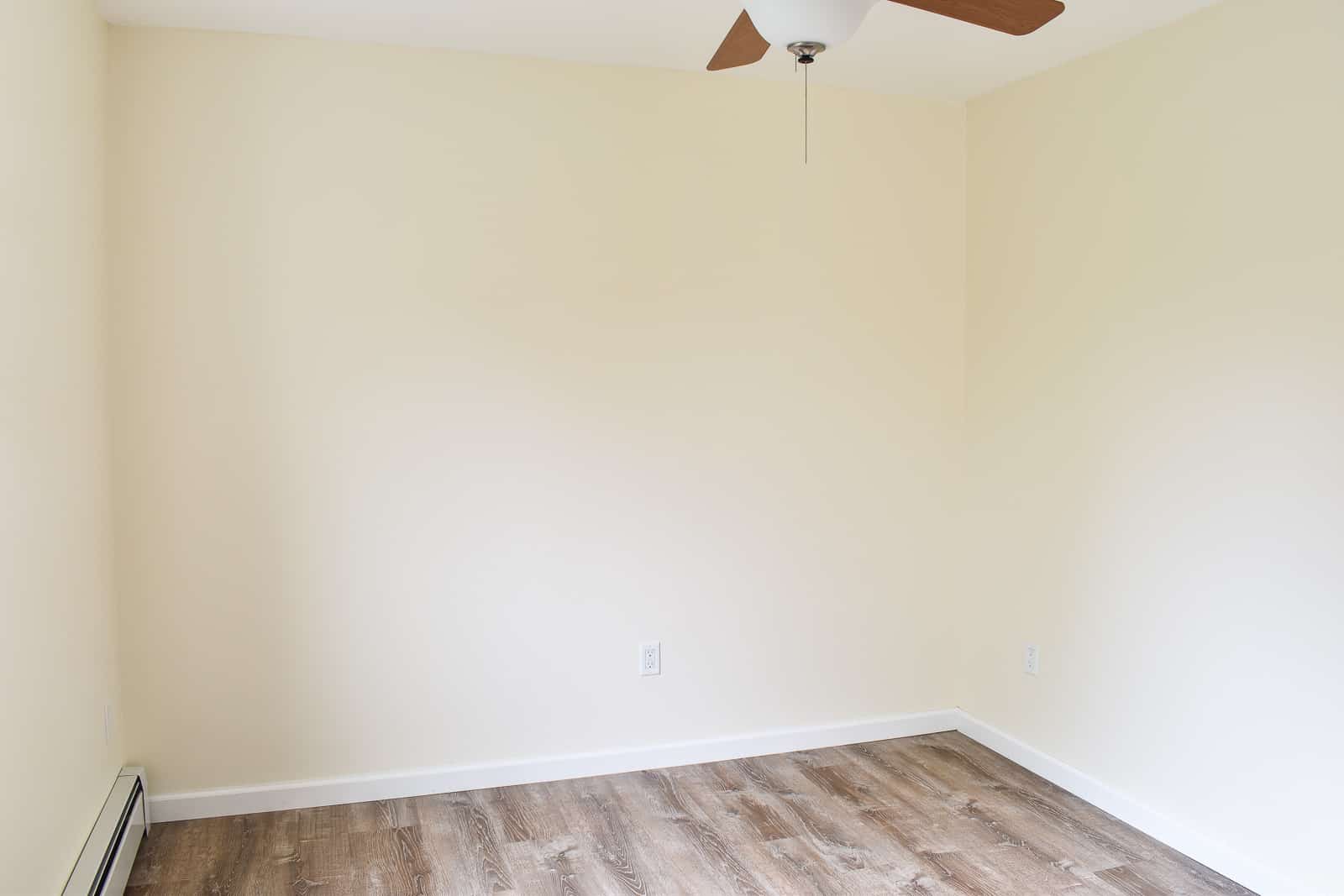 The truck arrived at about 10:00 with a house full of furniture. I mention this every time, but the delivery process is one of the best parts of Raymour… all the furniture was brought in, assembled and placed where we needed it. Including a bed we had scrambled to order FOUR DAYS earlier complete with cozy twin mattress. Figuring our furniture placement is always a little bit of a challenge. This family was hoping to employ the principles of Feng shui so we were trying our best to keep that in mind. In a few spaces it was simply impossible to fit the furniture in an ideal Feng shui manner, but we assured the family that they were welcome to remove/ replace/ or rearrange any furniture that didn't suit their needs!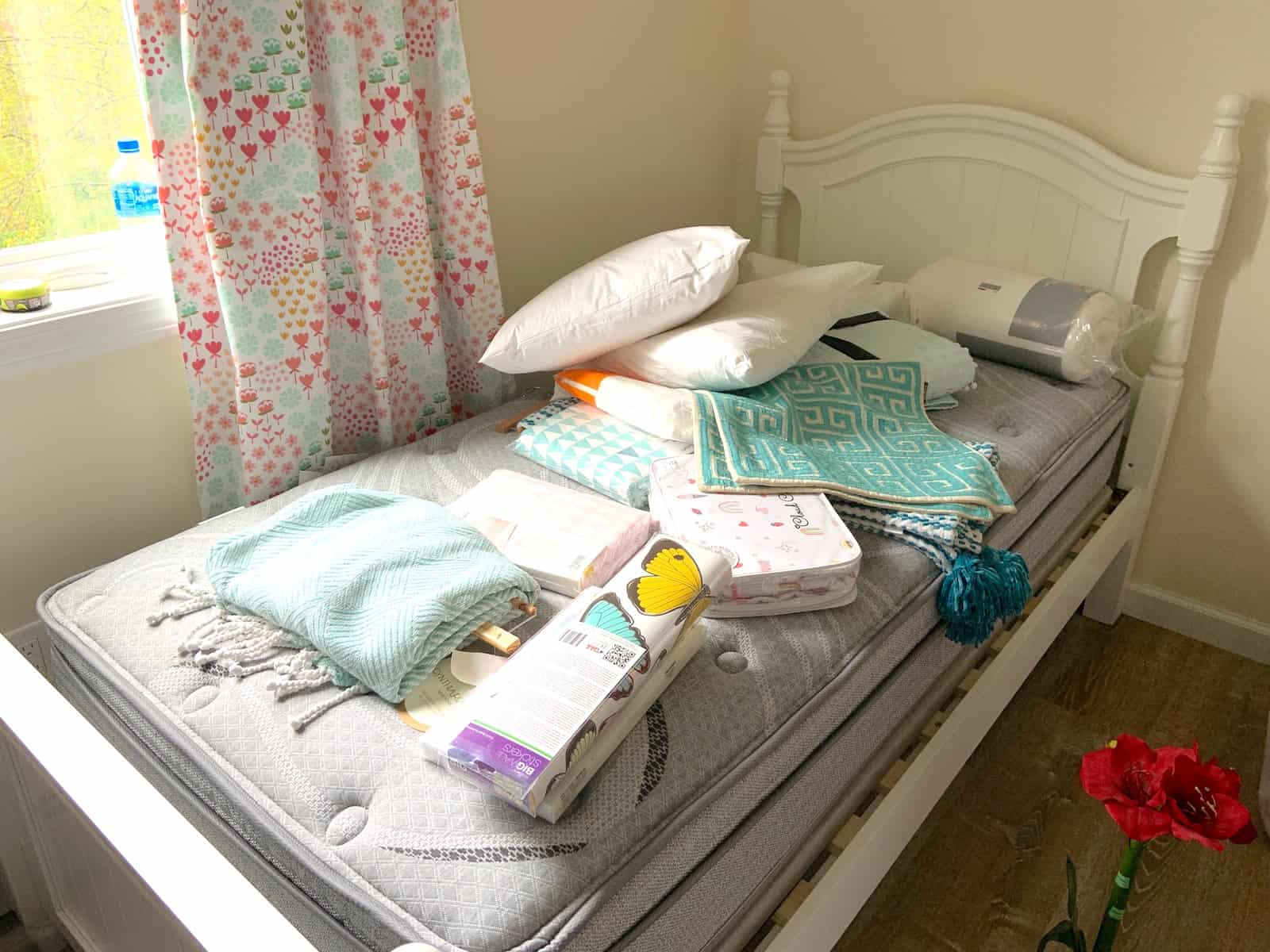 After half a day styling and arranging and hanging… here's what the space looks like now!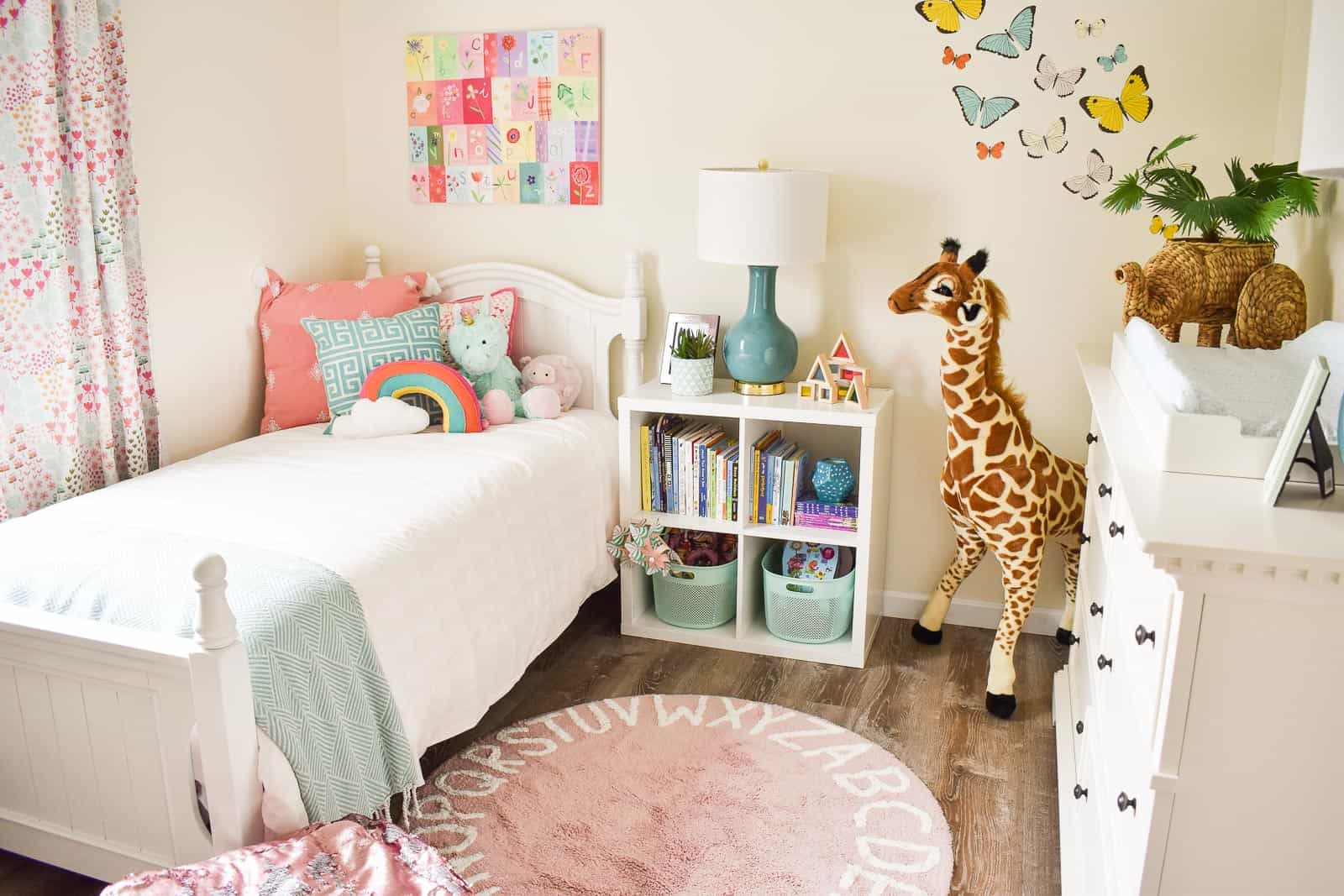 All of the furniture we found for the little girl's room was white, so we wanted to bring in some color, obviously. Linens and bedding is such an easy way to accomplish this, but that pair of blue lights also brings in a pop of blue. (Fun fact: I have those same lights in green in my house (seen here) and I love them!)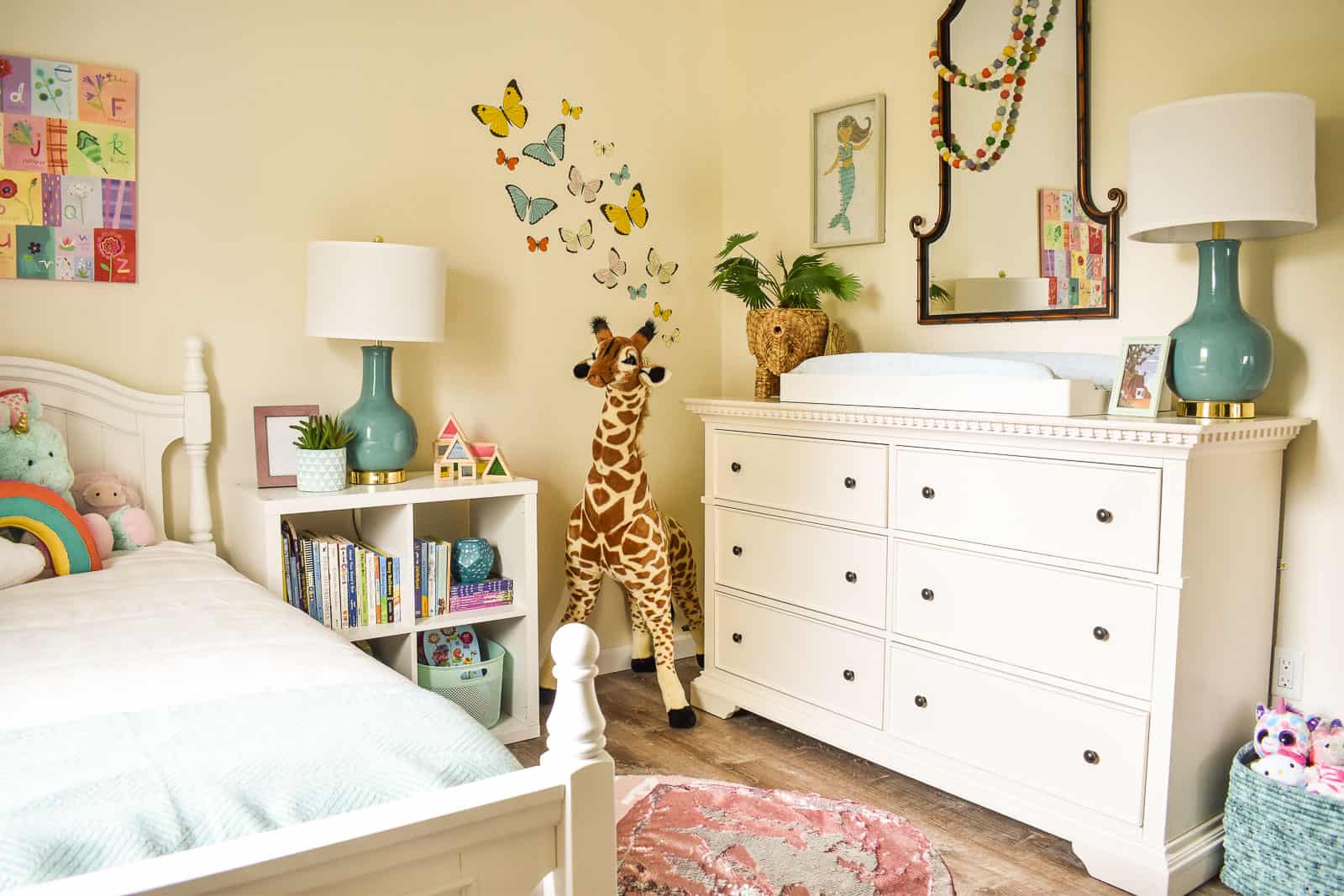 The double dresser has fun dental molding detailing along the top and will fit extra clothing, sheets, blankets, etc. We also selected a changing table topper so that the dresser can do double duty as a changing table for the next few years!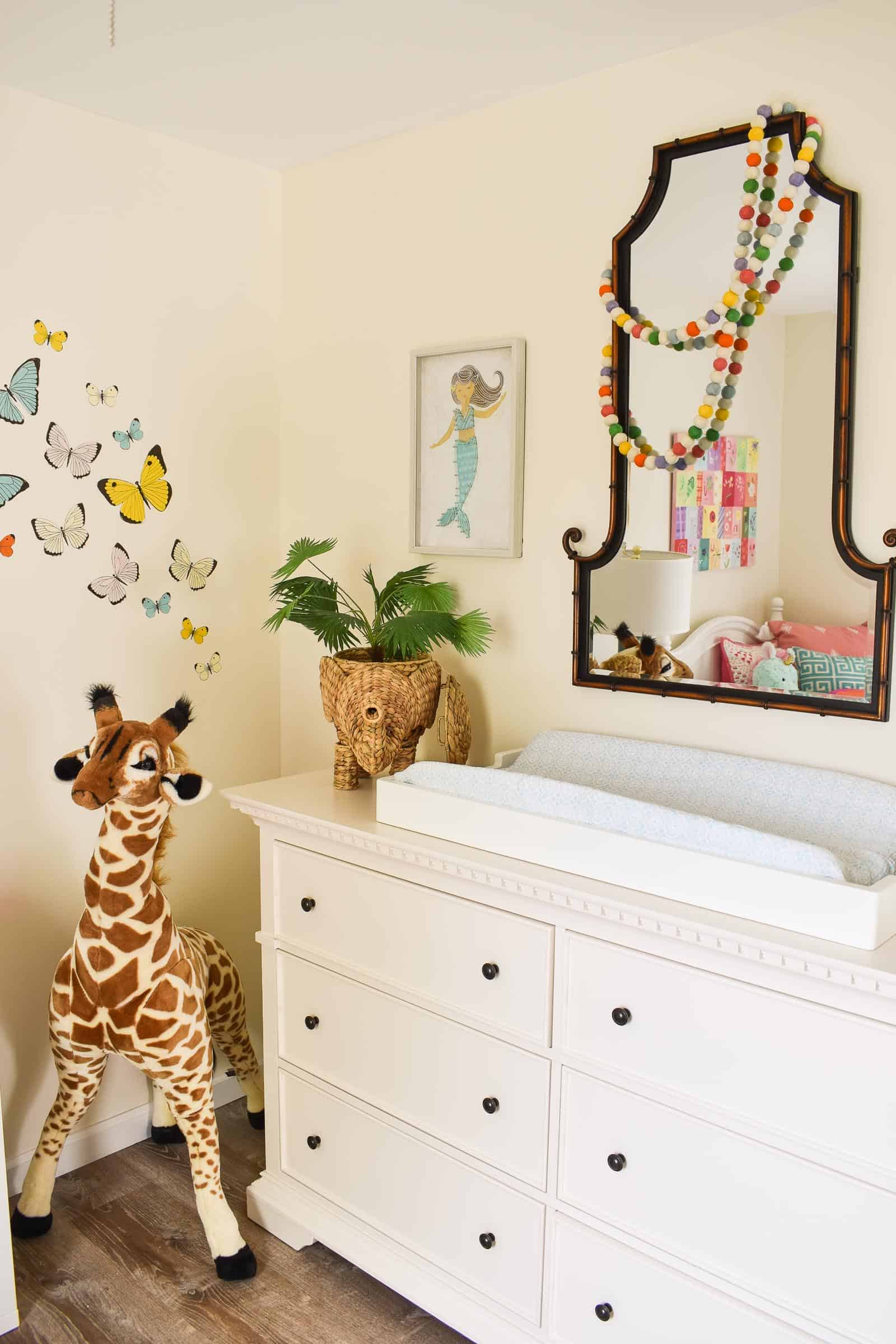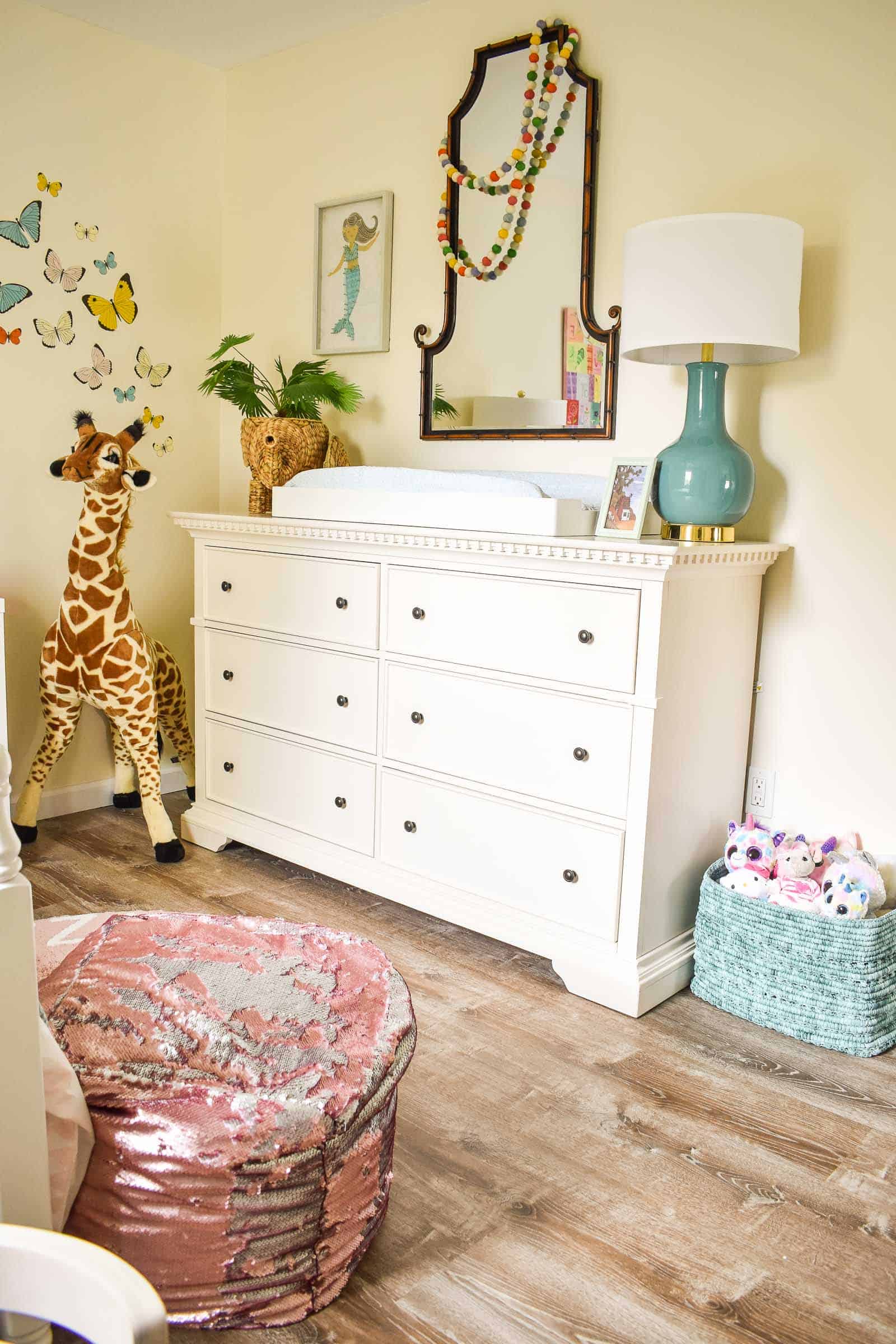 Hanging over the dresser is a bamboo mirror that really helps the space feel like something she can grow into… it's not too serious, but is still so elegant. Also, the bamboo is a great nod to the family's Chinese culture that they were hoping to bring into the design if possible.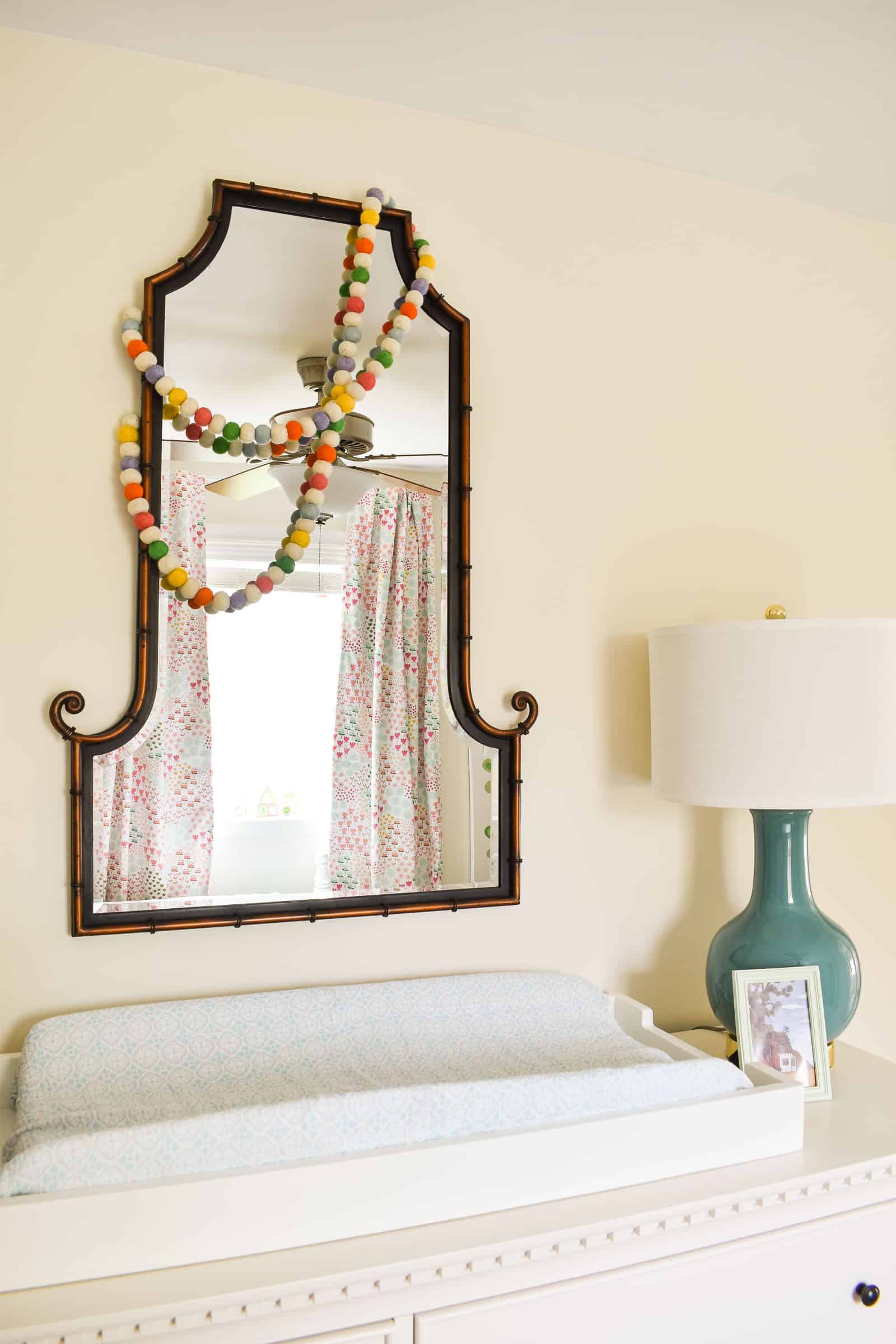 A crib will come with the family when they move into the house, so we provided a twin bed for when their daughter gets a little older. By using a skinny "bunky" board, we kept the bed from being too tall/ massive for her so hopefully it will be a cozy spot for playing and reading stories until she's ready to move into her 'big girl bed'. (Not shown: neutral herringboned area rug.)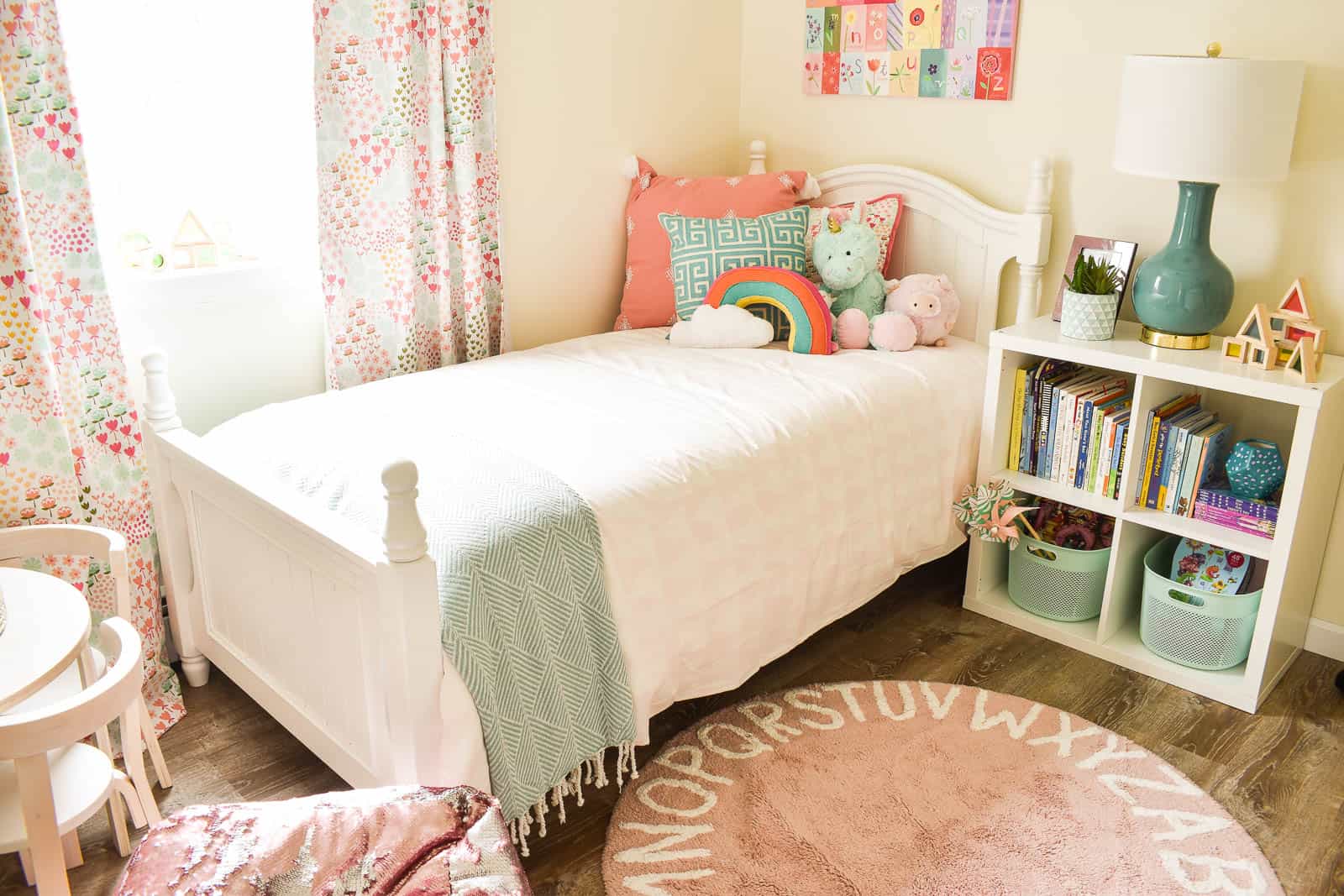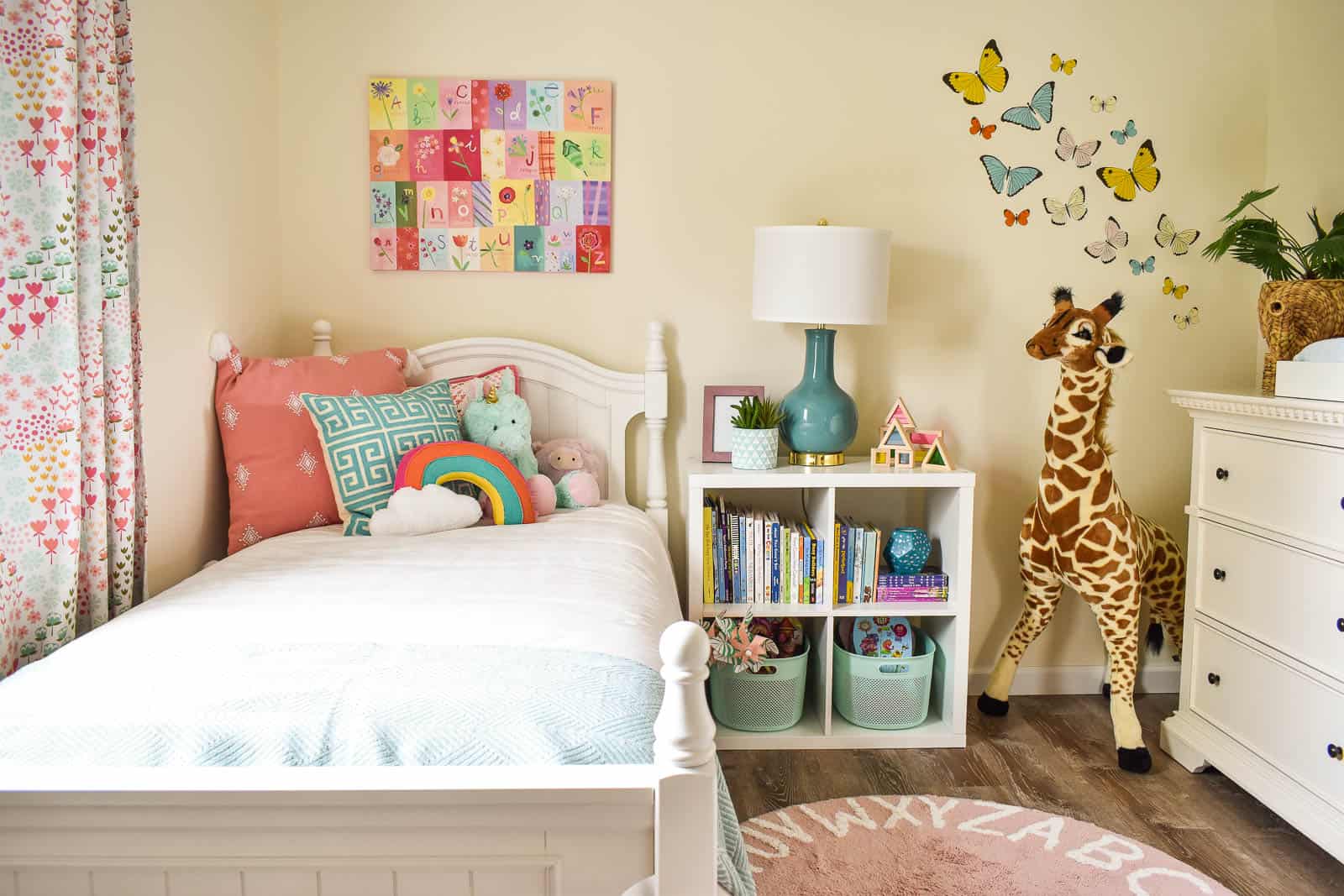 We tried to stretch our budget to help fill up the nursery next door a bit, so this lovely blue swivel glider went over there. I love this sweet cozy corner.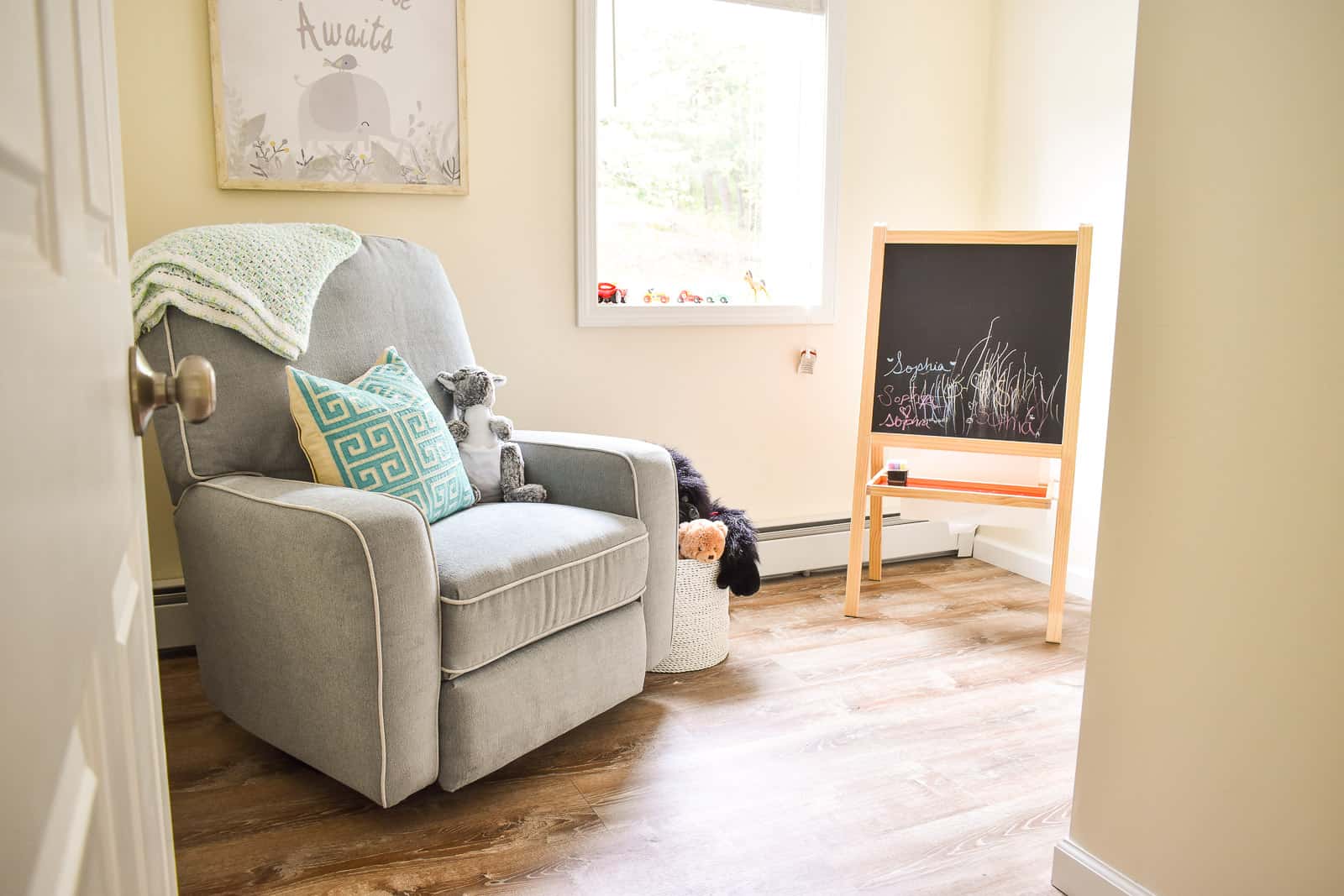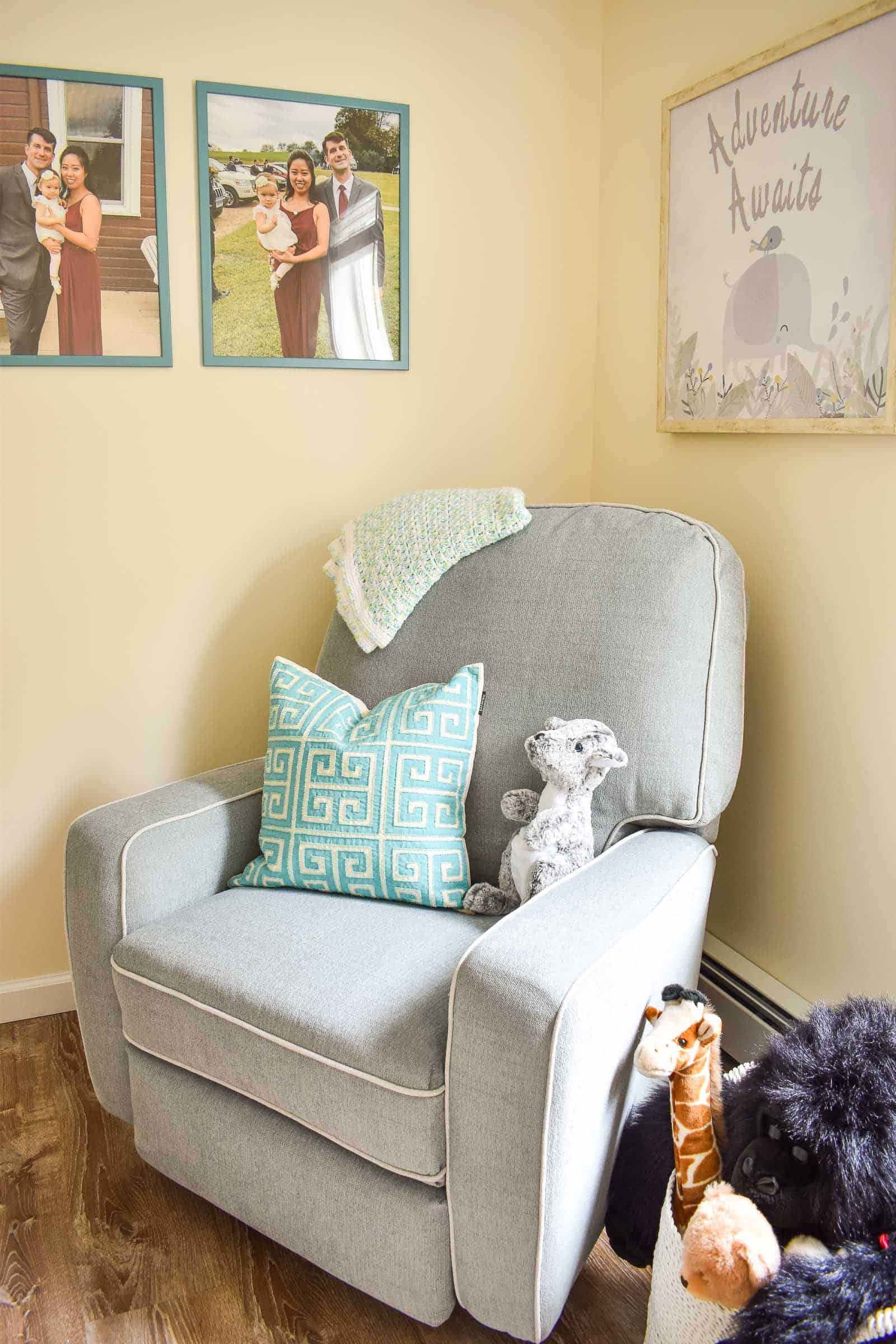 Their daughter liked the easel we set up in there… seeing how the family enjoys the new space is always rewarding!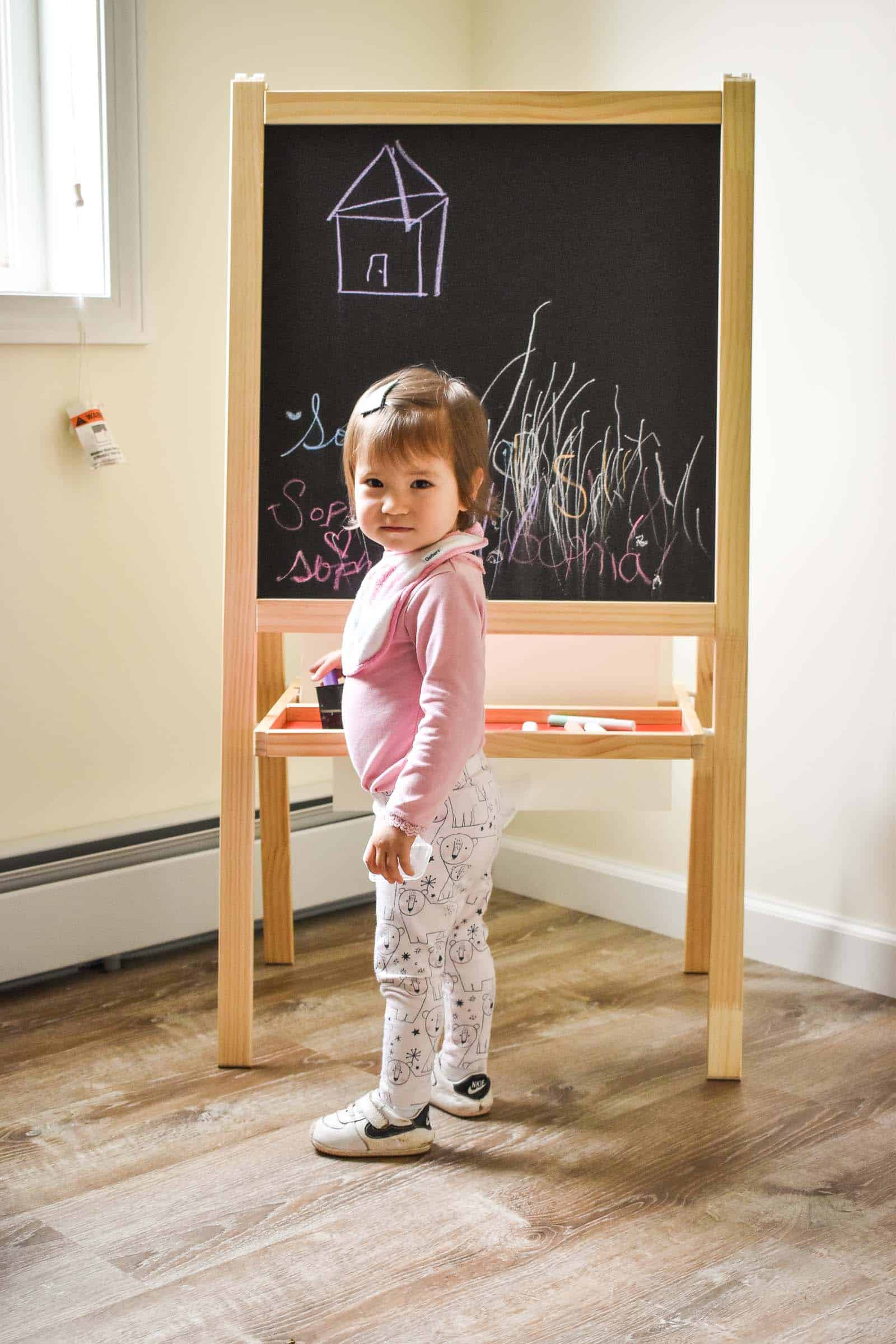 Raymour understands that making these rooms feel cozy is sometimes about the little extra touches so they kindly provide us with some cash to help accessories the spaces as well… we stretch it as best we can but were able to pick up some wall art, those butterflies, that sweet table and chairs and more. Obviously when I saw a mermaid sequin bean bag at the store, I had to pick that up  as well.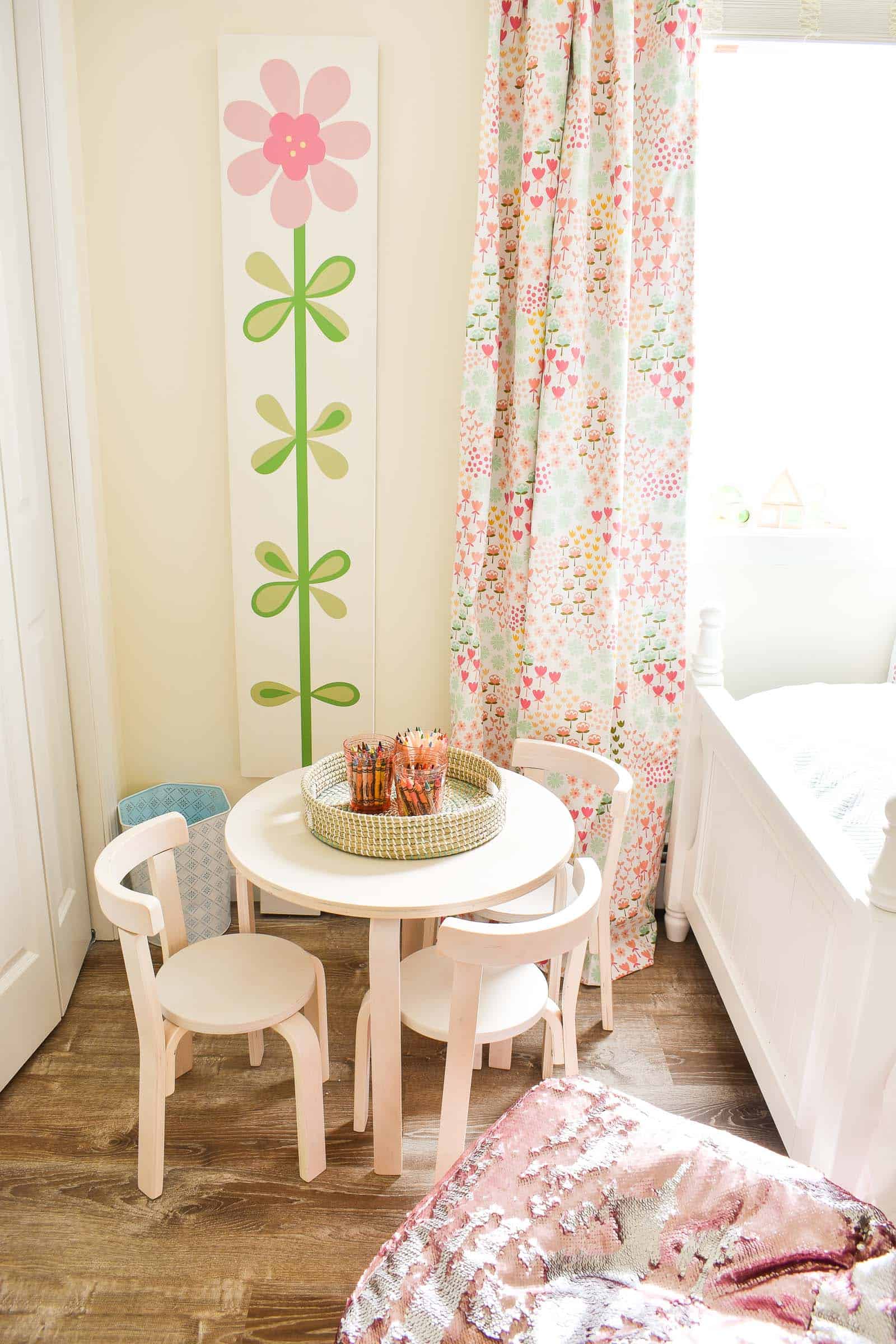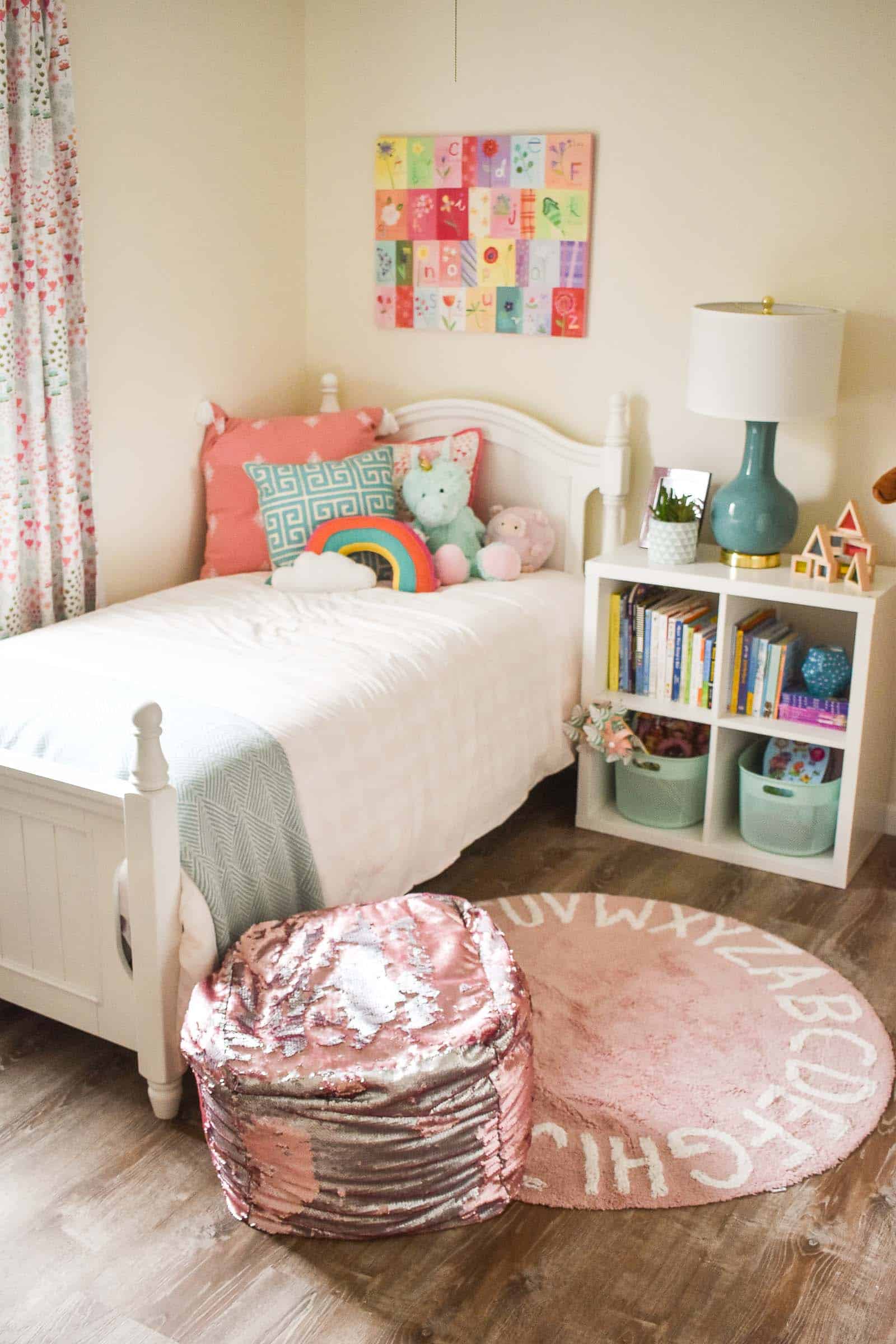 I would be remiss if I didn't thank so many of my amazing readers and followers for their incredible donations as well… We were able to bring in games and toys and books and bedding for this little space. Even a television for the downstairs family room and an outdoor dining set thanks to you… such a wonderful outpouring of love and support, so THANK YOU!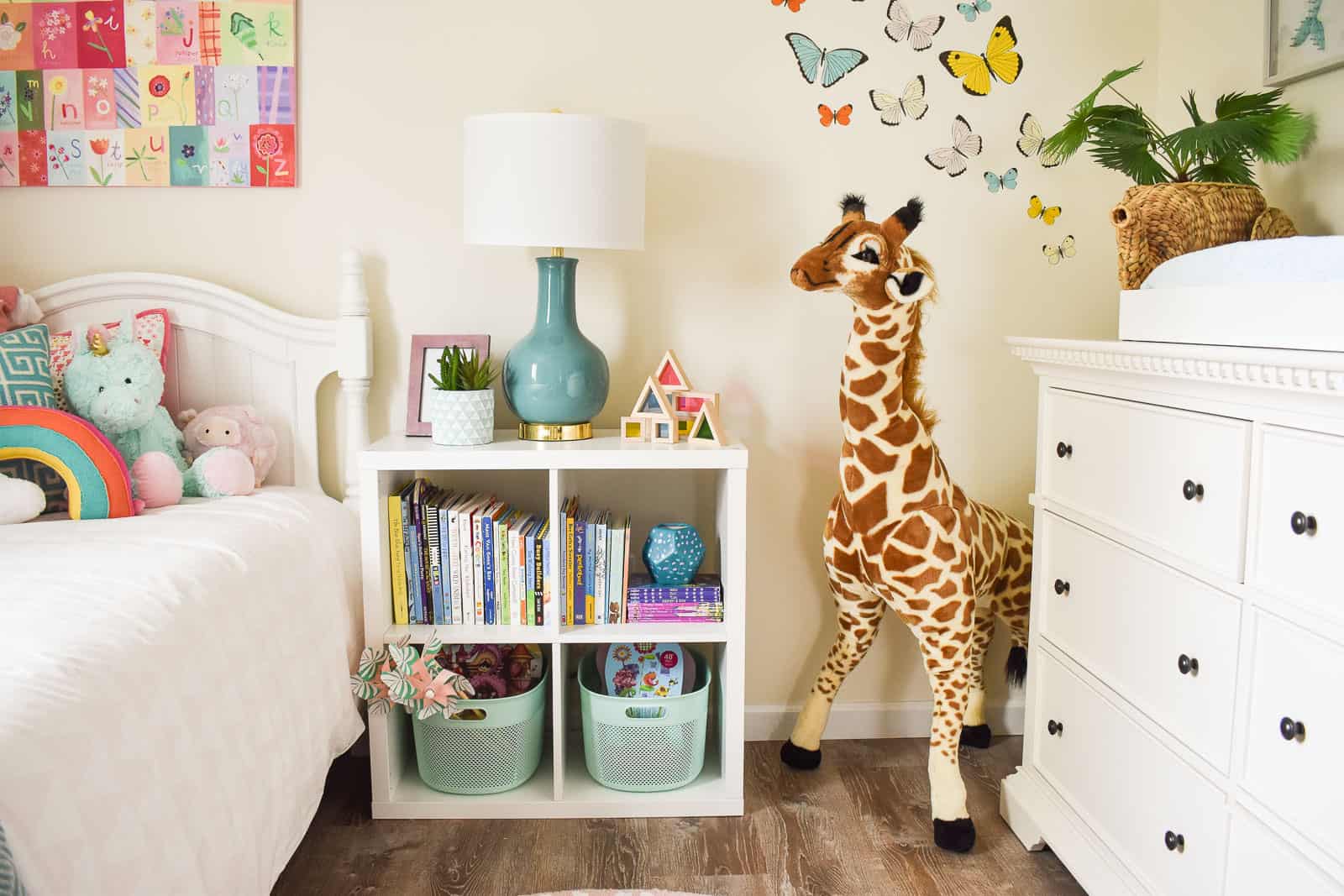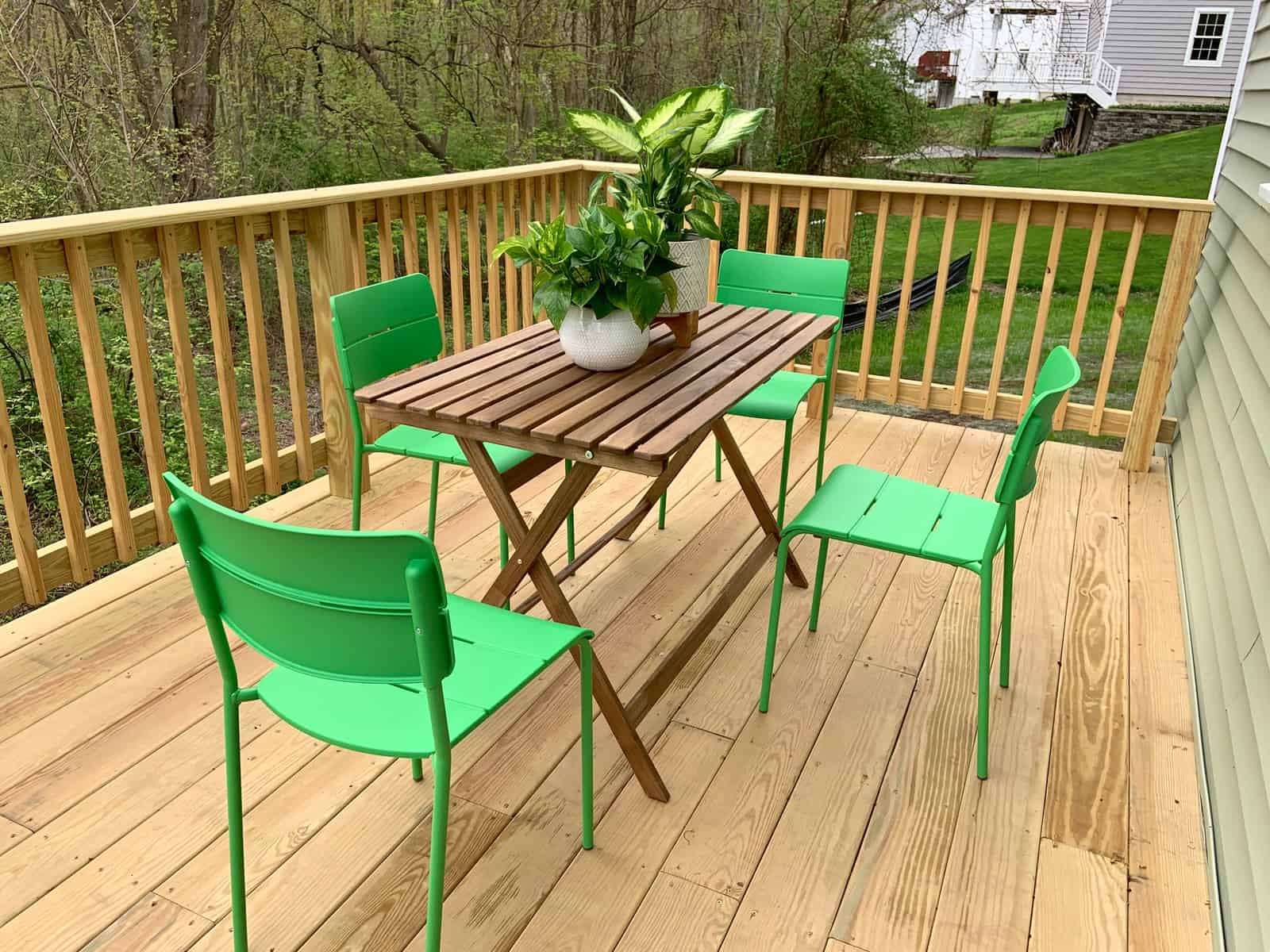 Make sure you head over to each of these lady's posts to see the full reveal of their rooms: Seeing the transformation of every space never gets old for me!
Master Bedroom: The Rath Project, Jessica Brigham, Street Flea Style
Family Room: Fearfully and Wonderfully Made by Carli
Dining Room/ Kitchen: Weekend Craft
Guest Bedroom/ Inlaw room: A Home to Grow Old In
To see all our previous Bloggers Heart Habitat projects, check them out below: