Decorating With Kids in Mind
Today I thought it might be kind of fun to give you a *modified* version of my home tour. One that better explains the decisions I've made with my five kids in mind! When someone asks about my design style… I'm usually pretty quick to explain that I love color, I want my decorating to reflect our personality, and it's got to stand up to kids. Style and children CAN play nicely together, but it takes a little practice!
Let's start with the kids spaces themselves…
First… I should mention that I love to include my kids in the design process if possible. Eleanor is into it… the other kids, not as much. She requested "fuchsia" for her room so I brought the bright bold colors into places I could swap if she ever changed her mind… i.e. curtains. She also helped me pick out that desk and we painted it together. I hung the headboard over the desk and brought in lots of the smaller details.
Oliver has just discovered reading and giving him a place where he can go when emotions are running a little hot has always been my goal. He doesn't have too many opinions for me regarding his room, but he will sometimes offer a yes or a no if I give him a choice!  I recently worked with The Home Depot to build that reading nook. It takes up quite a bit of the room, but it's a great little hideaway and I think it's worth it.  I have some fun plans coming soon to help him better access all the legos.
Arthur's Nursery.
It feels like a week ago when we were bringing back a baby to this space and trust me… I'm so glad I planned this space with an older child in mind. Specifically, I wanted to create a space that would age with my child as well as stay interesting. The Hygge and West wallpaper is to die for, the faux reclaimed plank wall is such a great textural neutral and the flea market rug all work together to give the space "good bones" without being too specific or fussy. When Arthur needs a bed, this will all continue to work for us!
I've started to consider whether two twin beds would look cute in here rather than the bunk bed, but… the girls love the bunk bed. We bought the bunk bed because it came with stairs so I don't worry about middle of the night wake ups. We read together before bed every night so I brought in that bright blue Chesterfield love seat. That bench seat under the window is an Ikea shelf turned upholstered bench and it stores doll house accessories, legos, play food, and magnet dolls… sadly, never as organized as I would like!
I'm using two rugs in here because it's a big space and we already had these two rugs so together they cover the space. Dress ups were taking over our lives, so I made that dress up rig… it continues to be a great set up for all the tutus and princess costumes and scarves.  Finally, Martha wanted a desk last year, so she helped me paint that little one in the corner.  Oh yeah… we also have dueling doll houses because… why not?
Moving downstairs… integrating the kids into decor is a little less obvious. We have a relatively small playroom that, in theory, is where the toys live, but… the toys tend to migrate. This playroom will NEVER be a place where they can run around so instead I tried to make it a comfortable place where they could play games, watch TV and enjoy things like their train tracks or their magna blocks.  That love seat is a sleeper sofa which is a nice perk for when we're getting into sleepovers. The dresser between the windows provides storage for things like DVDs that I don't want out in the open. Puzzles live under the TV and everything else has a place in one of those green bins!
The living room isn't really a space where the kids go too often, but the green sofa is Ikea and the blue sofa was a consignment store find. In other words, neither is particularly precious but they still bring some style to the space.
Next door in the office, we have a family/ pet proof carpet that has already proven itself in gold since the dogs have identified this space to leave us the occasional 'offering'.  I'm also busted because now you've seen that I move those stools around from room to room!
We don't sit in our dining room as a family that often just because… we don't. But there's a big ol' wooden farmhouse table that can stand up to anything. I painted it navy blue for the One Room Challenge so any damage to it can be easily touched up. A pair of chairs from the restore got a facelift… the beauty of doing my own simple upholstery work is that I'm less fussed if sticky fingers  or snotty noses come in contact with my upcycled furniture!
Last stop on the tour is our kitchen/ family room area and both these spaces are dripping with kids. In the family room I always opt for a coffee table that can support a child dancing. I also try to have lots of extra storage that I can hide away if necessary. The only things that live in our family room, are a bin of books and a couple bins of our overflow trucks (of which there are MANY). Patterned rugs help with spilled chocolate milk, and dark couches forgive lots of sins. Exhibit A: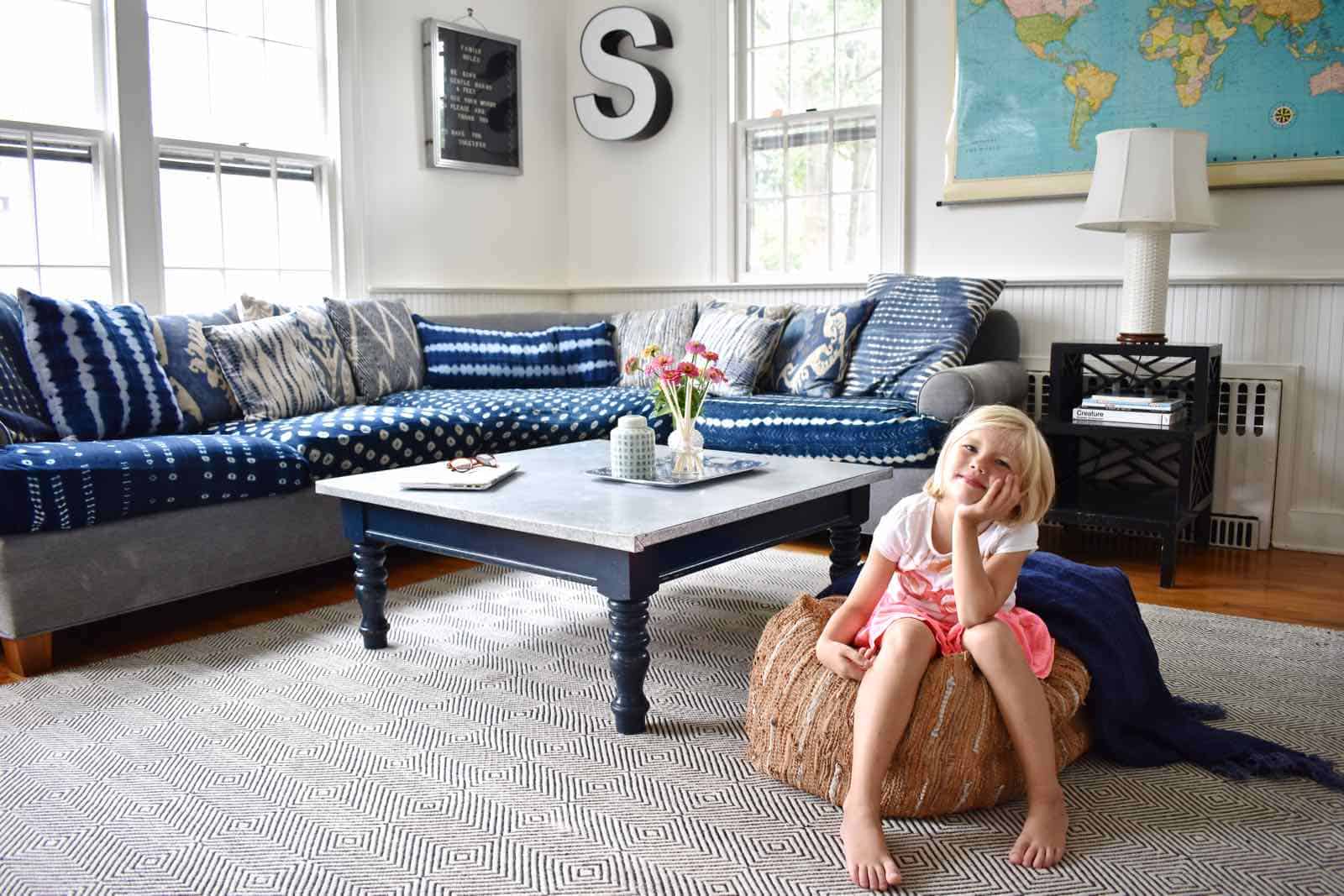 Exhibit B (Same formula, different set up):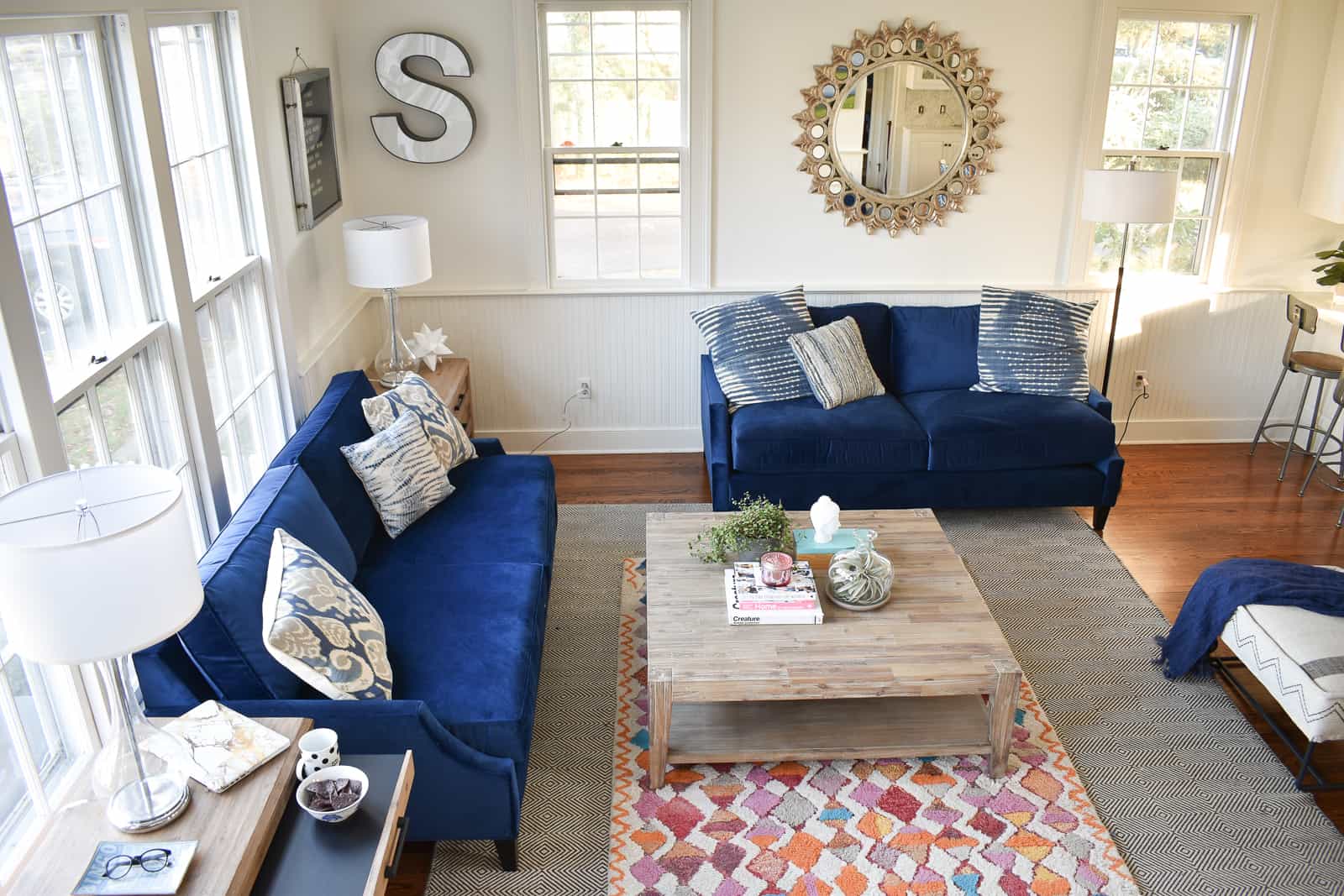 The kitchen has been a labor of love, but I wanted a table that would obviously seat all the kids but also hold up to crafts, crafts, and more crafts. That table was a Craigslist find. I liked that it was an oval (no sharp corners), and it had leaves to make it big enough for 8 people. I painted it with Maxx Gloss white and then gave the legs a pop of bright pink! I enjoy a rug under the table because it helps soften the space, it's a bit more forgiving than a floor covered with rice and because it's a synthetic material, it's pretty durable.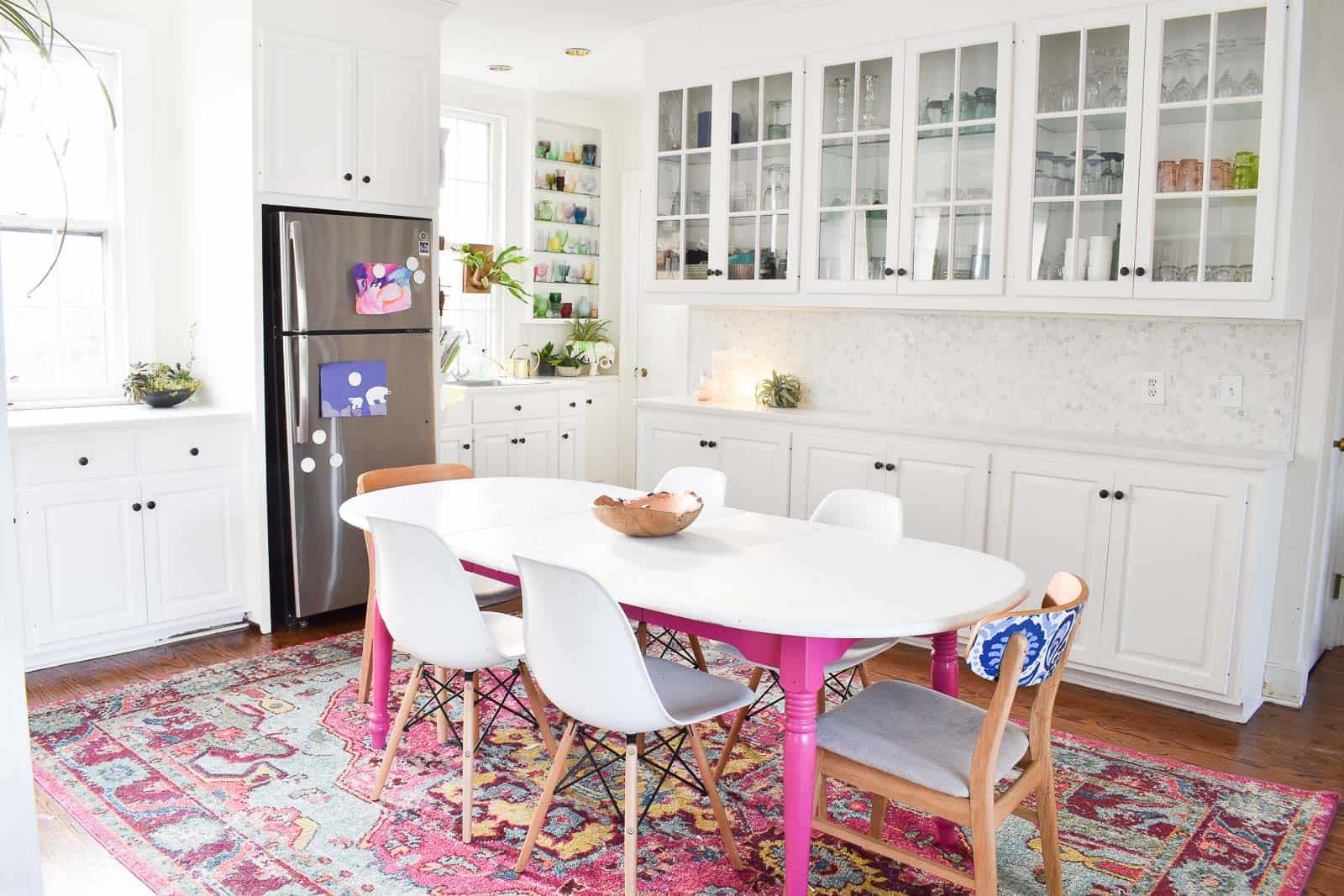 I have all our major crafting supplies in the closet around the corner and then everyday crafts like paper and crayons and pens live in those Ikea bins on the pantry shelves. I go through them every so often to keep them sorted. I try to have everything the kids might need accessible so they can be independent and fend for themselves.  The plastic chairs are from Amazon and again… durable and easy to clean. I added a fun pattern to the back of the two upholstered end chairs (also from Amazon) and together I love the eclectic combination of the seating.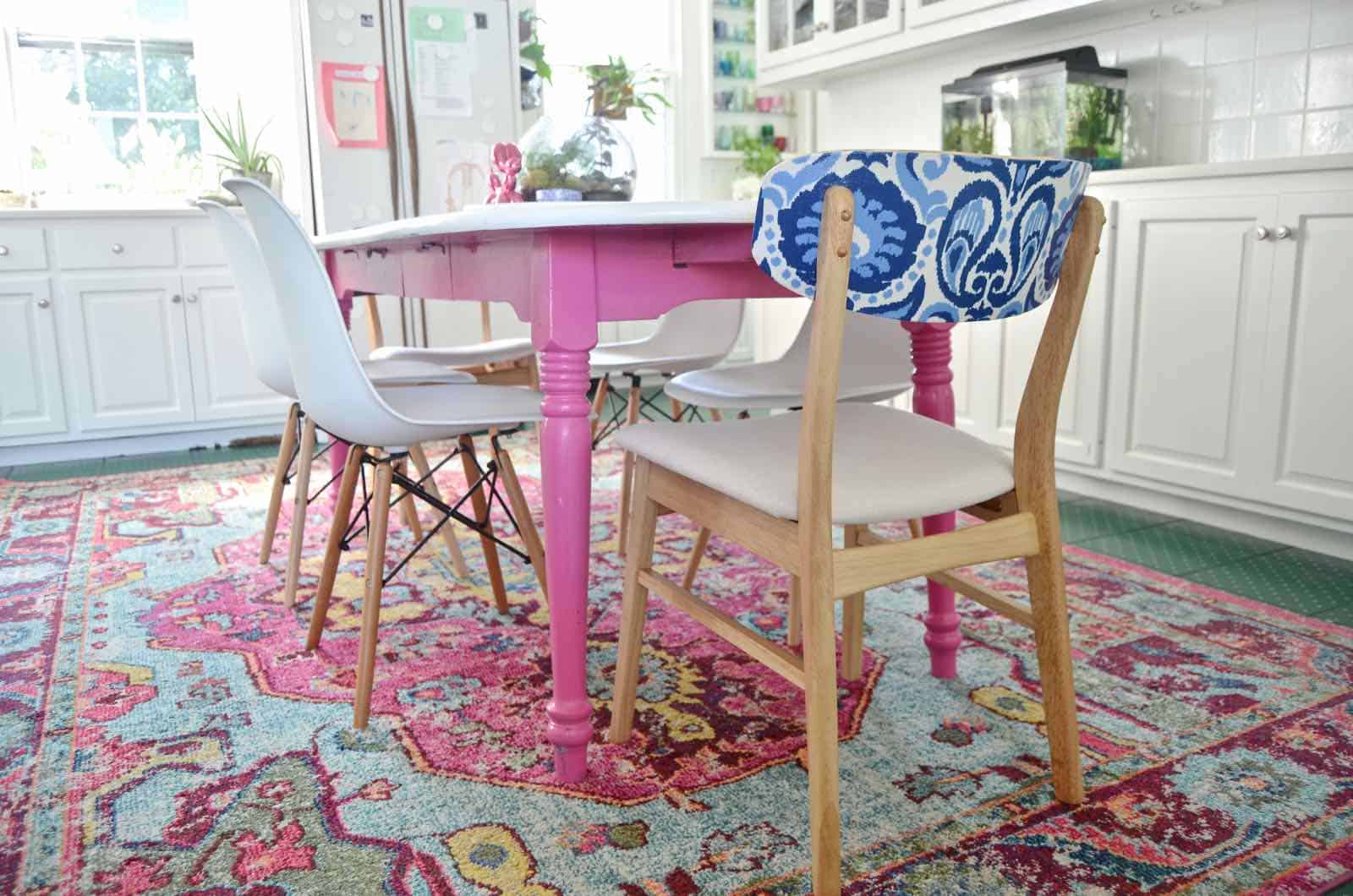 I'm not sure this was specific enough, but hopefully walking you through each space and sharing what's on my mind when I select certain things gives you a little insight into the ways I decorate WITH kids!
Check out my HOME TOUR page for source links to each room!