10 Design Hacks for a Rental Home
Psssst… this post *might* contain affiliate links: see my disclosure here.
Ten Tips and Tricks for Decorating a Rental Home
How to decorate a rental home with fabulous details and still get your security deposit back.
In January of 2019, we became renters. And just like that I had to figure out how to decorate a house with color and pattern and fun… without losing our security deposit. We were given permission to paint before we moved in but everything else I've done is totally temporary OR… super easy to fix up before we leave (think patching a small screw hole, for example). Today I'm sharing my ten favorite design hacks for creating a personal and decorated space… even in a rental.
1. Paint
This seems obvious but painting the walls are HUGE and worth fighting for. When we rented in NYC, we were allowed to paint because the landlords painted between tenants. I think we had to choose a lighter color, but regardless… a fresh coat of paint makes all the difference in the world. In our current house, we asked for permission and had to share our color choice. Painting is something that I think a lot of people skip because "they're only renting", but it takes a day to paint a room or a few hundred dollars for a painter and the whole space feels more polished and personal. Totally worth it in my opinion.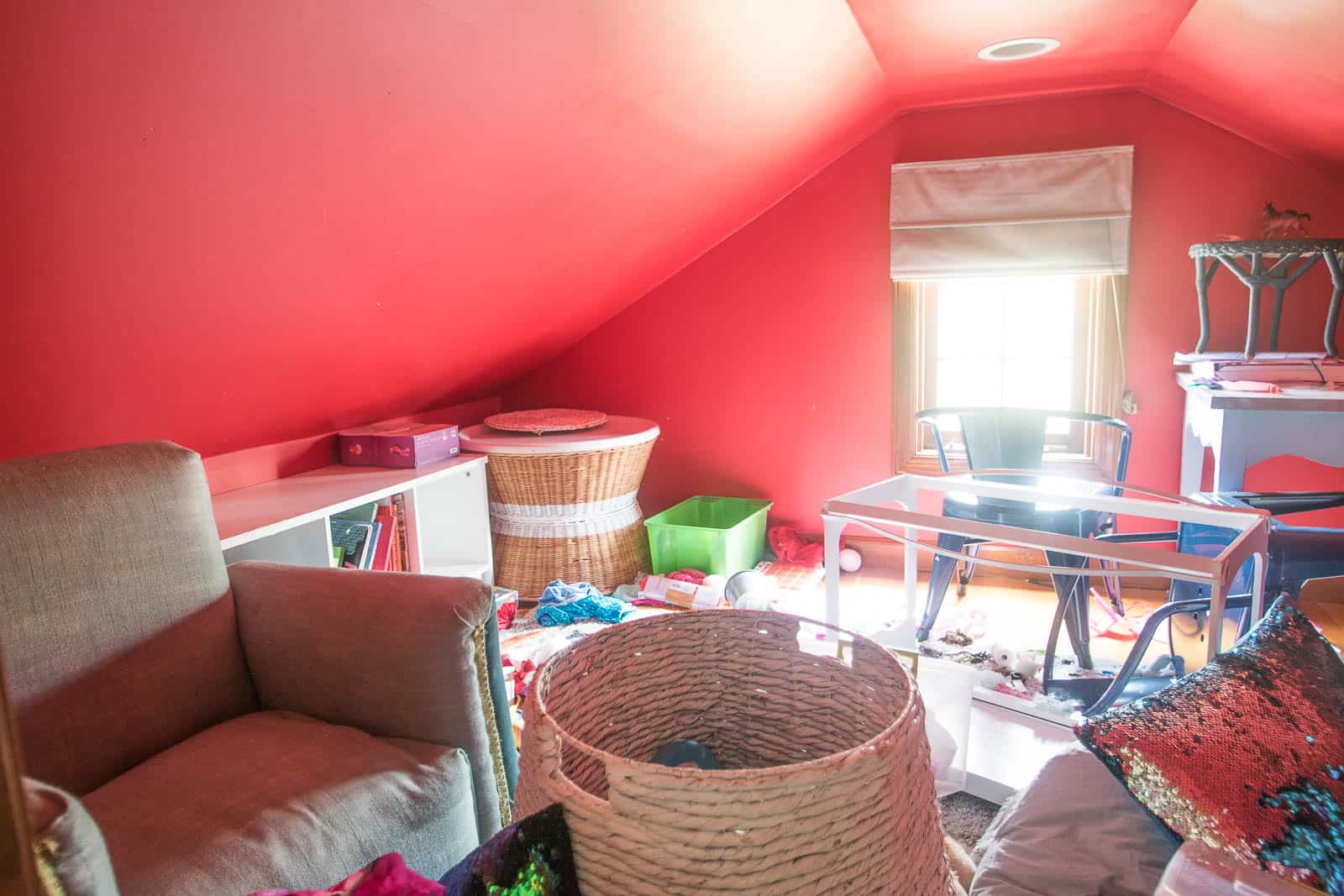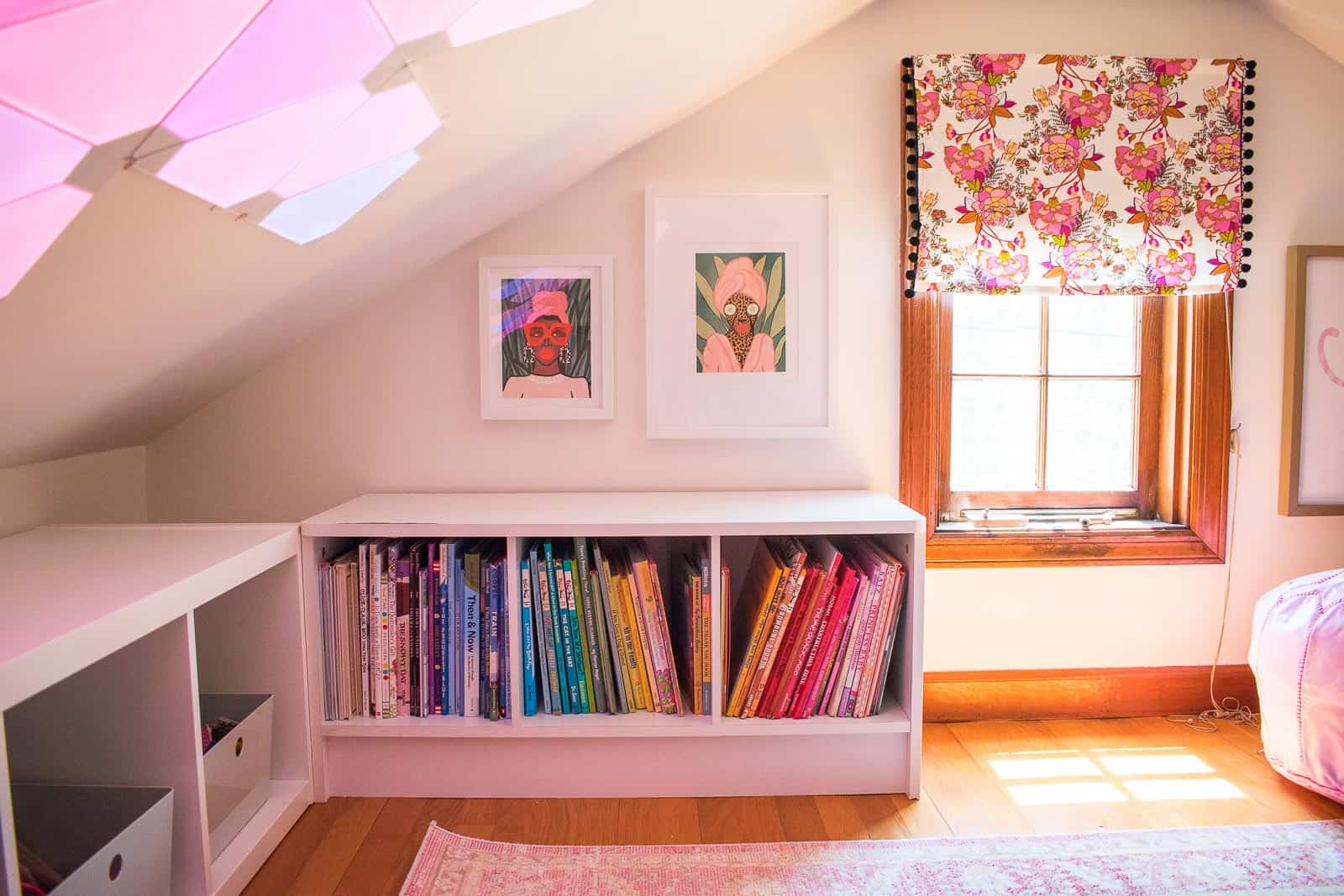 2. Light Fixtures
OK, bear with me on this one. Swapping out a light fixture is relatively simple and it leaves NO mark. Typically. The light fixtures in our rental were dark and dated and made each room feel… heavy. Replacing them with lighter more modern fixtures made such a big impact. I've saved all the existing fixtures and sure… it will take some time to replace them all when we leave, but again… one day when we're leaving is worth it for the months and months I don't have to look at the old dated ones.
Homework Station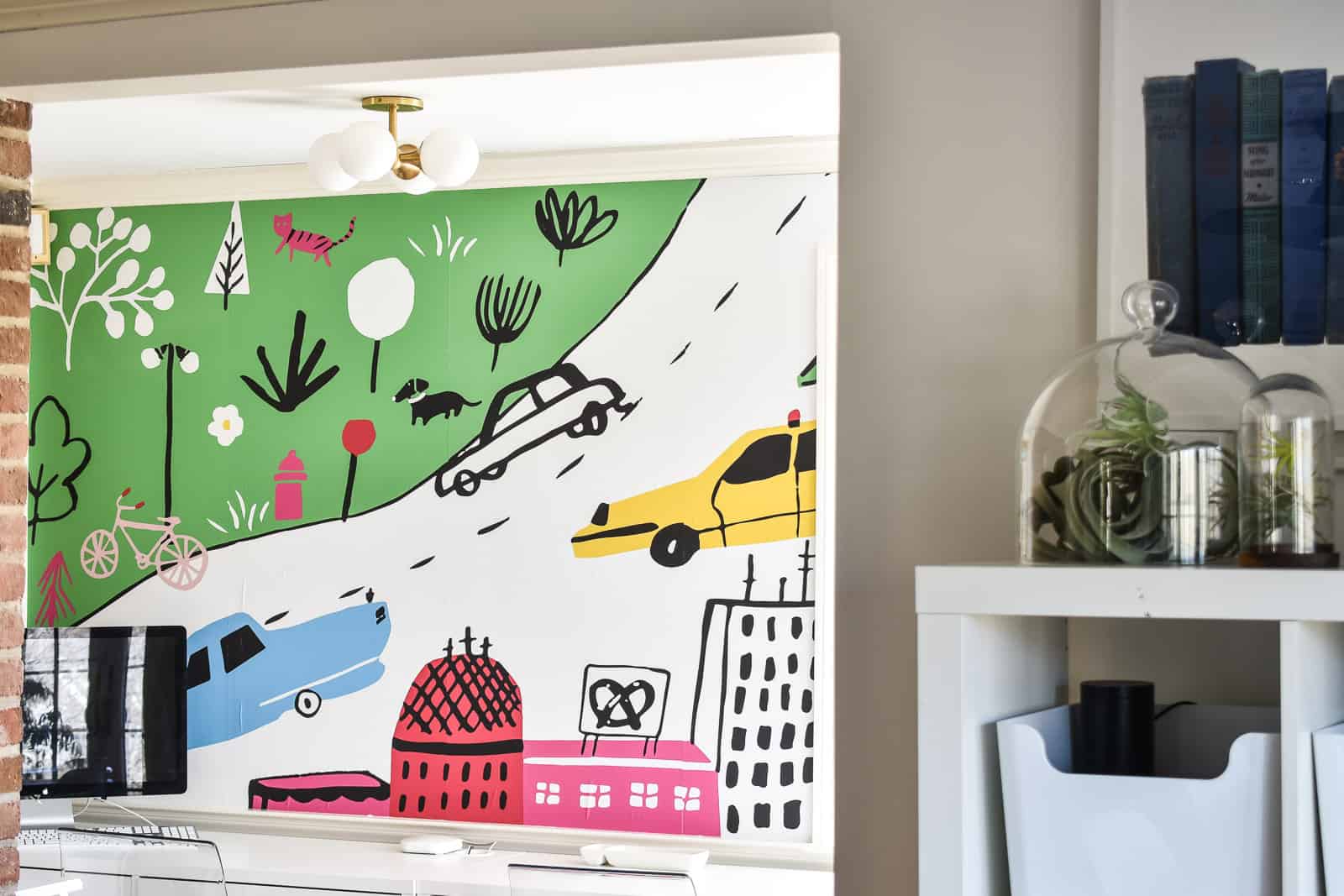 3. Window Treatments
Adding curtains and shades make any space feel more pulled together and sophisticated. So why stop just because you're in a rental? A couple things to mention… Curtains are just fabric which means when you leave… you take those bad boys with you and can tailor accordingly to fit the next space. I've hemmed curtains. Added extra strips of fabric to the bottoms of curtains. Heck… I've even converted curtain panels into Roman shades. Discuss curtain rods with your landlord… we were fortunate that most of our bedrooms already had curtain rods, but again… providing your walls aren't anything crazy, patching the holes from hanging curtain rods is just like patching any other hole.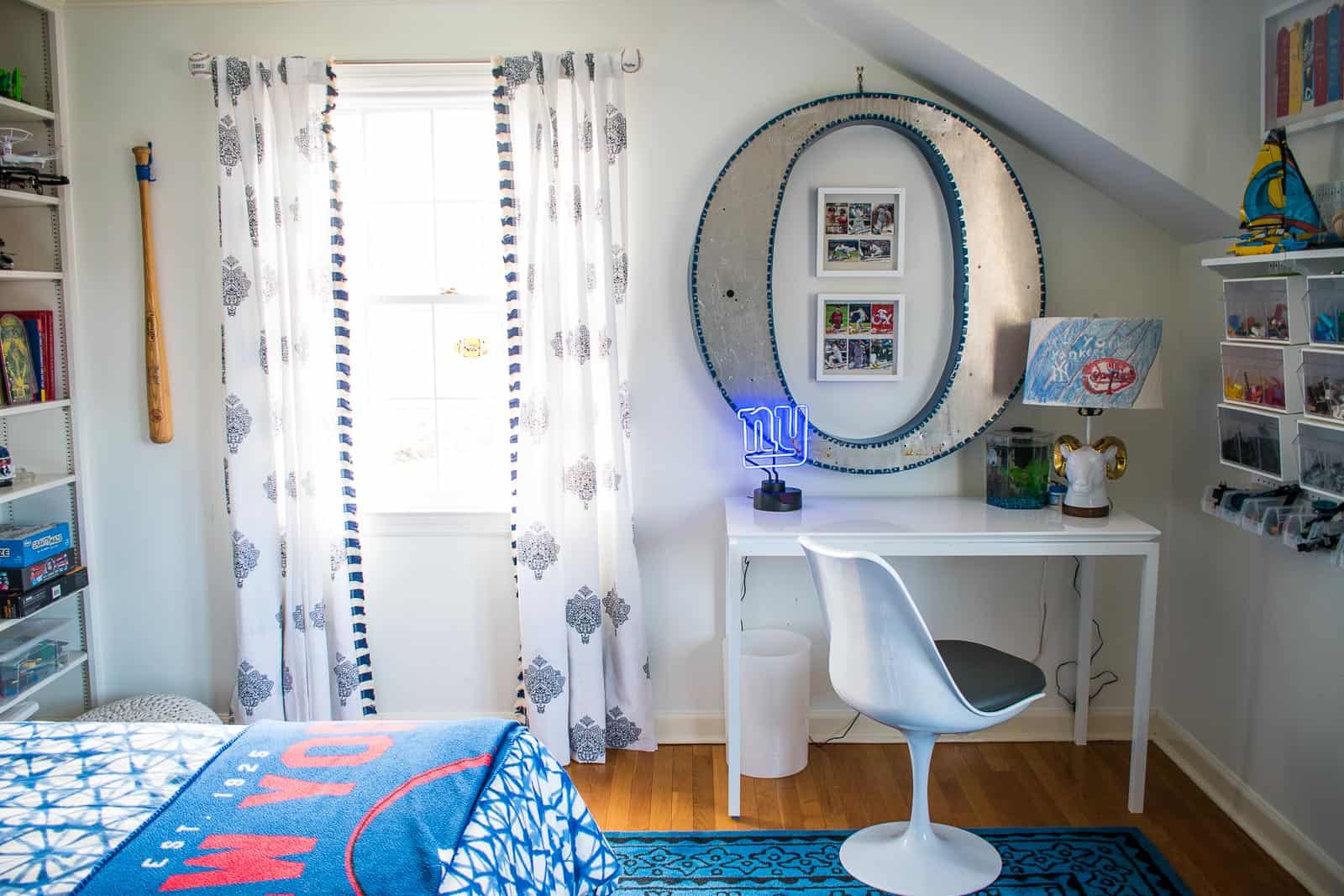 4. Puck Lights
My friend Brooke from Nesting with Grace coined the term the "magic light trick" and it is the easiest way to bring in decorative lighting without an electrician. Want some pendant lights over the beds? Magic light trick. Chandelier in the dining room? Same same…. magic lights. The gist of the magic light trick is so simple it's brilliant: wire a remote control LED puck light into the light fixture so there's no need for any plug or electricity. Alternatively, super glue the puck light onto a threaded PVC plumbing adapter and screw it into the light fixture.
5. Painters Tape
Remember how I said paint made such a difference? Well bringing in painter's tape can bring your paint game to a whole new level! I used painter's tape in my office to add some decorative molding. My friends Racheal from Banyan Bridges and Ashley from At Home with Ashley are both ninjas when it comes to stripes and tape and paint. And this foyer by my friend Haneen 's Haven is also pretty amazing when you consider it's only paint and tape. Paint can be so much more when given a little pattern and direction.
6. Removable Wallpaper
Nowadays there are roughly a kajillion places you can go for removable wallpaper and removable murals. They are *not* cheap, but they ARE super effective and lovely and dramatic. I used removable wallpaper in our playroom and I adore it. I hung a removable mural in our homework area and I adore it. To make the stair risers look kind of interesting, I used some removable wallpaper on those. The kids closets? Removable wallpaper… I'm VERY lucky and all of mine has been sponsored so I appreciate that the cost is legit… so read on to the NEXT tip because it will blow your mind.
Colorful Playroom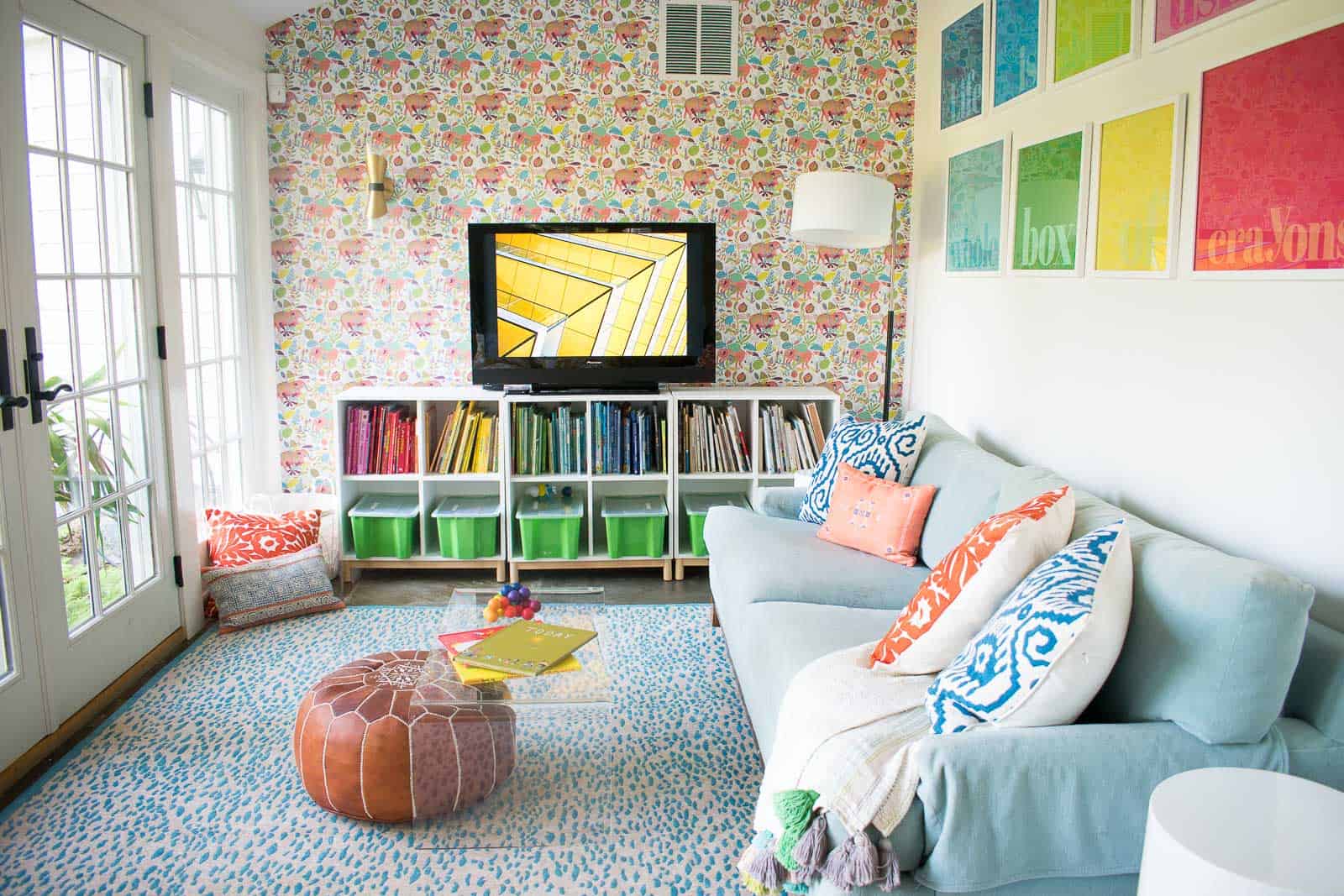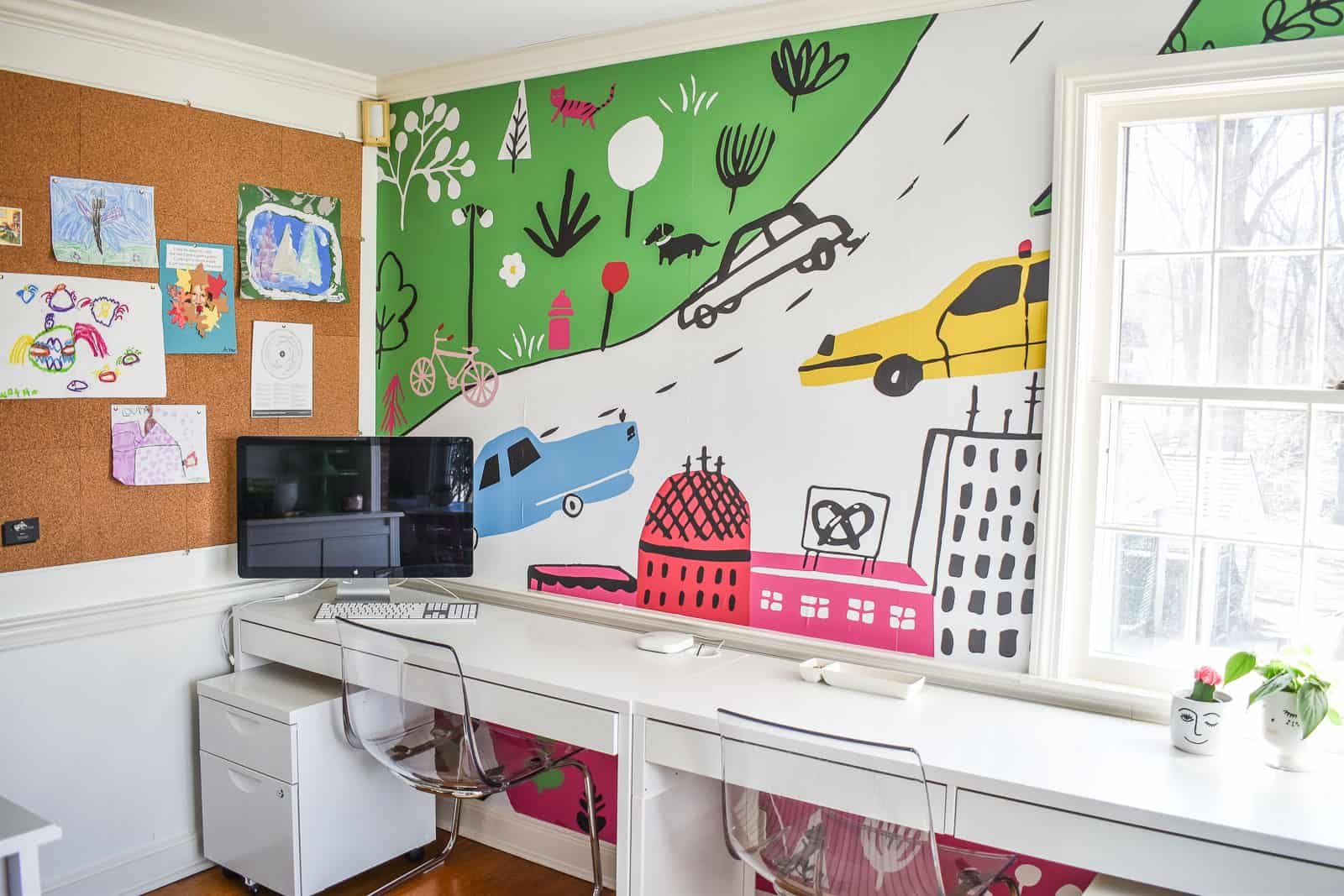 7. How to make regular wallpaper… removable
Hopefully I sold you on the benefits of wallpaper in Step 6, but I also suspect you're like, "sister, please… that ish is PRICEY. I'm not spending all that money just to tear it down when I move." So here's the thing: you can make ANY wallpaper (important note- it has to be UNpasted) removable. Replace the wallpaper paste with liquid starch and BAM…. it's removable. Here's the caveat I make any time I mention this tip. I have NOT removed any of mine personally, but I did read through the internet and everyone describes the removal as super easy. I HAVE used liquid starch to put fabric on the wall and that came down like butter so… I have faith. I tell myself that worst case… is that I'd need to scrub the wall a little bit. Liquid starch cleans up pretty easily. But nonpasted wallpaper is MUCH cheaper than removable wallpaper so this is a great hack for adding some rental friendly flare! I've done this in our dining room for the woodland mural and on the ceiling in my office.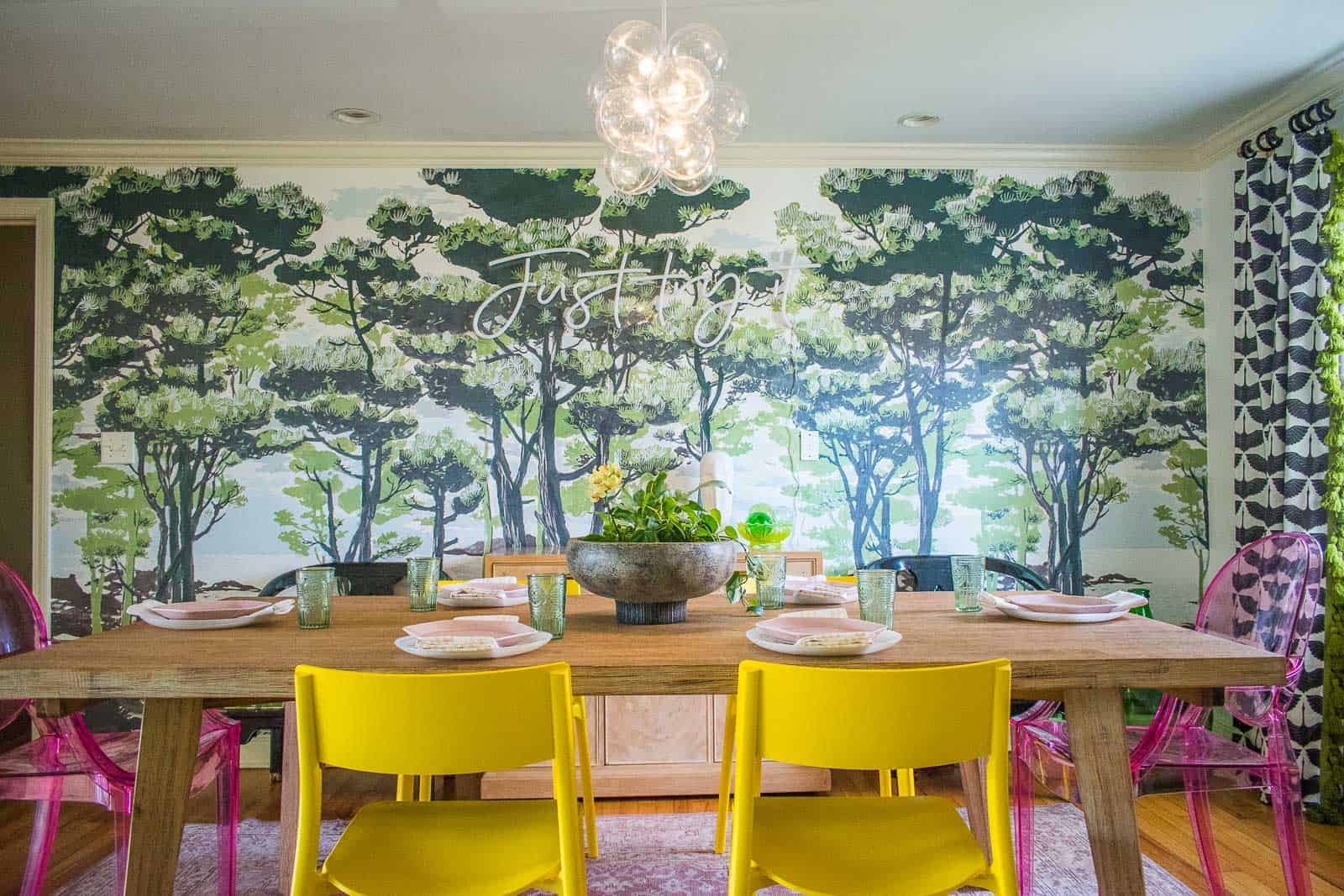 8. Don't forget about the exterior
It's spring so granted I'm focused on the exterior more than I might be the rest of the year, but it made me realize that pulling up to a front door with clean green planters… makes me feel more at home. So whether you're renting a small apartment or a house like we are, consider the exterior. Pick up some planters (spray paint them to match if necessary...), add a door mat, grab a few outdoor candles… treat your rented outdoor space with a bit of love!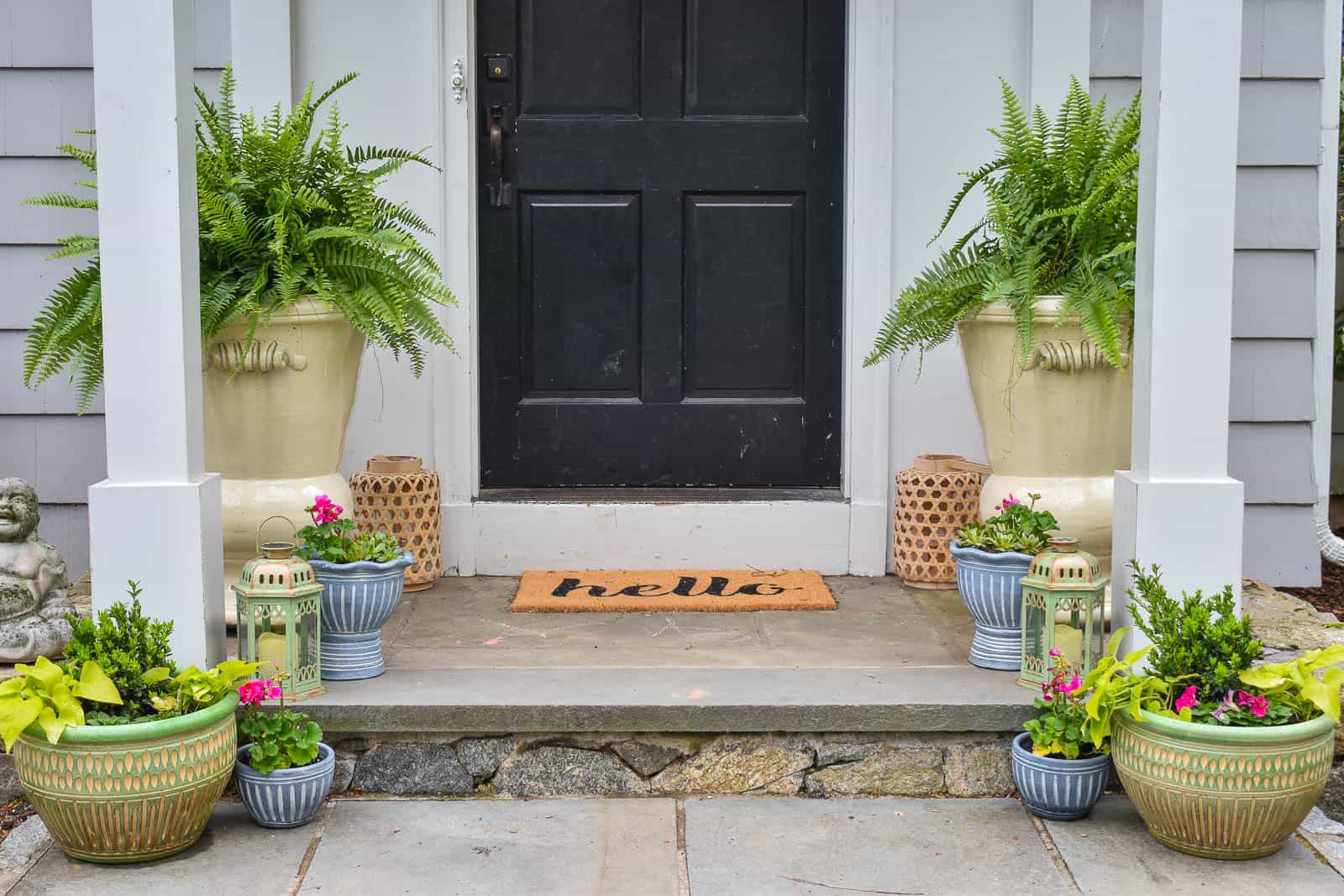 9. Modular Storage is your friend
What do I mean by modular storage? I'm thinking of these pieces from ikea that we have in our playroom and how they fit this space pretty well so they feel a bit more intentional. Like furniture that was meant for that space. These in particular DON'T look like built ins, but that's kind of the reason why I love the modular choices. Being able to find furniture that feels like it was meant for the space will look… well, better. Bottom line, I love using furniture like this that has various size options so then you can build it up to fit your space.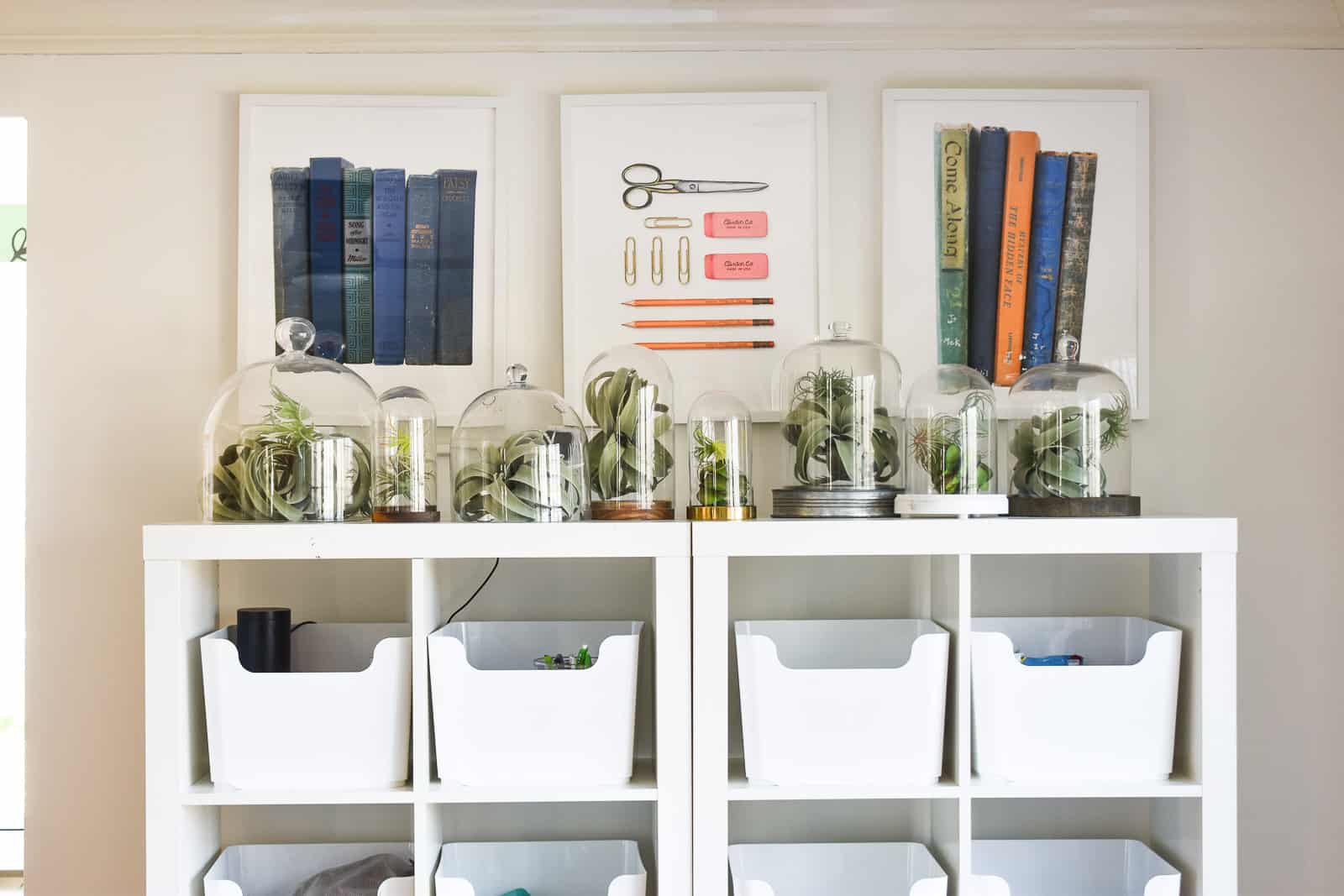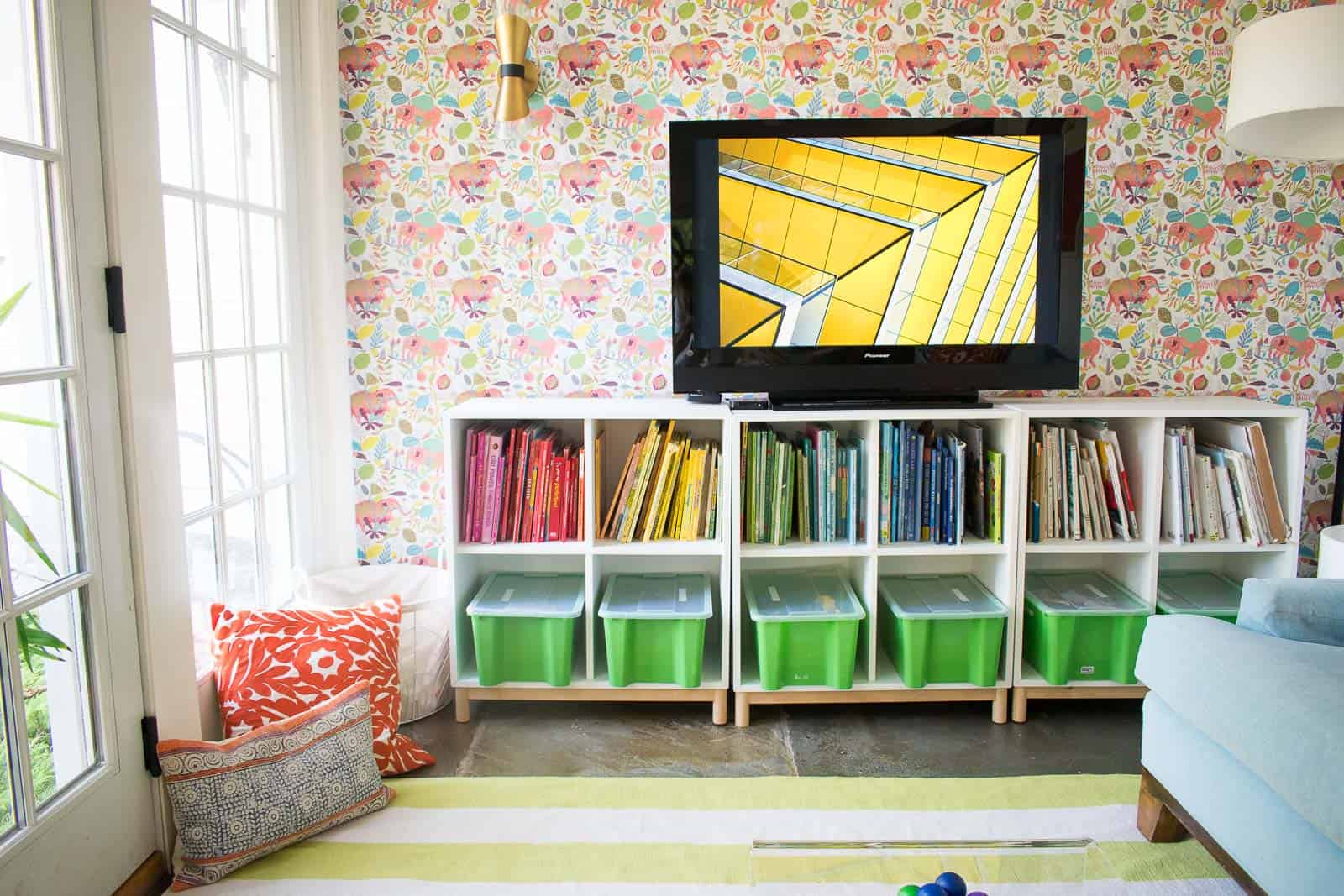 10. Hang things!
I totally appreciate that losing a security deposit is not what anyone's looking to accomplish in a rental. But… I also want to encourage you to make a rental truly feel like home. So often people move into a rental and tell themselves it's temporary and don't do anything to make it feel like home. Fast forward and you've spent all this time in a space, every day, that doesn't feel like it's yours! For me… I'd so much rather work for a couple of weeks to create a space that makes me happy than live in a space that doesn't for all that time. This is all to say- HANG THE THINGS. You can patch and paint everything in under an hour so what are you waiting for?